Love with Food Deluxe Box sends 15+ surprise snacks from various healthy snack brands each month. It's an ideal snack box for sharing at home or if you are a heavy snacker. This particular plan promises to include plenty of snacks for everyone and a few duplicates. Also, the snack box only includes snacks made with real ingredients and no added chemicals. The Deluxe Box is $19.95 a month with free shipping to the US (our readers voted it one of their favorite boxes under $25!), $3.99 for international. Love with Food also offers other snack boxes such as the Tasting Box and the Gluten-Friendly Box.
DEAL: Save 40% off your first Love With Food Box:
Or, save 25% off your first Gluten-Friendly Box: use this link to subscribe!
Packed to the top! You can find some of the items sampled each month on the Love With Food website.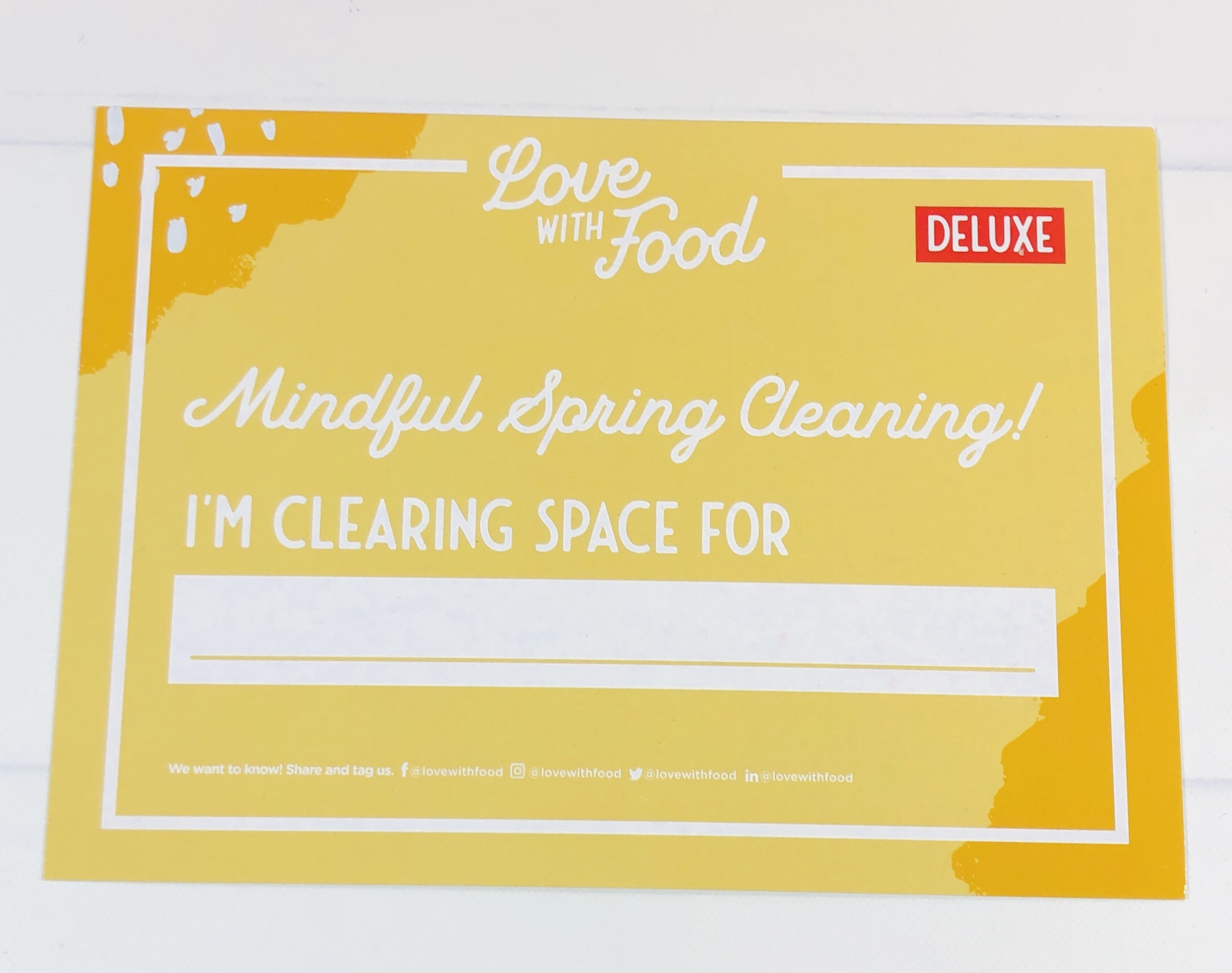 I received a card that had a space for me to write in spring cleaning goals for my brain.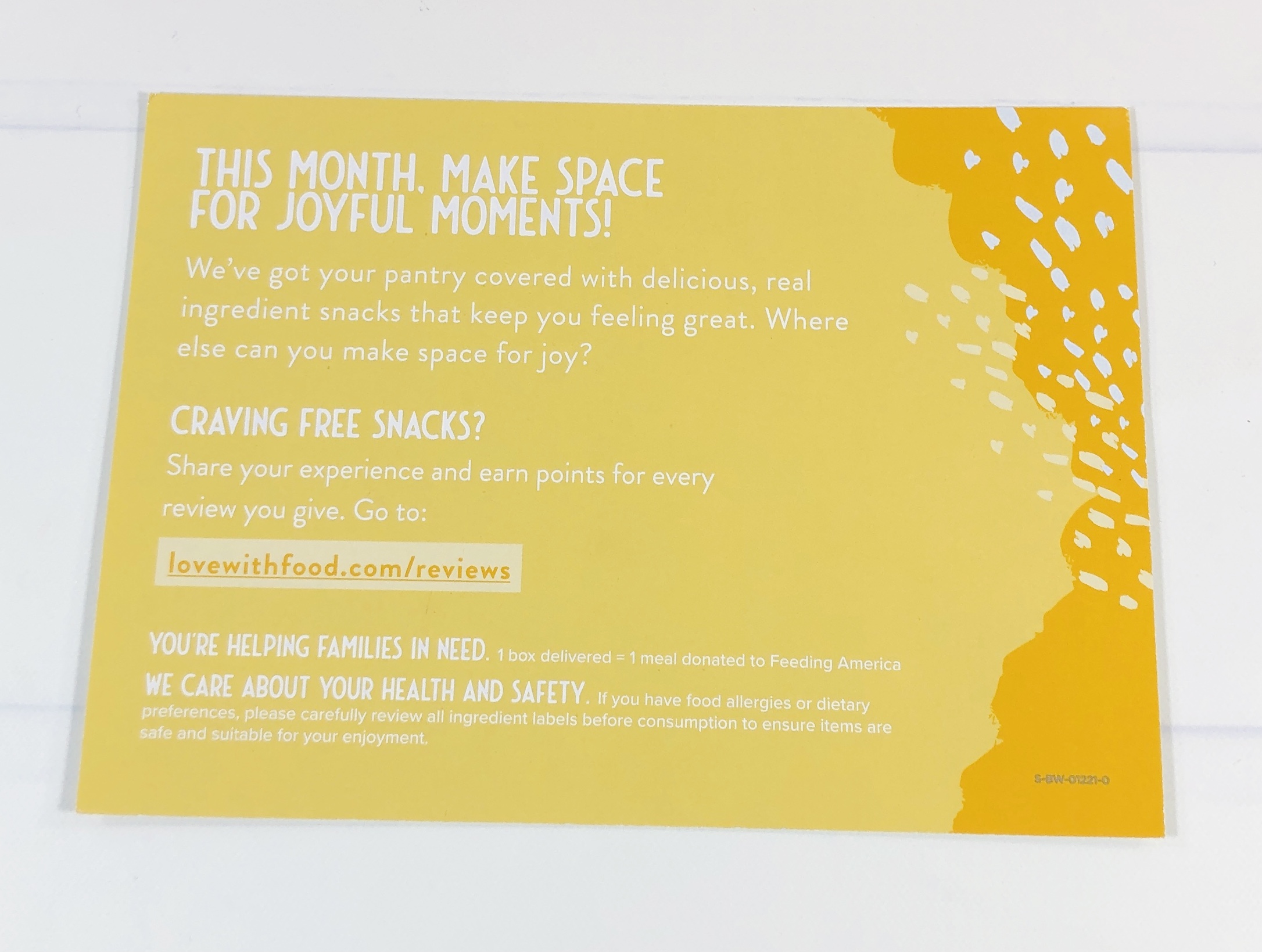 For every box sent to subscribers, Love With Food donates 2 meals to families in need. Don't forget to review your snacks so you can earn points for even more snacks!
Everything in my box!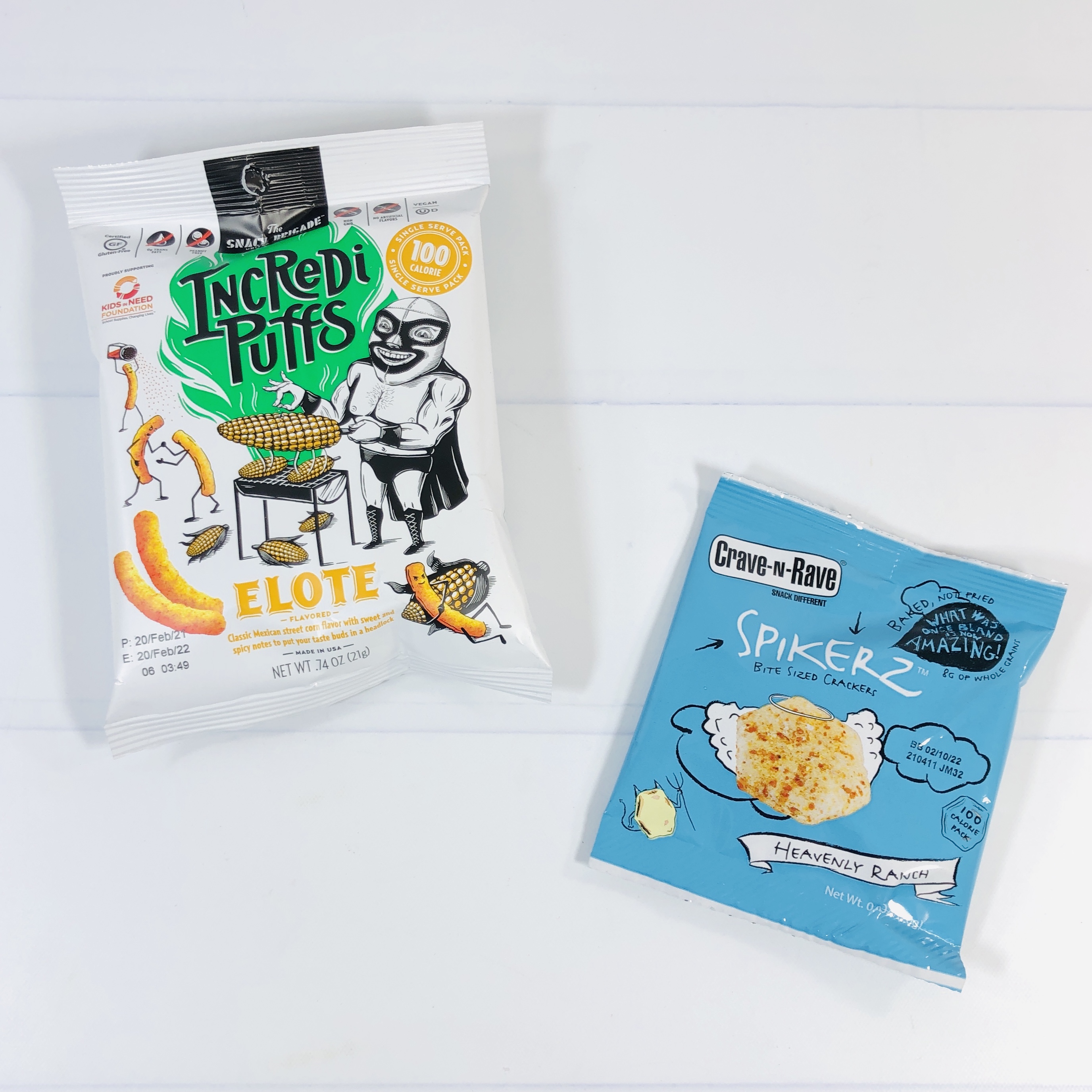 The Snack Brigade Incredipuffs Elote Flavor I couldn't find this product for sale but personally, I didn't care for this flavor. It's a puffy snack made of corn meal with a powdery coating that was rather bland, with maybe a hint of lime juice. It's supposed to taste like a popular street food snack but it was just meh.
Crave N Rave Spikerz Bite Size Crackers in Heavenly Ranch These are similar to oyster crackers except they have a tart ranch coating on them, like flavored Goldfish.
Here are the Spikerz.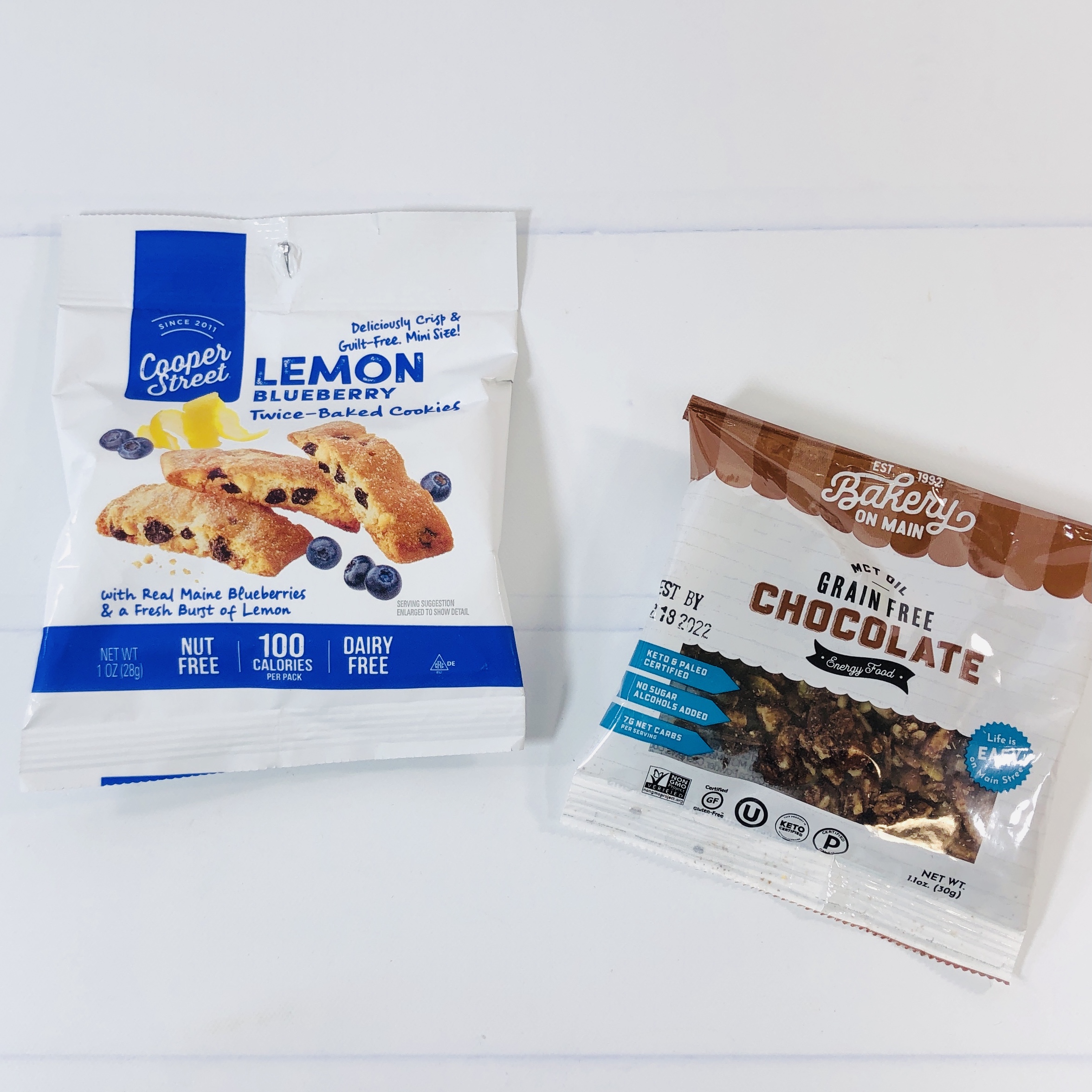 Cooper Street Lemon Blueberry Twice-Baked Cookies are mini biscotti that aren't too sweet but that do have hard bits of blueberry pieces. Perfect with coffee or tea.
Bakery On Main Chocolate Energy Food is granola but with chocolate, both in the coating and in chip form. It's super tasty, with roasted nuts and a hint of salt, some coconut and sunflower seeds. I really enjoyed it and ate it like trail mix.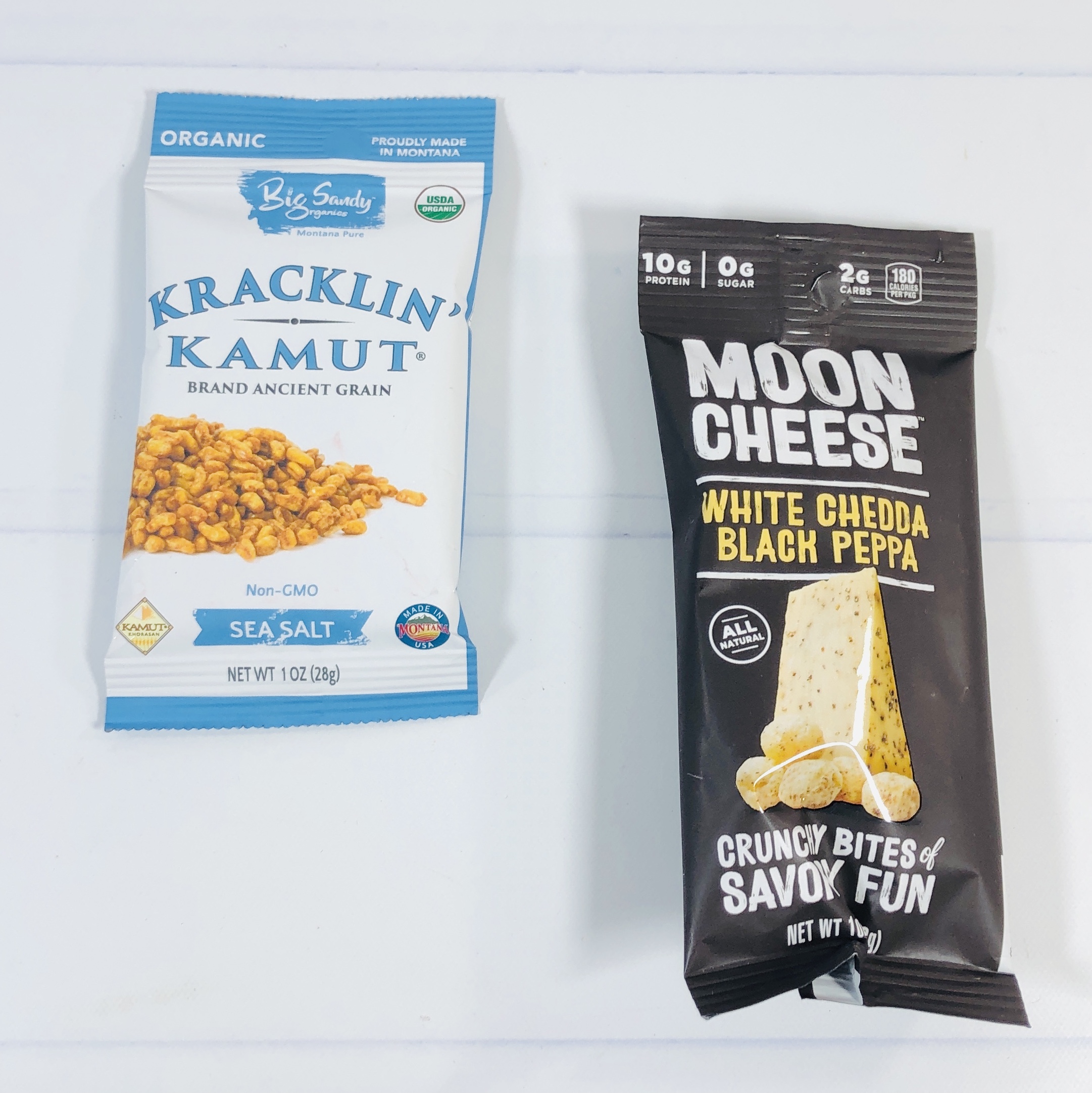 Big Sandy Organics Kracklin' Kamut Grain is an odd snack but tasty, as it's just roasted wheat berries with salt and safflower oil. I liked the flavor, kind of a cross between corn nuts and sunflower seeds and it has a decent amount of fiber. They are hard to eat at first, but if you let them sit in your mouth for a bit they will soften.
Moon Cheese White Chedda Black Peppa Crunchy Bites is one of those snacks that I just can't get into. I don't much care for the texture (which reminds me of freeze-dried foods) and I don't care for how salty they are. I would rather have a piece of cheese but then this is certainly shelf stable and won't melt in your bag.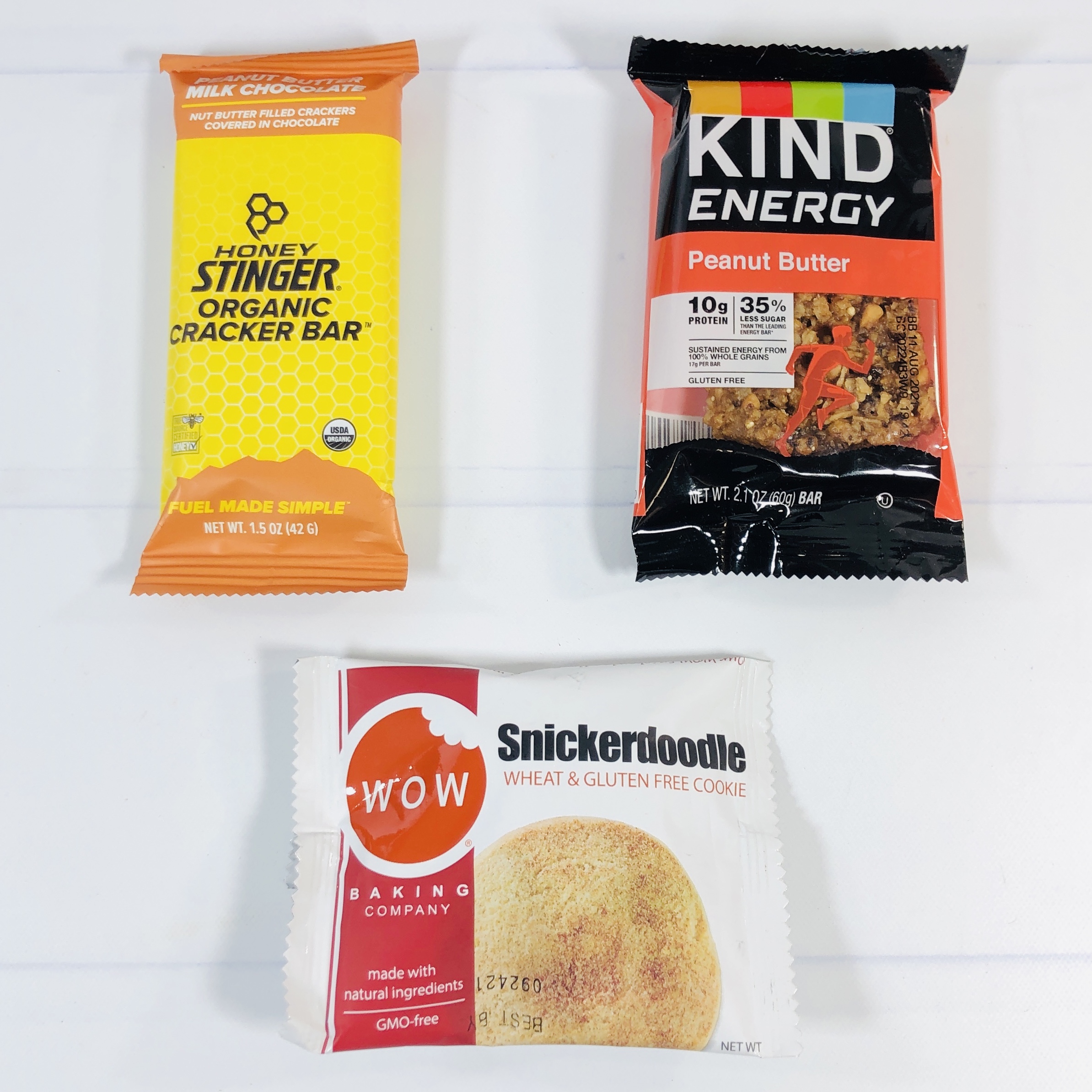 Honey Stinger Organic Cracker Bar was an odd combo to me. It has two plain crackers (matzo?) with peanut butter filling (like a PB cup) and covered with milk chocolate. I think I would prefer a pretzel instead of a bland cracker but that didn't stop me from eating the whole thing!
Kind Energy Peanut Butter Bar Granola bars are most often a breakfast for me, rather than an afternoon snack. This bar has oats, peanut butter, honey, and ancient grains that include quinoa, buckwheat, amaranth, and millet. It's chewy and tasty!
Wow Baking Company Snickerdoodle Cookie I think that if someone asked me to eat this cookie and didn't tell me it was gluten-free, I wouldn't have ever guessed. It was soft-baked and sweet and tasted more like a sugar cookie, the cinnamon flavor wasn't strong at all.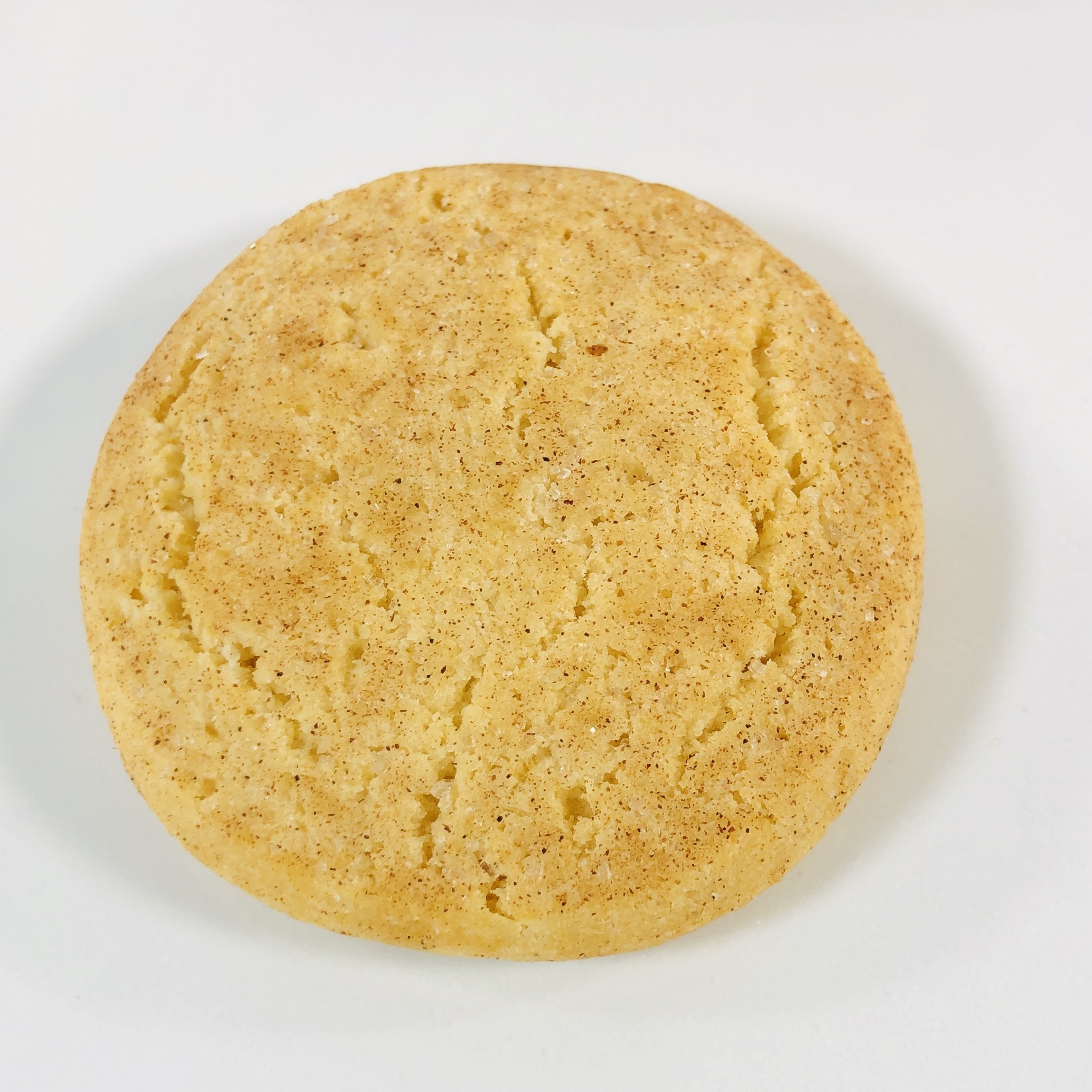 Here's the Snickerdoodle!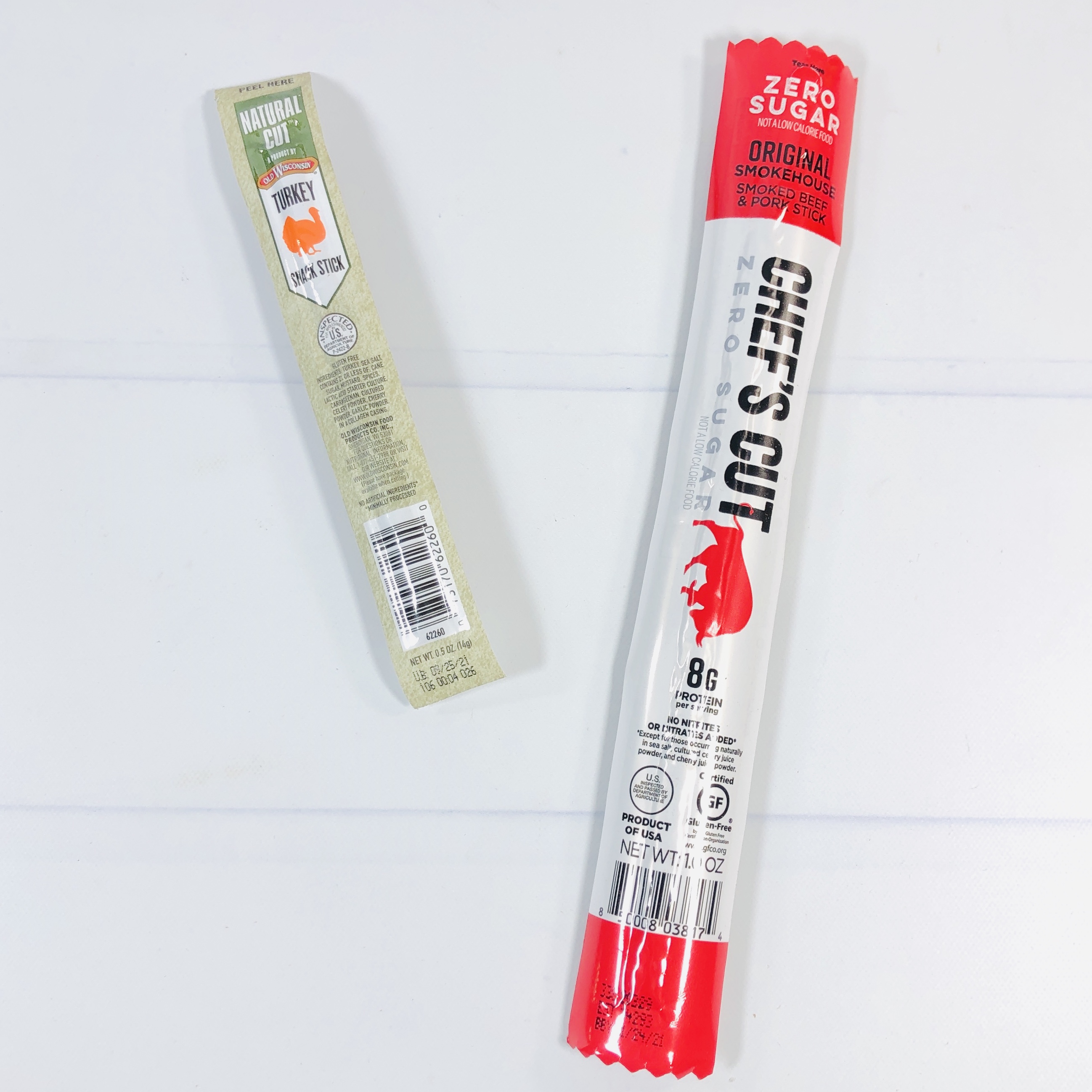 Old Wisconsin Turkey Snack Stick and Chef's Cut Zero Sugar Smoked Beef & Pork Stick Meat sticks are not my favorite snack, I think it's the chewy casing on the outside, it's a texture issue. The Zero Sugar stick wasn't sweet and had a traditional meat stick flavor, with a peppery bite. The Turkey Snack Stick was even more weird when it comes to texture, and tasted similar to salami.
Good To Go Chocolate Mint Soft Baked Bar I liked this soft-baked bar that had crunchy bits of chocolate chips and something that felt "nutty" to my teeth. The mint flavor was tasty too. It gets its sweetness from erythritol and inulin and while the chocolate chips have stevia, I didn't detect any funny aftertaste.
Mr. Nature Cranberry Trail Mix Dried fruit and nut mixes are always my favorite type of snack, and this one was super tasty! I liked the plump craisins, yellow raisins, peanuts, pepitas, and sunflower seeds. This was very low in sodium too, yet it was full of flavor.
Here's the minty Good To Go bar!
Daelman's Stoopwafel in Caramel Stroopwafels are a yummy, indulgent treat. It's a pair of cookies that happen to have caramel sandwiched in between. You can eat it as is or place on top of a cup of coffee or tea and let the heat warm it up a bit before you consume.
Appleways Blueberry Oatmeal Bar is a soft-baked bar that can stand in for breakfast on the go. It has oats near the beginning of the ingredients and some fruit but otherwise it's similar to a Nutrigrain Bar.
SunRype Fruit To Go Fruit Strip is a fruit strip and my daughter is the consumer of this type of snack in my home. It has various fruit juices including lesser known varieties such as boysenberry and elderberry.
There were a lot of past favorites in the April Love With Food Deluxe Box. I feel like I've received several of them just within the past couple of months but luckily it's all pretty tasty! I especially liked the chocolate granola, so decadent, and while I wasn't a fan of the elote puffs it was something new and I love trying new flavors. I think I could do without the moon cheese and jerky for a while but then again, that's just my preference and luckily there were plenty of other snacks that I liked. There were 16 snacks total, so that's about $1.25 a snack, and since most are available in bulk or larger sizes, I was happy to try them in smaller amounts before splurging on my favorites.
What's your favorite snack from the Love With Food Deluxe Box this month?
Visit Love with Food Deluxe Box to subscribe or find out more!