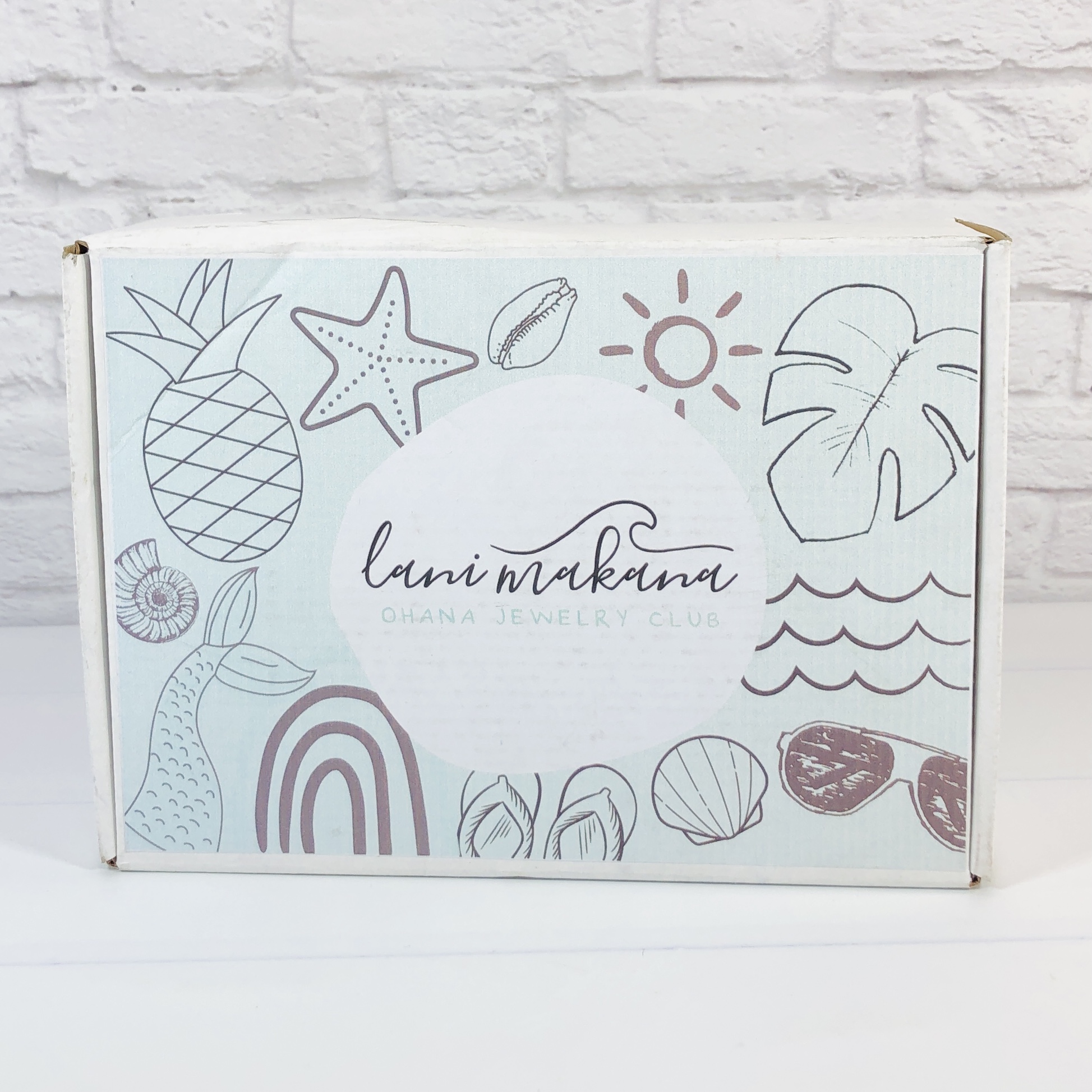 Lani Makana Ohana Jewelry Club is a monthly subscription that features beach-inspired jewelry and accessories. Each box contains 1-2 exclusive jewelry pieces plus 2-3 beach-inspired items that may include bath and body products, home goods, and treats. The subscription costs $38 and the retail value of the jewelry may be up to a $65 value.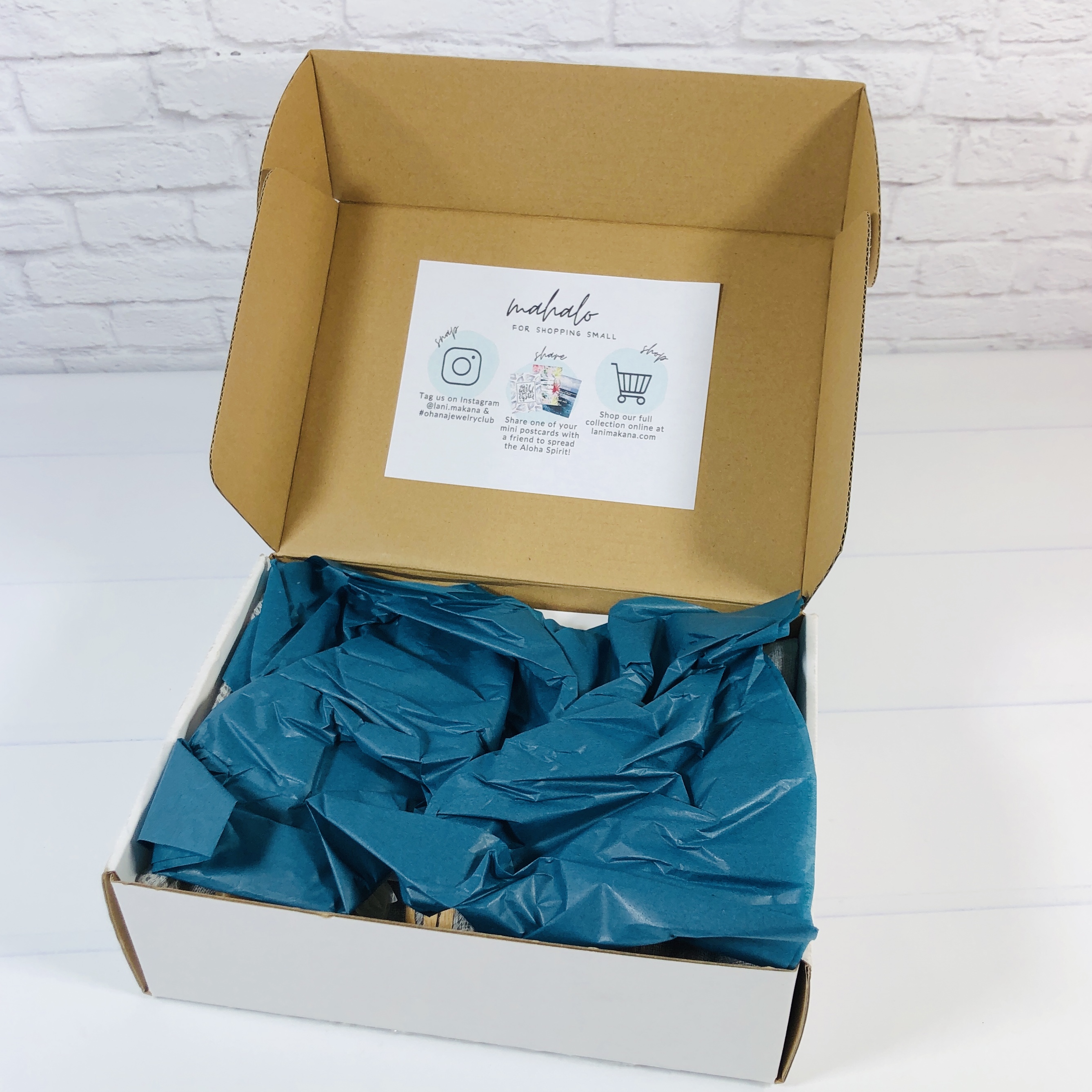 The presentation was very simple, with some colorful tissue paper to cushion my products.
The inside of the box had the social media sites listed and tells where you can get more items from Lani Makana!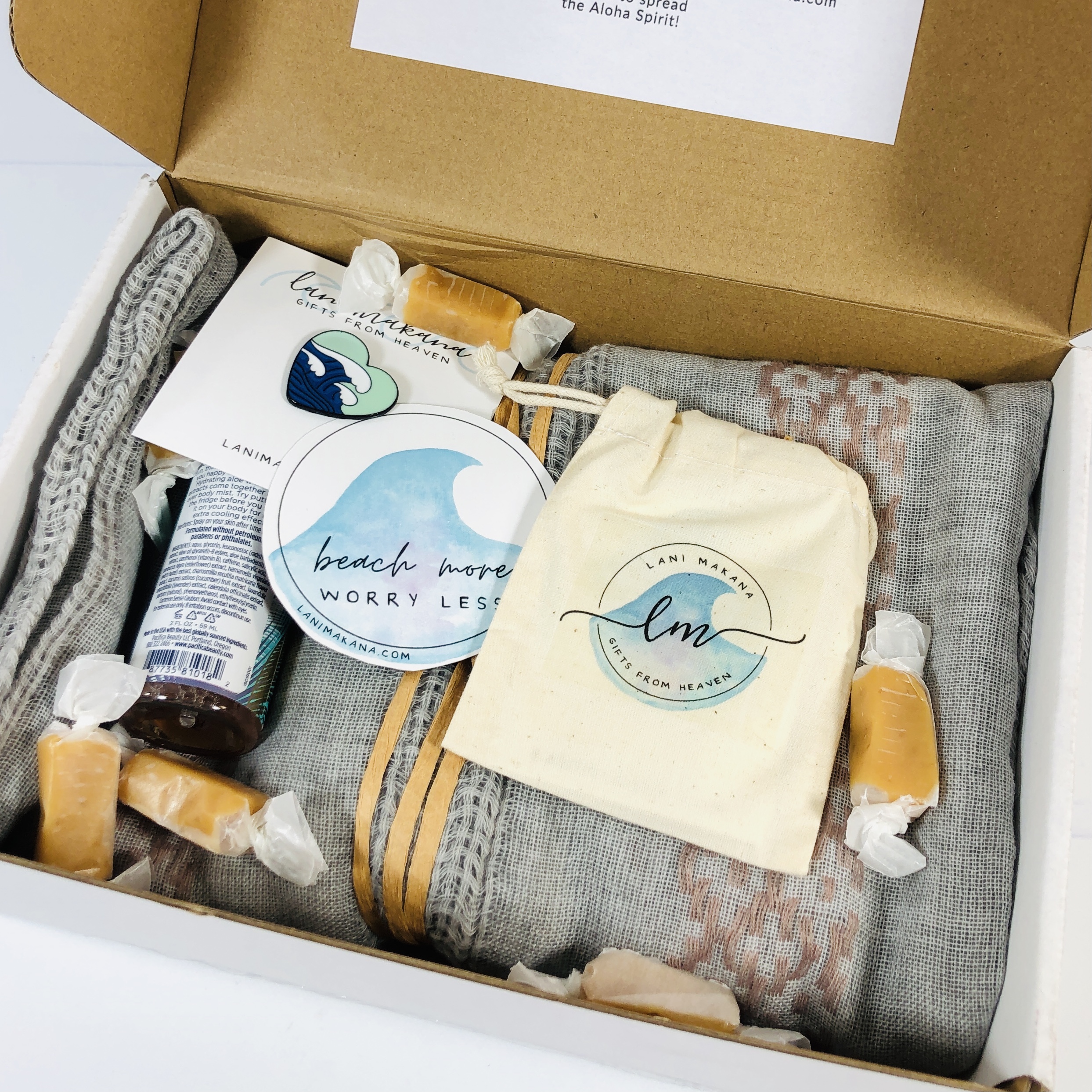 First peek!
There were a few cards clipped together to keep it from getting thrown around in the box. The first card welcomed me to the club. It mentioned that there may some customization options so check your emails for details.
The inside of the box lid mentioned sharing mini postcards with a friend and here they are!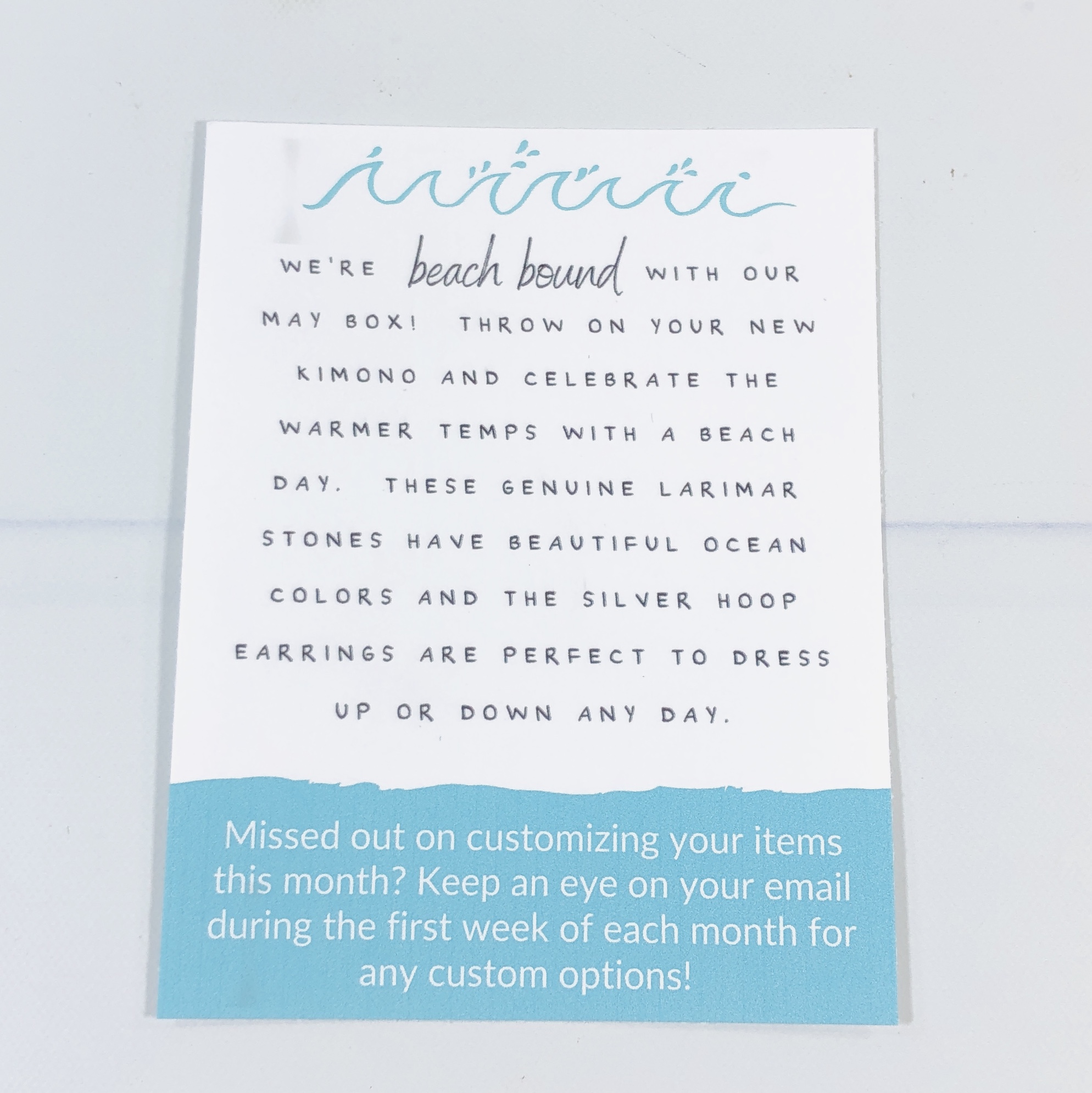 This card described the items in the box, and it mentions that the stones used in this month's jewelry are called Larimar stones.
Here is all that can be found in the May Beach Bound box!
Everything in my box!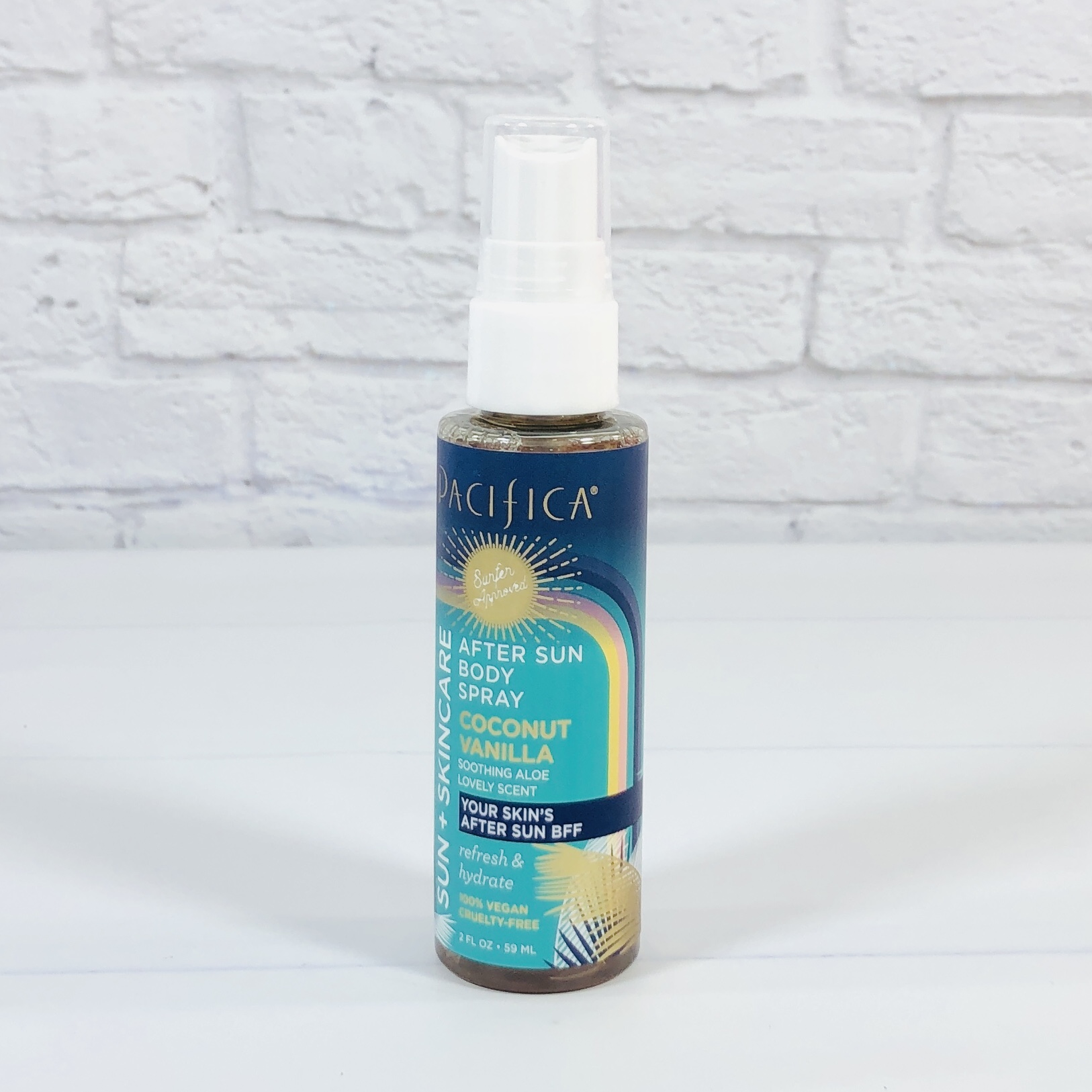 Pacifica After Sun Body Spray in Coconut Vanilla ($2.50) A travel-friendly spray will help skin feel refreshed after a day in the sun, whether that's at the beach or in your own backyard. It has a tropical fragrance that smells of coconut but like summer, it doesn't linger for long.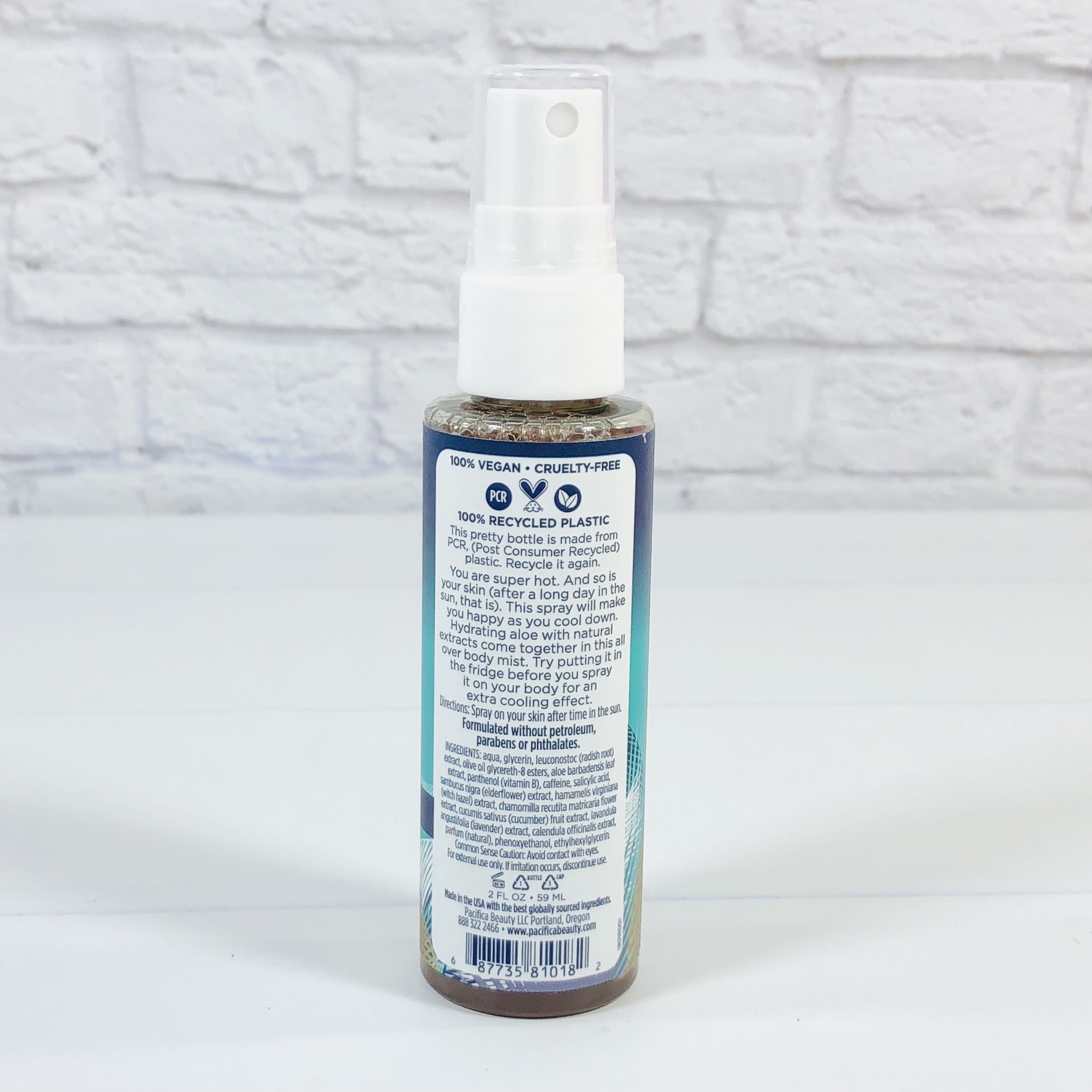 The instructions suggest putting it in the fridge before using for an extra blast of coolness. The ingredients in this product, which is from a vegan-friendly and cruelty-free brand, includes water, glycerin, aloe, panthenol, caffeine, and plant extracts. I appreciate that it doesn't have any drying alcohol and didn't feel sticky after drying.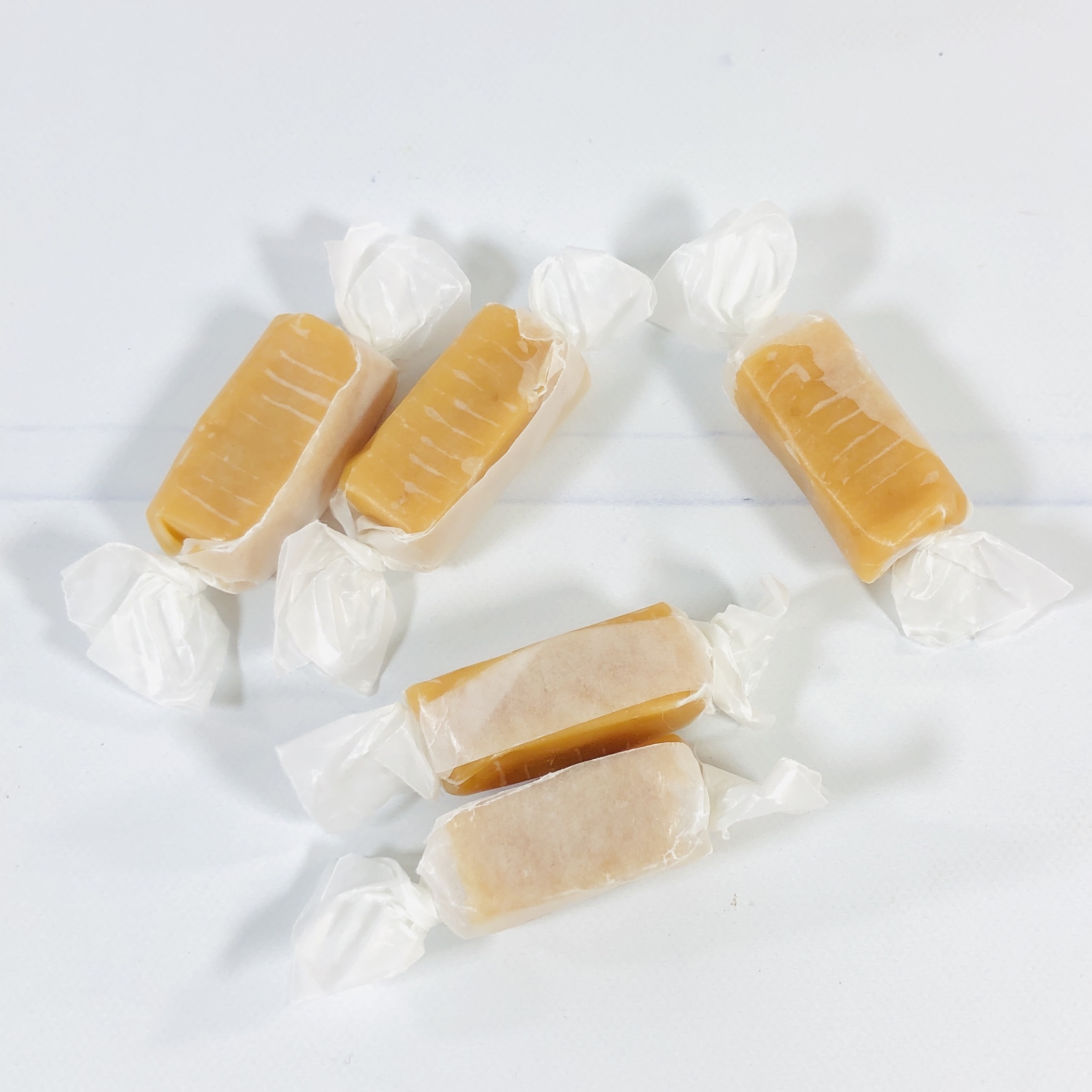 Lani Makana always has a sweet treat and this month it is Salted Caramels! These were so tasty, I love caramel!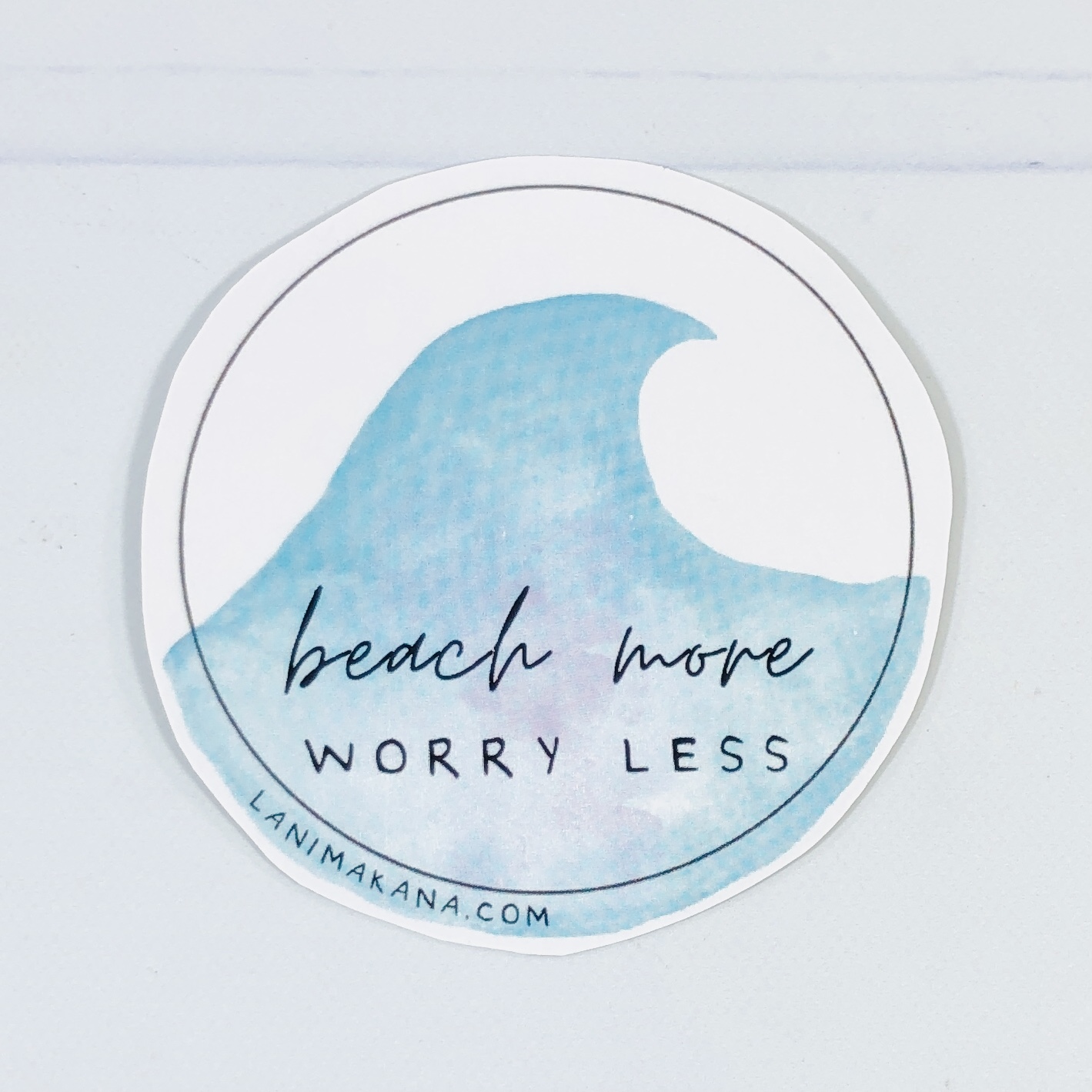 Wave Magnet A simple magnet for the fridge reminds me to "beach more, worry less" and I will see it every time I get a refreshing beverage from my kitchen. The magnet is about 2.75″ across.
Wave Heart Pin An enameled heart pin reminds me of where I want to be, which is in the ocean, splashing around in the waves. The pin is about 1″ across and high, and has pretty waves and a background of blue skies.
Textured Kimono A beach coverup in shades of grey and brown with a textured weave can be worn to the beach, pool, or as an accessory. It is made of 100% polyester and is one size fits most. There is fringe all along the bottom.
I am very solidly in the plus size realm and this fit me with no problem. Sorry it's not styled, I had to grab my photographer at the last minute and I was wearing my "house" clothes and no shoes!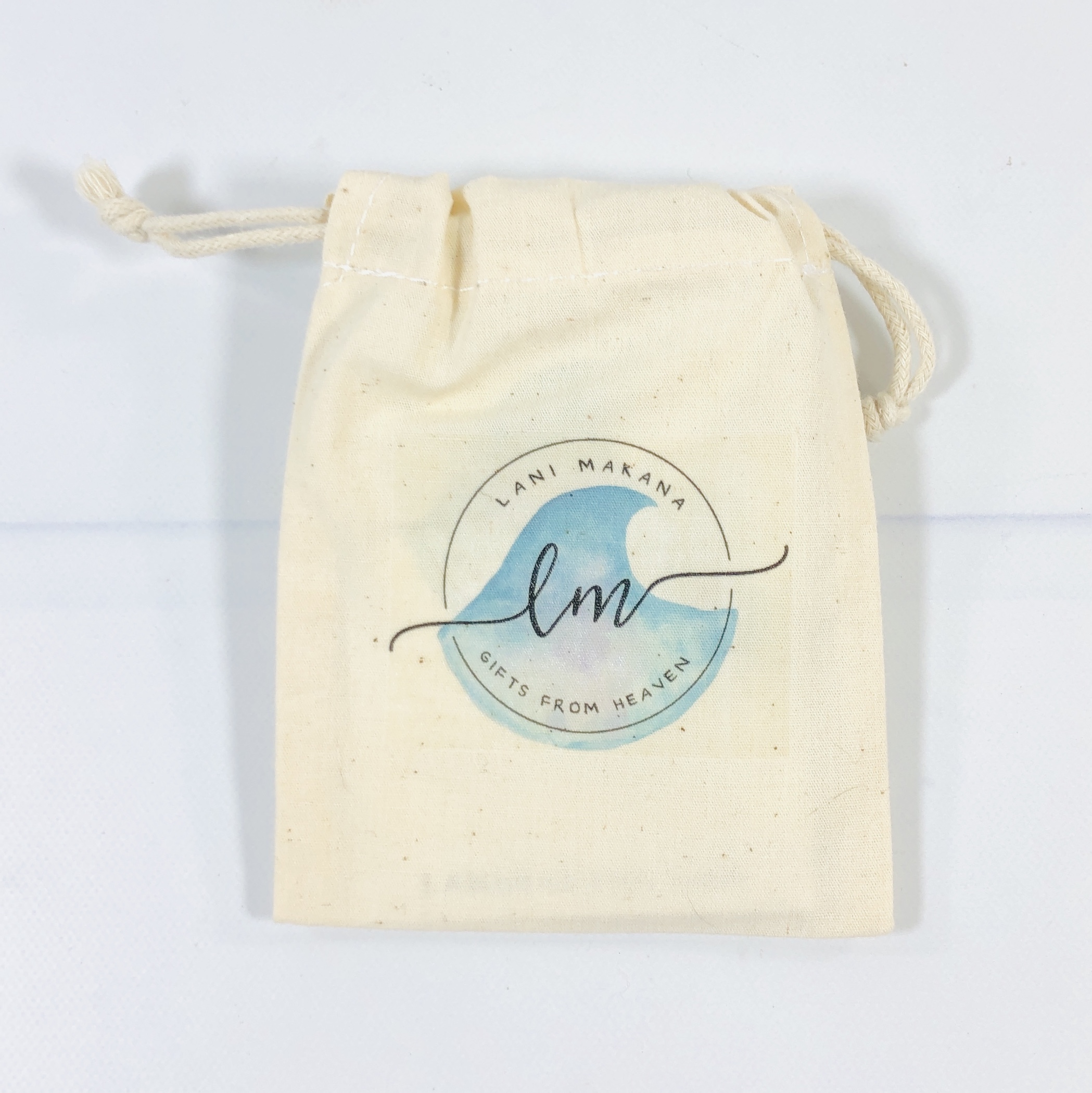 Both of the jewelry items were inside of a reusable pouch.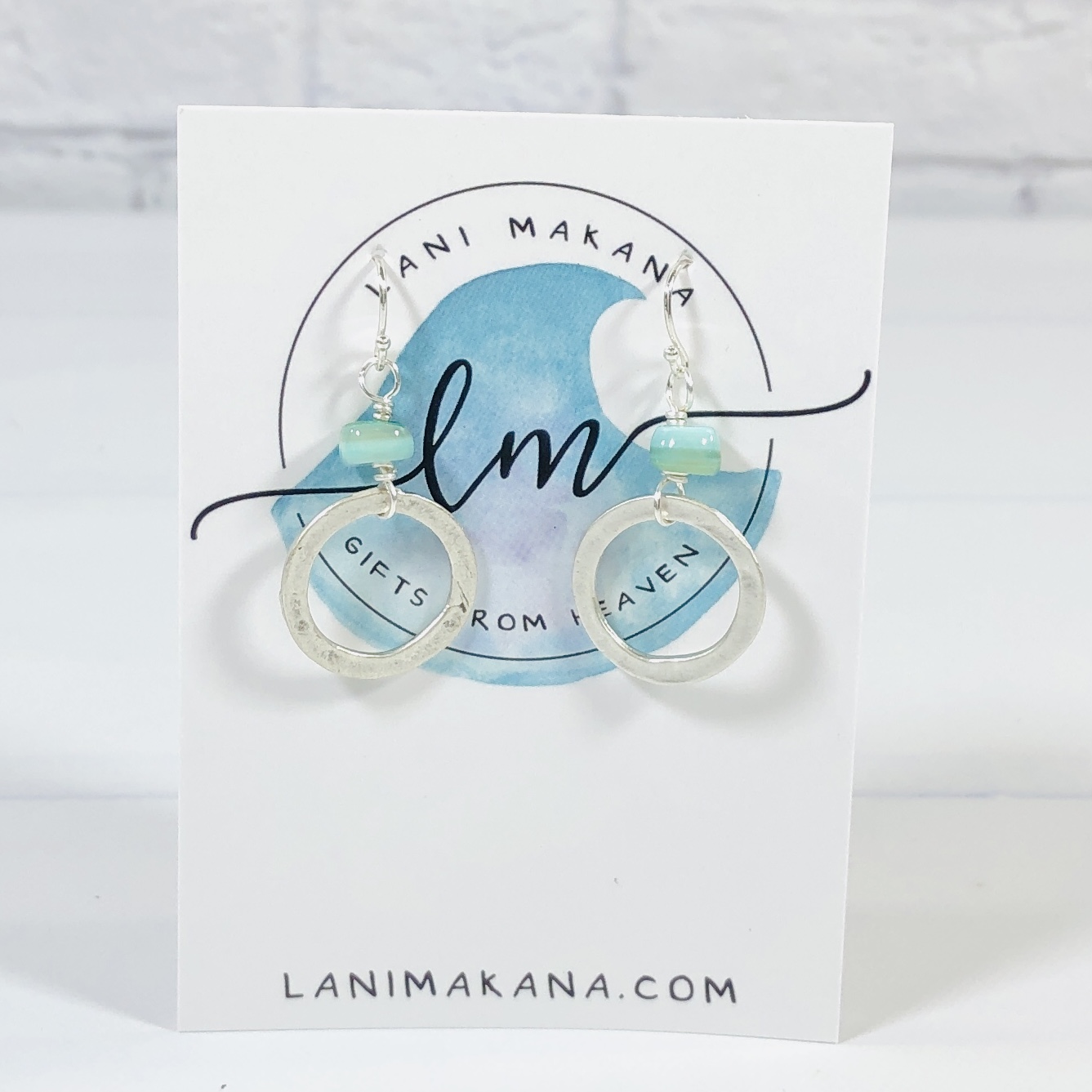 Beach Hoop Earrings The earrings this month have a beautiful blue stone called Larimar, which I had never heard of before today!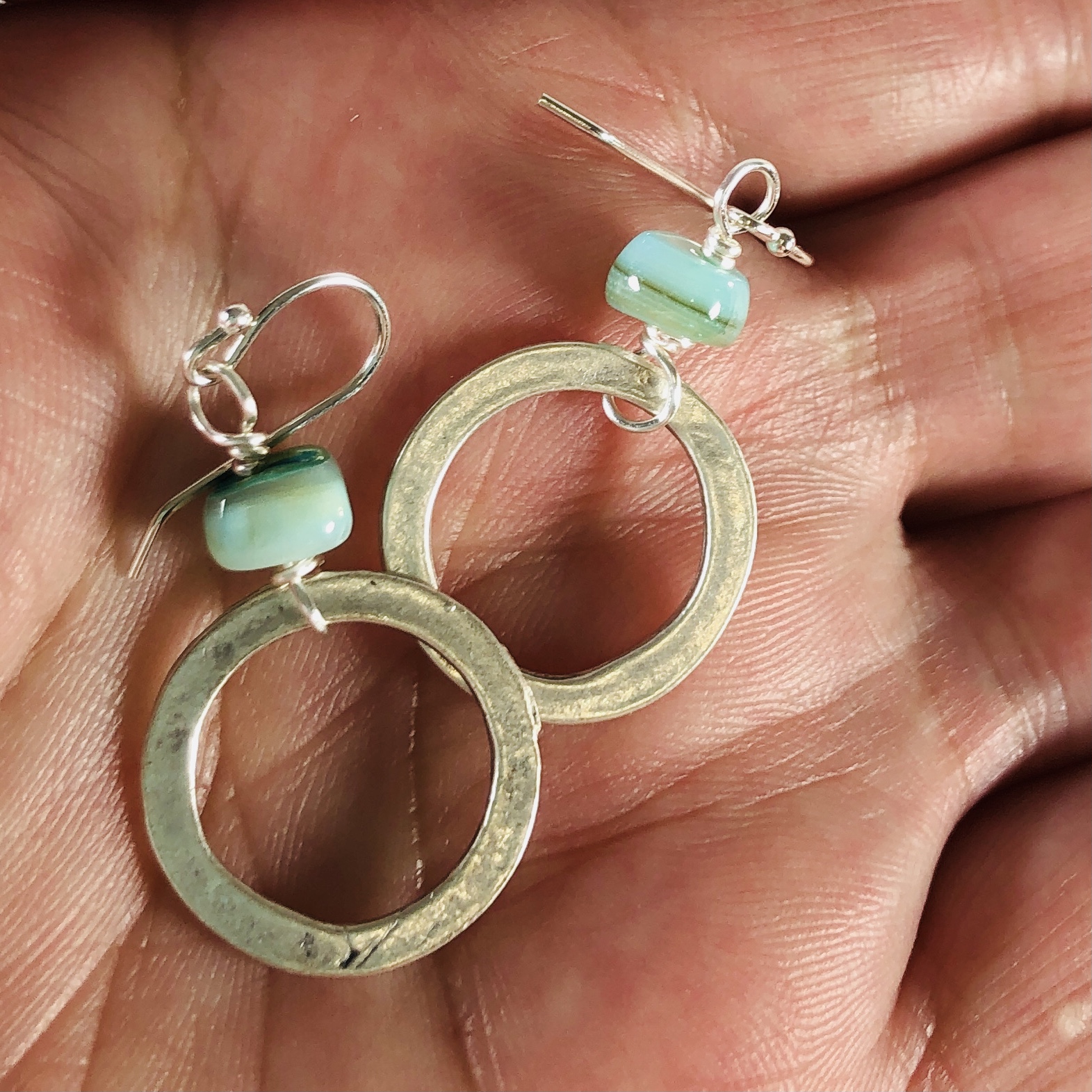 The earrings are finished with sterling silver ear wires and have a silver disk beneath the stone. The hoop is about .75″ across and the earrings are about 1.5″ long from the top of the ear wire.
Larimar Stone Necklace The matching necklace has a larger bit of that same stone and with grey striations within the blue.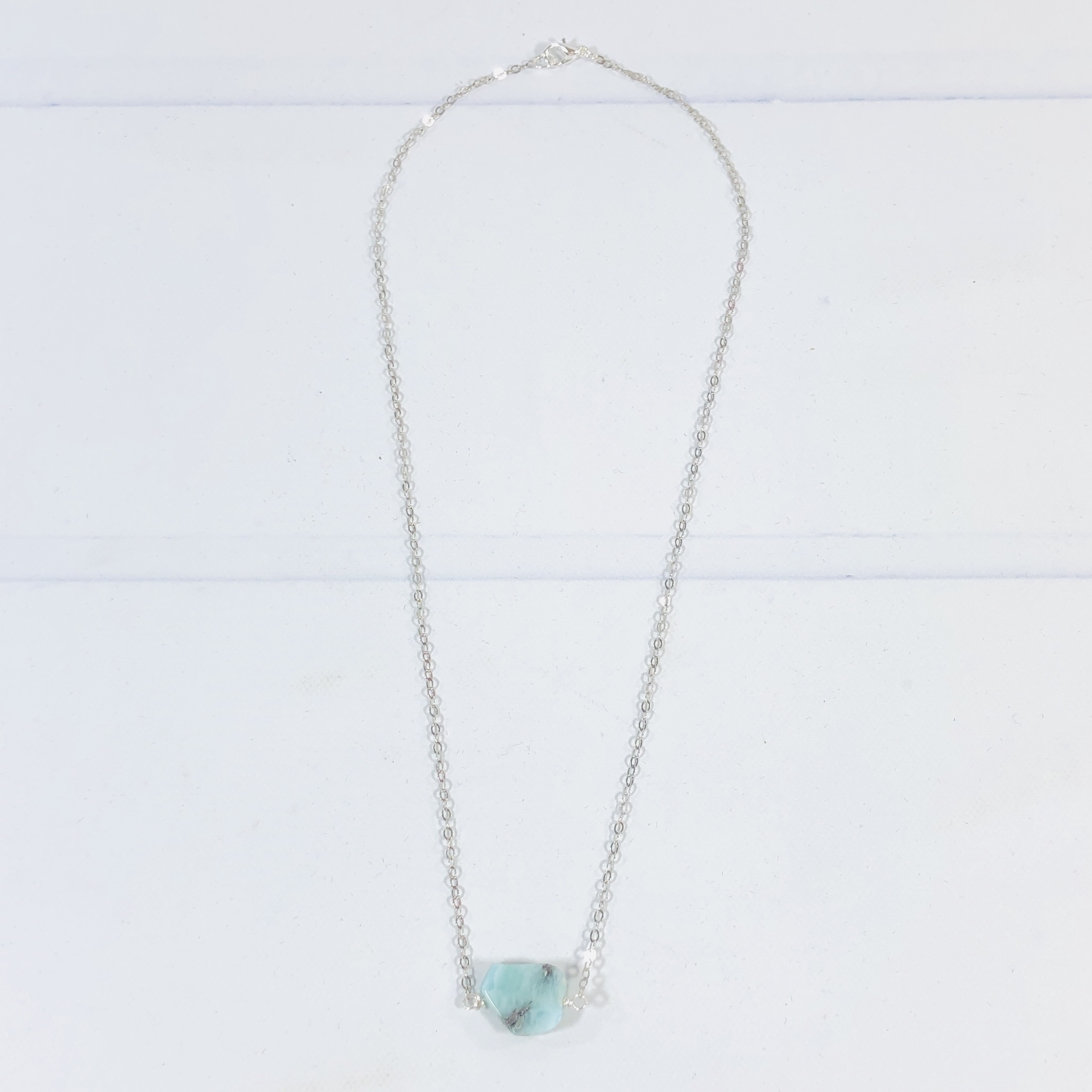 The necklace is on a rhodium plated sterling silver chain and the necklace is 18.5″ long from one clasp to the other.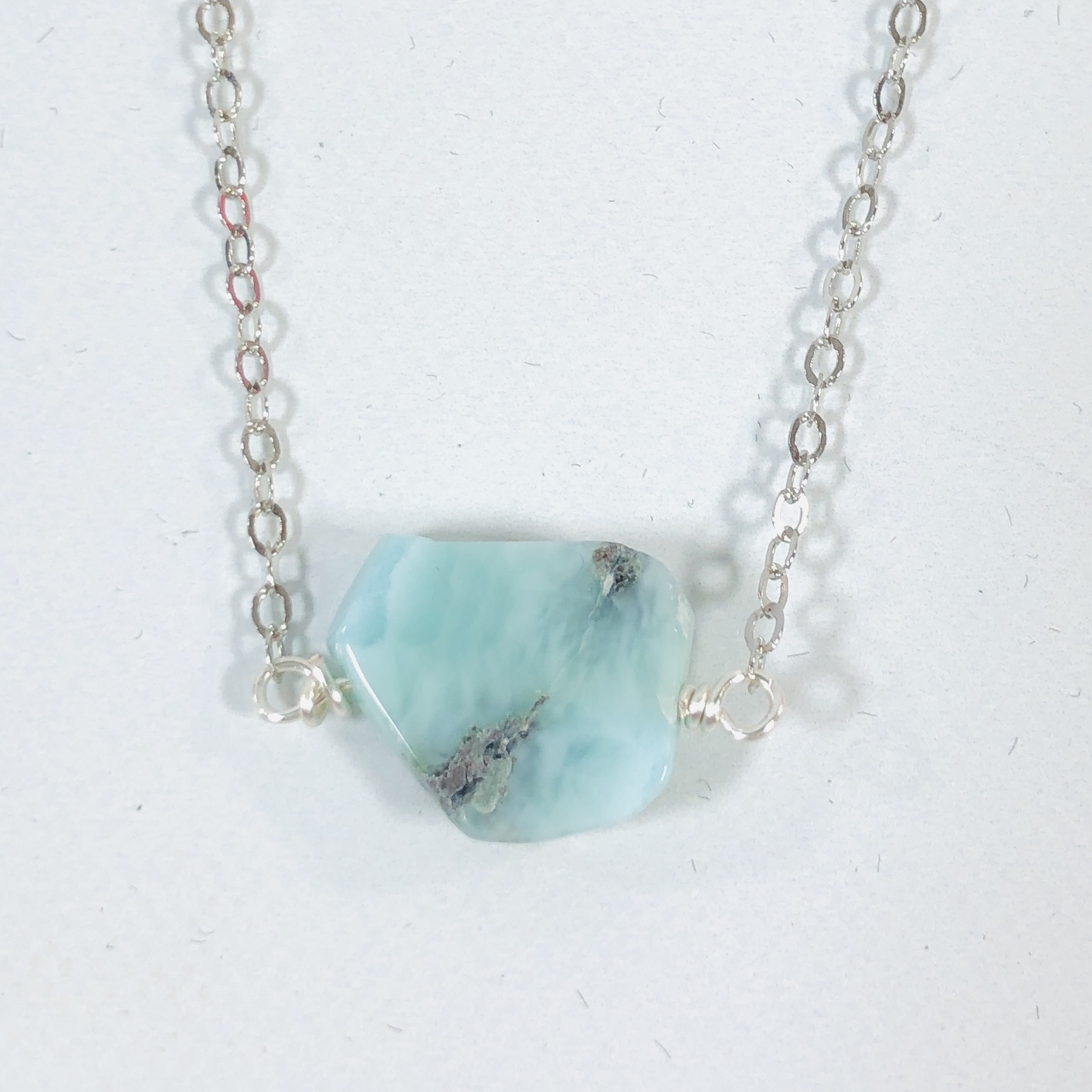 The stone is about .5″ long. It is fixed in place.
Such a lovely piece, I love the color, like a storm in the middle of the ocean.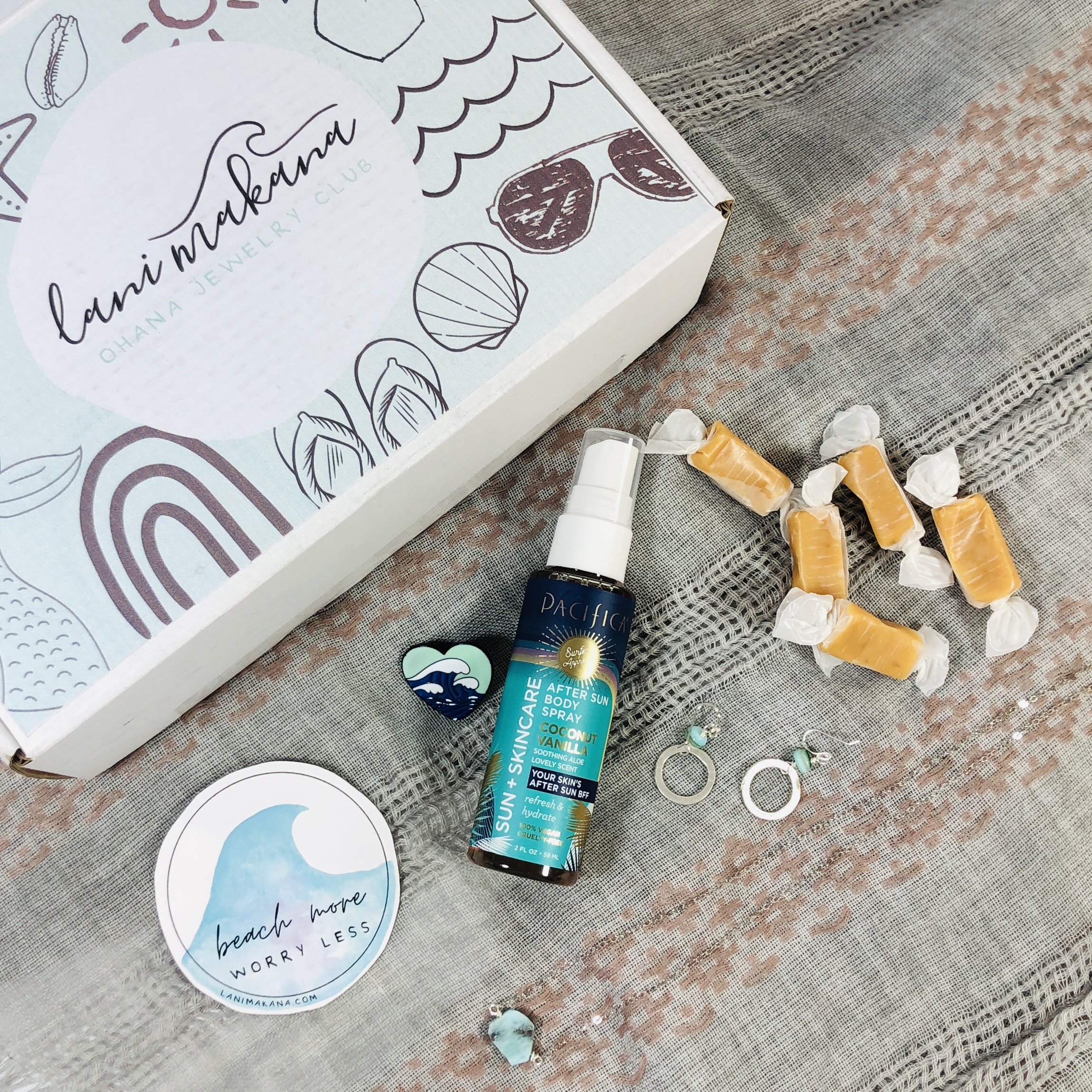 Lani Makana assembles the cutest collections — they speak to my laid-back style and attraction to natural elements, like the stones in the earrings and necklace. My daughter claimed the after-sun spray, she loves all things coconut, while I indulged in the caramels by myself. The magnet will go on my fridge, the pin on my bookbag, and I might just work on my styling skills to wear the coverup as a piece of street clothing, or maybe I'll wear it to the pool. It is a comfortable piece and generously sized, and I think it's a big step up from the old t-shirt and shorts that I usually wear.
What do you think of this month's Lani Makana box?
Visit Lani Makana Ohana Jewelry Club to subscribe or find out more!