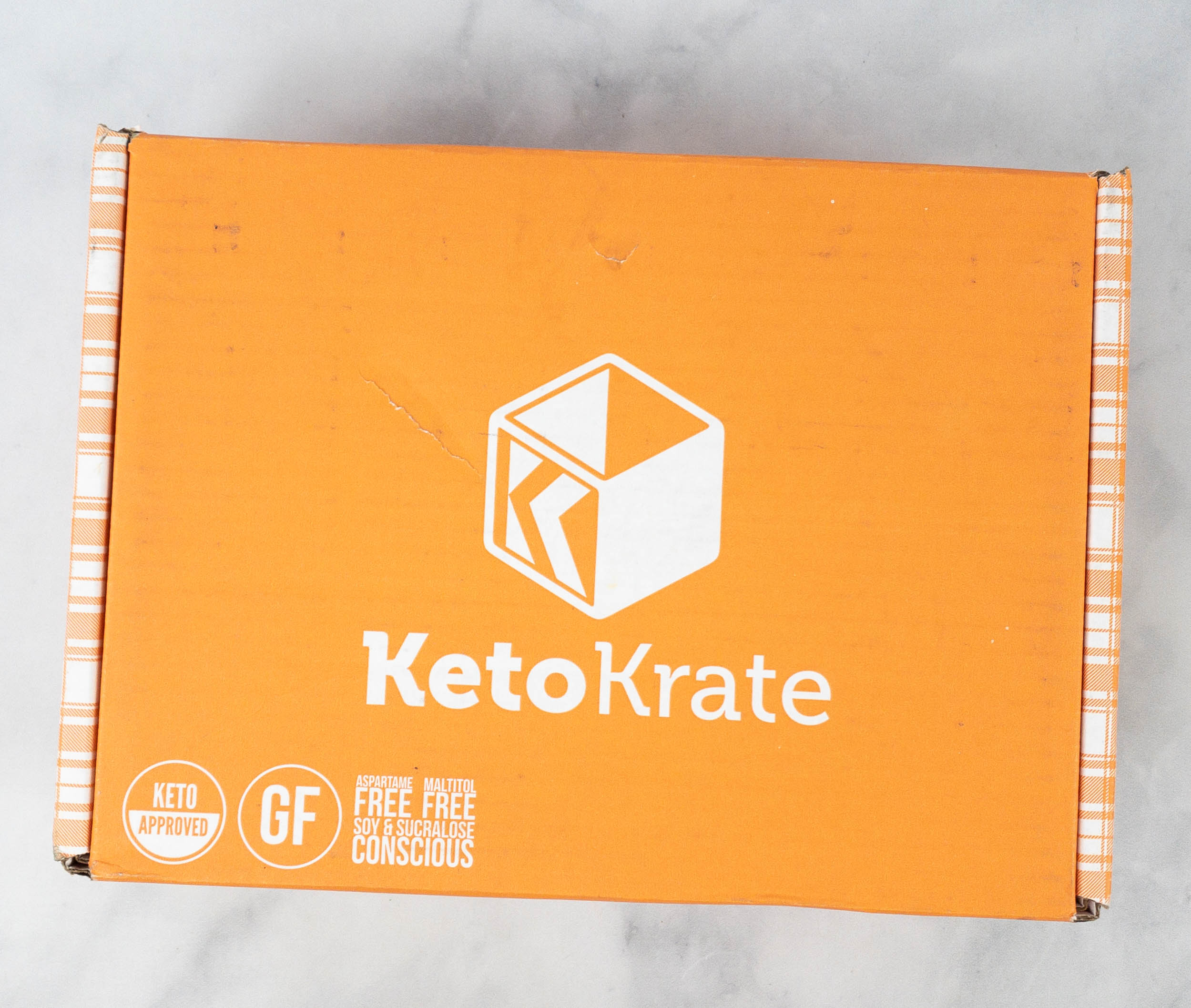 Keto Krate offers a keto subscription box for those who love keto snacks! Every month, members receive 10+ full-sized keto snacks with less than 5g net carbs per serving, as well as printed insert including keto tips, keto recipes, keto advice, member case studies, and other information to keep you inspired with your keto journey. Members also get VIP access to the members-only KetoShop and Krate.Club. KetoShop is where you can discover and purchase more keto-friendly goodies including past Krates and one-off items. Krate.Club is where you'll find more useful information, discounts, recipes, and more for the current month's KetoKrate! The subscription costs $39.99 a month, plus free shipping.
Keto Krate's keto snack and food subscription made the list in our 2021 readers' choice best health and wellness subscription box list!
DEAL: Get $10 off your first Krate! Use coupon code HELLO100FF.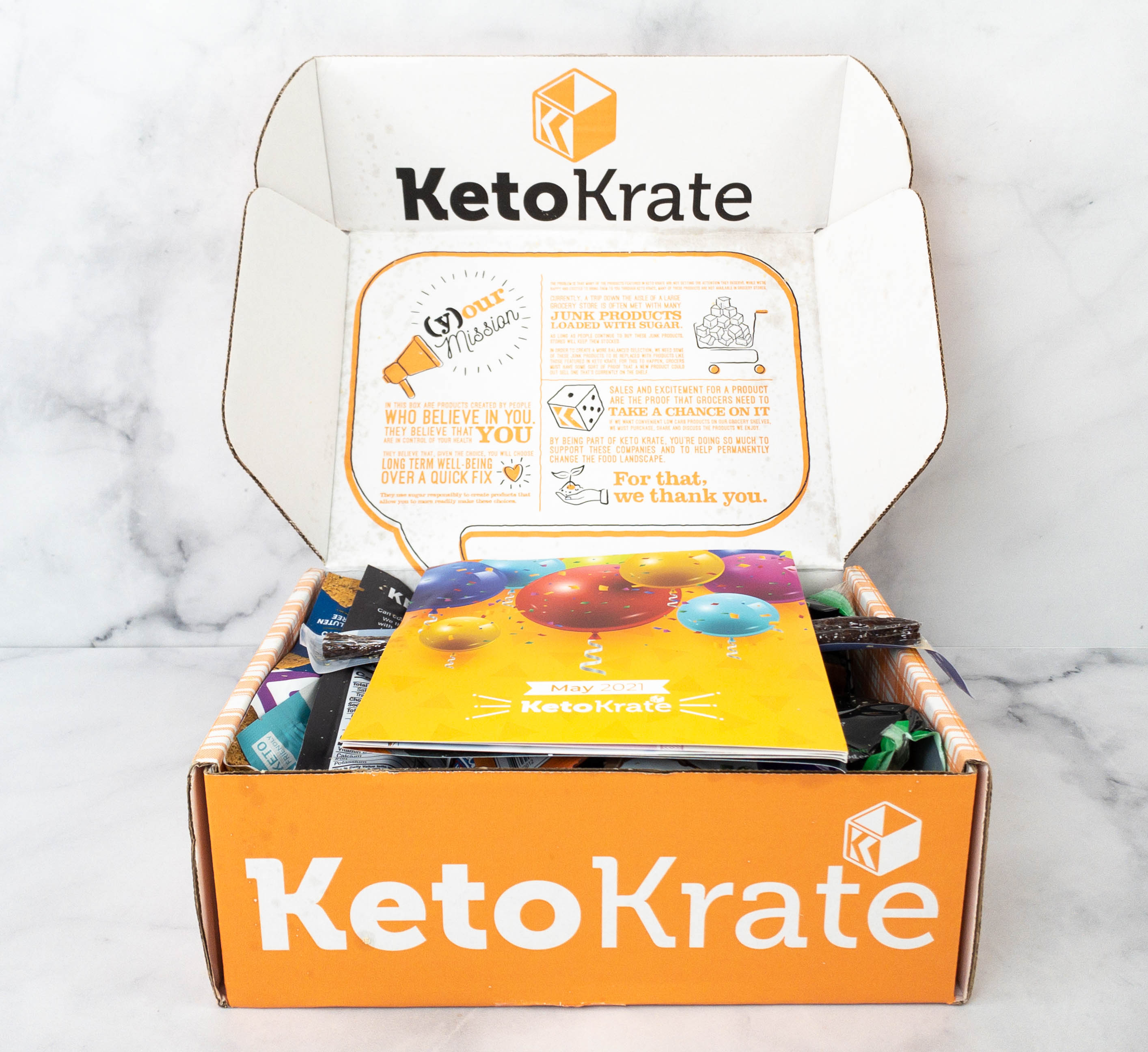 As always, the box is full of low-carb snacks!
The box has no extra packaging, fillers, or squiggles.
Here's a promotional booklet from Keto Krate.
It also shows how members can access the members-only KetoShop!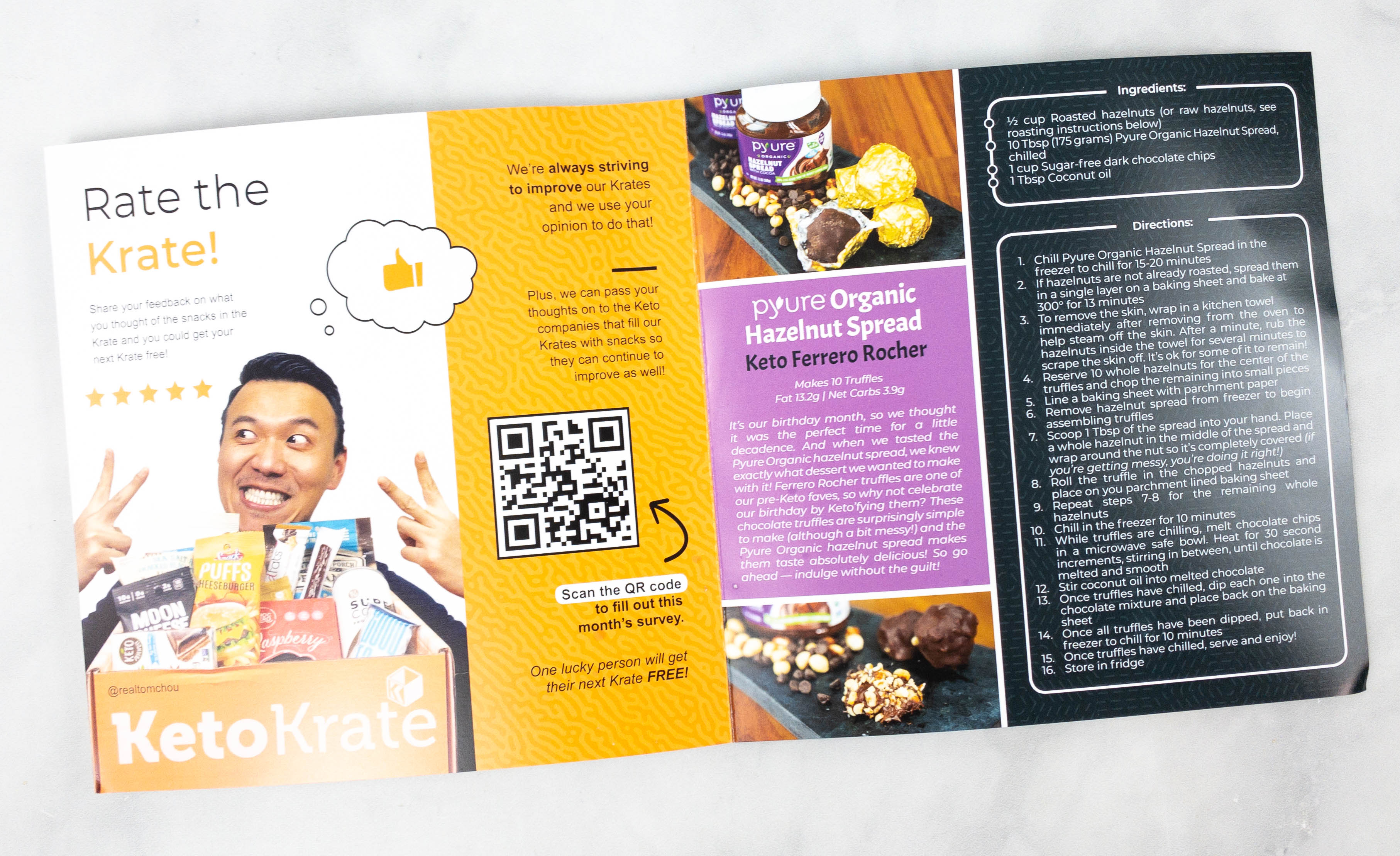 This part of the booklet has a keto friendly recipe! It's Keto Ferrero Rocher which uses Pyure Organic Hazelnut Spread.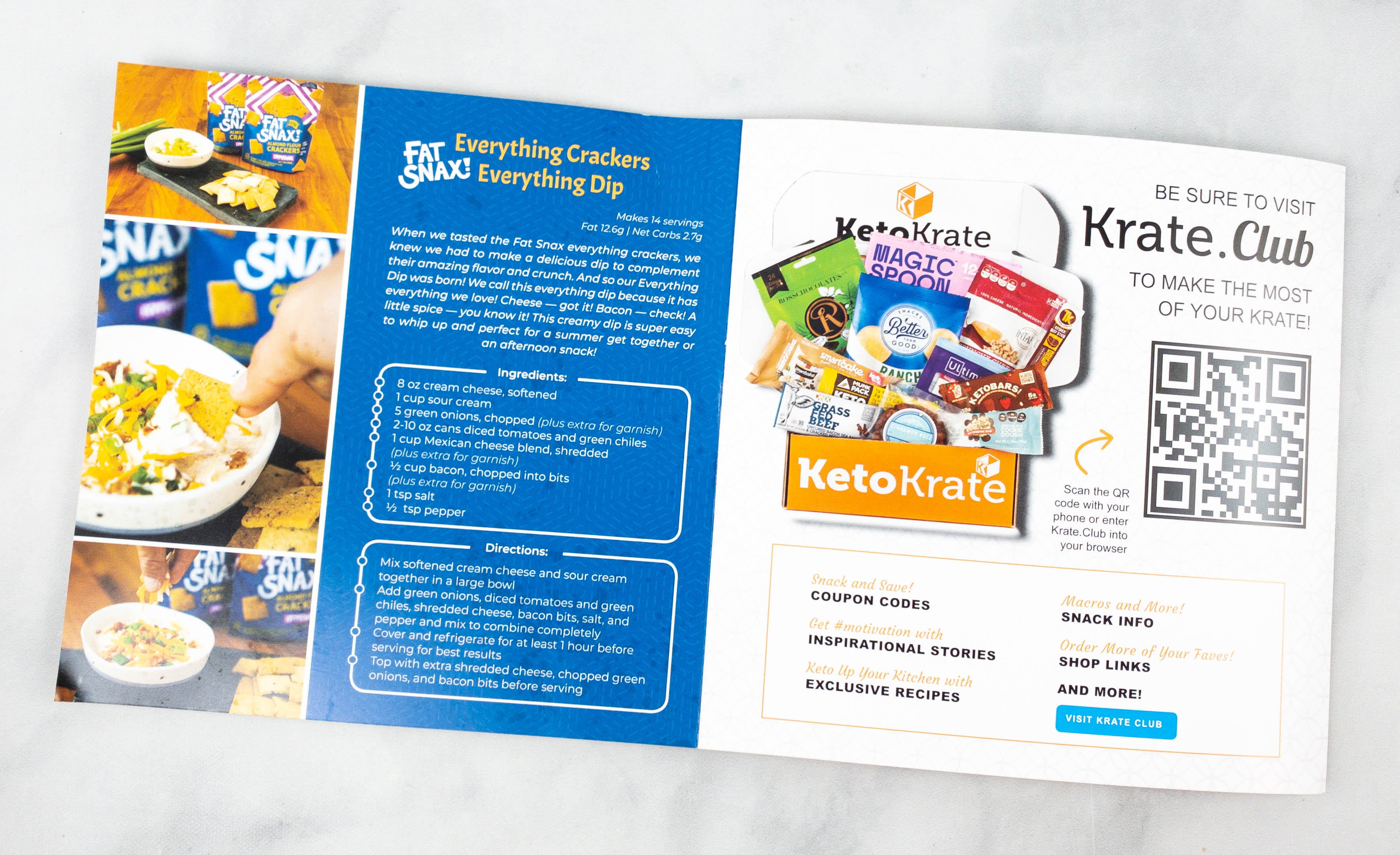 Another page featured a recipe for a delicious dip to go along with Fat Snax's Everything Crackers.
Another part of the booklet features inspiring stories of people who are on a keto diet, plus tips!
Everything in my box!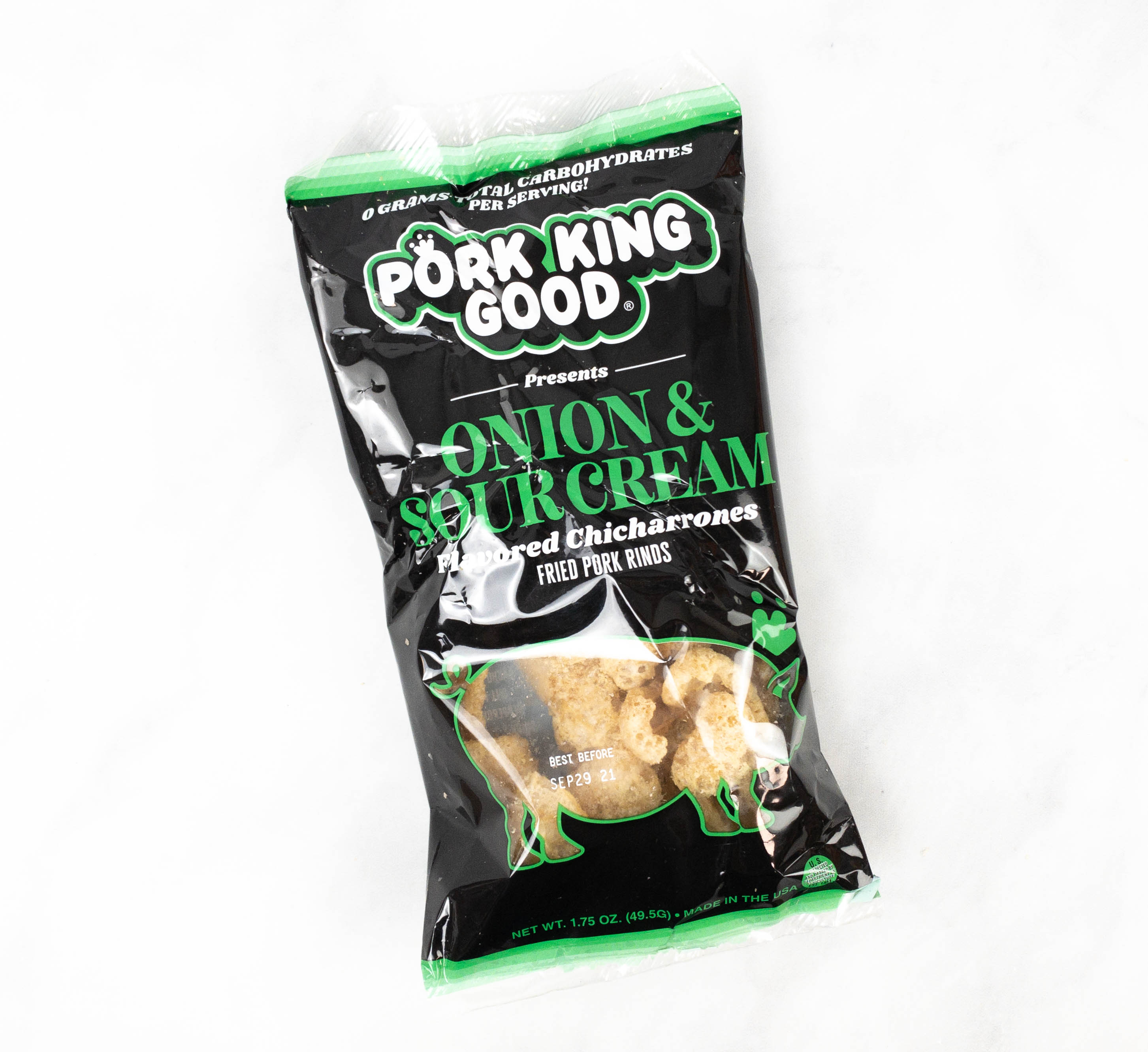 Pork King Good Onion and Sour Cream Fried Pork Rinds ($13.99) It's a pack of fried pork rinds infused with a delicious onion and sour cream flavor. Each piece was light and crunchy! I can taste more of the onion than the sour cream, but it's all good. Also, it has zero carbs per bag, making it a perfect snack for keto dieters!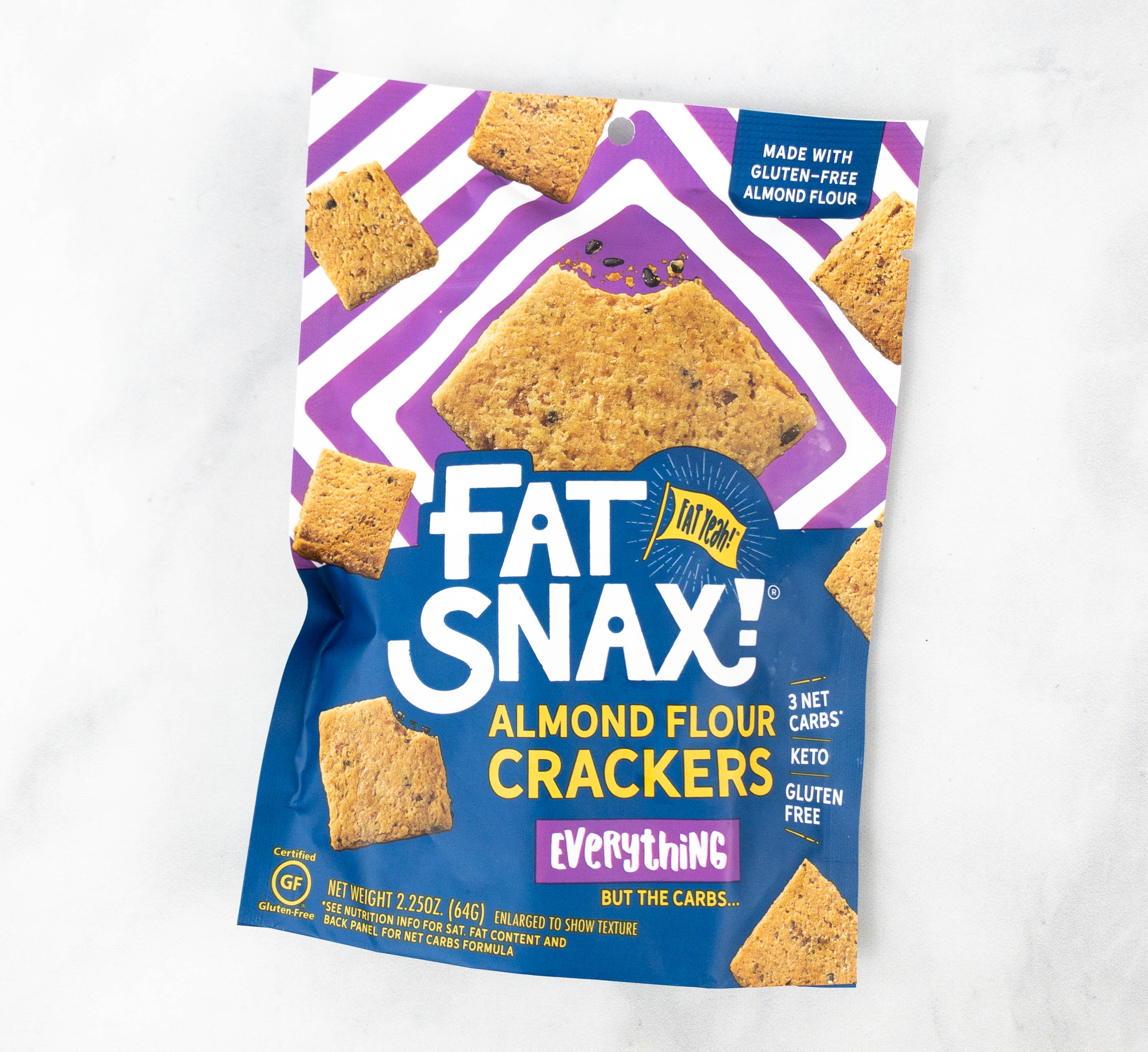 Fat Snax Almond Flour Crackers ($3.75) These crunchy crackers are made with almond flour! They have a nice texture and they pair well with different kinds of dips. I like that they're not crumbly, so they are not messy to eat. Also, the crackers are low carb and free from gluten, grain, and preservatives.
Super Fat Keto Cookie Bites ($5.33) For cookie lovers, here's a pack of mini cookies made with grass-fed butter and without added sugar. They come in a double dark chocolate flavor, which makes each bite delightful. It's a good snack to have in handy to satisfy sweet tooth cravings without the guilt.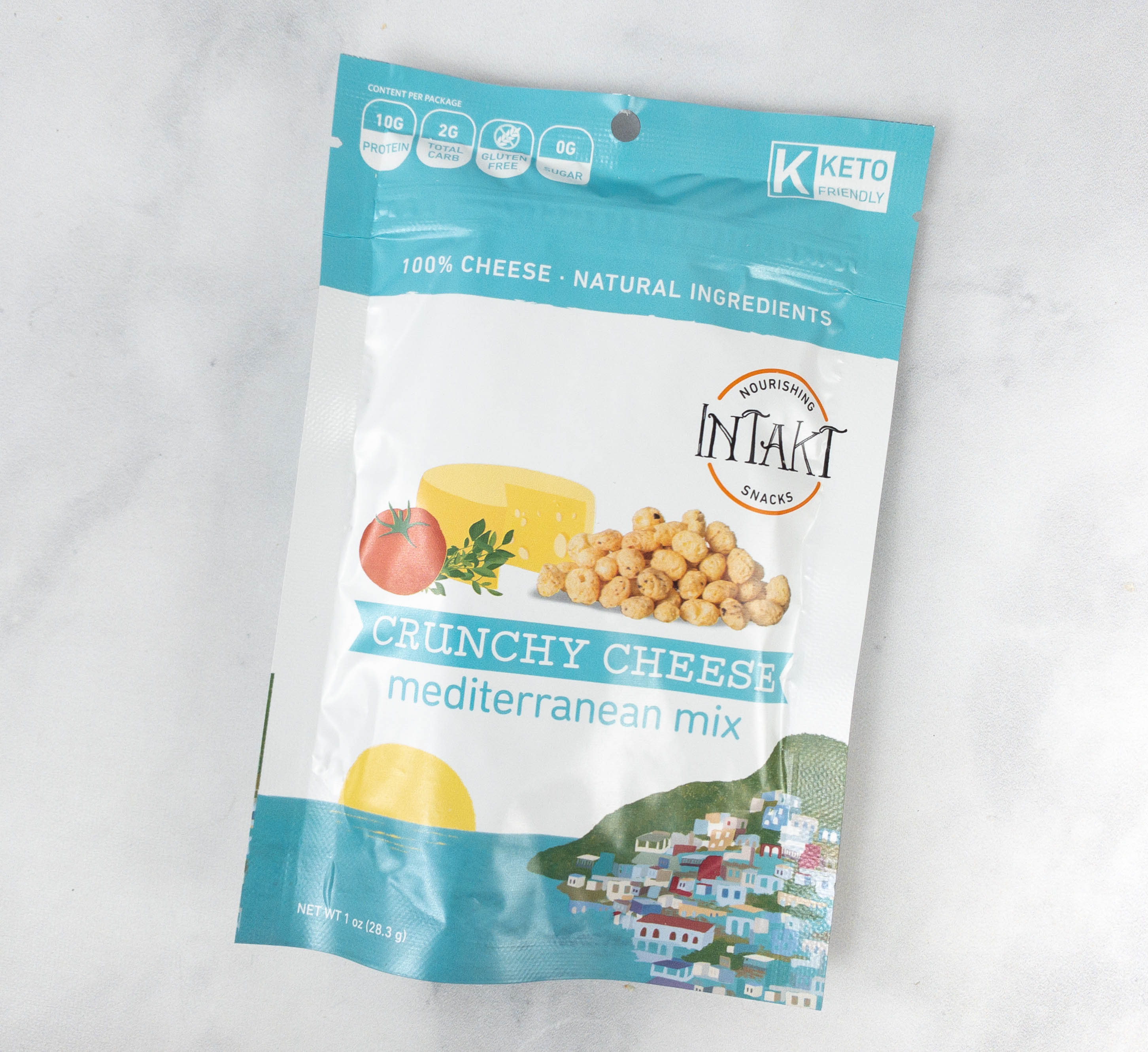 Intakt Snacks Crunchy Cheese Mediterranean Mix ($2.33) This snack is similar to cheese puffs, but healthier and tastier! It's made using grass-fed cow's milk and infused with a tasty blend of tomato, basil, and oregano. It's also dried at a low temperature to preserve the nutrients.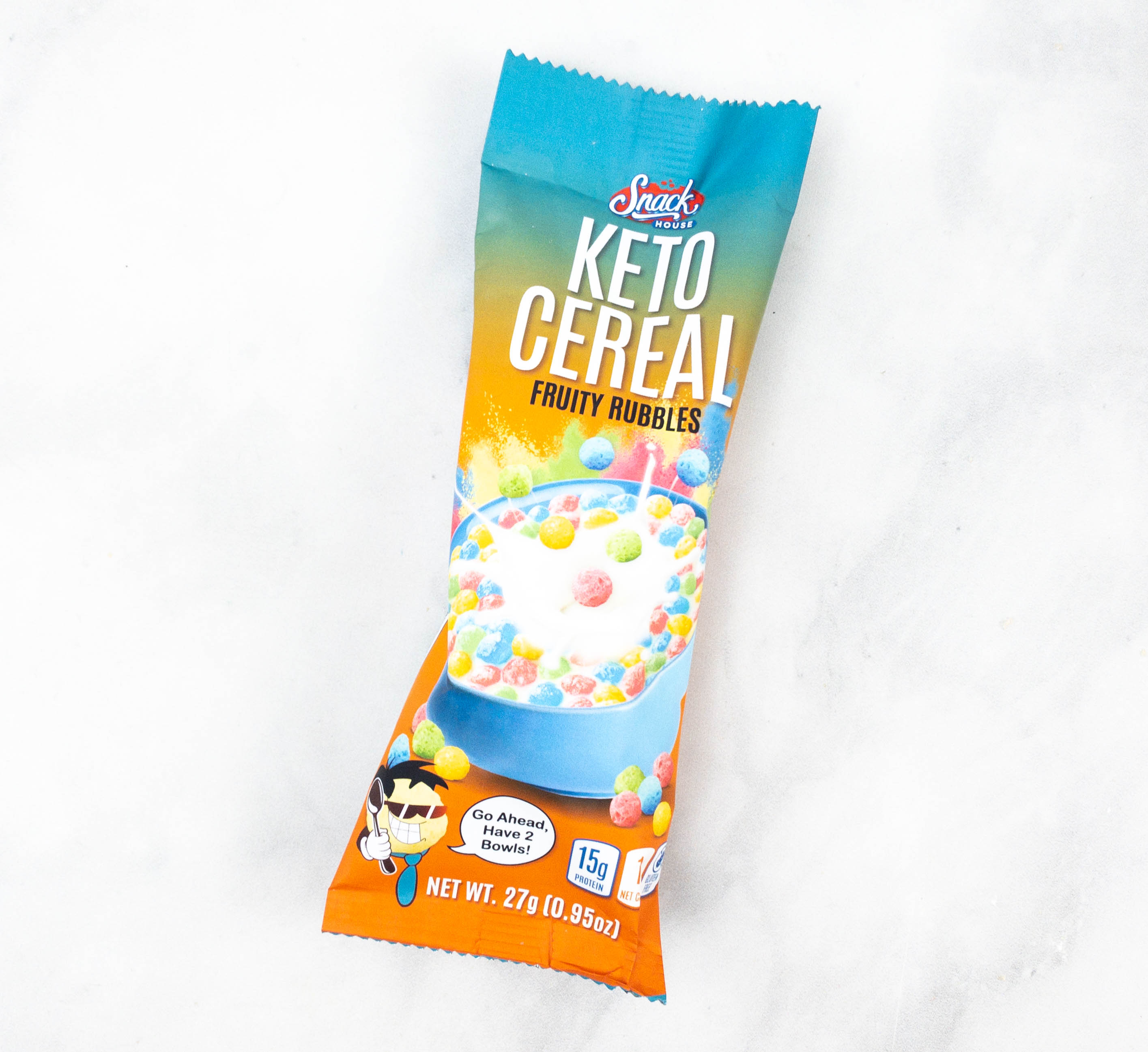 Snack House Keto Cereal Fruity Rubbles ($2.14) Nothing beats a bowl of keto friendly cereal to start the day! A bowl of these fruity rubbles has 15g of protein and only 3g net carbs, making it an ideal alternative to regular breakfast cereals. These are great with almond milk, but you can also use them as a topper for yogurt or oatmeal!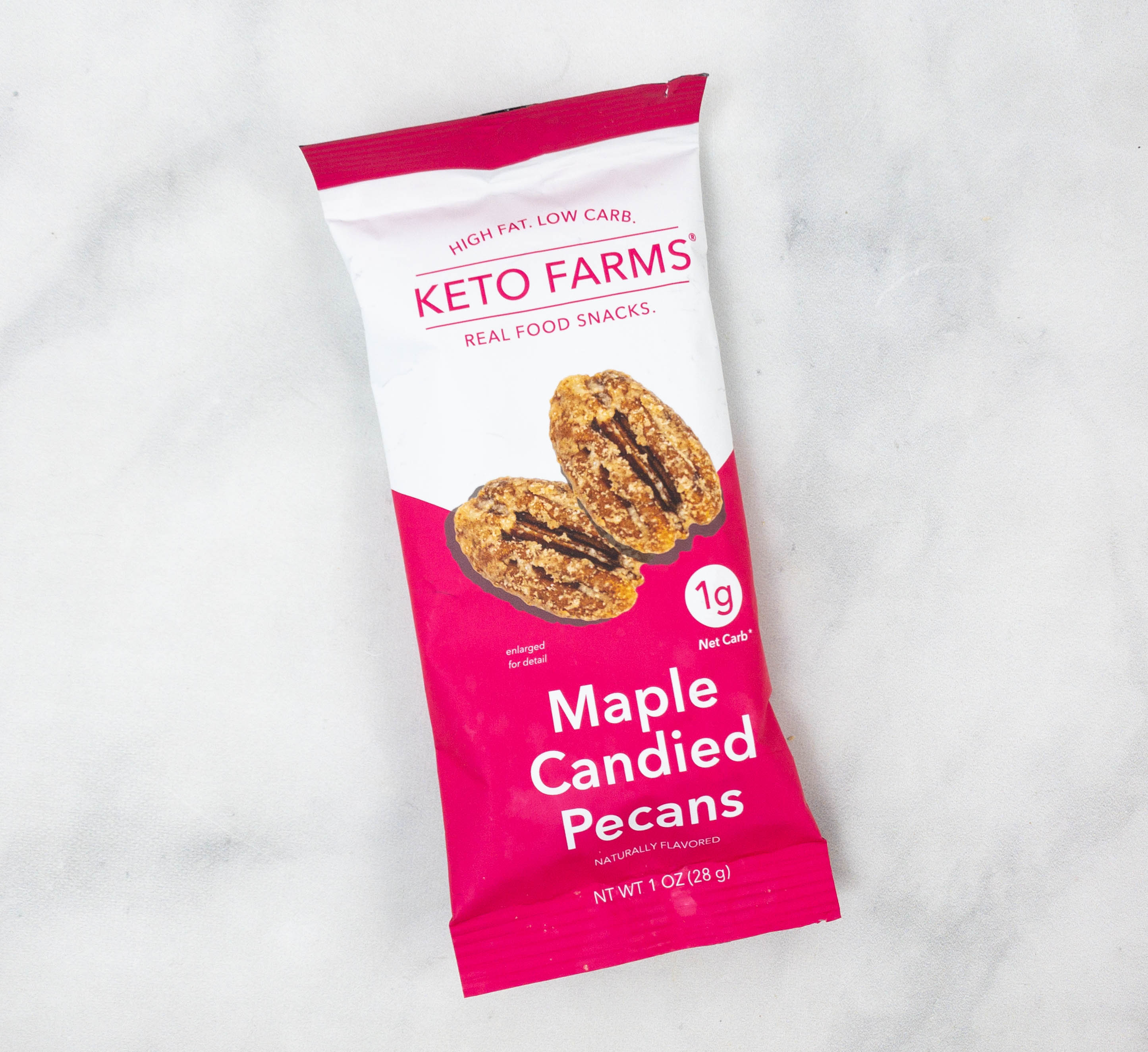 Keto Farms Maple Candied Pecans ($14.99) I've tried these candied pecans from a previous box and they were really good! The pecans were toasted and then covered with sweet candy coating that features a rich, buttery maple flavor. I like eating it straight out of the bag, but it can also be added to keto brownies or as a topper for salads, yogurt, or keto ice cream.
Keho Life Curry in a Hurry Savory Bite ($4.16) This grab-and-go snack bar is loaded with crunchy nuts, plus cauliflower, coconut, spinach and onion, and rich aromatic spices! It was savory and filling, a great companion on when traveling or during long hours at the office to keep you full until your next meal.
Pyure Organic Sugar-Free Chocolate Drink Mix ($0.21) This is a keto-friendly chocolate mix made with organic cocoa powder. I also received the same drink mix from a previous box, and I liked it because it was rich and creamy. Preparing it is pretty easy, all you have to do is mix it with milk or a milk alternative. It's vegan-friendly and gluten-free as well.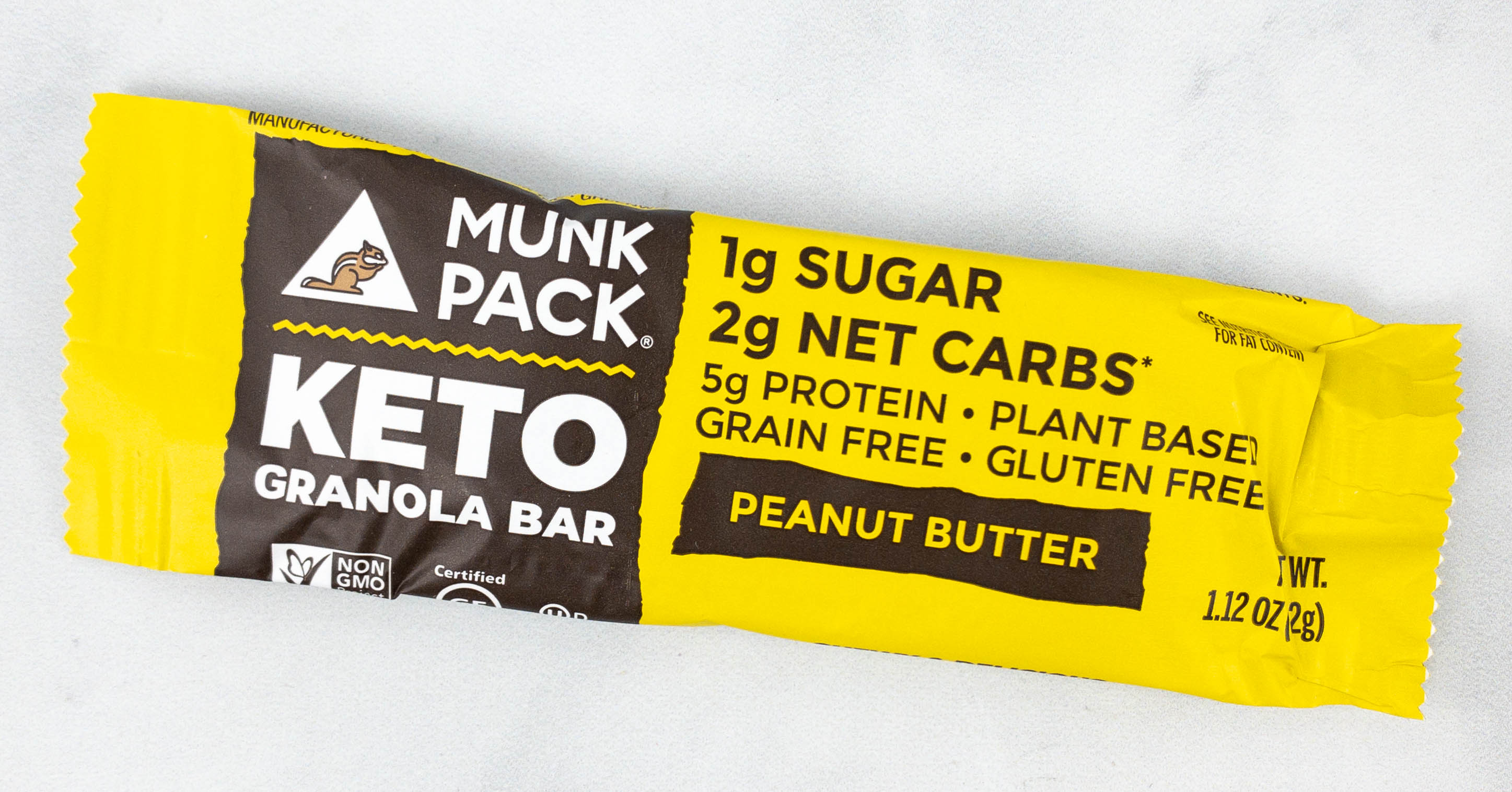 Munk Pack Keto Granola Bar ($2.08) Here's another keto snack bar to bring on the go, and this time it's made with peanuts, almonds, and sunflower seeds. Each bite is sweet and the texture is just perfect. It's chewy but not too hard nor sticky. Also, the plant-based bar only has 1g sugar and 2g net carbs!
Good To Go Snacks Strawberry Macadamia Nut ($3.24) The next snack bar contains a mix of strawberry and macadamia nut. It was an instant favorite because of its well-balanced flavors and cake-like texture. With only 2 grams of sugar and 4 grams of net carbs, this makes a good keto-friendly breakfast snack!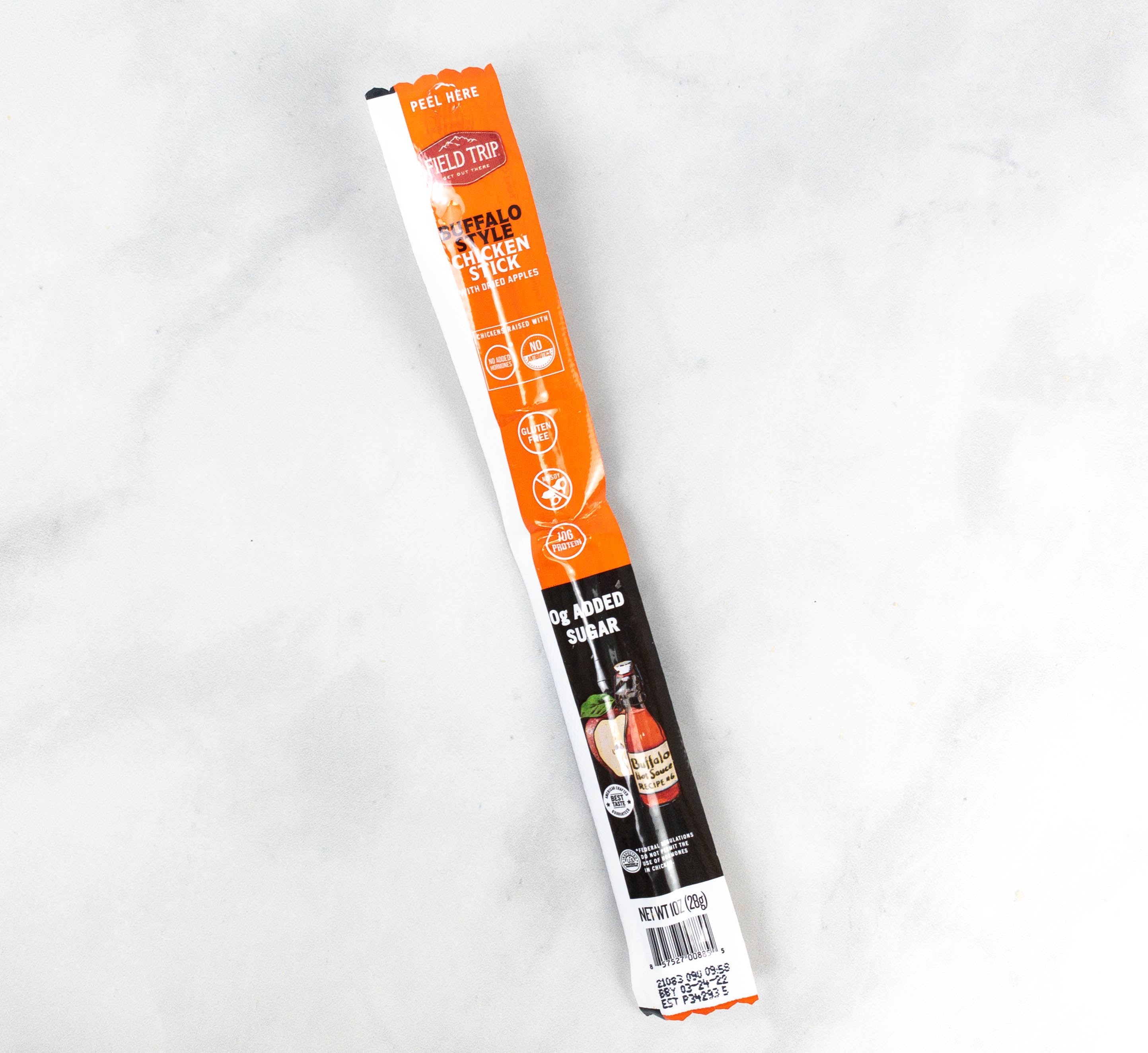 Field Trip Snacks Buffalo Style Chicken Stick ($2) Chicken is a good source of protein and they turned it into an easy to eat snack! This chicken stick is made with antibiotic-free chicken, and flavored using Granny Smith apples, red pepper, and chipotle.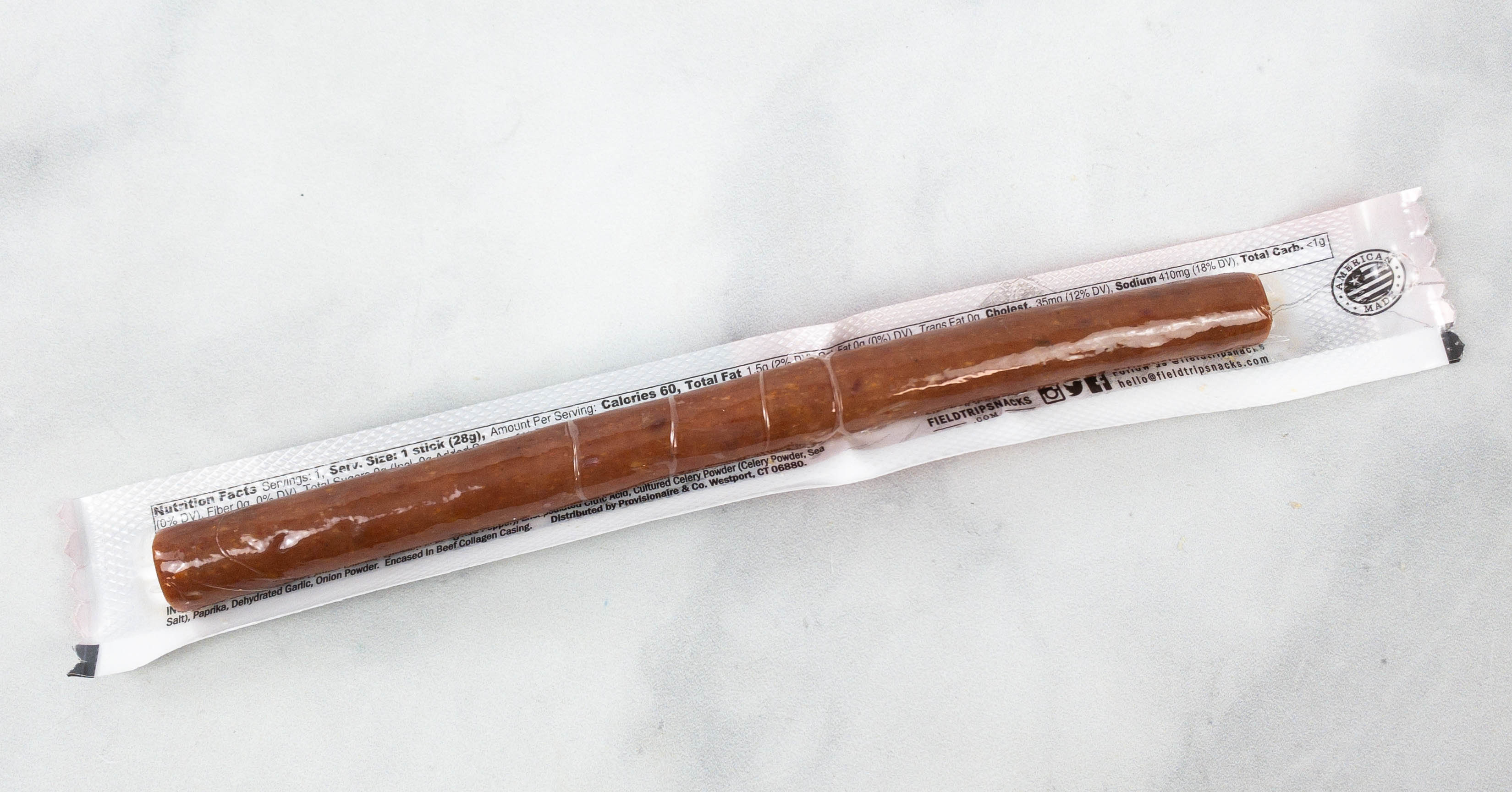 It provides a kick of heat in every bite, plus it's not too dry!
Ayoba Foods Droewors ($4) The second snack stick is made from grass-fed beef. They are air-dried for 5 days and cured using vinegar, cloves, and coriander.
Each stick has a buttery smooth taste without the greasy part!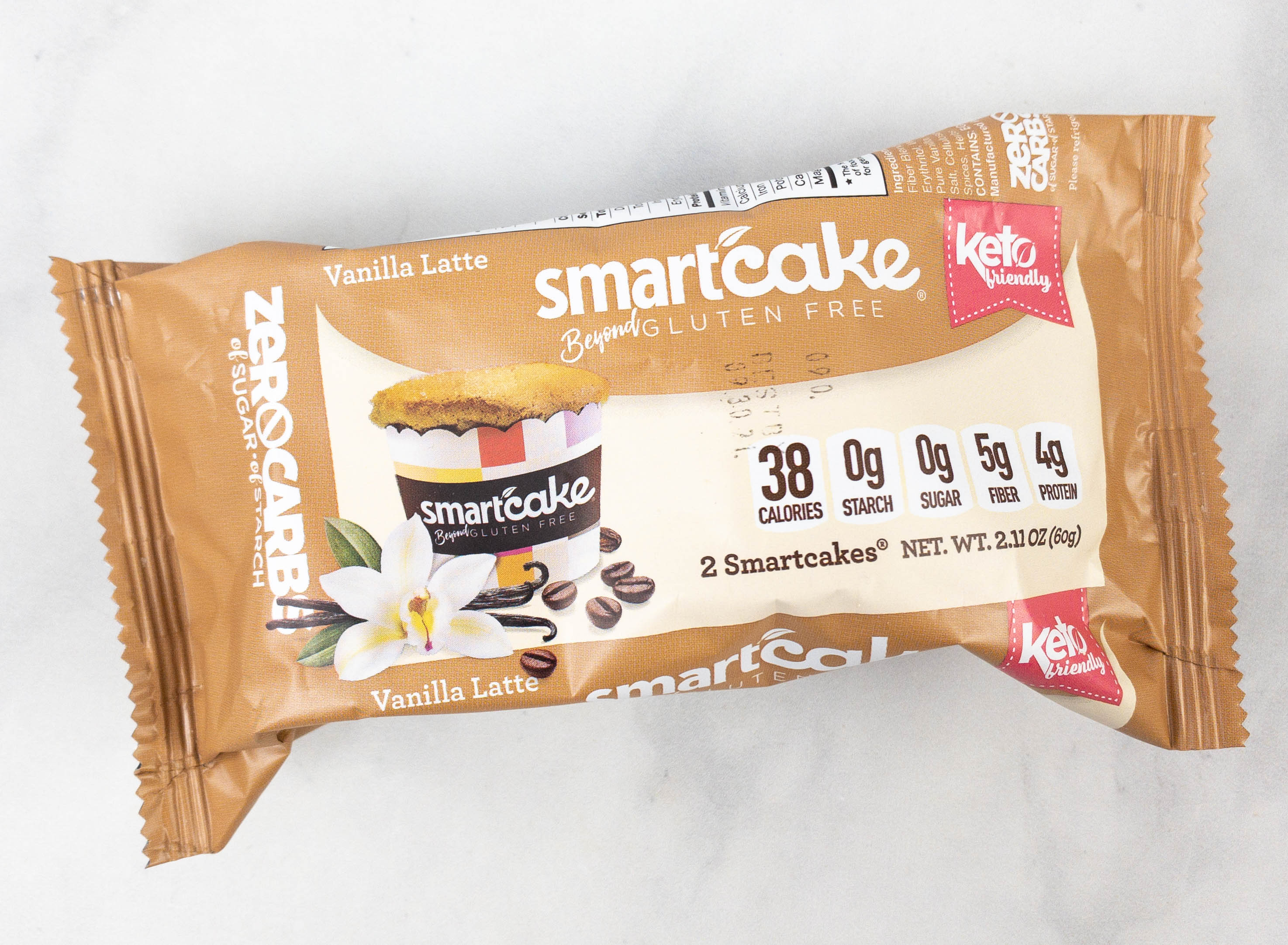 Smart Baking Company Vanilla Latte Smartcake ($2.74) For those who miss snacking on sweet cakes or muffins, here's a great alternative: a Smartcake! I received the low carb muffin in vanilla latte flavor and I enjoyed every bite because it's soft and moist. It's not overly sweet, it's just enough to satisfy cravings.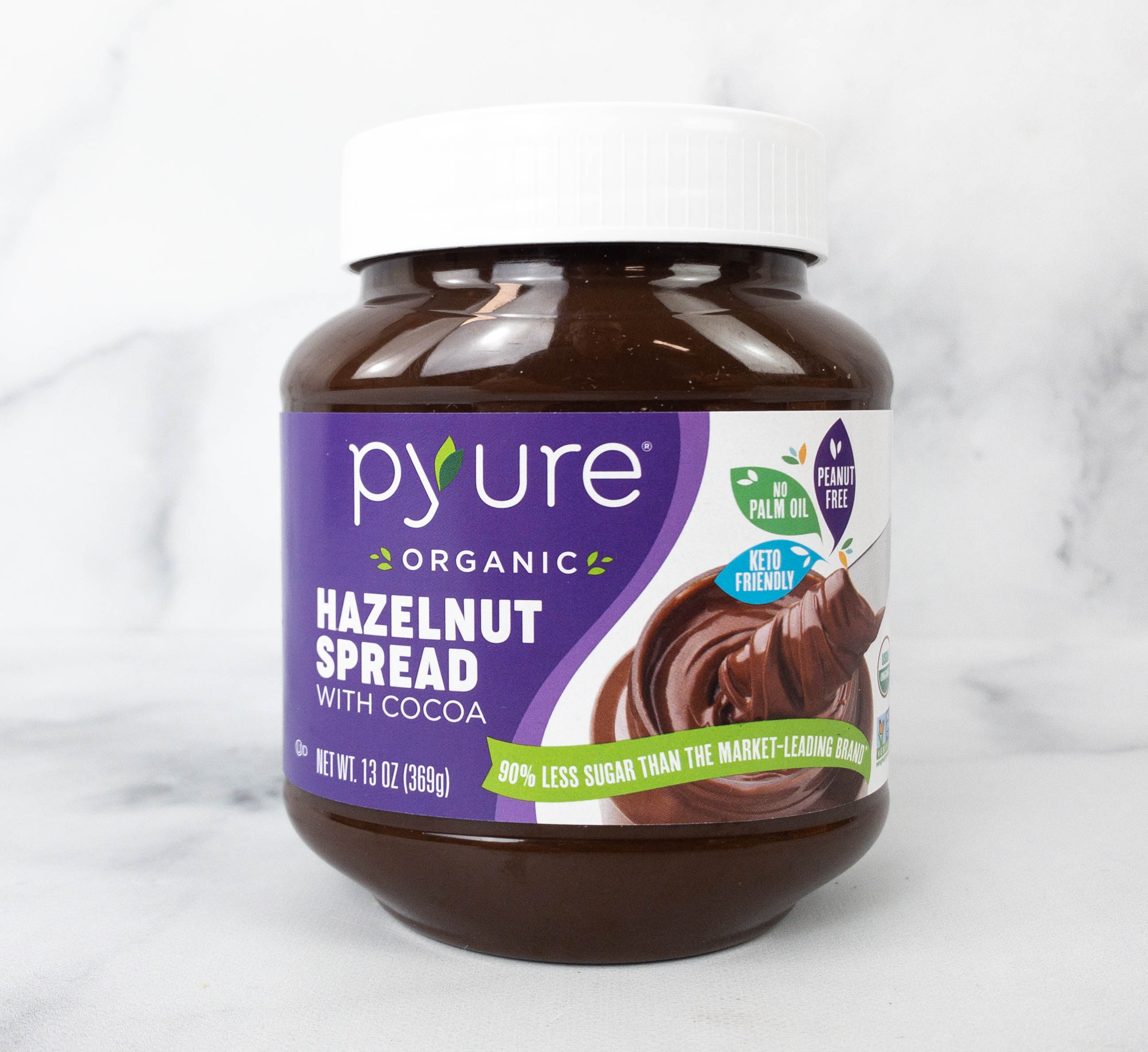 Pyure Organic Hazelnut Spread with Cocoa ($11.65) I love hazelnut spreads and this keto friendly version didn't disappoint! It has additional cocoa and 90% less sugar to provide the same great experience in a vegan and keto friendly way.
There are so many uses for this spread. It can be added to breads, drinks, and desserts. You can also get a scoop using a spoon and enjoy it on its own! For sugar eaters, this would taste off, but keto fans will go nuts over this spread!
It's another jampacked box from KetoKrate! It includes a good variety of low carb goodies, including snack bars, chocolates, and crackers. My favorite would have to be the hazelnut spread! It's good to have in the pantry for whenever you crave something sweet, and I like that it can be incorporated to a lot of different snacks and recipes. I also enjoyed the cheese snack infused with Mediterranean flavors, as well as the pork rinds. Whether you're a newbie in keto dieting or not, this subscription is a great way to discover keto friendly snacks. In case you want more, they also have a members-only KetoShop where you can purchase more keto goodies!
What do you think of the KetoKrate box?