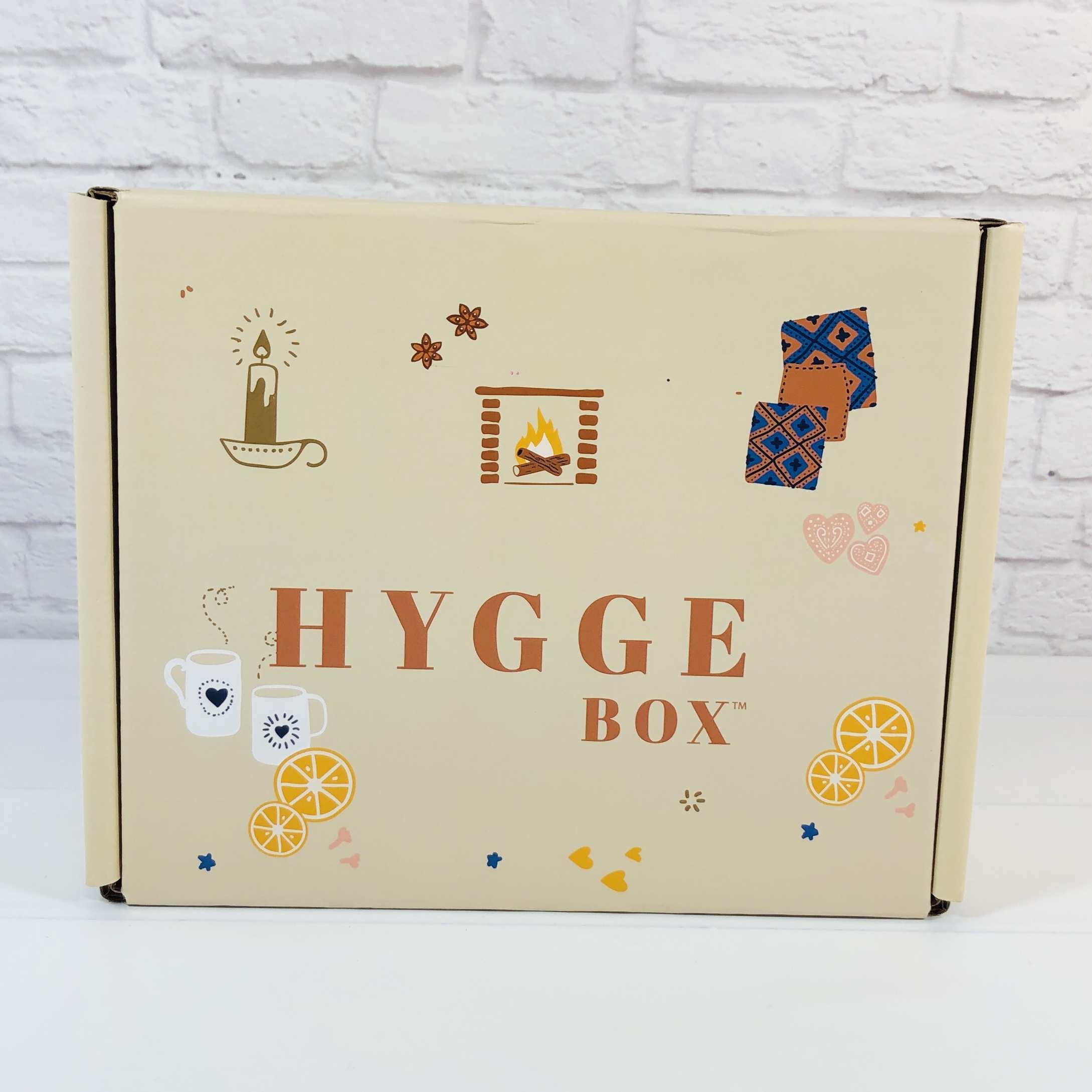 Hygge Box is a monthly subscription box for those who want to surround themselves with comforting objects that contribute to a sense of coziness and general well being. You can choose from the Deluxe Hygge Box ($40 for 5-7 items) or the Standard Hygge Box ($29 for 4-5 items) and shipping is extra. Items sent may include candles, hot drink mixes, edibles, home decor, or wellness products.
Hygge is about preserving happiness everyday. It is slowing down, being humble, expressing gratitude, feeling safe and connecting with loved ones. Each curated box includes handpicked items like below from around the world to inspire and evoke hyggelig moments.
I love the presentation! My items were wrapped in tissue paper and snuggled into shredded paper squiggles.
The definition of hygge was on the inside of the box lid.
The theme for this box is Spring Escapes.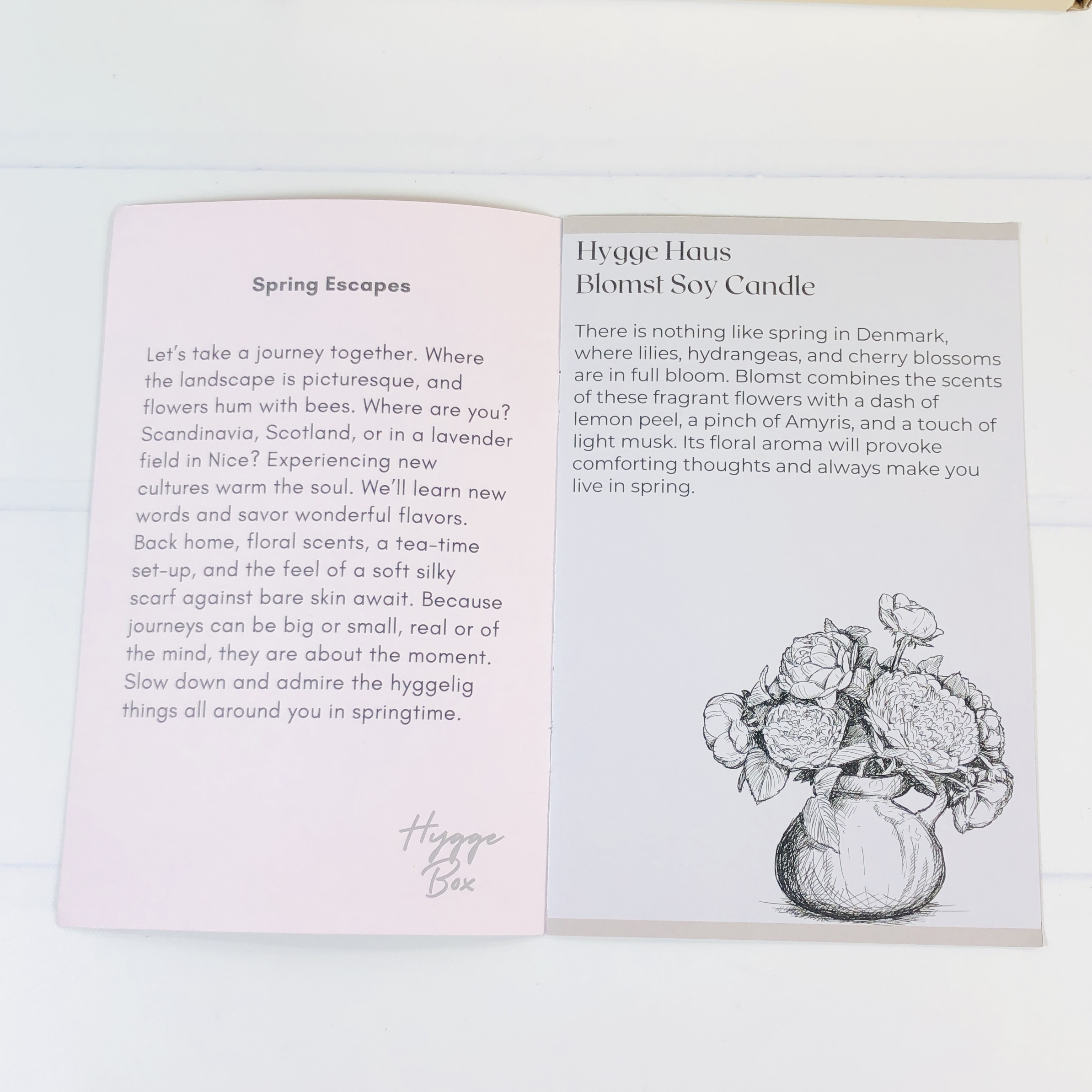 The inside of the pamphlet described the thoughts behind this month's box. Each item from the box was described along with a website where you can pick up more products from the featured vendors.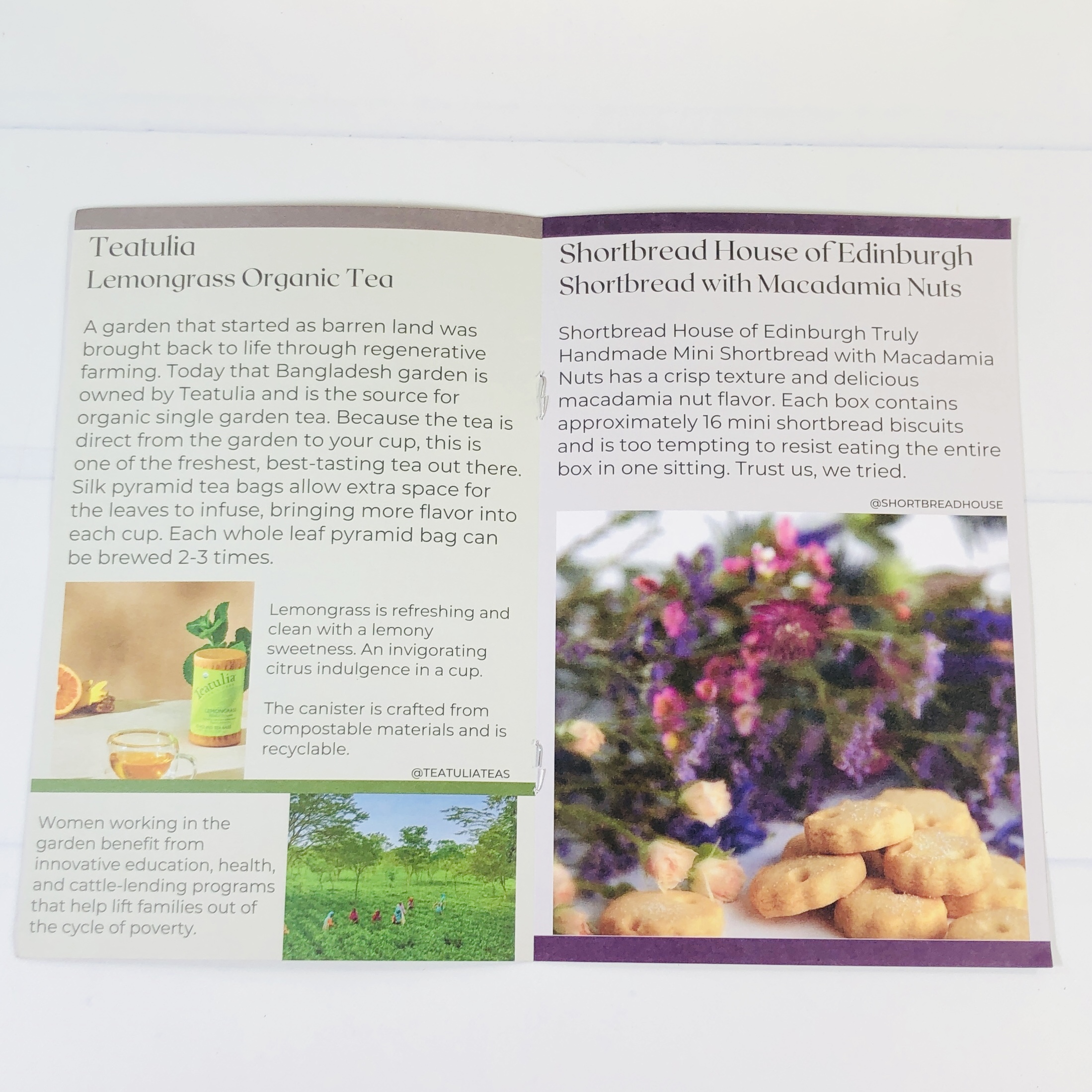 I liked that a description of each item was here.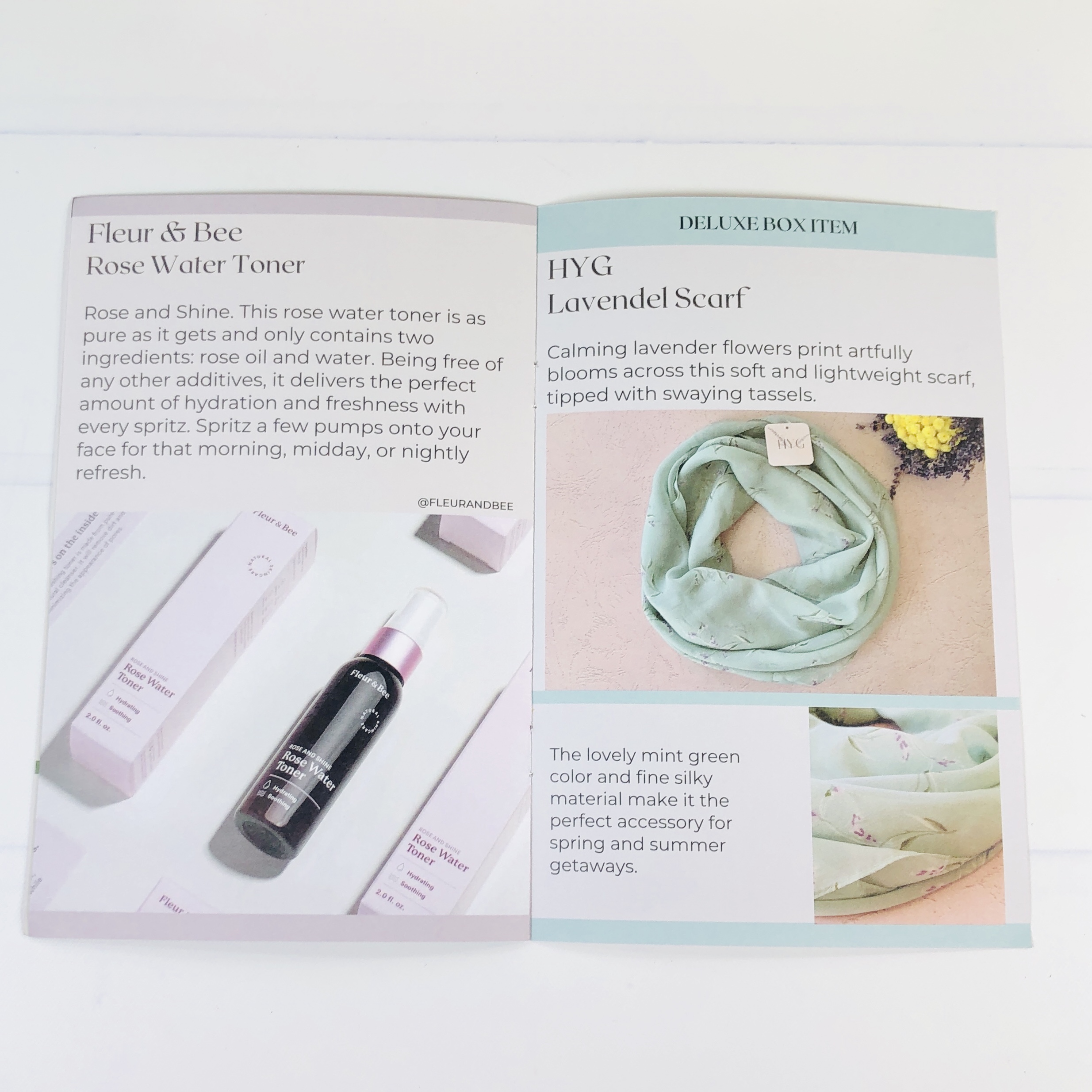 The page on the right has the additional item that is in the Deluxe Box only.
The back of the booklet discussed the merits of a hygge lifestyle.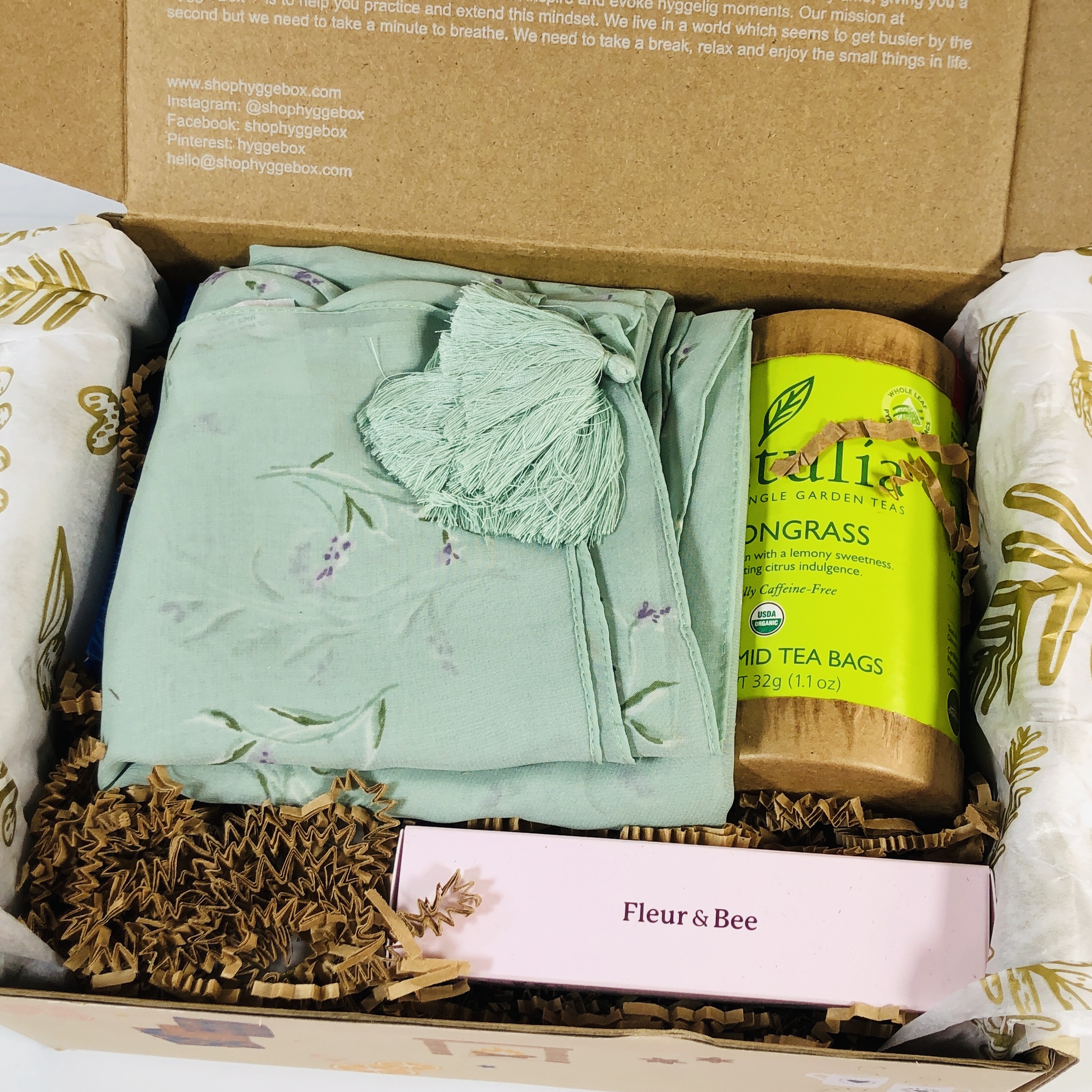 Some of the items came in their original boxes.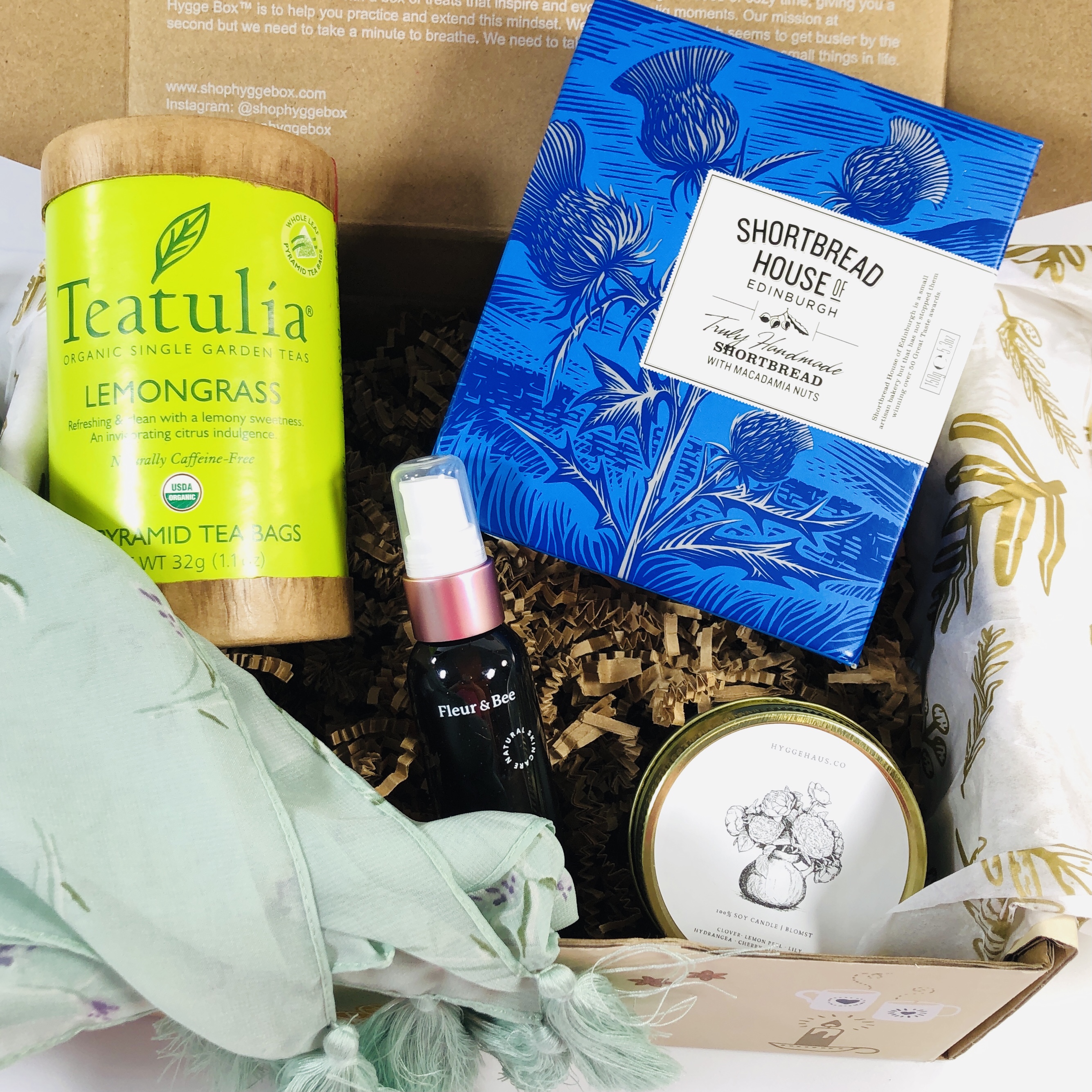 Everything in my box!
Tealulia Lemongrass Organic Tea ($8.99) Out of all of the cozy, hot drinks out there, tea is my favorite!
This is actually a tisane, which is an herbal infusion and caffeine-free, and this combo is simply lemongrass and bay leaf.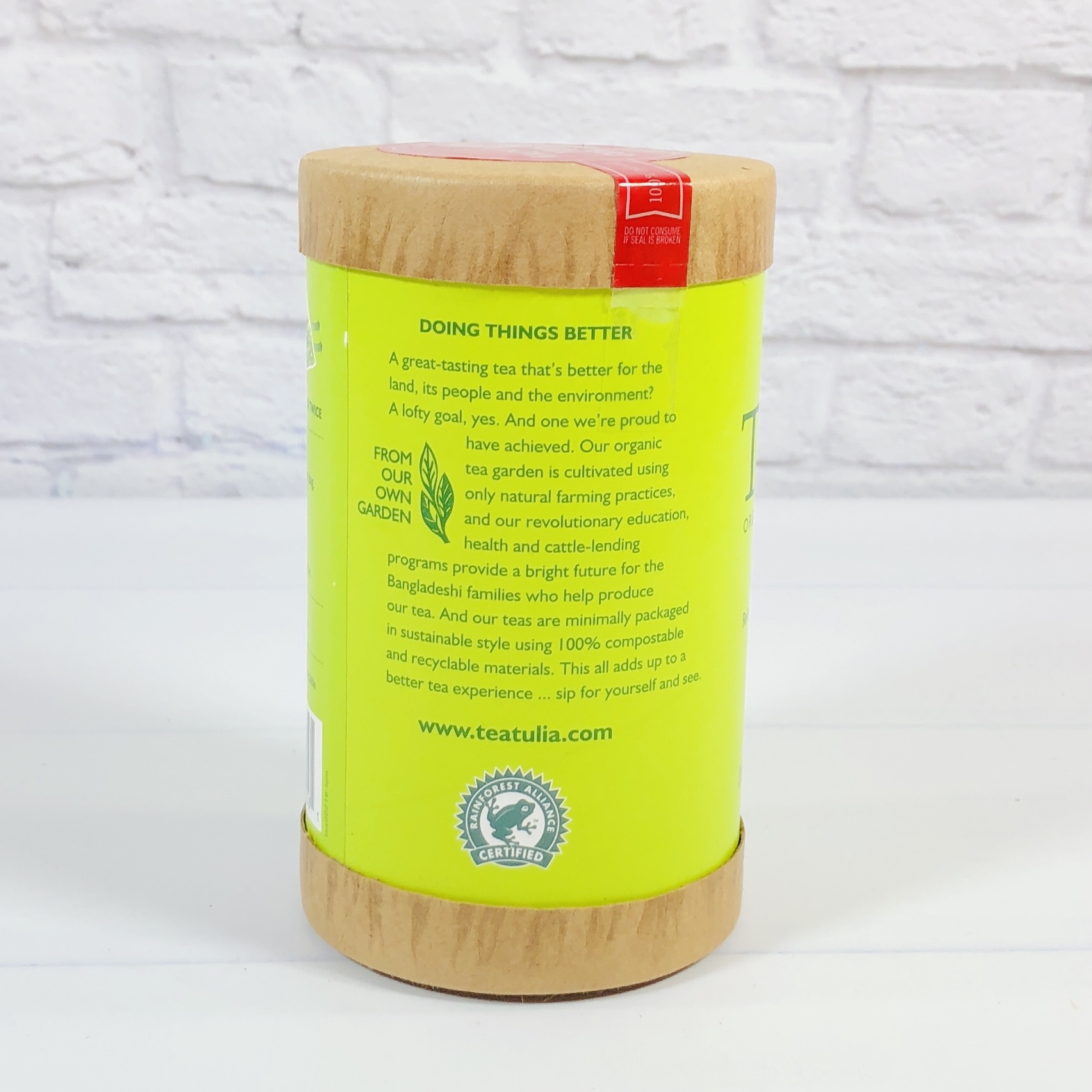 The ingredients are grown on a farm in Bangladesh, providing jobs for the local workers.
The tea was in a compostable bag and it may be resteeped 2-3 times. The flavor was very mild and while it was hot it had a grassy note but when it cooled off the lemongrass took on the starring roll.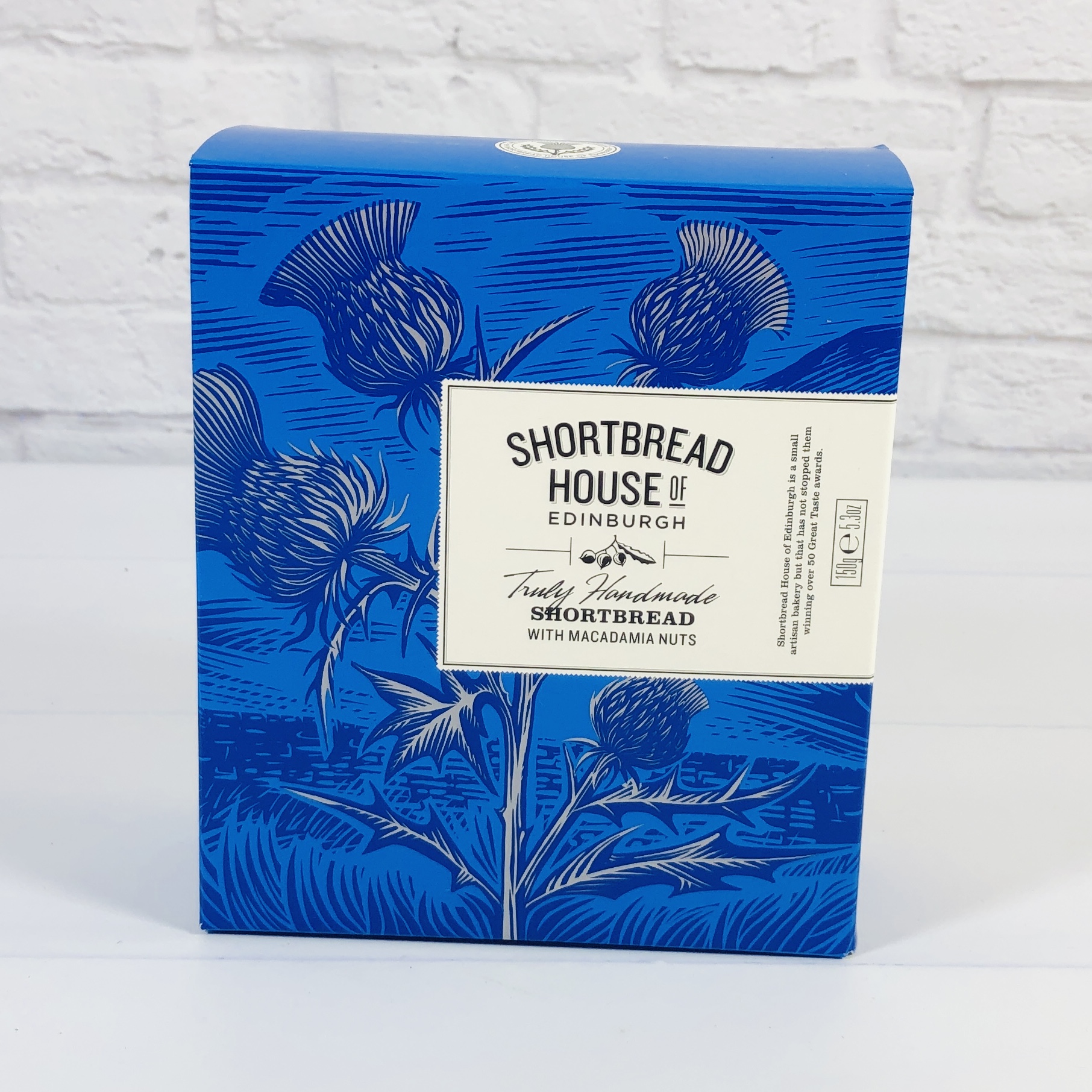 Shortbread House Of Edinburgh Shortbread With Macadamia Nuts (£3.75, about $5.31 USD) I once visited Edinburgh and guess what I bought there? Yep, a box of shortbread cookies!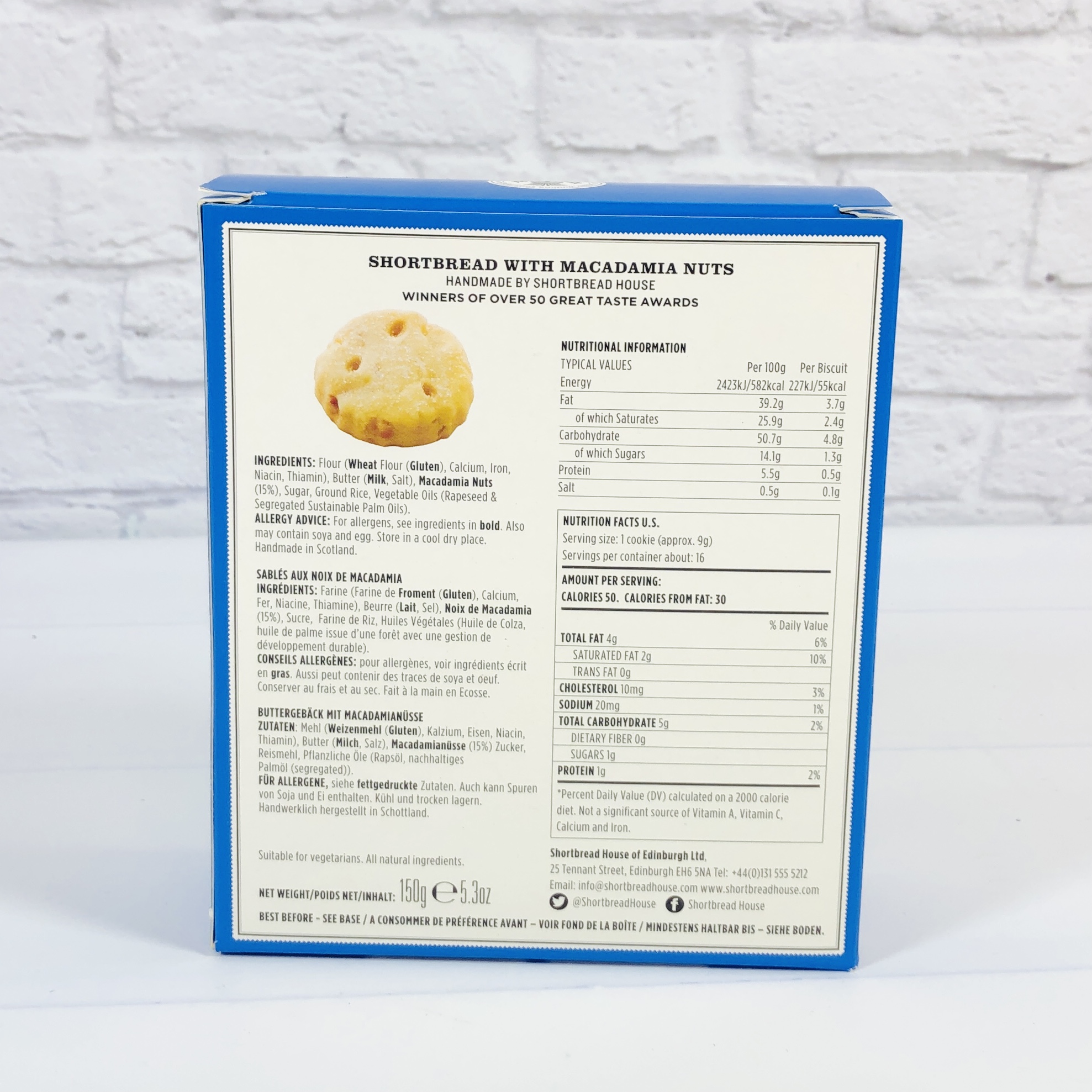 This is a very simple recipe, mainly butter, flour, and sugar, but it also has macadamia nuts! I feel like I could have bought these in Hawaii!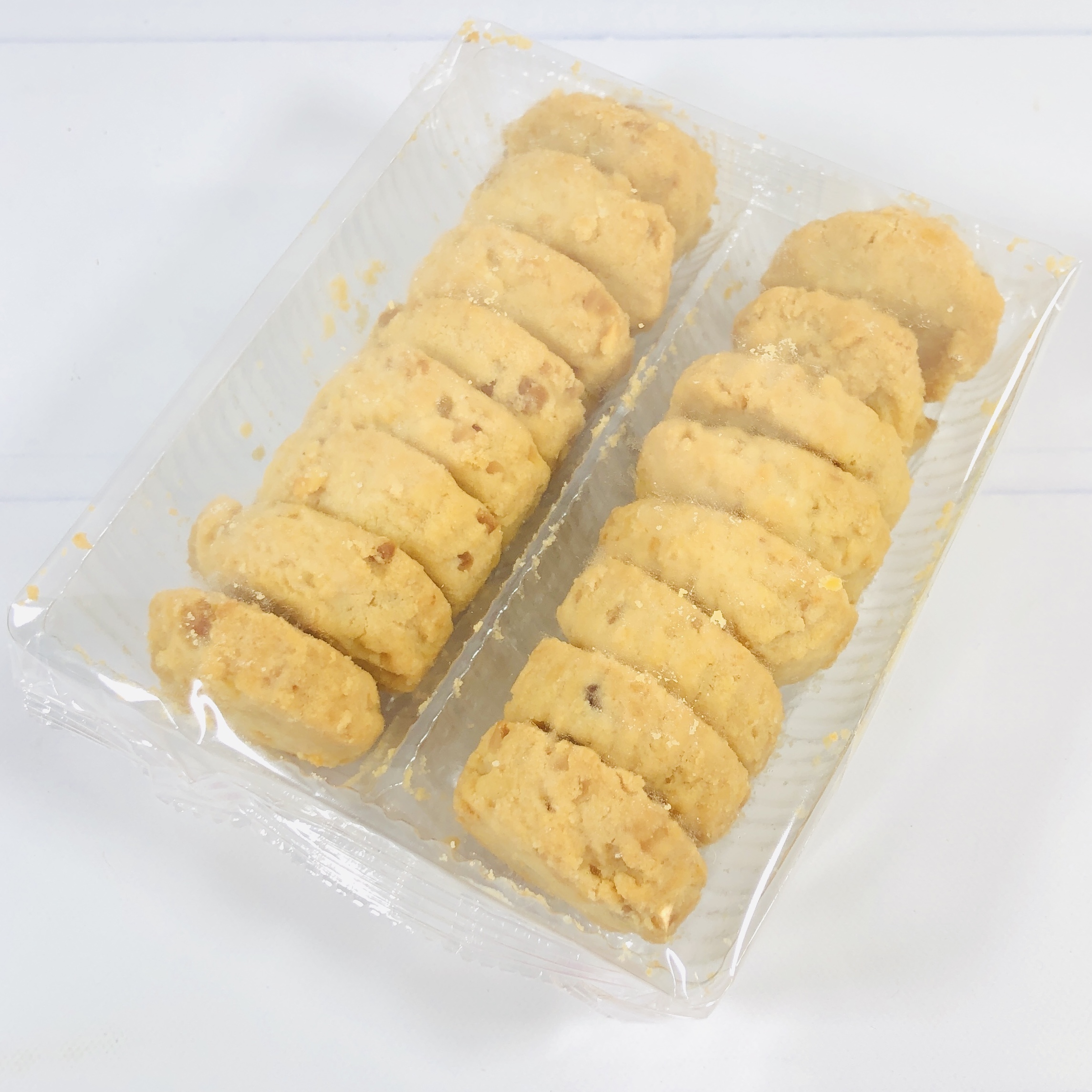 There were 16 cookies, which are just under the size of an Oreo. They were very delicious and melted as soon as they hit my mouth. They were crunchy and perfect, buttery with bits of that tropical nut, which also happens to be quite buttery.
Hygge Haus Soy Candle in Blomst ($12) This is only my second box from Hygge and like the first one, it also has a candle. I hope every box has a candle, I really wouldn't mind that at all.
Be careful when burning!
This four-ounce candle is hand poured and made with soy wax. The scent notes include clover, lemon peel, lily, hydrangea, cherry blossom, and amyris. It smells floral and warm, with a bit of musk, and is overall a lovely scent, but it isn't a strongly scented candle so those who prefer a lighter fragrance should enjoy this candle.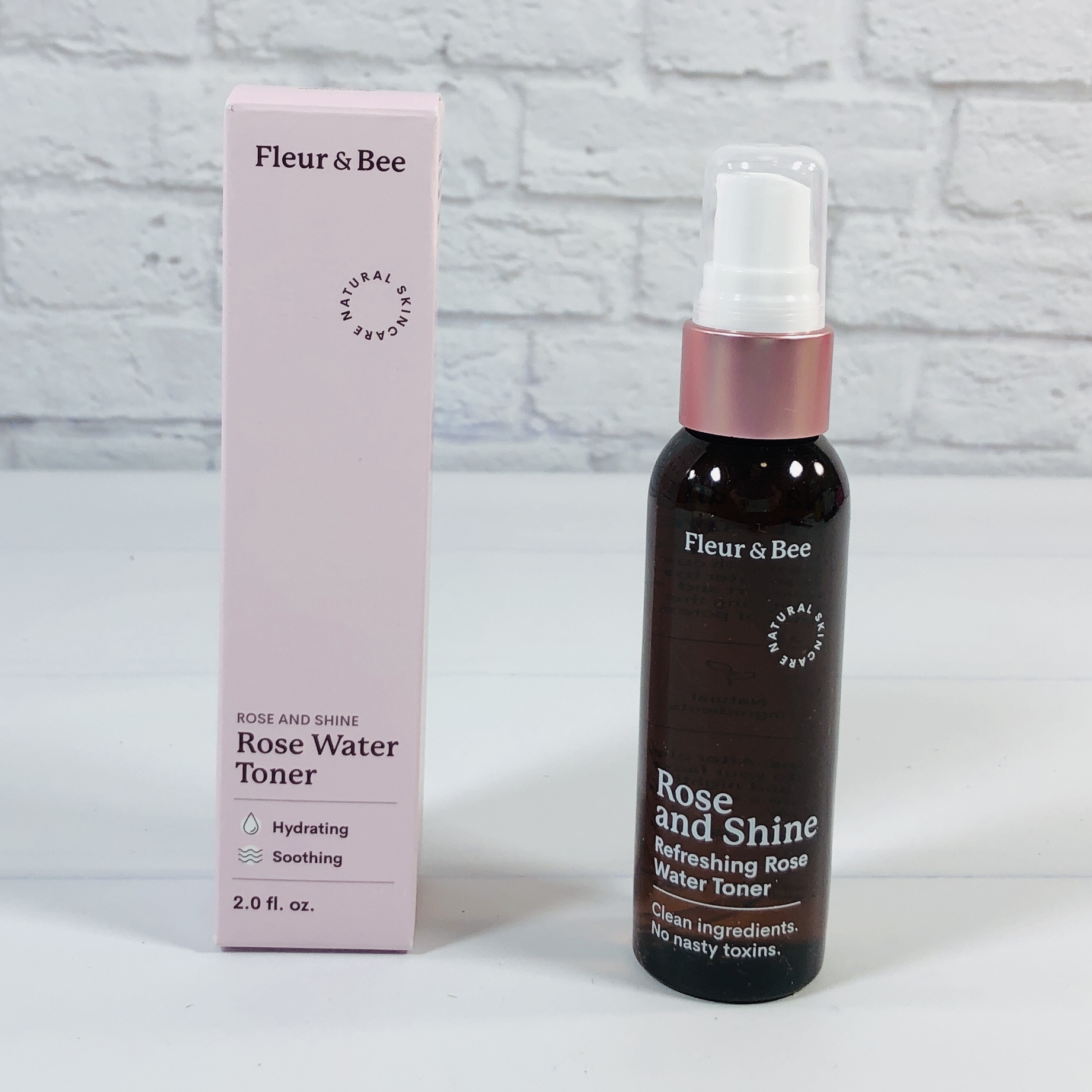 Fleur & Bee Rose Water Toner ($18) A simple beauty item with the scent of roses is a fast way to comfort for sure.
The only ingredients are rose flower oil and distilled water!
I appreciate that this is alcohol-free and is even lacking witch hazel, which is oftentimes distilled in alcohol, and I try to avoid that on my dry skin. The spritz is rather robust and I used it after cleansing and before applying a facial oil. It helps the oil spread easily and as for the scent, it isn't too strong and I am happy about that too!
HYG Lavendel Scarf ($24.95) Hygge Box sells some of these items in their online shop and that is where I found this beautiful scarf.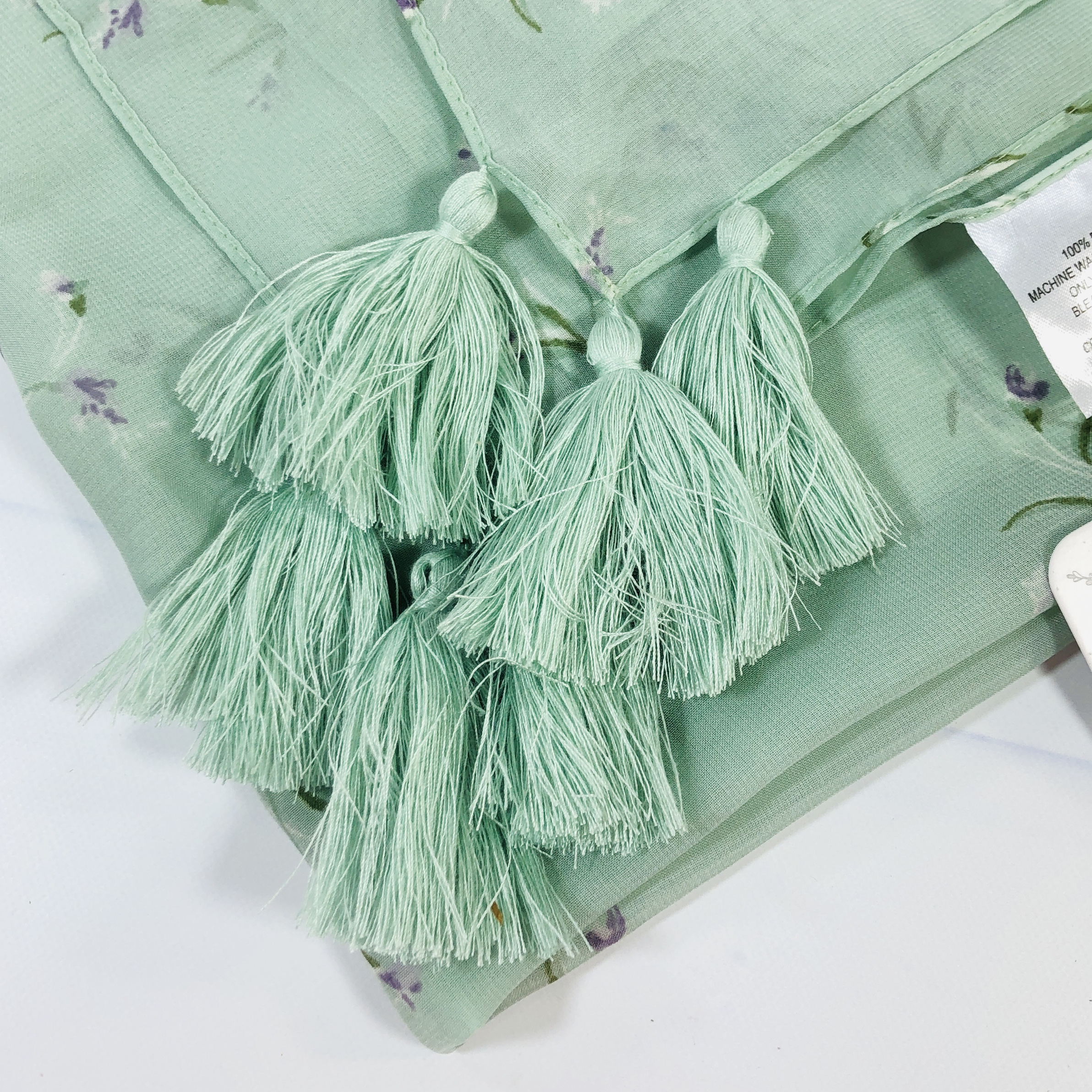 The scarf is square shaped and 42″ all around. Two of the corners have three tassels each.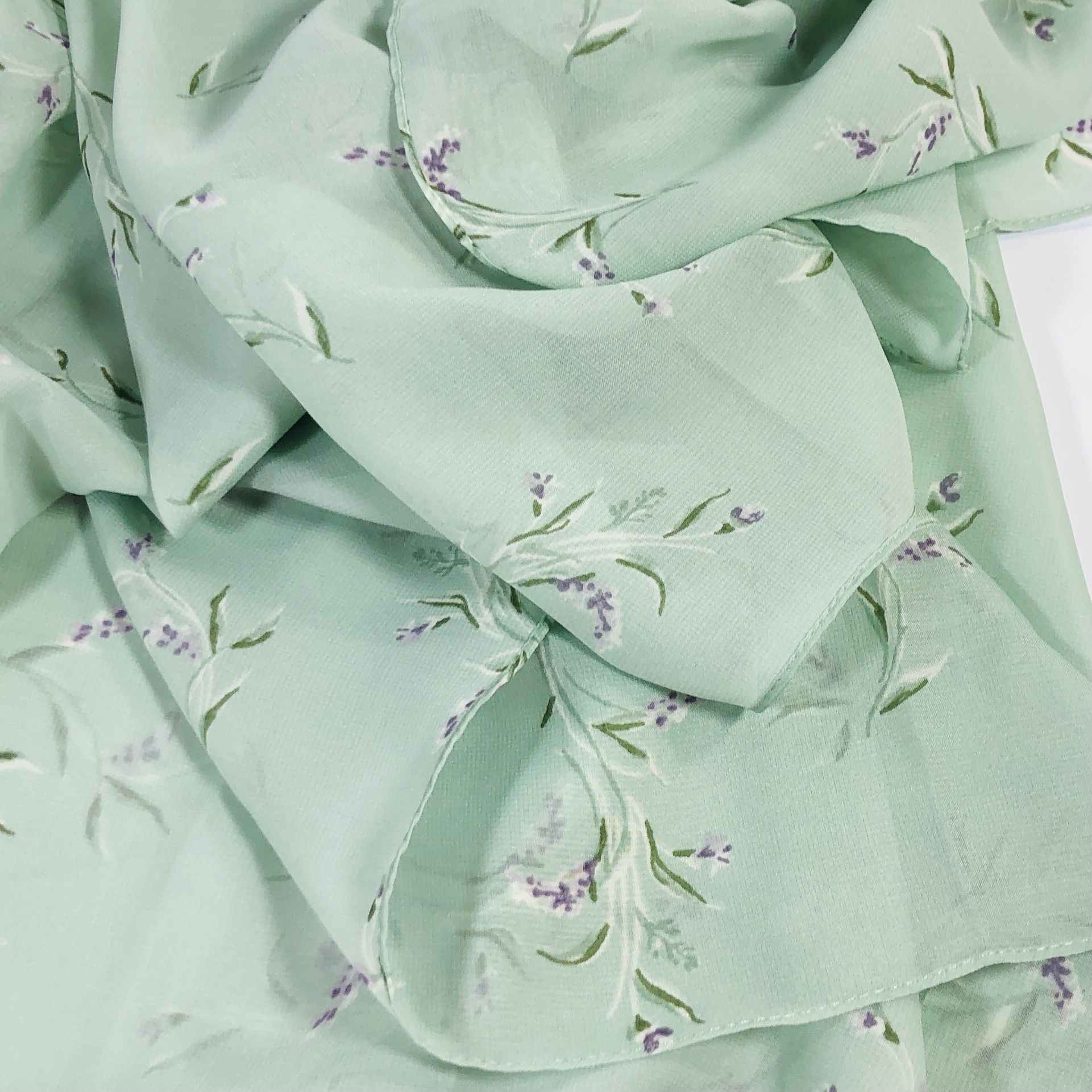 The scarf is a mint green shade (or maybe it's called pistachio?) and there are sprigs of lavender all over. The scarf is made of 100% polyester. It will work as a scarf, head covering, belt, or do what I do and tie it onto the handles of a purse or tote.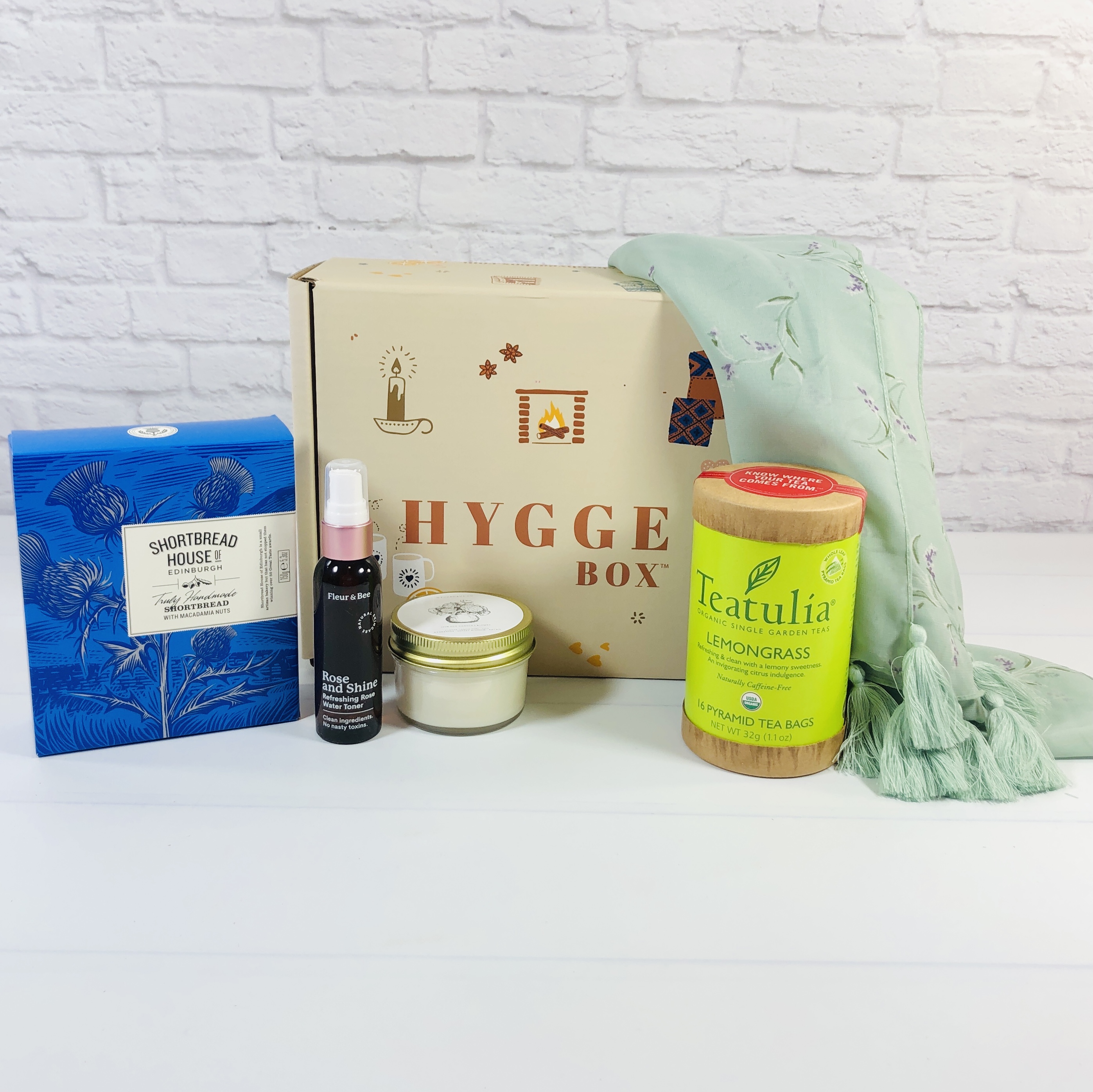 This is only my second Hygge Box and I am really impressed with the curation and products, everything was of very nice quality, and I received joy (and comfort!) from each item. The shortbread cookies were absolutely amazing, they are quickly disappearing from the box. I thought the tea was tasty and have 15 more bags left for the rest of this month and probably beyond. The beauty item was very natural and helpful, I love using it before I apply face oils. The candle has been getting a lot of use and the scarf adds a whimsical, spring-like touch to my tote bag. This collection has a retail value of around $70!
What do you think of the Hygge Box review?