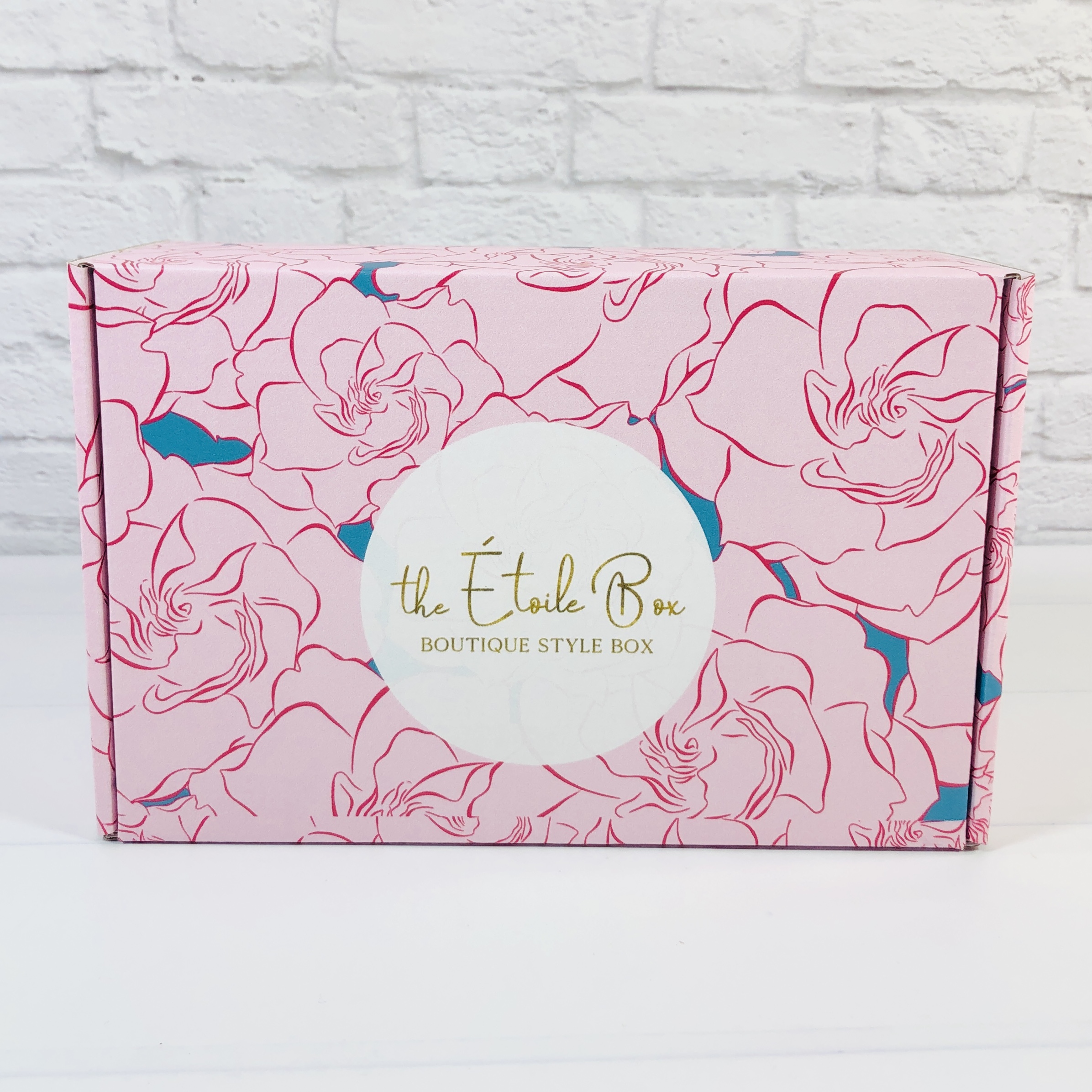 Étoile Box is a monthly boutique lifestyle, beauty and wellness box with a new theme and style each month! The products sent come from women run businesses and all beauty and body products are vegan, eco-friendly, and all natural. Not only does this box want you to feel happy when you open it up, they want you to know you are supporting small businesses. Étoile Box is $39.99 a month.
 DEAL: Get 20% off on your first box! Use coupon code HELLO20.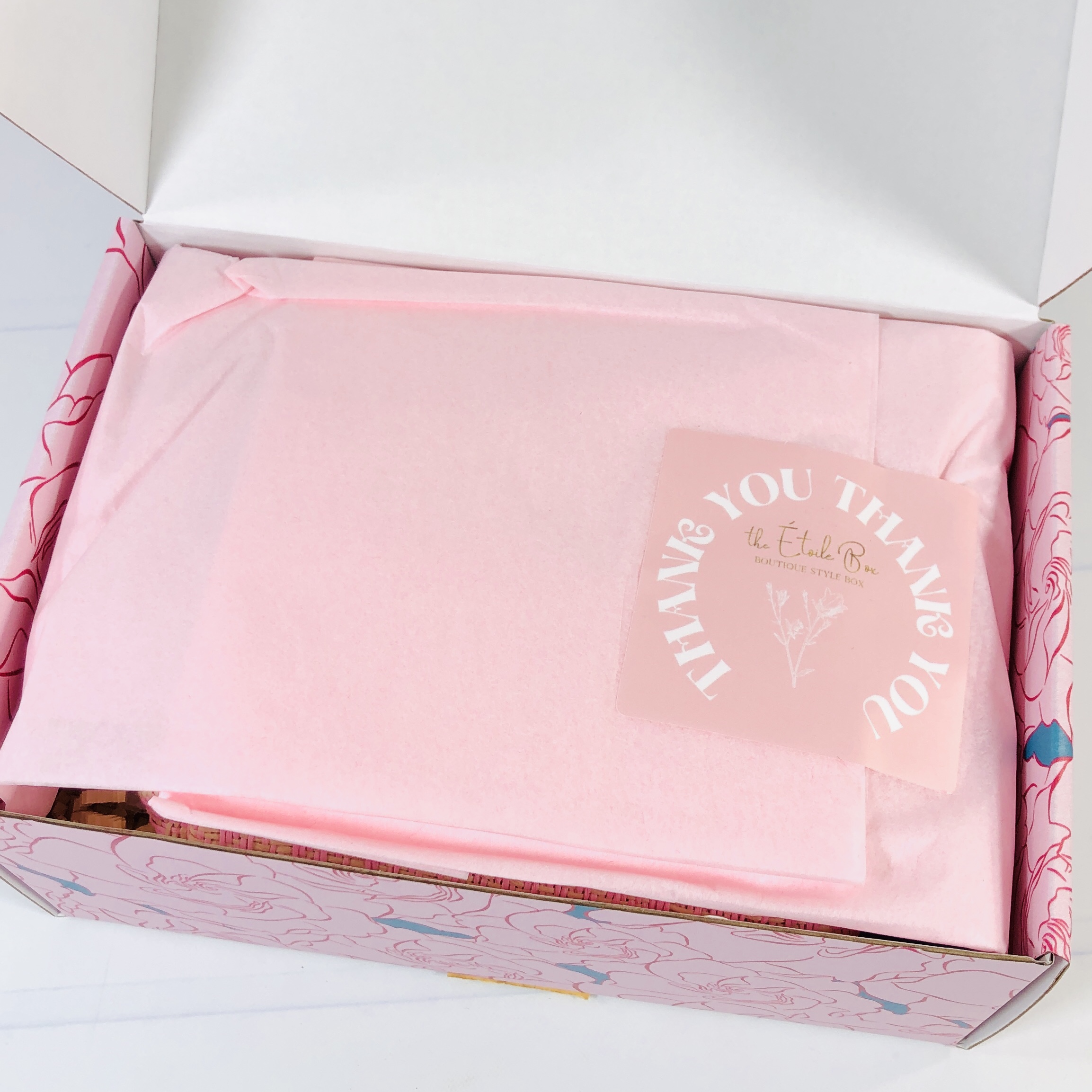 Both the front and the inside of this box changes from month to month! My items were wrapped in pretty pink tissue and sealed with a thank you sticker.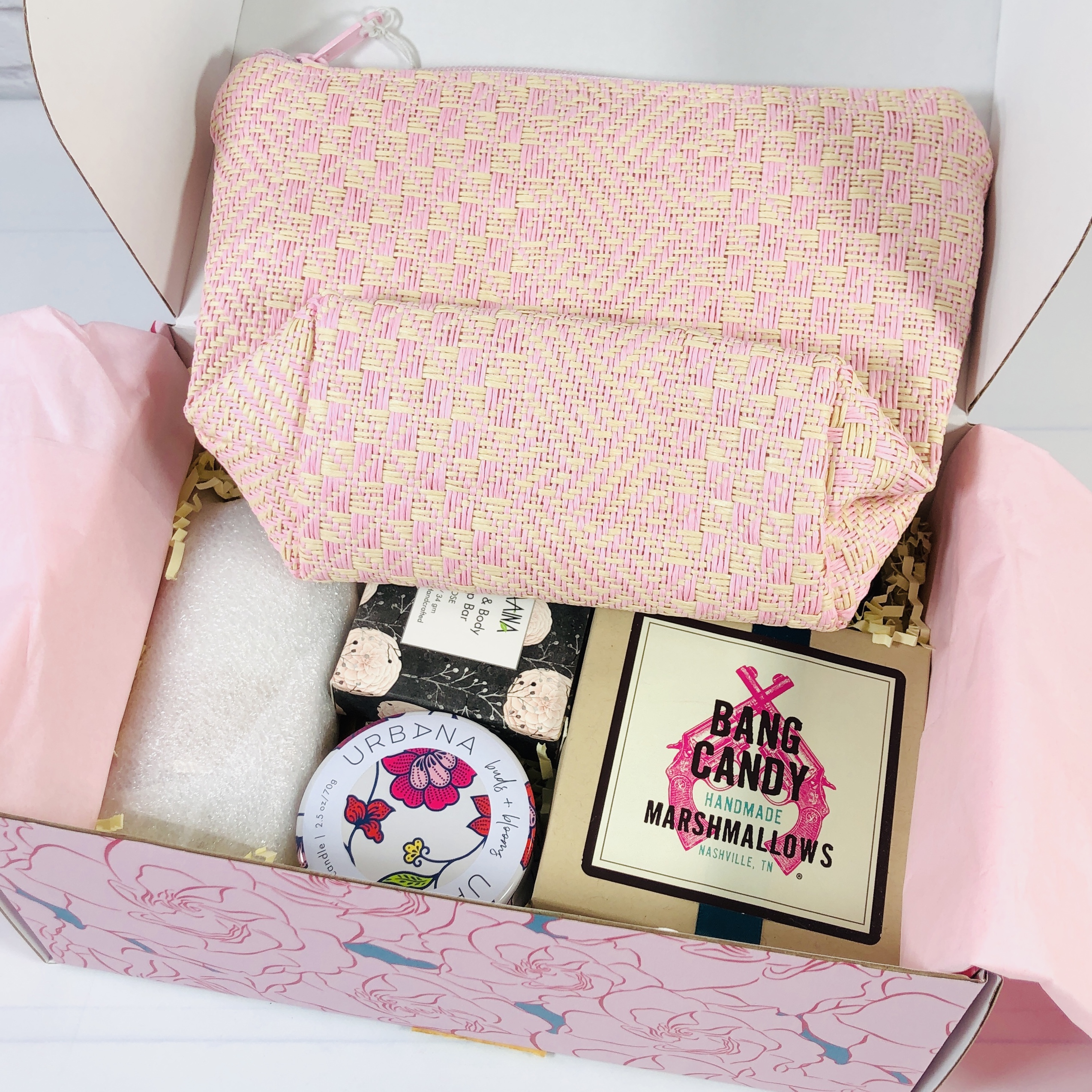 The items were tucked into shredded paper squiggles.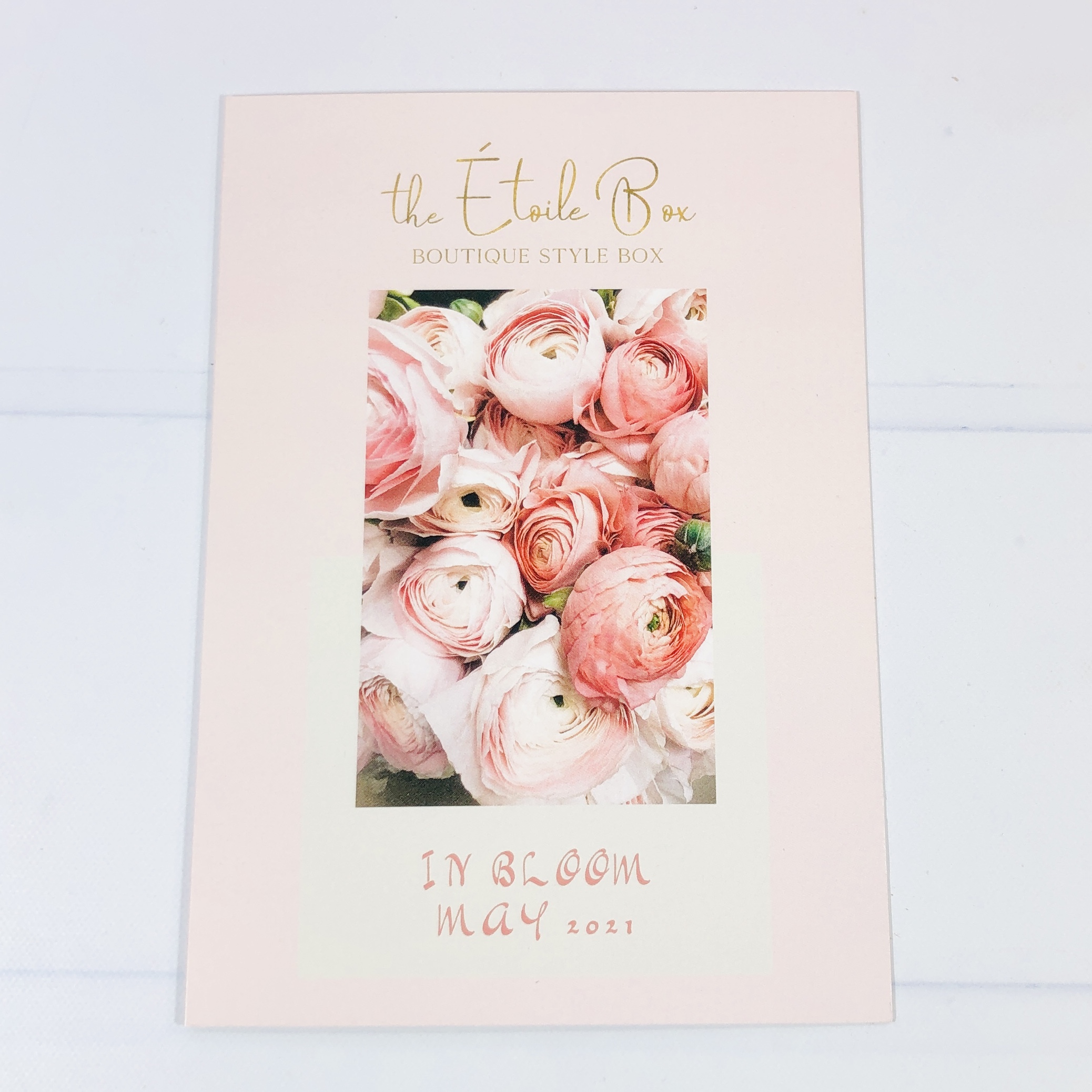 Inside I found a product info card with descriptions of the items in the May "In Bloom" box!
The inside listed the products, gave a description, and named the maker along with their website.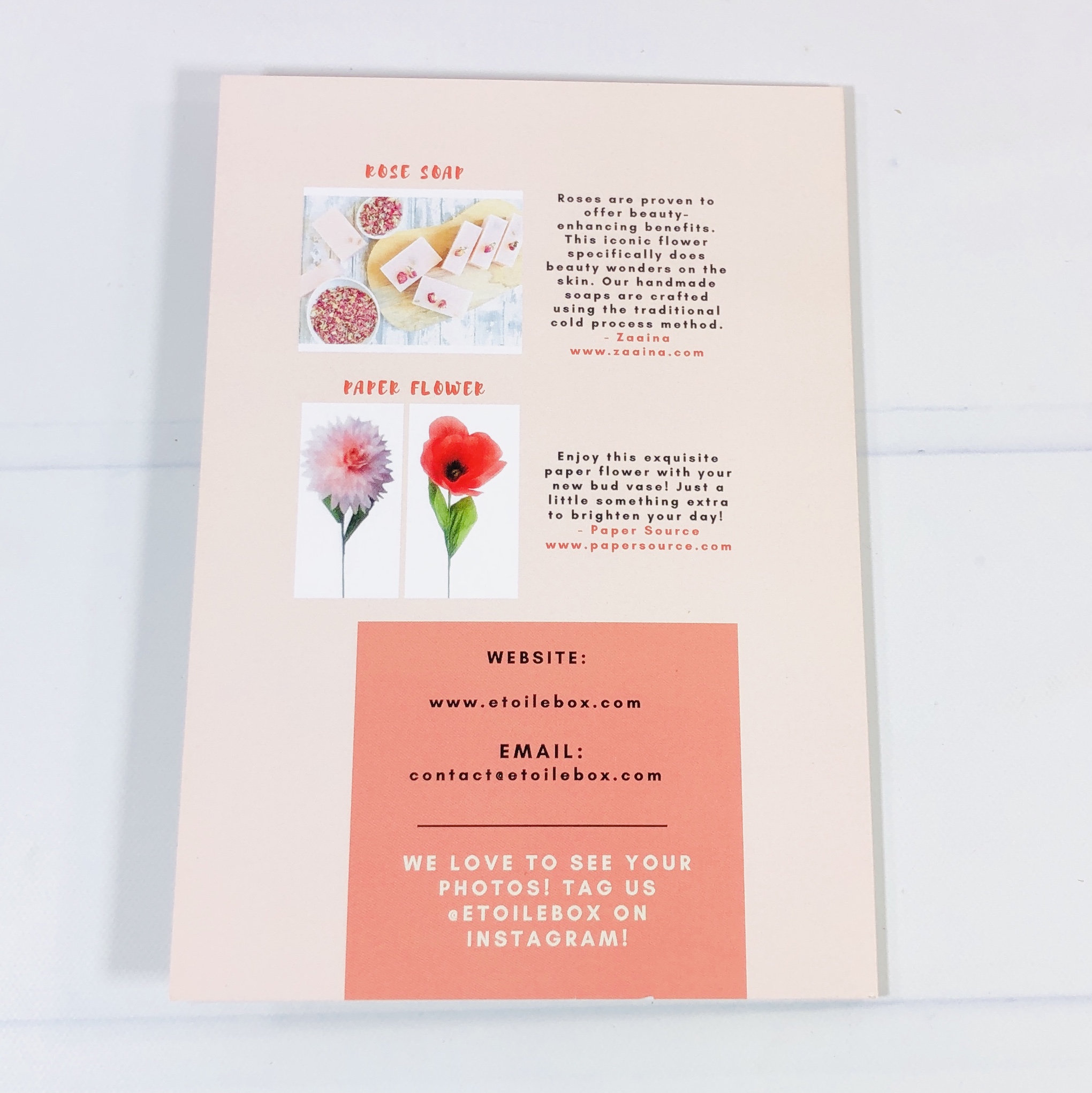 The back of the card listed a couple more products plus contact info.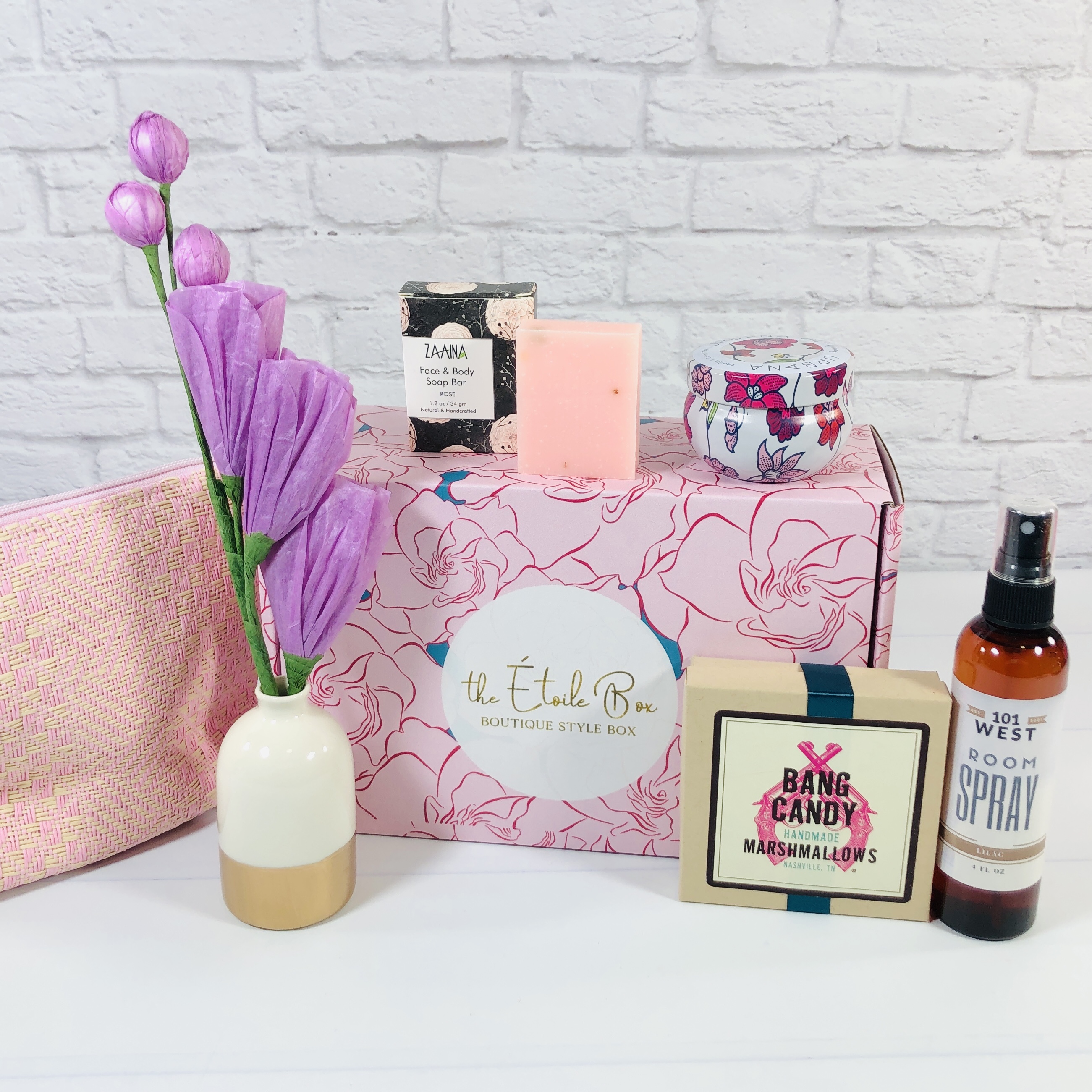 Everything in my box!
Talking Out Of Turn Tweedle Dee Bag in Pink Straw ($14) According to this brand's website, this is an "anything goes" kind of bag, perfect for toiletries, makeup, office supplies, etc. The outside has a pink and light beige weave and it will sit upright when it is filled.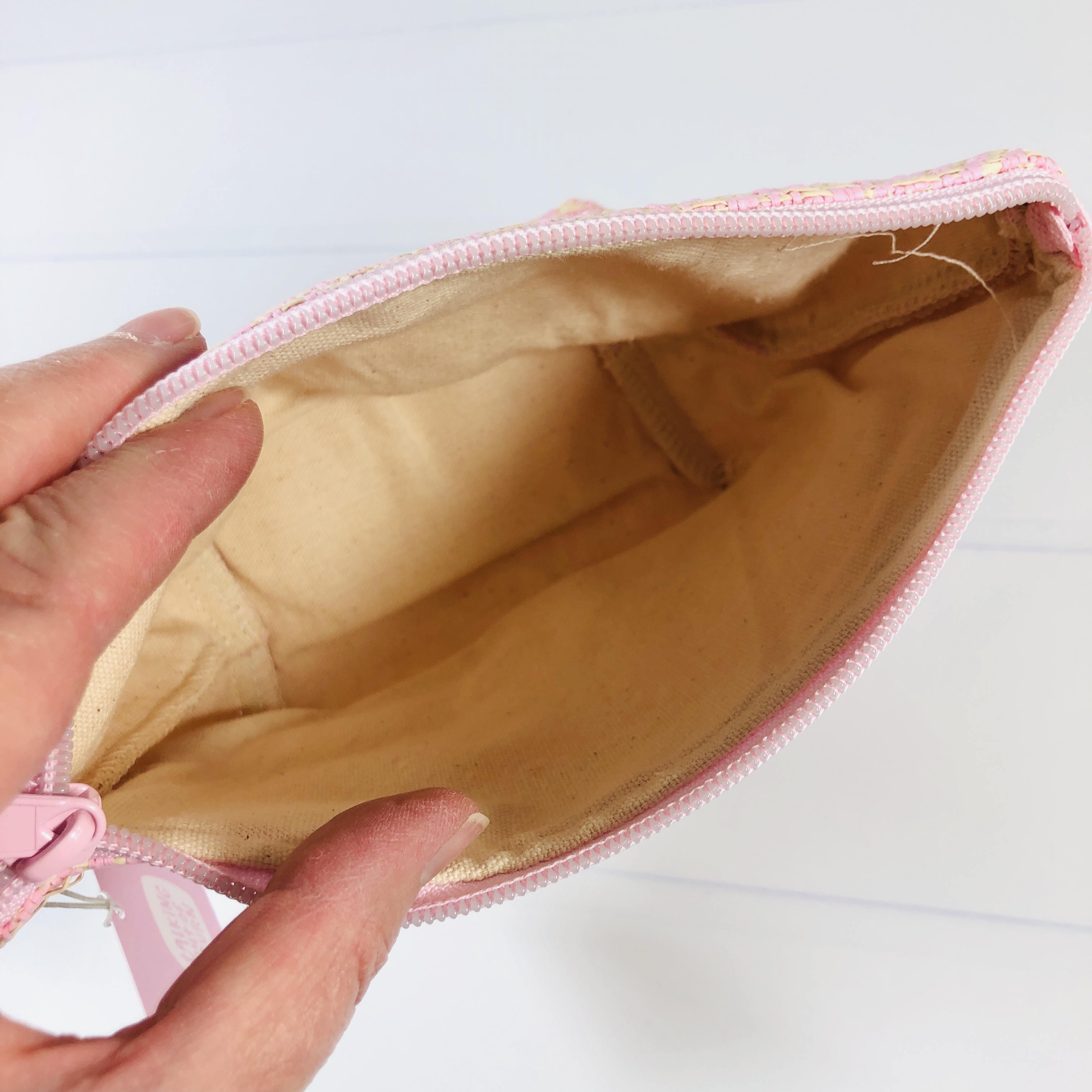 The zipper and pull are pink while the inside is lined with linen fabric. It is an adorable bag and would double as a mini clutch in a heartbeat. It measures about 6″ x 8″.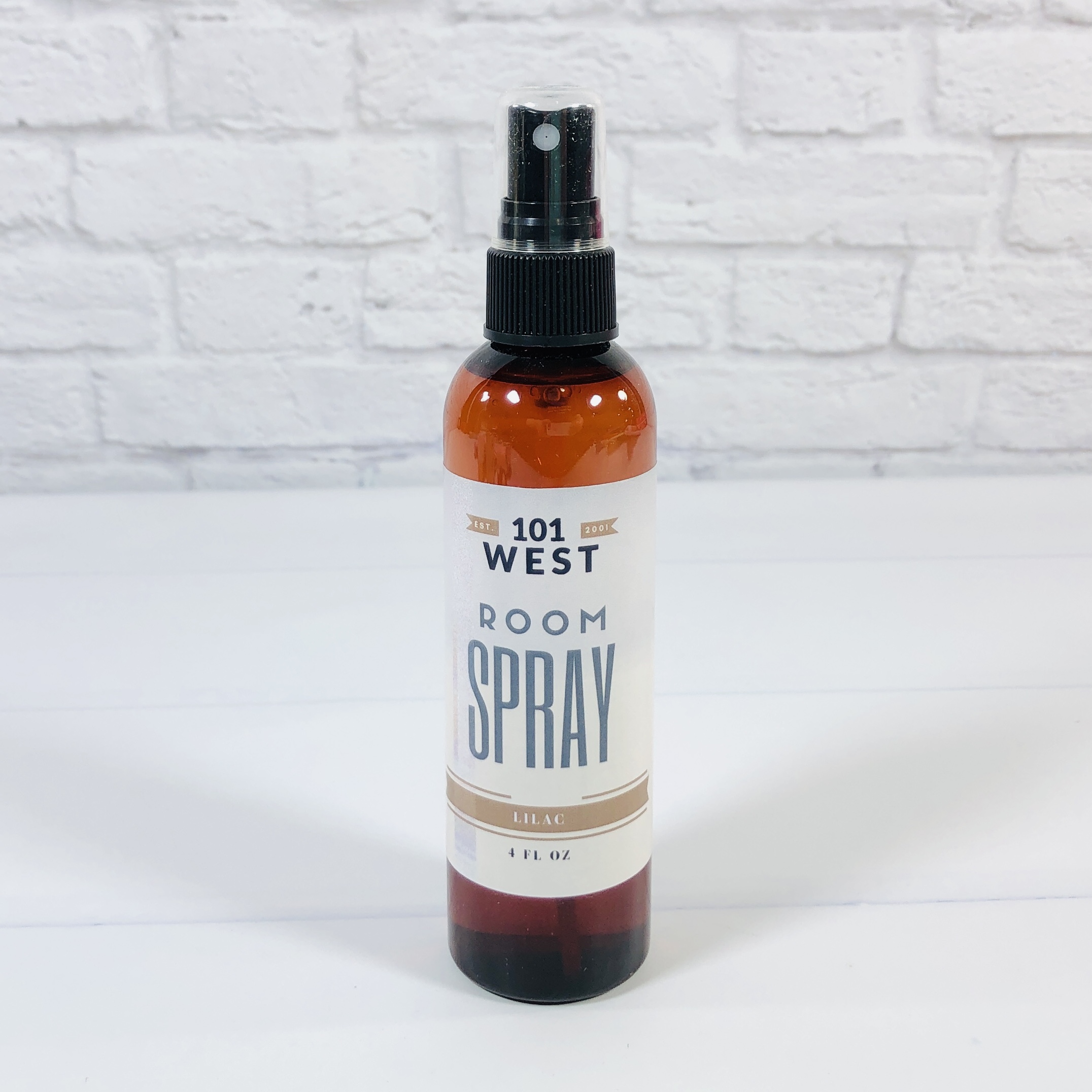 101 West Room Spray in Lilac ($7.95) The floral theme is abundant in this month's box and continuing on we received a room spray that is scented with lilacs. I didn't see a list of ingredients but this smells like a traditional perfume, very bright and floral, although I don't really know what lilacs smell like. It only takes a few spritzes to get a lot of scent and freshens up a room in seconds. Shake well before using.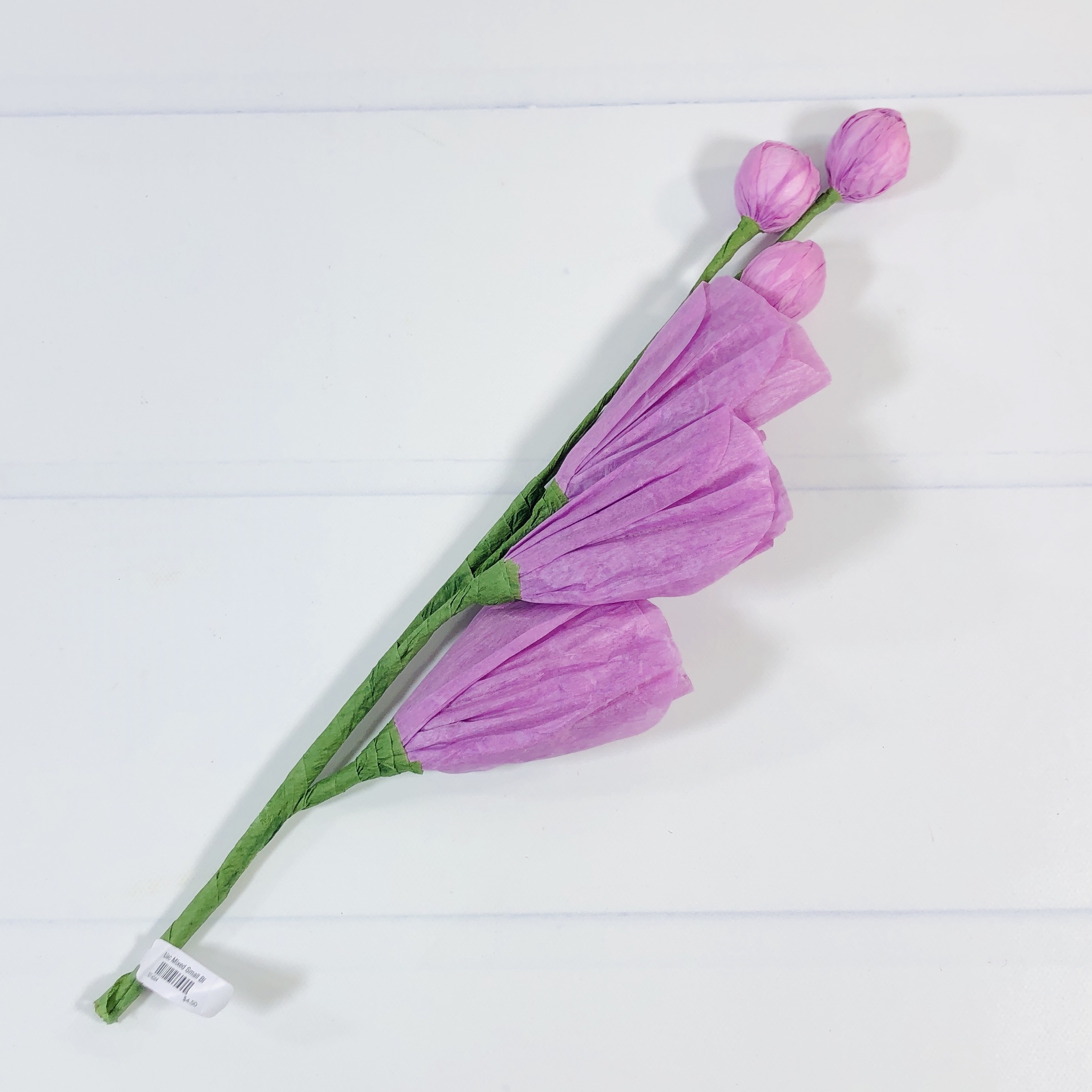 Paper Source Lilac Multi Bloom Paper Flower ($4.50) As soon as I opened my box I found this beautiful stem right there on top! It is a crepe paper flower on a bendable stem that can be displayed on its own or in an arrangement. I set it in the bud vase shown below and I tried to open the petals up to show off the yellow centers but I am terrified of ripping the paper so I will keep it as it is. You can click on the link to see how it looks when opened. Paper Source says this is 16″ tall but mine tops out at 11.5″.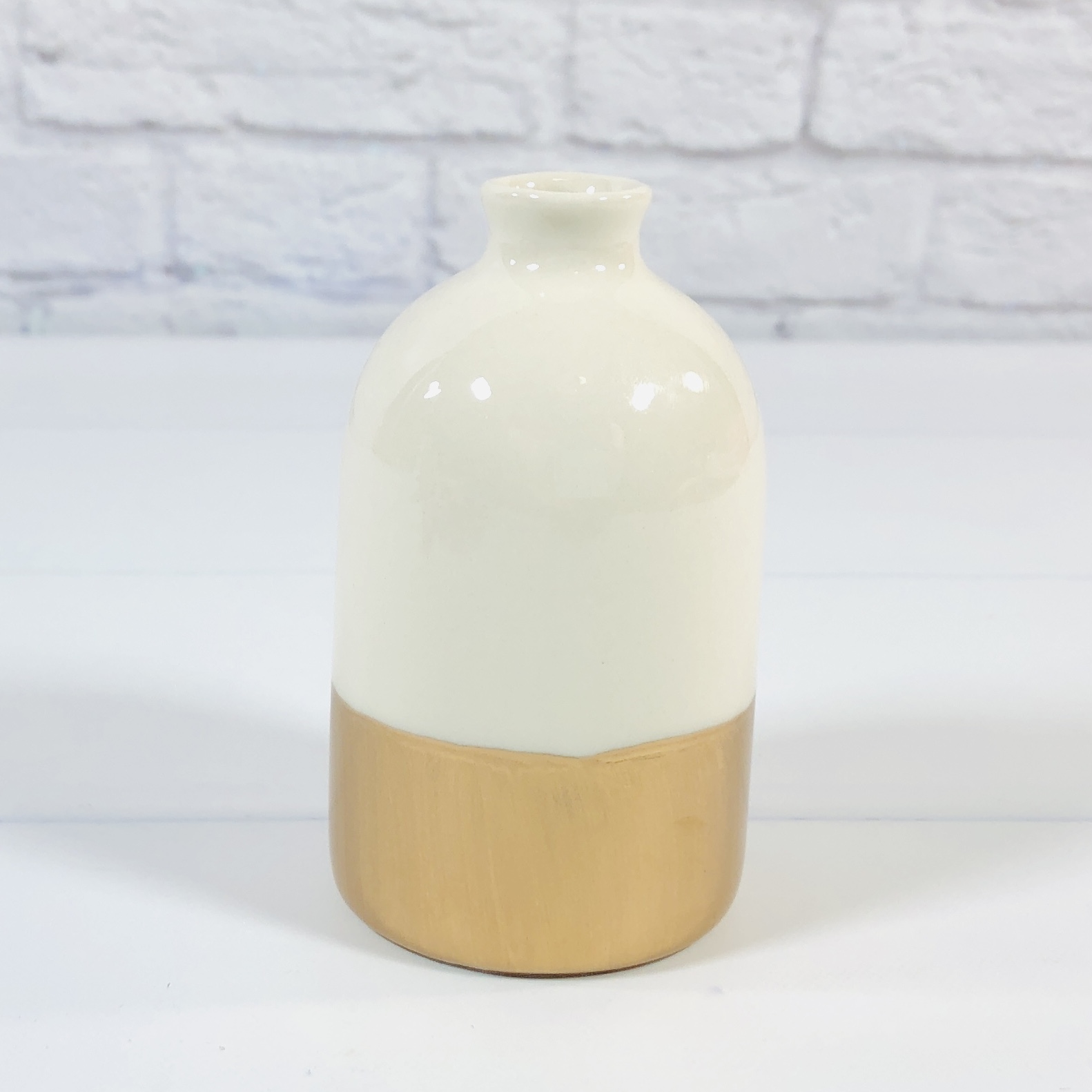 Honeycomb Studio Minimalist Bud Vase ($16) I am extremely pleased with this charming bud vase, it is just my style! It has a clear glaze over top and the gold along the bottom half is hand-painted and perfect in its imperfection. It is about 3.5″ tall and it looks like it is glazed on the inside too.
Here is the flower stem inside the vase. I have them sitting on my desk and it adds a dash of spring color and whimsy to my area.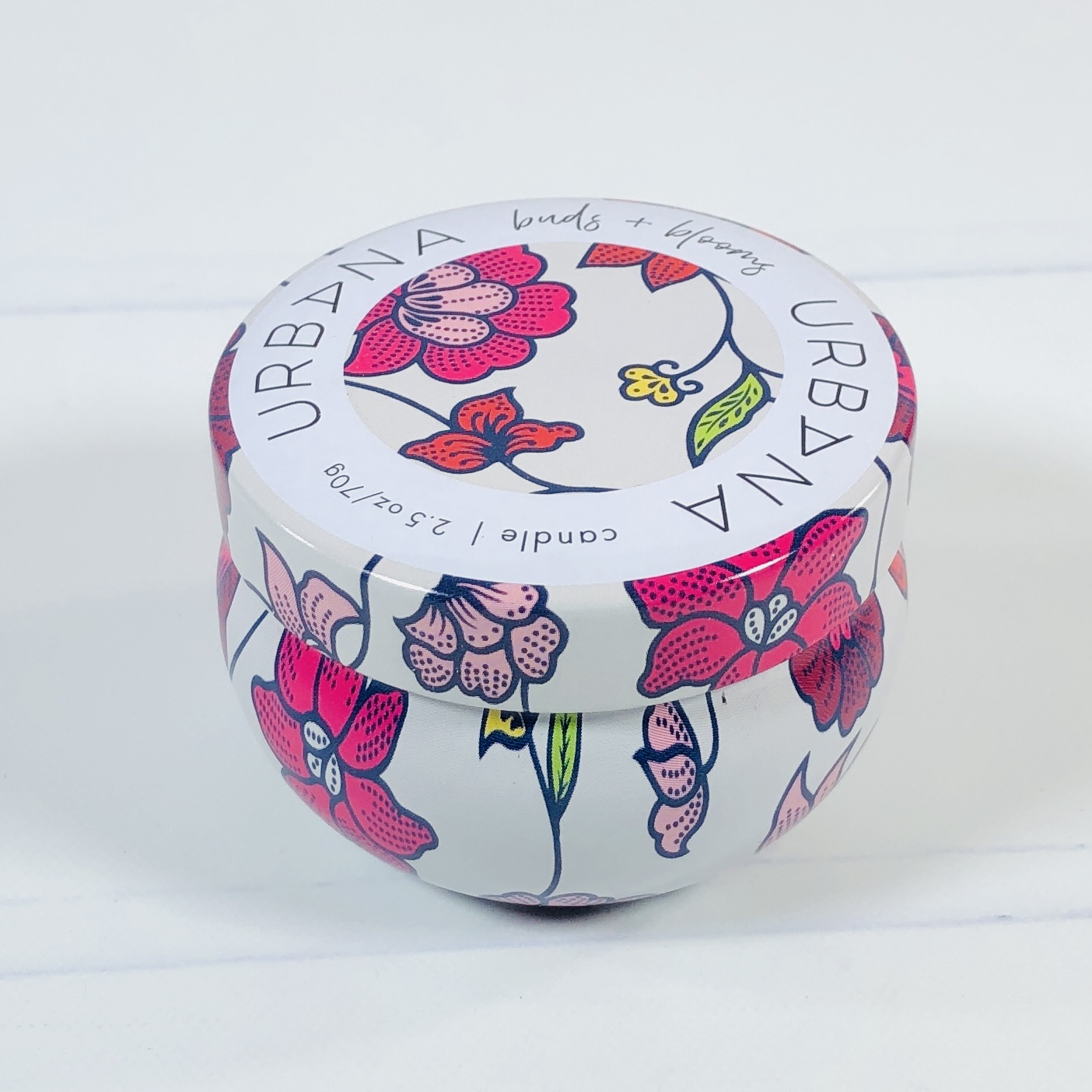 European Soaps Buds + Blooms Candles ($7.99) A candle in a travel-friendly tin makes it easy to create a spa-like atmosphere in the bathroom, without fear of the candle breaking.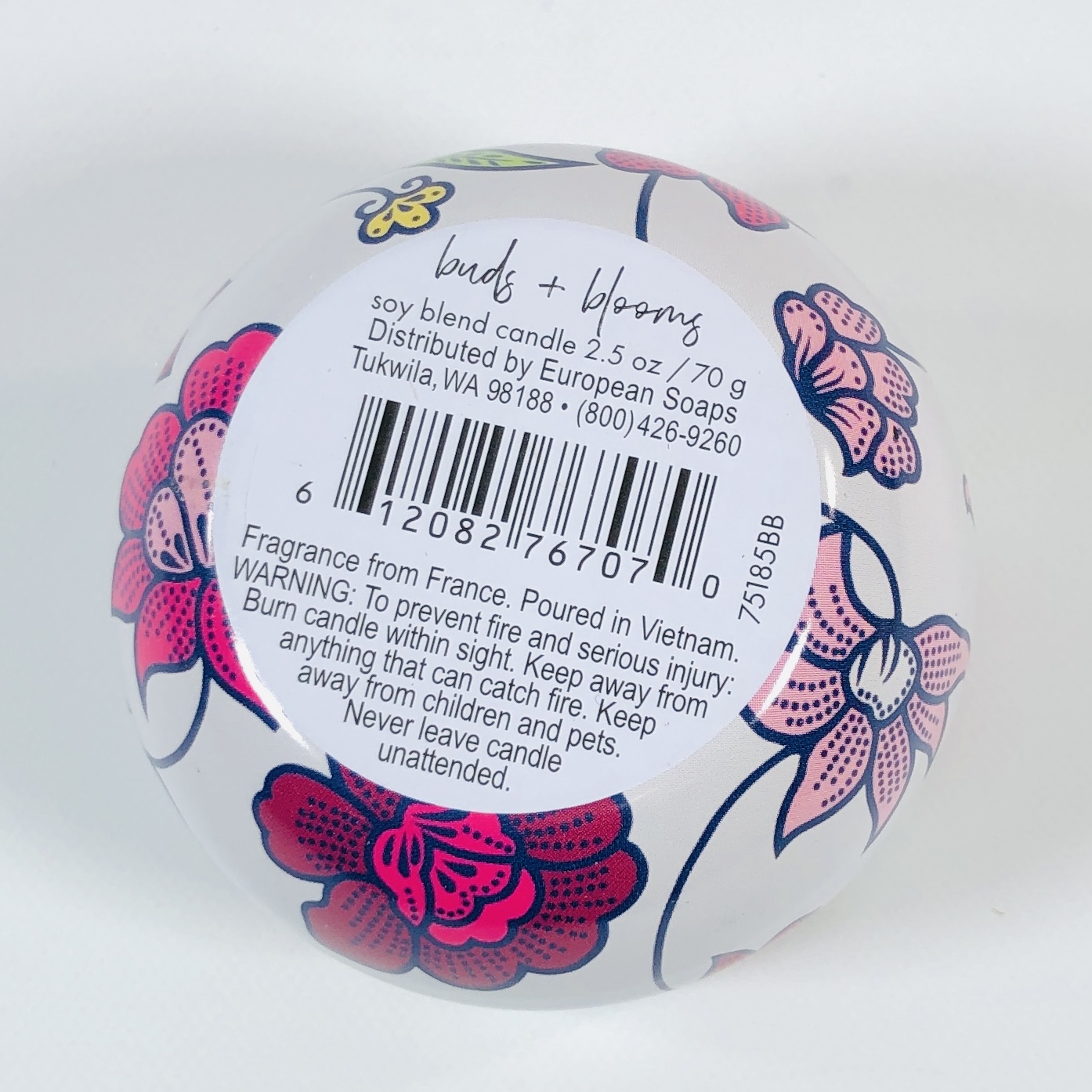 The candle is made with a soy and paraffin mix. Keep it away from pets and children.
The candle holds 2.5 ounces of wax and should burn for around 10 hours. The scent Buds + Blooms is described as "fresh and floral with cedar, rose, ylang-ylang, musk, and amber". It has a warm note and isn't super strong or floral. I didn't notice the scent while it was burning but I mainly burn candles for the relaxing ambience that they provide so if you are sensitive to strong scents then this may be a good brand to try.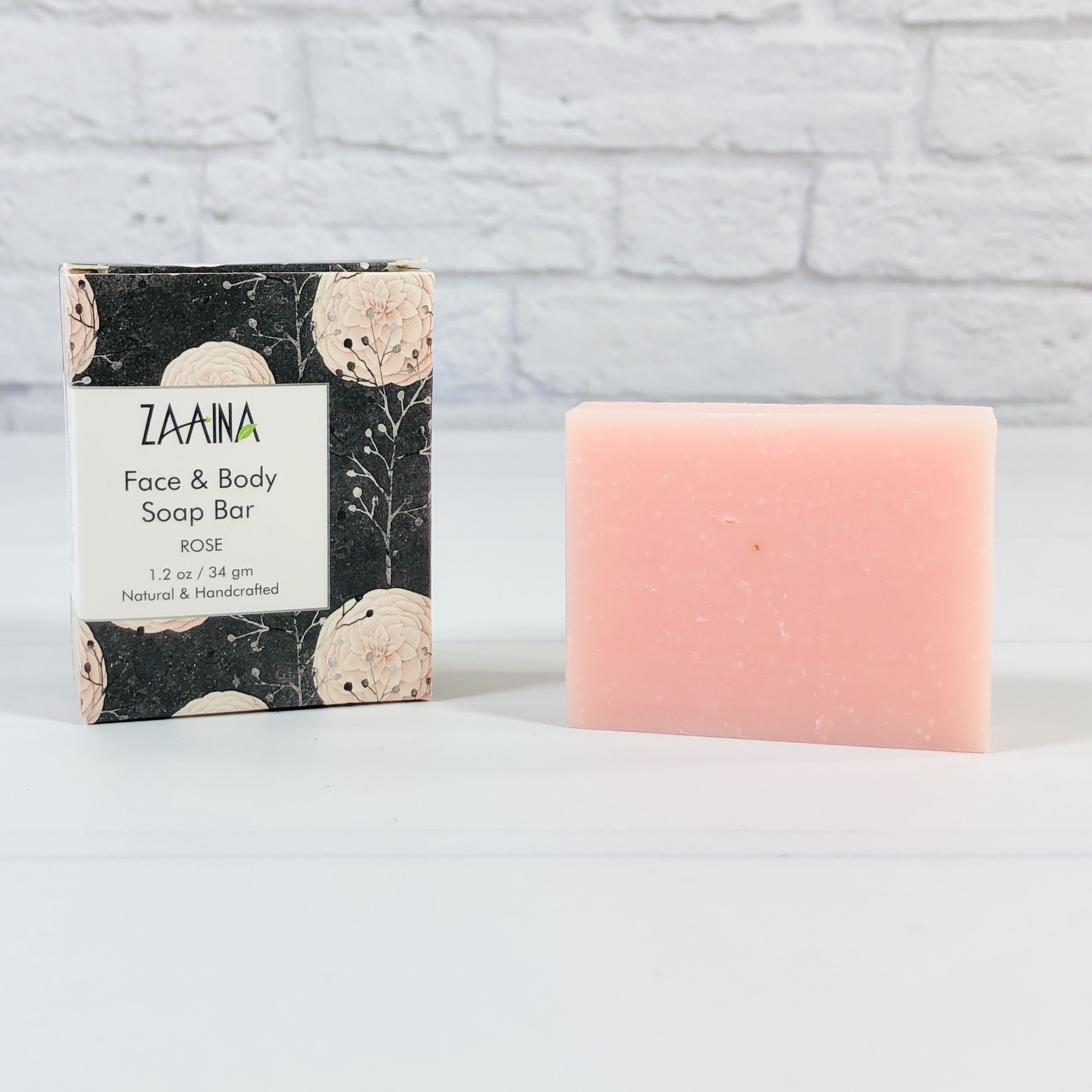 Zaania Rose Soaps ($2.34 value) A sweet little bar of rose-scented soap is perfect if you plan on taking a short trip, it smells so much better than the soap bars that are in hotels. Of course, you can use it in your own home too, either in the shower or next to the sink.
Ingredients include saponified olive, coconut, and castor oils and of course it is scented with rose water and fragrance. The color comes from natural pigments and there are bits of rose petal here and there. It smells feminine and floral and it's a charming little soap, which should last about a week or so.
The Bang Candy Company Small Marshmallow Box ($6) A box of hand-made fluffy marshmallows is the final item this month!
The ingredients were on the back and one of the marshmallows is flavored with rose water so even the candy is following the floral theme!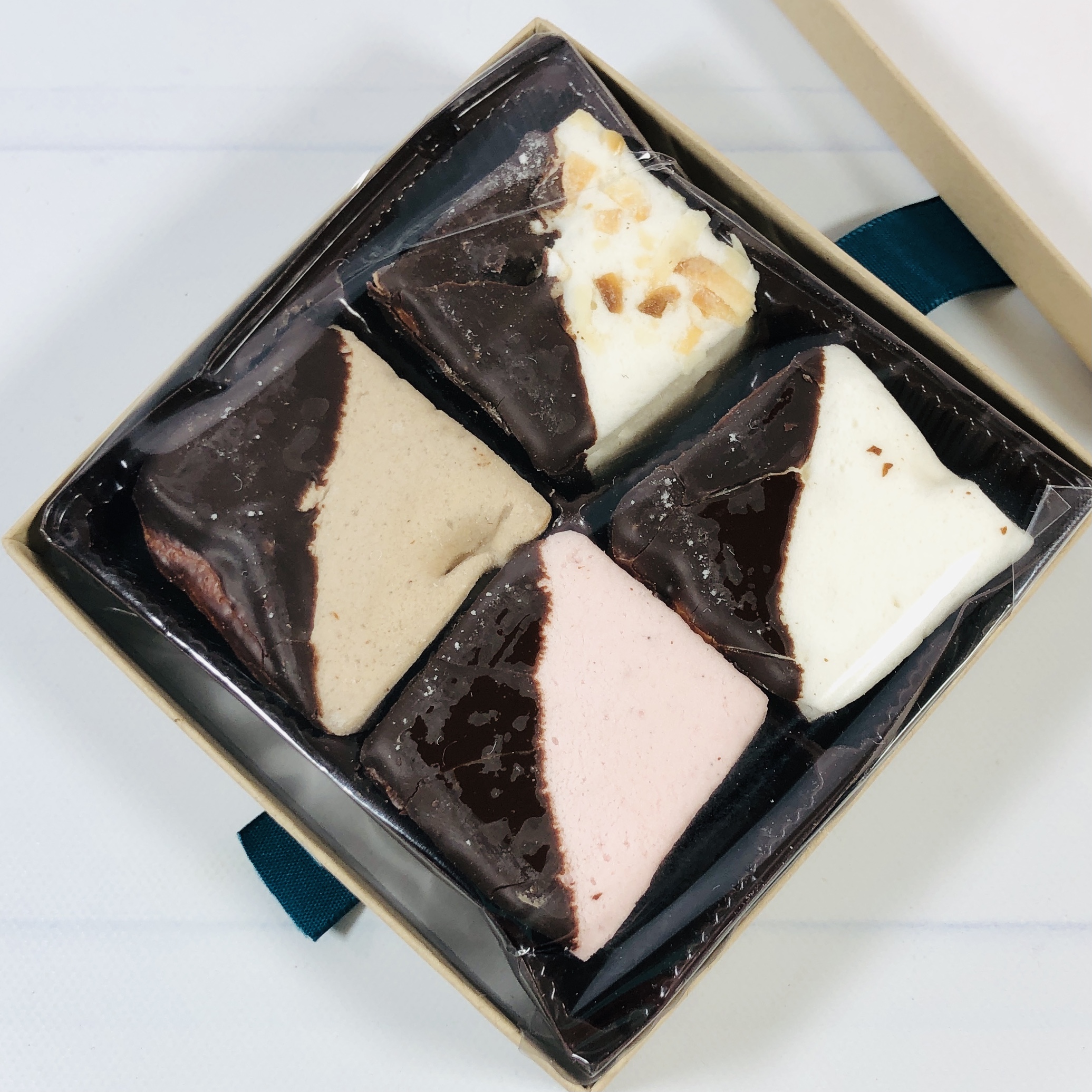 I tried one but I must confess that I am not a marshmallow fan but I liked the high-quality chocolate coating!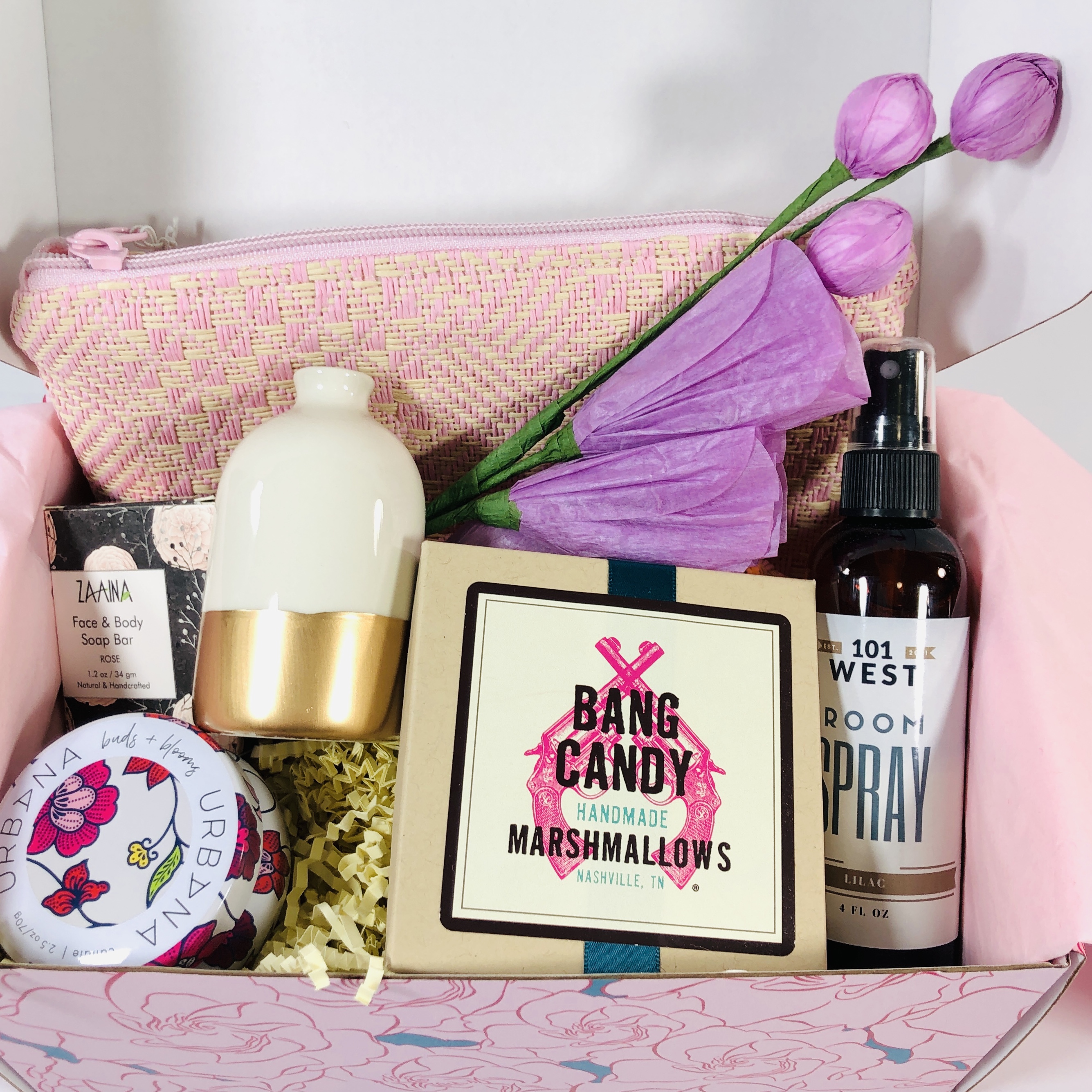 Étoile Box is such a delightful box with adorable themes and charming products. I loved opening my box and finding a paper flower on top, what a cool surprise! The floral theme was carried throughout the box and I enjoyed all of the various scents. The vase is exactly my style, the candle provided a relaxing atmosphere, and the room spray and rose soap rounded out the box nicely. I think the bag is simply adorable and loved the colors of it. I always look forward to getting Étoile Box, I think there is a lot of care and thought that goes into this box and the products seem like items I might discover at a lovely little boutique.
What do you think of this box?