Dermy Doc Box is a quarterly subscription box full of skincare items that are curated by board-certified dermatologist, Dr. Fatima Fahs. The boxes will contain 5+ skin and haircare items and will have a value of more than $100. The brands will be both drugstore and high end and will be a combo of samples and full-sized. It's not customizable at this time but perhaps will be so in the future. Dermy Doc Box is $59.99 for a one-time purchase or subscribe and the price drops to $49.99! Shipping is free to the USA and it can be shipped to Canada for an additional fee.
Dermy Doc Box is curated by Dr. Fatima Fahs, MD, a Michigan-based board-certified dermatologist. Dr. Fahs runs @dermy_doctor, an Instagram account dedicated to disseminating accurate skin care education and dispelling beauty myths.

As a board-certified dermatologist and skincare expert, she saw the need not only among her own patients, but those on social media to sift through the noise. With so much incorrect information online and ridiculous product claims, Dr. Fahs decided it was time to take matters into my own hands–or box! Each and every product in a Dermy Doc Box is selected because she has personally tried it, loved it and would recommend it to her own family and patients. It takes the guesswork out of finding quality skincare. Ultimately, her goal is to make people's skincare routine less overwhelming and more efficacious!

If you've ever struggled walking down the skin care aisle, Dermy Doc Box will remove all the guesswork for you!
DEAL: Get $5 off your first box! Use coupon code HELLODERMY.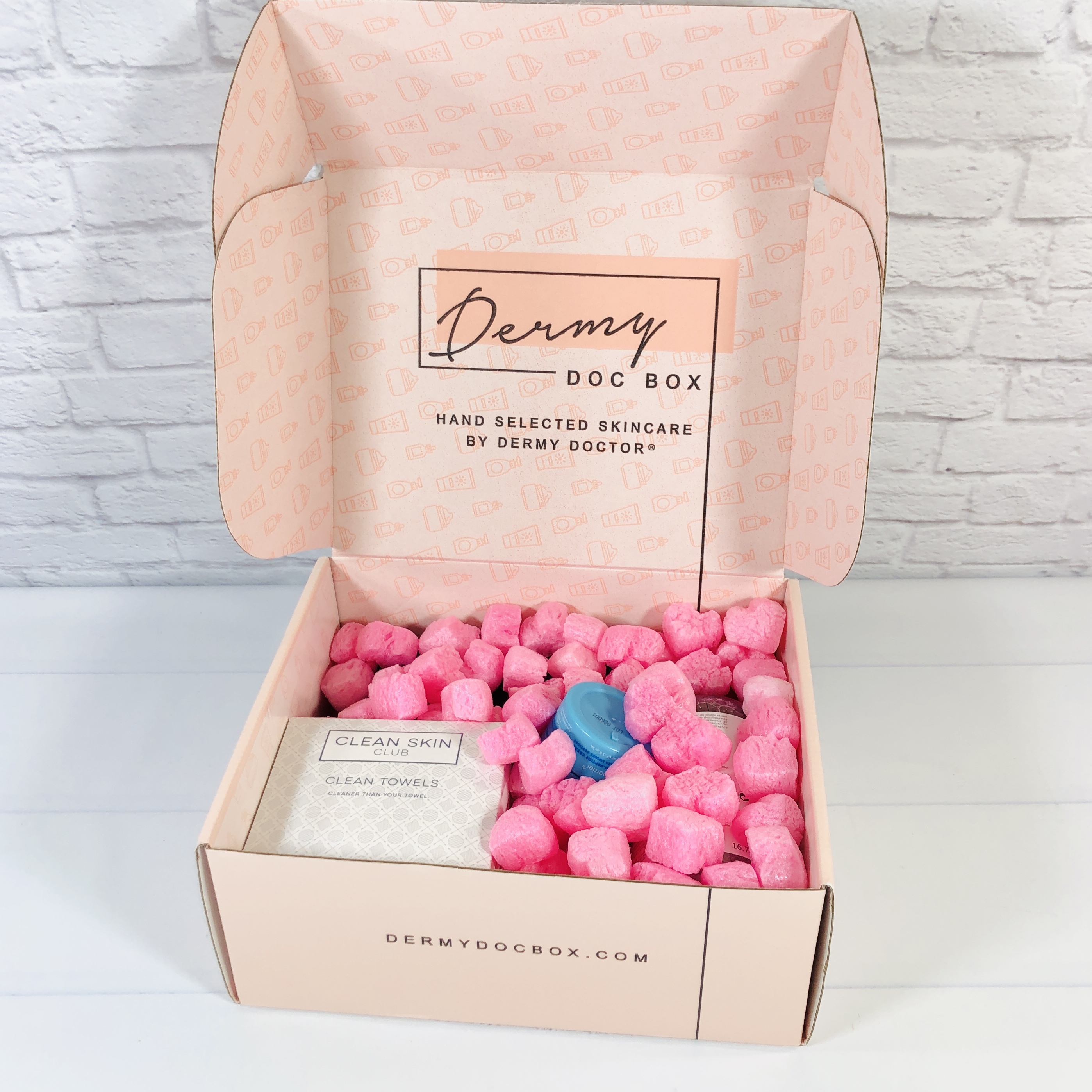 This is my very first box from The Dermy Doc! The boxes are seasonal so you can grab this Spring box through the end of June. In July the summer box will be available.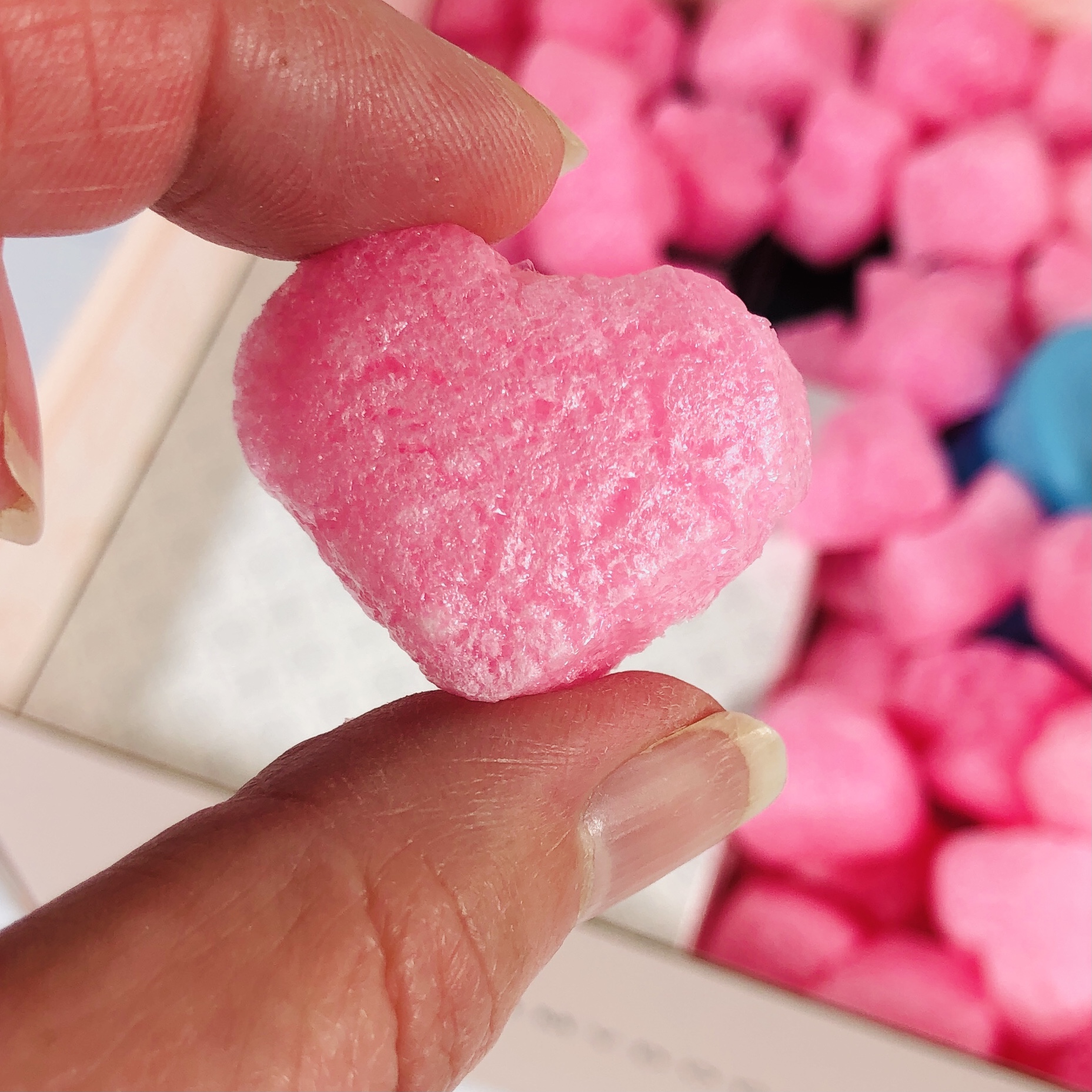 Heart-shaped dissolvable packing peanuts? That's super cool!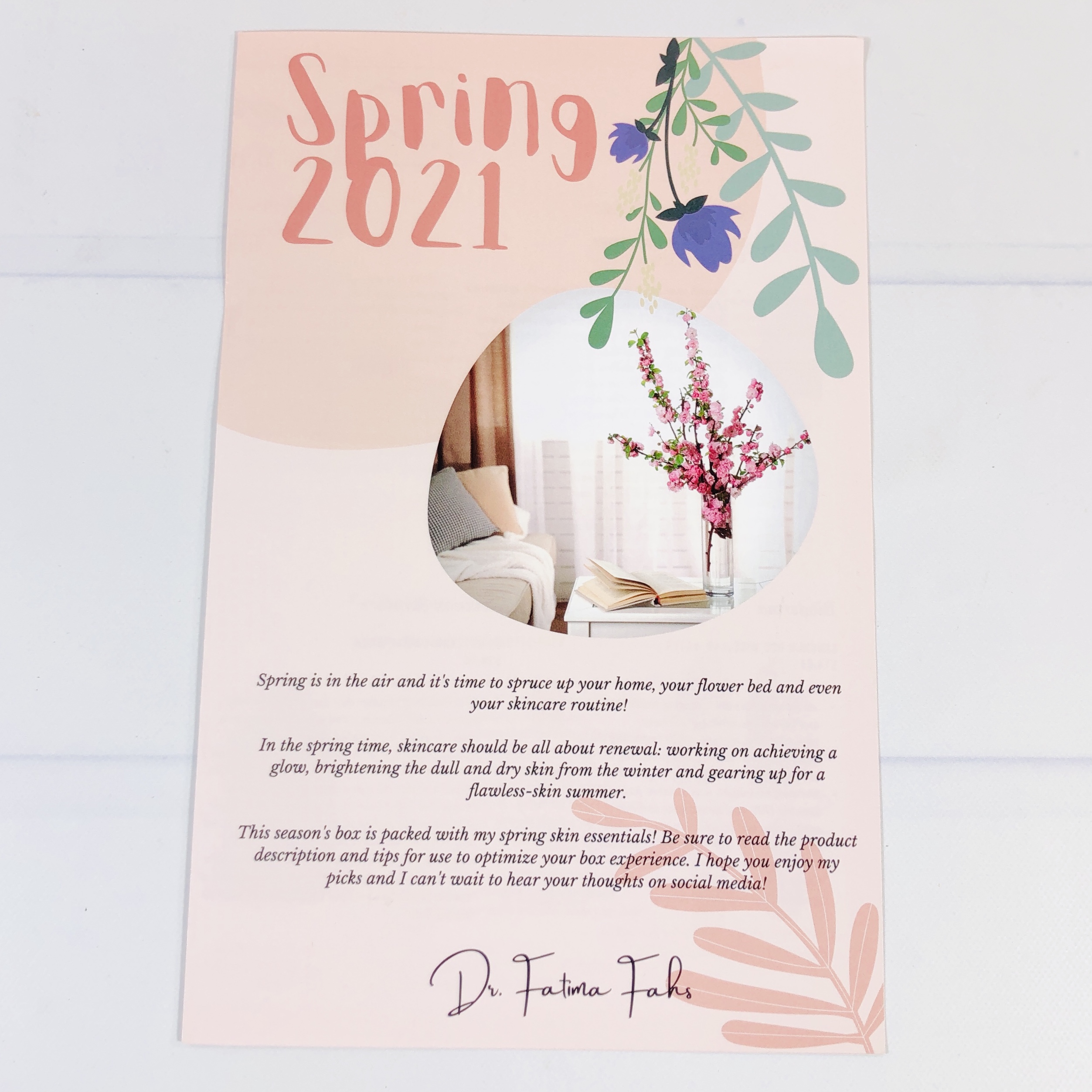 I found a pamphlet that tells me this is the Spring 2021 box, time to get skin in check after the winter!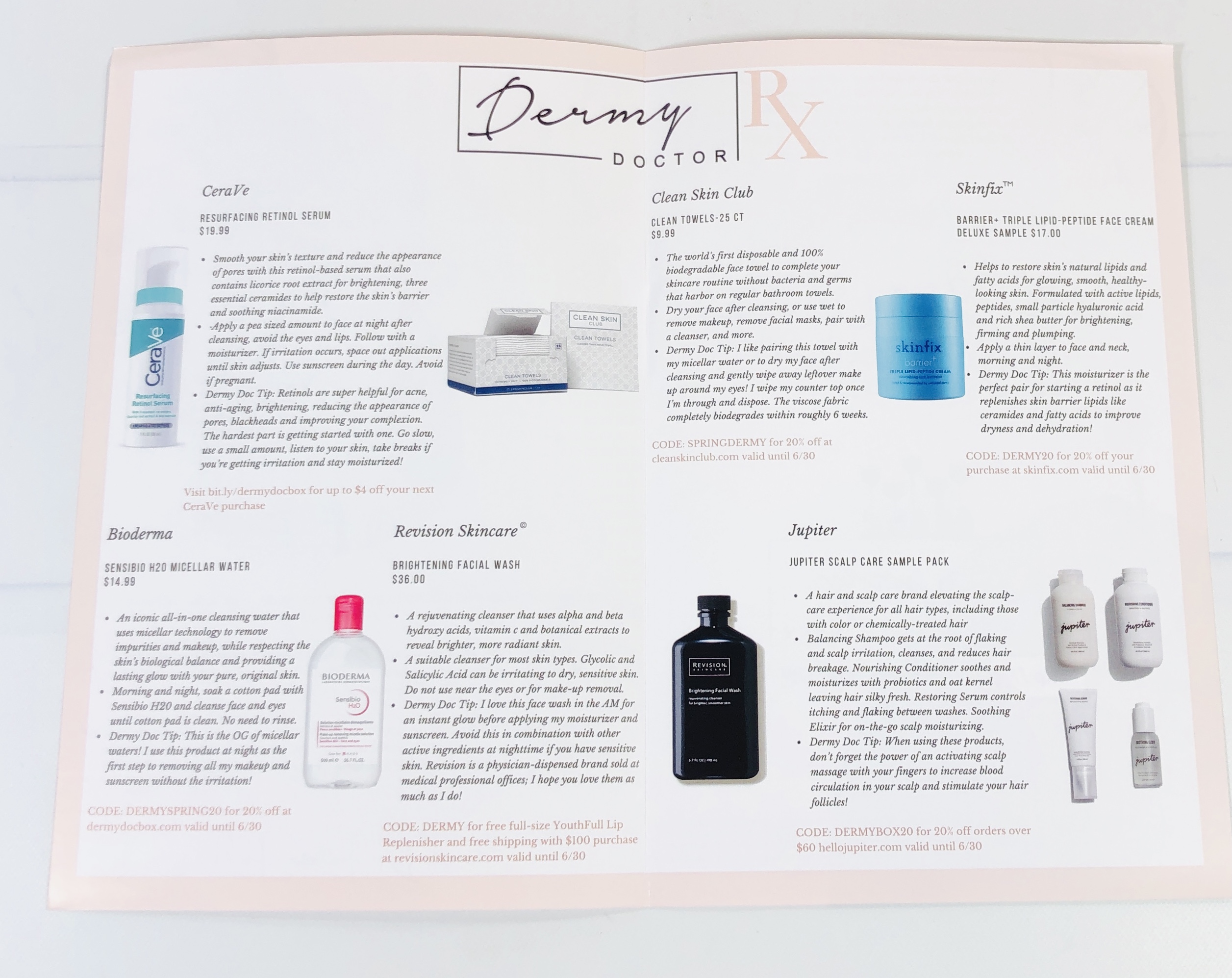 The inside of the pamphlet listed each item as well as the MSRP and a website for more info. There were even codes to save on future purchases!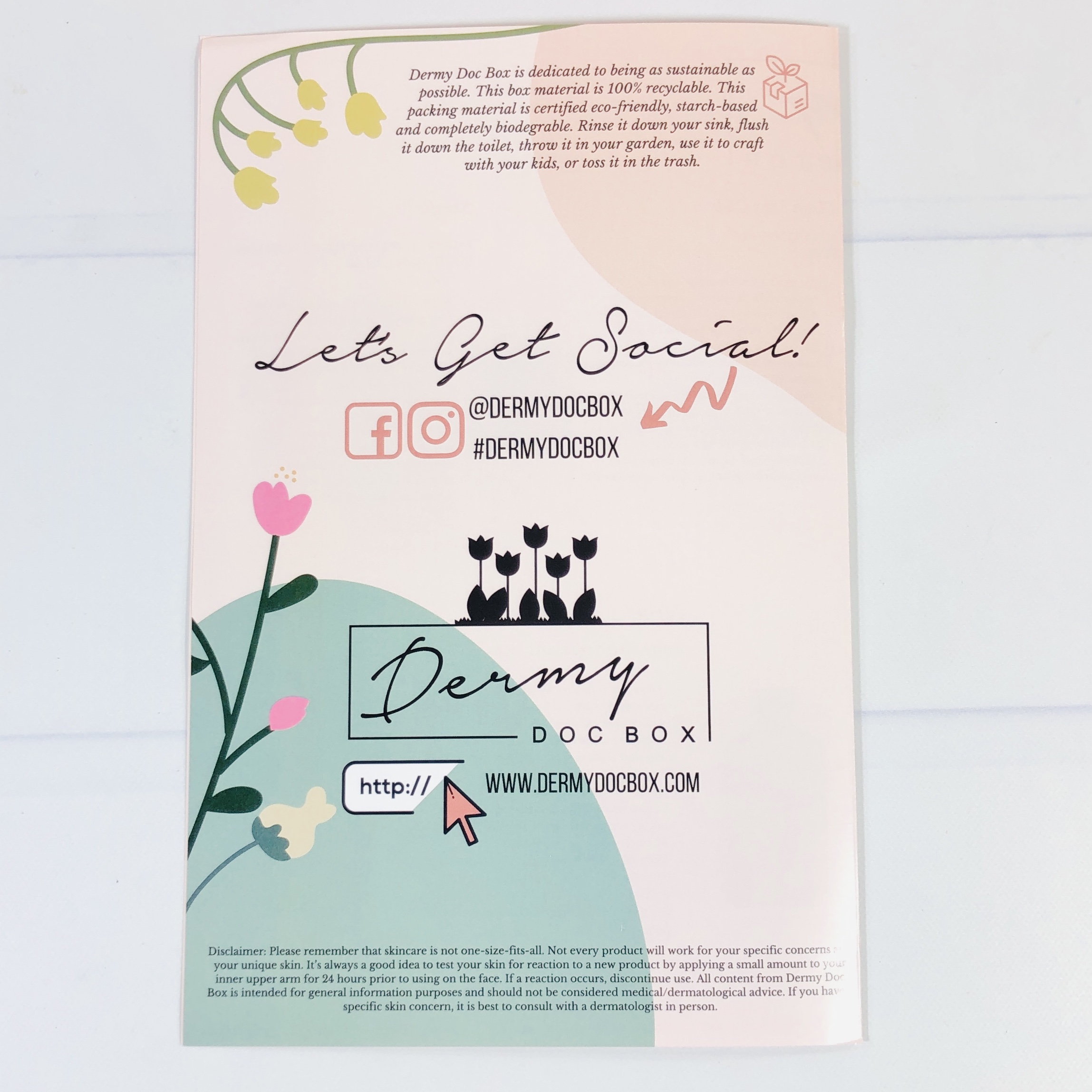 You can find the social media sites here but I also want to draw your attention to the upper right hand corner which discusses the earth-friendly packaging and also the bottom which reminds us that every product might not be perfect for every person and that users should do a patch test before using and consult a dermatologist if you have any concerns.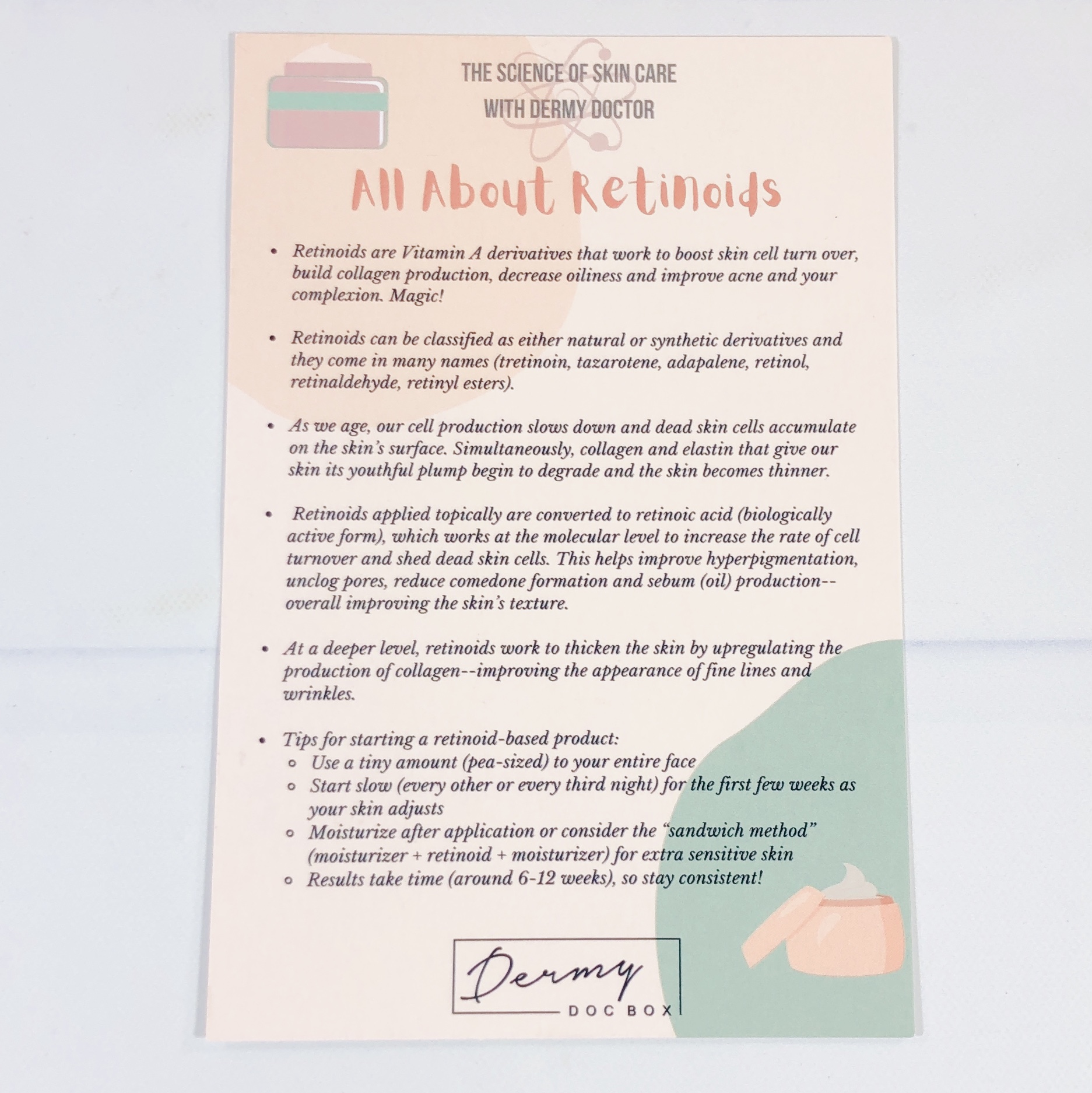 A separate card included all I need to know about retinoids. I like the suggestions for getting started, I haven't completely taken the plunge but I think it's in my immediate future.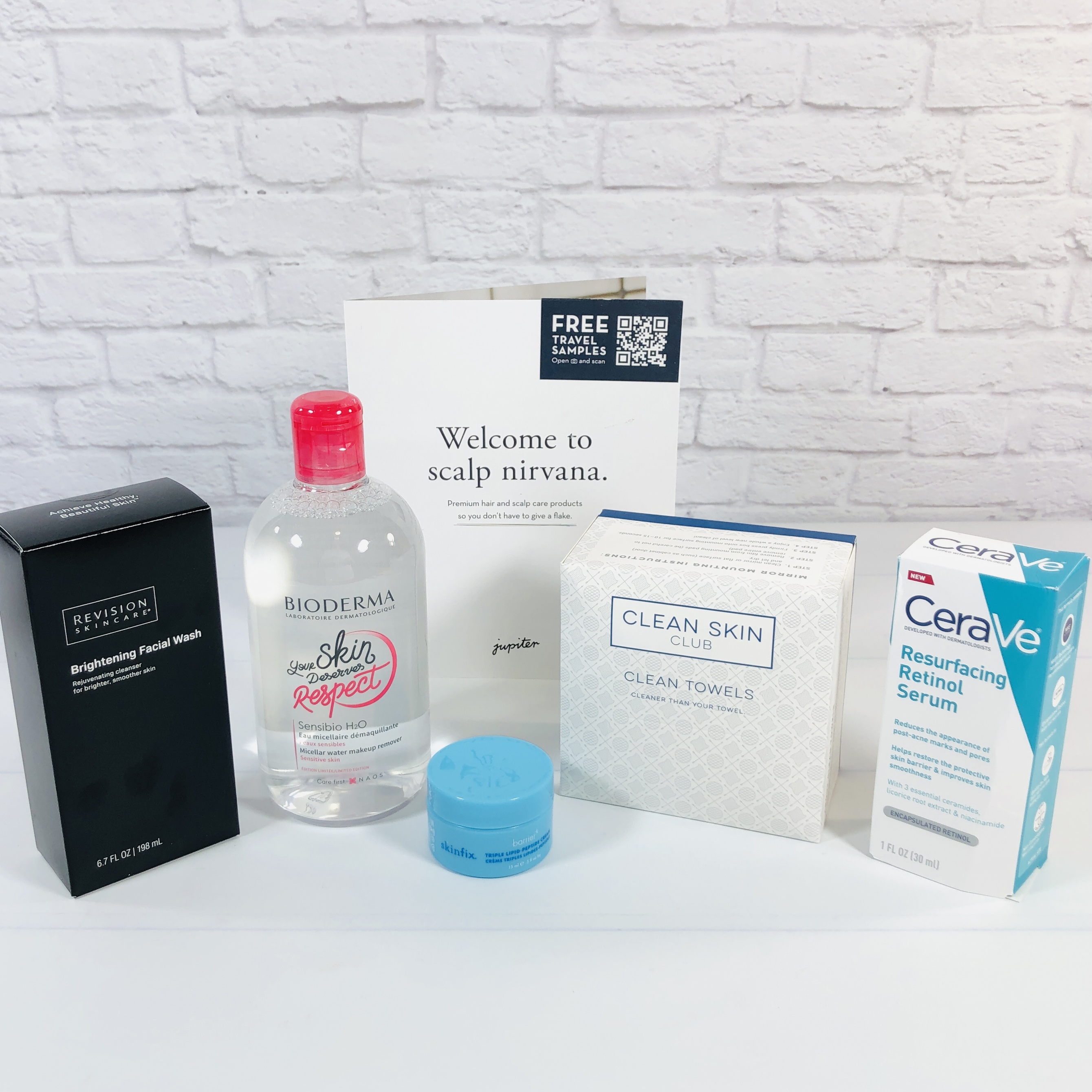 Everything in my box!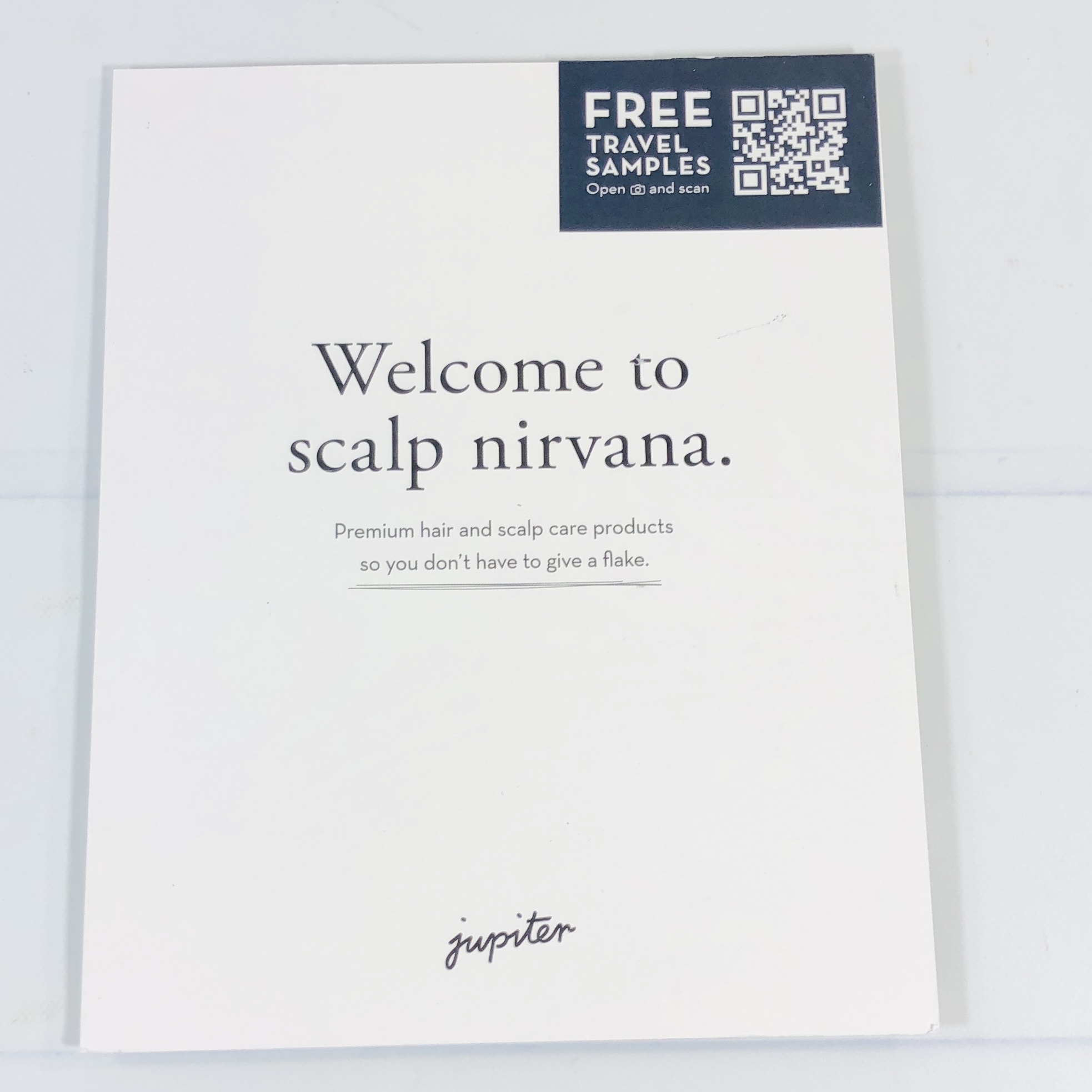 Jupiter Scalp Care Sample Pack You can get a trial pack like this for $3.95 shipping, plus, you'll get a coupon for $5 off your first order – find out more here.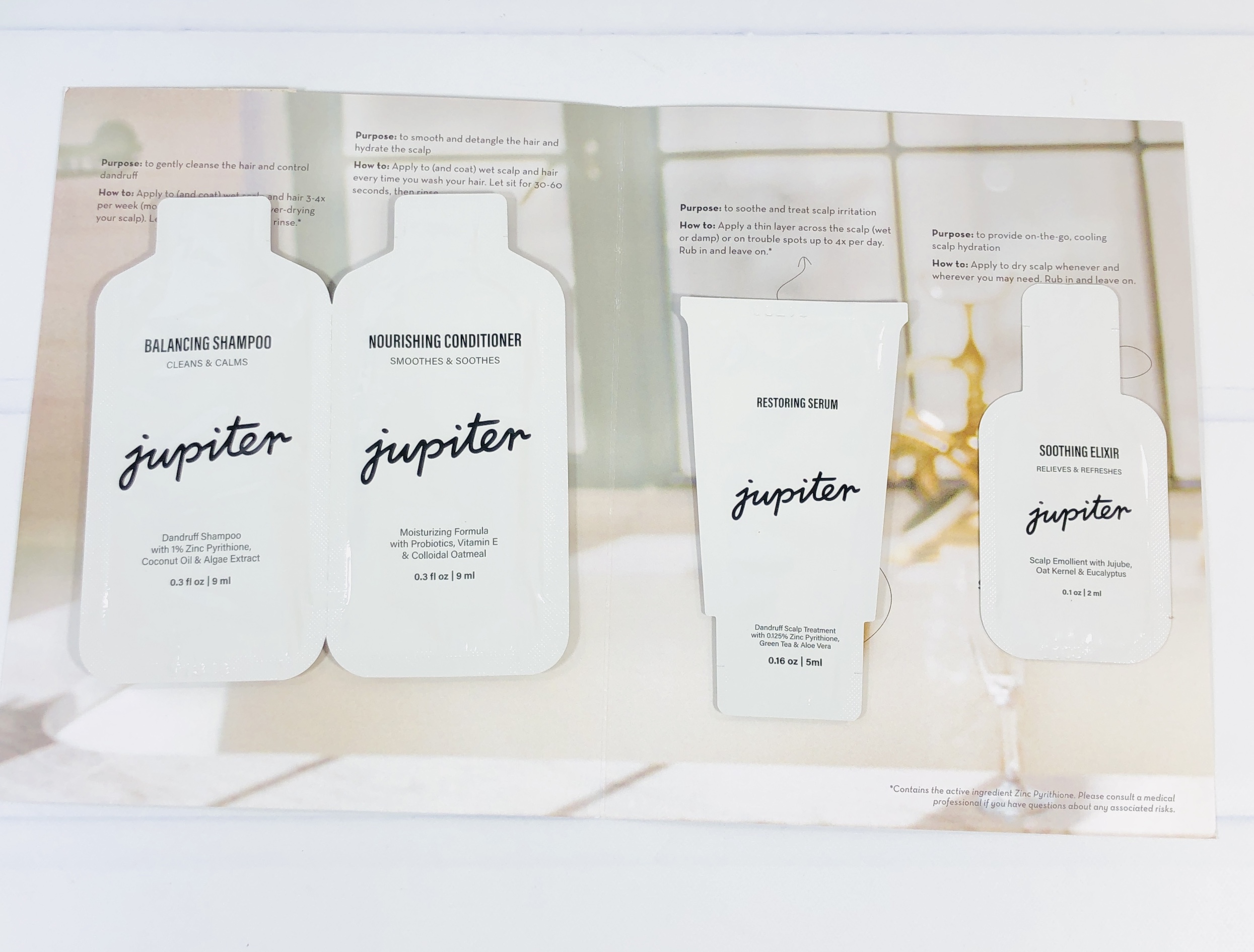 Inside I found a shampoo, conditioner, serum, and elixer. These are meant to help fight and relieve dandruff and two of the treatments are meant to be used between washings to help control itchiness and refresh the hair.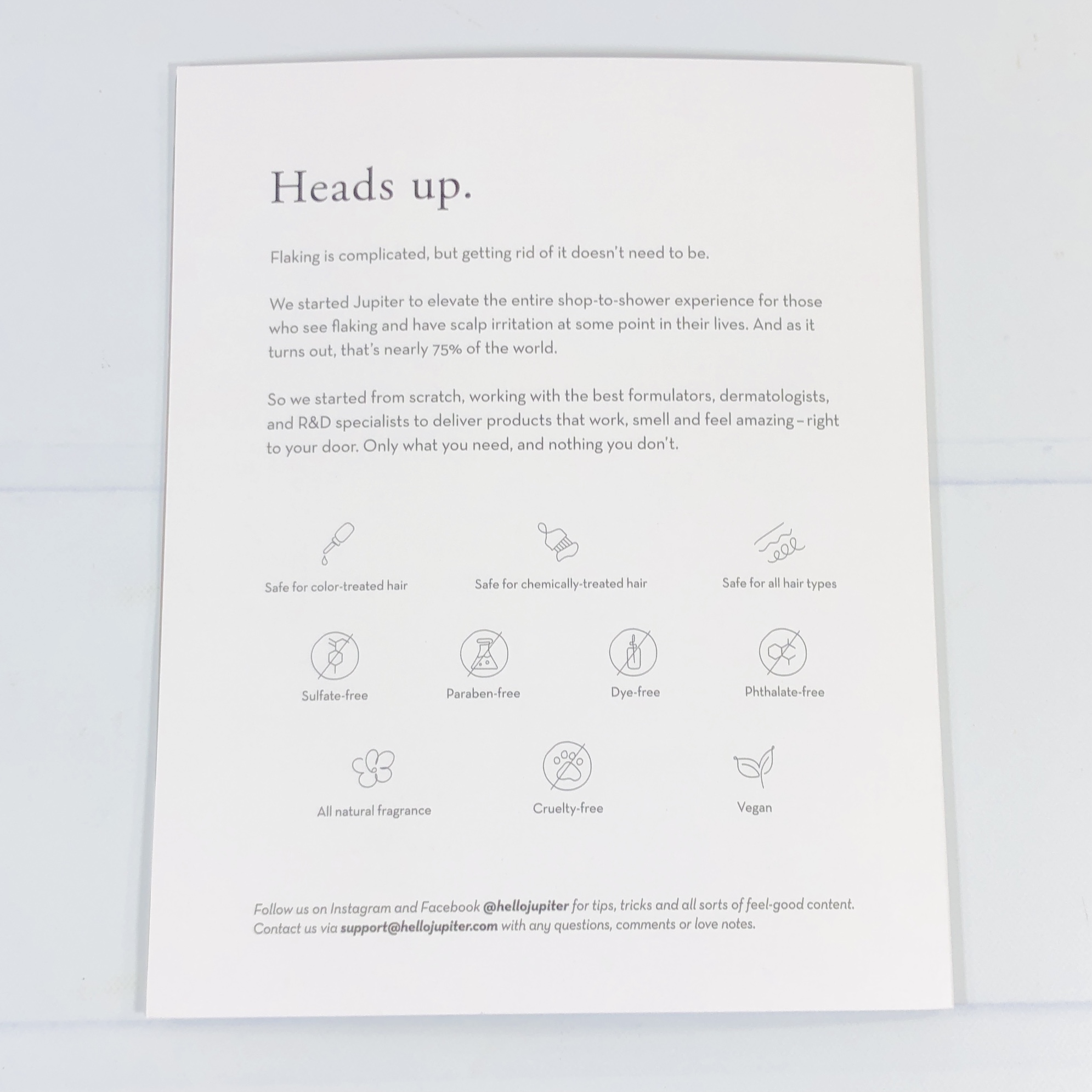 The line is safe for color-treated hair and is vegan and cruelty-free. The scent comes from plants and it doesn't have SLS. I used the shampoo and conditioner and they both had a creamy consistency. The shampoo was difficult to lather, even when I rinsed and reapplied. The conditioner didn't weigh down my fine hair but did make it easy to comb out. Both products smelled lightly of peppermint. I enjoyed using these products and they worked really well for my hair, and I have the other two on standby in case I need them.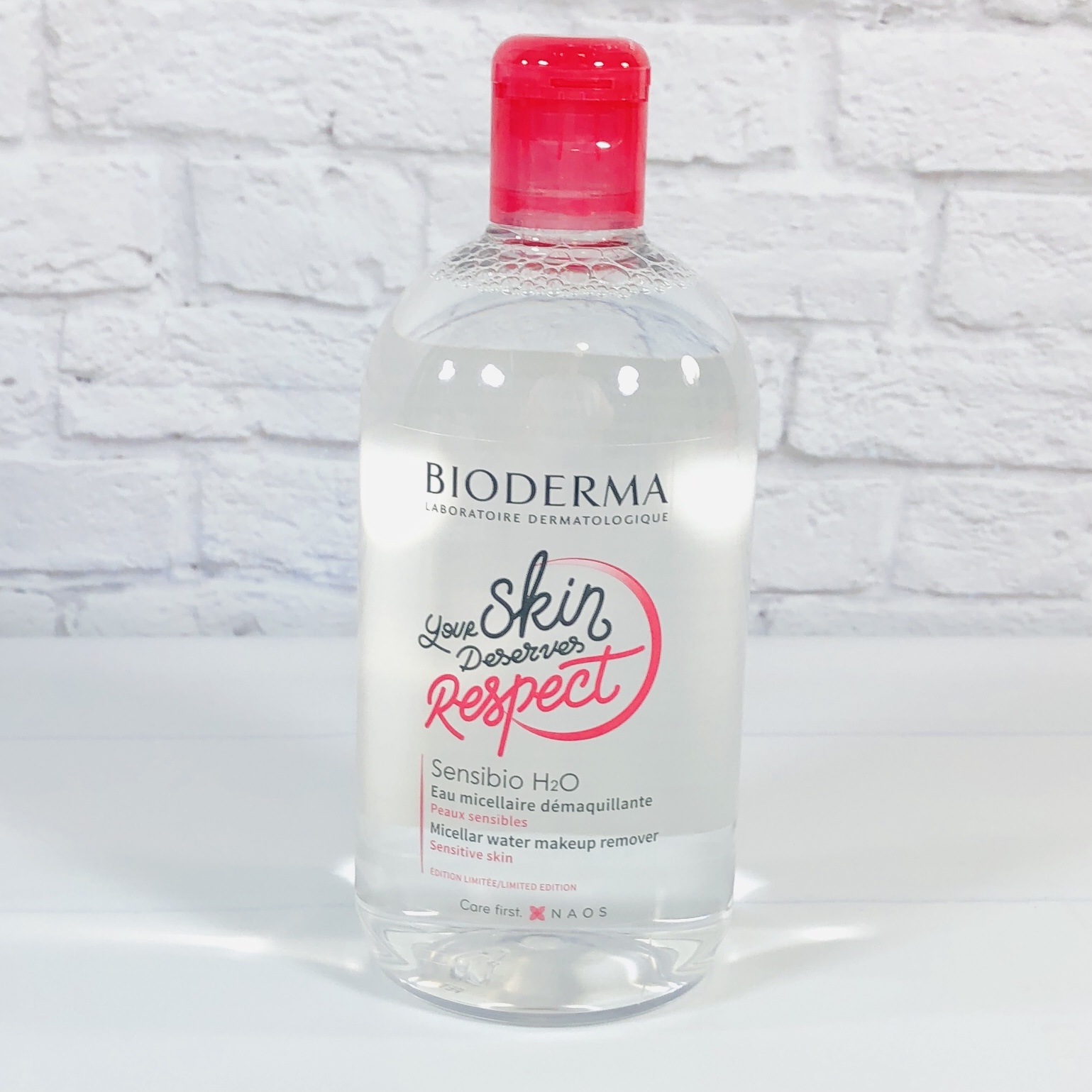 Bioderma Sensibio H2o Micellar Water ($14.99) I use a micellar water nightly to remove my eye makeup only so I was excited to receive a whole bottle of this, which I've never tried before (my usual brand is the Target store brand).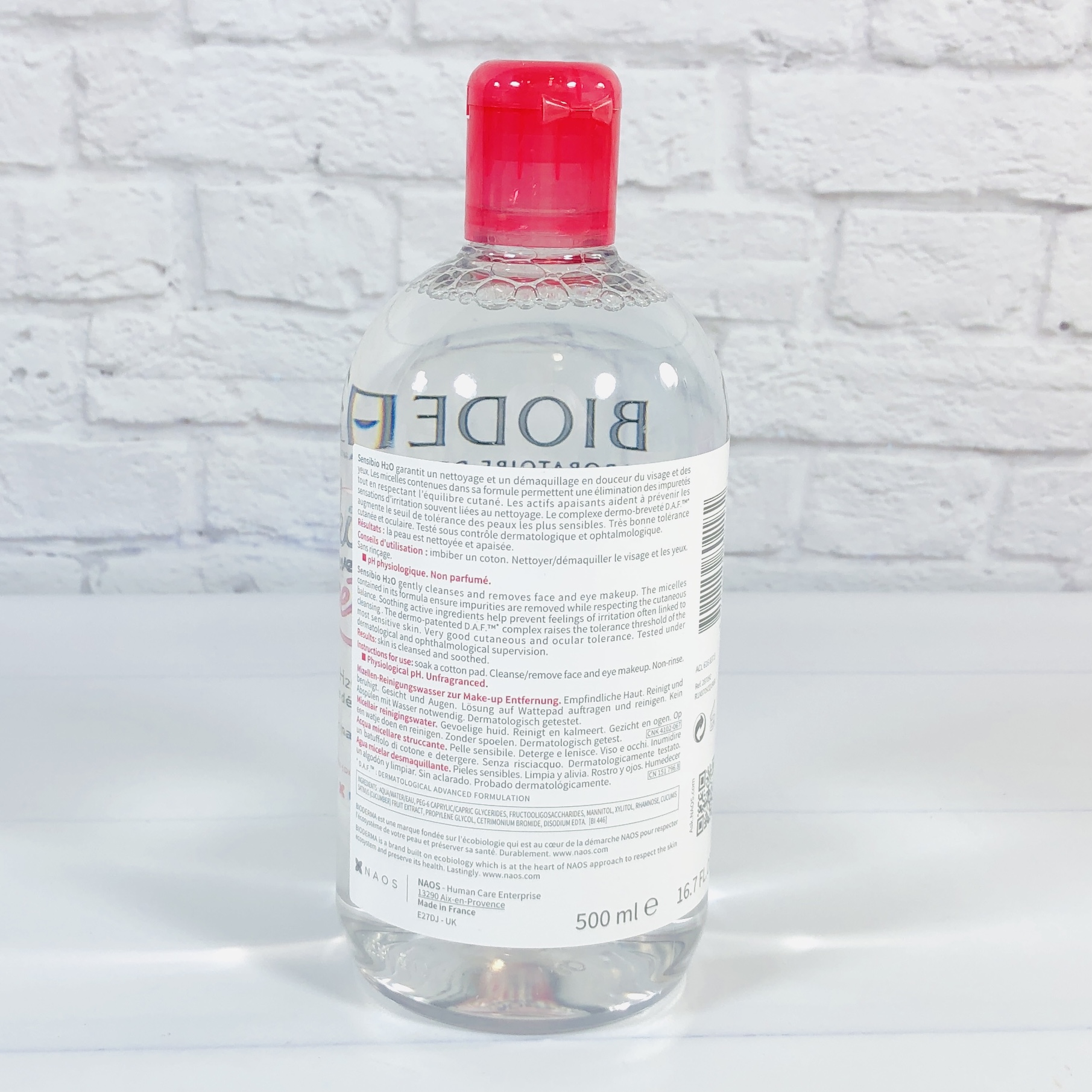 It can be used to remove face makeup too but I used it only on my eyes. I usually dampen a cotton pad when I use this type of product but found it better if I skipped that part and saturated the pad with product instead. It worked well enough for days when I didn't wear mascara but if you are into heavy eye makeup it might take several cotton pads to get it all off. I frequently found myself reaching for my usual product to remove the rest. I will pass this to my daughter, who doesn't wear as much eye makeup as me, I think it will be fine for her needs. I didn't experience any irritation, the product didn't feel greasy, and I didn't notice any scent.
CeraVe Resurfacing Retinol Serum ($22.99) CeraVe is a brand my dermatologist highly recommends and I use three of their products daily: their cleanser, moisturizer with SPF, and night time moisturizer. I was excited to see this in the box but then I realized it is meant to reduce acne-scars and pores, so I think it is better suited to my daughter. I'm more concerned with fine lines and wrinkles at this life stage.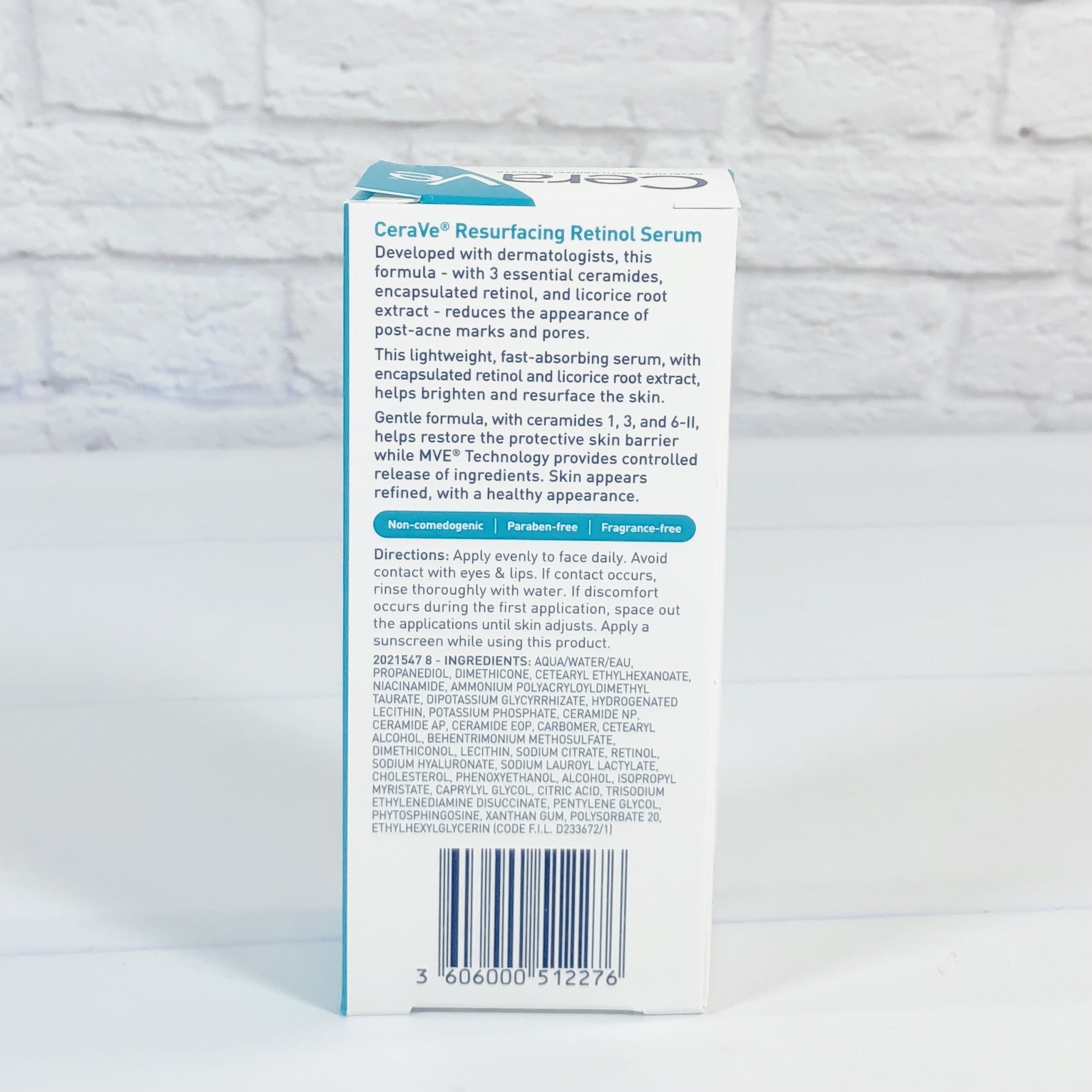 The serum has ceramides and a good intro level of retinol that shouldn't be problematic for those just starting to use that ingredient. It also has ceramides, niacinamide, and hyaluronic acid, which are all helpful to the skin by promoting healing and fighting irritation. Alcohol is near the end of the list. The serum is a creamy gel that doesn't have a scent and that isn't sticky when dry and is non-greasy.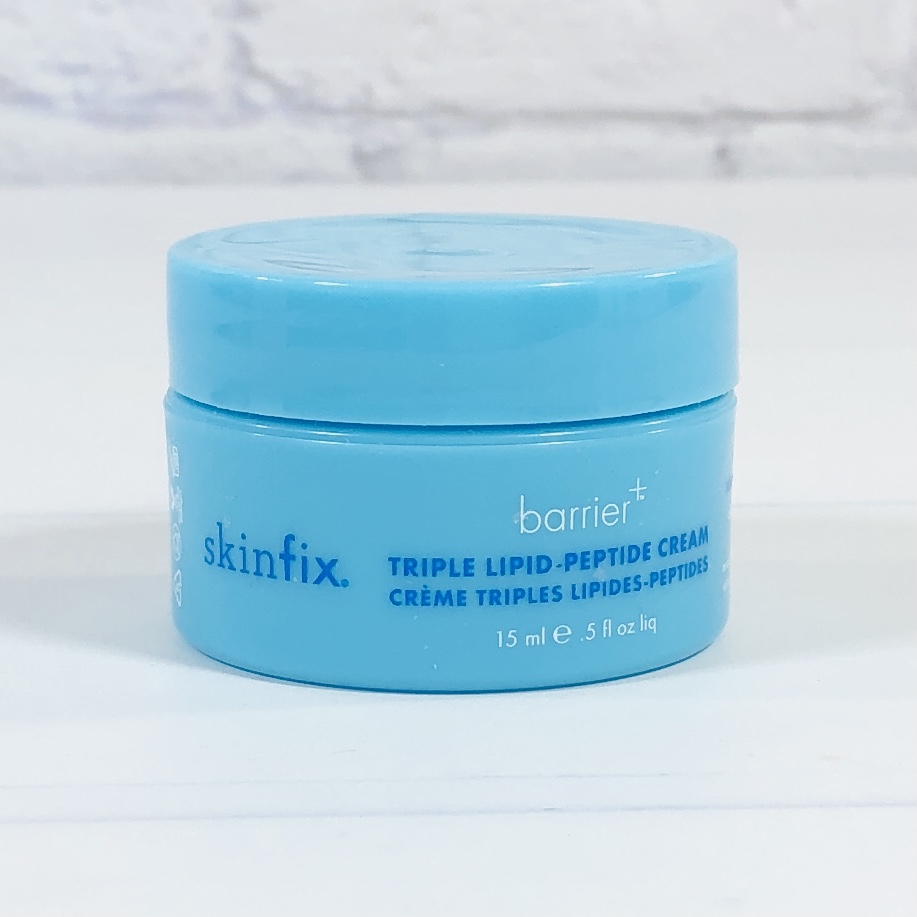 Skinfix Barrier + Triple Lipid-Peptide Face Cream Deluxe Sample ($15) I was really pleased with this moisturizer, I've been using it at night before bed. It's a good moisturizing cream that isn't too heavy and that is supposed to fight fine lines while keeping skin moist.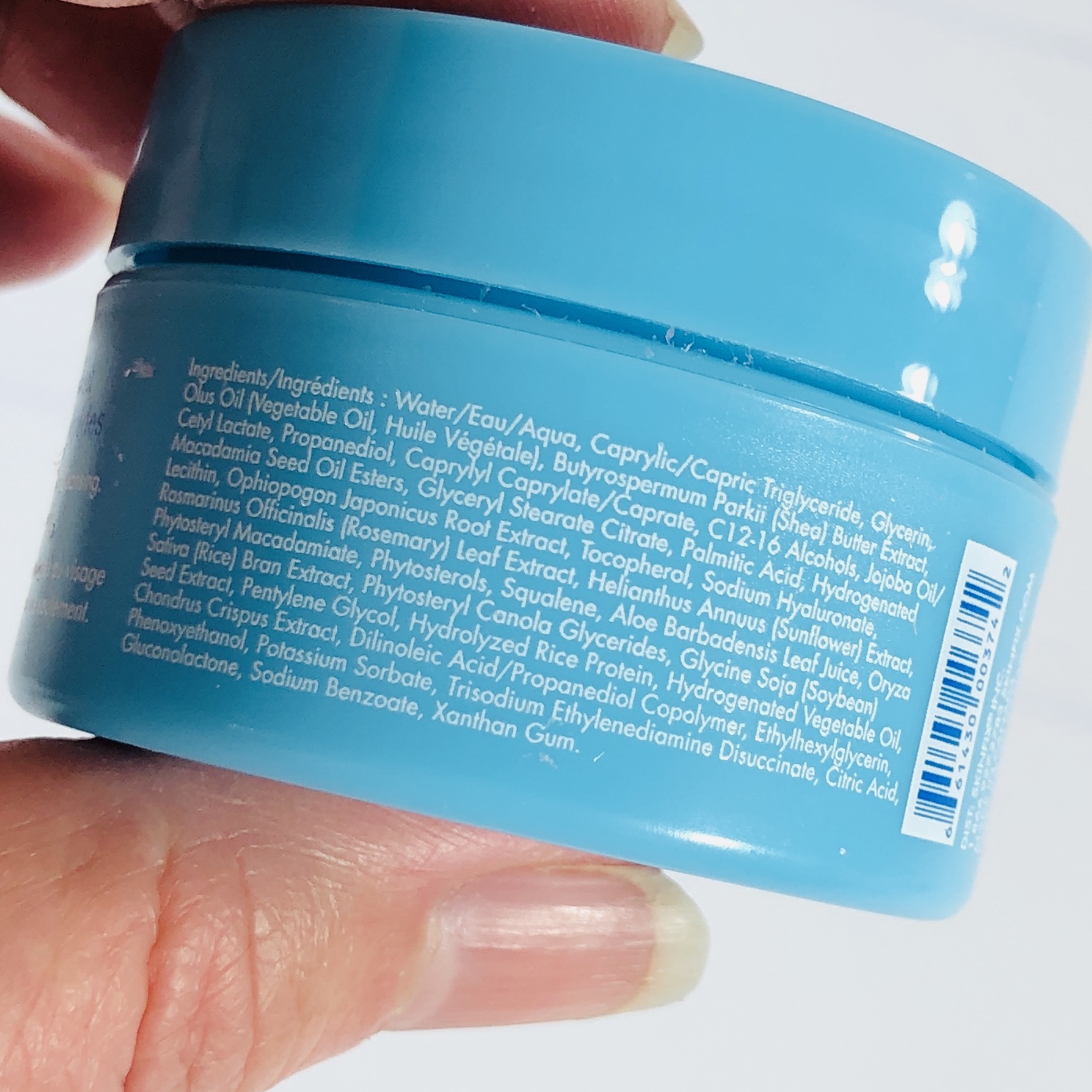 Some of the helpful ingredients here are hyaluronic acid and lily root along with peptides and together these are supposed to fight free radicals and tighten the skin. This product has earned the Clean at Sephora badge.
The scent here is mild and the texture is creamy and soothing. I liked using it at night and I thought it did a wonderful job of moisturizing my face without making it feel greasy. I hope to receive more products from this brand in the future!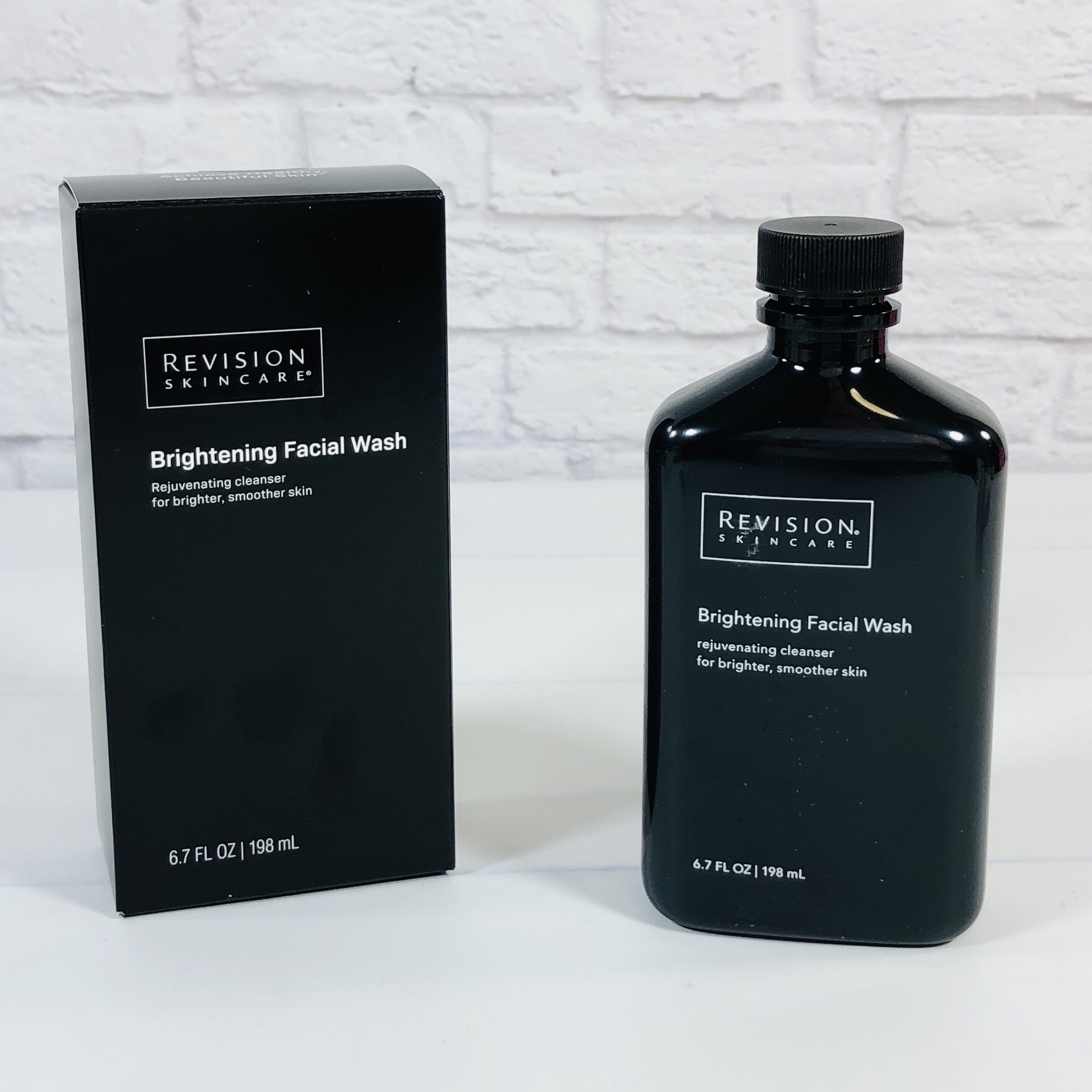 Revision Skincare Brightening Facial Wash ($36) According to this brand's website this is best for those with normal, oily, combination, and mature skin types but not dry or sensitive skin. It is a cleanser with AHA's (salicylic acid) and BHA's (glycolic acid) to gently remove dead skin cells while deeply cleansing the skin.
The cleanser looks a little creamy and smells like oranges. It lathered really well and removed all of my face makeup (it's not meant to remove eye makeup). The acids may make skin sensitive to the sun but that's what SPF is for. It is suggested to use this once a day until the skin gets used to the acids but I personally don't need such a vigorous cleanser in the morning so this should last a while.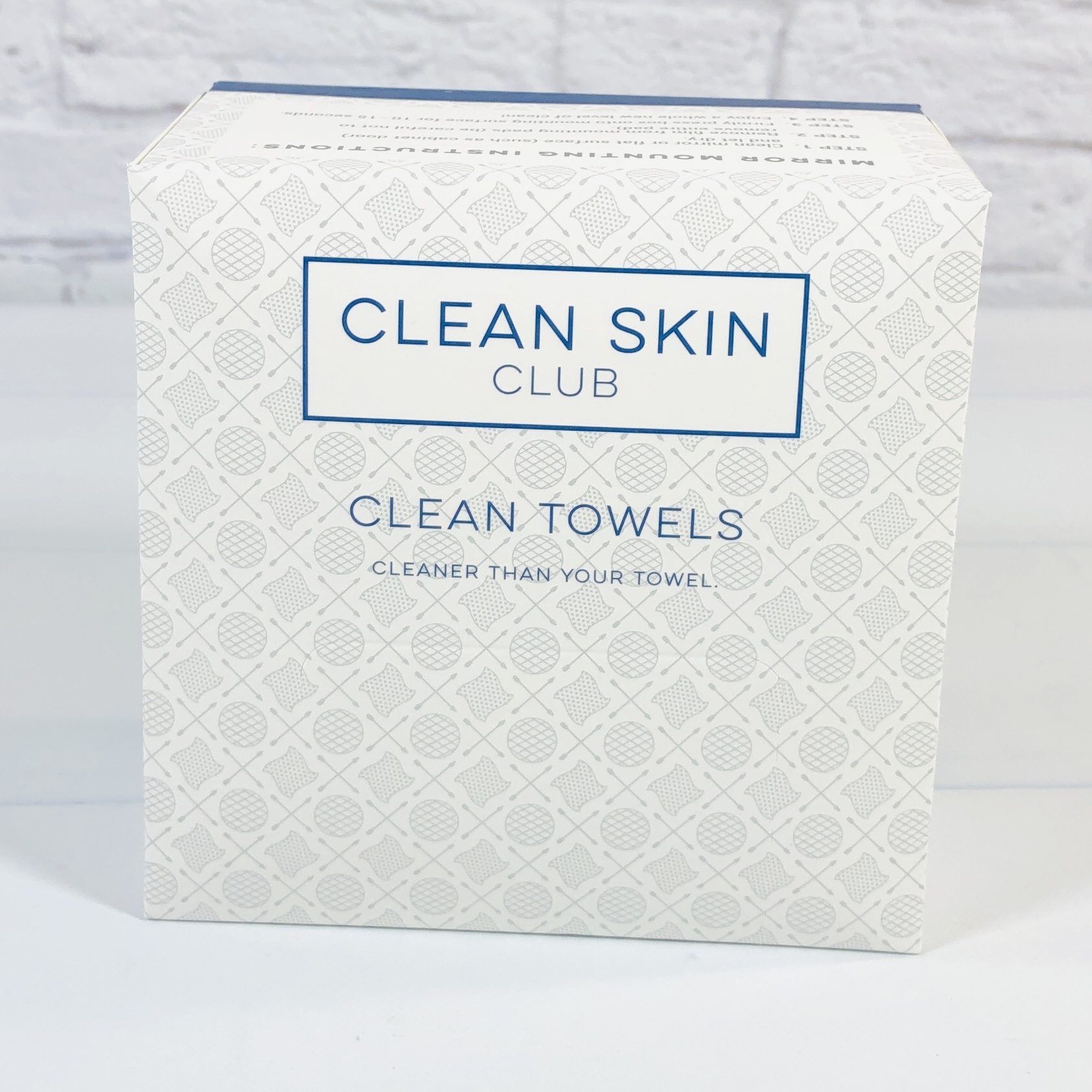 Clean Skin Club Clean Towels ($10) are one-time use towels that can be used as a washcloth or as a towel to dry the face after cleansing.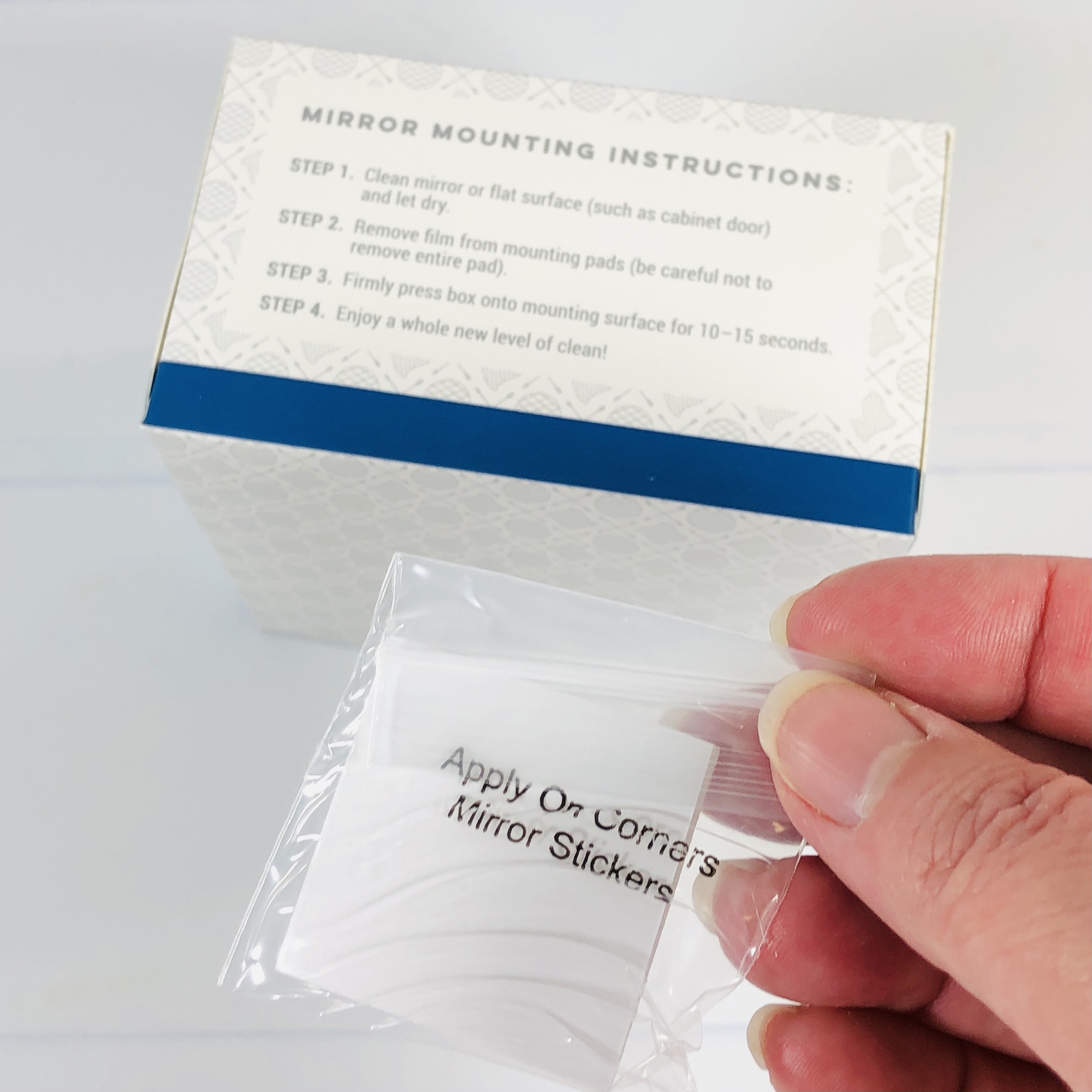 They even came with stickers to affix the box to a mirror for easy access!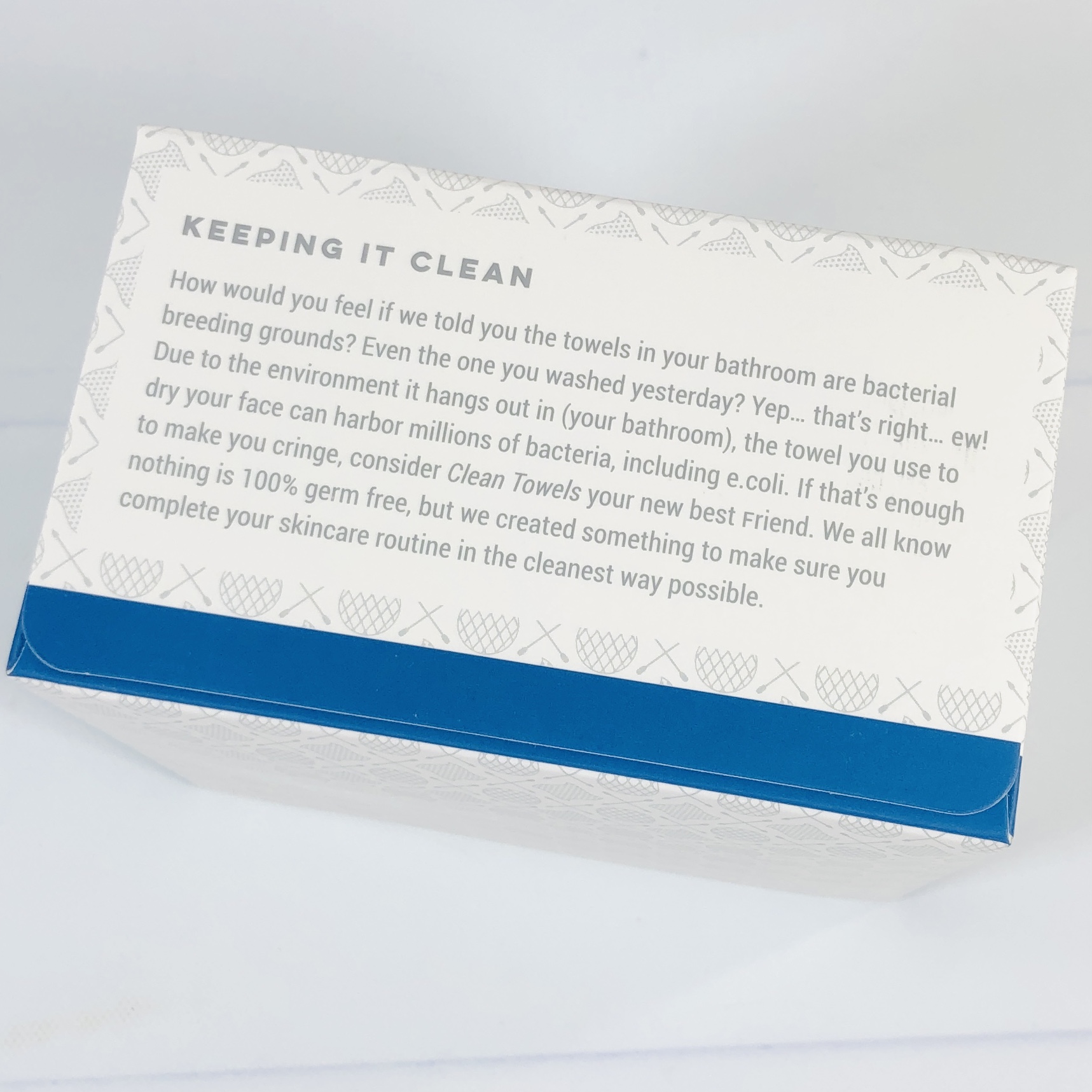 The idea behind this product is that our current linens are breeding grounds for bacteria.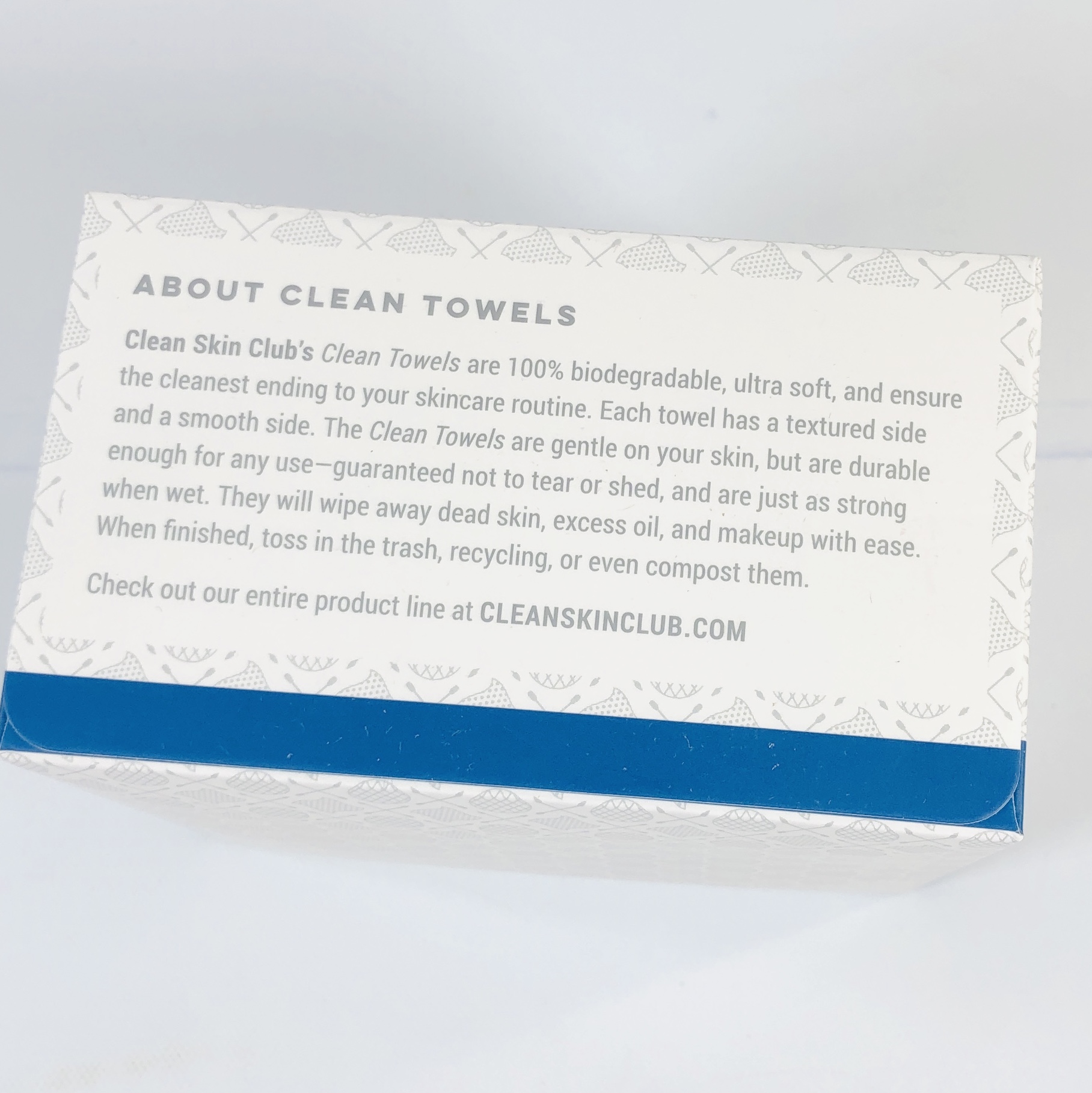 The towels are biodegradable and soft and are made of viscose, which is also used in making clothing.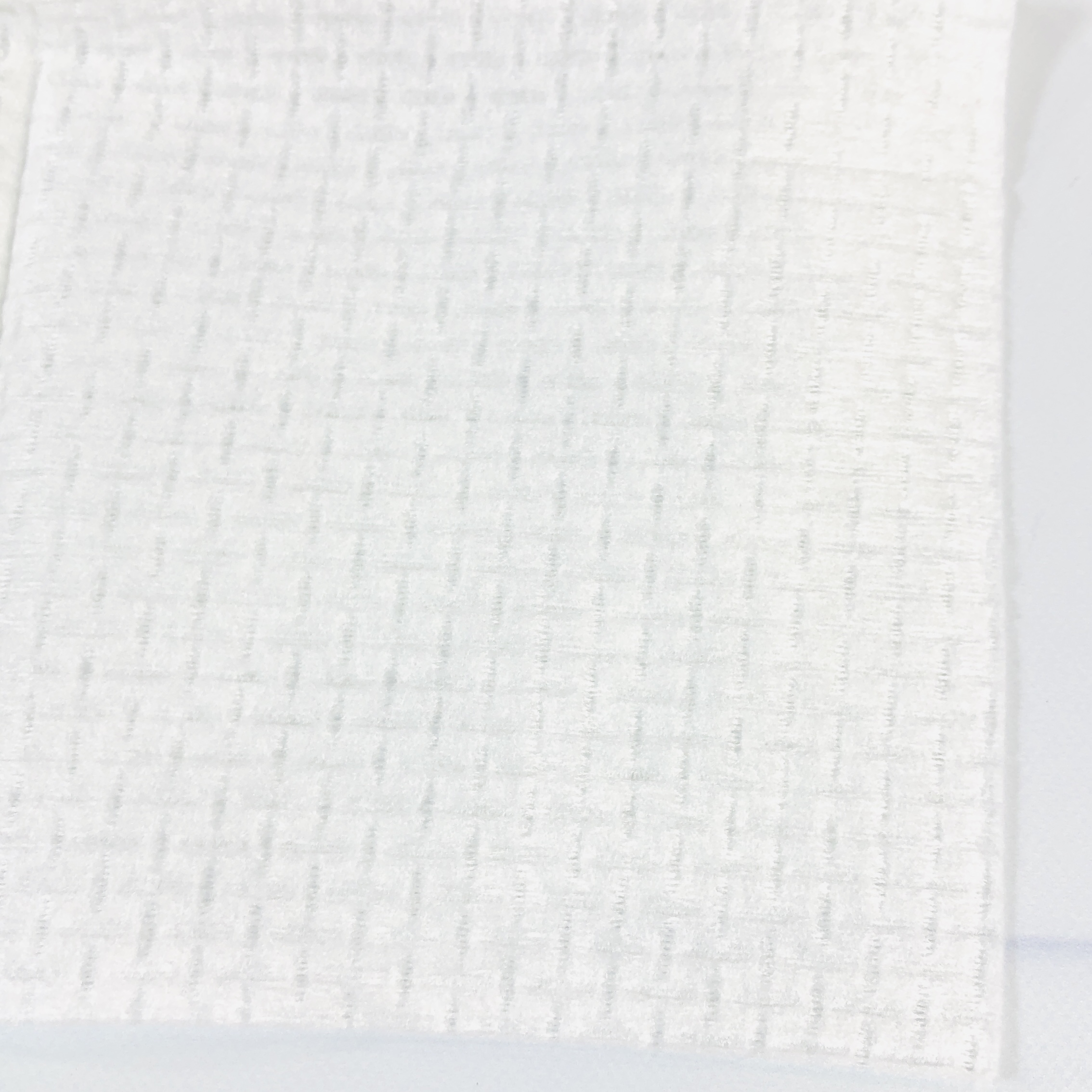 The towels are textured on one side and the back is flat.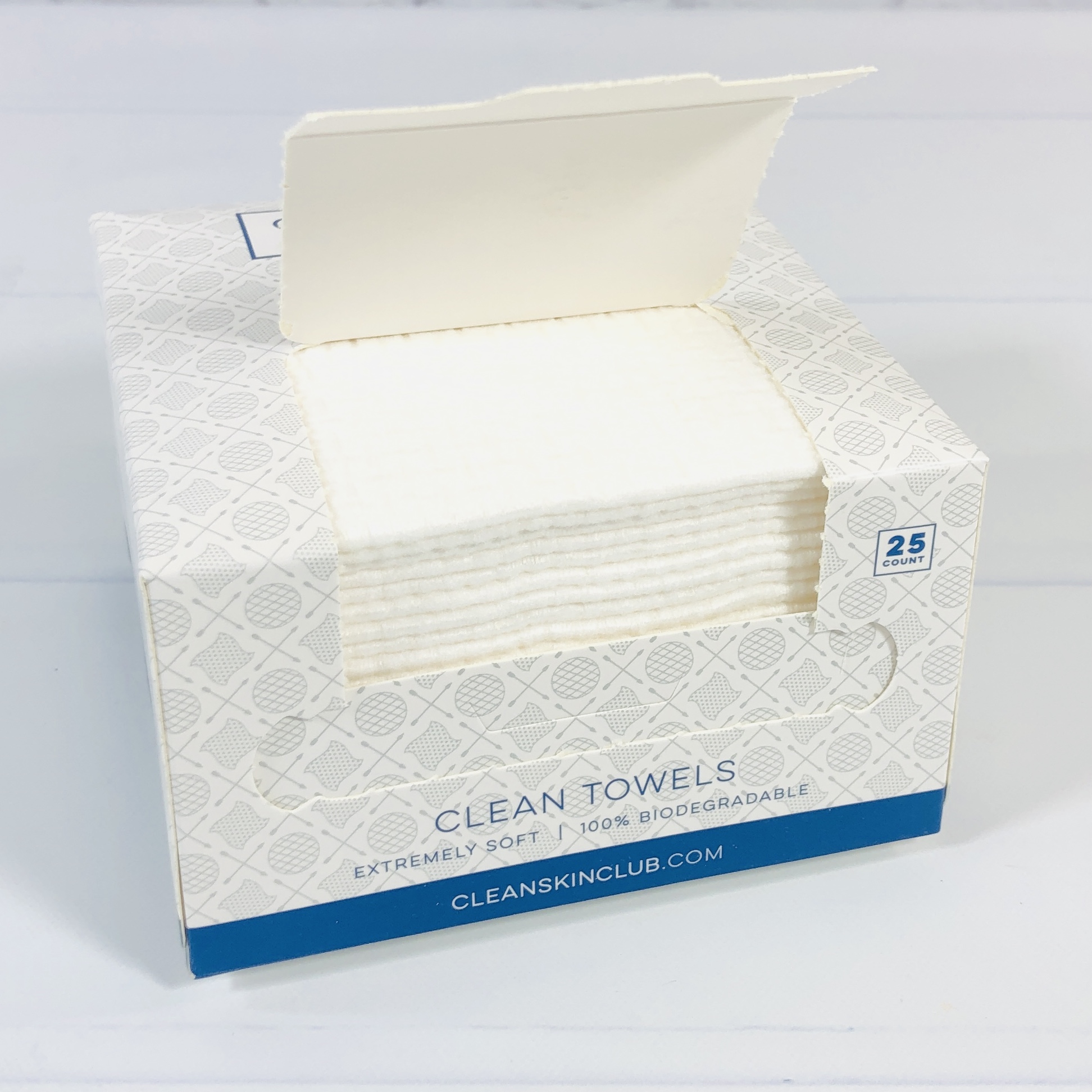 I can't say I would use these in my every day life, I'm not that worried about bacteria from my clean and dry linens. I would, however, take these with me to use on the road. I recently attended a funeral out of town and the washcloths at the hotel didn't look all that great and I would have loved to have had these with me. This company plants trees for every order sold.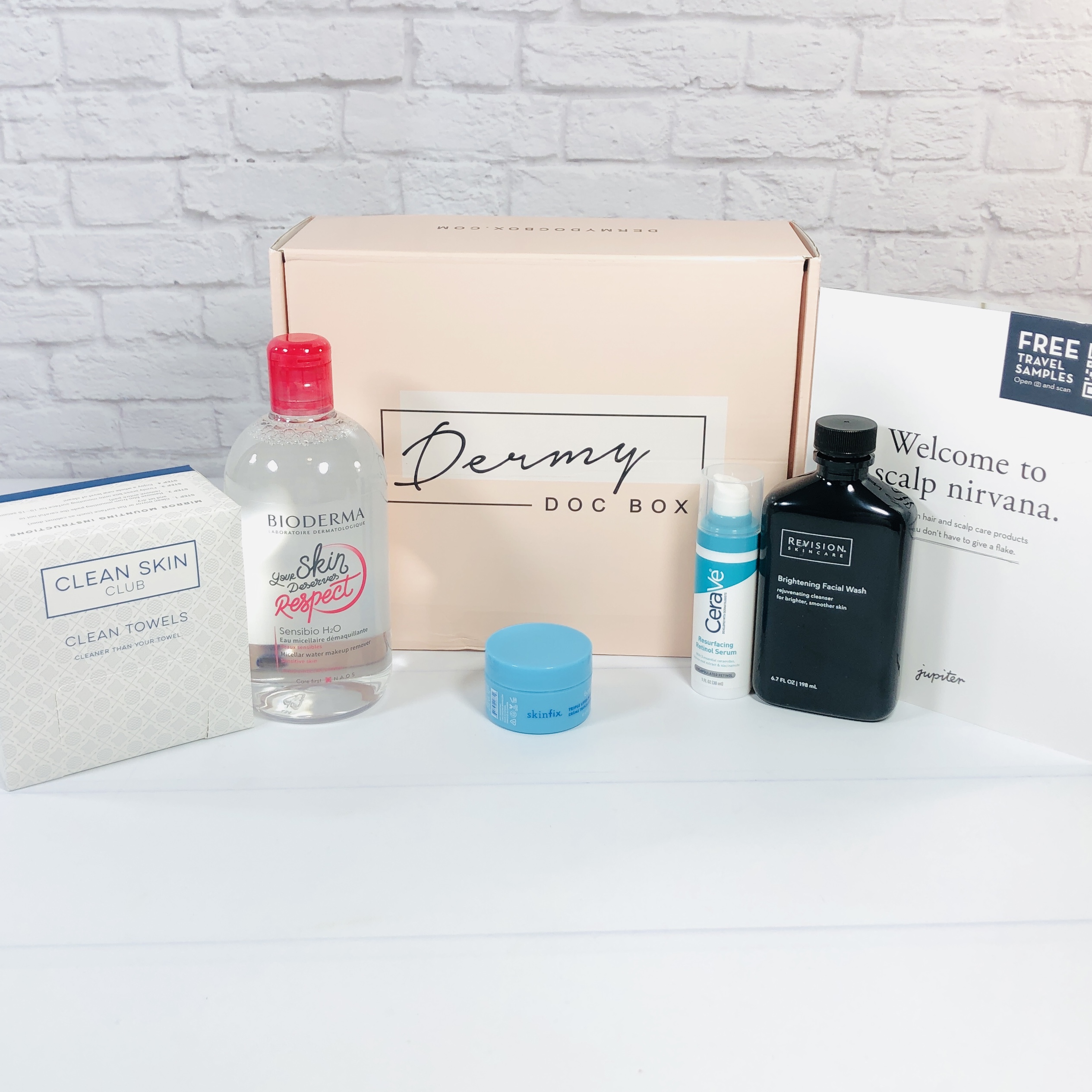 I thought my very first Dermy Doc Box featured brands and products that were both familiar and new. I liked learning about each product thanks to the pamphlet and I was impressed that Dr. Fahs made sure to remind subscribers to check with their own doc if they encounter any problems with their skin. The box was a pleasing assortment of products and included a makeup remover, face cleanser, DIY wipes/towels, moisturizer, treatment product, and haircare. I enjoyed trying some new hair products for my scalp, which is very sensitive and wasn't bothered by the shampoo or conditioner (I haven't tried the other two items yet). The moisturizer and cleanser worked really well and I am saving the wipes for my next hotel stay. My daughter can use the treatment item and micellar water so everything has a happy home. The value for this shipment was around $103!
What do you think of the Dermy Doc Box?