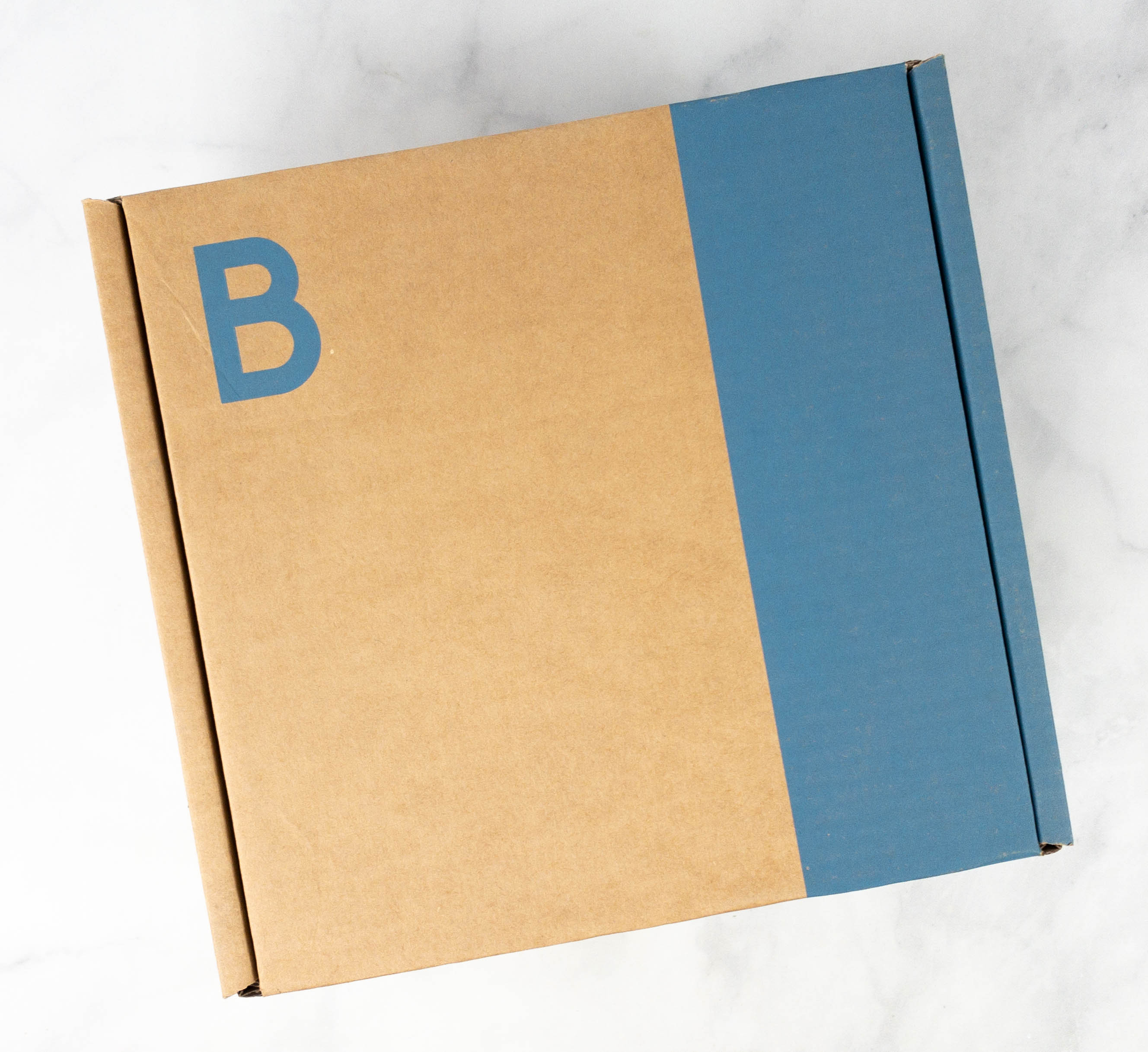 Bespoke Post is a men's lifestyle subscription box offering sophisticated accessories, gear, and curated interest kits, although nearly all of their offerings are not gendered and would be equally appropriate for any person. Bespoke Post, which is $45 a month, has a unique model – you can select your box from a variety of offerings, or receive their automatic monthly selection picked just for you. You can also skip the month if you're not interested in any of the available boxes. This subscription box was voted as our readers' favorite subscription box for men in 2021!
DEAL: For a limited time, use code MYFIRST to save 25% on your first box!
Our selection for this month, Aged, is still available. This is one of the regular $45 selections.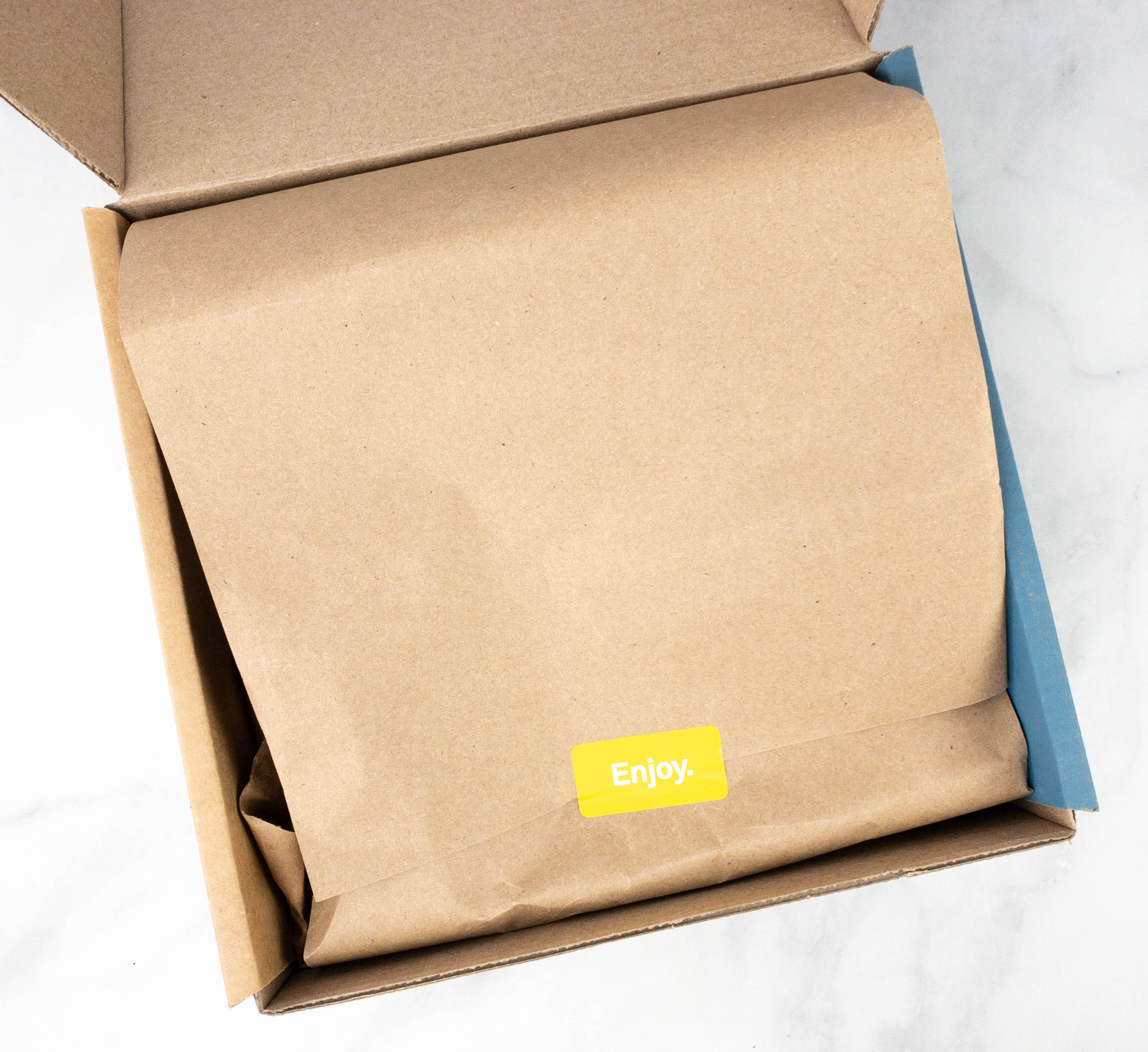 The items were wrapped in a plain brown paper sealed with a sticker.
Some of the items were also packed with plastic.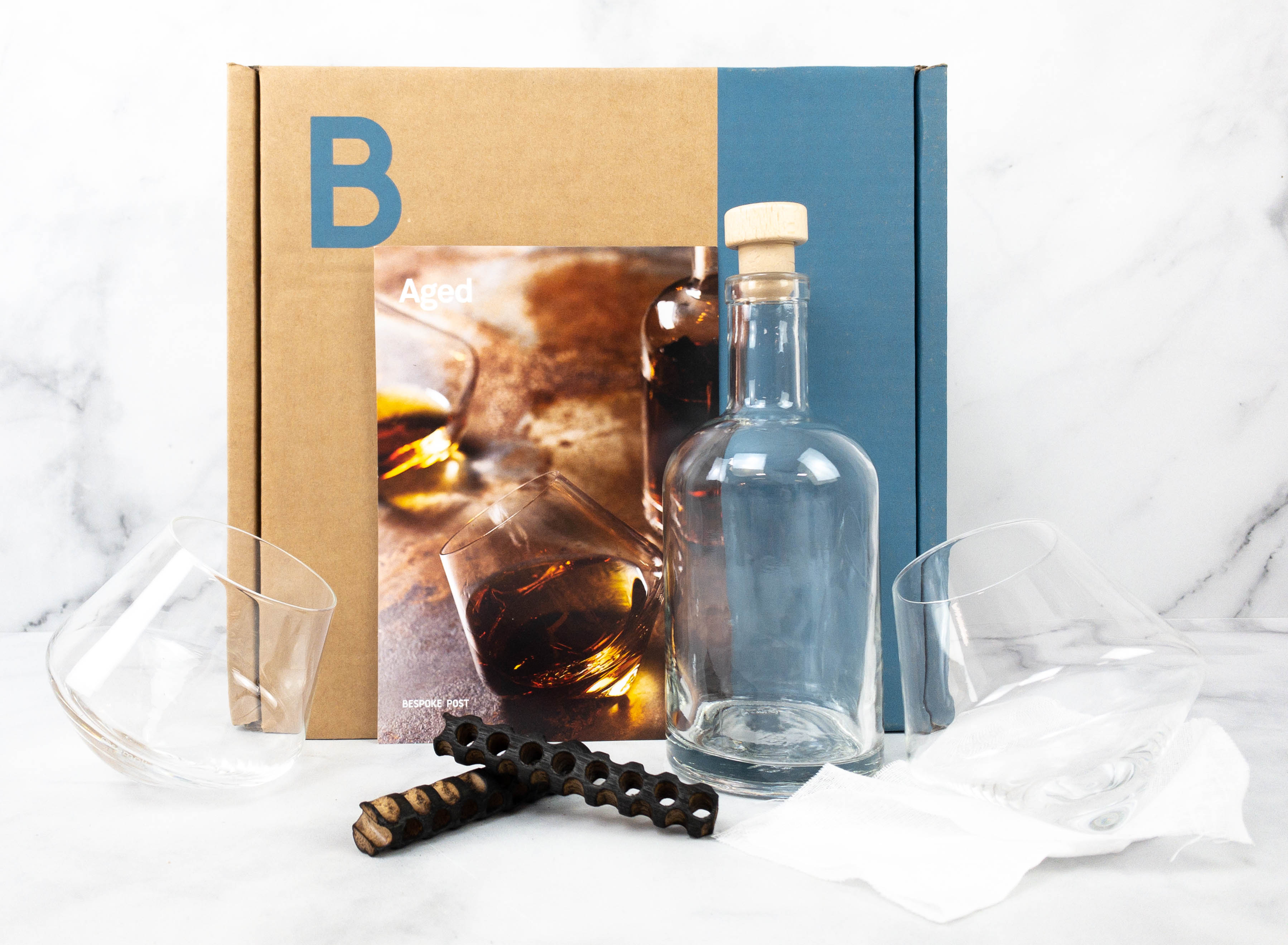 Everything in my box!
Cupa-Rocks Cocktail Tumblers Set of Two ($50) This pair of whiskey glasses feature a unique swirling design, made by hand-blowing Italian crystal glass. This can be used with different drinks, like whiskey, wine, cognac, and cocktails.
This side of the box discusses the product's details.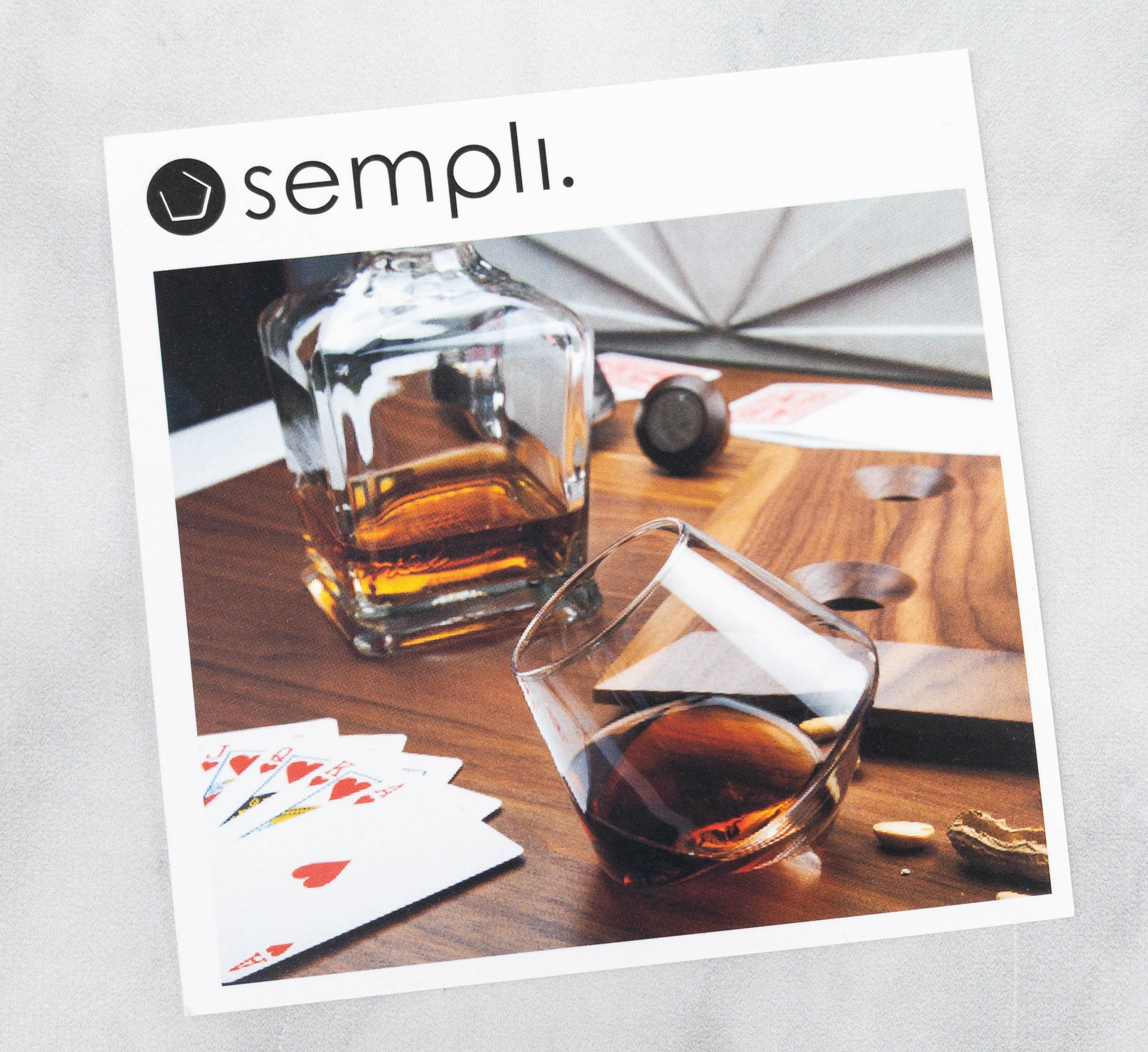 Also included in the box is an information card.
It has a message from the designer and a brief information about the brand.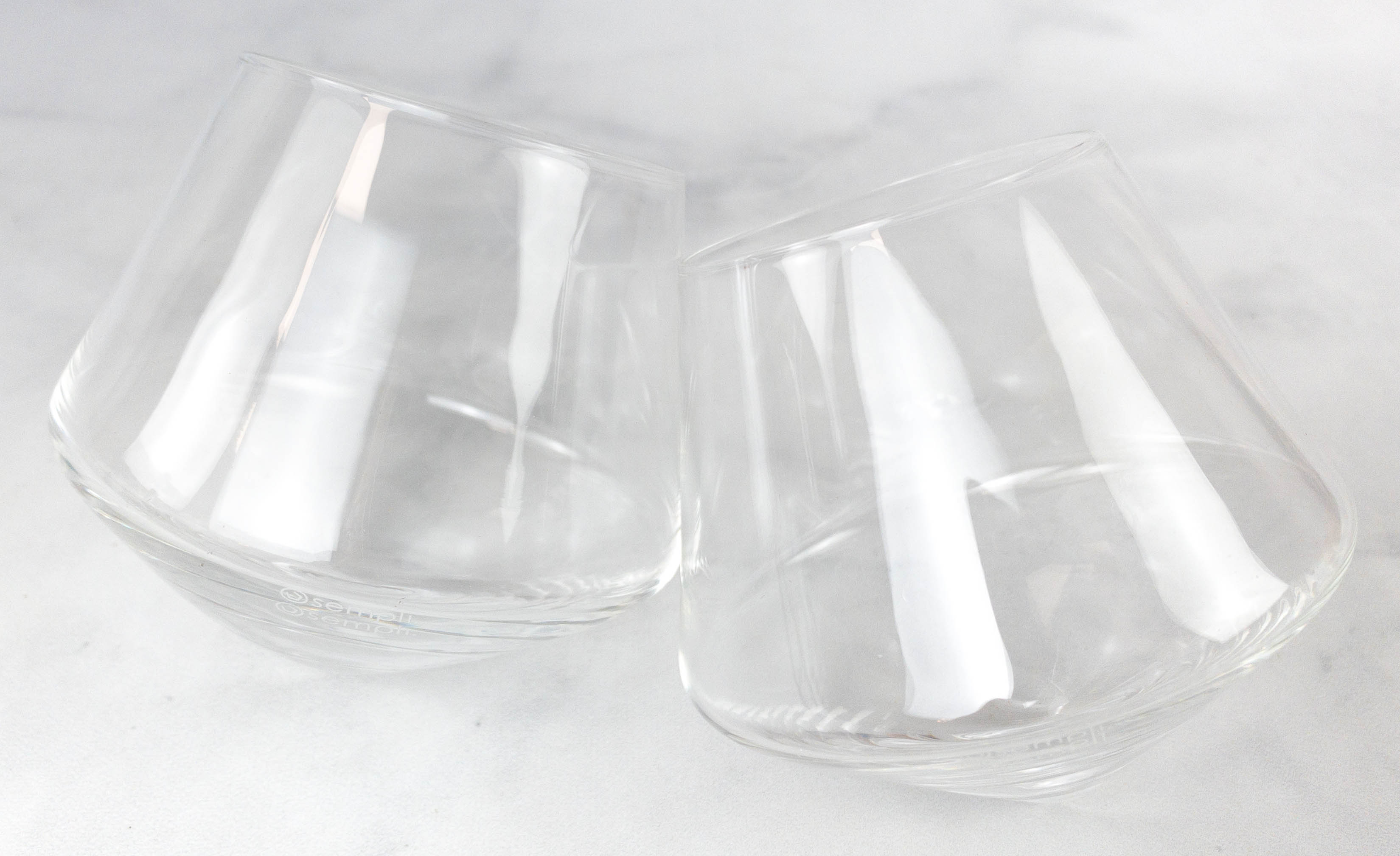 These glasses are specially designed to create a swirling motion, which helps the liquor's aeration and improves its aroma for a better drinking experience.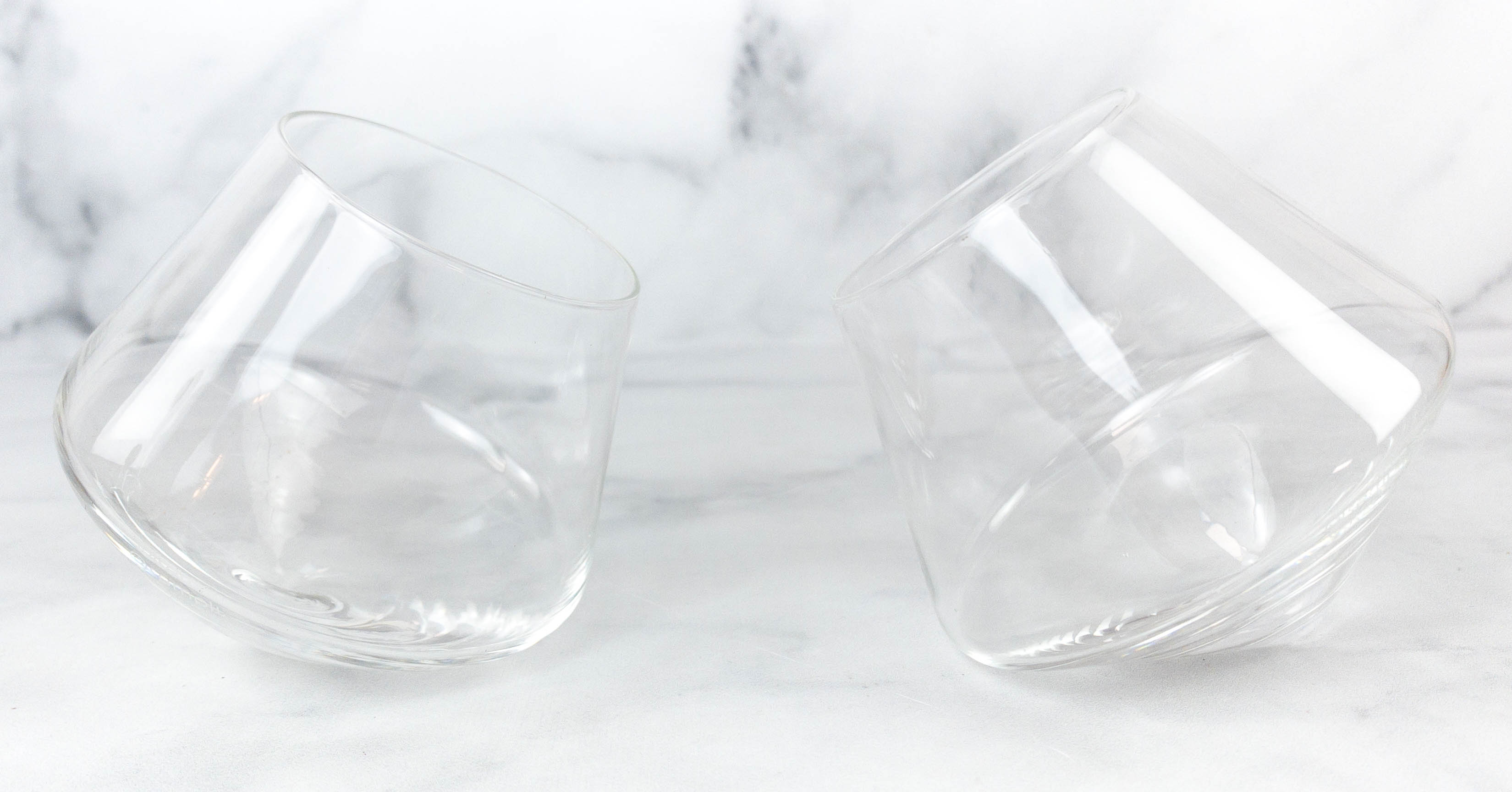 Each glass also provides an excellent grip and naturally works to temper drinks with minimum effort. They are lead free as well!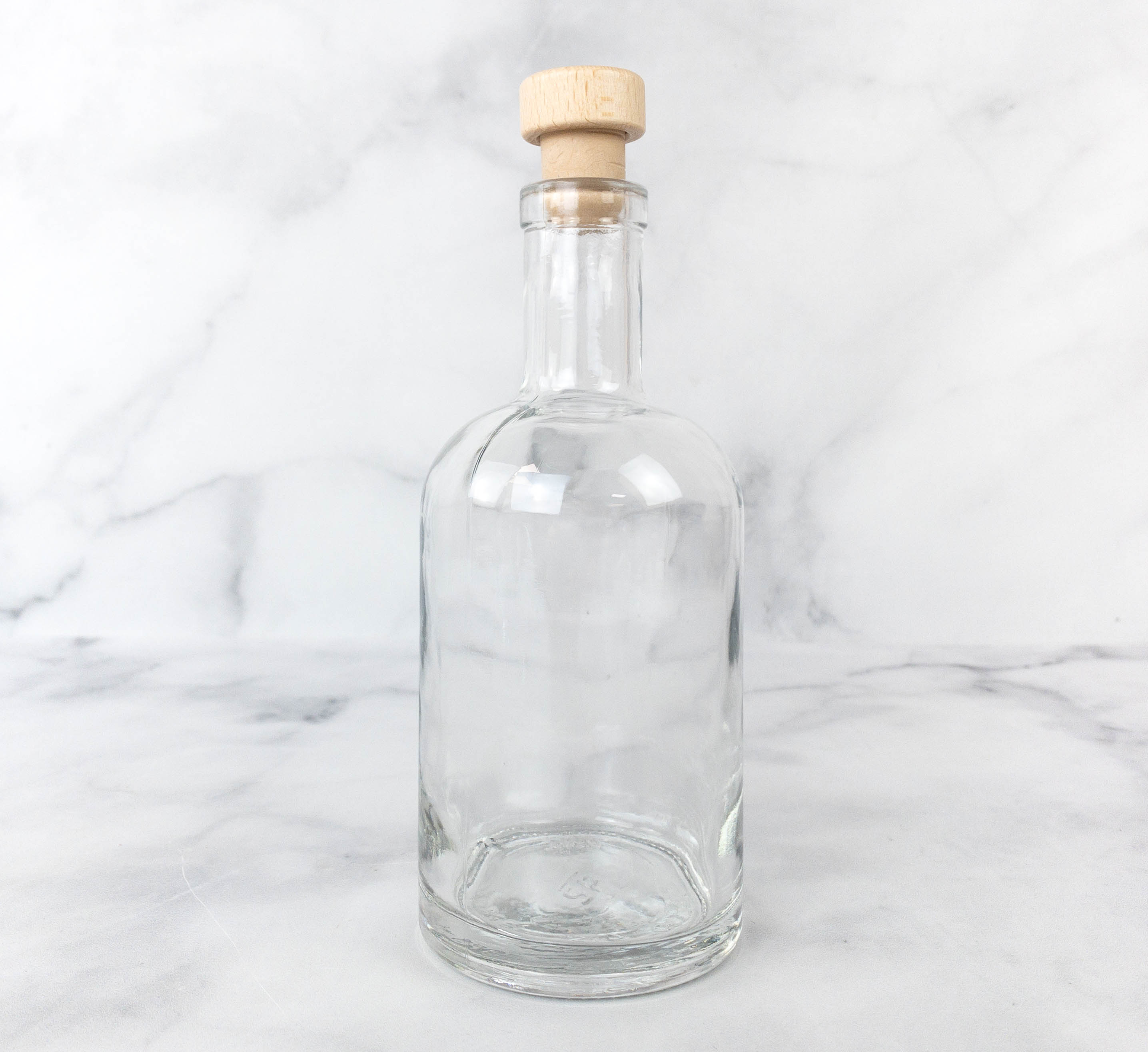 Cocktail Aging Kit ($27.50) This plain but elegant 375ml bottle vessel was also included in the kit. After your aging process is finished, you can transfer your aged beverage and seal it using the cork that it comes with.
To complete the cocktail aging kit, here are 2 staves made from charred white oak.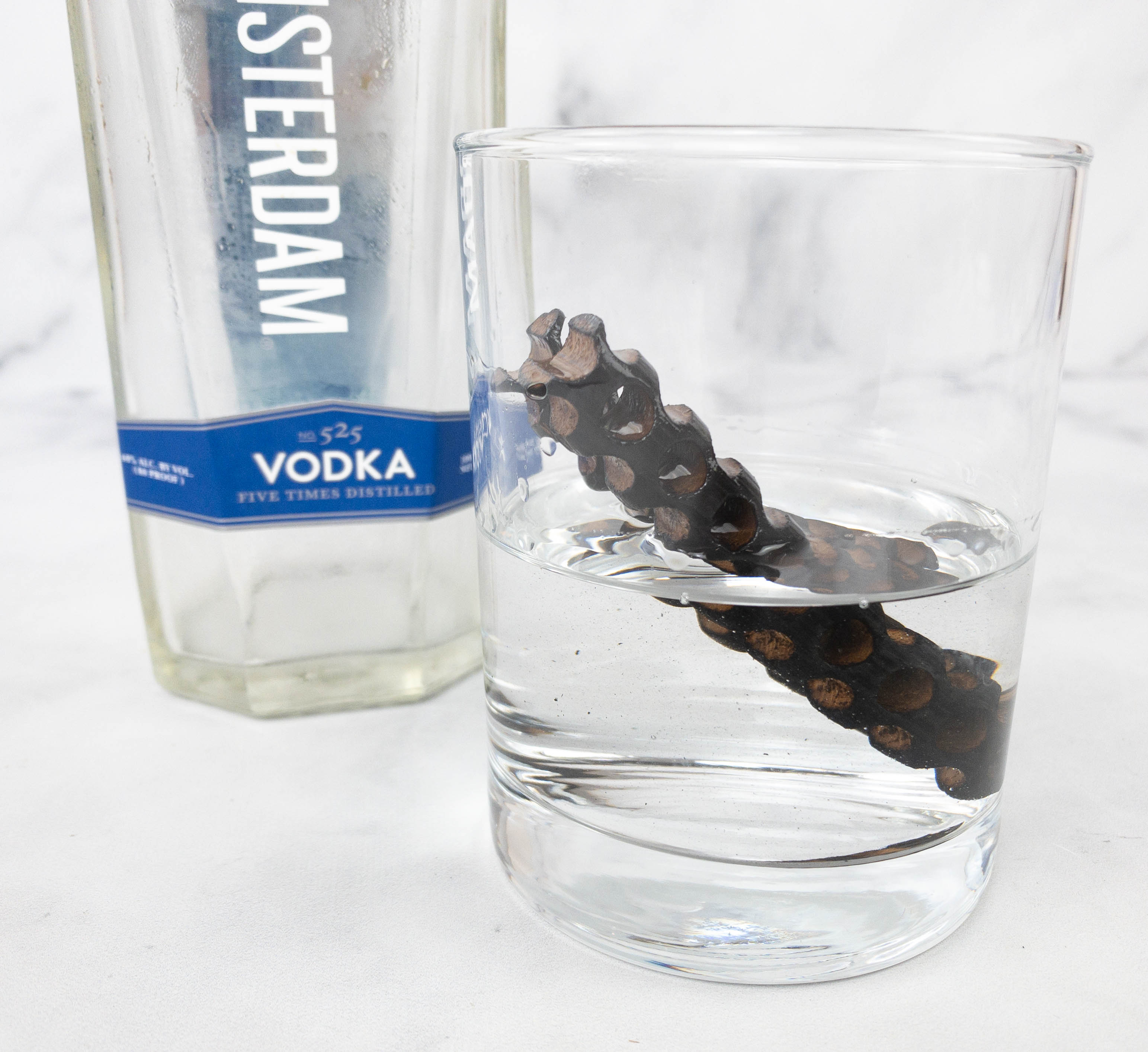 To use, simply place a stave into the bottle with the drink of your choice and then wait for at least 8 to 10 days. Each stave can be used 4-6 times!
I used vodka for this and here's how it looks like after overnight aging.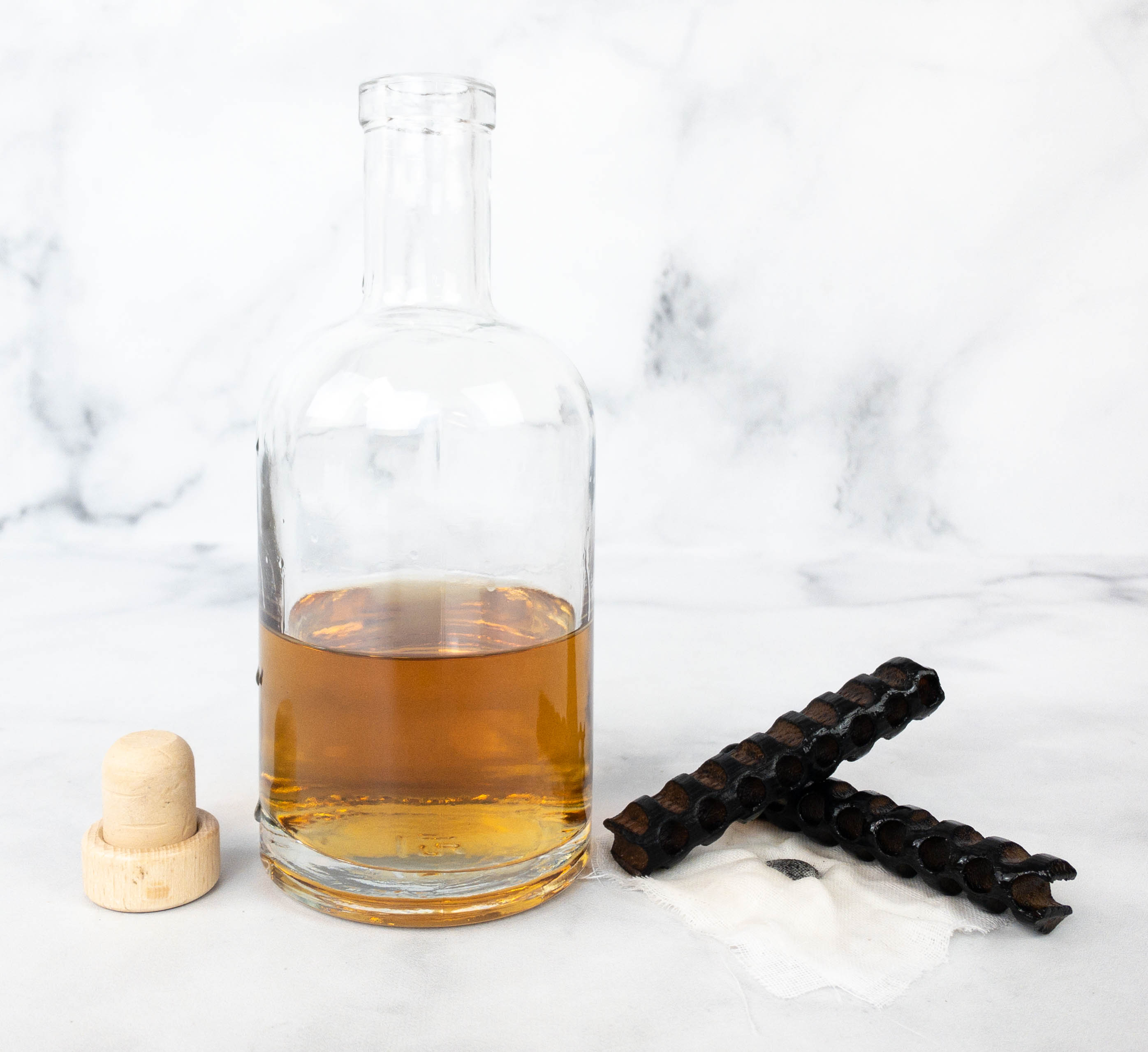 It has a beautiful, golden color!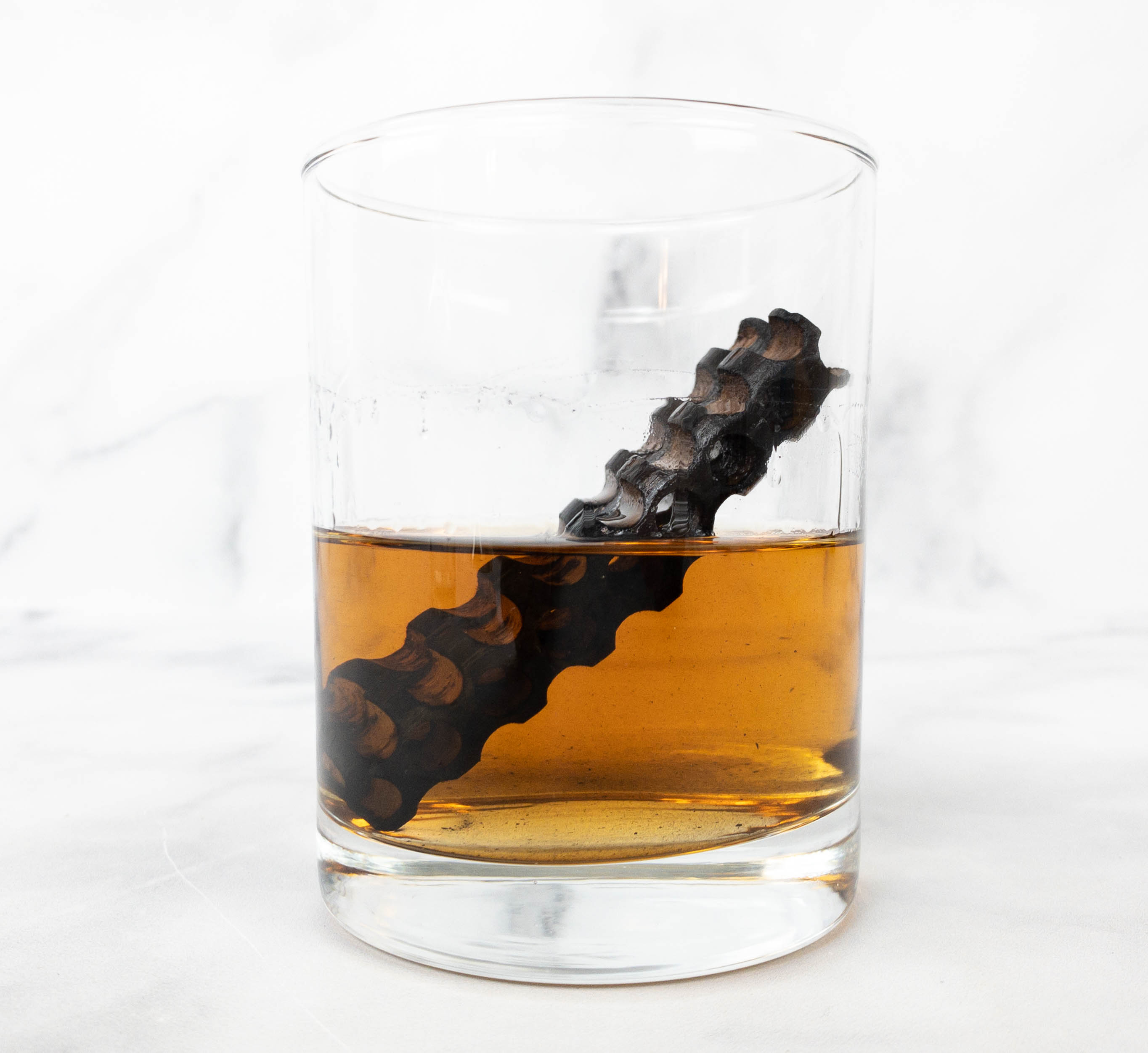 The stave definitely enhanced the drink by adding a woody flavor.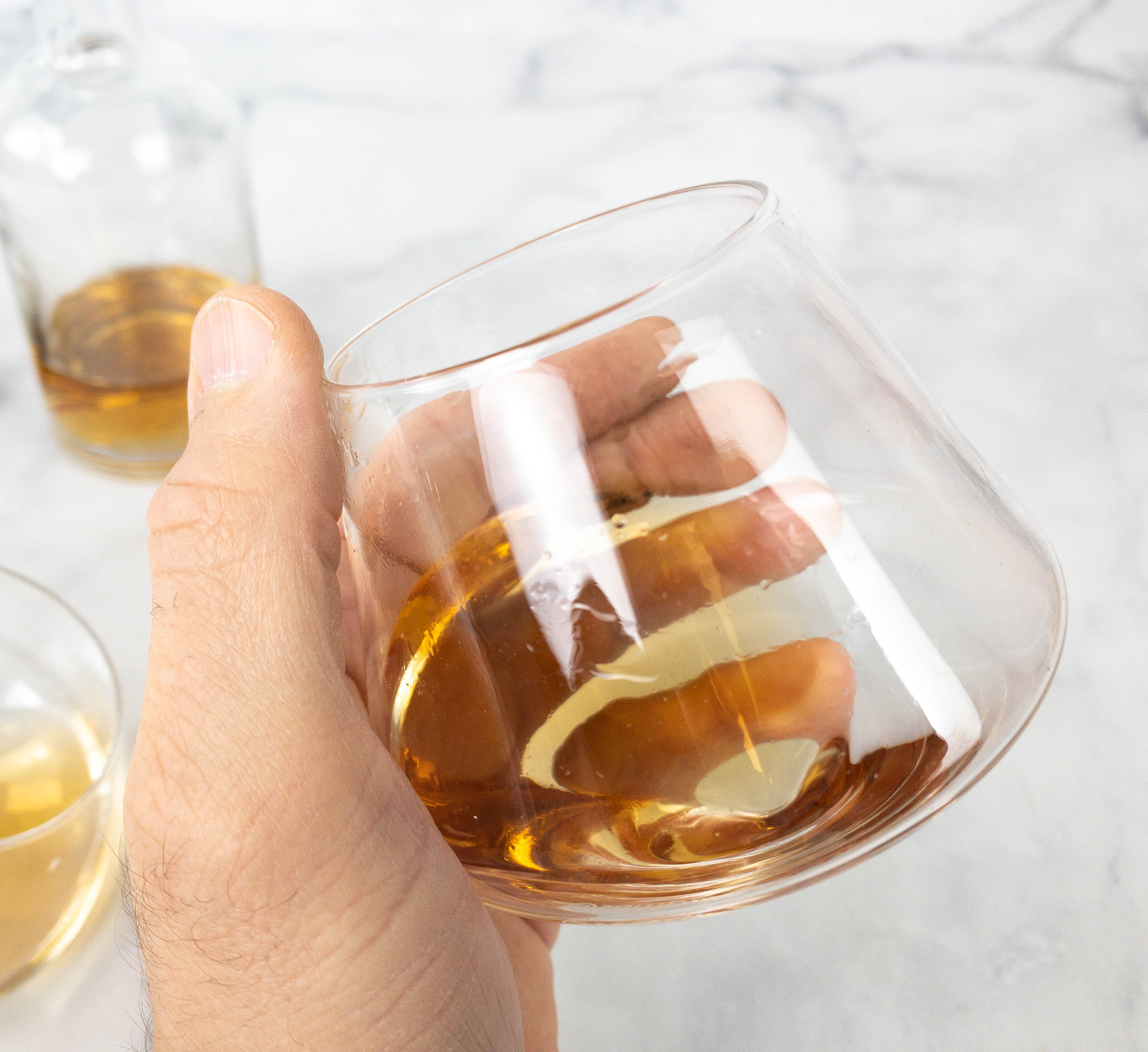 Of course, used the swirling glass when I sampled my aged liquor!
This was such an easy and convenient way of making aged drinks at home.
Here's a final look at all the items in the box, along with the aged vodka.
Cheers to another great selection of lifestyle items from Bespoke! The AGED box is ideal for cocktail enthusiasts, as it includes an easy-to-use cocktail aging kit plus a pair of unique glasses where you can serve your concoction. You'll need to wait for more than a week before enjoying your aged wine, but it's worth it. The added woodsy flavor from the staves easily boosts any drink! I'm once again impressed with Bespoke Post, as they send only high-quality items and their box selections are always well-thought-out!
What did you think of the Bespoke Post Aged  box?