Vine Oh! is a quarterly subscription box and one of the first wine subscription boxes to include lifestyle items for women. Each seasonal box will include 2 bottles of premium wine, plus 5-6 full-size items that are fun, rejuvenating and delicious. Subscribers can choose their wine type preference: white wine, red wine, red & white wine, or sweet wine. Every box will have a retail value of $120 or more!
This is the review of the OH! HAPPY DAY! BOX. It's still currently available!
DEAL: Save $10 off + FREE extra bottle of wine + FREE shipping on your first box with coupon code HELLOWINE. For a limited time, use this same code to get an extra free bottle FOR LIFE!
VineOh's wine and lifestyle subscription box made our readers' choice list of best wine subscription boxes for 2021!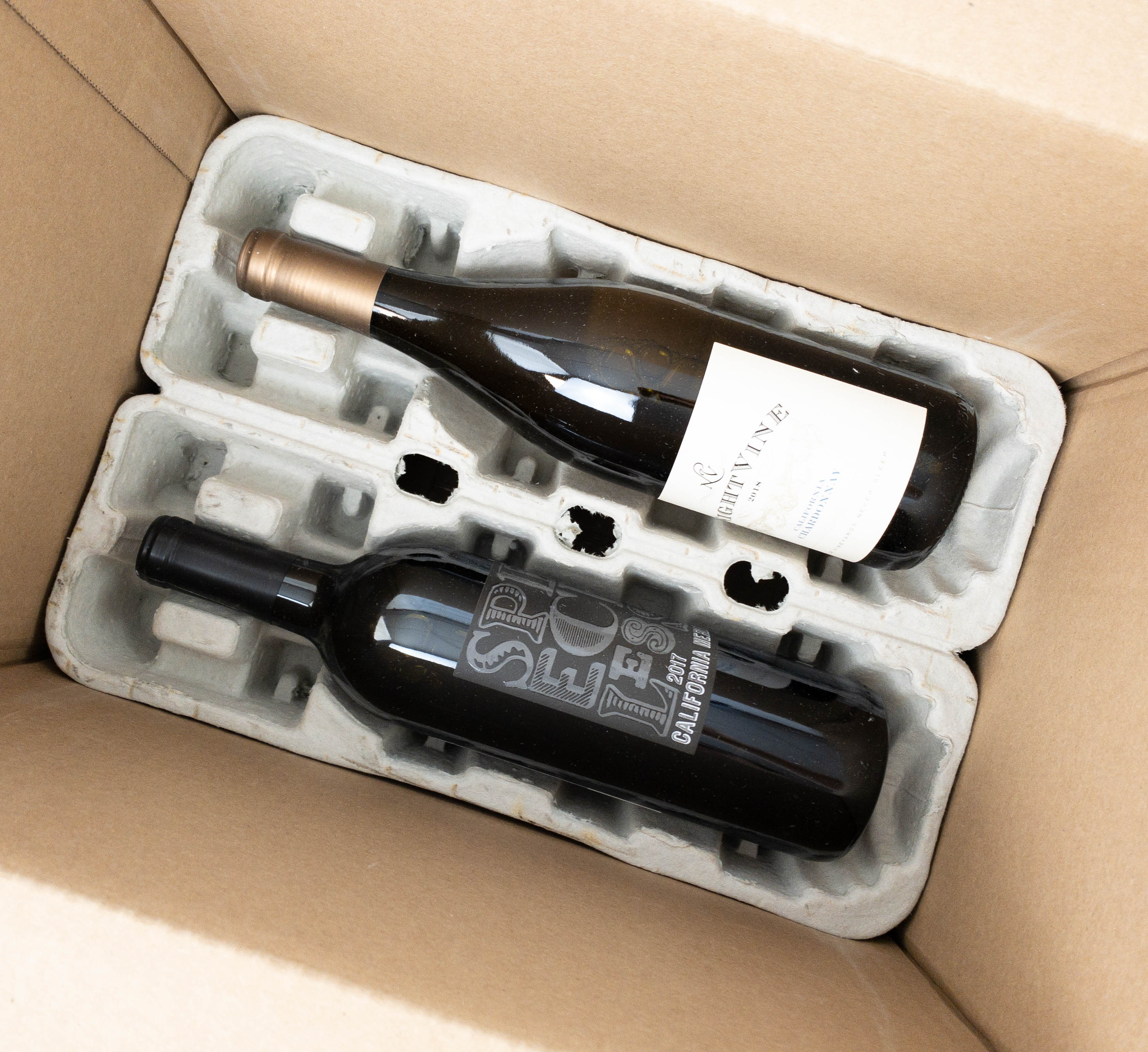 The wine bottles come in a custom packaging to keep it safe and secure during transit.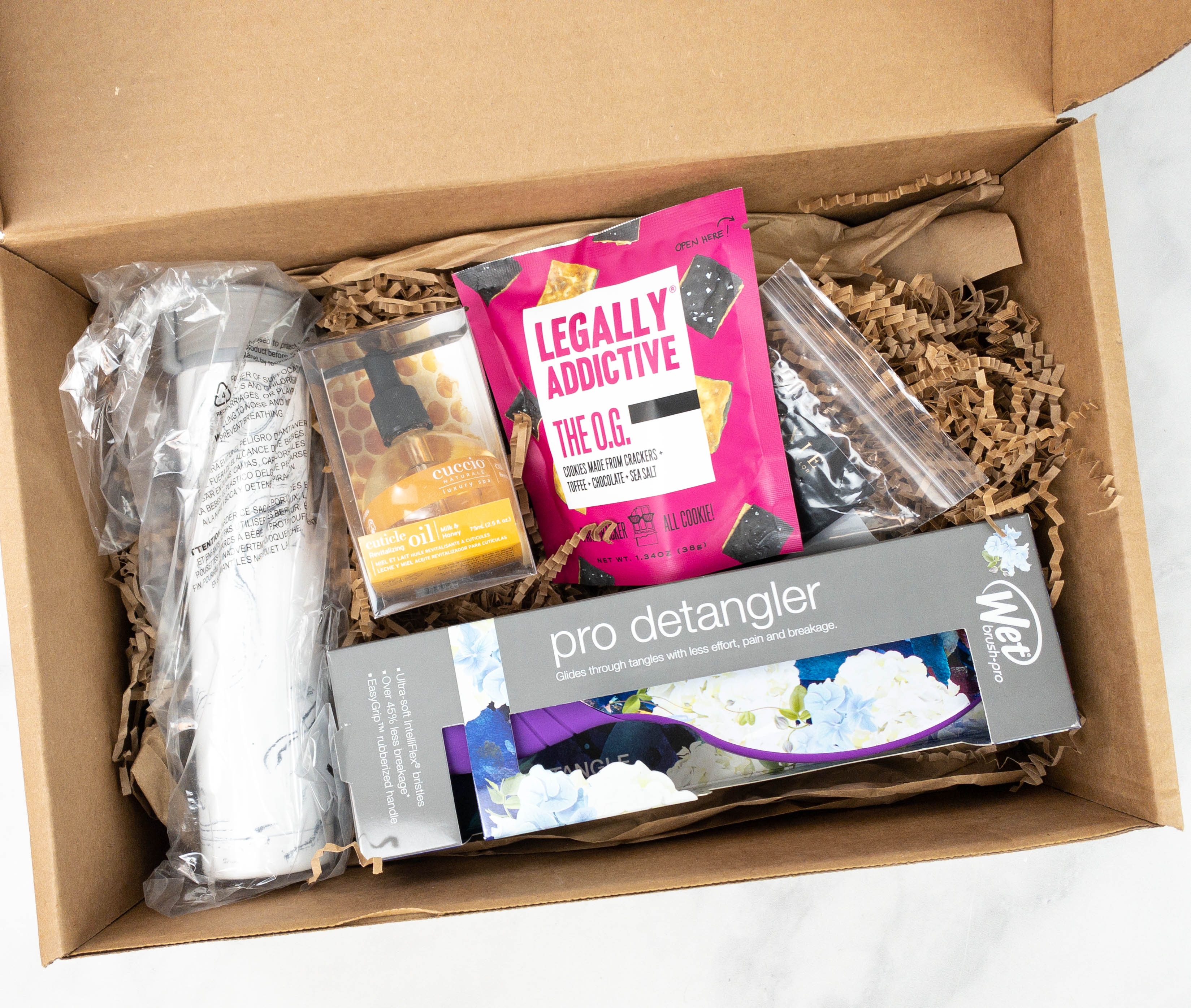 This box is also great for gifting! You can change the shipping address each quarter, so you can keep the first one for yourself, and then send the next boxes to friends or loved ones! 
Here's a list of all the items in the box. This box's theme is Oh! Happy Day!
The cards look so appealing with the loud pink exclamation point as the brand signature.
They came in this cute pink sleeve.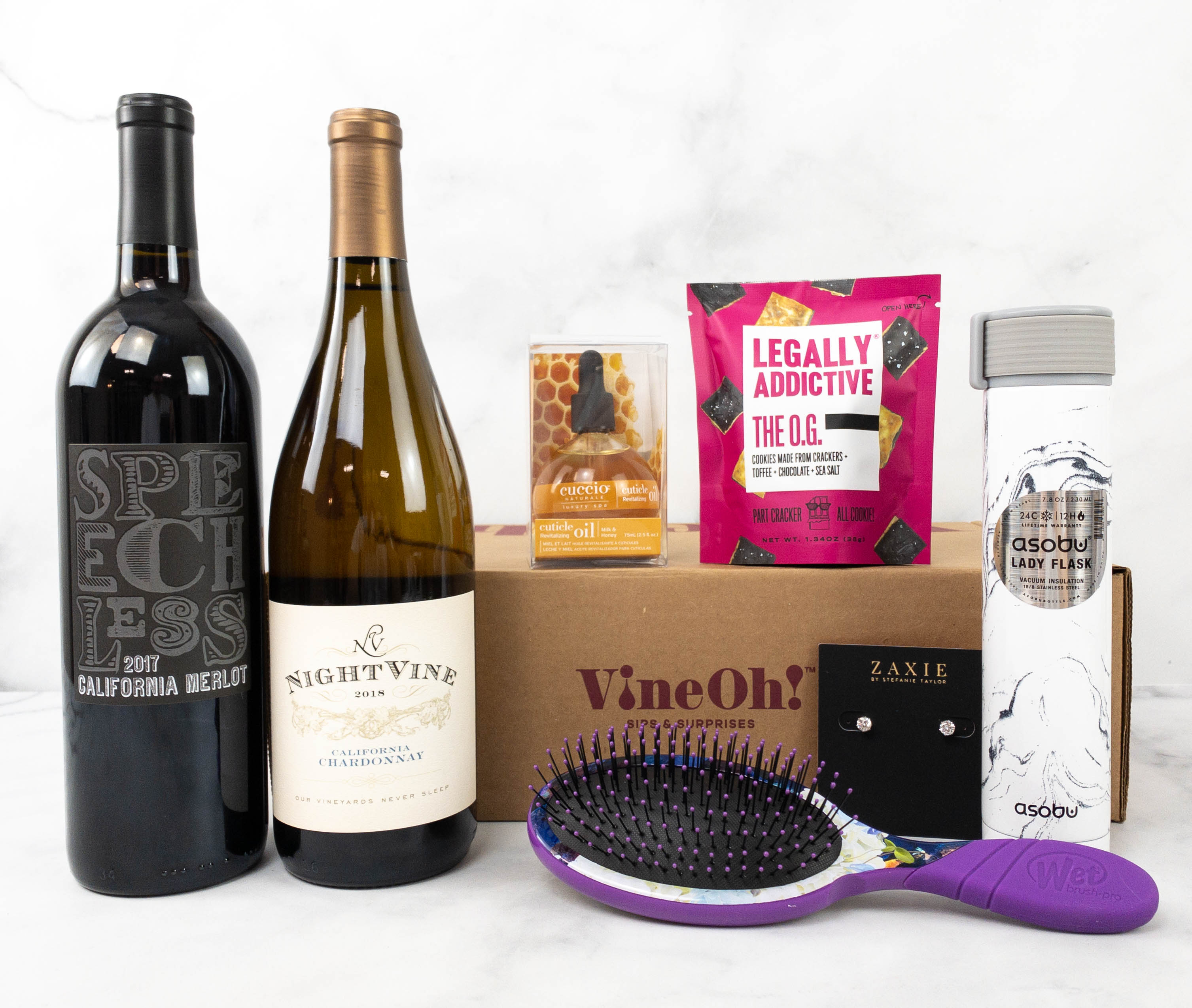 Everything in my box!
This card discusses Vine Oh! Custom Wines.
VINE OH! WINE SELECTION includes two of our premium custom wines – either two sweets, two whites, two reds or a mix of white &red. We've added to new varietals to our selection and will be adding more soon!
I can't wait to try them!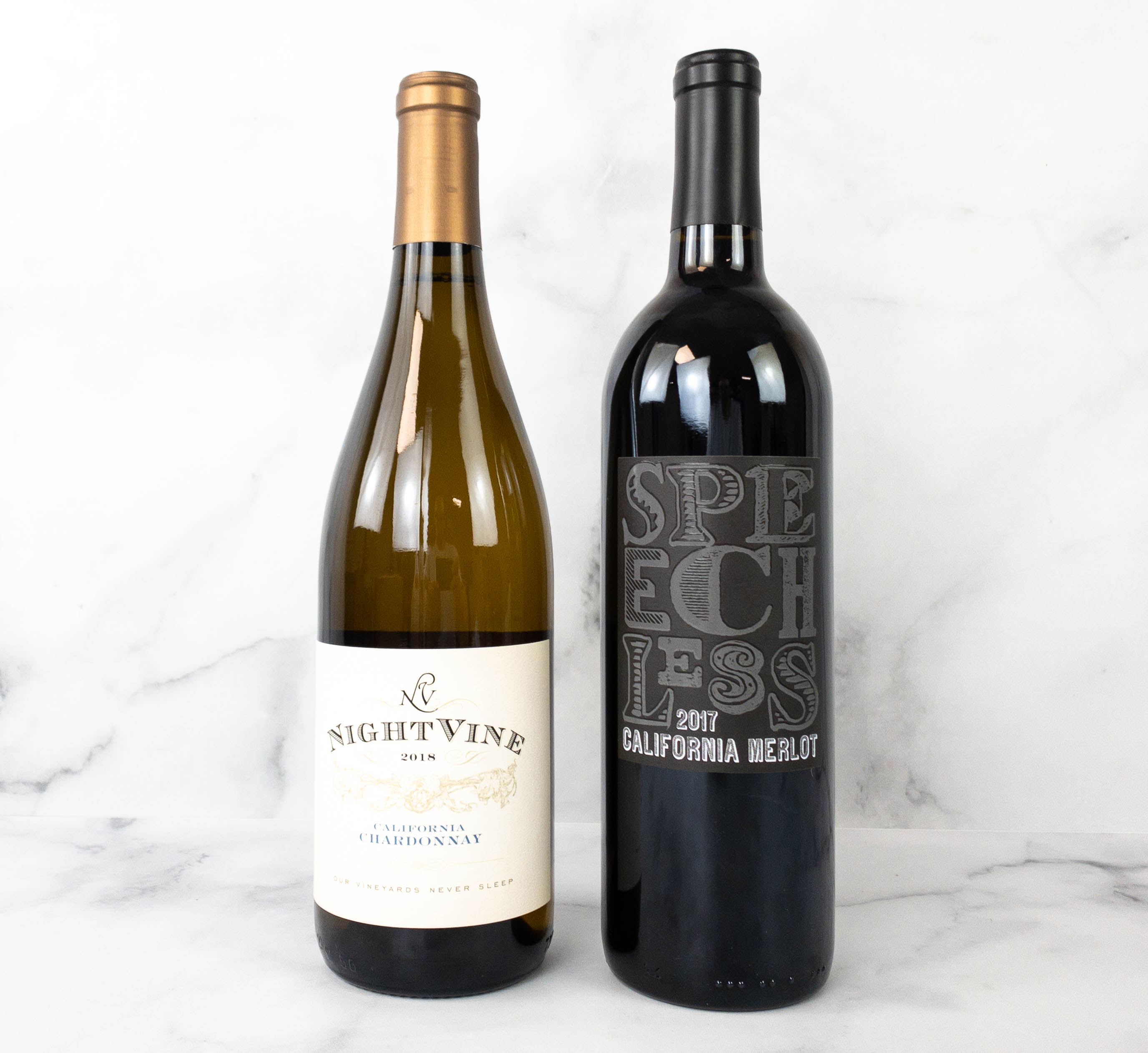 This month, I received a bottle of Chardonnay and a bottle of Merlot.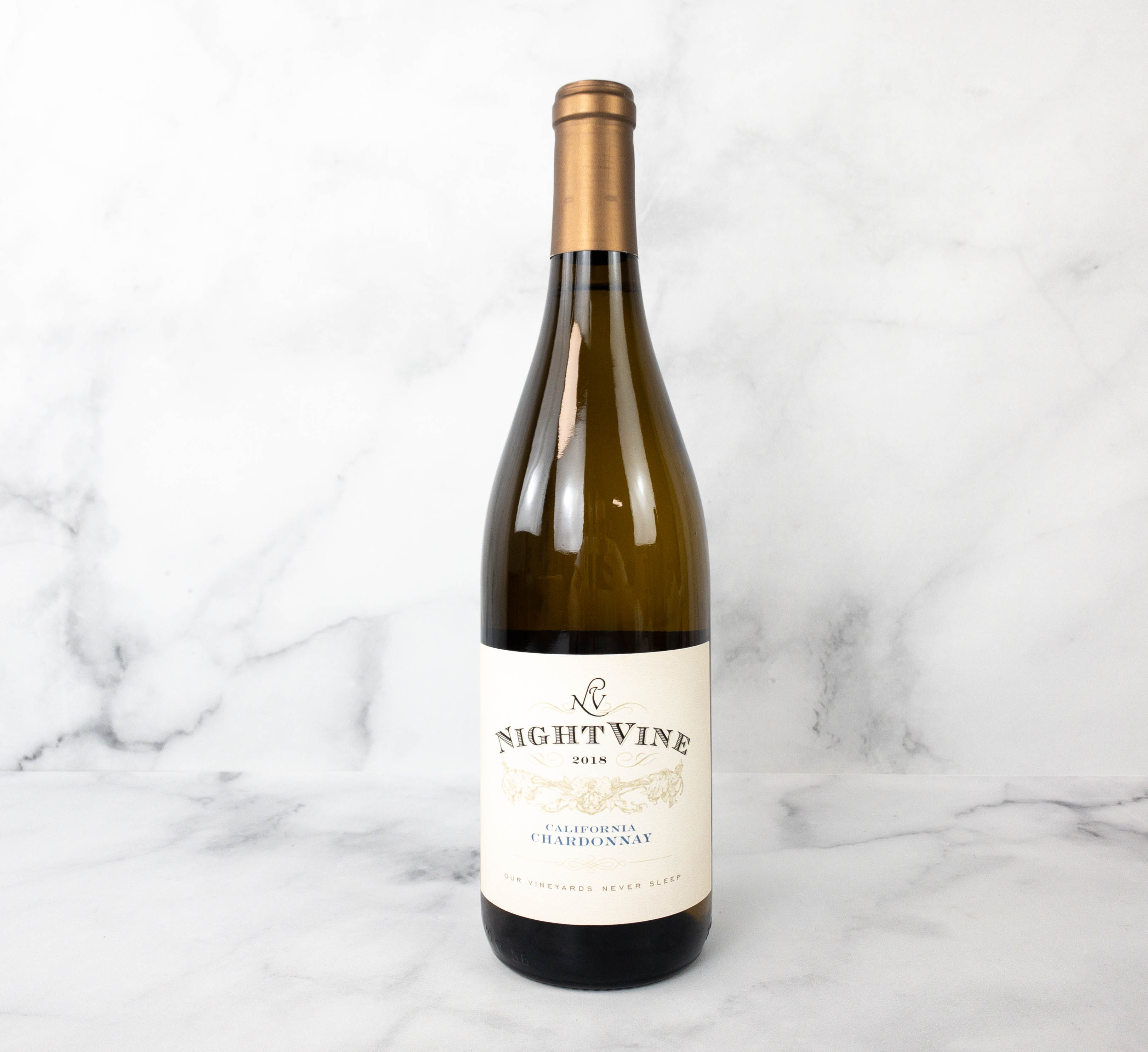 NightVine 2018 California Chardonnay ($24) I love the balance of flavors in every sip of this Chardonnay! This white wine has buttery notes with just the right amount of sweetness from vanilla and caramel, as well as flavors of ripe pear, citrus, and oak. It's a great choice for when you're having a nice, quiet night in.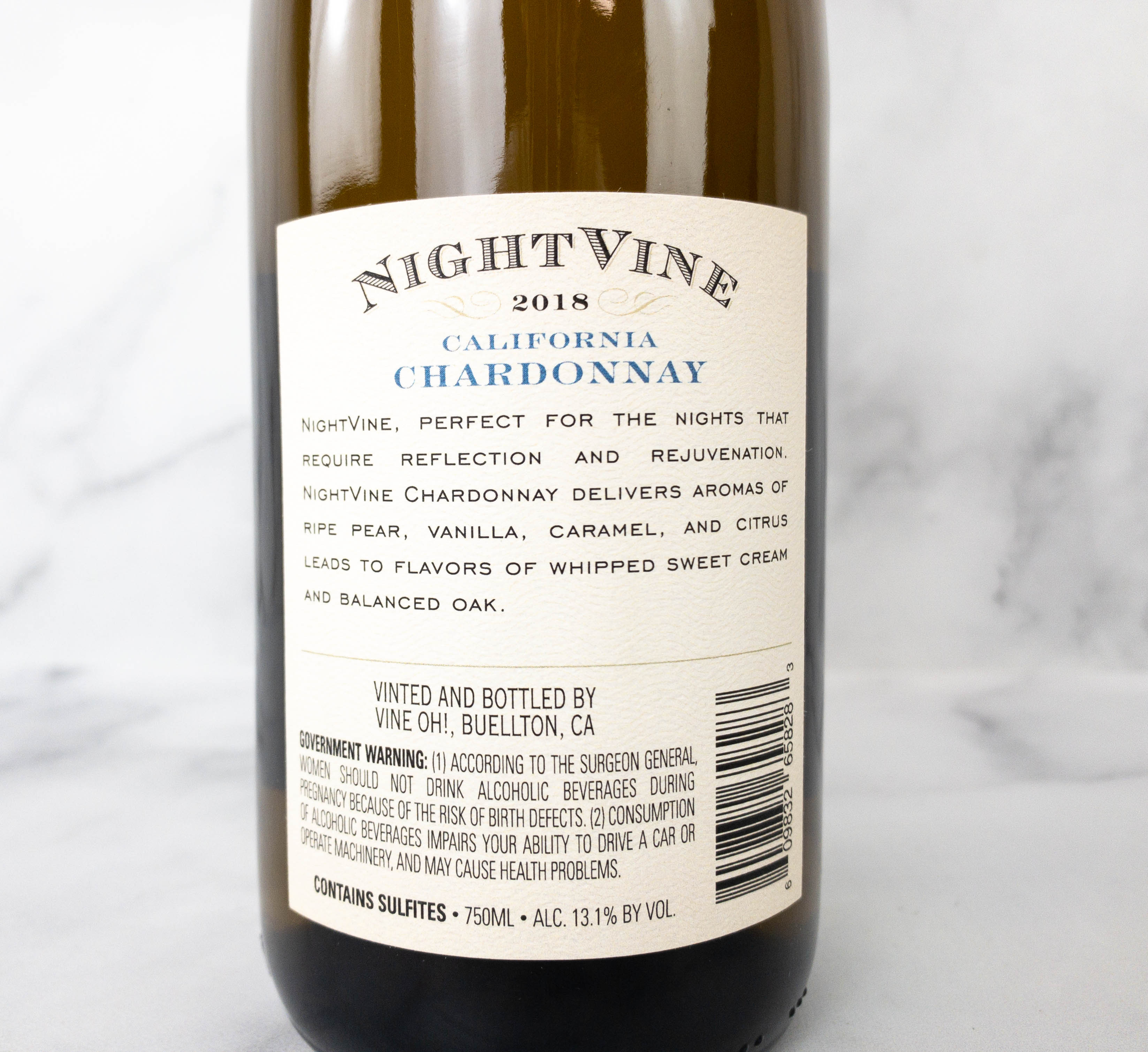 This white wine goes well with fish and seafood. It can also be paired with subtly flavored poultry or pork dishes.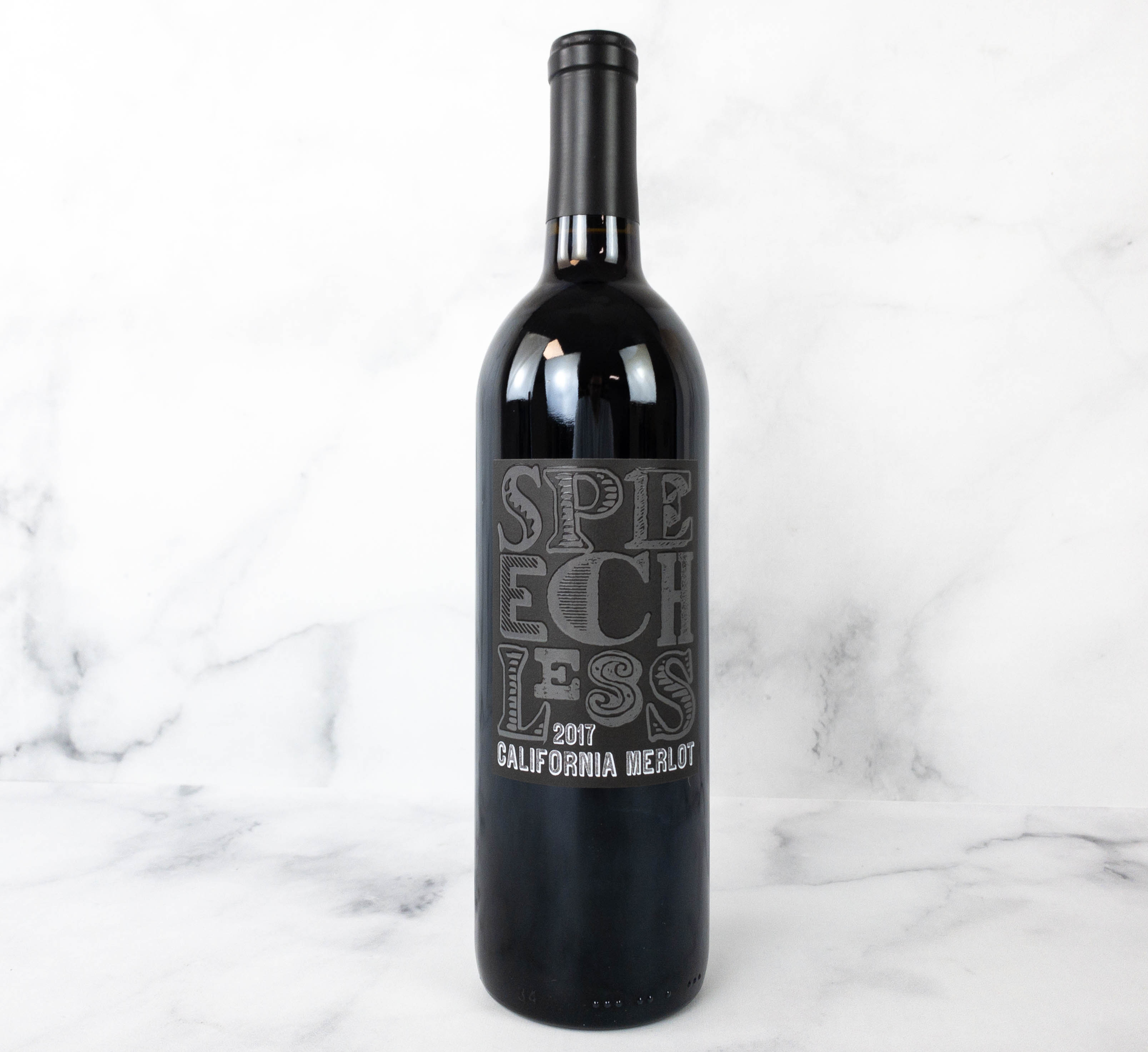 Speechless 2017 California Merlot ($24) This Merlot has nice fruity flavors with just the right kick of spice. This red wine would be a great bottle to celebrate any occasion, probably with a charcuterie board. Tasting notes include anise, licorice, and blackberry jam, with hints of cloves and caraway.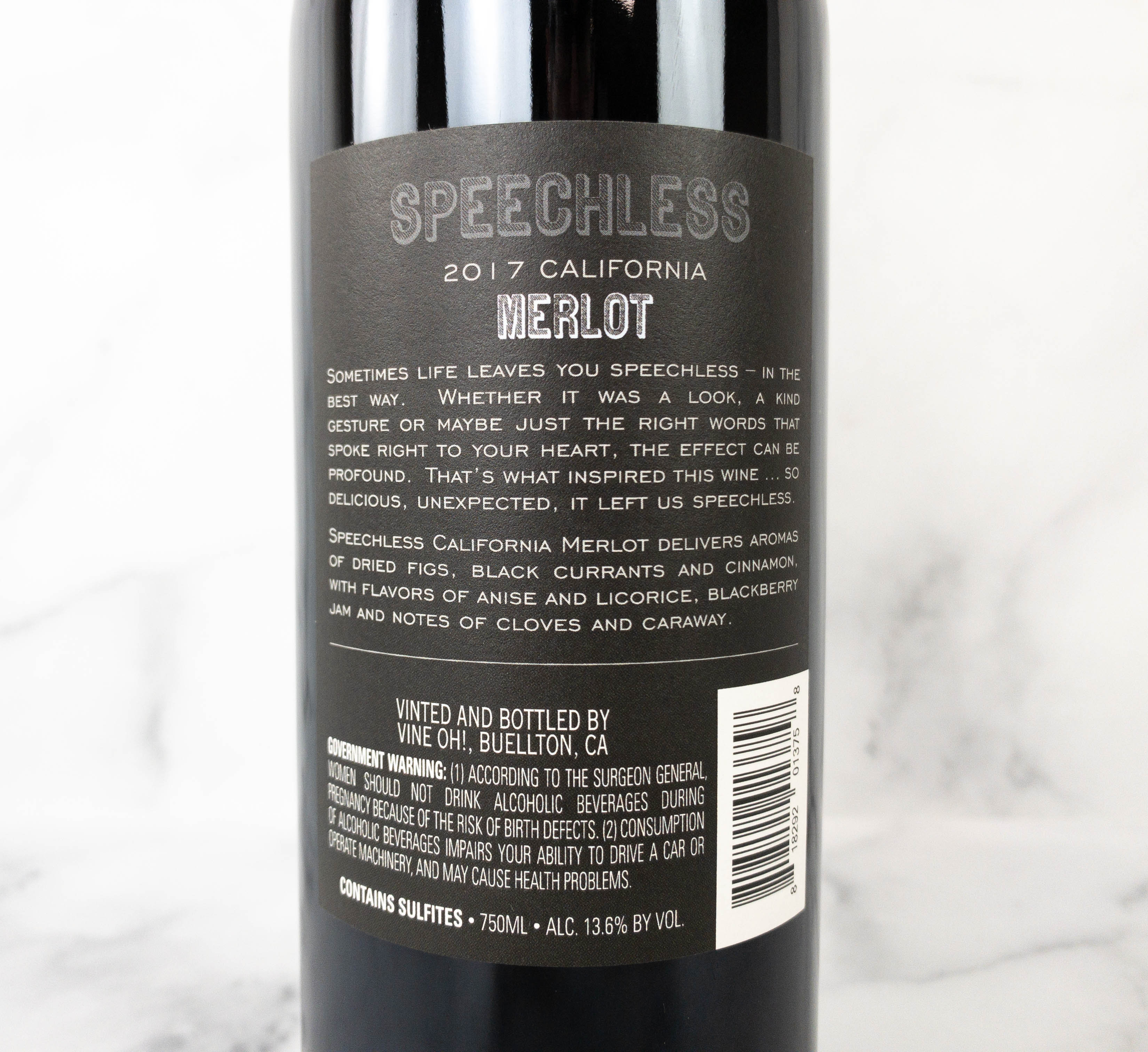 It pairs perfectly with beef and chicken. I also like having it with a variety of cheeses and cold cuts!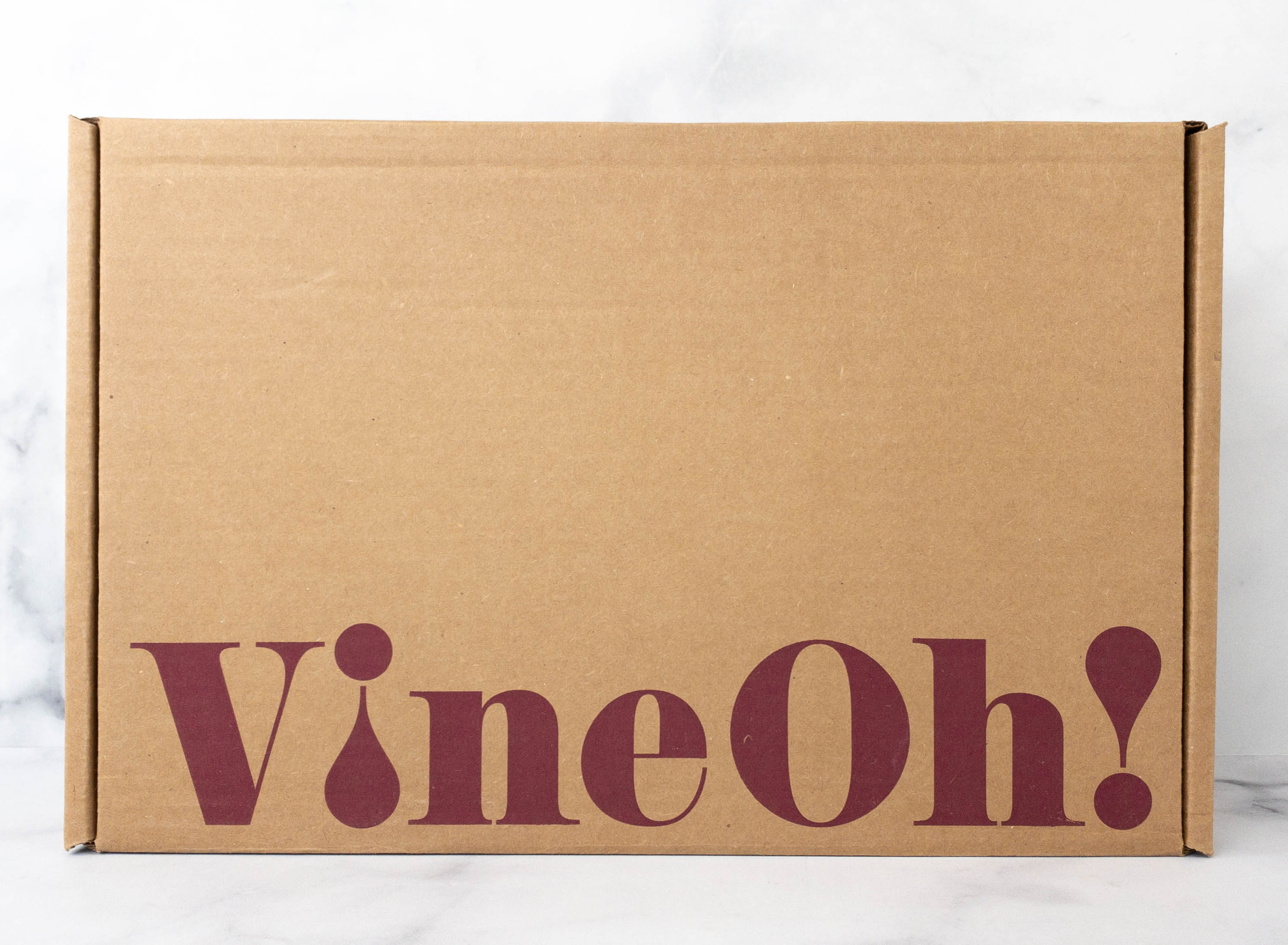 Now, we move on to the goodies included with this month's wine selection.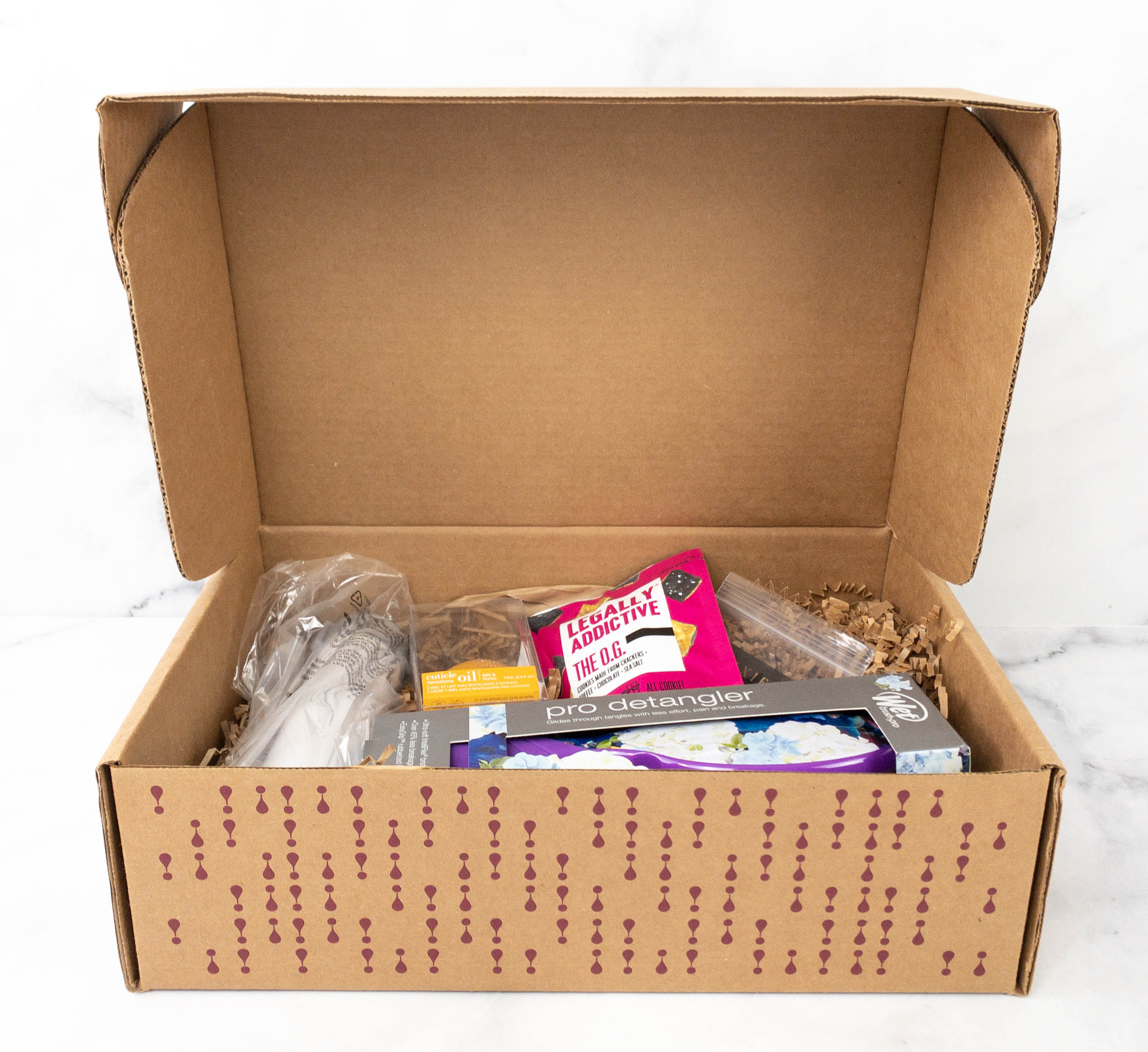 I'm so excited to dig in!
Zaxie Earrings. It's lovely pair of earrings, featuring grade A cubic zirconia stones and a brass metal finish.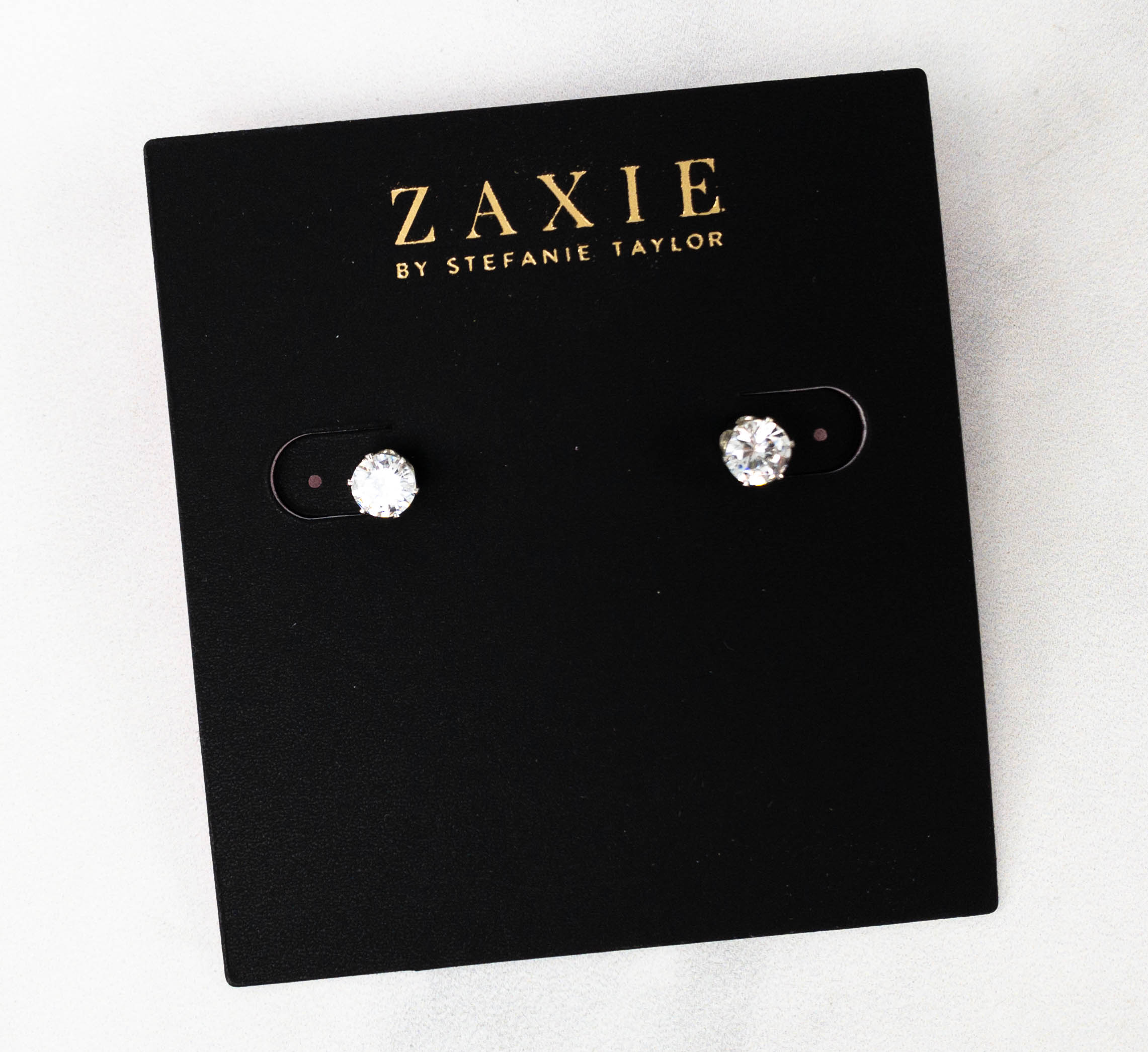 They're studs so they're easy to wear and to take off. I love the simplicity because I can easily pair them with different outfit styles, colors, and patterns.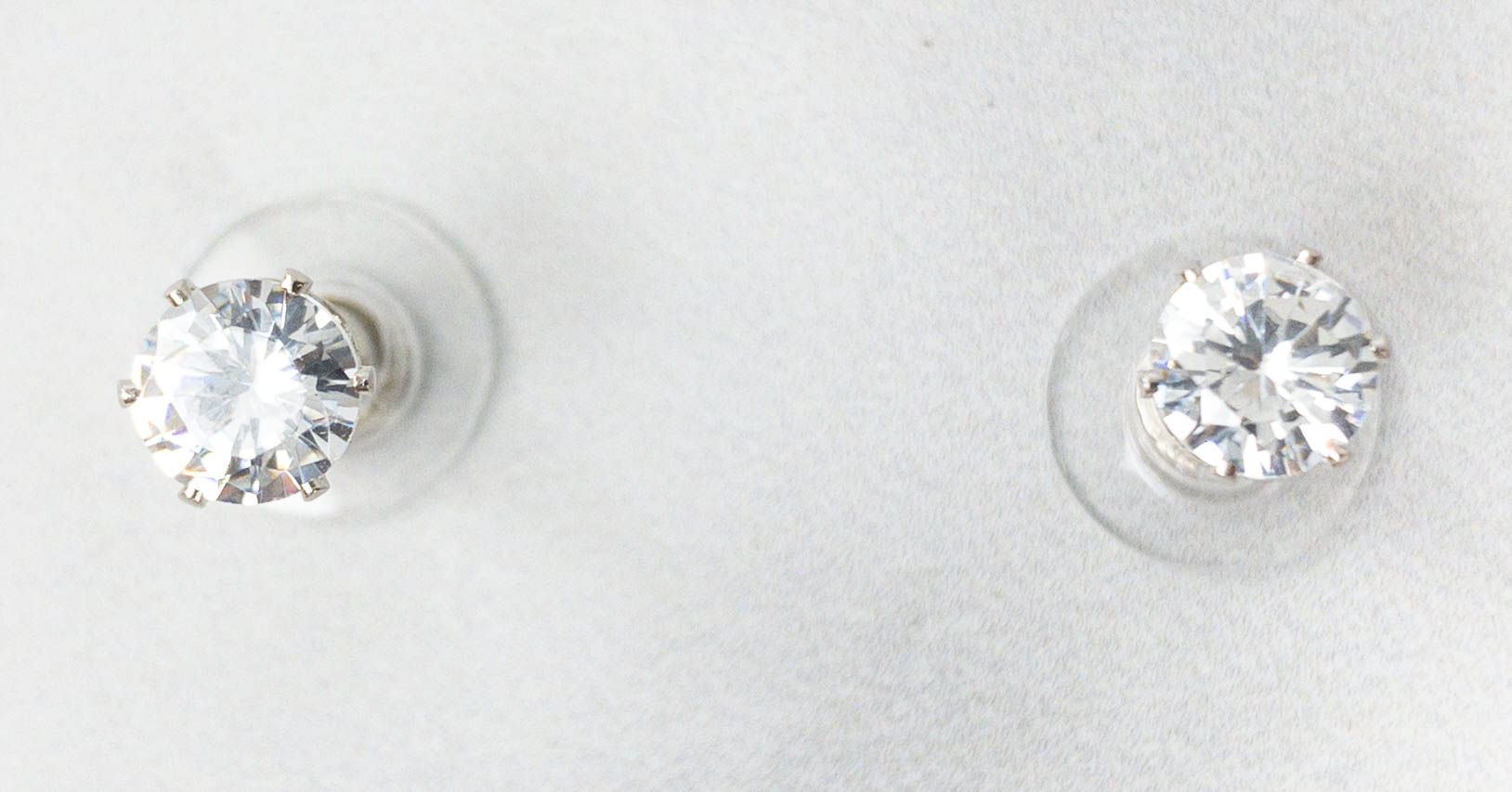 They also shine beautifully, especially when hit by the light. They would make great go-to earrings  for everyday wear, because they add a touch of glam on any outfit without being too much.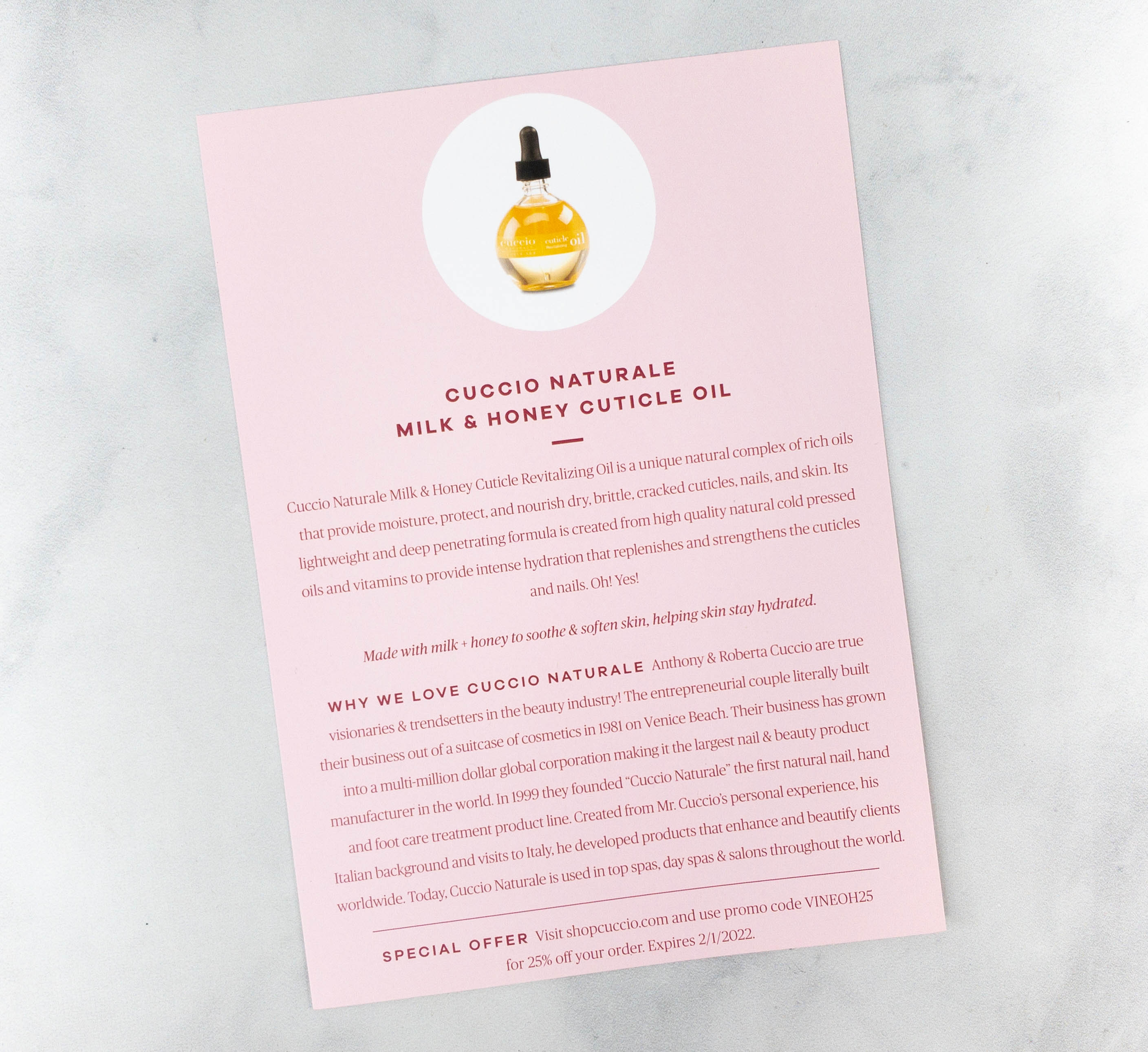 Cuccio Naturale Cuticle Revitalizing Oil ($9.99) To pamper my nails and help bring it to life this spring, they sent a bottle of cuticle revitalizing oil.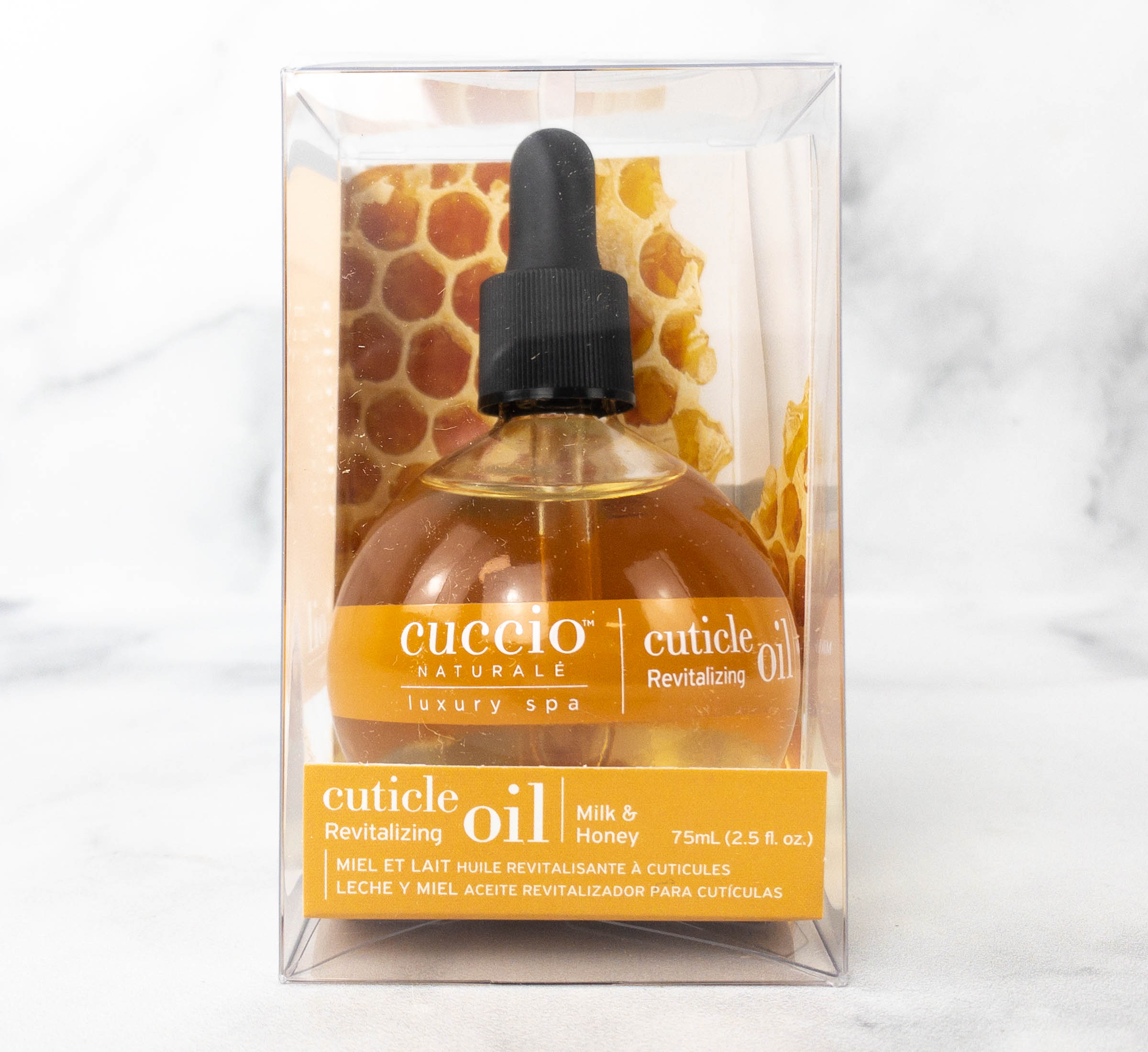 It was packed in a see-through container with a honeycomb background. This oil helps revitalize the cuticles by penetrating deeply into the nail bed and providing moisture and nourishment.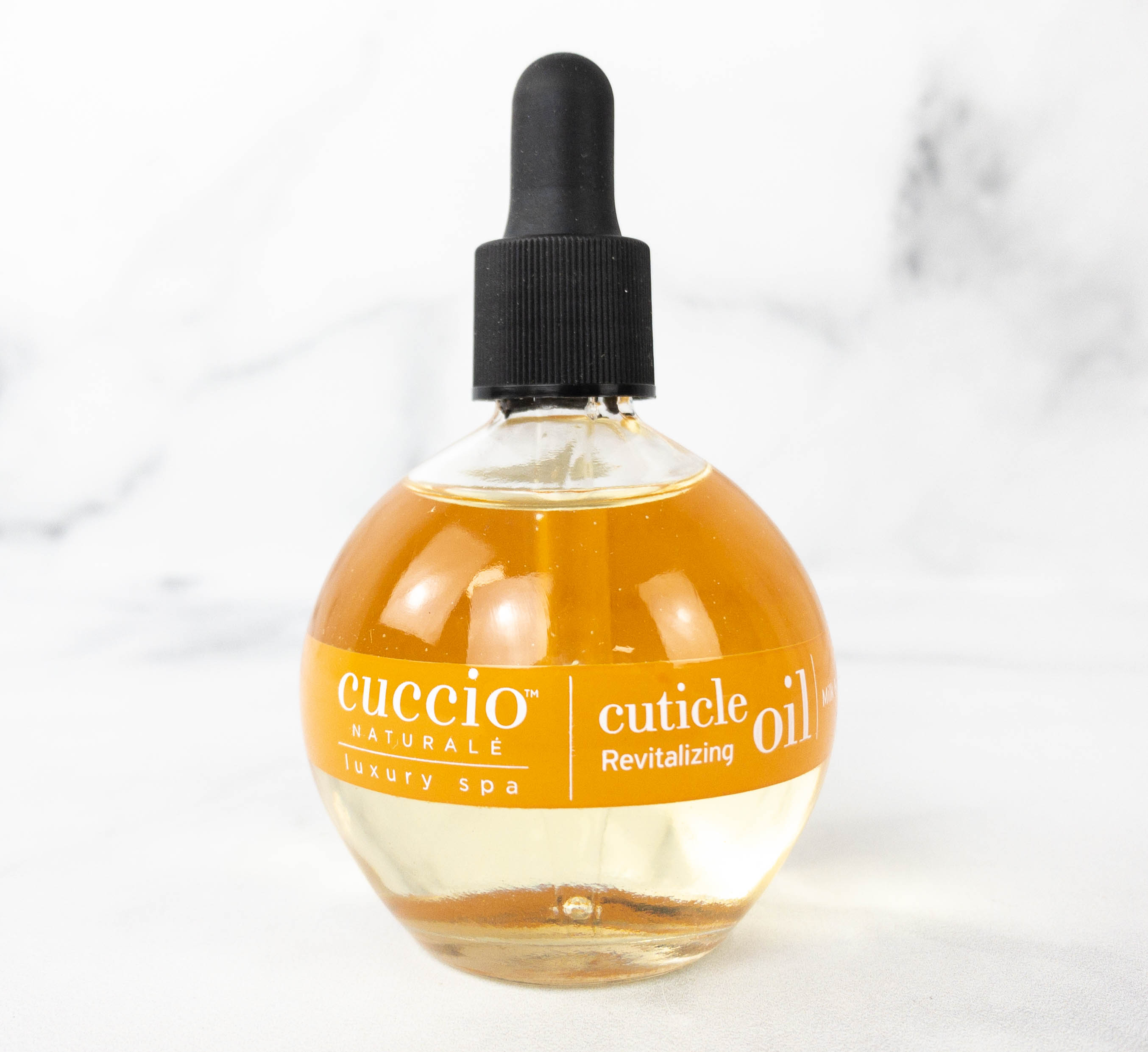 It's formulated with honey which is naturally soothing and milk which contains lactic acid that helps refresh and stimulate the skin. The lightweight formula also helps strengthen the cuticles and nails.
Legally Addictive The O.G. Cookies made from Crackers+Toffee+Chocolate+Sea Salt ($2.85) They also sent a snack to pair with the wine in the box. This month, it's a pack of chocolate cookies!
These crunchy cookies are made with crackers, toffee, chocolate, and sea salt. I like the balance of sweet and salty in every bite. They're good on their own but I enjoy them even better with a glass of wine!
Asobu Lady Flask ($19.99) Here's a useful lifestyle item for anyone who is always on the go, a slim stainless steel bottle called the "lady flask"!
I love the marbling design on the bottle's body as it looks unique and elegant.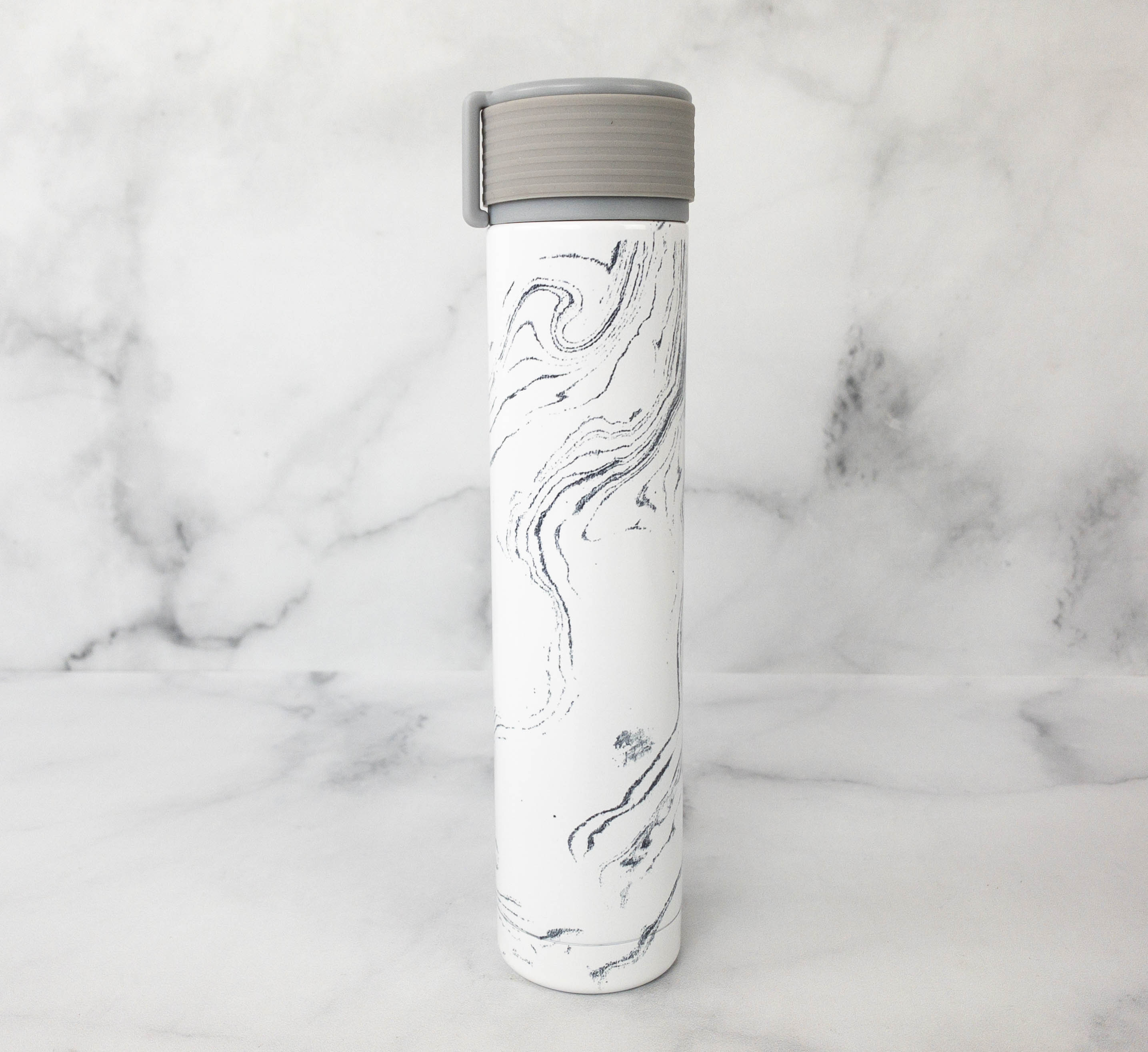 It's really compact so it's easy to bring wherever and whenever. Another thing I like about it is that it's BPA-free!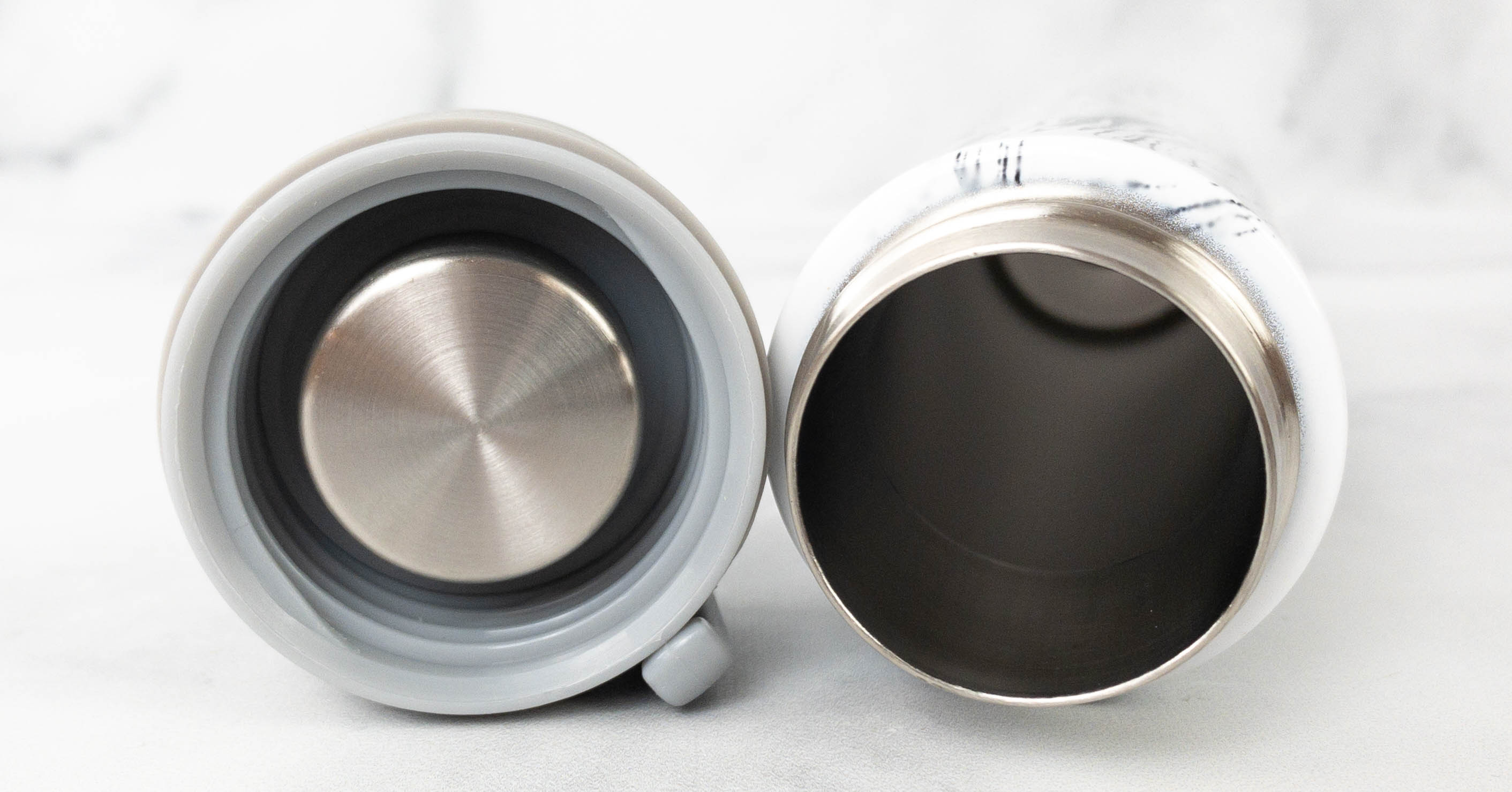 The non-spill lid keeps the liquid secure inside the bottle. This container is even insulated, keeping any drink's temperature for a long time!
Wet Brush-Pro Pro Detangler – SIMILAR ($18.99) This detangler brush is especially designed for use on wet hair!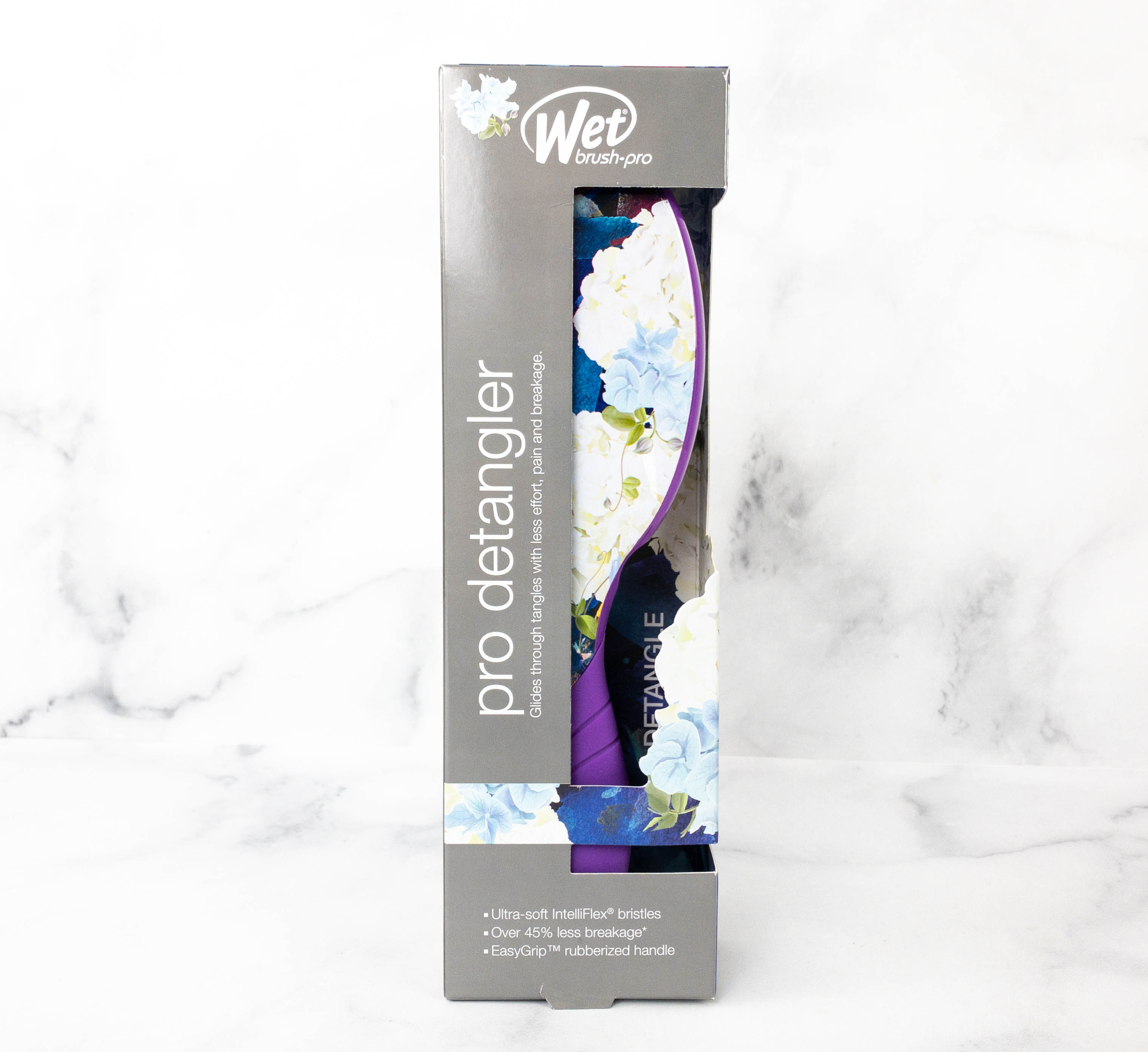 According to the packaging, it's made with IntelFlex bristles that promise over 45% less breakage. It also has a rubberized handle.
It helps loosen knots on wet hair, but doesn't pull the strands and cause breakage.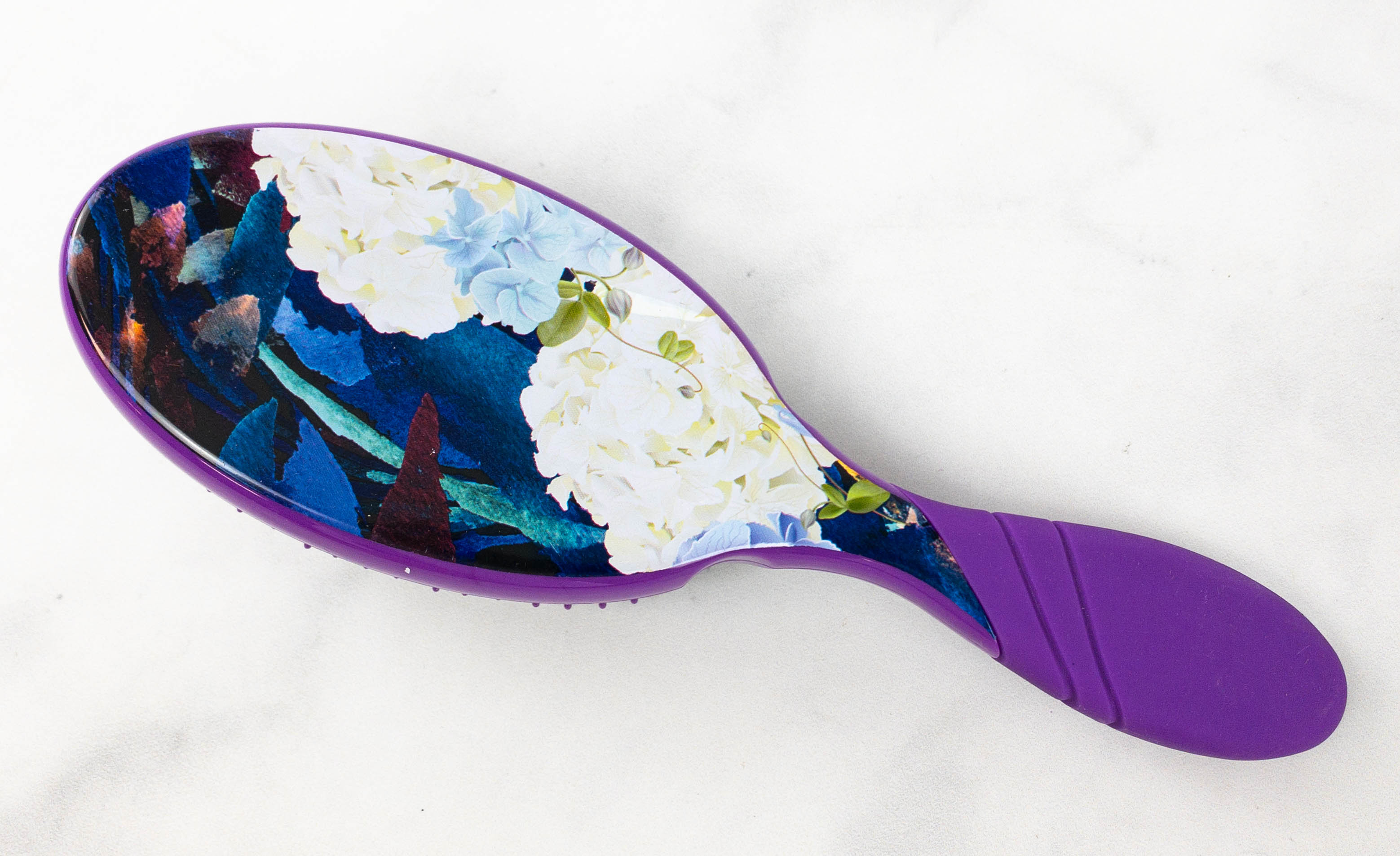 The brush I received has a purple handle and a floral design in white and blue. It's pretty!
I always look forward to my Vine Oh box because it always includes great wine and fun lifestyle items. This month's selection is no exception. The Merlot has delectable fruity notes with a touch of spice, while the Chardonnay is buttery and sweet. I really enjoyed them both! The lifestyle items includes a portable water bottle and a brush which are great for everyday use. There's even a yummy snack that I can pair with the wines in my box, as well as a cute pair of stud earrings. It's a well-curated box for any woman and wine lover, and it also makes a fun seasonal gift!
What did you think of Vine Oh?