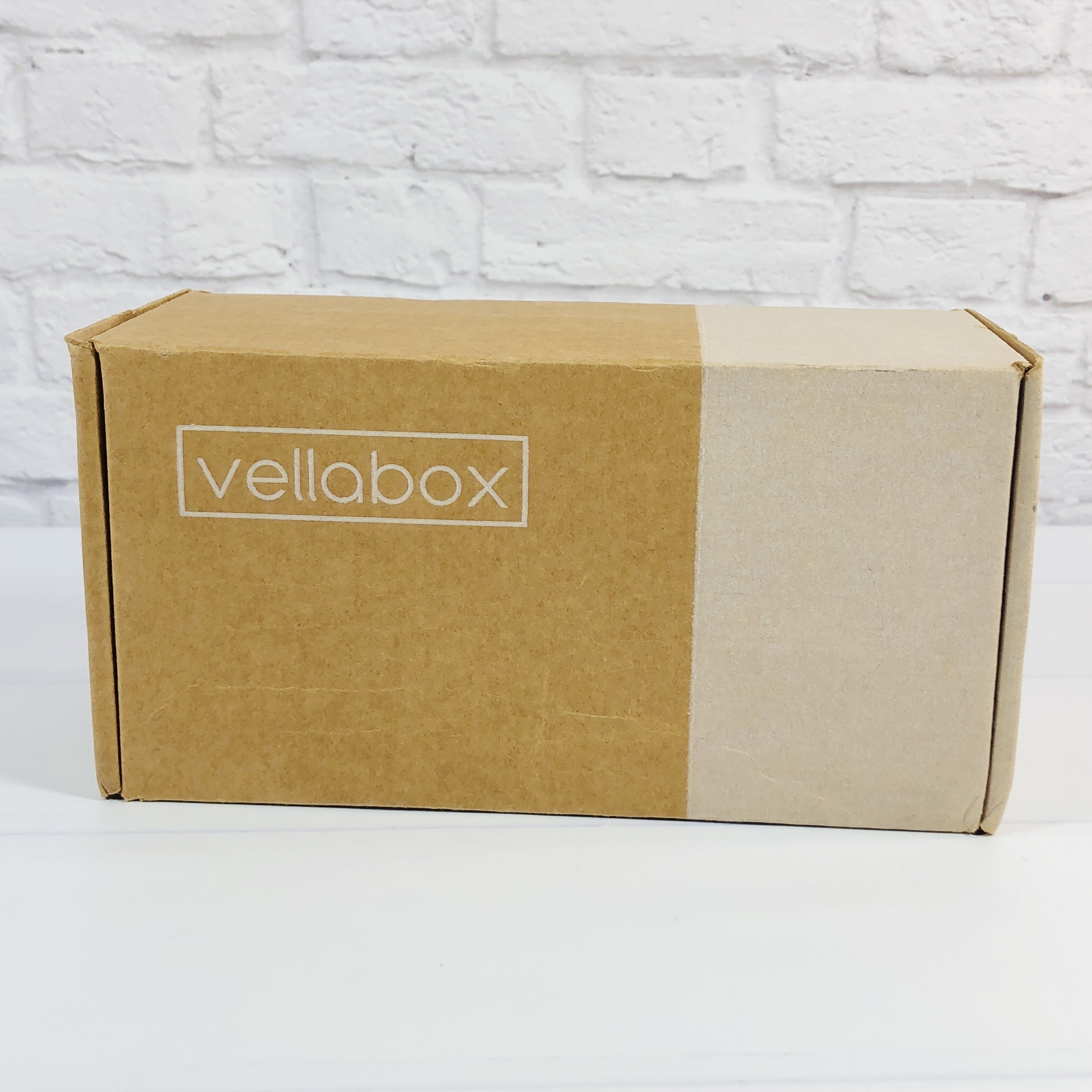 Vellabox is a monthly natural candle subscription box. The candles are always in seasonally inspired scents and are created by the finest American artisans. Each box features a different candle brand. The candles are from small businesses and are made of all-natural wax, cotton braided wicks, and premium fragrance oils. Vellabox also includes a surprise lifestyle gift in every box.
Our Vellabox Candle Curator handpicks the candles and guarantees that they are always all-natural, seasonally relevant and bound to bring warmth and joy to any space. The surprise gift in your box each month is chosen carefully to align with our team's health-centric values.
The Vellabox candle subscription box made the list in our 2021 readers' choice picks of best home and decor subscription boxes and as a favorite affordable subscription!
DEAL: Save 50% on your first box! Use coupon code HELLOSUB50.
The first thing you need to do is decide which level you prefer. You can choose from The Lucerna Box ($10) which includes a 4 oz candle monthly, The Ignis Box ($20) with an 8 oz candle monthly, and The Vivere Box ($30) with an 8oz + a 4 oz candle monthly. Each level receives the bonus lifestyle gift. Shipping is $3 per month for Lucerna and Ignis to the US, and free for Vivere. Vellabox now ships to Canada for $8 per box. I am reviewing The Vivere Box.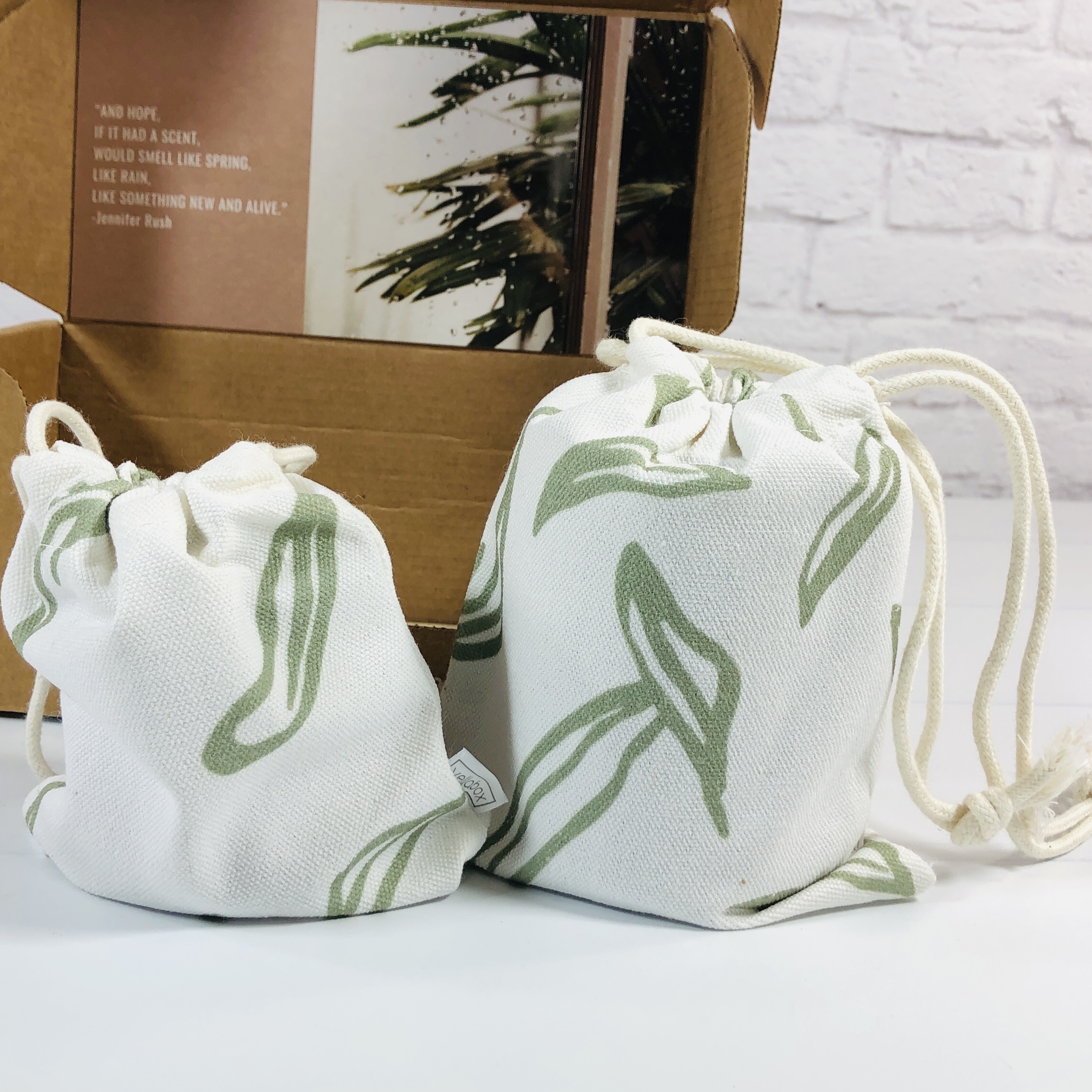 The candles were in reusable drawstring canvas bags. The bags can hold items like jewelry or other trinkets.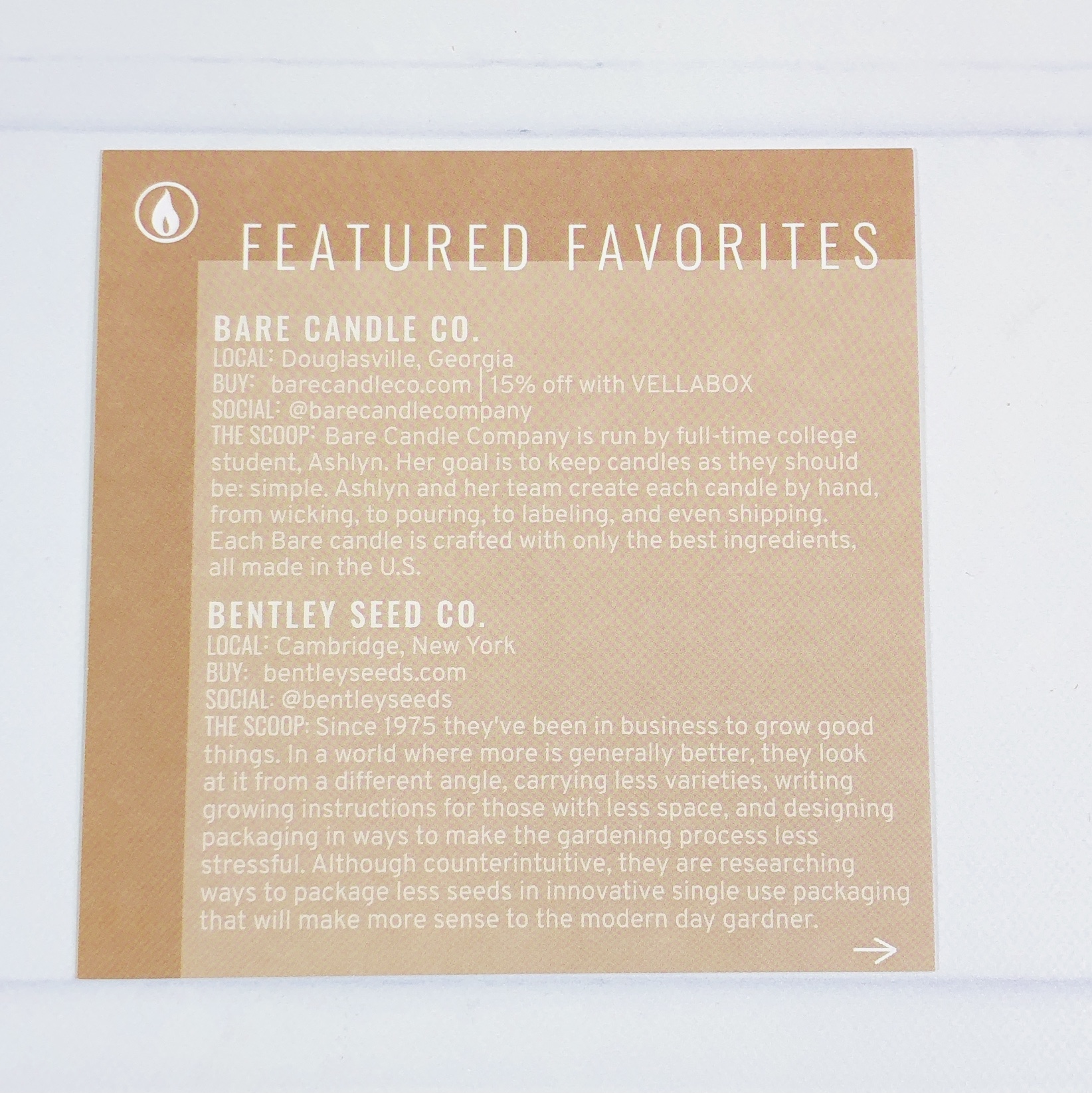 There was a card with info on the featured candle brand, Bare Candle Co., and a coupon code for future purchases from that brand!
WHY BARE?

Bare Candle Company was created by the desire to keep candles as they should be, simple. Bare candles are hand poured in small batches. Located in Douglasville, Georgia, each candle made at the studio contains 100% soy wax grown in the USA. We do not add color dyes, nor do our candles contain paraffin wax, parabens, prop 65 chemicals, or phthalates. Even our labels are better for the environment; no trees are harmed in the making of our labels. Our clean + environmentally friendly ingredients allow our candles to stay simple.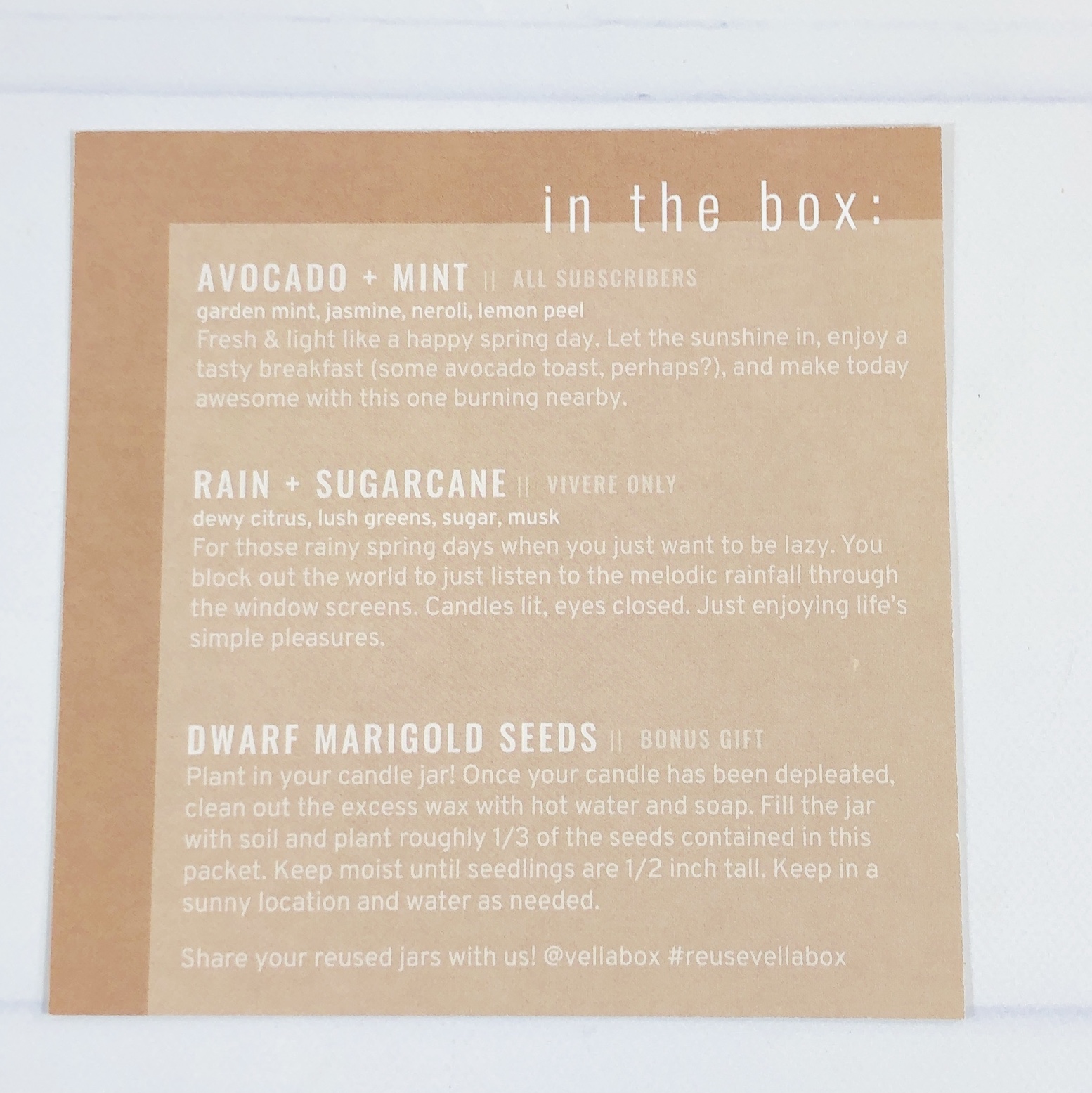 The back of the card listed the scent notes and description plus planting instructions for the flower seeds!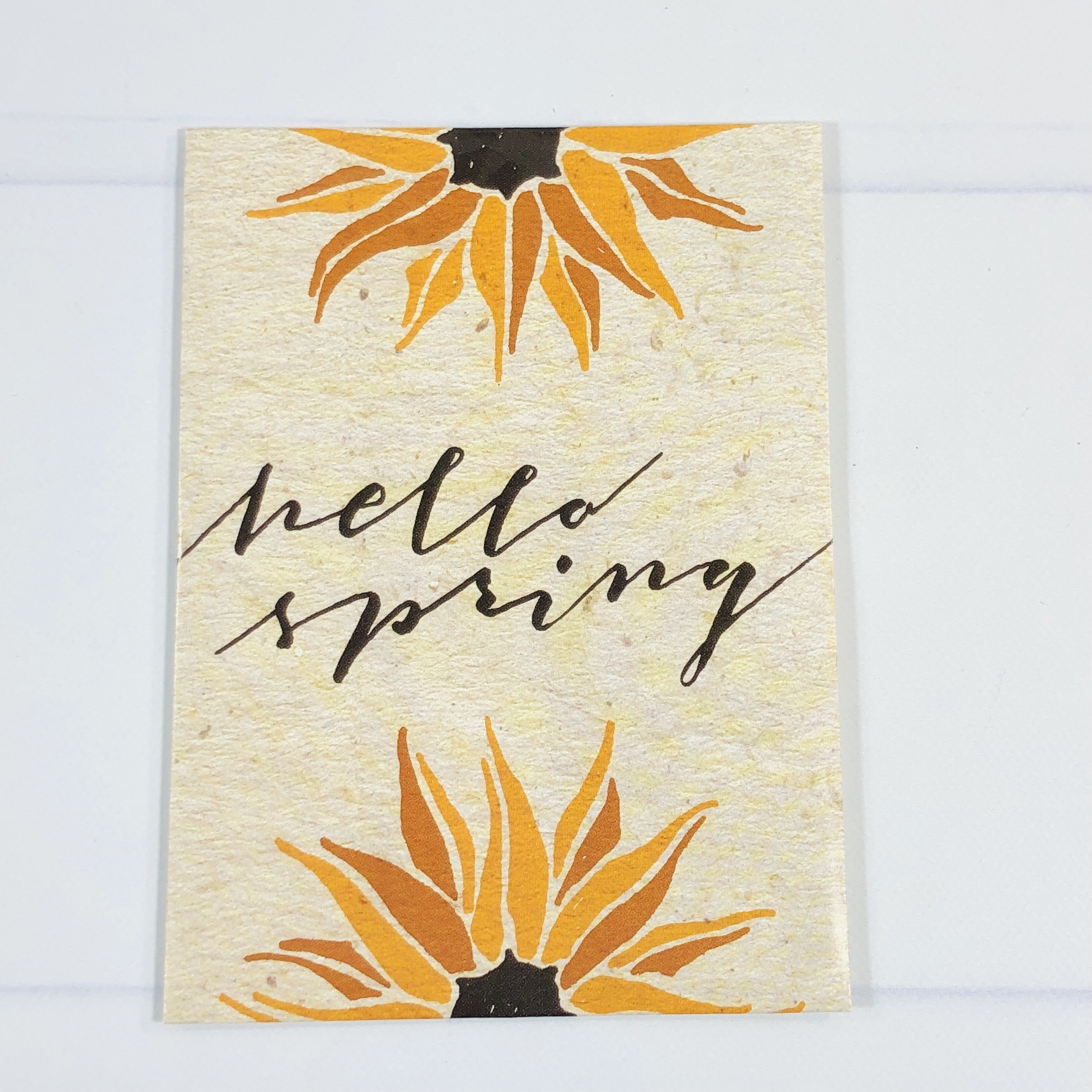 Bently Seed Co. Dwarf Marigold Seeds We received a customized pack of flower seeds from Bently Seed Co. Want to customize some for yourself? They can do it for you!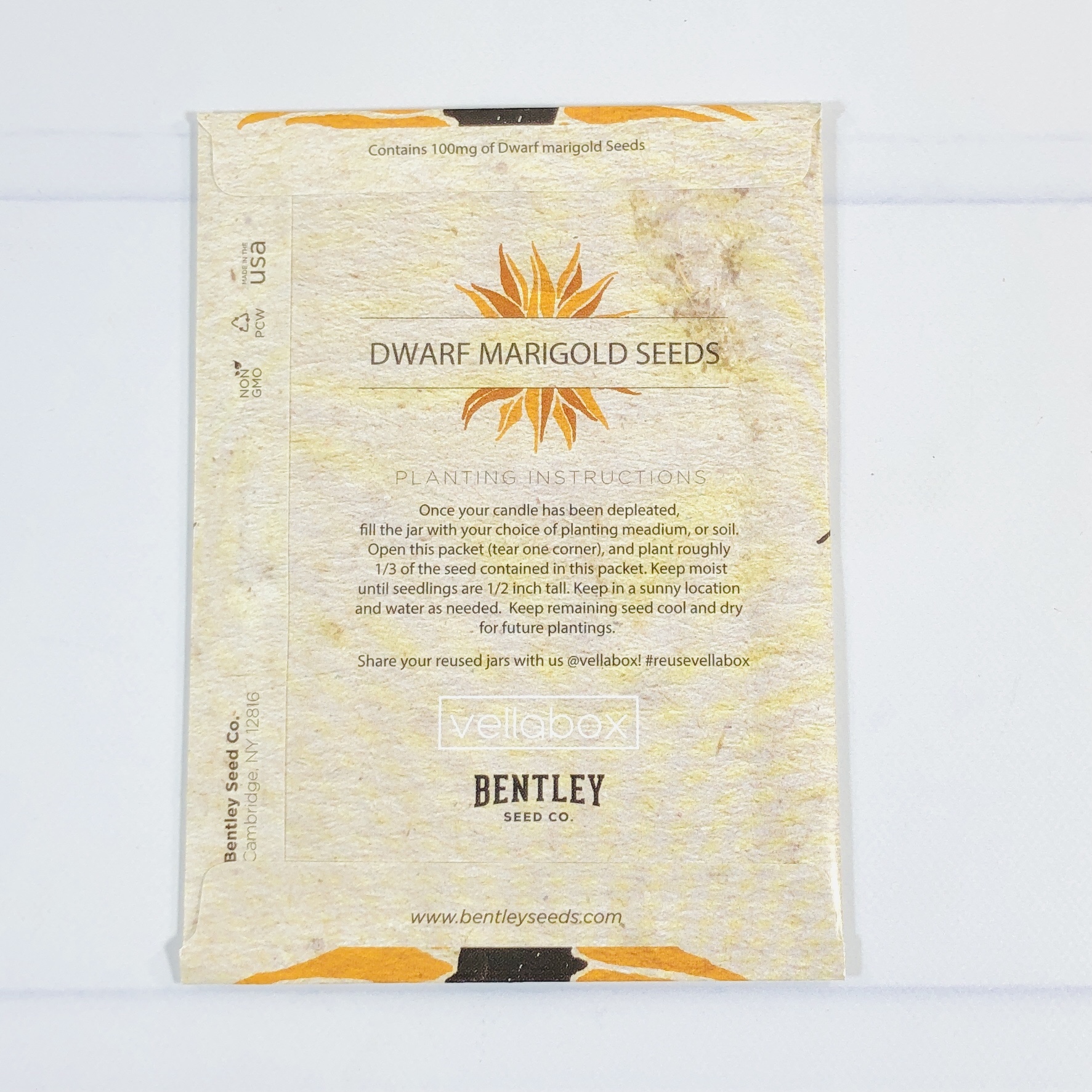 The directions suggest planting this in an empty jar after all of the candle wax has been used and discarded. What a cool way to recycle old jars! I will plant the seeds directly in my garden to help bring bees to my plants.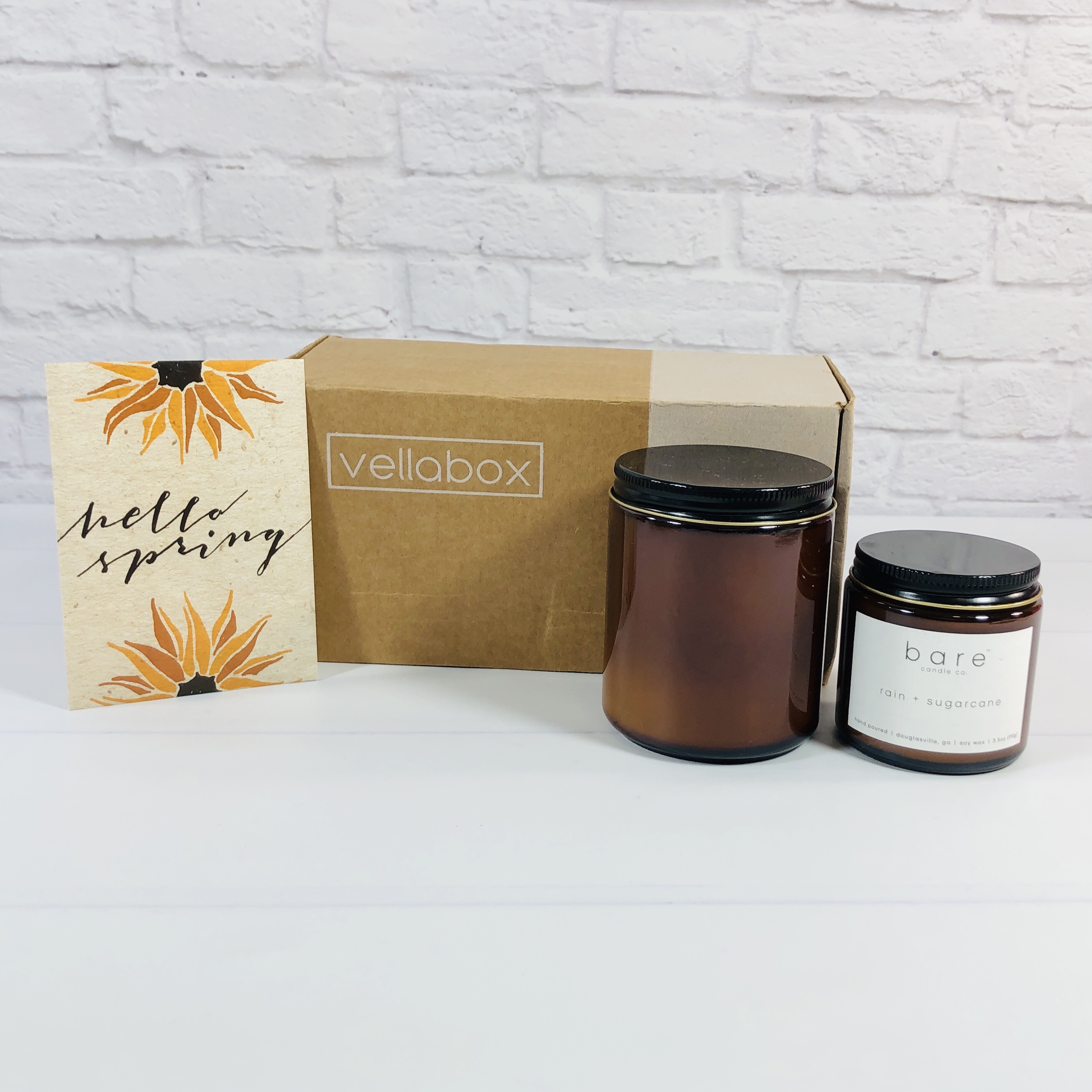 Here's everything in the box!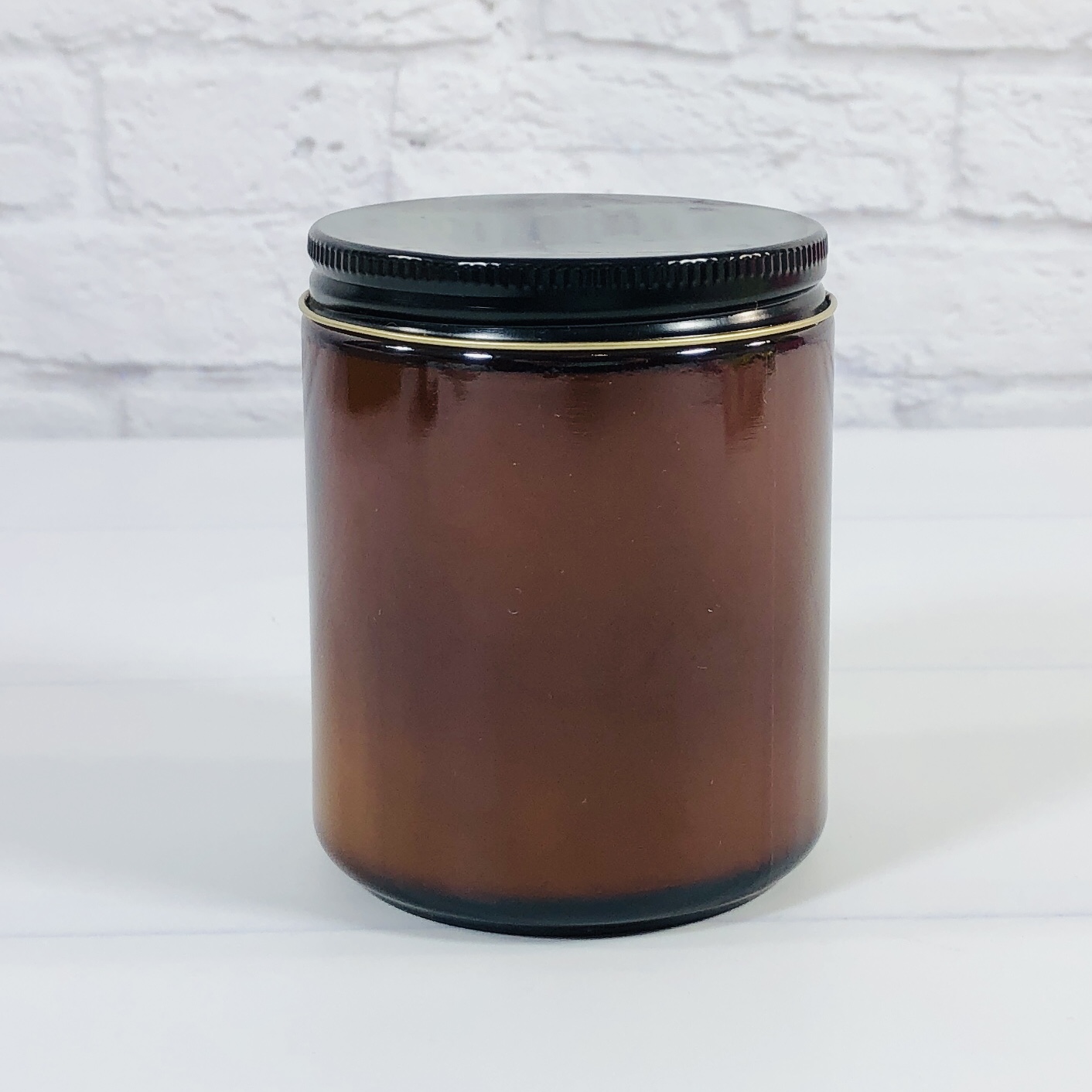 Bare Candle Co. Avocado + Mint ($21) Uh oh, one of my candles was missing its label! I bet it still smells as sweet. The candles from Bare Candle are made of soy wax and phthalate-free fragrance oils. This standard candle size (7.2 ounces) is supposed to burn for 50-60 hours.
FYI: We reached out to Vellabox about the label, and they apologized for the packing error. Bare Candle Co. indeed supplied all the candles with labels.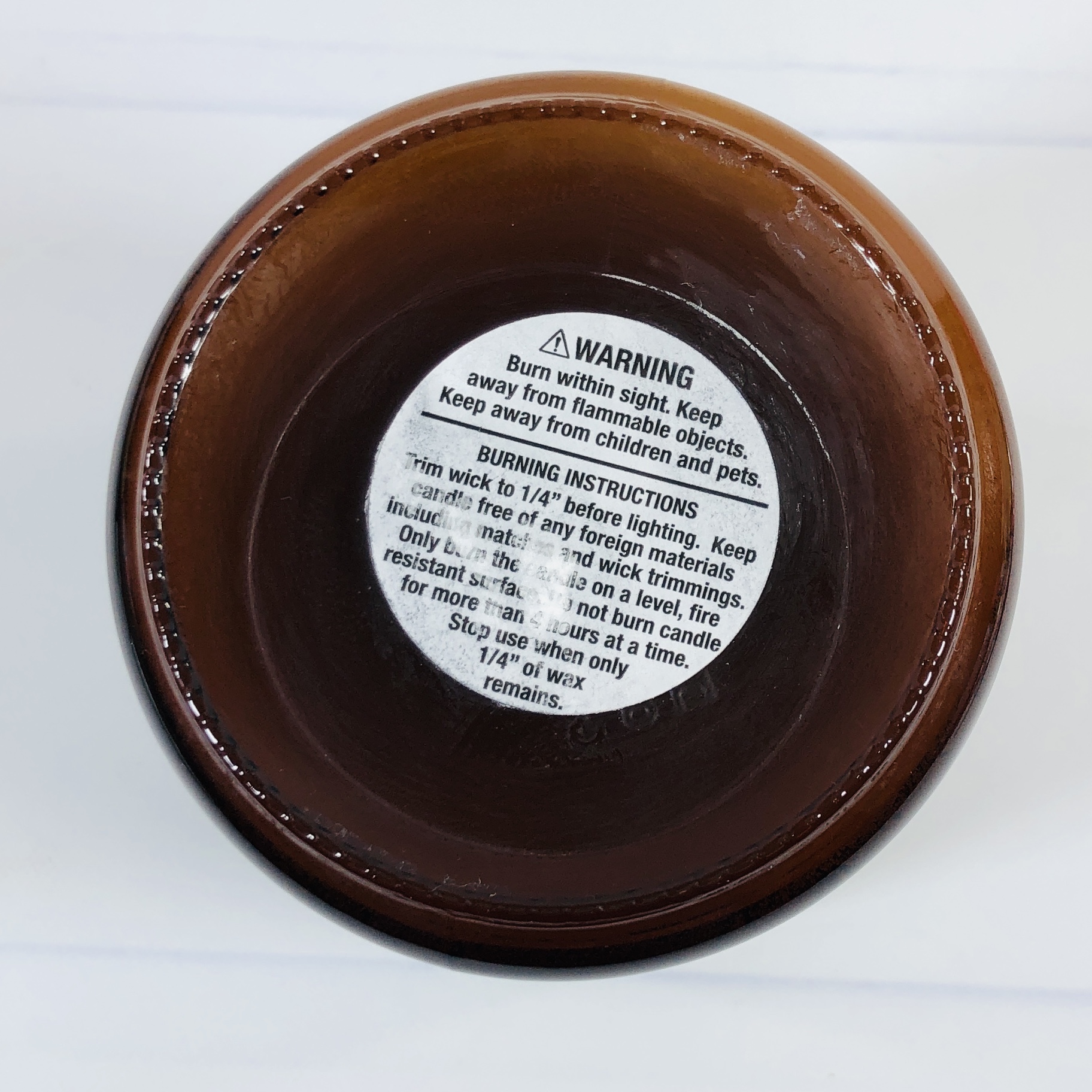 The usual warning was on the bottom of the jar. Make sure to keep pets and people away from an open flame.
The scent has notes of mint, avocado, and lemon. I don't know about that but it smells green and clean, similar to candles that are supposed to smell like "rain", or perhaps like a magnolia flower. It doesn't smell very strong when cold and I couldn't smell it at all while it was burning, but it may get stronger as I burn it in the future, but then again, maybe not. I burned it a second time, and for several hours, and again, no scent.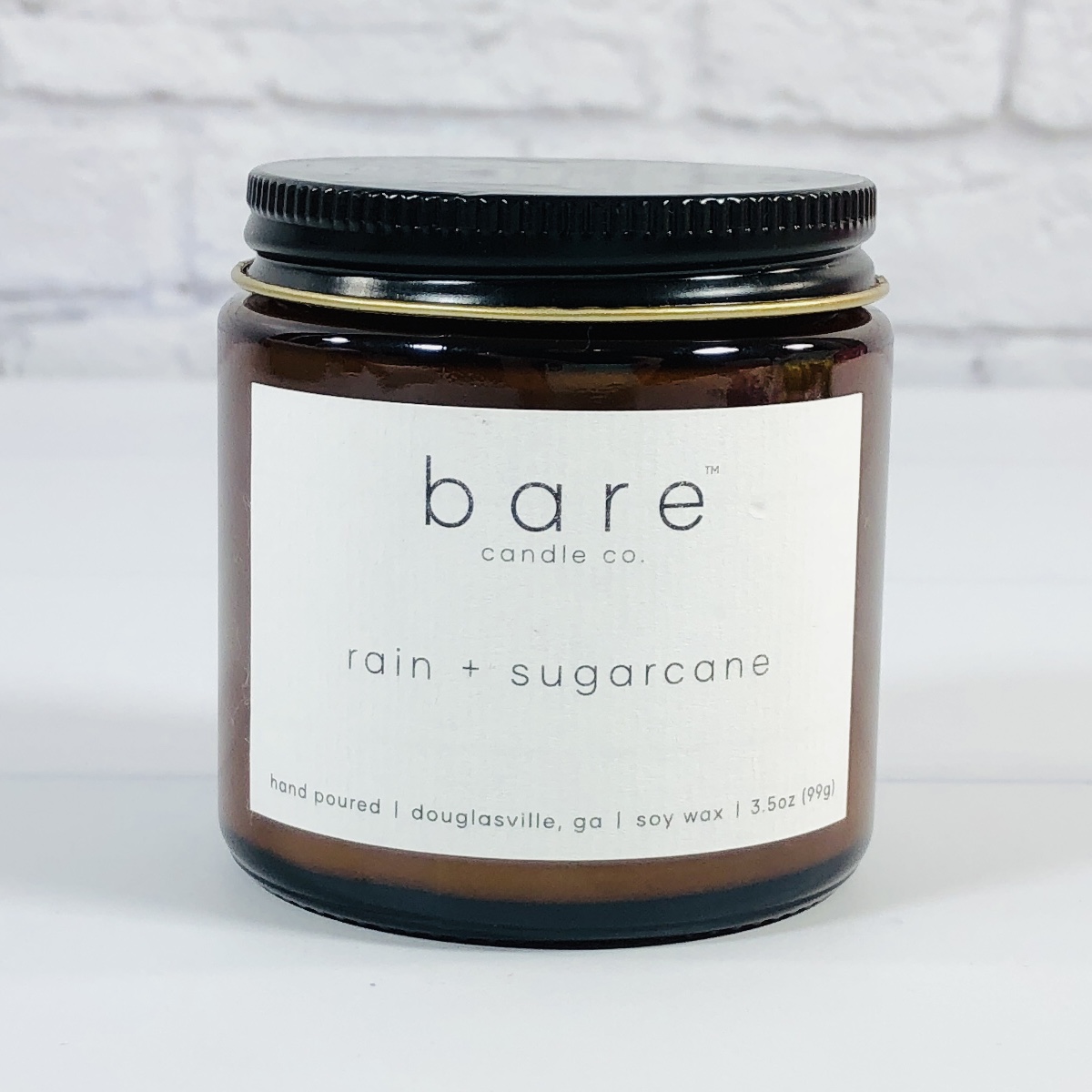 Bare Candle Co. Rain + Sugarcane ($14) has notes of citrus, sugar, and musk. While cold it reminds me of English Laundry perfume for women.
Again, I couldn't smell this while it was burning, unless I was standing next to it. This mini size (3.5 ounces) should burn for 20-30 hours.
Vellabox is a great way to discover new candle brands and those brands tend to have minimalist jars, light scents, and lovely fragrance combos. I liked the cold scents of these two candles by Bare Candle Co. but their hot throw wasn't there for me. They still provided a relaxing atmosphere but a bit more scent would have increased the pleasure. I don't need to be knocked in the face when I walk into the room but I prefer to be able to smell the candles while I am within sitting distance. I was very happy with the bonus extra and it is suggested that the empty candle jars can be used as planters for the seeds, although they will probably need to be transferred to a garden after they sprout. What do you think of this box? Visit Vellabox to subscribe or find out more!