Trouvailles is a bi-monthly Canadian subscription box that takes you to different destinations around the world through a curation of fun items! Each box includes 6-8 local products from the featured destination, which may include snacks, home decor, bath & body, kitchen tools, wearable accessories, and more. Subscribers will also get a postcard and and discovery booklet that reveal more about the products and destination, plus access to digital content. There are 3 plans available, which ship to both Canada and the US: The Sightseer which will be billed every other month (CA$49.99 per box), The Explorer which is a prepaid subscription for 3 boxes (CA$47.99 per box), and The Globetrotter which is a prepaid subscription for 6 boxes (CA$45.99 per box).
As of writing this review, travel isn't something we can easily do, and this box is a great way to taste some adventure while staying safe at home. Past destinations include Germany and Brazil!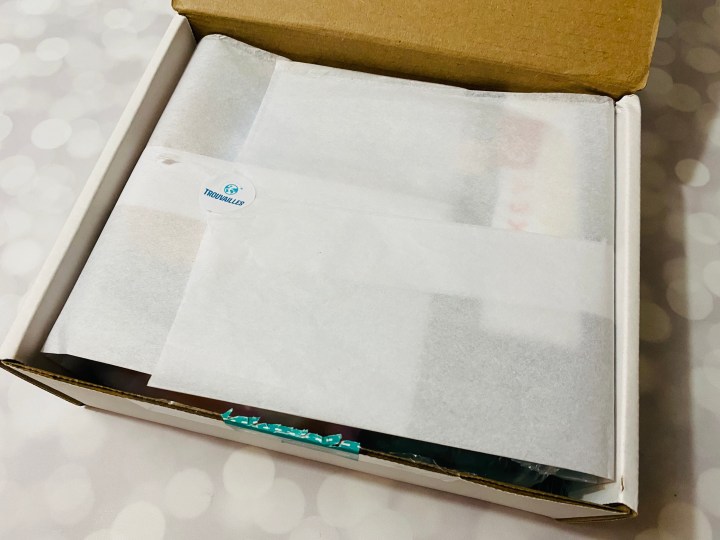 First peek!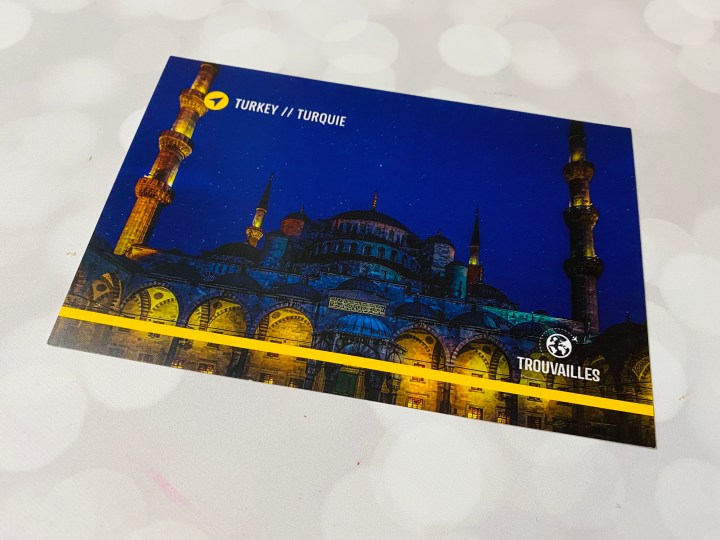 A postcard from Turkey was on top of the items.
At the back is a short message from the subscription. I love this idea, it adds a touch of personalization to the box!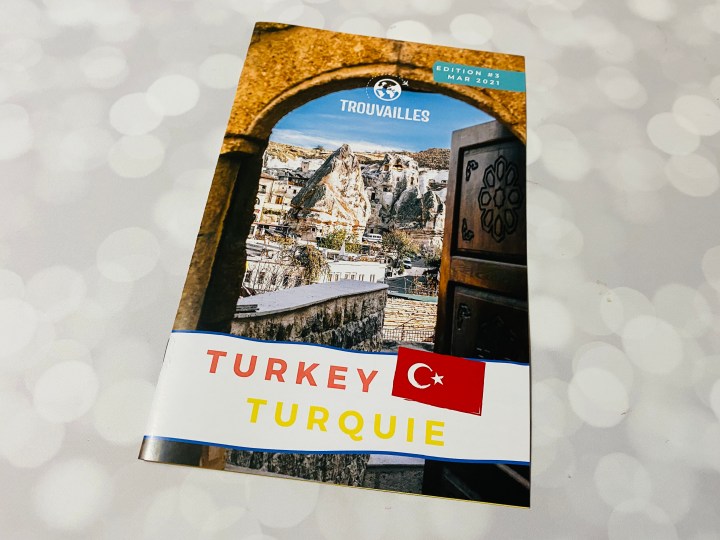 As the postcard hinted, this month we are off to Turkey! I can't wait!
The information booklet is a mini magazine that explains everything in the box as well as some information and stories about our month's destination.
One more snap of the information booklet, which is chock full of information!
Pismaniye — Let me try and pitch this to you: imagine cotton candy. Now, imagine cotton candy covered in chocolate. Then sprinkle coconut and pistachio on top. It melts in your mouth. These were so good I changed my mind on sharing and ate the whole box myself. But these aren't actually cotton candy even though the texture is nearly identical. These do have flour in them with sugar, but they are so fluffy and airy it's hard not to compare. The flour is added to spun sugar (like cotton candy) which gives it that feeling.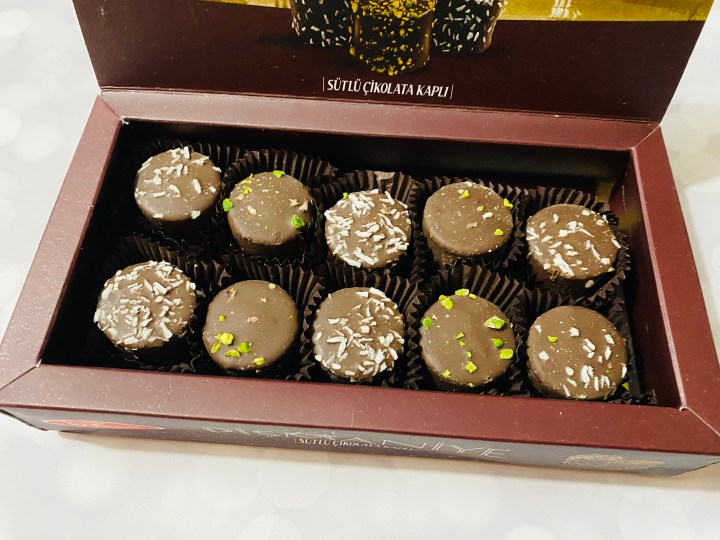 Some have coconut on top and others have pistachio. Both are awesome.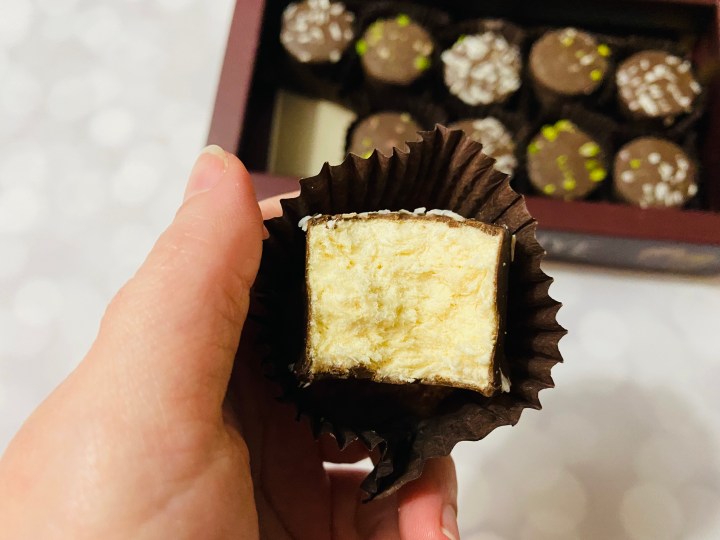 You can see the light, fluffy, powdery inside.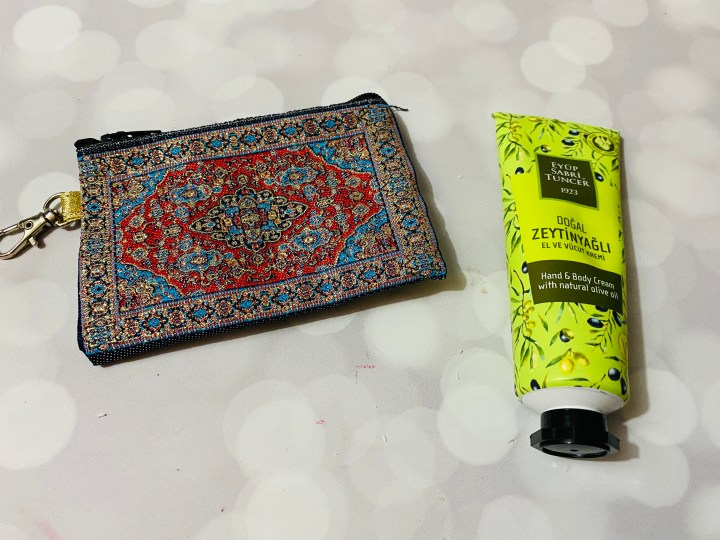 Mini Kilim Purse — Kilim rugs are those amazingly detailed, bright rugs. This is a mini version in the form of a purse! It's the perfect size to hold cards, change, etc. I love that it has a clip on it to attach to keys or wallet.
Olive Oil Hand and Body Cream — Turkey is the world's 4th largest producer of olive oil! This is a really nice hand cream that kept my hands soft and moisturized. I've been using a lot of hand sanitizer and my skin is definitely suffering for it, so this is a great thing to have on hand (no pun intended) to keep my skin soothed.
Here's a closer look at the purse, to show the incredible amount of detail.
Double Nuts Turkish Delight — Turkish Delight is probably the quintessential Turkish candy, and I've tried a few kinds like rosewater before. I prefer this version, loaded with pieces of pistachio, hazelnut, coconut, and almonds.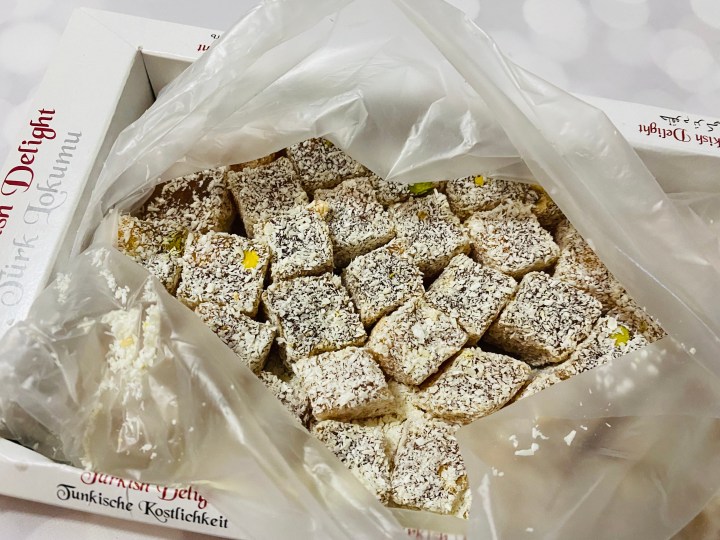 Turkish Delight has a unique texture that can be a bit offputting, but I think the crunchy pieces of nut really elevate it. If you've tried Turkish Delight and found the texture a bit weird, try a version with something inside it to offset the jelly-like chewiness.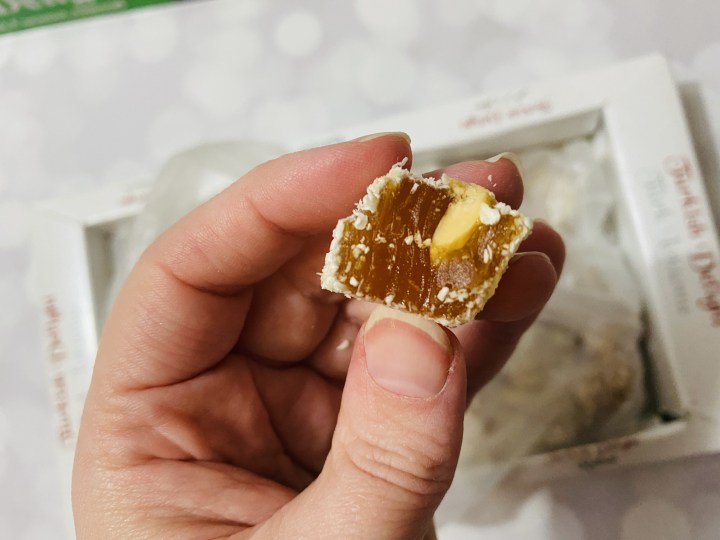 Here's how it looks like inside. This Turkish treat is definitely tasty!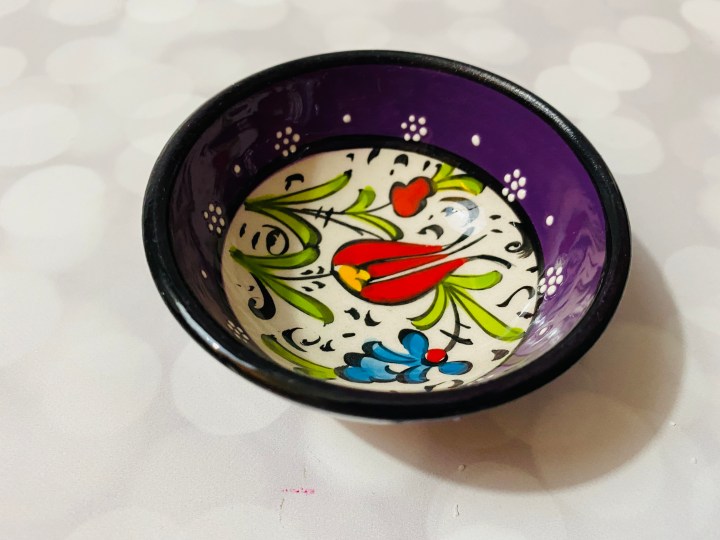 Tulip Dish — The tulip is most commonly associated with the Netherlands but the flower was actually imported from Turkey! I love the bright colours of this little dish, perfect for storing loose change, earrings, or other small trinkets.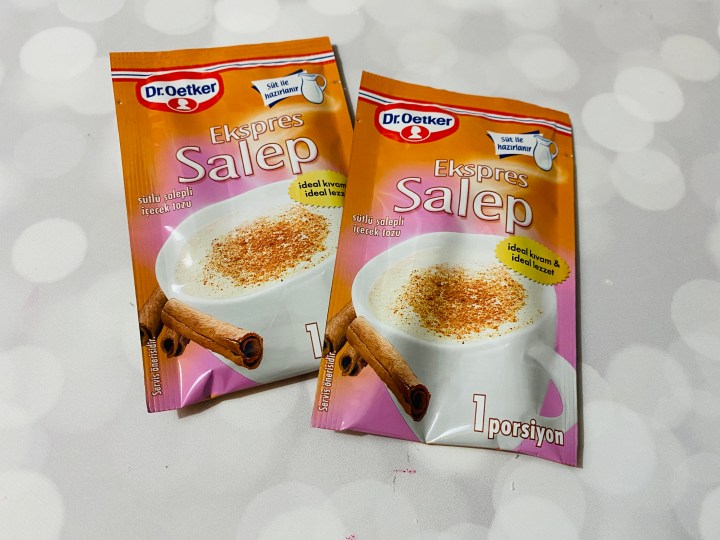 Salep Drink — Salep is a traditional drink made with the flour of wild tubers that are found in Turkey. The flour thickens the drink, which is then garnished with cinnamon.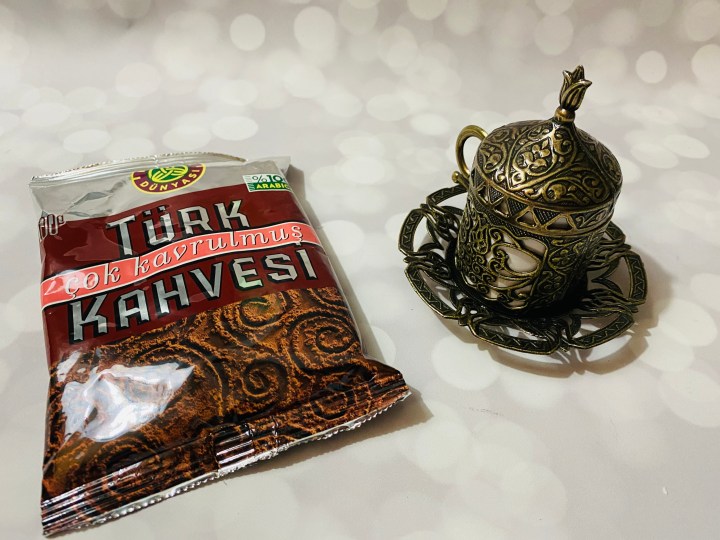 Turkish Coffee and Cup — Turkish coffee is famous for its strength and flavour. I'm not a coffee drinker myself so I was excited to gift this to my coworker who loves coffee to get her impressions. I kept the cup for myself!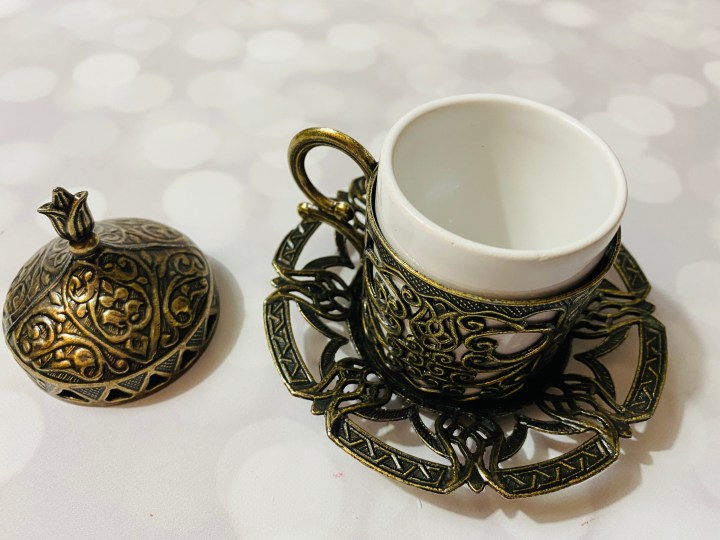 The ornate cup is meant to prompt you to slow down and enjoy your cup of coffee. I absolutely love the floral design on the lid!
Biskrem Extra Cookies — This pack of rich chocolate cookies with a gooey chocolate center are apparently popular in Turkey. I had already overindulged in snacks so I brought these in to work to share with my coworkers. They are SO chocolately! Definitely a great cookie to enjoy with your coffee, as they're pretty sweet!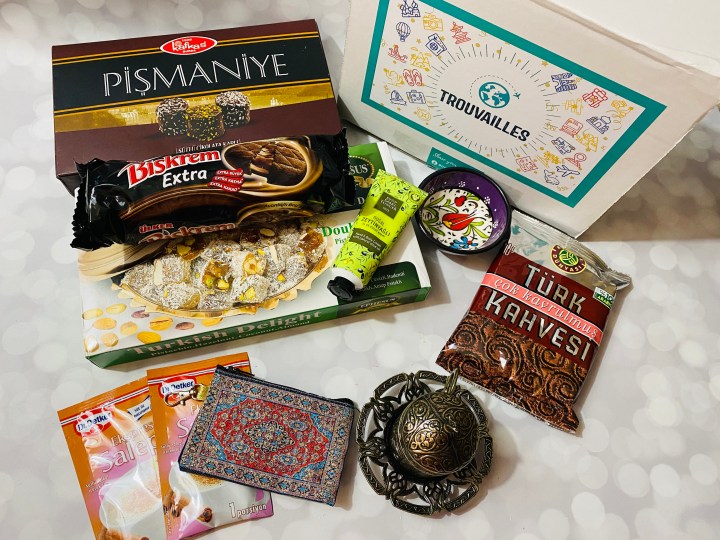 Here's a final look at all the goodies from the Turkey box!
Traveling may be hard right now, but at least there's a fun a box like Trouvailles that helps feed my travel bug! This month's box took me to Turkey, through delicious local treats like the Turkish Delight and beautiful handicrafts similar to those you will see in a bustling bazaar. They didn't forget to add some Turkish coffee as well. I might not be a fan of coffee, but it's not a Turkey themed box without this drink! The addition of the postcard is a great way to reinforce the travel theme. I also enjoyed reading the booklet which is filled with information about the country. Overall, I absolutely loved how authentic and fun this box was. If you are interested in travel or just the culture of other countries, you can't go wrong it!
What do you think of this subscription? Did you like the items from Turkey?