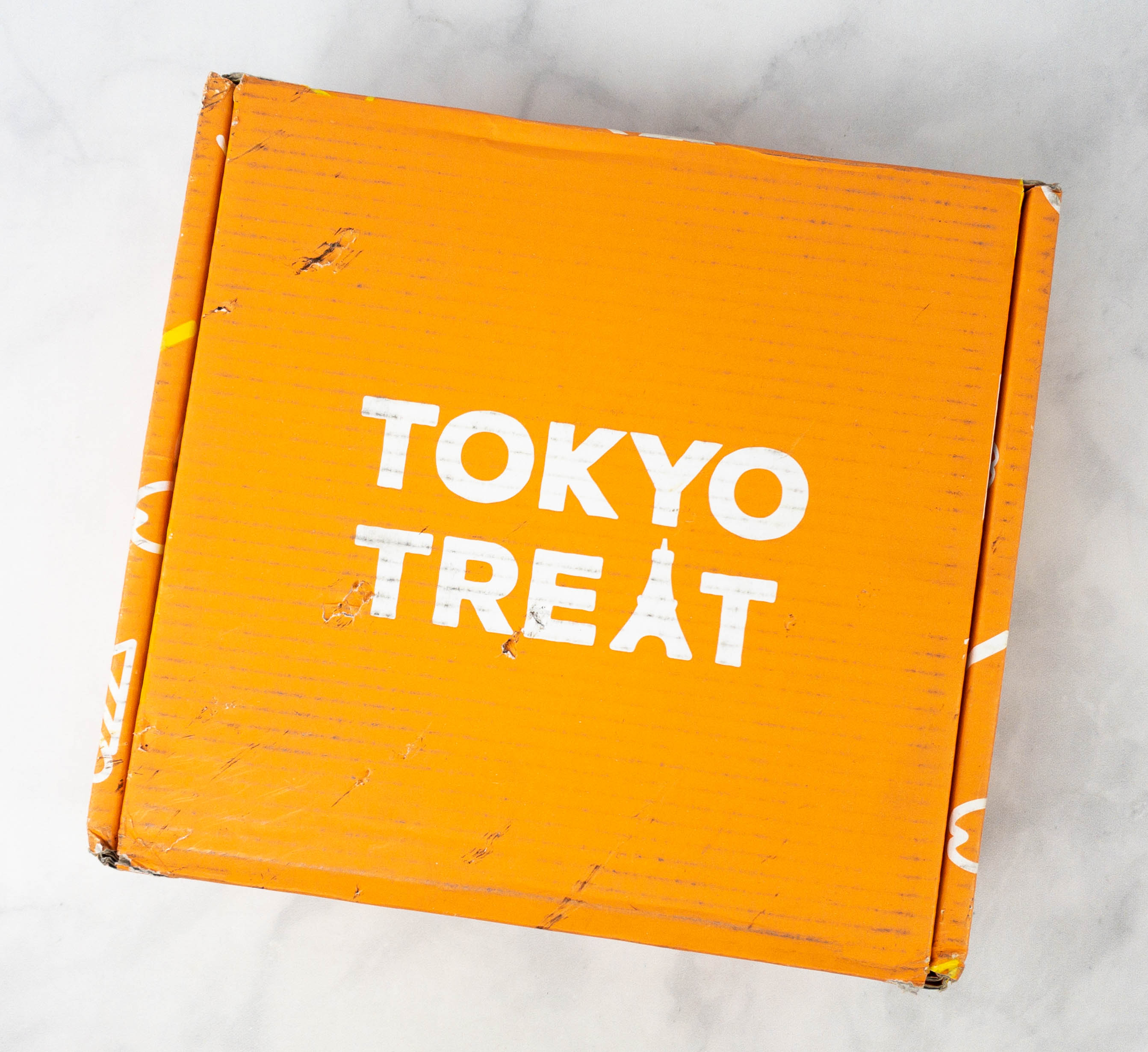 Tokyo Treat is a monthly Japanese snack and candy subscription box that is shipped directly from Japan. Tokyo Treat's Japanese snack and candy subscription box is a reader fave and made the list in our 2021 readers' choice picks of best snack and candy subscription boxes!
There are two box sizes — Classic ($25) and Premium ($35). As always, shipping is free worldwide.
The Classic box includes 12 items altogether — 4 popular snacks, 4 share packs (new), 2 dagashi snacks, 1 DIY candy kit, and 1 kinosei (quirky) snack.
The Premium box includes 17 items — 5 popular snacks, 1 party pack (new), 4 share packs (new), 3 dagashi snacks, 1 anime snack (new), 1 DIY candy kit, 1 kinosei snack, 1 drink.
This is a review of the Premium box.
DEAL: For a limited time only, use the coupon code SAKURA2021 at checkout to get FREE Starbucks Sakura Bonus Gift!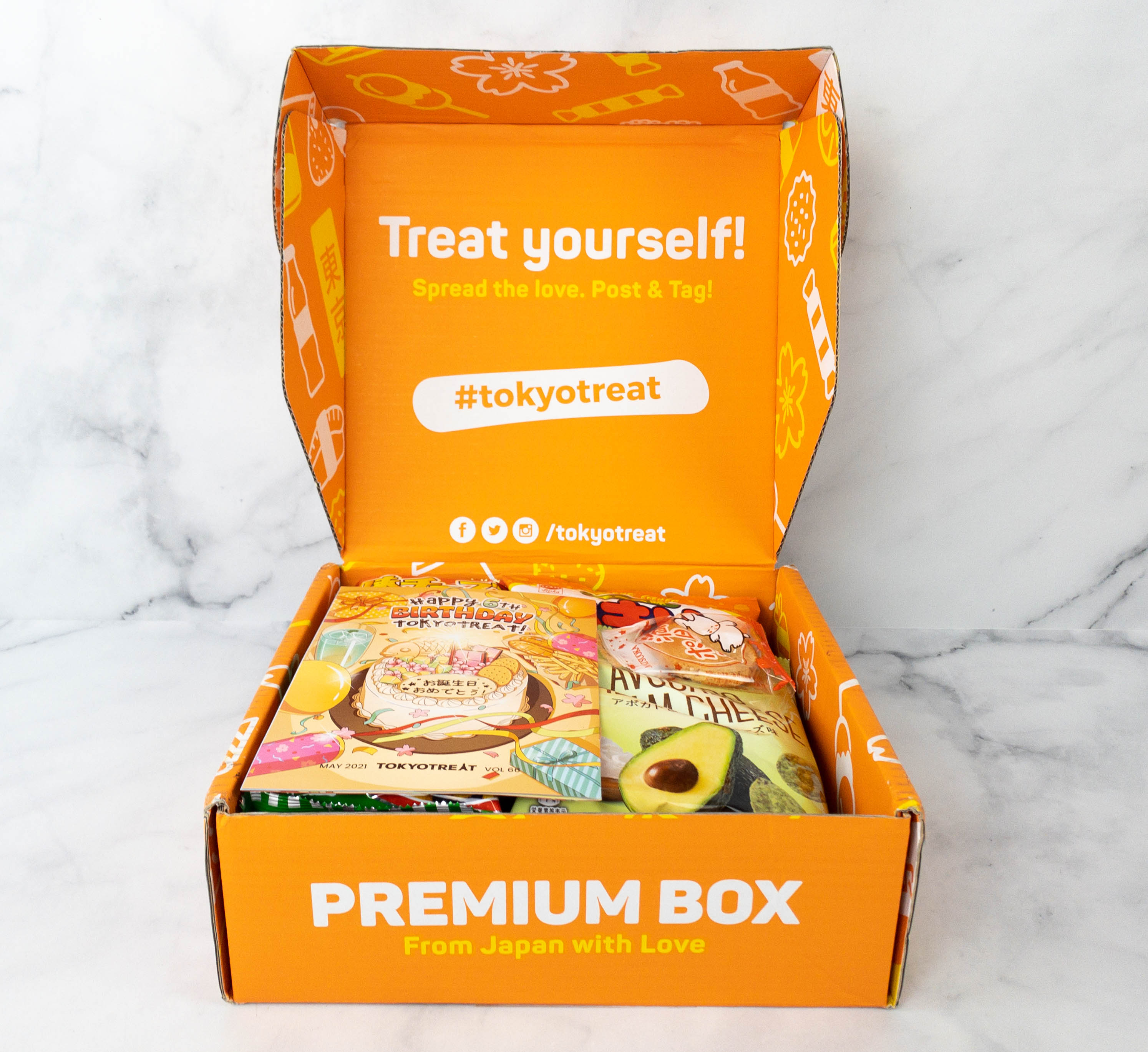 A booklet sits on top of the snacks.
The box is jampacked, as always!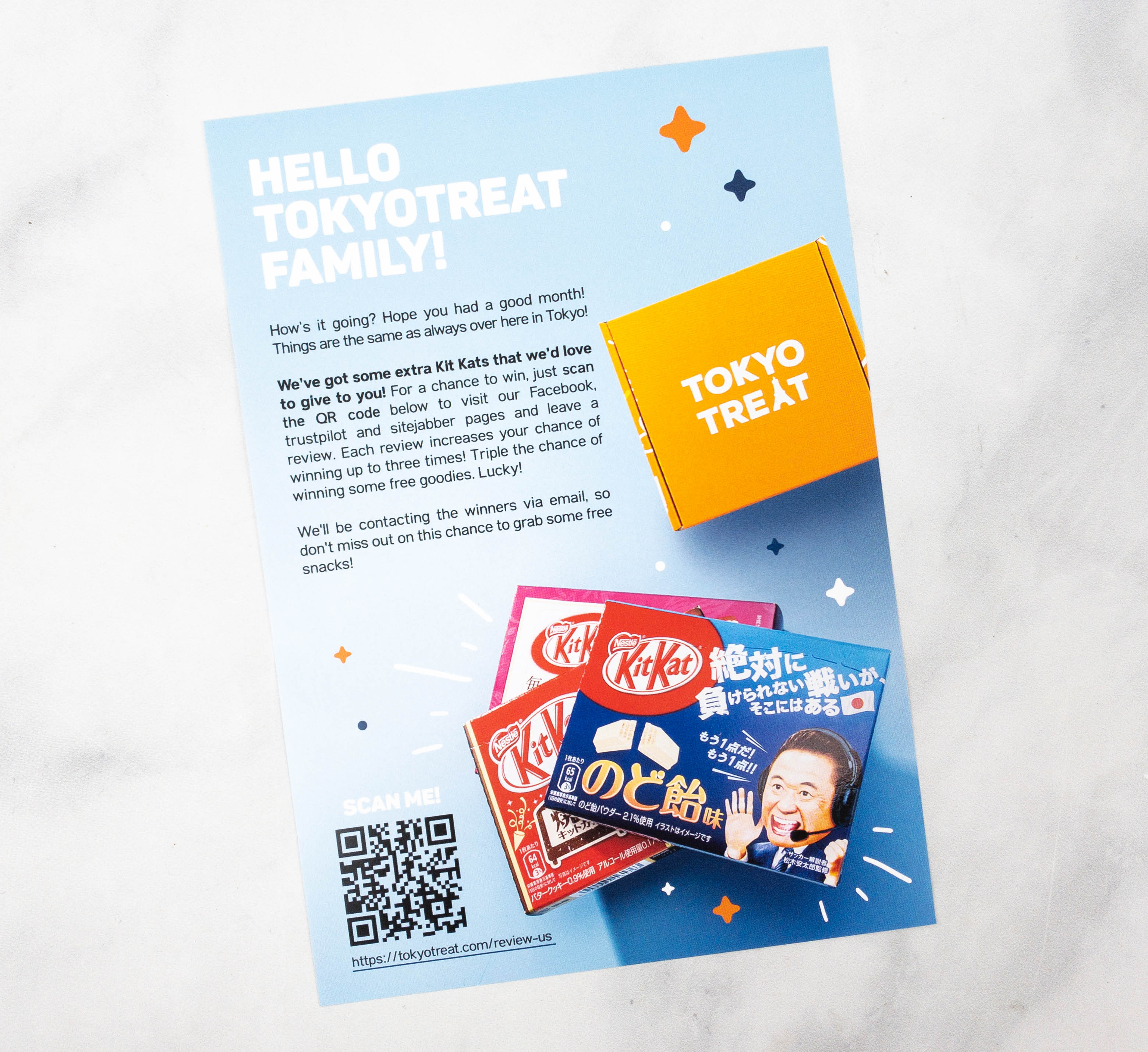 Here's an announcement about a giveaway where you can get a chance to win free KitKat products.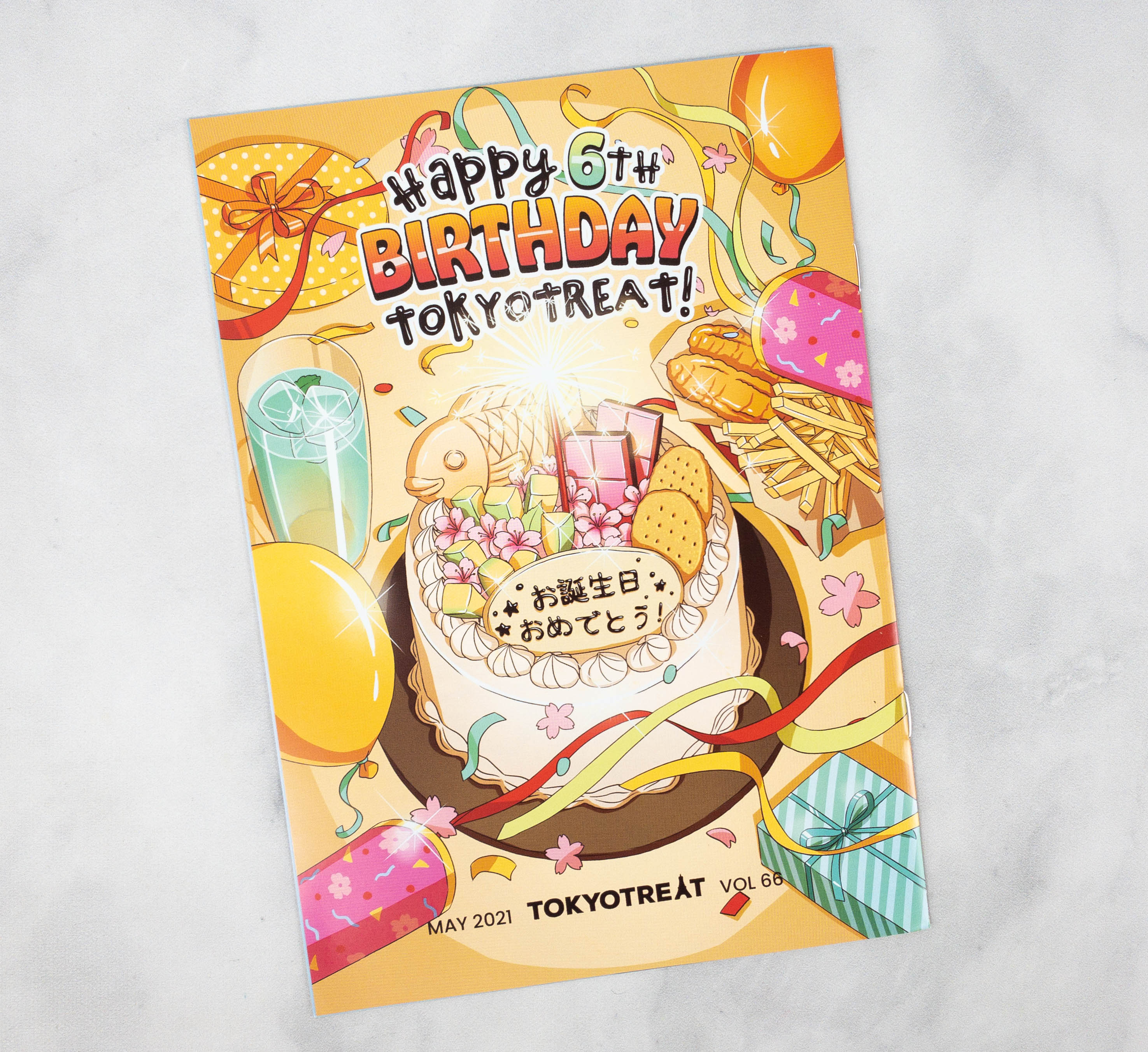 This month's theme is HAPPY 6TH BIRTHDAY TOKYO TREAT!
They provided a QR code that subscribers can use to claim their streak and get sweet rewards! Subscribers earn a streak with every consecutive month that they subscribe.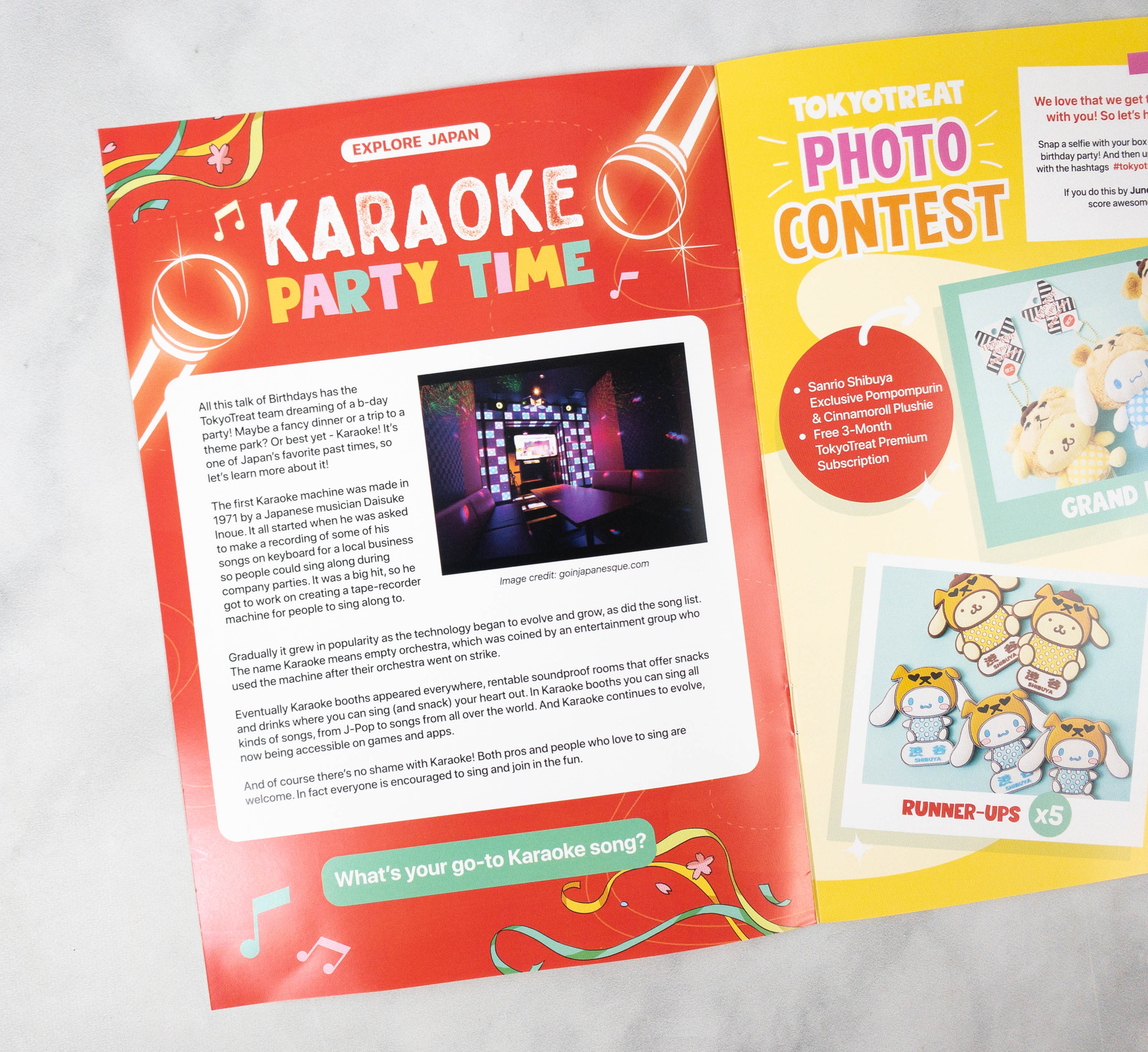 This page has an article about Karaoke, one of Japan's favorite past times.
The booklet also has a list of all the items in this month's box!
Everything inside my May 2021 box!
Mini Strawberry Milk Choco Balls. These small candies contain a yummy combination of strawberry and milk chocolate. They come in a foil wrapper, which makes them easy to pack in a bag or pouch.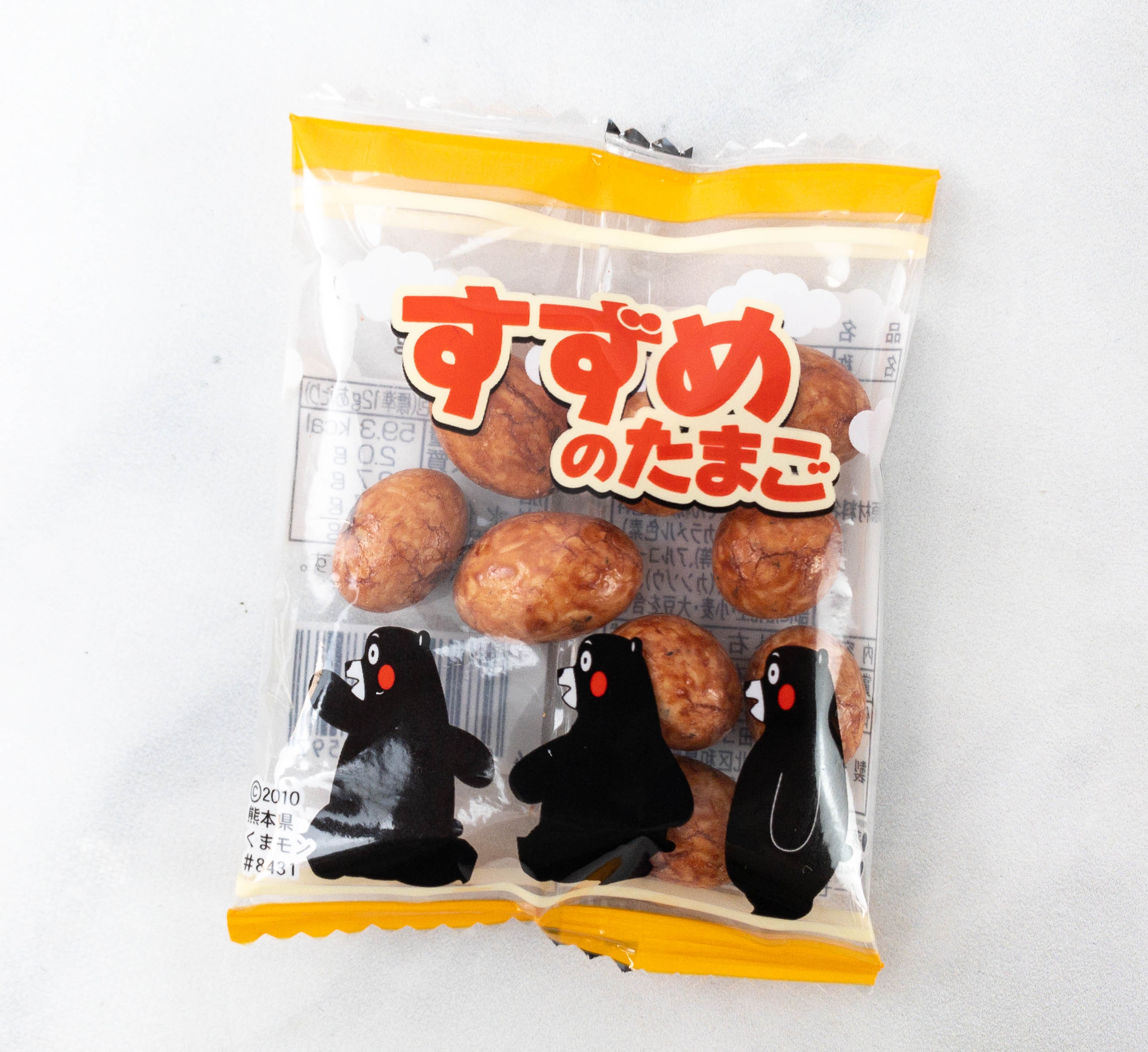 Sparrow Egg Crackers. This unique snack is made with a sweet and spicy soy sauce flavored cracker. It's shaped like an egg and there's also a crunchy peanut inside!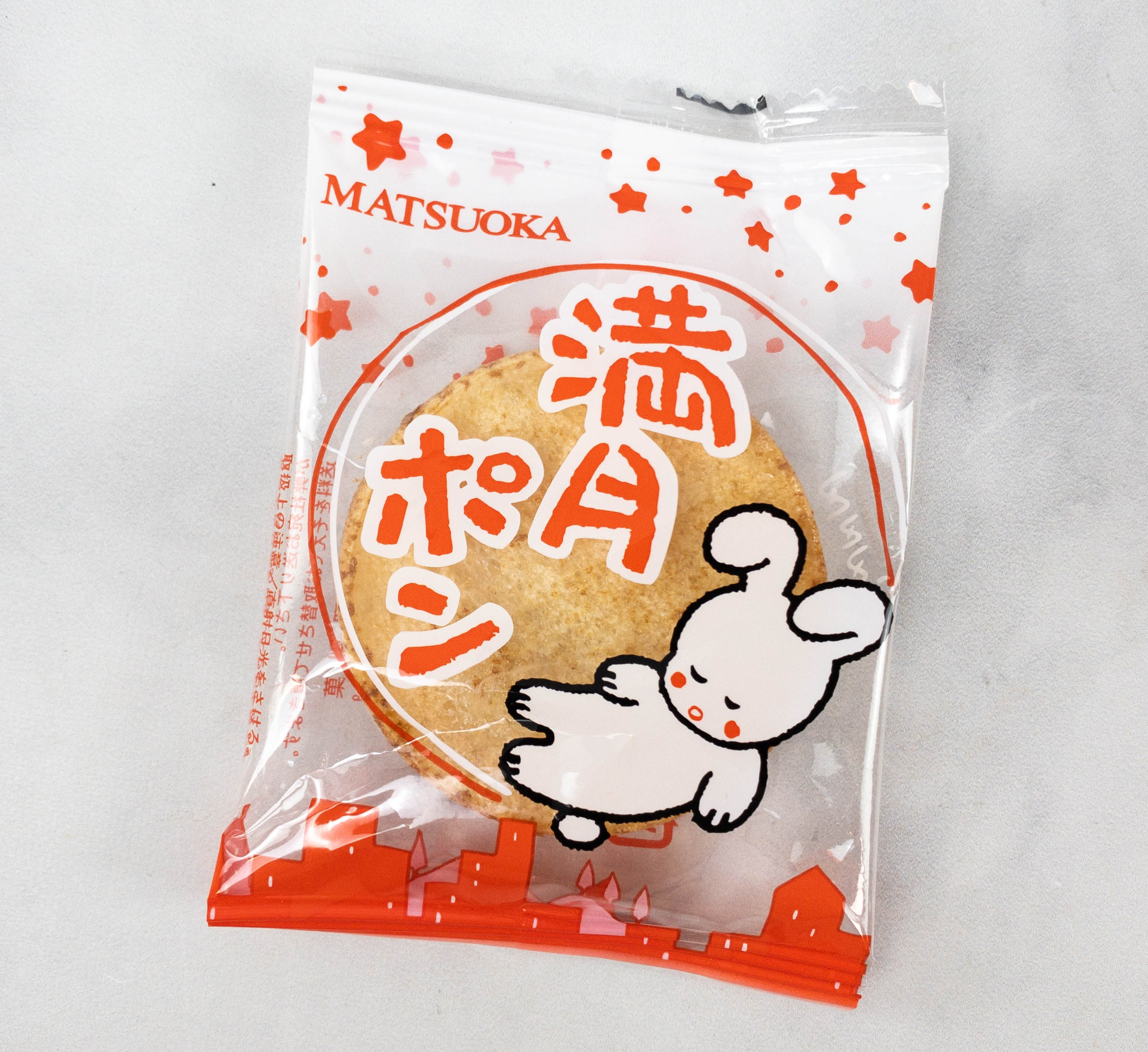 Full Moon Pon. Another cracker snack in the box resembles the shape of the moon. It has an irresistible sweet soy sauce flavor plus a crunchy texture!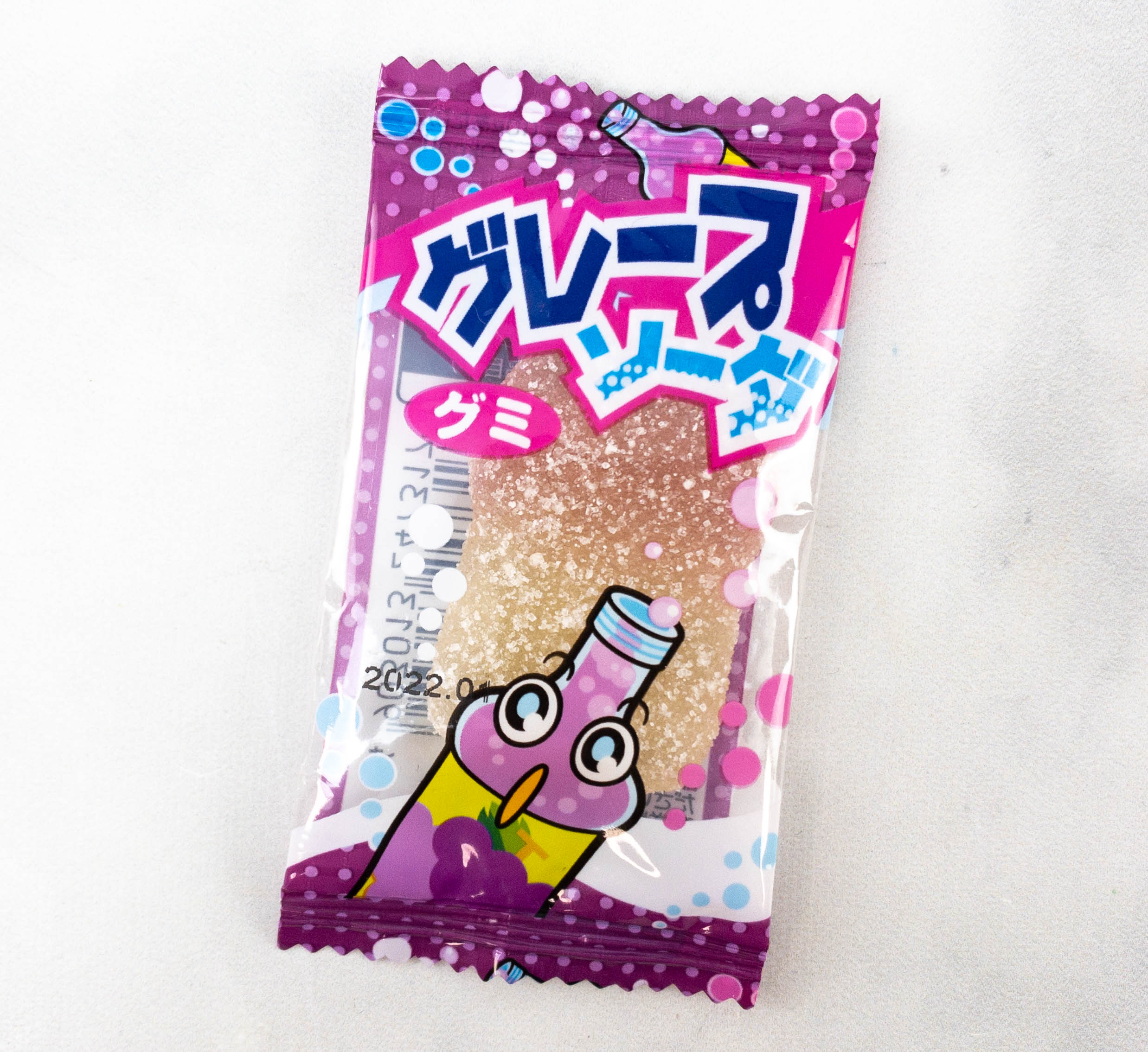 Grape Soda Gummy. This gummy candy is bursting with grape and soda flavors, making it fruity and sweet at the same time. It's also soft and chewy!
The King's Melon Pan. It's a pack of cookies with a luscious chocolate cream and an irresistible melon scent! They are great when you're craving for something sweet and filling.
Maple Syrup Hot Cakes. These bite-sized Japanese hotcakes make yummy breakfast snacks. They even come with maple syrup cream filling, for an added sweetness. You can even heat them up and serve them warm!
Cabbage Taro. This puffed corn snack is said to be popular in Japan because of its savory taste and satisfying crunch. Each piece is perfectly seasoned with aonori seaweed and Japanese sauce. It's also light and easy to eat!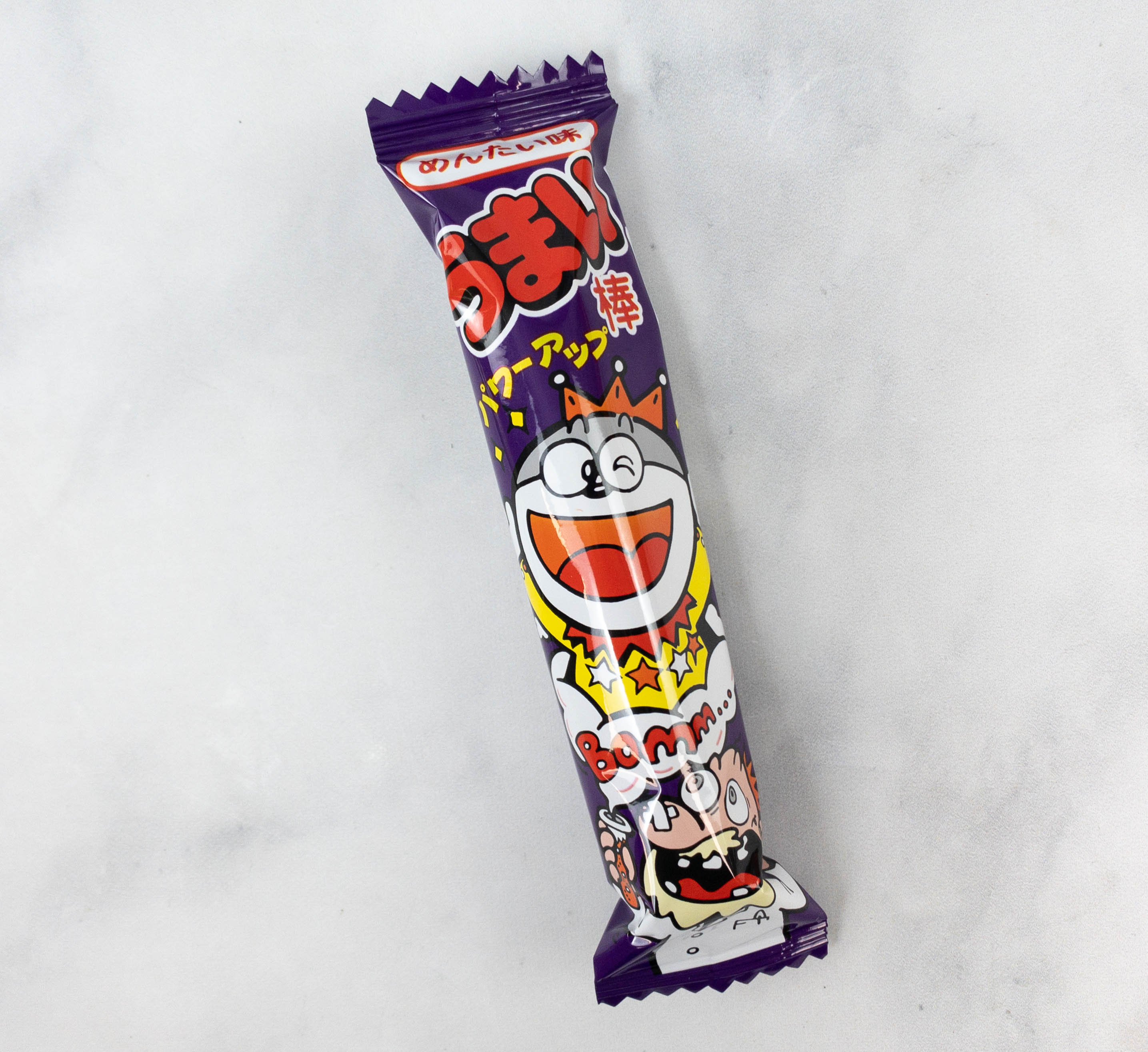 Umaibō Mentai Flavor. A Tokyo Treat box will not be complete without an umaibo, a puffed corn stick! This month's featured umaibo features a mentai (pollock) flavor. It's really savory, with a kick of chili as well.
Texas Corn Potage Snack. They took the flavors of a Japanese corn soup and transformed it into a crunchy snack that you can enjoy anywhere. This is really an addicting snack because of its creamy and savory flavor.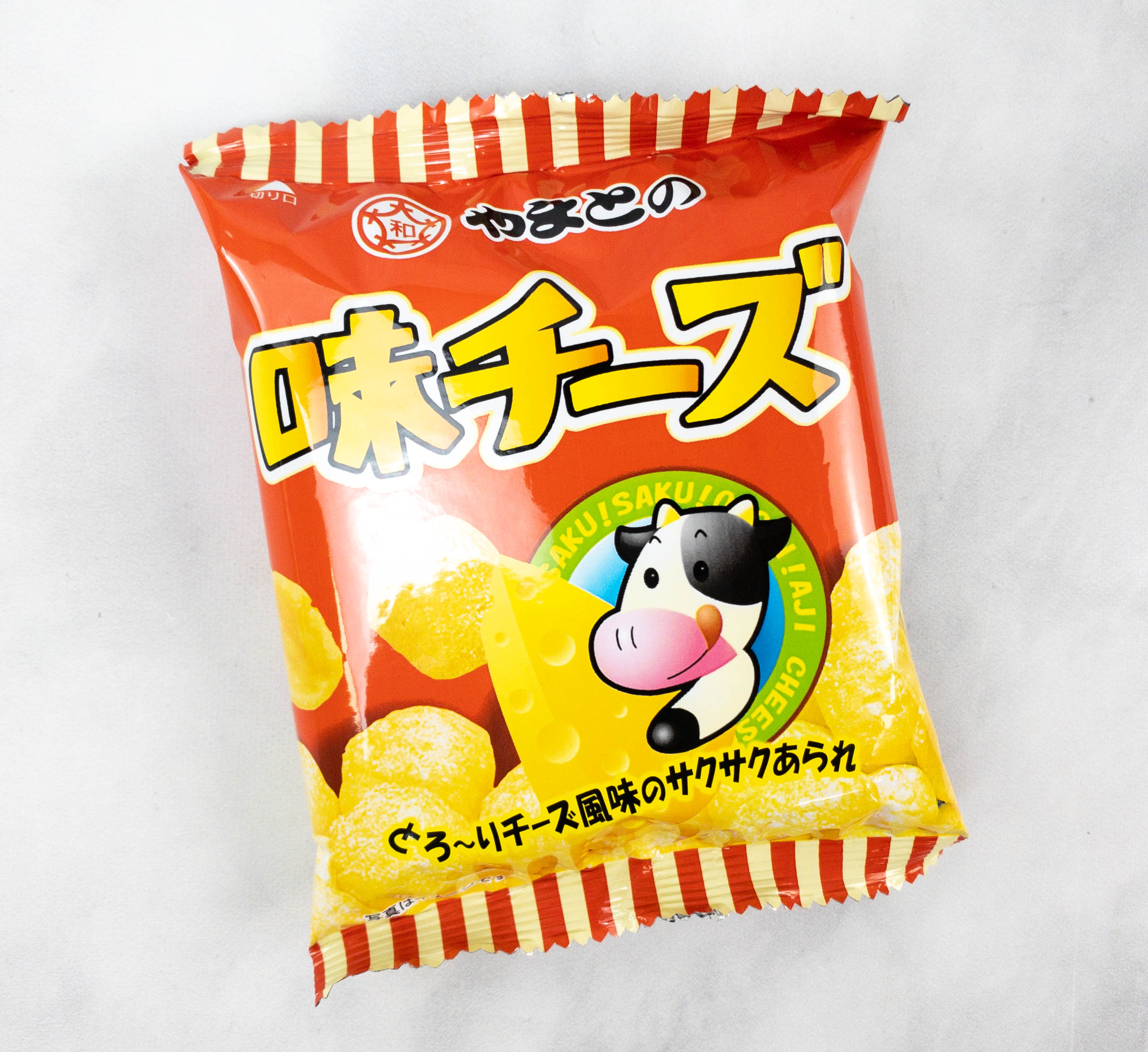 Aji Cheese. The box also includes a snack for the cheese lovers. These are puffed snacks, and they're perfectly crunchy. The cheesiness is also on point. They'd be great to munch on while watching a movie!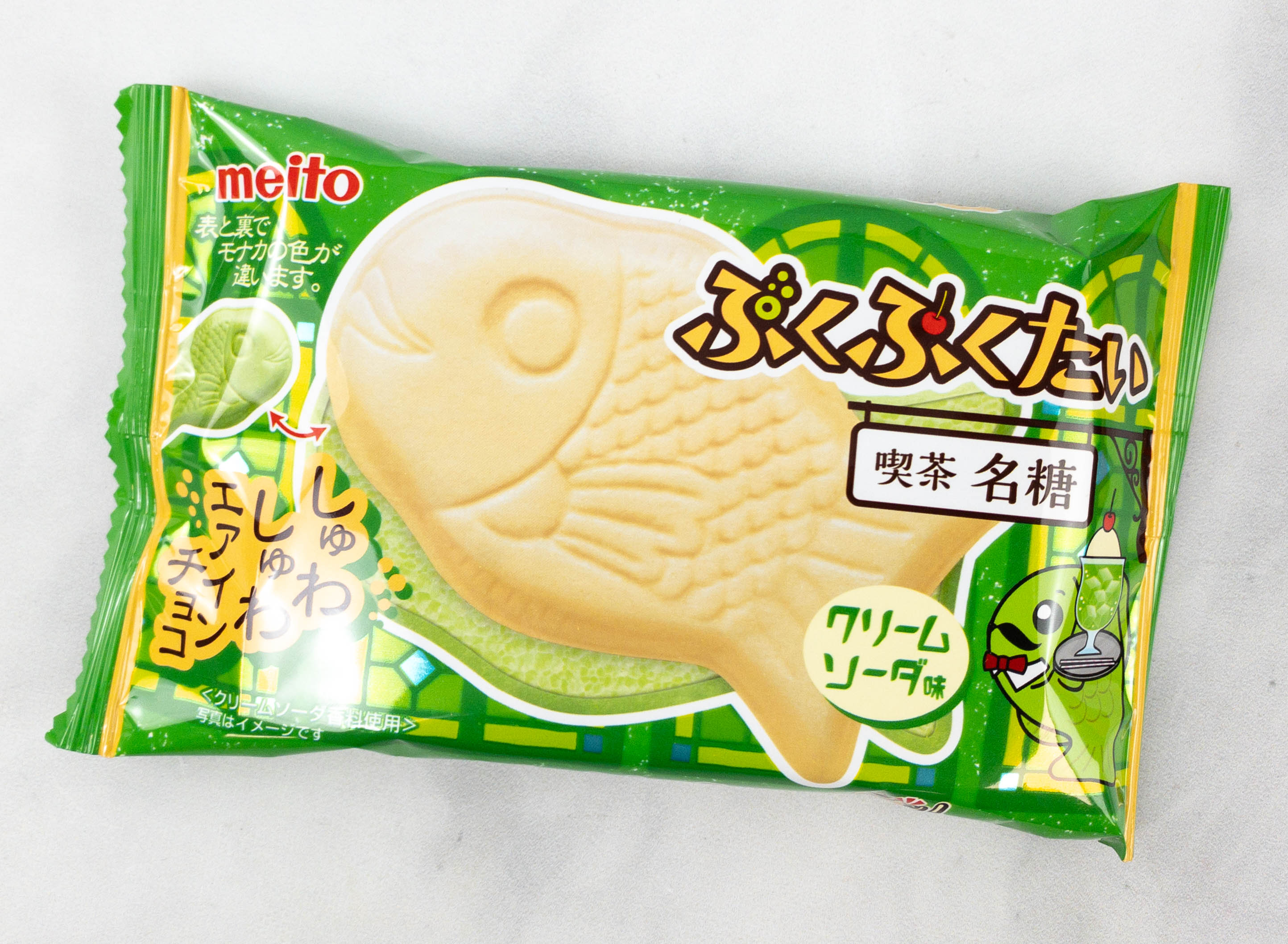 Bubbly Taiyaki Melon Soda Flavor. Taiyaki is a popular fish-shaped Japanese snack. This is the wafer version, featuring a green wafer on the outside and an airy watermelon flavored filling on the inside. It's so sweet and creamy, I can't get enough of it!
Tirol Choco Sakura Mochi. I also received a pack of chocolate bites with a sakura-flavored mochi inside. They are sweet, with subtle floral notes. The texture is also pretty good because of the sticky mochi center.
Frito Lay Avocado Cream Cheese Tortilla Chips. These tortilla chips are yummy even without a dip. They taste exactly like avocado topped with cream cheese, plus they are satisfyingly crunchy!
Umai Rings Cheese Flavor. These are similar to umaibo, except they're cut up in smaller pieces so they look like rings. They come in a cheesy flavor and munching on them is a delight!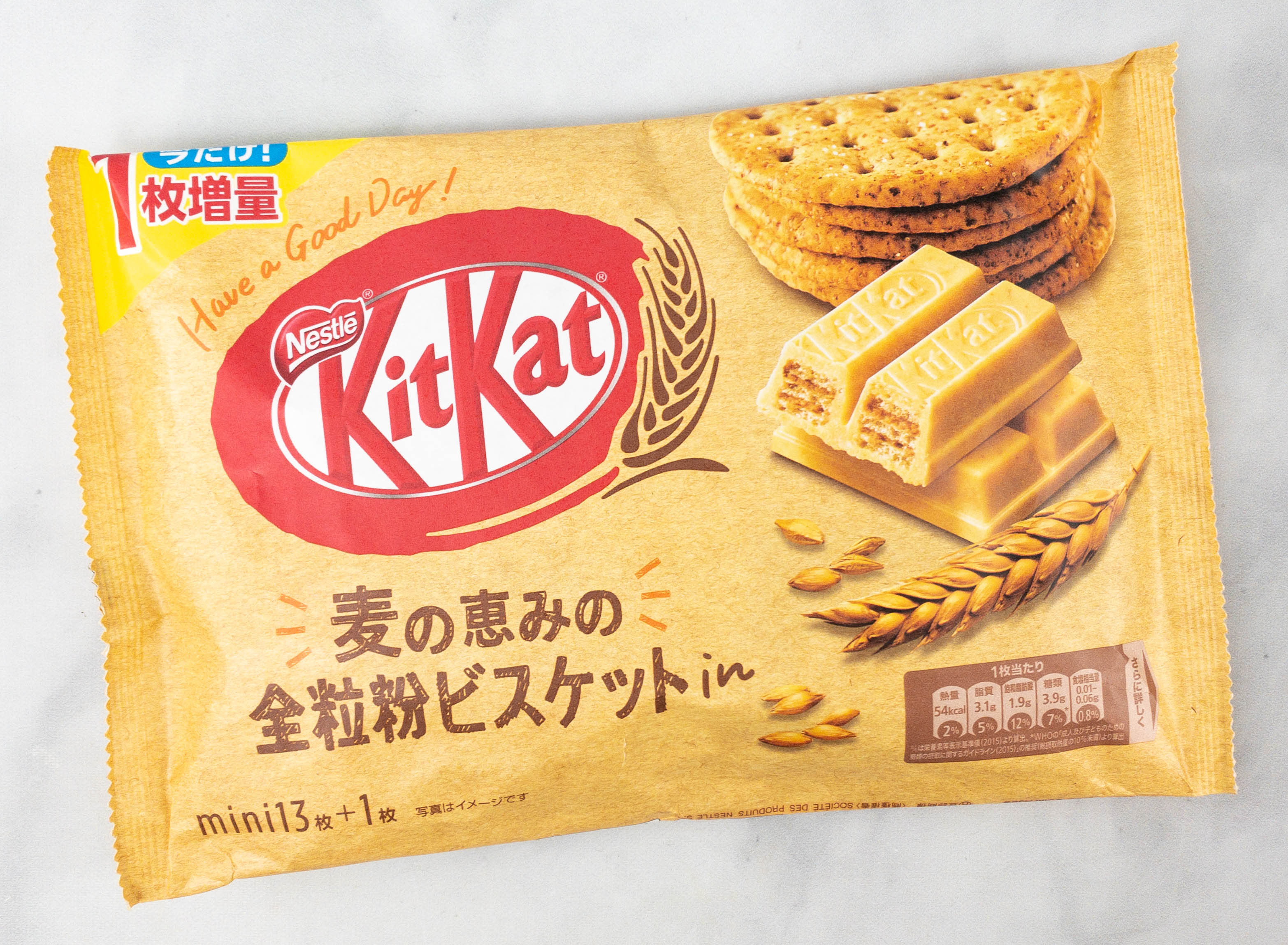 KitKat Whole Grain Biscuit. I love receiving new KitKat flavors from this box! This variant is another first for Japan. This time, they used light and crunchy whole grain biscuits and combined it with their signature chocolate coating – this time with a sweet wheat flavor!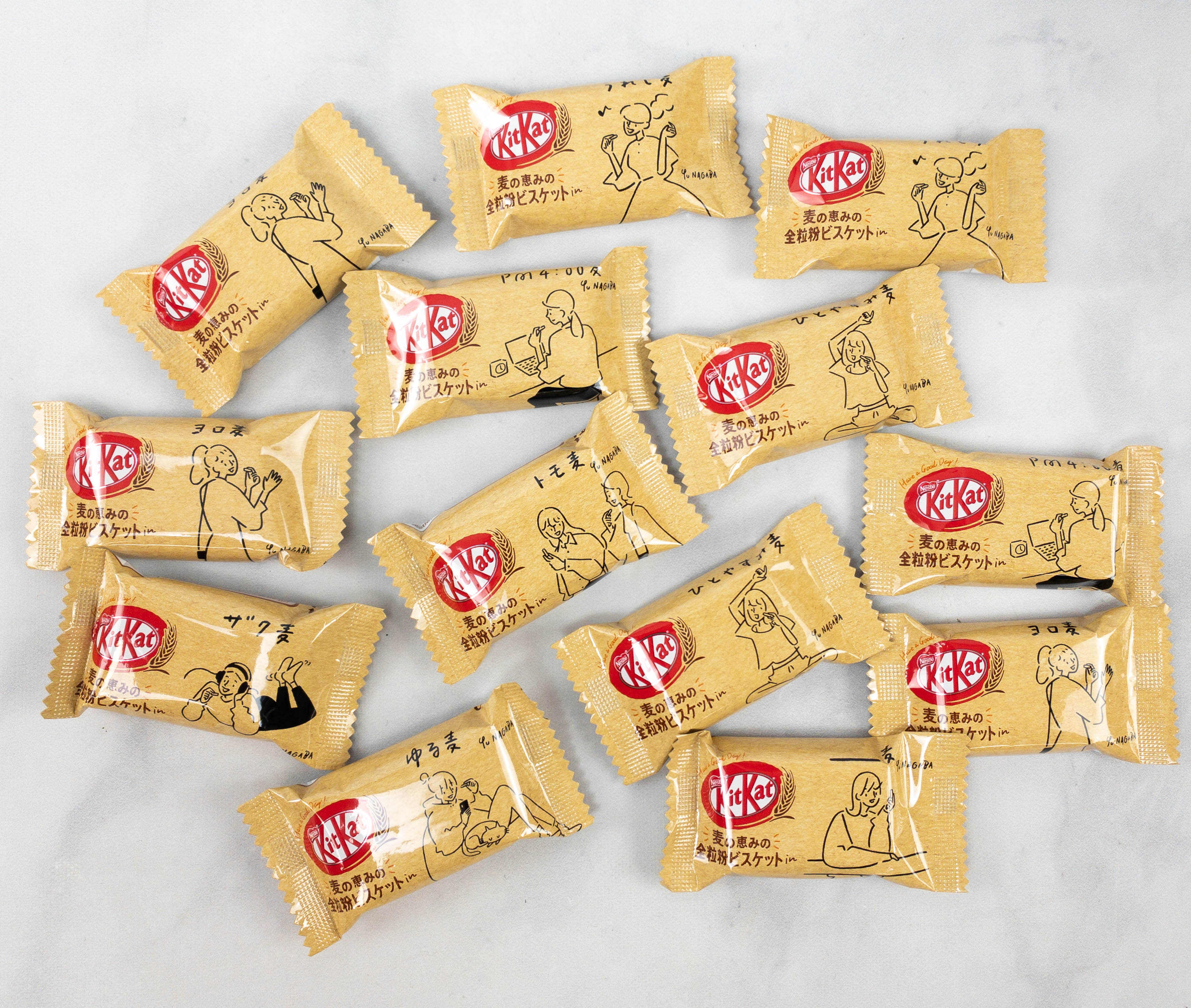 As always, they are packed individually to maintain freshness. These are also great to share with friends and family.
Cheerio Kiss Choco Mint Soda. This month's featured beverage is a refreshing soda infused with the flavors of chocolate and mint. It's a seasonal exclusive drink and I'm happy to be able to try it through this subscription. It didn't disappoint because the flavors are strong, and they complemented each other well.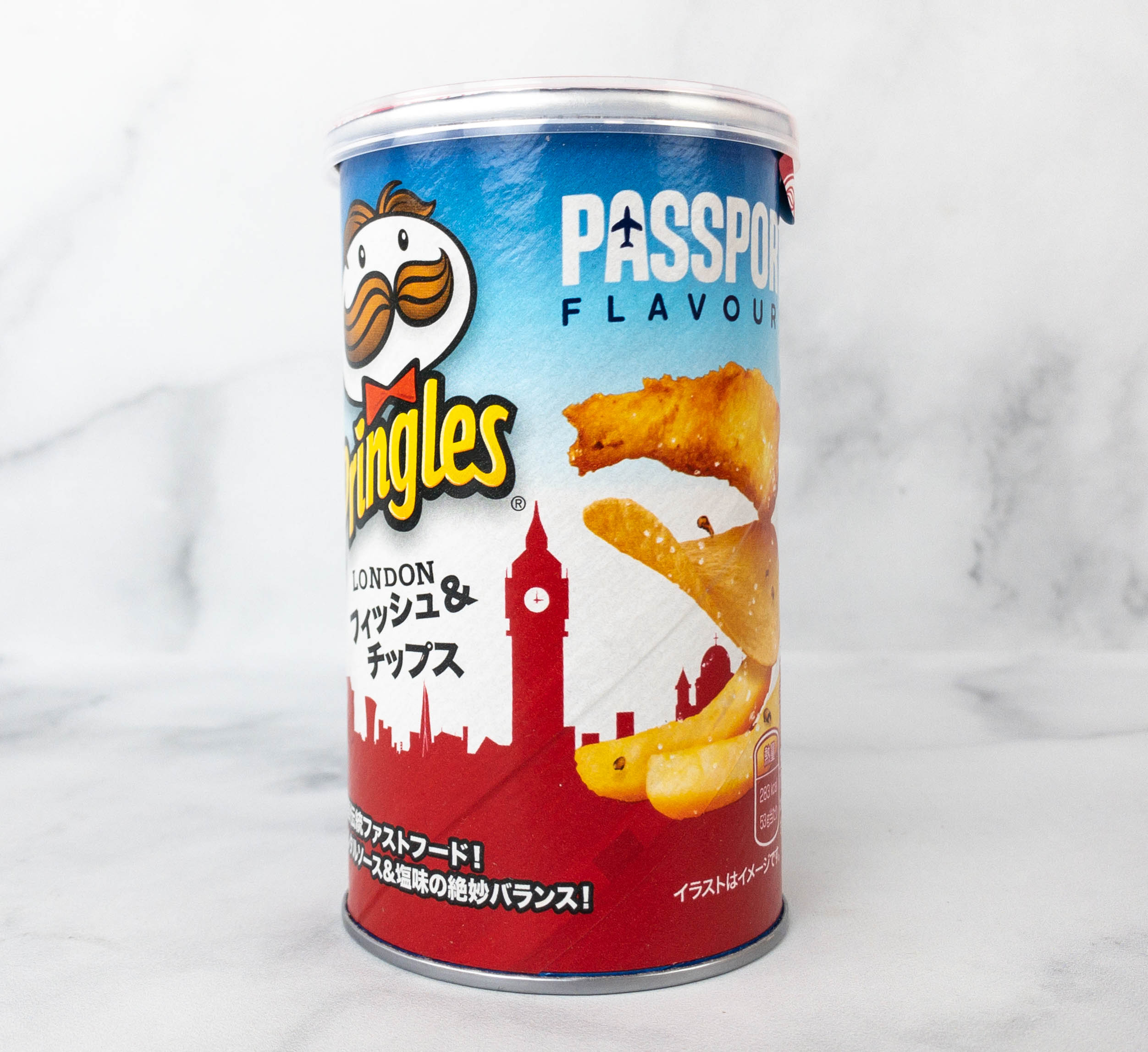 Pringles Fish and Chips Flavor. Here's a fish and chips inspired Pringles for a savory finale to this month's box! The traditional oval shaped chips also have hints of tart tartar sauce to balance the blend of flavors on every piece.
Tokyo Treat's 6th birthday box was awesome! It includes favorites from previous boxes, plus some limited edition snacks. The variety is really great, as it included everything from bread to chips to chocolates and candies. My favorite is the individually wrapped KitKats featuring a delicious whole grain biscuit flavor. It actually reminds me of Graham crackers. I also liked the avocado and cream cheese flavored chips and the cheesy puffs! Since this is the Premium box, I received a drink to go with my snacks. It's right up my alley as I'm a big mint choco fan. Overall, this is another jampacked box and a great curation to celebrate the subscription's anniversary!
What did you think of this month's Tokyo Treat?