We have May 2021 spoilers for Stickii's sticker subscription clubs! Join by 5PM Pacific on the 7th!
Welcome to the "Cat Café," our Cute theme for May! 🐈☕️🥐 Have a seat at the counter and check out the menu of cute cats and tasty treats!

☕️ Stay hydrated with a selection of candy-colored drinks sporting adorableness from @leendoodles

Indulge your sweet tooth with pastel cake rolls 🍰, croissants, and visiting bunnies from @banban.cuties cuties (with a matching memo pad!)

☕️ Watch your drinks around these mischievous kitties by @loststreetkat who love to make themselves at home in desserts and mugs of matcha. The matching stamp features one overzealous cat who has taken "if I fits, I sits" to a new level!

😺 And last but never least, on a sheet exclusive to this pack, the ever-enterprising @pusheen of course runs her own cat café, serving only the highest quality ☕️ catpusheenos ☕️ to her friends.
Get ready to make reckless decisions in the name of learning – "For Science!" is our Vintage theme for May! 🔬⚗️🔭 Get ready to live out your most fervent Dr. Frankenstein dreams in sticker form!

🪐 Explore the universe in macro with black and white planetary stickers — maximum aesthetic for maximum astronomy.

⚗️Any good scientist needs their implements, so we're supplying you with these beauties. Anything with a microscope on it immediately looks 60% more science-y. (For example: this post 🔬)

👩‍🔬 Is there anything better than women in STEM? These scientists immortalized by @rachelbostickillustration in ornate frames are disseminating knowledge of the world around them in sticker and bookmark form.

🧪 Mundane daily notes suddenly become Serious Scientific Observations when written on the "In the Interests of Science" notepad. Is that a grocery list or supplies for your next experiment? (Or both!)

🧫 Finally, to put the finishing touches on any science-y masterpiece, coordinated washi stickers featuring microscope views, chemical formulas, skeletal
diagrams, and other motifs.
Water. Earth. Fire. Air. "In My Element" is the Pop theme for May! 💧🌍🔥🌬

🌱 All four elements get a chance from @maruti_bitamin with sheets dedicated to water, fire, earth, and air with their own distinct flair.

🌊 Bright blue ocean waves and sea creatures from @margottissot.ch are playful and fun, especially those wave cats! Plus an additional stamp of a envelope full of ocean waves – if only it was that easy to send the beach to your besties.

☄️ A notepad from @lele_melele starring an eight-legged tiger and the world's happiest fireball.
Stickii Club is $10 per month, and has 3 subscription themes you can choose from – Cute, Pop, and Vintage!
Check our Stickii Club reviews to find out more!
About Stickii Club: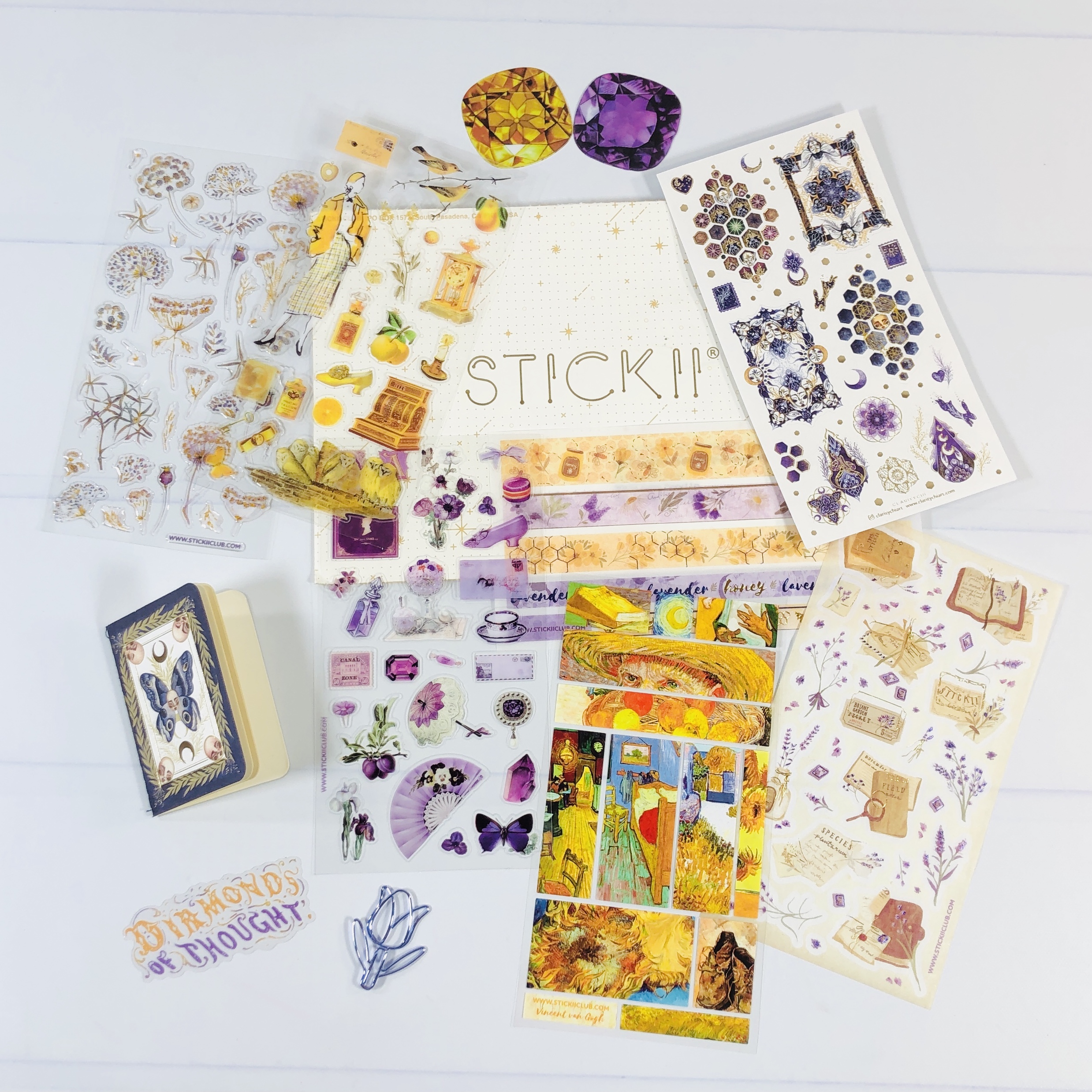 At STICKII, we're all about creating beautiful stickers for you to love that are more like miniature works of art. We have different subscription options so you can choose your packs based on which theme you like and get a cohesive set of stickers and stationery that is perfect for decorating your journals, cards, planners and anything else!