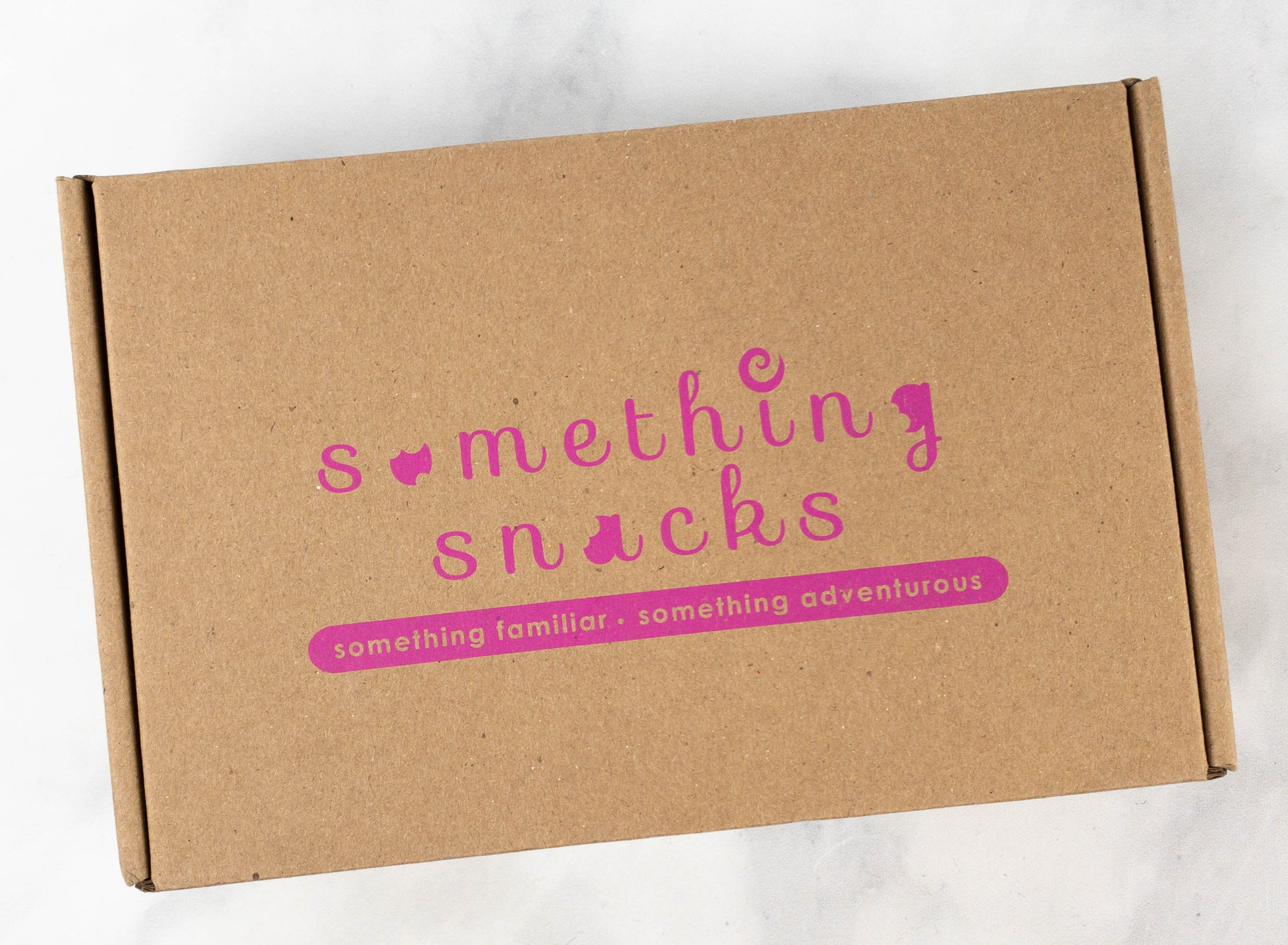 Something Snacks is a monthly snack subscription service. For $15.50 per month, the box has 7 hand-selected snacks including at least one sweet, one salty, one international, and one health conscious snack. You can also opt for a longer subscription plan to get discounts. For instance, a 6-month pre-paid plan is $14.50 per month, and a 12-month pre-paid plan is $168 is $14 per month.
DEAL: Get $3 off your first box! Use coupon code TRY3NOW.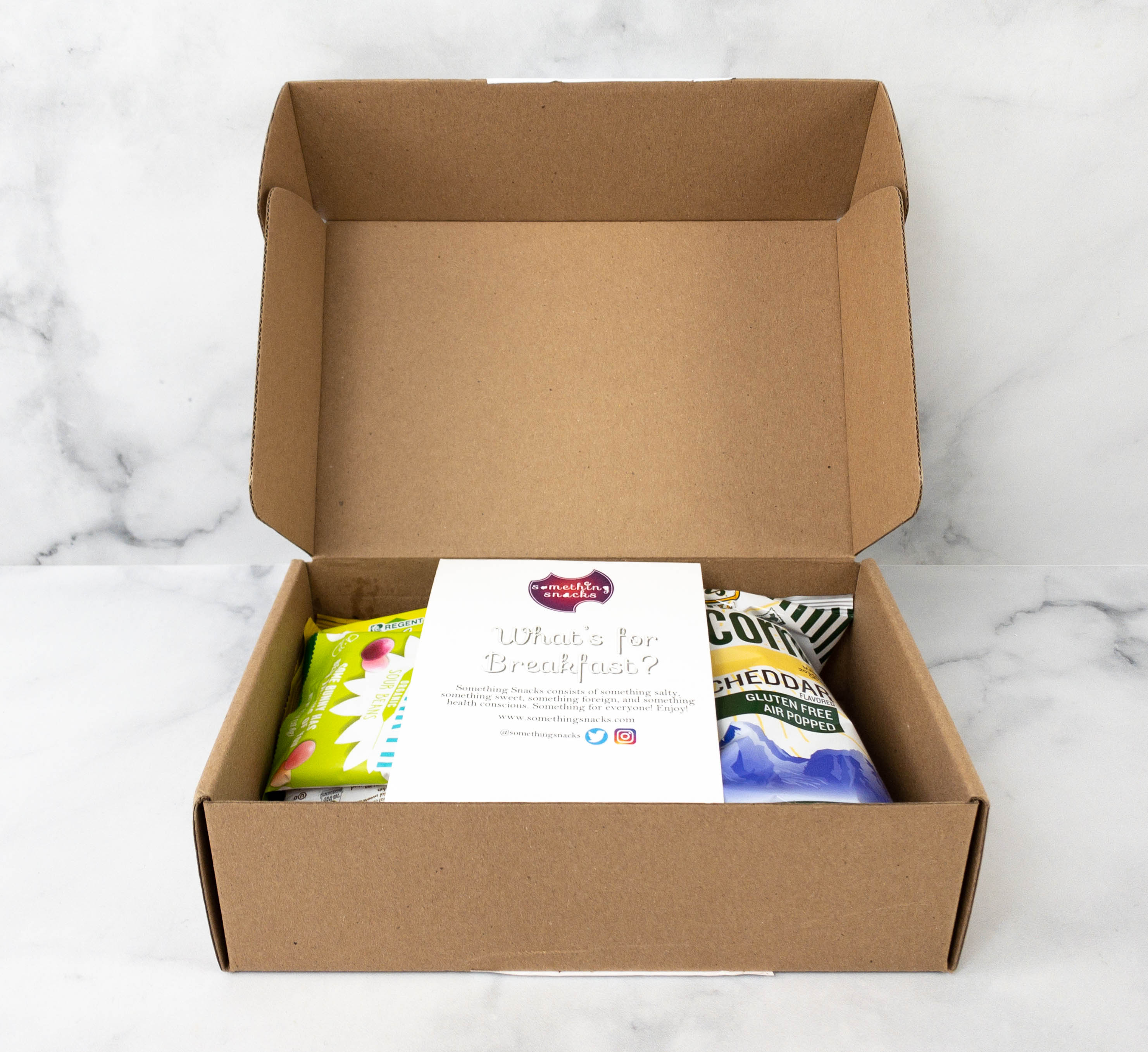 The snacks arrived in a simple brown box. It doesn't really matter, because what we're really looking forward to is the awesome variety of the snacks they send.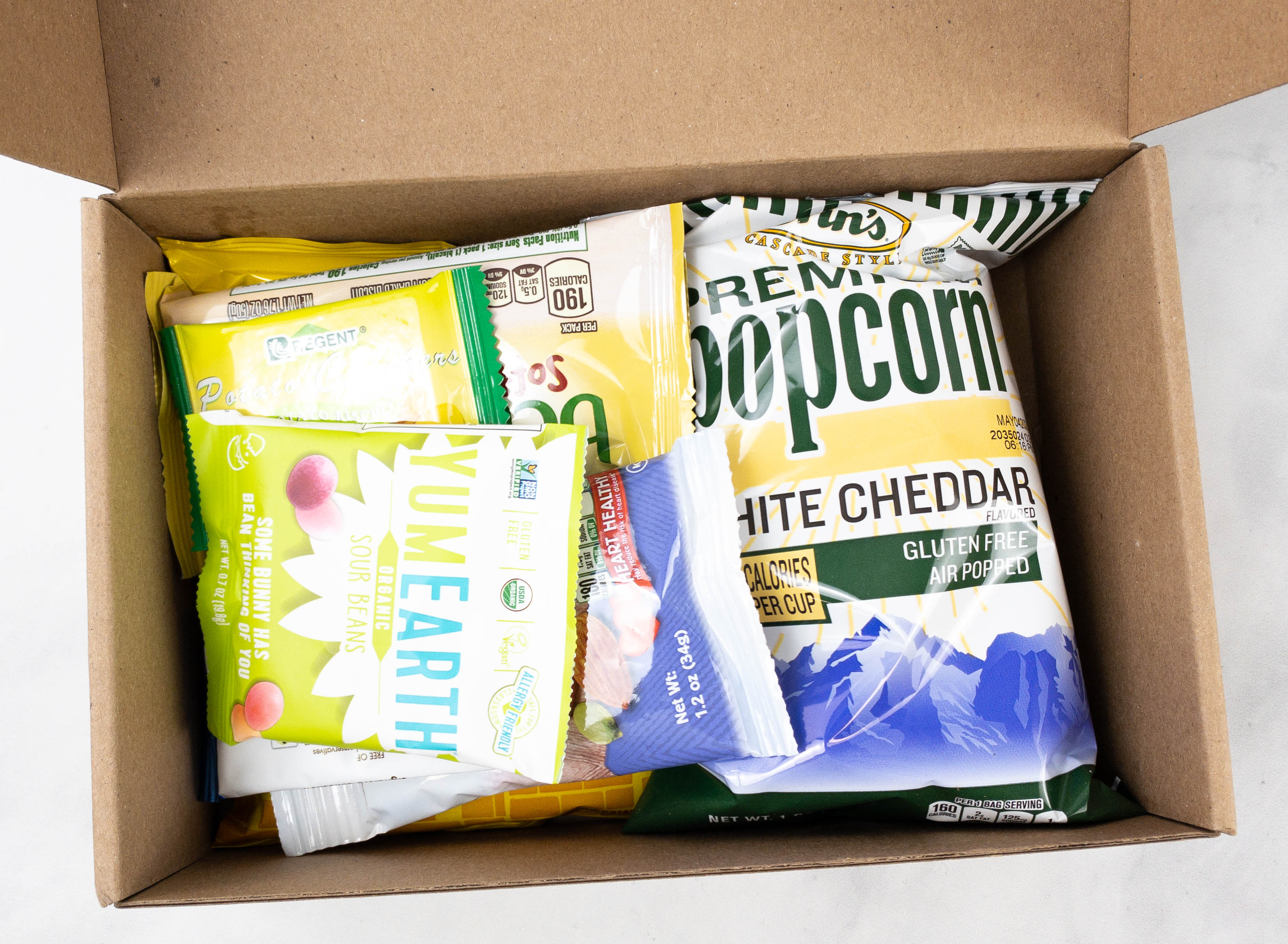 There's no extra packaging in the box, but everything arrived in great condition.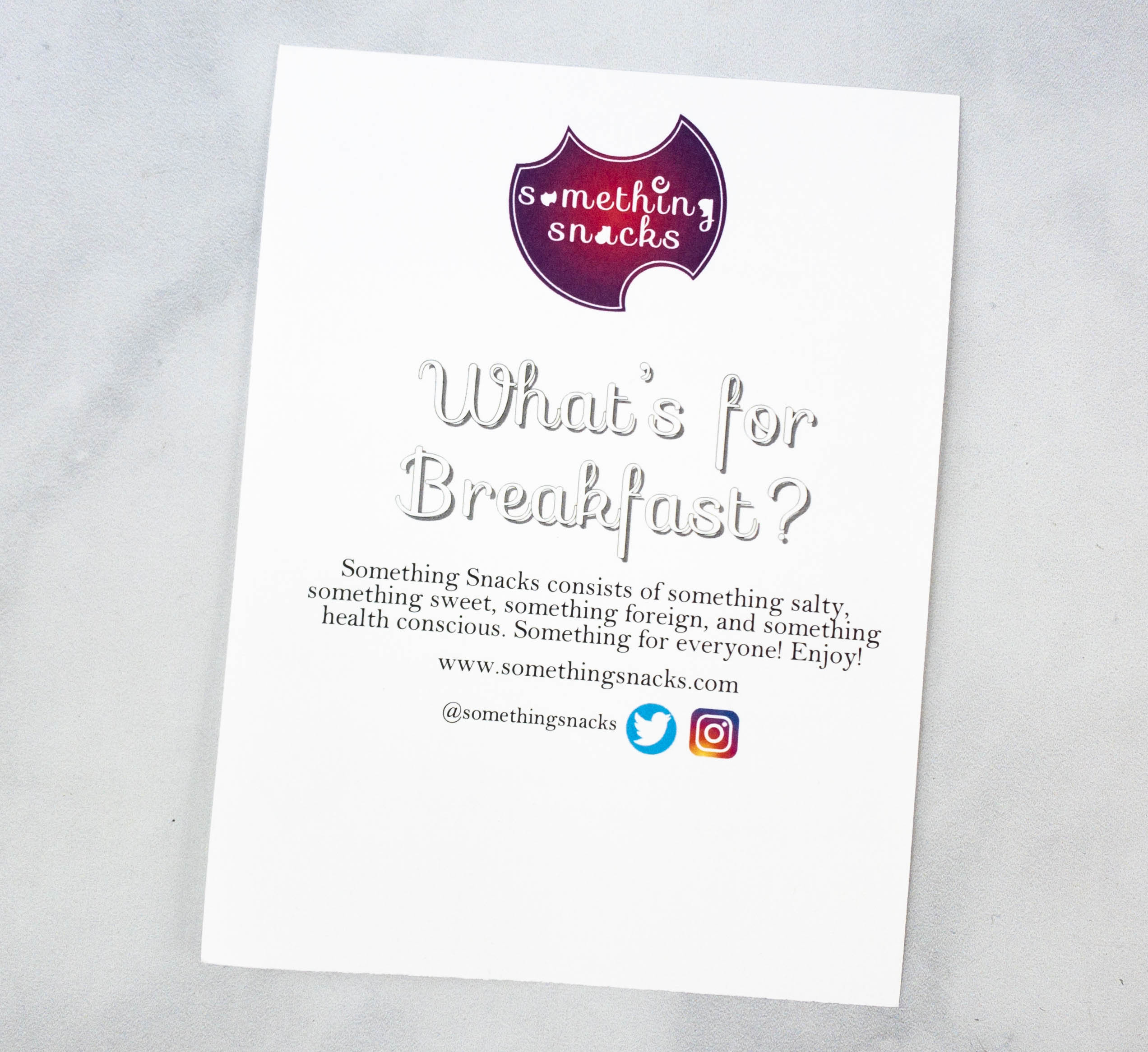 The box includes an information card.
The back of the card has a list of all the items inside the box.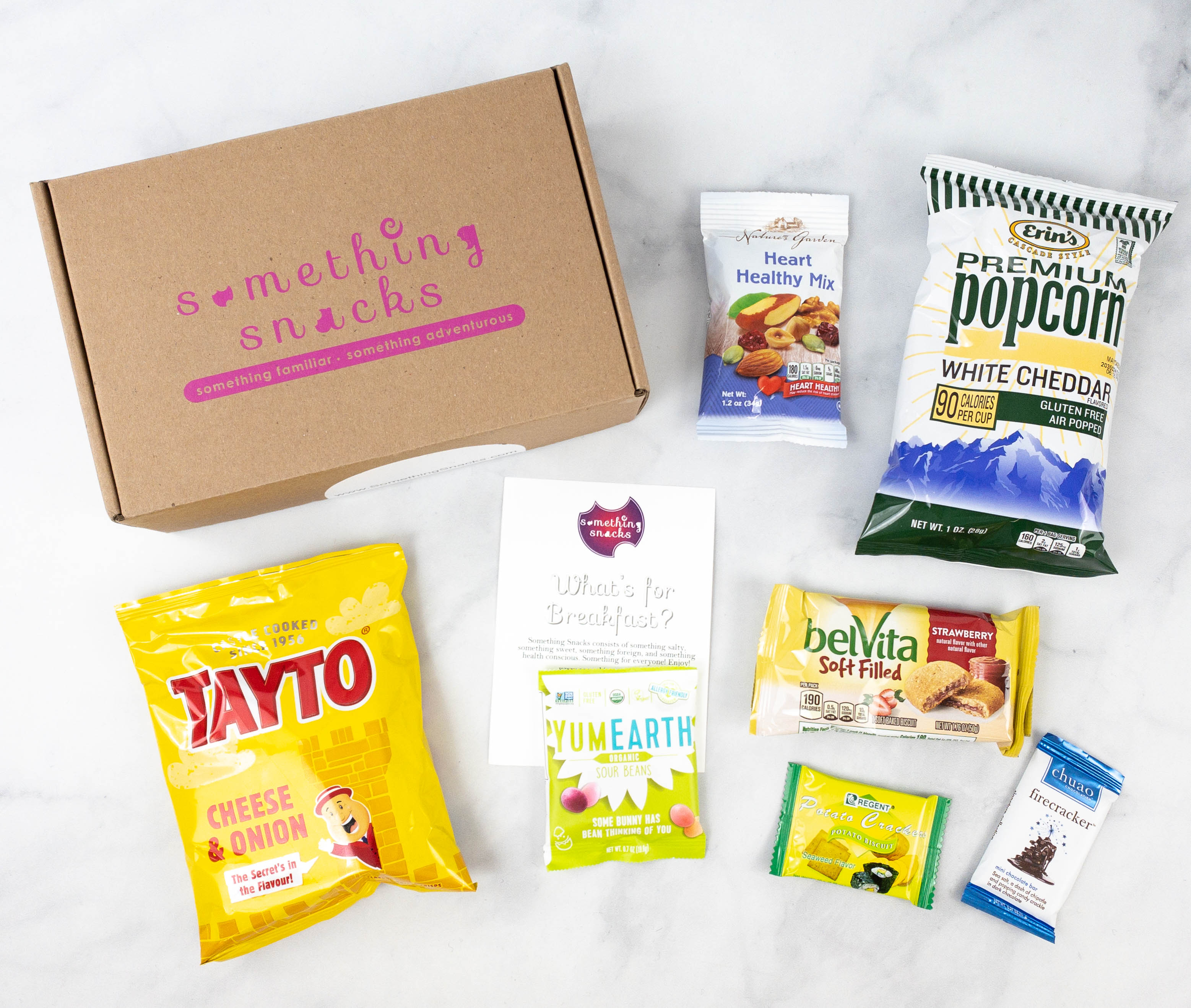 Everything in my March 2021 Something Snacks box!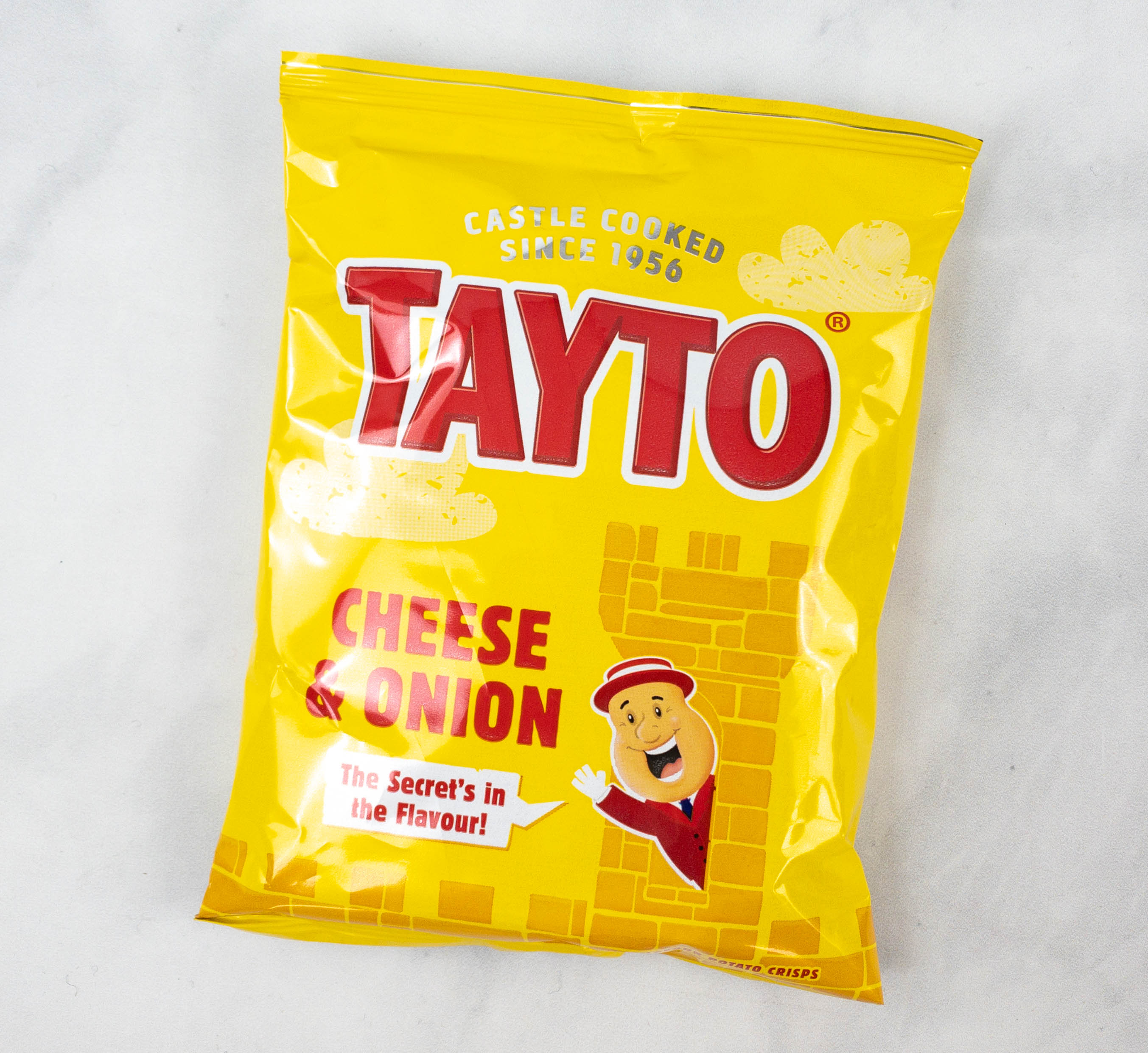 Castle Cooked Tayto Cheese & Onion ($1.32 Full Size 1.2 oz.) It's a pack of potato chips infused with delicious cheese and onion flavor. Each piece is crunchy and well-seasoned, plus it's vegetarian friendly!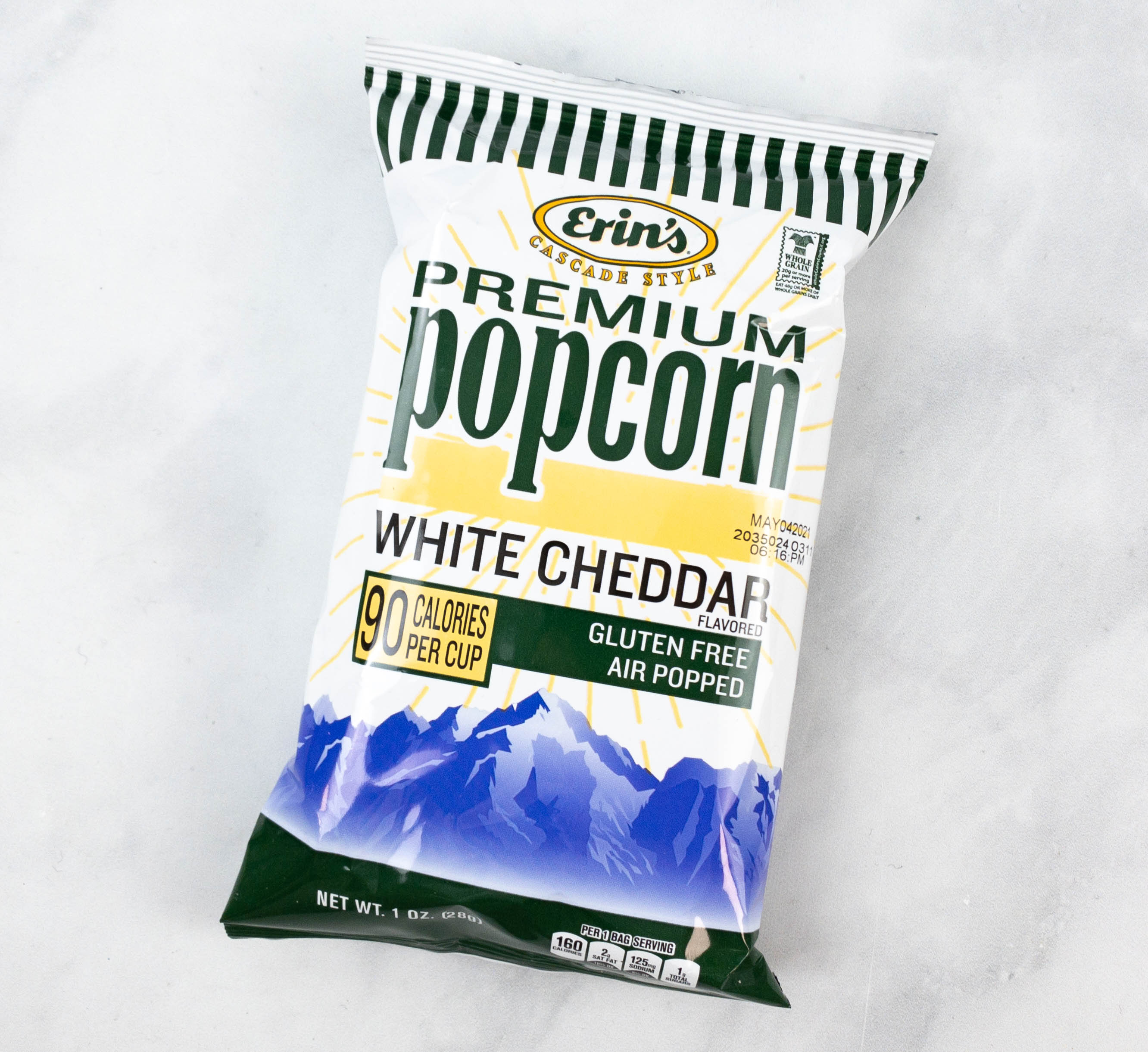 Erin's Premium Popcorn White Cheddar This premium popcorn is kettle cooked, so each piece is fluffy and easy to eat. With only 90 calories per cup, they are made in small batches and produced with no trans fats. Another thing that makes it special is its white cheddar flavoring, making it a great snack for cheese lovers!
BelVita Soft Filled Strawberry Soft Baked Biscuit ($2.20) It's a soft-baked biscuit made with whole grains and a delicious strawberry filling. This is a good grab-and-go breakfast for busy mornings, but it can also be savored with a hot drink for a filling afternoon snack.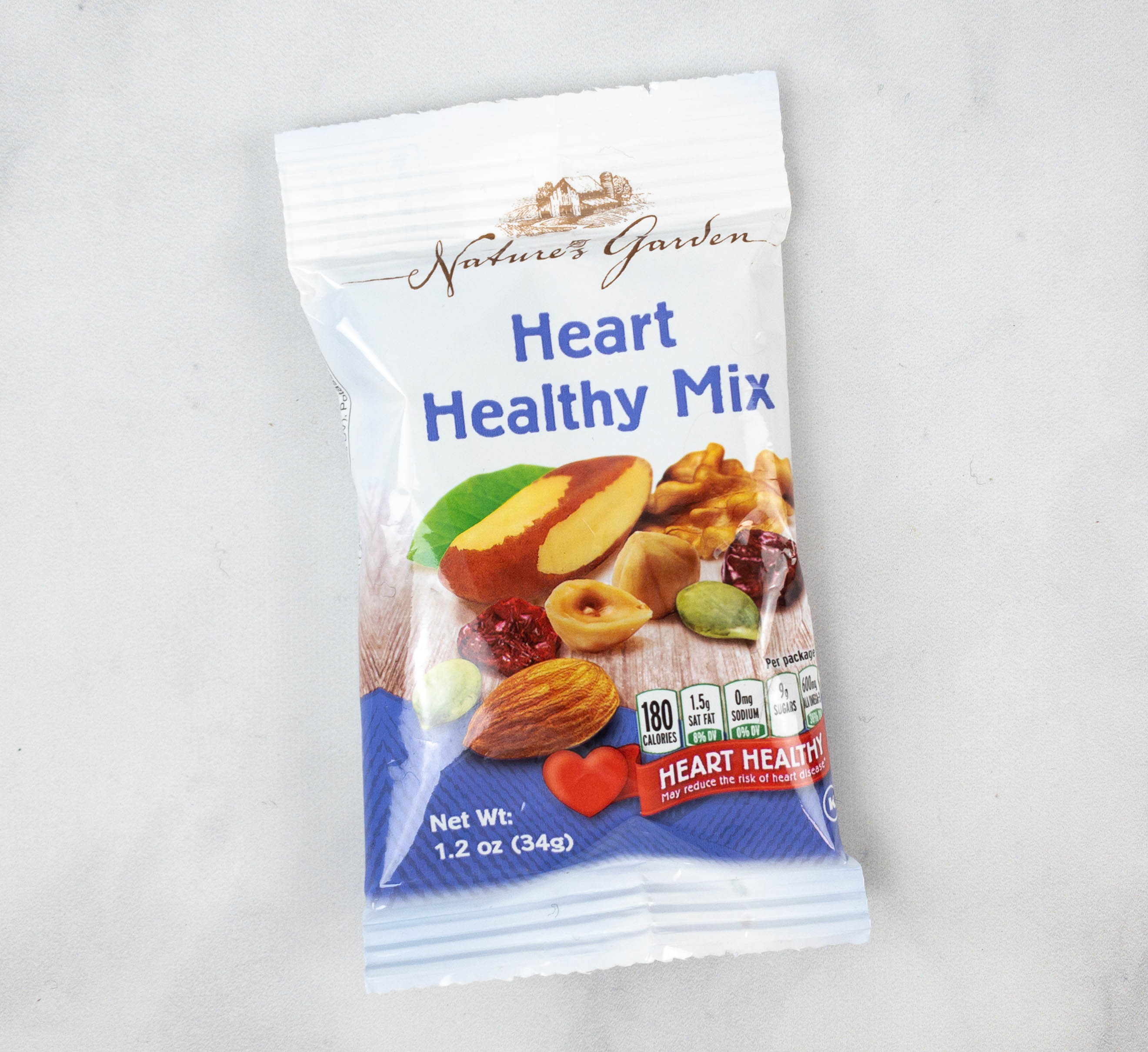 Nature's Garden Heart Healthy Mix ($0.79) Fruit and nut mixes are great whether as on-the-go snacks or post workout snacks! This one contains heart-friendly ingredients such as cranberries, walnuts, raw almonds, roasted pepitas, Brazil nuts, and raw hazelnuts. They are filling and delicious, a healthier alternative to chips and other junk food! It comes in a small pack which is great for portion control.
Yum Earth Organic Sour Beans ($0.81) For sour snack lovers, here's a bag of organic sour beans! Each pack includes the flavors pomegranate, peach, apple, and mango. It's also organic, non-GMO, and vegan-friendly. The beans were soft so they're easy to chew, plus they are bursting with fruity flavors which I enjoyed!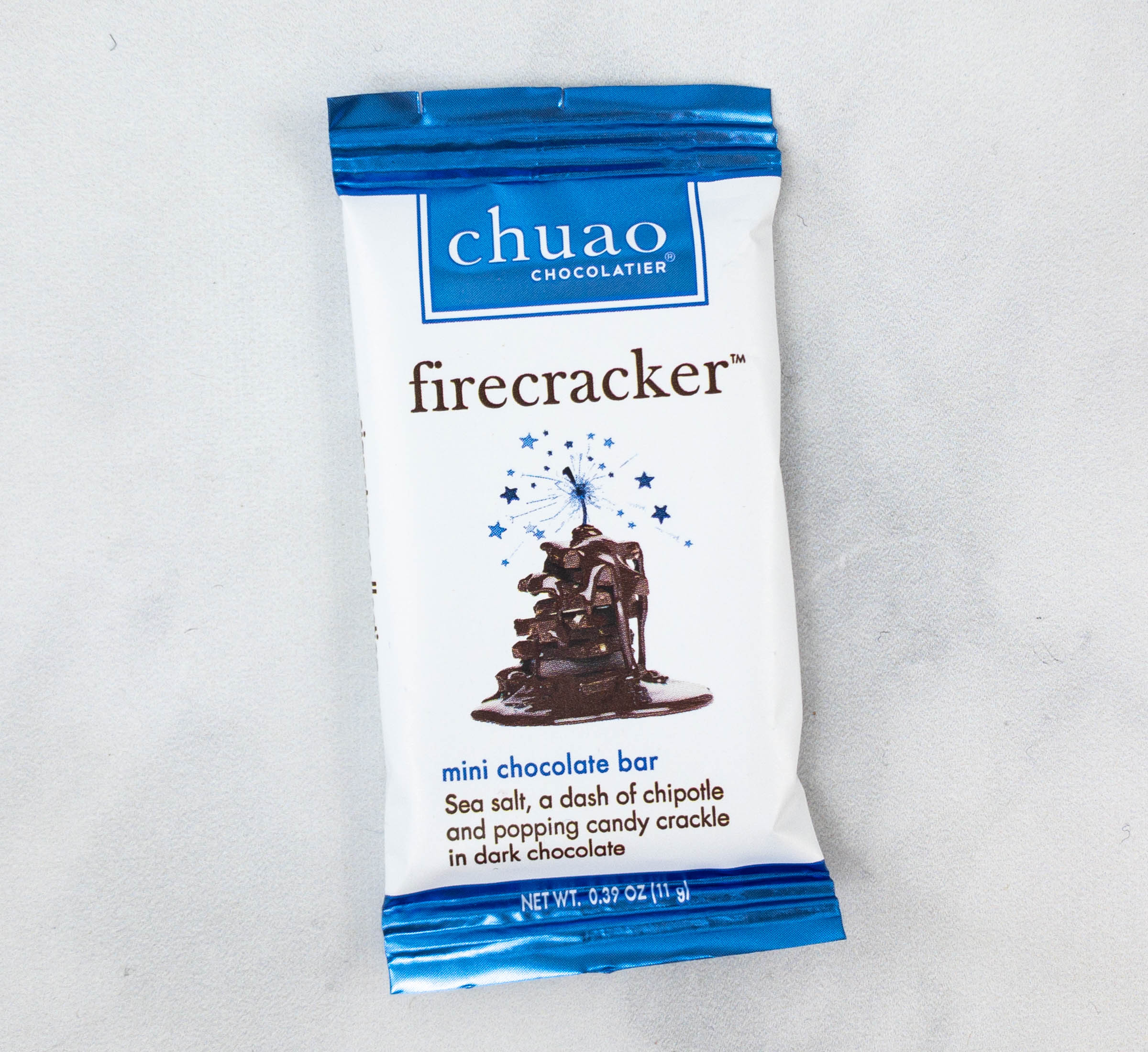 Chuao Chocolatier Firecracker Mini Chocolate Bar ($0.83) I'm a big fan of chocolates and this dark chocolate bar didn't stop on just being delicious, it also included a popping candy for a unique twist. The ingredients also included a dash of chipotle and a sprinkling of sea salt to make every bite more exciting. It's a favorite and I thought it was a fun Easter treat to enjoy!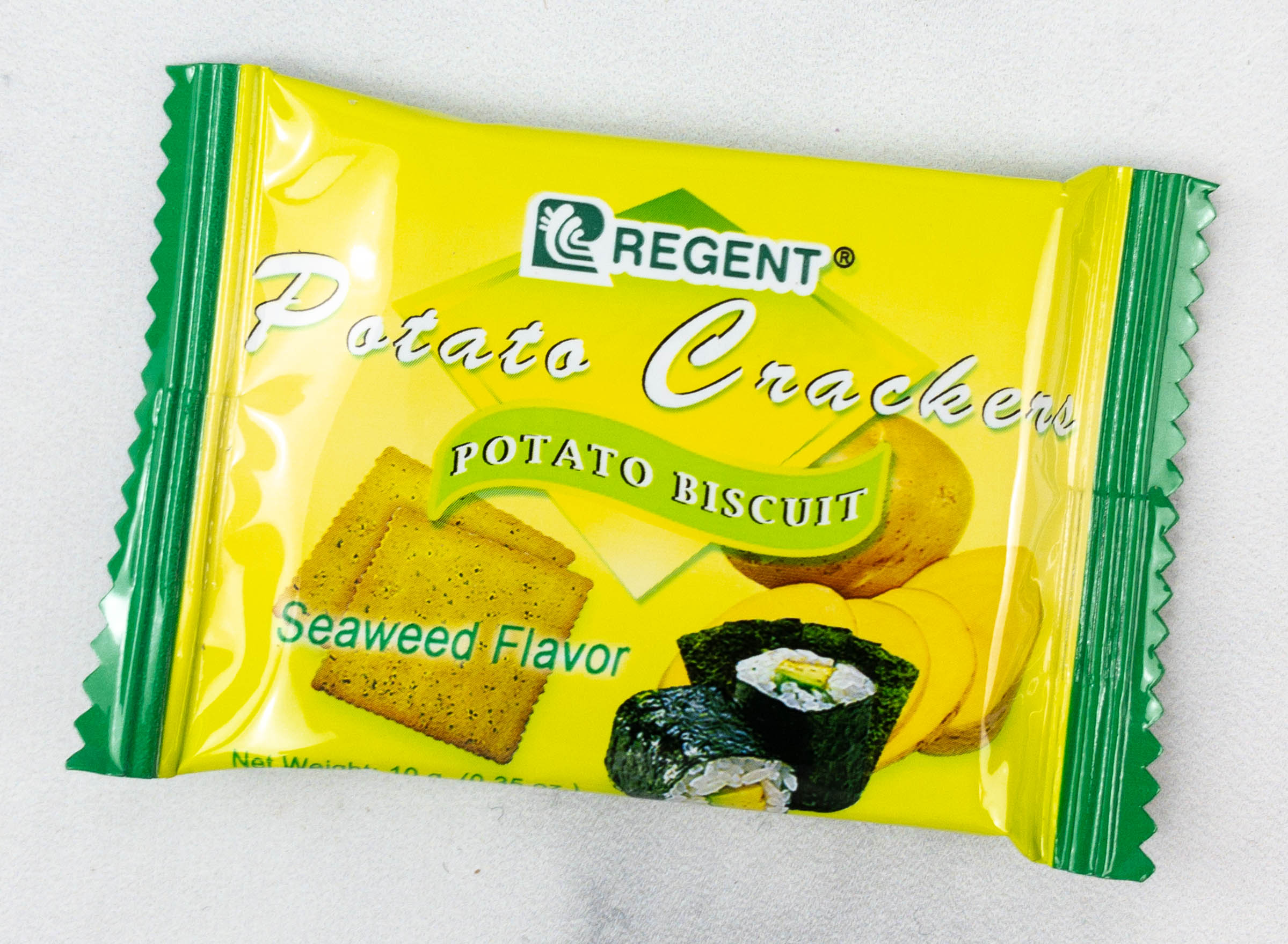 Regent Potato Crackers Potato Biscuit Seaweed Flavor. This month's international snack is from the Philippines, a pack of potato crackers with a seaweed seasoning. It's savory and crunchy! If you love roasted seaweed, you'd probably like this seaweed flavored snack as well.
Something Snacks always has something new to offer! This month's variety of snacks is really good, as it featured a lot of flavors, including savory, sweet, and sour. As always, there's also a healthy snack and an international snack. My favorite among them would have to be the mini chocolate bar. I love dark chocolates and this one is fun to eat because it has popping candy within the bar. I also like the heart-friendly trail mix that is great for munching on after workout, as well as the kettle cooked popcorn because it's well seasoned with the white cheddar flavor. If you're an adventurous snacker, this subscription would be a great match for you. They make it a point to keep the snacks in their boxes well-varied!
What did you think of Something Snacks?