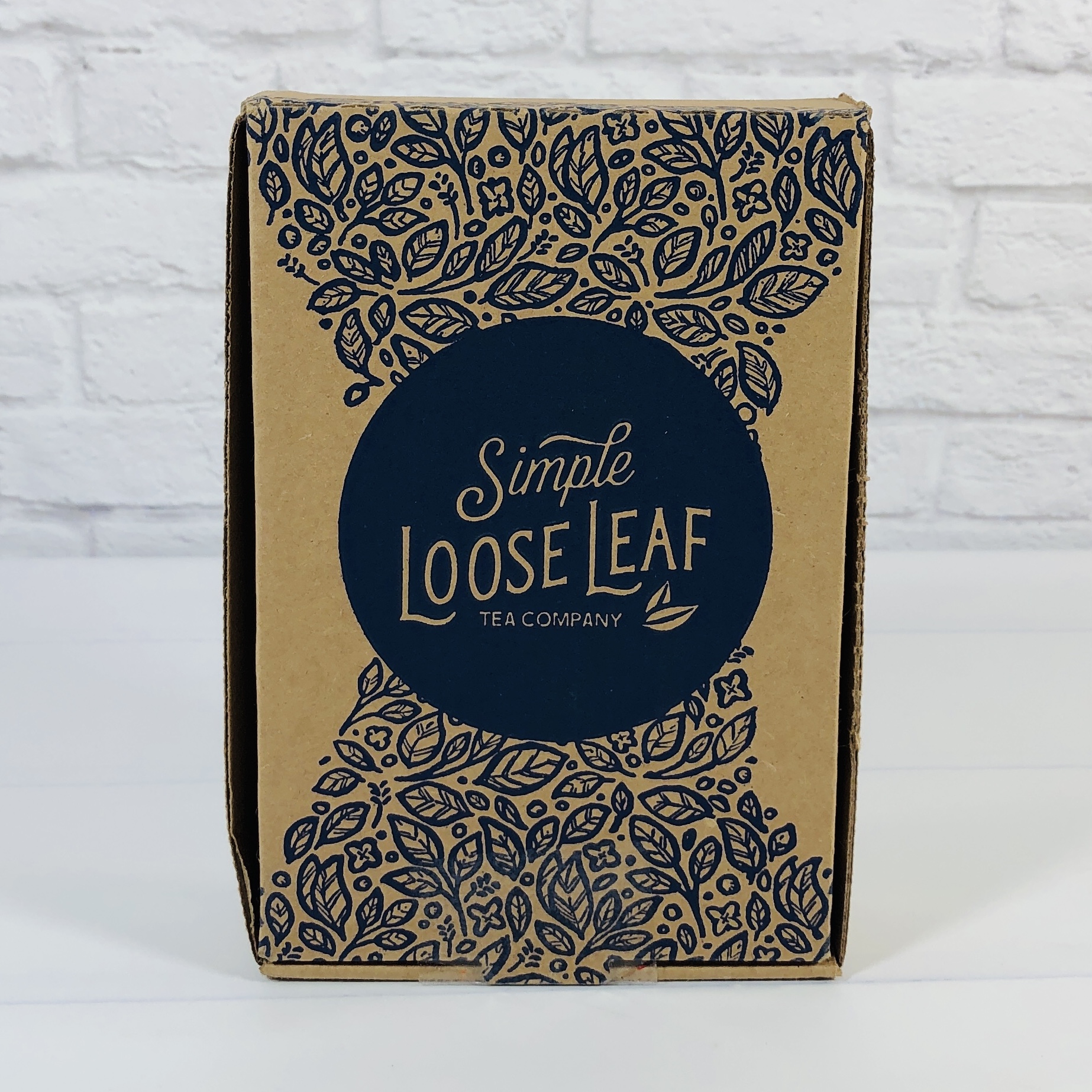 Simple Loose Leaf is a monthly tea subscription box, which delivers four hand selected, loose-leaf teas each month. Subscriptions are $10 a month and you can choose from 4 different tea types: Black, Green, Herbal, or Sampler. They send both single origin teas and blends and include linen bags for steeping in your very first box. The teas are packed and shipped by employees with developmental disabilities so they can earn a paycheck and learn life skills.
Simple Loose Leaf's tea subscription box made our readers' choice list of best tea subscription boxes!
Boxes include:
4 new hand-selected premium loose leaf teas
14 grams (0.5oz) of each loose leaf tea
4 reusable linen tea filters Made in the USA in first box
Information on each of the teas with tasting notes
DEAL: Get $3 off on your first tea order! Use coupon code 3B1TEA. OR Get $5 off on your first box! Use coupon code 05BOX001.
This is a review of the Black Tea Box!
Black Tea Box

Each month receive 4 new black loose leaf teas or 3 black teas and something that black tea drinkers will love
The Black Tea Box is a great fit for the tea drinker that wants to experience the darker flavor profiles that black teas have to offer
Explore teas from China, India, Sri Lanka, and more
I received a card this month!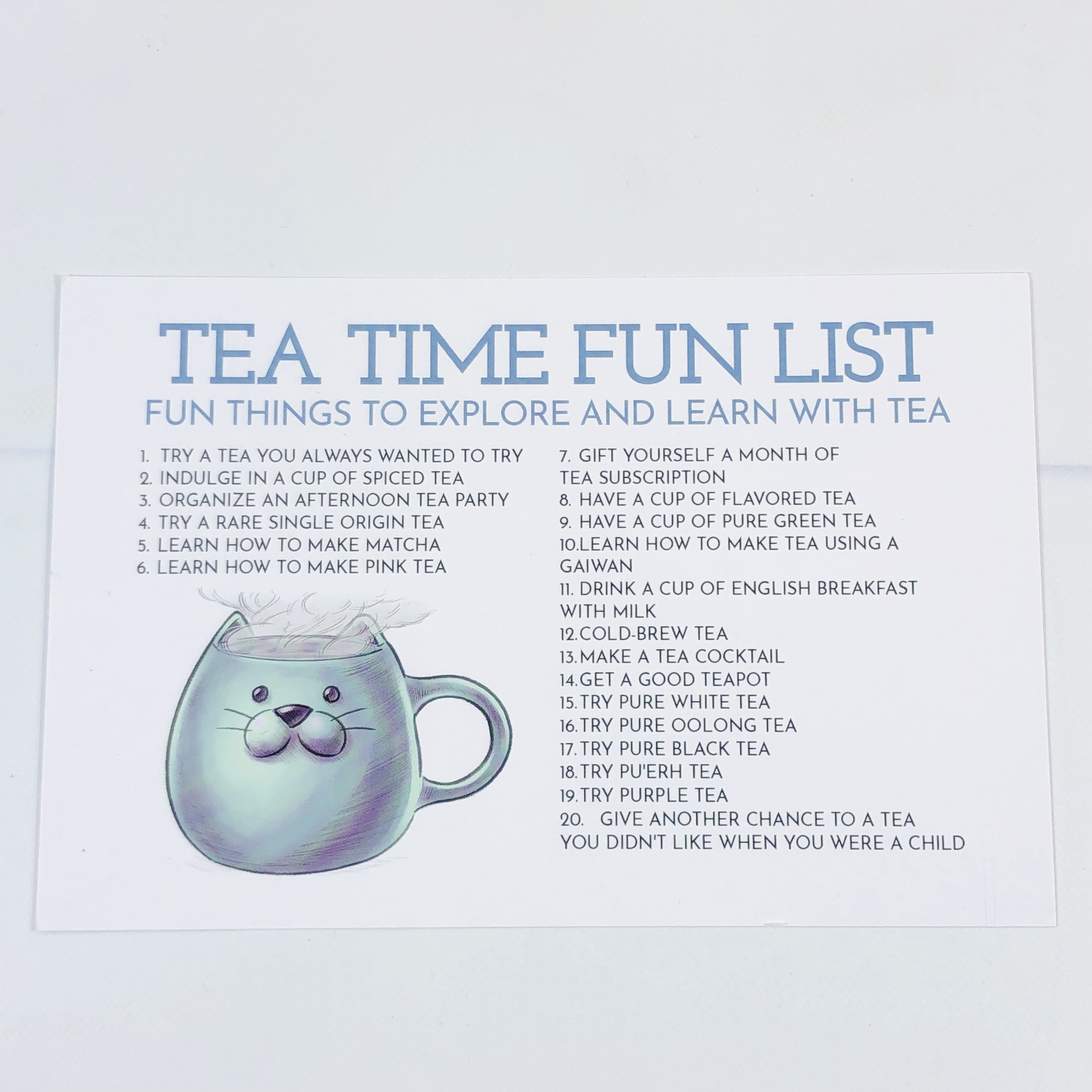 The back of the card had some ideas for fun with tea.
The side of the box had some helpful tips for steeping times and water temps. For instance, green and white tea should never be steeped with boiling water or for longer than 3 minutes (they will turn bitter).
A reminder that employees are getting life skills through working is on the other side of the box.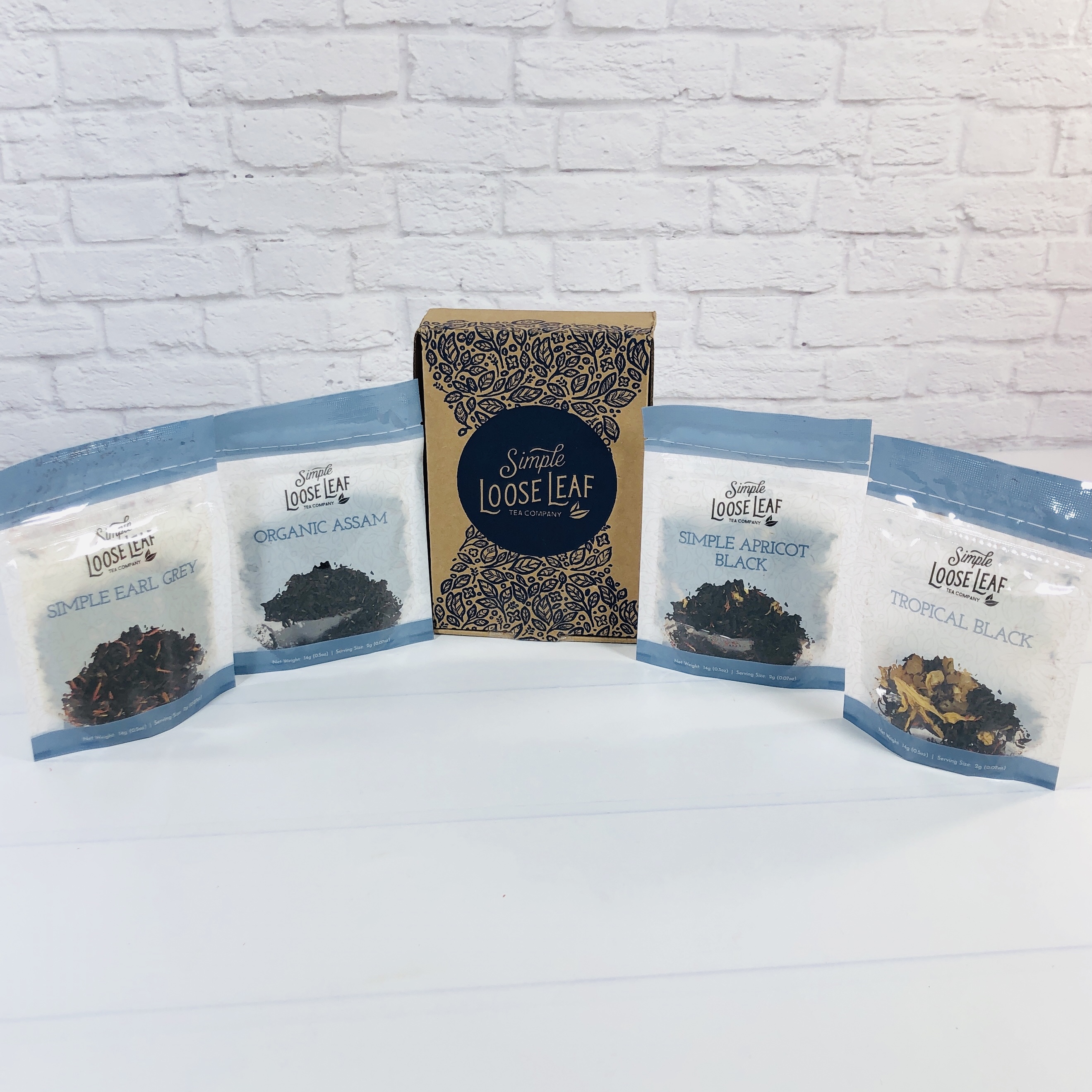 Everything in my box!
Simple Apricot Black Tea I love fruity black teas and apricot is one of my favorite fruits so this is a win-win!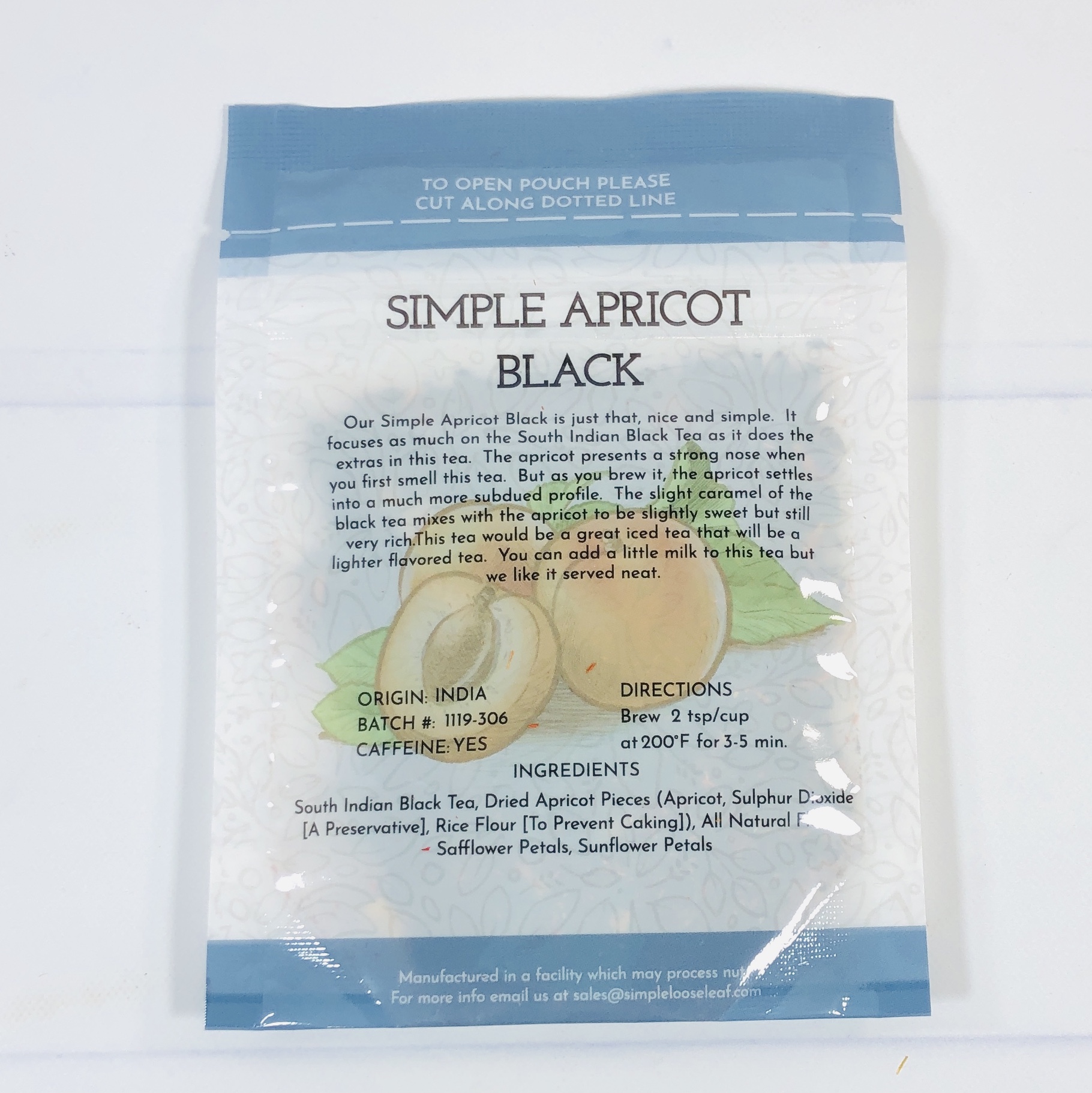 The base is black tea from South India and there are apricot pieces, safflower and sunflower petals, plus natural flavor. I thought I detected a hint of spice but maybe I imagined it. This would be awesome over ice too!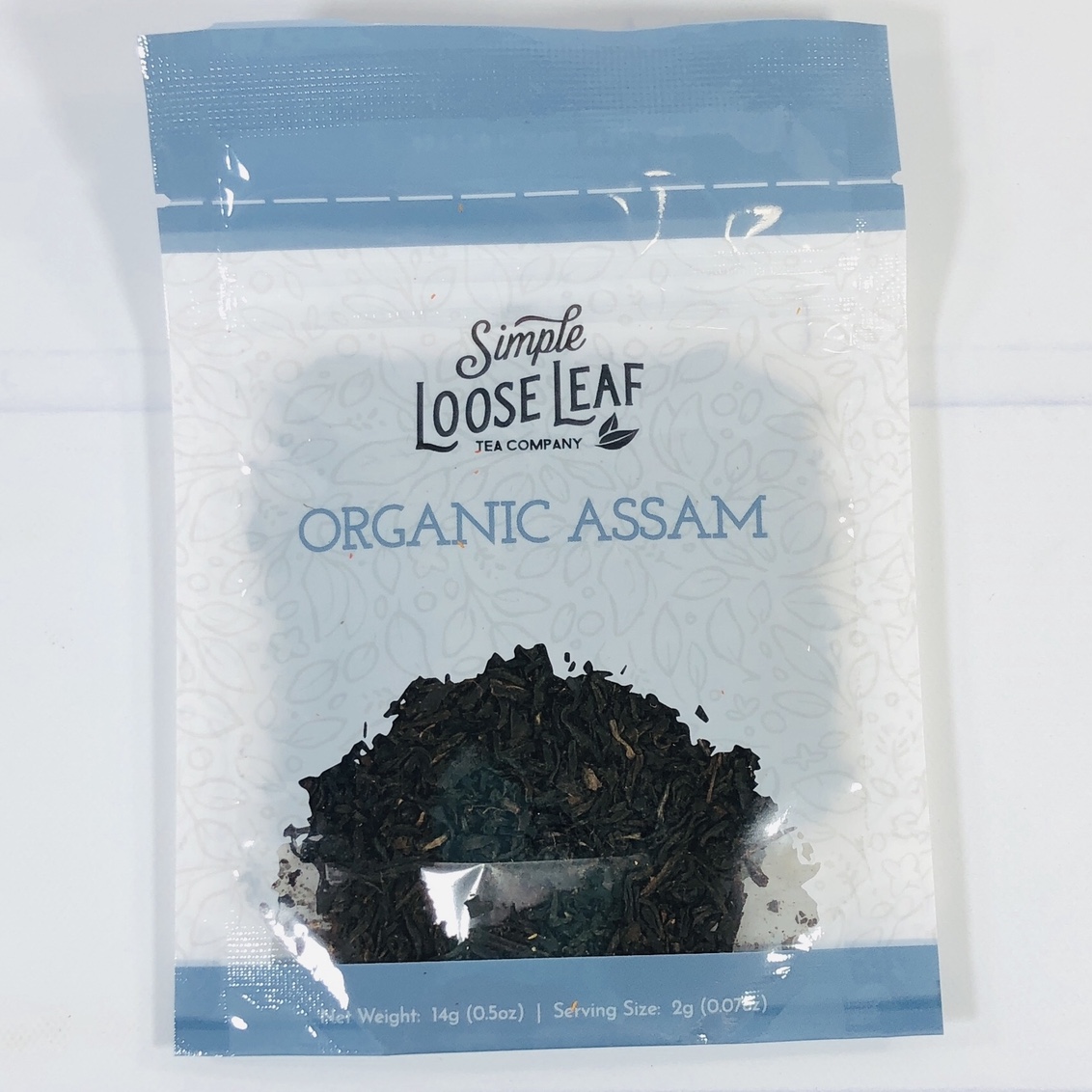 Organic Assam Tea is my favorite kind of tea: black tea with a rich flavor!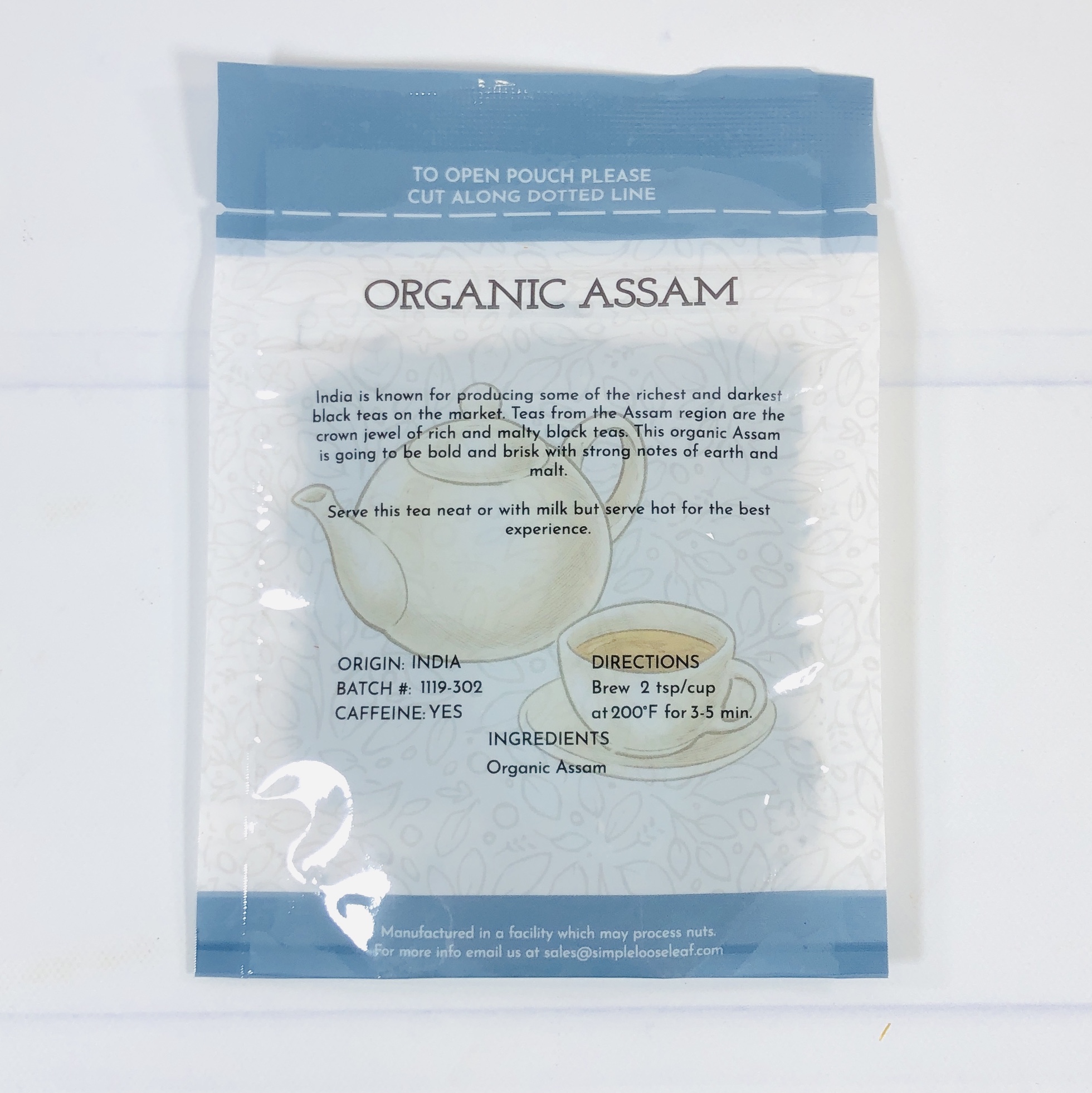 This one is made of Assam tea from India. It wasn't very tannic but it did stand up to milk and sugar. I would drink this every day!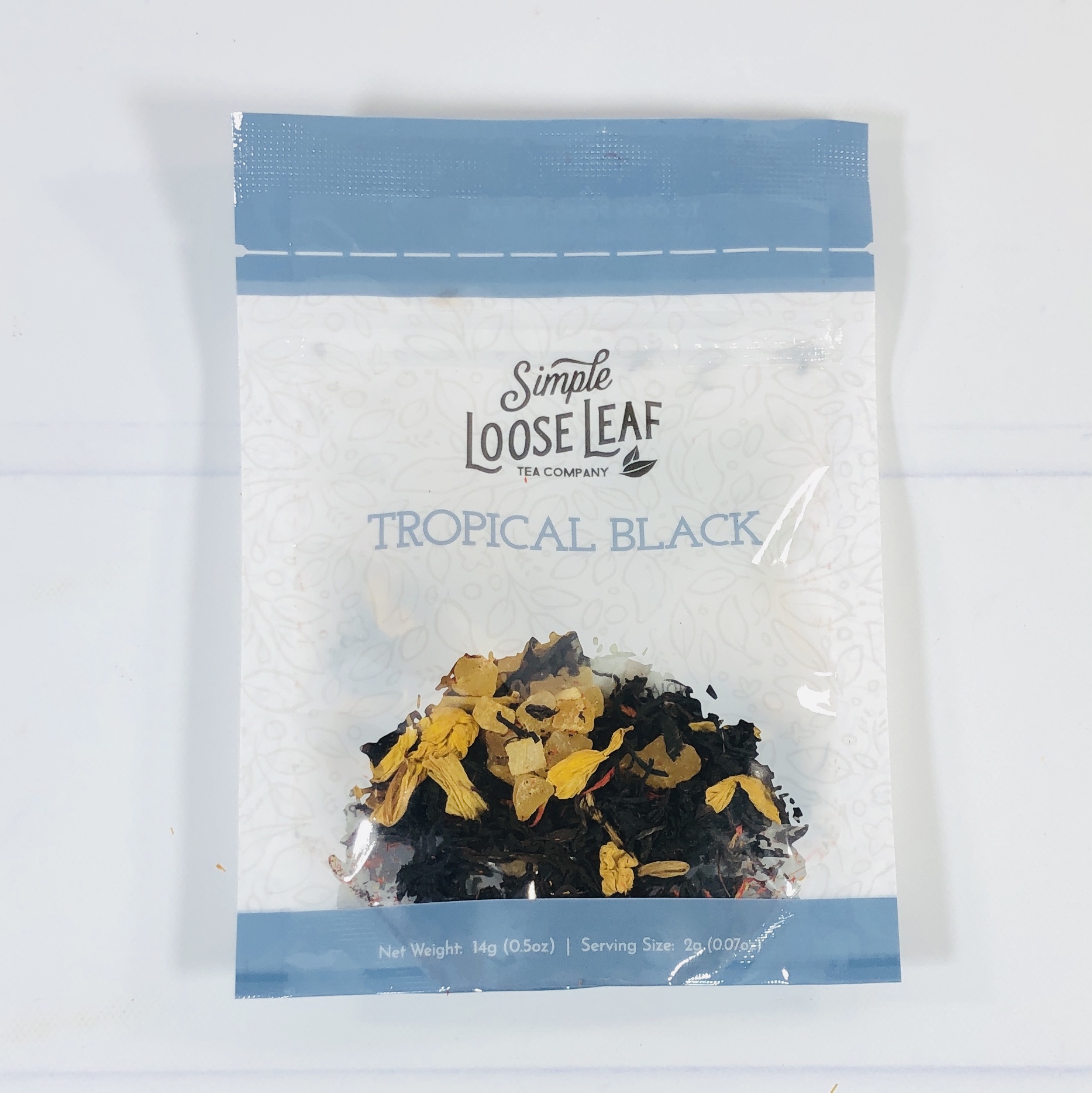 Tropical Black Tea I think I got a batch that was at least 50% candied mango pieces here! I picked them out and ate them as candy!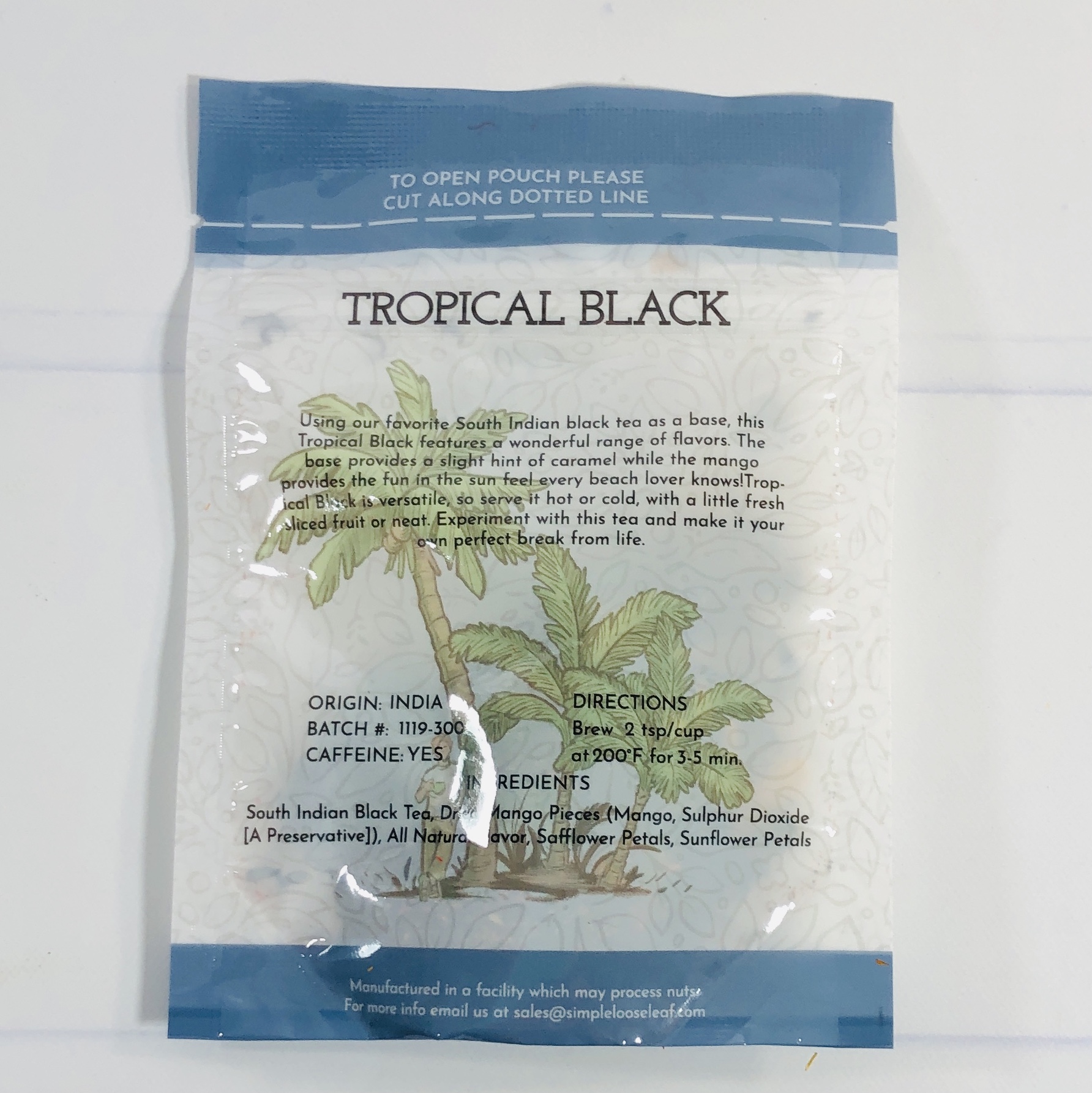 The rest of the ingredients are black tea, safflower petals, and sunflower petals. I really enjoyed the tropical flavor and I know this would be super tasty as an iced tea too!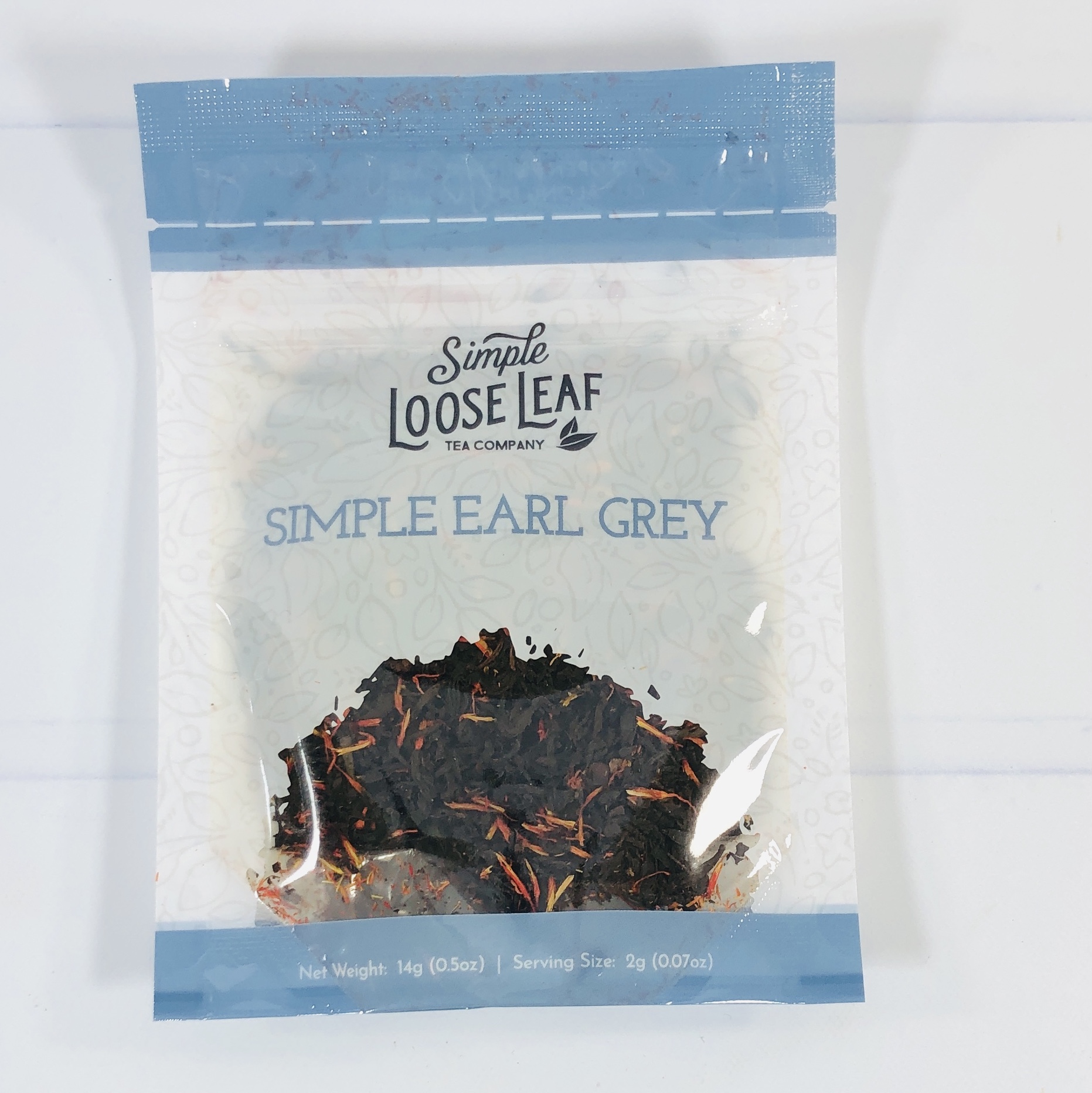 Simple Earl Grey Tea ($2.24) I like Earl Grey tea. It took me a while to appreciate it but I came around eventually.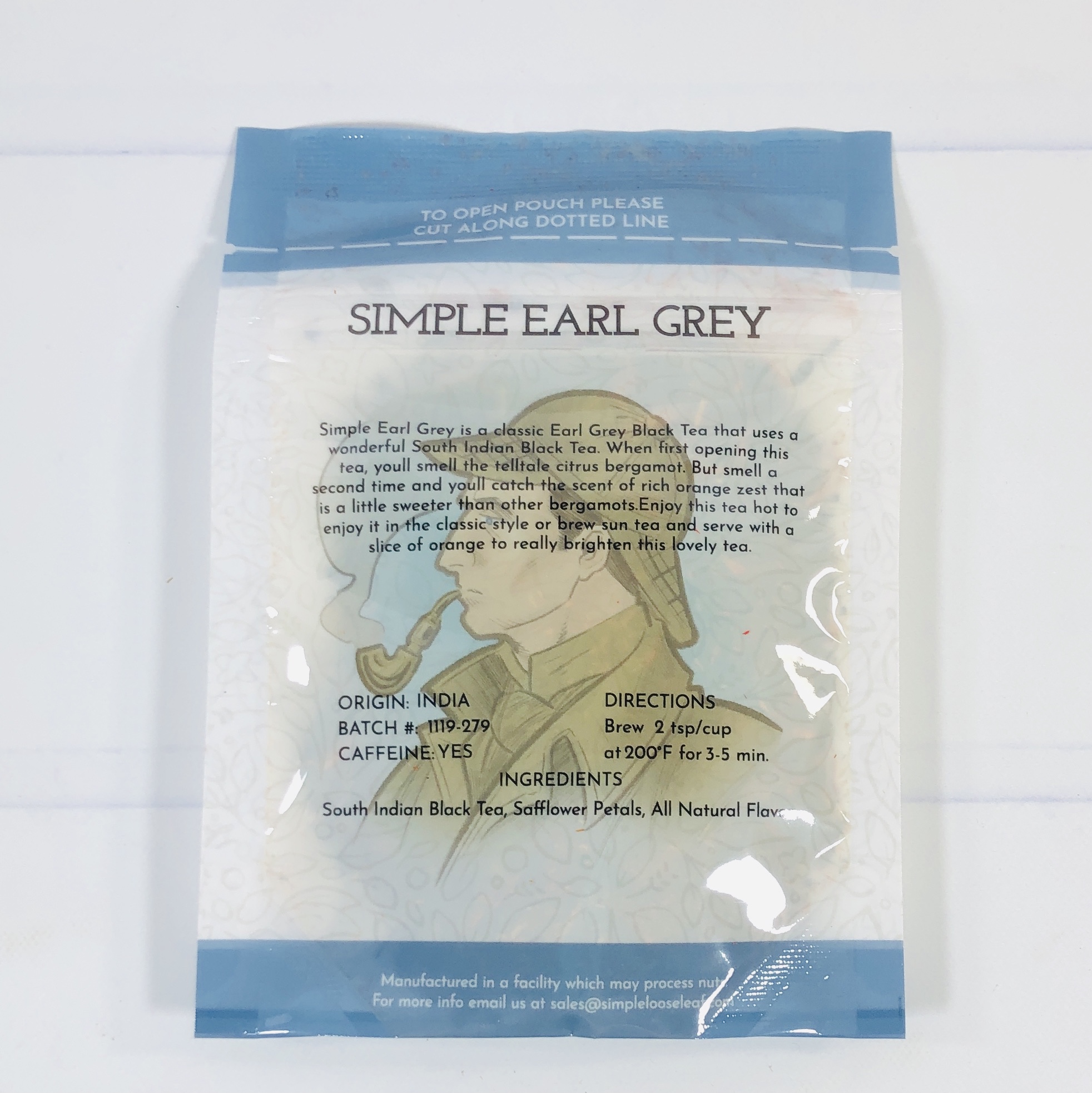 This one isn't super strong in the bergamot department and I love the look of the safflower petals. This tea was perfect for enjoying in the afternoon. I adored the sweet and floral notes.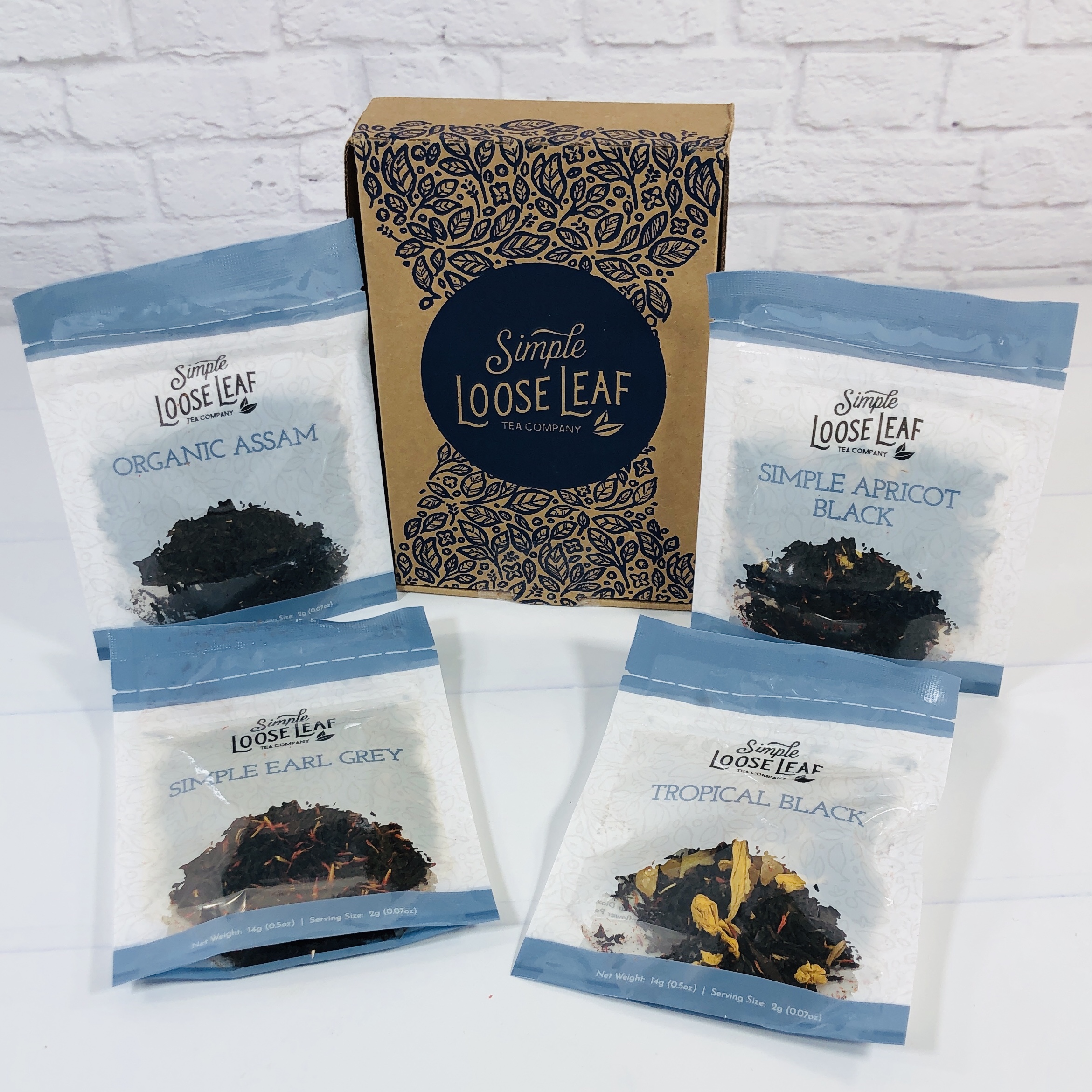 Black tea is my thing and the March Simple Loose Leaf shipment had one pack that was basic black and three that were fruity, which is how I prefer my flavored black teas so it was a winning month for me all around! I can't even pick out a favorite, they were all super tasty and since it's still kind of cool where I live I drank them all hot with milk and sugar. I will probably push the apricot and tropical versions to the back of my tea drawer and serve them over ice in the next month or so.
What do you think of this month's box?