See New, The Skincare Box, is a bi-monthly beauty subscription box that features one clean and cruelty-free skin care brand. They send several products so you can get a real feel for the brand and also it is just about a whole routine in one box. The featured brands are from companies that are focused on cruelty-free, chemical-free, and sustainably sourced ingredients. For every subscription sold See New will donate a subscription to Dress for Success. See New is $47 a box, or you can purchase it one time for $65. Prepay for longer terms and the price drops even more.
We believe beauty is about showing yourself Self-Love. Beauty is not about altering your already stunning appearance it is about accentuating your natural beauty and enhancing your self-confidence.
DEAL: Get 10% off sitewide! Use coupon code HELLO.
I always appreciate a hand-written note!
First look!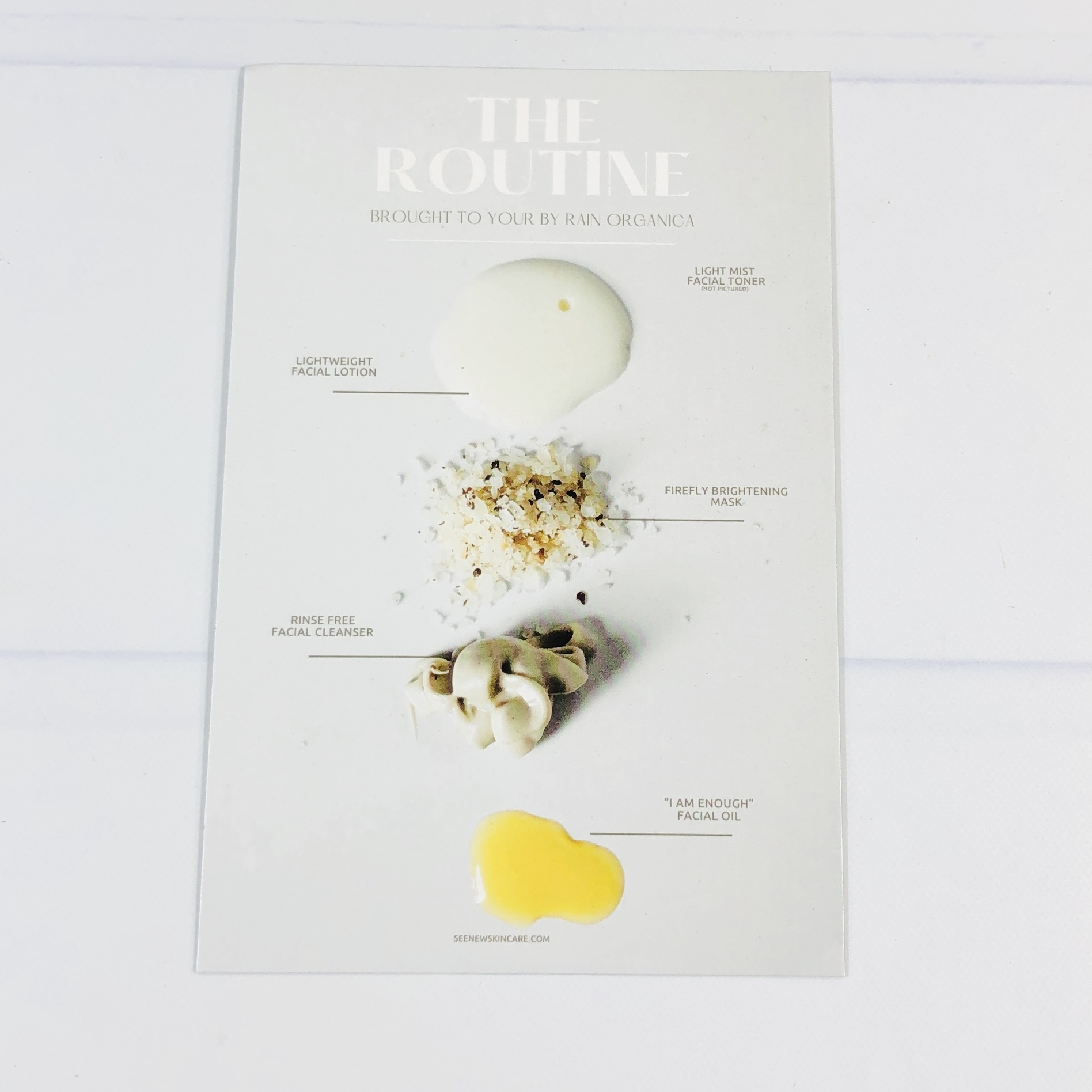 I received a card with a suggested skincare routine using the featured brand, Rain Organica:
Our Philosophy

We believe the best skincare ingredients are kind of like the best foods – sustainably harvested, nourishing, & clean.

We believe in the freeing power of simple rituals: a hot cup of tea & a book chapter to unwind at the end of the day, a warm shower & a few minutes to cleanse, nourish, & protect our skin.

And, we really believe in spontaneity, last-minute road trips, and savoring every last minute of daylight…

and, we think our skincare should be able to come along for the journey.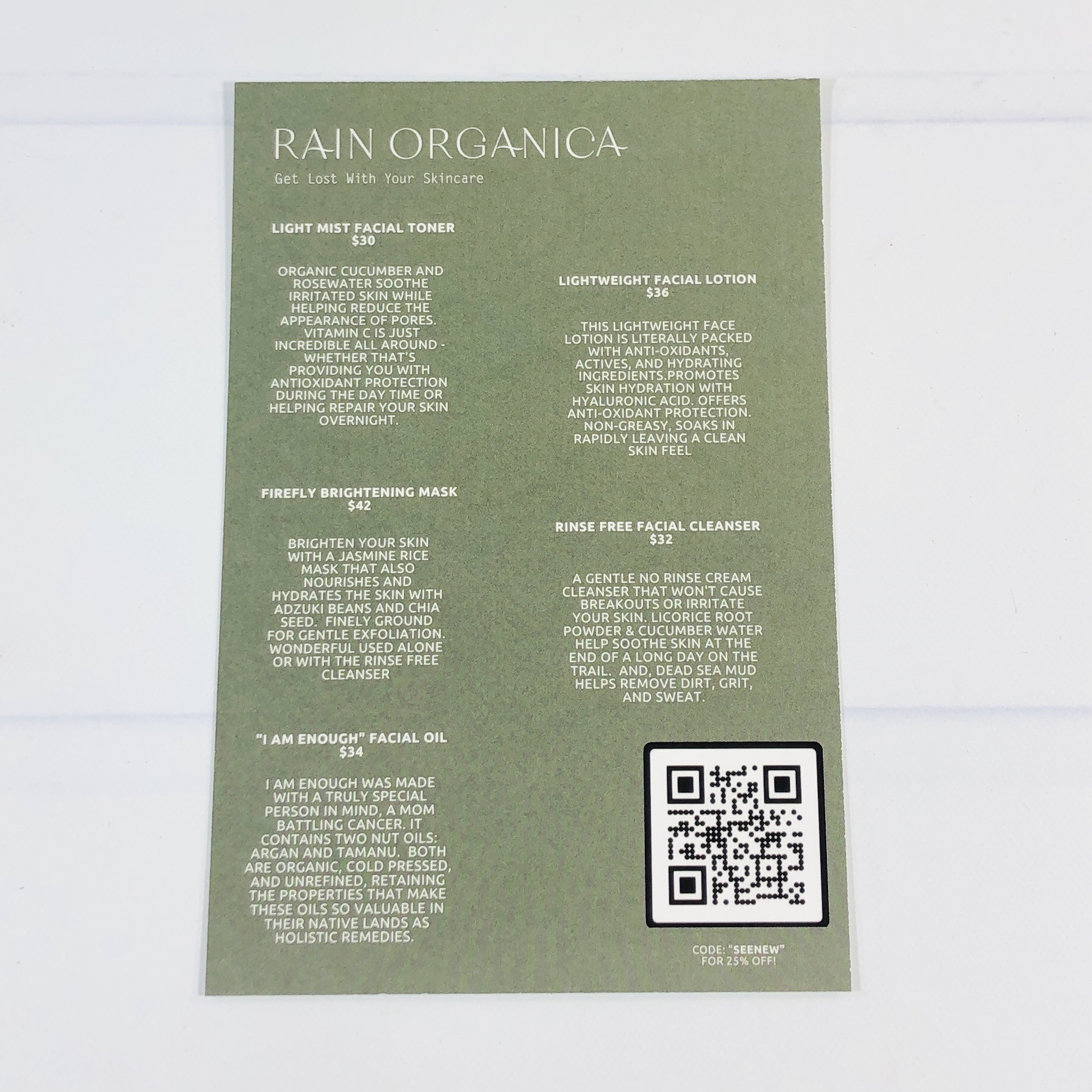 The back of the card listed the products that were sent along with a brief description.
A separate card listed some ideas for self care and the approximate time to complete, so you can choose an activity that will fit into your busy routine.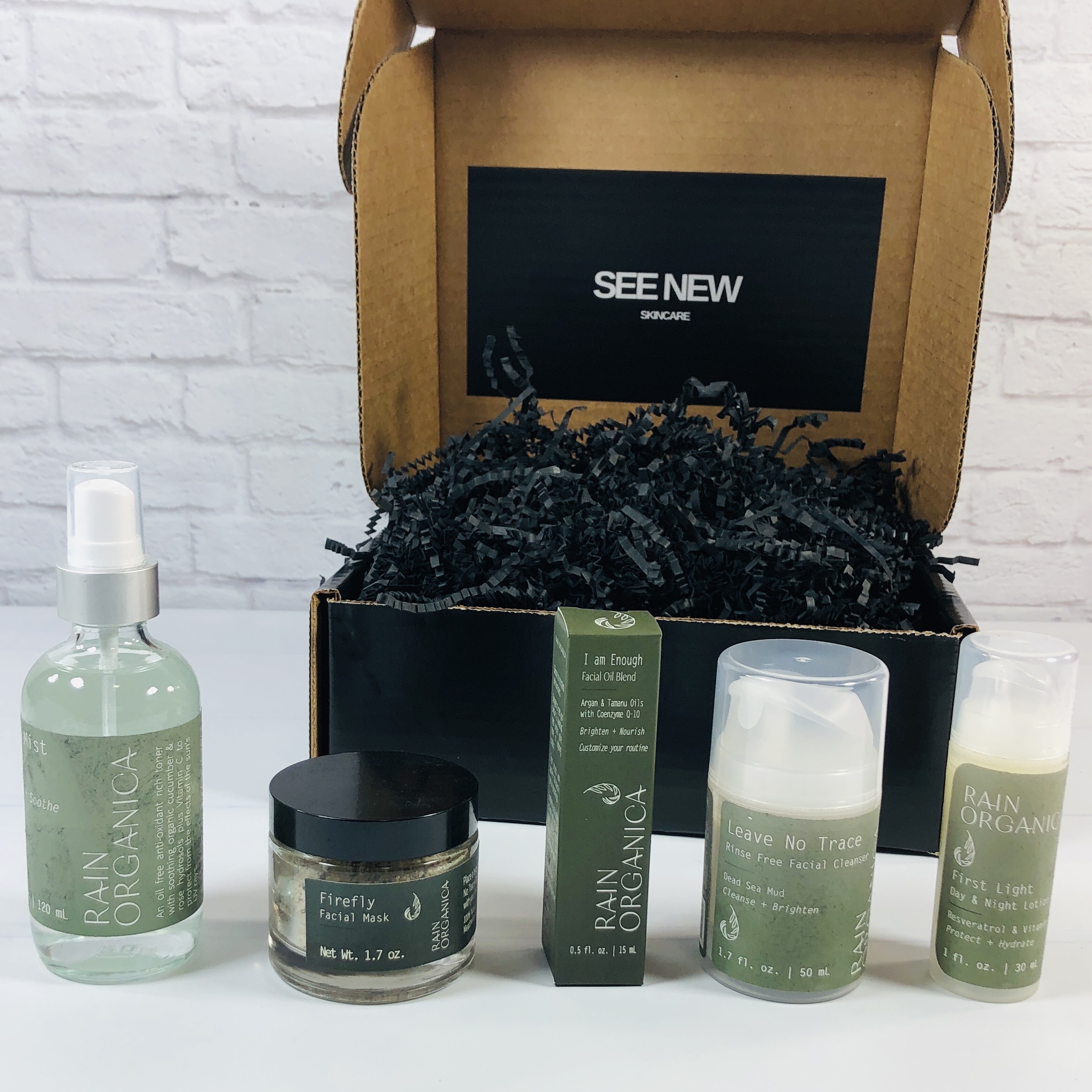 One item came in its original box and all were cushioned in shredded paper squiggles.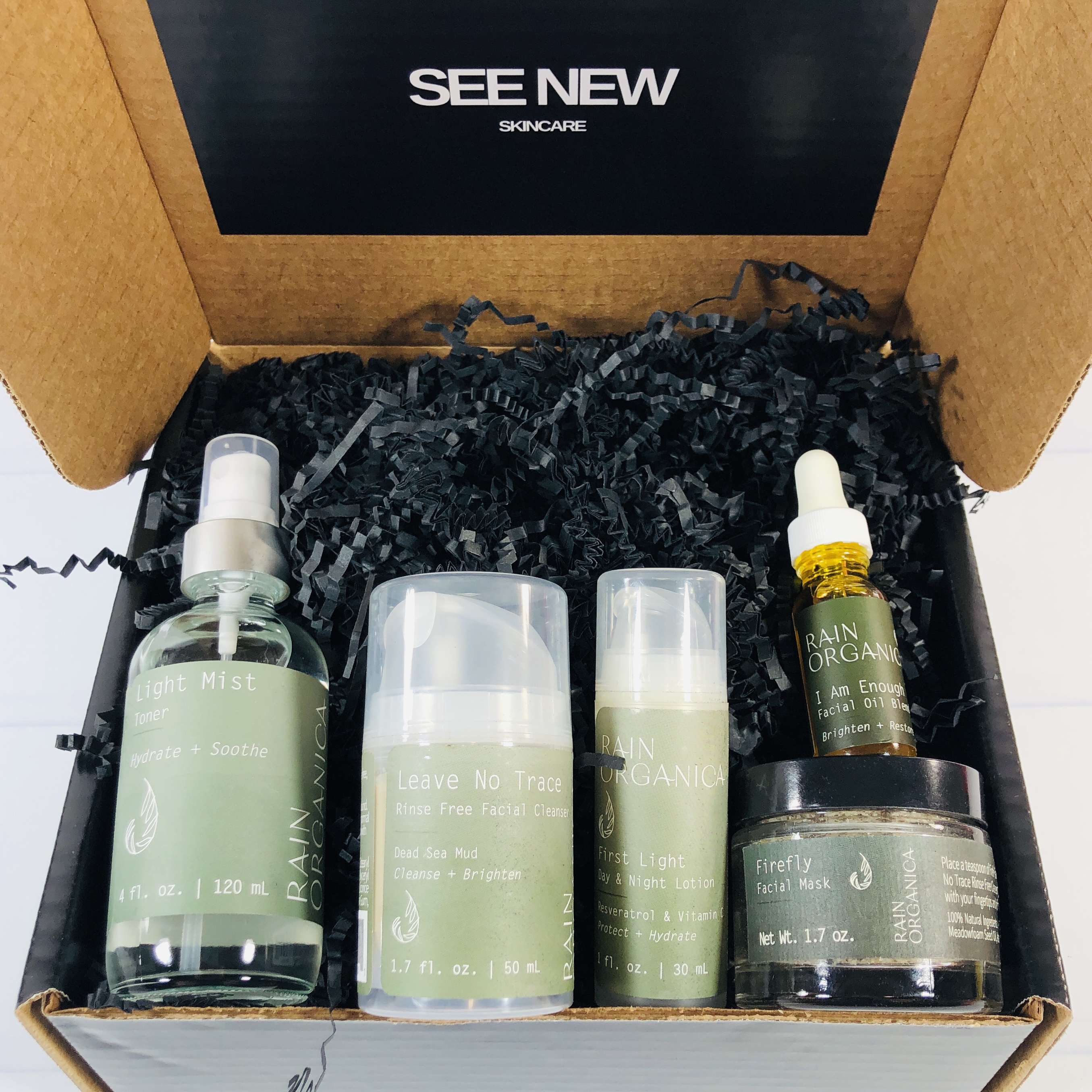 Rain Organica is a new brand for me and I am so excited to give them a try!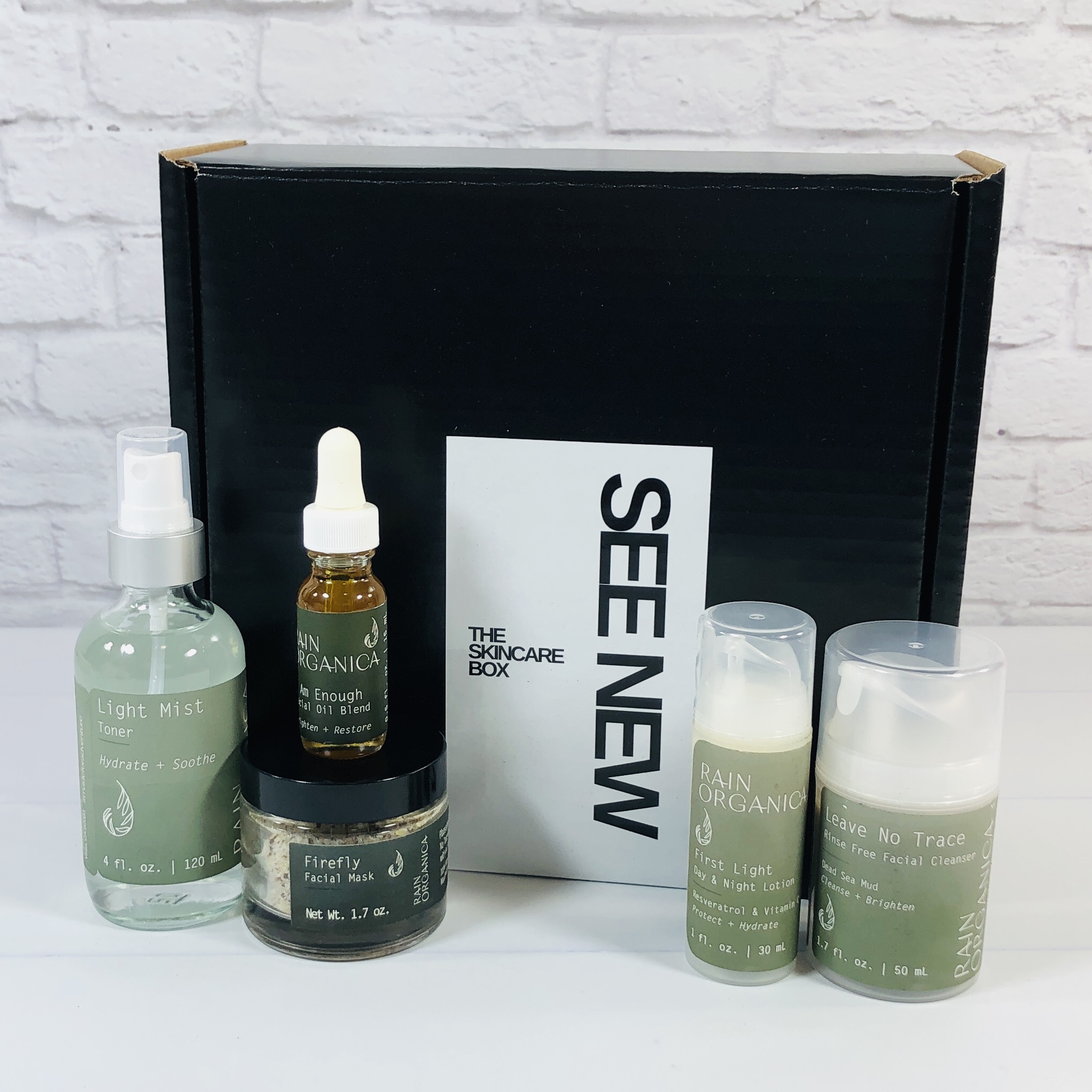 Everything in my See New X Rain Organica box!
Rain Organica Leave No Trace Rinse-Free Facial Cleanser ($34) An interesting tidbit about this brand is that they suggest using their products while backpacking or camping and they have instructions for using their cleanser when you have little access to a sink with running water. Perhaps that's why this cleanser is called Leave No Trace!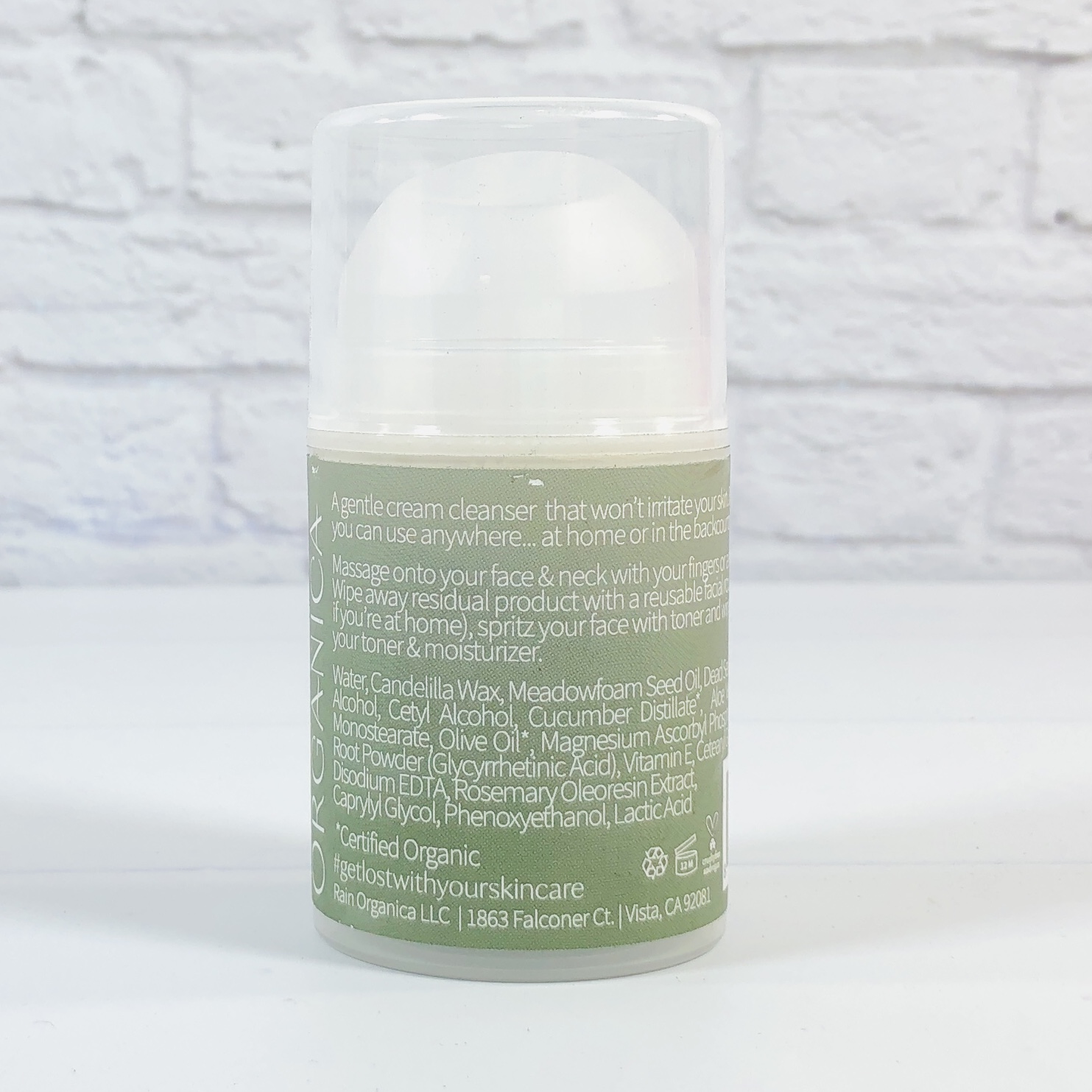 The cleanser has Dead Sea mud and it can be used as a face mask but I tried it out as a cleanser. Additional ingredients include licorice root powder, cucumber hydrosol, aloe, and olive oil.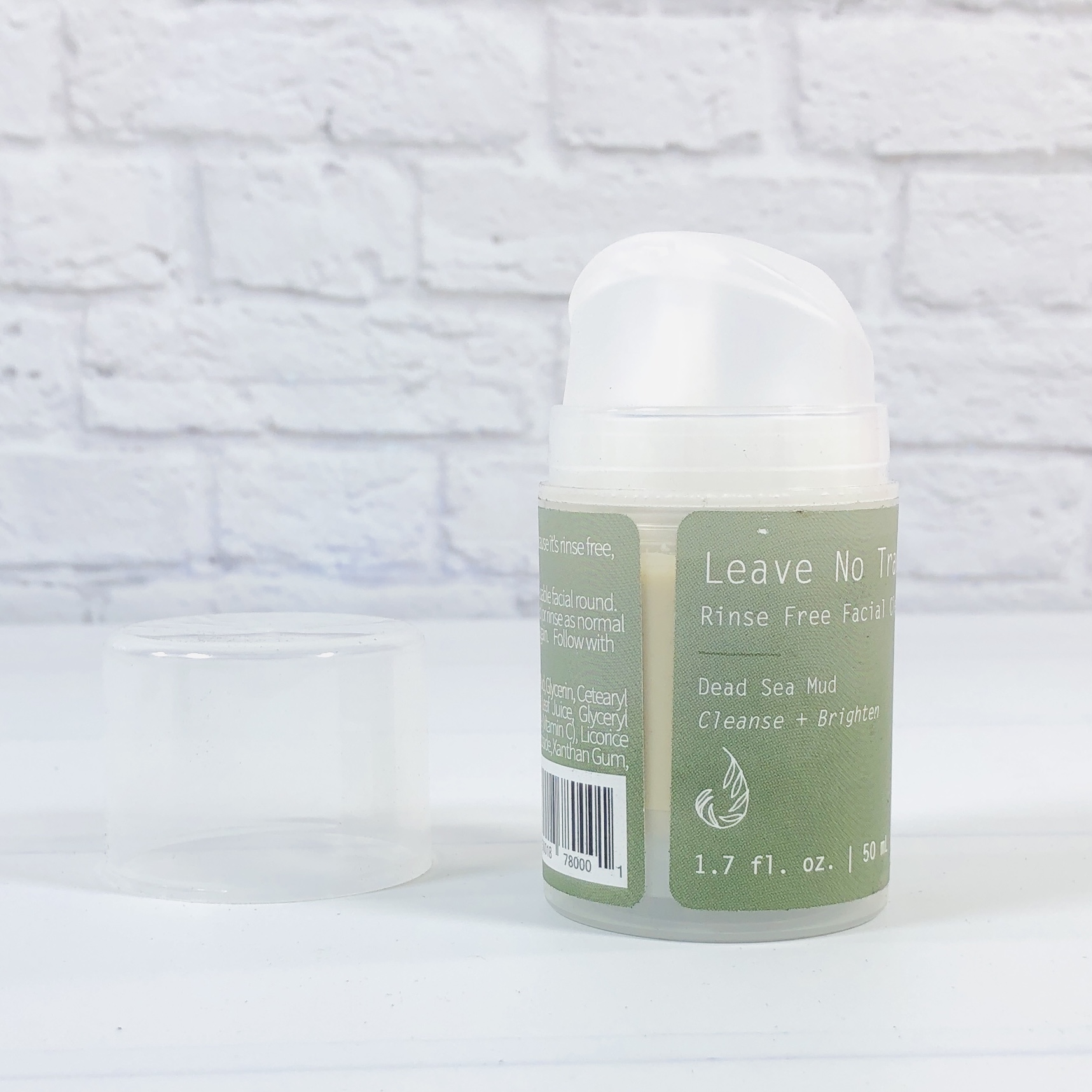 I applied this creamy cleanser to my face and rubbed it around before rinsing with a wet cloth. I went over it with the toner and found there was either makeup or cleanser residue so I would use a second cleanse with something else afterward if you are into wearing makeup. The cleanser had a natural scent that I liked. I appreciate that this brand avoids not only parfume/fragrance for face care but also essential oils, which can also cause reactions and can make skin even more sensitive to the sun (especially citrus oils).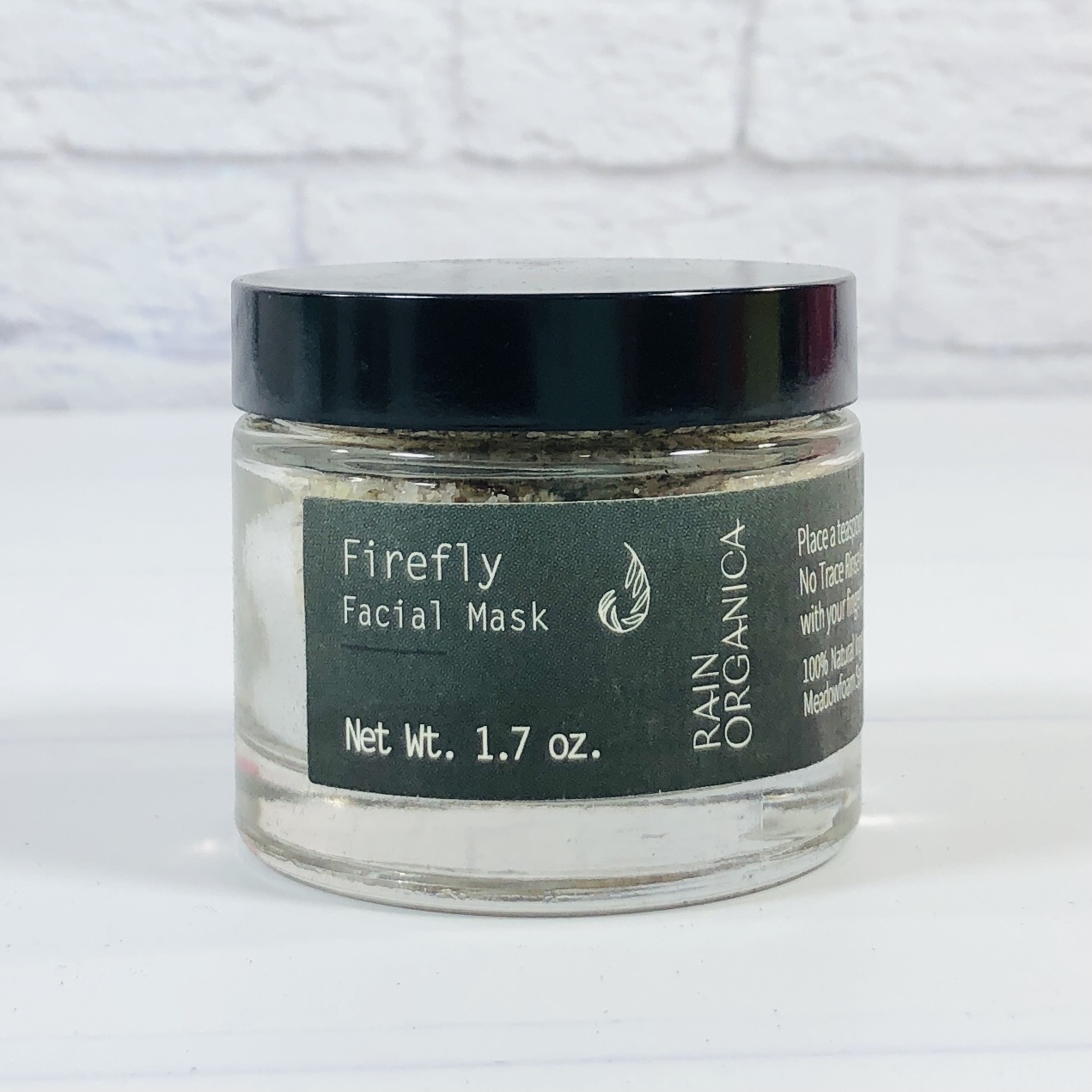 Rain Organica Firefly Brightening Mask ($42) I feel like this is more of an exfoliator than a mask, it's pretty scrubby!
The ingredients are jasmine rice, adzuki beans, brown basmati rice, chia, meadowfoam seed oil, astragalus, reishi, and vitamin E.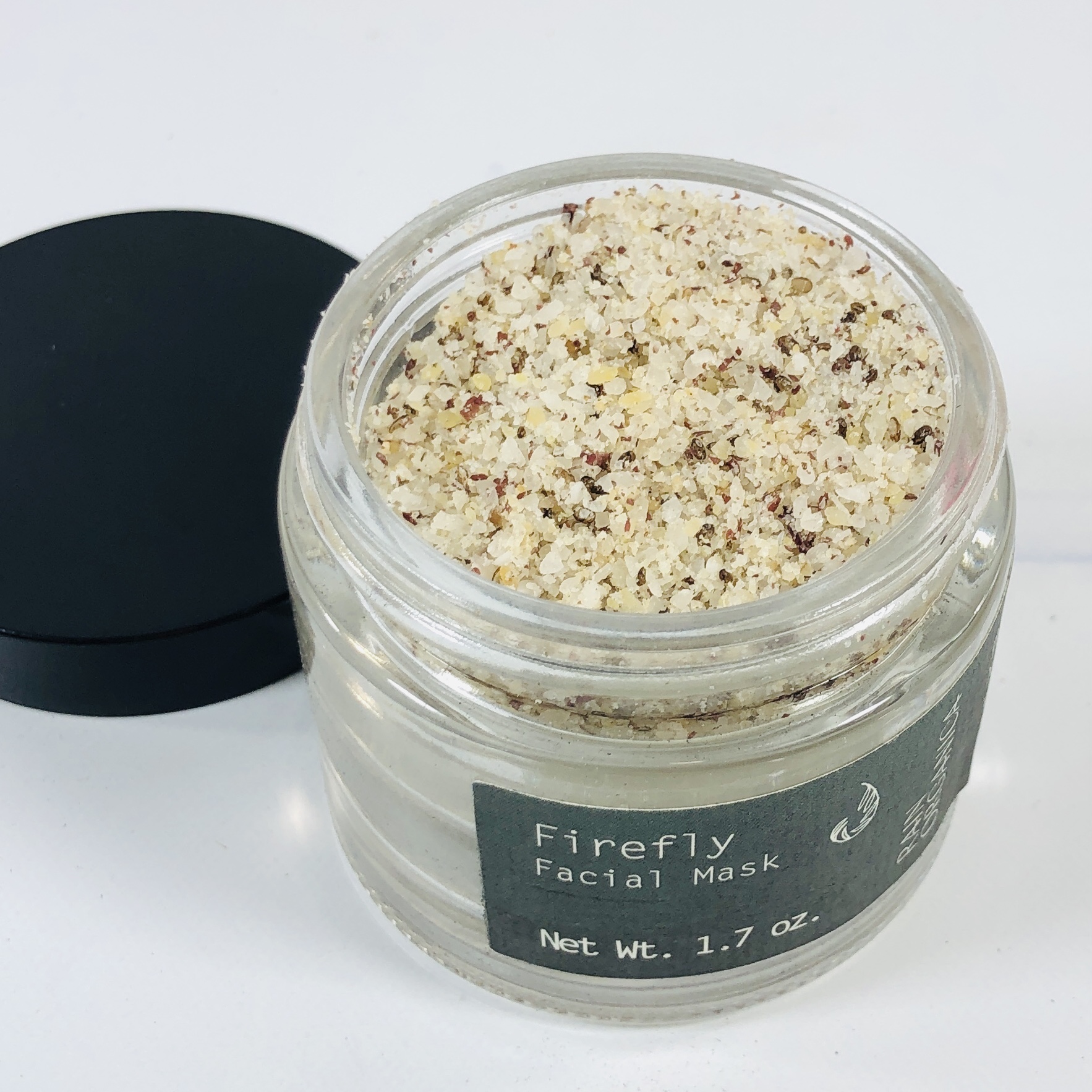 The instructions on the jar and on the website are slightly different. The website says to add this to the Leave No Trace cleanser while the jar says to add water or cleanser. The website says to rinse almost immediately but the jar says you can leave it on for 5-10 minutes. I added water and then rinsed it off in the shower. I felt like I got a good exfoliation from the ground up ingredients and the scent was mostly of the adzuki beans (I remember it from a product I used to buy from The Body Shop literally decades ago). I had a mess in my sink after using so I would suggest mixing it with the cleanser before applying, perhaps the product won't fall off as easily that way. Overall, I really enjoyed this all-natural scrub and if it's too rough for your face then it could be used on the body.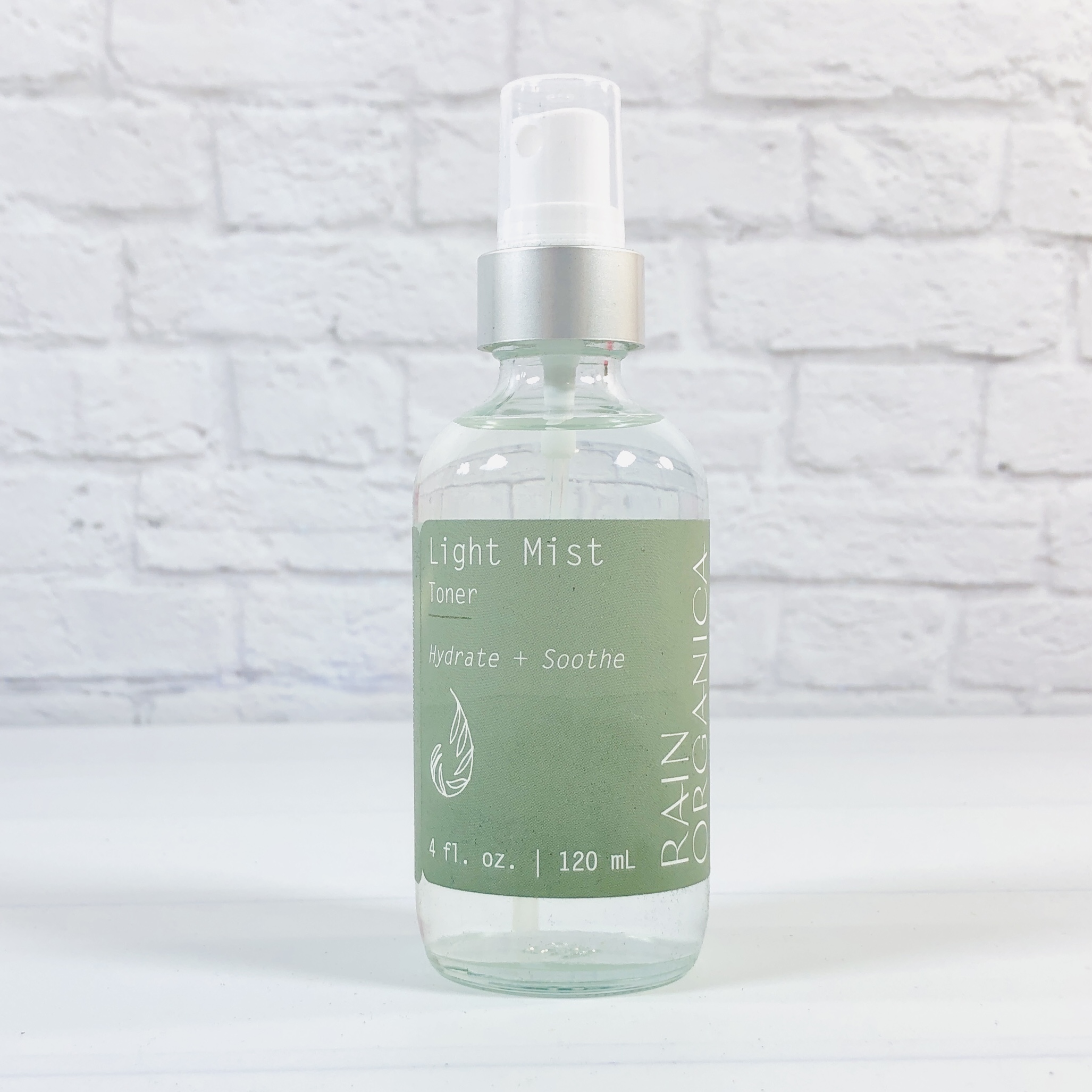 Rain Organica Light Mist Facial Toner ($30) I haven't been able to use this as a "mist" because no matter what I try, I can't get the sprayer to work, so I've been pouring it onto a cotton pad instead.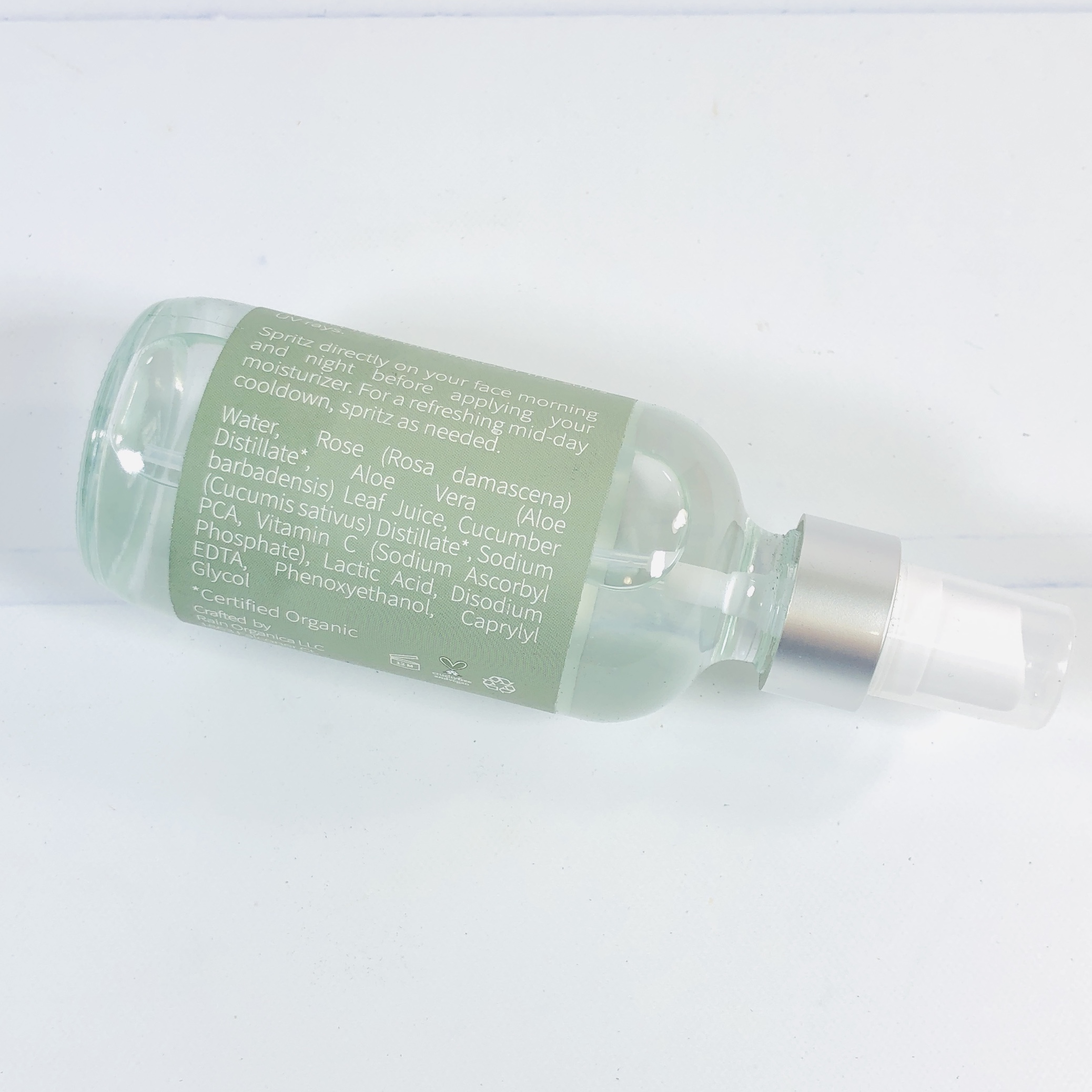 The ingredients include rose water, aloe vera, and cucumber water. The scent is a combo of the two plant waters. I like to (usually) spritz this type of product on before using a face oil, the combo works great on my skin and it is easier to spread the oil. You can also use this to rinse off the cleanser or spray it on throughout the day for a hydration boost.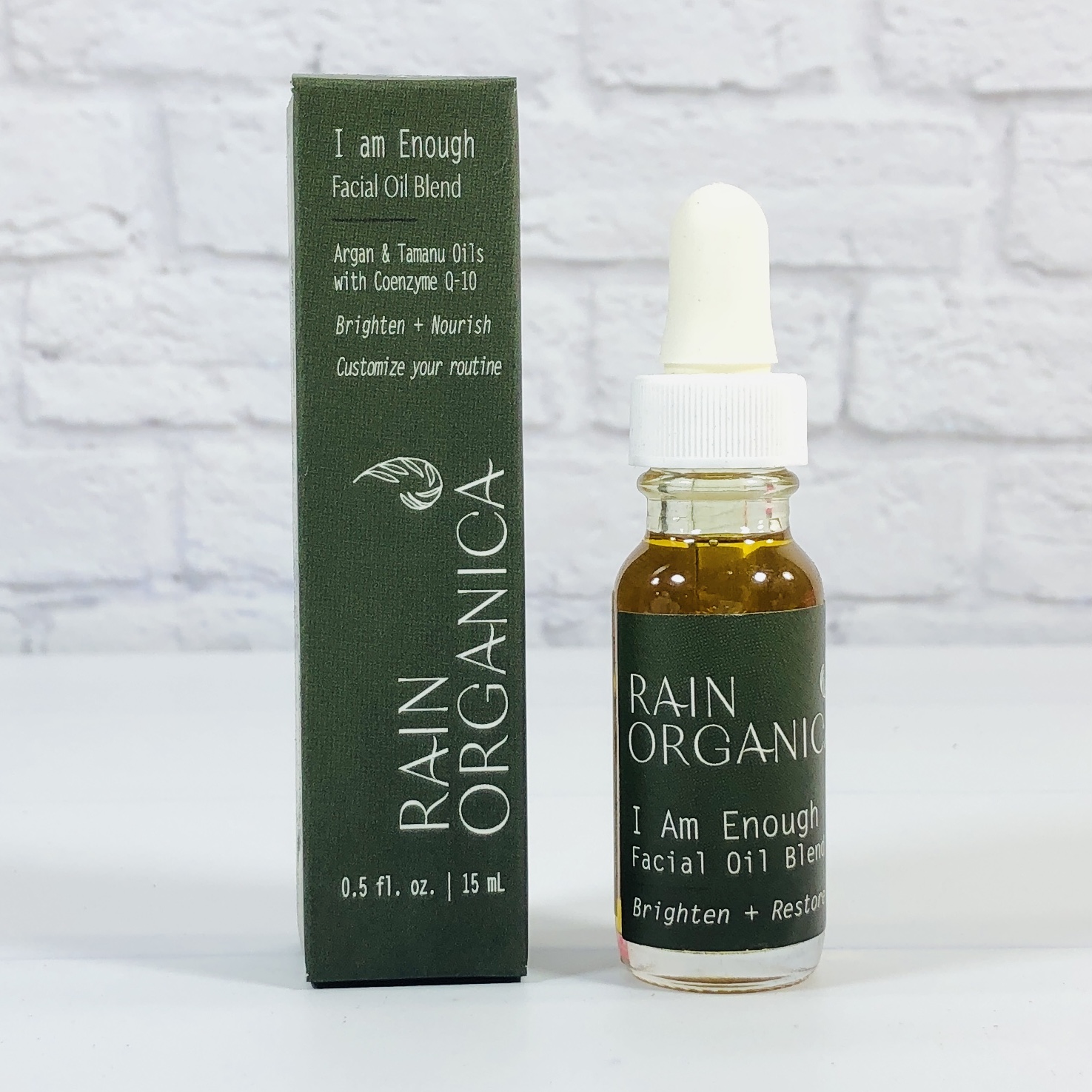 Rain Organica "I AM ENOUGH" Facial Oil ($34) I love using face oils and this one sounded really nice, and I appreciate that it is lacking essential oils for scent.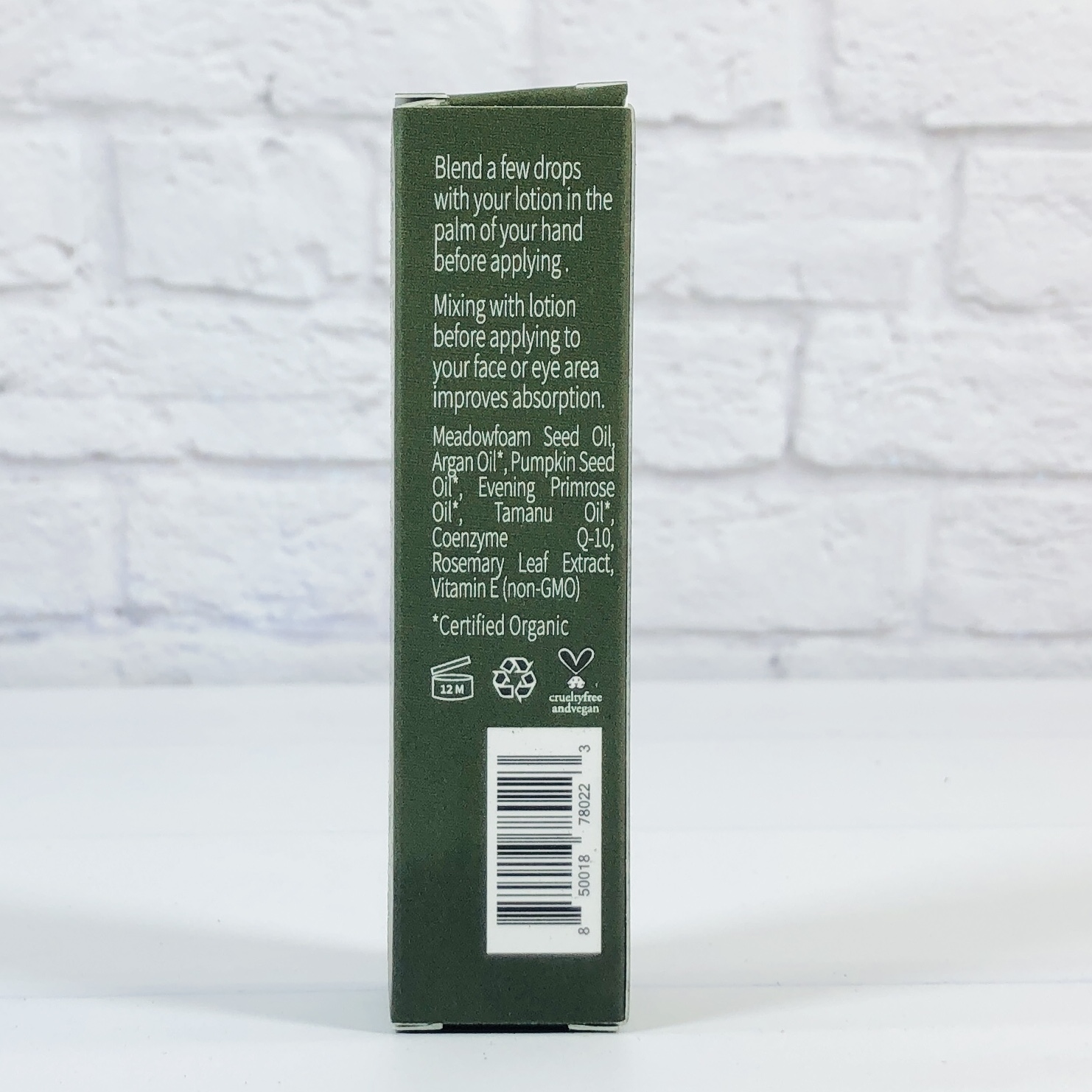 The ingredients include argan and tamanu oils plus others and they are supposed to provide antioxidant protection along with moisturizing abilities.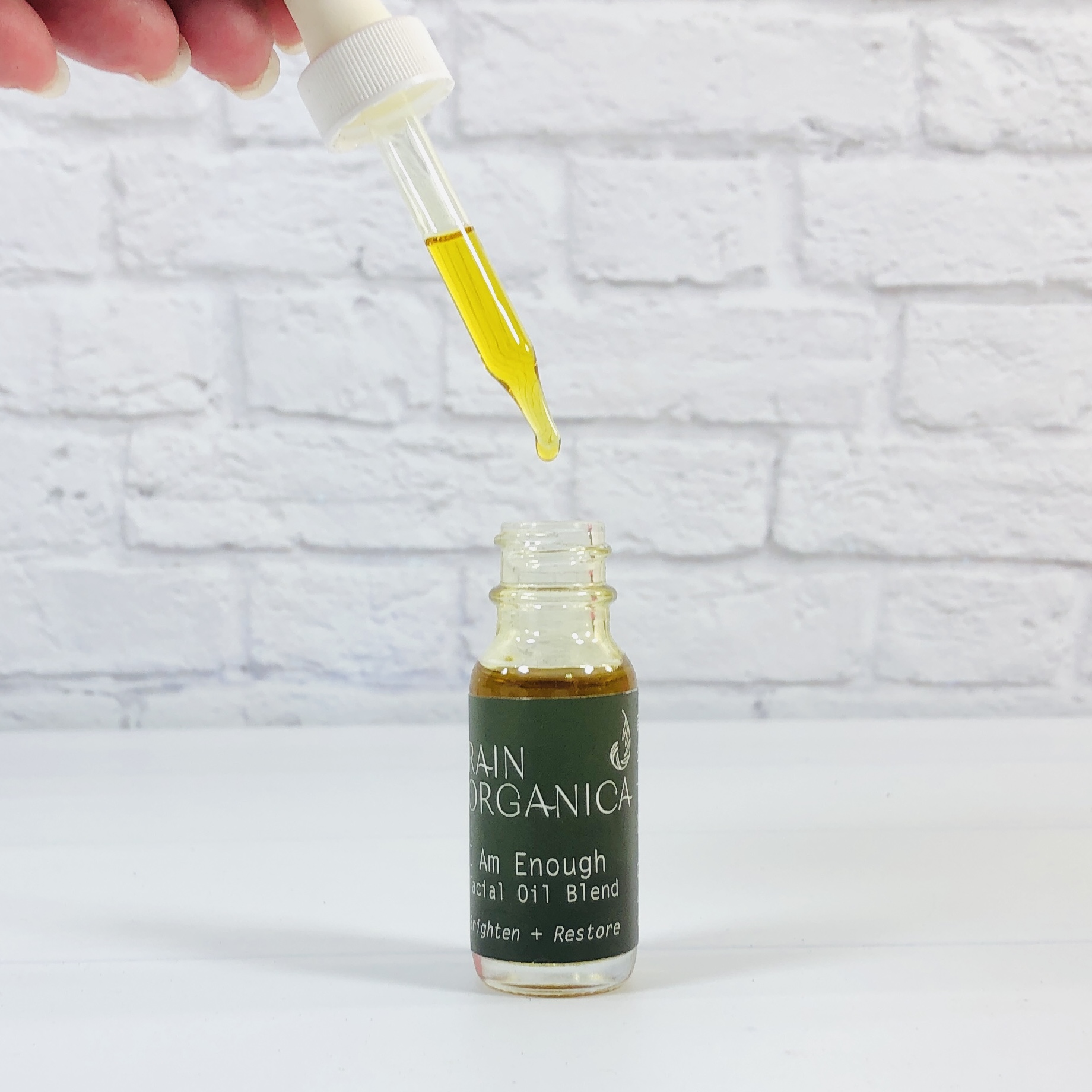 The instructions said to mix this into face lotion before applying so I used it with the lotion below. It has a green, warm, herbal scent. When I applied it by itself it left behind a silky feeling.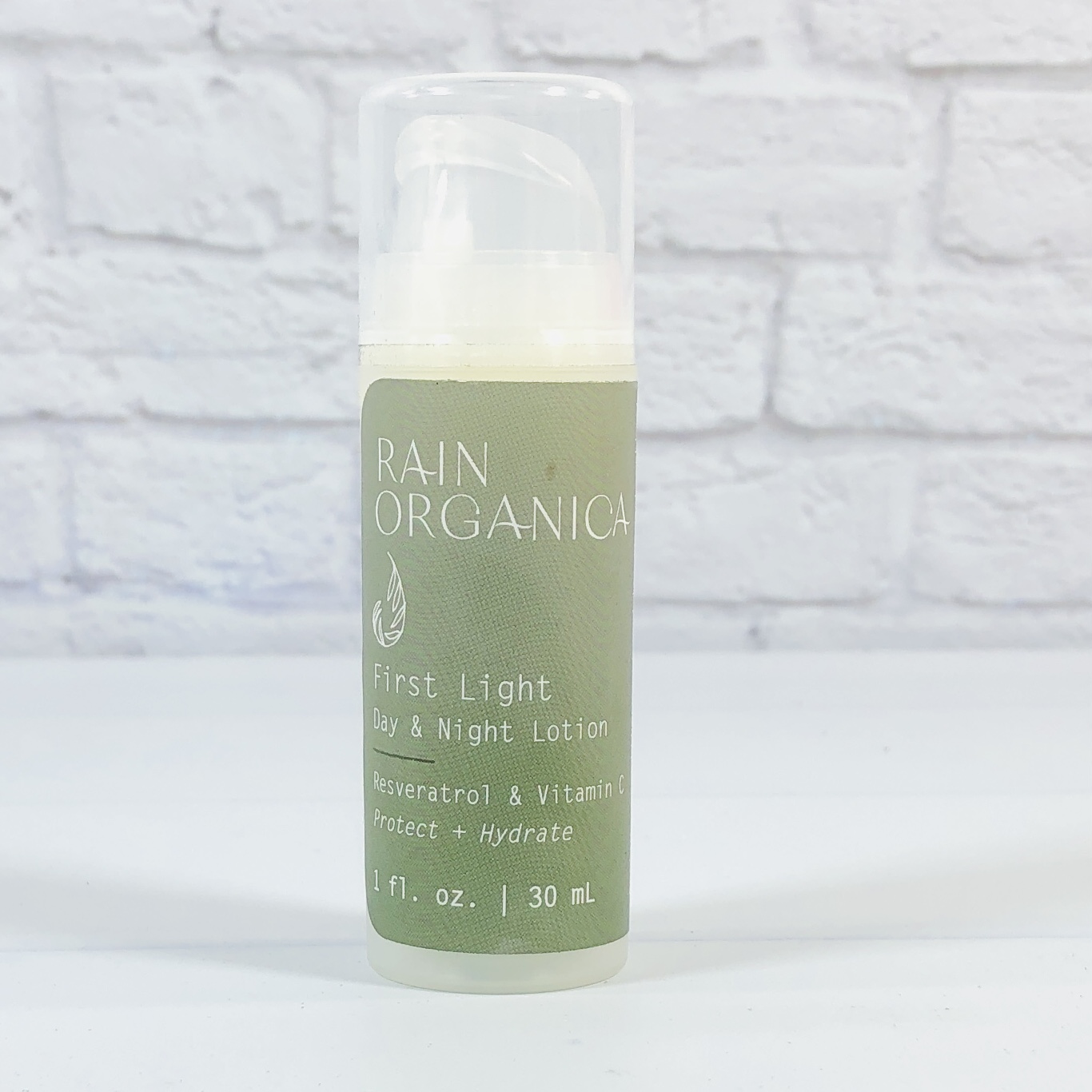 Rain Organica First Light Lightweight Face Lotion ($38) This can be used day and night, no need to buy two separate products but of course, don't forget the sunscreen in the morning! It is recommended for all skin types including sensitive and can be used alone or mixed with the oil shown above.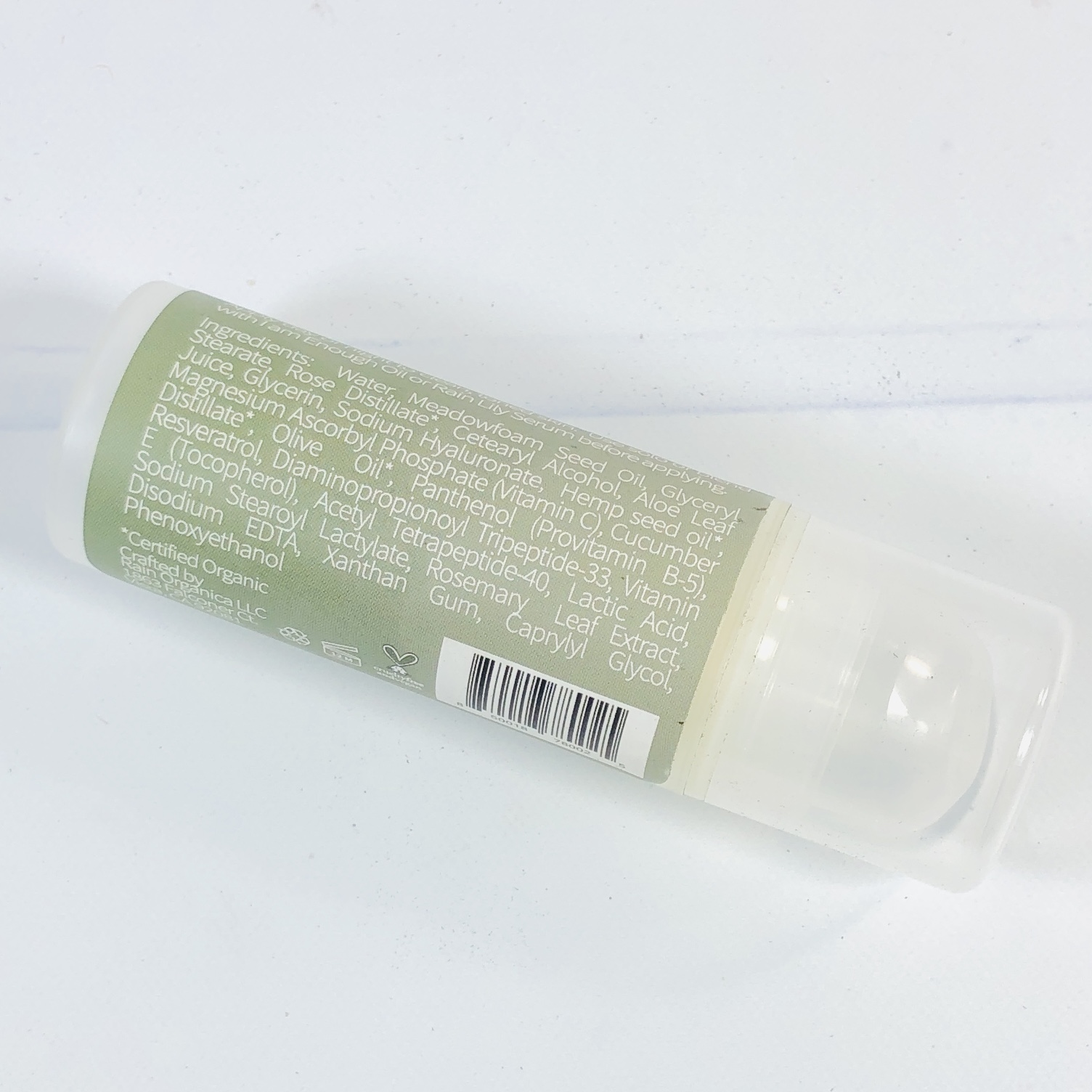 The ingredients include meadowfoam seed oil (which is a lot of these products and has antioxidants), hemp seed oil, rose water, aloe, and olive oil. The scent reminds me of cucumbers and the lotion isn't sticky but there is a tacky feeling until it dries. I mixed this and the oil and applied before bed and it didn't feel greasy at all. I was surprised though when I splashed my face with water upon waking, I could feel the lotion rehydrate, while usually I can't feel anything on my skin at all with my usual products. It reminded me of when I add water to a cleansing lotion and it turns milky.
I was really excited to try the Rain Organica products in the March/April See New box! I am always in search of new skincare brands that are on the natural side and I was excited to see that this brand isn't all about using sensitizing essential oils in face products, since my face is more sensitive than my arms or legs. There are a few ingredients I dislike in beauty products (like parfum) but I didn't see anything like that here. My favorites were the scrub/mask and the oil, those were the least processed of the products but the lotion, toner, and cleanser all worked well for me too. The value for this box was around $178!
What do you think of this box?