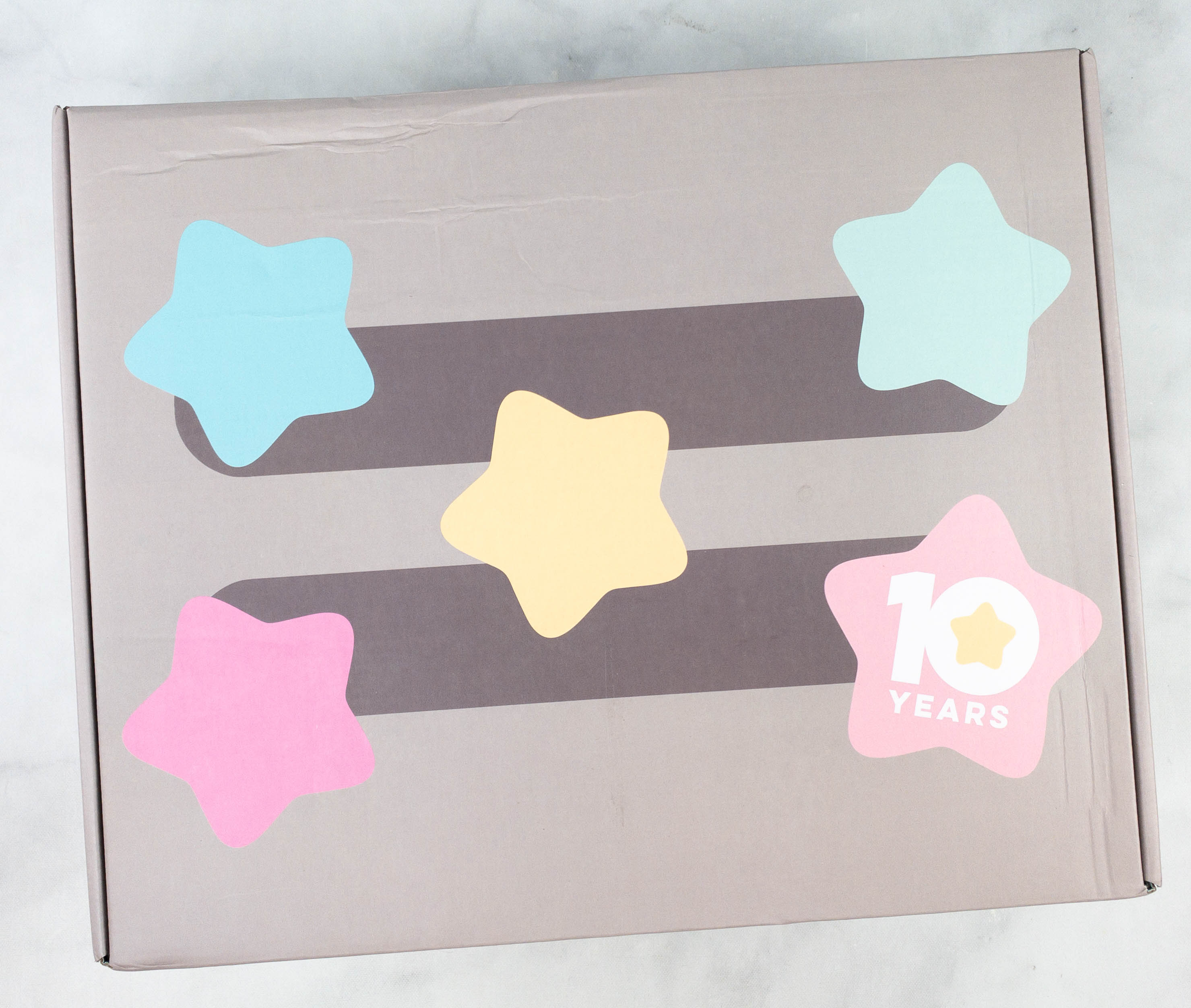 Pusheen Box is a quarterly subscription box that delivers everything Pusheen the cat! Boxes hold a variety of Pusheen items with at least $100 in value, including exclusive products and pre-release items. Some of the items that could be inside include clothing, accessories, electronics, toys, stationery, and more! The box is $43.95 per quarter plus the shipping fee. You can also get a pre-pay annual plan, which reduces the box's cost to $39.95 per quarter plus the shipping fee.
Pusheen Box made the list in our 2021 readers' choice picks of best subscription boxes for teens!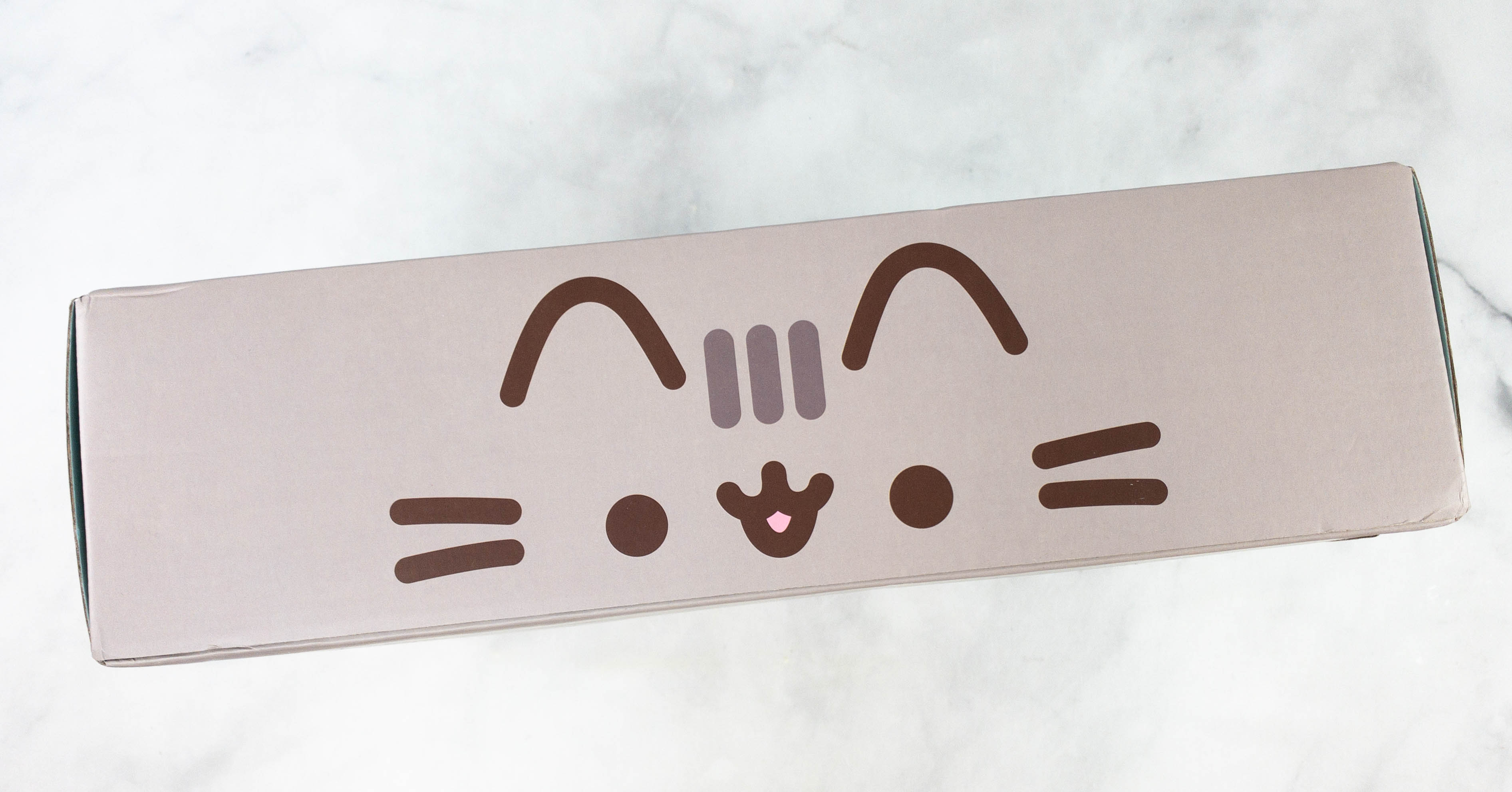 The box itself features Pusheen!
It even has Paw Prints at the bottom!
When you lift open the top lid, there's also an adorable image of Pusheen printed on it!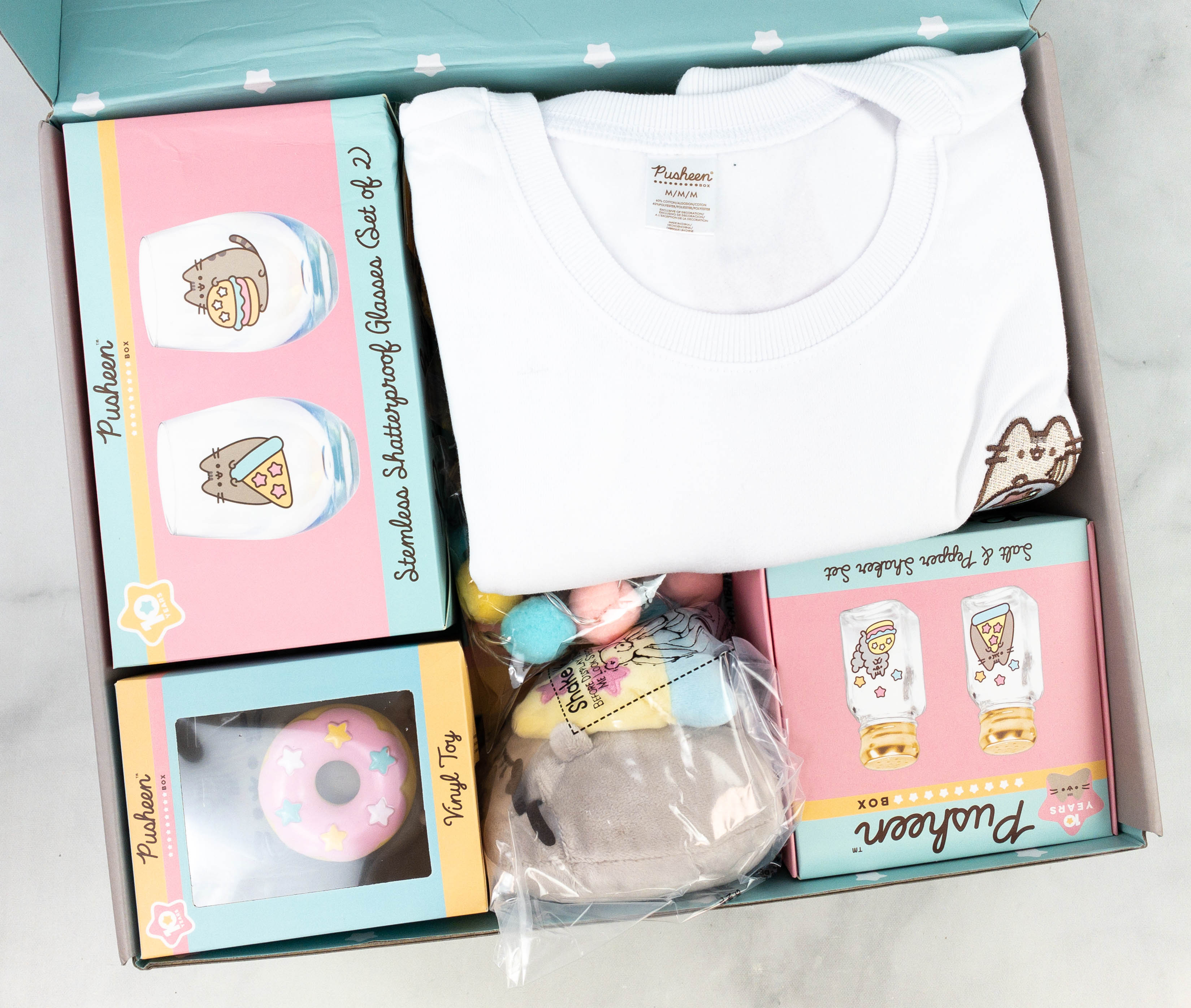 The box is full to the brim!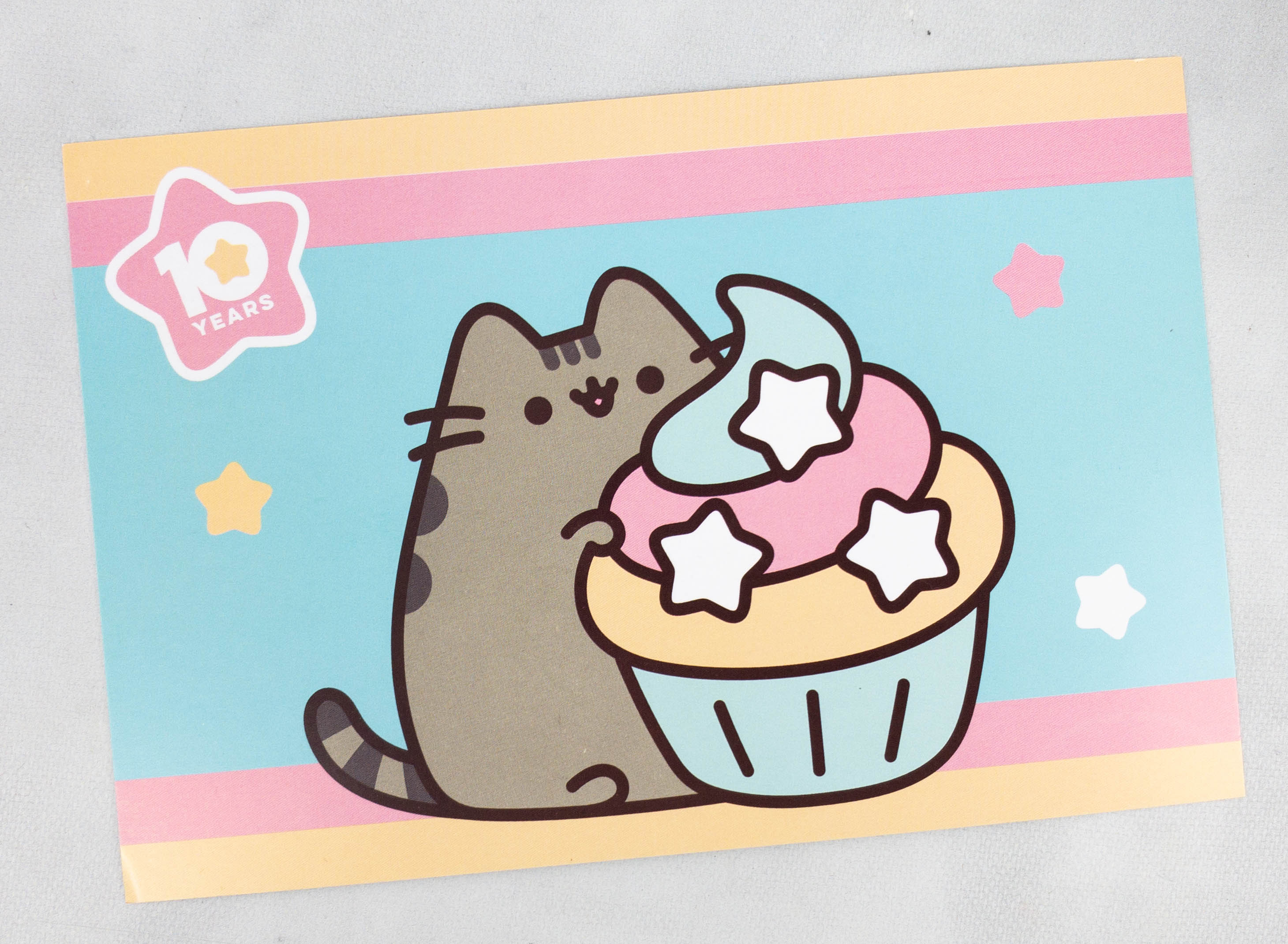 This quarter's theme is 10 YEARS OF PUSHEEN!
The information card lists all the items in the box with a short description for each.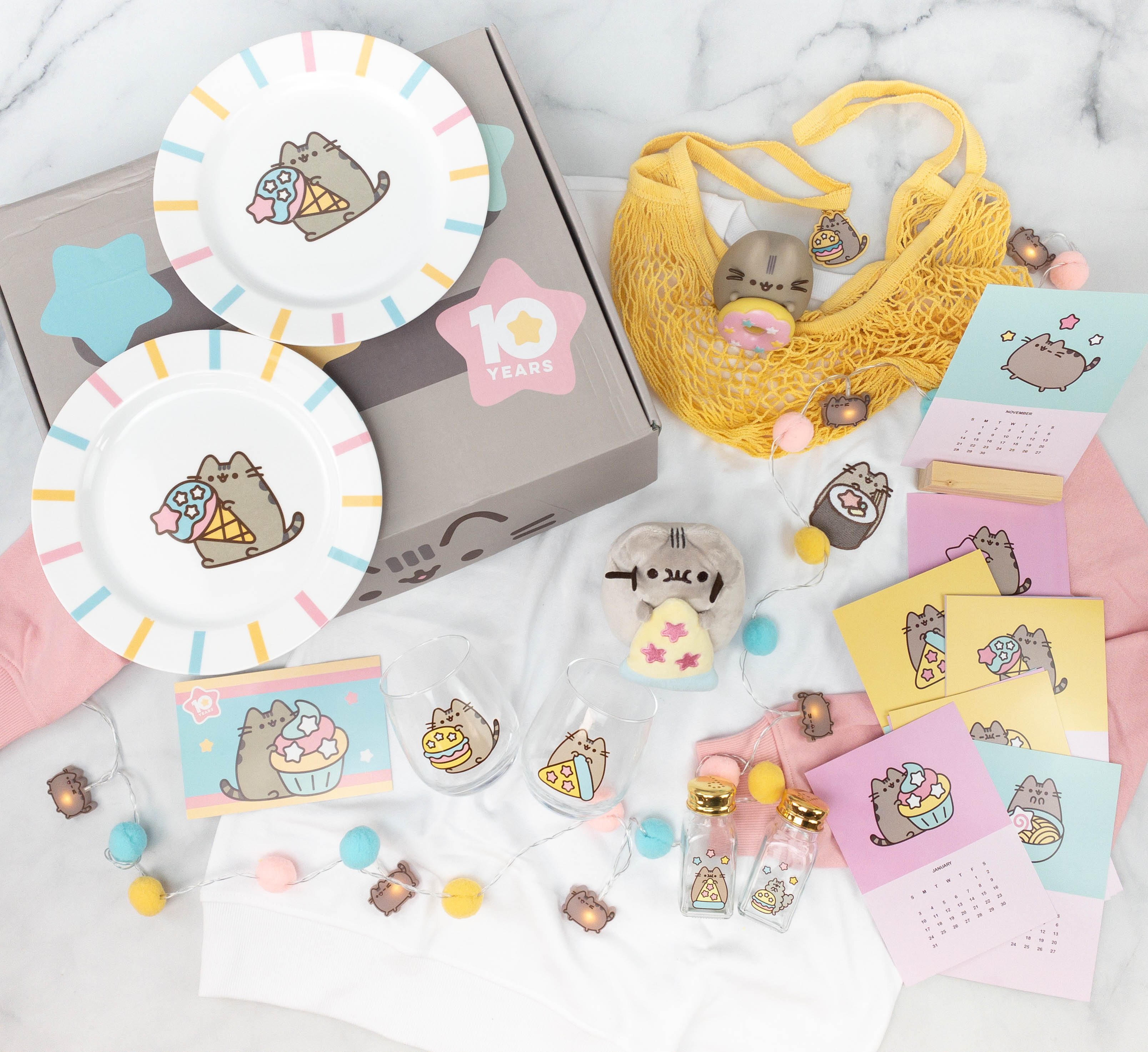 Everything in the Winter 2020 Pusheen Box!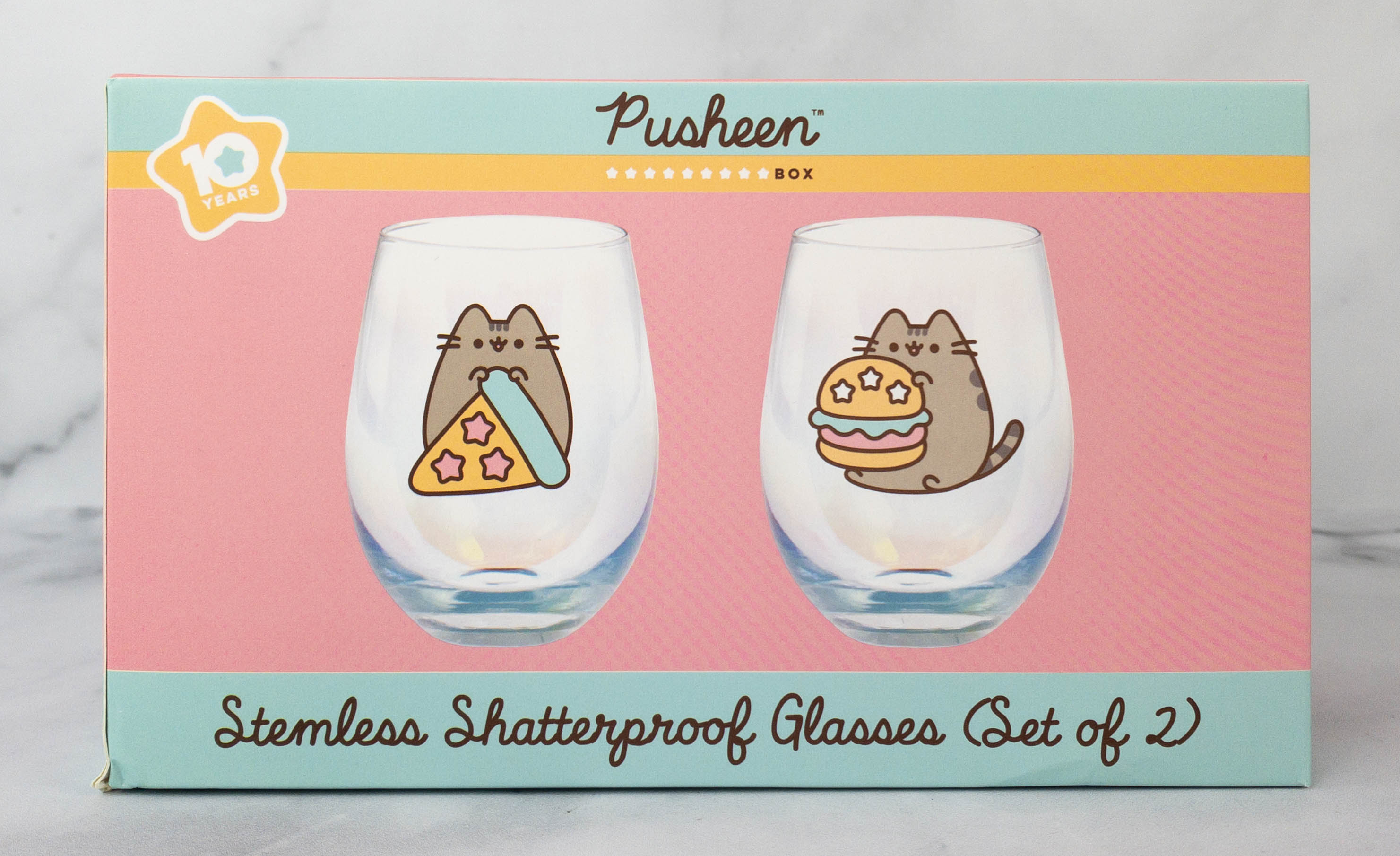 Stemless Shatterproof Glasses. The glasses came in their own box packaging for extra protection during transit. It's a cute box, which also features a photo of each of the glass design.
These glasses are billed as shatterproof. I like the clear base as it really highlights the Pusheen print. One glass features Pusheen folding a burger while the other one shows Pusheen holding a pizza. Both are really adorable!
Pusheen Sushi Sweatshirt. Pusheen Boxes often include a wearable, and this season, it's a cute sweatshirt! It's not too thick, just enough to keep me cozy. The main body is white, while the sleeves are in peach.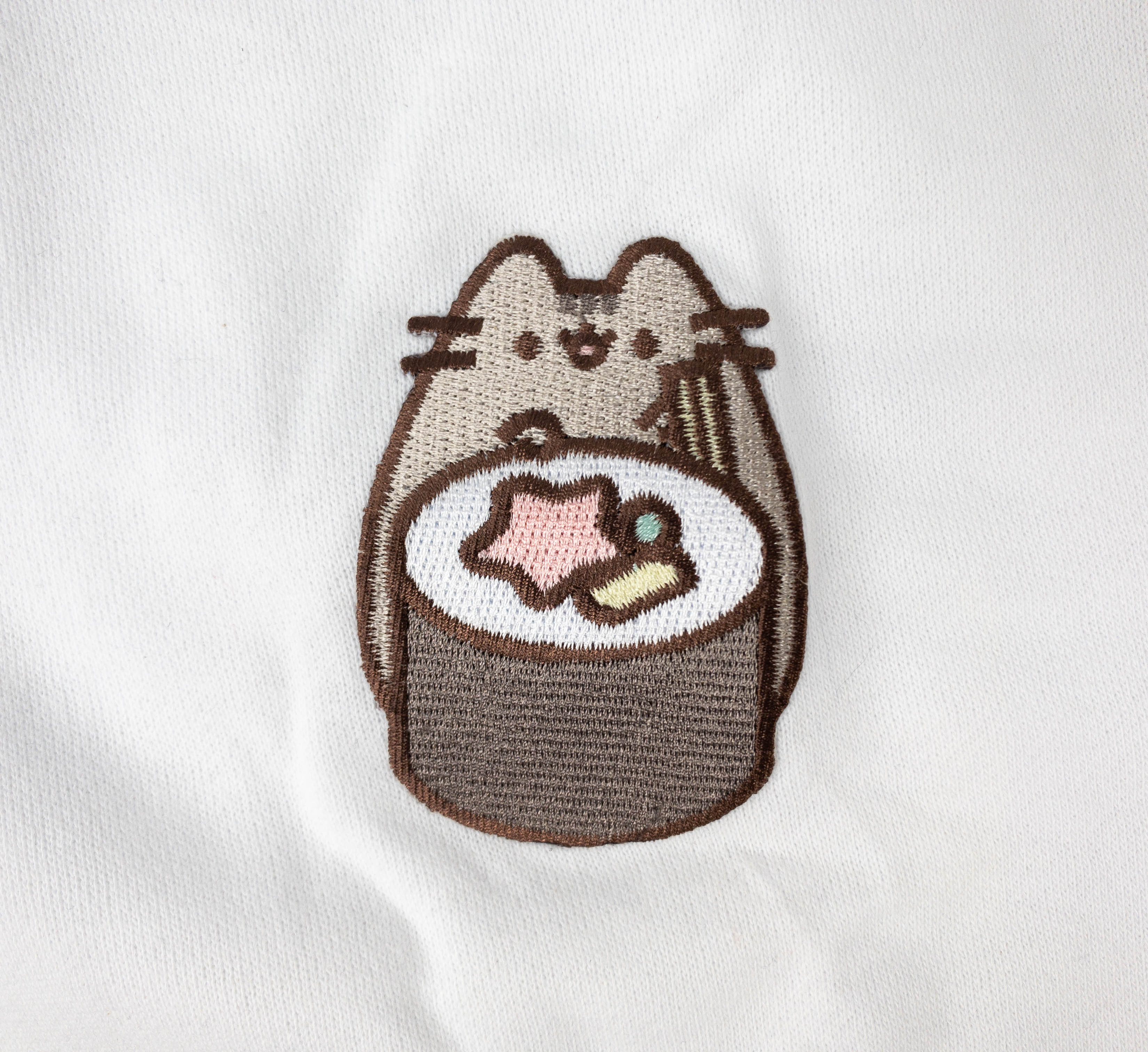 There's also a mini Pusheen patch on the upper left part and it shows her holding a a giant sushi, looking all excited!
Melamine Plate Set. To pair with the glasses, they sent a set of melamine plates! These came in their own packaging as well.
These plates add a touch of cuteness to any dinner table. Since these are made with melamine, they are also pretty easy to clean.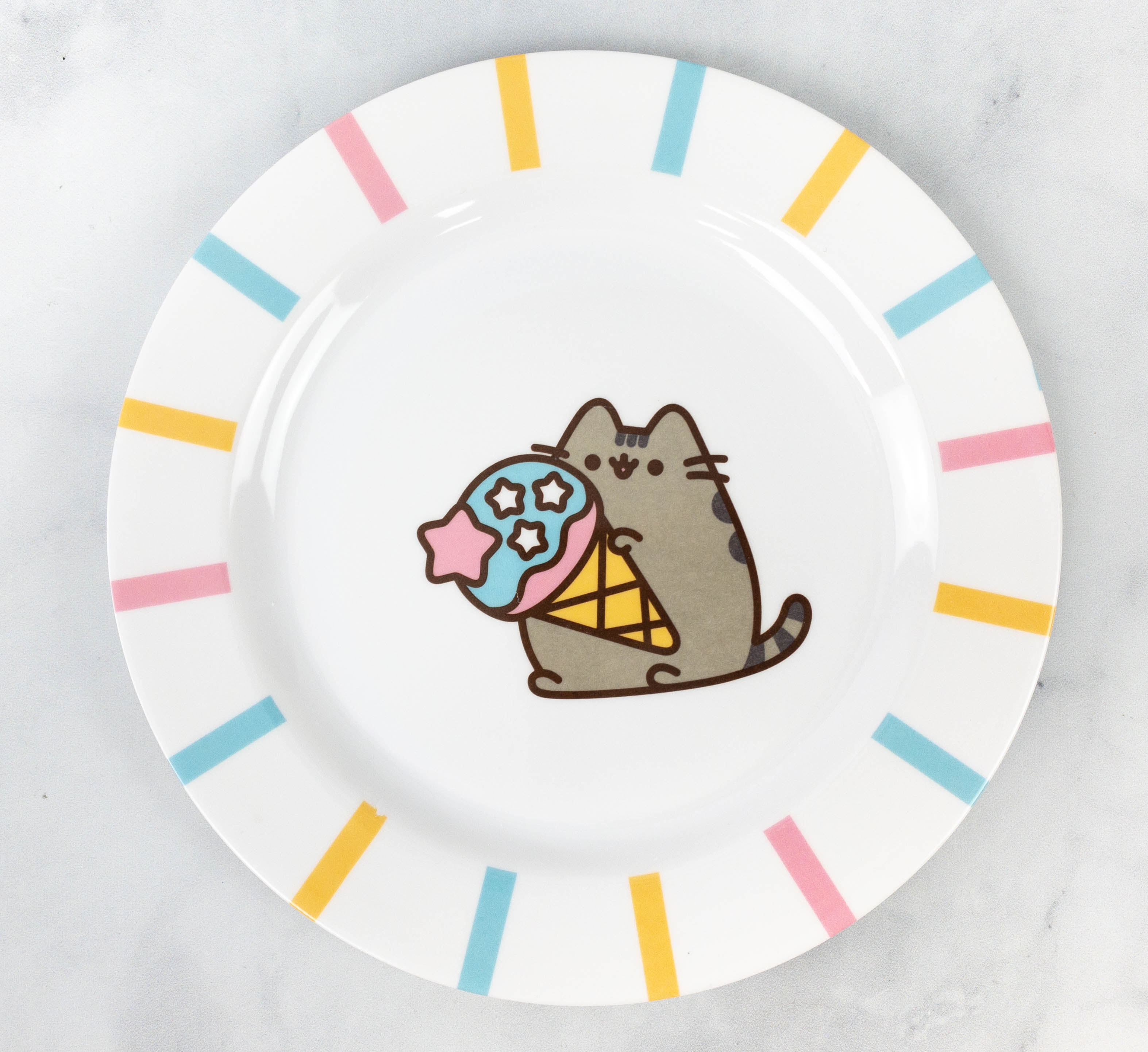 Each plate has different colored stripes on the side while Pusheen is at the center, holding an ice cream cone with star sprinkles!
Pusheen Pizza Plushie. This plushie is soft and cuddly! It features Pusheen enjoying her pizza slice. Yum!
The detailing on this plushie is so good, they even got her stripes on point.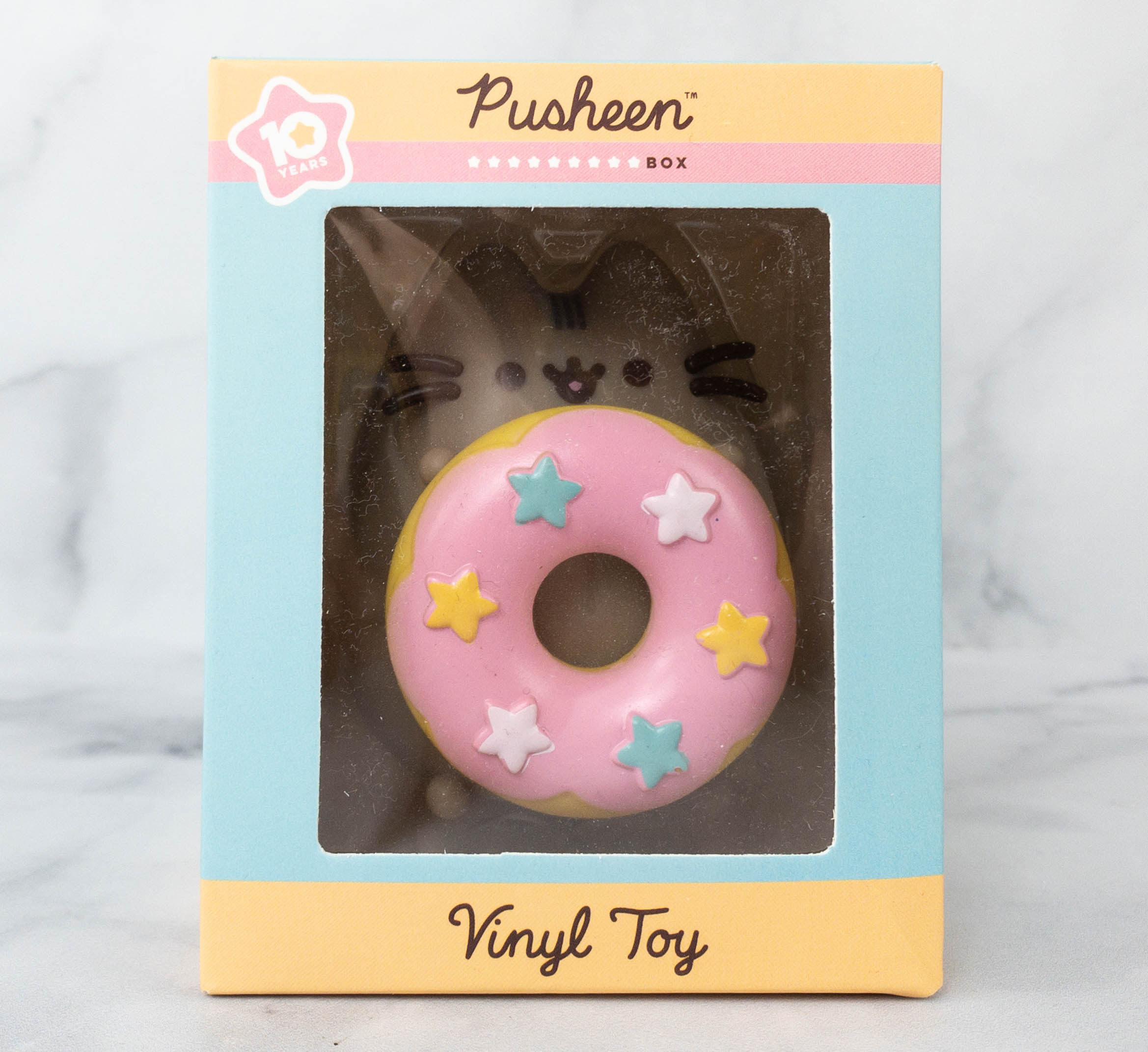 Vinyl Toy. The vinyl toy was packed in a box with a see-through window. Of course, the newest addition to my Pusheen vinyl figure collection is food-themed!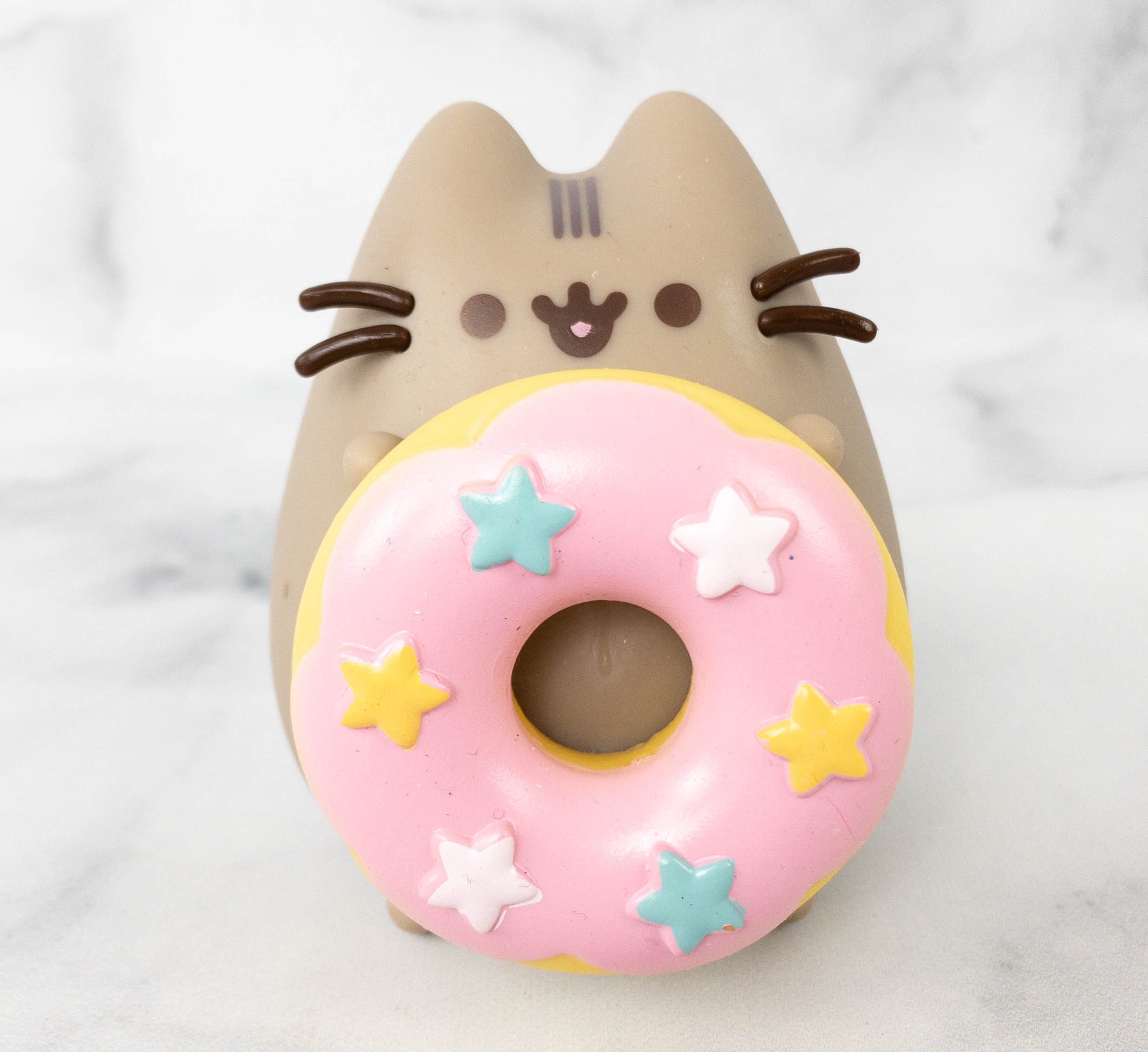 This Pusheen figure holds a giant strawberry dipped doughnut. Pusheen looks really happy as well!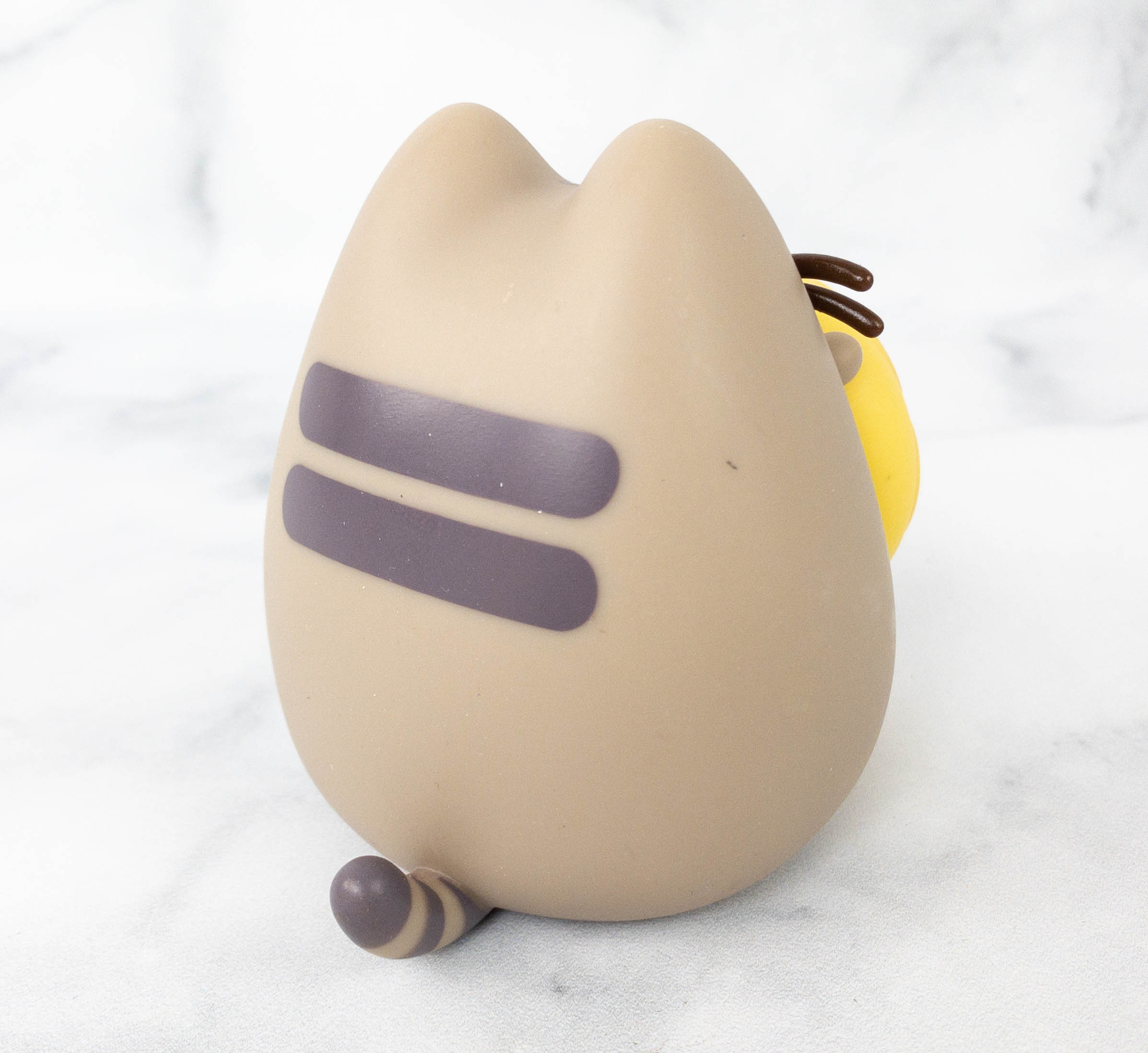 At the back, you'll see Pusheen's small striped tail!
Cotton Mesh Tote Bag. They also sent a mesh tote bag! It came in this plastic packaging with the card stock label.
The mesh bag came in a bright yellow color!
It even has a Pusheen keychain hanging on it for an additional charm.
This is the perfect tote bag for whenever I needed to do a quick grocery run!
Pom Pom String Light Garland. This garland is for decorating the bedroom or any part of the house that needs a touch of cuteness!
These are really cute! They're battery operated, so you can put them anywhere even when there's no socket nearby.
It features different colored pompom balls with Pusheen charms that has a mini light inside of it! This will make for an awesome room decoration. It's like putting up the Christmas lights but these Pusheen lights is never out of season, so you can have them up all year round!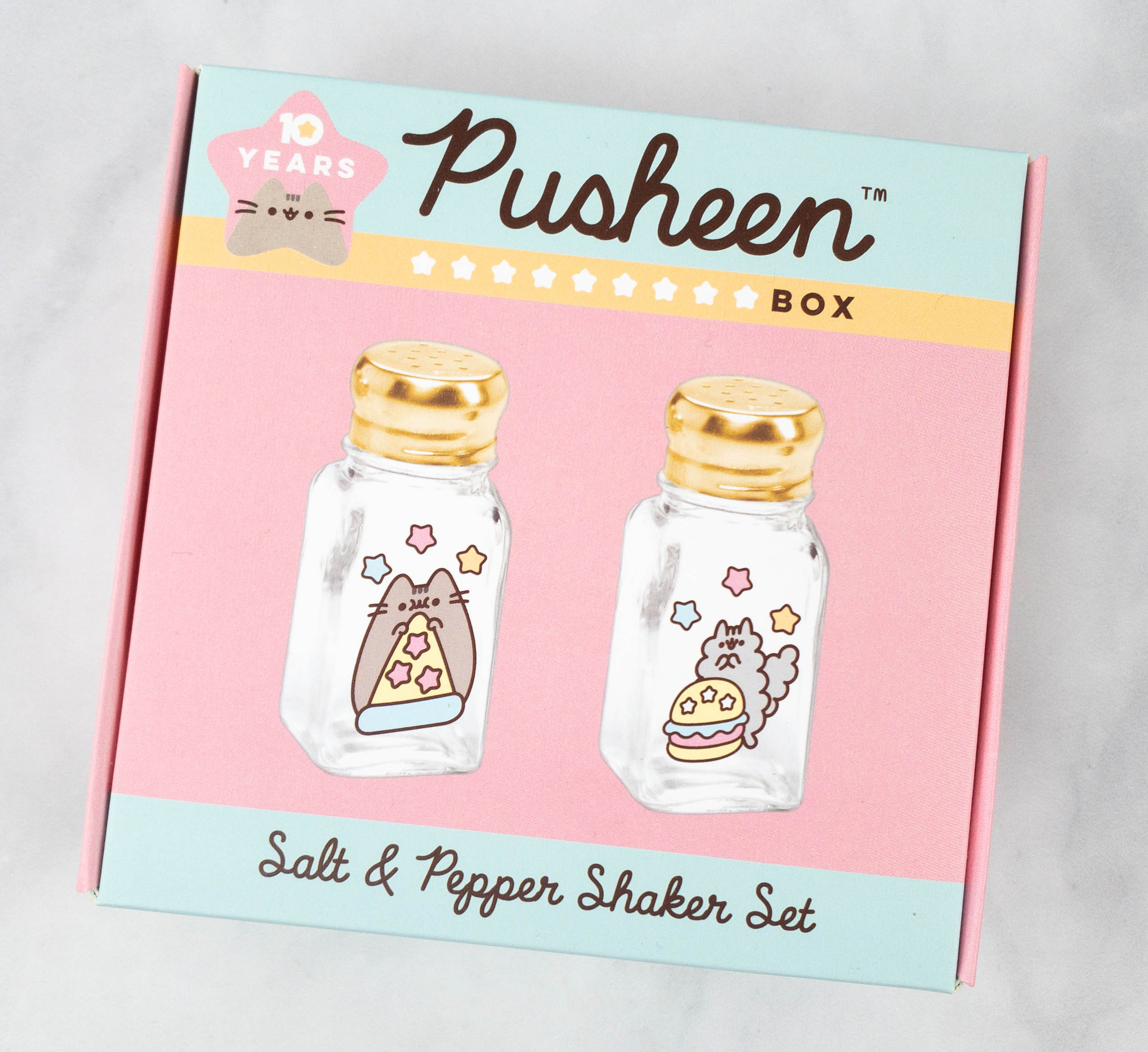 Salt & Pepper Shaker Set. Since this quarter's box involves food, they also added salt and pepper shakers!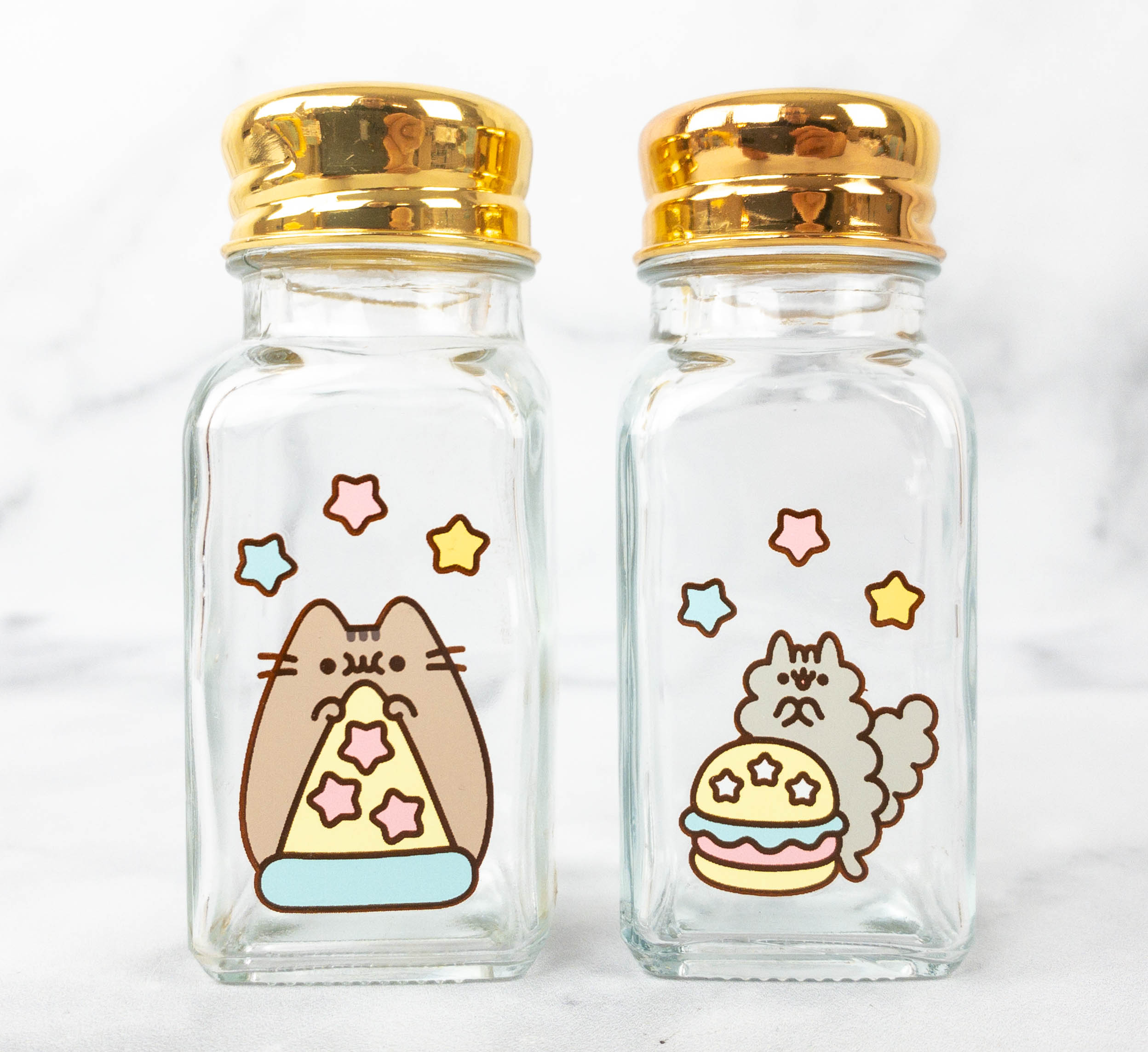 This one features Pusheen holding a pizza and Stormy looking really happy about that burger! I love the gold-colored lid as it adds a touch of elegance to these shakers. Also, the fact that they used Pusheen and Stormy will make it easier to remember the difference between the salt and pepper containers.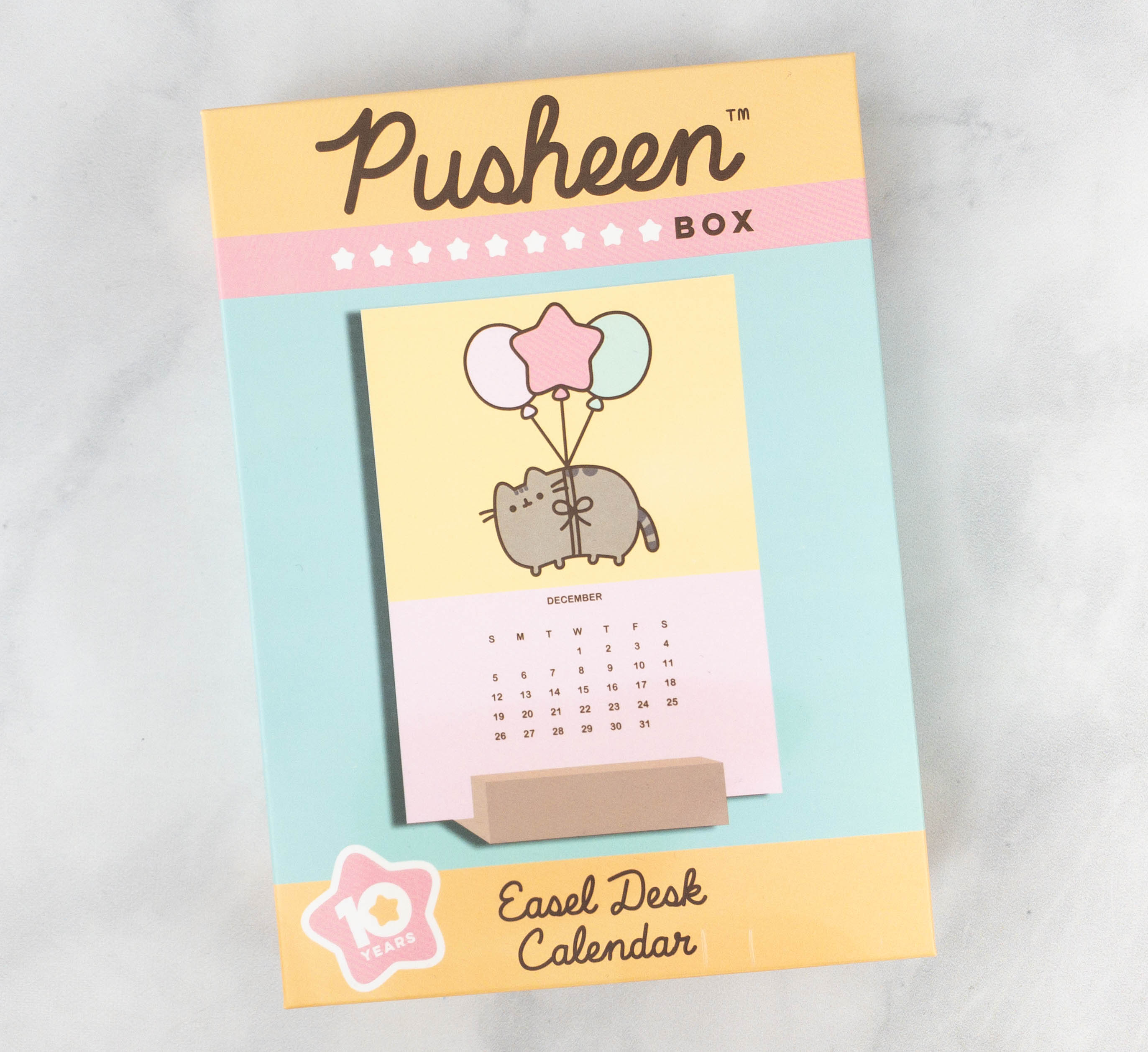 Easel Desk Calendar. Lastly, here's a desk calendar for 2021!
Each month's calendar is printed on a thick, premium card stock. The set also comes with a sleek wooden stand for easier display.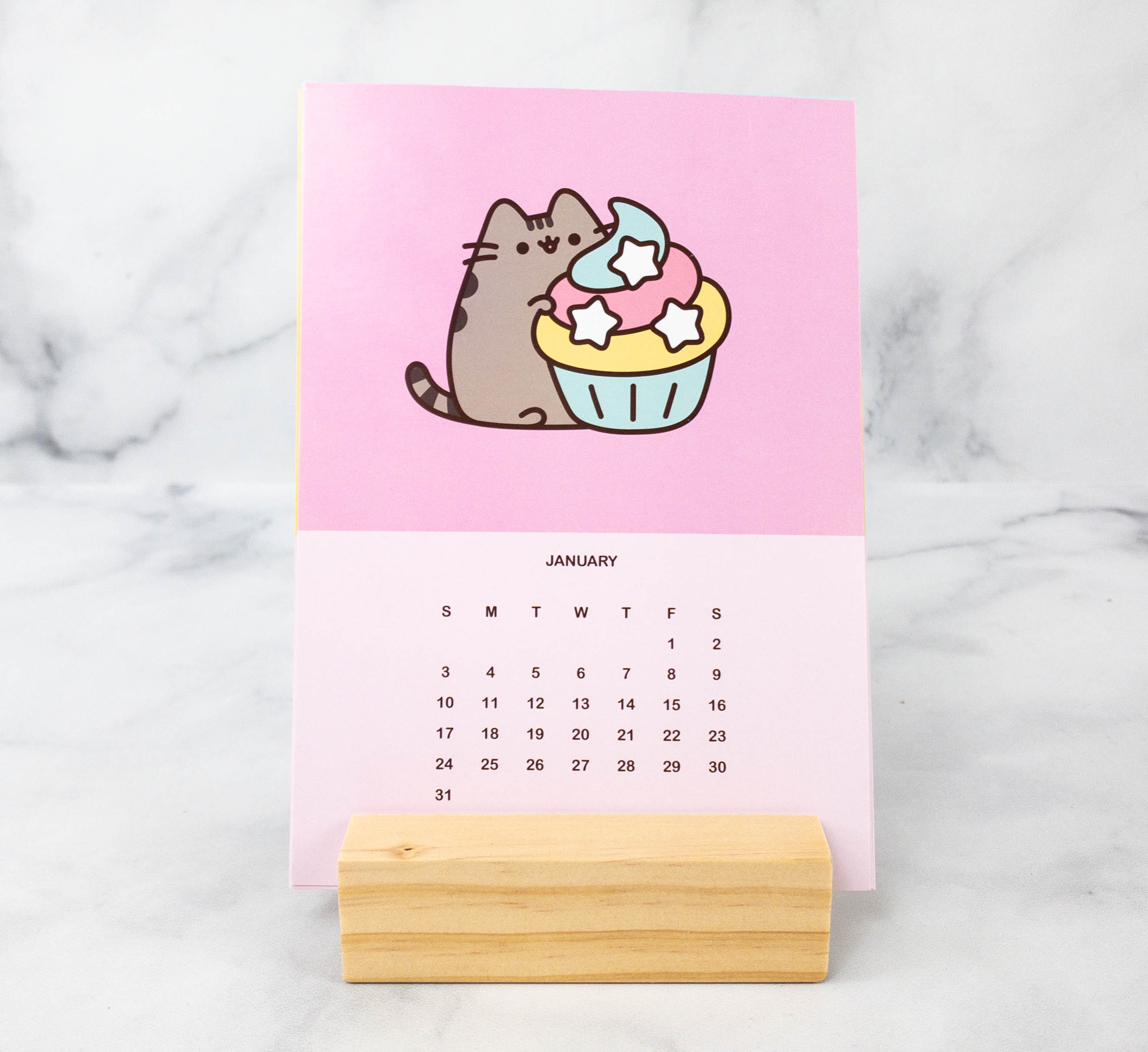 The cards fit the base perfectly, and you just have to replace the card in front to match the current month.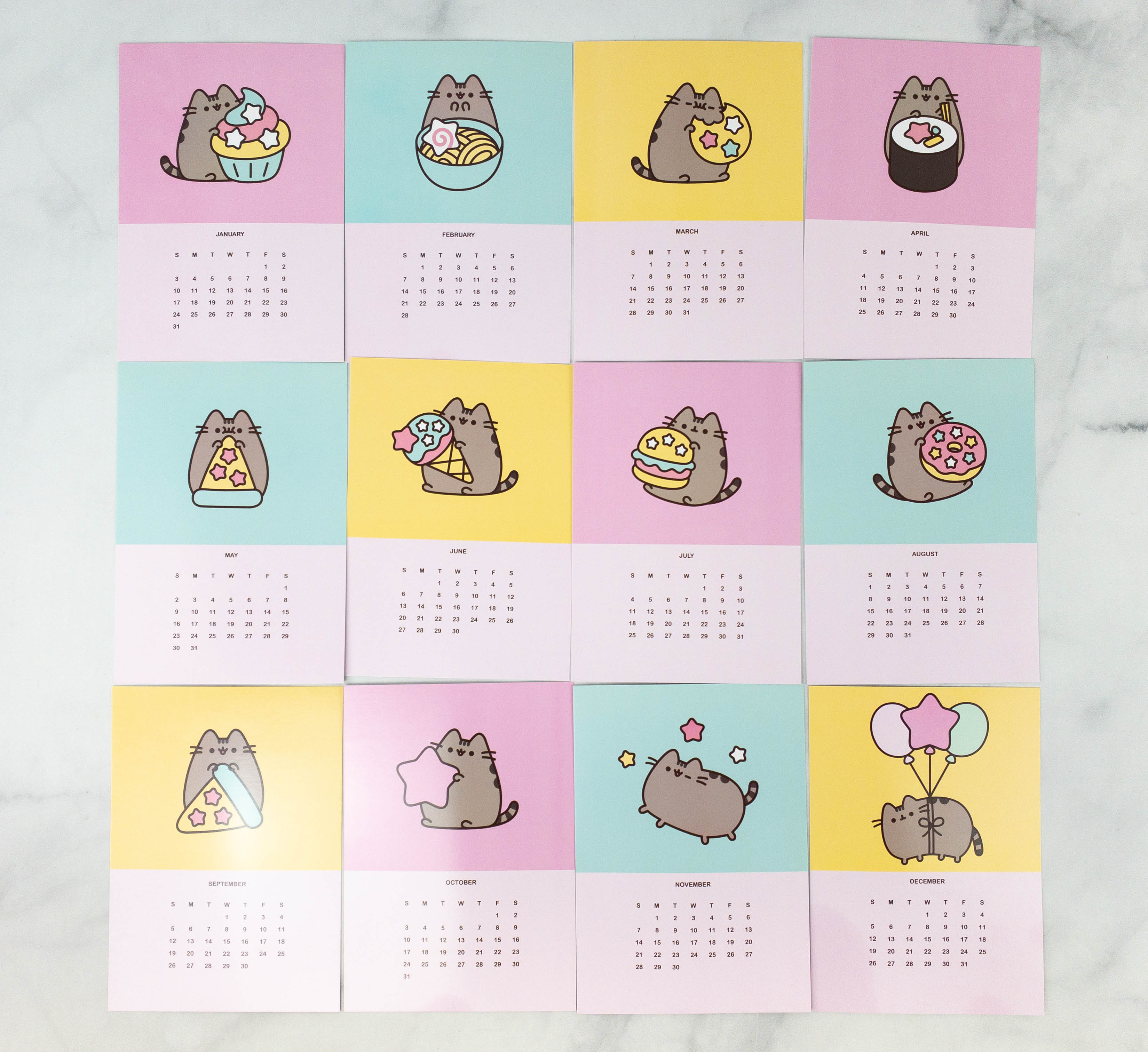 Each month also features a different Pusheen print. My favorites are the April card featuring Pusheen with a sushi roll, and the July card featuring Pusheen with a burger!
The card stock quality is really good. The print itself is also high-quality, and I love the colors used. This will make a nice display for my office desk!
The Pusheen Box is as fun and jampacked as always! This quarter's items are related to food and dining, so the box included cute glasses, plates, and even a pair of salt and pepper shakers, making it one of my immediate favorites (like Pusheen, I love food!). There's also a mesh bag that makes a good alternative for plastic! The rest of the items feature Pusheen with food, like the vinyl figure where Pusheen enjoys a doughnut and the plushie where the cute cat carries a slice of pizza. If you can't get enough of Pusheen, you might love this subscription as well. The box only comes once every season, but it's always worth the wait because of the cute and functional items. Many of them are also exclusives!
What did you think of the Pusheen Box this Spring?