Poutbox is a monthly subscription of beauty products for your lips! You can expect to find makeup items like lipsticks, glosses, liners, and lip care products such as lip balms, masks, and oils. There are two levels to choose from: Poutbox Plus is $34.99 for 6+ full-sized products; Poutbox is $19.99 for 3 full-sized products. Shipping is free for both levels to the US, and they ship to Canada for $7.99. You can purchase a gift box for a friend (or a splurge for yourself) and receive 10+ products for $49.99.
We partner with boutique and name beauty brands to bring you lip colors and formulas you know and love, as well as giving you the opportunity to discover lots of new favorites. We only ever include 100% cruelty-free products, so you can look and feel great when wearing them.
DEAL: Get 10% off on your first order! Use coupon code LIPS10.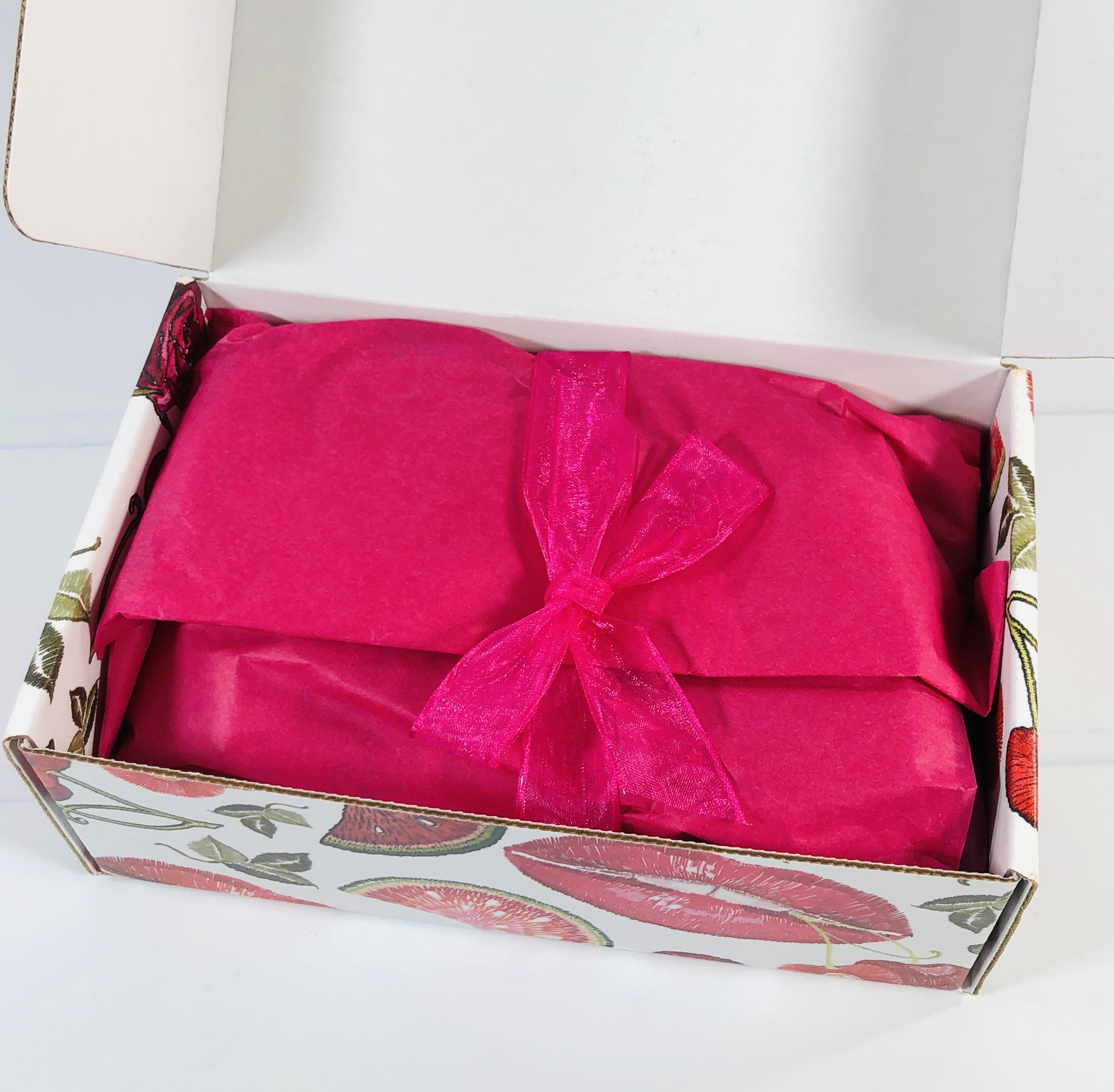 The box itself is beautiful and has flowers, fruits, and of course lips all over! I am reviewing Poutbox Plus.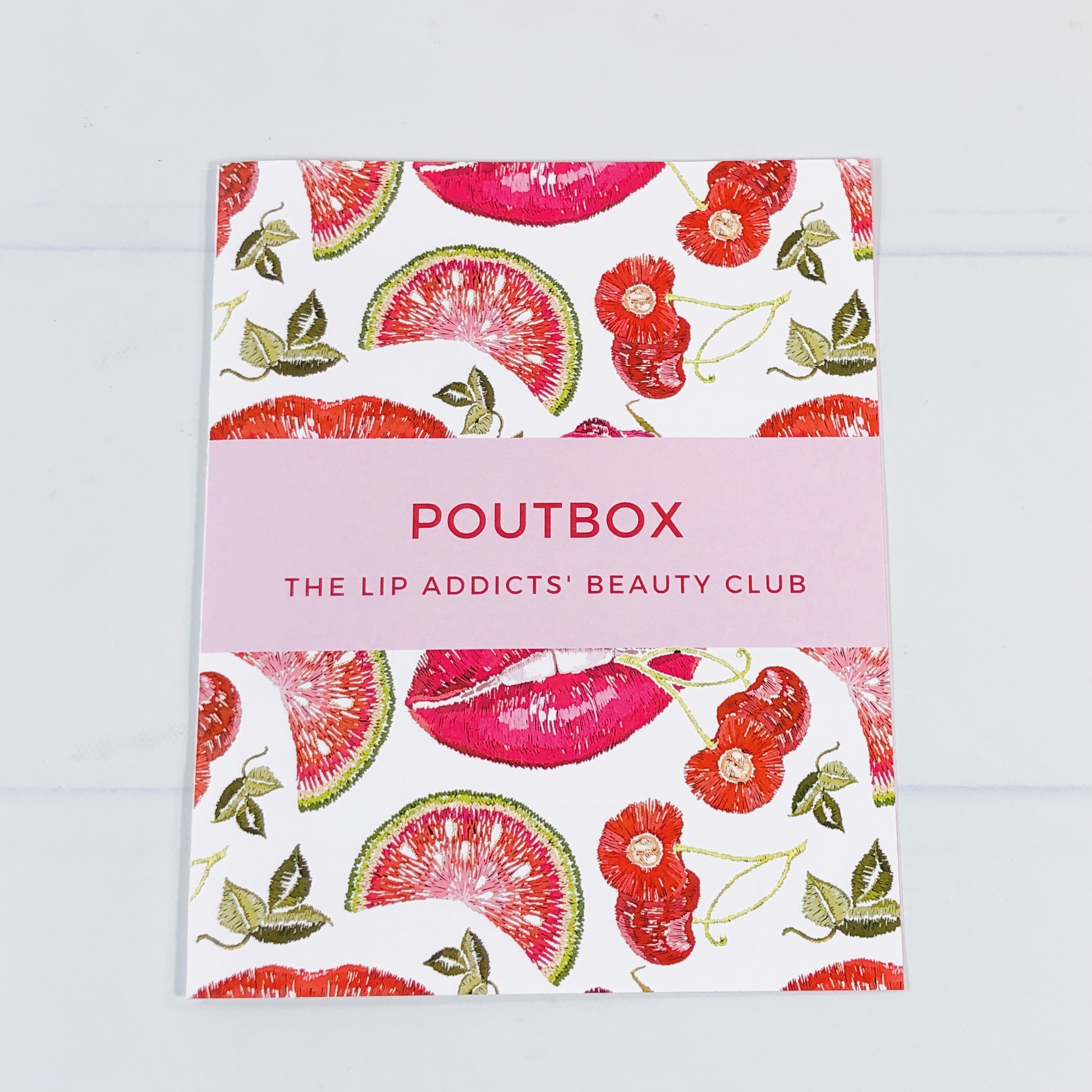 I found a product info guide.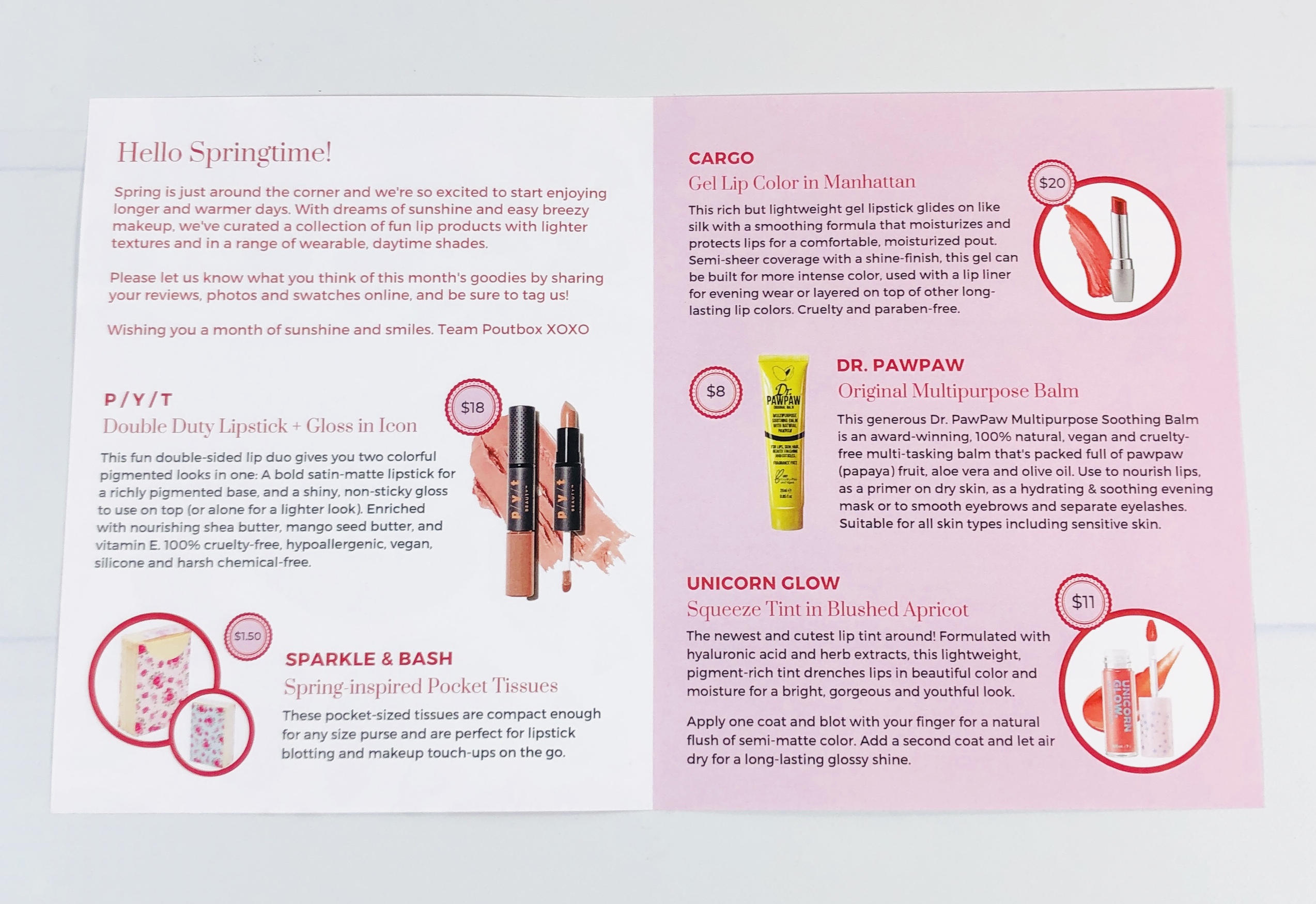 Inside I found all of the products listed plus a description and MSRP.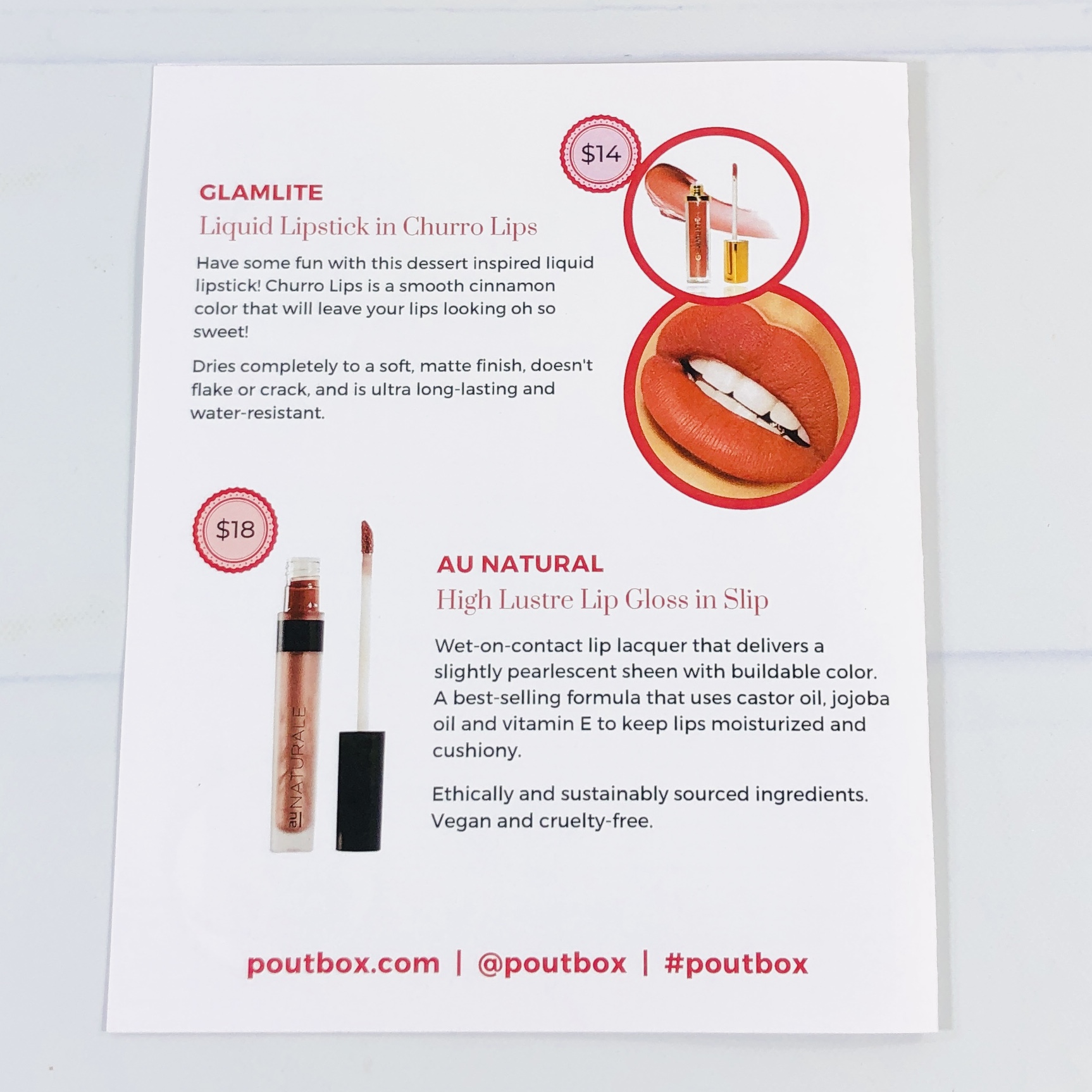 The back had the rest of the items.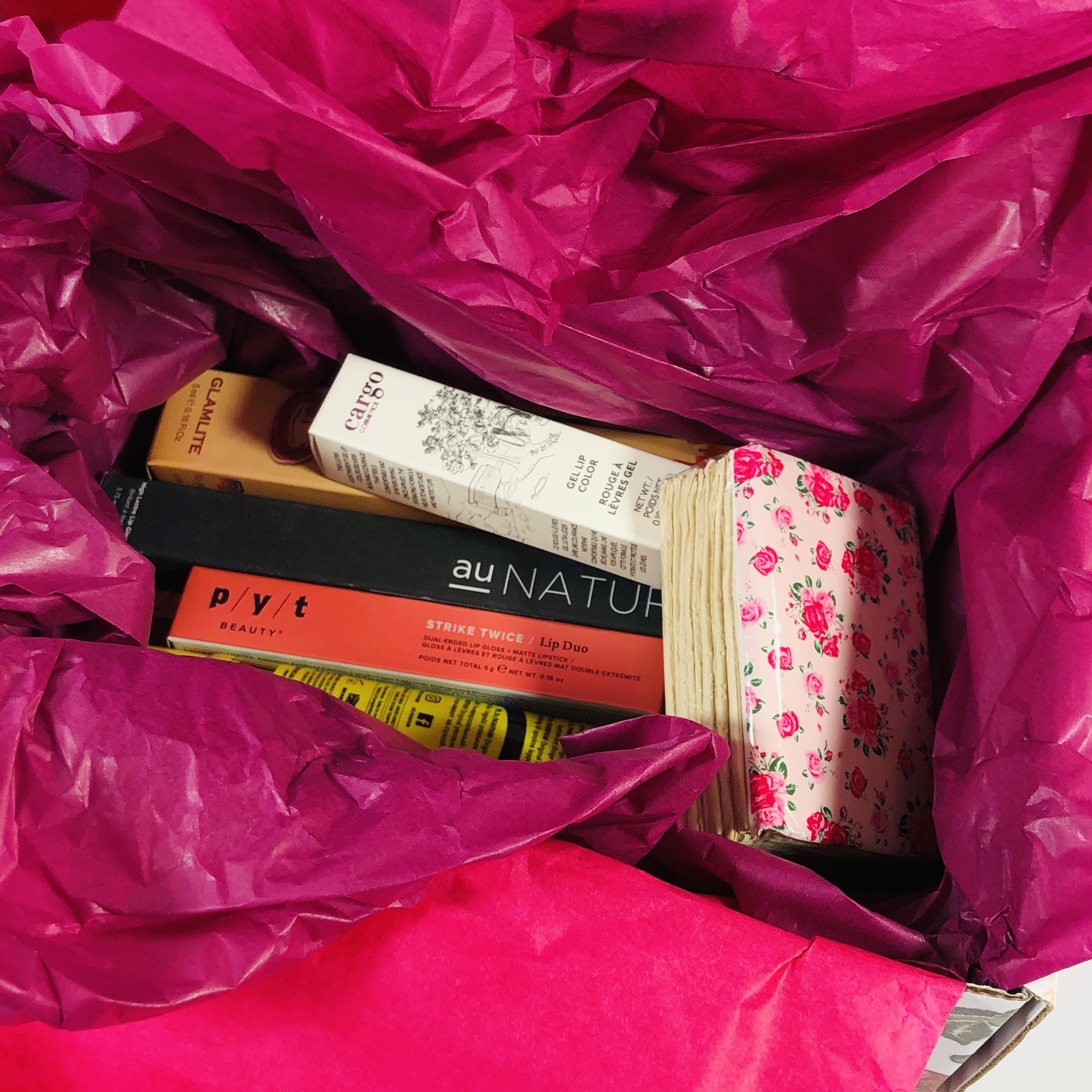 Most of the items came in their own boxes.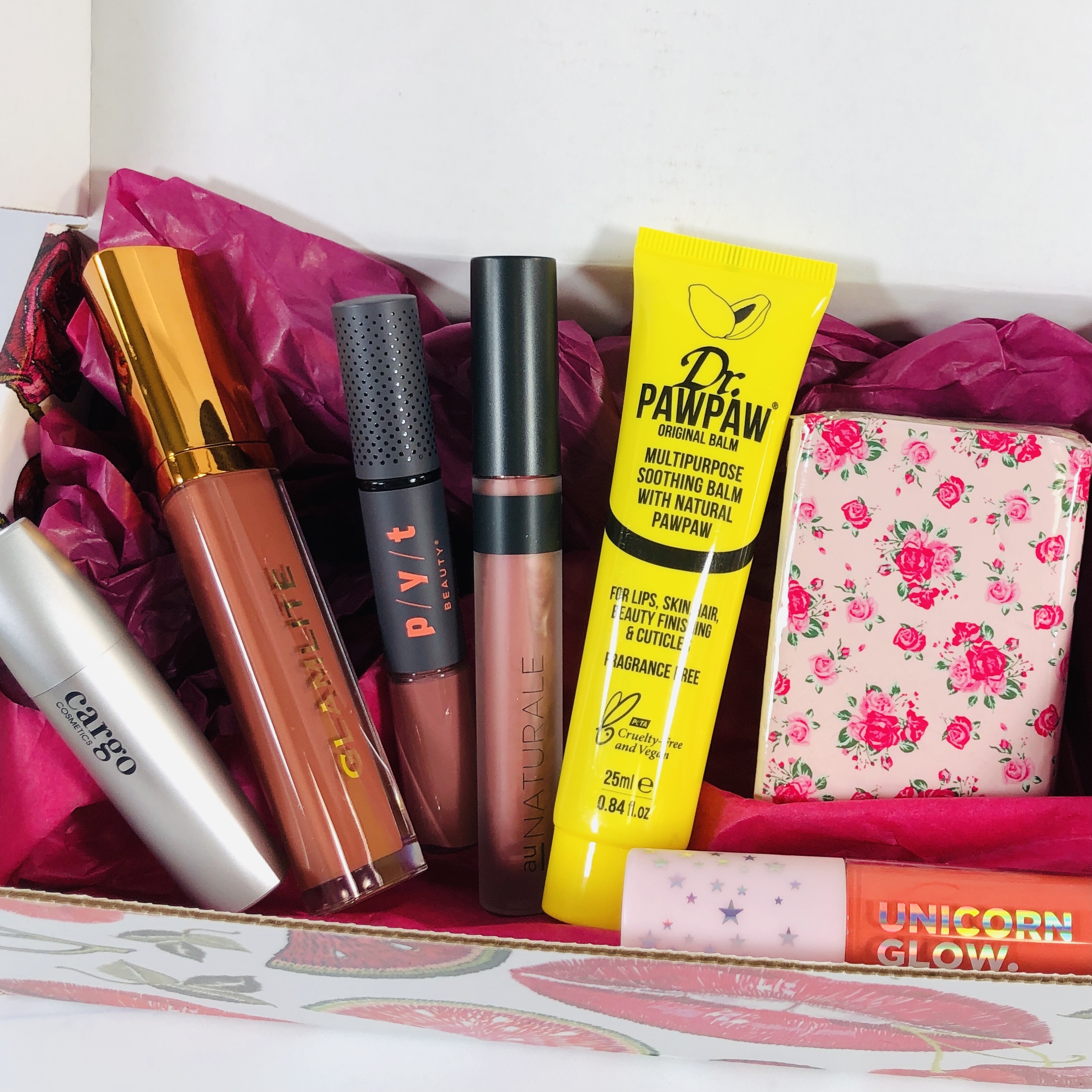 I'm really only familiar with two of these brands so I'm excited to try some newbies!
Everything in my box!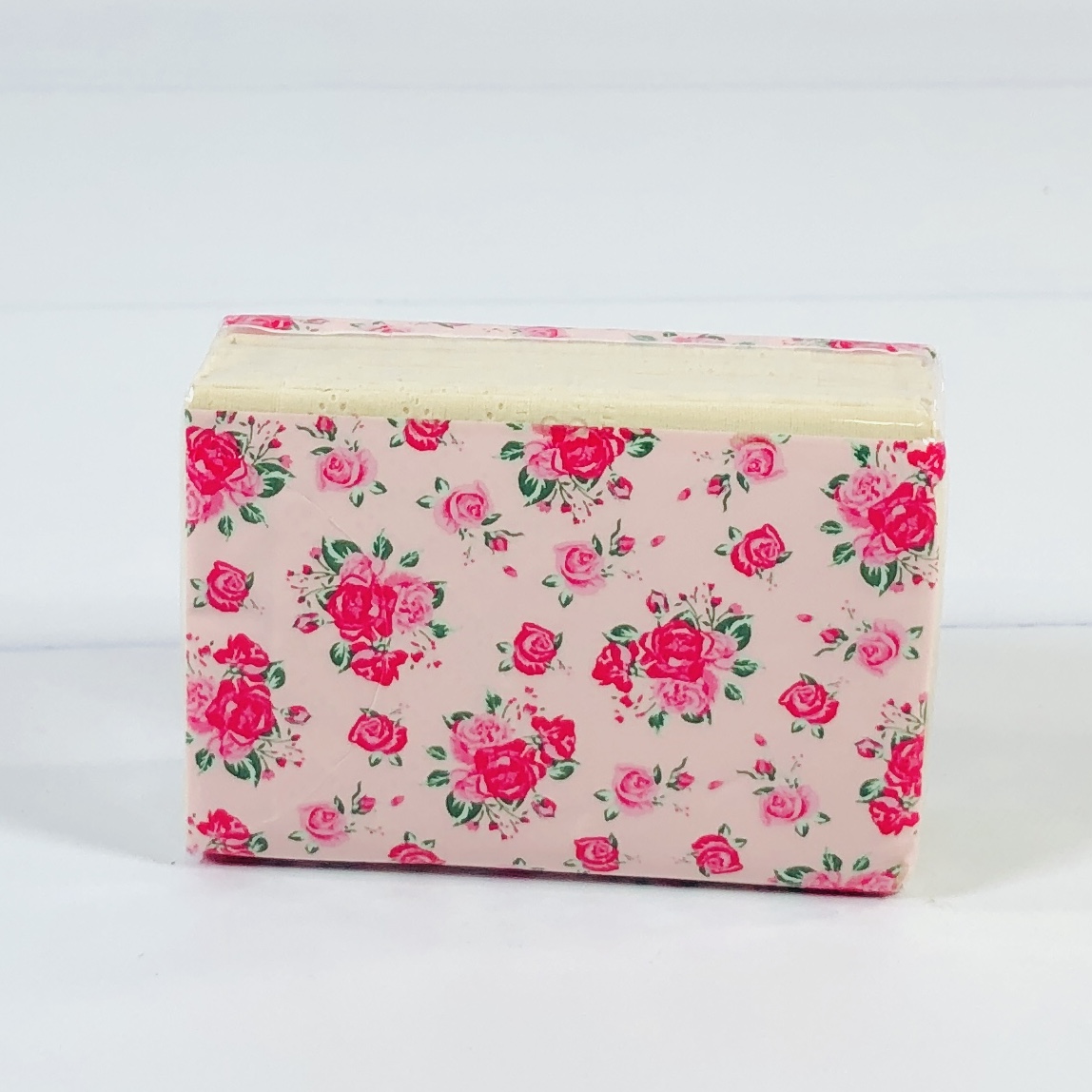 Sparkle and Bash Vintage Floral Design Tissue Pack (Buy 72 packs for $17.99) What a cute little pack! It's a travel sized pack of tissues!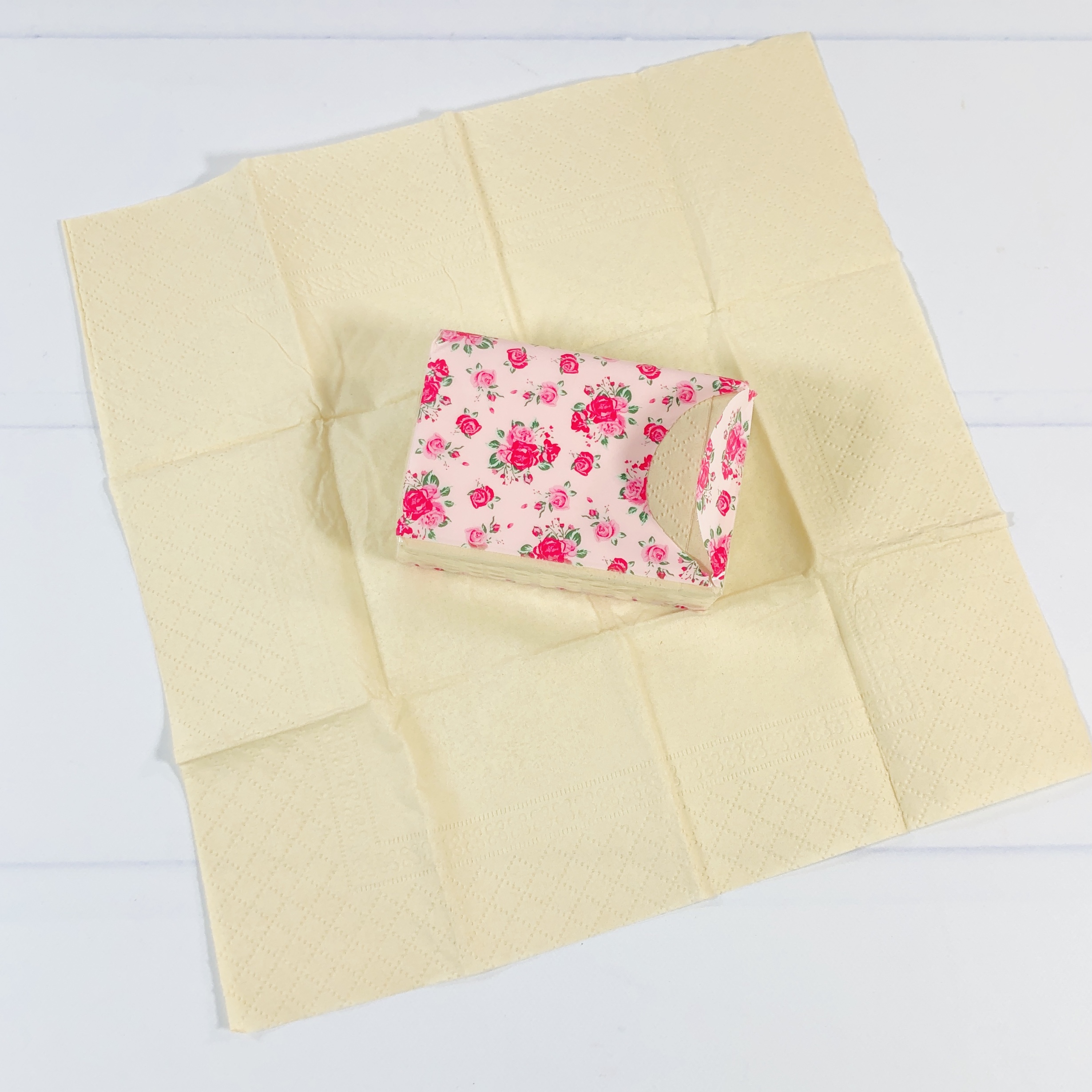 There are 10 tissues in this adorable pack and they can be used to blot lipstick or makeup on the go or used to wipe tears at upcoming graduations and weddings. The tissue is pretty sturdy.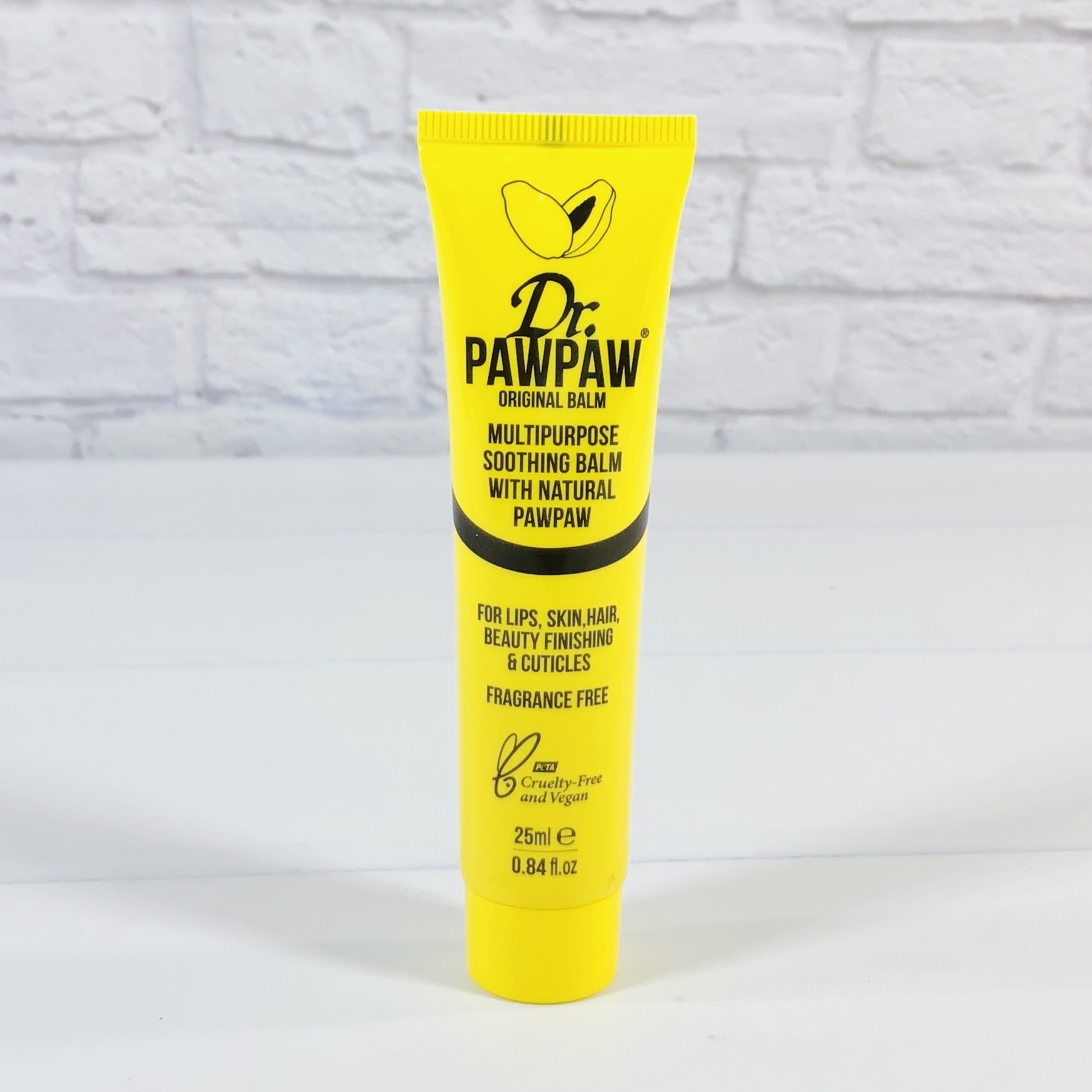 Dr. Paw Paw Original Multipurpose Balm ($8.49) I think this stuff in a tube is pretty amazing! I had a persistent chapped lip after camping and after giving this a shot it disappeared over night.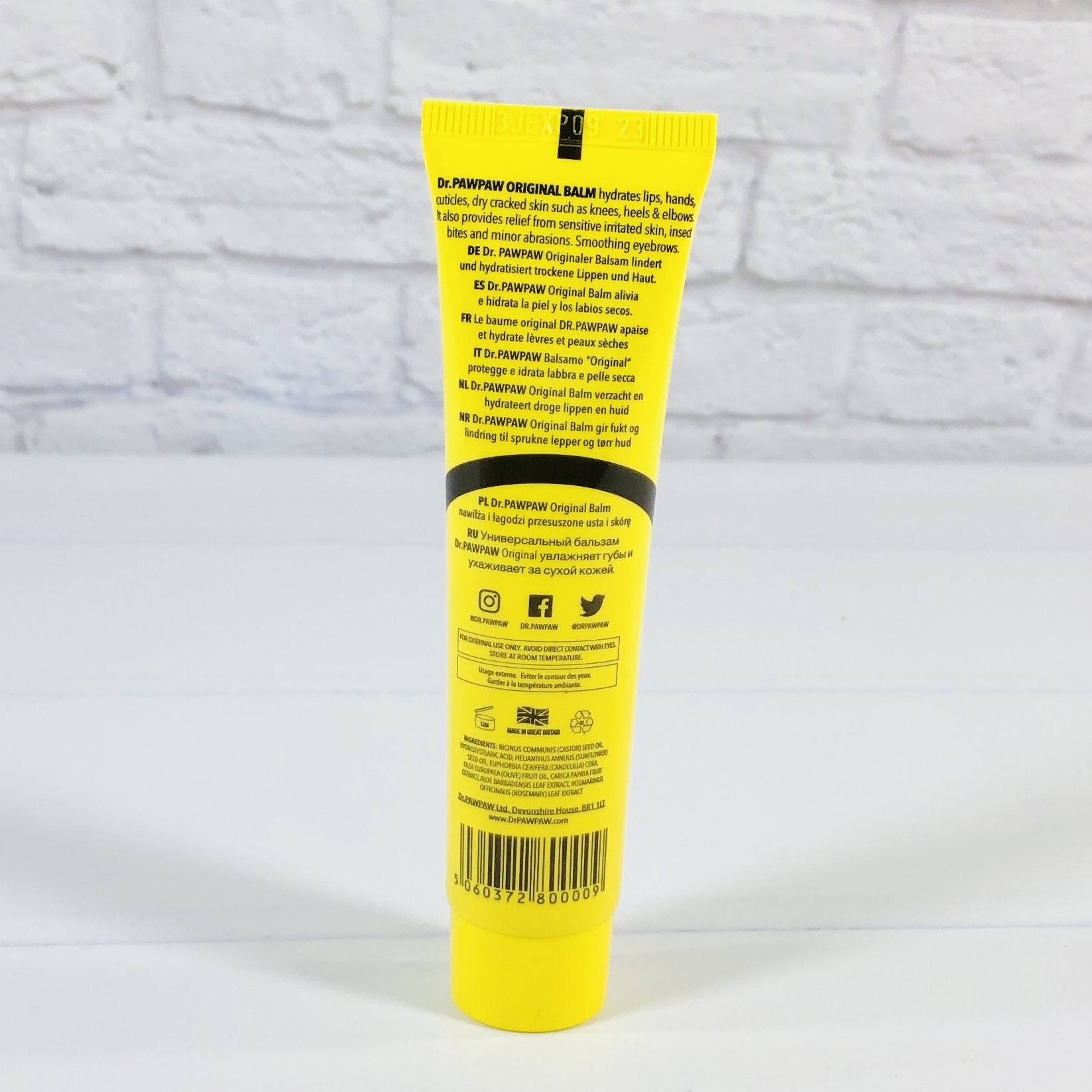 Turns out I can apply it not only to my lips but to my cuticles, elbows, hands, heels, hair, and more. It has castor seed oil, papaya extract, sunflower, aloe, and olive oils. It doesn't really have any scent or flavor and I am sold!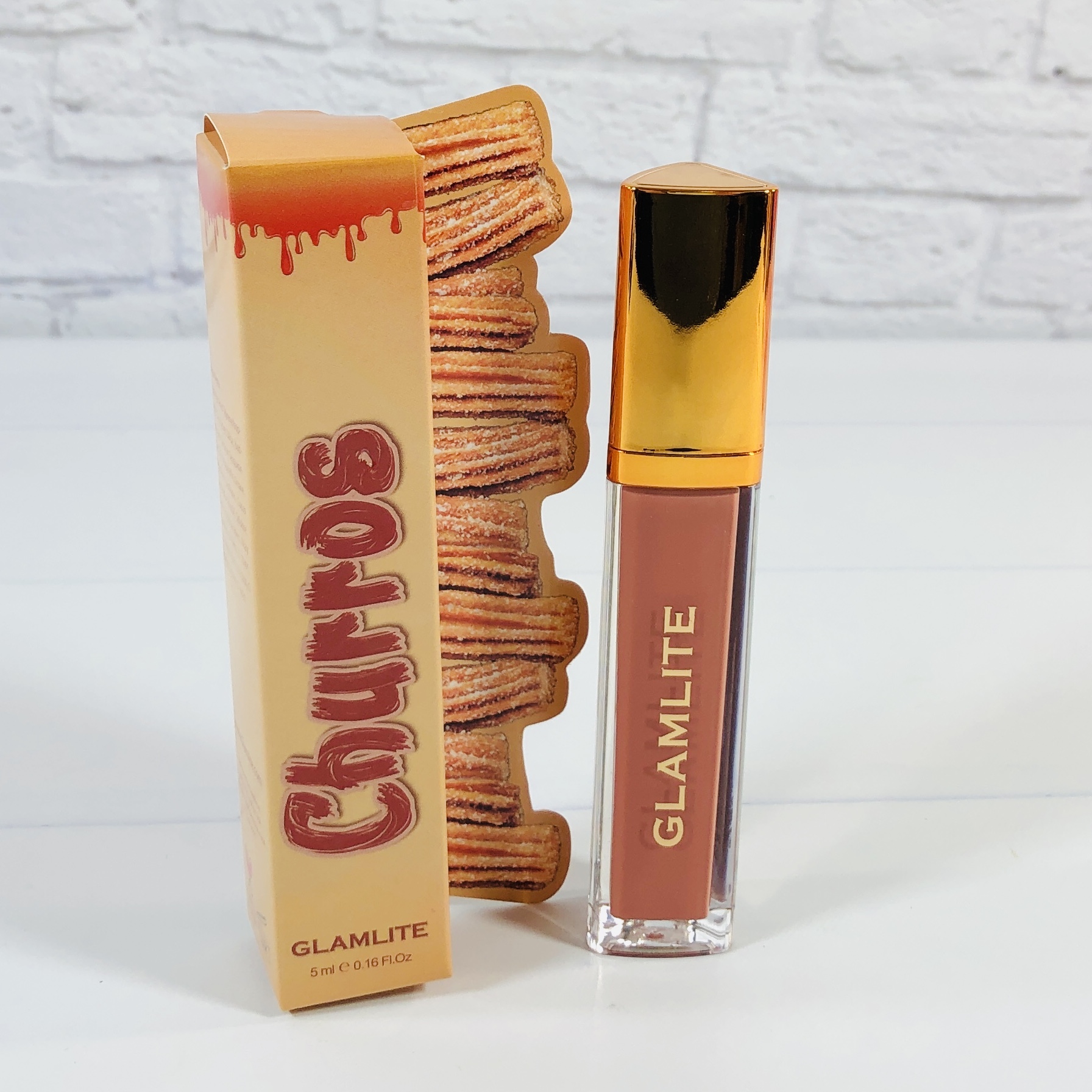 Glamlite Liquid Lipstick in Churro Lips ($14) is inspired by a snack that I used to buy at Disneyland, churros!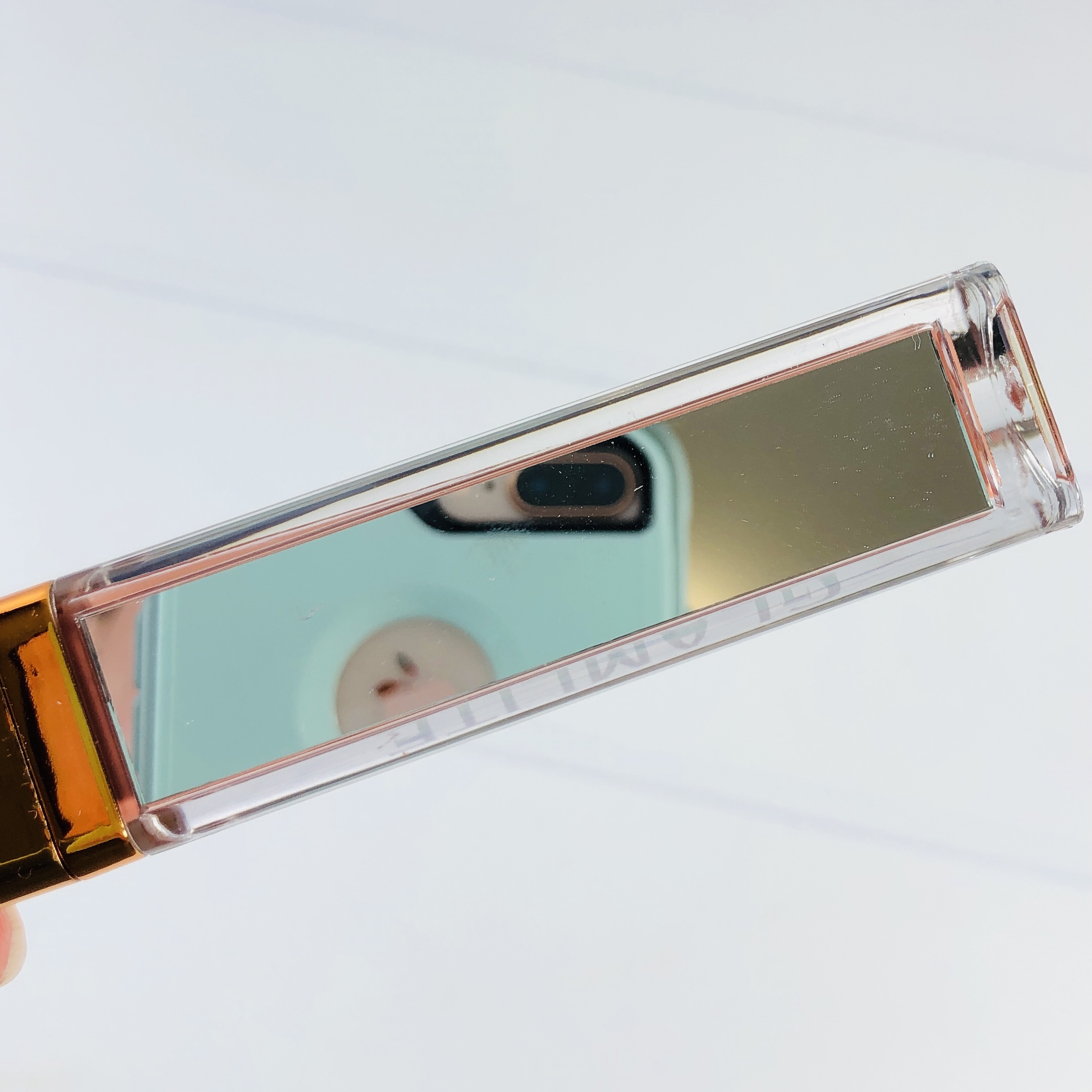 There is a mirror on the container for touchups on the go.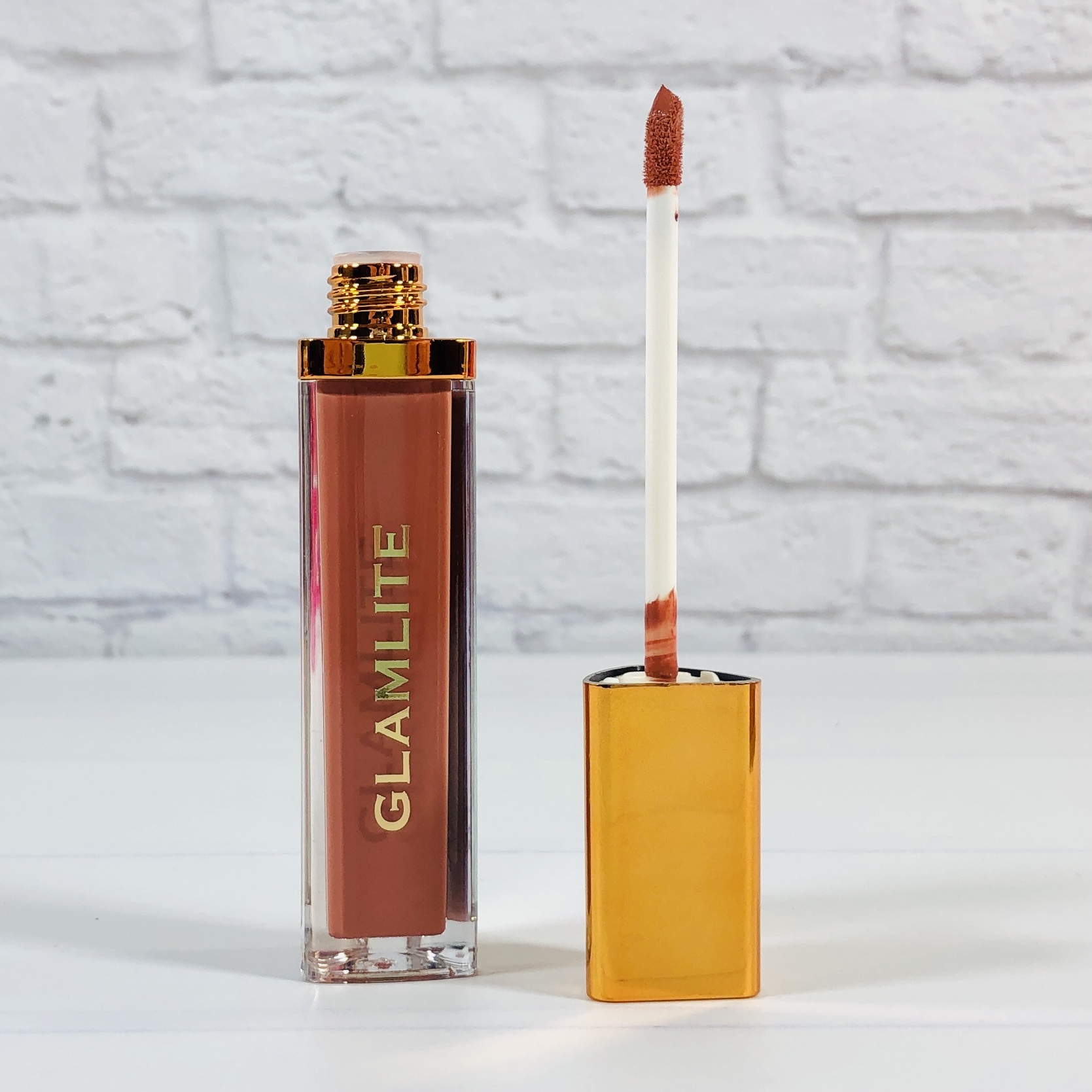 The color is supposed to be spicy, like the cinnamon sugar-dusted sweet treat it's named after. The product dries down to a matte finish and wasn't sticky, but left my lips feeling dry. The color was just a tad too bright for me but with the right eye makeup I could probably make it work. Unfortunately, it accentuated every line in my lips and I didn't get full coverage, even when I went over it with a second coat. I was running errands when I felt it crack into a flaky mess on my lips.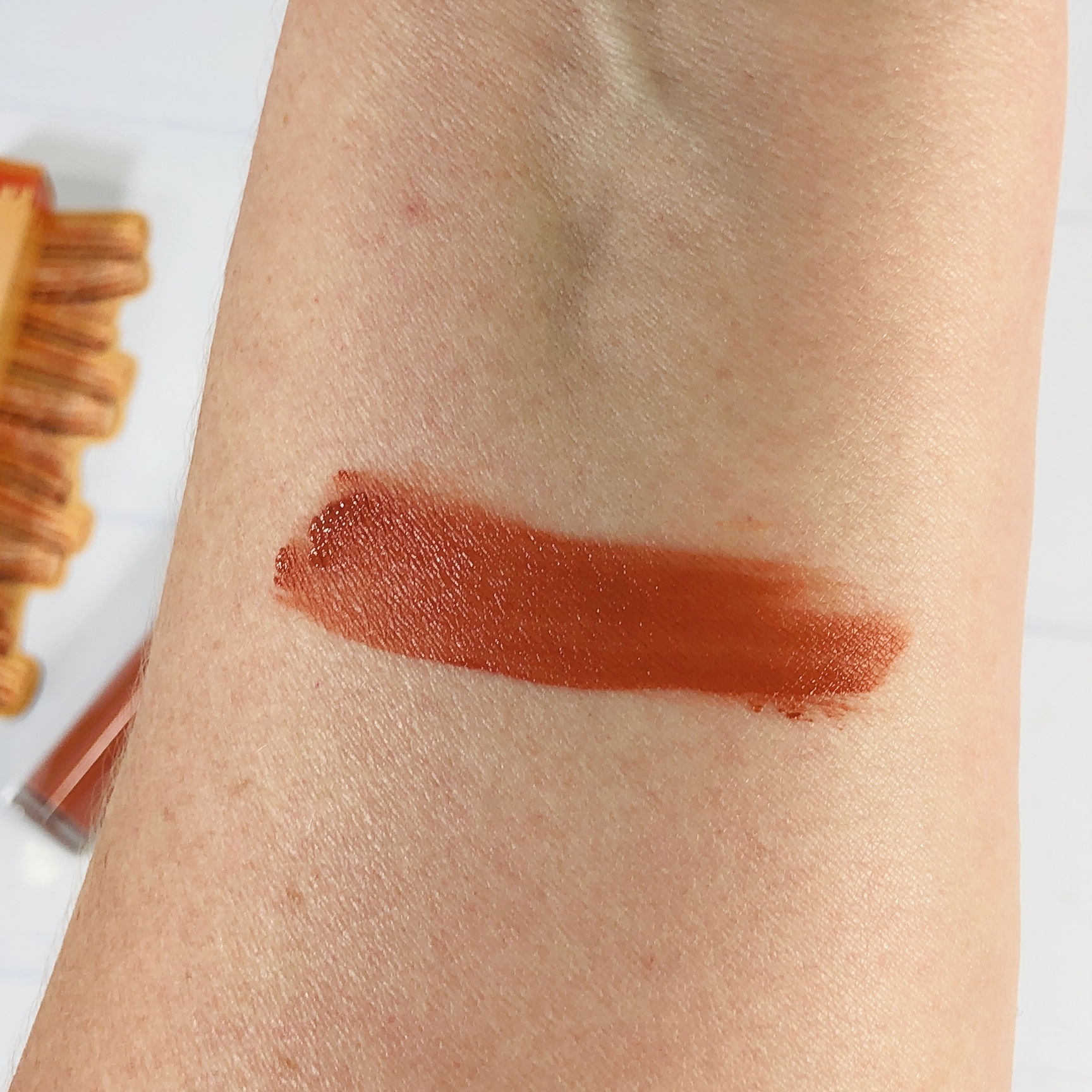 Here it is swatched for your viewing pleasure.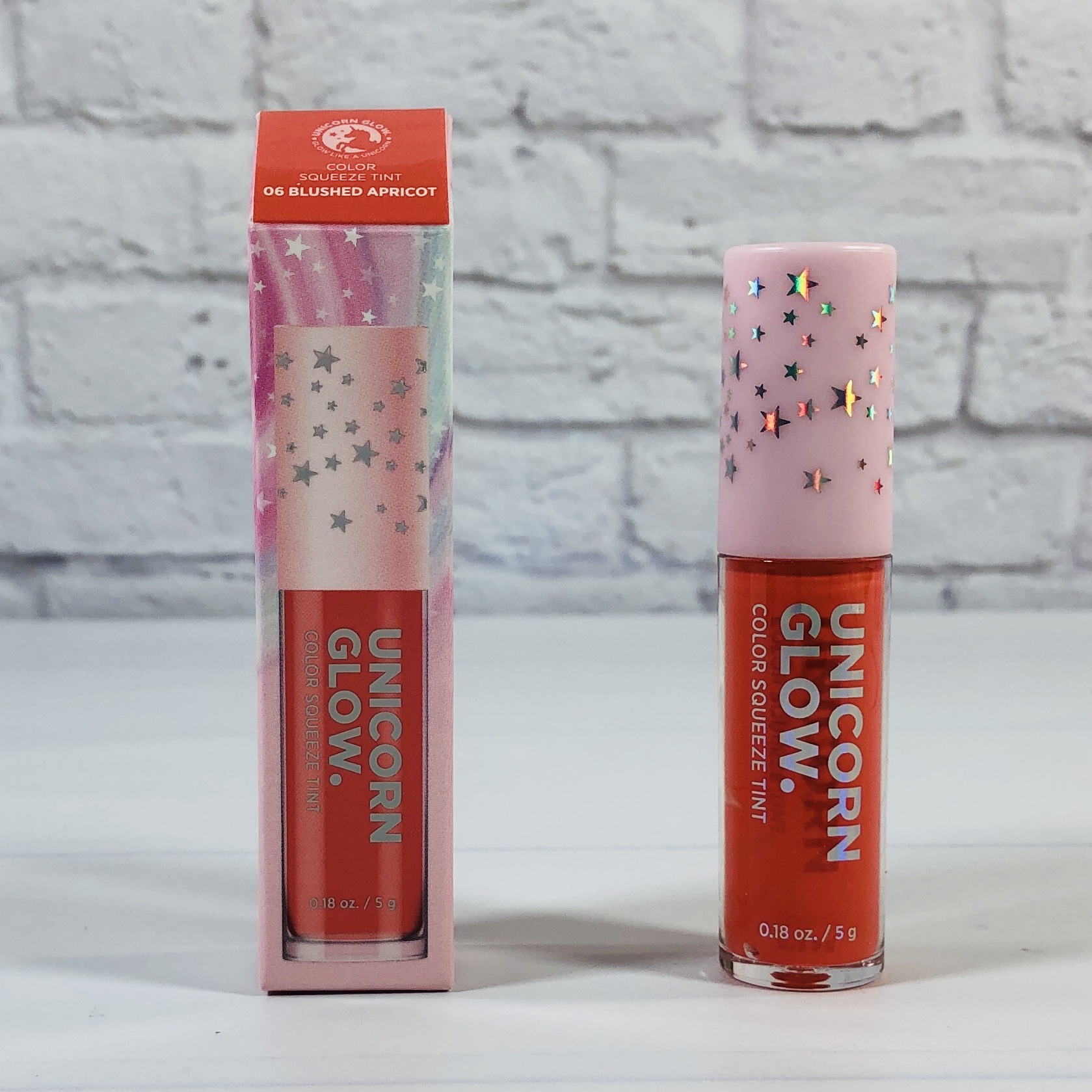 Unicorn Glow Color Squeeze Tint in Blushed Apricot ($11) This is a new-to-me brand and I am loving the silvery stars all over the lid.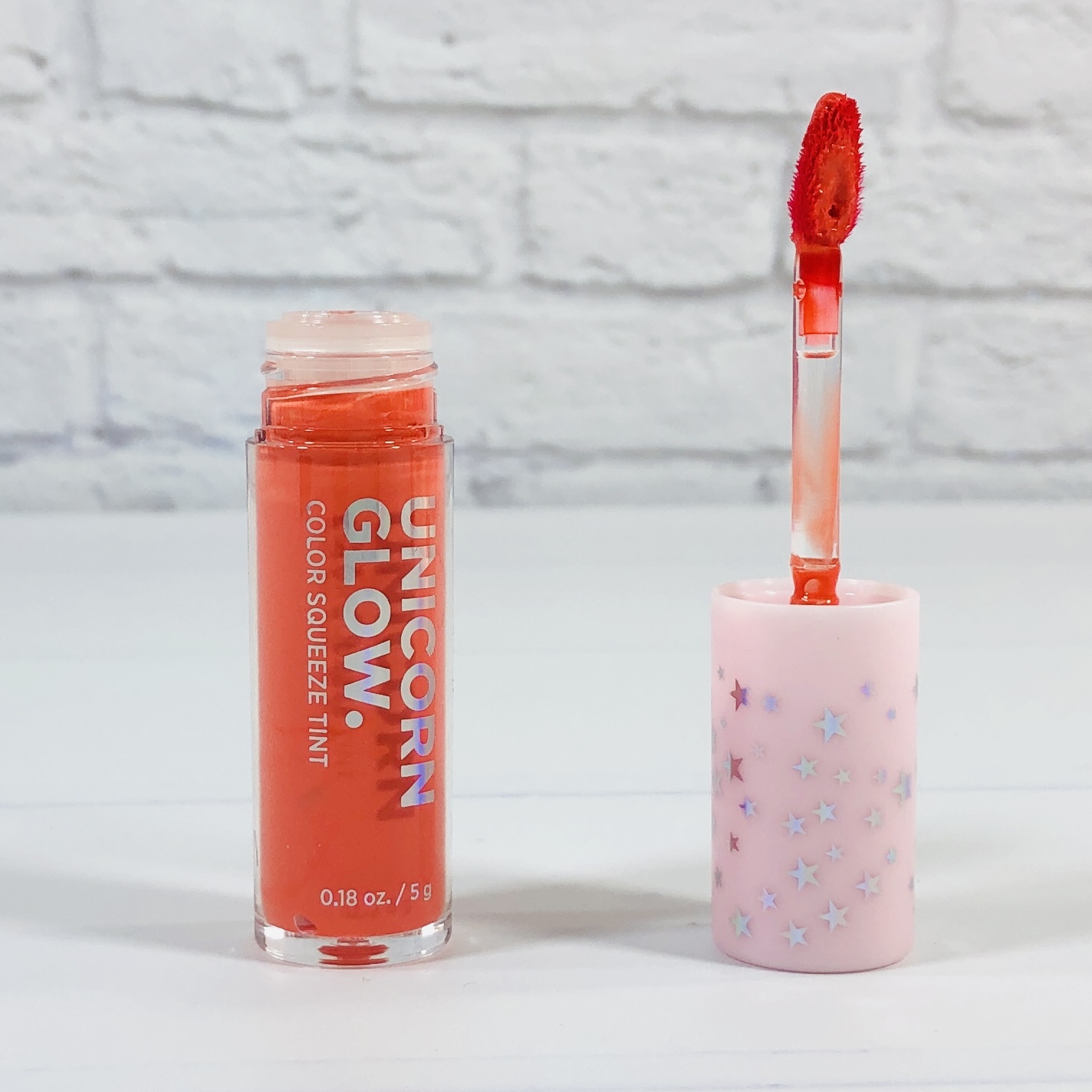 It's a jelly gloss that provides some noticeable color but that doesn't feel gloopy or sticky. They claim that it lasts all day but what I noticed was that after the gloss wore off my lips were lightly stained afterwards.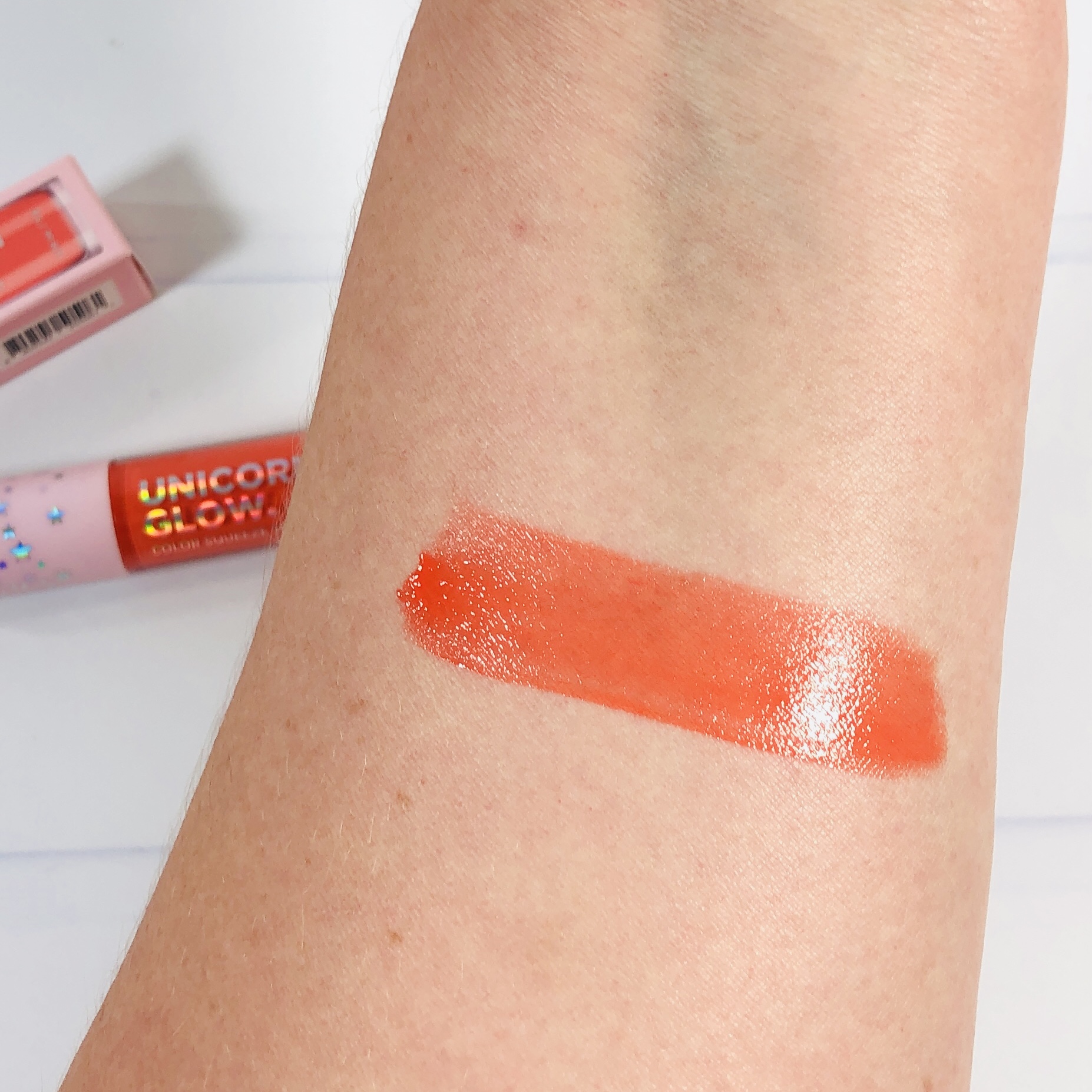 Here it is swatched and it added a bright pop of color to my usual look.
Au Naturale High Lustre Lip Gloss in Slip ($18) I am familiar with this brand thanks to vegan beauty boxes but this product is a first for me.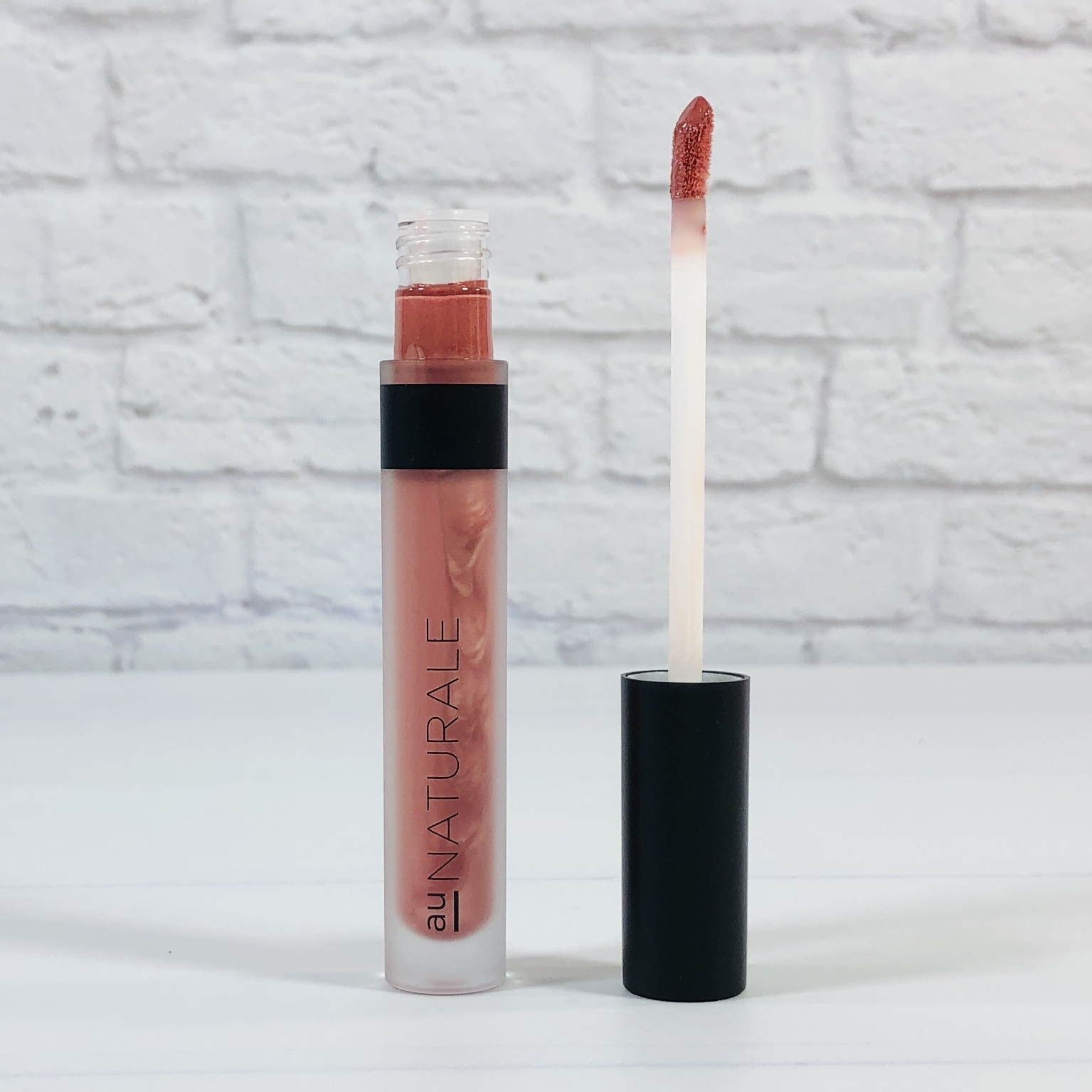 It's a "barely-there warm pink" shade that enhances my lips and makes them feel smooth and silky. It doesn't really change their color at all.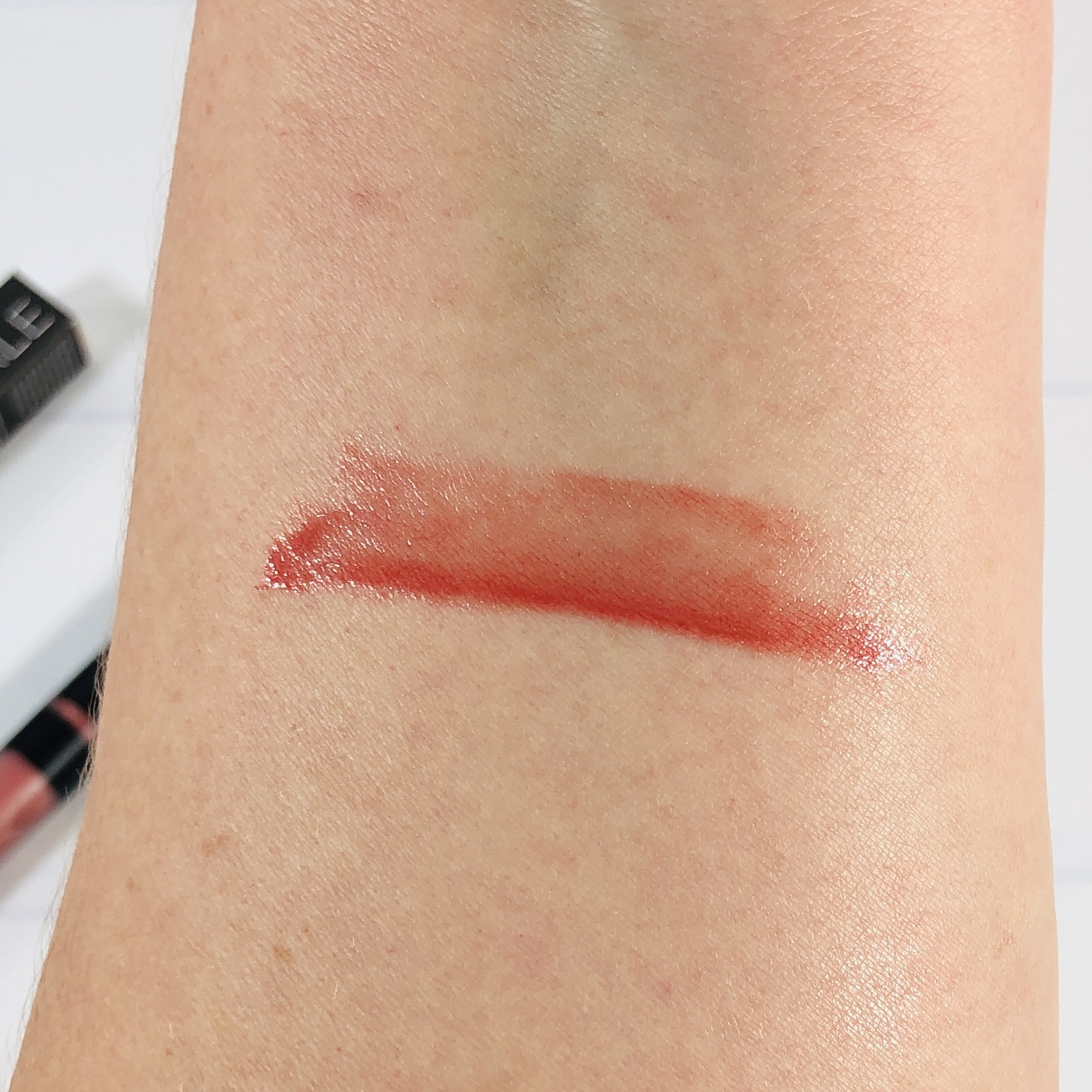 Here's that swatch!
P/Y/T Double Duty Lipstick + Gloss in Icon ($15) comes with both lipstick and gloss so if you're not sure what you might need when the mood hits, stick this in your backpack or purse and you can choose whichever you want!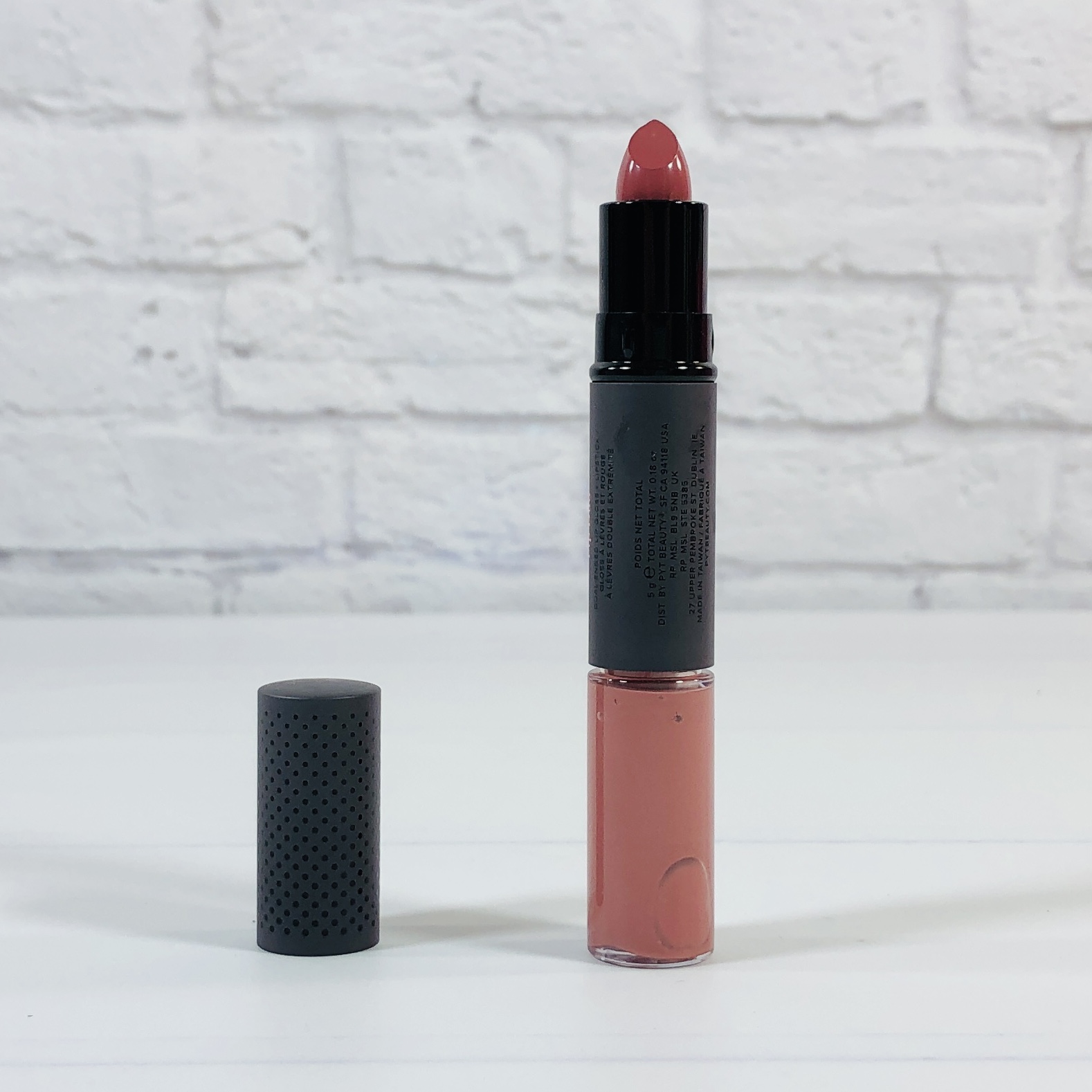 Icon is described as "natural pink" and it is the perfect nude for my coloring. I wore the matte lipstick before going shopping and when I removed my face mask it was still in place.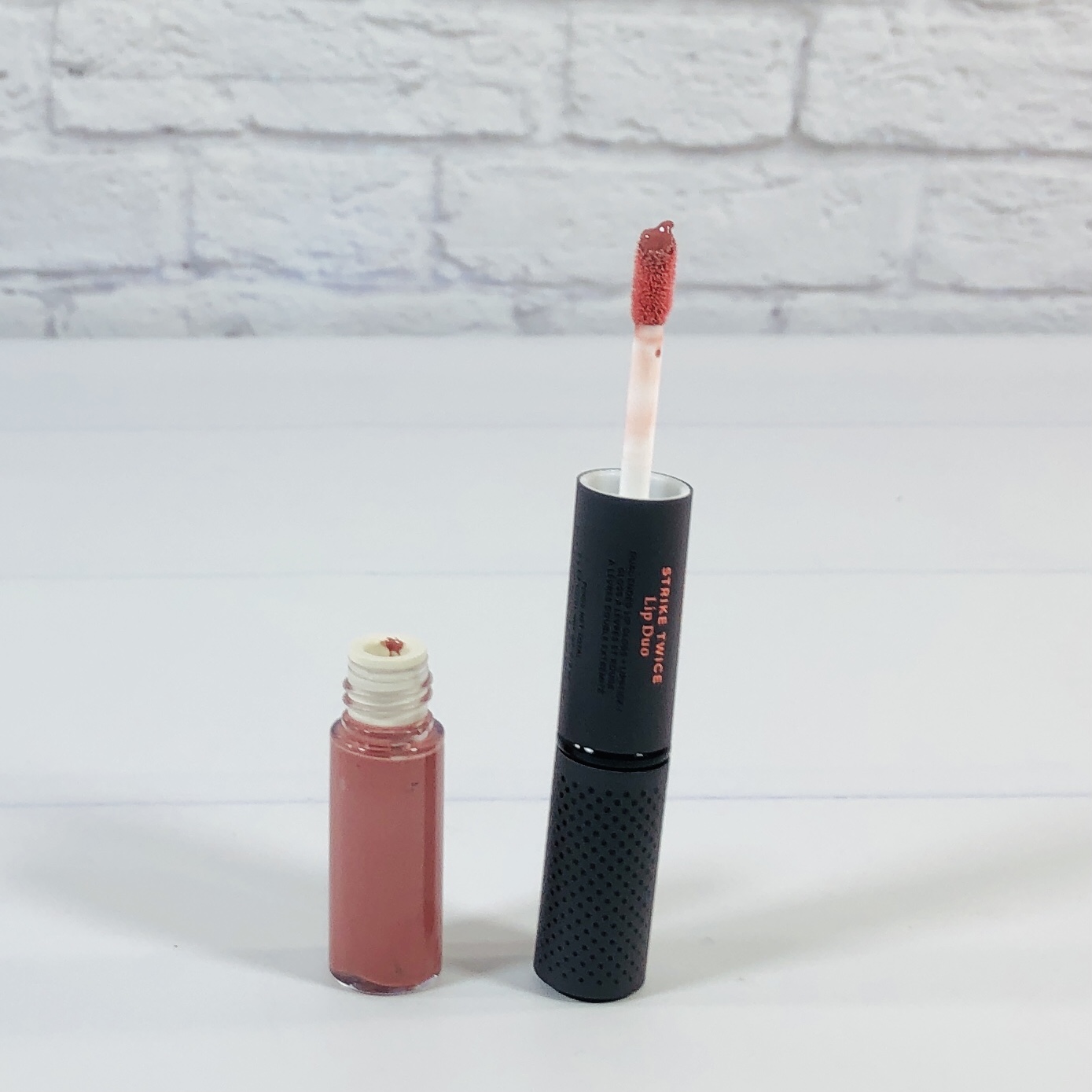 The lip gloss isn't sticky and again, it was a natural nude on my lips.
The lipstick is on top, the gloss is below.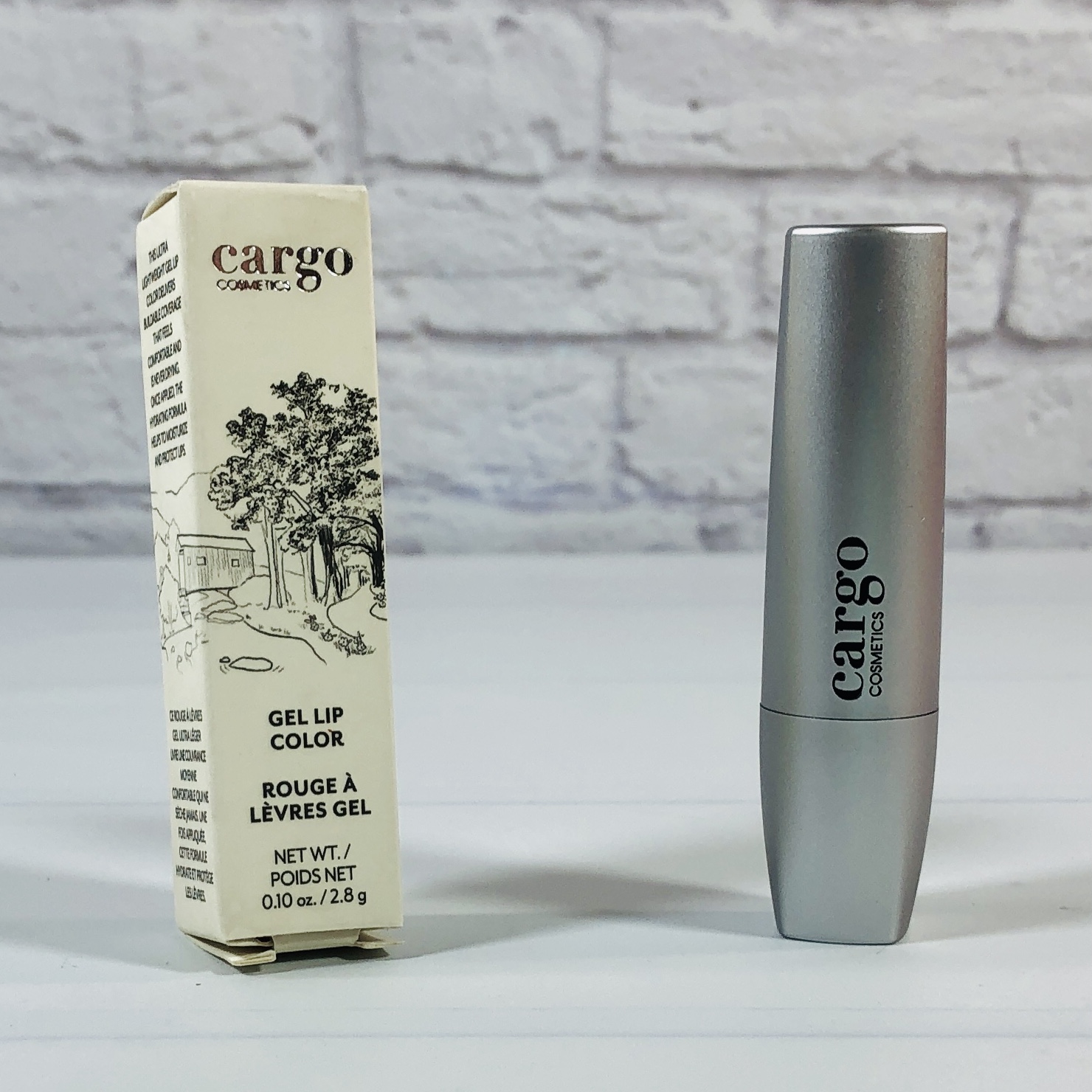 Cargo Gel Lip Color in Manhattan ($20) is a gel lipstick that isn't heavy. It has a not very glossy finish but feels silky on, like a lightweight lipstick.
The color Manhattan is rosy but not super bright. I applied it and could still feel it on my lips a couple of hours later. I can pair it with a lip liner to deepen the color too. Nice!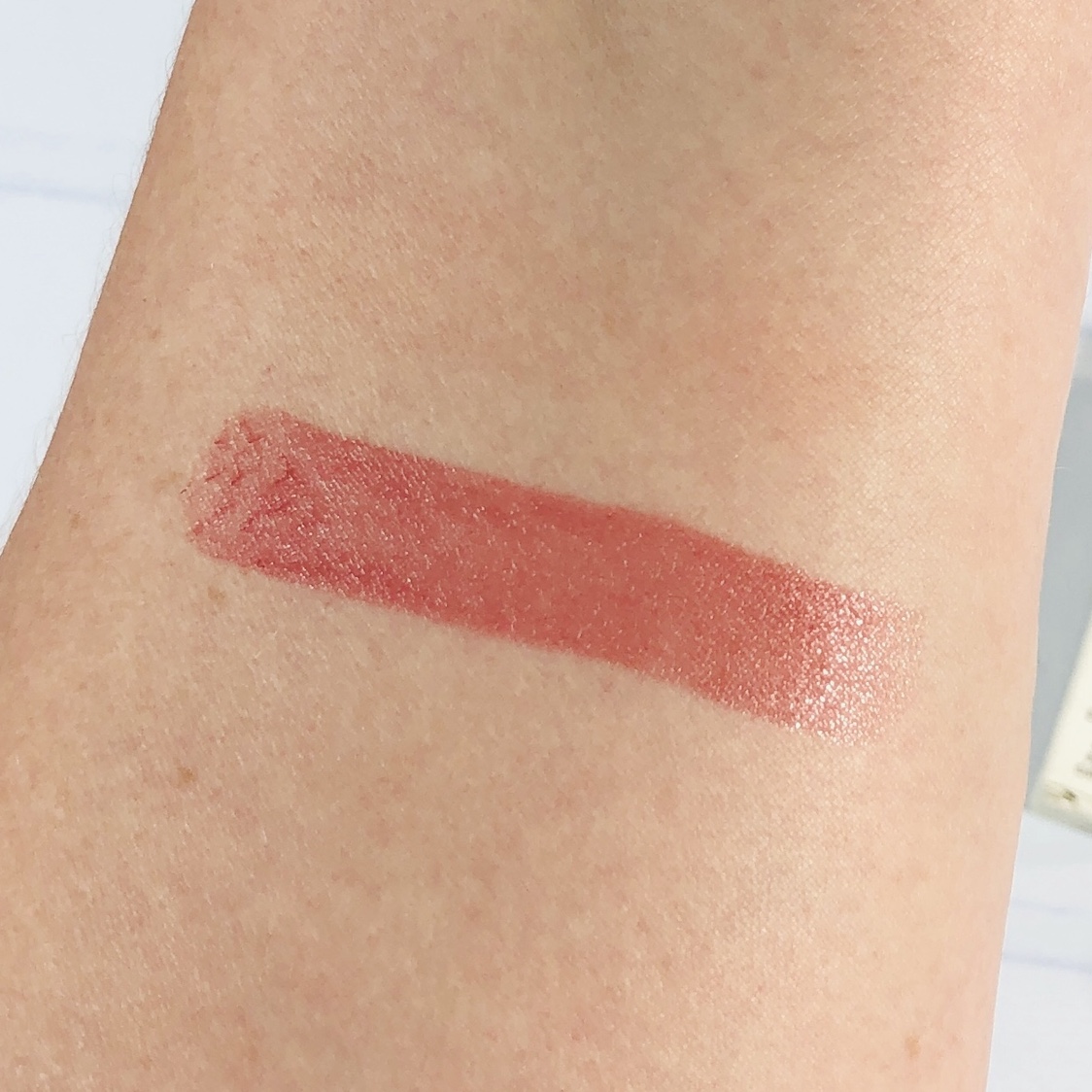 Here's Manhattan swatched.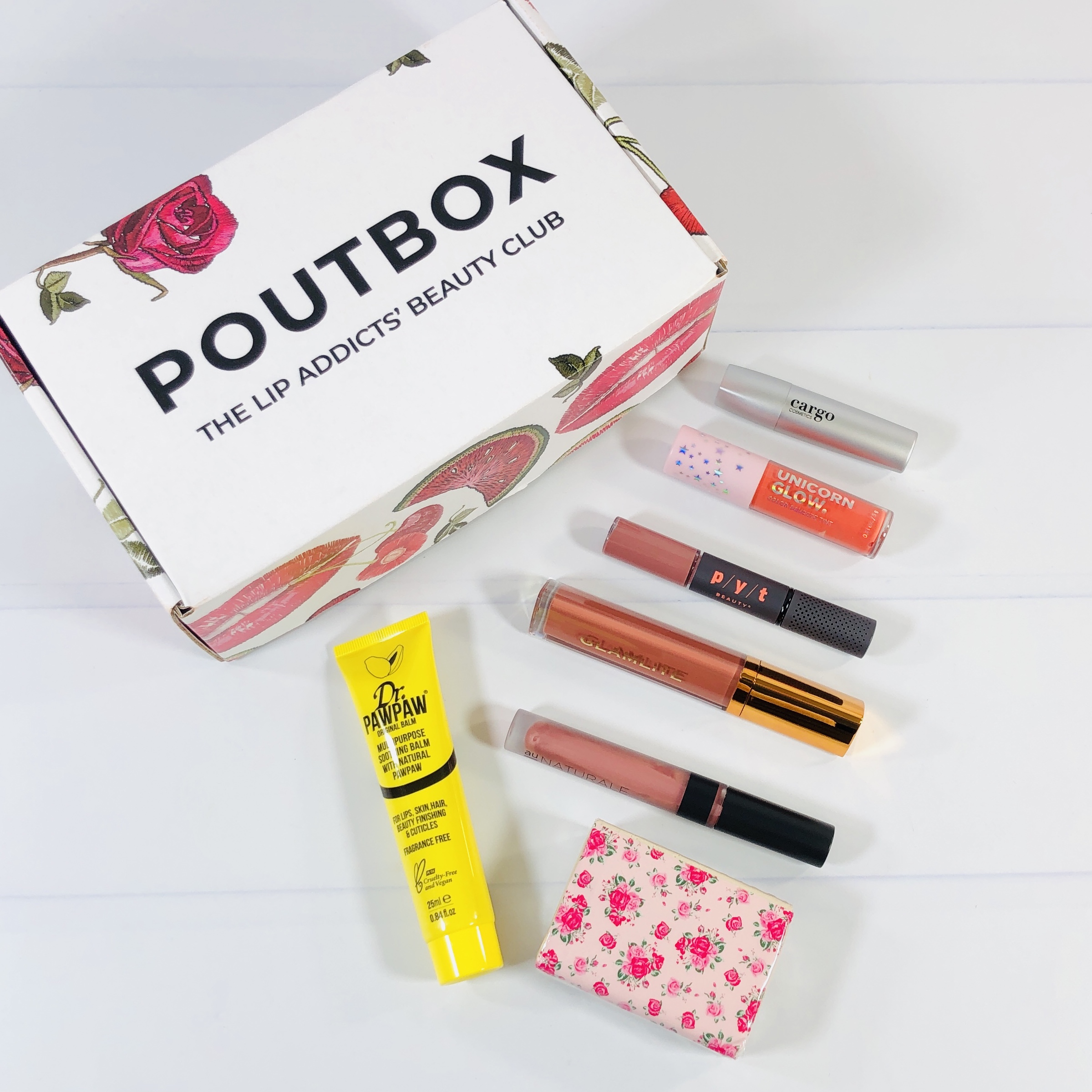 Poutbox has really helped me up my lip game lately! I apply lipstick every morning and yes, I have it on underneath my mask when I go out and haven't had any problems with it at all, but then I tend to wear not super bright shades so if it gets smeared nobody can really tell. Poutbox sent a variety of finishes and there are warm and cool shades, plus neutrals and nudes. There's conventional products and the kind that are more natural. I also appreciate items like balms, and this yellow tube can be used on so much more than the lips. The tissues are in a cute little package and will make me smile when I remove one from my purse, because I love flower prints. The value for my box was around $86.49!
What do you think of this box?