Love with Food Deluxe Box sends 15+ surprise snacks from various healthy snack brands each month. It's an ideal snack box for sharing at home or if you are a heavy snacker. This particular plan promises to include plenty of snacks for everyone and a few duplicates. Also, the snack box only includes snacks made with real ingredients and no added chemicals. The Deluxe Box is $19.95 a month with free shipping to the US (our readers voted it one of their favorite boxes under $25!), $3.99 for international. Love with Food also offers other snack boxes such as the Tasting Box and the Gluten-Friendly Box.
DEAL: Save 40% off your first Love With Food Box:
Or, save 25% off your first Gluten-Friendly Box: use this link to subscribe!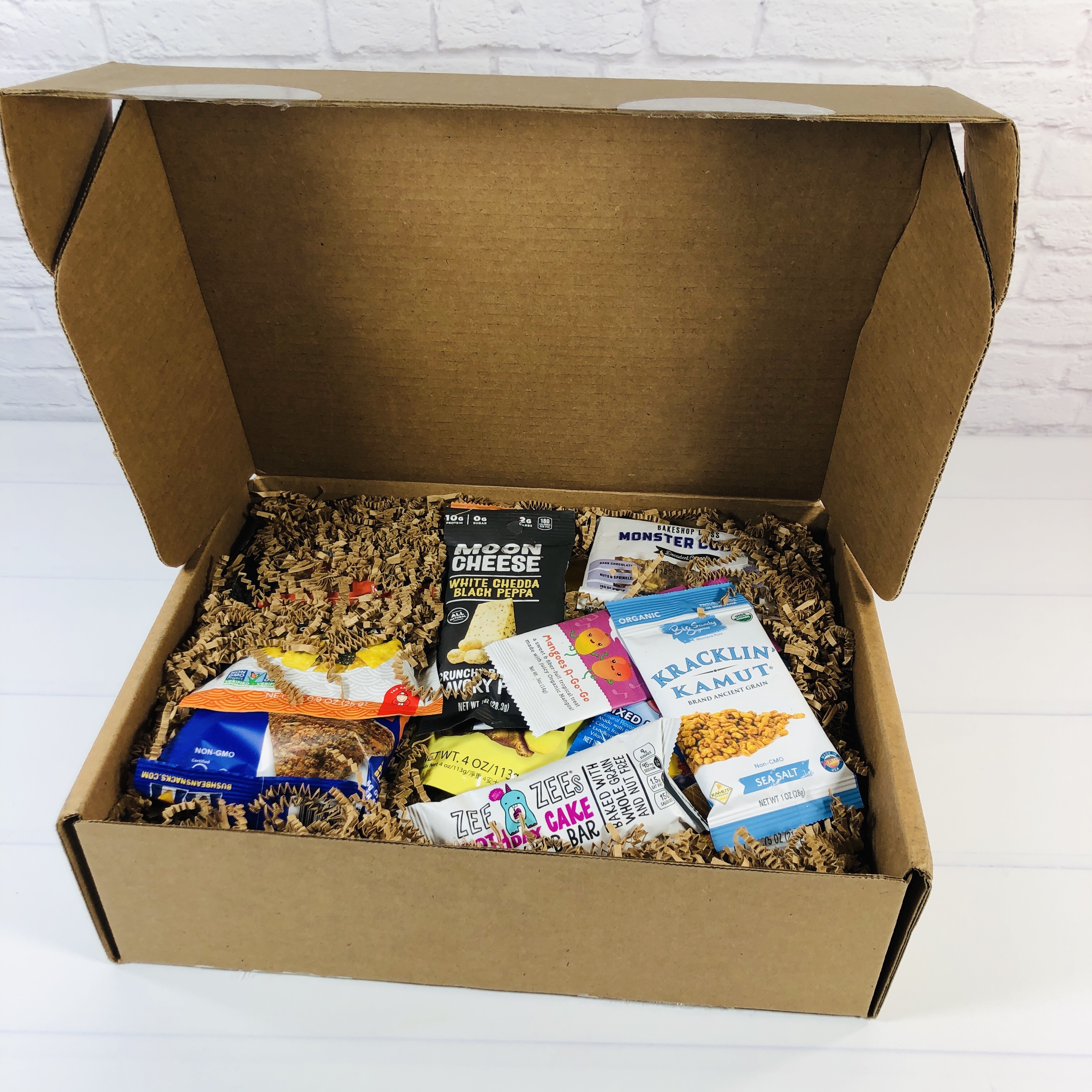 Packed to the top! You can find some of the items sampled each month on the Love With Food website.
I received a card that had a space for me to write in how I feel lucky.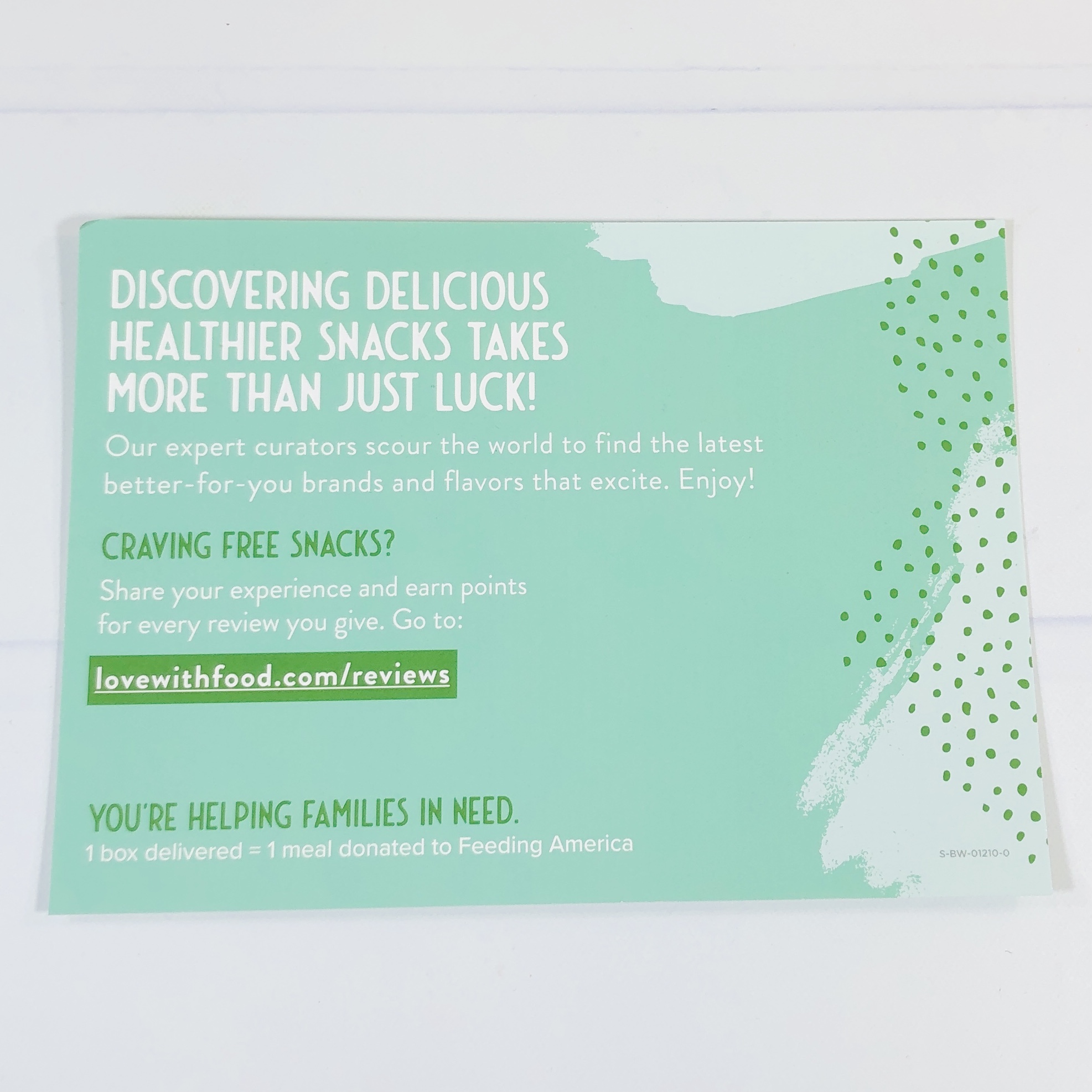 For every box sent to subscribers, Love With Food donates 2 meals to families in need. Don't forget to review your snacks so you can earn points for even more snacks!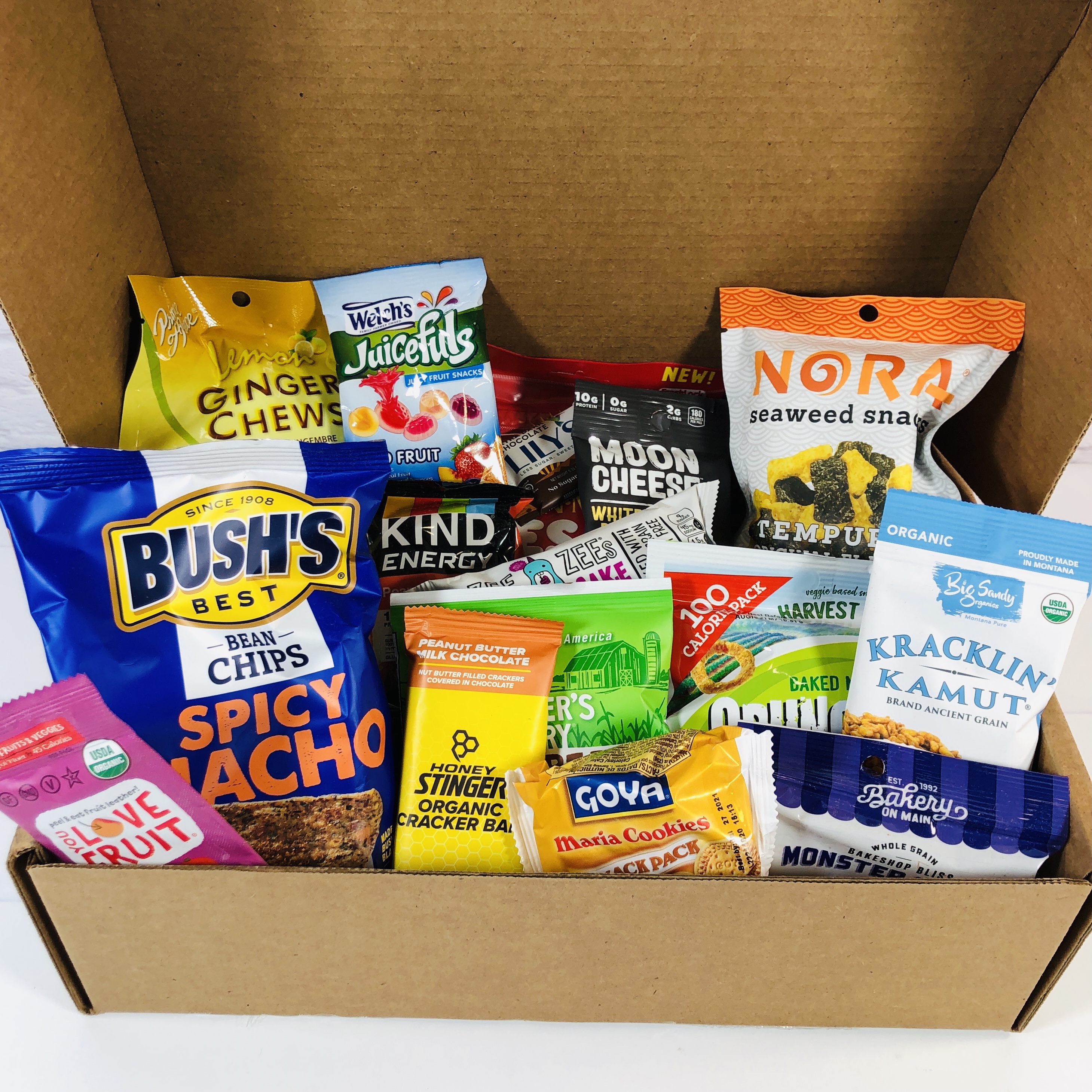 Everything in my box! I do want to let you know that I didn't get this box until the last day of March.
Prince Of Peace Lemon Ginger Chews ($5.61) Every once in a while we receive a whole pack of these individually wrapped ginger chews. This time around they are lemon flavored, which is probably my favorite of the bunch. The chews are chewy, spicy, and sweet and burn my throat a little (ginger always does that to me). They may help relieve an upset stomach or nausea. It reminds me of a ginger/lemon/honey combo, although it is sweetened with sugar.
Sun Maid Bites in PB&J are chewy granola bites in a square shape. They are extra chewy and have a peanut butter glaze on the bottom and taste like strawberry candy. The flavor varies between the pieces, some are fruity, some are nutty.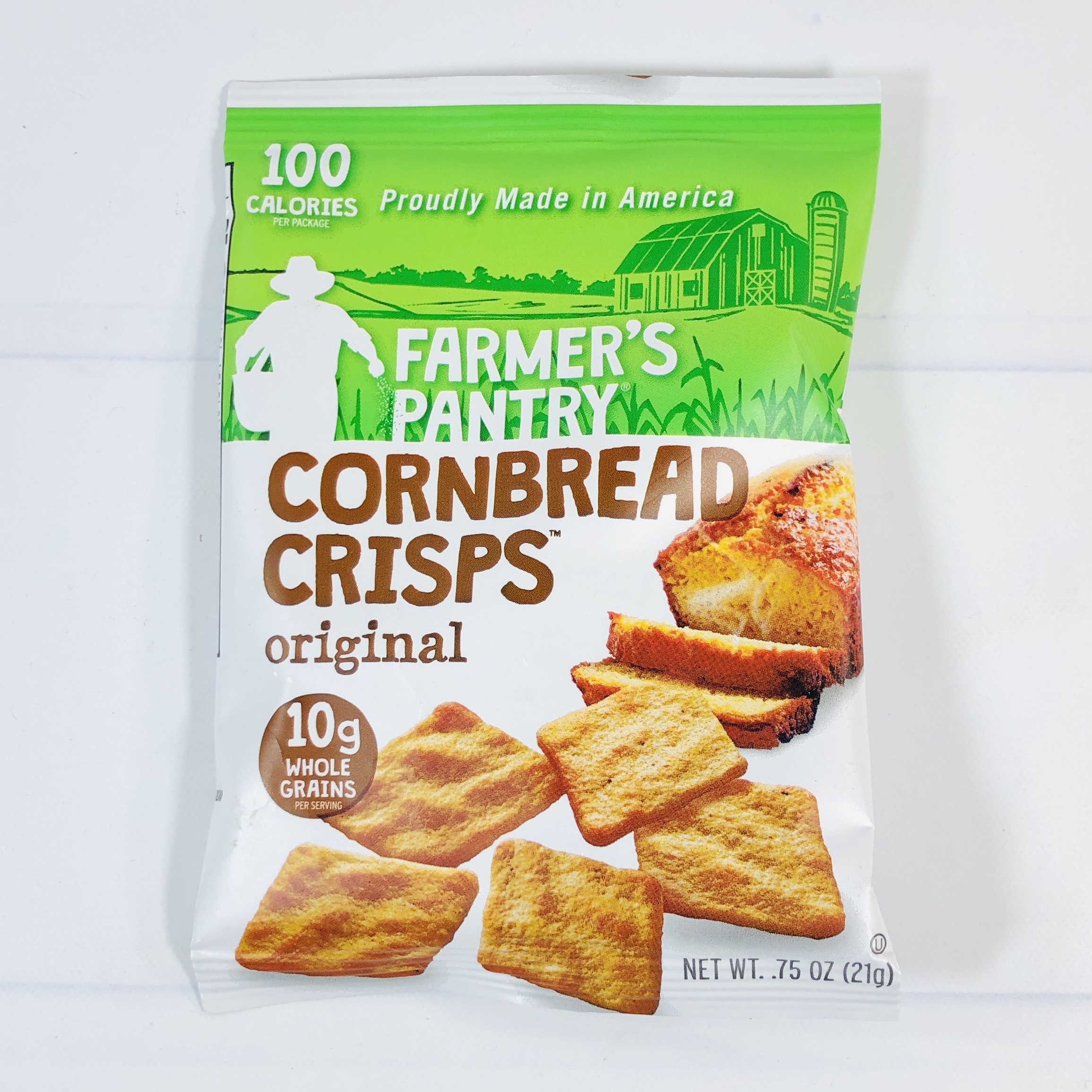 Farmer's Pantry Cornbread Crisps Original was very yummy, and sweet, salty, and crunchy. There wasn't very much in the bag and they were gone too soon, but that's the beauty of single serving snacks, because if it was a big bag I would have eaten a whole lot more.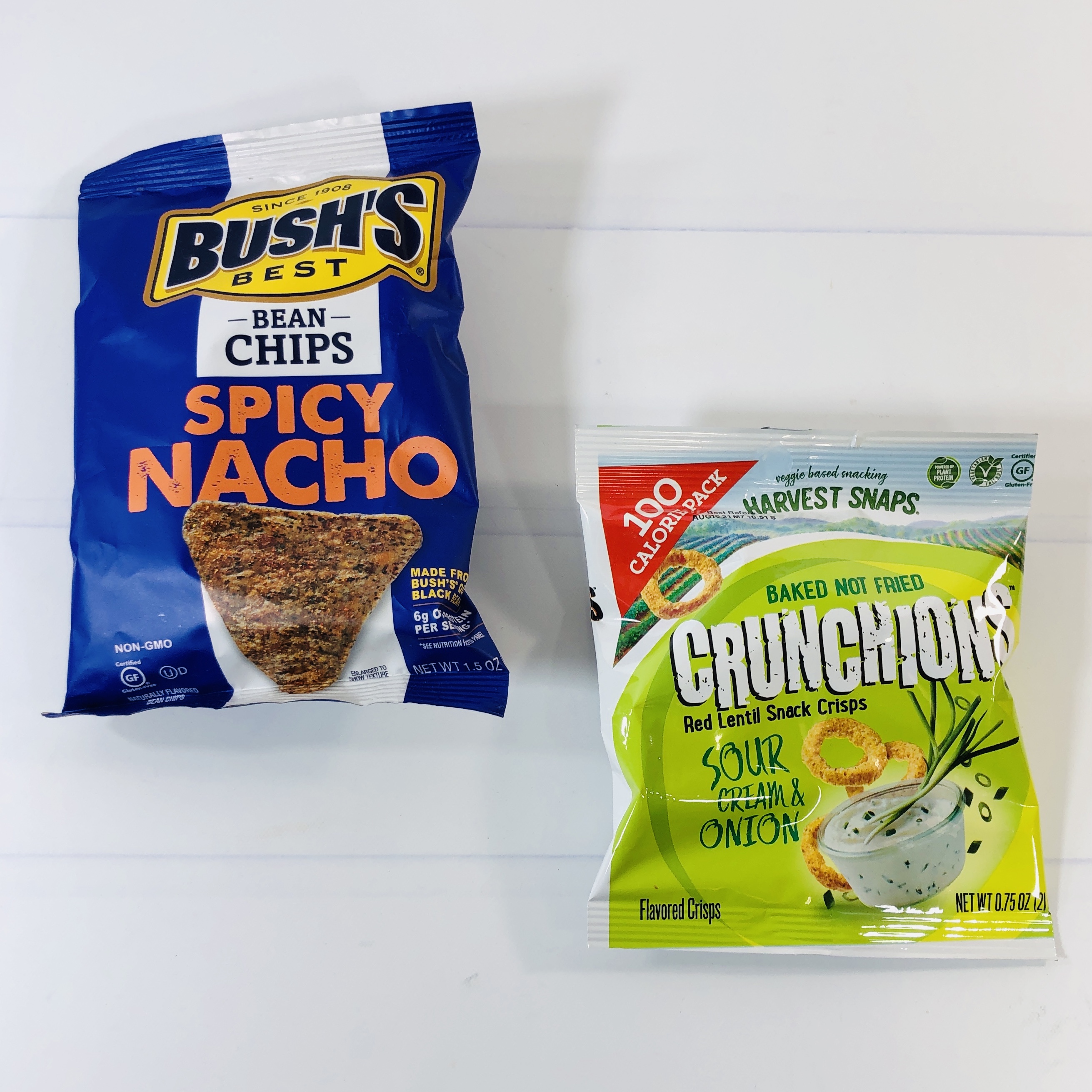 Bush's Best Spicy Nacho Bean Chips I buy Bush's beans all the time, and was pretty satisfied with these chips. I'm not usually a fan of chips like Doritos, and I feel like these have a similar flavor, but I liked the twang from the citric acid and a couple of the chips were fairly spicy. I thought they were too salty though. My teenager was wary of trying bean chips but she liked them too.
Harvest Snaps Crunchions Red Lentil Snack Crisps are lentil-based snacks with a very tasty sour cream and onion flavor! I was expecting these to have more fiber (there's only 1 gram) but there's quite a lot of them for 100 calories and they were filling.
Nora Seaweed Snacks Tempura Original Flavor While I rarely eat seaweed, I don't mind it at all in this crunchy chip. It's sweet, salty, and umami and overall tasty.
Moon Cheese White Chedda Black Peppa is one of those snacks that I just can't get into. I don't much care for the texture (which reminds me of freeze-dried foods) and I don't care for how salty they are. I would rather have a piece of cheese but then this is certainly shelf stable and won't melt in your bag.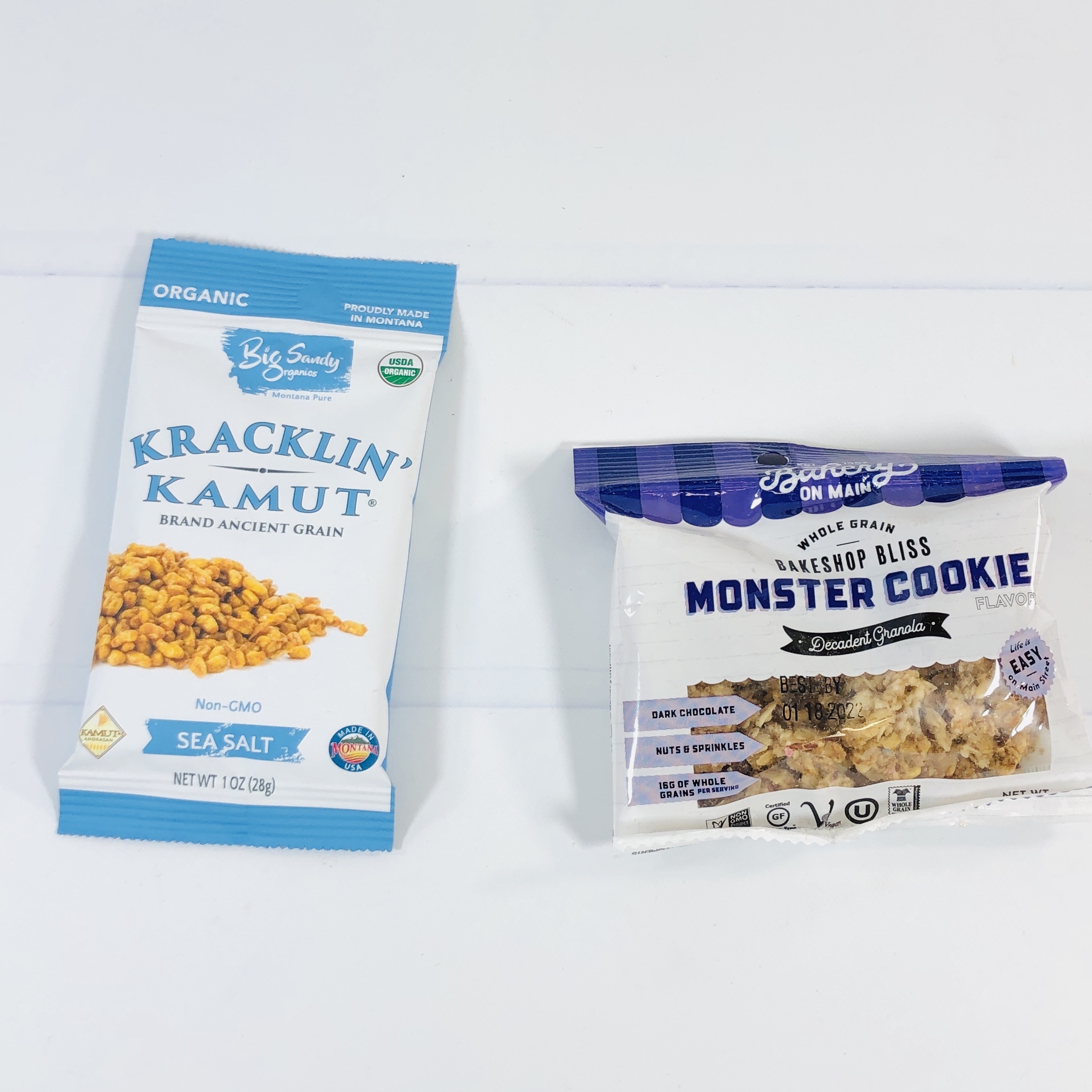 Big Sandy Organics Kraklin' Kamut in Sea Salt is an odd snack but tasty, as it's just roasted wheat berries with salt and safflower oil. I liked the flavor, kind of a cross between corn nuts and sunflower seeds and it has a decent amount of fiber. They are hard to eat at first, but if you let them sit in your mouth for a bit they will soften.
Bakery On Main Monster Cookie is sweetened granola with a base of oats and sugar. There are a couple of chocolate chips in here and it tastes like a crumbled up cookie! I ate it like trail mix but you can serve it with milk for breakfast.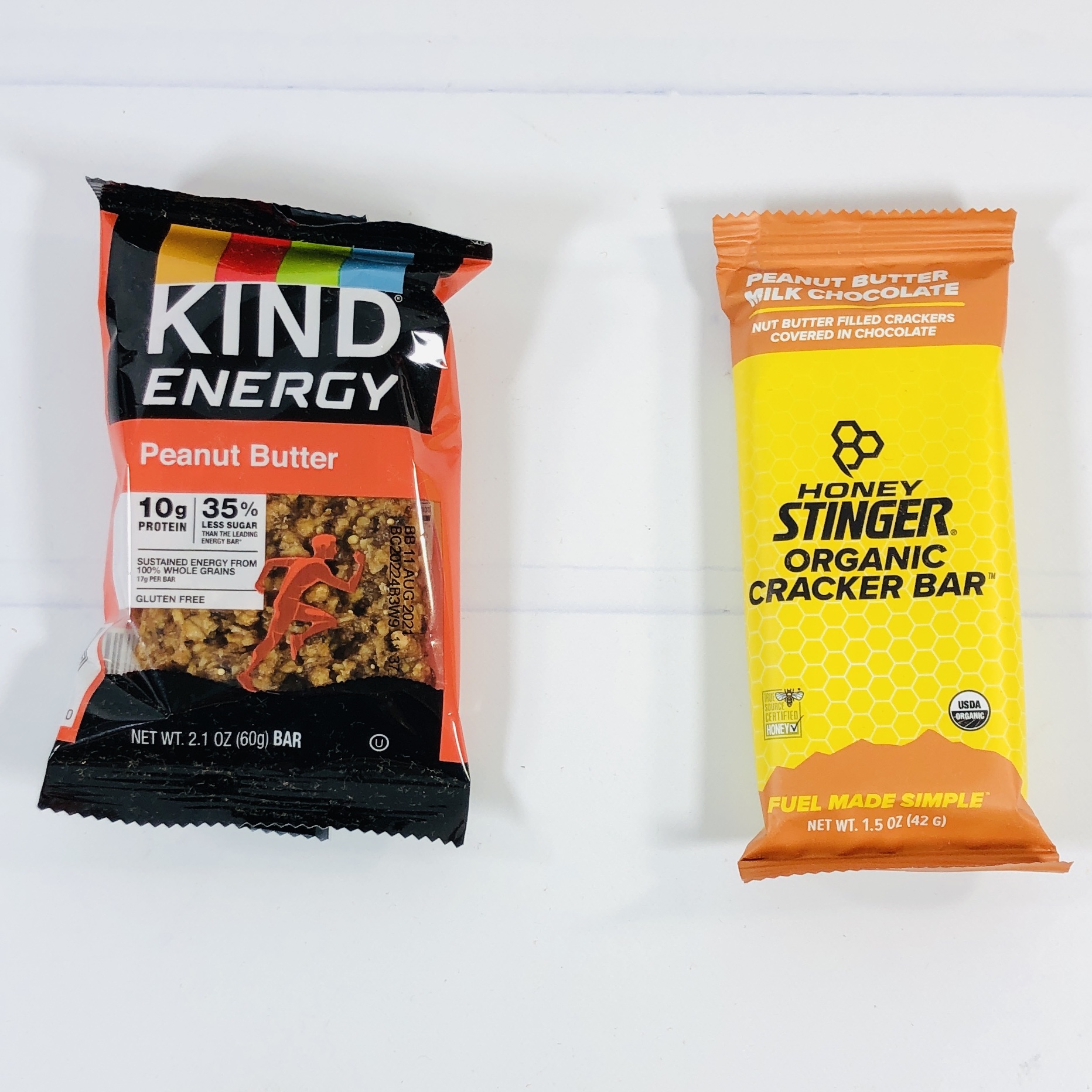 KIND Energy Peanut Butter Bar Granola bars are most often a breakfast for me, rather than an afternoon snack. This bar has oats, peanut butter, honey, and ancient grains that include quinoa, buckwheat, amaranth, and millet. It's chewy and tasty!
Honey Stinger Peanut Butter Milk Chocolate Organic Cracker Bar was an odd combo to me. It has two plain crackers (matzo?) with peanut butter filling (like a PB cup) and covered with milk chocolate. I think I would prefer a pretzel instead of a bland cracker but that didn't stop me from eating the whole thing!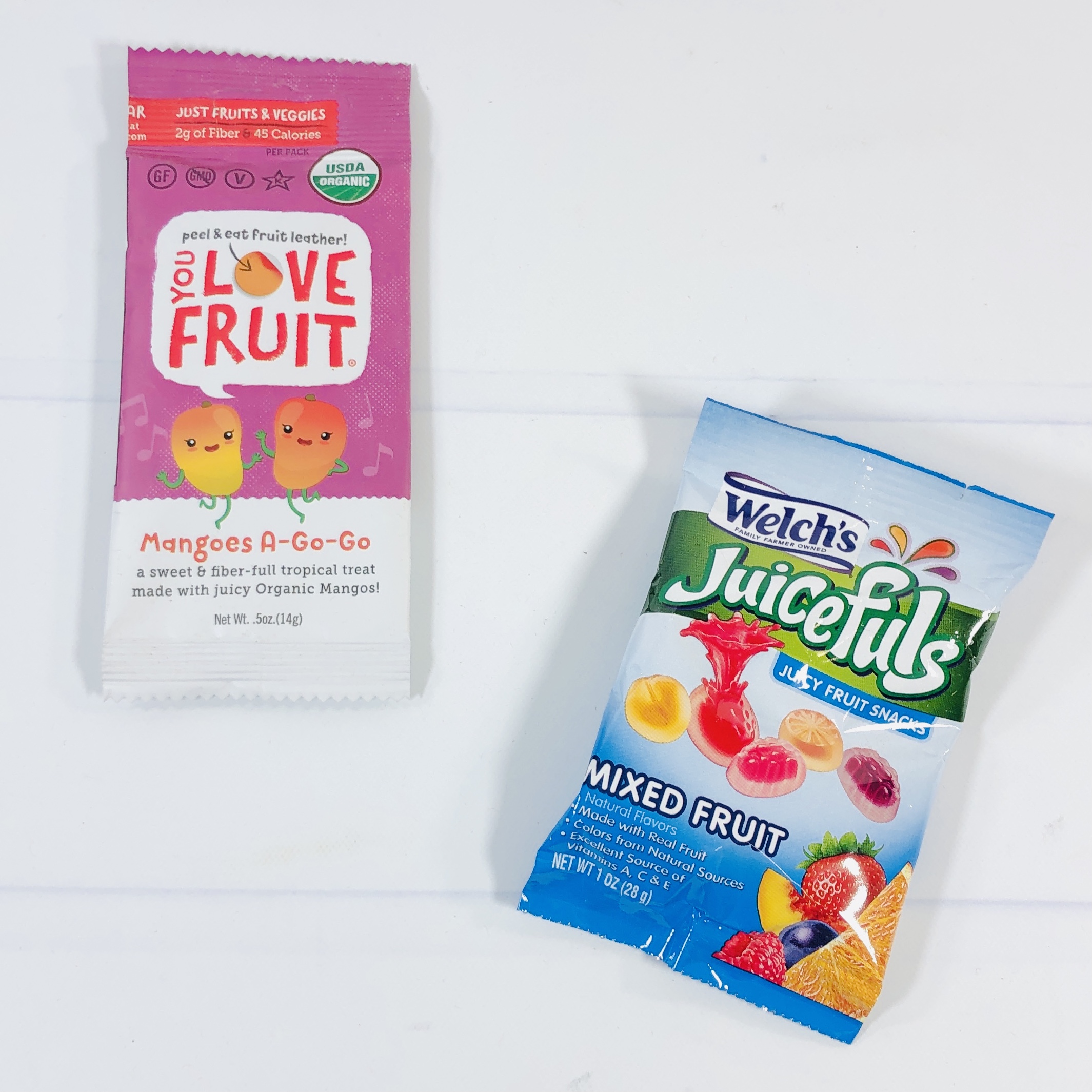 You Love Fruit Mangoes A-Go-Go and Welch's Juicefuls Mixed Fruit Juicy Fruit Snacks both go straight to my daughter, she loves gummy fruit snacks. You Love Fruit is more natural and less processed than the Welch's.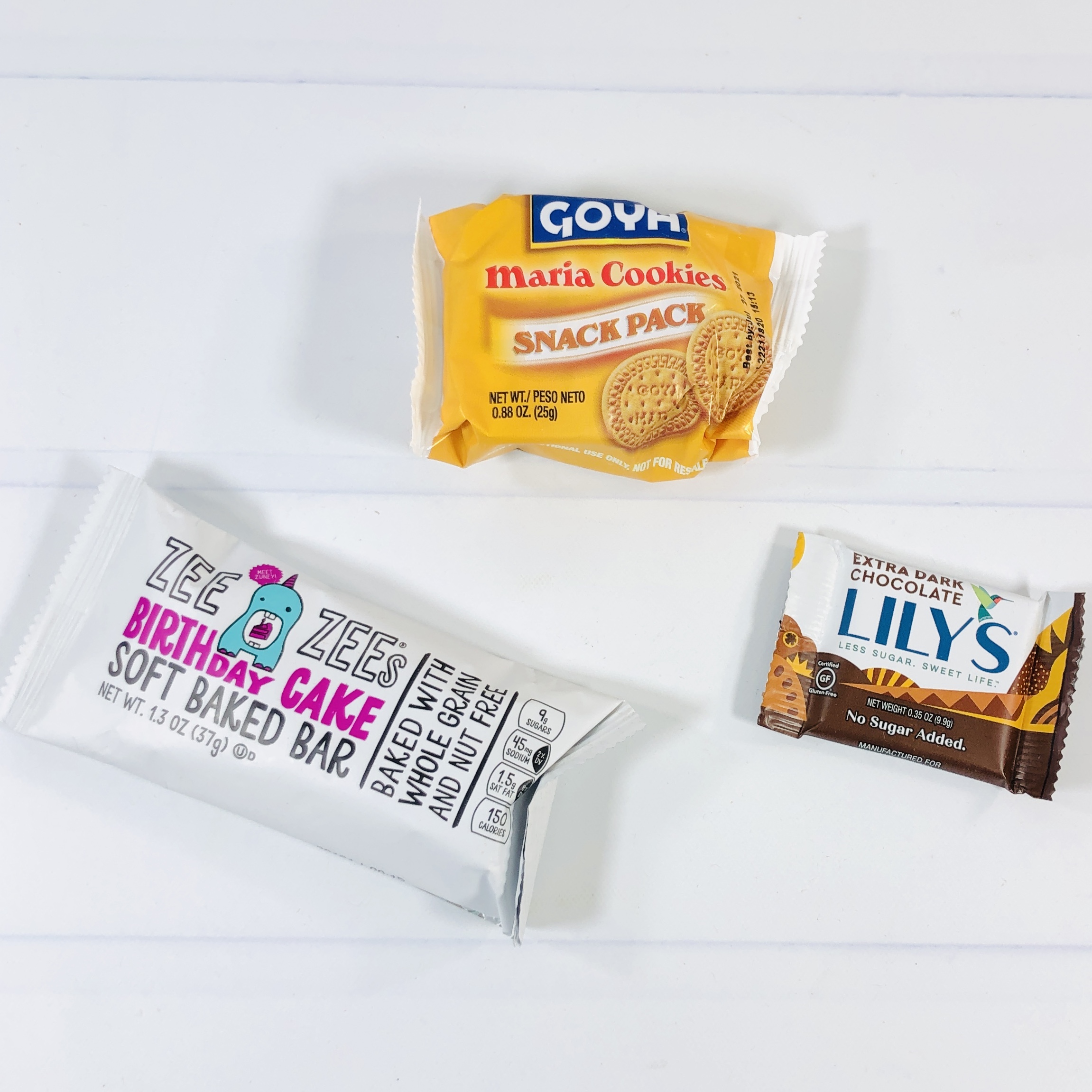 Zee Zee's Birthday Cake Soft Baked Bar always remind me of Nutri-Grain bars, with an oat base and a soft-baked texture. My oldest is especially fond of the Birthday Cake flavor so this bar was perfect for her afternoon snack, since she eats at her desk and it's not too messy.
Goya Maria Cookies Snack Pack Hmm, these are plain cookies that aren't too sweet, kind of like an animal cracker. I would imagine they are served alongside tea or coffee.
Lily's Extra Dark Chocolate I know this says "Extra Dark Chocolate" but it reminded me of semi-sweet chocolate chips. It was smooth and tasty, and even though it was sugar-free (and has stevia in it) I liked it and didn't detect a "fake sugar" aftertaste.
I received 16 snacks in my March Love With Food Deluxe Box! I enjoy sharing these snacks with my family, there's always something for everyone's tastes. My favorite this month was probably the cornbread crackers, it was delicious! These snacks are easy to quickly pack into a purse, backpack, or lunch bag since most were travel friendly. The price works out to about $1.25 a snack, and try-before-you-buy helps me decide which snacks I might want to buy in bulk in the future.
What's your favorite snack from the Love With Food Deluxe Box this month?
Visit Love with Food Deluxe Box to subscribe or find out more!