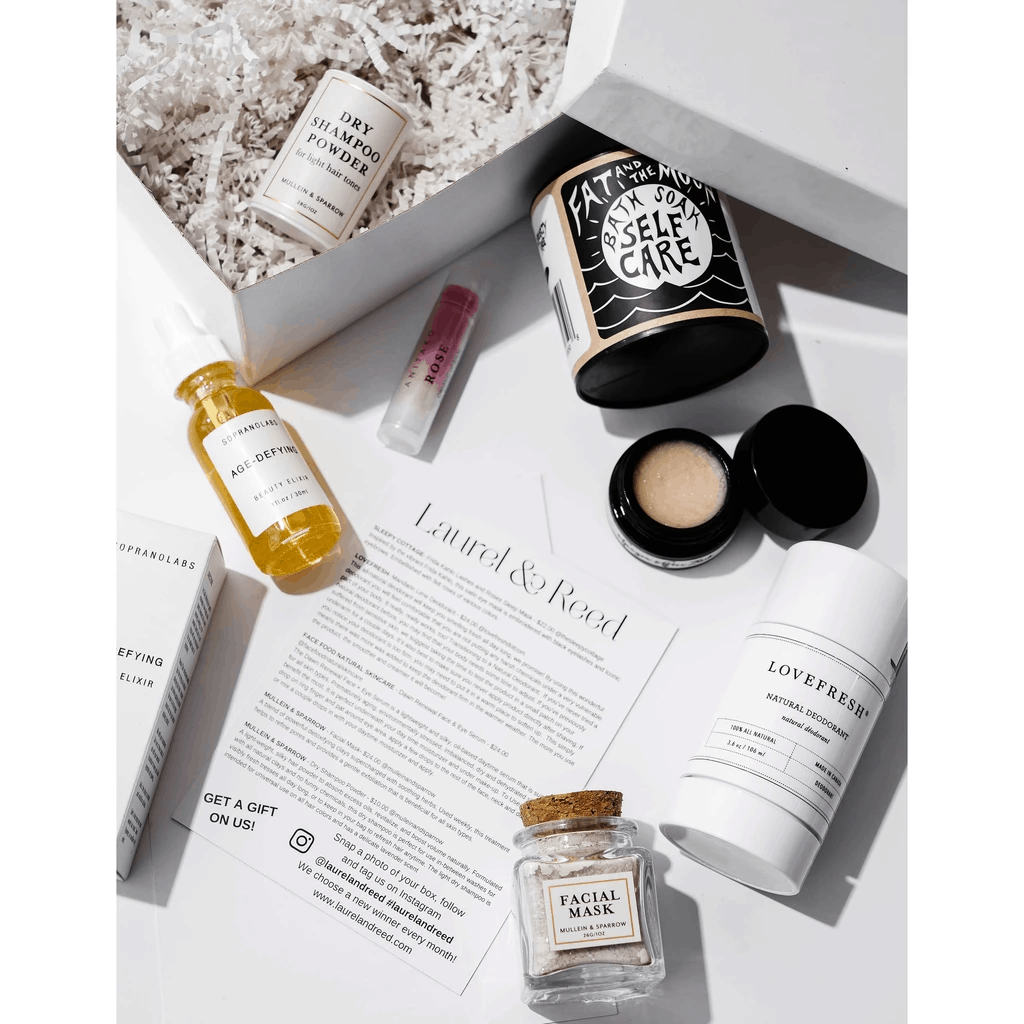 We have full spoilers for the April 2021 Laurel & Reed, a cruelty-free beauty subscription box!
DEAL: Use coupon code NEW15 at checkout for 15% off!
Elevate your daily routine with a subscription to Laurel & Reed's luxury-curated, cruelty-free and non-toxic beauty box. In need of some selfcare or looking for that perfect GIFT? Every month we will delight your doorstep with a mix of 3+ full-size products with a min. total retail value of $100+. All boxes come gift wrapped.
This month's box contains:
The April 2021 Laurel & Reed Clean Beauty & Skincare Box features (3) full-size products from: Kahina Giving Beauty, EIR NYC, Withsimplicity and Sade Baron. Does not ship until 4.15.

Total value $147.00
More details from Laurel & Reed:
KAHINA GIVING BEAUTY Brightening Serum – 1oz – $72.00
A lightweight, easily absorbed brightening serum with a fresh, natural scent. This organic-certified treatment complex increases luminosity and refines skin tone and texture.  A non-vitamin C brightening alternative for those with sensitive skin.
A blend of sea daffodil, Japanese wakame seaweed, blue tansy, and powerful antioxidants in argan oil, maritime pine, and spirulina work to
Visibly reduce discoloration, hyper-pigmentation, post-acne spots and dark marks in four to six weeks
Boost radiance and even skin tone
Prevent future discoloration by inhibiting melanin production
Protect against environmental exposure
Support skin's natural defense system
Fight free radicals that contribute to further signs of aging
EIR NYC Sunset Oil – 8oz – $35.00
Created with the hardcore beach bum in mind, this oil provides a shimmering douse of nourishment with the aid of four key oils, like coconut and jojoba, and a thoughtful array of plant extracts chosen for their ability to restore. While it's an ideal hydrator after a long day in the sun, it's also fantastic as an everyday supercharged moisturizer for glowy, supple skin. Rub it all over, allow it to sink, and enjoy the sun-dipped sheen it gives you.
withSIMPLICITY Face Jelly Oil-Free Moisturizer – 2oz – $26.00
This lightweight, aloe-based formula is soothing and hydrating for the skin. Rather than feeling heavy on your skin, this moisturizer soaks into your skin quickly, leaving it feeling refreshed and healthy.
SADE BARON Morning Glory Coffee Scrub Bar Soap – 7oz – $14.00
Real coffee is used in this deliciously delicate, creamy smelling soap that might just replace your morning cup! Coffee granules provide energy, antioxidants, and rough exfoliation. Superfat cocoa butter will provide long-lasting skin hydration with its fatty acids like oleic acid, palmitic acid, and stearic acid, which are all deeply nourishing for skin.