Kinder Beauty Box, a vegan beauty subscription, has a released the Limited Edition Mother's Day Box! This limited edition box includes 6 self-care products worth $135 for just $44! It's the perfect gift to treat moms who deserve pampering!
Treat your mother, or anyone you admire, to this extra special beauty bundle that is expertly curated to feature seasonal ingredients and a flattering nail color for people of all ages.

With six items worth $135, these boxes are packed with self-care essentials.
FYI, this box is expected to sell out fast!
This box includes:
Sahara Rose Hydra C Serum
Glaminizers Serenity Oil
Rose Quartz Facial Roller
Mineral Fusion Rosé Waves Nail Polish
Akar Skin Balance Toning Mist & Clarify Face Oil Sample Duo
Vianek Gentle Face Mask
More details:
Sahara Rose: Hydra C Serum Retail Value: $54.00 Every person needs a great vitamin C serum, and this one has a formula and packaging that people of all ages will love. This all-in-one brightening serum is packed with a potent source of vitamin C as well as many antioxidants, hyaluronic acid, and the extracts of watermelon, cactus, mushroom, and licorice to help rejuvenate dry and dull skin and provide you with an effortless, beautiful glow.
Glaminizers: Serenity Oil Retail Value: $19.00 The Kinder Beauty team loves using essential oils for sleep, focus, or alongside our yoga and meditation practices. We love Glaminizers's Serenity Oil to help us both focus and calm down to be present for work, for our families, or during our alone time. Roll on this amethyst-charged blend onto your wrists and inhale a blend of peppermint, spearmint, lavender, and eucalyptus.
Rose Quartz Facial Roller Retail Value: $20.00 A mineral-rich rose quartz roller is the perfect accessory for a serum. You will not only help the serum absorb into your skin, but you will also help tighten and tone your facial muscles, reduce puffiness and wrinkles, and increase circulation. Rose quartz is the stone of love and healing, which is a beautiful message for Mother's Day.
Mineral Fusion: Rosé Waves Nail Polish Retail Value: $8.99 This romantic shade of berry pink is beautiful on all skin tones. Mineral Fusion's Rosé Waves applies with a cream finish that is long-lasting, chip-resistant, and easily applied with their extra thick brush.
Akar Skin: Balance Toning Mist & Clarify Face Oil Sample Duo Retail Value: $20.00 Akar Skin's powerhouse duo will help maintain your skin's pH level and deliver potent vitamins and minerals to your skin. The Balancing Toning Mist will first prep your skin by enhancing your skin's ability to absorb nutrients and providing a gentle exfoliation with salicylic acid. Next, the Clarify Face Oil will deliver concentrated fatty acids and anti-inflammatory ingredients, such as safflower oil, blue tansy, argan oil, and german chamomile, to provide long-lasting hydration and protection against the elements.
Vianek: Gentle Face Mask Retail Value: $4.00 Address sensitive and irritation-prone skin with this Kinder Beauty favorite face mask. This gorgeous red kaolin-based face mask is formulated with natural minerals such as magnesium, zinc, calcium, and iron, to absorb excess sebum and oxygenate the skin. Regular use will boost your skin's resistance to irritants, even out your skin tone, and reduce blemishes.
DEAL:  Not a subscriber yet? Use the coupon code HELLO5 to get $5 off your first order!
Kinder Beauty Box is $26 per month, and includes clean beauty, skincare, and makeup products. See all our Kinder Beauty Box reviews to find out more about this cruelty-free beauty box subscription!
About Kinder Beauty Box: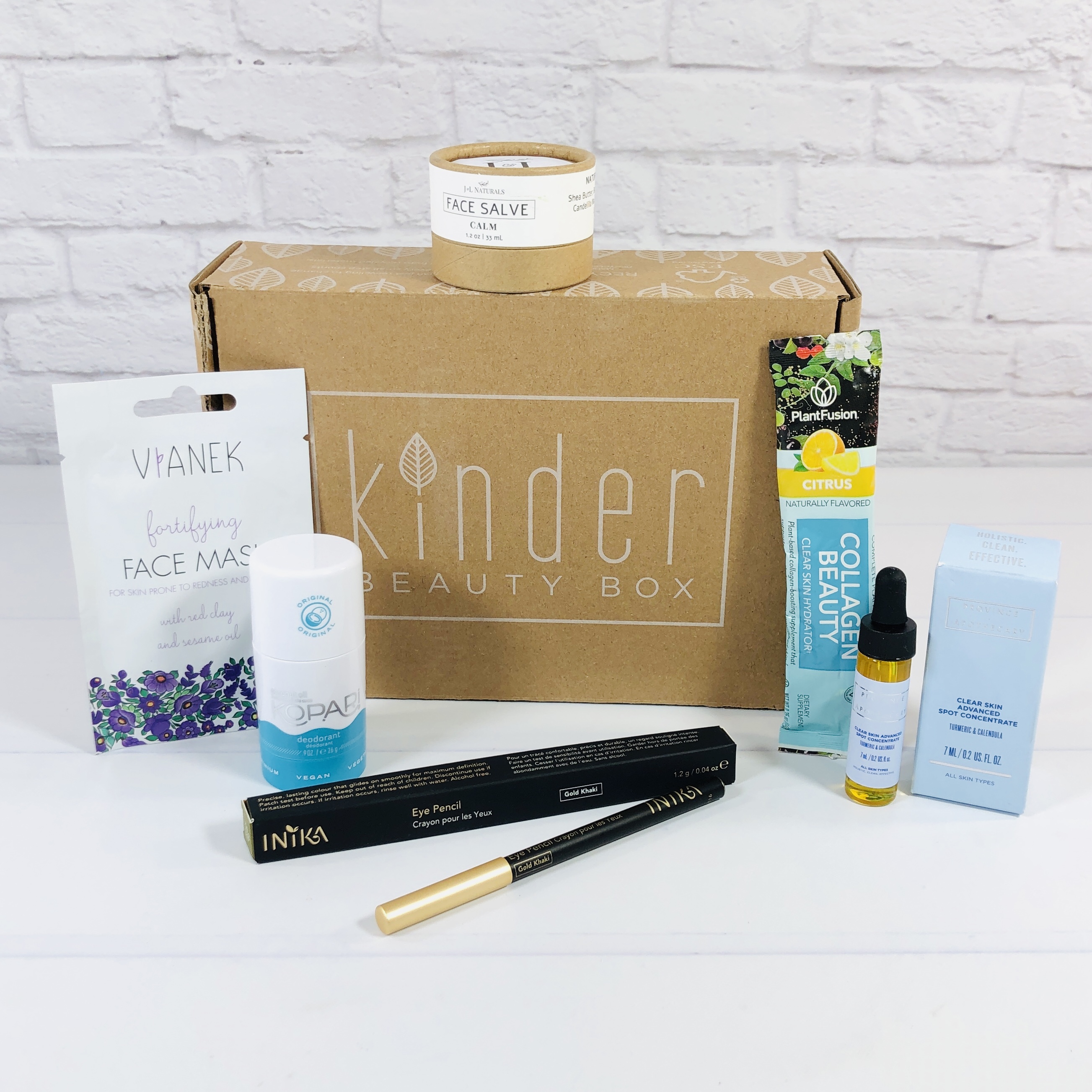 Kinder Beauty is a vegan beauty subscription curated by Daniella Monet and Evanna Lynch. Each monthly box is packed with up to $165 worth of vegan, cruelty-free and clean makeup, skincare, hair-care products, accessories & more. Every box has at least two full-sized products from top brands like 100% Pure, Andalou Naturals, INIKA Organics, Franklin & Whitman, Cuvee Beauty, Plantioxidants, Clove + Hallow and many others!

On top of that, Kinder Beauty's packaging is eco-friendly and each month a portion of proceeds are donated to various animal rights and environmental causes.
What do you think of the new Kinder Beauty Box Limited Edition Mother's Day Box?