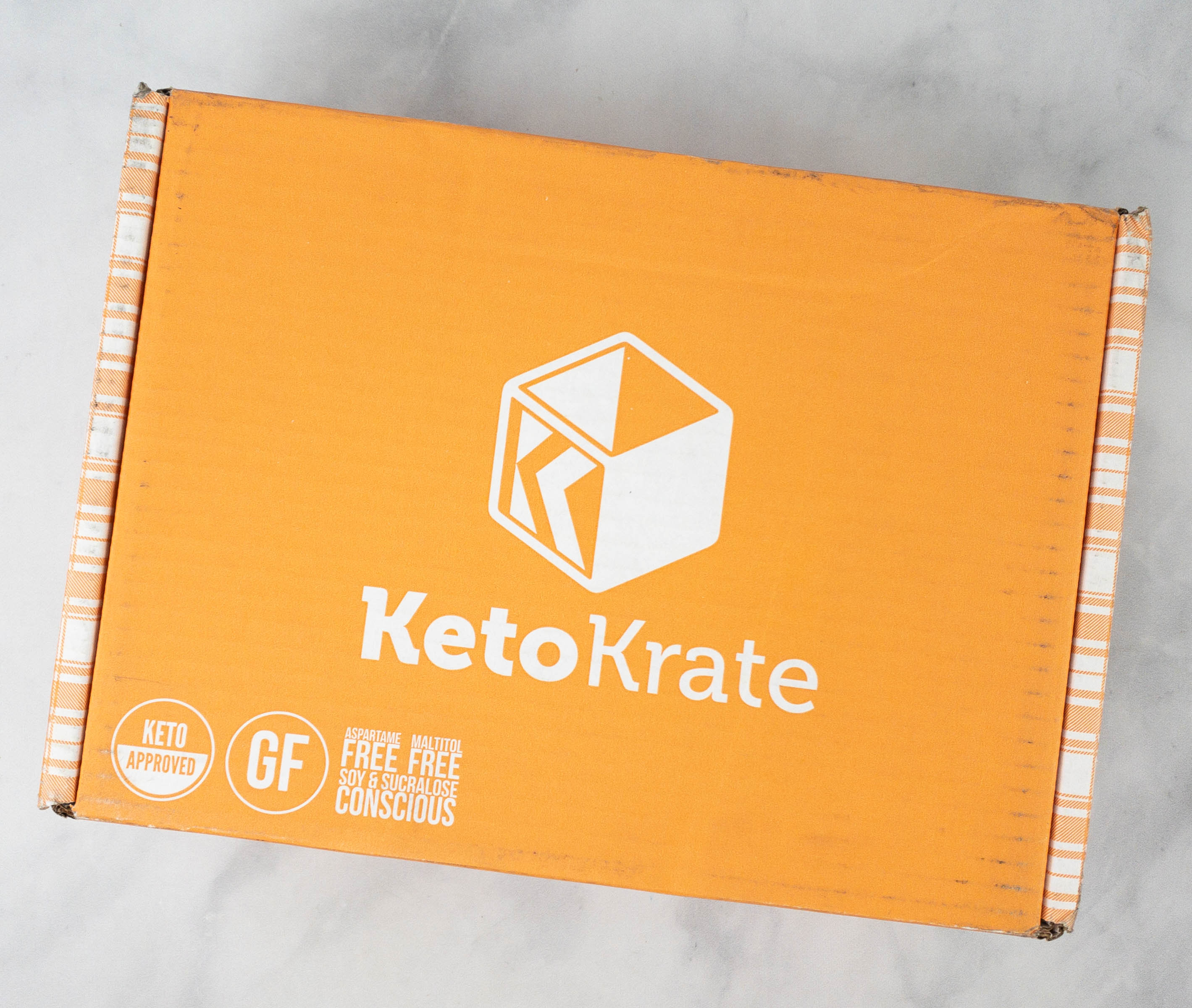 Keto Krate offers a keto subscription box for those who love keto snacks! Every month, members receive 10+ full-sized keto snacks with less than 5g net carbs per serving, as well as printed insert including keto tips, keto recipes, keto advice, member case studies, and other information to keep you inspired with your keto journey. Members also get VIP access to the members-only KetoShop and Krate.Club. KetoShop is where you can discover and purchase more keto-friendly goodies including past Krates and one-off items. Krate.Club is where you'll find more useful information, discounts, recipes, and more for the current month's KetoKrate! The subscription costs $39.99 a month, plus free shipping.
Keto Krate's keto snack and food subscription made the list in our 2021 readers' choice best health and wellness subscription box list!
DEAL: Get $10 off your first Krate! Use coupon code HELLO100FF.

As always, the box is full of low-carb snacks!

The inner lid of the box contains some positive messages and more information about the snacks they feature.
The box has no extra packaging, fillers, or squiggles.
Here's a promotional booklet from Keto Krate.

Inside is a member-exclusive 25% off coupon which you can use on Ketologic purchases.
This month's featured recipe is St. Paddy's Day Lime Bars.
It also shows how members can access the members-only KetoShop!
Members can get a chance to win 3 months of Keto Snacks by posting a photo of themselves and their KetoKrate on Instagram.
Another part of the booklet features inspiring stories of people who are on a keto diet, plus tips!

Everything in my box!

Big Fork Brands Original Craft Pork Stick ($2.66) This craft pork stick is packed with protein, a great way to fuel up even when I'm on the go. I like its texture, as well as how tender each bite is!
It's vacuum sealed to maintain its freshness and flavor. Aside from being keto-friendly, it's also antibiotic-free, gluten-free, nitrite-free, and paleo-friendly.

Munk Pack Coconut Almond Dark Chocolate Bar ($2.08) This snack bar is packed with tasty coconut shreds and almonds, drizzled with chocolate that adds a touch of sweetness to each bite. It has a satisfying crunch and I I loved that it wasn't too hard or sticky unlike other bars. It also helped keep me full until my next meal.
JiMMY! Keto Macadamia Nut Bar OR Blueberry Nut Bar ($2.92) Here's another keto-friendly on-the-go snack bar! It's available in two flavors: macadamia nut and blueberry nut. I received the former, and it was deliciously nutty as expected. It's packed with macadamia nuts, almonds, and peanuts, plus dark chocolate morsels which balanced out the taste.

Keto Crisp Almond Butter Bar ($3) This nutritious snack bar has a combination of creamy roasted almonds, cocoa butter, and fresh coconut. It's low in carbohydrates and sugar, plus it's gluten-free and high in protein. Another key ingredient is MCT oil, which is known to help promote weight loss.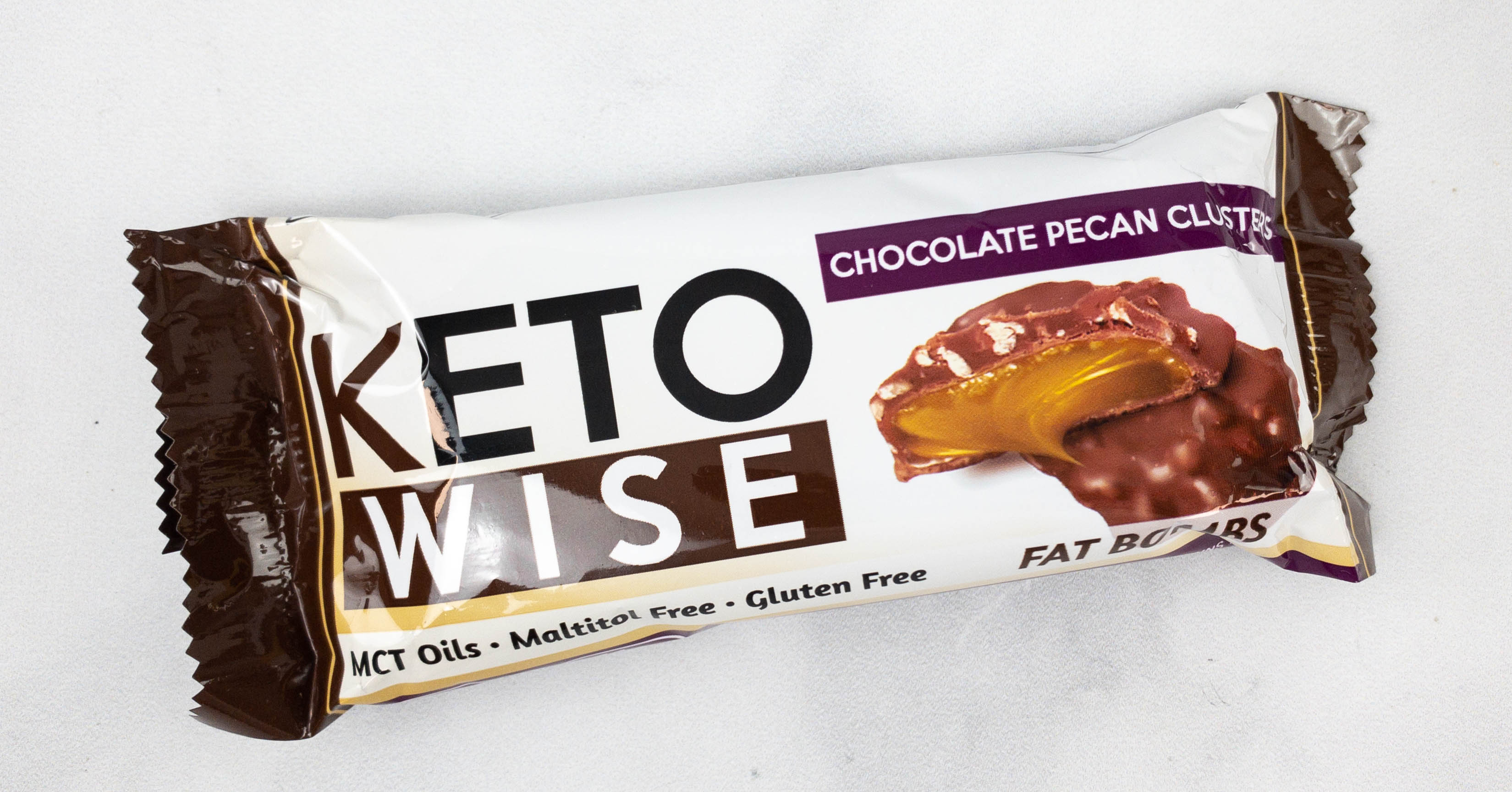 Keto Wise Chocolate Pecan Cluster Fat Bombs ($1.25) These fat bombs are named exactly for their purpose, burning fats! They are specifically made to target 75% calories from fat and obtain optimal keto results. They are also pretty delicious, as they're made with pecans, caramel, and chocolate.
IQ Bar Banana Nut ($2.08) Packed with banana and nuts, this snack bar is like a baked banana bread except that it's keto-friendly. I like that it's not too sweet and that it's really filling, making it a great meal replacement. Another thing to love about it is that it's rich in brain nutrients, which helps boost your brain performance, keeping you focused and energized!
Superseedz Somewhat Spicy Pumpkin Seeds ($1.05) These premium pumpkin seeds provide a kick of spiciness, with a blend of cayenne pepper, garlic, and sea salt seasoning. It's also convenient that they already removed the shells on every piece, making this keto-friendly snack hassle-free and more enjoyable!

The Cookie Department Mint Condition ($3) I have always loved lava cake and mint chip ice cream and it's nice that I can finally enjoy them as one in a keto-friendly way! This cookie is sweetened with monk fruit, and it also contains prebiotic fiber. Of course, it also has dark chocolate chips and cocoa powder to make it extra chocolatey. Every bite is heavenly, I wouldn't mind having it over and over again!

Hilo Life Piece-A-Pizza ($2.49) Here's something for all the pizza lovers out there! It's a pack of  crispy mozzarella bits and crunchy walnuts, seasoned with delicious pizza flavor. It's bursting with flavors, but it's guilt-free because it doesn't have added sugar and it only has 4g carbs. This makes a great alternative to your usual greasy snacks when watching TV or a movie!

Wedoketo Everything Crackers ($5.99) These keto crackers may be made from simple ingredients such as almond flour, flax seeds, and black sesame, but they surely taste amazing. The crackers tend to crumble and break into pieces but I really don't mind. As long as they're healthy and delicious, I'll definitely enjoy the whole pack! This is a great grain-free snack, and it's vegan and paleo-friendly as well.

Ross Chocolates Milk Chocolate Thins Flavored With Lemon And Coconut ($14.99) These milk chocolate thins come with a citrusy twist from lemon coconut! They are tasty, and although not as rich as regular chocolate, it's still a great way to get a chocolate fix minus the guilt.

Bunker Hill Brick Oven Pizza Cheese Crisps. This pack of low-carb cheese crisps is another great snack to enjoy when watching TV! They are made from cheese and pizza flavored seasoning, making each bite really savory. They are also crispy and not soggy, that's why I enjoyed munching on them so much!

Ketologic Keto Indulge Dark Chocolate Hazelnut ($2.33) These dark chocolate bites are infused with premium hazelnut nut butter. Also, instead of regular sugar, they contain erythritol and stevia, which are natural, calorie-free, and carbohydrate-free. One bite is enough to satisfy my cravings and it also makes a great mood-booster!
KetoKrate sends great keto-friendly snacks in every box, making it easy for keto dieters to discover new and guilt-free snacks to love. This month's box included a lot of protein-rich snack bars and naturally-sweetened chocolates, which I really enjoyed. The snack bars are great for keeping me full and satisfied even when I'm on the go. Meanwhile, I love having the chocolates in handy to help curb sudden cravings. The savory snacks and the nuts were also pretty good. I'm really happy with this subscription because of the variety and quality of snacks in each box! In case you want to stock up on keto snacks, they've got you covered because they also have a members-only shop where you can purchase more!
What do you think of the KetoKrate box?