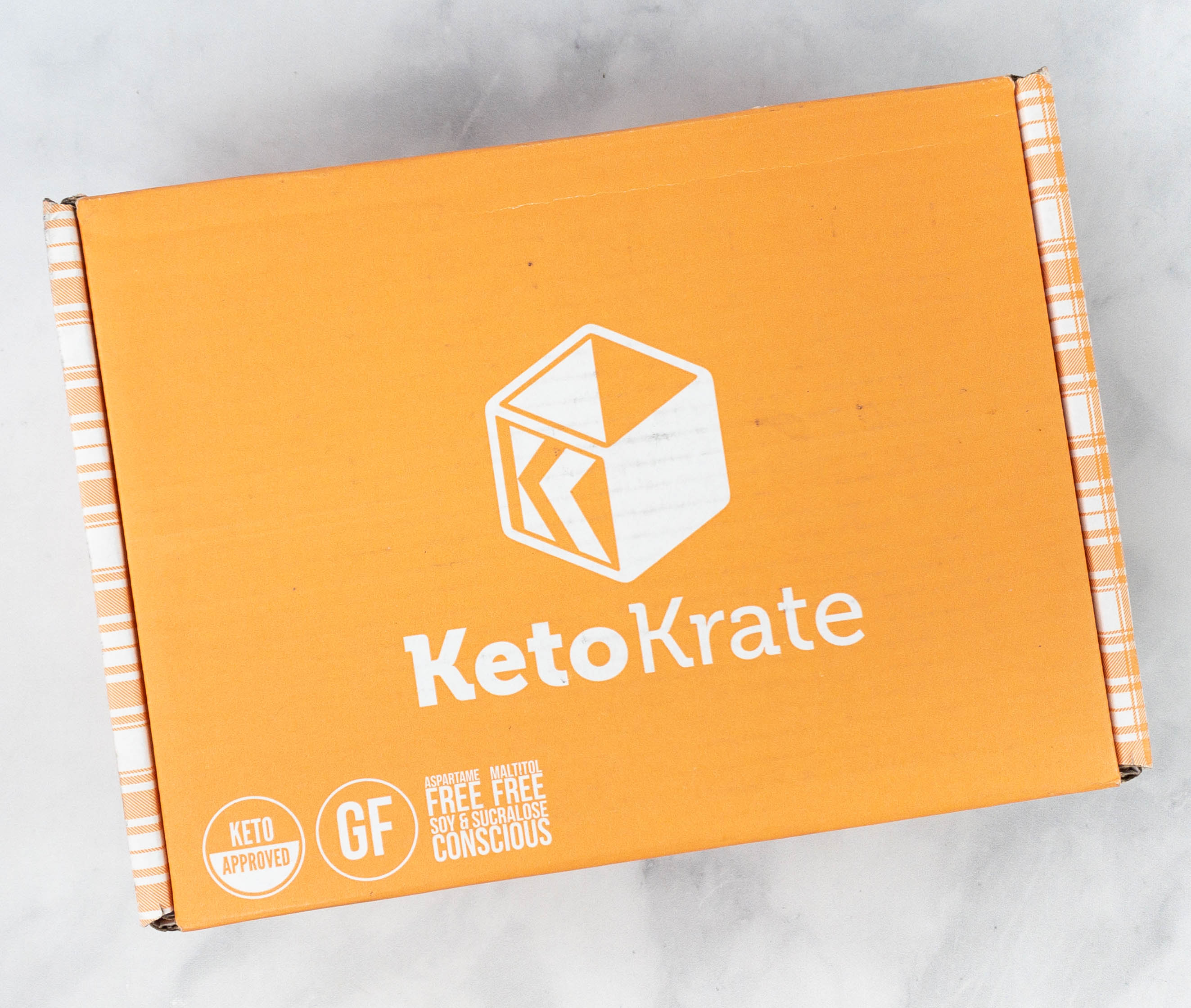 Keto Krate offers a subscription box for those who love keto snacks! Every month, members receive 10+ full-sized keto snacks with less than 5g net carbs per serving, as well as printed insert including keto tips, keto recipes, keto advice, member case studies, and other information to keep you inspired with your keto journey.
Members also get VIP access to the members-only KetoShop and Krate.Club. KetoShop is where you can discover and purchase more keto-friendly goodies including past Krates and one-off items. Krate.Club is where you'll find more useful information, discounts, recipes, and more for the current month's KetoKrate! The subscription costs $39.99 a month, plus free shipping.
KetoKrate's keto snack subscription box made the list in our 2021 readers' choice picks of best health & wellness subscription boxes!
DEAL: Get $10 off your first Krate! Use coupon code HELLO100FF.
As always, the box is full of low-carb snacks!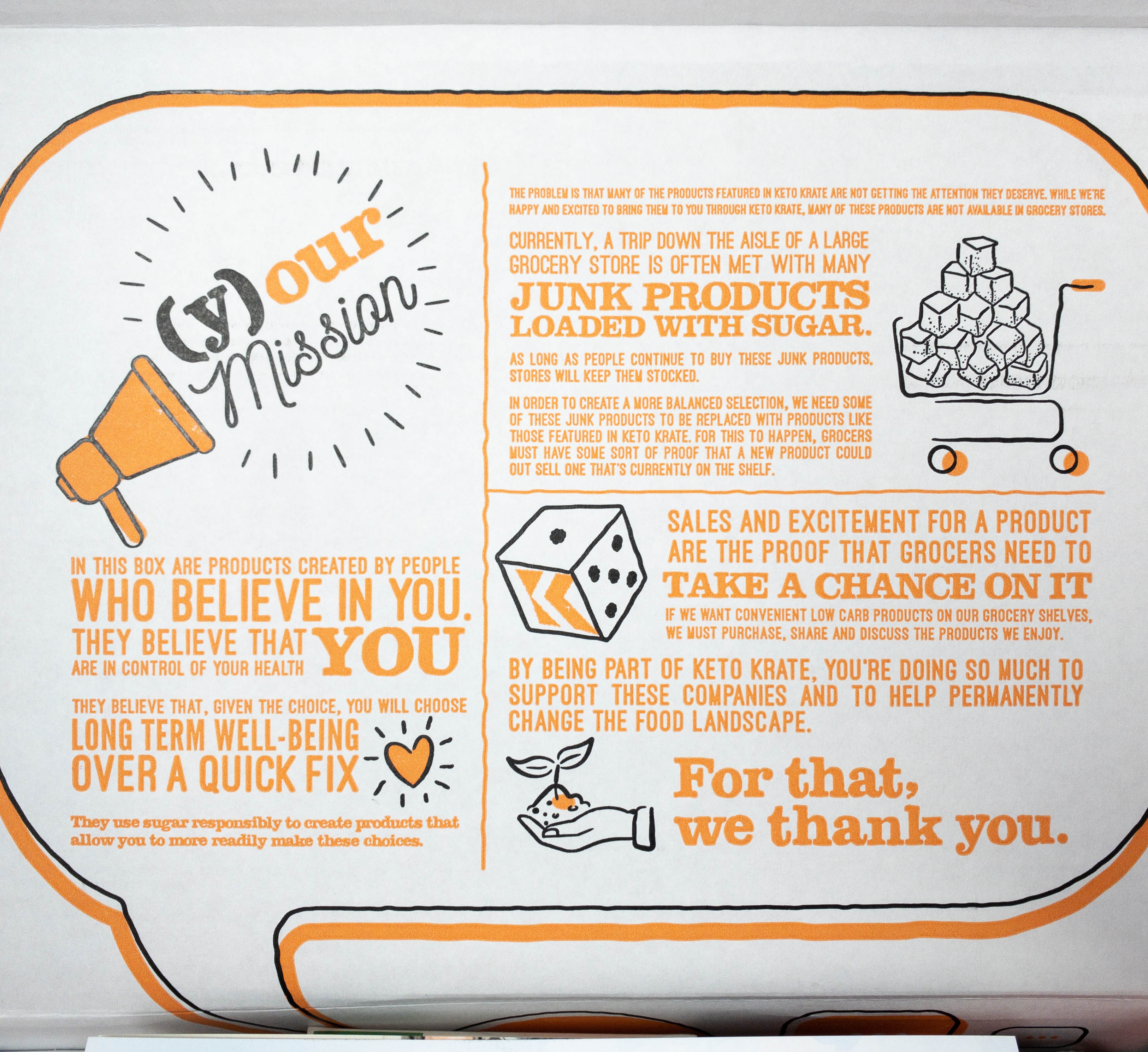 The inner lid of the box contains some positive messages and more information about the snacks they feature.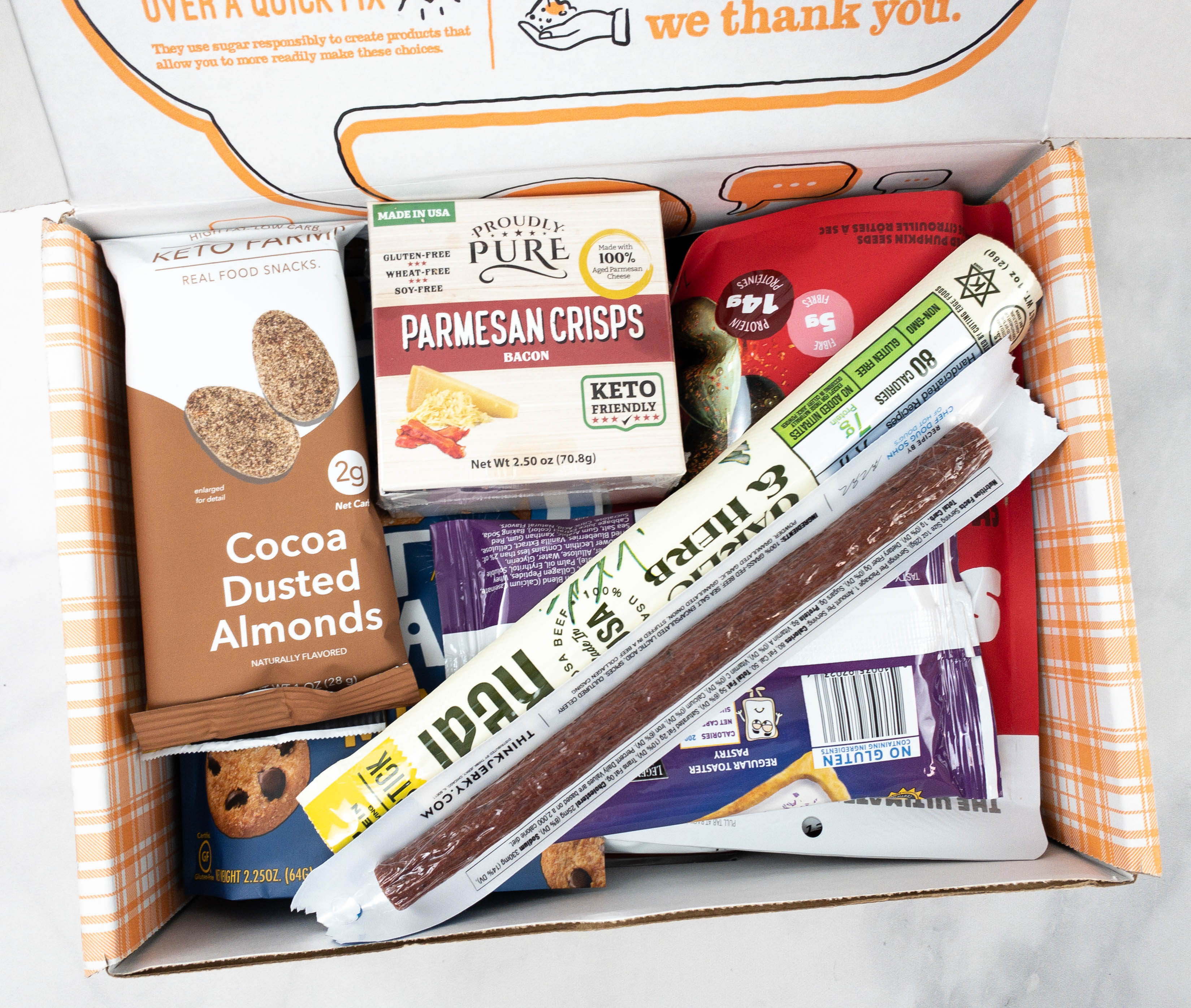 The box has no extra packaging, fillers, or squiggles.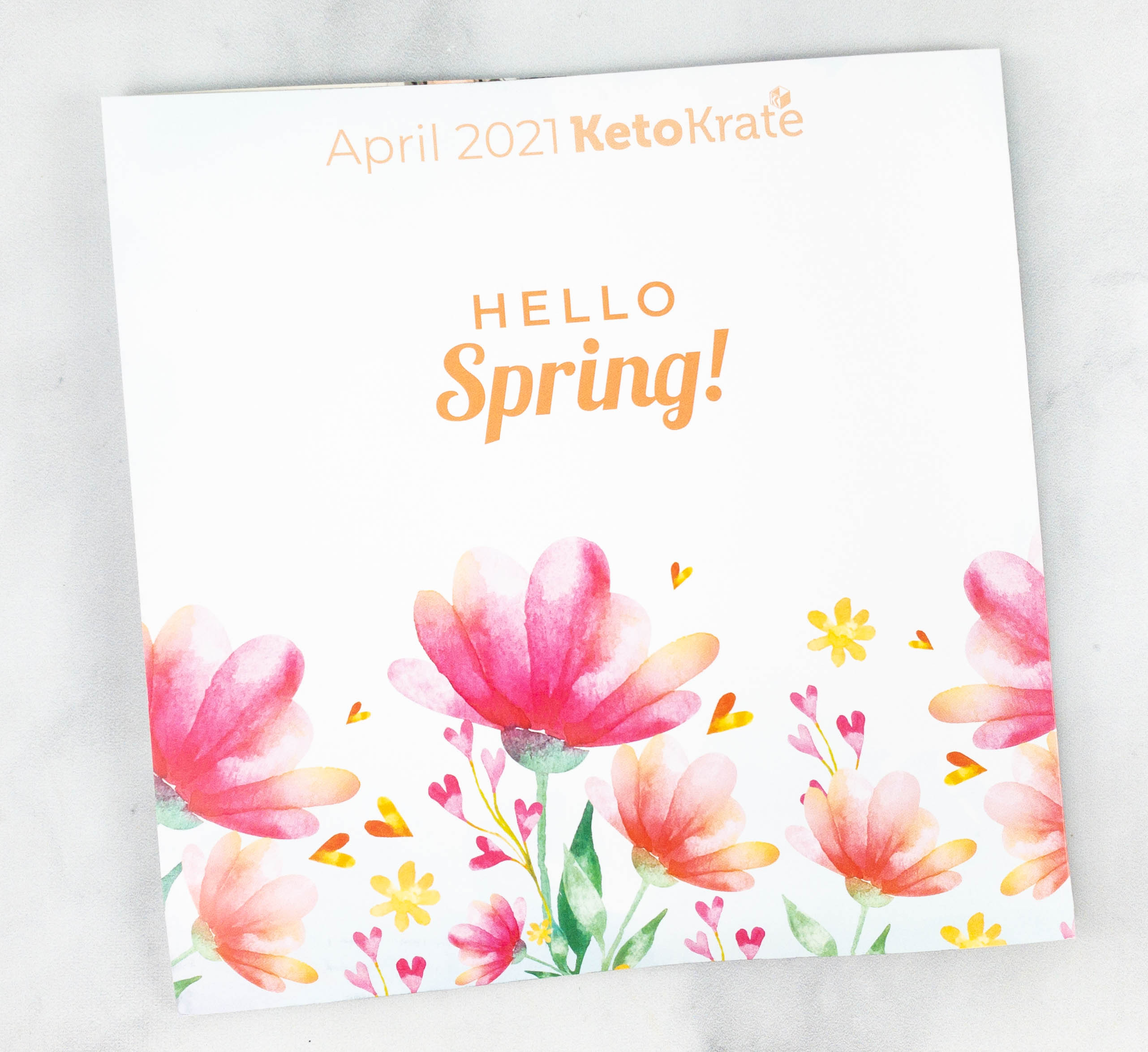 Here's a promotional booklet from Keto Krate.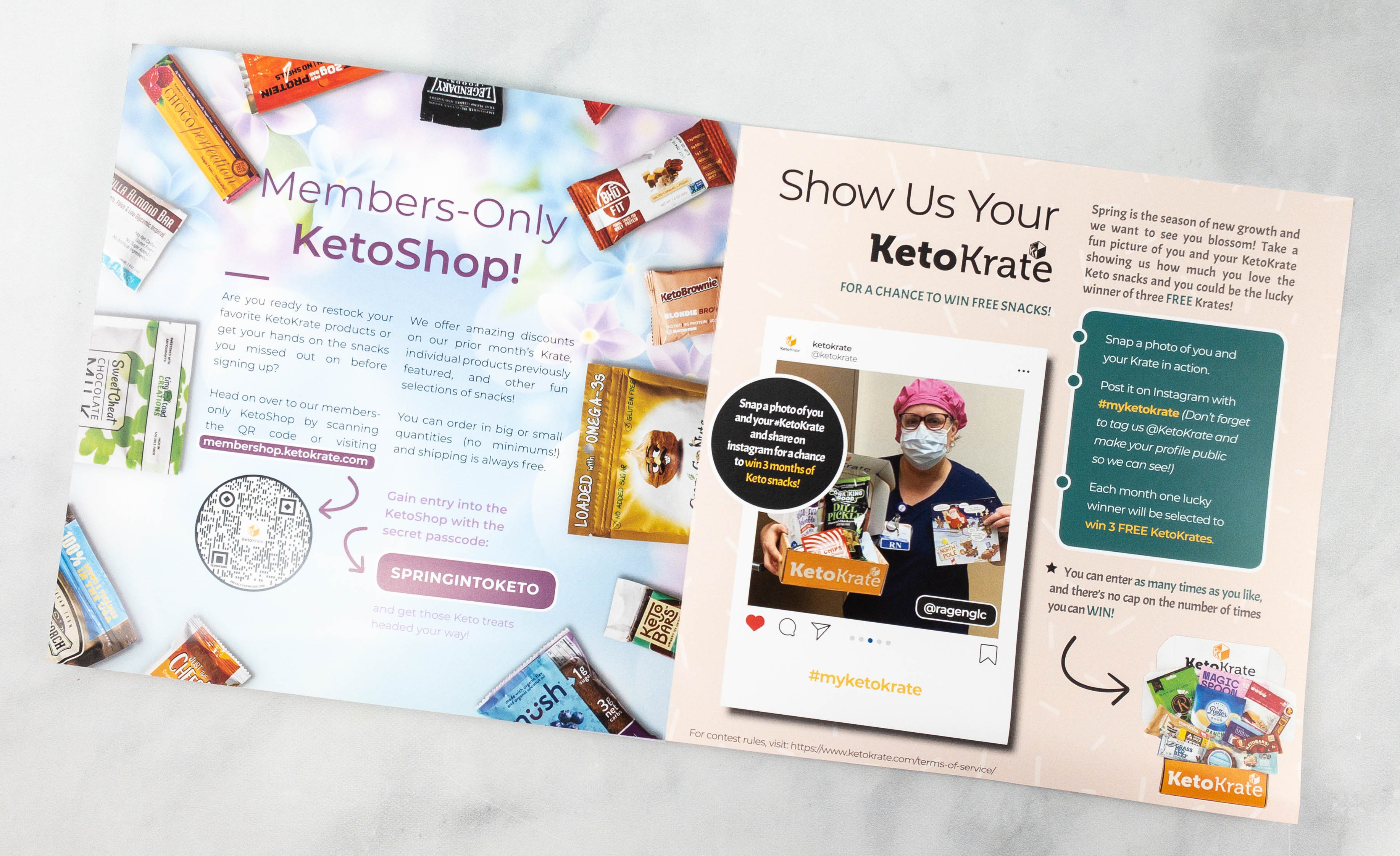 It also shows how members can access the members-only KetoShop!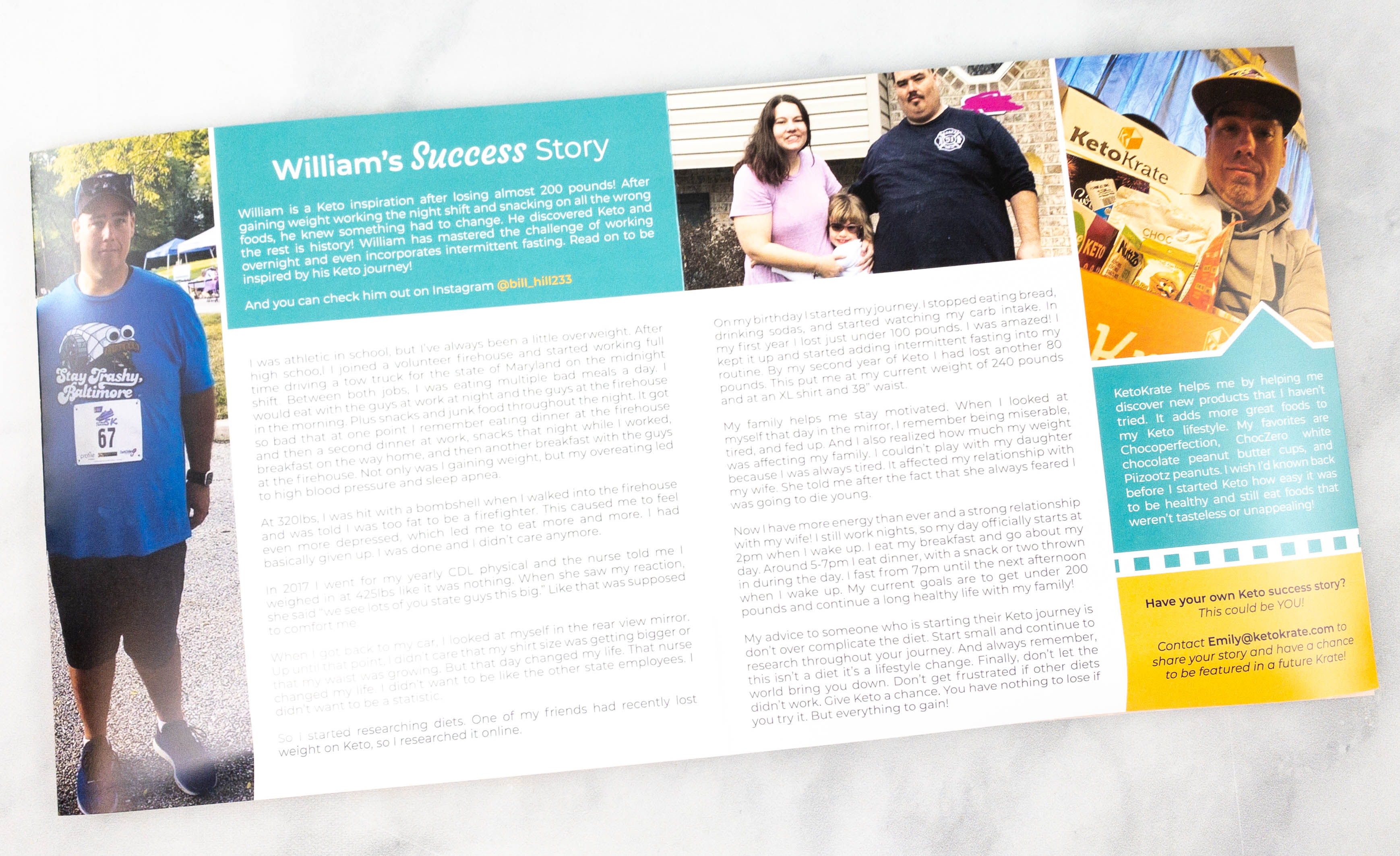 Another part of the booklet features inspiring stories of people who are on a keto diet, plus tips!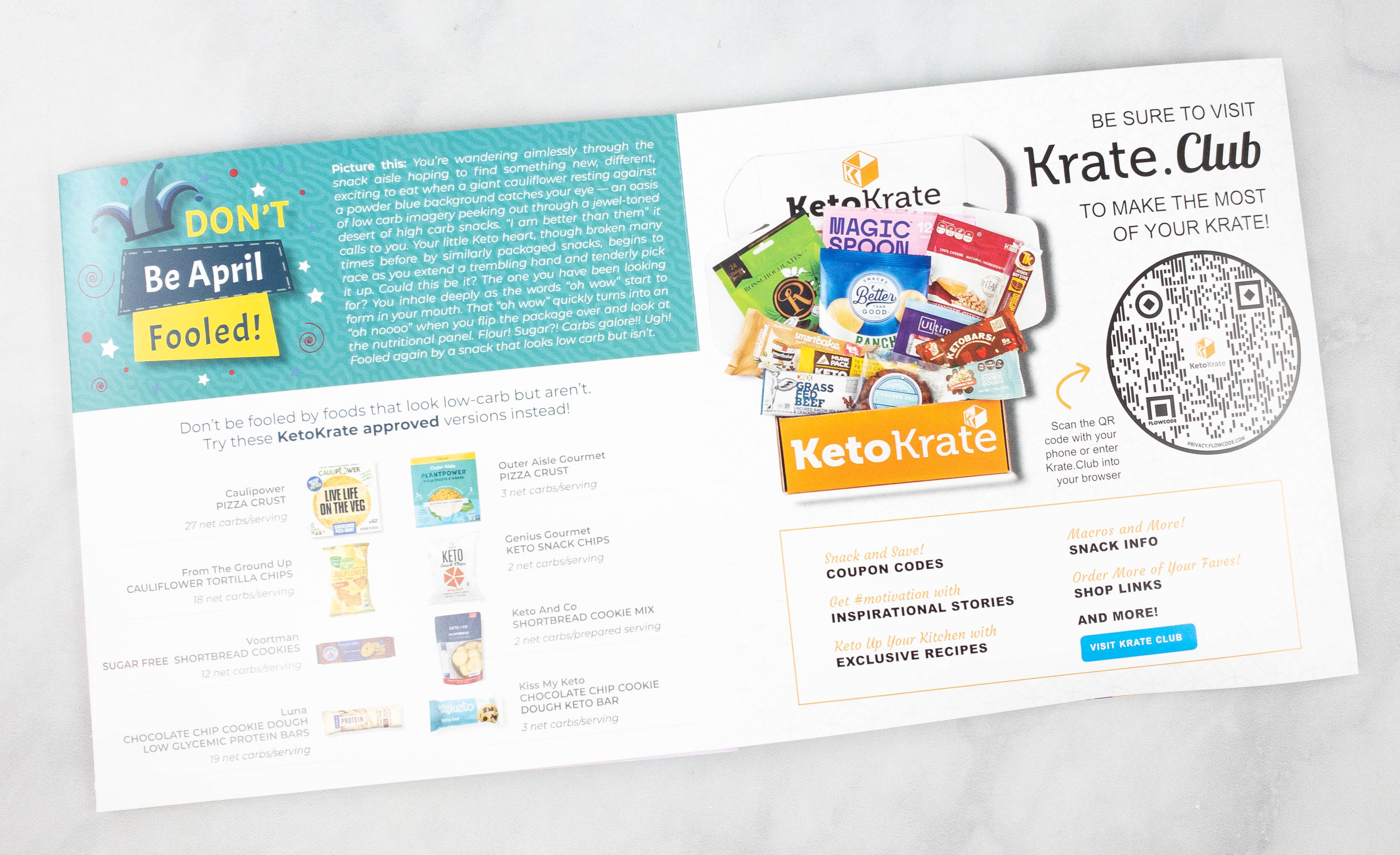 On this part of the booklet, they provided a list of snacks that look low carb but isn't really low carb, plus the KetoKrate approved alternatives.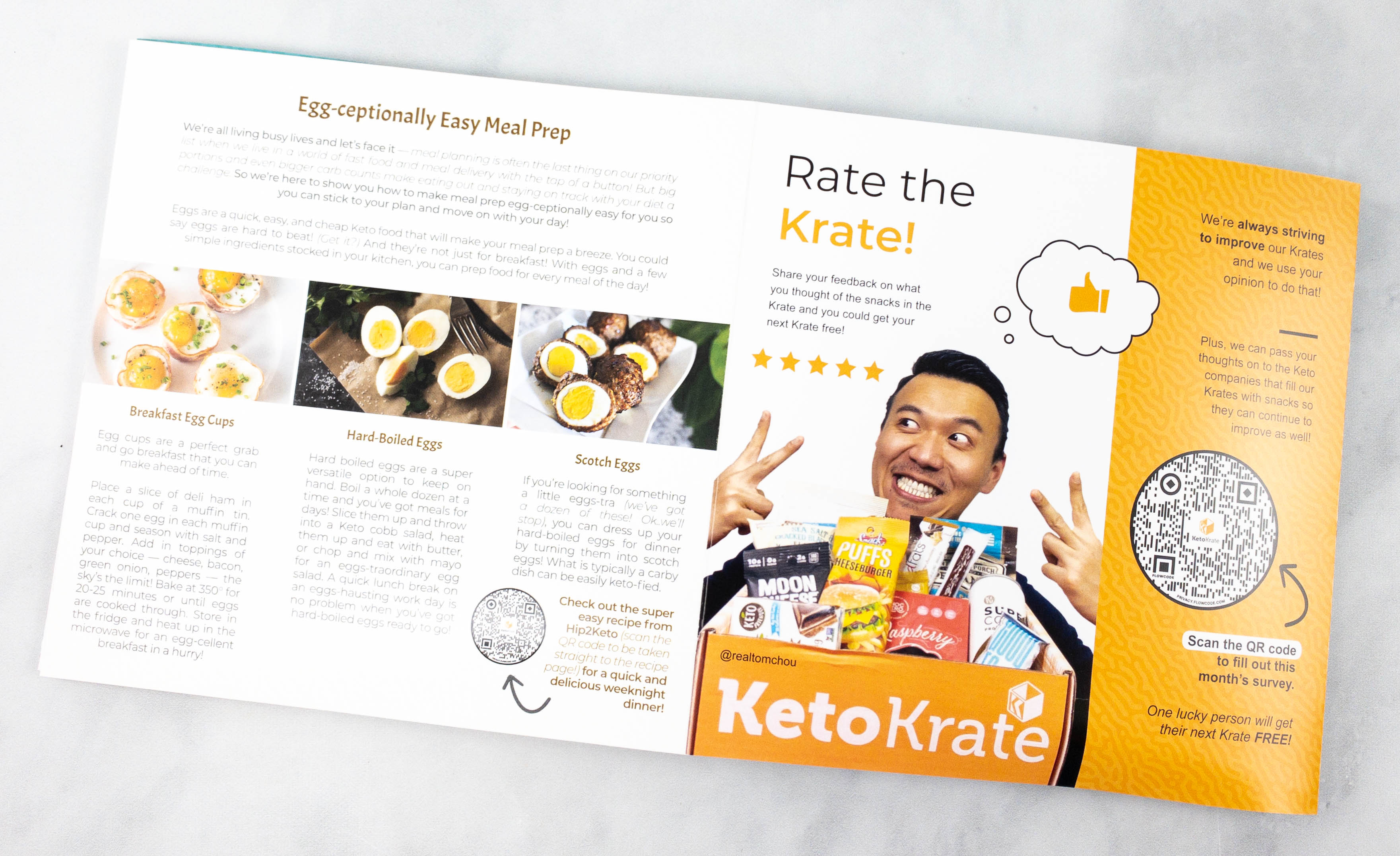 Here are keto friendly meal suggestions which use eggs!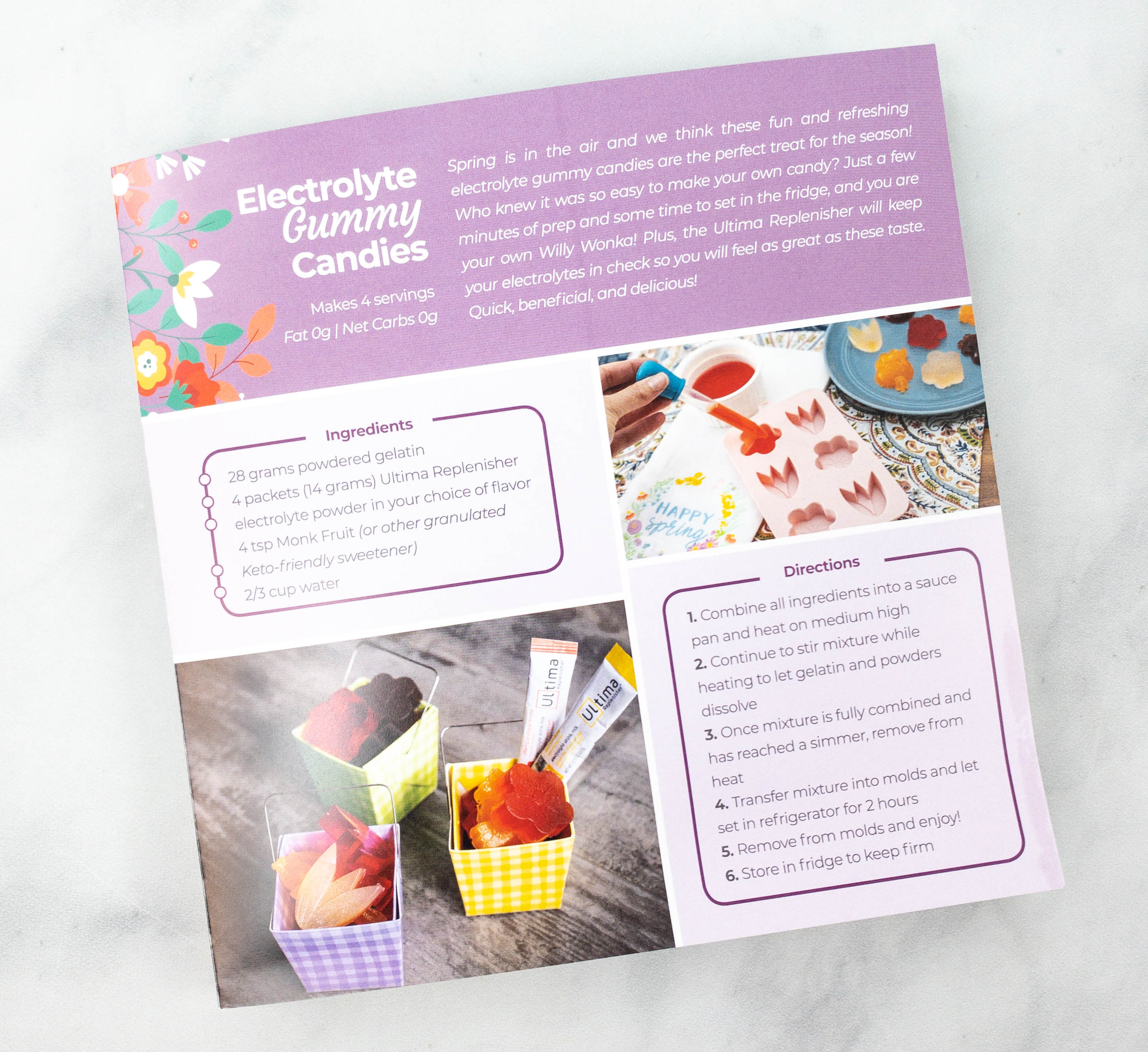 They even provided a recipe for Electrolyte Gummy Candies!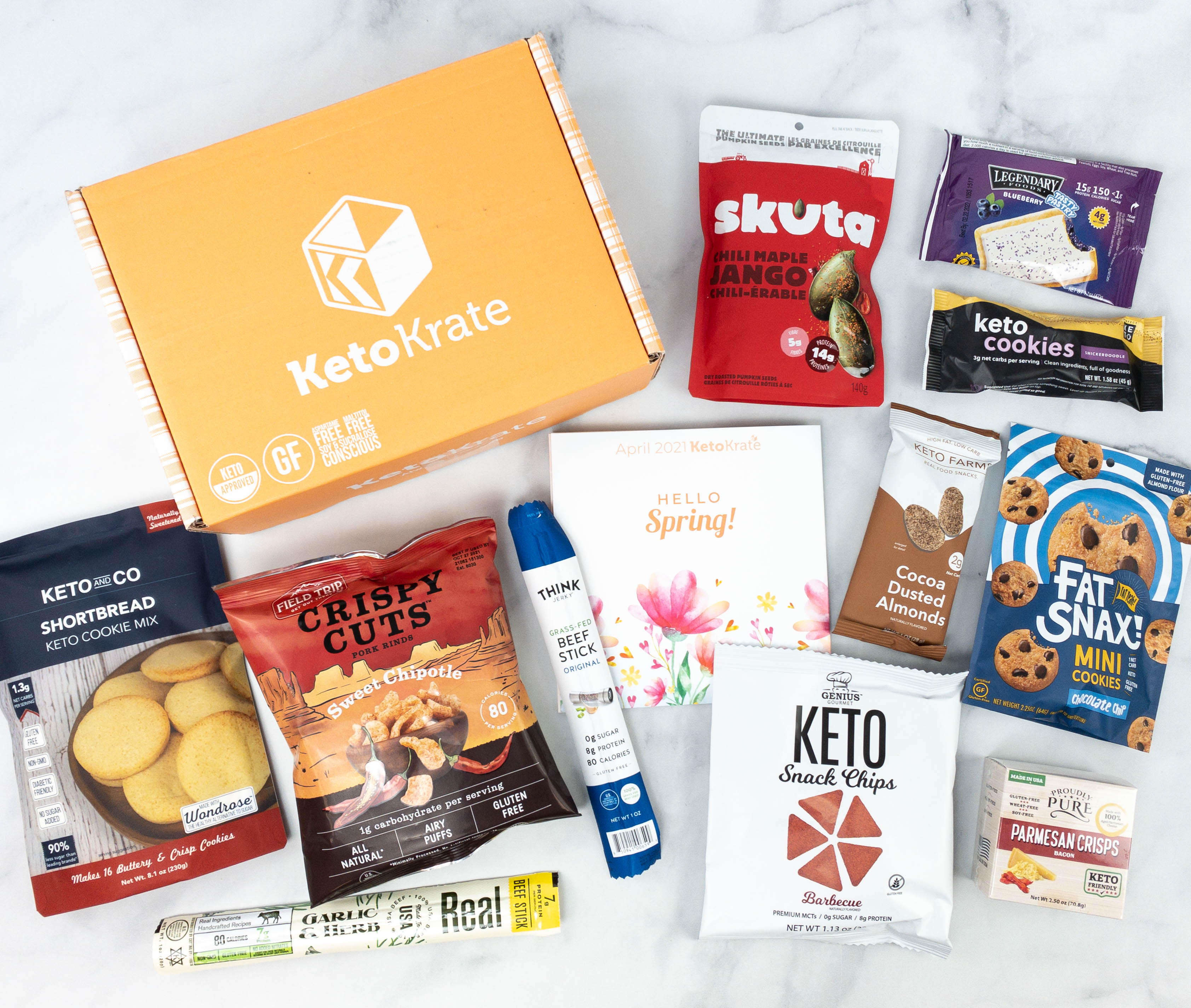 Everything in my box!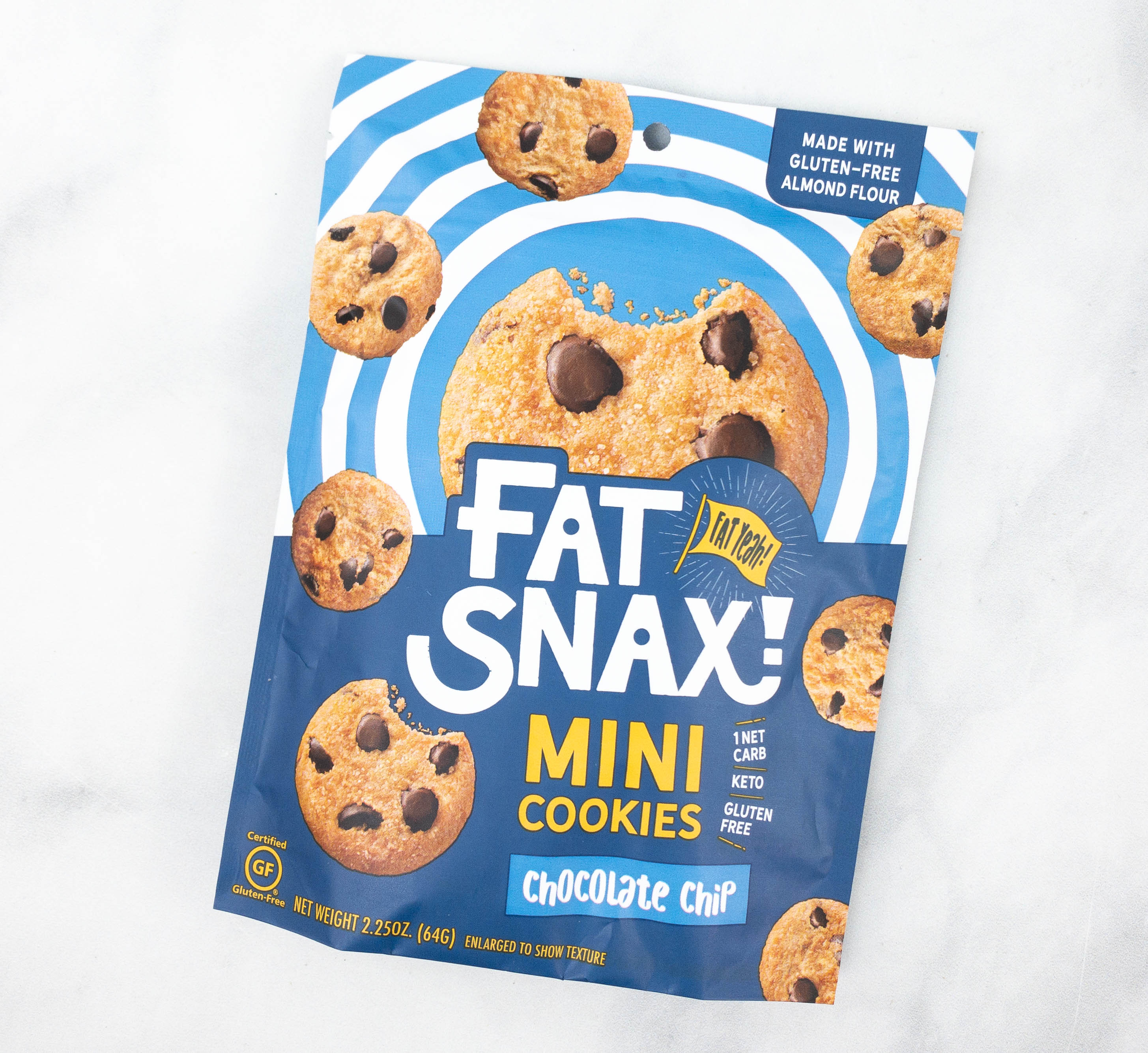 Fat Snax Mini Cookies ($6.42) Here's a good way to satisfy cookie cravings without breaking your keto diet! It's a pack of keto-friendly chocolate chip cookies, which come in bite-sized pieces so they're easy to eat anytime and anywhere. They are made with gluten-free almond flour and only have 1 net carb. Each piece was soft and chewy, so they were a delight to munch on!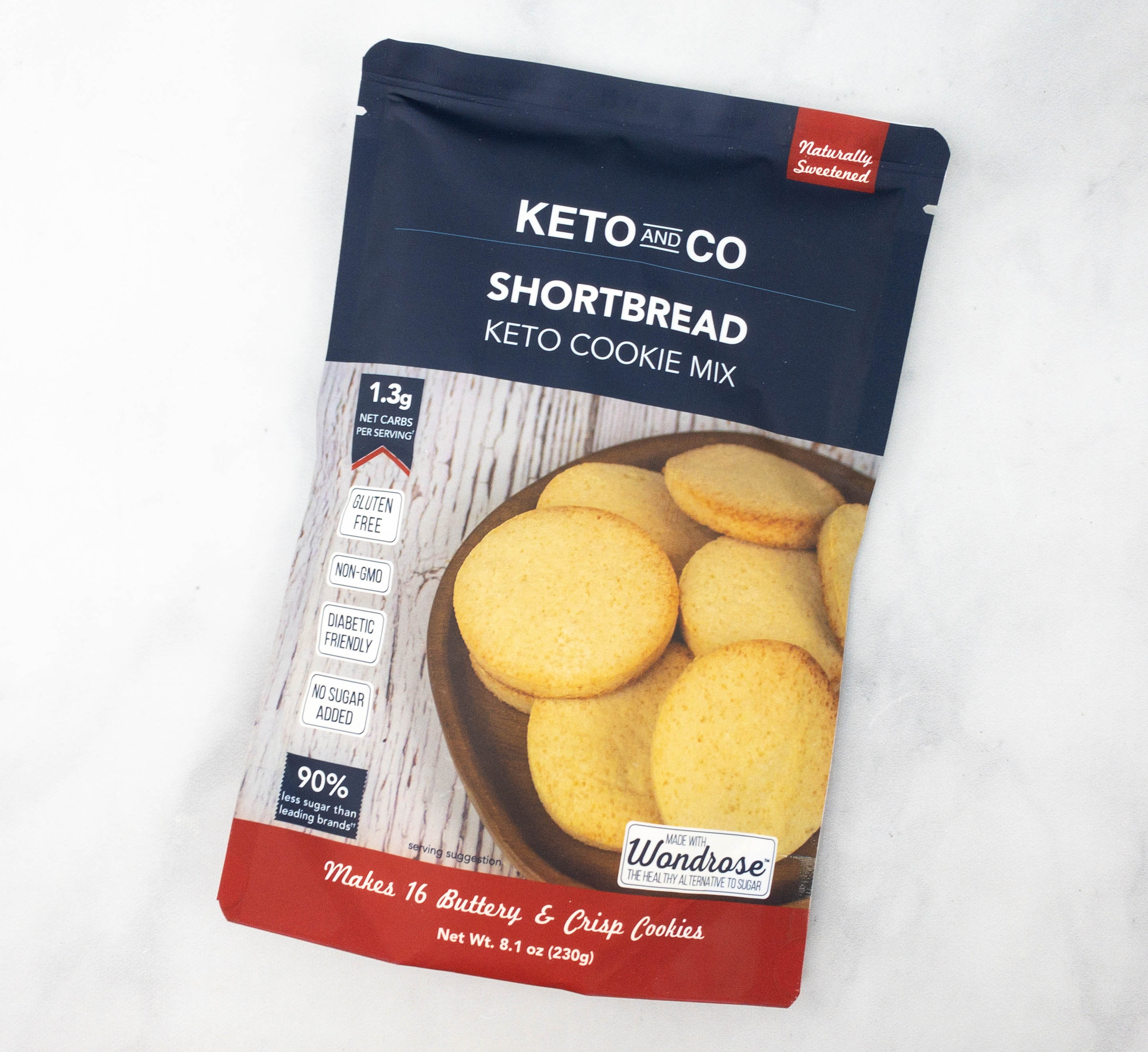 Keto and Co Shortbread Keto Cookie Mix ($15.85) This one is a keto cookie mix, and it's ideal for those who like baking cookies at home! It contains coconut flour, sweetened by Wondrose which is a blend of monk fruit, fiber, and erythritol. To prepare, just mix it with butter and egg until a dough is formed and then roll it between parchment papers. The next step is to cut it into your desired shape  and size, place on a baking sheet, and bake for 10-15 minutes. It can be used for pie crusts, tarts, and other baking recipes as well!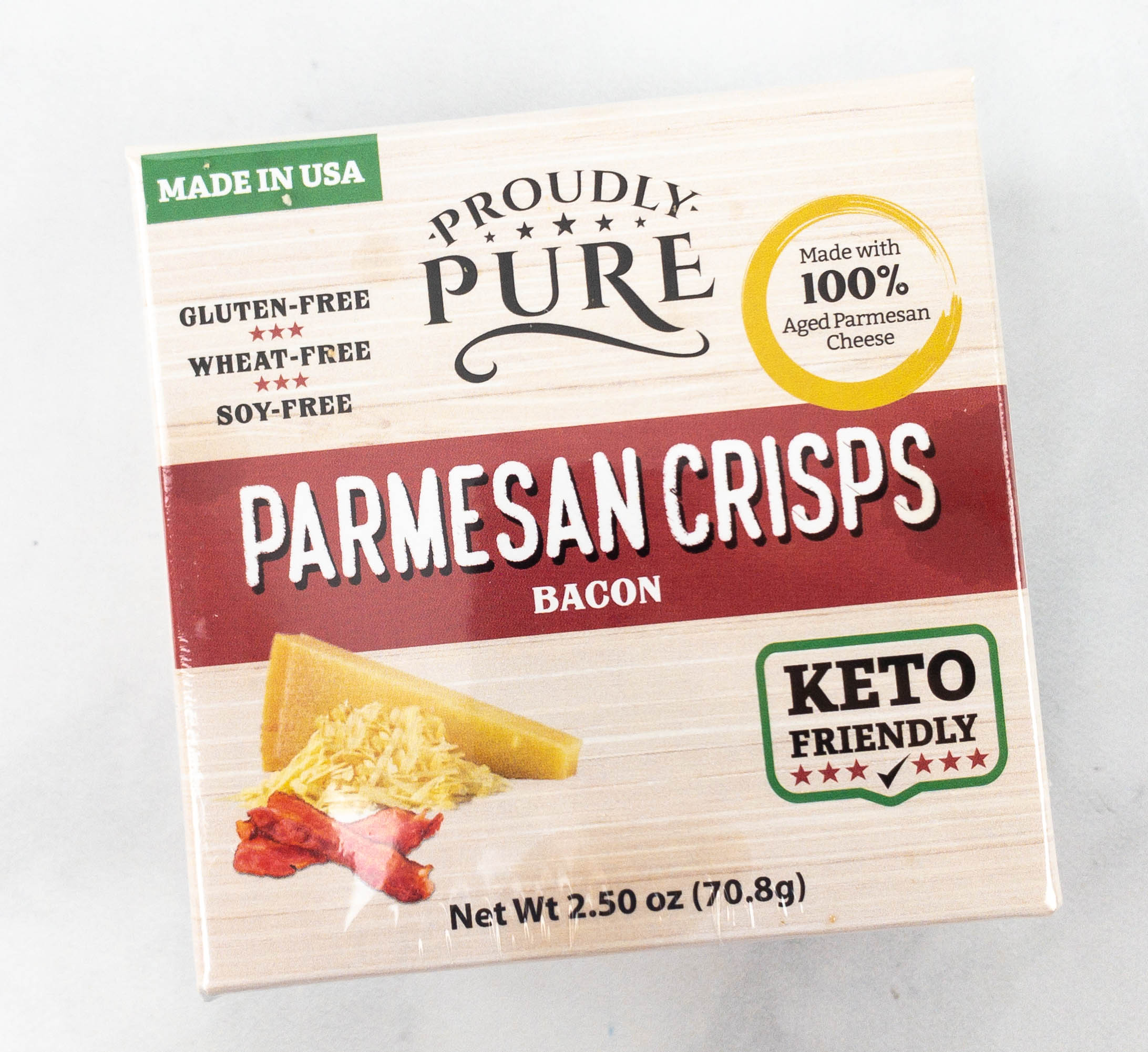 Proudly Pure Parmesan Crisps in Bacon – SIMILAR ($6.24) I love cheese and I discover a lot of yummy low-carb cheese snacks through this subscription. The newest one is a pack of these parmesan crisps in bacon flavor! I enjoyed munching on each perfectly crispy piece, but these can also be used as toppings for salads and soups. Also, the taste of bacon perfectly complements the cheesiness of the snack!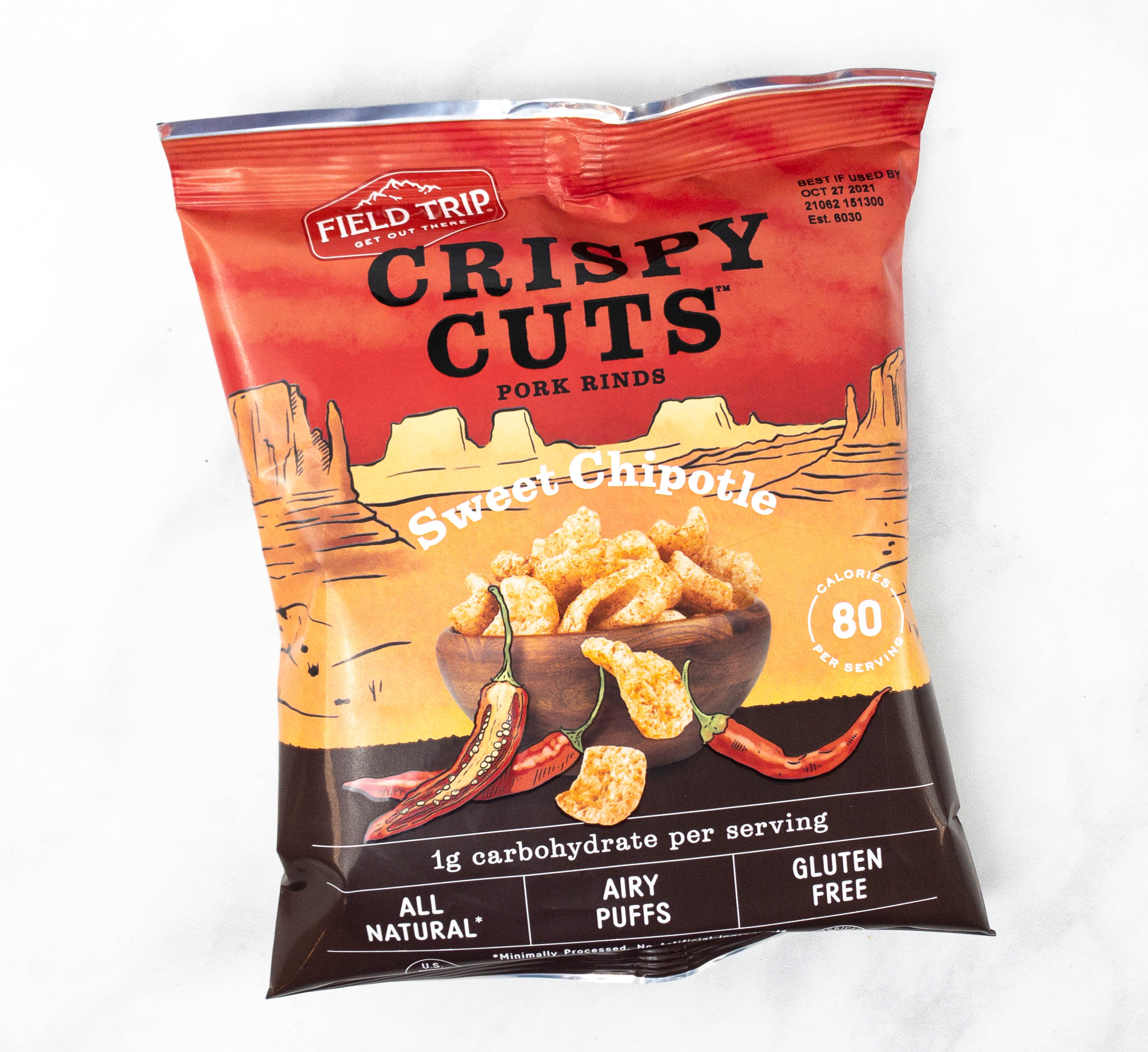 Field Trip Snacks Sweet Chipotle Pork Rinds ($3) This bag of pork rinds is another delicious low carb and high protein snack. It's mixed with a premium spice blend, and the flavor I received is Sweet Chipotle, which has a great balance of sweetness and spiciness in each bite. It's all-natural and gluten-free as well. This snack is great for those who are looking for a keto-friendly alternative for regular chips and puffs!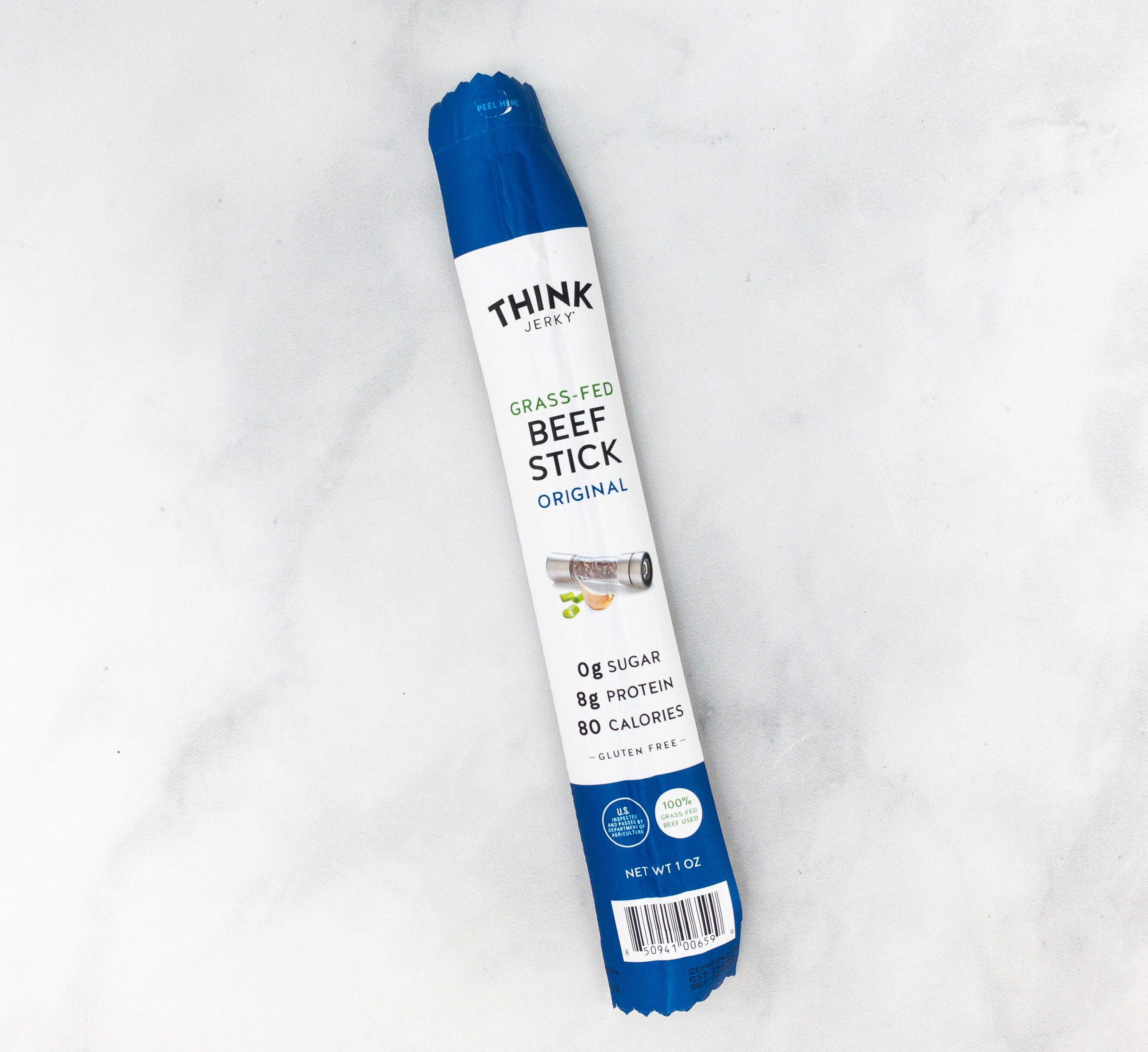 Think Jerky Beef Stick ($4.19) Here's another staple in my KetoKrate box, a beef jerky stick! This one is made with grass-fed beef and it has a total of 8g protein.
I love that it wasn't too hard and tough. It has just the right amount of chewiness, which makes it such an enjoyable snack.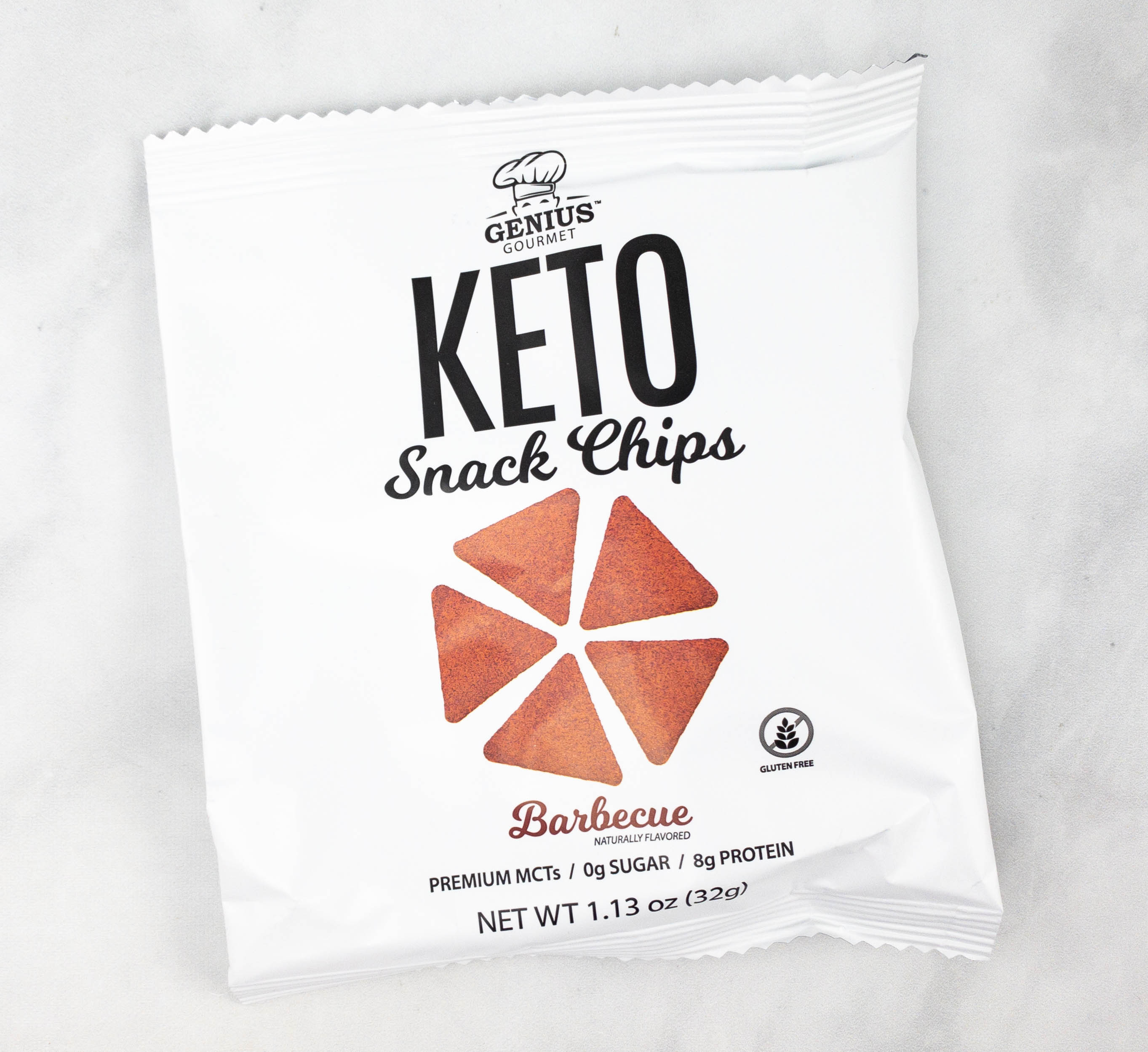 Genius Gourmet Keto Snack Chips in Barbecue ($3) It's a guilt-free bag of chips, as it contains zero sugar! I received it in barbecue flavor and it tasted really good, I didn't even need a dip. Ingredients include a protein blend, tapioca starch, dehydrated vegetables, and spices.
Keto Farms Cocoa Dusted Almonds Almonds make a great on-the-go snack! It's low in carbohydrates but it's quite filling. This pack of almonds is made even tastier with a dusting of cocoa. It gives the crowd favorite a whole new flavor, a sweet yet guilt-free one at that. This pack easily solved my sweet tooth craving and I loved it. Another great idea is to use the almonds on a keto brownie recipe, or use them as a topping for a keto ice cream! Yum!
Skuta Chili Maple Jango Chili-erable Pumpkin Seeds. Perfect for movie nights and a healthy alternative to popcorn, here's a bag of roasted pumpkin seeds! The seeds used for this snack were grown and harvested in Canada, and are also non-GMO and paleo-friendly. They were dry roasted, which brings out their rich, nutty taste. Maple sugar, sea salt, spice, and onion powder were also added to give the snack a unique flavor!
Legendary Foods Blueberry Pastry ($2.50) This pastry snack reminds me of a Poptart, but it's way healthier! It's low in carbs and in sugar but high in protein, plus it's flavored with delicious blueberries. This makes a great treat whether it's lightly toasted or eaten straight out of the packaging!
Real Snacks Garlic & Herb Beef Stick ($1.25) I have another beef stick in the box, but this time it's made with kosher angus beef! At has 7 grams of protein to keep me powered up, and the best thing is that it's free from nitrates, gluten, and soy.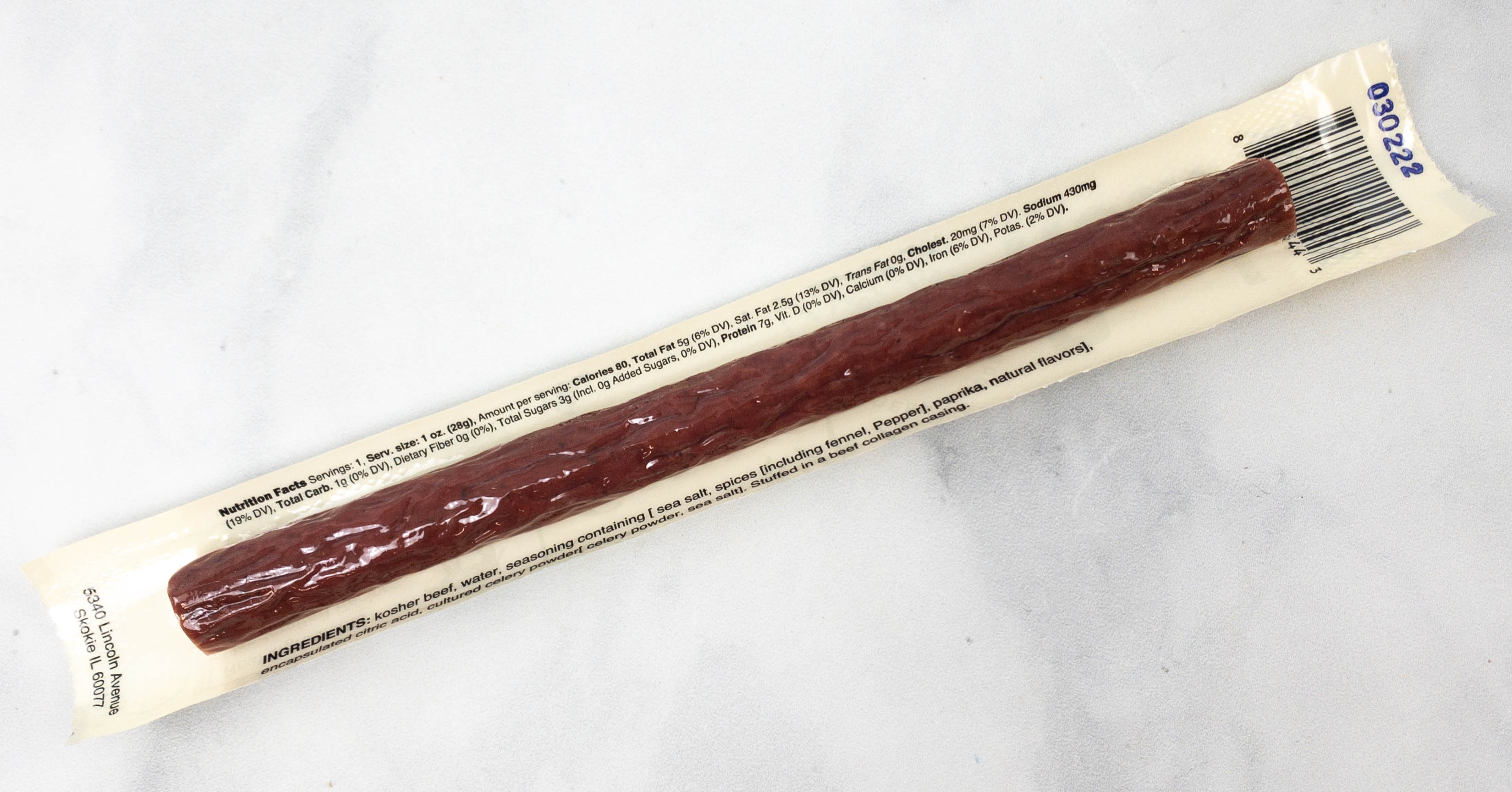 The flavor is actually pretty good because they used a propriety blend of Italian herbs. It didn't have a weird aftertaste either!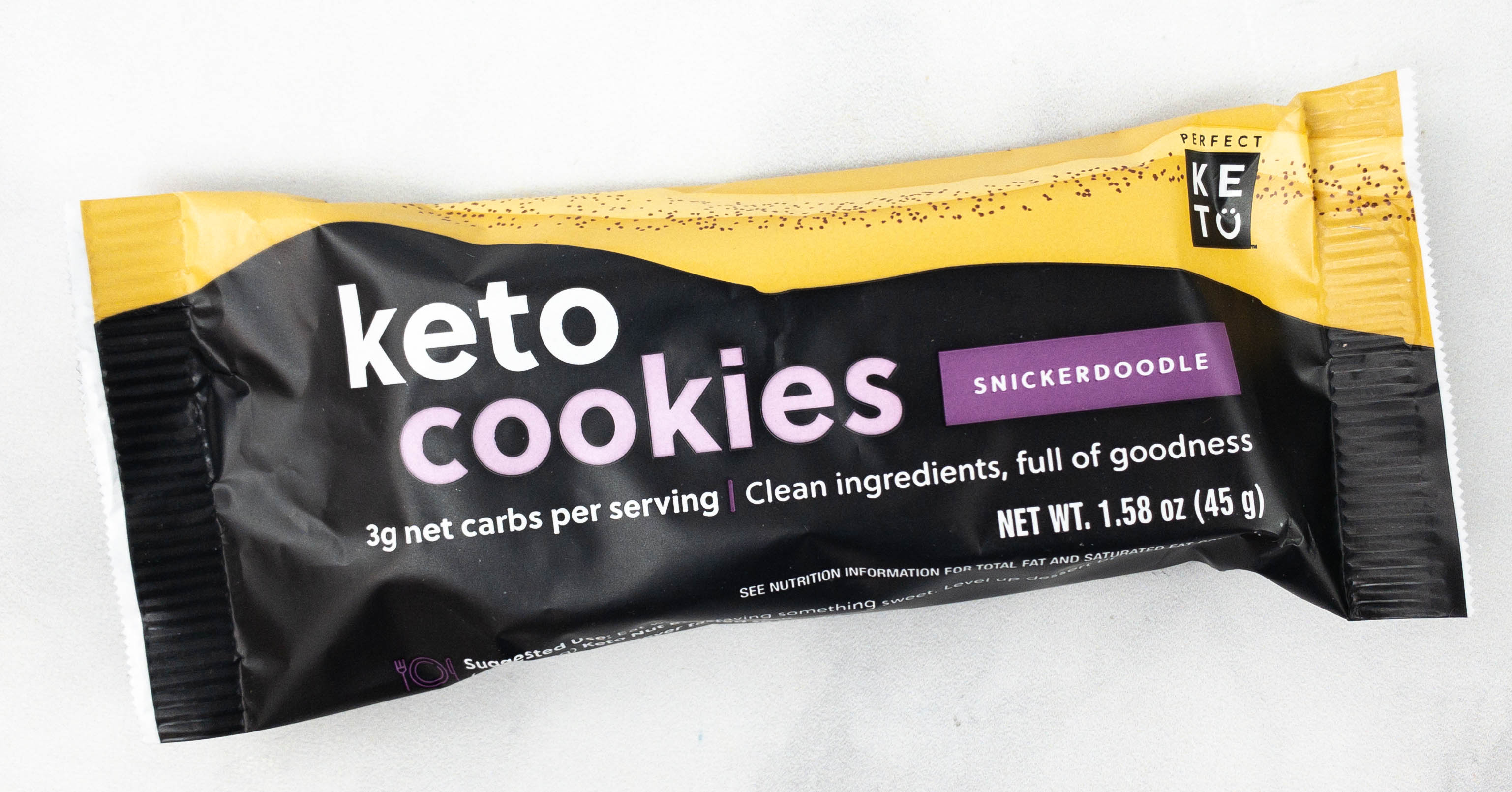 Perfect Keto Keto Cookies in Snickerdoodle ($2.50) Cookies in snickerdoodle flavor but keto-friendly? Yes, it exists. This one is made with coconut flour, almonds, and grass fed butter. Also, instead of sugar, they used erythritol and stevia extracts. They even added collagen that supports gut and bone health. The cookies were sweet but not too much, I think it would make a nice grab-and-go breakfast!
This month's KetoKrate box is another hit! It's packed with keto-friendly alternatives for regular snacks, and I'm just really glad that such a subscription exists because it's helpful for keto dieters whether new or old and you don't have to do a rigorous search for low carb and low sugar snacks in stores! This month, my box included keto cookies, chips, nuts, and jerky sticks. I have two favorites, the bag of pork rinds and the cheese crisps. They were so tasty and flavorful, I enjoyed them to the last bite. They were also great snacks for a movie night! Overall, the variety of keto snacks in this box was great! From sweet snacks to spicy munchies and everything in between, they are proof that a healthy snack doesn't always have to sacrifice flavors and taste.
What do you think of the KetoKrate box?