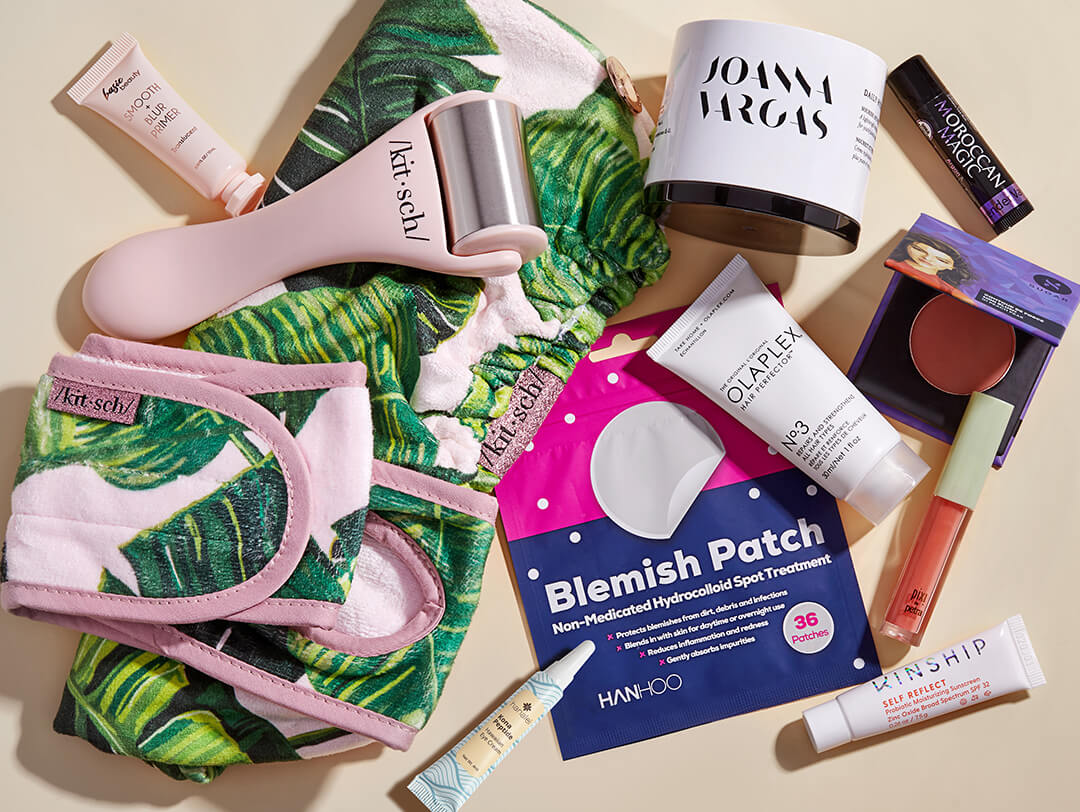 We have spoilers for the May 2021 Ipsy Glam Bag add-ons!
Warmer weather. Fresh flowers. Pre-summer anticipation. There are a lot of reasons to love May—and we've got 10 more for you below. These *amazing* Add-Ons have got you covered for your skin, hair, SPF, and even spa-day needs, and they also happen to be the perfect way to personalize your Glam Bag. Curious about what's coming? Keep reading below!
Add-Ons are:
Available for 36 hours ONLY and sell out fast!
You can add on up to 10 products
You must to reveal your glam bag spoilers to access the add-ons!
For Glam Bag Plus, you need to confirm your bag before add-ons (either by choosing or letting Ipsy choose)
Sample size add-ons are $3, full-size are $12+
Here's a sneak peek of some add-ons for this month!
Added 5/1:
KAJA Beauty Bento in Orange Blossom
"Most genius packaging award goes to this eyeshadow stack. It's so satisfying to click the layers together, and it takes up way less space in my small bathroom than a traditional palette. Plus, the range of shimmer peachy shades are so flattering."
KATE SOMERVILLE® ExfoliKate® Intensive Exfoliating Treatment
"Whenever my skin is feeling congested or dull, this is hands down my all-time-fave treatment. Hot tip: Keep this baby in your shower and the steam from the shower will amp up the exfoliating  enzymes."
KORRES Greek Yoghurt Foaming Cleanser
"With unique ingredients like Greek yogurt and probiotics (which are so buzzy right now), I just had to try this cleanser. The verdict? It's so satisfying on your skin. It's creamy, then foamy, and gets rid of every bit of dirt and makeup. My skin felt so soft and hydrated after using it."
We added these spoilers on 4/26:
TULA Instant Facial Dual-Phase Skin Reviving Treatment Pads
No time for a facial? No worries. These miracle exfoliators from TULA are all you need to achieve a glow in minutes. Each pad is made with cotton plant fibers and papaya fruit extracts to gently exfoliate your skin, buff away dirt and debris, and reveal a brighter-looking complexion underneath. And while those ingredients go to work, witch hazel, willow bark, and probiotic extracts help improve your skin's balance and tighten the look of your pores for sparkling results every time.
POLAAR Polar Night Face Cream
Hailing from France, this nourishing cream is here to revitalize your nighttime skincare routine. The formula soaks in quickly to relax your skin while you sleep, but the real magic is in one of its key ingredients: boreal algae. This ingredient helps stimulate the microcirculation of your skin and eliminate toxins that build up throughout the day so that you can wake up to a soft, glowing complexion. So congrats—if you've been on the hunt for a go-to night cream, you can officially call off your search!
THE BEAUTY CROP Stuck On You Eyeshadow Primer
Oily girls know the struggle: Applying eyeshadow without a primer usually means creases, patchiness, and faded pigment by the time you get to lunch. That's why this fave from THE BEAUTY CROP is such an essential: It blurs the texture of your lids, adds grip for your shadows, and even amplifies pigment, making it one of the most multitasking formulas out there. Even better, it contains pomegranate seed and grapeseed oil to retain the moisture of your skin.
SERAPHINE BOTANICALS Glow Lip Mask in Hibiscus + Baume
Whether you're team lip gloss, liquid lip, or lip balm, the secret to a perfect-looking pout is a hydrating mask like this one. It's formulated with apricot, jojoba, rosehip, and evening primrose oils to keep your lips hydrated, plus sweet orange and hibiscus extracts to gently exfoliate away dead skin. Dab it on throughout the day for deep moisture, or use it before bed for ultra-soothing replenishment.
Original spoilers:
1. OLAPLEX No.3 Hair Perfector
OK, we admit it, we're obsessed with everything OLAPLEX makes. And this best-selling treatment is no exception—the formula works on a molecular level to repair damage, protect your hair structure, and reduce breakage with as little as one weekly application, restoring your hair to its most beautiful state. All hair types agree: This is the one hair care product you need to have.
2. KINSHIP Self Reflect Probiotic Moisturizing Sunscreen Zinc Oxide SPF 32
It's no surprise that we feel good about products that are good for us. But what feels even better is when they're good to Mother Earth, too. So of course we love this reef-safe, award-winning mineral sunscreen that's easy on the environment. Perfect for blemish-prone skin, this formula includes a lineup of amazing ingredients: non-nano zinc oxide for gentle UVA/UVB sun protection, salicylic acid to help prevent breakouts, turmeric to soothe, and plant-based probiotic kimbiome to support a strong skin barrier.
3. KITSCH Palm Spa Set
If these babies don't scream "spa day," we don't know what does. Wrap up damp hair with the adorable hair towel, push back your strands with the spa headband (it's even designed to hold your ponytail in place!), and soothe your skin with the ice roller. Made with surgical stainless steel, the ice roller helps calm inflammation, aids in firming skin, and promotes lymphatic drainage.
4. JOANNA VARGAS Daily Hydrating Cream
Finding a rich moisturizer that feels light on the skin is rare—and that's why we love this one so much. It's formulated with shea butter, which nourishes the skin with vitamins A, E, and F, plus jojoba oil, which boosts your glow and controls sebum production. Your complexion is left protected and balanced, while your senses are soothed by the light lemongrass and coconut scent.
5. PIXI BEAUTY LipLift Max in Sweet Nectar
Smells great. Looks great. Feels great. This plumping lip treatment is everything you look for in a lip product, so snagging it this month is a must. It contains peptides to reduce signs of aging and aloe vera and chamomile to soothe, so all you feel is a gentle tingling as it volumizes the look of your lips. Use it alone or on top of other lip products to power up your pout!
6. BASIC BEAUTY Primer in Translucent
You've heard it before, and it still holds true: Great makeup starts with a great base. This translucent primer is an essential for keeping your makeup locked in place without slipping and sliding throughout the day. Just apply after your moisturizer and before your beauty products to prep your skin and boost the longevity of your look.
7. MOROCCAN MAGIC Lip Balm in Lavender Vanilla
Take the edge off even on your most stressful days with a little boost of aromatherapy. This essential oil-infused balm is perfect to keep in your purse or at your desk so you can give yourself some extra pampering when you need it most. It hydrates your lips with organic argan oil and relaxes your mind with a soothing lavender-vanilla scent.
8. SUGAR COSMETICS Contour de Force Mini Blush in 01 Peach Peak
Universally flattering and effortlessly buildable, this soft peach blush is all about minimal effort with maximum results. Build it up to your desired pigment, then enjoy a perfectly flushed pop of color that lasts all day. Even if you're the type who struggles with faded blush by EOD, this light, velvety formula has been expertly designed to stay in place.
9. HANHOO Blemish Patch
It's time to break up with breakouts—or at least banish them when they pop up. These acne stickers are made with hydrocolloid, an absorbent material that draws out impurities from your skin, absorbs excess fluids, and helps protect from outside dirt and debris. Your zit then has a chance to heal in an enclosed environment, preventing scarring and speeding up your healing time.
10. HANALEI COMPANY Kona Peptide Eye Cream
Satisfy your a.m. caffeine fix without even reaching for a mug. This concentrated eye cream is packed with powerful peptides, Hawaiian botanicals, and coffee (!) from nutrient-dense volcanic soil to help reduce the look of dark circles. Then, thanks to this formula's swirl of light-reflecting minerals, imperfections are blurred for a natural, hydrated finish.
About Ipsy:
Ipsy is a monthly beauty subscription that's just $12 per month and the most popular beauty subscription box! Ipsy Glam Bag Plus is an upgraded beauty subscription with full-size items (5 per month). When you subscribe to either of these, you can purchase additional items for your bag. You'll also be eligible to select the quarterly Glam Bag X upgrade featuring curator-picked full-size products!
What do you think of the Ipsy add-ons this month?