Ipsy Glambag Plus is the upgraded version of the monthly Ipsy Glam Bag. For $25 a month, it contains 5 full-size products from brands you love, plus a deluxe makeup bag with every shipment. The promised value of each box is $120 worth of products. It will contain variations, but there are far fewer compared to the regular Ipsy Glam Bag. Be sure to continue to rate and review your bag to help personalize it to your needs. Check out our Ipsy Glam Bag Plus explainer to find out every detail of this subscription! Glam Bag Plus is definitely a Hello Subscription reader fave – it's in five different lists in our readers' selections for the best subscription boxes!
Ipsy Glambag Plus subscribers now choose three items for their bag, not just 1!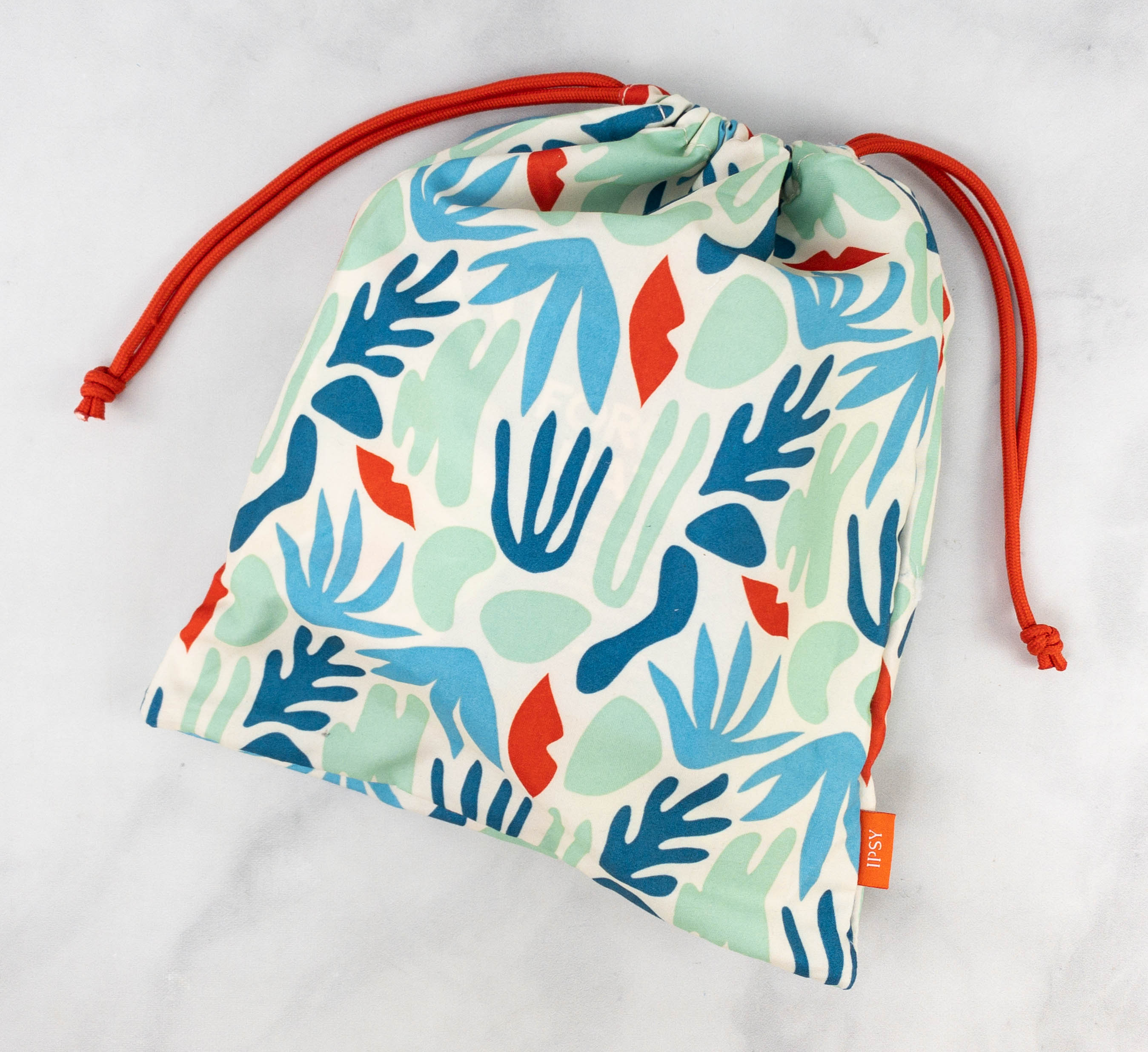 The items came in this cute printed drawstring pouch.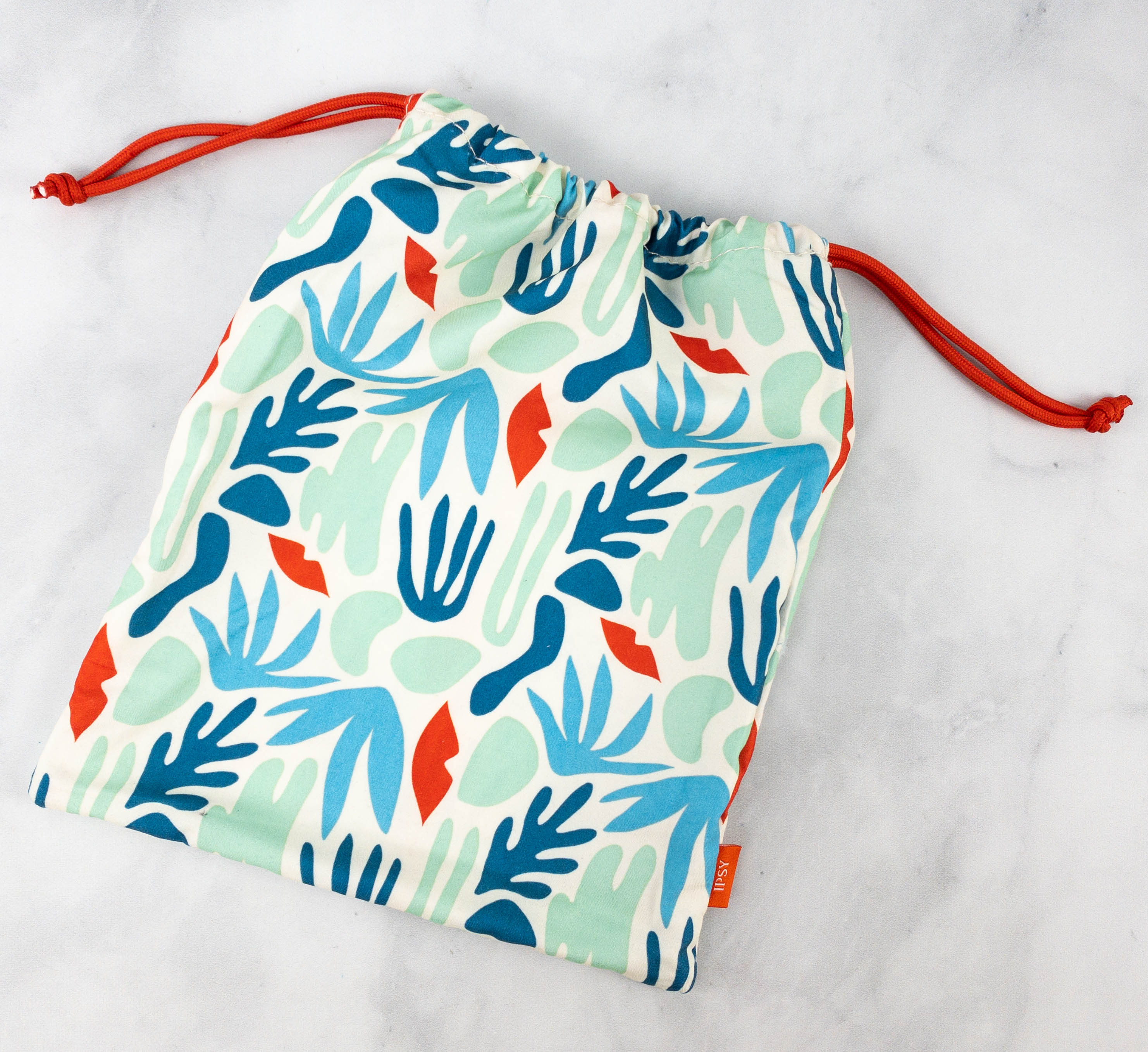 The print reminds me of leaves and they come in different shapes, colors, and sizes! I also like the contrast of the red drawstring.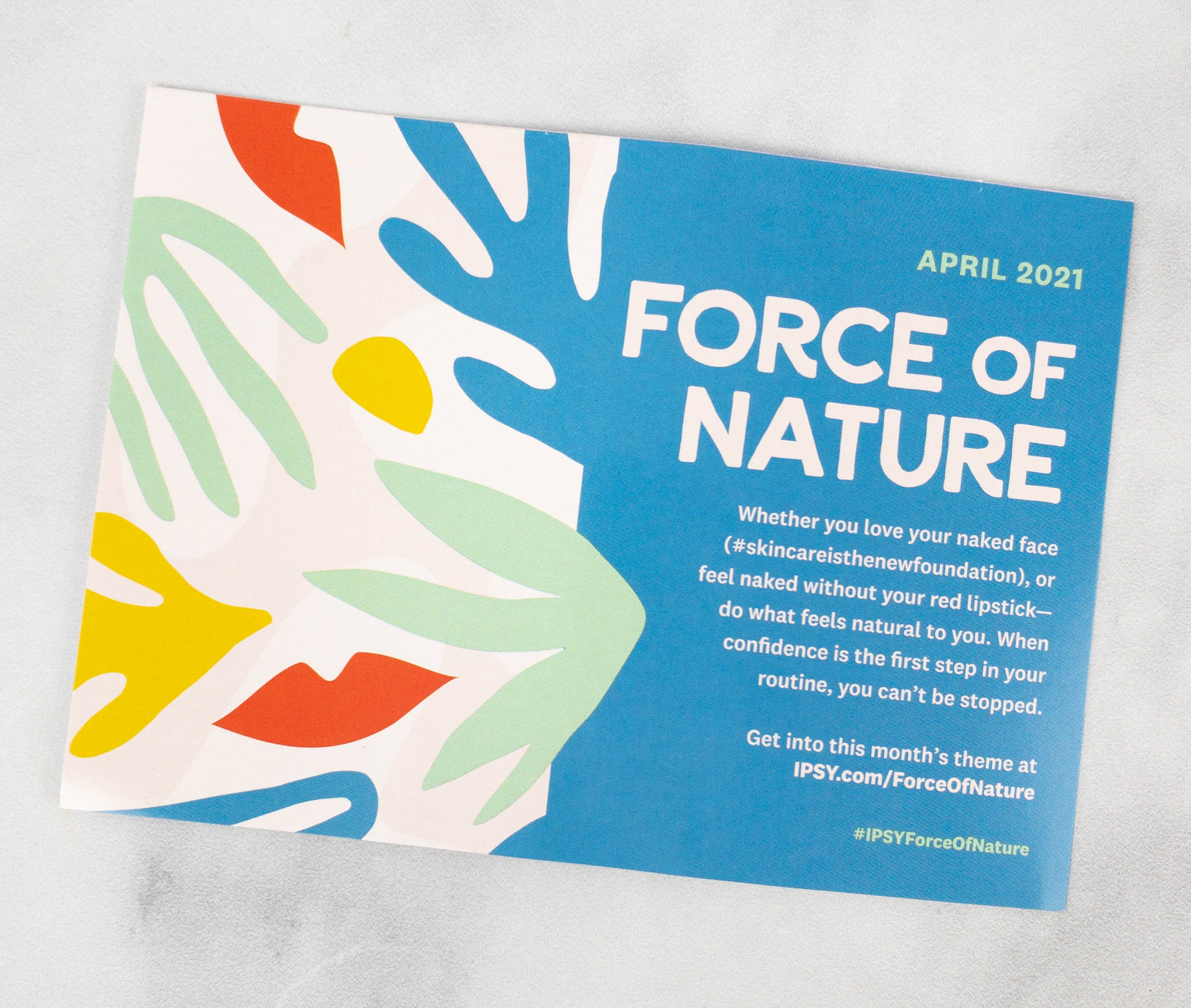 This month's theme is FORCE OF NATURE.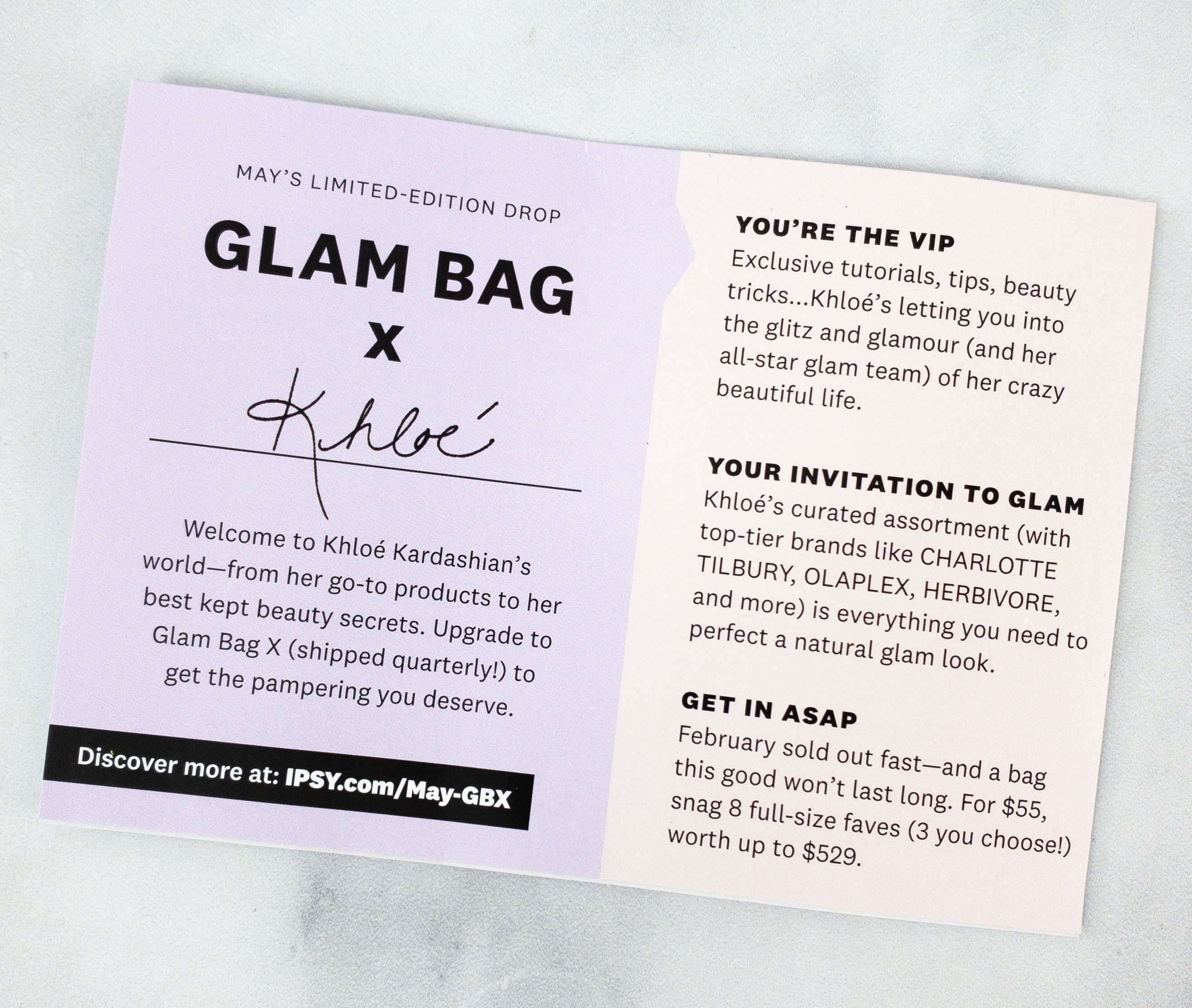 At the back of the card, they're promoting May Glam Bag X!
There's also a feature about skin-friendly superfoods.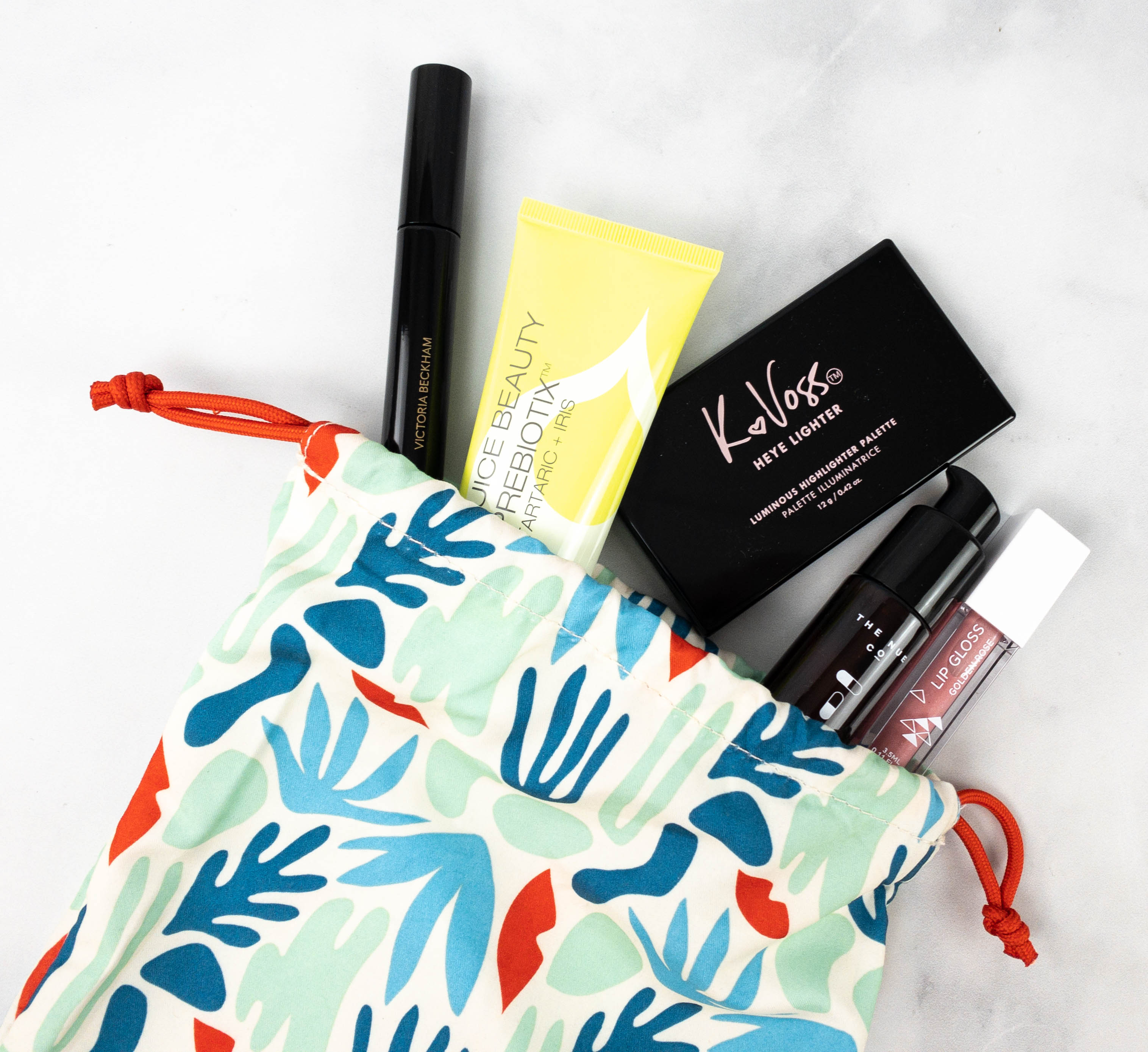 Here's a sneak peek of what I received.
Everything in the box!
Ipsy Picks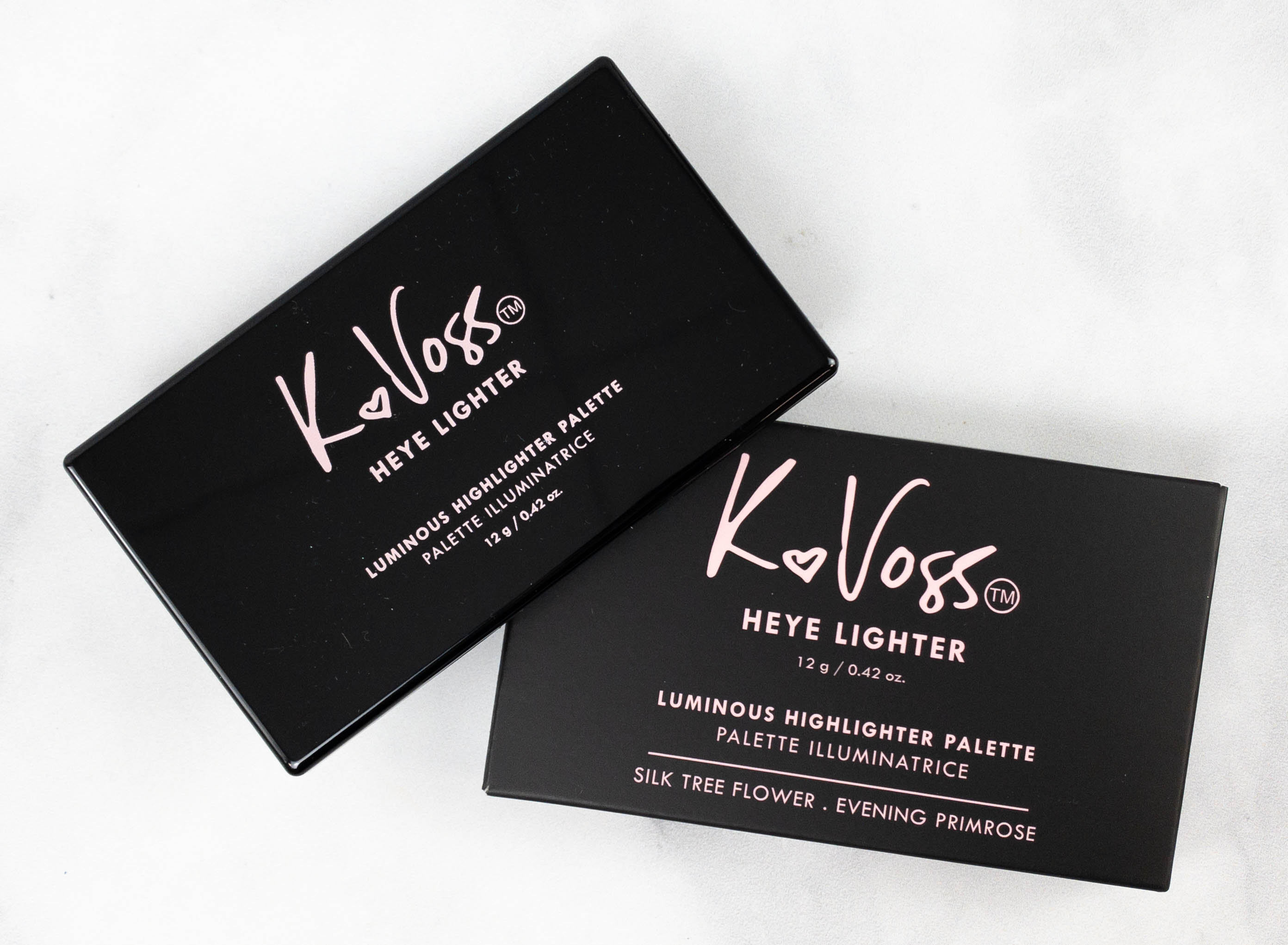 K Voss Heye Lighter Luminous Highlighter Palette ($36) It's a face highlighting palette, infused with antioxidant-rich silk tree flower  and anti-aging evening primrose.
According to the packaging, this palette is certified vegan.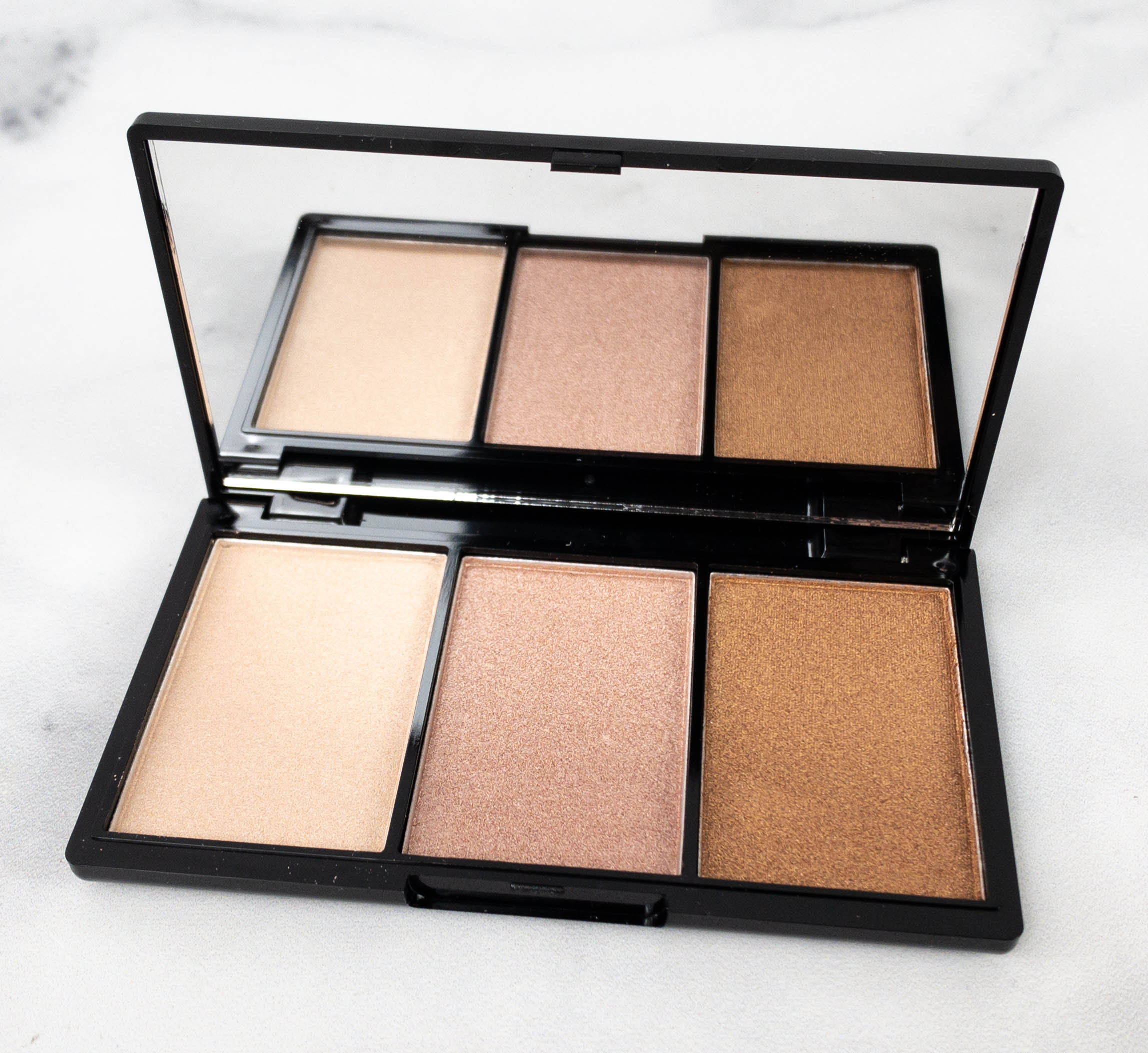 The palette comes with its own mirror, so applying and retouching is a breeze.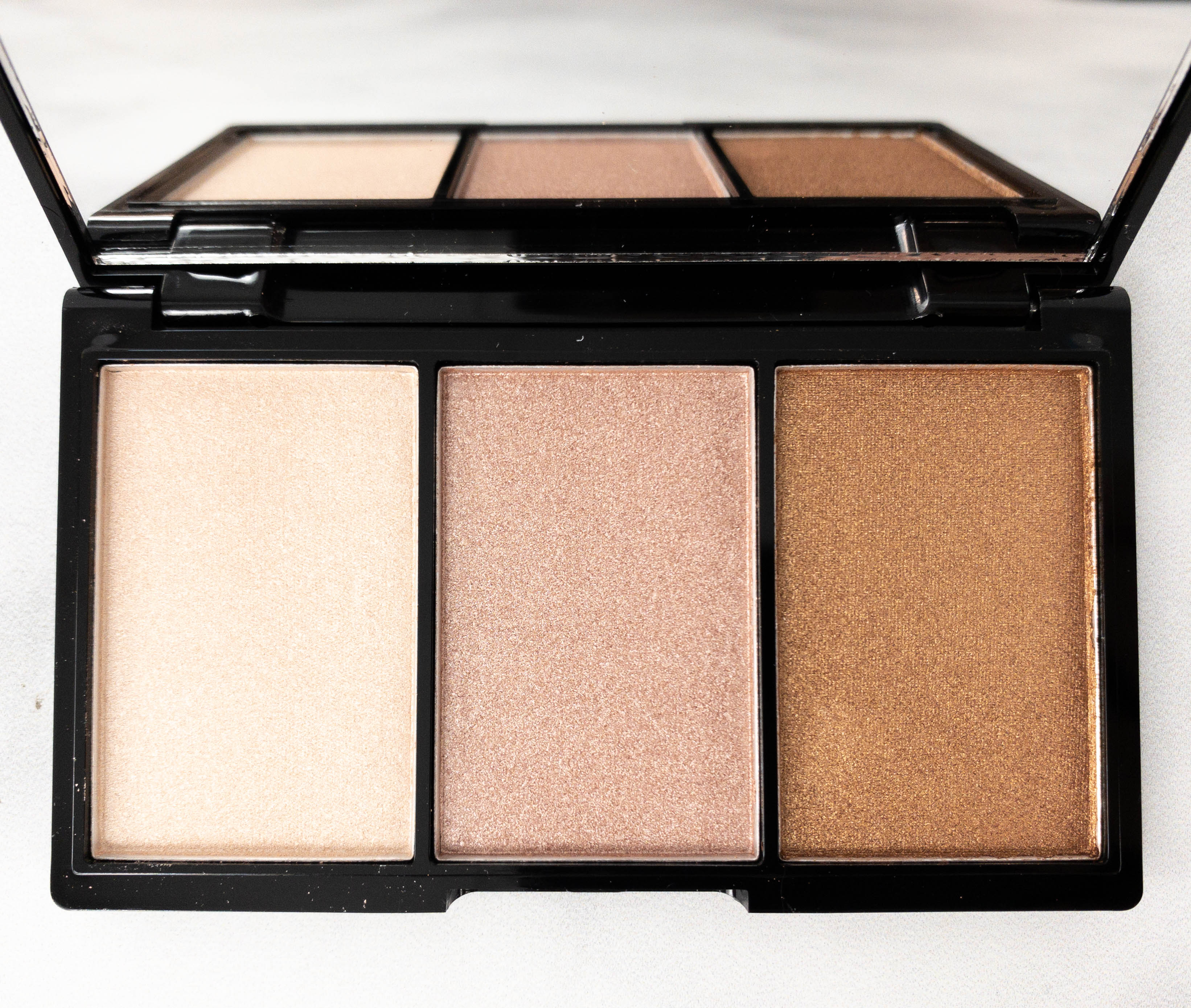 The shade range is nice and I like how each one can be blended with a different product to help make the skin look more glowing and vibrant. The glitters were a bit chunky but it's pretty easy to blend. If you double up the blending time, the shine evens out and it makes for a blinding highlighter. You can also use a wet brush and pack this in your eyelids for a metallic eye look!
Victoria Beckham Smudge-Free Lifting Mascara ($28) This mascara helps lengthen and lift the lashes at the same time. It's also very easy to remove so it doesn't irritate the skin around my eyes. It washes easily with warm water and it doesn't need constant rubbing either!
My Choices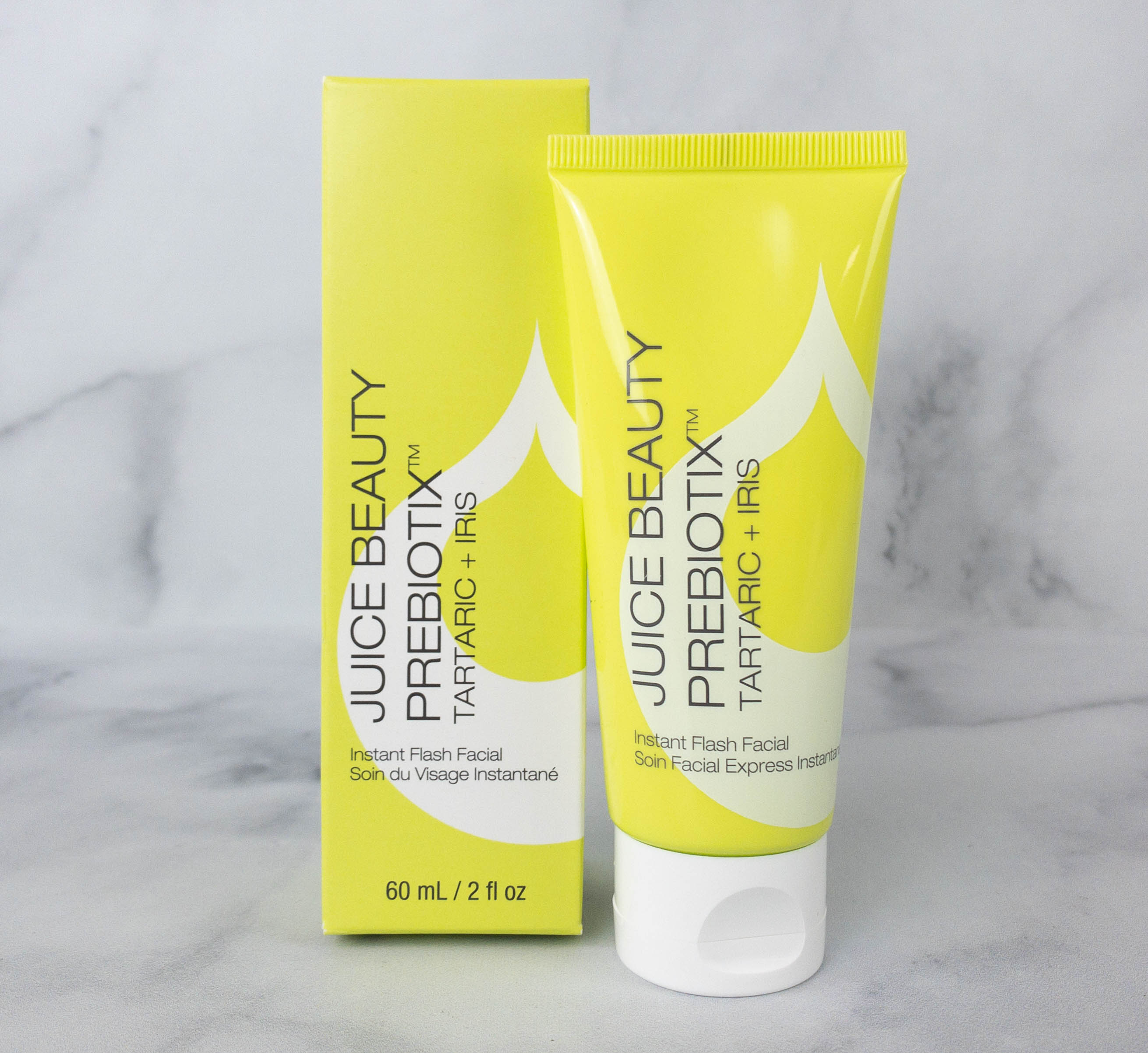 Juice Beauty Prebiotix Tartaric + Iris Instant Facial Wash ($52) Subscribers were able to pick among this, Serumkind Purple Cabbage Drop, Hey Honey Open Your Eyes Control Lifting Serum, Babe Lash Essential Serum, Item Beauty Lip Quip in Heartpoppin', and Akar Skin Pure Lip Restoration. I chose this facial wash and I'm happy because it removes impurities minus the drying effect. It also helps get rid of dead and dry skin to make way for a healthy looking and glowing skin. Ingredients include tartaric acid that helps with signs of aging, plus iris pallida leaf cell extract and lime caviar that balances, replenishes, and firms up the skin. To use, massage it onto damp skin and leave up to 1-2 minutes before rinsing with warm water.
The Nue Co The Pill All-In-1 Serum ($77.27) Subscribers were able to choose among this, Vitabrid C12 Eye & Face Cream, RMS BEauty Living Luminizer, and Derma E Hydrating Night Cream. This serum is a great choice because it's an all-in-one solution for common skin woes. It contains hyaluronic acid that helps keep the skin hydrated, vitamin C that that helps nourish and brighten the skin, and AHA that helps reduce the appearance of fine lines and wrinkles. It helps keep the skin look and feel healthy without needing a lot of work putting on different products! This serum is ideally applied in the morning and you'll only need 1-2 pumps per application.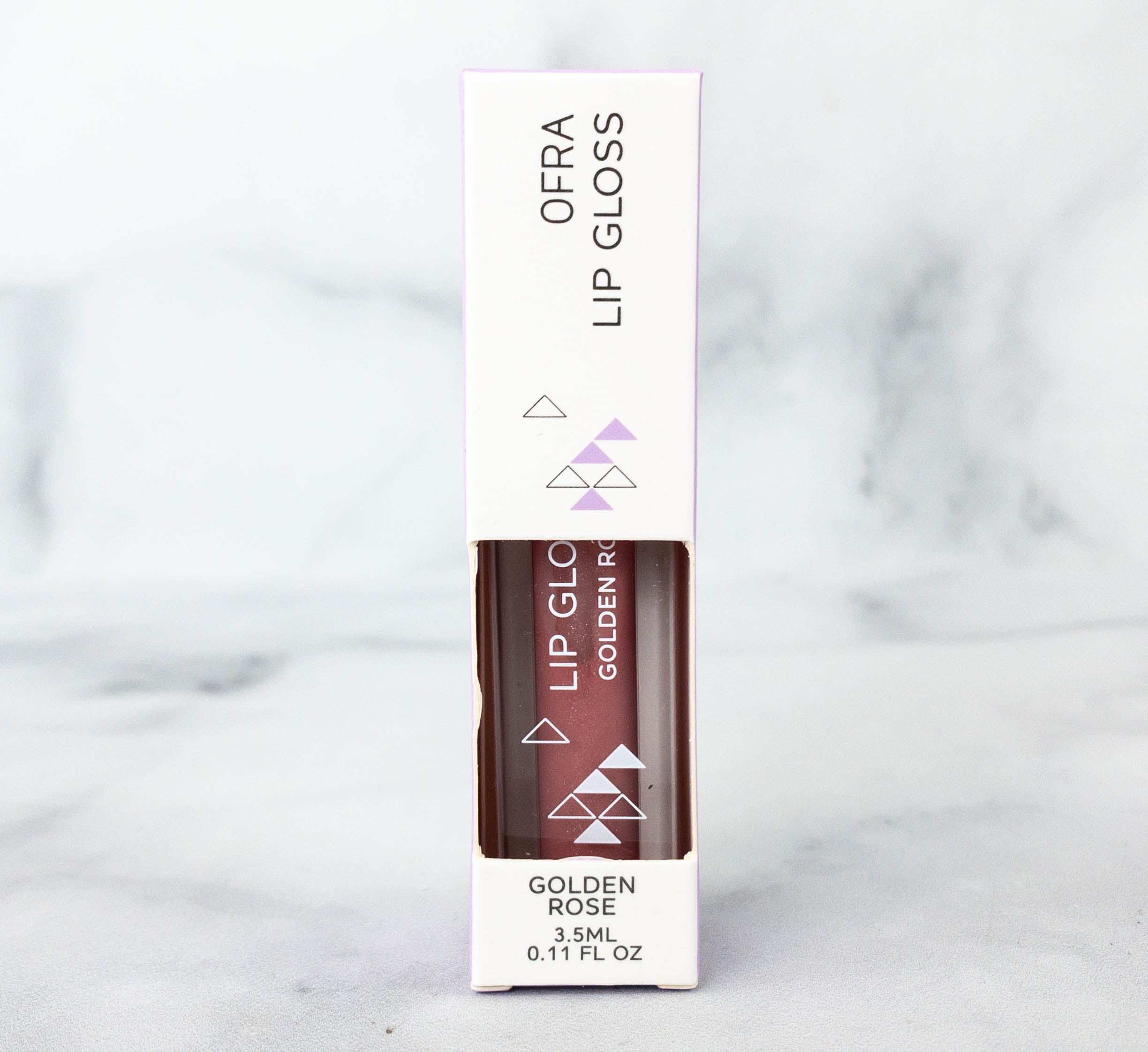 Ofra Lip Gloss in Golden Rose ($15) Subscribers were able to choose among this item, Soapbox Argan Oil Control & Soften Shampoo Bar, One/Size Point Made 24 Hour Gel Eyeliner Pencil in Busty Brown, and Avant Skincare Pro Perfecting Collagen Touche Eclat Primer. I have no regrets about choosing this lip gloss because the formula is good. It adds shine to my lips without the sticky or heavy feeling!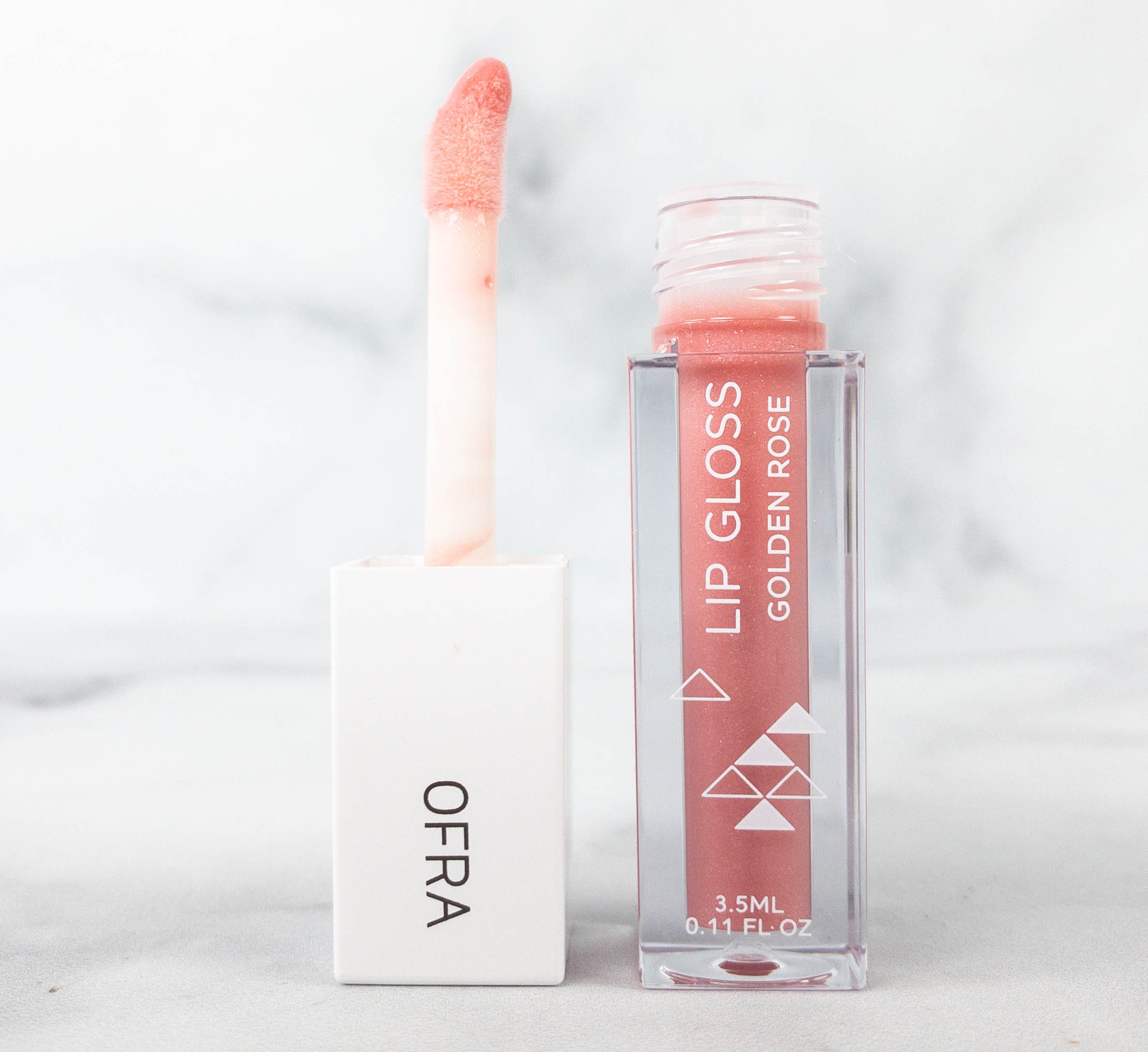 Golden Rose is a peachy pink shade and it's great to wear whether alone or on top of a lipstick. It contains jojoba oil that helps keep lips hydrated and it smells really yummy too!
This month's Ipsy Glambag Plus includes 3 makeup items and 2 skincare products, which are all high-quality! My favorite among my choice items is the lip gloss, while my favorite between the Ipsy picks is the mascara. Both of these products are great because they help elevate daily makeup looks. The serum which targets several skin concerns is also pretty promising. I received a total of $208.27 worth of items in this box, higher than the previous box's retail value!
What do you think of this month's Ipsy Glambag Plus?