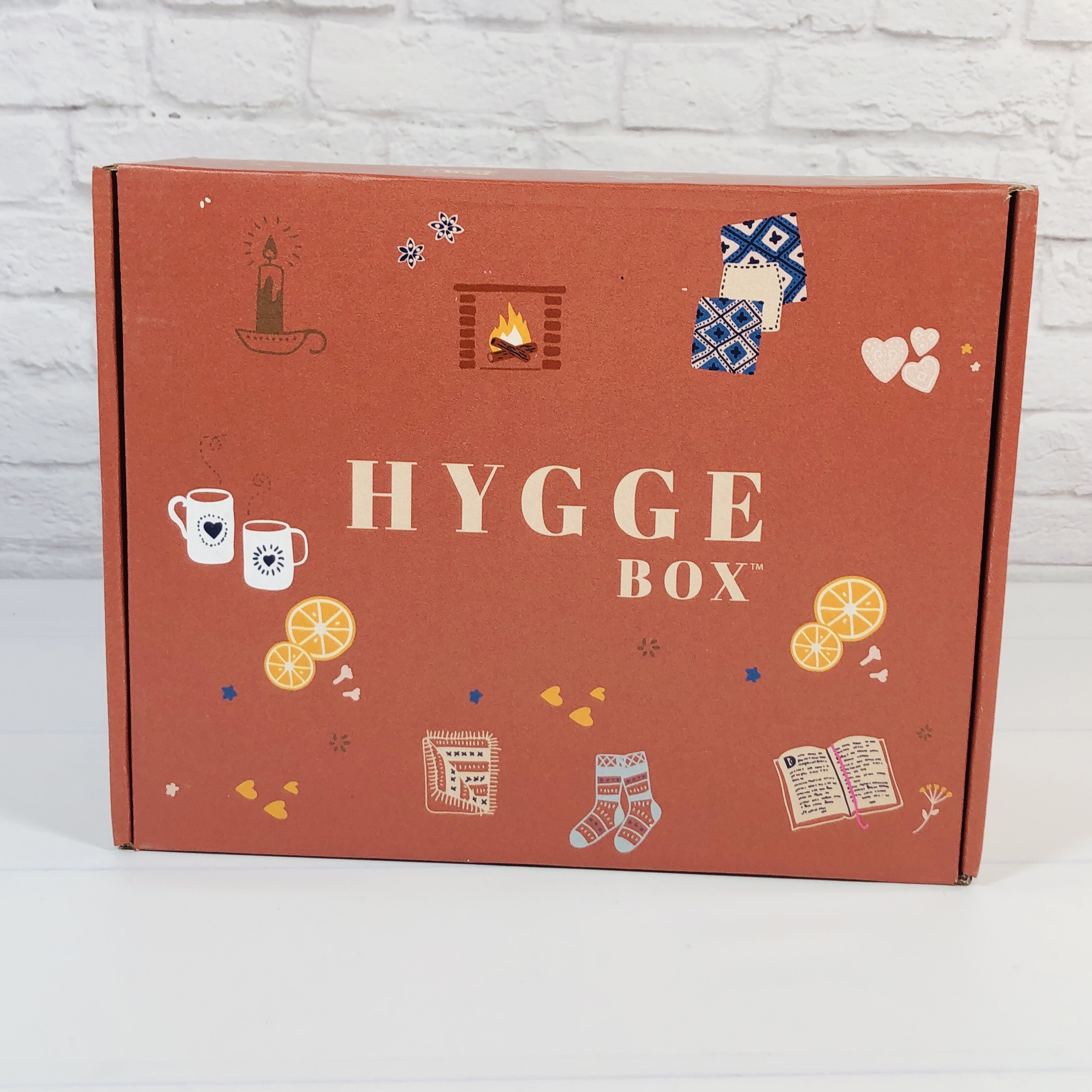 Hygge Box is a monthly subscription box for those who want to surround themselves with comforting objects that contribute to a sense of coziness and general well being. You can choose from the Deluxe Hygge Box ($40 for 5-7 items) or the Standard Hygge Box ($29 for 4-5 items) and shipping is extra. Items sent may include candles, hot drink mixes, edibles, home decor, or wellness products.
Hygge is about preserving happiness everyday. It is slowing down, being humble, expressing gratitude, feeling safe and connecting with loved ones. Each curated box includes handpicked items like below from around the world to inspire and evoke hyggelig moments.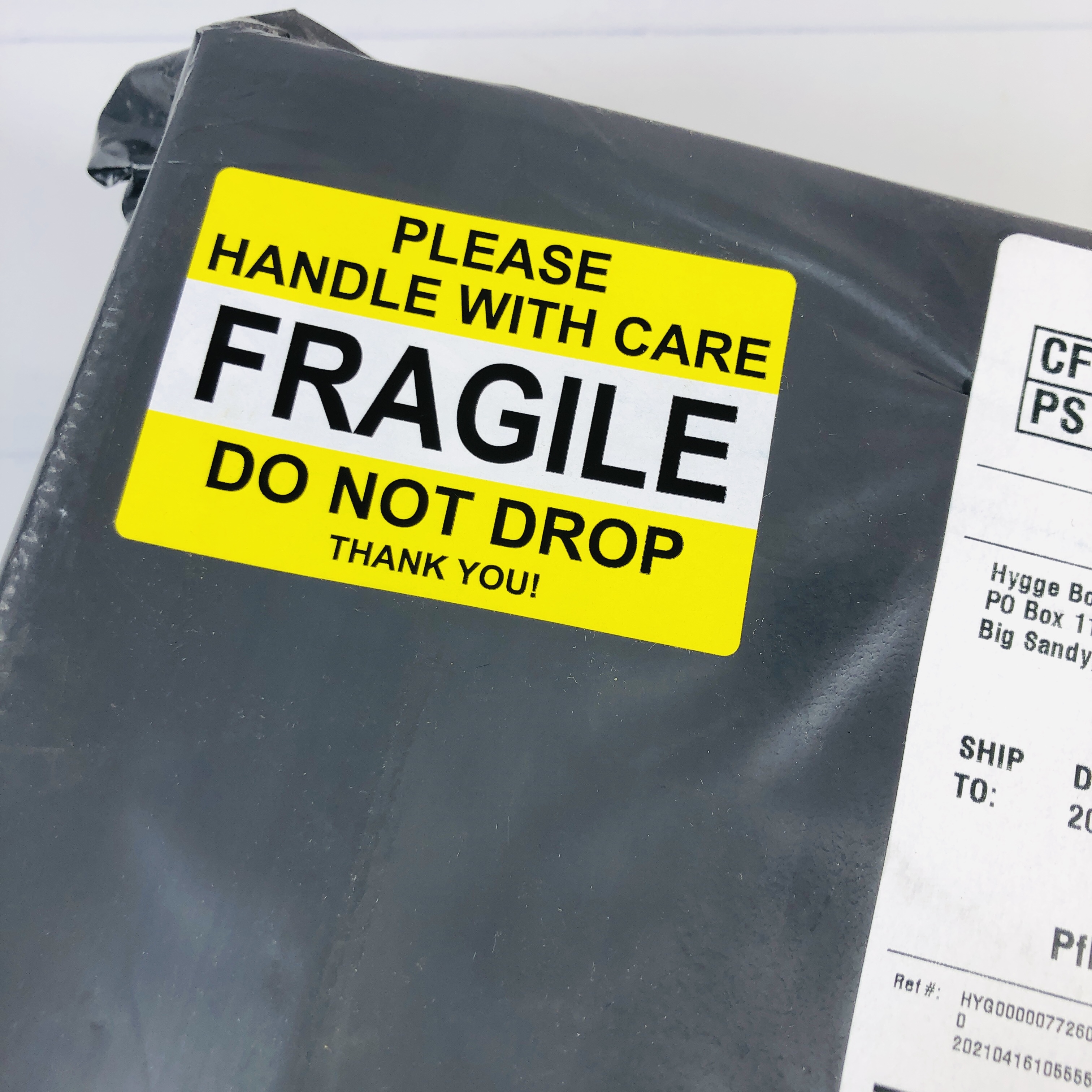 There was a big sticker on the outside of the box that let me (and the post office) know that there may be breakable items inside.
This is my very first Hygge Box and I couldn't be more excited! The presentation was lovely and my items were wrapped in tissue paper and snuggled into shredded paper squiggles.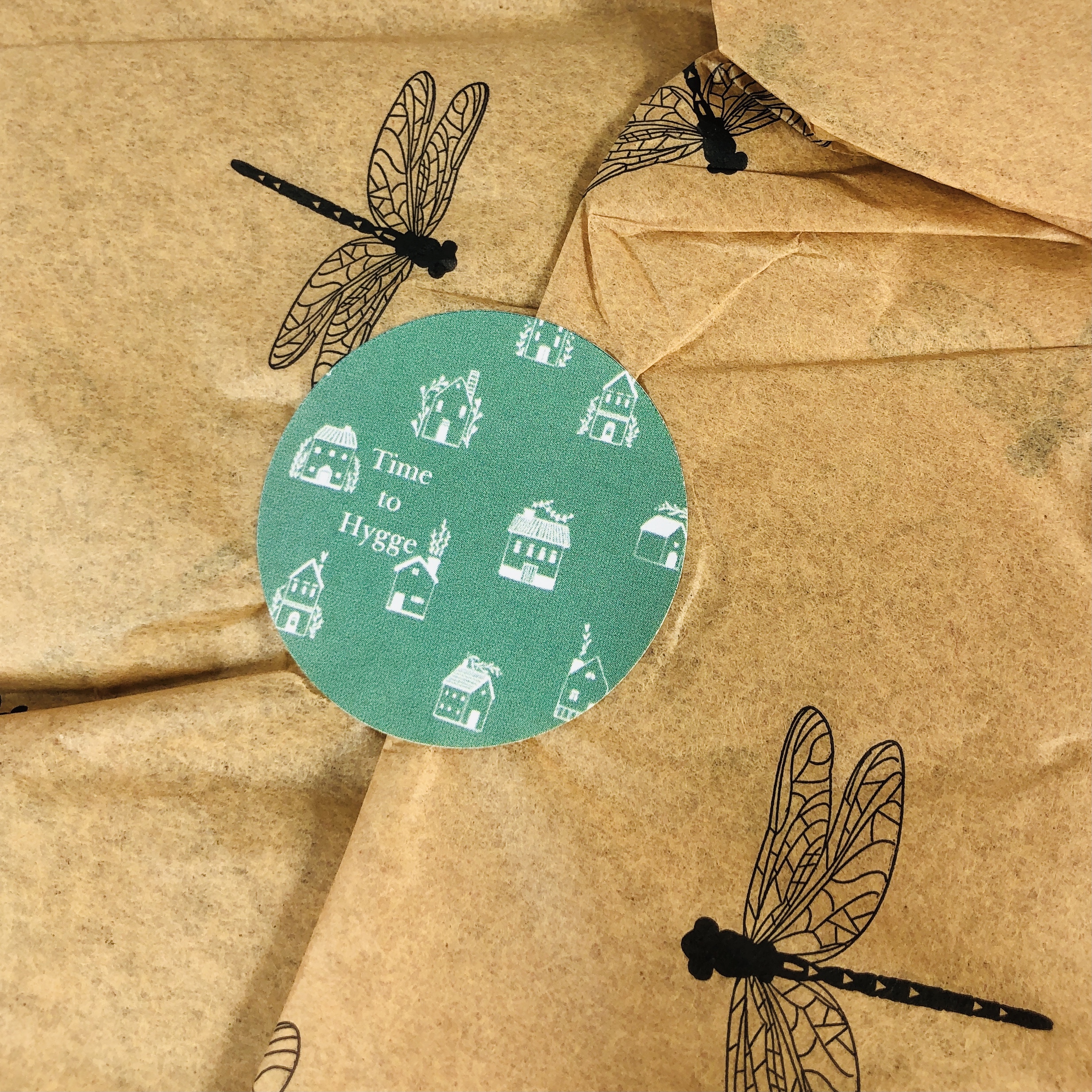 The sticker closure tells me it's Time to Hygge!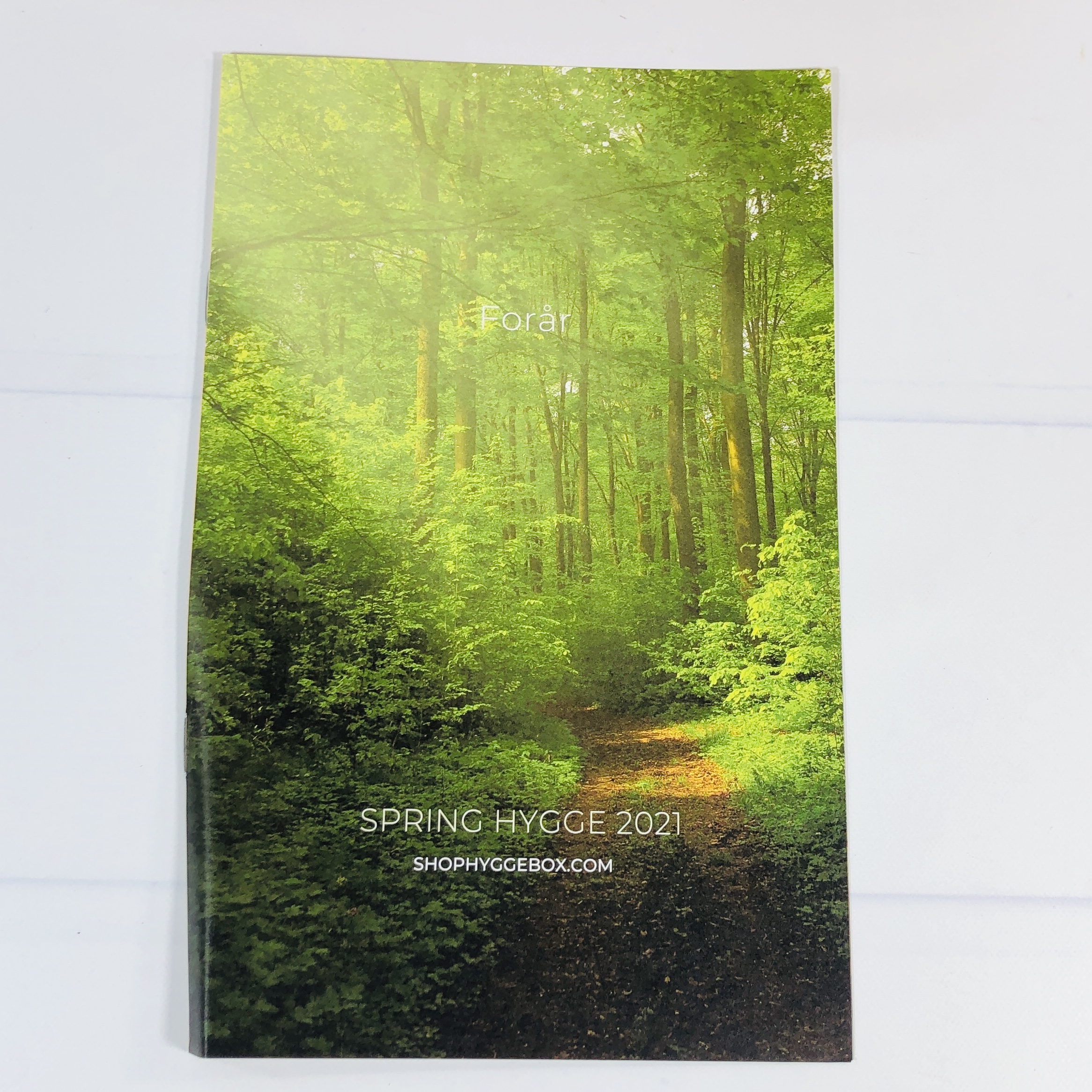 The theme for this box is "Forår" which is Danish for "Spring".
The inside of the pamphlet described the thoughts behind this month's box. Each item from the box was described along with a website where you can pick up more products from the featured vendors.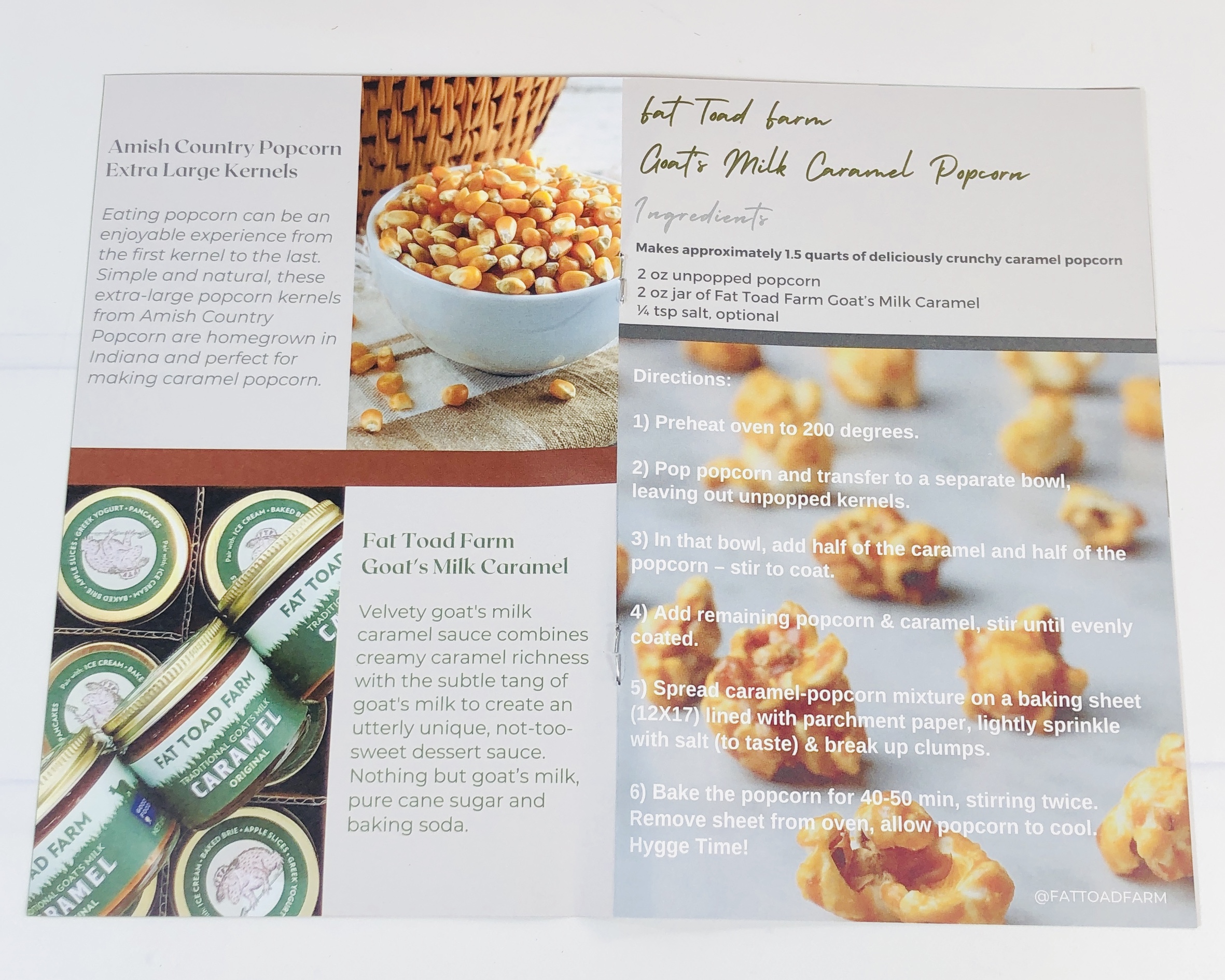 A recipe using the two food items in the box was included. Sounds scrumdidliumptious!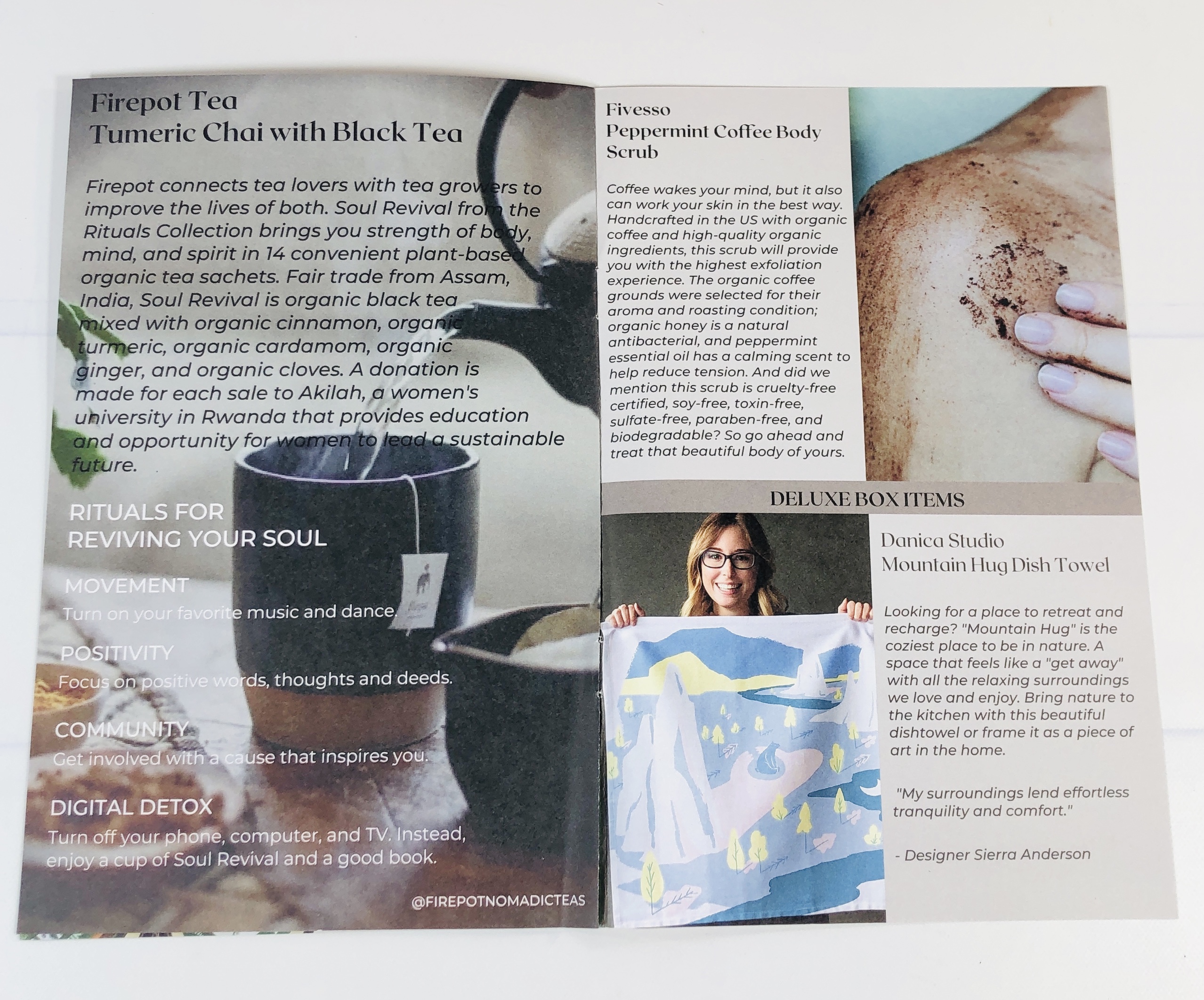 The left page has some suggestions for reviving your soul, such as dancing or reading a book. The page on the right has the two additional items that are in the Deluxe Box only.
The back of the booklet discussed the merits of a hygge lifestyle.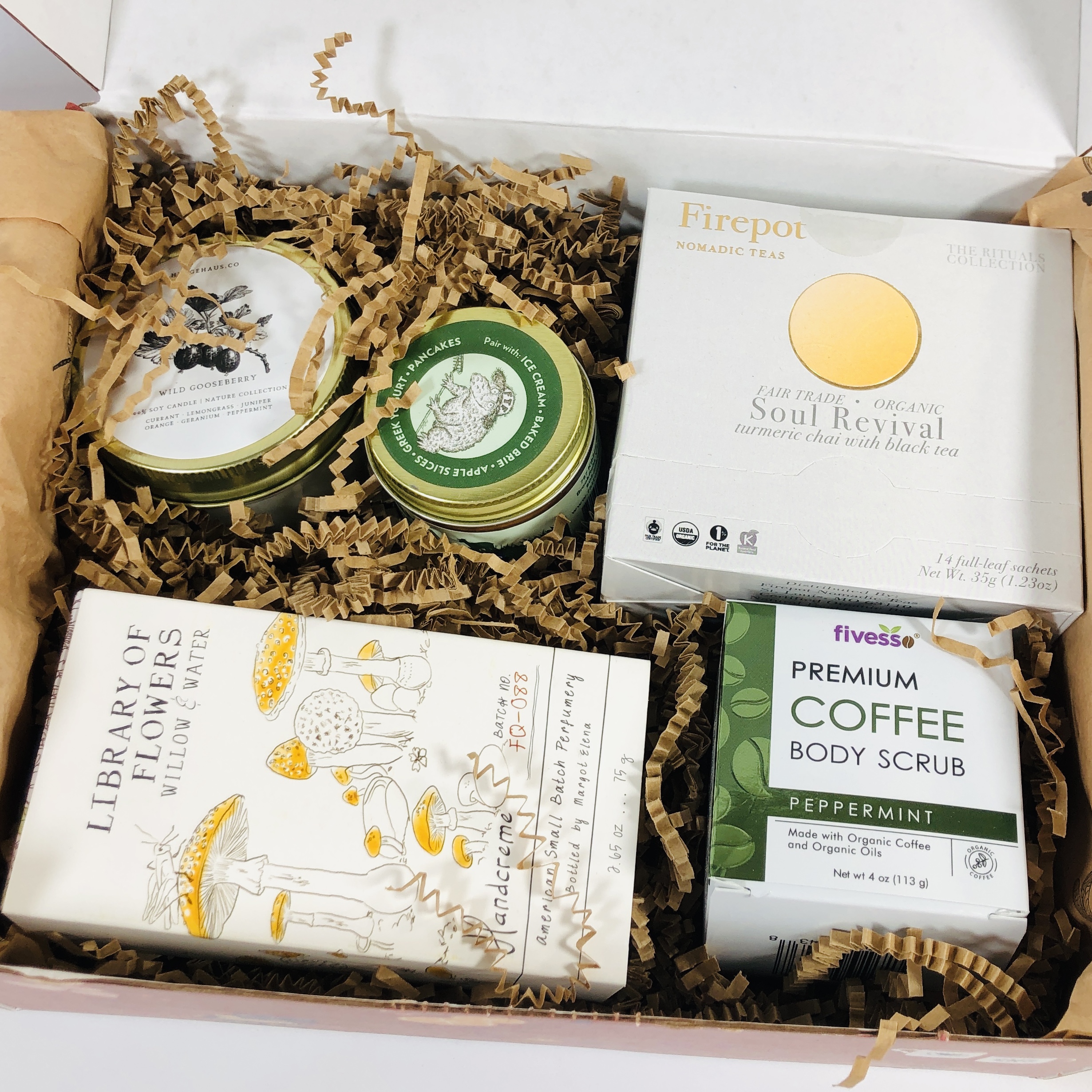 Some of the items came in their original boxes.
I've only just opened the box and already I am in love!
Everything in my box!
Fivesso Peppermint Coffee Body Scrub ($19.50) I used this invigorating body scrub in my morning shower and it helped me face my day with a pep in my step.
Coconut oil, coffee grounds, and peppermint are a few of the all-natural ingredients; heck, it's practically edible!
I turned off the water and rubbed this on my arms and legs and it smelled amazing, plus it stuck well enough to my skin that I didn't feel like it was being wasted by falling all over the shower floor. I rinsed it off and then my skin was so soft afterwards that I didn't have to use a separate body lotion. This was a winner in my book!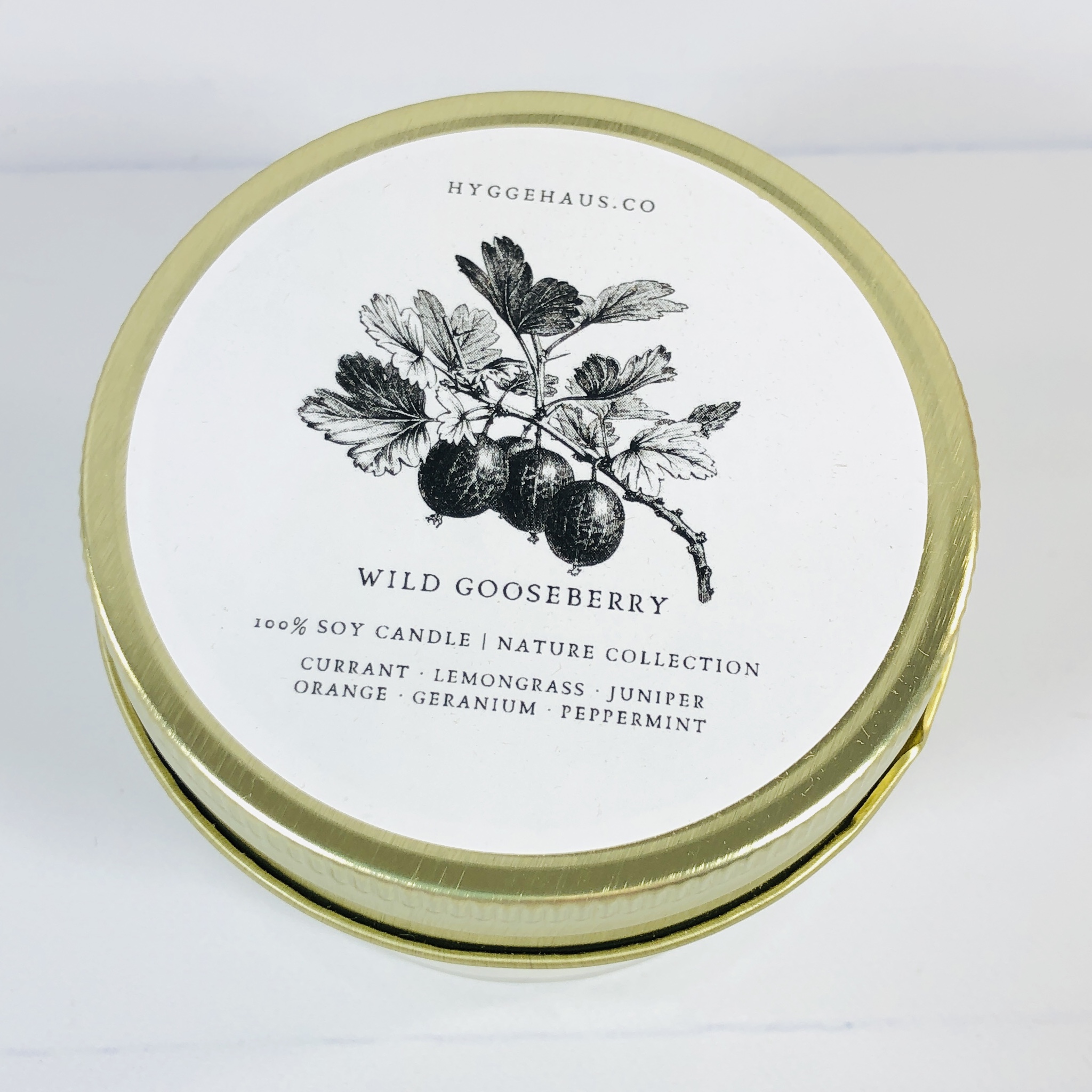 Hygge Haus Wild Gooseberry Soy Candle ($12 for similar) I love a good candle and for me a winner will have a noticeable scent that isn't overwhelming while burning. This candle was a winner for me!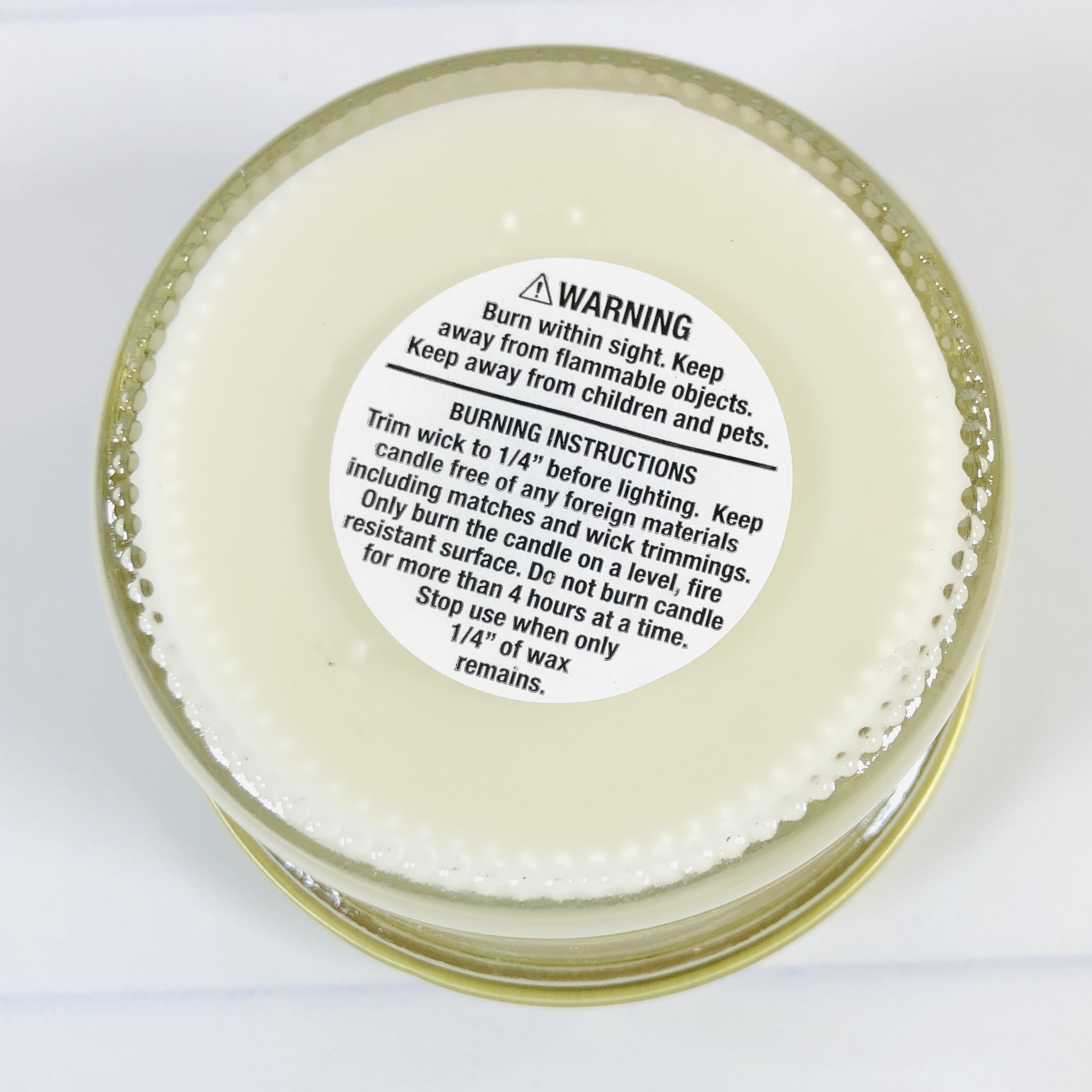 Make sure to keep away from children and pets.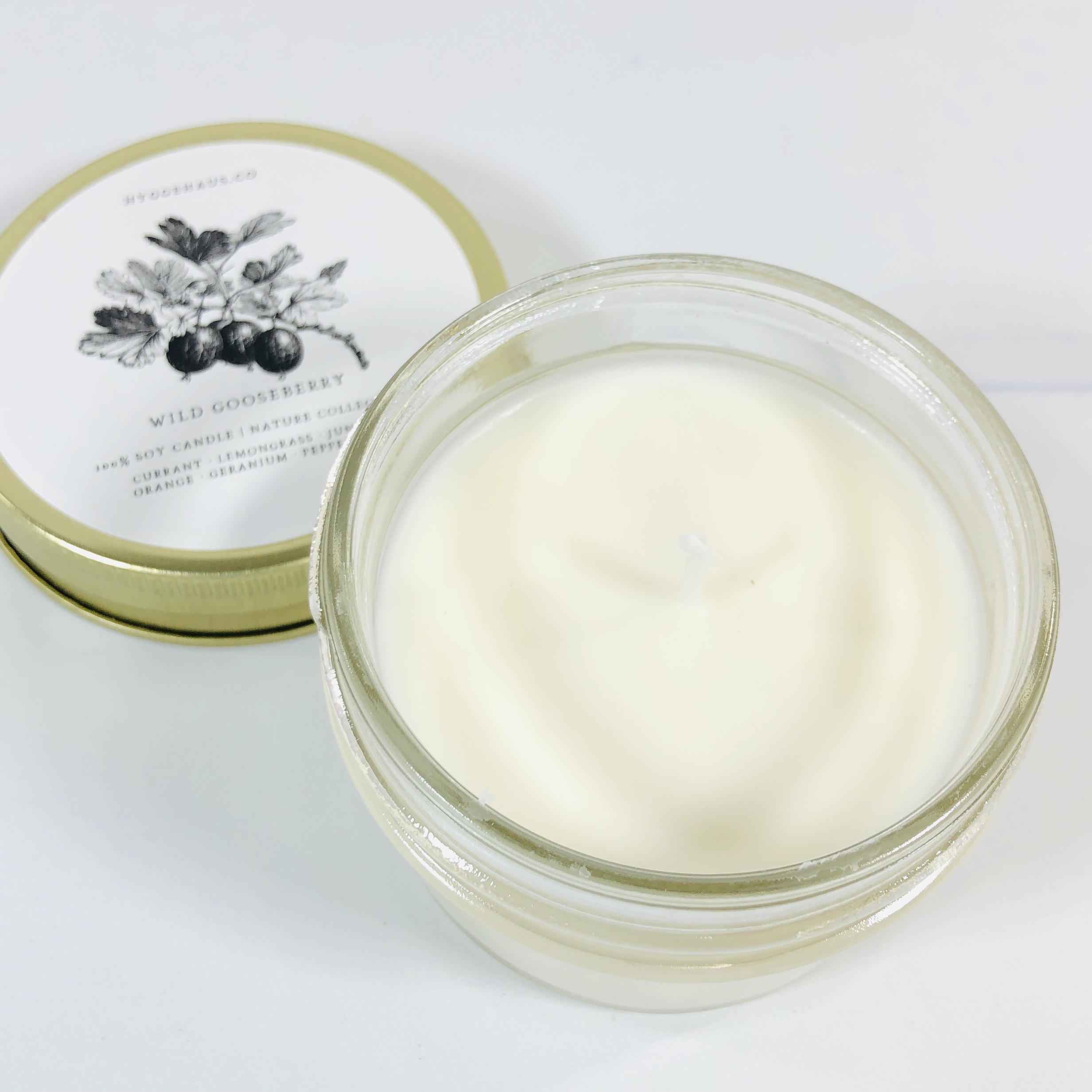 The Wild Gooseberry candle fragrance has notes of currant, lemongrass, and orange. It is sweet, with berry and citrus notes. It is a lovely scent and I don't have any candles that smell like this, which is pretty shocking because I own a lot of candles!
Library of Flowers Willow & Water Hand Creme ($22) Library of Flowers is one of the beautiful lines from Margot Elena, who puts out the prettiest decorated containers I've ever encountered. Even the boxes are enchanting!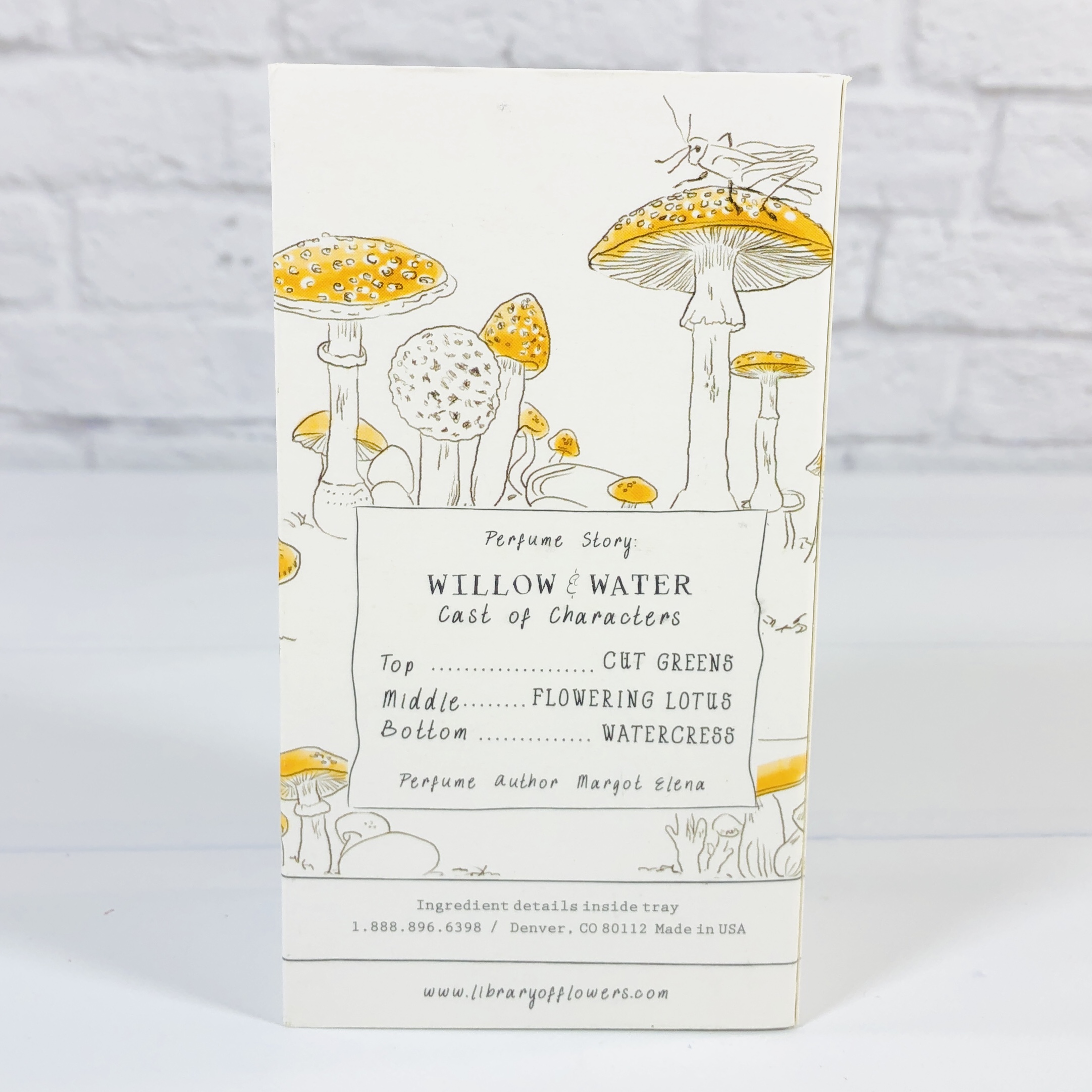 The back of the box tells me that the scent notes include cut greens, flowering lotus, and watercress. Ingredients include glycerin, argan oil, shea butter, and cocoa seed butter.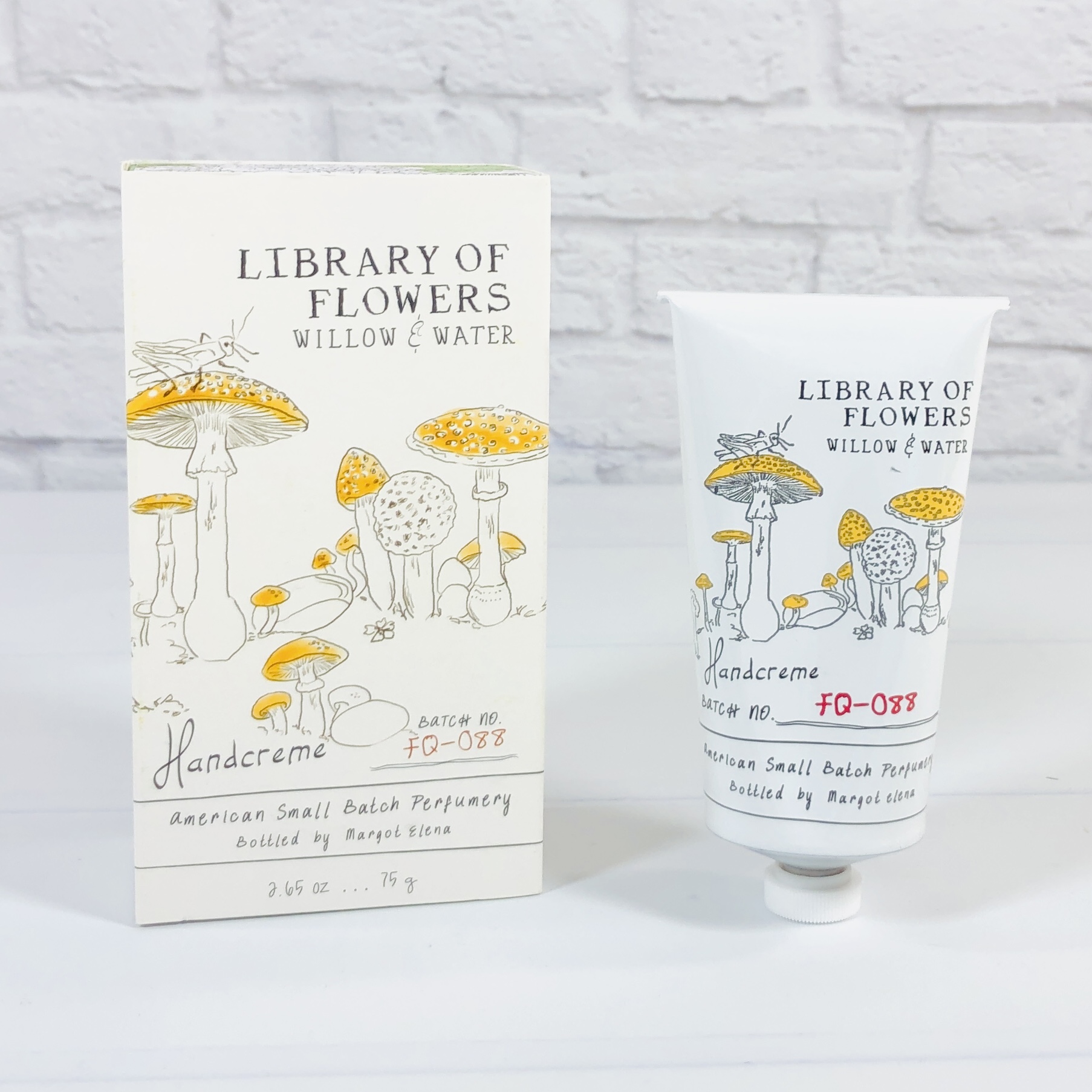 The scent has green notes and is very floral. I've smelled something similar, maybe from Tocca? It left my hands soft without leaving them greasy. The fragrance lasts for quite a long time.
You will need to find some way of piercing the container before using. I looked for a prescription cream in my medicine cabinet, one that has a pointy lid to pierce the seal, and it worked perfectly!
Amish Country Popcorn Extra Large Kernels ($1.30) I haven't made popcorn on the stove in a long time, but it really has the best flavor and it reminds me of when my sister would make it when I was a kid.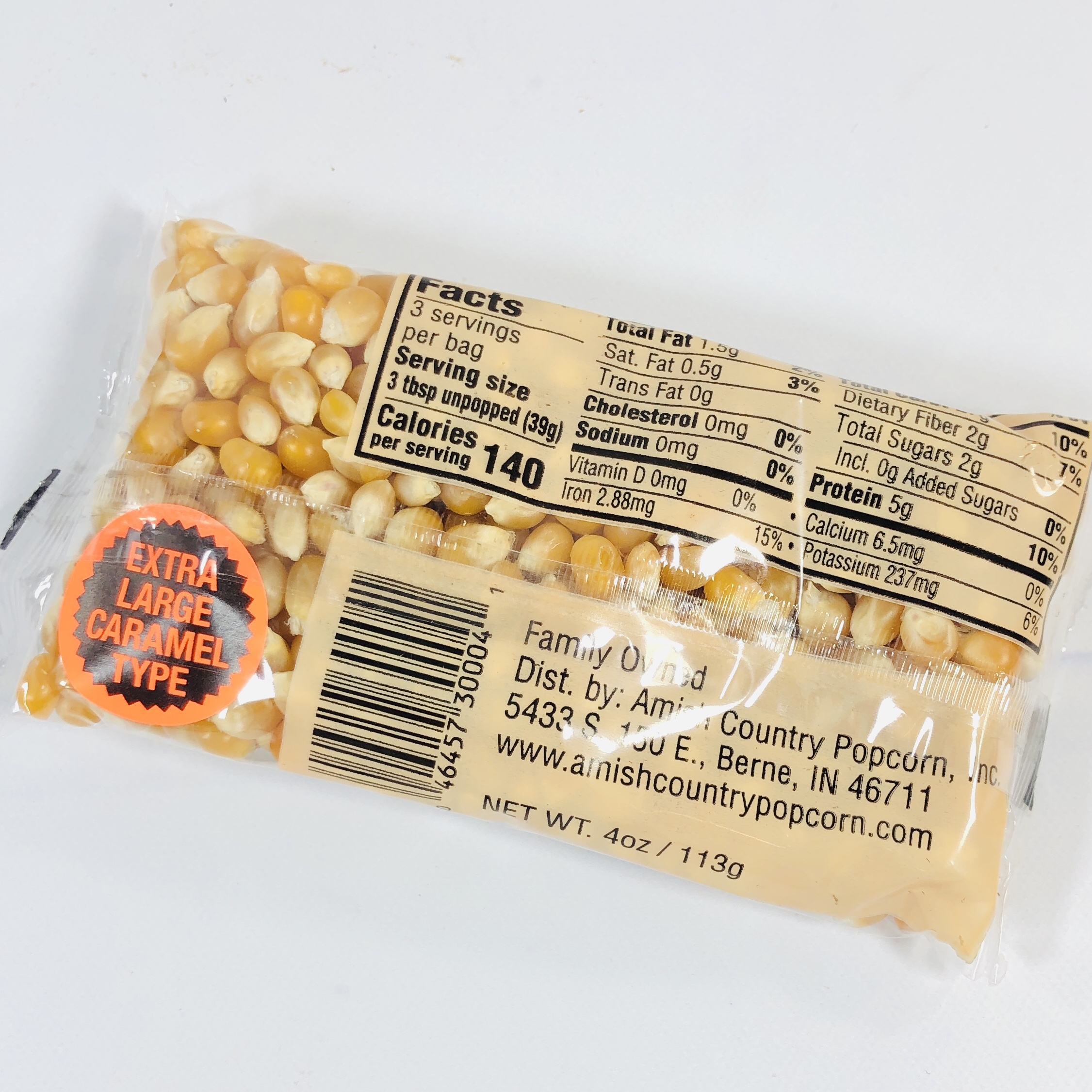 The kernels are "extra large caramel type" and there was a recipe included in the product info booklet using this ingredient and the caramel shown next.
Fat Toad Farm Goat's Milk Caramel ($19.99) Cajeta is caramel made with goat's milk (as opposed to dulce de leche, which is made with cow's milk).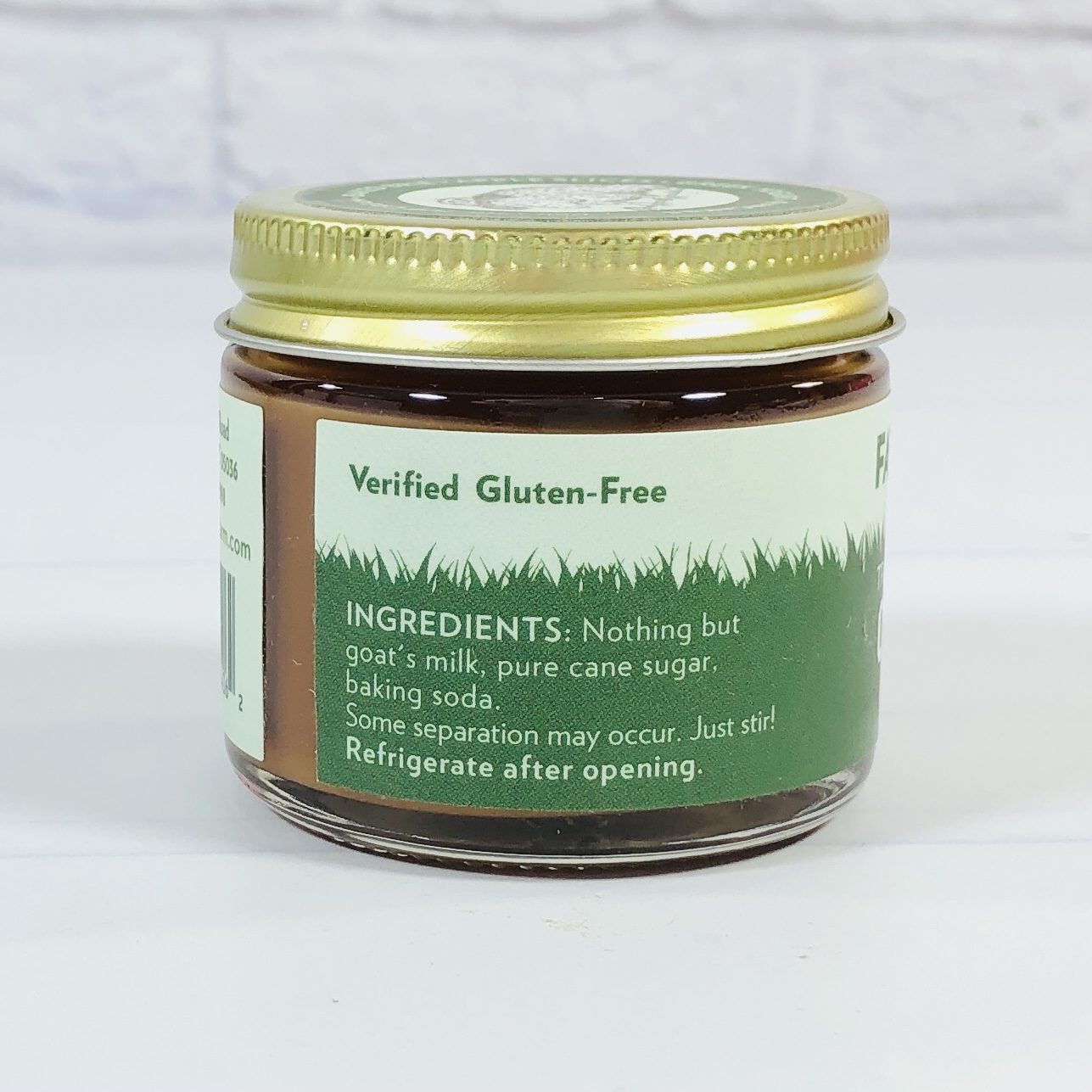 All that is in this jar is goat's milk, sugar, and baking soda.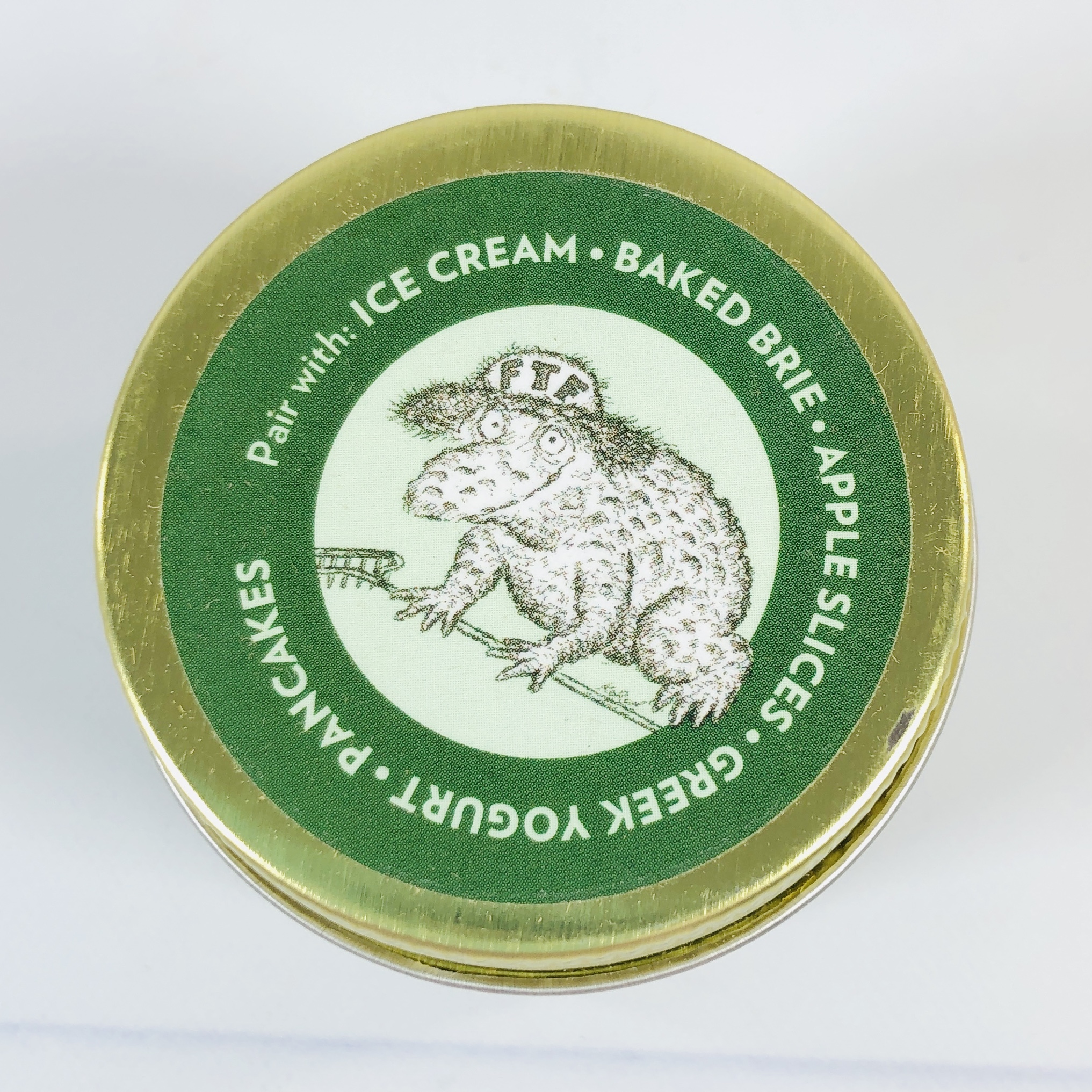 The lid has serving suggestions, like pairing it with ice cream, cheese, or apples. I would make some unsweetened oatmeal, top it with bananas and toasted pecans, and add a drizzle of this sauce. Yum!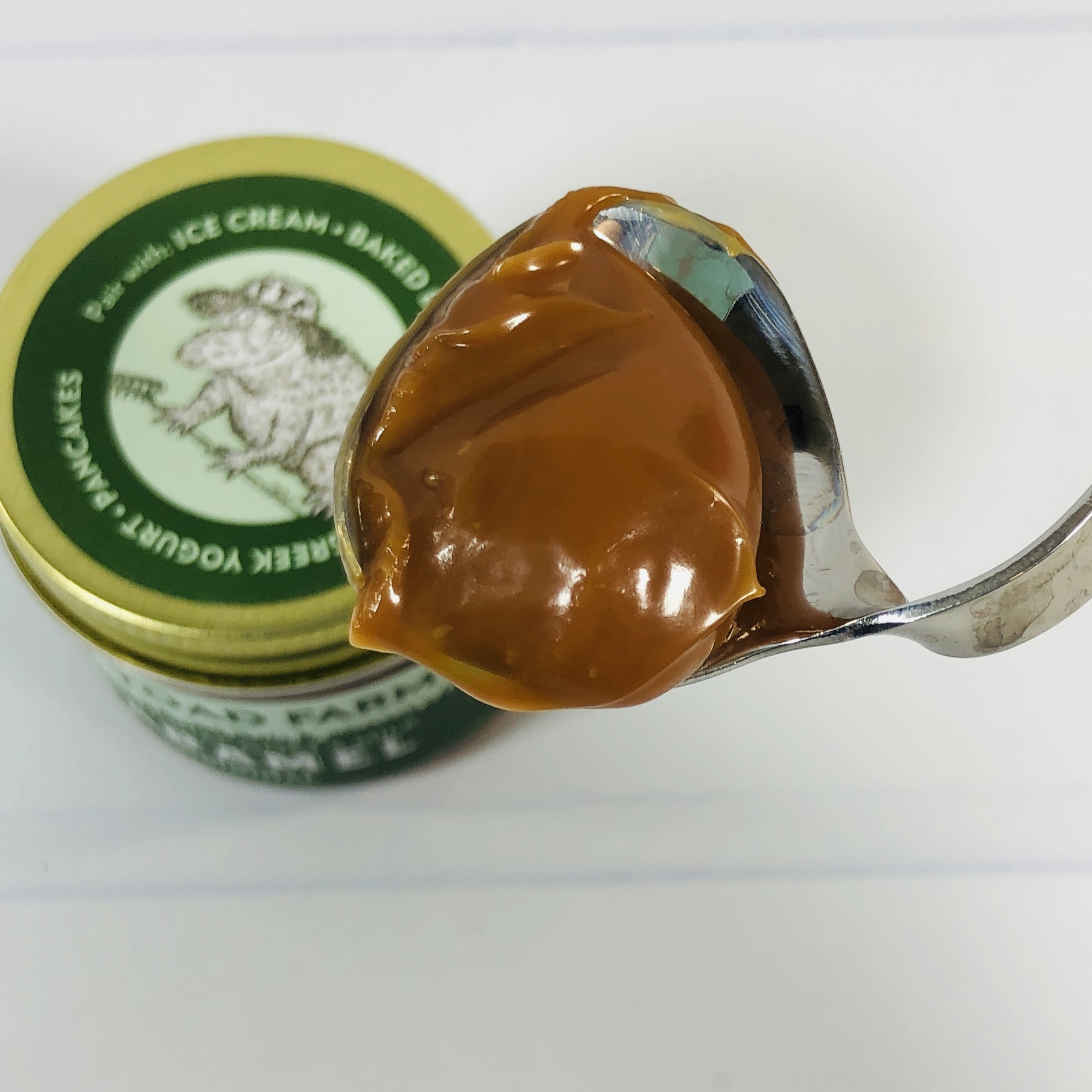 It is incredibly silky smooth and very rich, just a little is needed. It is similar to other caramels but the goat's milk gives it a touch of an interesting note, a deeper flavor profile than regular caramel.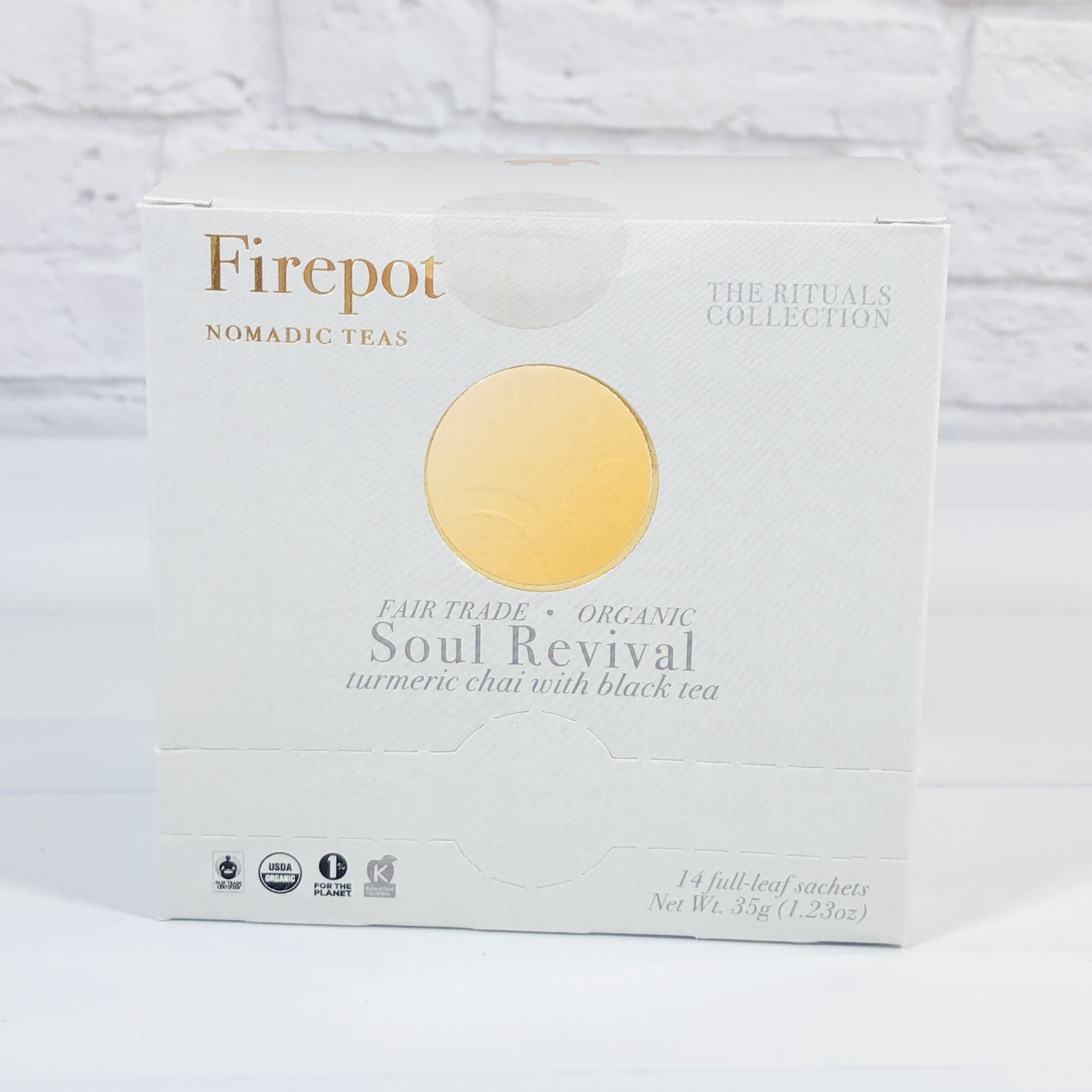 Firepot Tea Soul Revival ($9.49) My very favorite drink is tea and I was thrilled to receive a whole box of chai tea sachets!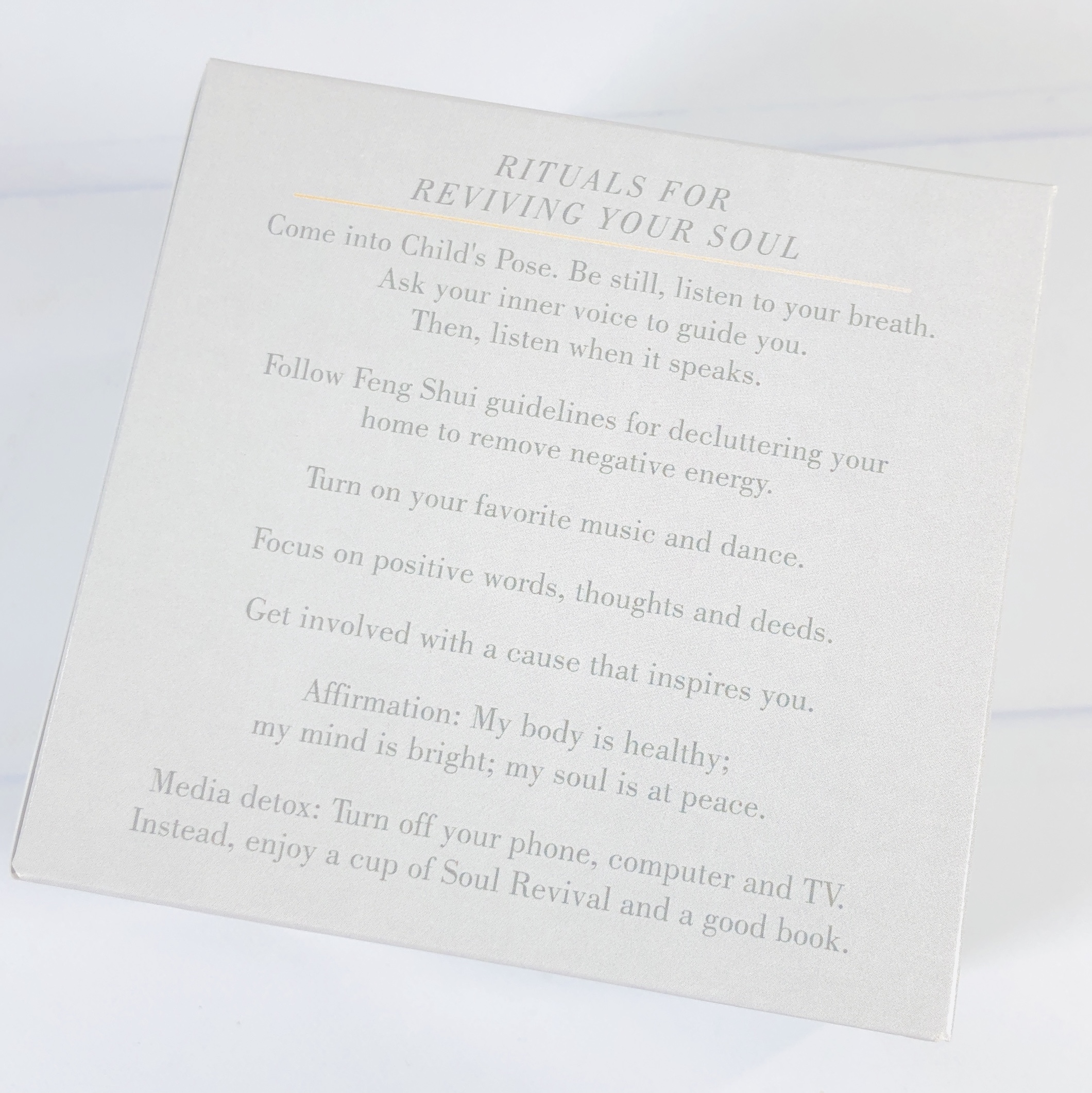 I was also impressed that I received a new-to-me tea brand, that's my most favorite part of subscription boxes, discovering new brands! I was pleased to see suggestions on the box for reviving the soul.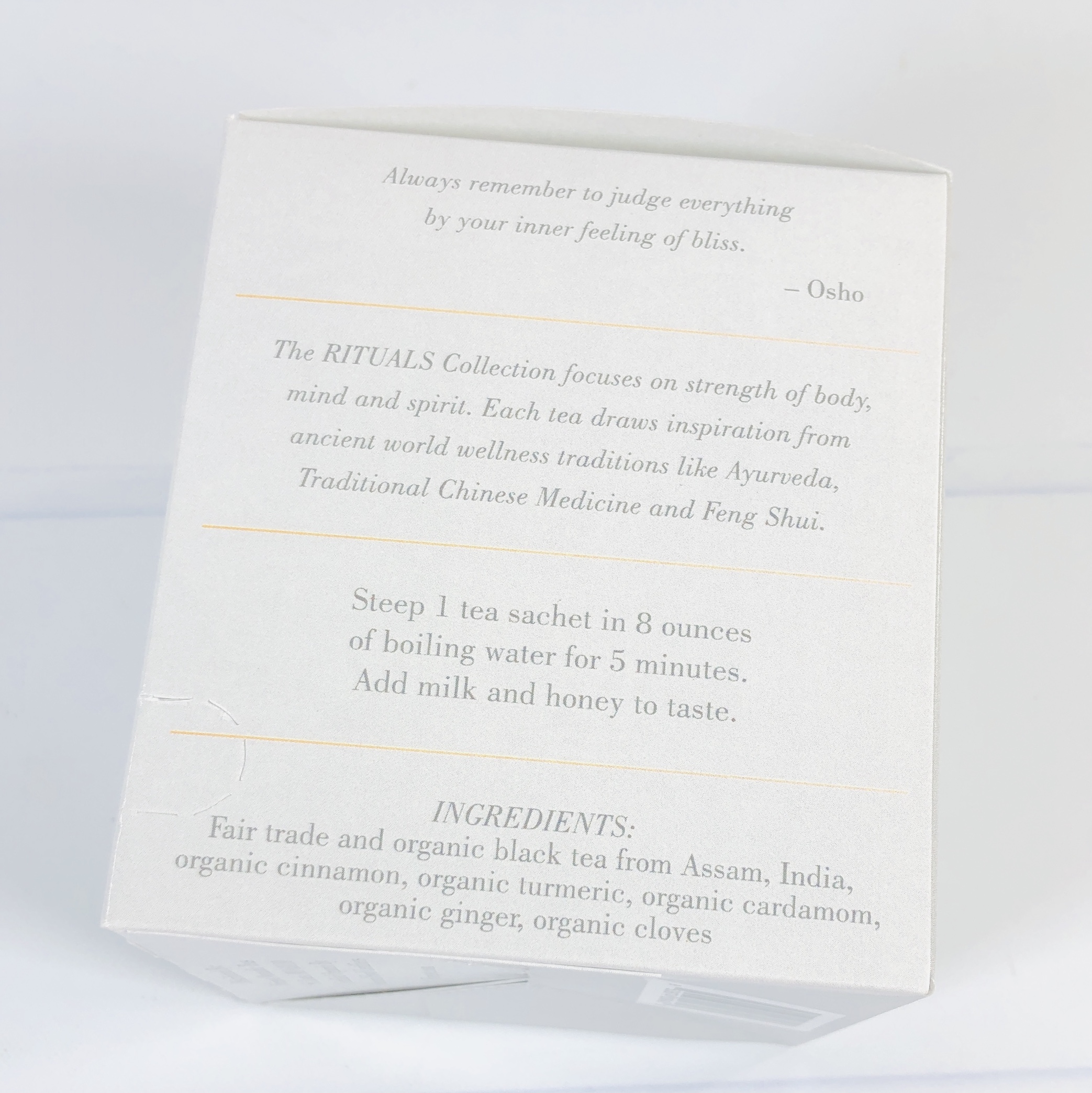 The base is black Assam tea from India plus warming spices like cinnamon, turmeric, cardamom, ginger, and cloves.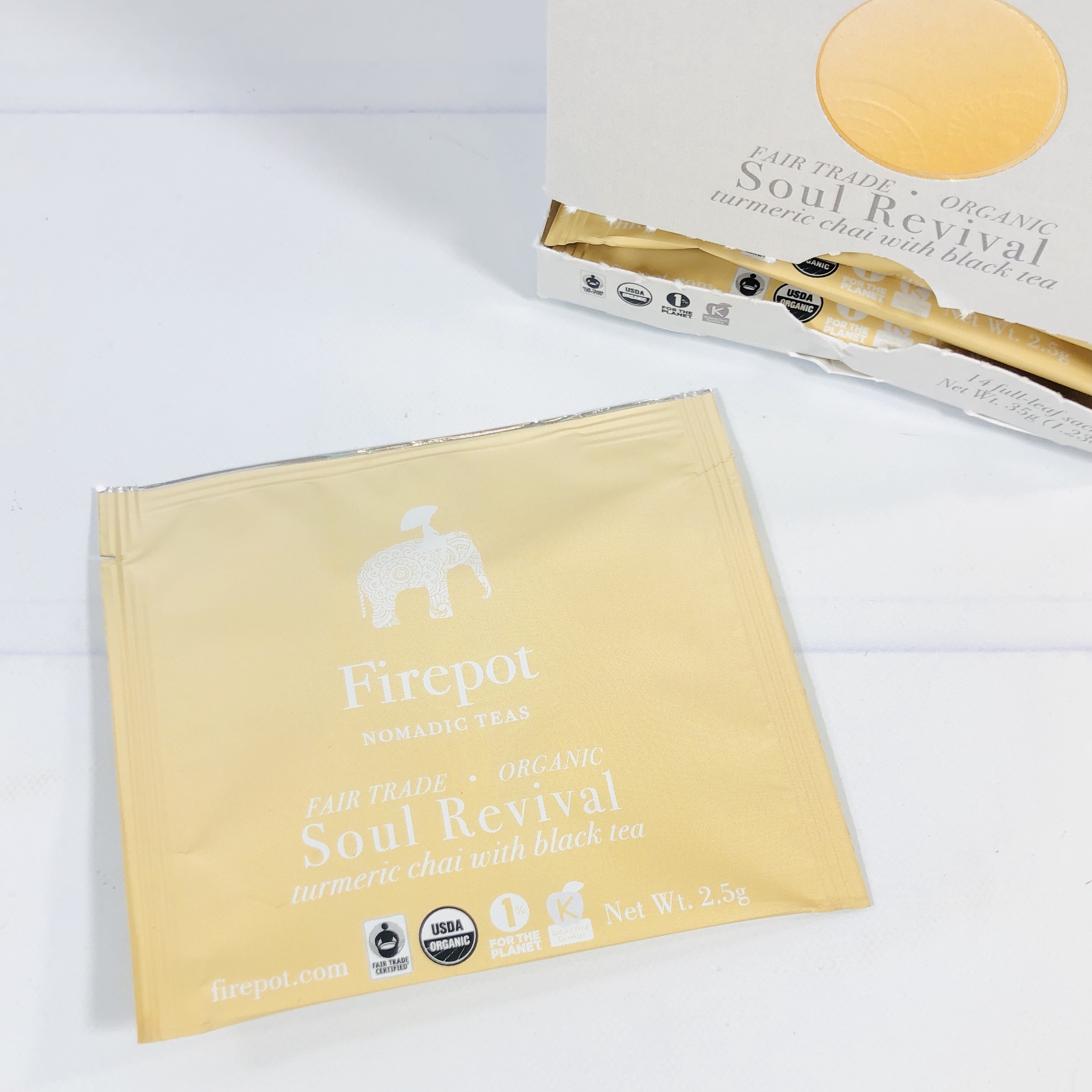 The bags are individually wrapped so they can go to work, a hotel, a friend's house, etc. I steeped the tea bag in 8 ounces of water that had been brought to the boil and let it sit for 5 minutes. I added sugar but felt like it was too light to need milk, as there was no bitterness at all. I was pleased with the flavor, which had bold spices but again, it wasn't overwhelming. This is the perfect afternoon tea for me.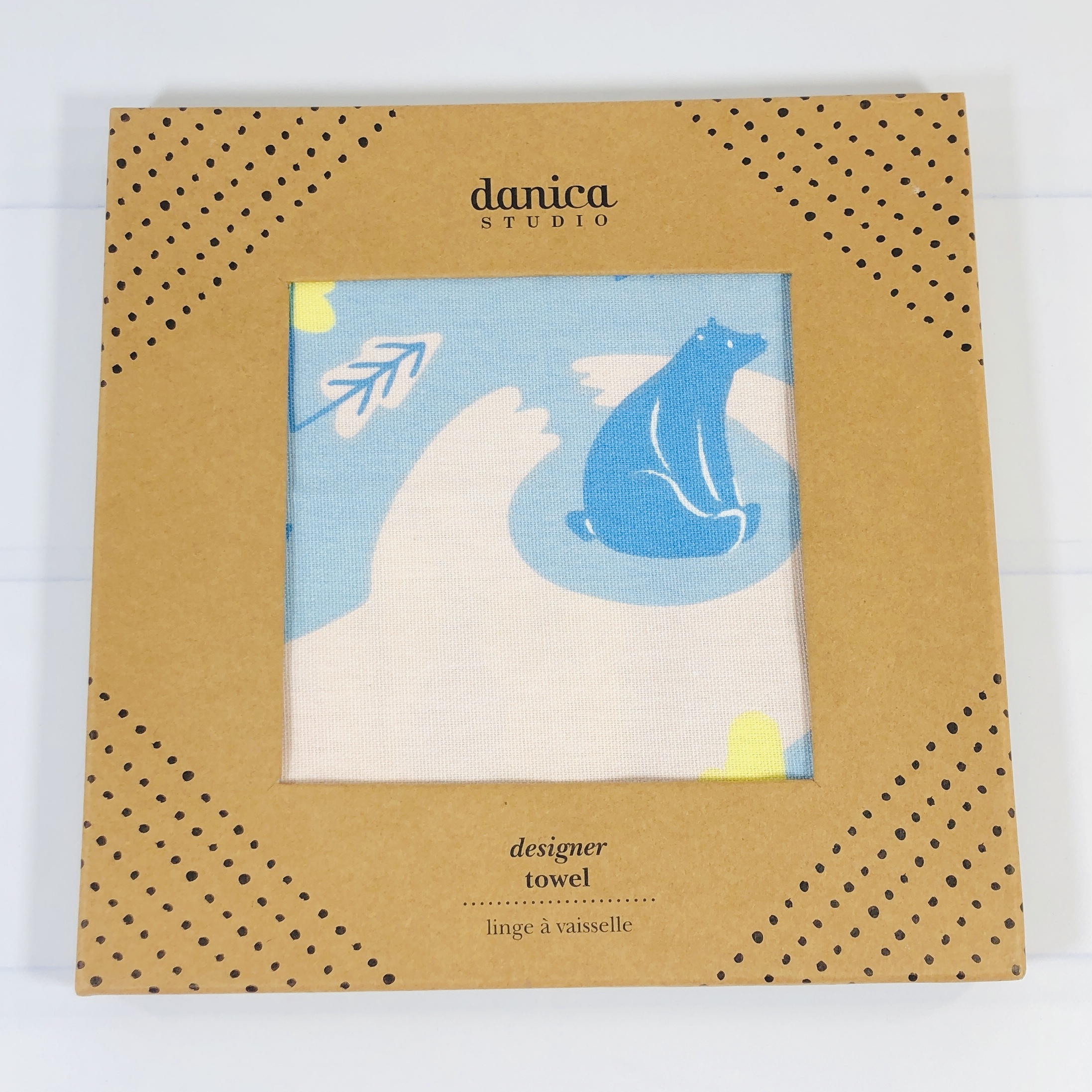 Danica Studio Mountain Hug Dish Towel ($16.85) I have a collection of dish towels thanks to subscription boxes and you will often find one hanging on my stove handle.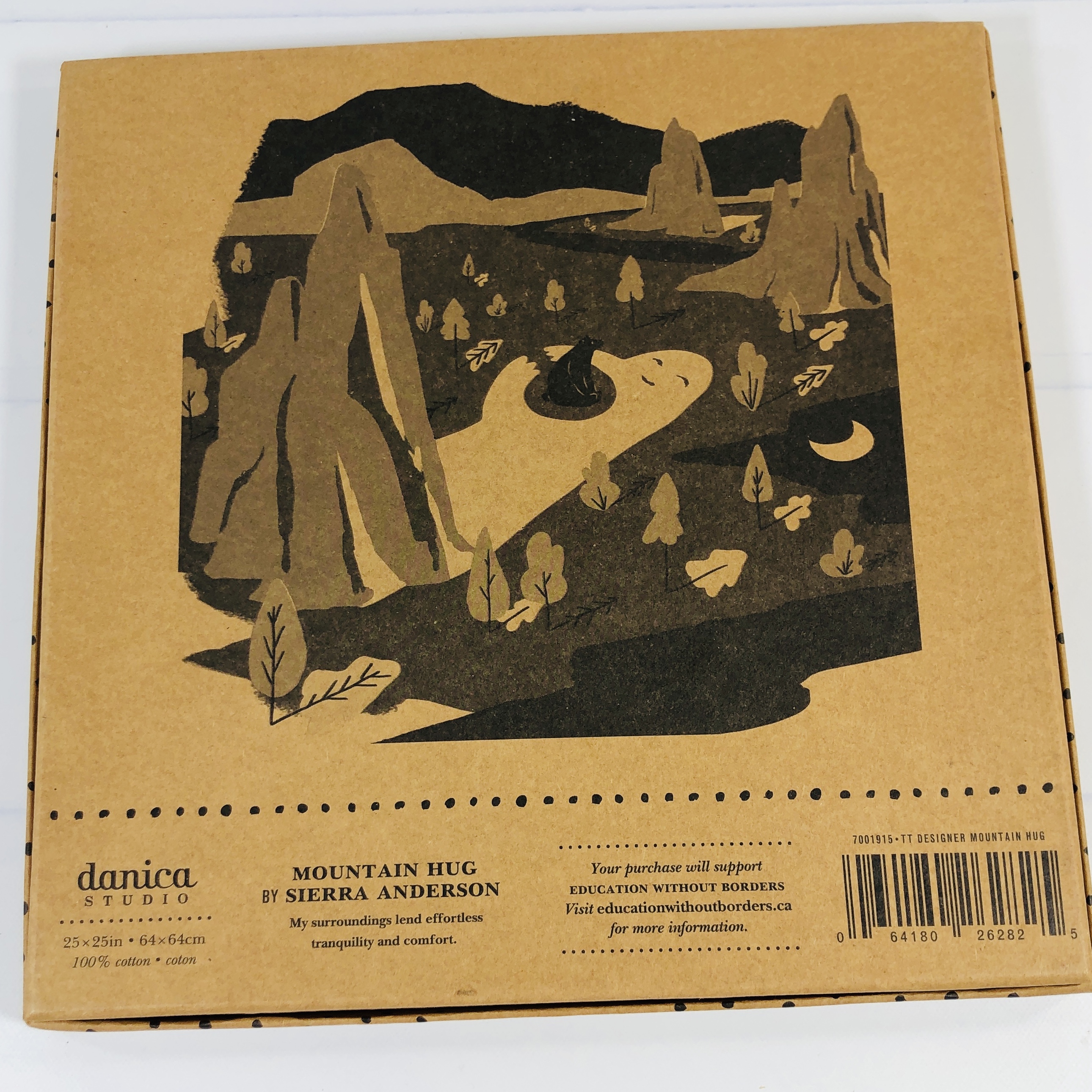 The back of the box tells me that a portion of proceeds of sales on this towel will go to Education Without Borders.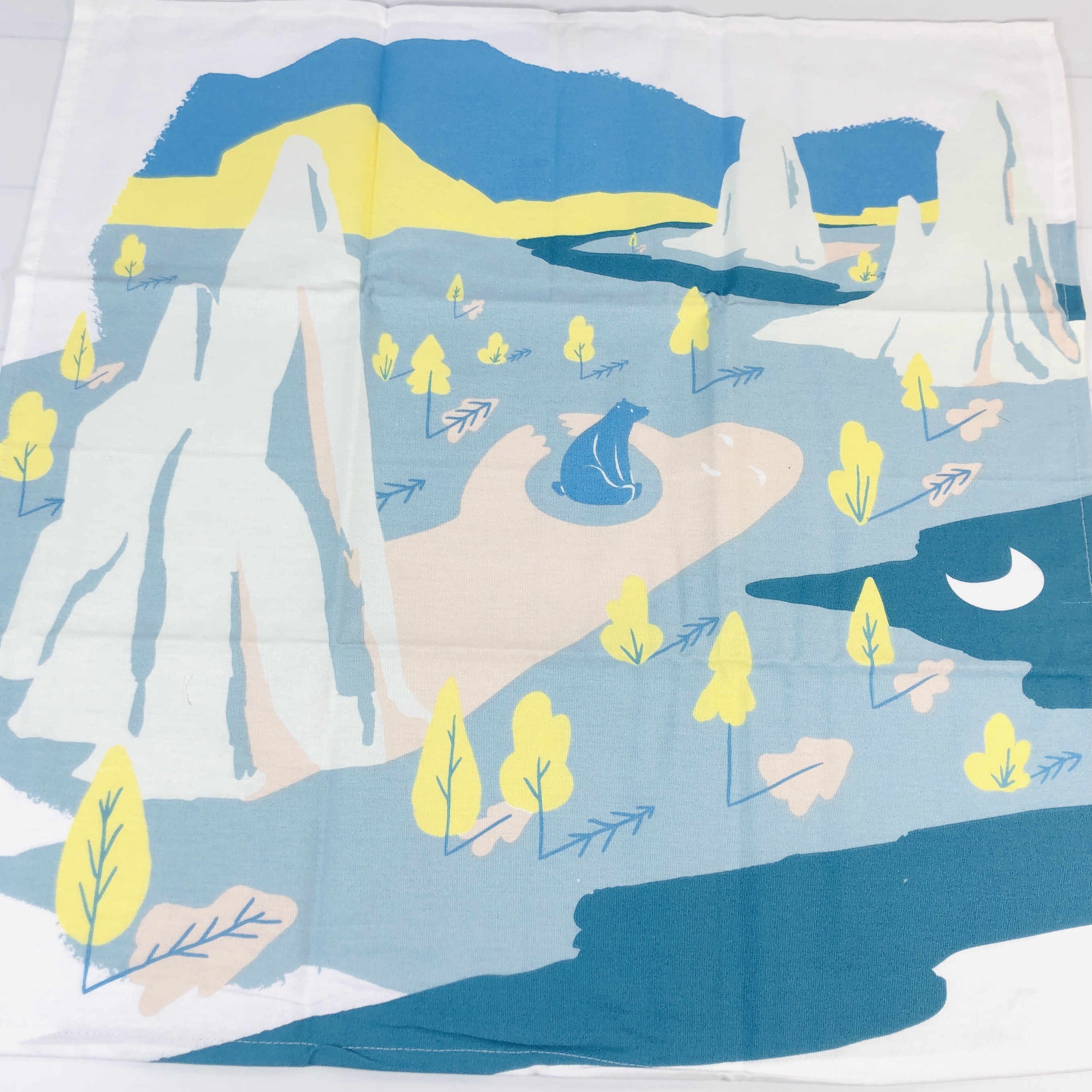 The towel is 25″ x 25″ and is machine washable. It's made of cotton and is hemmed on all sides. The illustration is of a bear surrounded by mountains and the shadow in which he sits shows a reflection of the mountain giving him a hug.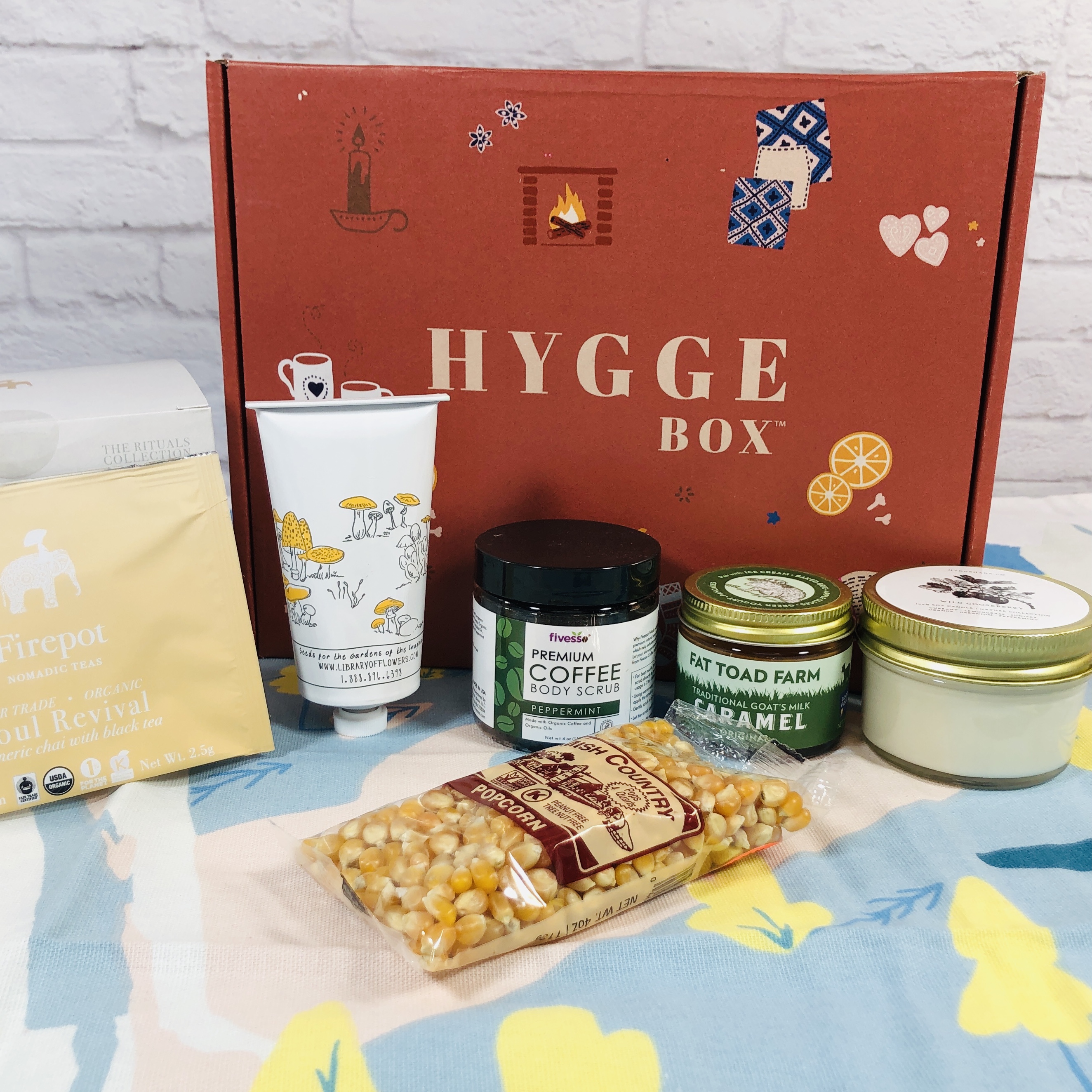 The Spring Hygge Box was my very first from this service and I am in love! It had everything I could possibly want in a subscription box, especially one that's all about feeling cozy, and they delivered. The tea, I love tea, and now I have a whole box of bags! I am planning on popping the corn soon, I want to share it with my family. The caramel was delicious, I just ate it straight from the jar. The hand lotion smells and feels wonderful. The body scrub was one of the best I've ever used, the consistency was perfect. The candle smelled so lovely too. The towel will make me smile each time I see it in my kitchen. I was so lucky to have a cool, rainy day and I enjoyed the candle and tea while sitting on my couch with a good book. Bliss. The value was amazing too, about $101, but even better was the fact that I enjoyed each and every item, not a dud in the bunch. I will be eagerly watching my mailbox for the next Hygge Box!
What do you think of the Hygge Box review?