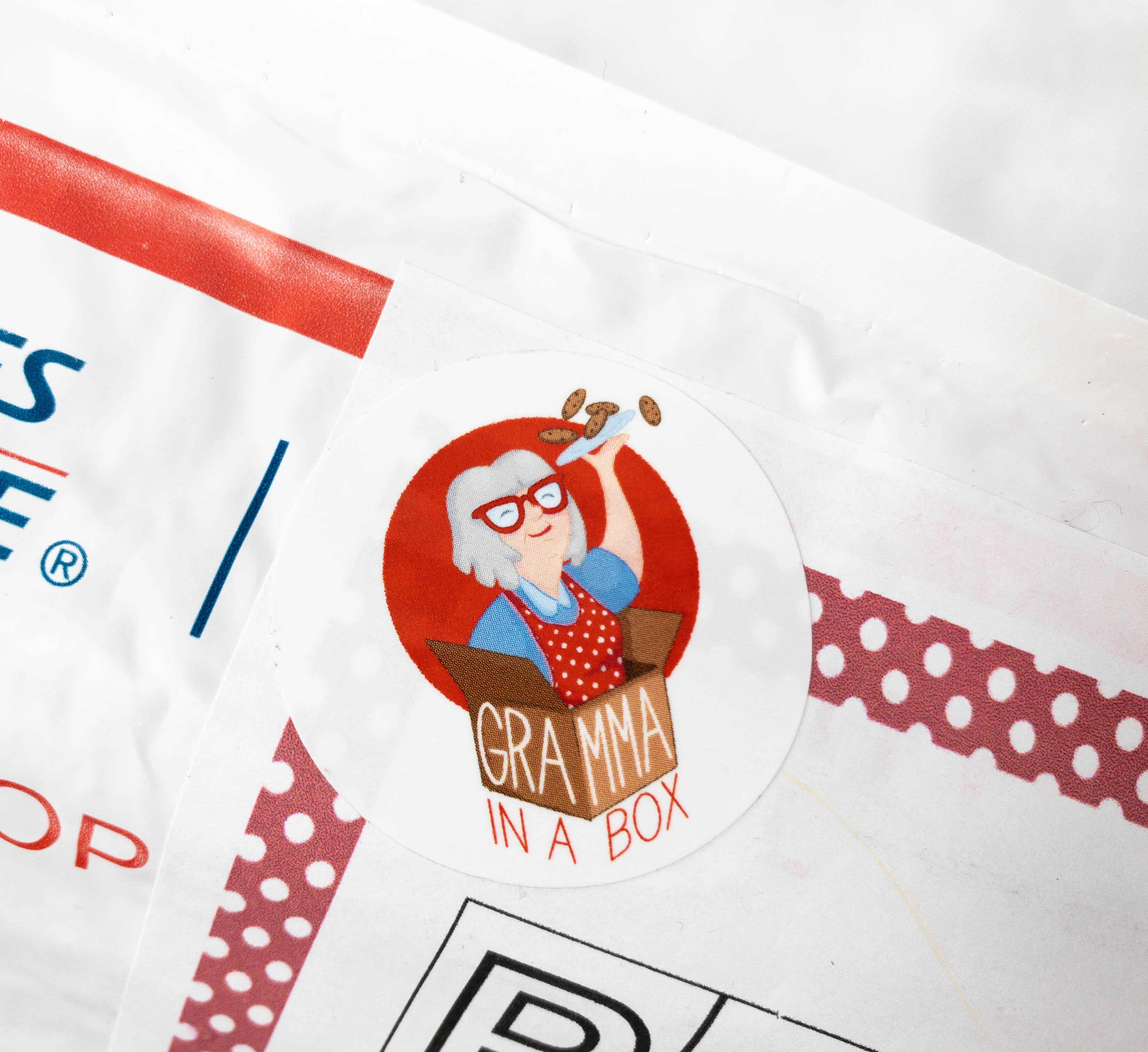 Gramma in a Box is a monthly subscription for kids (from a real Grandma!) that sends homemade cookies with frosting and sprinkles along with two easy candy crafts to make at least 15-20 edible treats. A single box is $22 but if you purchase a 3 month, 6-month, or 12-month pre-paid option you can save 10%.
DEAL:  Get $5 off when you signup for a 3 month or longer plan! Use coupon code 5OFF.
NOTE: Starting in April, the box will include 12 cookies instead of 8, and 4 frostings plus extra sprinkles. Also, the box will contain only 1 candy craft instead of 2, but the candy craft will now make 8 treats instead of 6. Each box will still have 20 finished products to eat or share and there's no price increase!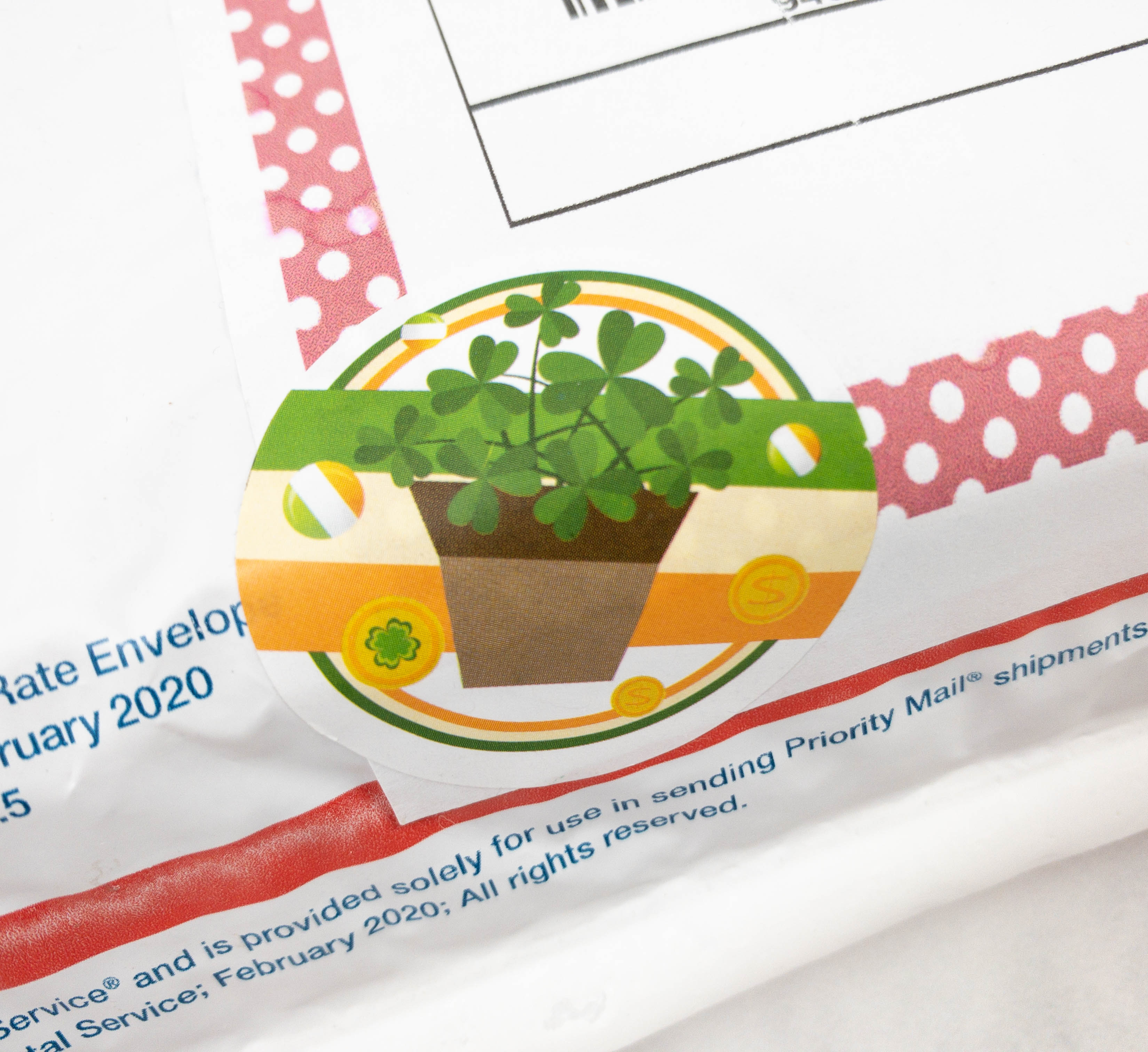 The outer packaging came with a Gramma in a Box sticker.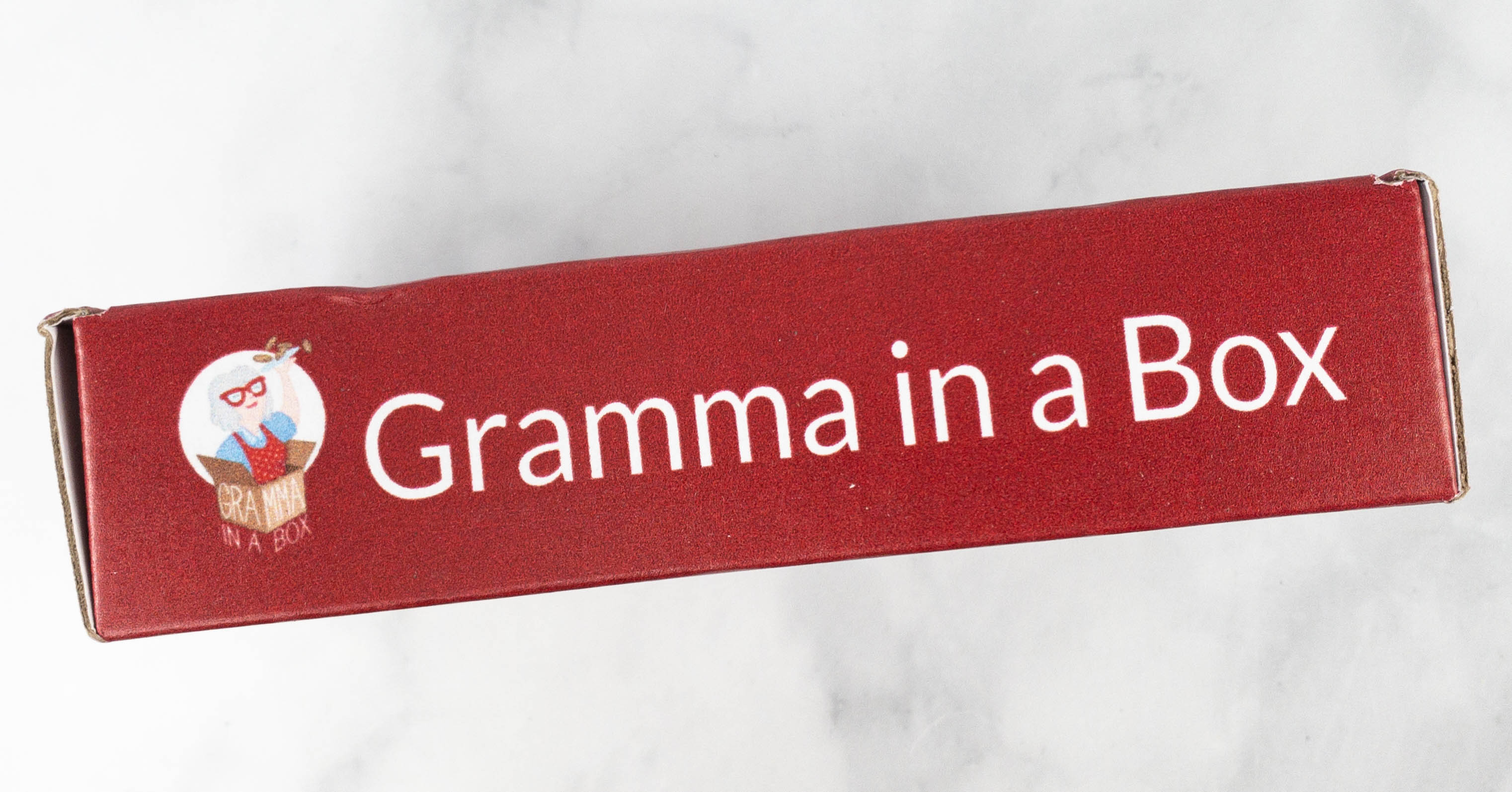 The box arrived in excellent condition.
The kit shows up bundled neatly together under some cute red polka dots tissue.
It was also secured using a Gramma in a Box sticker.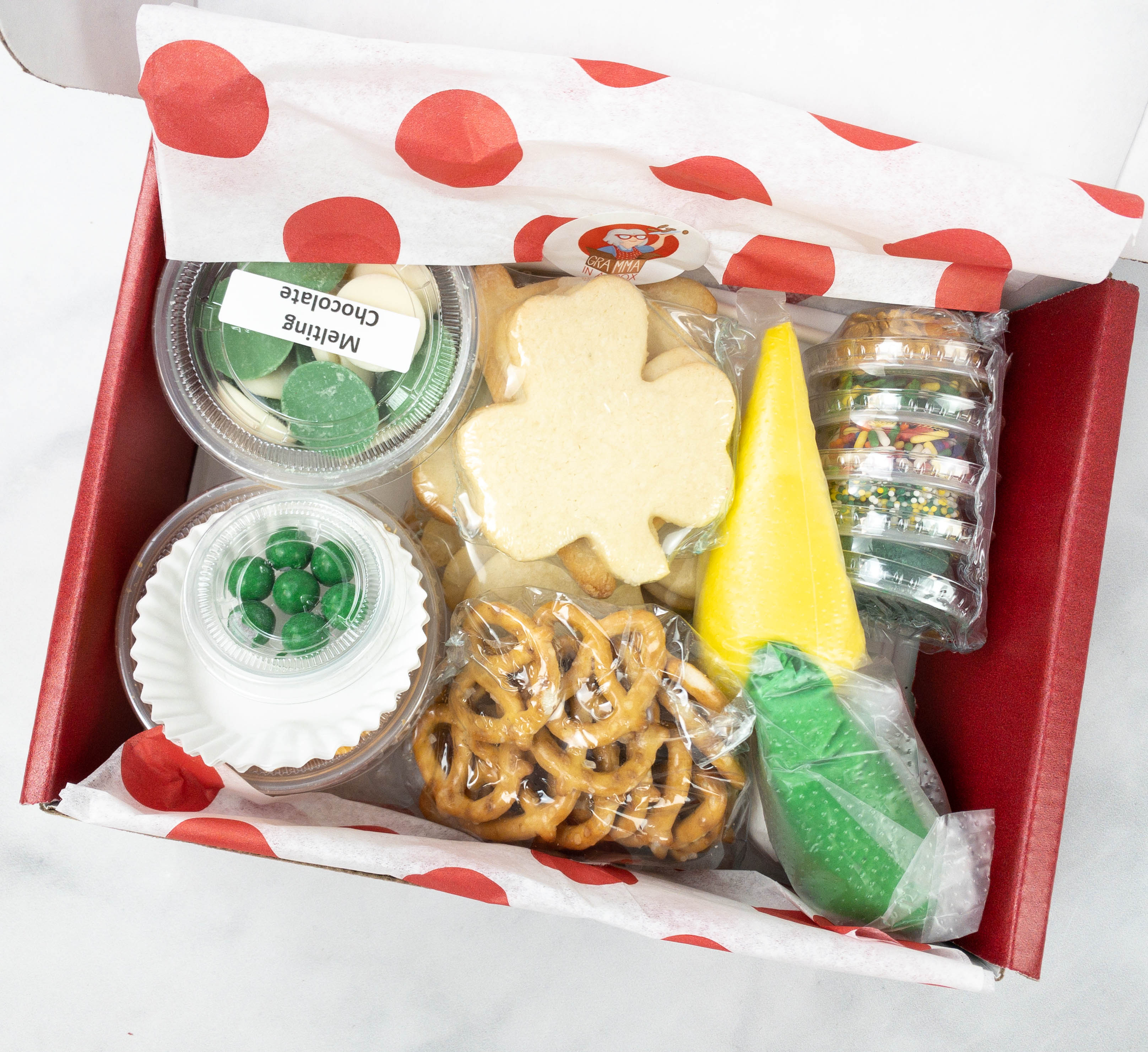 Most of the items came in separate plastic containers.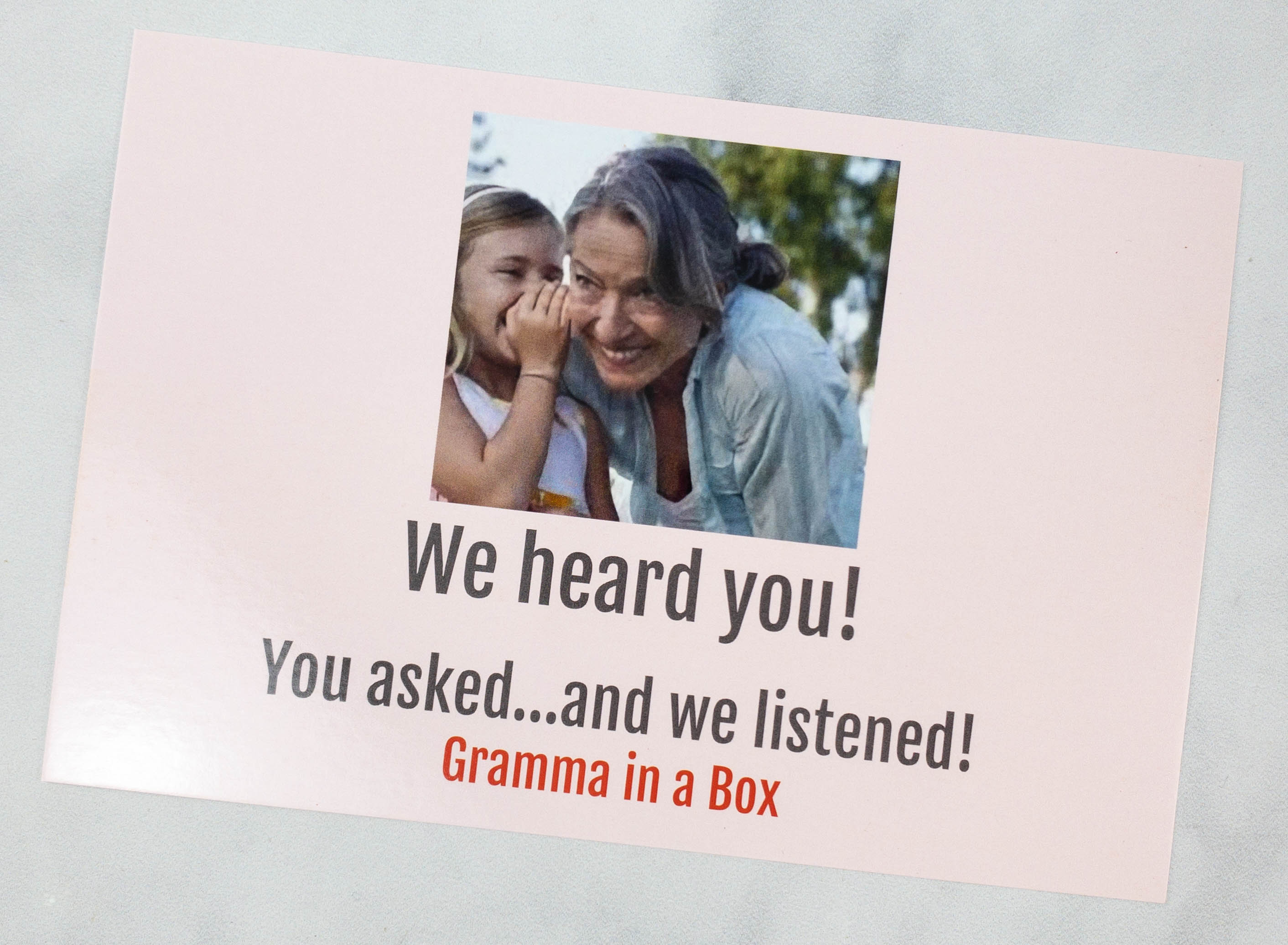 This month's box includes a promotional card.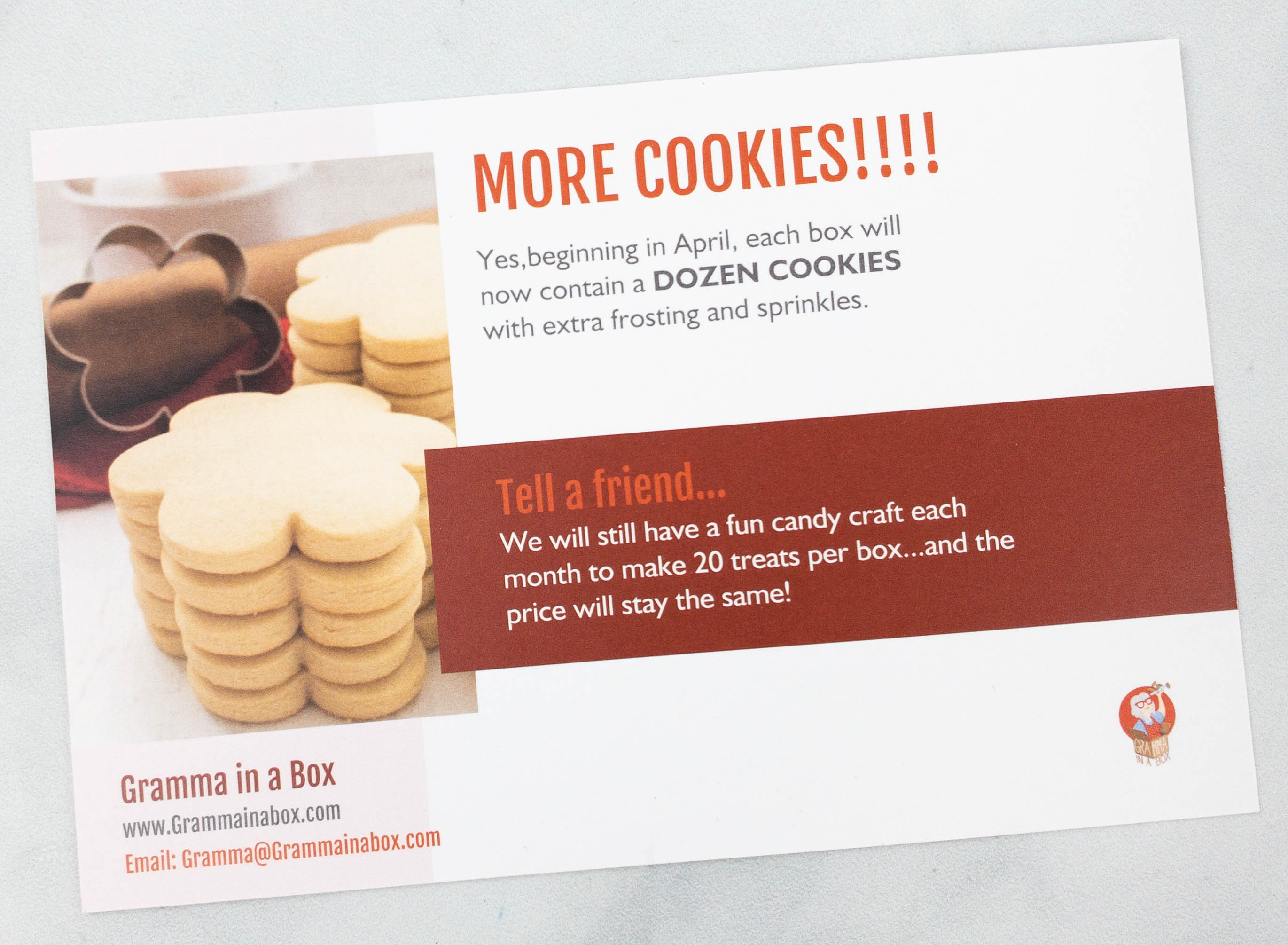 The back of the card informs us about the changes starting in the April box!
More cookies!!!!

Yes, beginning in April, each box will now contain a dozen cookies with extra frosting and sprinkles.
We also received a message from Gramma Terry! This month's theme is St. Patrick's Day Treats.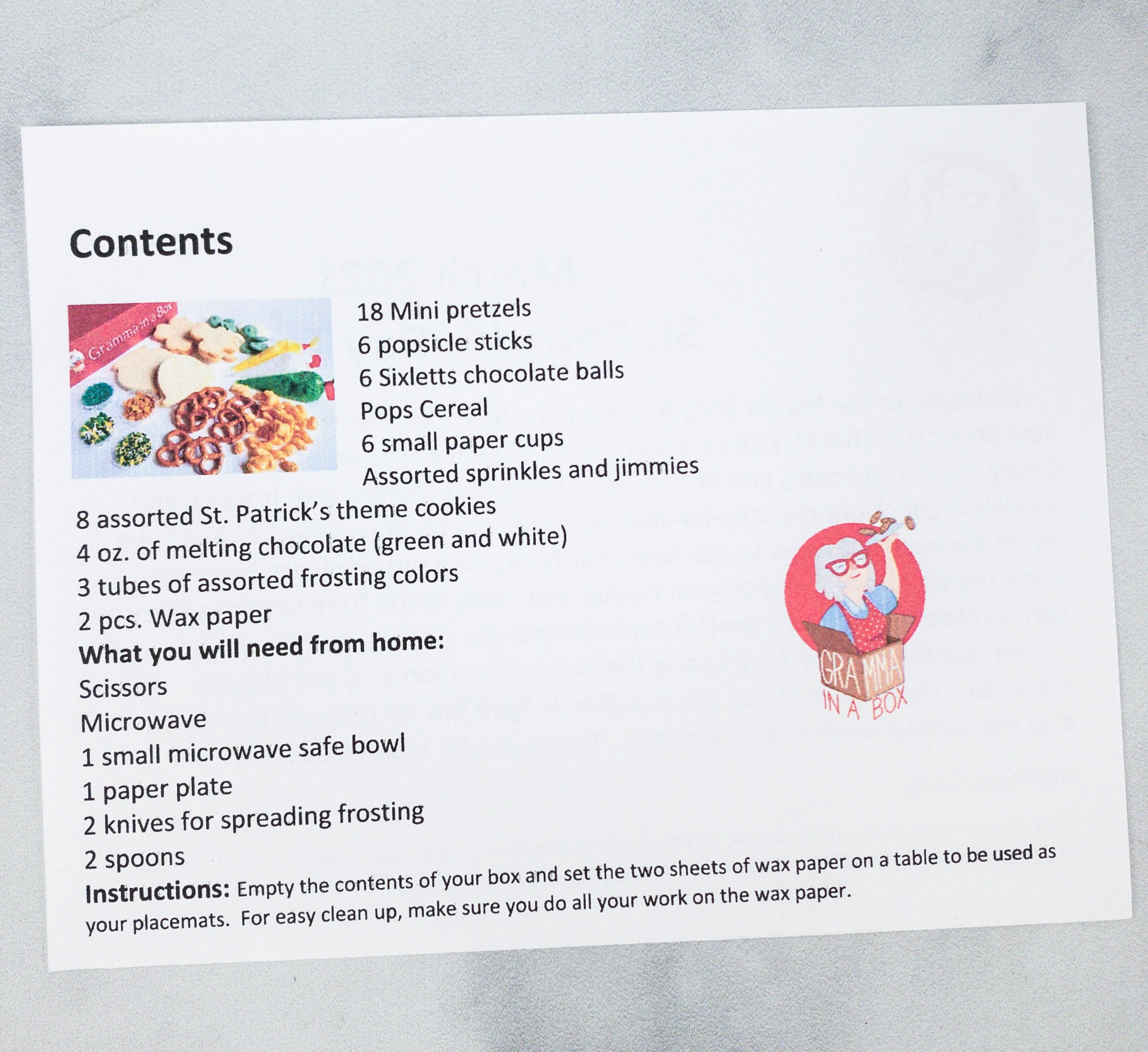 Featured at the back is the list of all the items included inside the box. They also provided a list of items you'll need from home.
Every month, 3 projects are included in the box. This month, the projects are St. Patrick's Day Cookies, Crispy Pot O' Gold Cups, and Shamrock Pretzel Pops.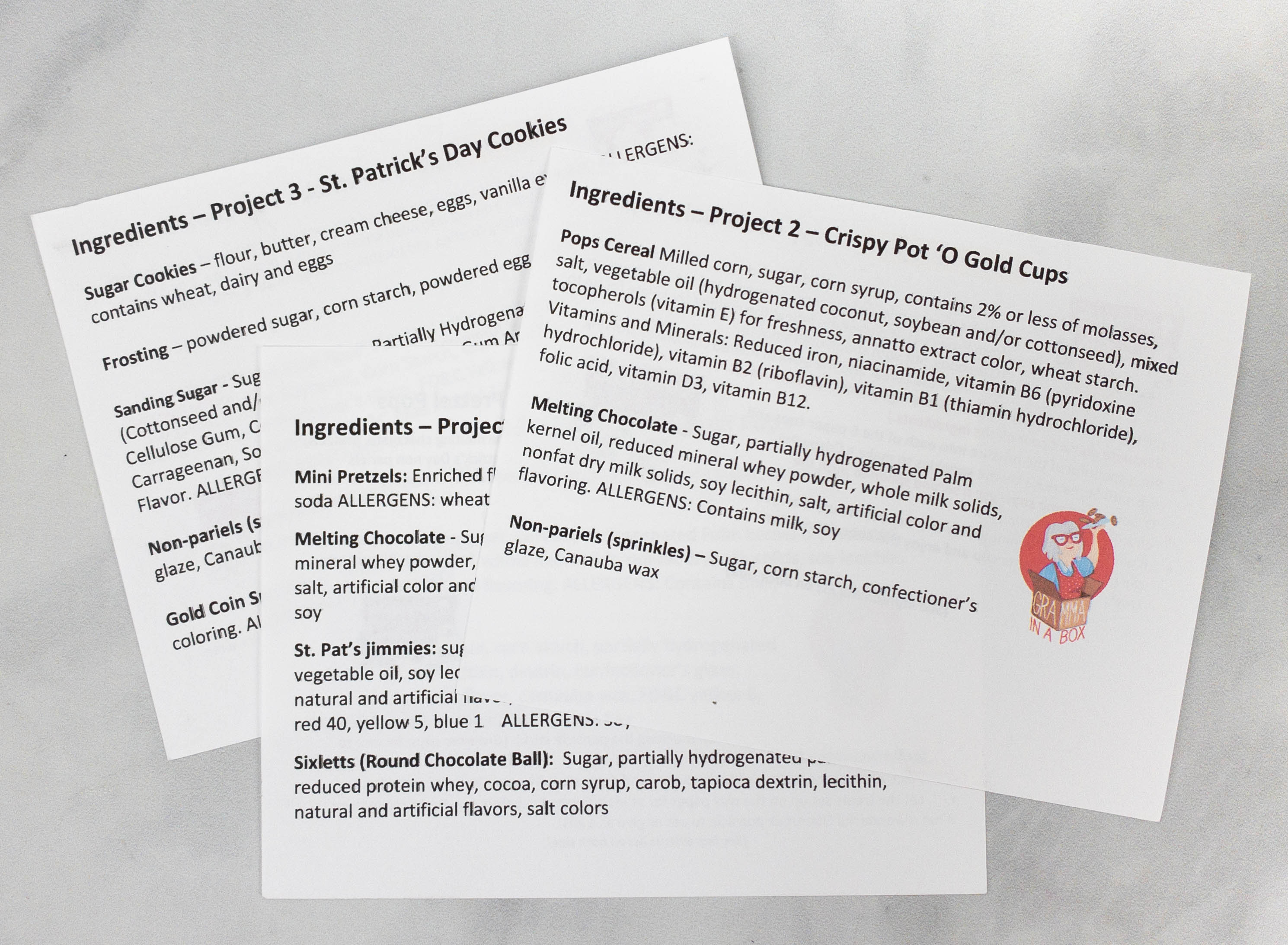 The other side of the card features the list of all the ingredients for each recipe.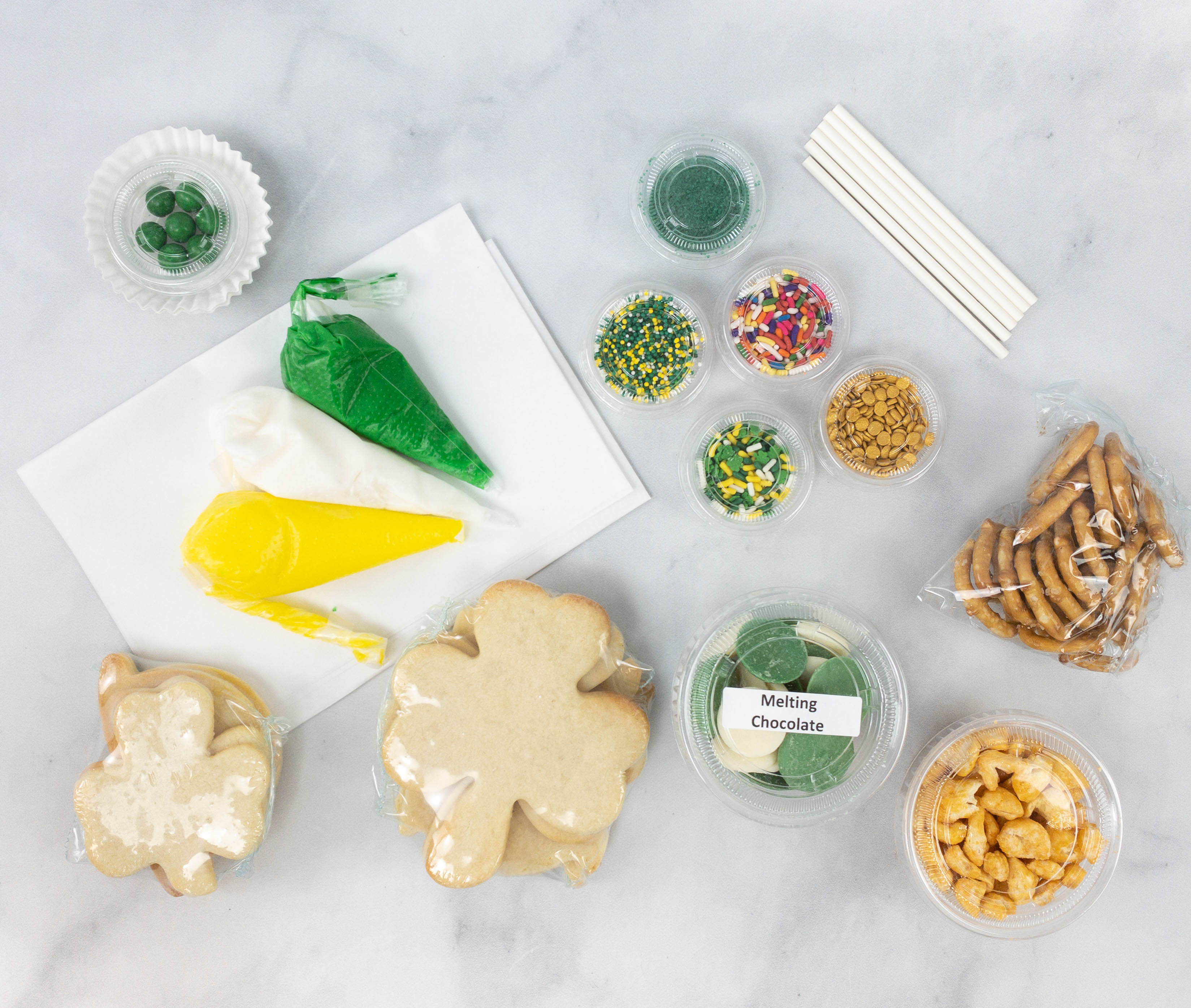 My kids are excited to make the treats!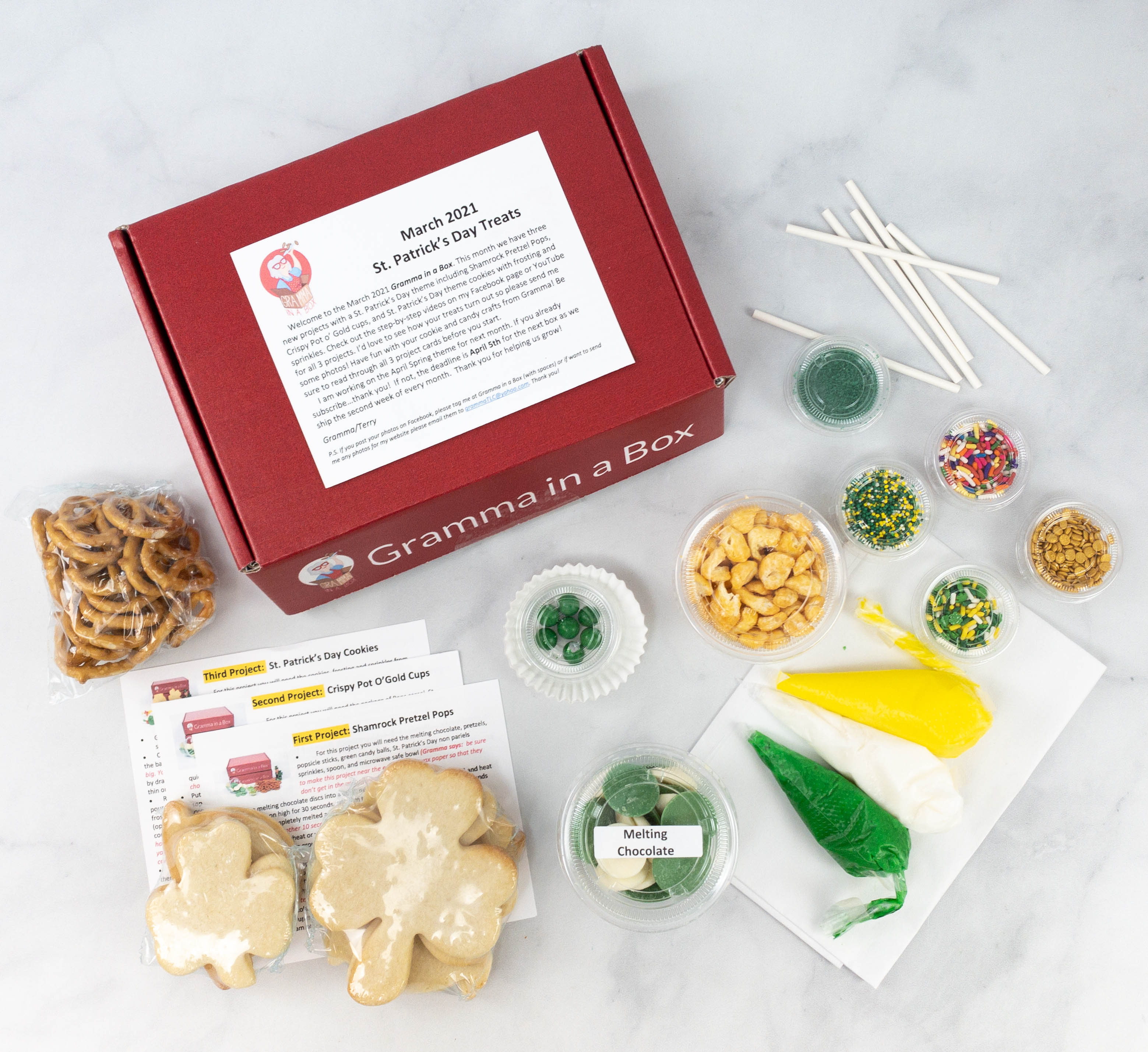 Everything in the March 2021 box!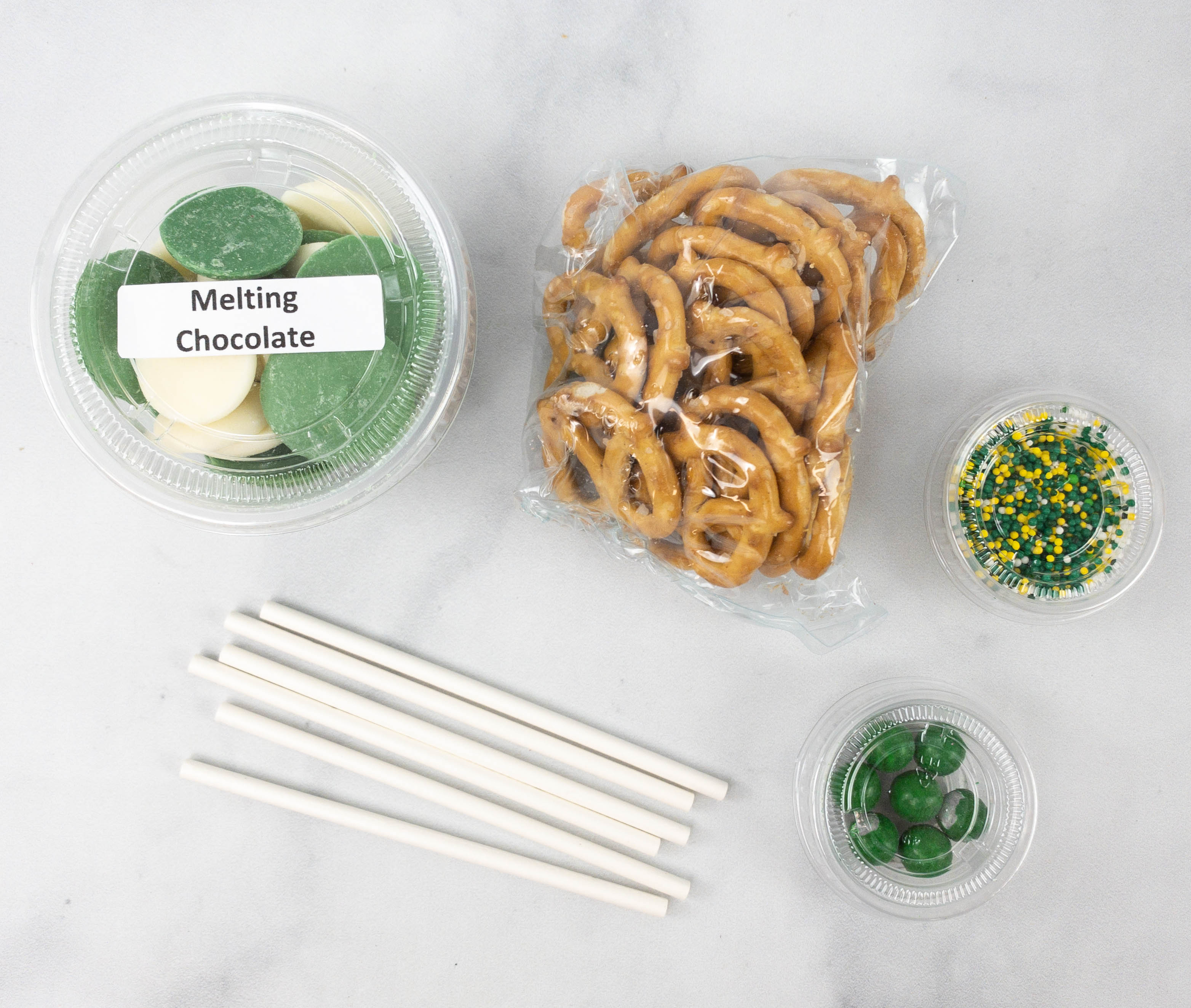 First Project: Shamrock Pretzel Pops. For this first project, the box provided mini pretzels, melting chocolate, St. Pat's jammies, and Sixlettes chocolate balls.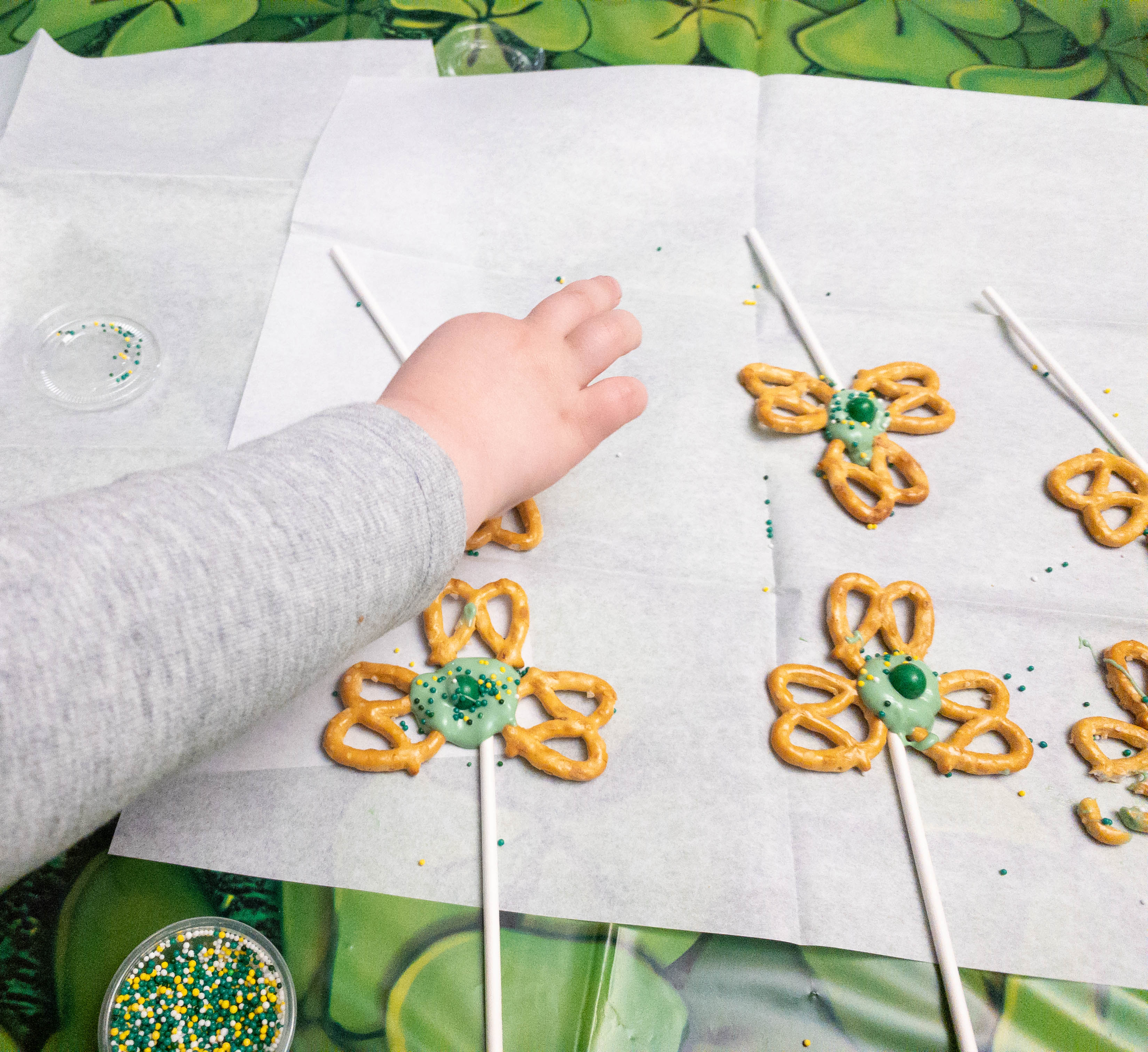 First, I helped the kids in melting the chocolates in a microwave-safe container in 30-second intervals, mixing in between to make sure it is evenly melted. Then, my kids placed 3 pretzels in a baking paper with a popsicle stick in the middle along with a green candy ball. Once they're in place, it's time to put everything together!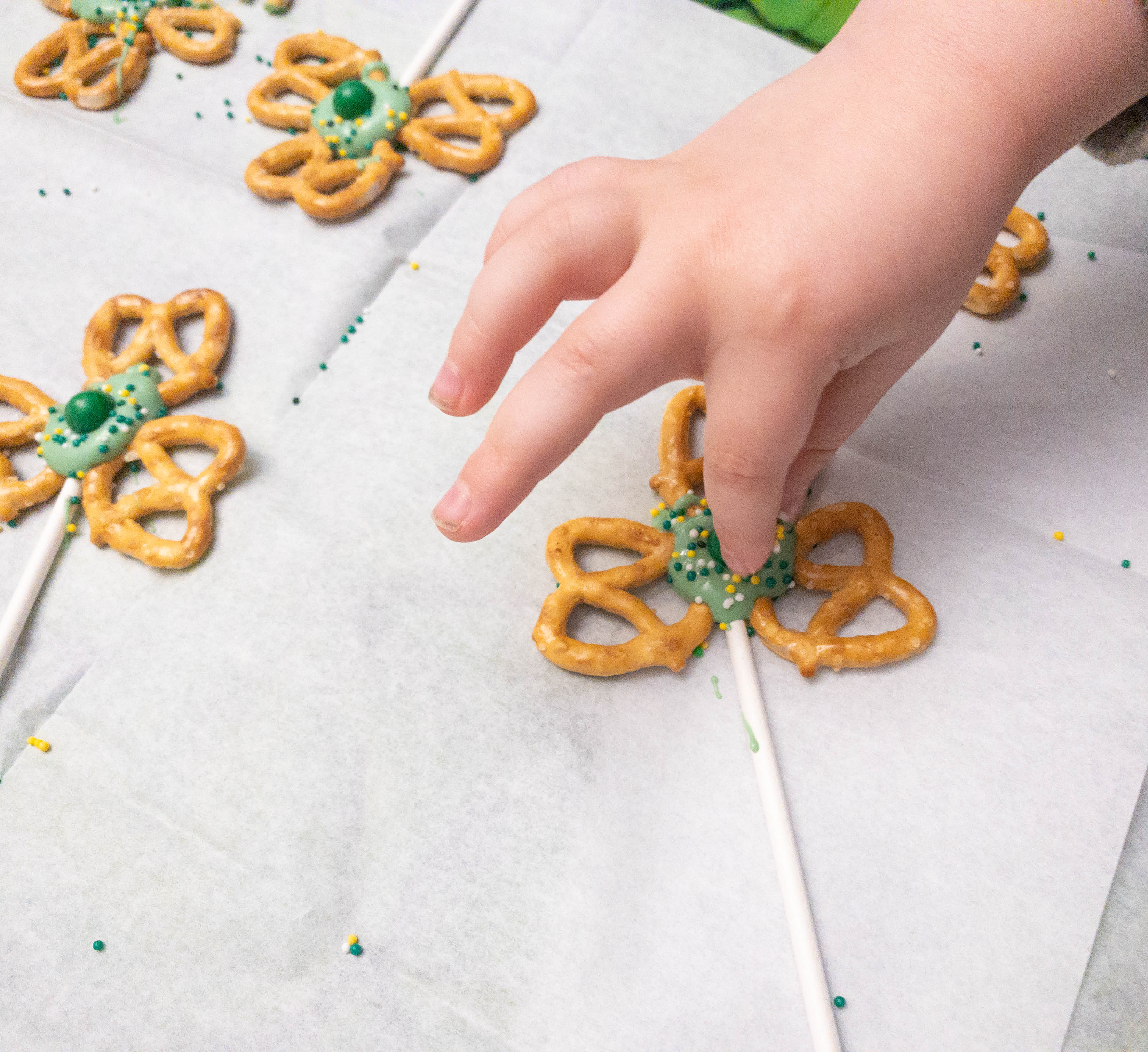 On the double loop side of the pretzel, hold it and dip the opposite side to the melted chocolate and use that as a glue to hold everything together. Arrange them in a shamrock pattern and make sure that the dipped parts are touching the popsicle stick the place the green chocolate ball in the center.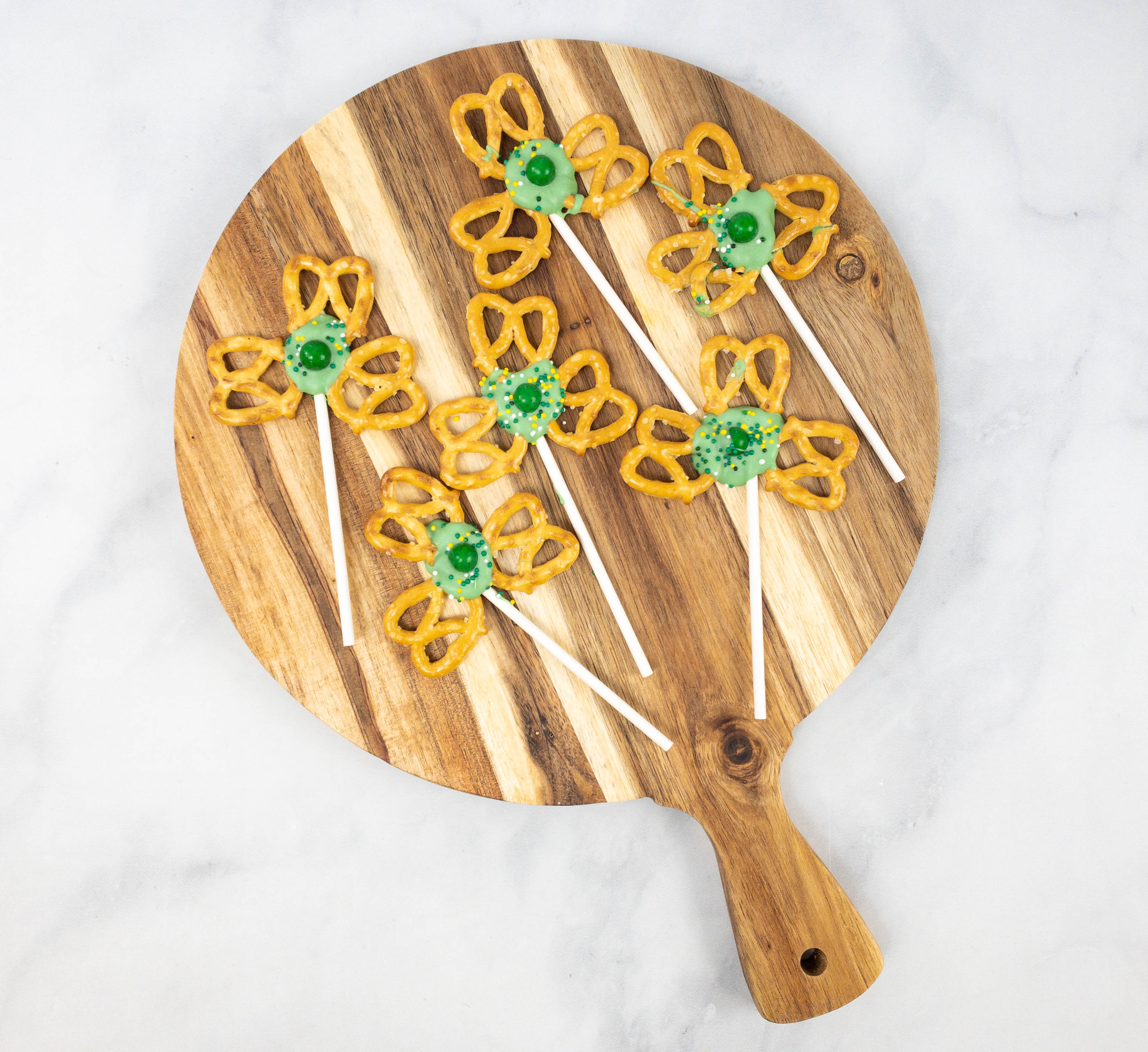 Now, you can decorate them with your sprinkle of choice!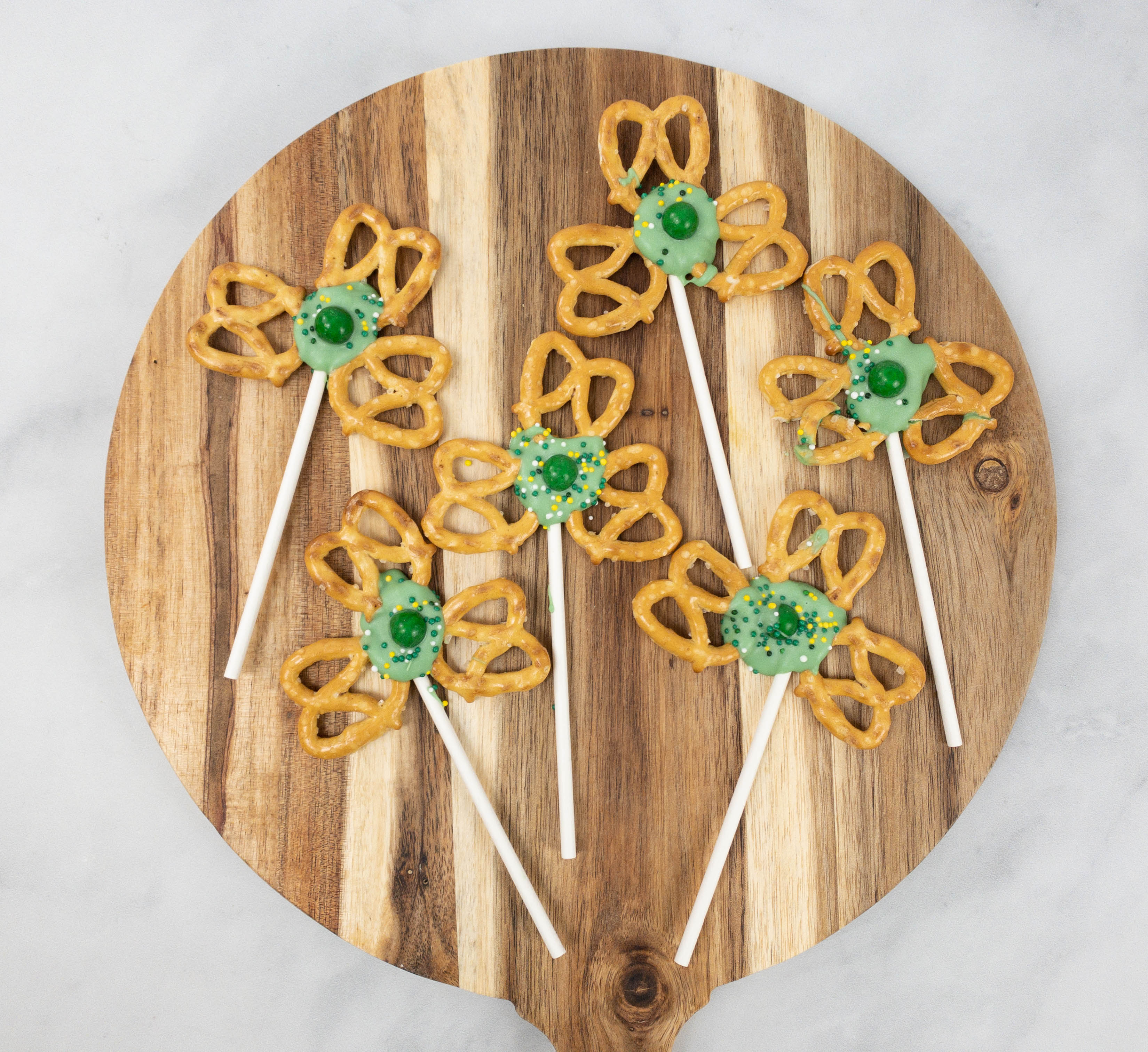 These shamrock pretzel pops turned out great and they were quite fun and easy to make!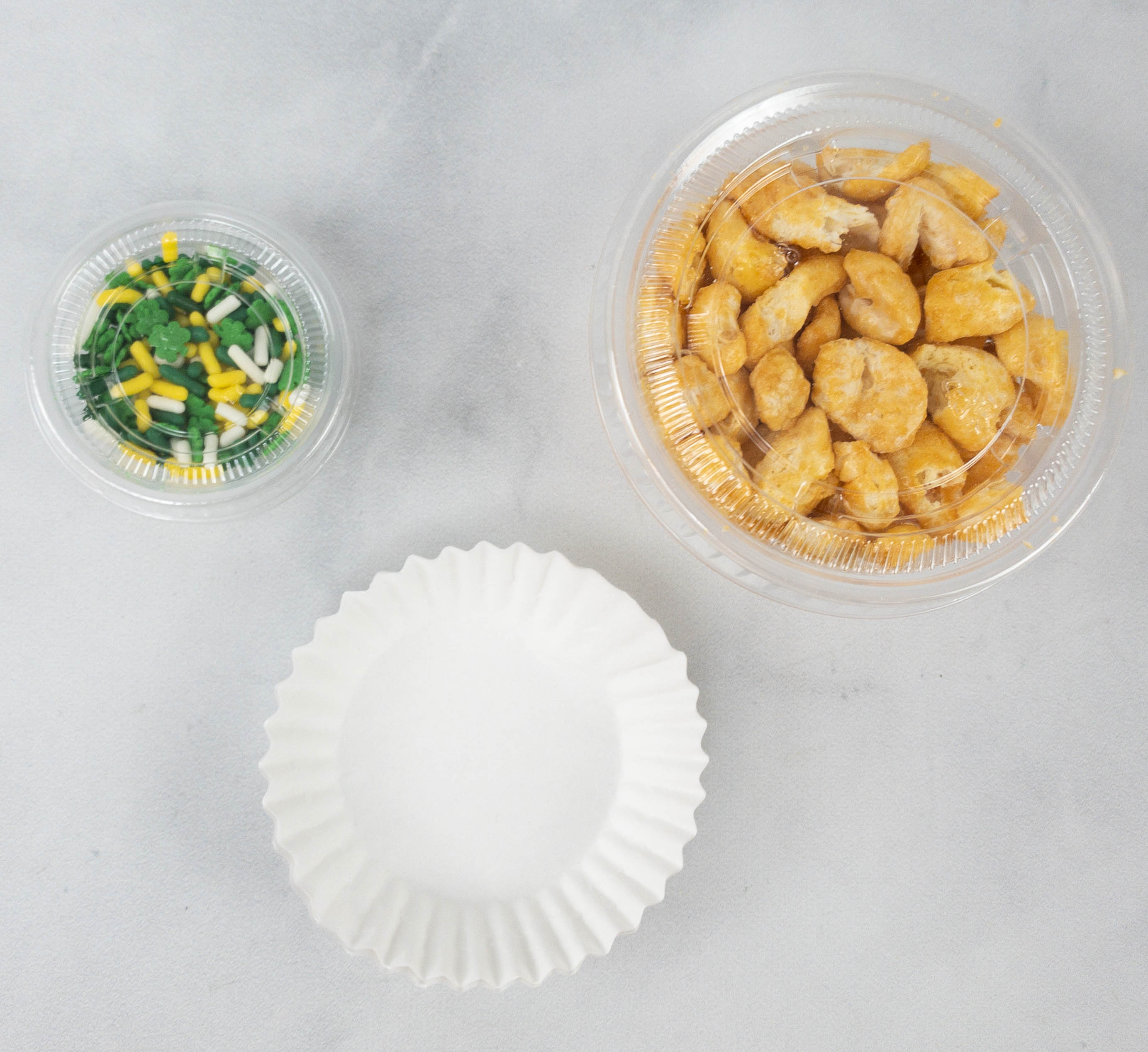 Second Project: Crispy Pot O'Gold Cups. The second project is about making an edible pot of gold! In this project, my kids used the melting chocolate, pop cereals, and sprinkles. They also used some cupcake liners.
My kids mixed the cereals with the remaining melted chocolate.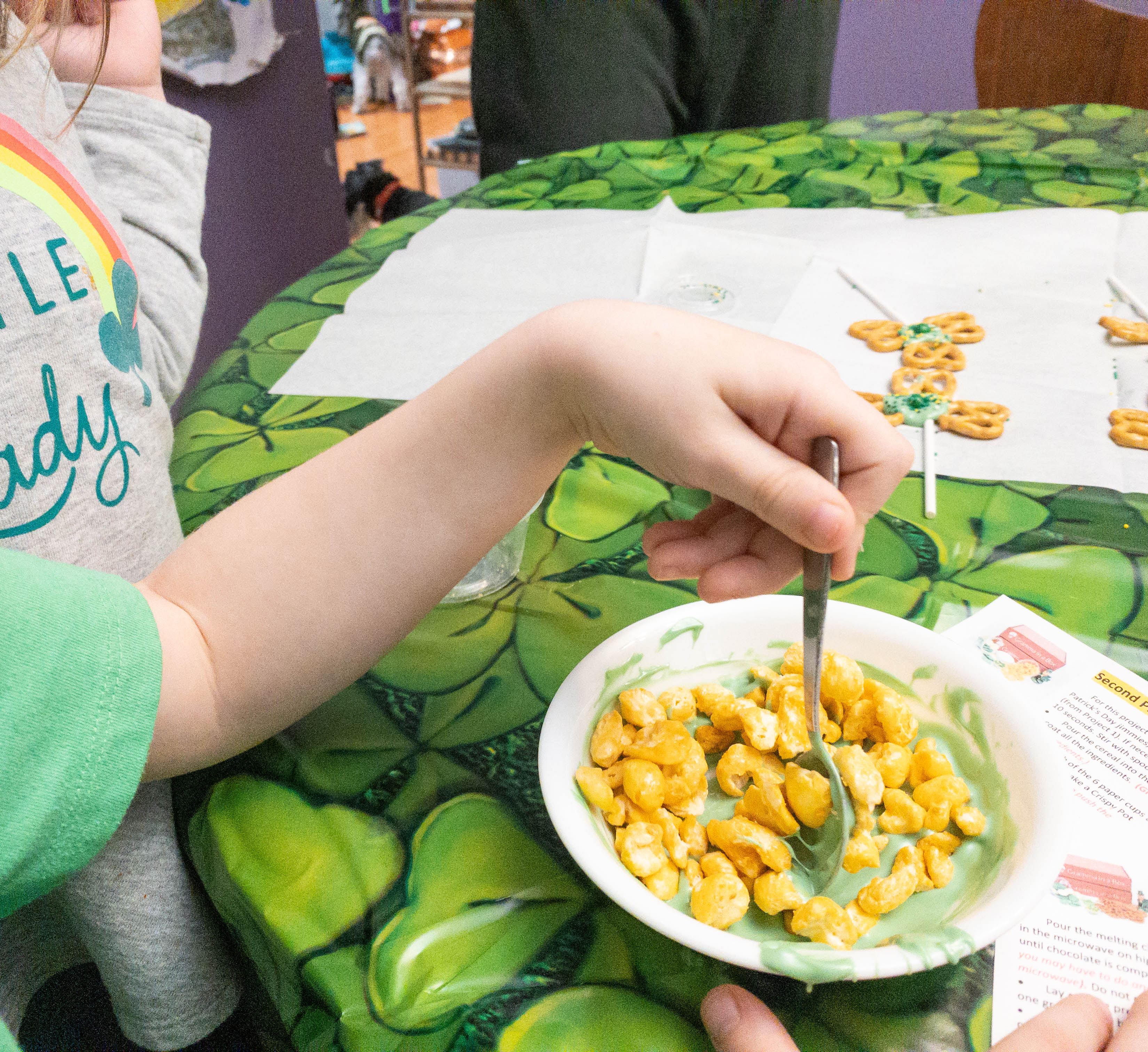 My son made sure to mix everything thoroughly so that each piece of "gold" is covered with the chocolate. Once that's done, it's time to scoop them up and transfer serving size amounts into a cupcake liner cup.
For the finishing touch, my daughter added some sprinkles!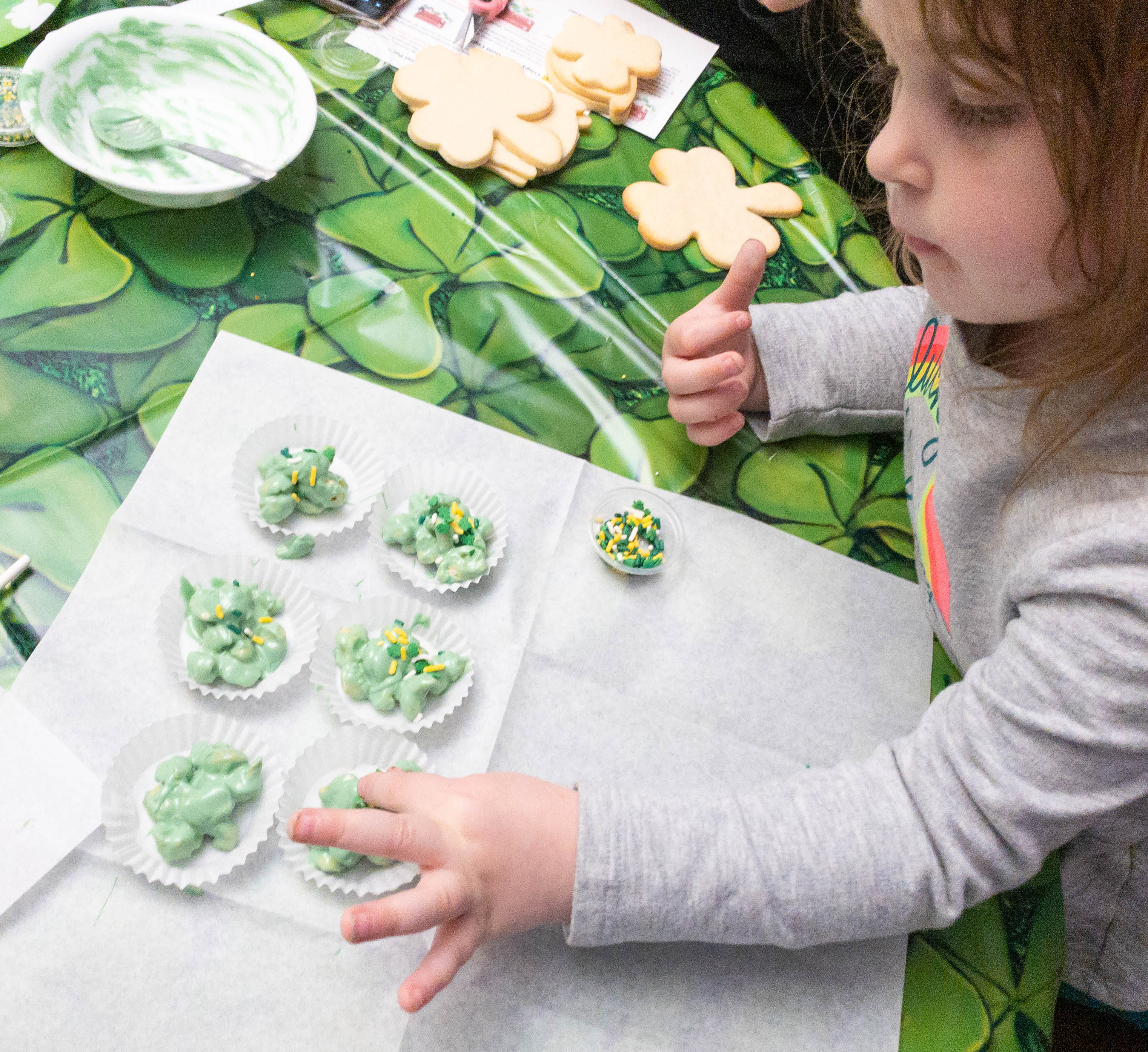 Apply the sprinkles while the chocolate is still warm so that they will stick to the whole chunk!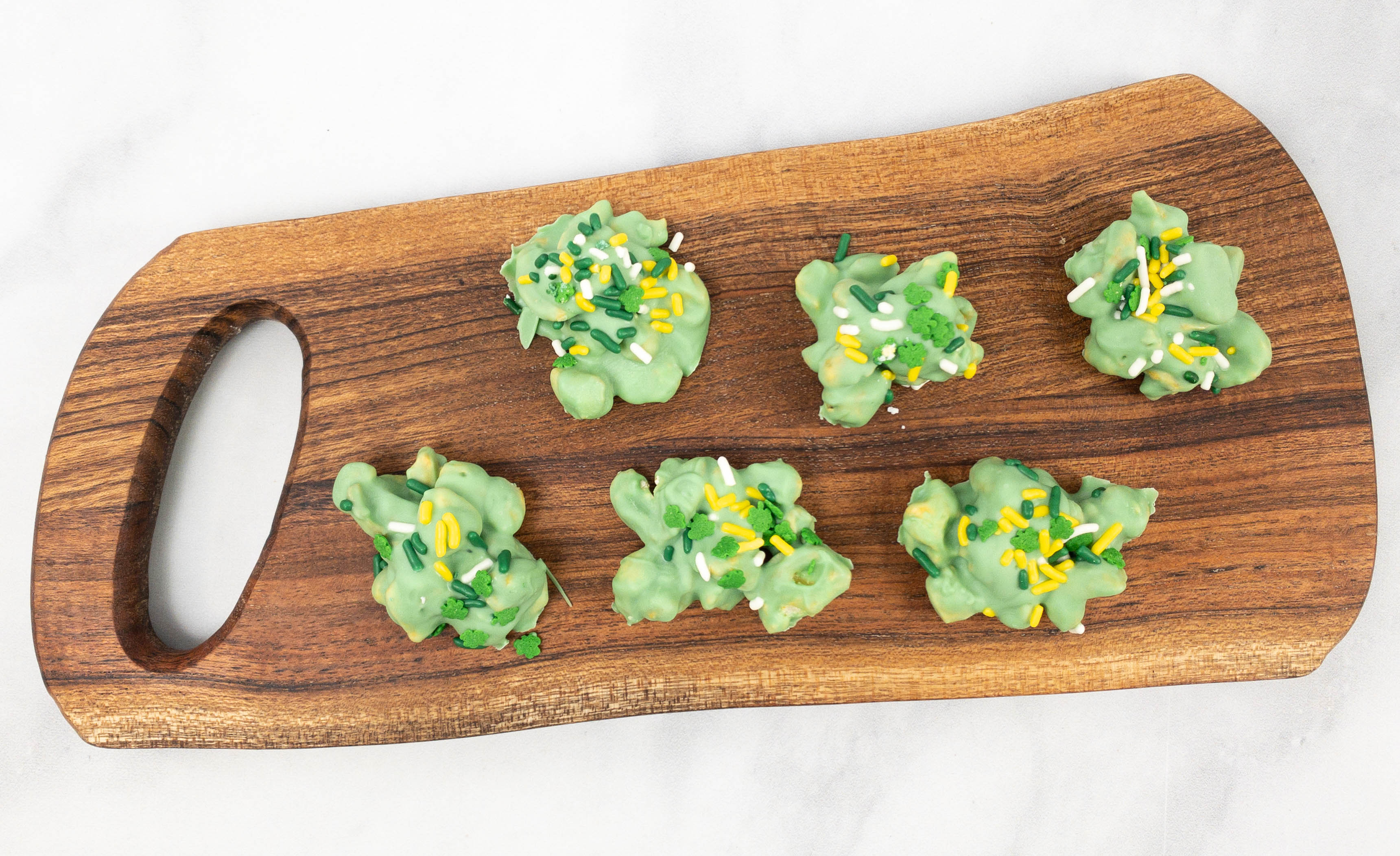 Once that's done, let them cool for a bit and they're now ready to serve.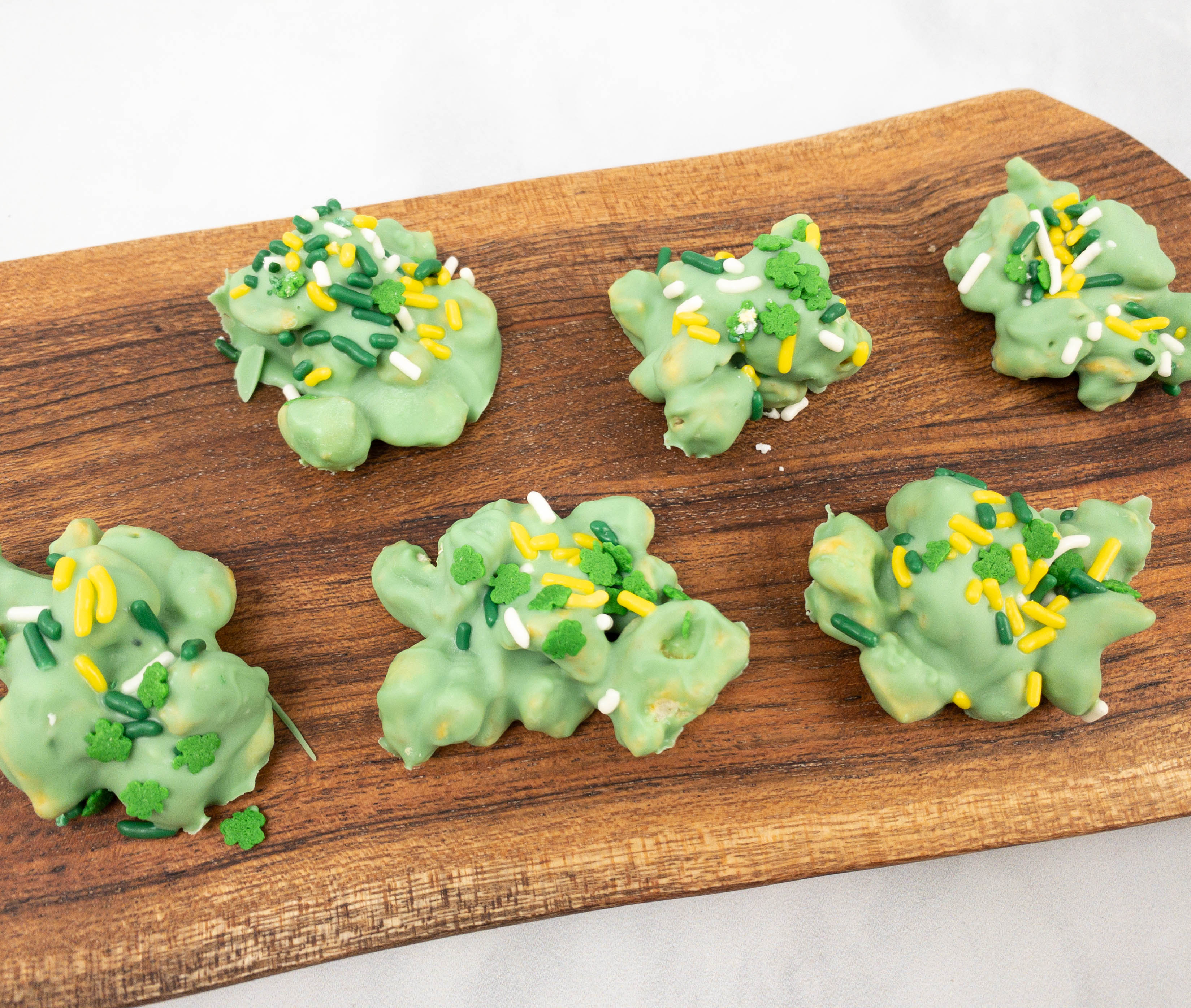 These bite-sized treats are so yummy! The sweetness of the chocolate is complemented by the crunchy texture of the cereals and sprinkles.
Third Project: St. Patrick's Day Cookies. Lastly, here's my kids' most awaited part: designing their own cookies! The box included St. Patrick's Day themed cookies for this month, with green, yellow, and white frosting along with different kinds of sprinkles!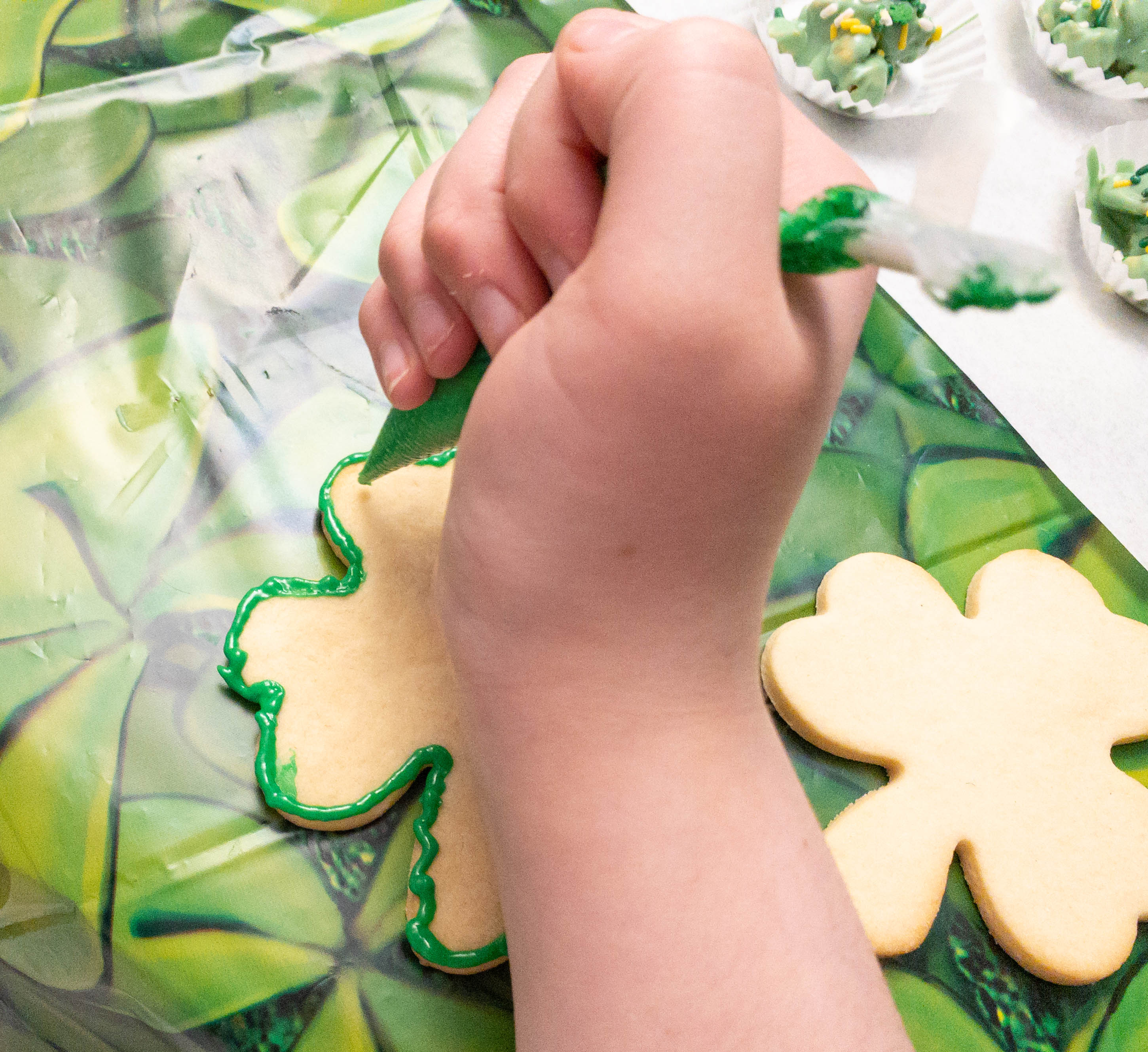 The first step is to put your preferred icing on the cookie piece.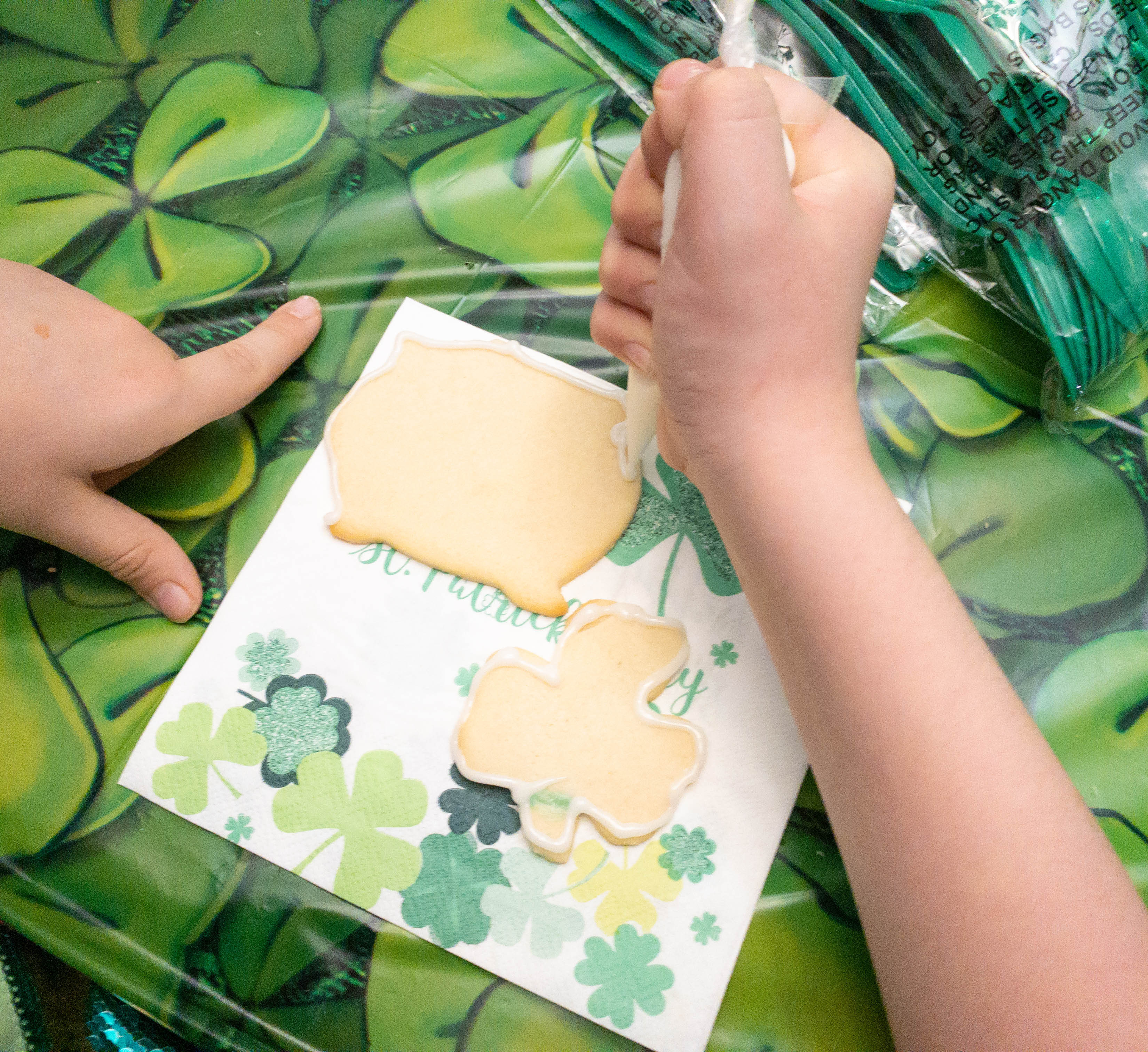 My kids started with the edges first!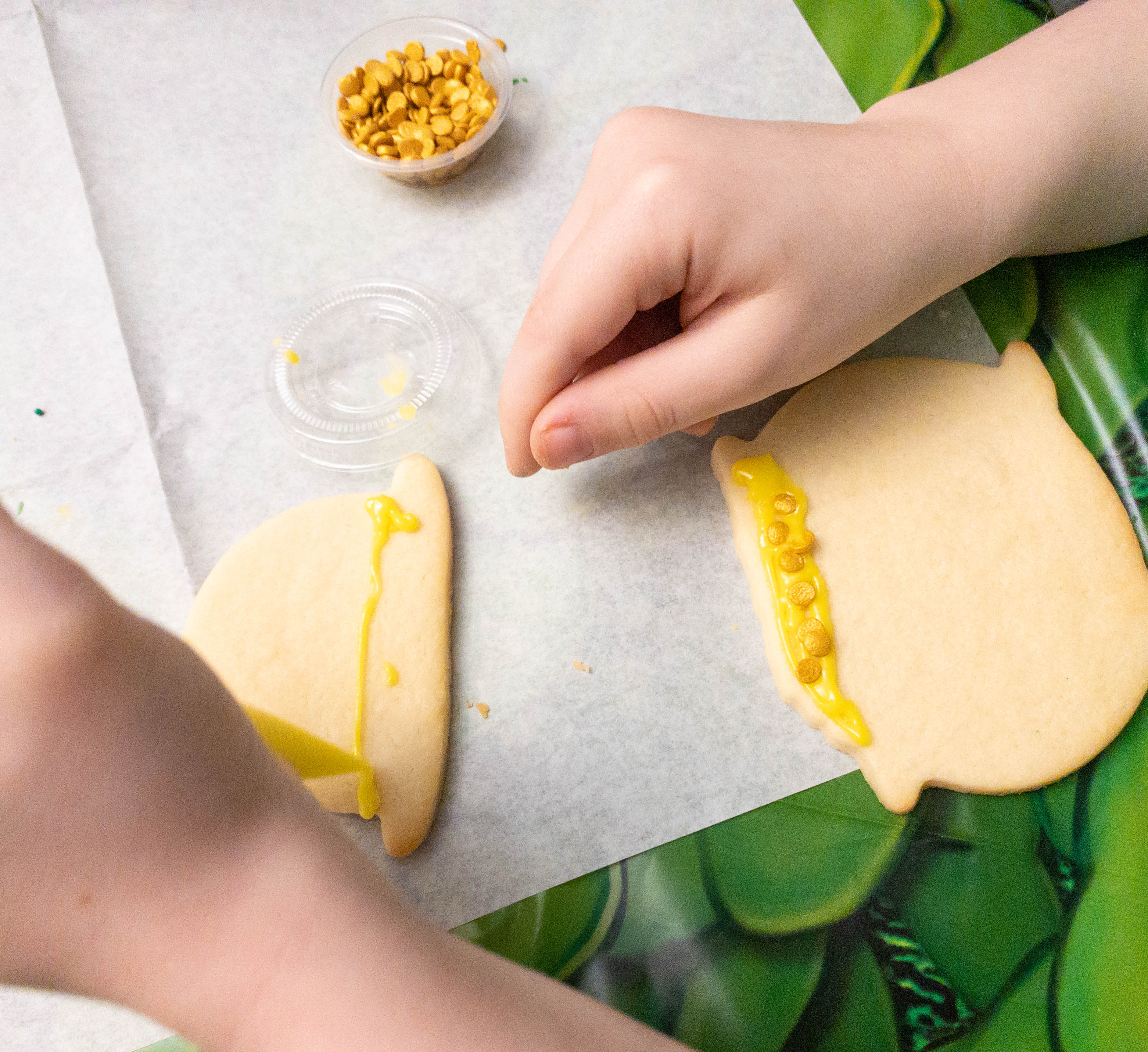 Some cookies are even shaped like a pot, so my kids used the yellow frosting for those.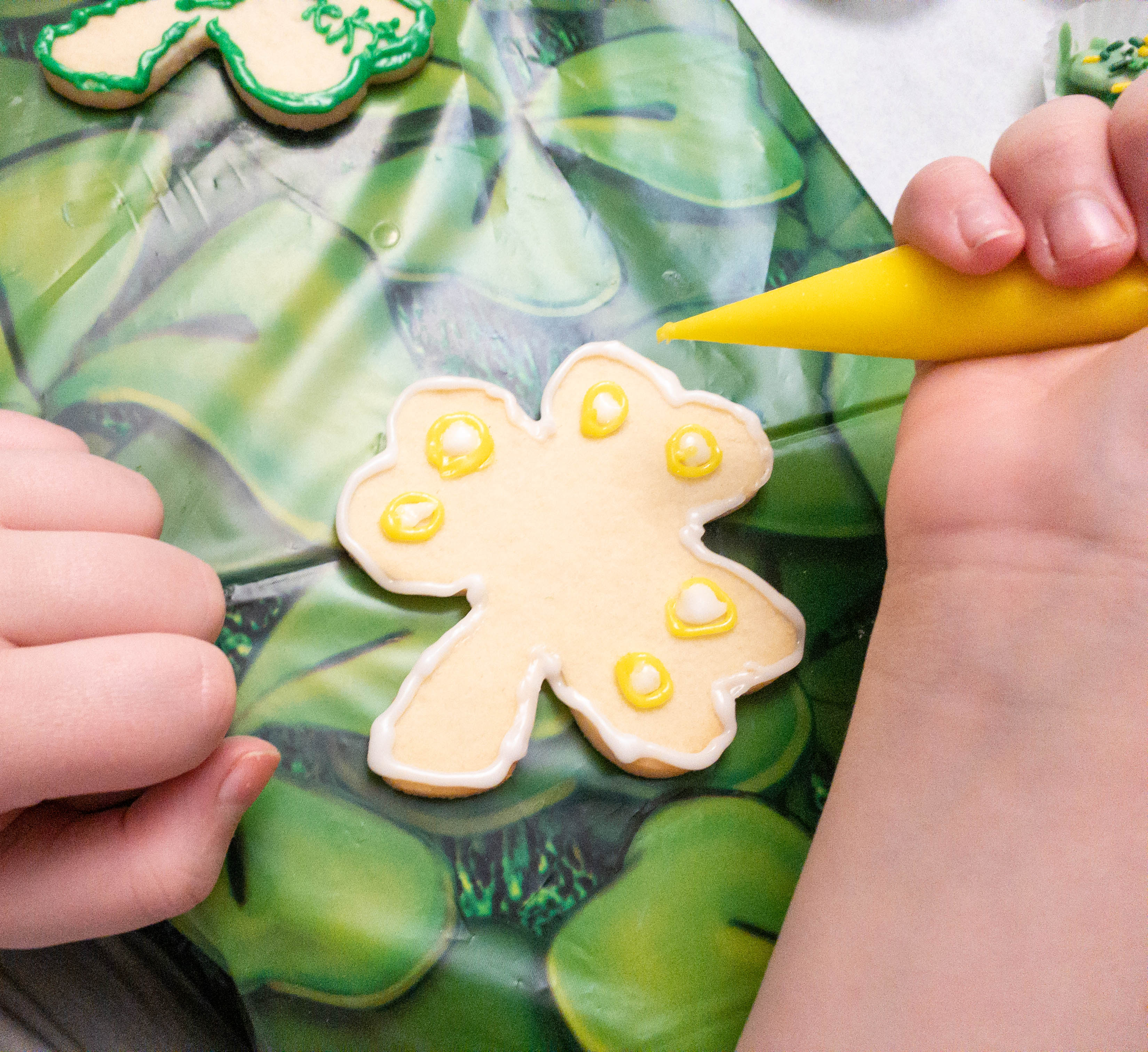 The frosting can be mixed and matched as well!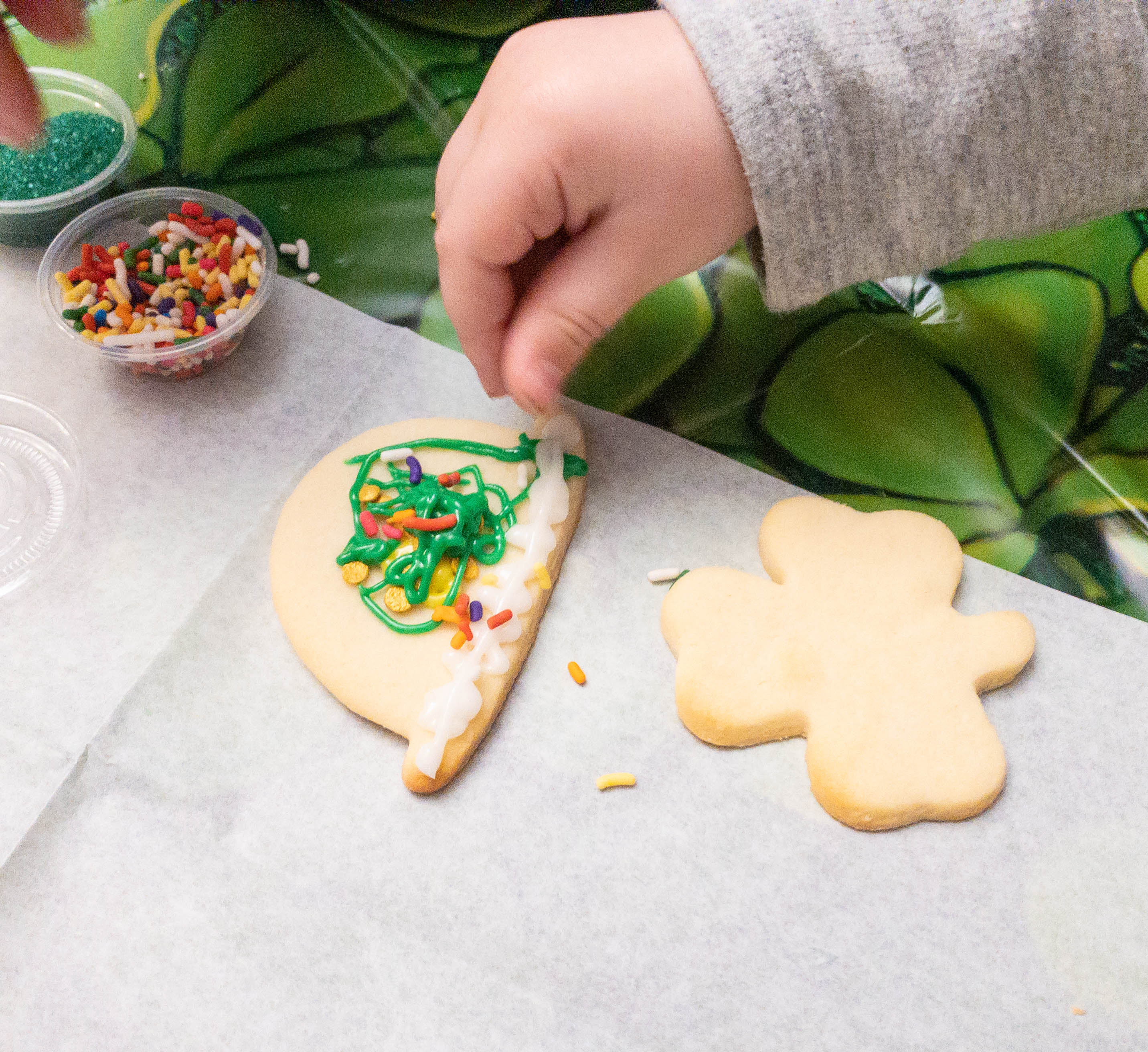 Once you're happy with your frosting design, it's time to add some sprinkles!
You can opt to stay with pure icing and just decorate it however you want to.
Or you could also run wild and put everything in it!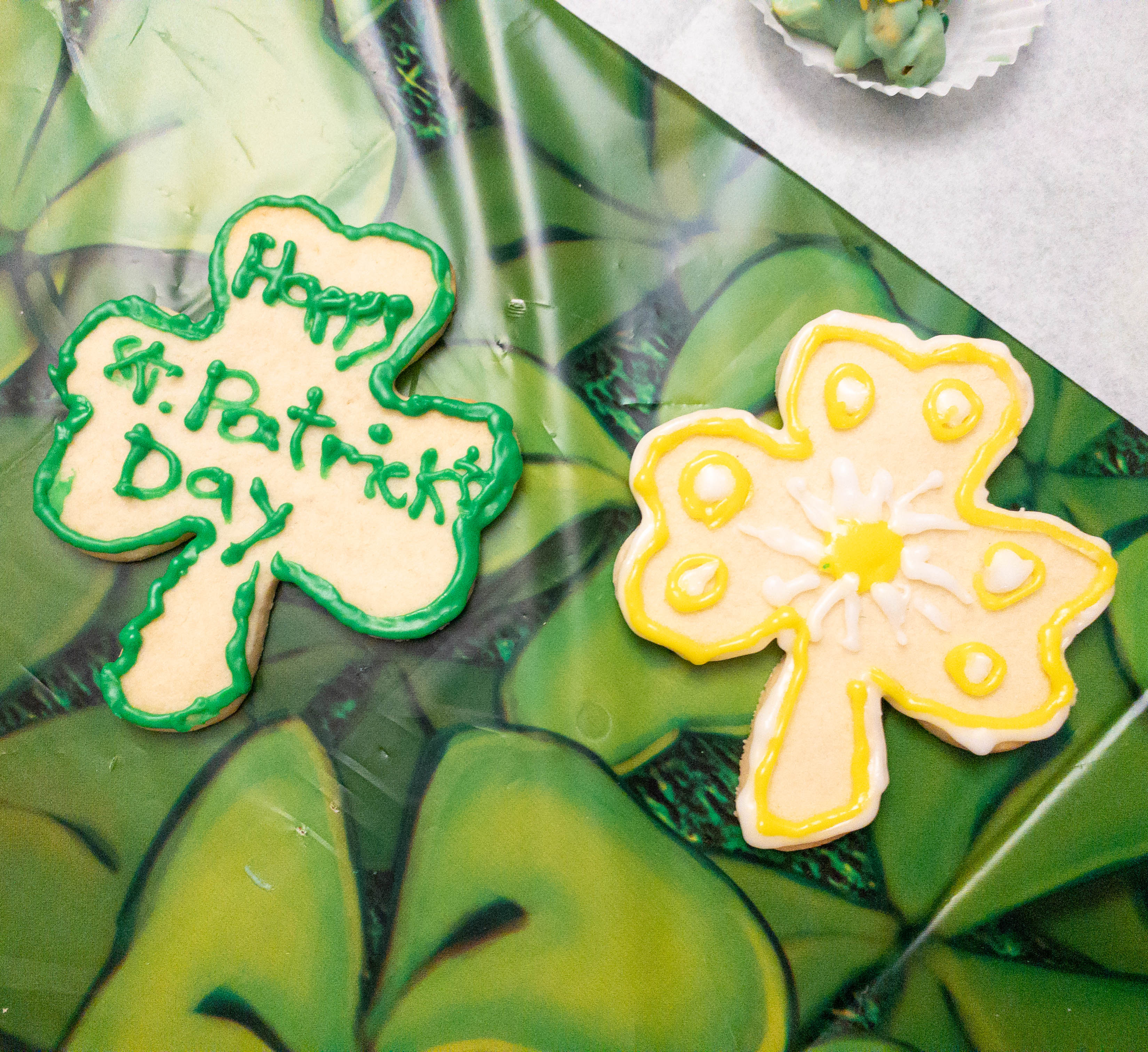 Here, my kids decided to place a Happy St. Patrick's Day greeting in one cookie and decorate the other like a flower.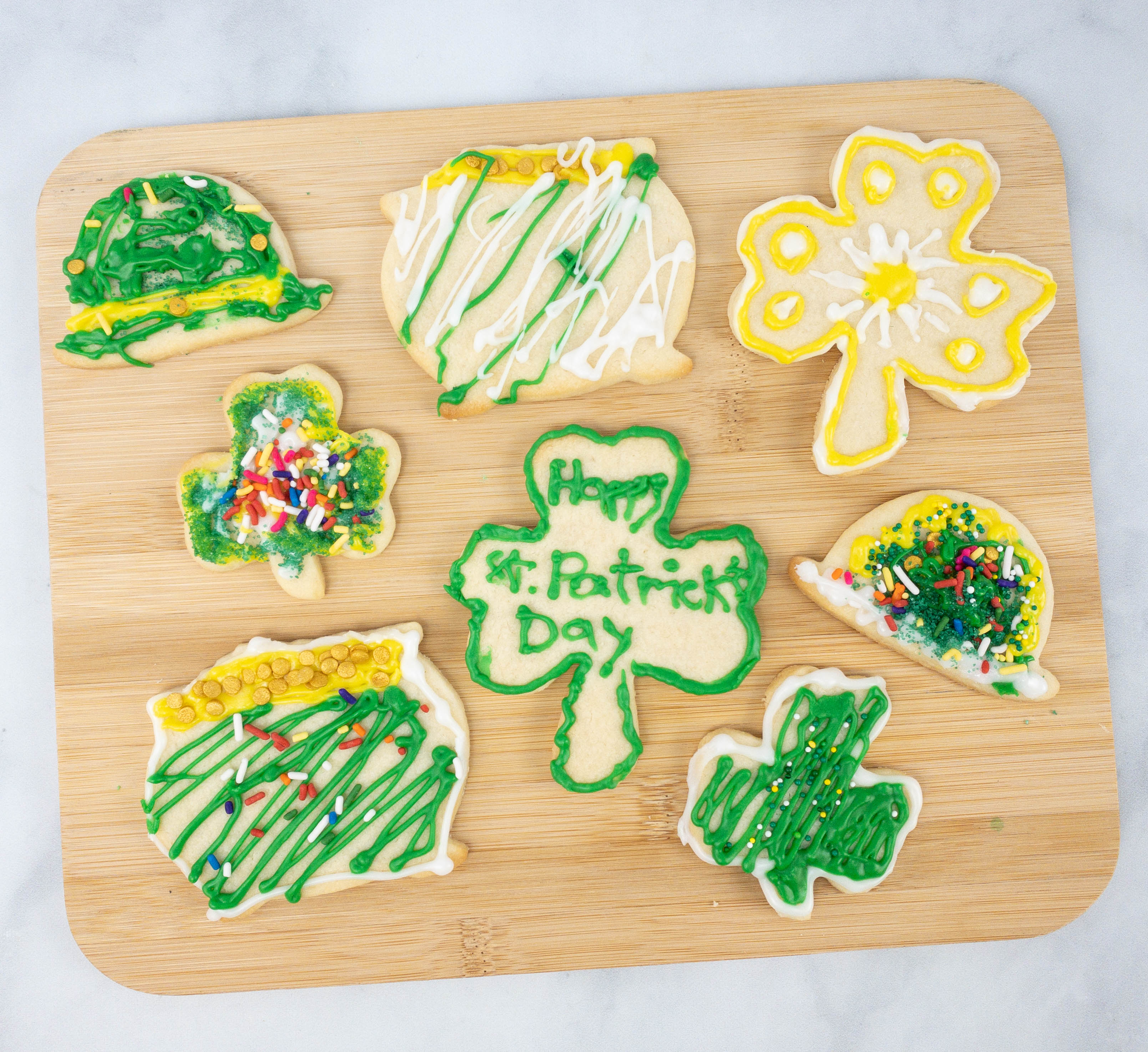 Here are the finished cookies! I love seeing my kids unleash their creativity whenever they're designing their own cookies.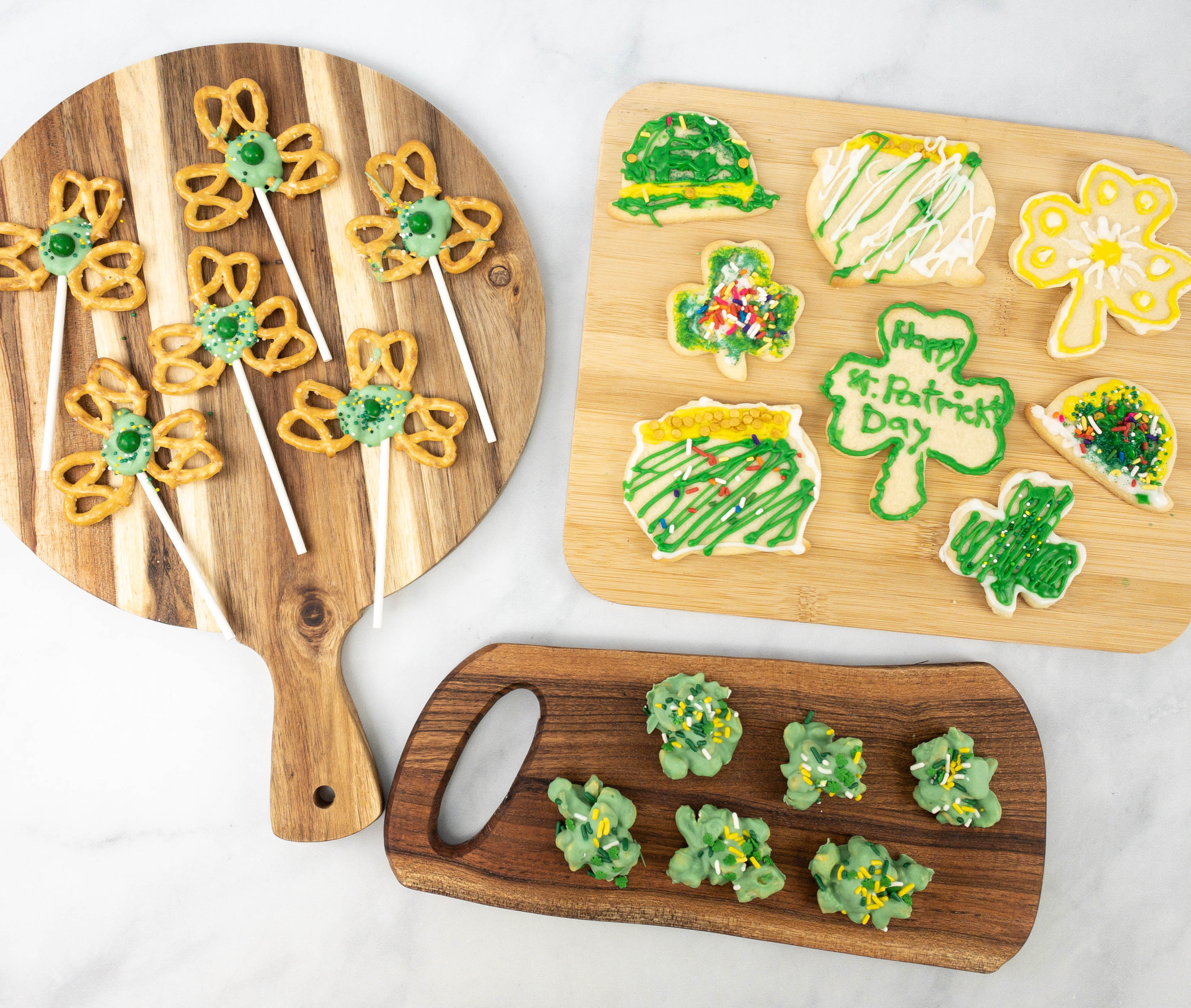 Here's a final look at all the edible projects my kids made this month!
My kids enjoyed the St. Patrick's Day themed treats in this month's Gramma In A Box! They send most of the materials needed so it's really less of a hassle and the instructions are super easy to follow. Everything turned out great, and my kids' favorite among the 3 edible crafts is designing the cookies. Some of the cookies are shaped like shamrocks and leprechaun hats, and there's even one that resembles a pot of gold! After making them, my kids also had fun sharing and munching on the treats. It was a great way of celebrating the holiday. There are exciting changes in next month's box and my kids and I are looking forward to it as well!
What do you think about Gramma In A Box?
Visit Gramma in a Box to subscribe or find out more!