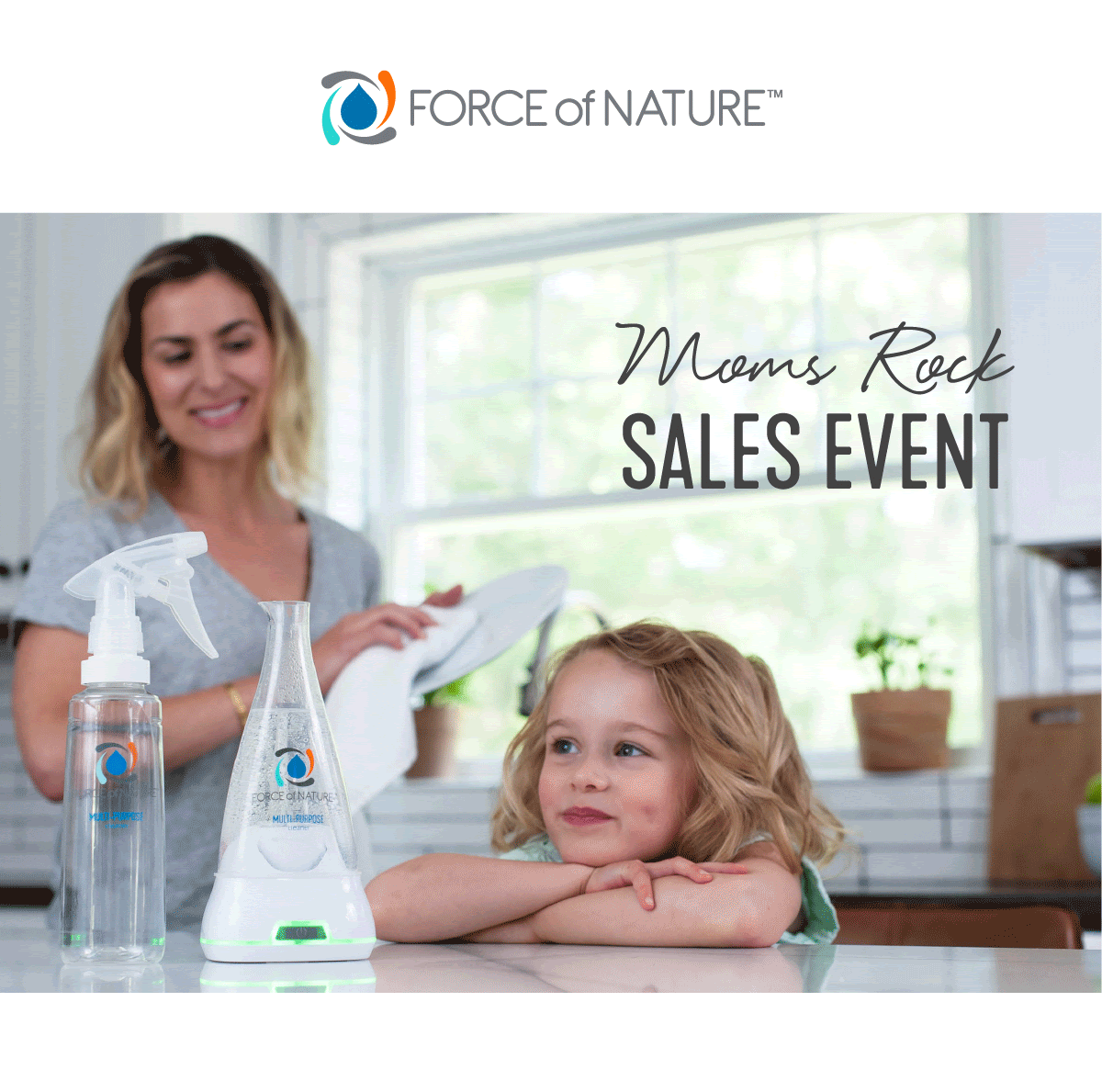 Force of Nature innovative cleaning system has an sparkling Mother's Day Deal!
We're honored to help keep moms, sisters, aunts, grandmothers, friends, and their most important little people safe from germs all year round with Force of Nature, our mighty 3-in-1 cleaner, deodorizer and disinfectant that's EPA approved for use against Covid-19*.
Save 30% on Force of Nature Starter Kit + FREE Shipping! Use this link and the coupon code MOTHERSDAY30 at checkout.  This coupon can be used for as many Starter Kits as you buy up to 3 – great Mother's Day gift!
OR Get 40% on Force of Nature Extra Value Bundle OR Year of Capsules Bundle + FREE Shipping! Use this link and the coupon code MOTHERSDAY40 at checkout.
Deals end 4/30.
Get up to 40% off at Force of Nature!
Check out our review to find out more about the Force of Nature cleaning system! Yes it DOES effectively deodorize the diaper pail! 🙌
About Force of Nature:
Force of Nature is an appliance that turns tap water, plus a capsule of salt, water, and vinegar into a cleaner, deodorizer and disinfectant as effective as bleach.

Say hello to the multi-purpose cleaner that kills 99.9% of germs with no toxic chemicals.

It powers through grease, grime, sticky messes, soap scum, odors, and germs as effectively as bleach with no toxic fumes or residues. It cleans virtually any surface – sealed stone, glass, stainless steel, wood, laminate, porcelain, composite, grout, tile, plastic & rubber.
About the Force of Nature Starter Kit:
Our Starter Kit sets you up with everything you need to make the family-friendly, multi-purpose cleaner that replaces kitchen, bath, glass cleaners, disinfectants & deodorizers. What you get:

5 Activator Capsules, enough to make 5 bottles of cleaner
Electrolyzer
Power Cord
12 oz Re-Usable Spray Bottle
Quick Start Guide
User Manual

Each Force of Nature Capsule makes one 12 ounce bottle that lasts 2 weeks.  Light, clean scent and no added fragrances. We promise you'll love it! 100% Happiness Guaranteed.
How does it work?
Force of Nature is a patent-pending appliance that uses electricity to change the chemical composition of salt, water and vinegar into a powerful cleaner & disinfectant from the industrial space called electrolyzed water. Electrolyzed water has no harmful ingredients, residues or fumes and contains just 2 gentle, yet potent ingredients:

• Hypochlorous acid – a disinfectant that's as effective as bleach. Hypochlorous acid is the same substance your white blood cells produce to fight infection, and it's commonly the active ingredient in wound, eye and veterinary care products because it's so gentle and effective. Hypochlorous acid is gentle enough to spray on the surfaces children come into contact with.:

• Sodium hydroxide – a detergent & grease-cutter without suds. Contains just 0.0000003% yet cleans as well as major brands that have up to 5%.
Here are the other products available:
Force of Nature Activator Capsules (25 Count) – $19.99 or $18.99 for subscribers
With so many different ways to use Force of Nature, our 25 count Activator Capsules will keep you armed and ready for any mess.

It works anywhere you need to eliminate germs, odors, grease, grime, sticky messes or soap scum. Use it to replace multiple cleaning products with just one that can save you up to 80% on every ounce vs typical natural cleaners.

Each capsule makes 12 ounces & is recyclable.
Visit Force of Nature to get this deal!
Find more goodies for mom in our Mother's Day gifts and deals roundup!