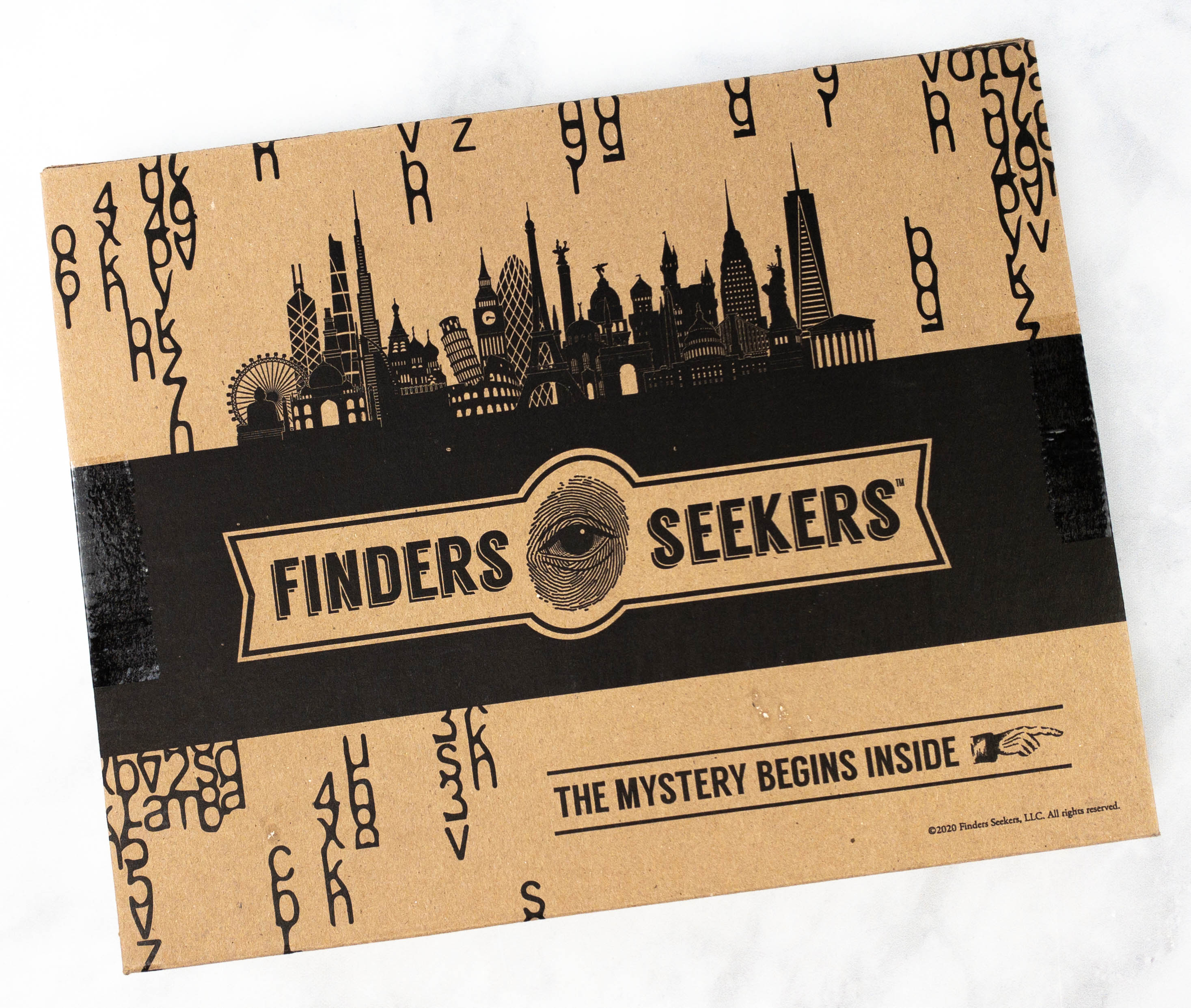 Finders Seekers is a monthly puzzle subscription box for anyone who loves puzzles, escape rooms, Sherlock Holmes, mysteries, or anything requiring a little brainpower. Finders Seekers features a new destination each month, so in addition to the puzzle/escape room experience, you get a mini travel experience, too, exploring a new city and its culture every month.
DEAL: Save $5 on your first box! Use this link and coupon code BRAINQUEST.
FYI – there are SPOILERS in this post!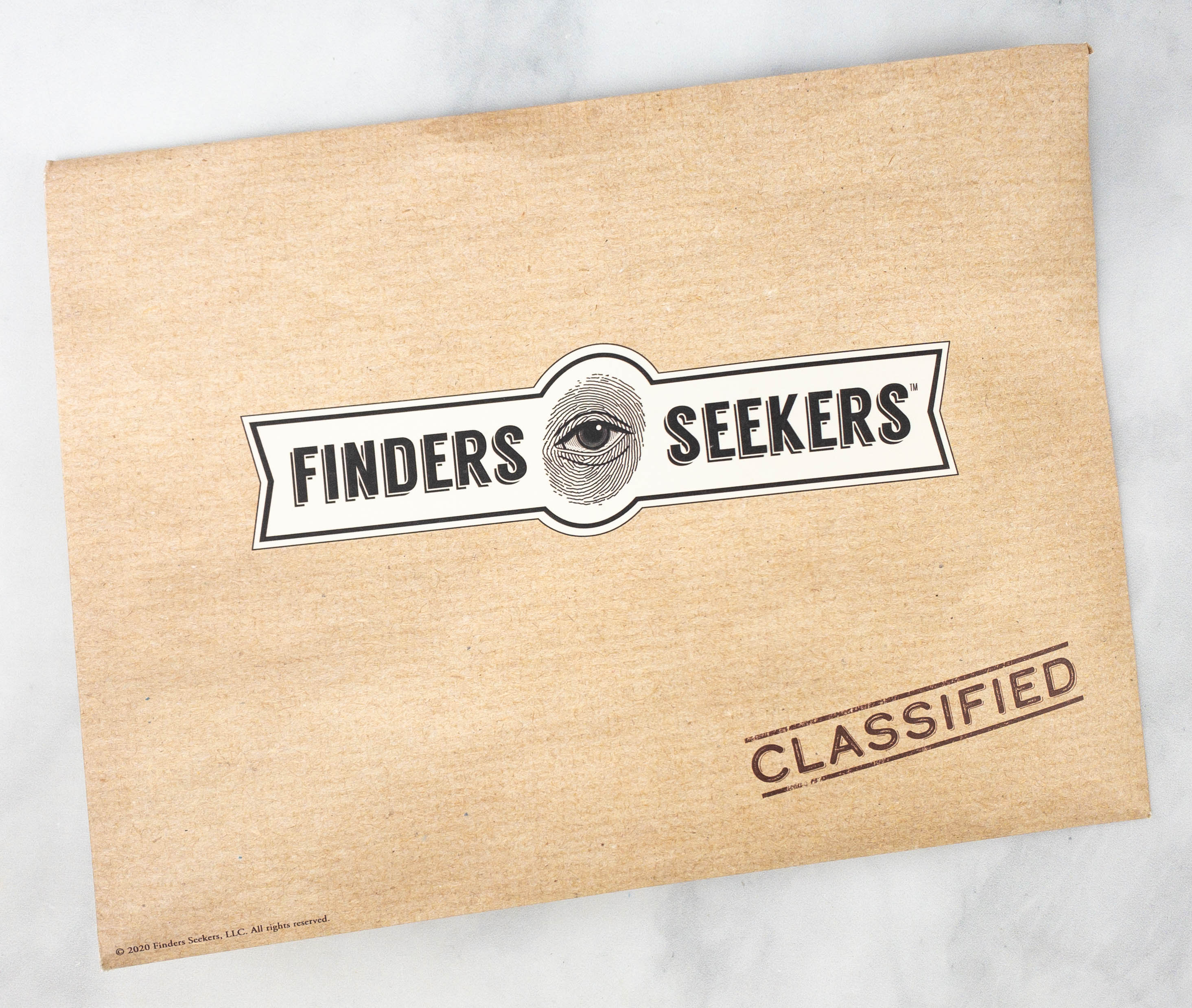 As a subscriber (limited numbers can join each month), you are invited to join the Society of Seekers, a group of like-minded puzzle friends who use their heads and a little bit of internet-search know-how to explore a city and solve a mystery each month. This month's destination is PERU!
Everything is packed in a string-tie envelope.
Everything in the box!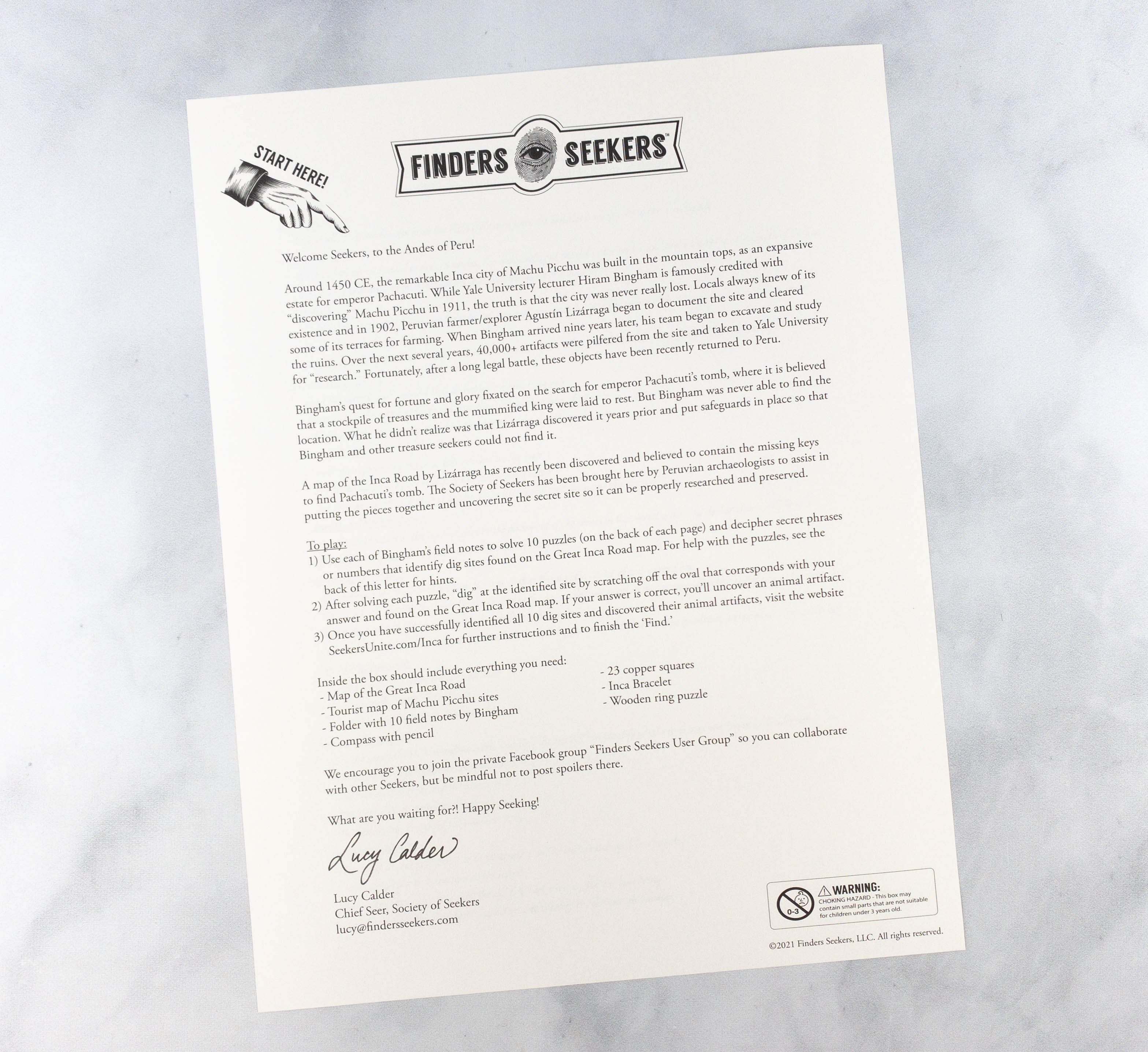 Included in the envelope is a welcome letter and checklist of every item that should be inside the package, plus all the clues needed to solve the mystery.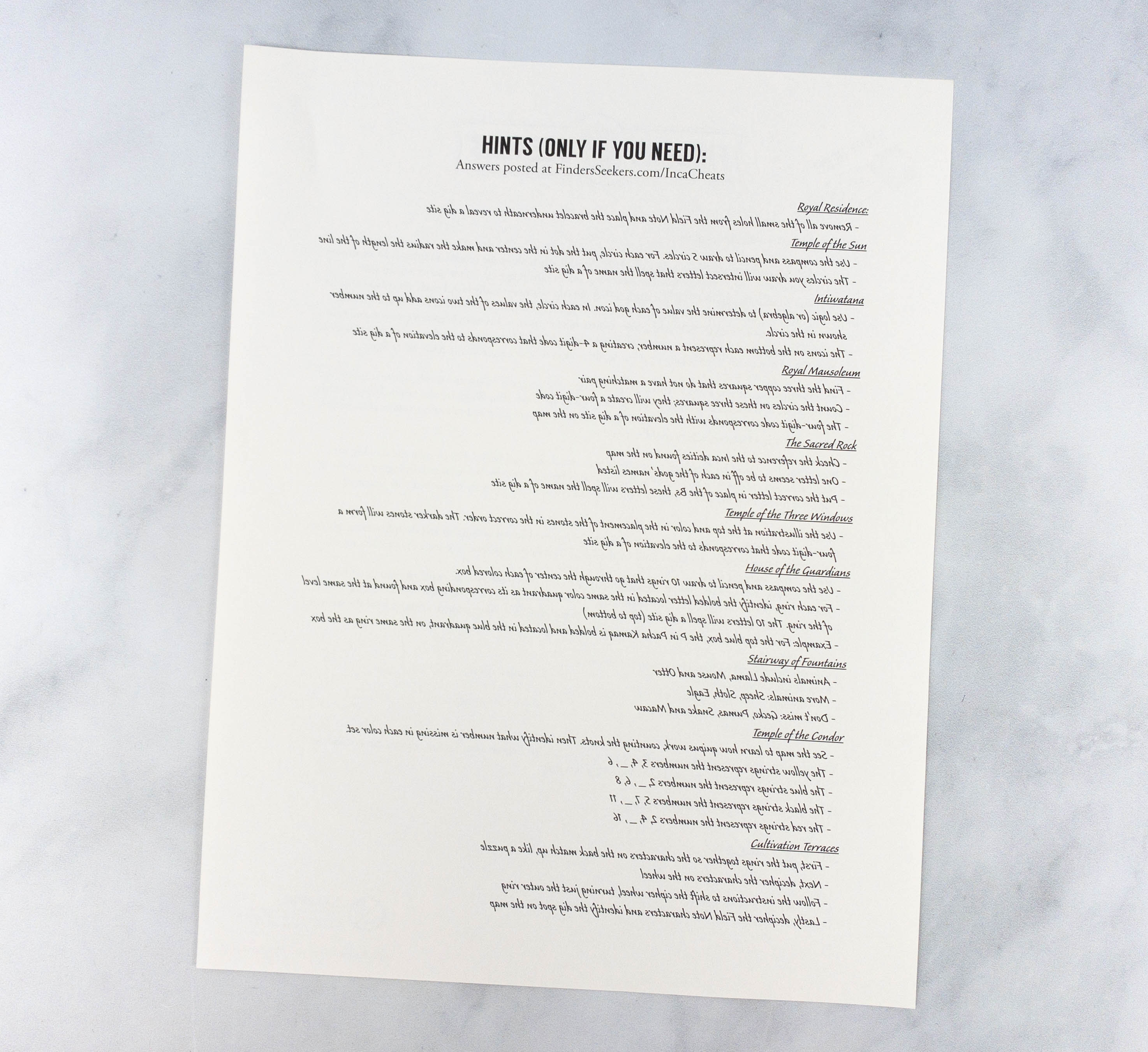 This sheet lists some clues to solve the mysteries and puzzles.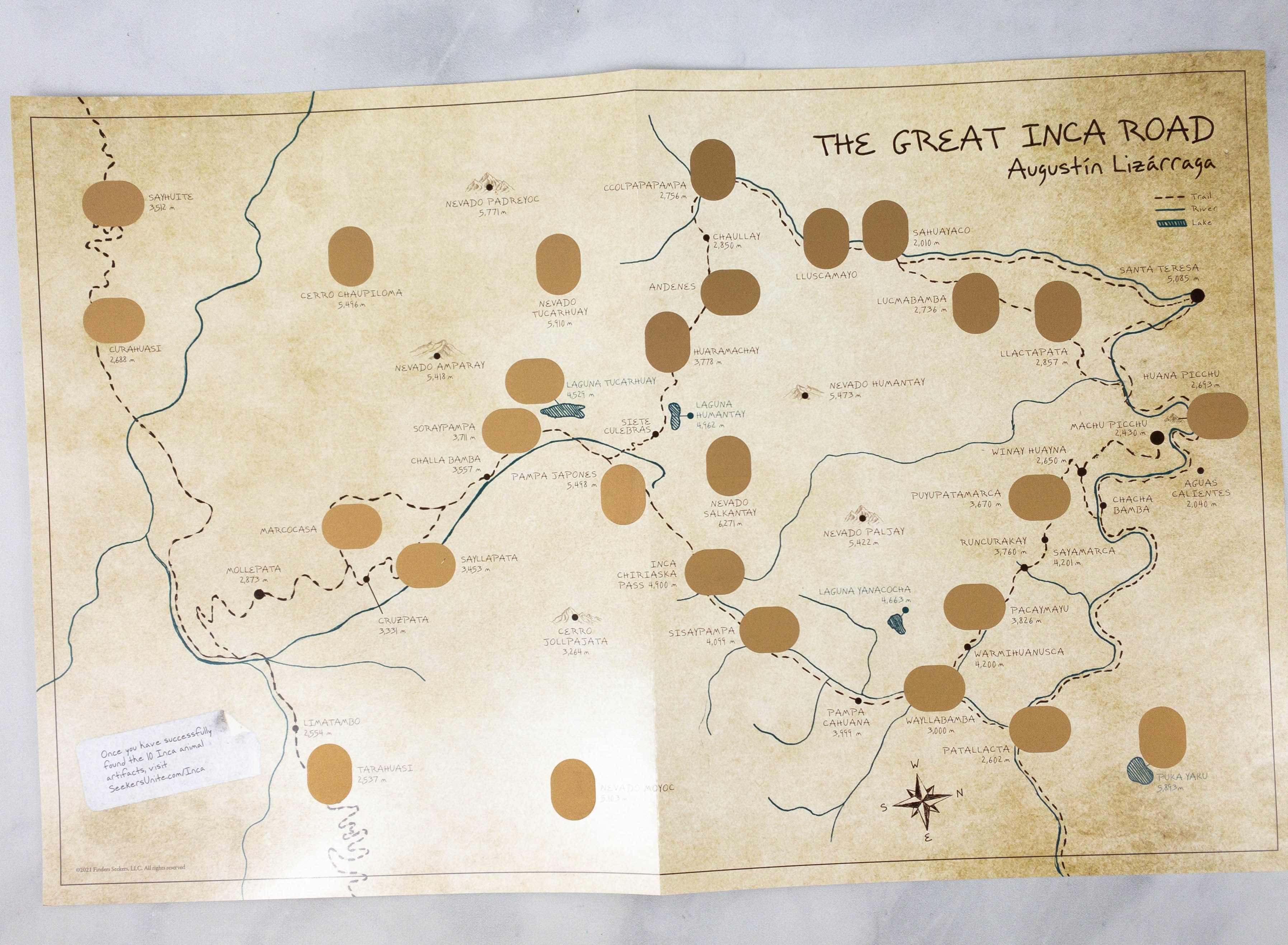 Map of the Great Inca Road. It's a map of the Great Inca Road that has dig sites all over it. The oval portions can also be scratched for every solved puzzle.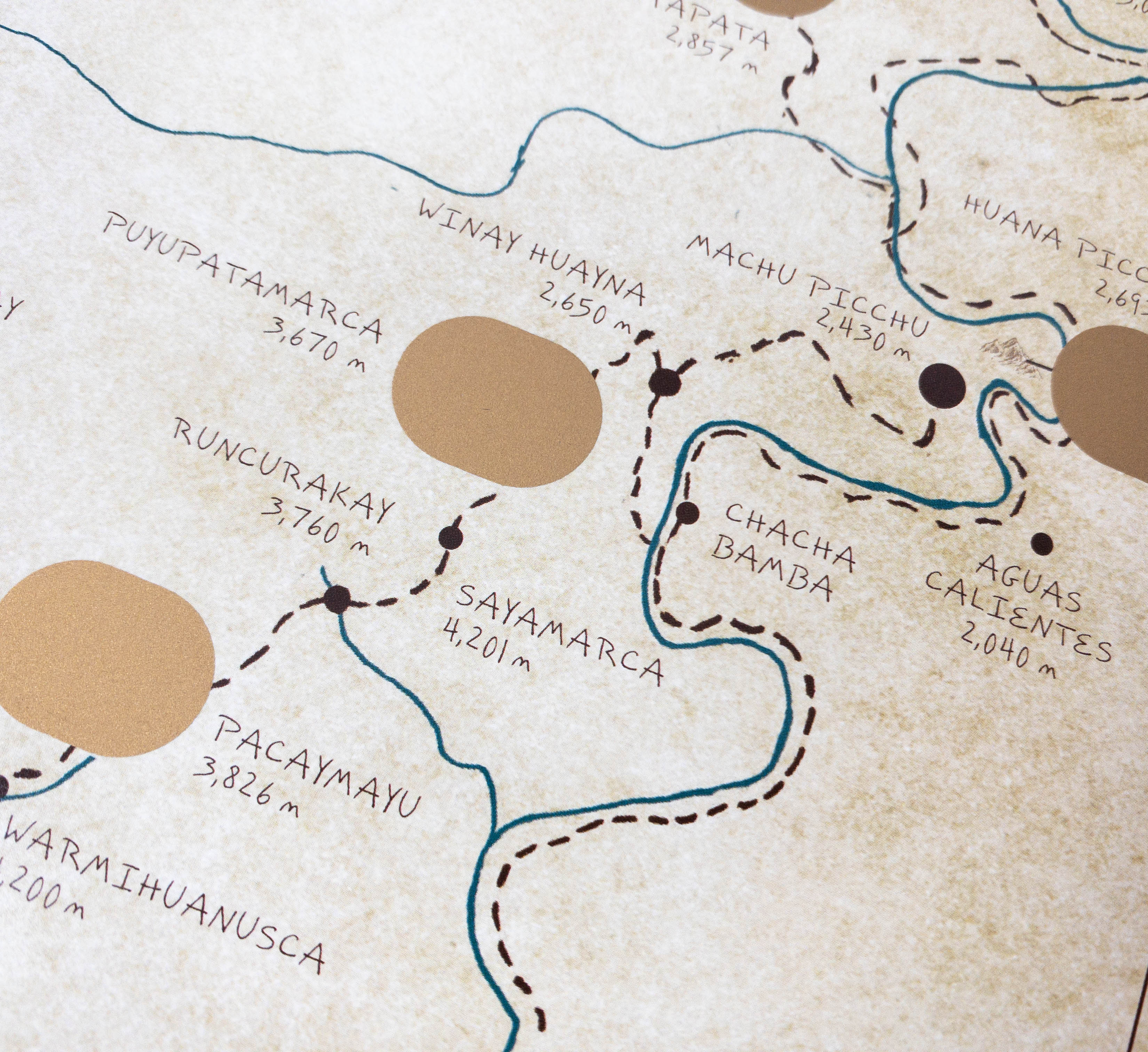 Solving a puzzle will provide a specific dig site on this map. Each correct scratched oval will uncover an animal artifact that will solve this month's mystery.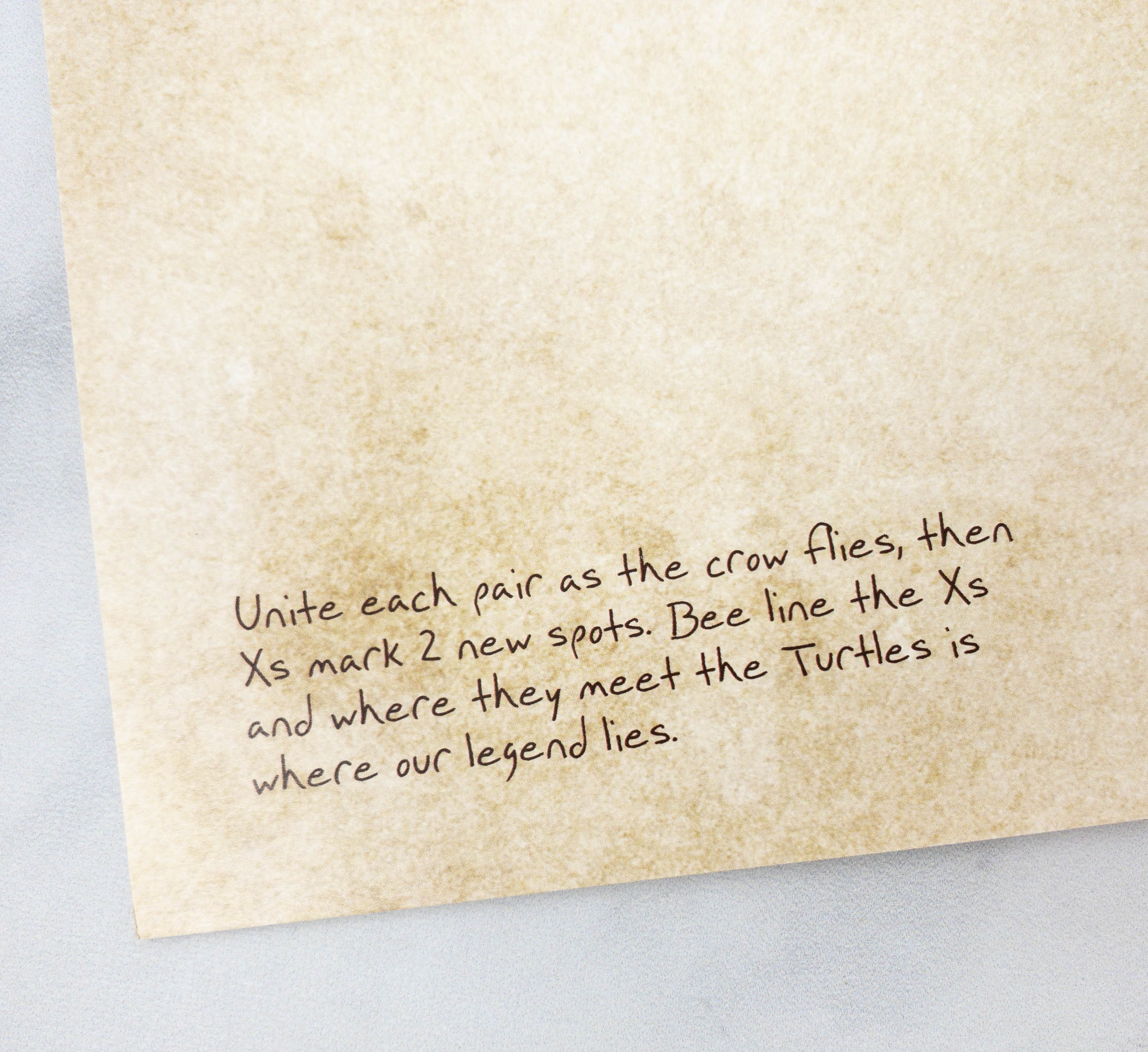 It also included important notes and clues that will help solve the puzzles.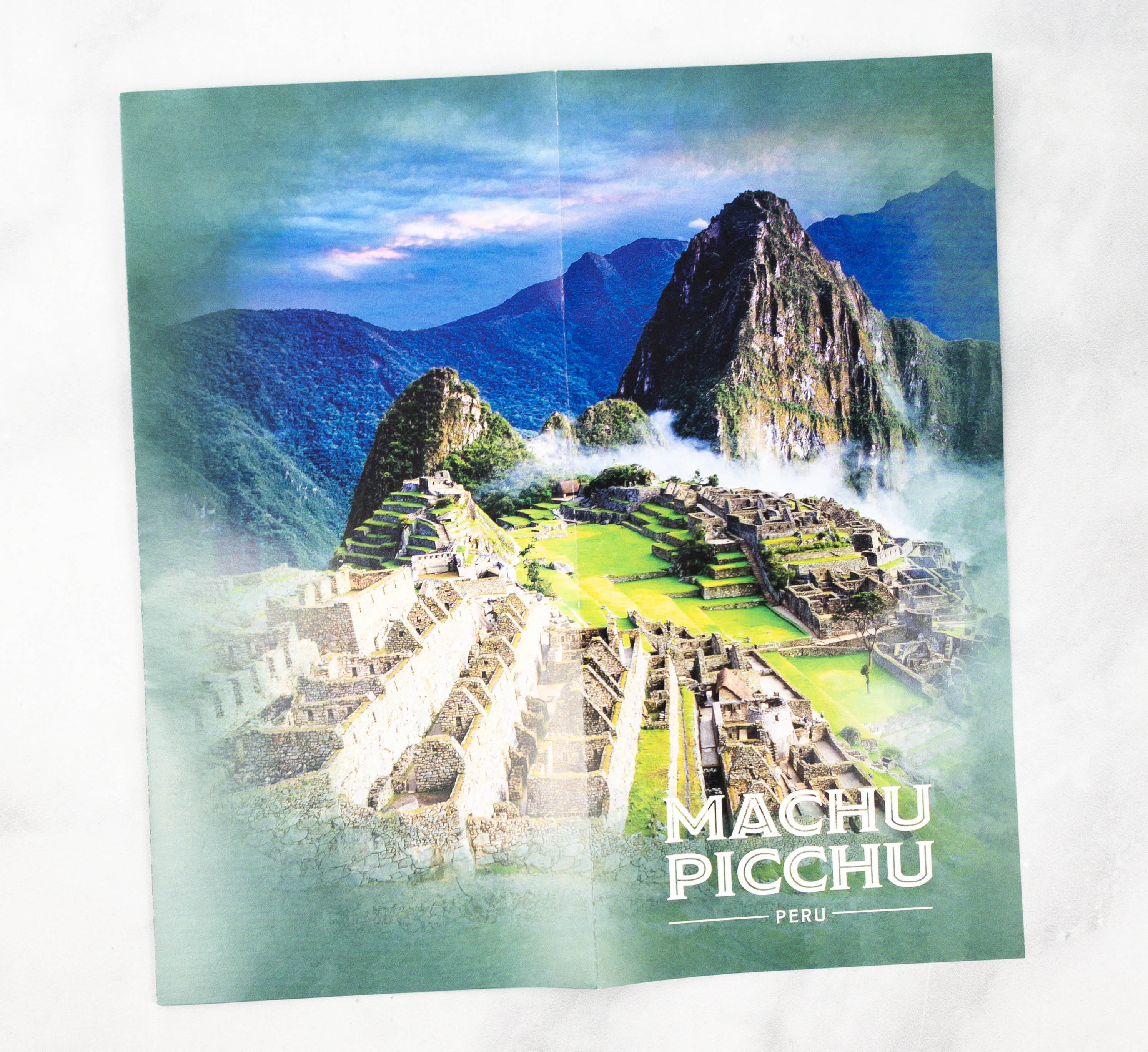 Tourist Map of Machu Picchu Sites. Here's a tourist map of the Machu Picchu in Peru. It's a guide intended for tourist use and it even has a beautiful photo of the place.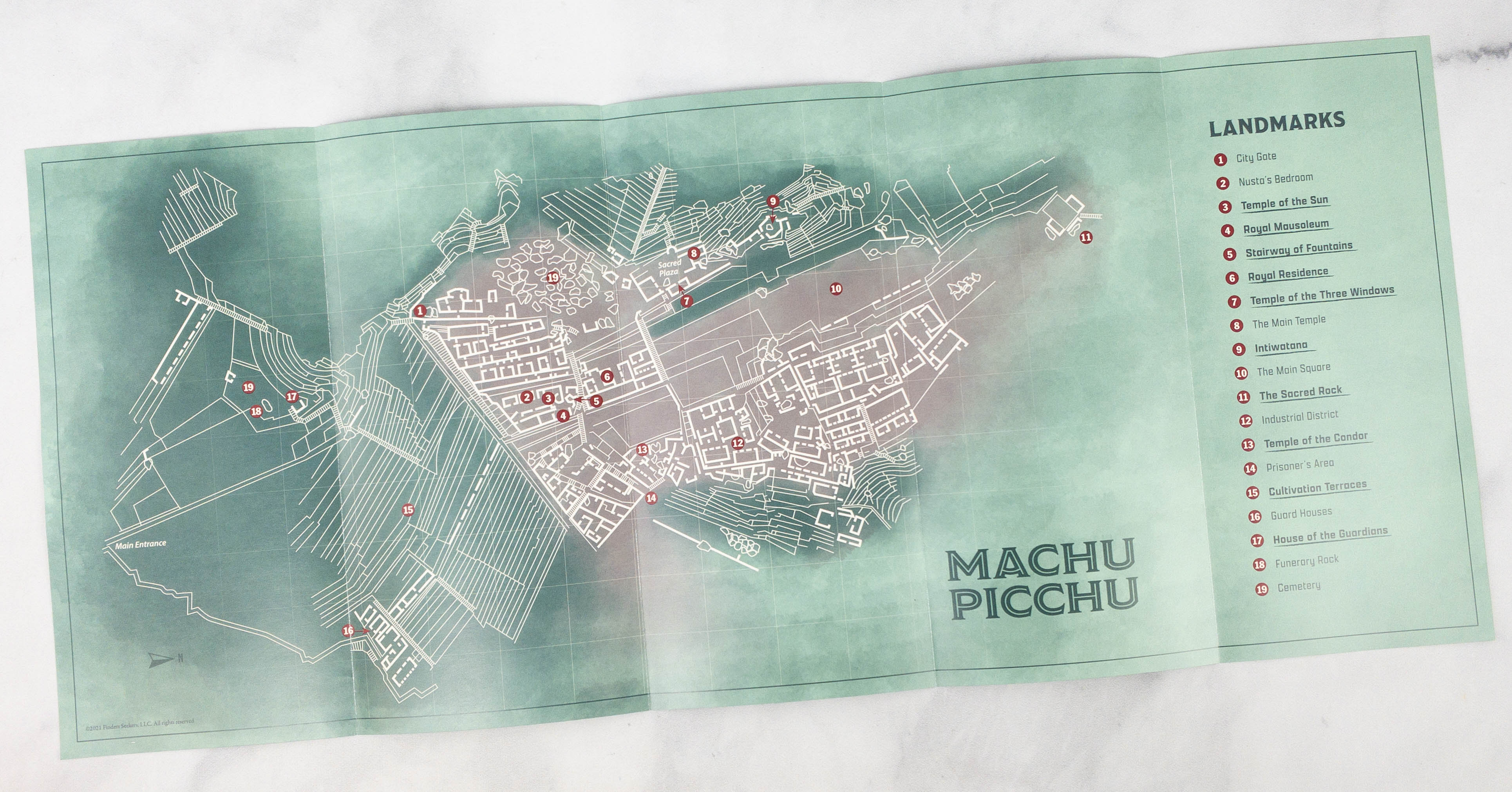 Important landmarks are also marked on the map.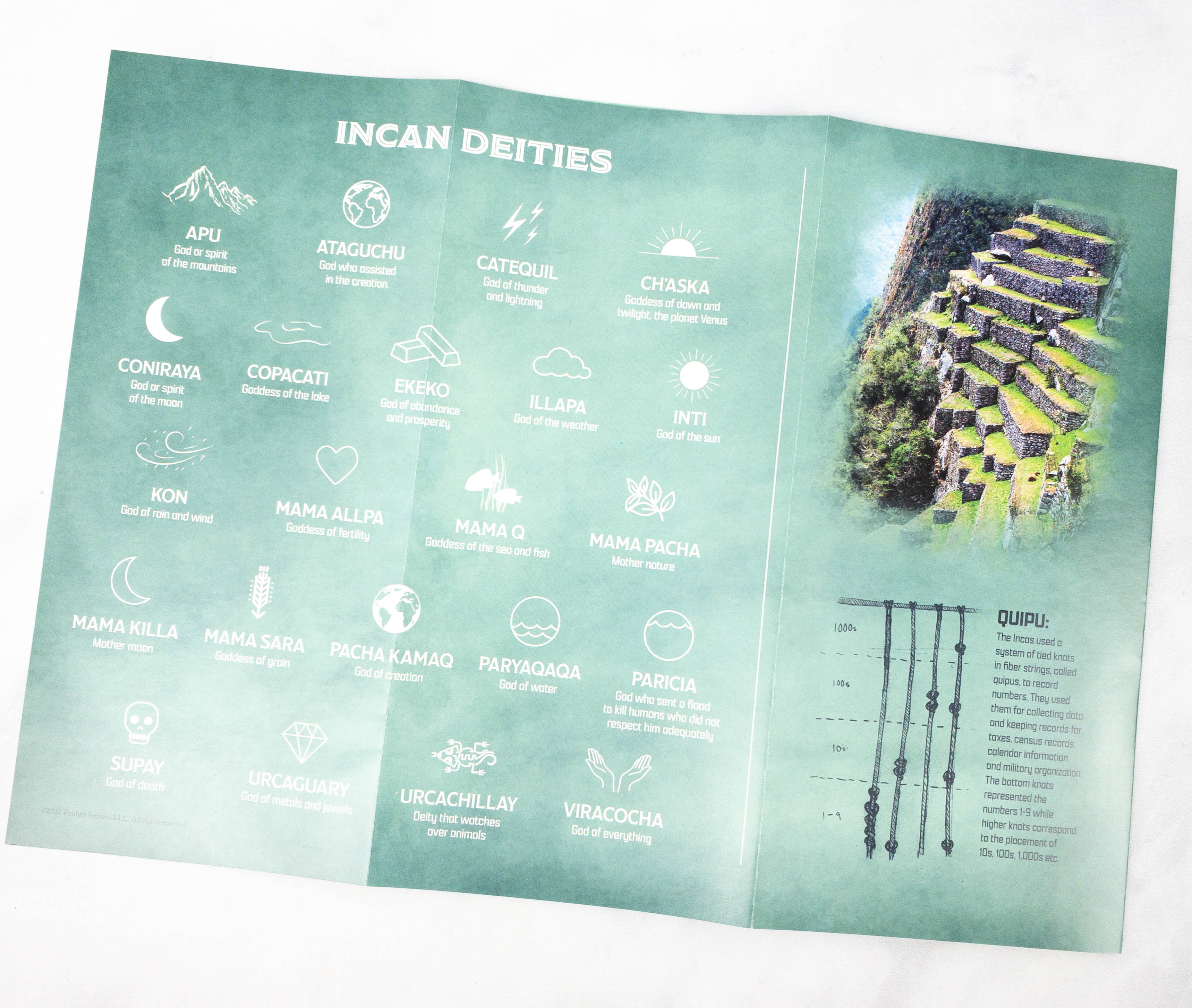 There are also Incan Deities listed at the back of the map.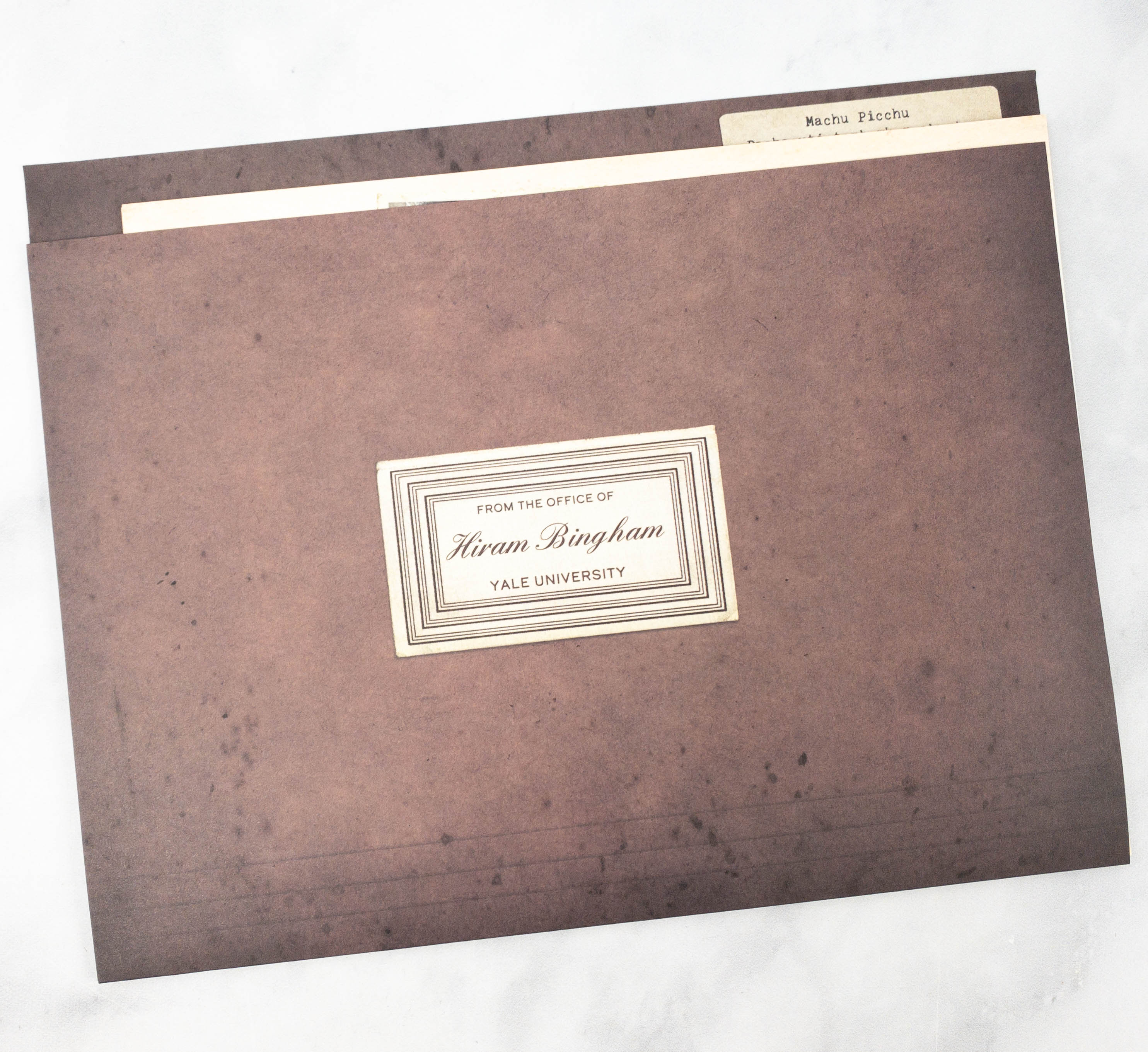 Folder with 10 Field Notes by Bingham. This folder contains 10 field notes from Bingham. Each note contains a puzzle at the back that needs to be solved to retrieve the missing keys to find Pachacuti's tomb.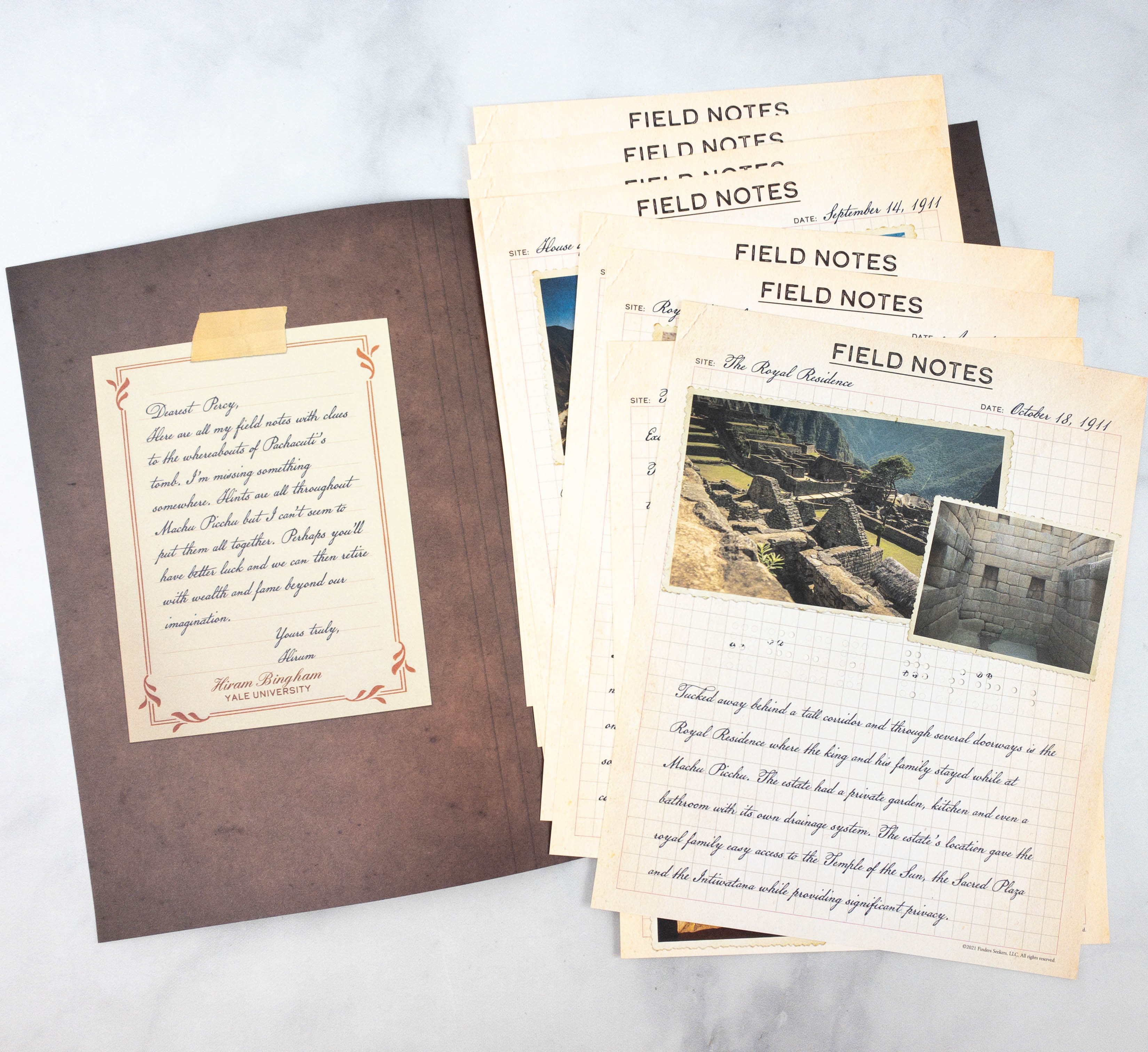 Each mystery will reward a secret phrase or number that will provide dig sites found on the Great Inca Road map.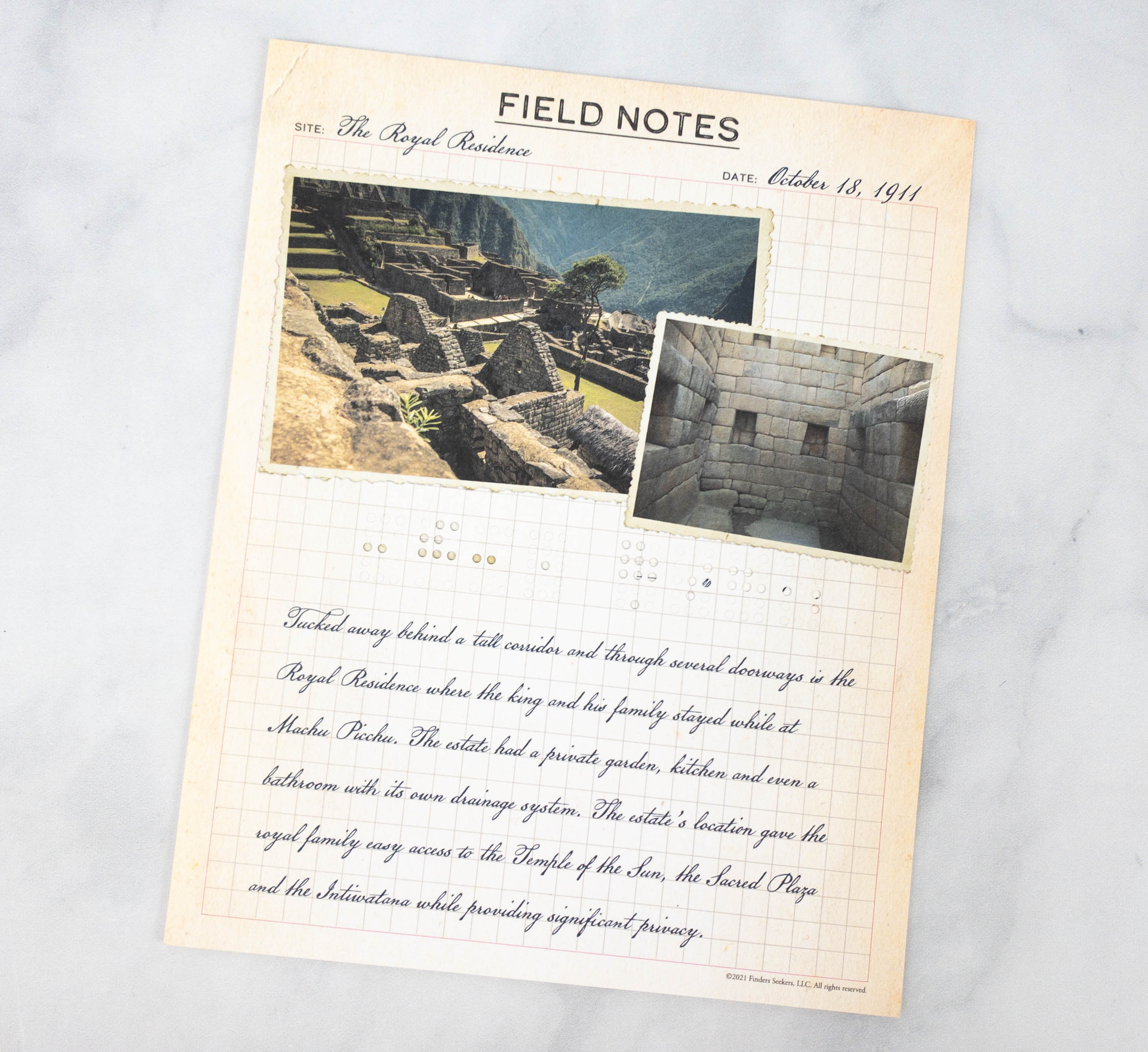 Tucked away behind a tall corridor and through several doorways is the Royal Residence where the king and his family stayed while at Machu Picchu. The estate had a private garden, kitchen, and even a bathroom with its own drainage system. The estate's location gave the royal family easy access to the Temple of the Sun, the Sacred Plaza, and the Intihuatana while providing significant privacy.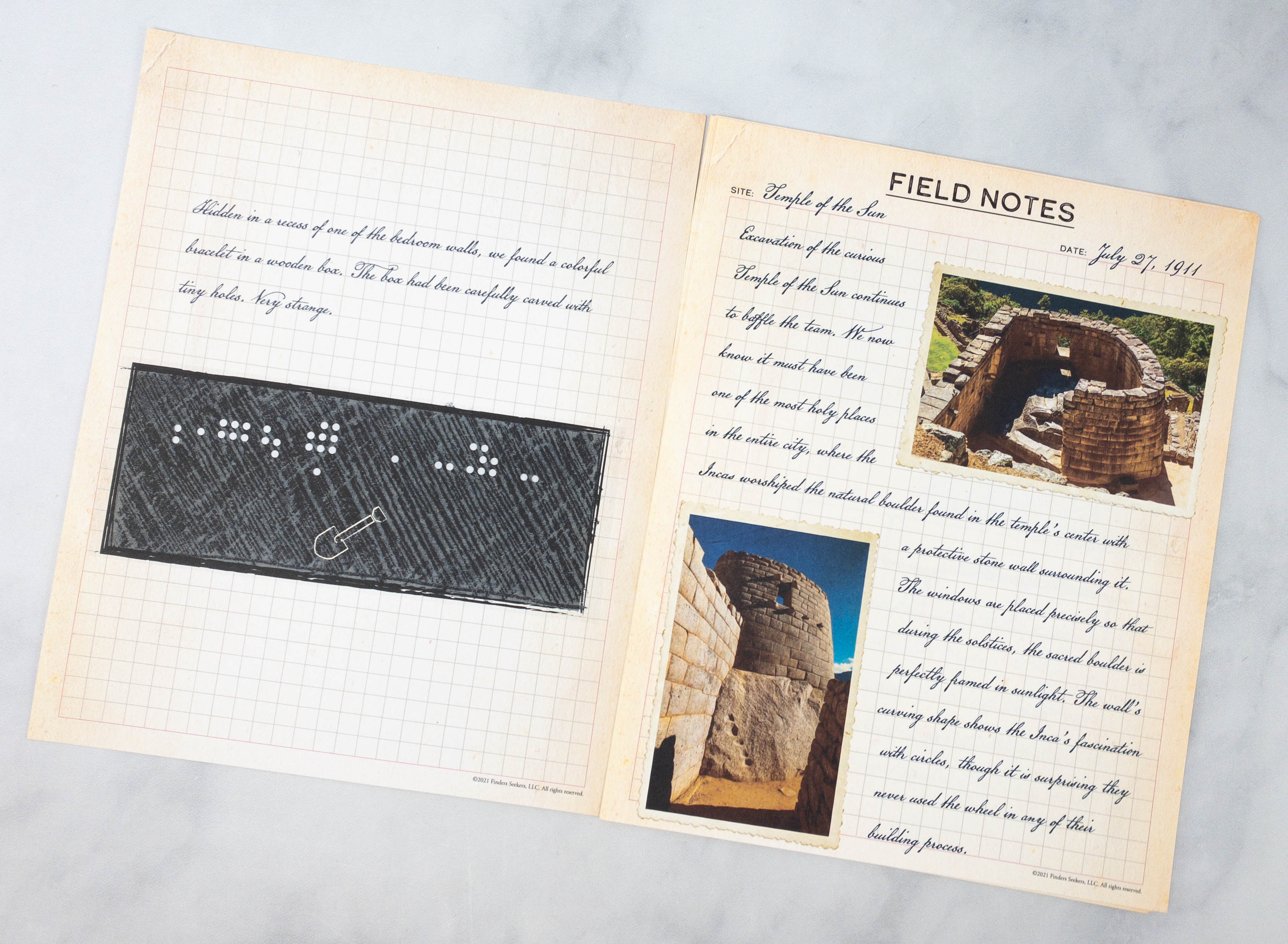 Placing the Inca bracelet on an exact location will provide a dig site.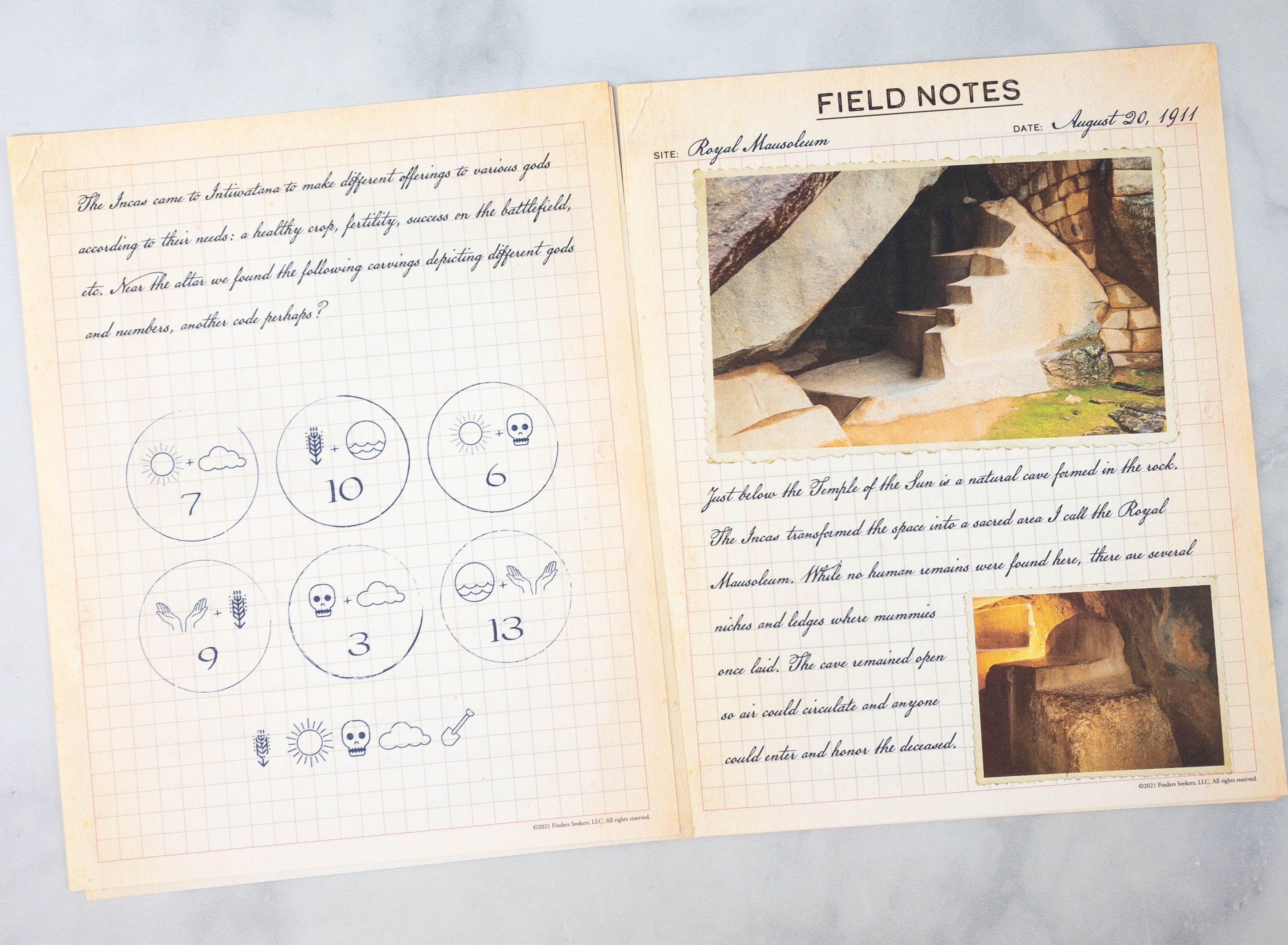 Using the copper squares, you can discover a four digit code that represent a dig site's elevation.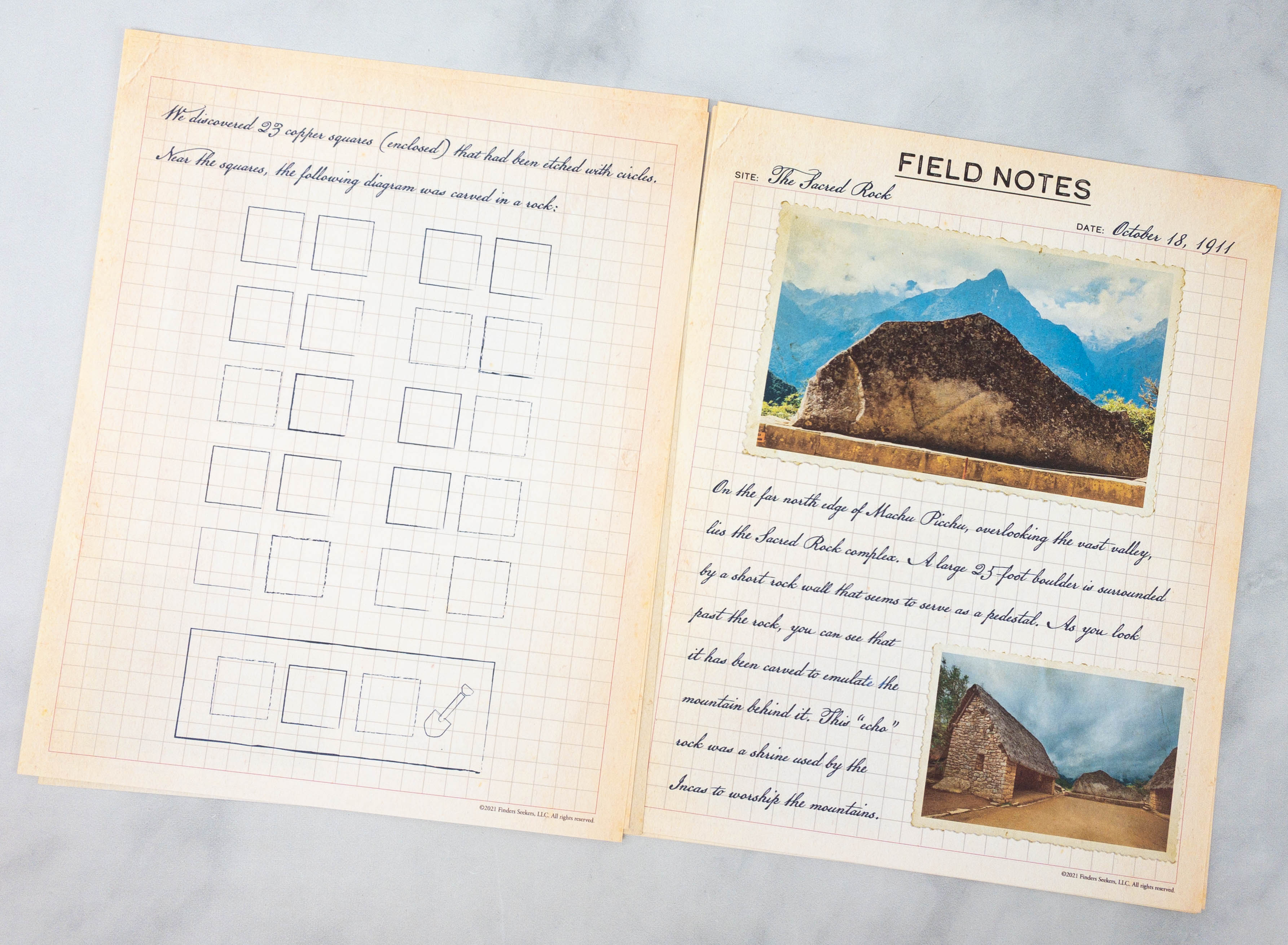 This field note will require a thorough inspection of the Inca Deities found on the map.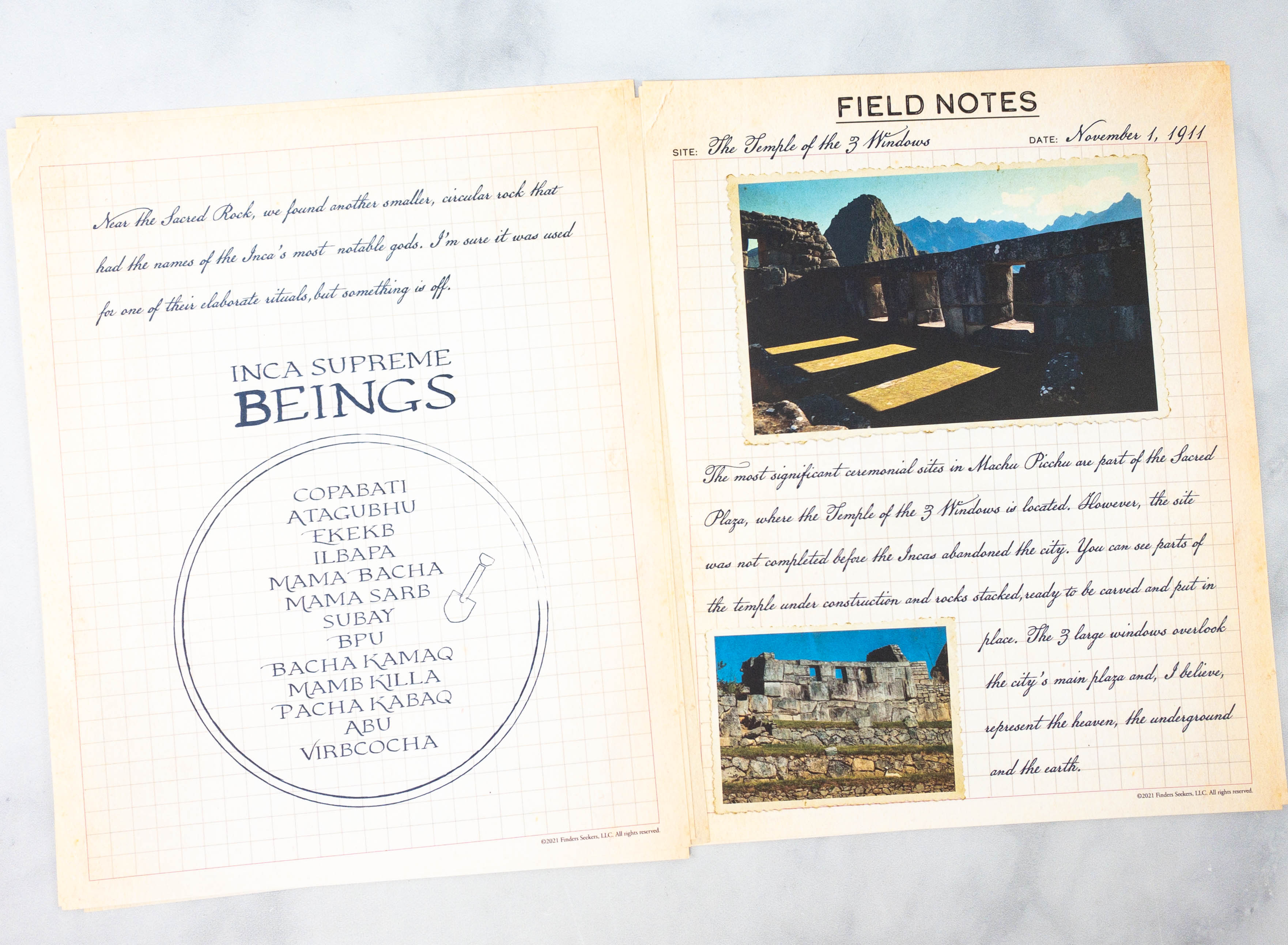 A closer look at the illustration on this note grants a 4 digit code to determine another dig site.
This part needs specific tools like the compass and pencil. Drawing 10 rings that go through the center of each colored box will accurately spell a dig site.
Animals will be the key to procure a dig site in this problem. It's a bit tricky but a hard earned reward is always satisfying!
Using the map as reference and studying how quipus works helps reveal another dig site. Counting the knots was a bit confusing, but the obvious pattern and colors won't be able to hide the answer if you look close enough!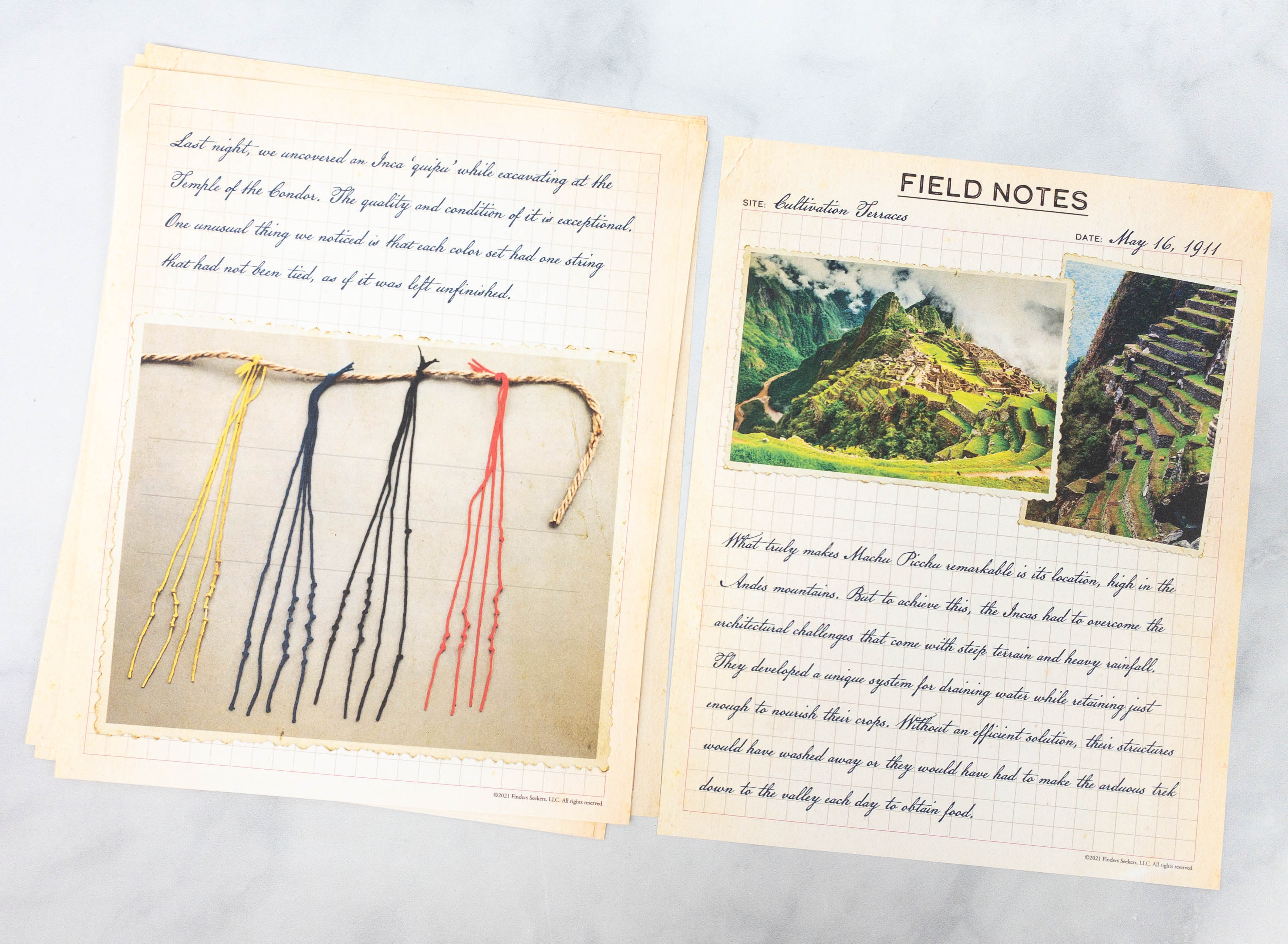 This is one of the most difficult parts of the puzzle. The wheel really tested my analytical skills and patience!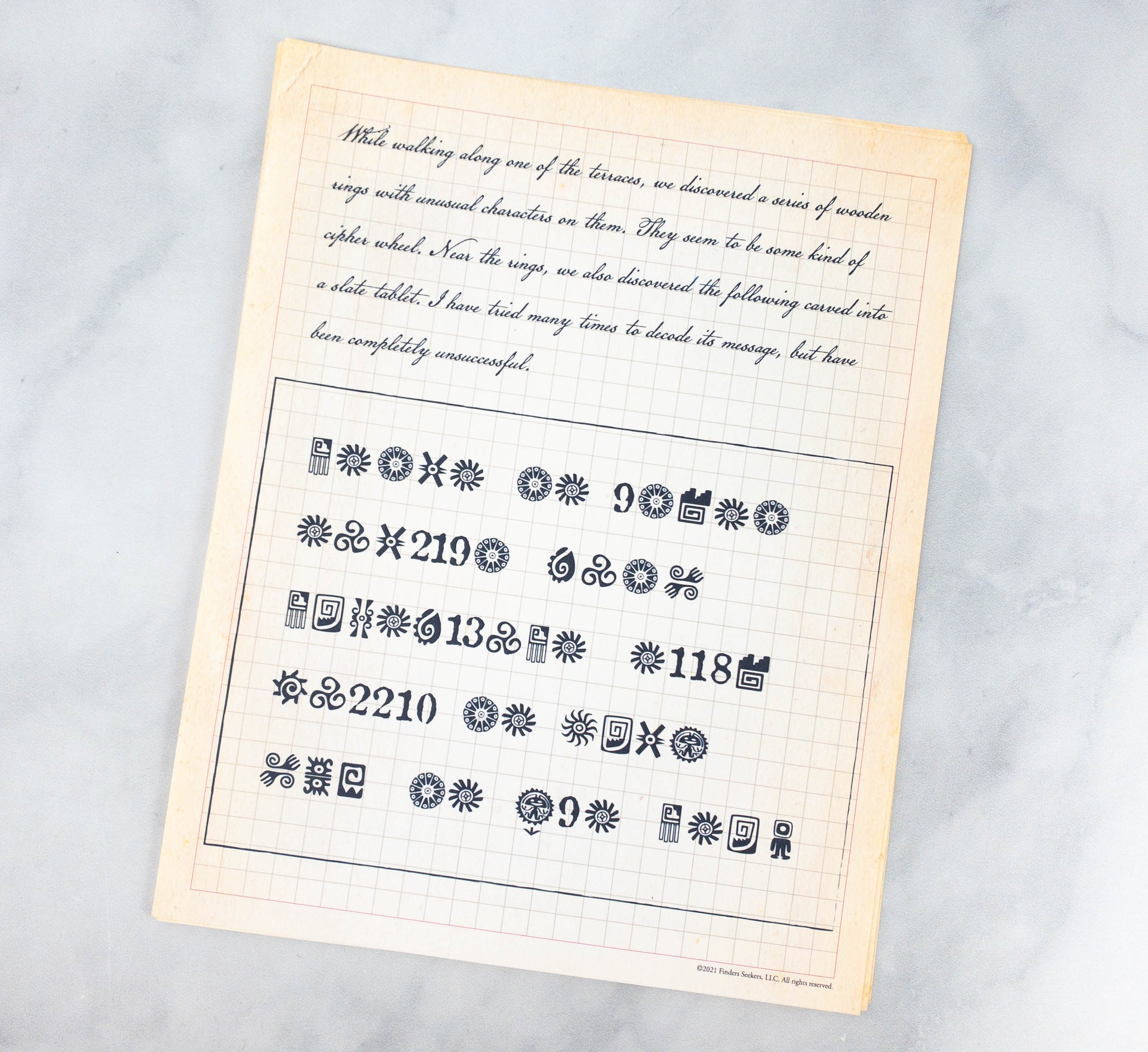 Deciphering the characters on the wheel must be completed before being able to decode the characters on the field note.
Compass with Pencil. This tool is needed to draw the circles that will help solve some puzzles.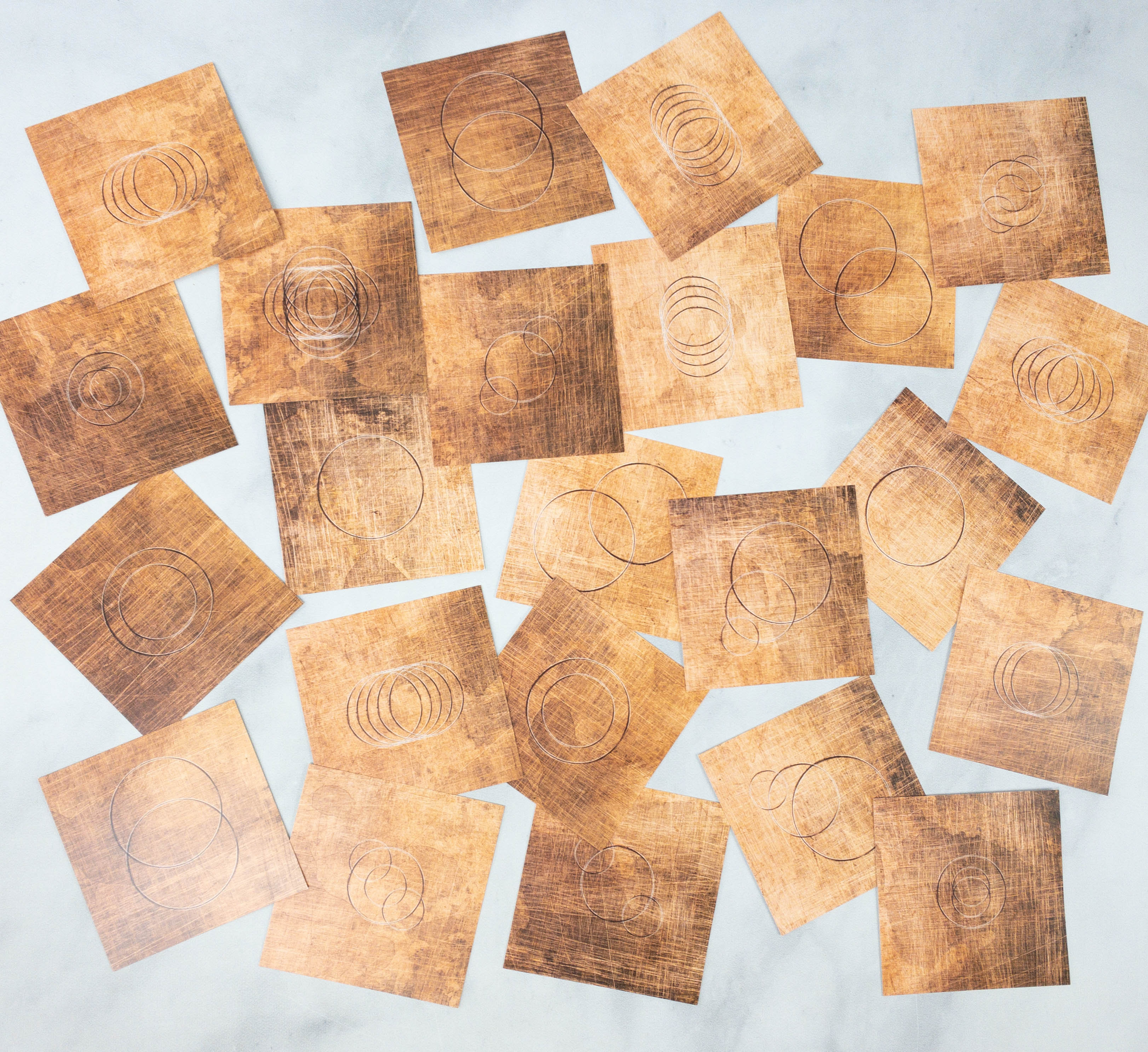 23 Copper Squares. These copper squares may look similar but inspecting them individually will reveal 3 unique pieces.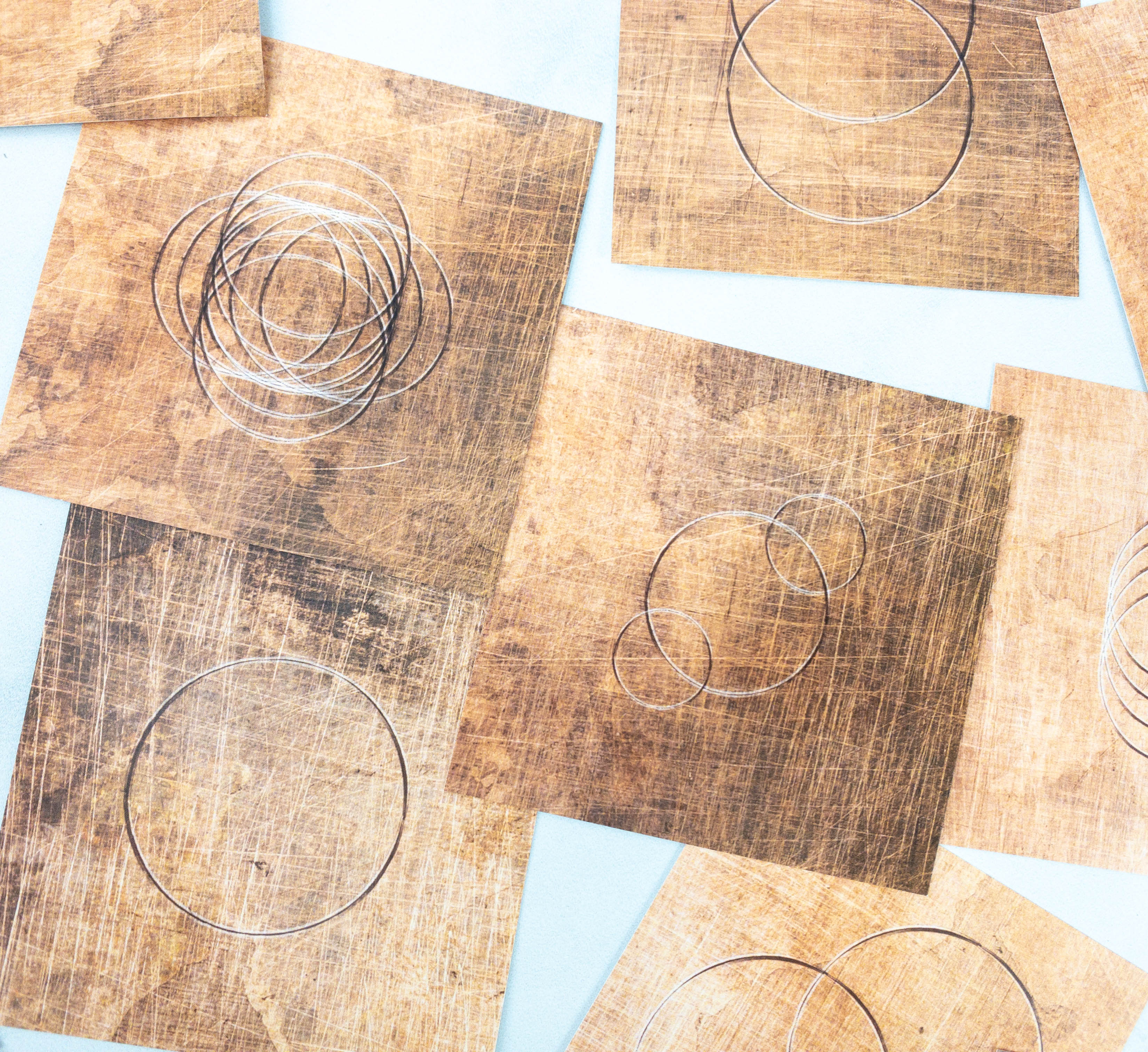 The circles that can be found on the 3 copper squares gave me the dig site location in the Royal Mausoleum puzzle.
Inca Bracelet. This bracelet will play a major role in acquiring a dig site from The Royal Residence puzzle.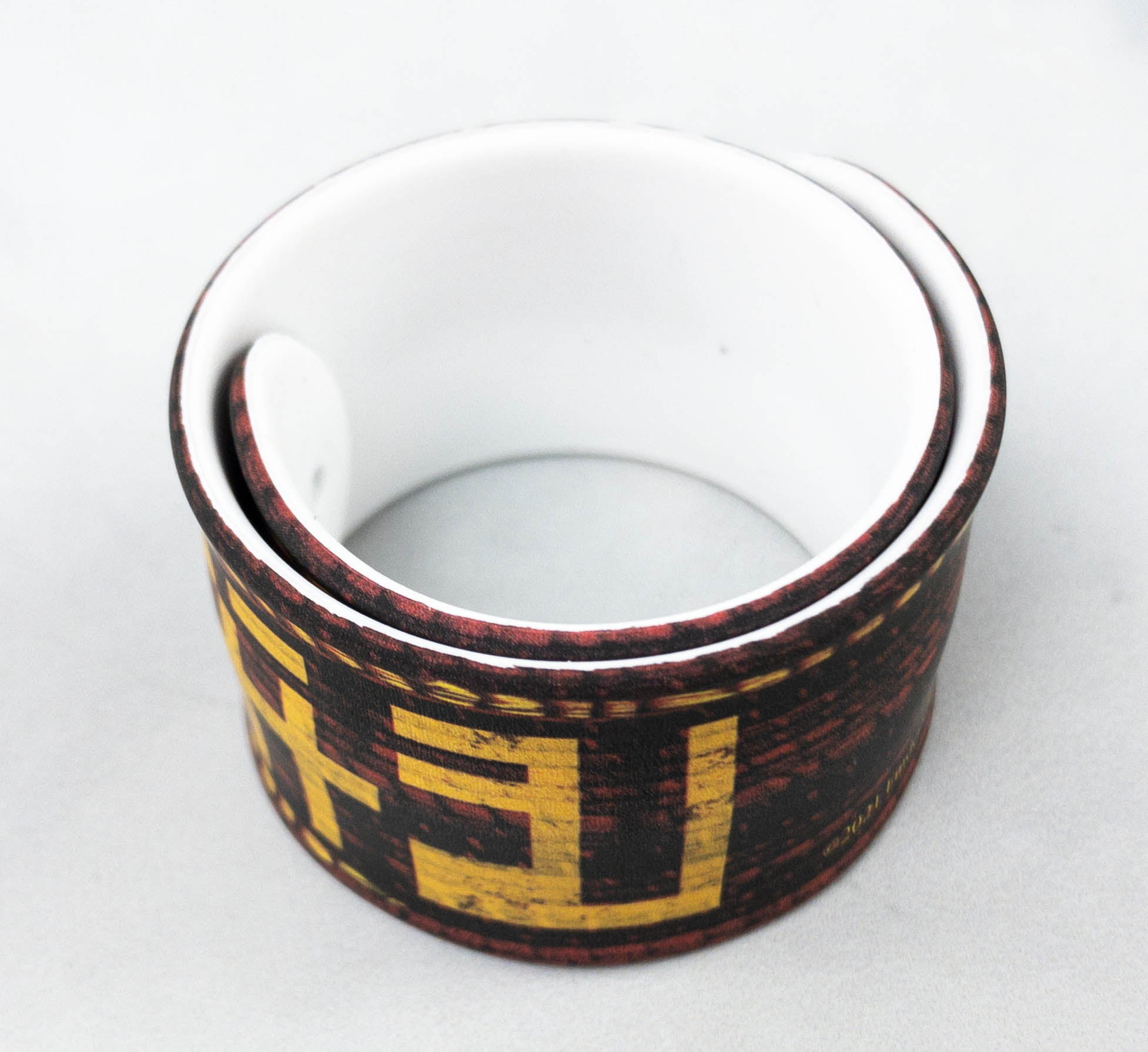 The bracelet can also automatically bend and roll back.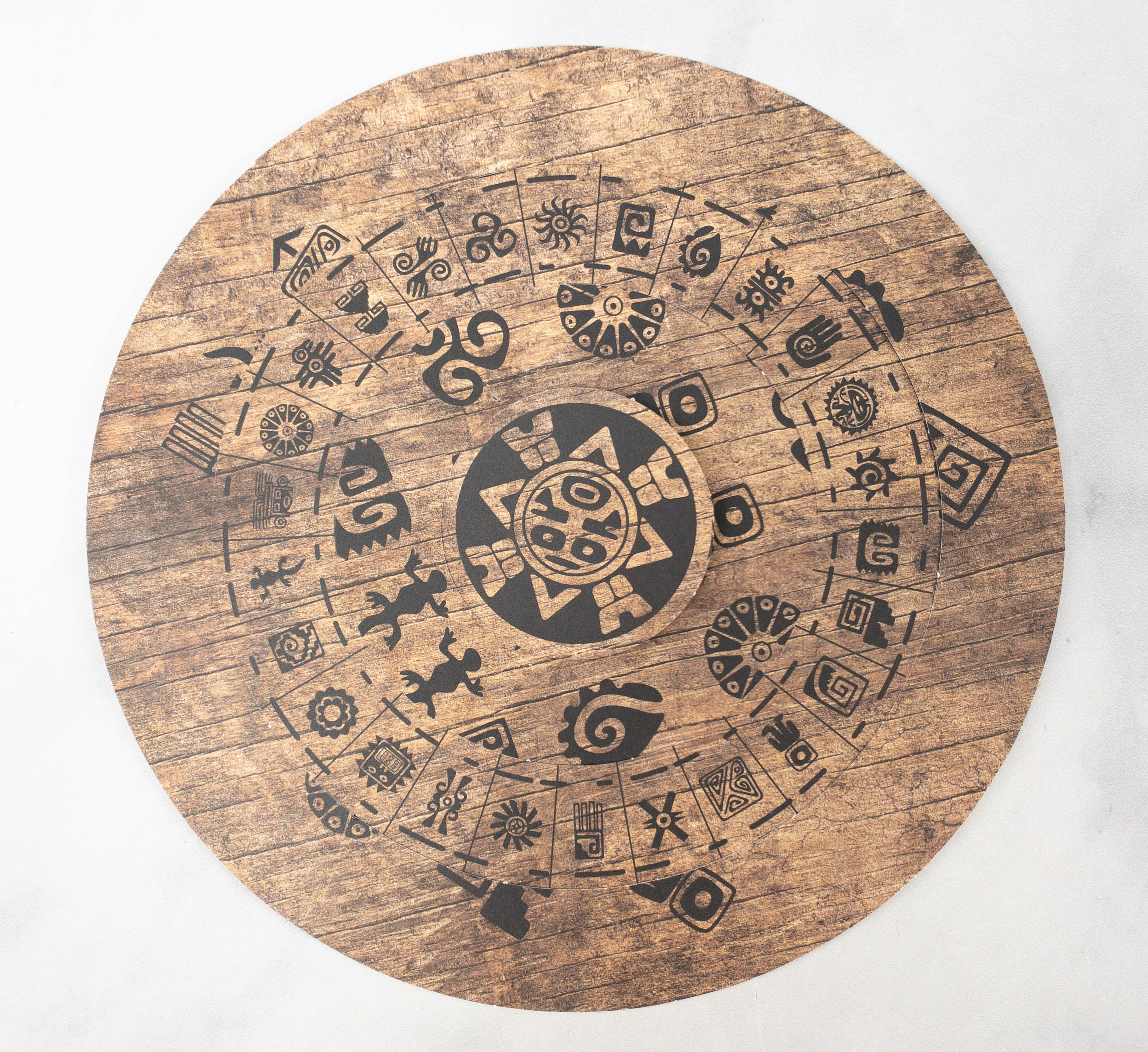 Wooden Ring Puzzle. Here's another tricky puzzle, a wooden ring featuring different letters and symbols.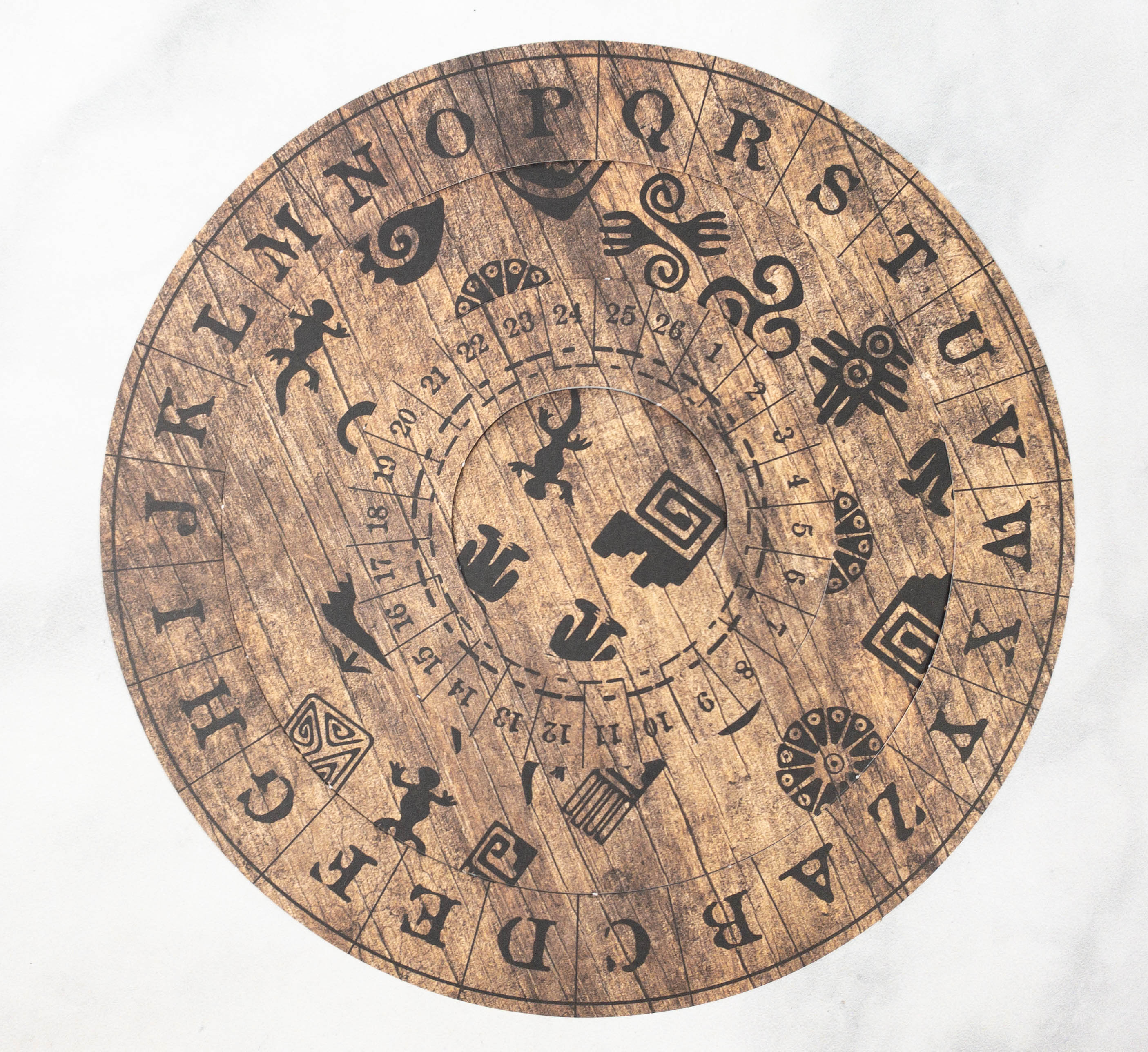 Matching the wheel pieces and figures on the back is not as easy at it sounds!
Finders Seekers sent another batch of fun puzzles this month! Everything was set in Peru, so I was also able to learn more about the country, especially the famous tourist spots. Machu Picchu is the most fascinating! There are some challenging puzzles in this box, and when I finally figured out the final answer, it was really fulfilling. This is a great subscription to try for fans of escape rooms, and what's great is that you can do everything in the comforts of home! It also makes a great brain exercise!
Did you solve the mystery? How long did it take you? Let us know in the comments below!