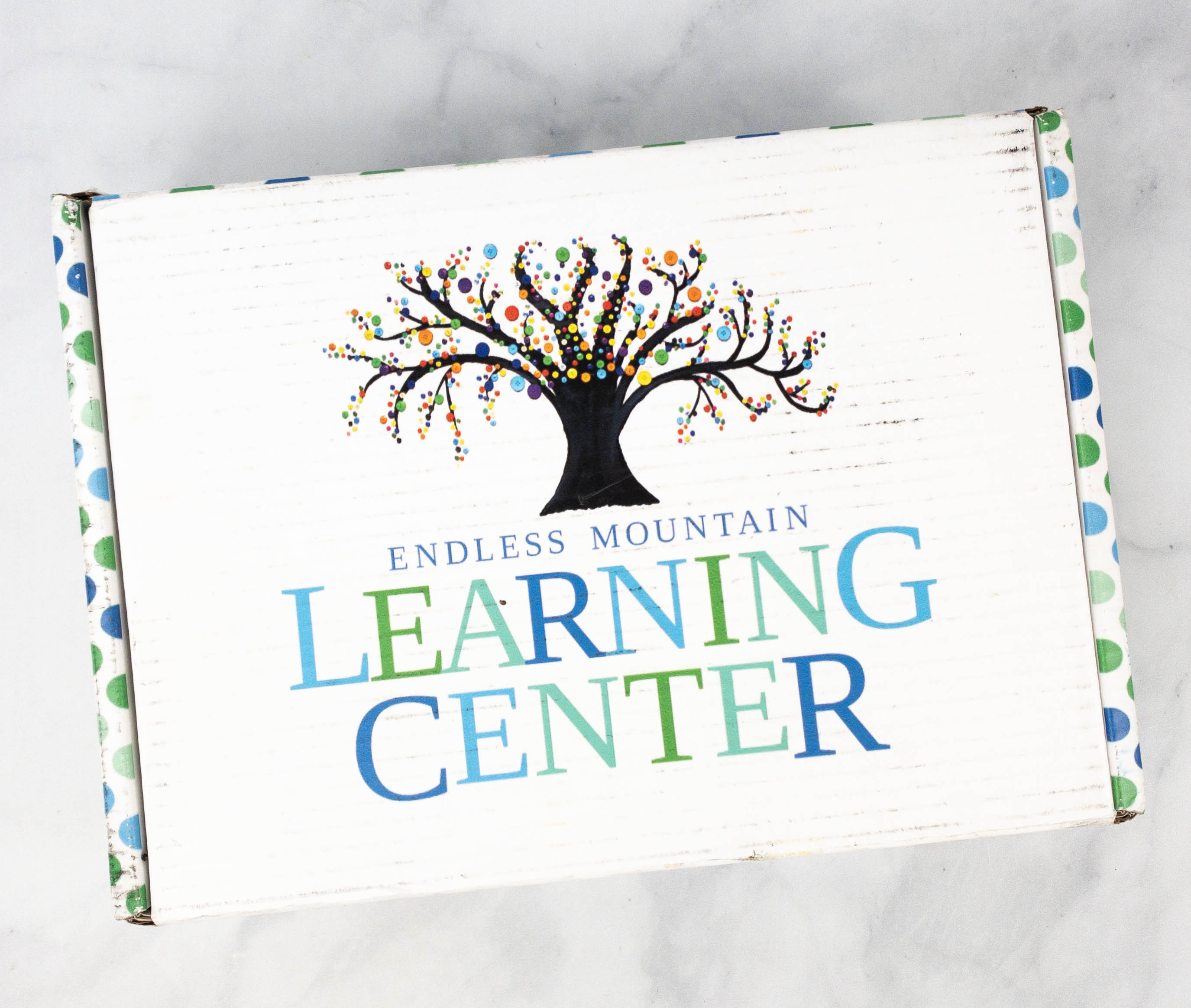 Endless Mountain Learning Center Activity Kits is a learning subscription for children that ships every season. It covers different learning areas, including art, math, science, literacy, social studies, physical development, and more. Each kit has 16 activities, 3 children's books, all the materials needed, and a curriculum guide. Subscribers can choose between 2 boxes, depending on the child's age: Preschool (designed for children ages 3-5 years) and School Age (designed for children ages 6-10 years). The subscription is $78 per box, or $87 if you opt for one-time purchases.
If you're looking for a preschool experience at home, or for early learning for elementary aged kids, and want to make your school at home effortless and seasonal and screen-free, this is the perfect subscription! It has everything you need to pull it off and will guide you through every activity without the hassle of locating materials and curriculum.
DEAL: Don't miss the free gift coupon on the Endless Mountain home page – subscribe for a year and get one of the listed freebies. Just use the code when you check out!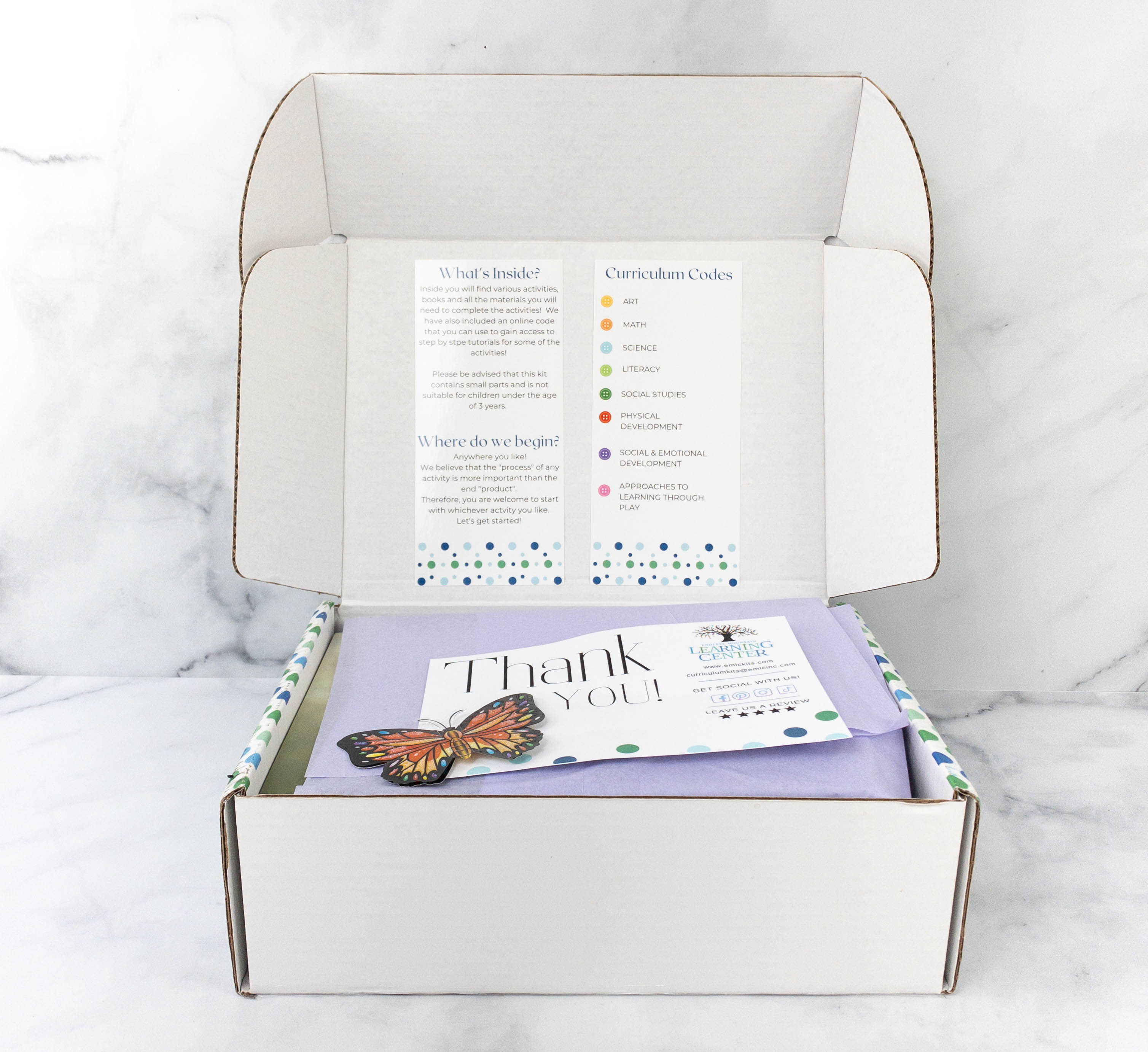 The materials were packed with a lavender wrapping paper.
On top of everything, there's a thank you note from Learning Center!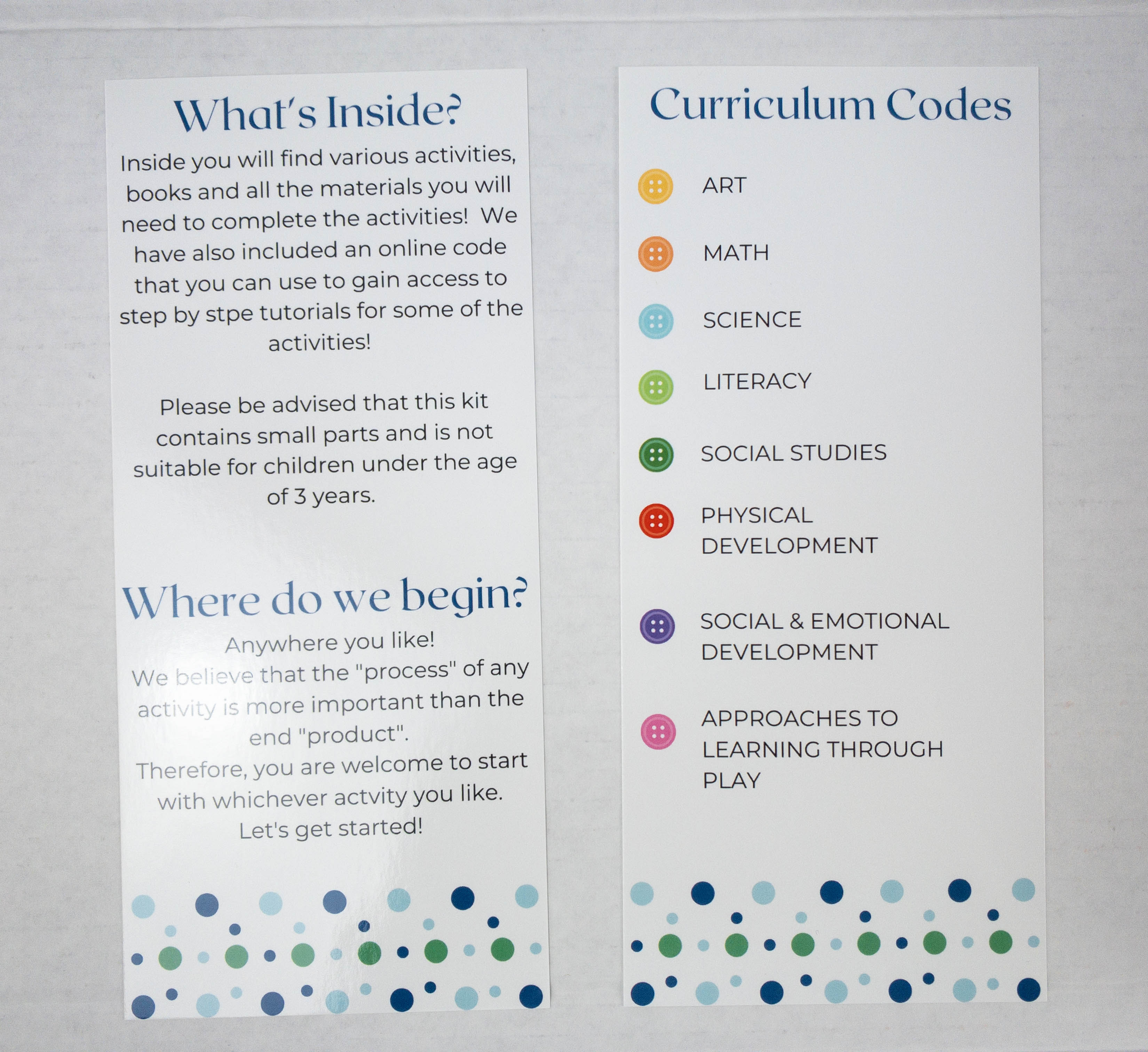 The inner flap of the box explains what's inside the box and where to begin. It also lists curriculum codes.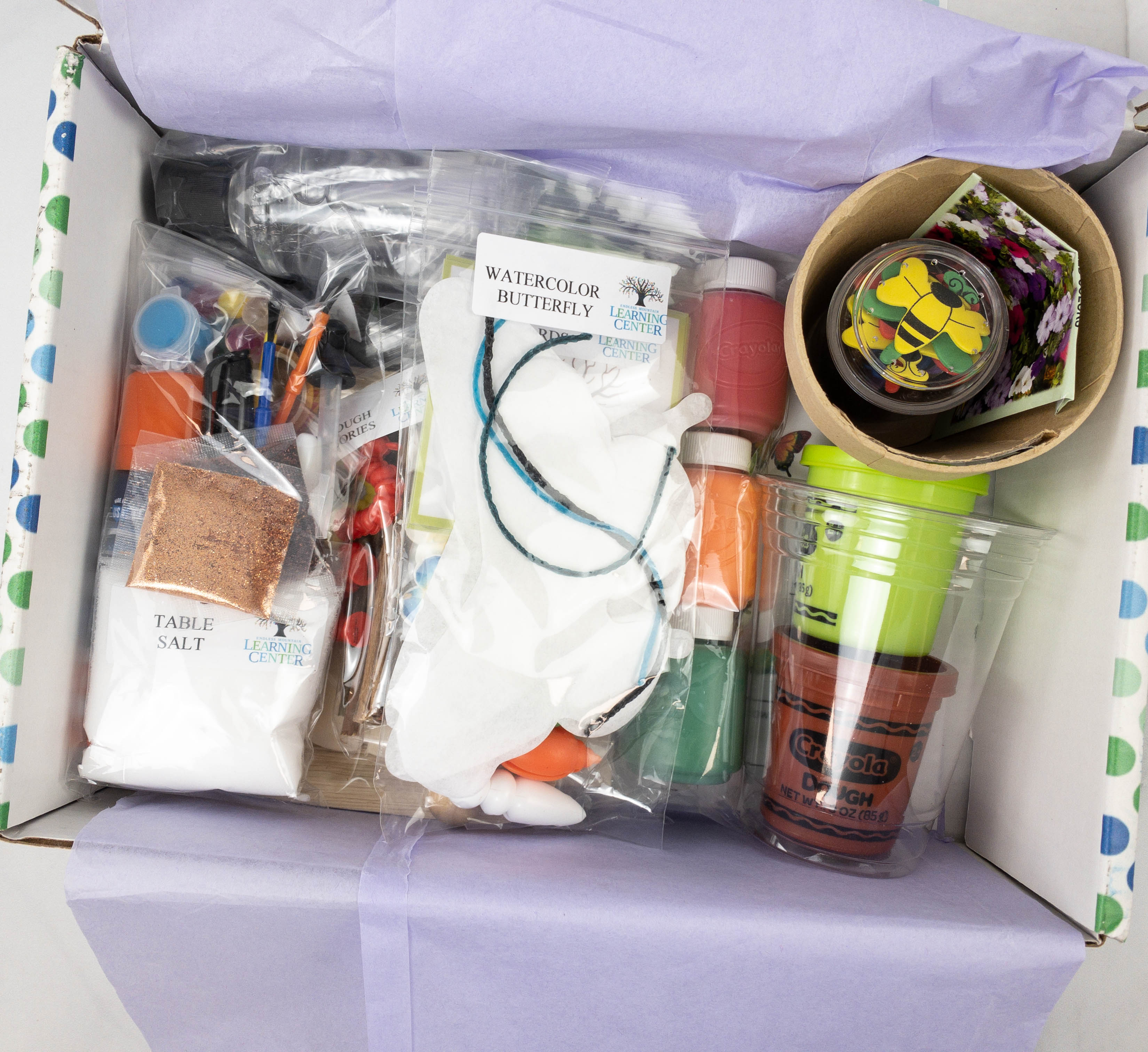 Some of the items were packed in plastic.
Curriculum Guide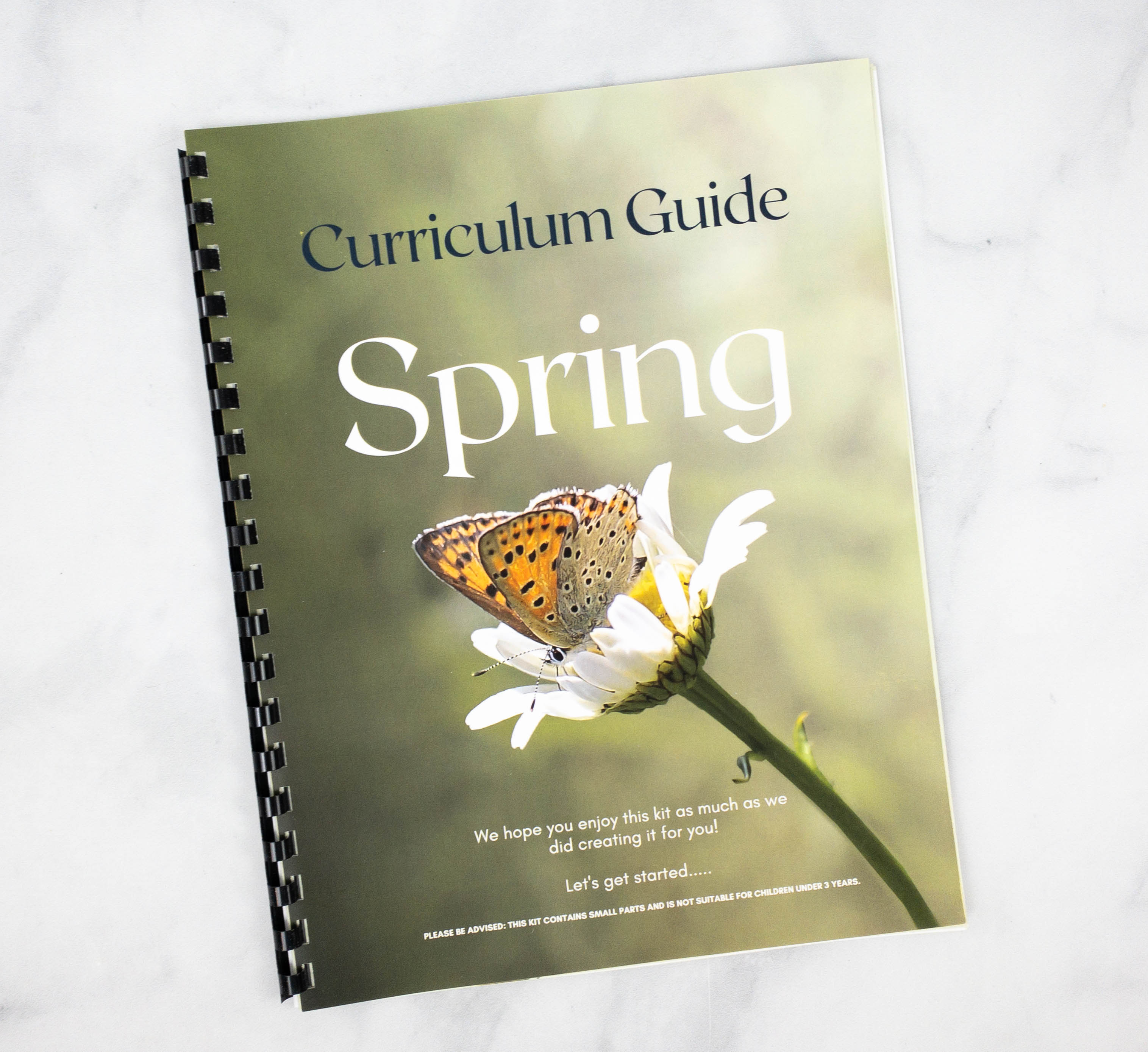 Here's the curriculum guide which parents can use to make the most out of the learning materials in the box.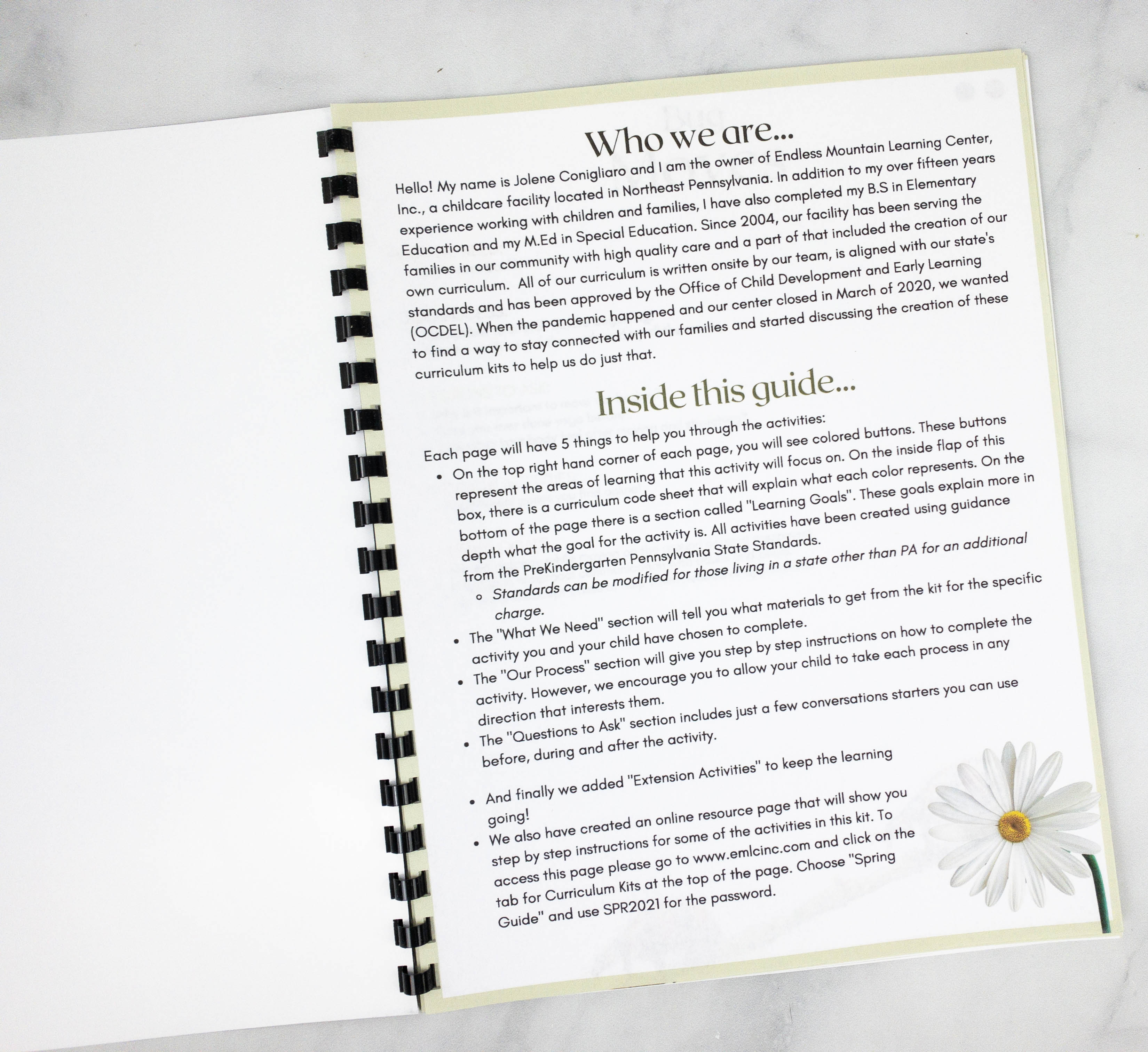 This page introduces Endless Mountain Learning Center, as well as a brief overview of what's inside the guide.
The suggested activities in the curriculum guide are fun and easy!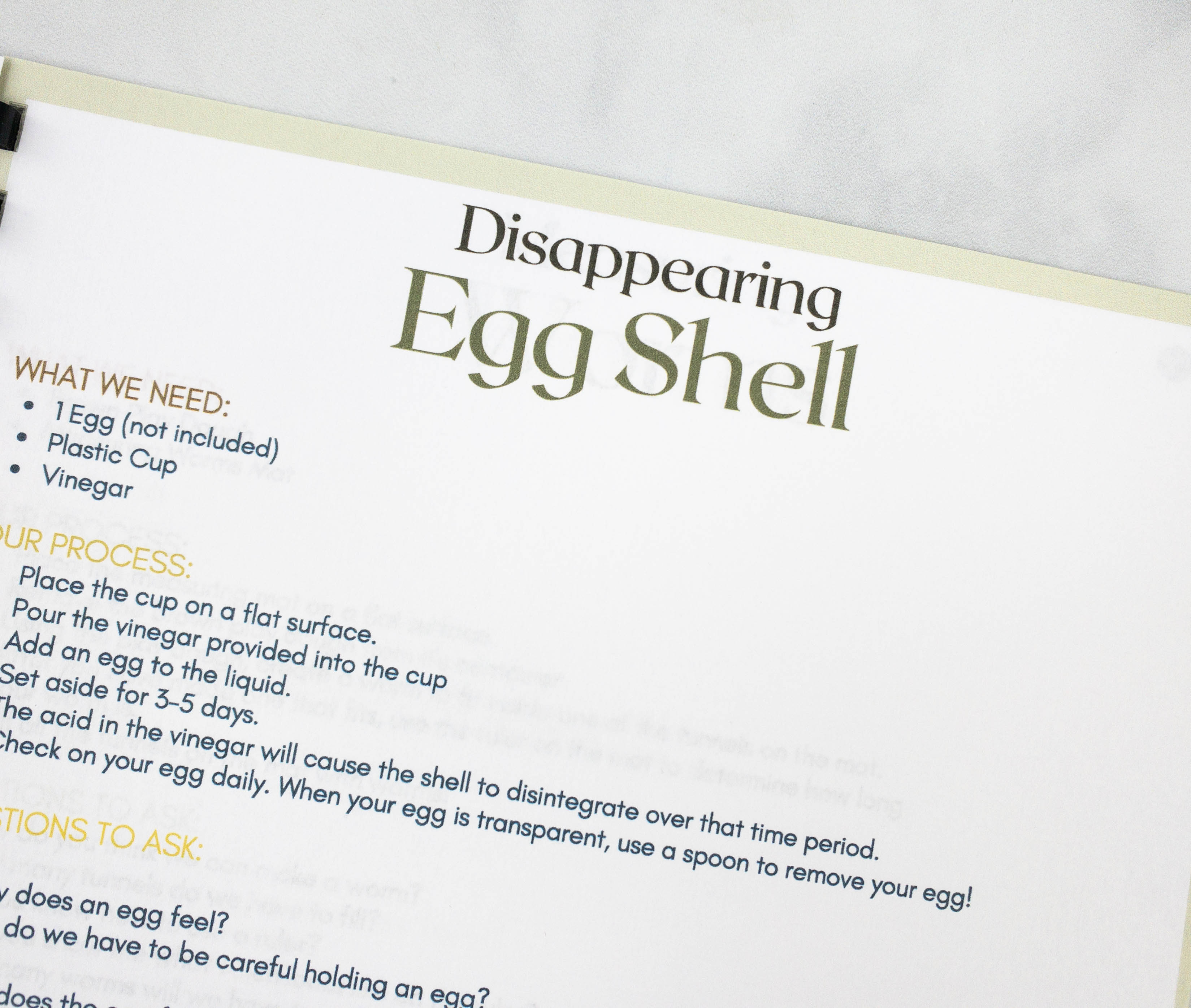 For each activity, they listed all the materials needed, the process, and questions to ask to kids.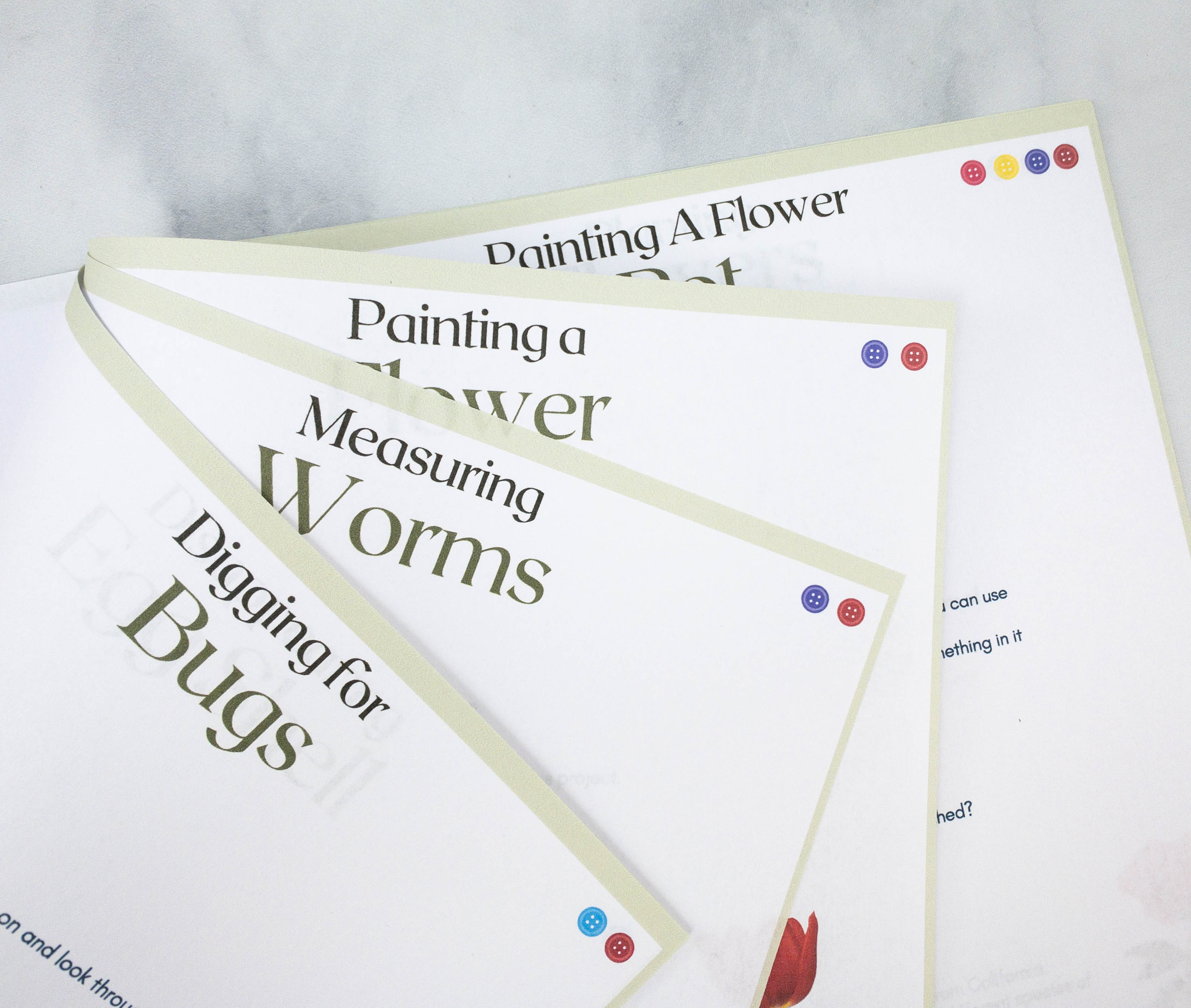 The curriculum codes are on the upper right part of the cards. Yellow is for art, orange is for math, light blue is for science, light green is for literacy, dark green is for social studies, red is for physical development, purple is for social and emotional development, and pink is for approaches to learning through play.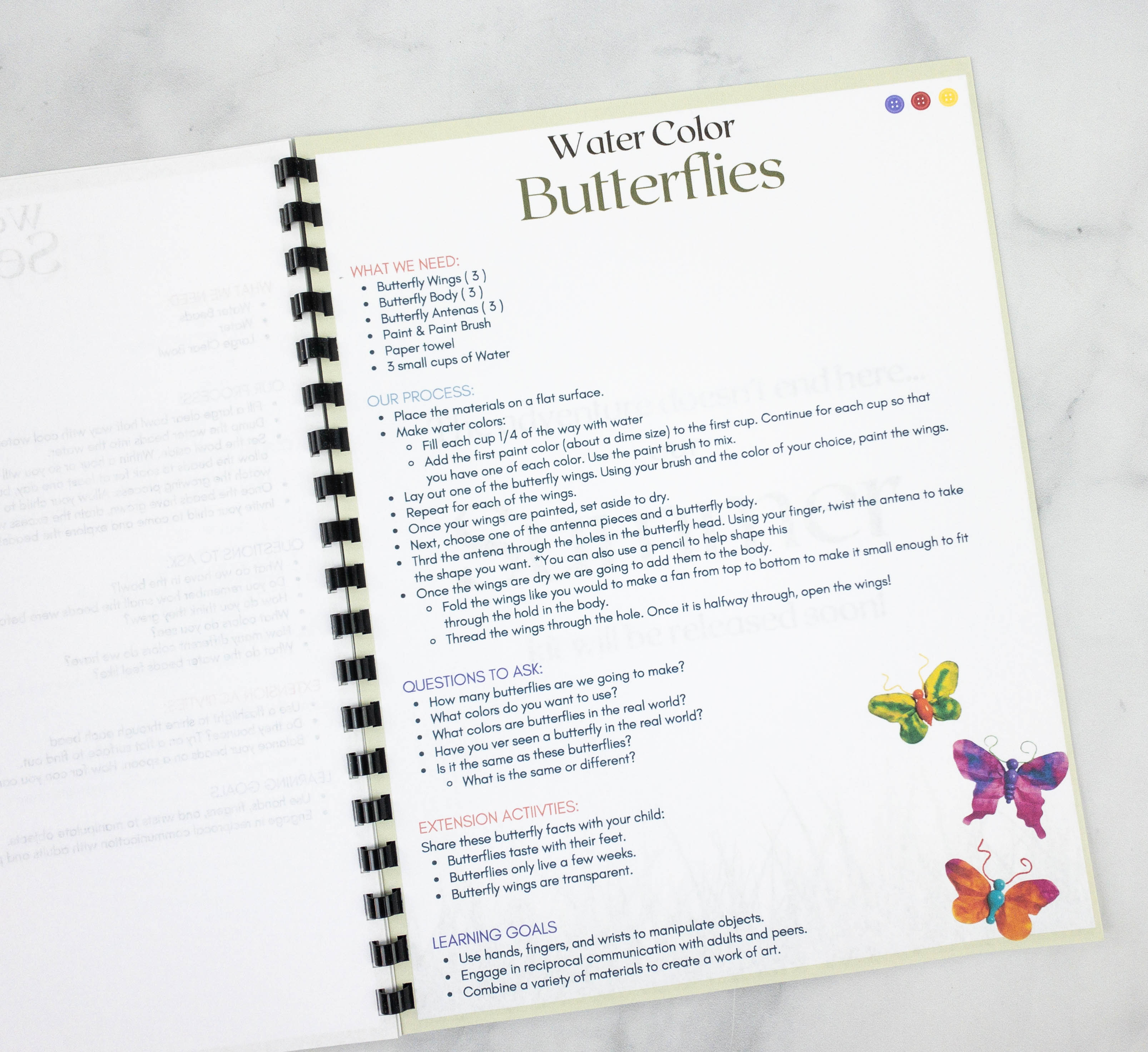 Extension activities and learning goals are also discussed in the guide.
Books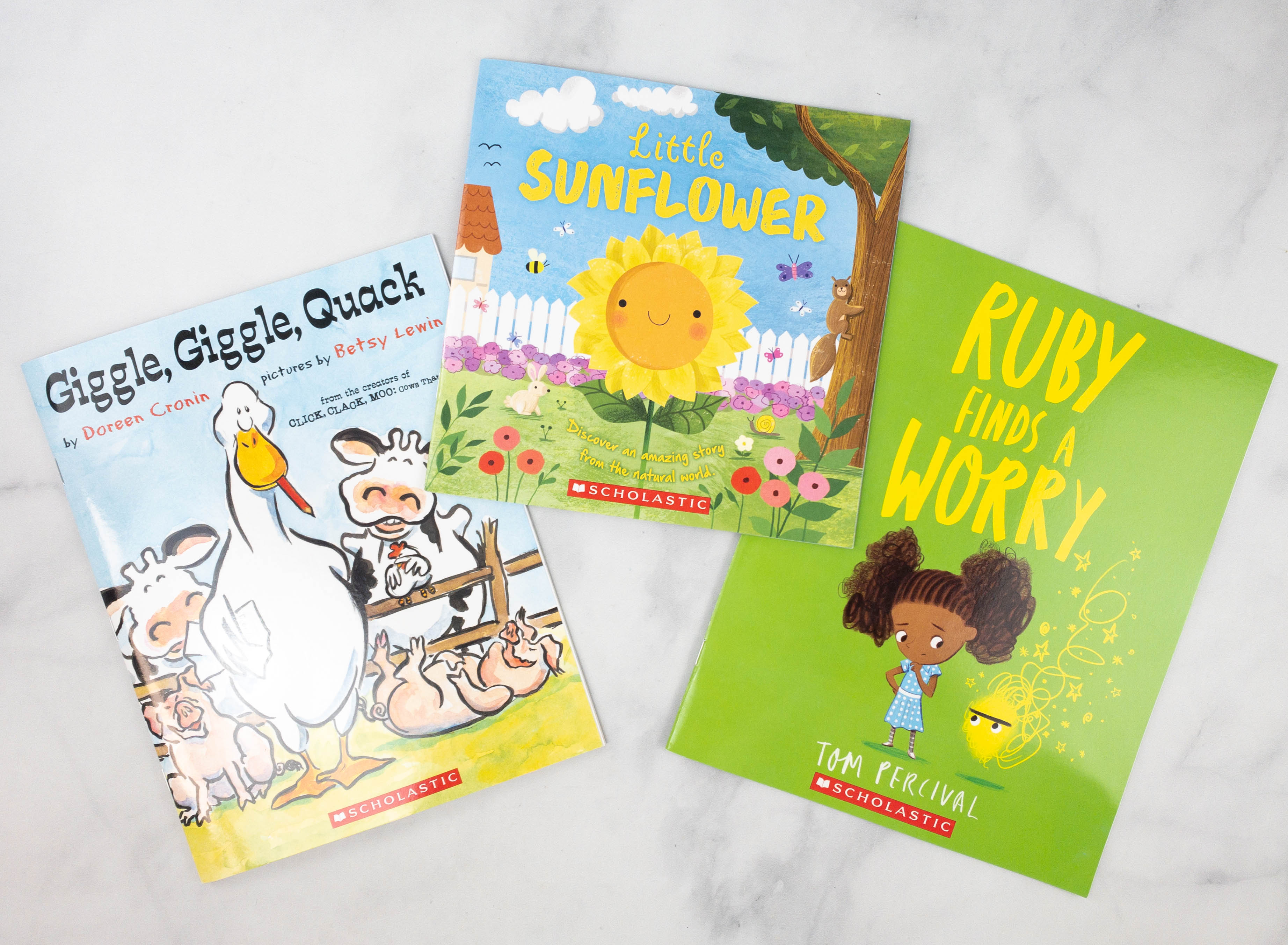 Each box includes 3 books!
Little Sunflower by IglooBooks ($9.84)
Have you ever wondered what happens to a seed when it is planted in the ground? Read along as a small seed grows up into a beautiful sunflower, meeting bees and learning a little about pollination on the way.
This is such a cute and colorful book that introduces kids to the life cycle of a sunflower.
The illustrations are charming. They are accompanied by rhyming texts that are fun to read!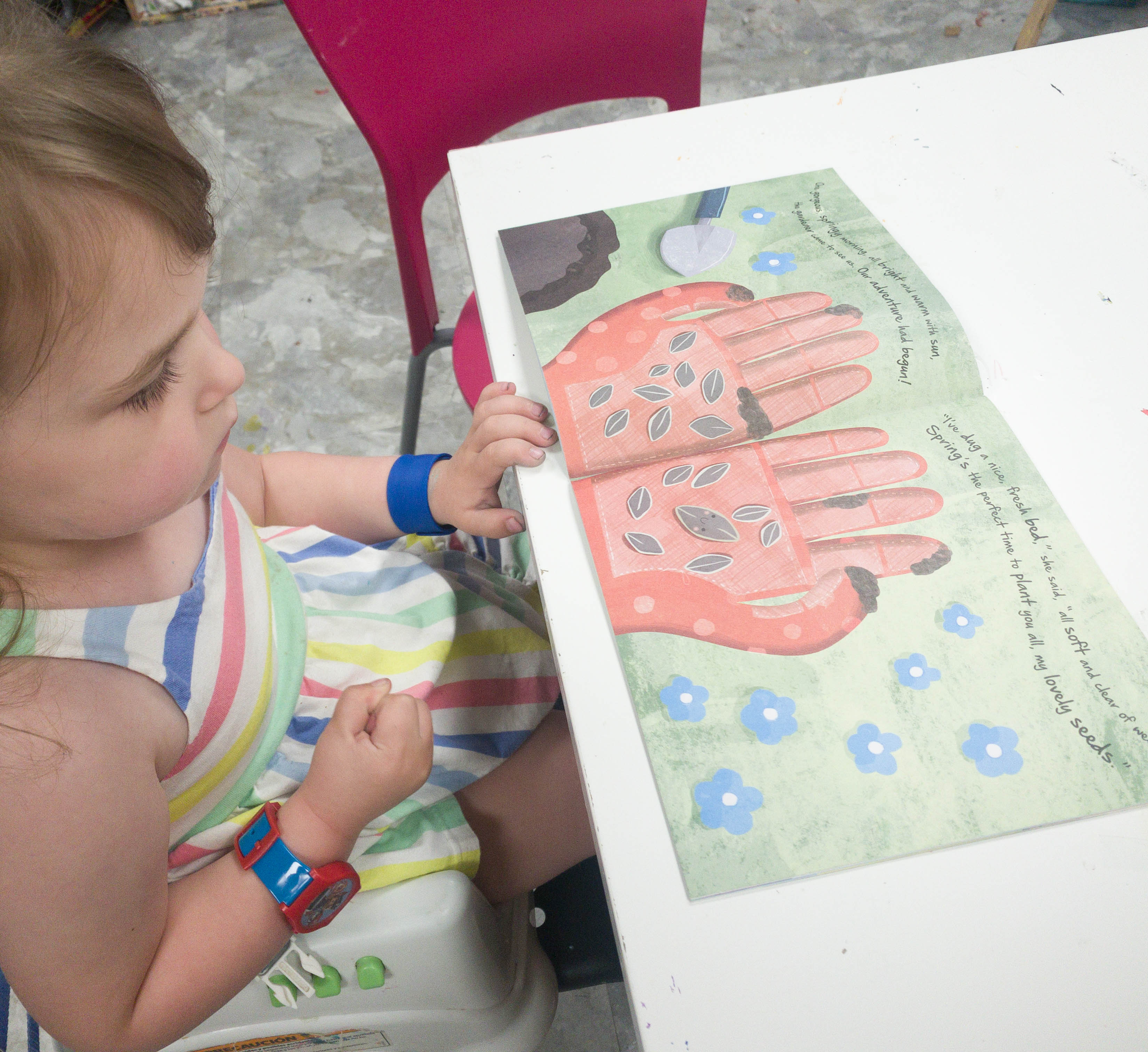 This book was a hit with my daughter!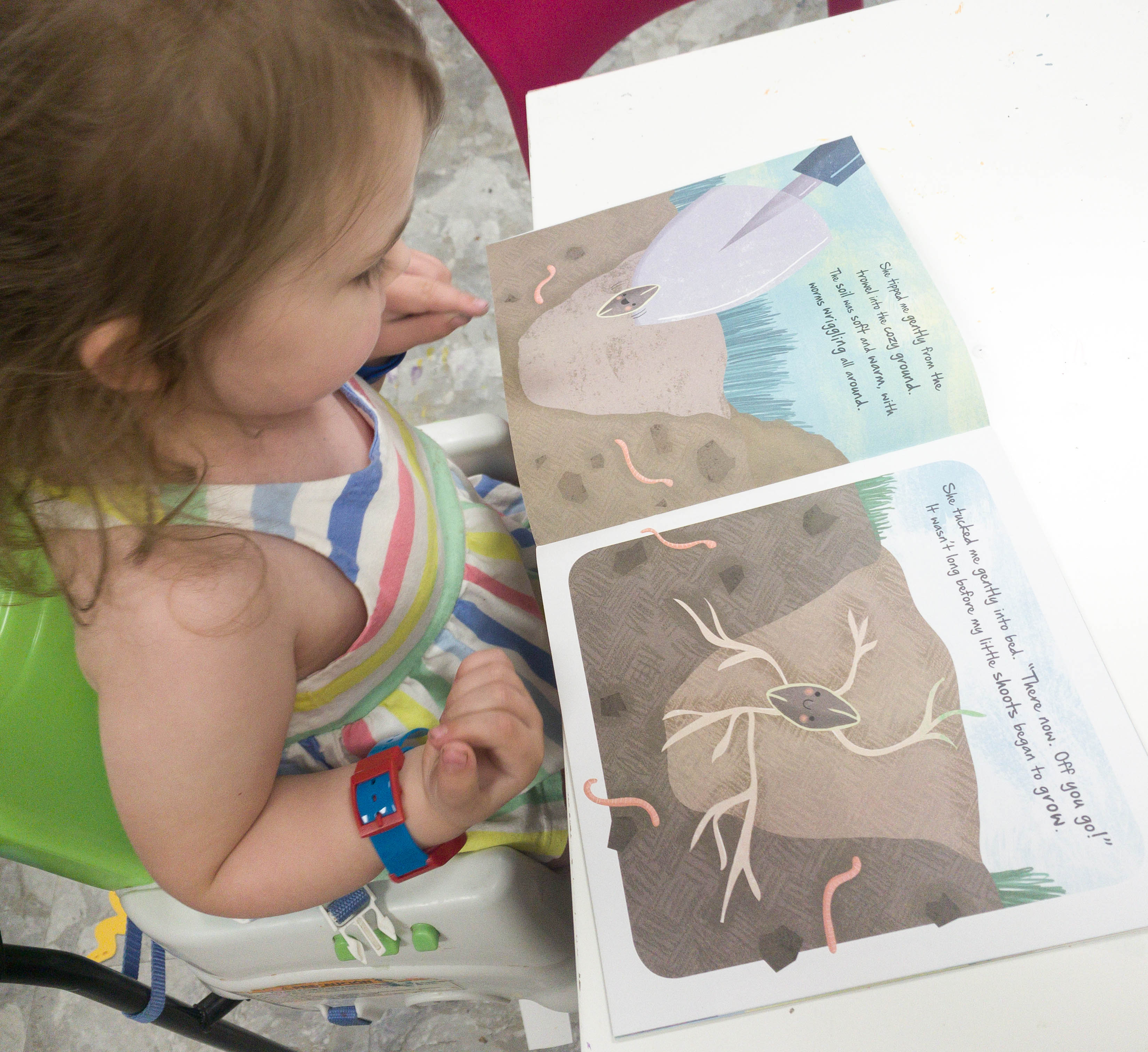 She enjoyed learning about how flowers grow, and she also liked the cute details on the illustrations.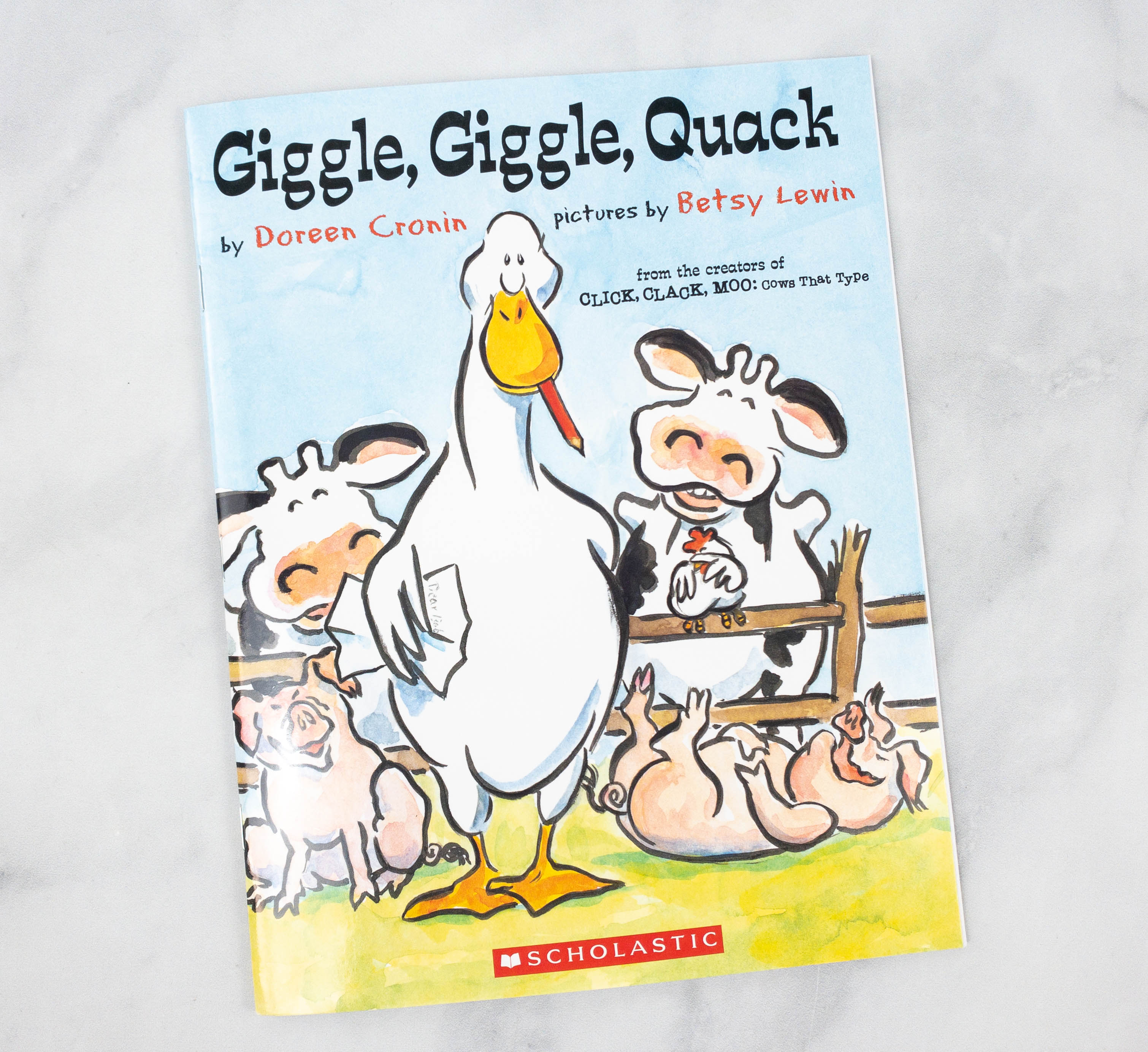 Giggle, Giggle, Quack by Doreen Cronin ($4.99)
The sequel to the New York Times and Caldecott Honor–winning Click, Clack, Moo is now available as a Level 2 Ready-to-Read!

Farmer Brown is going on vacation. He asks his brother, Bob, to take care of the animals. "But keep an eye on Duck. He's trouble."

Bob follows the instructions in Farmer Brown's notes exactly. He orders pizza with anchovies for the hens, bathes the pigs with bubble bath, and lets the cows choose a movie.

Is that he giggling he hears?

Giggle, giggle
quack, giggle, moo,
giggle, oink…

The duck, the cows, the hens, and the pigs are back in top form in this hilarious follow-up to the beloved Caldecott Honor Book Click, Clack, Moo: Cows That Type.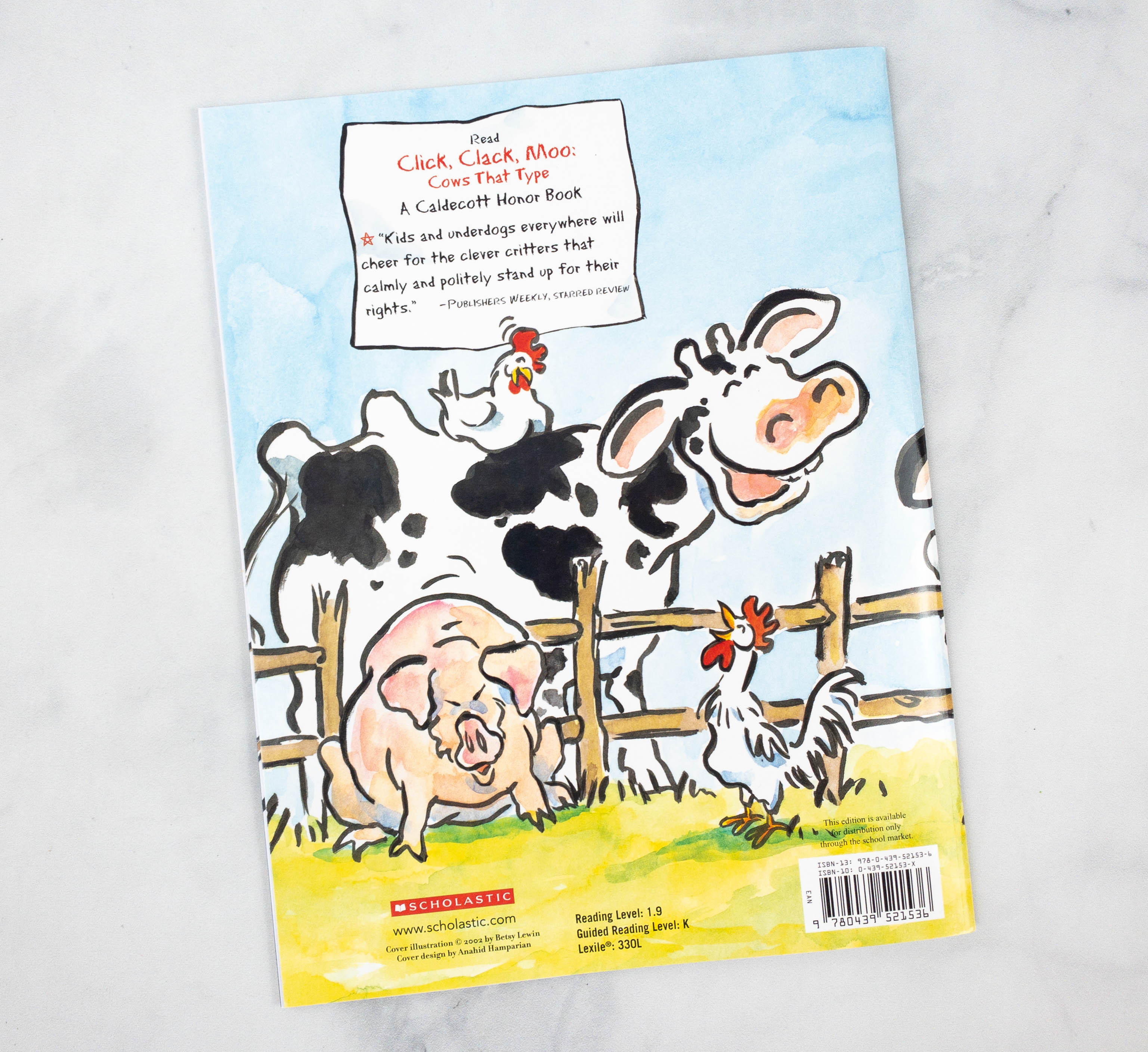 This one is all about farm animals, with the duck being the troublemaker!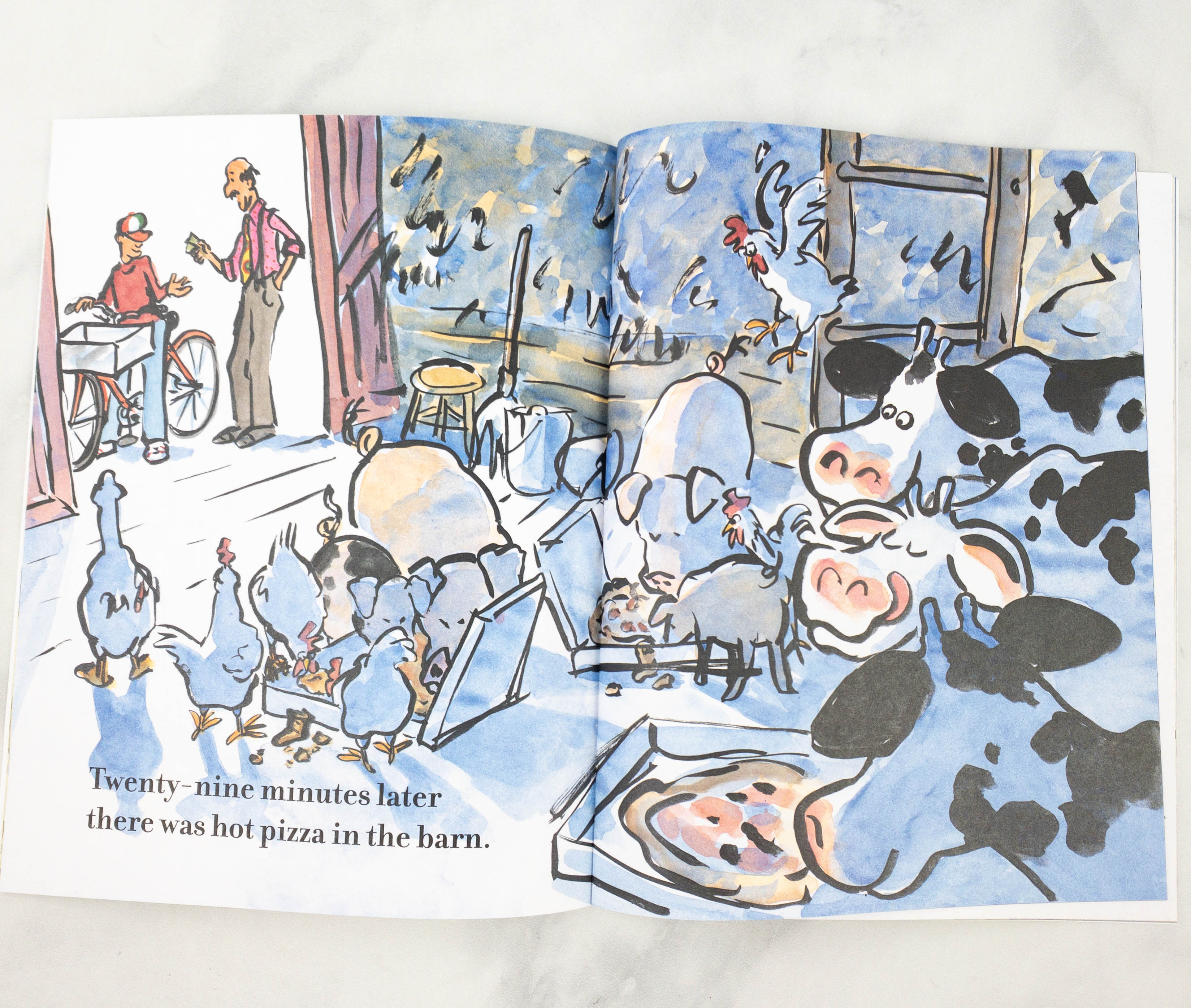 The texts are short, but fun to read aloud. My kids had a good laugh because of this one, especially because of the silliness of the duck.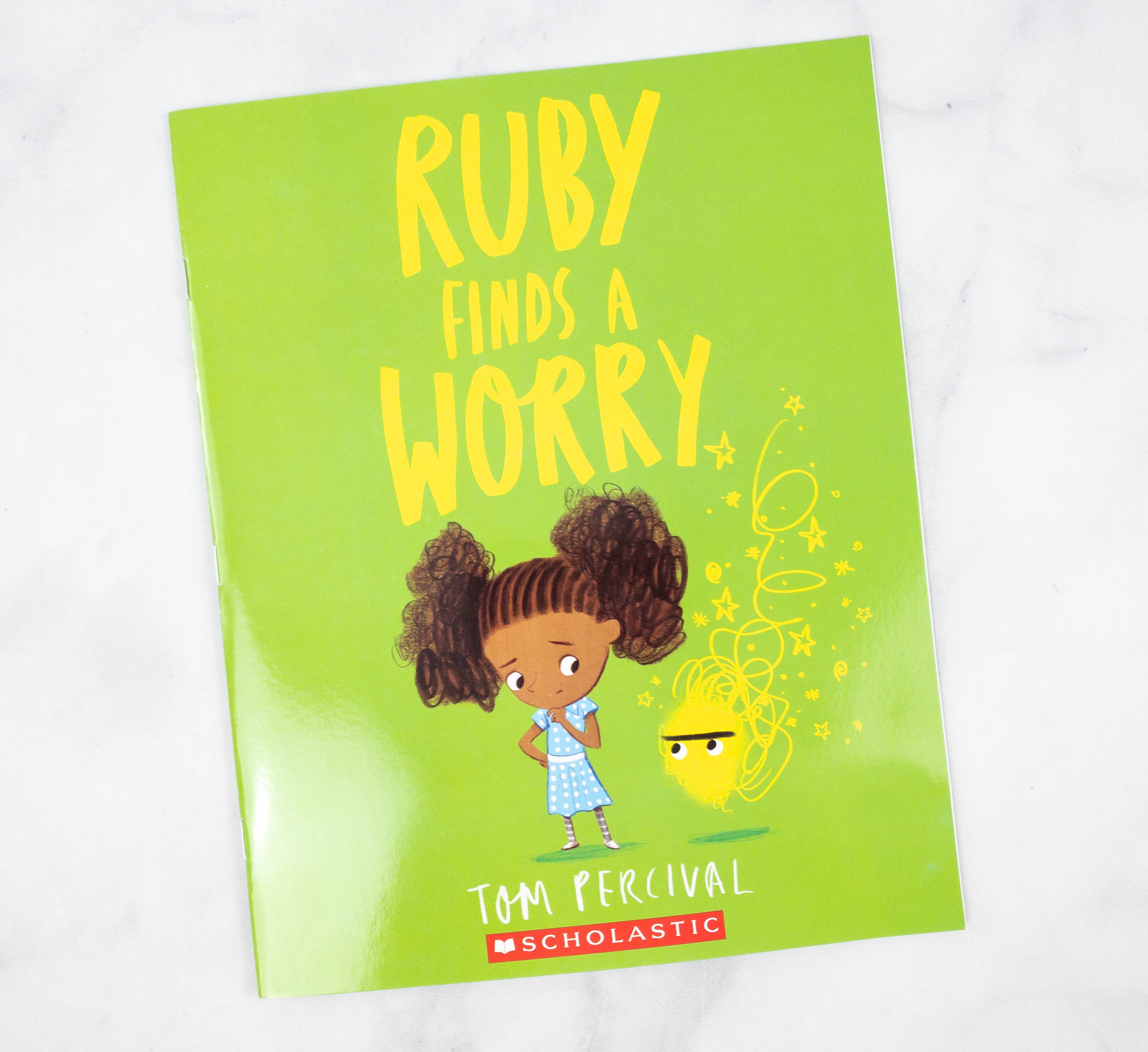 Ruby Finds A Worry by Tom Percival ($7.99)
From the creator of Perfectly Norman comes a sensitive and reassuring story about what to do when a worry won't leave you alone.

Meet Ruby–a happy, curious, imaginative girl. But one day, she finds something unexpected: a Worry.

It's not such a big Worry, at first. But every day, it grows a little bigger . . . And a little bigger . . . Until eventually, the Worry is ENORMOUS and is all she can think about.

But when Ruby befriends a young boy, she discovers that everyone has worries, and not only that, there's a great way to get rid of them too . . .

This perceptive and poignant story is the perfect springboard for talking to children about emotional intelligence and sharing hidden anxieties.

The Big Bright Feelings picture books provide kid-friendly entry points into emotional intelligence topics–from being true to yourself, to worrying, to anger management, to making friends. These topics can be difficult to talk about. But these books act as sensitive and reassuring springboards for conversations about mental and emotional health, positive self-image, building self-confidence, and managing feelings.

Read all the books in the Big Bright Feelings series!
Perfectly Norman
Ruby Finds a Worry
Ravi's Roar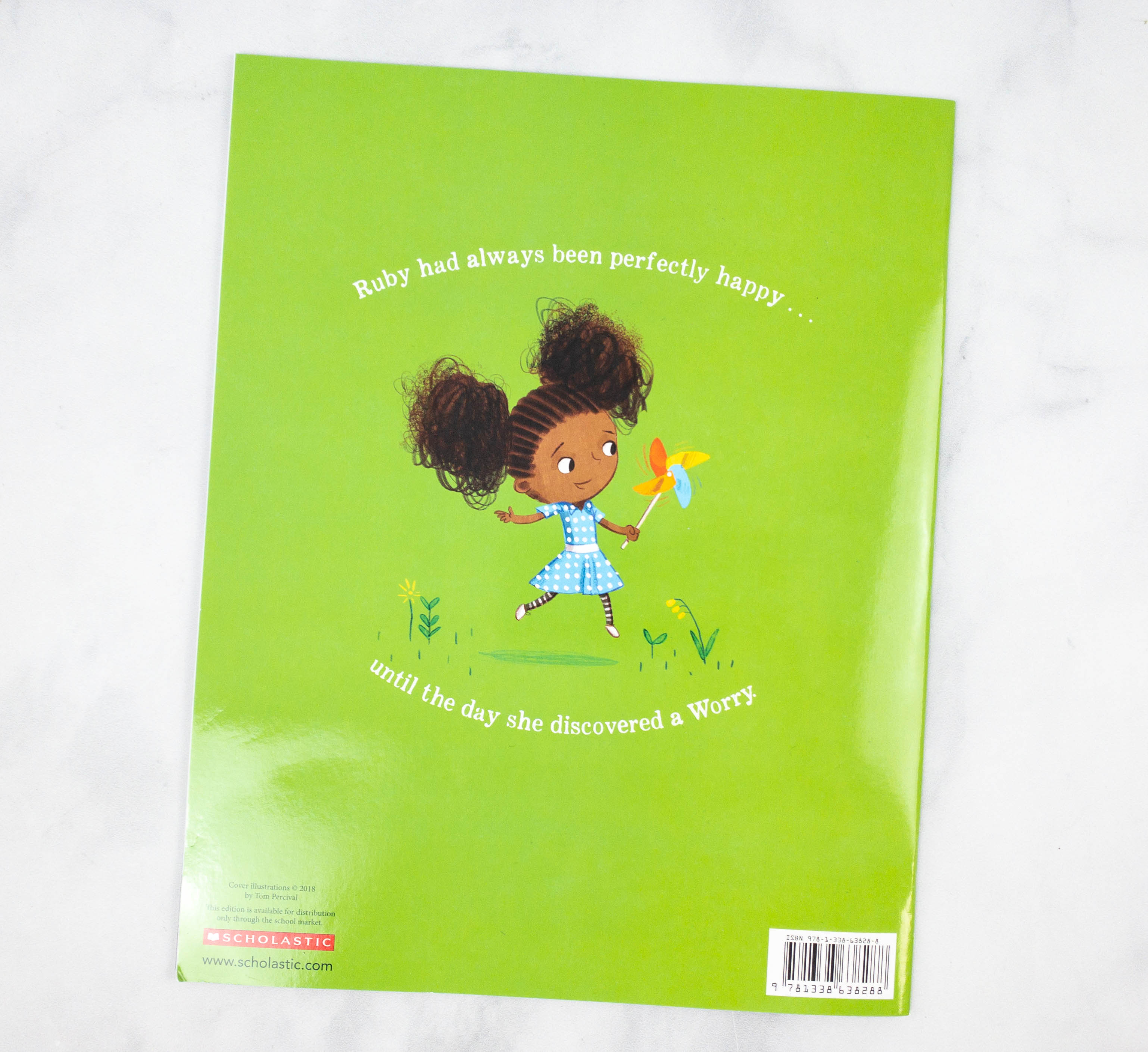 This story tackles anxiety and mental health in a way that they can easily understand.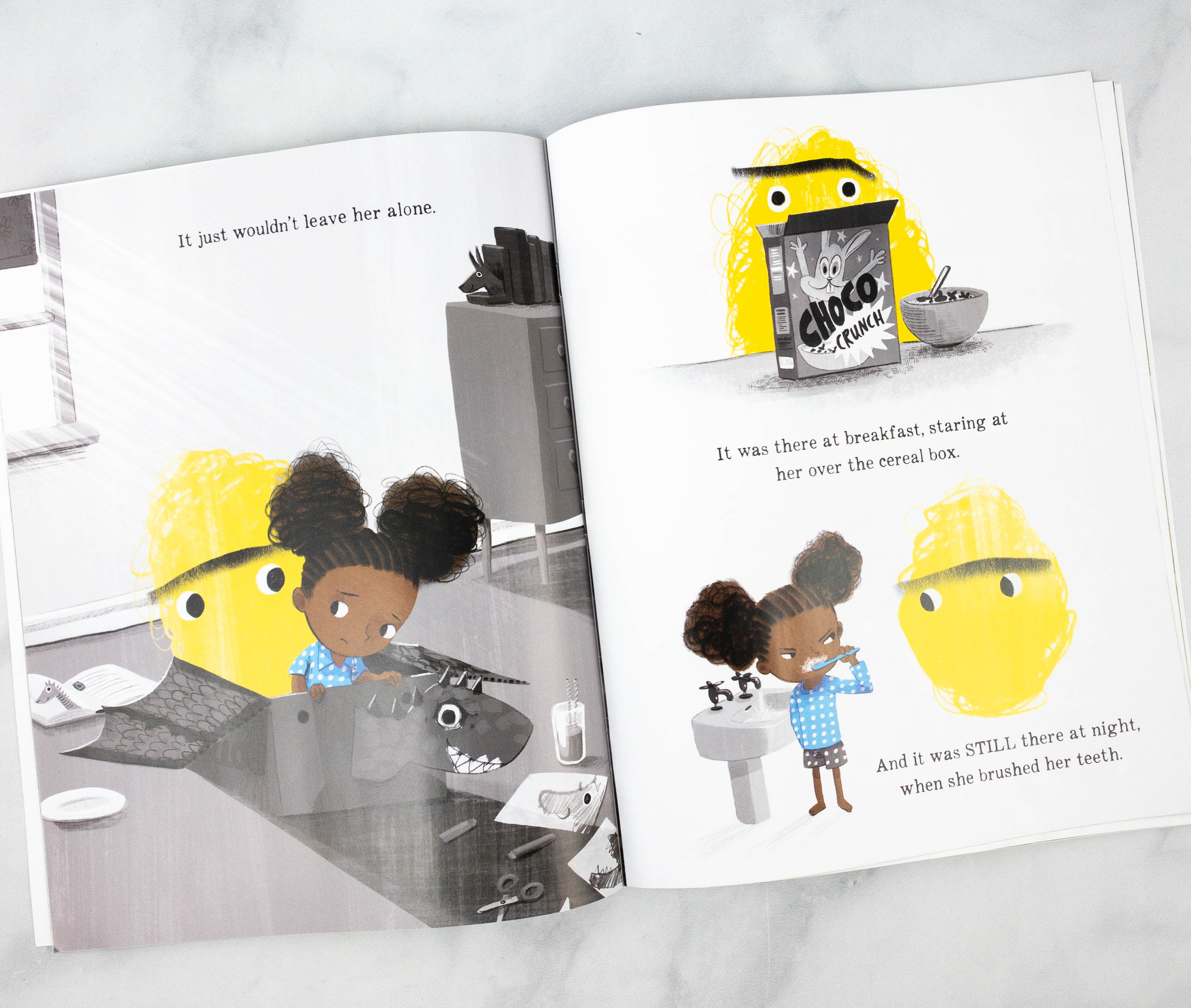 It teaches kids that it's okay to worry and that it's okay to share your worries to others!
Activities
Here are some activity cards! One is about measuring worms, the other is about counting animals, and the third one involves tracing spring-related vocabulary words.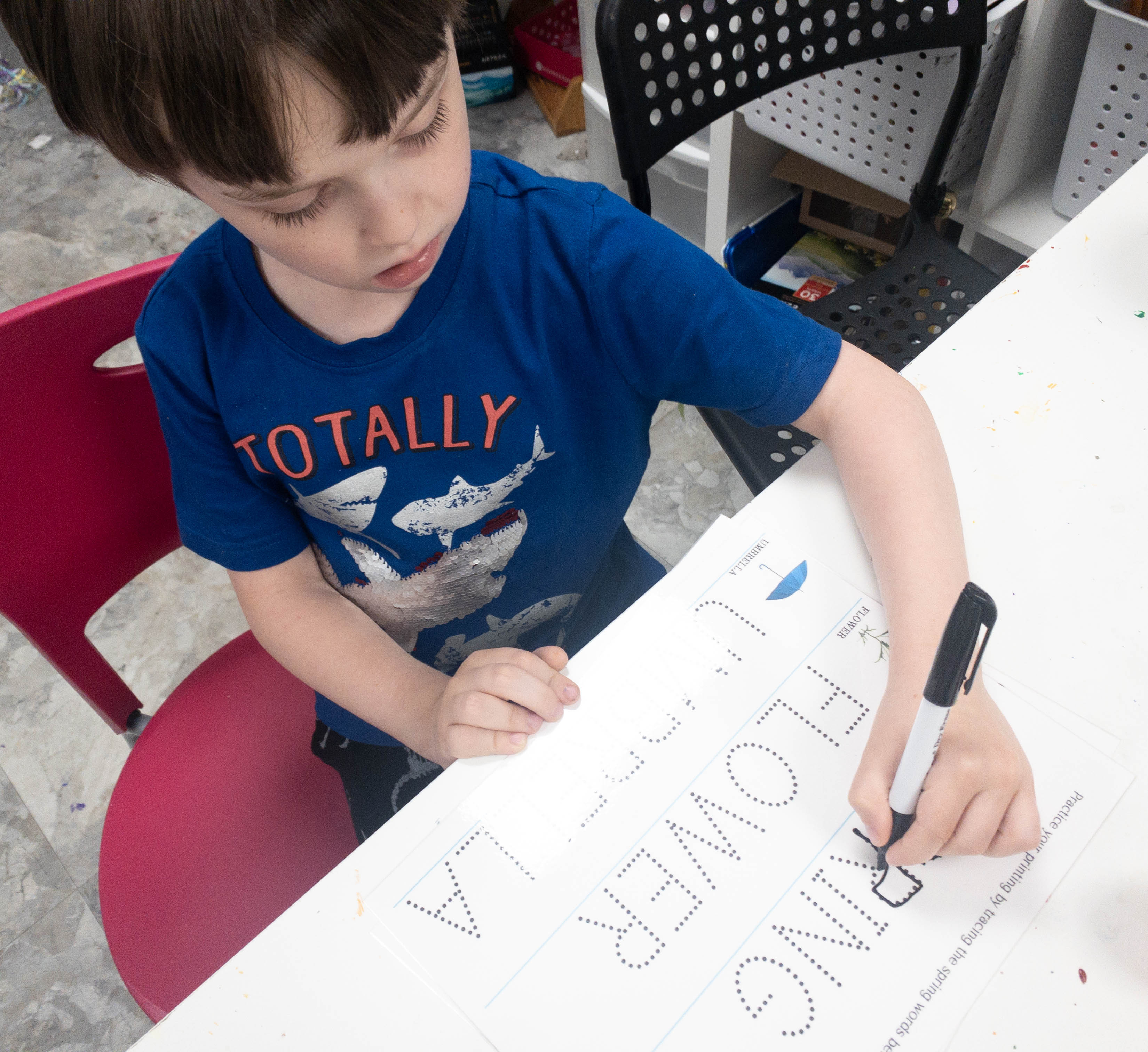 My son tried them right away, starting with the letter tracing!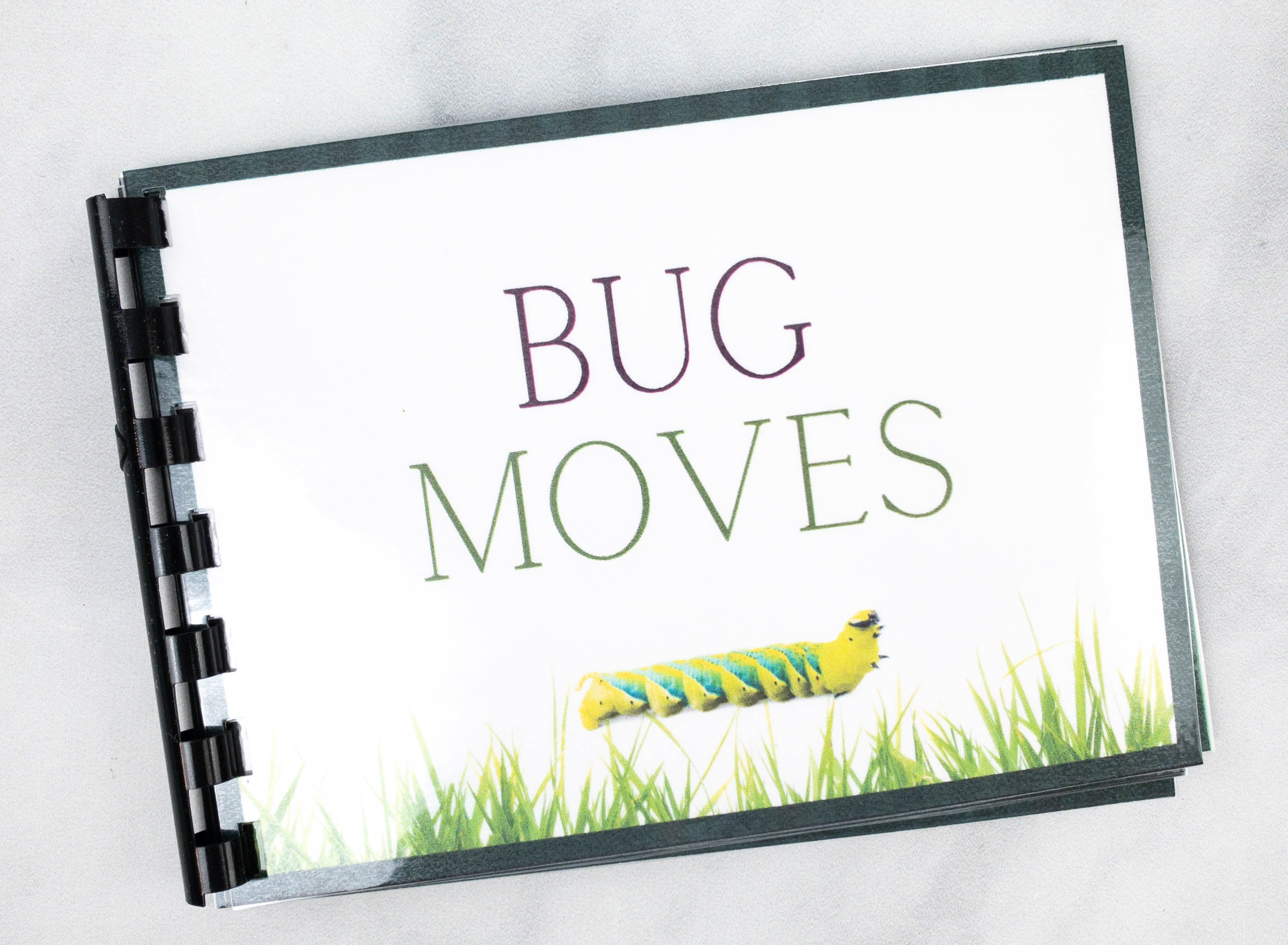 Here's is another fun activity included in the box, entitled Bug Moves.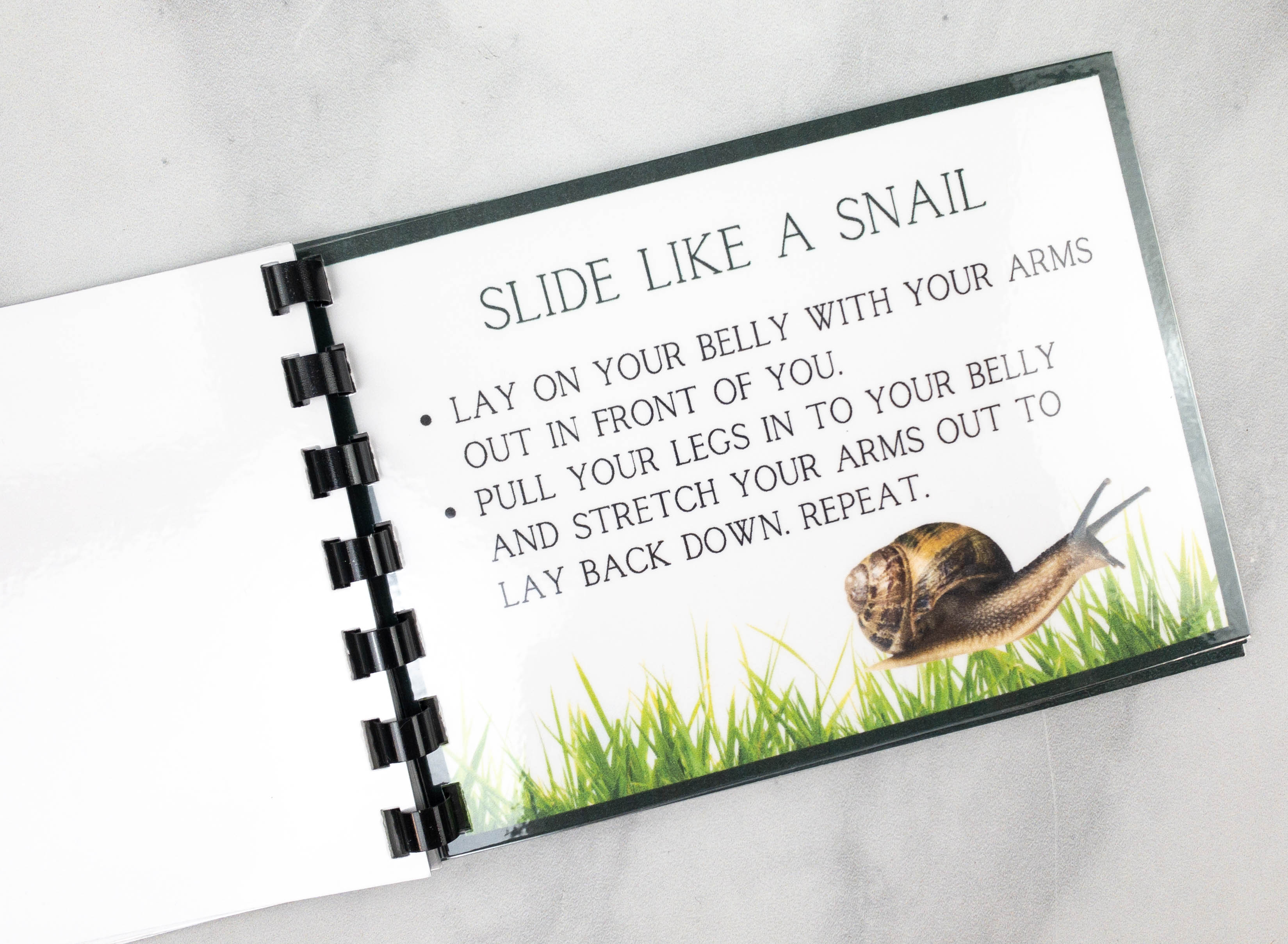 The booklet includes instructions on how kids can mimic the moves of different bugs. It's also accompanied by an illustration of the bug, for the kids' reference. This is a good way to familiarize kids with bugs, and it also helps keep them active even when they're just at home.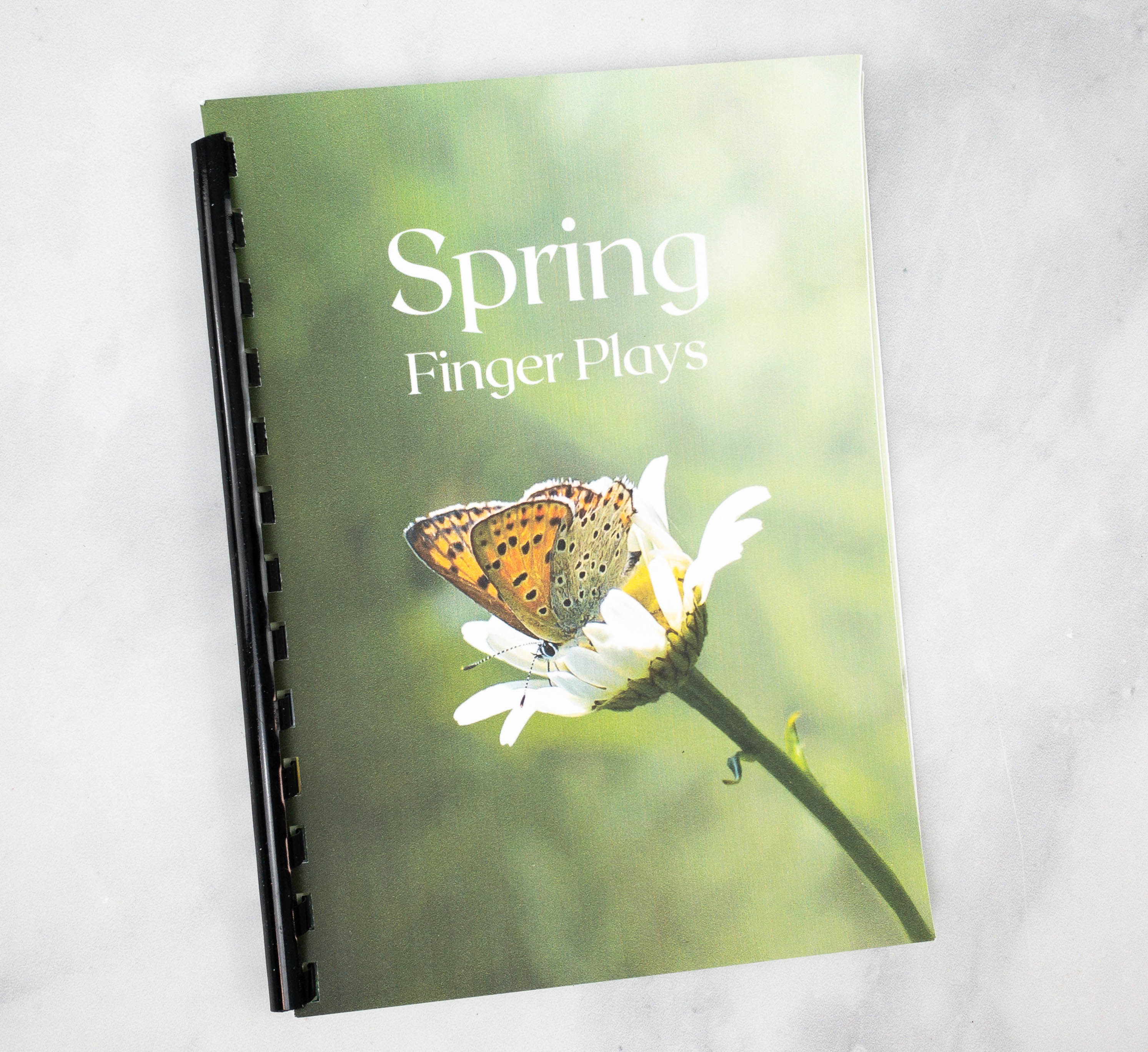 Next up is Spring Finger Plays!
This is such a cute activity! Kids just need to sing the Five Little Speckled Frogs, and do the actions suggested on the booklet.
These are the materials for the rest of the activities.
They included materials for planting flowers! There's a shovel, a pot, some soil, and even the petunia flower seeds.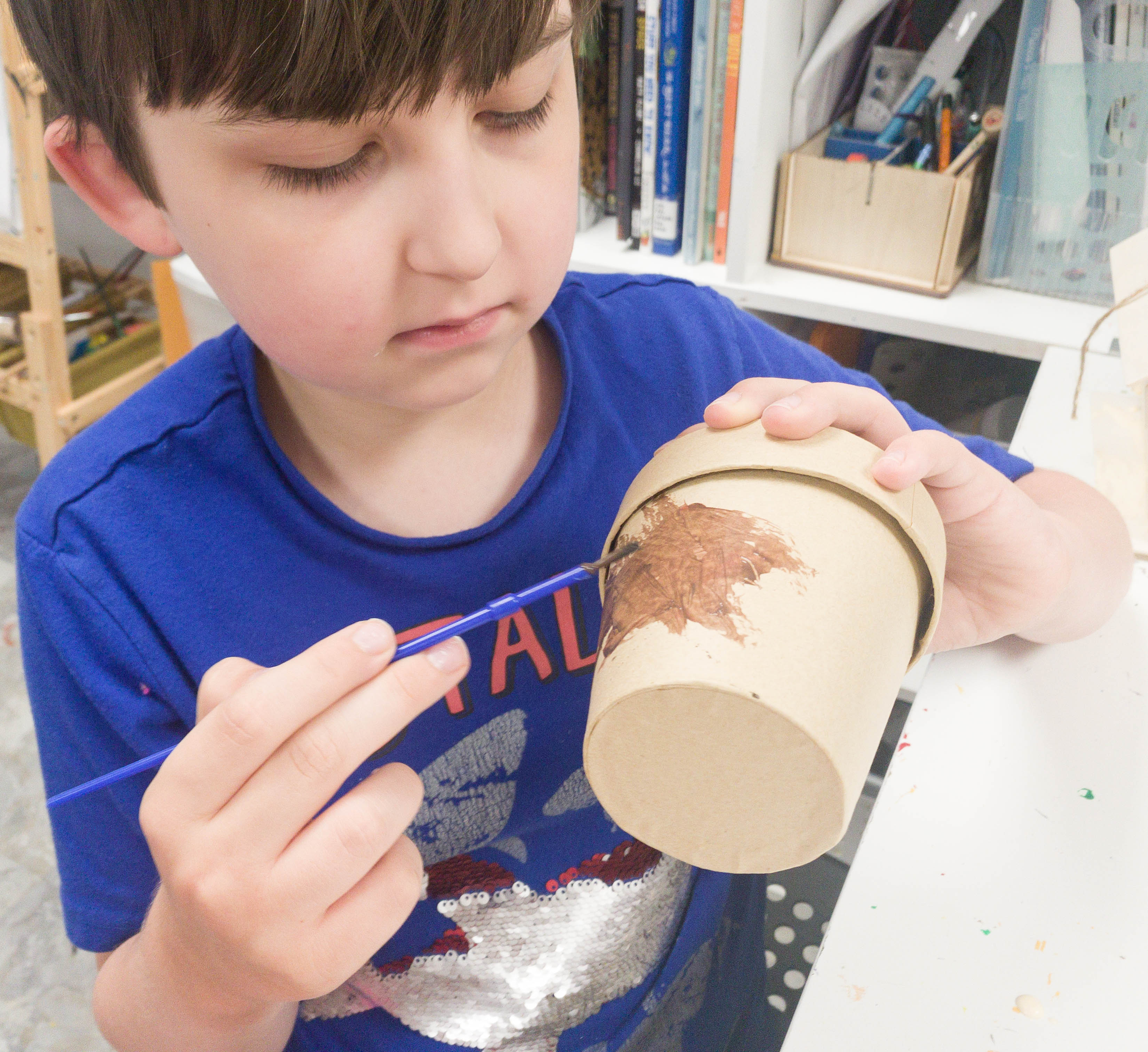 My son painted the pot first!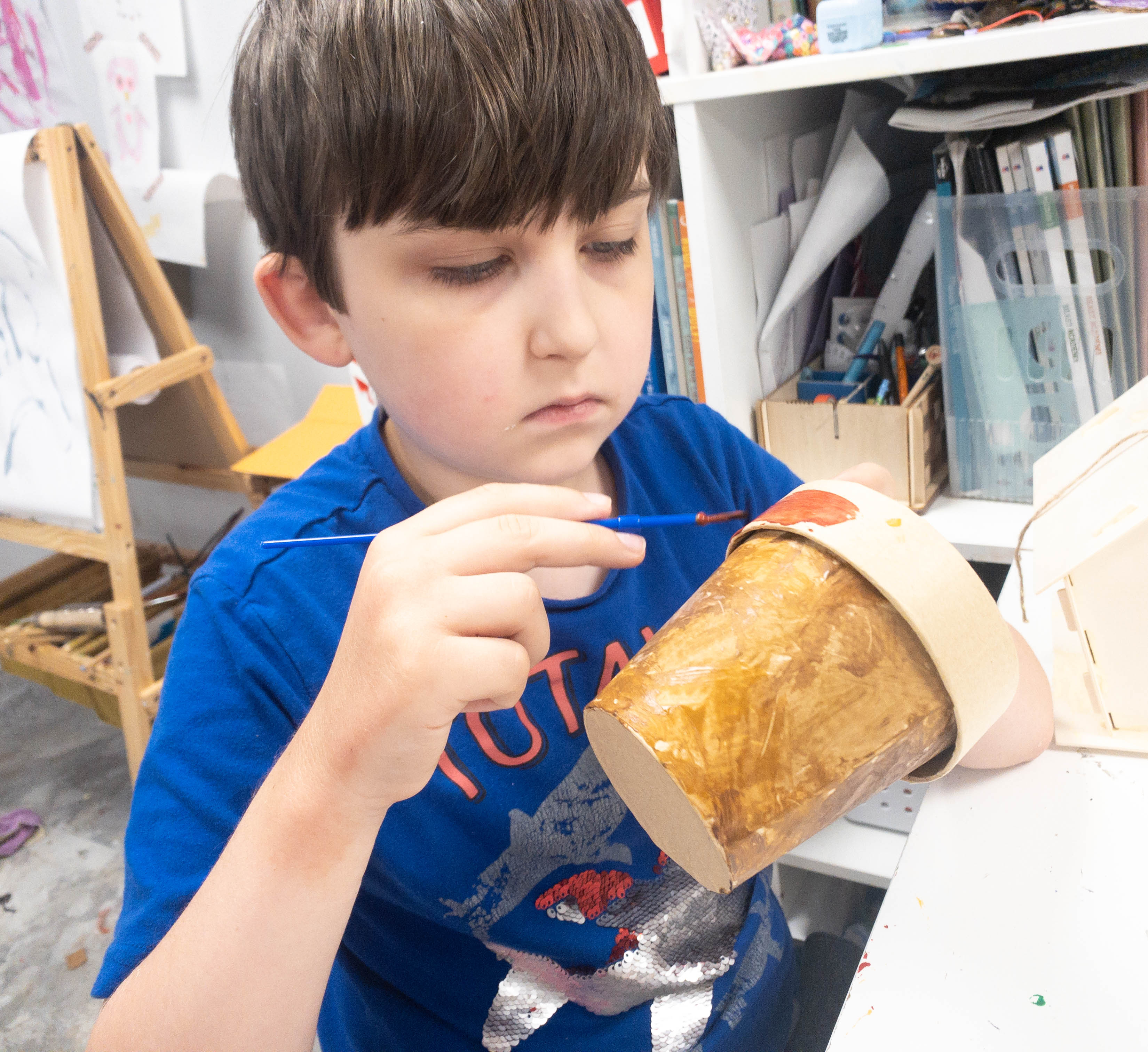 He covered everything with brown paint.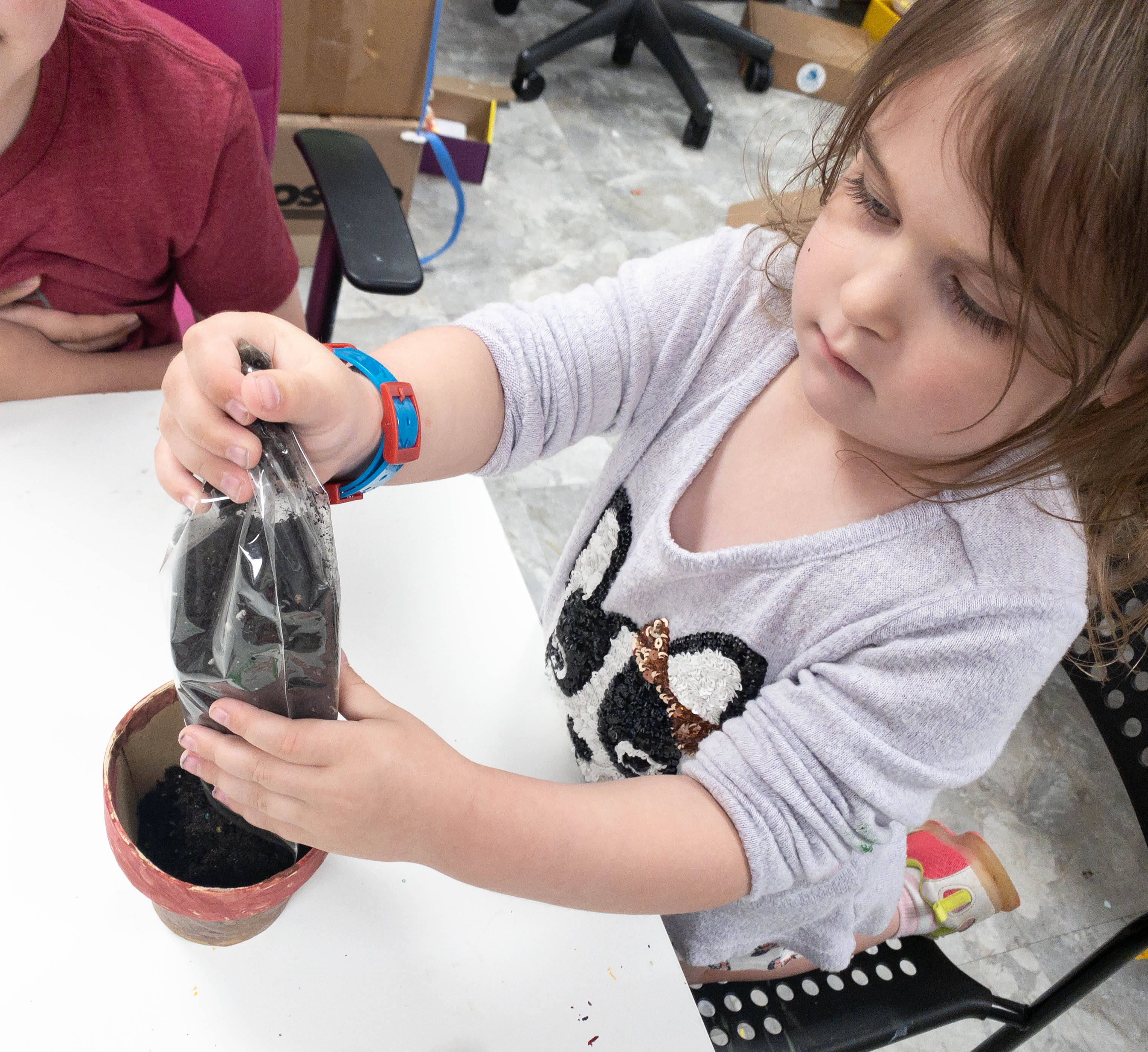 When the pot was already dry, my daughter transferred the soil in it.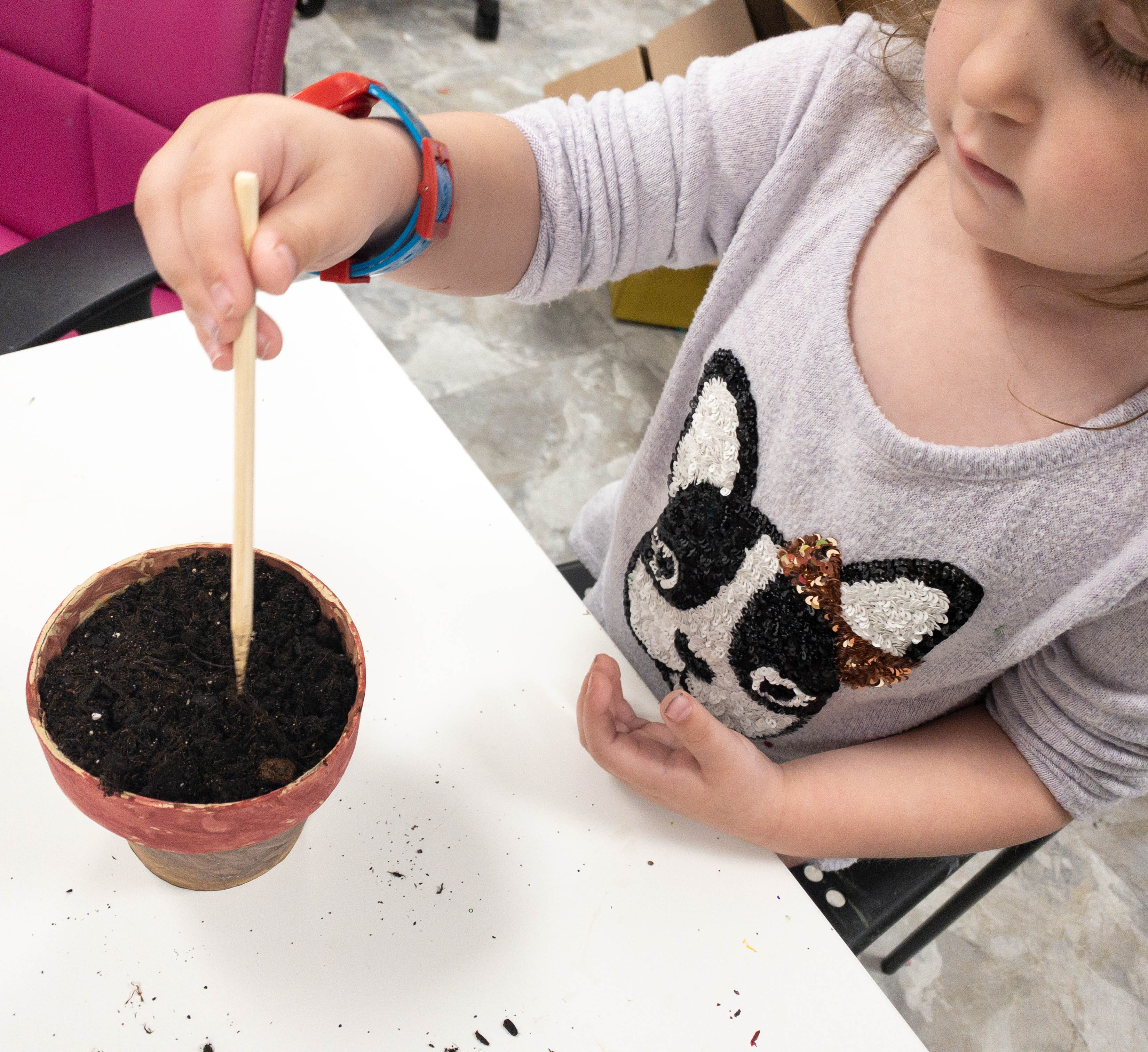 She also put the seeds in it! Now, all they have to do is to water it everyday and wait for the flowers  to bloom.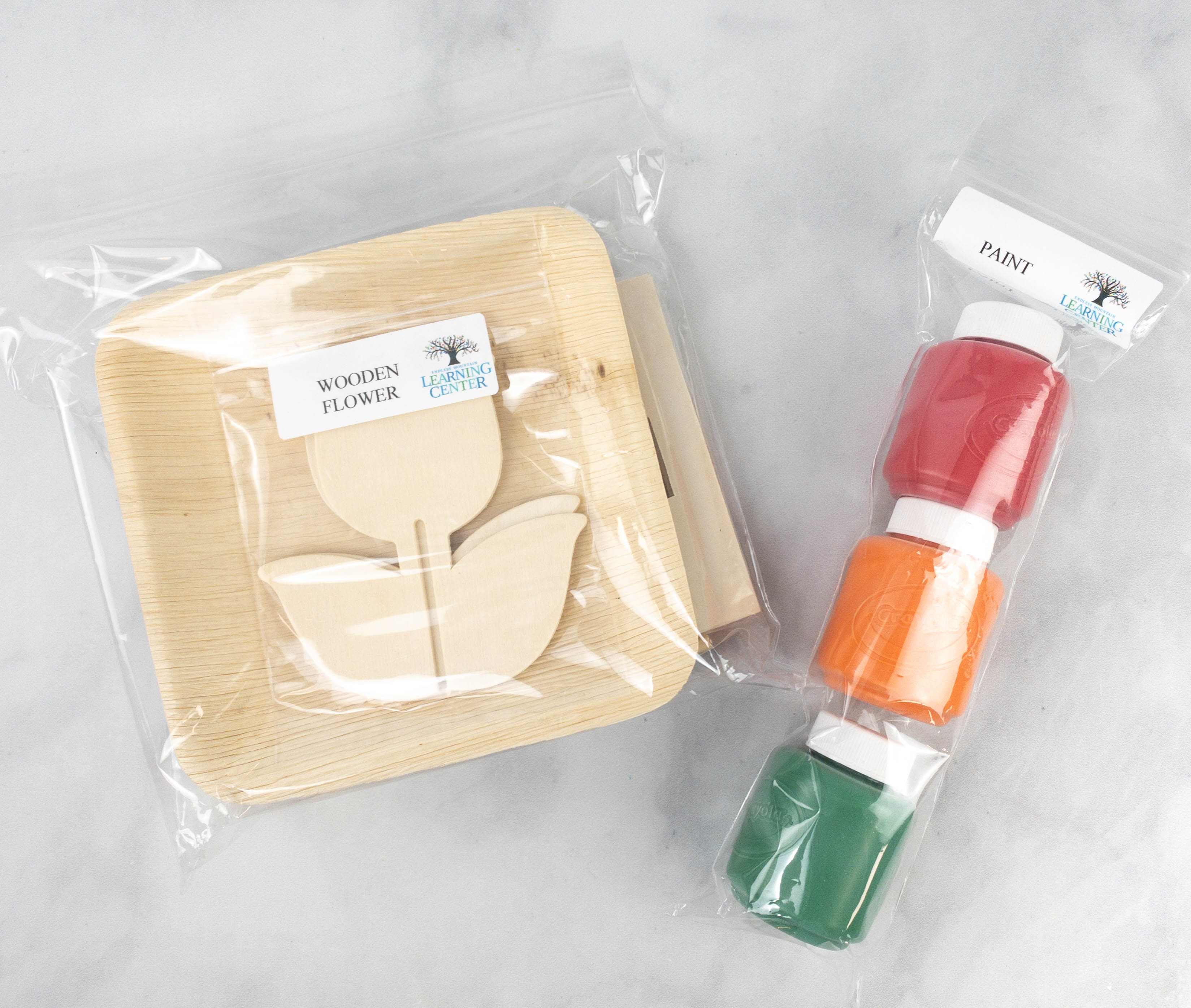 The next activity is painting wooden flowers! They provided 3 colors of paint for this activity, which includes red, orange, and green.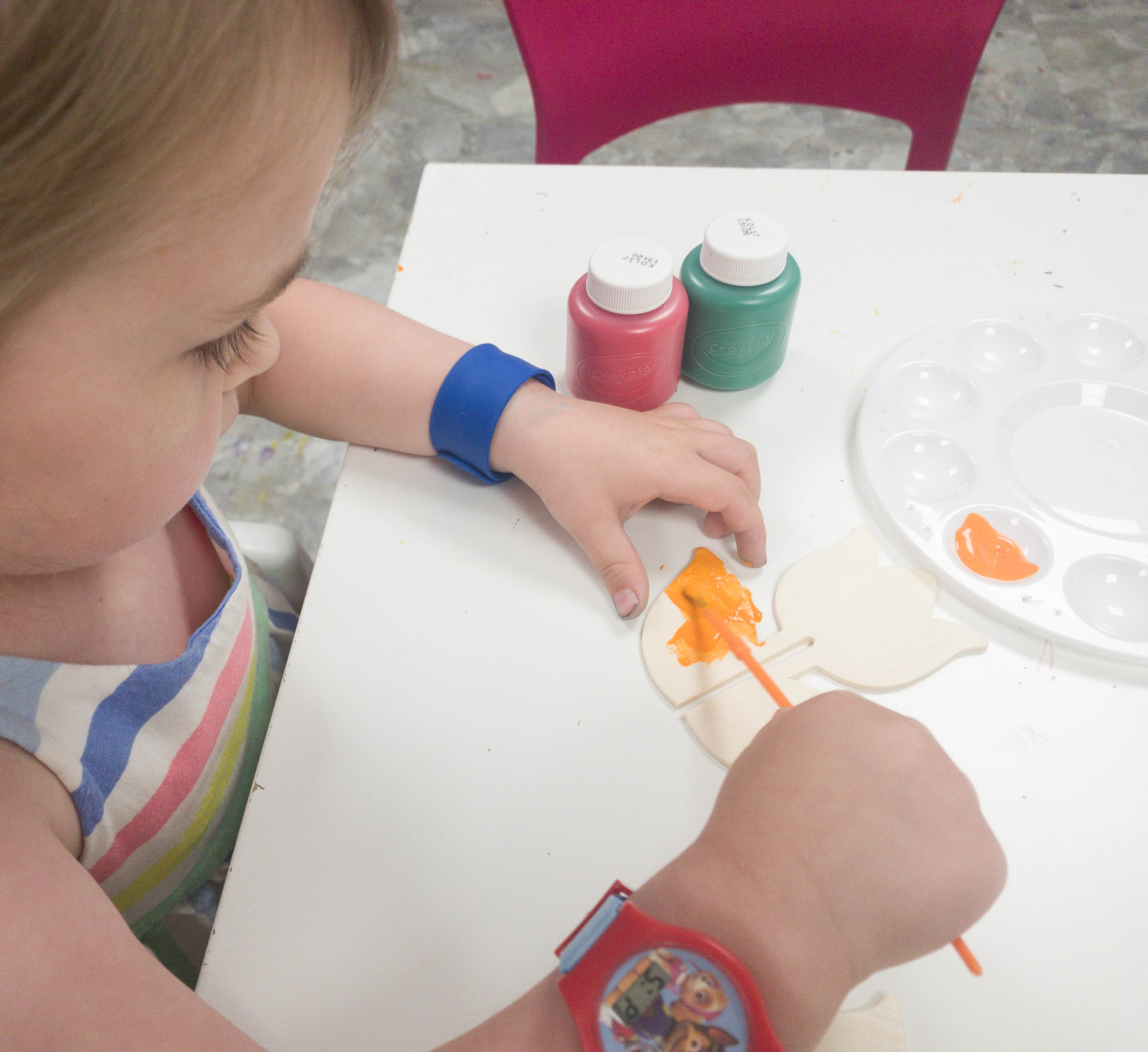 My daughter gave it a try and she chose the orange paint for her flower!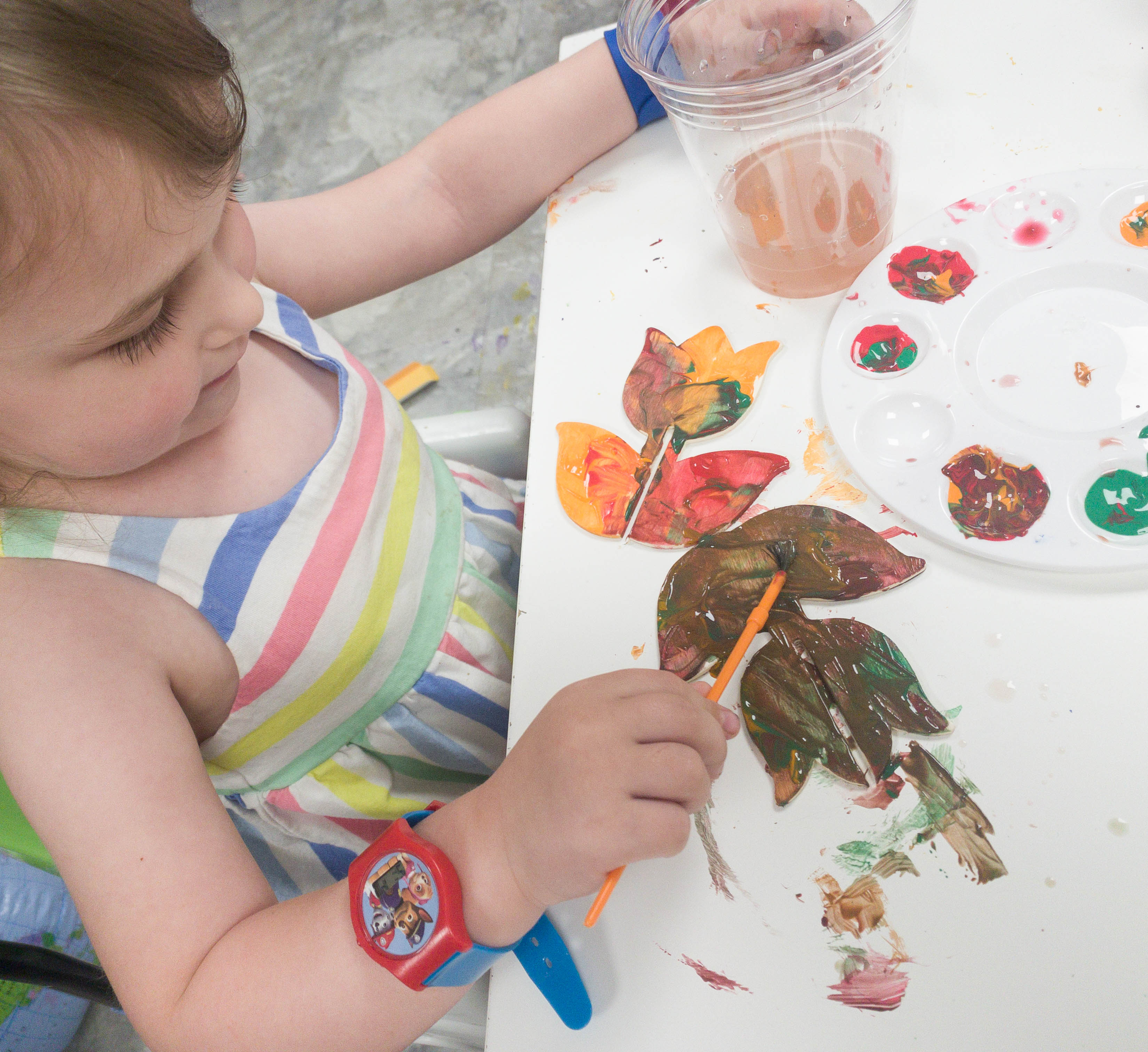 Later, she mixed in the other colors!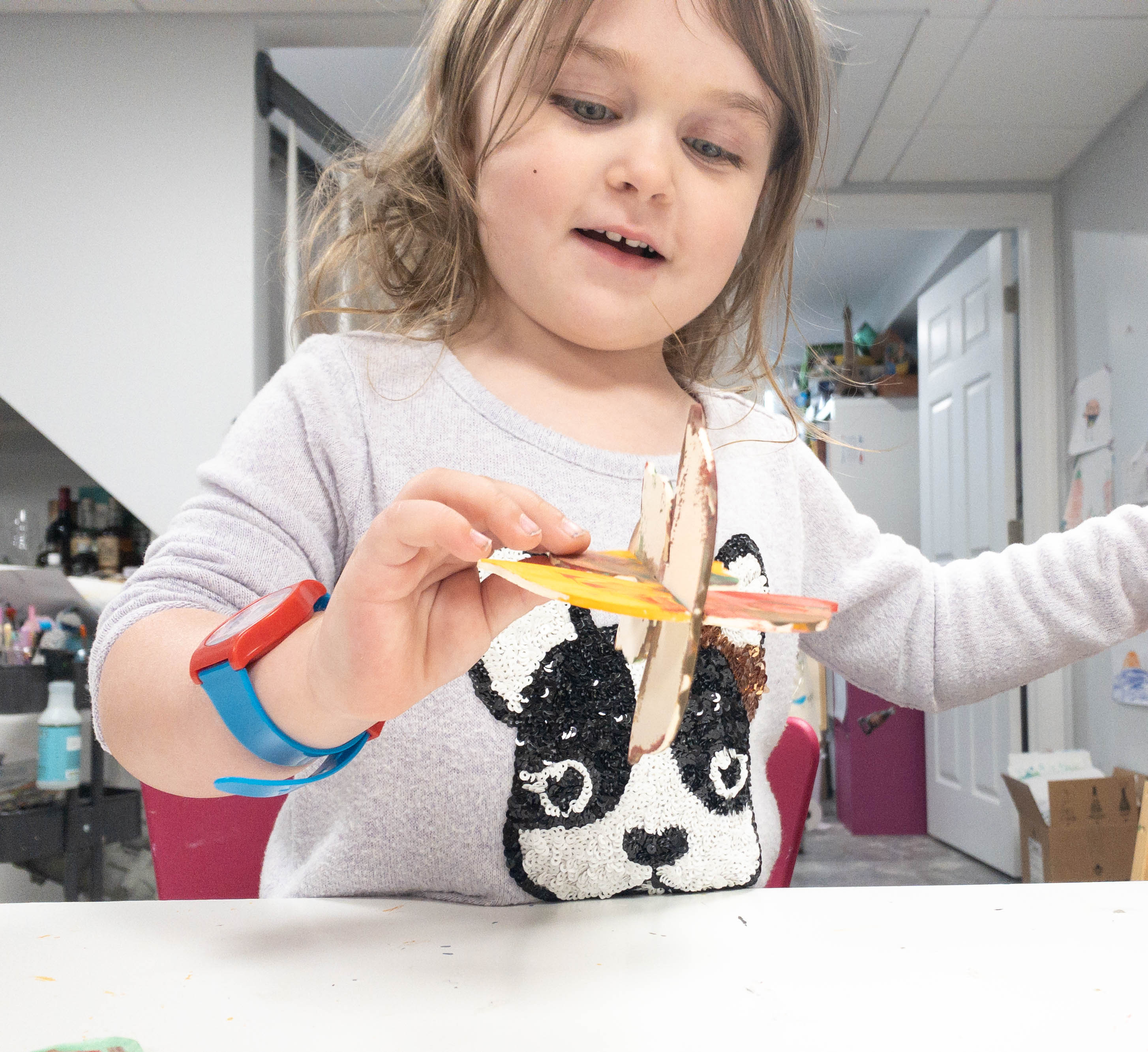 When the paints are dry, it's time to assemble the flower!
My daughter is pretty satisfied with how her flower turned out!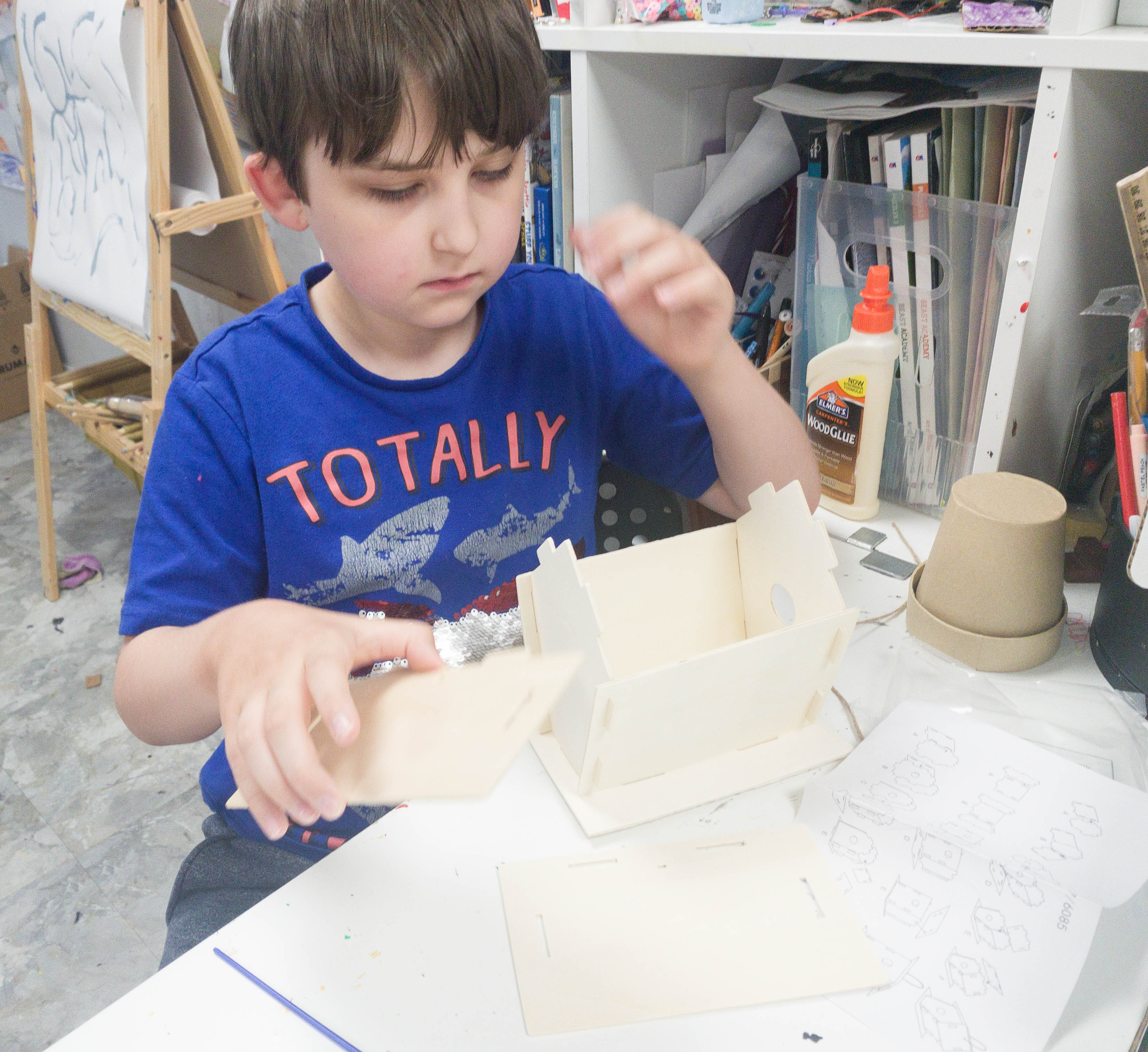 Also included is a wooden birdhouse, which my son assembled.
He finished assembling it in no time!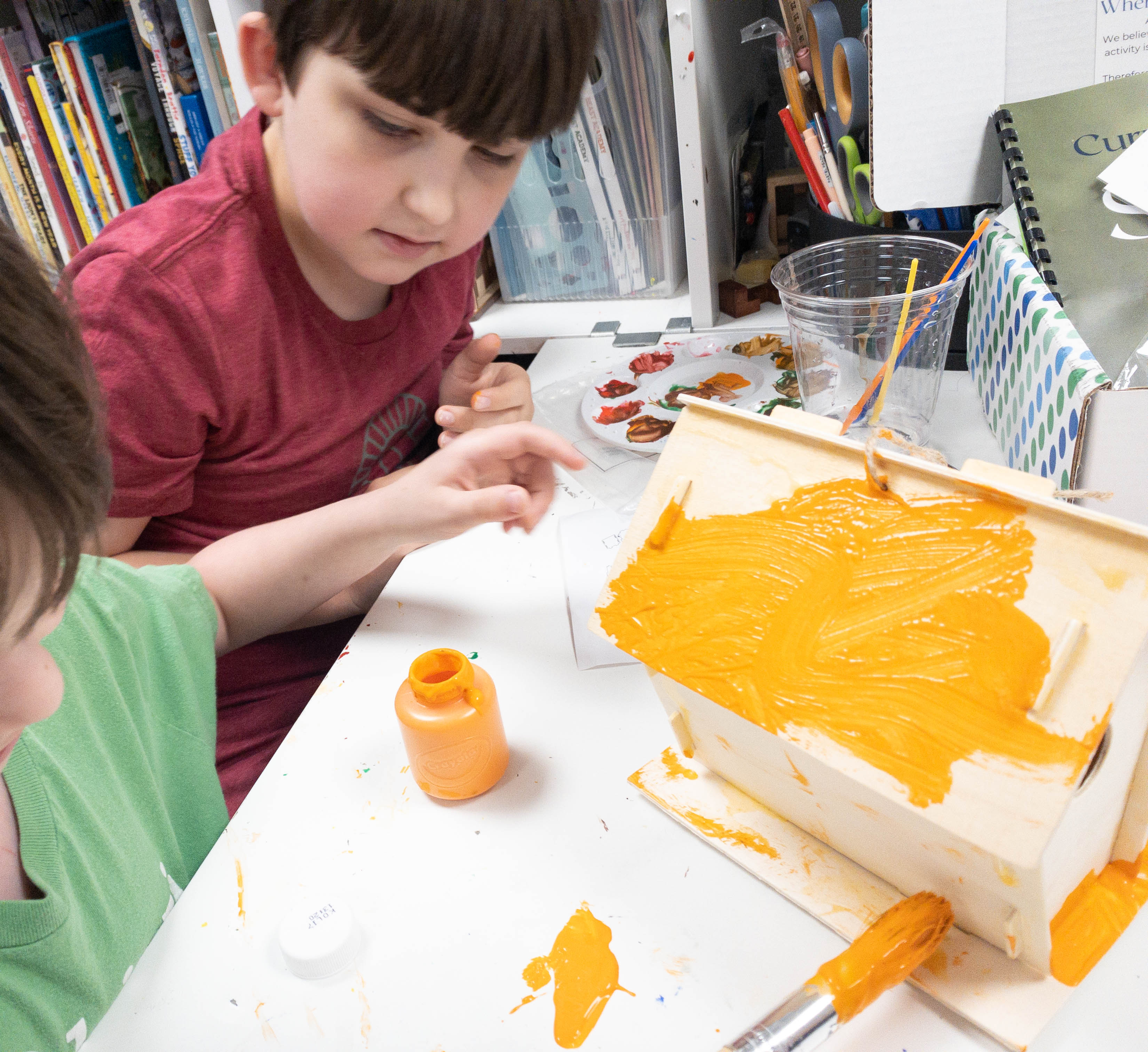 My kids worked together in painting it. First, they chose the orange paint for one side of the birdhouse.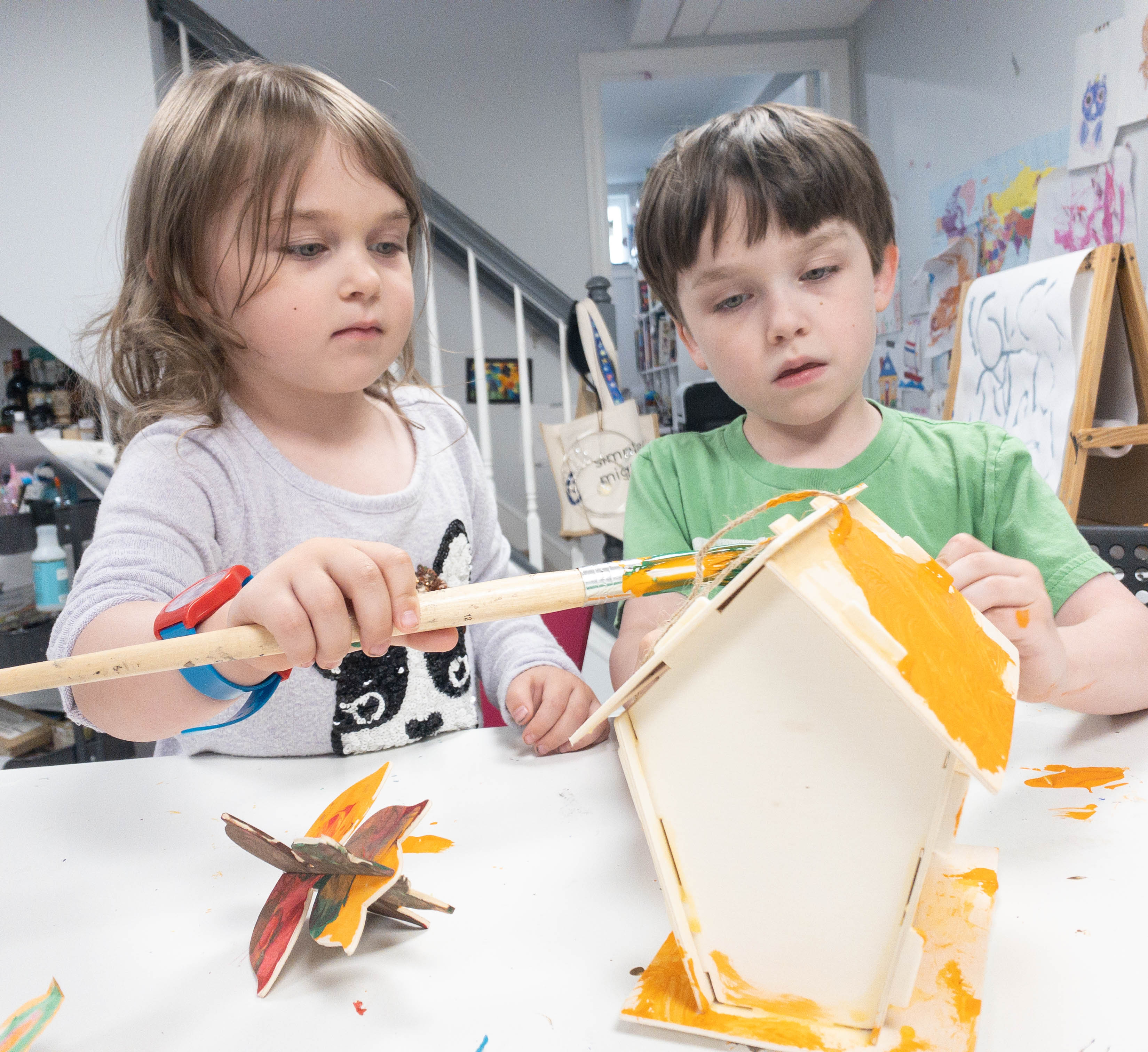 This activity is such a great way to unleash kids' creativity!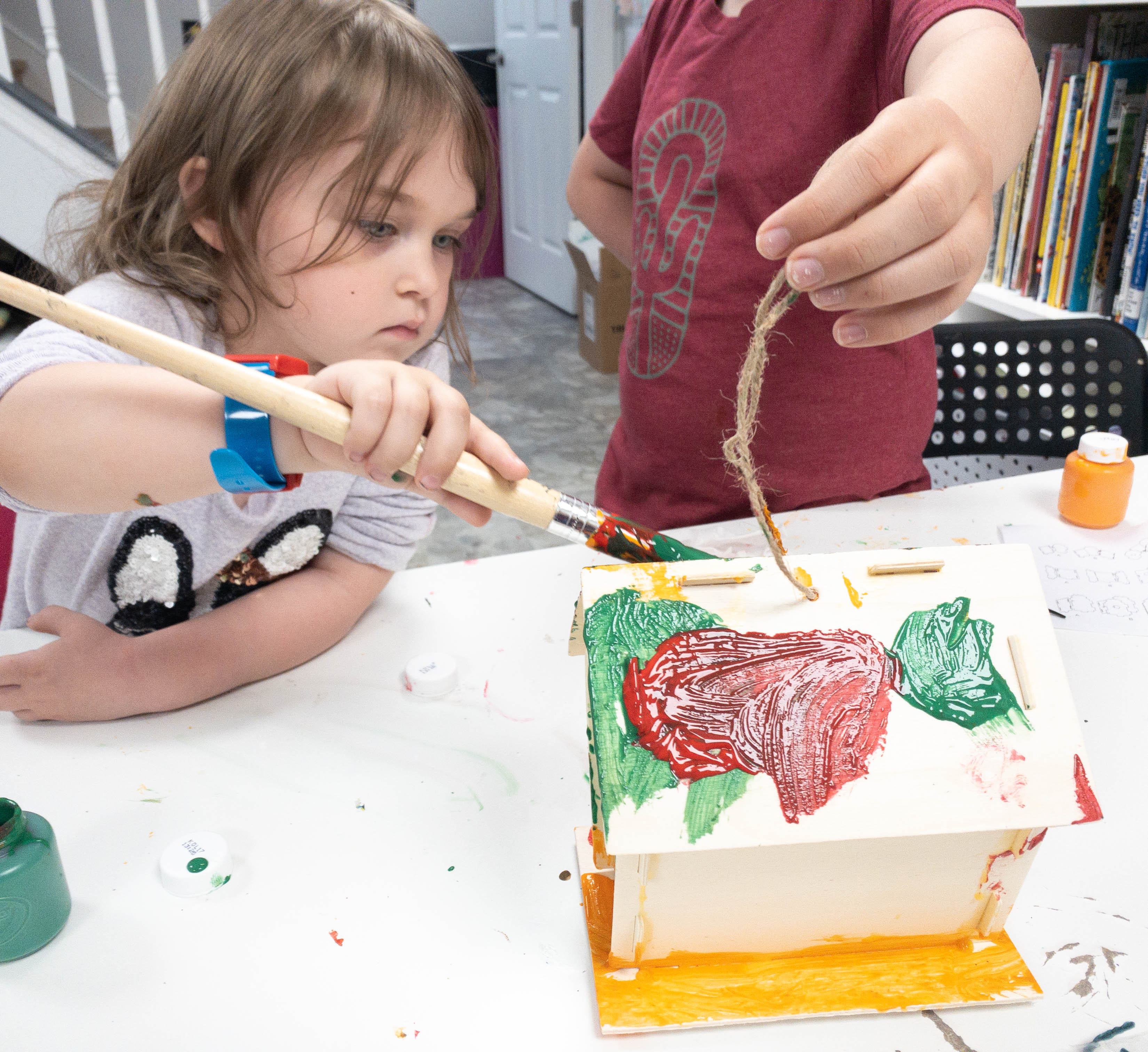 My kids used the green and red paints for the other side of the birdhouse.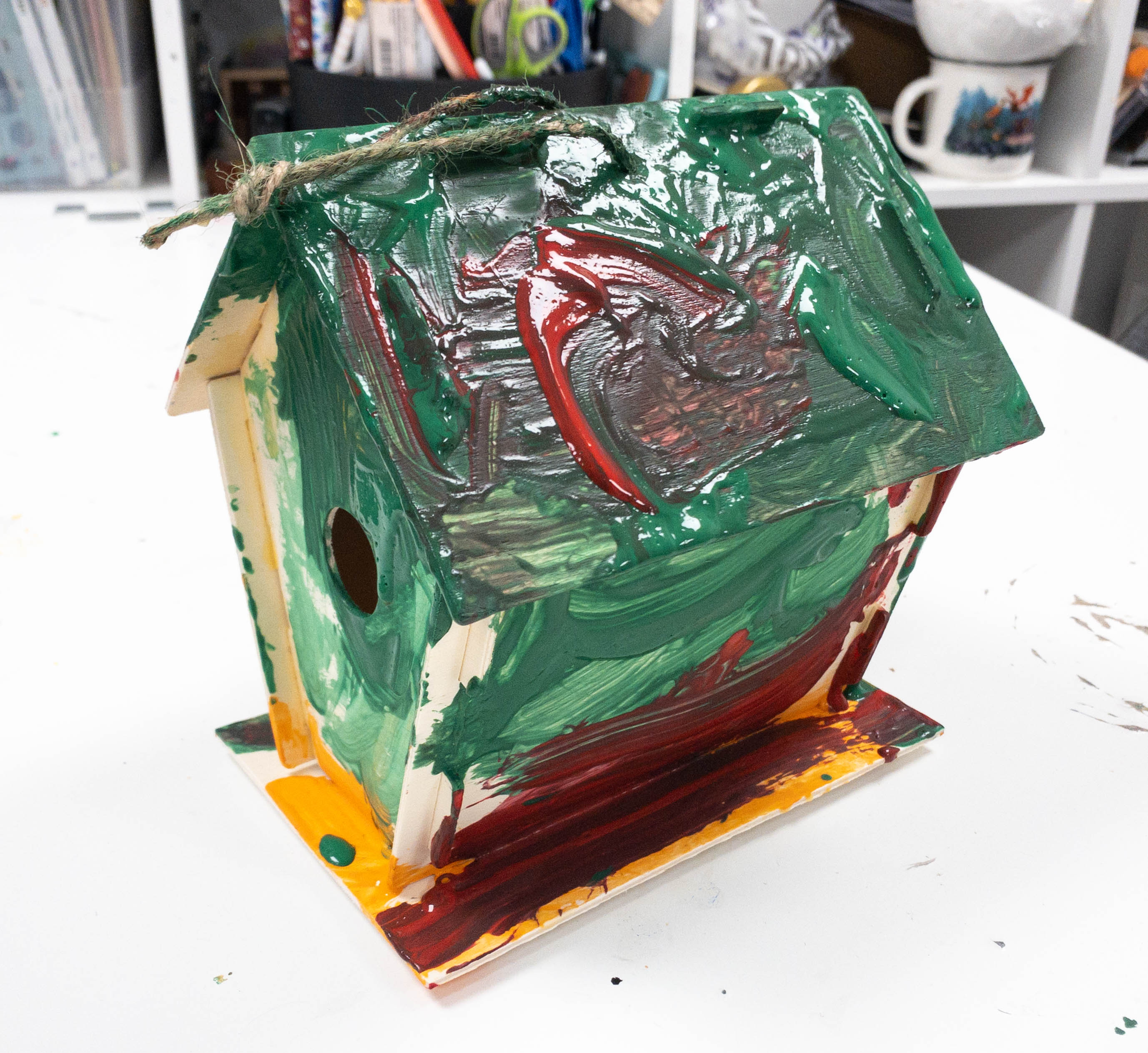 Here's how it turned out! (It's going to take a little time to dry!)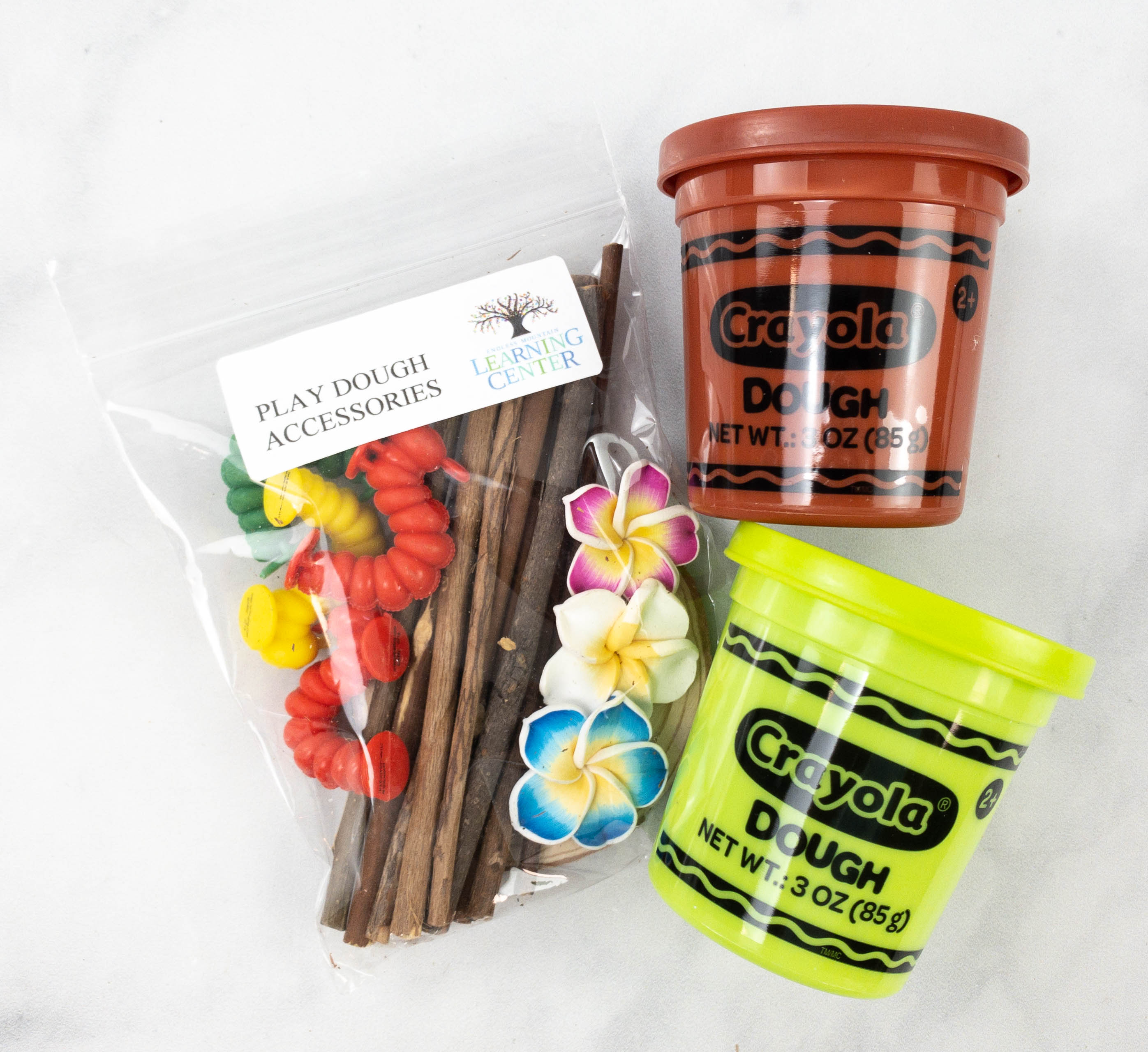 The last activity is about making different clay models! The box provided brown and yellow clay dough, flowers, wood sticks, and pieces of critters.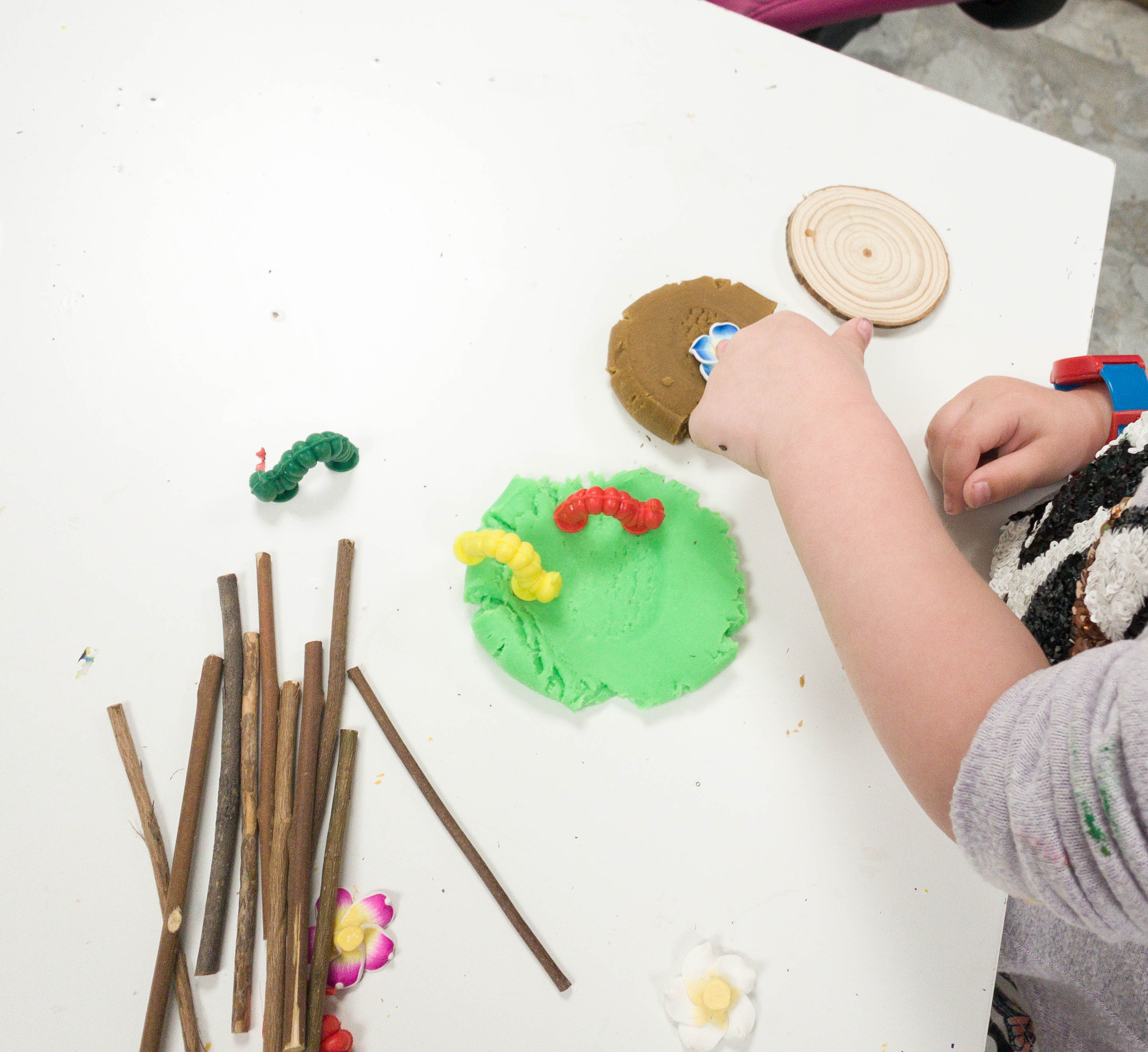 My daughter flattened two portions of clay and then added added flowers and critters on top of each of them.
My son also joined in on the fun and created his own model.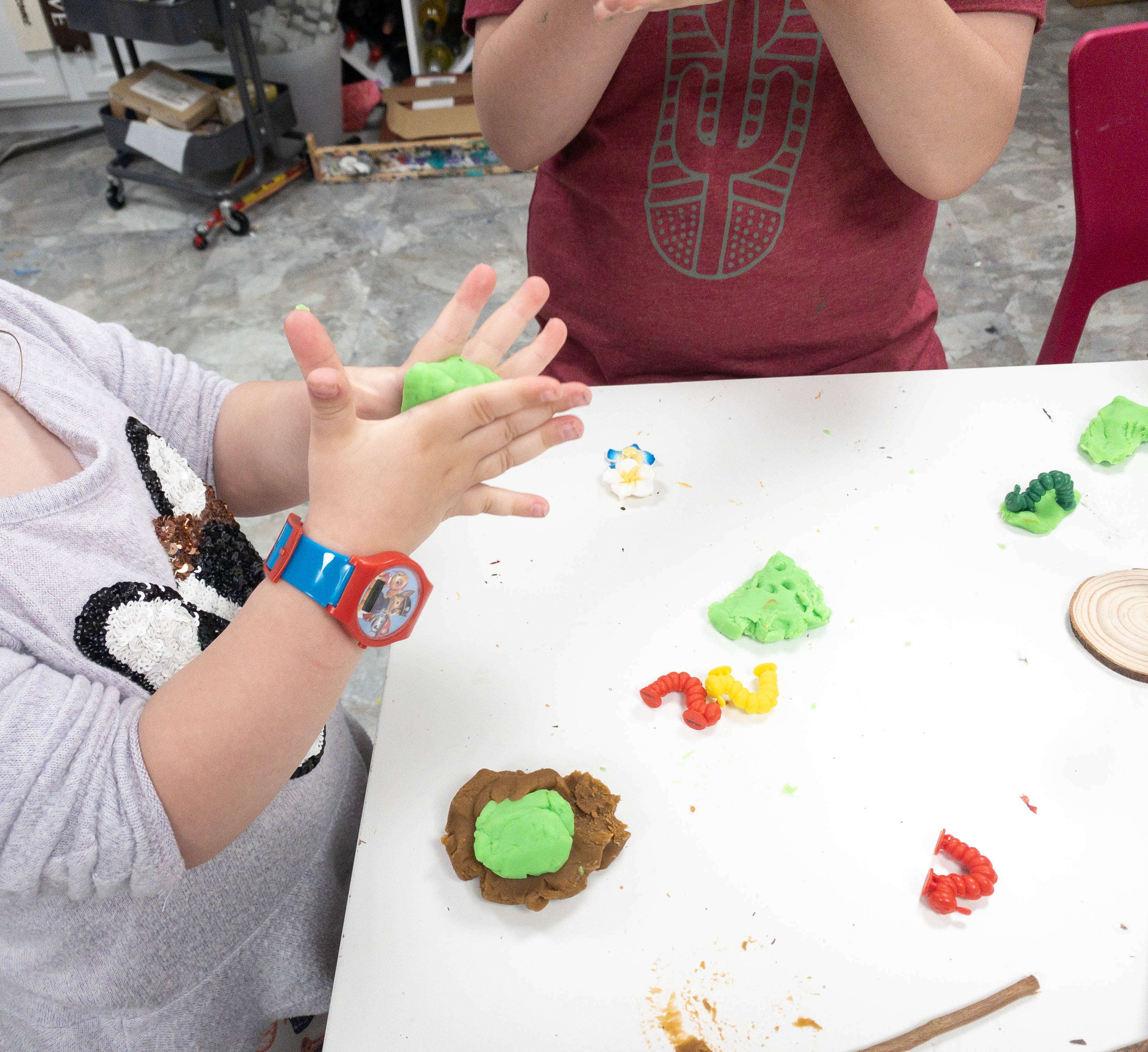 My daughter even tried to mix the green clay with the brown clay!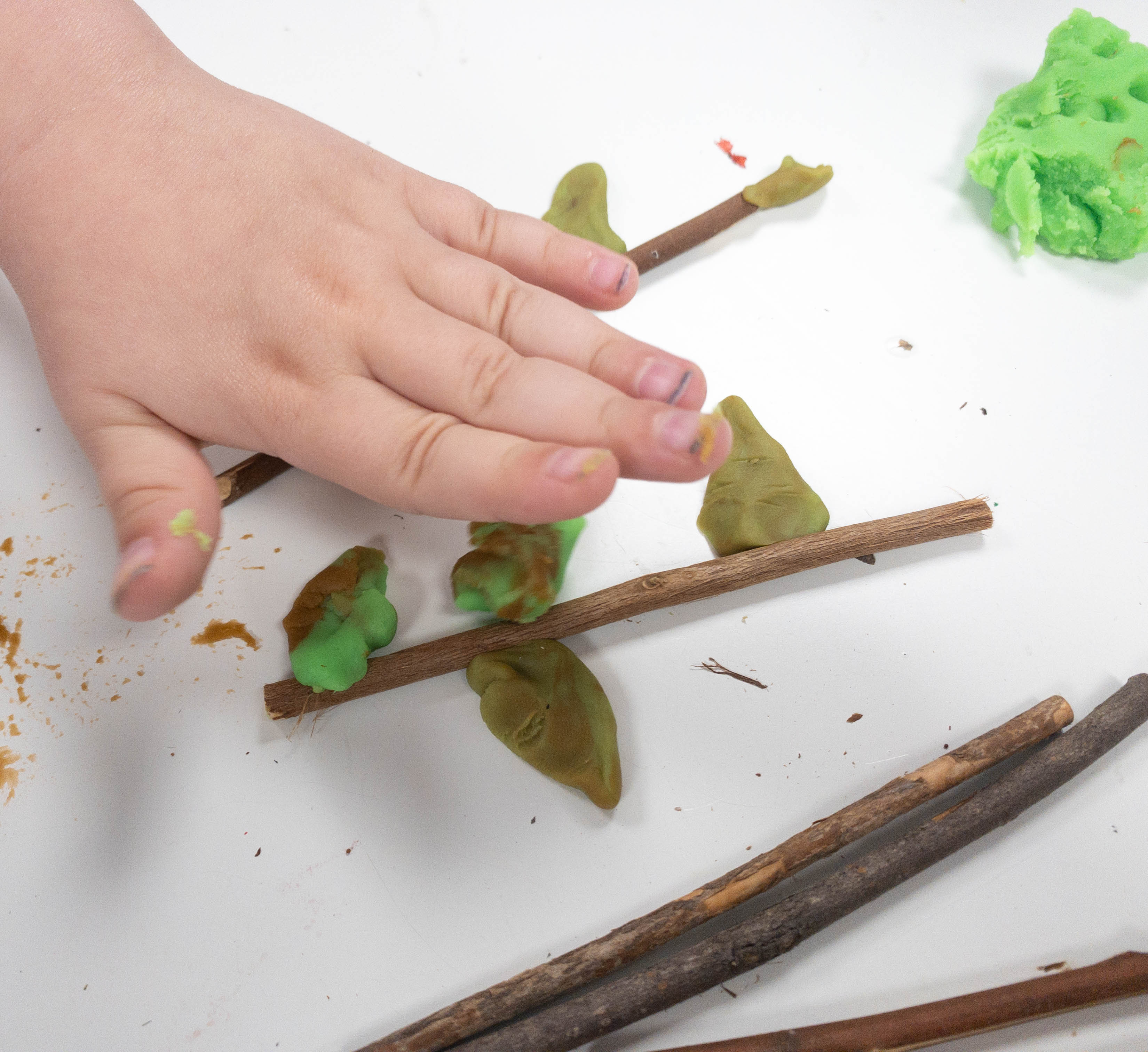 She used the mixed green and brown clay to make leaves that she attached to the sticks!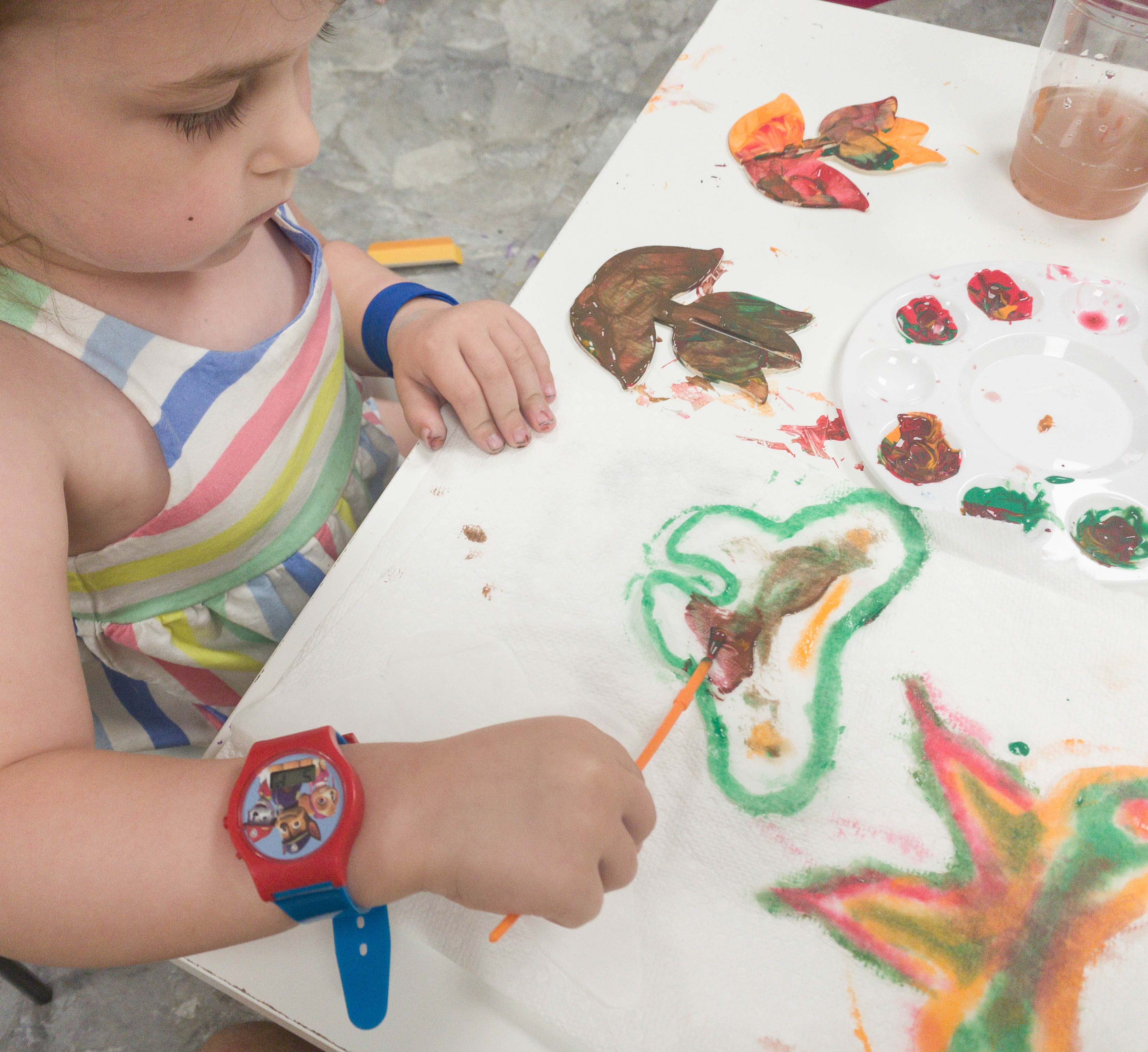 For the last activity, my daughter made butterflies using paper, paint, and the plastic body provided in the box.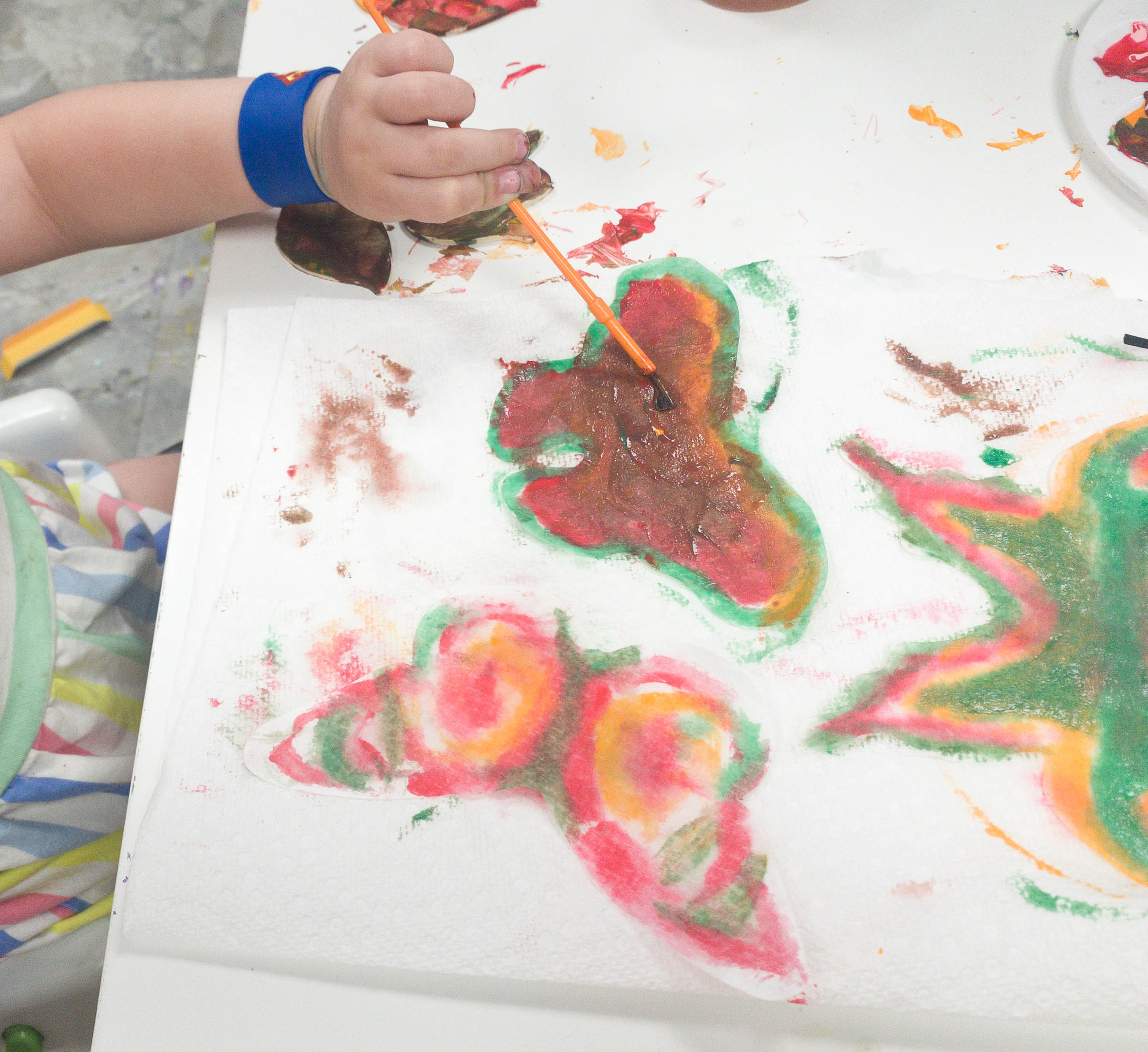 First, my daughter colored the wings! She outlined it with green, and then added a mix of different colors in the middle.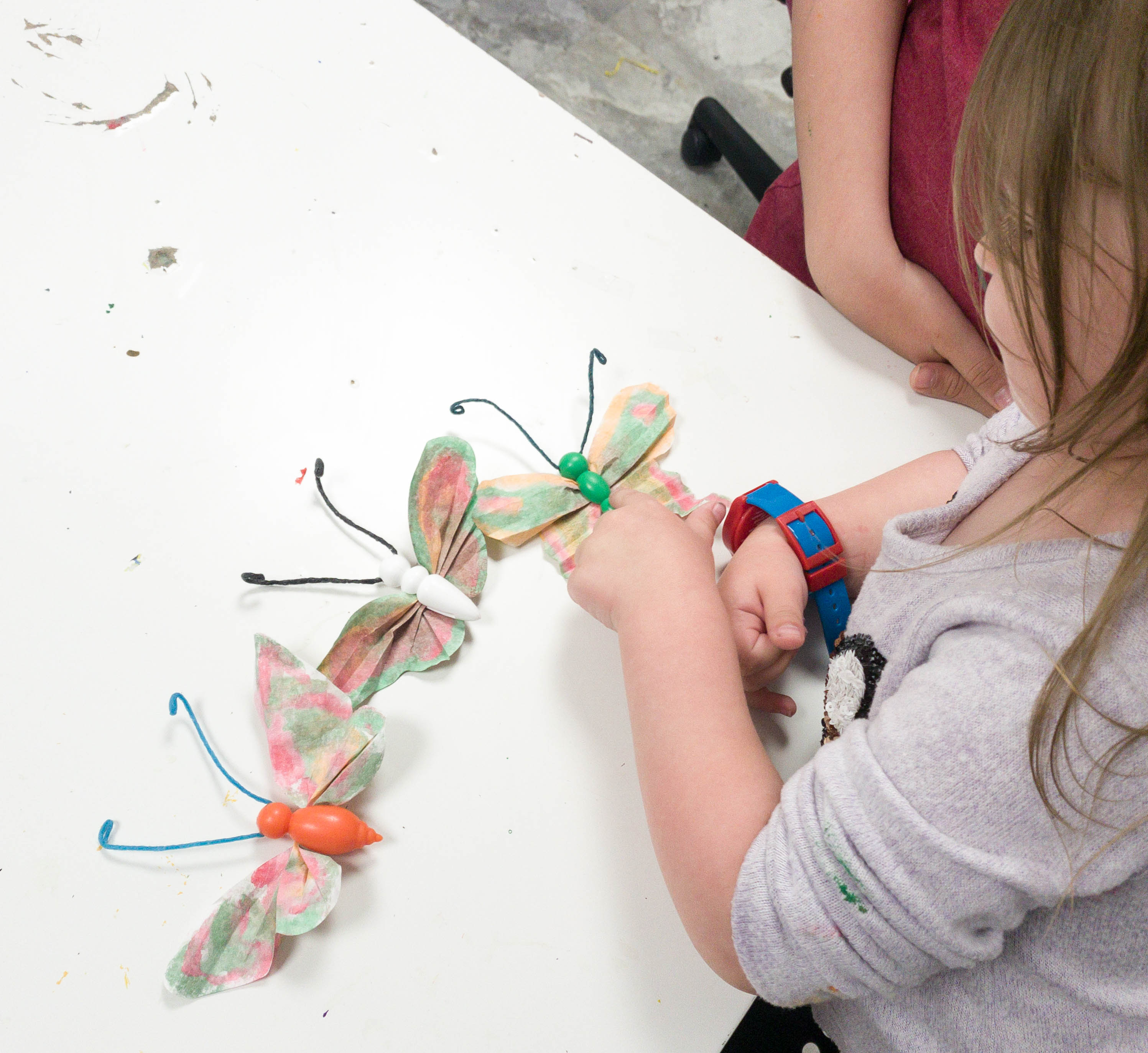 After drying the wings, it's time to attach the body to it!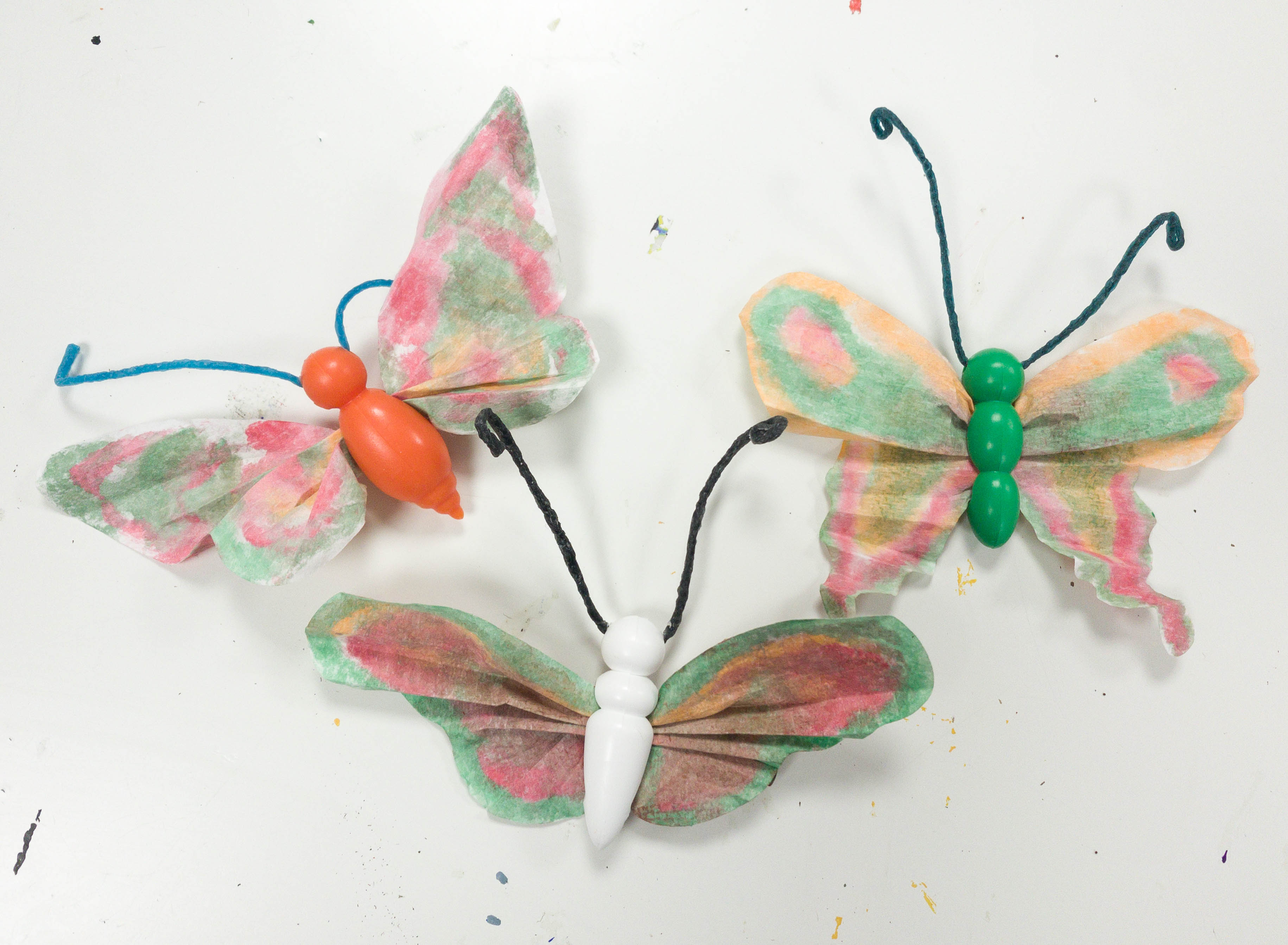 My daughter made a total of 3 butterflies!
Endless Mountain Learning Center Activity Kit is jampacked with fun activities for kids! It only ships every quarter, so there's no need to do everything in one go. You can space them out, so there will be enough activities to do until the next box arrives. This quarter's kit includes a bunch of activities that help unleash kids' creativity. My kids enjoyed painting, as well as molding using clay. Aside from the activities, there are also age-appropriate books! So far, my daughter can't get enough of them, especially the one about the life cycle of the sunflower. For parents, the kit includes a guide that makes it easy to facilitate activities. It has step by step instructions, plus a list of questions to ask kids to help understand the concepts more and extension activities. I thought it was super well organized and really helped us actually teach along with the engaging activities. This is such a good box for learning at home and it can be shared by siblings as well. If you want extras, don't forget to grab the add-on in the shop.
What do you think of the Endless Mountain Learning Center Activity Kit box?
Visit Endless Mountain Learning Center to subscribe or find out more!