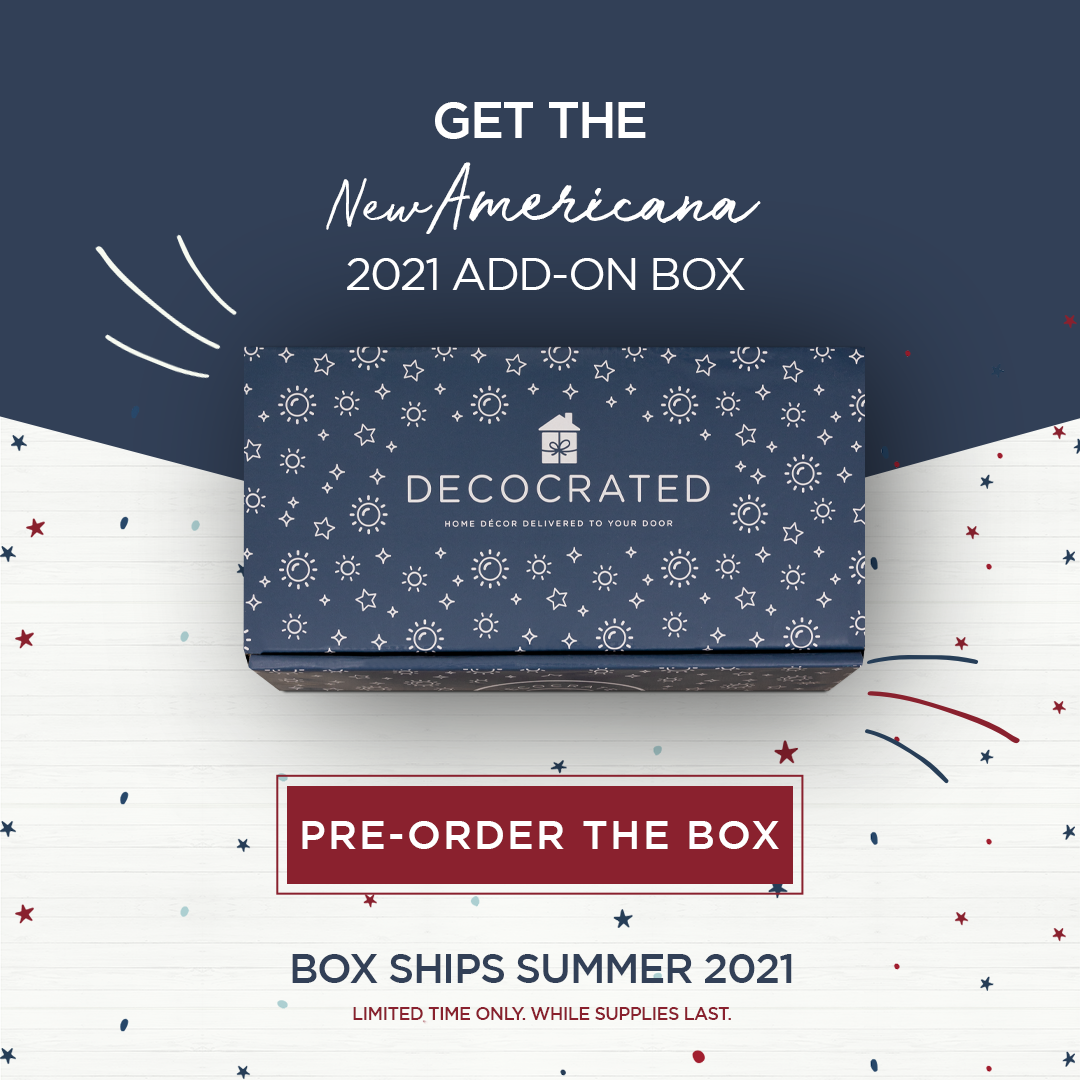 The Decocrated New Americana Box for 2021 Add-on is now available for pre-order! This box is $39.99, and exclusive to Decocrated subscribers only. Boxes will ship this late mid May 2021!
Celebrate all of America's favorite Summer Holidays with Decocrated's New Americana box. This aint your grandma's Americana! This box contains 5 home décor pieces in the classic red, white and blue that will add perfect touches of joy and delight to your seasonal décor. Accent your home with pairings of seasonal iconography and abstract patterns for a touch of fun. The possibilities are endless, just like summer. AMERICA THE BEAUTIFUL: Stars and Stripes, Declarations of Type, Americana Hues
To secure your order of the New Americana Box add-on, you must subscribe to get the Spring 2021 box first. Then, go back to the shop and add the New Americana Box add-on! NOTE: This box will sell out fast!
DEAL: Get $15 off on quarterly or annual subscriptions! Use coupon code HELLOSUB15 at checkout.   About Decocrated:
Decocrated is a quarterly subscription that sends beautiful home decor! Shipping every 3 months, each box will include a handpicked selection of home decor based on the season to keep your place feeling fresh, as well as items that work with the pieces you already own and love. The idea is that at the end of a year's subscription you will have a whole-home collection that works together to help you look like a seasoned decorator. Each Decocrated box is $79 and you can save 10% by signing up for a whole year of subscription. Are you getting Decocrated?