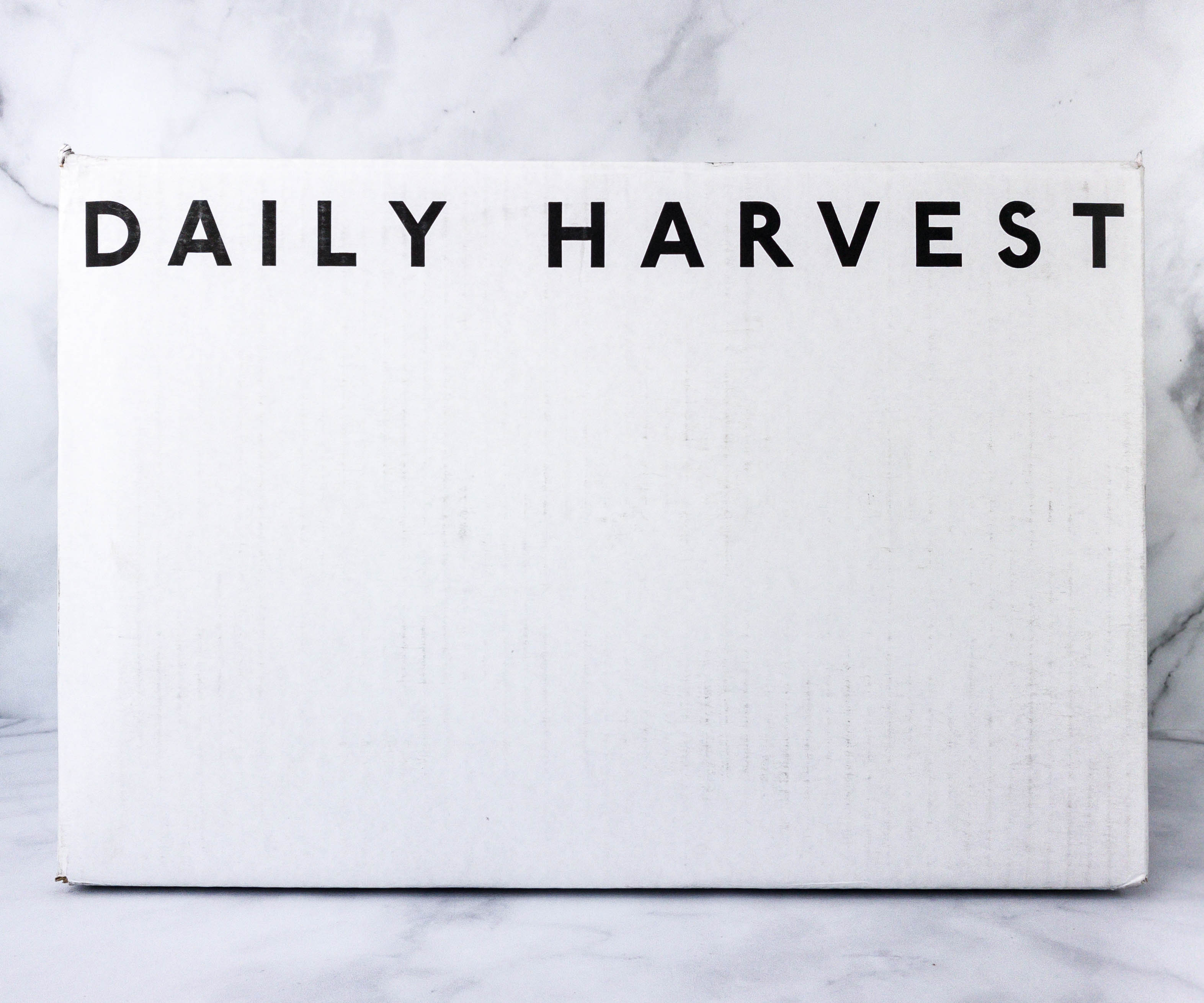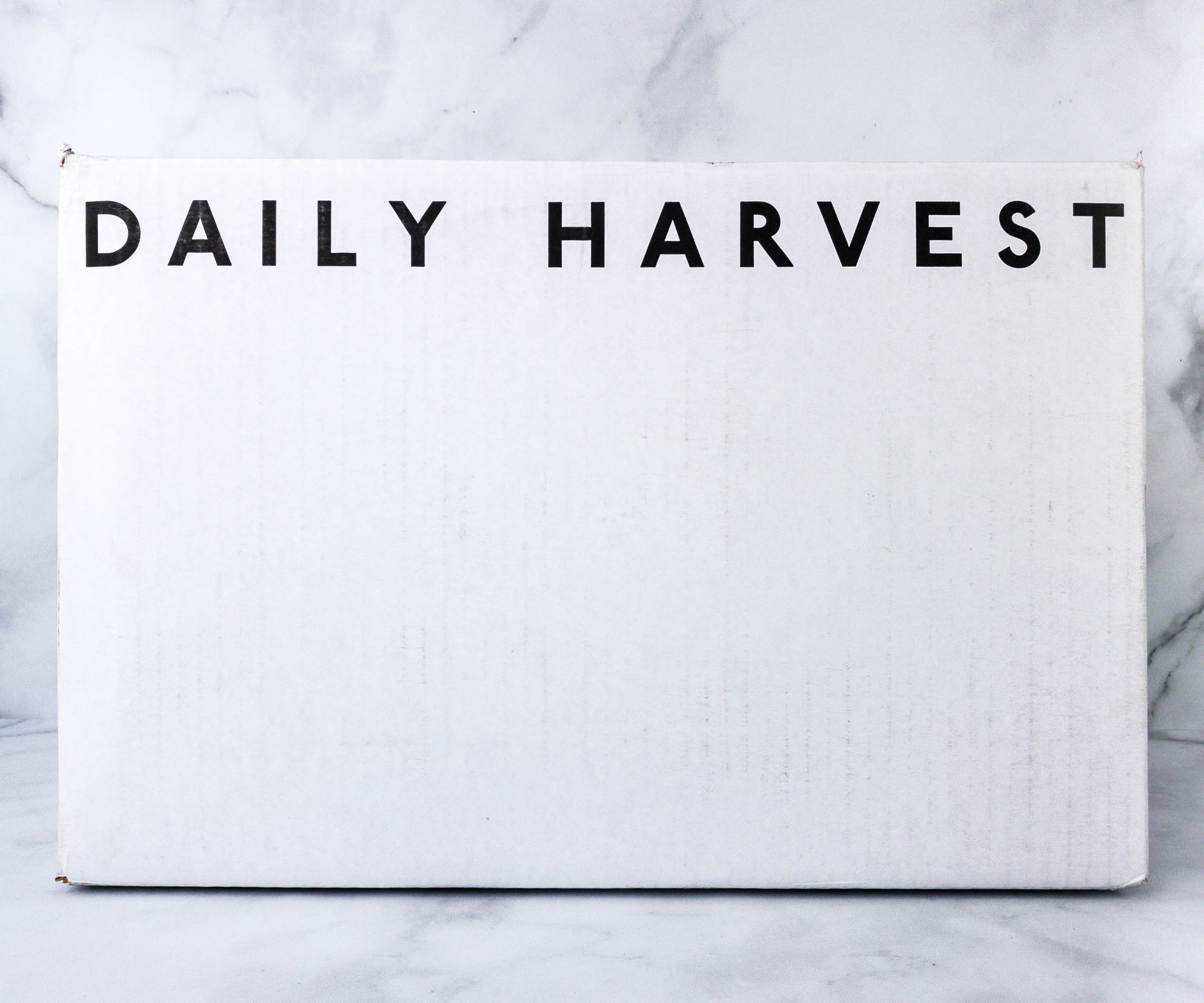 Daily Harvest is a monthly subscription of ready-to-blend, heat, or eat whole food and superfood plant-based vegan meals. Currently, they offer smoothies, bowls, soups, lattes, overnight oats, and chia parfaits, and they also have a new product line which is flatbreads! You can choose from a weekly or monthly plan, the price is dependent on what items you choose to include in your box.
Daily Harvest is a reader fave – you voted this subscription onto the list of best meal boxes AND health and wellness! We agree – it's one of our faves too, with easy, super healthy prepared meals.
DEAL: Save $25 on your first box! Use coupon code HELLOSUB and USE THIS LINK to subscribe.
You'll now receive a $10 discount when you order a medium 12-item box, and a $25 savings when you order a large 24 item box!
Here are the costs per item: $8.49 per Smoothie, $9.79 per Harvest Bowl, $11.99 per Harvest Bake, $9.79 per Flatbread, $$8.49 per Soup, $7.99 for 7 Bites, $6.79 per Forager Bowl, $6.79 per Oat Bowl, $6.79 per Chia Bowl, $8.99 per Scoops pint, $5.99 for 2 Lattes, and $7.99 for 1/2 gallon of Mylk.
This is the review of Daily Harvest Flatbreads and MYLK, plus Scoops, Smoothies, Lattes, and Oat Bowls.
Daily Harvest's newest offering is MYLK, a plant-based milk made with just nuts, pink sea salt, and vanilla bean. It's currently available in two flavors: Plain Almond and Almond + Vanilla. They are also launching Plain Cashew and Cashew + Vanilla flavors soon!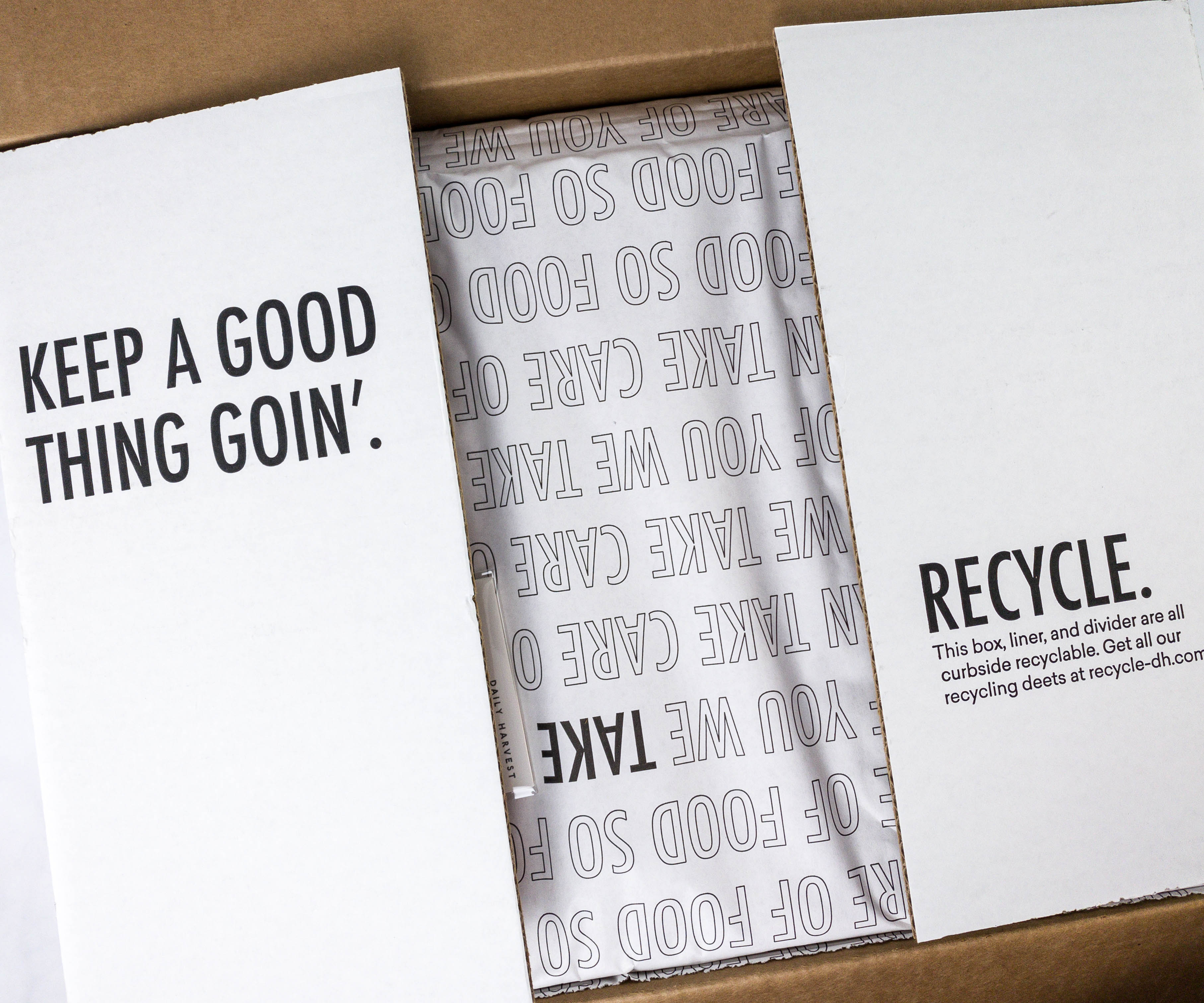 There's a note on the flap that says this box, liner, and divider are all curbside recyclable.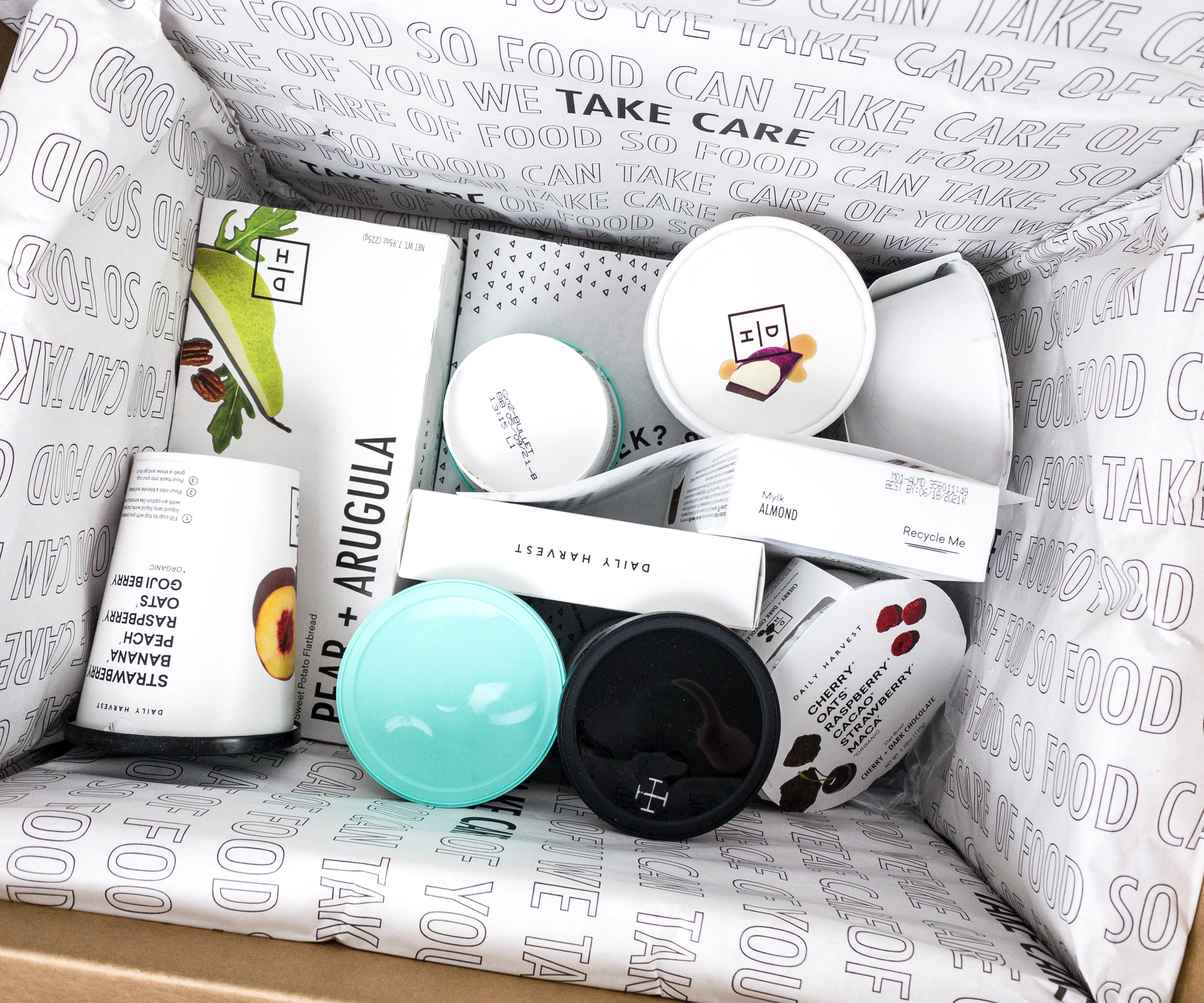 As always, their boxes are always well-insulated to keep the contents fresh!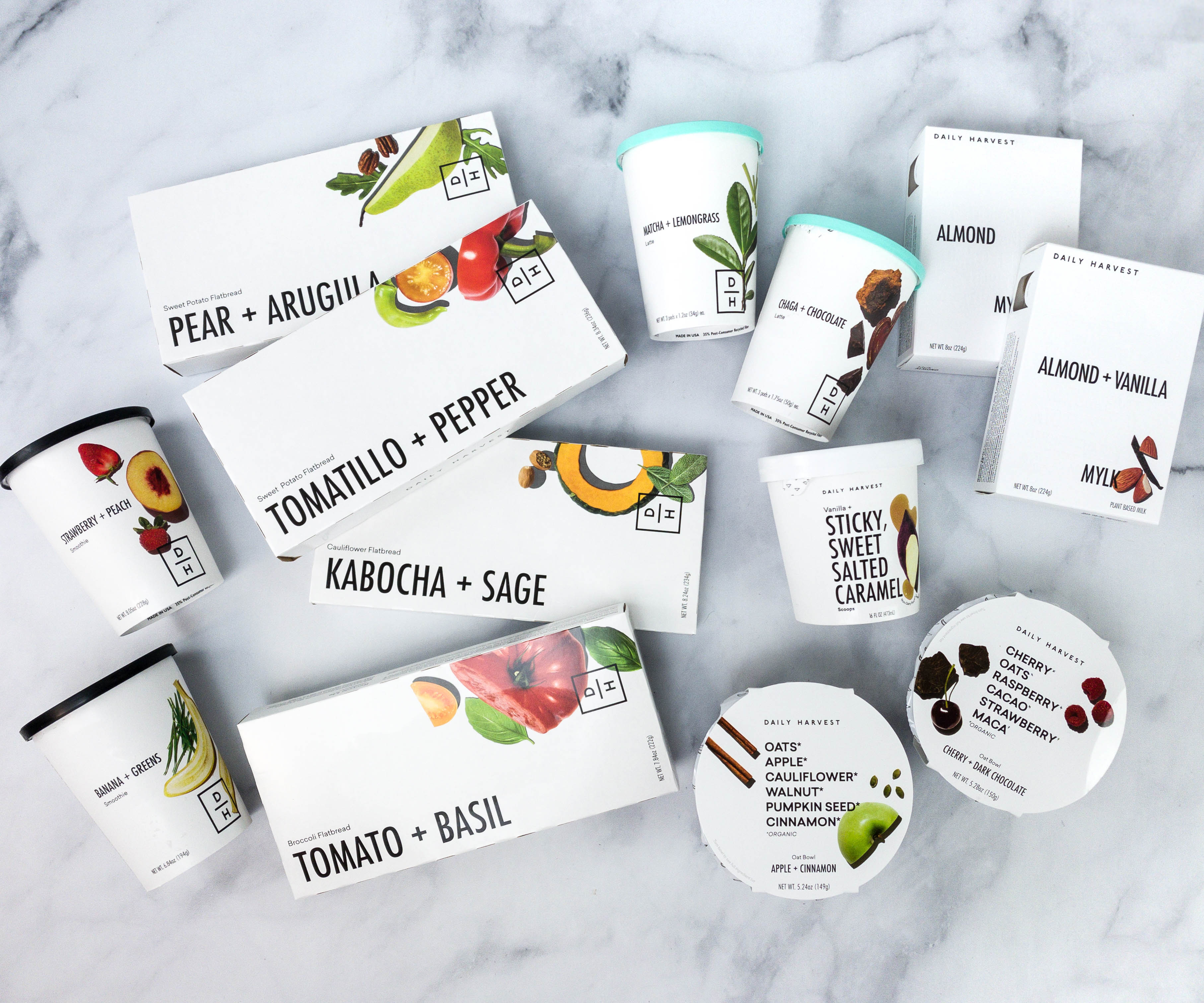 Everything in my box!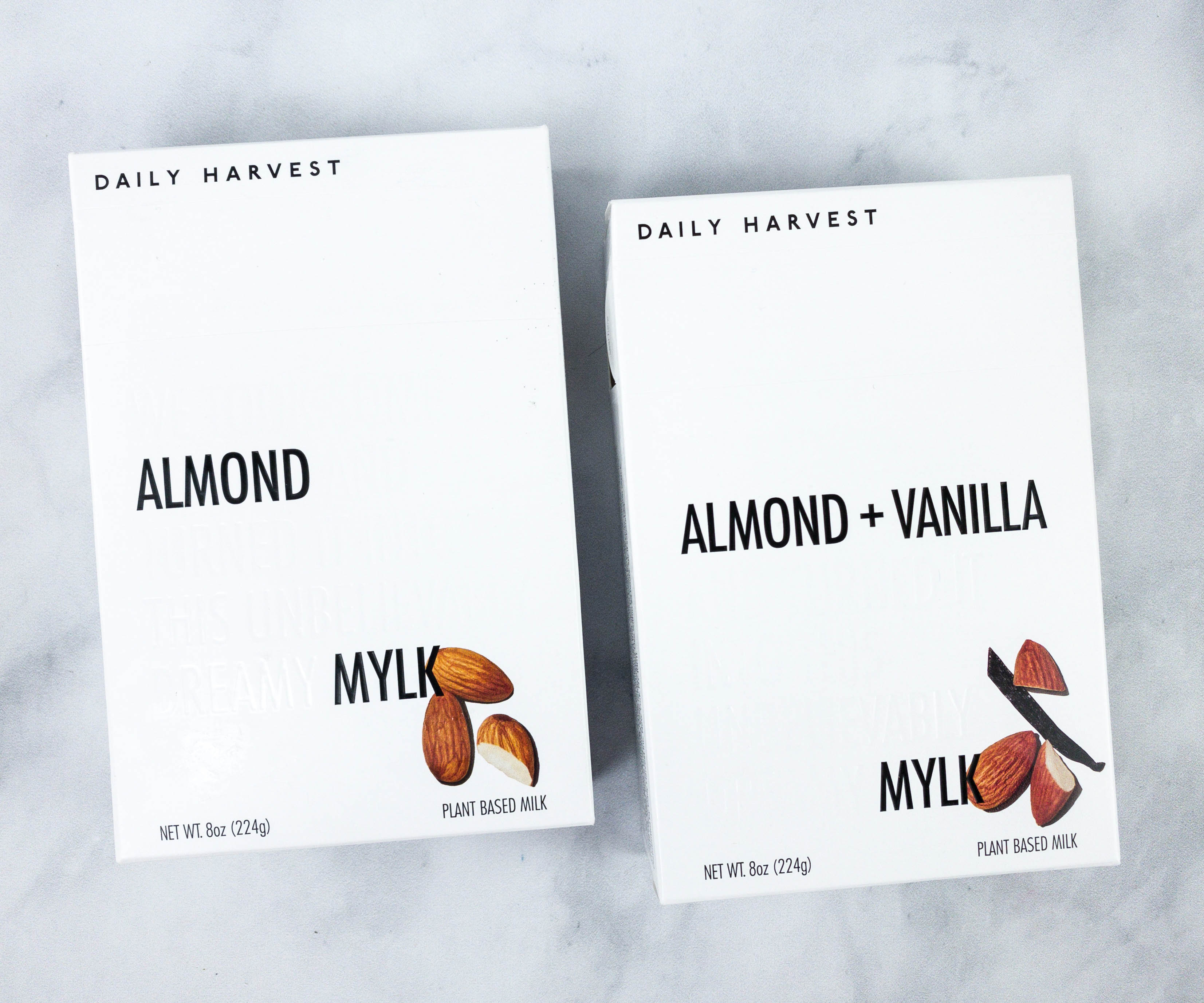 Almond MYLK. Made with organic almonds and sea salt, this MYLK tastes similar to a regular almond milk in the supermarket but what I love about these is the fact that they can easily be stored because they don't come in liquid form! MYLK comes in wedges, and all you need to prepare them is add 2 wedges to 8 oz of water in a blender and then blend.
Almond + Vanilla MYLK. This is the flavored version of the almond MYLK! It's infused with vanilla bean for added flavor, but it does not make the milk too sweet. They also added pinch of sea salt to balance everything. I like using this one for smoothies and oat bowls because that tiny bit of sea salt adds a whole new layer of flavor to them!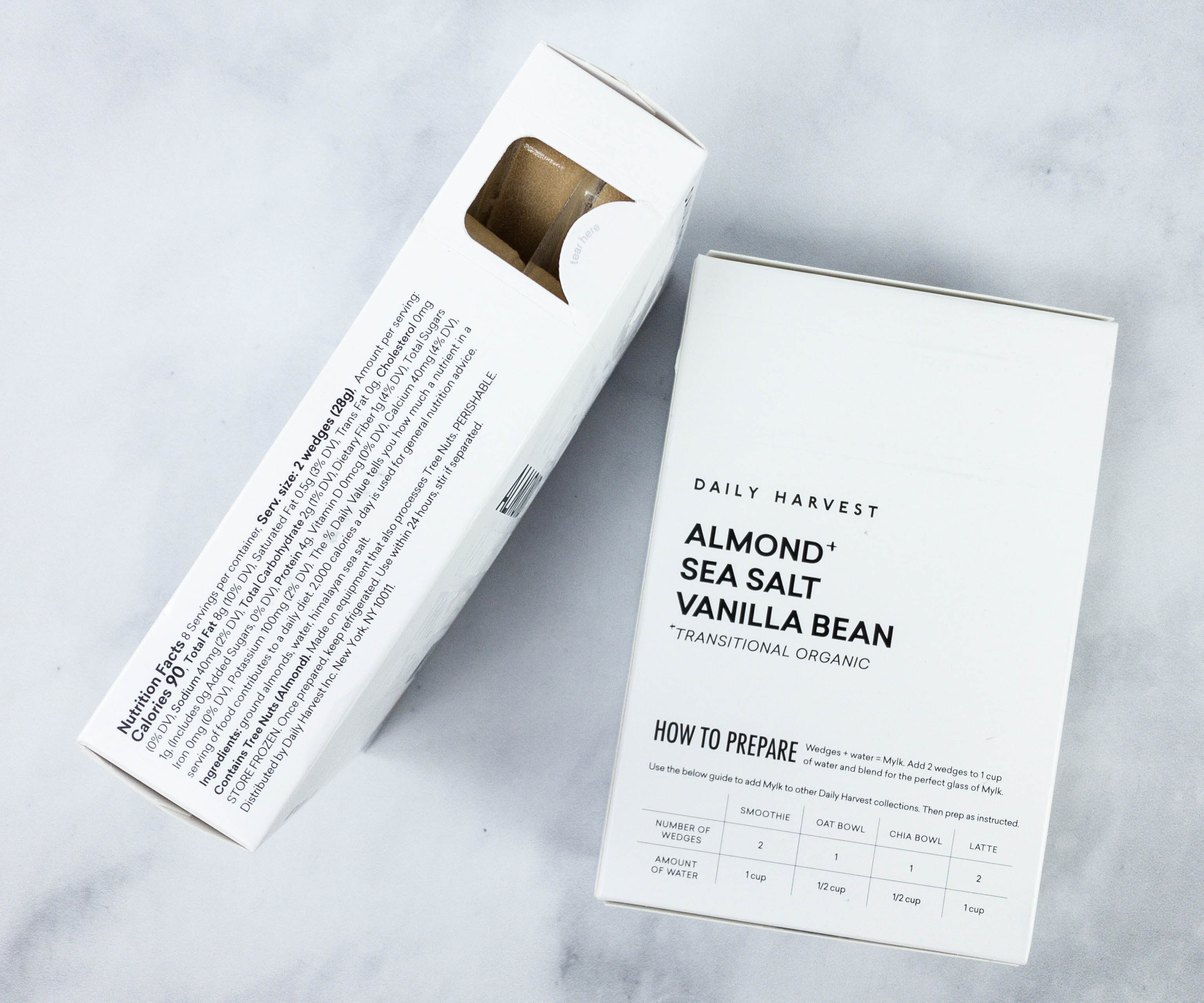 These wedges only contain the good stuff! No gums, fillers, or stabilizers were used in making them. According to Daily Harvest, it's also why separation is normal when you store prepared MYLK in the refrigerator. No worries because all you have to do is stir it and it's good to go again.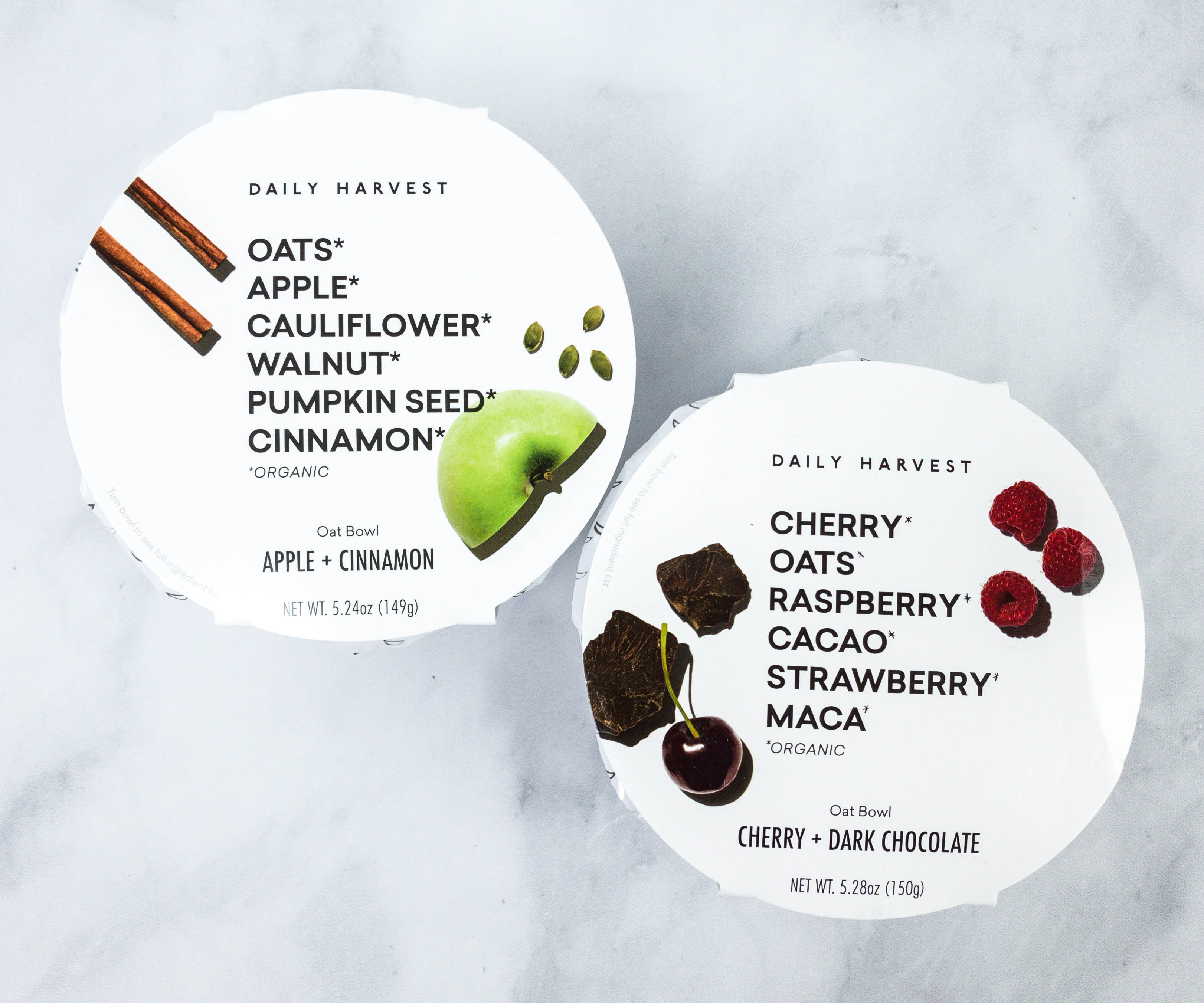 Apple + Cinnamon Oat Bowl. There is no better way to treat my apple crumble cravings than with a good bowl of oats that tastes exactly like the real thing. This apple cinnamon oat bowl is even packed with vitamin C which is known to help keep and maintain a healthy immune system.
Cherry + Dark Chocolate Oat Bowl. If you love eating chocolate-covered anything, then this is the oat bowl for you! It's like eating dark chocolate covered cherries, except it's guilt-free. The bowl is also packed with antioxidants that help fight inflammation!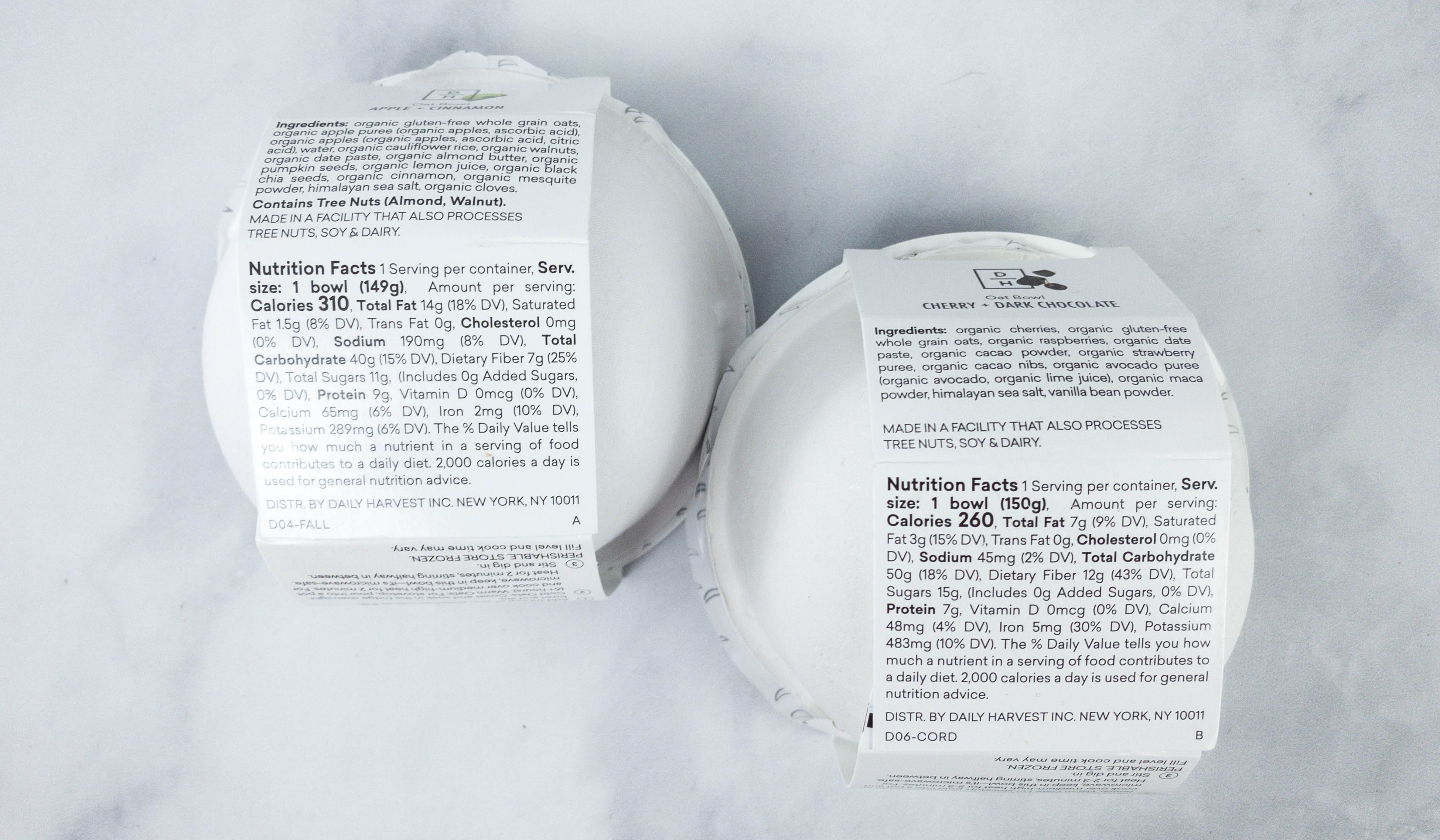 All the nutrition facts are listed on the card stock packaging of the bowl!
To fully enjoy this oat bowl, I used it with my almond MYLK!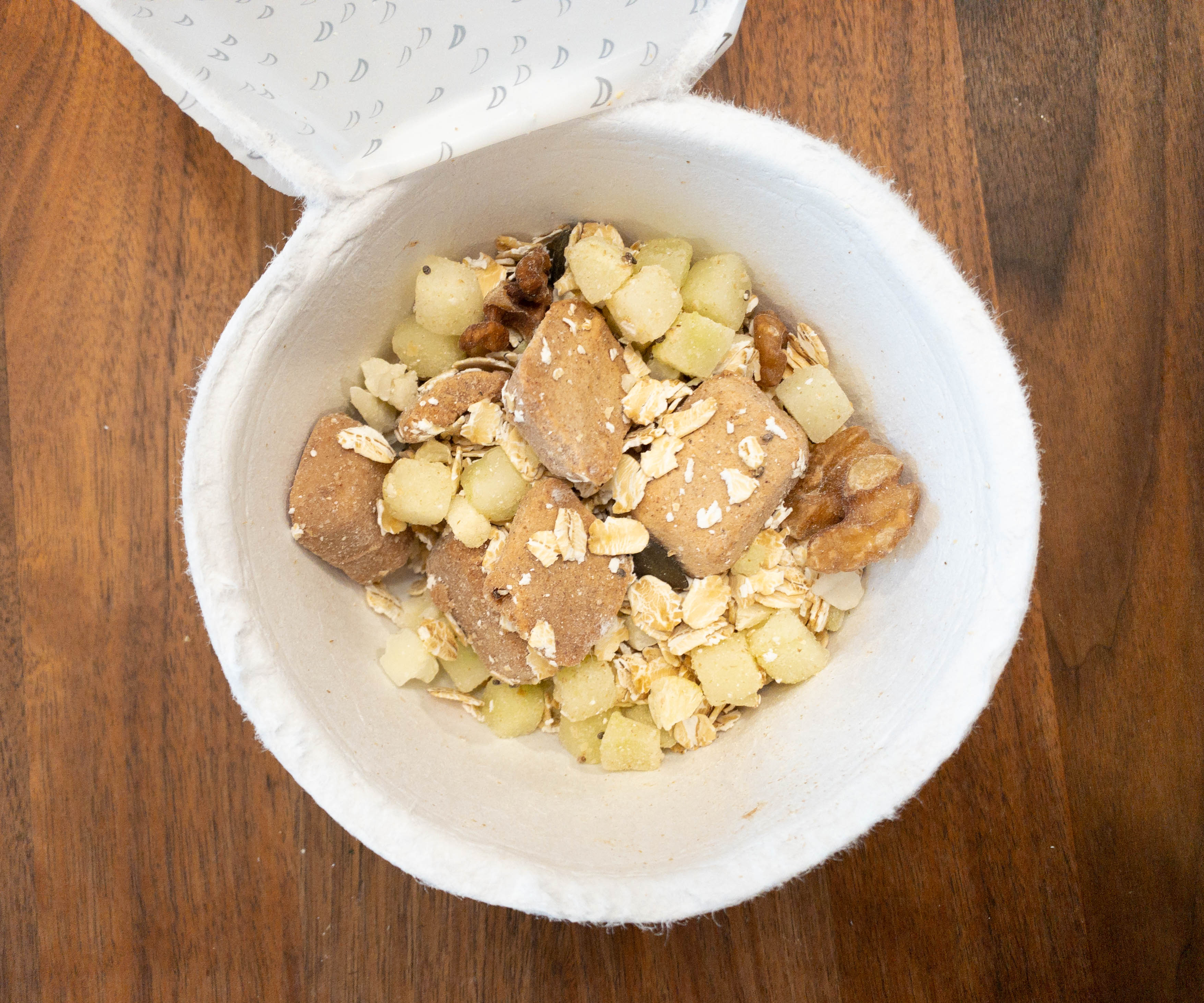 Here's how the apple cinnamon owl bowl looks like inside! You'd see chunks of apples with pumpkin seeds and walnuts in there, so you're sure that they're only made from real ingredients and without any fillers.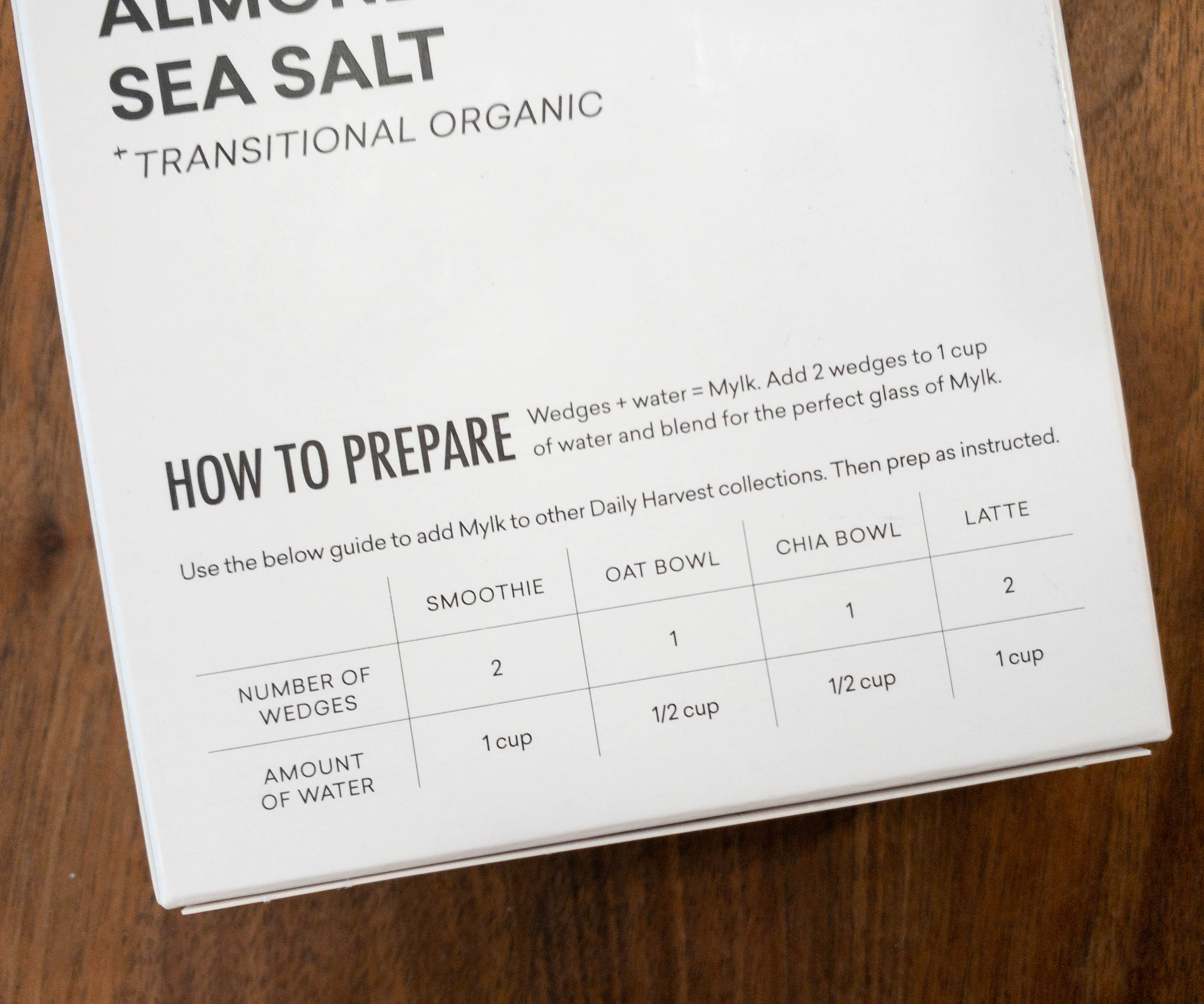 I prepared MYLK as stated in the packet. For the oatmeal, I just needed one wedge and half a cup of water.
The wedges came individually sealed which is great because I don't have to open everything at once and I can still keep the others fresh for the next use!
The wedge looks like cheese!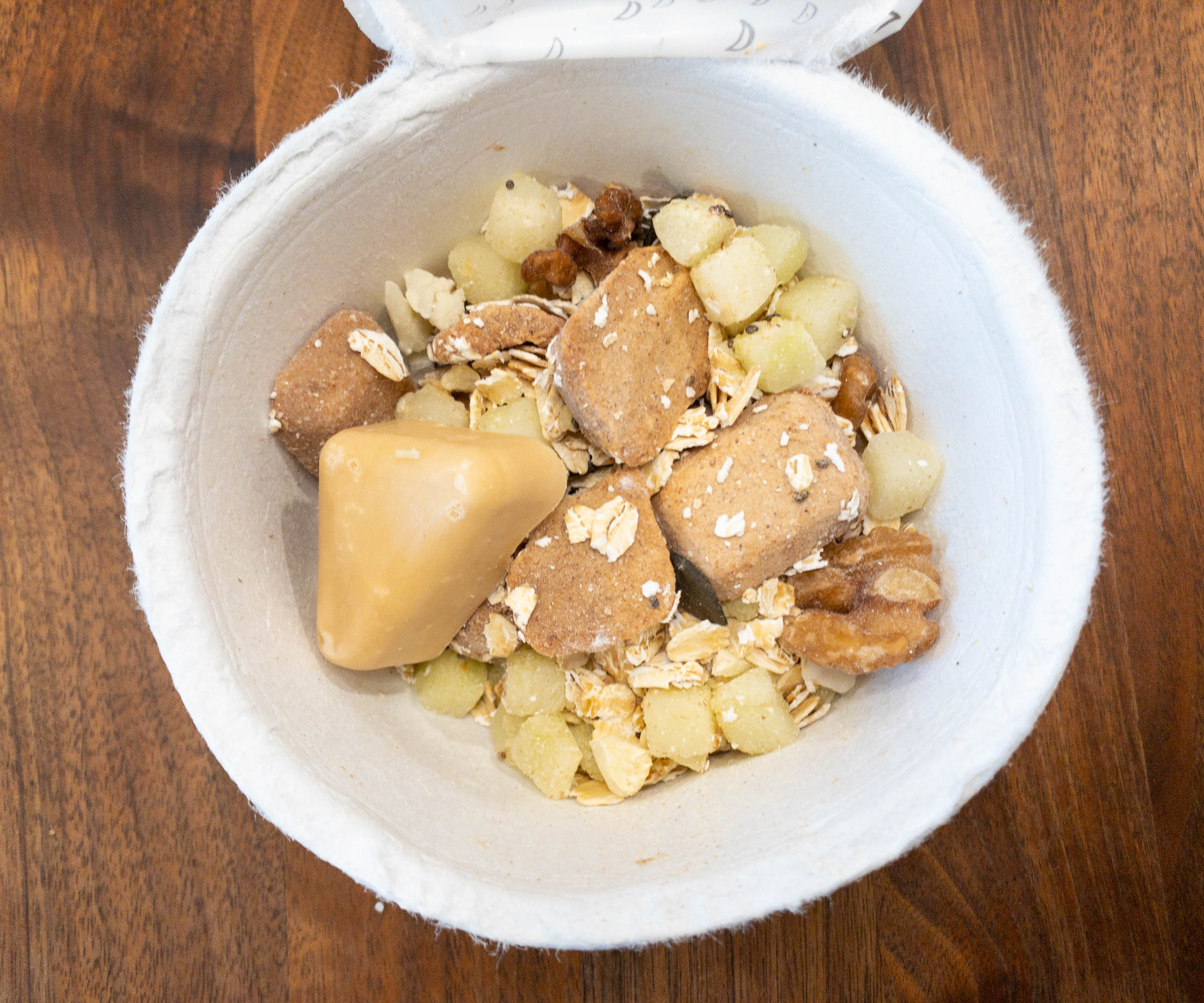 You just have to place it the bowl and add half a cup of water.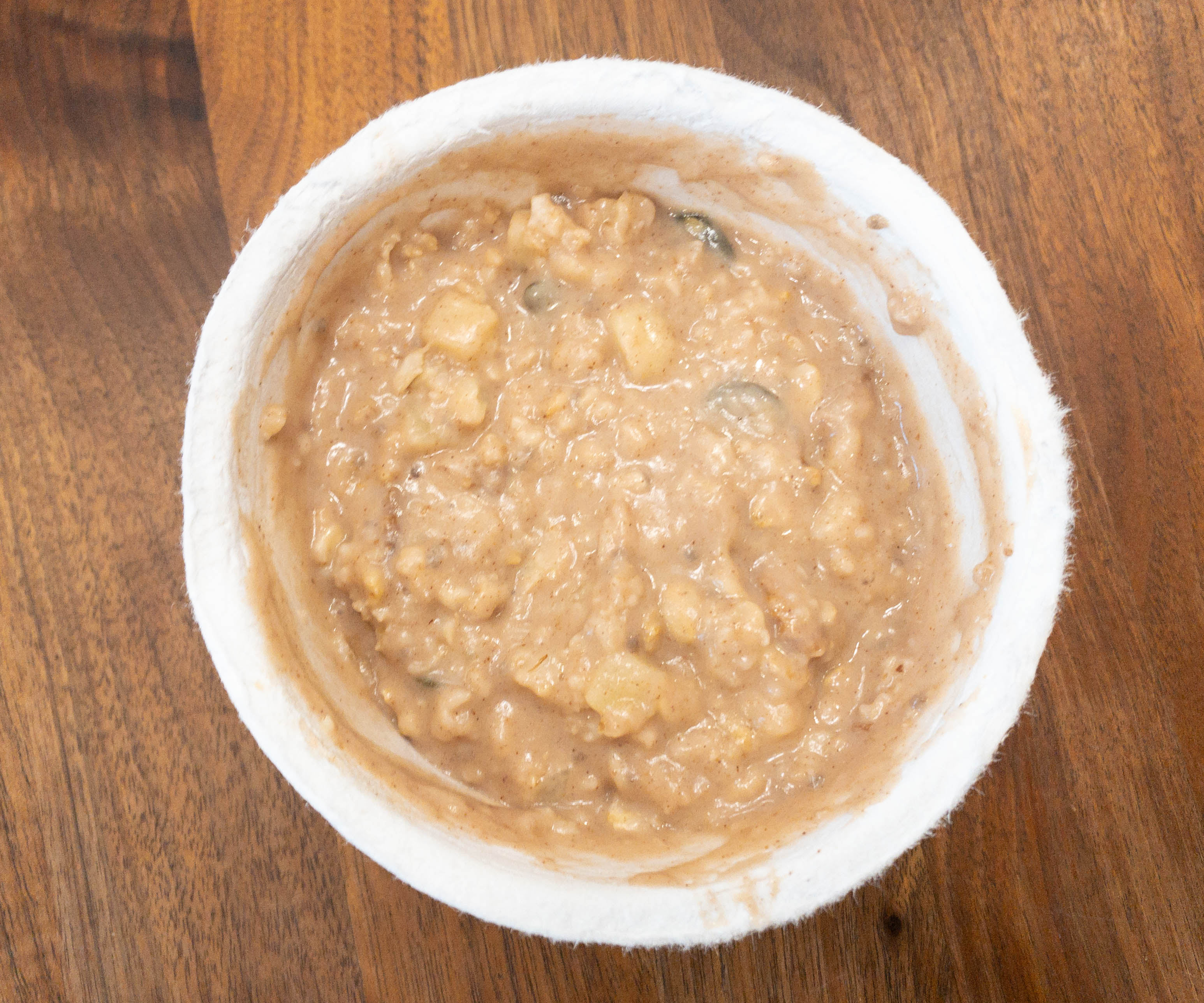 Mix throughly and heat it on your stovetop or microwave, it's up to you!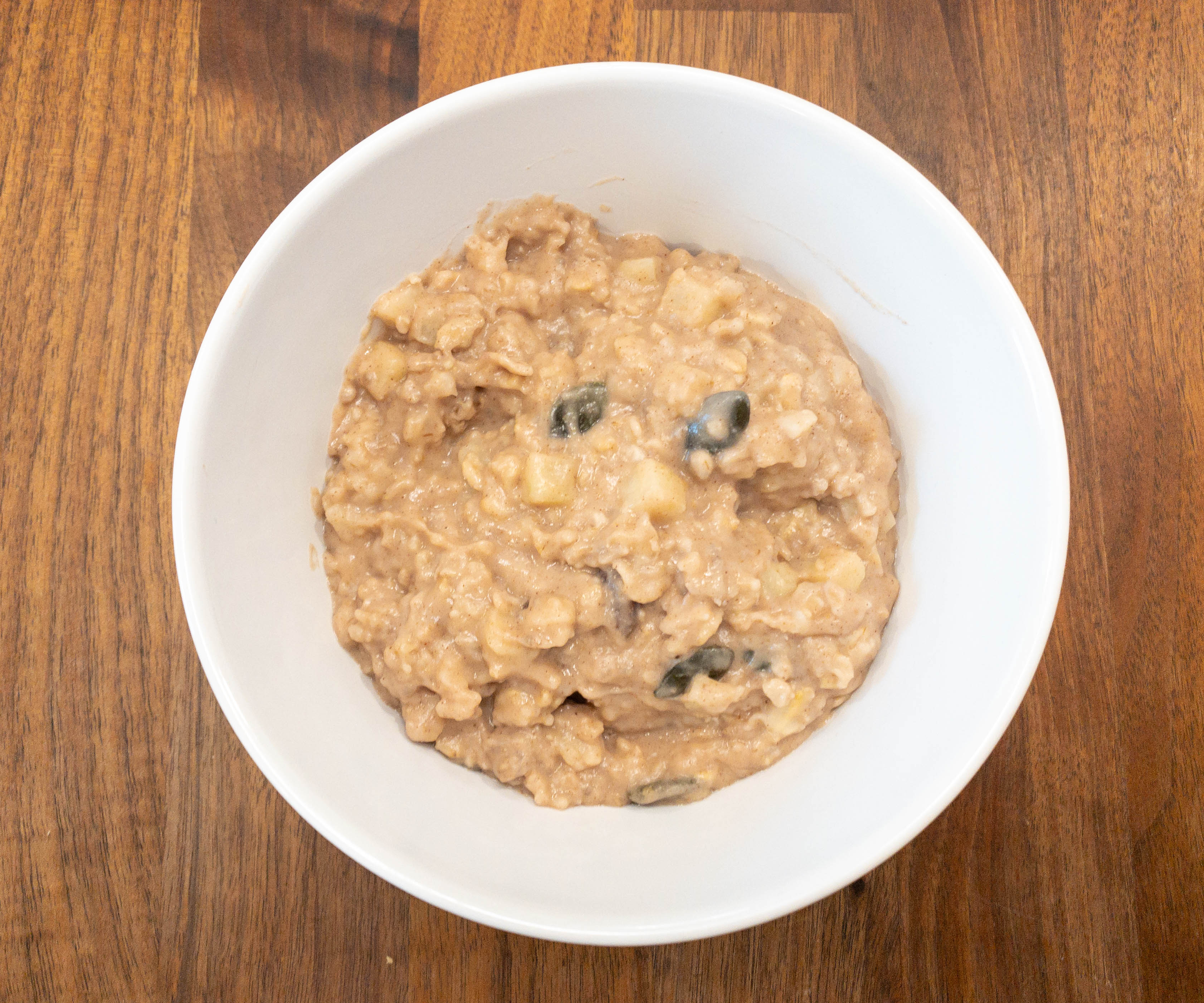 It only took a couple of minutes and now it's done!
I enjoyed every bite of this apple cinnamon oat bowl! There was a nice crunch coming from the seeds and nuts, and the cinnamon added just the right amount of spice. Mylk also made it creamy! This was such a filling bowl, making such a great way to start my day!
Next, I tried the Vanilla Almond MYLK with the Cherry and Dark Chocolate Oat Bowl.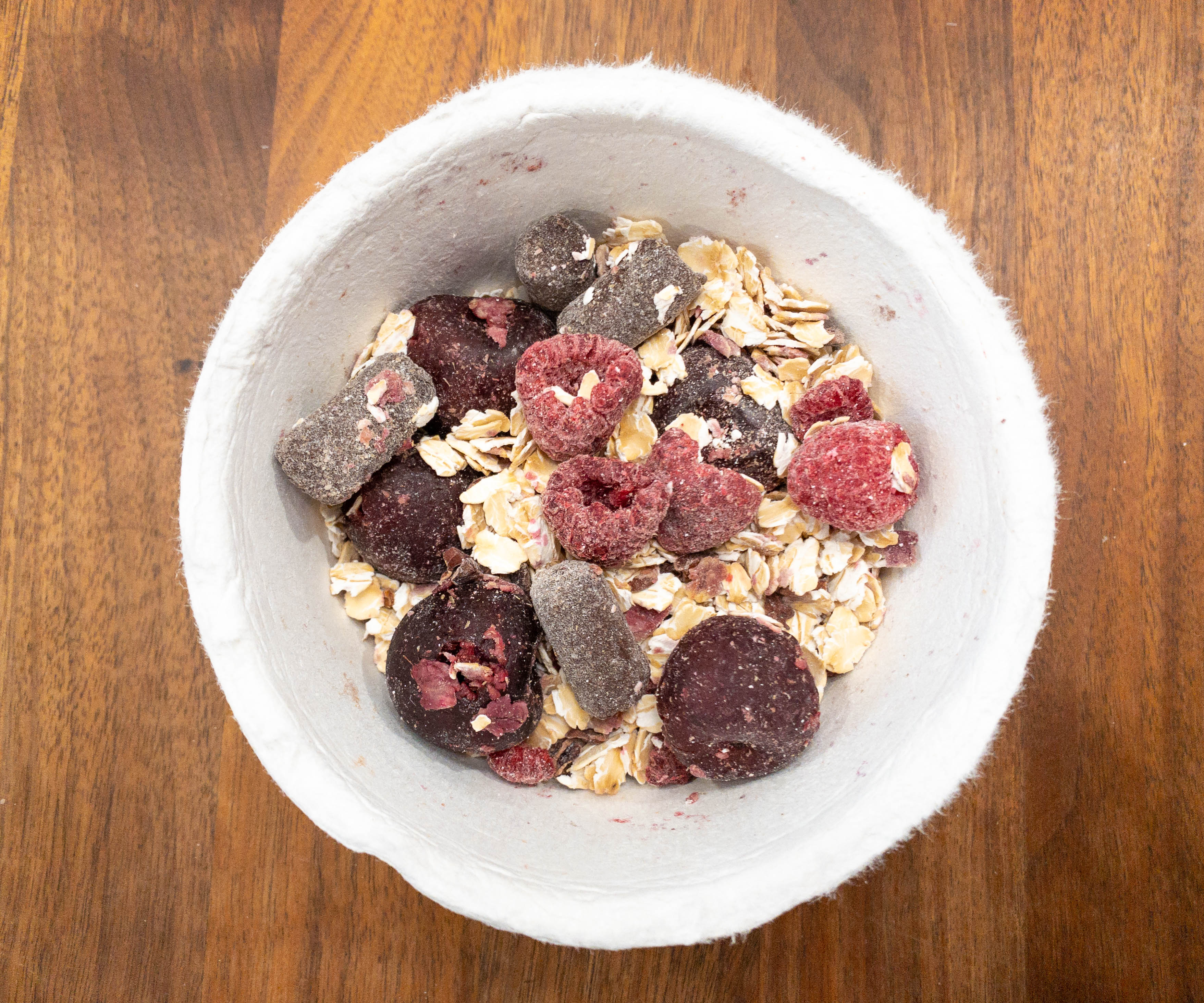 Upon opening, you'd see chunks of raspberry, cherry and strawberries on top of the oats.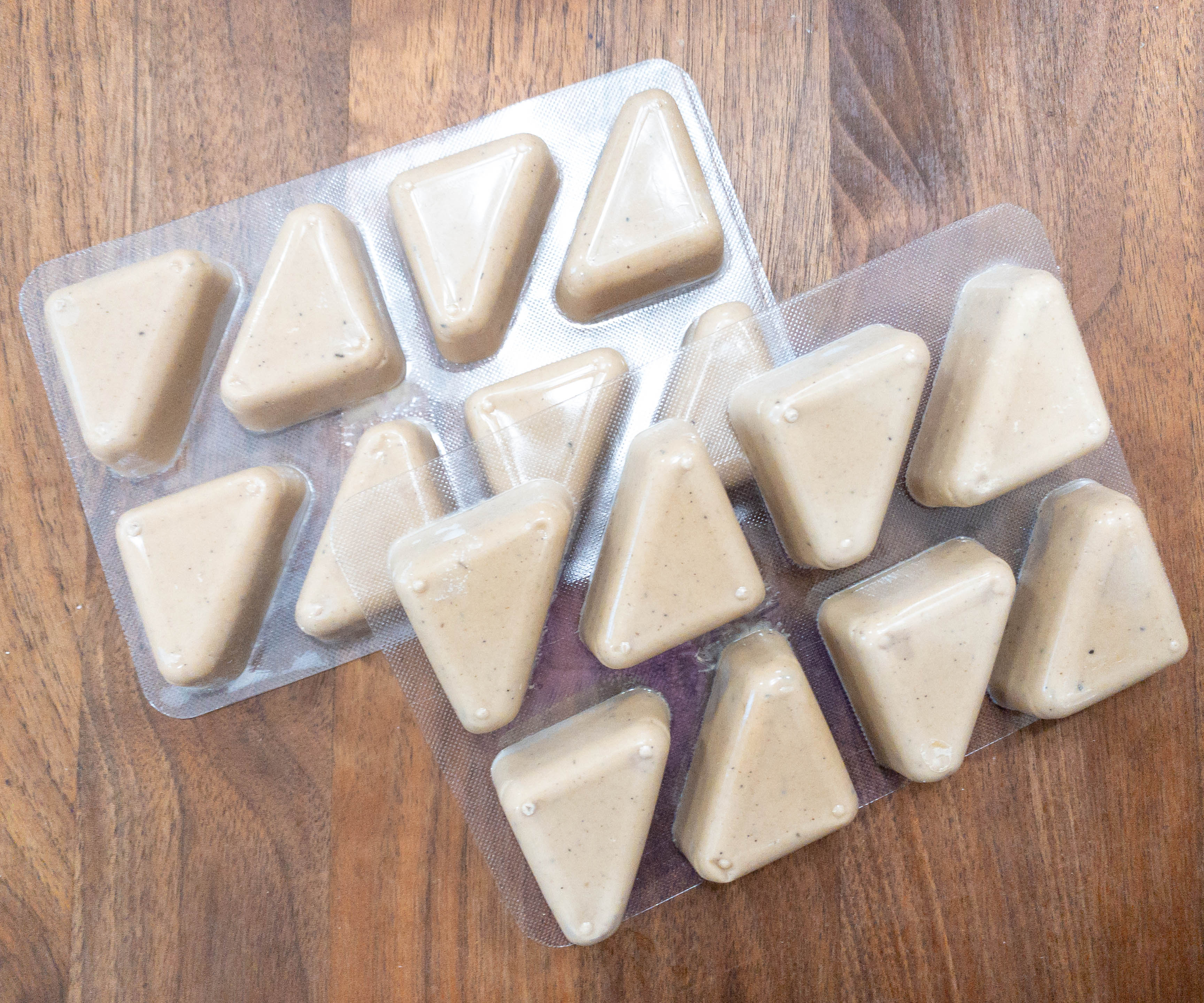 Since this is an oat bowl as well, I just needed one wedge!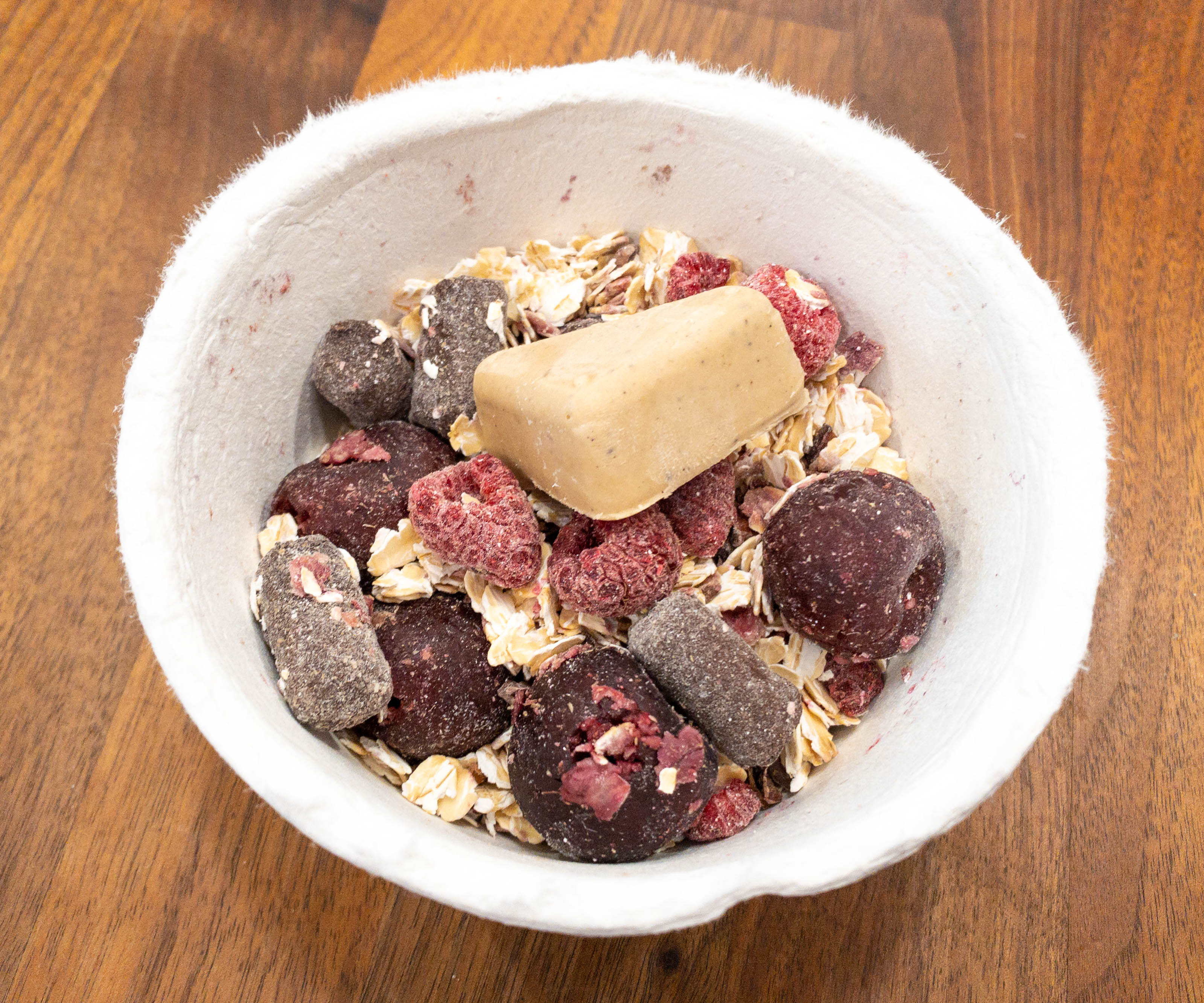 Simply place the wedge on your oat bowl.
Then, add half a cup of water!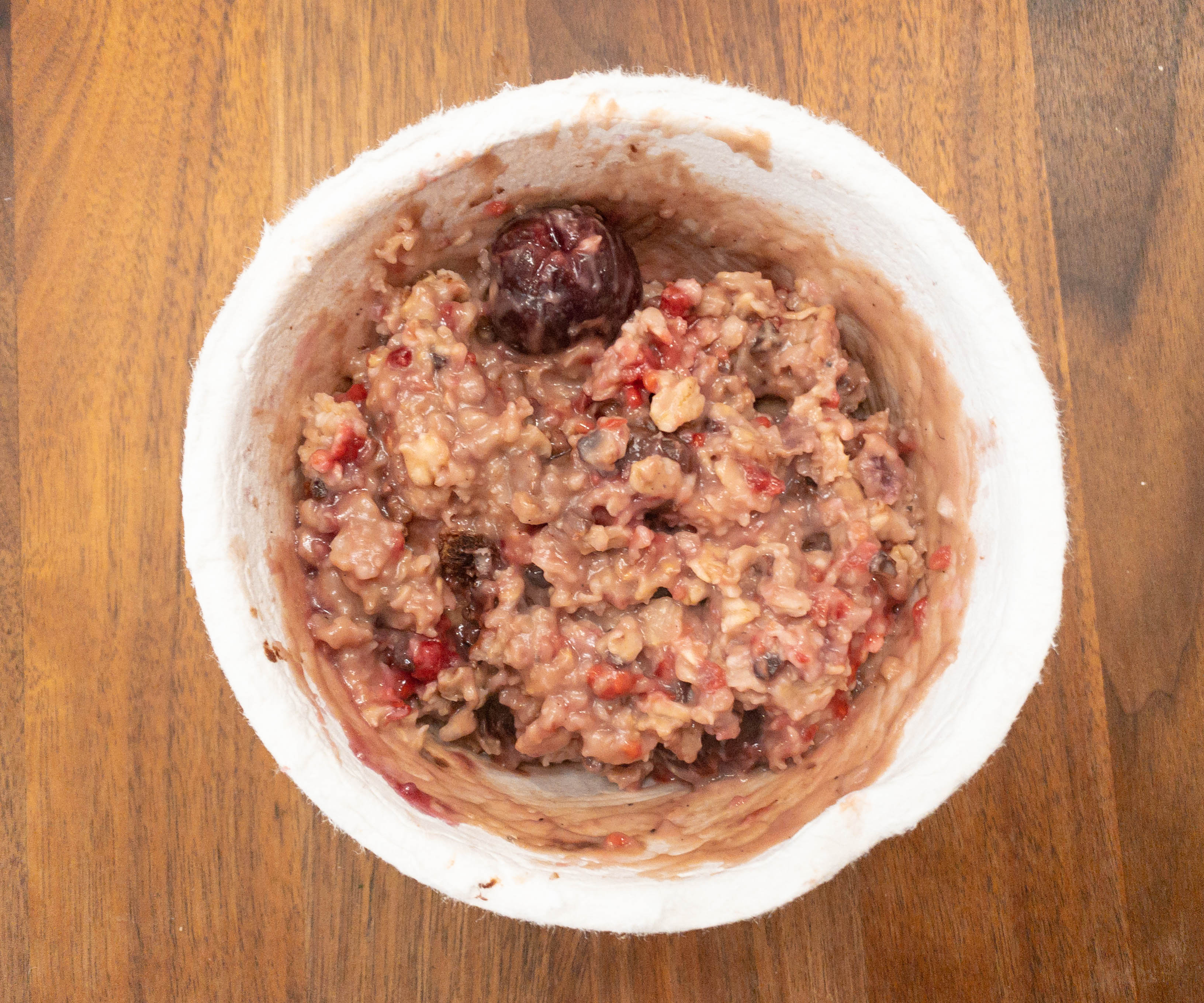 Make sure to stir everything well and then heat using your preferred method.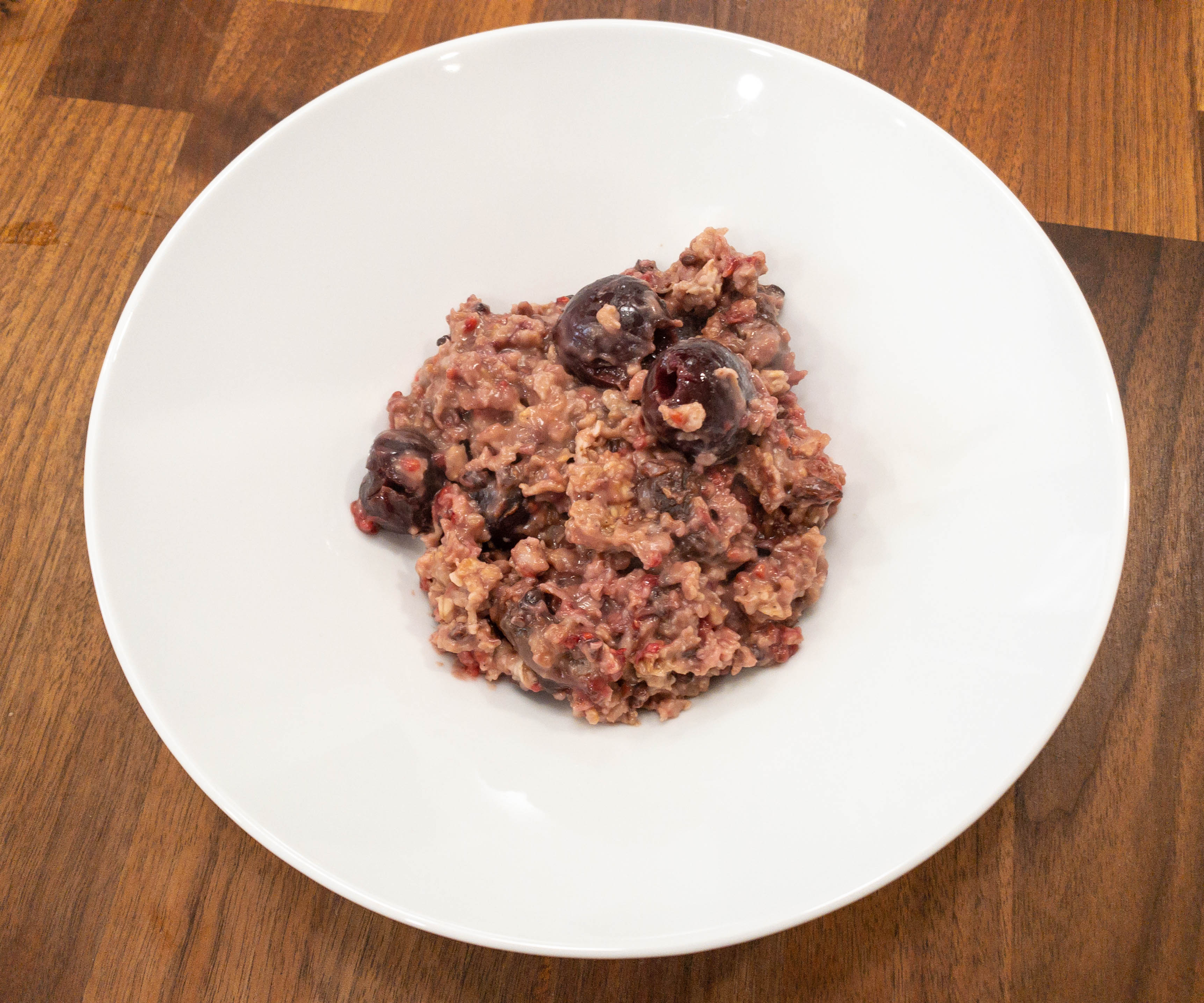 This bowl tasted exactly like I expected: it's chocolatey but not too sweet, with a tart twist from the fruits!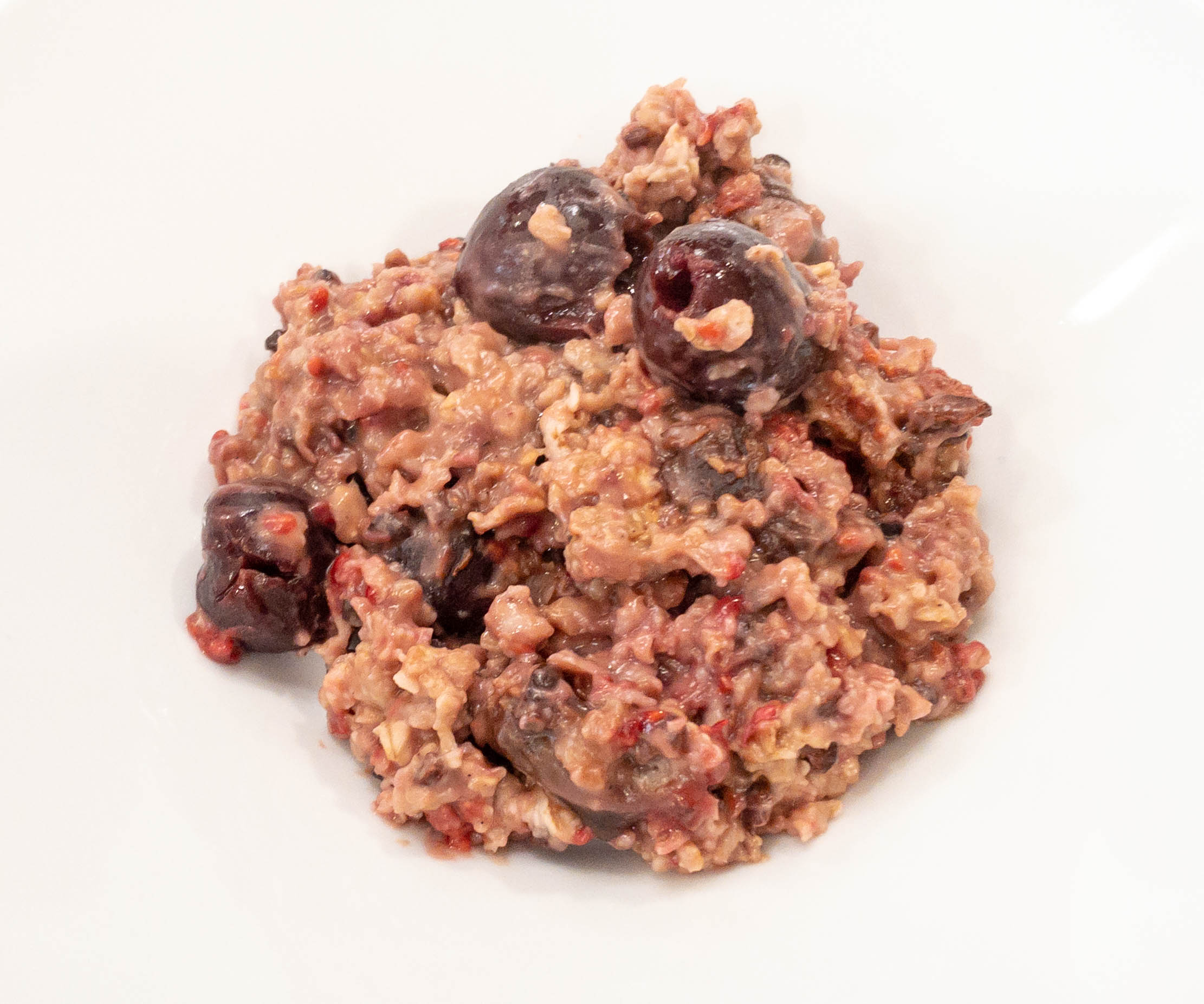 Look at those plump cherries! Yum! For me, this is a great picker-upper because eating it is like having dessert for breakfast or any time of the day. Flavor-wise, it really is amazing because the chocolate and tart cherries complement each other well! The Mylk also added a hint of nuttiness and I just love that it didn't make my oat bowl watery.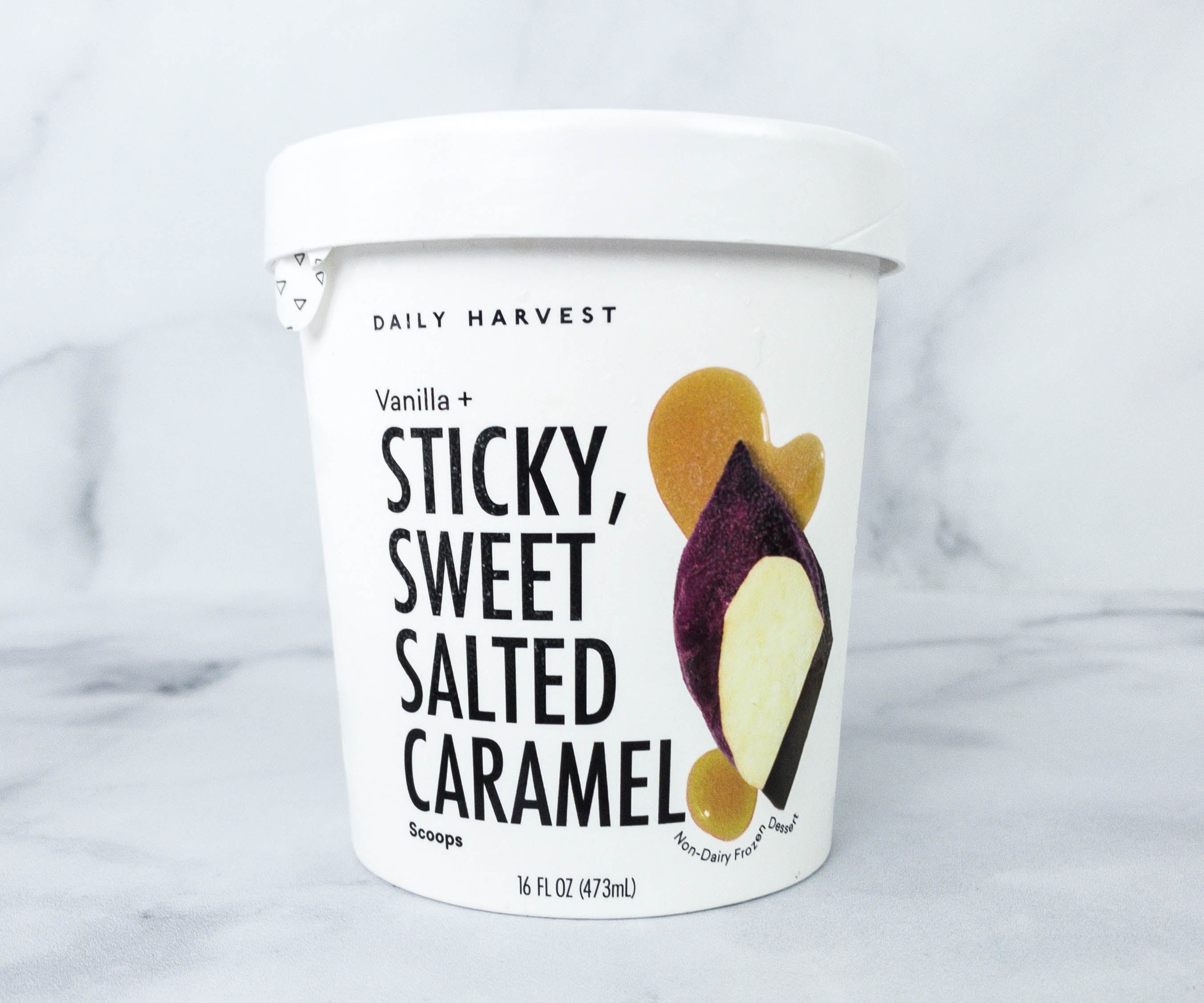 Vanilla + Sticky, Sweet Salted Caramel Scoops. I also have Scoops in my box. For those who are not familiar, Scoops is Daily Harvest's vegan ice cream!
The first one is my box is the Vanilla + Sticky, Sweet Salted Caramel Scoops!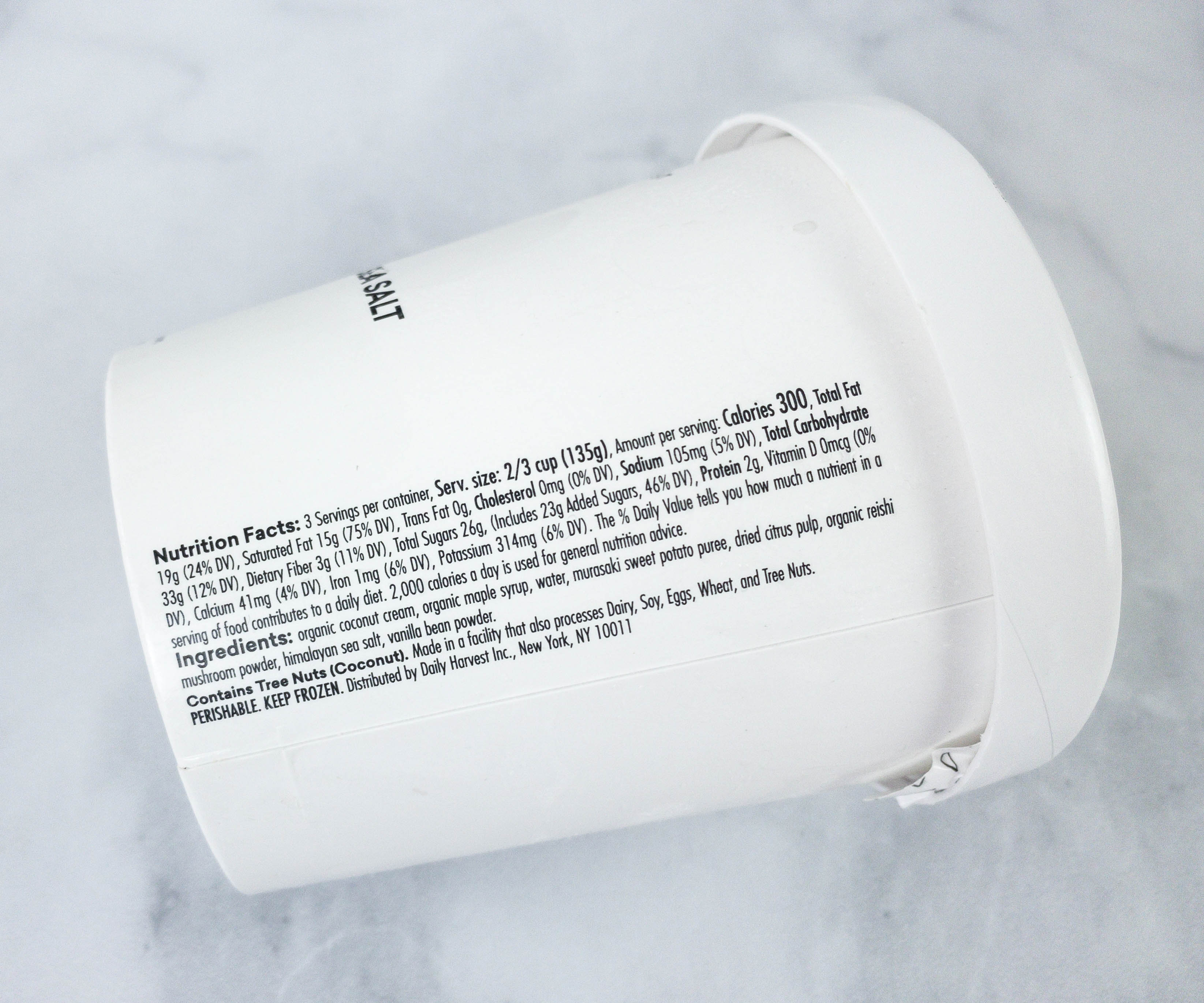 It's made with Murasaki Sweet Potato, a kind of Japanese sweet potato characterized by its white flesh, purple skin, and sweet, floral flavor. It also includes organic coconut and organic maple!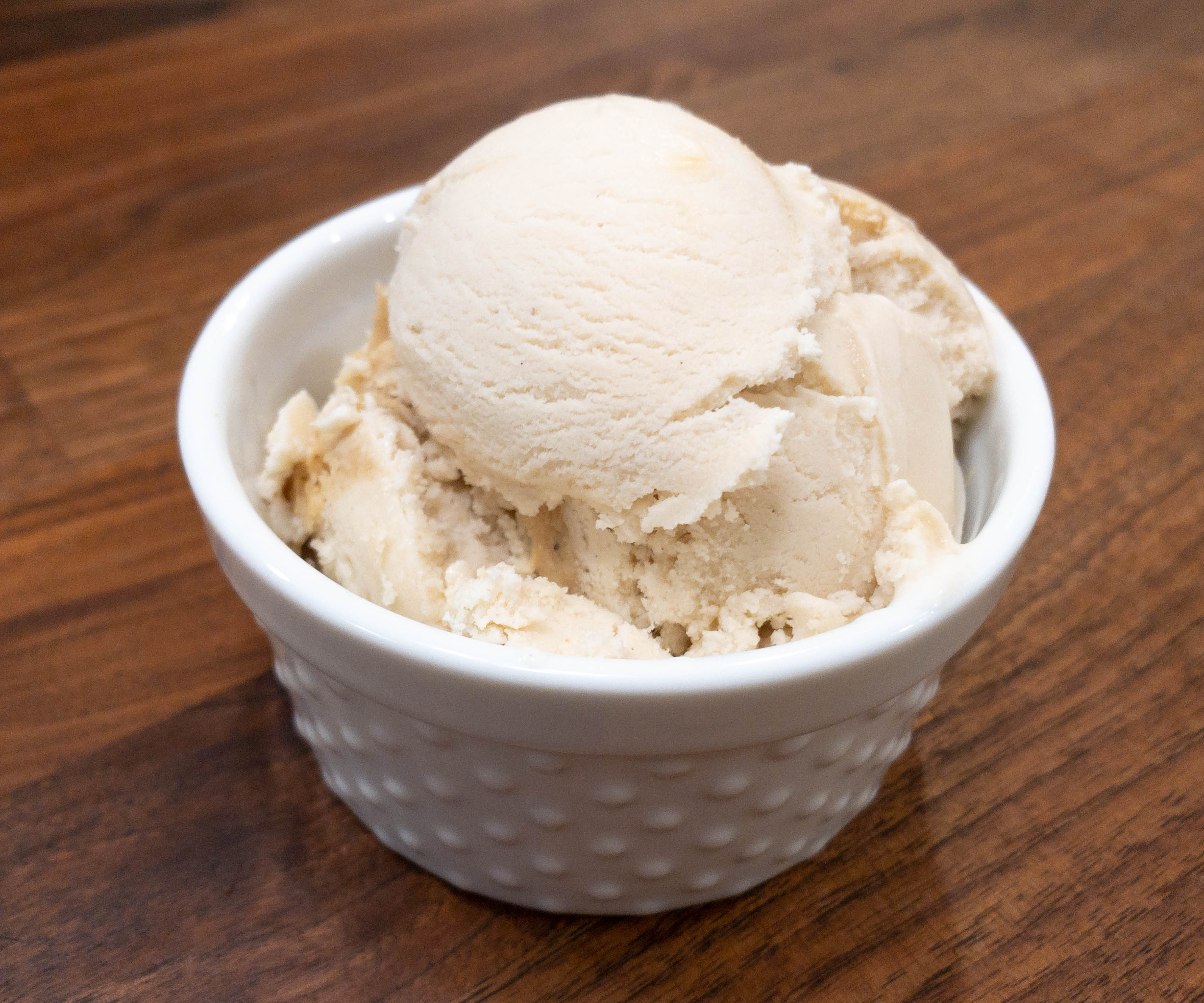 The flavor profile is similar to a creamy vanilla ice cream drizzled with salty caramel. It has a good balance of flavors, with the sweetness coming from organic maple and the saltiness from Himalayan sea salt. Another unique ingredient of this vegan ice cream is organic reishi mushroom, an adaptogen that helps boost the immune system!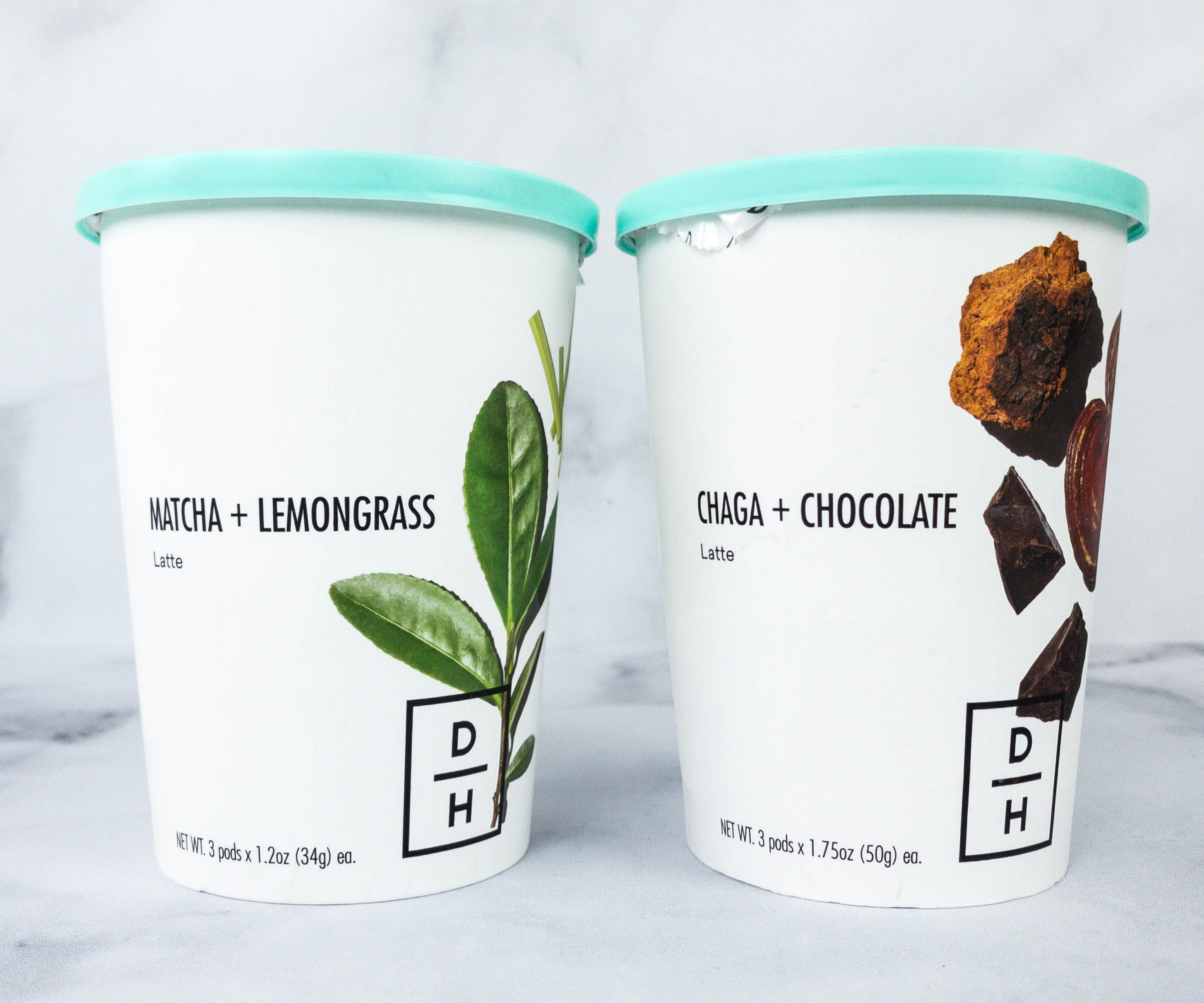 Matcha + Lemongrass Latte. This one is from the Functional Latte line of Daily Harvest! I was really surprised when I saw this flavor because I don't usually come across matcha and lemongrass combinations. Upon tasting it, I can also get notes of coconut flavor in there and its sweet and nutty profile blends really well with the matcha!
Chaga + Chocolate Latte. Here's another latte and it's pure bliss! It's creamy and sweet, plus it's  infused with chaga and reishi mushrooms that help with stress relief.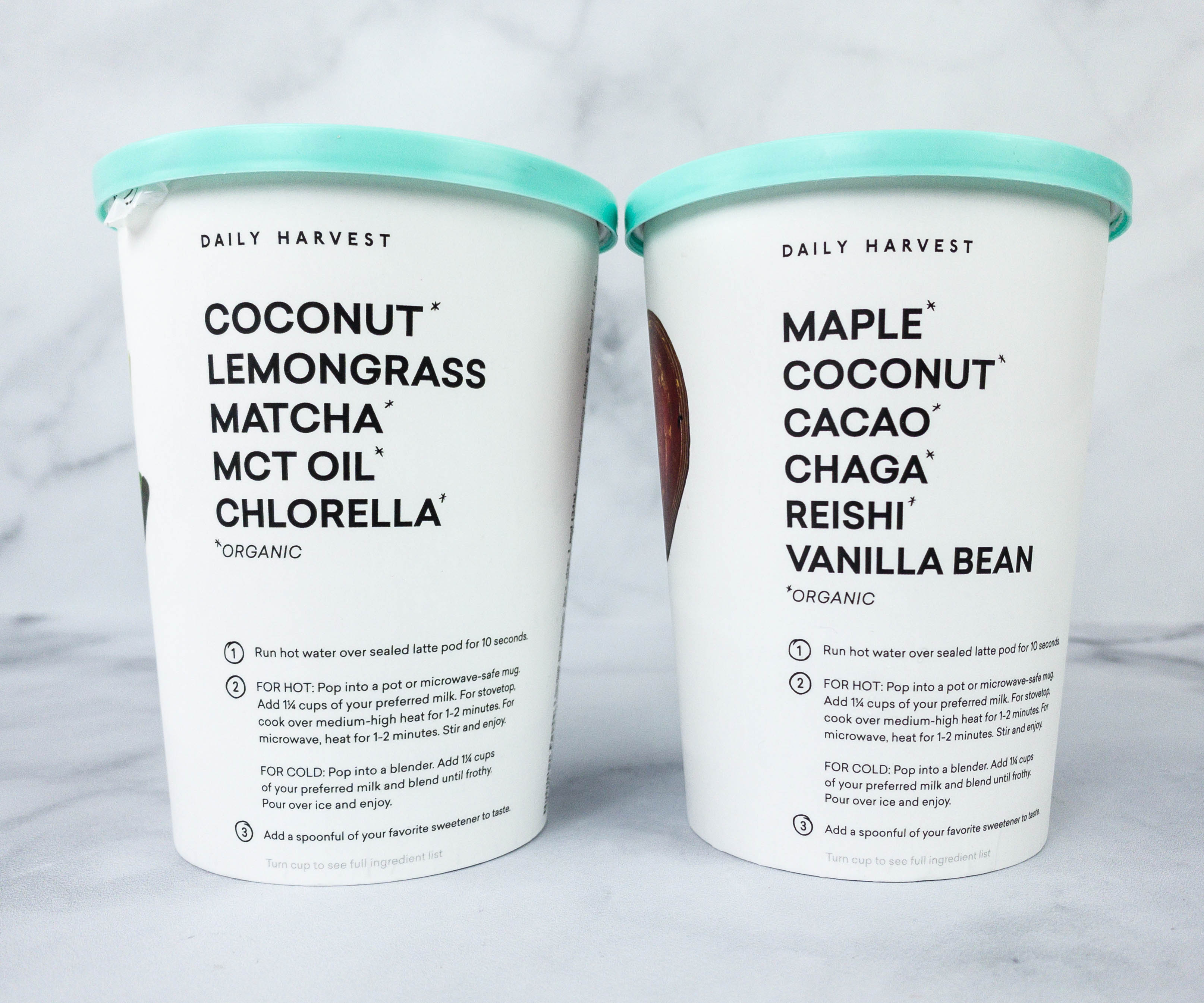 These lattes are easy to prepare and you can enjoy them either hot or cold!
All the necessary information are listed in the cup from the ingredients to the Nutrition Facts.
Banana + Greens Smoothie. Next up are the smoothies! This one features a citrusy flavor mellowed out by the hint of banana, and I like it. It has a ton of greens that you usually find in smoothies but it doesn't have that grassy aftertaste because of the addition of the lemon which cuts through the flavor.
Strawberry + Peach Smooothie. Fruity and bright best describe this smoothie! It's sweet without going all out and there is that hint of tang that ties up all the flavors. Aside from strawberry and peach, this smoothie contains goji berries which is known to have the highest protein content among all fruits!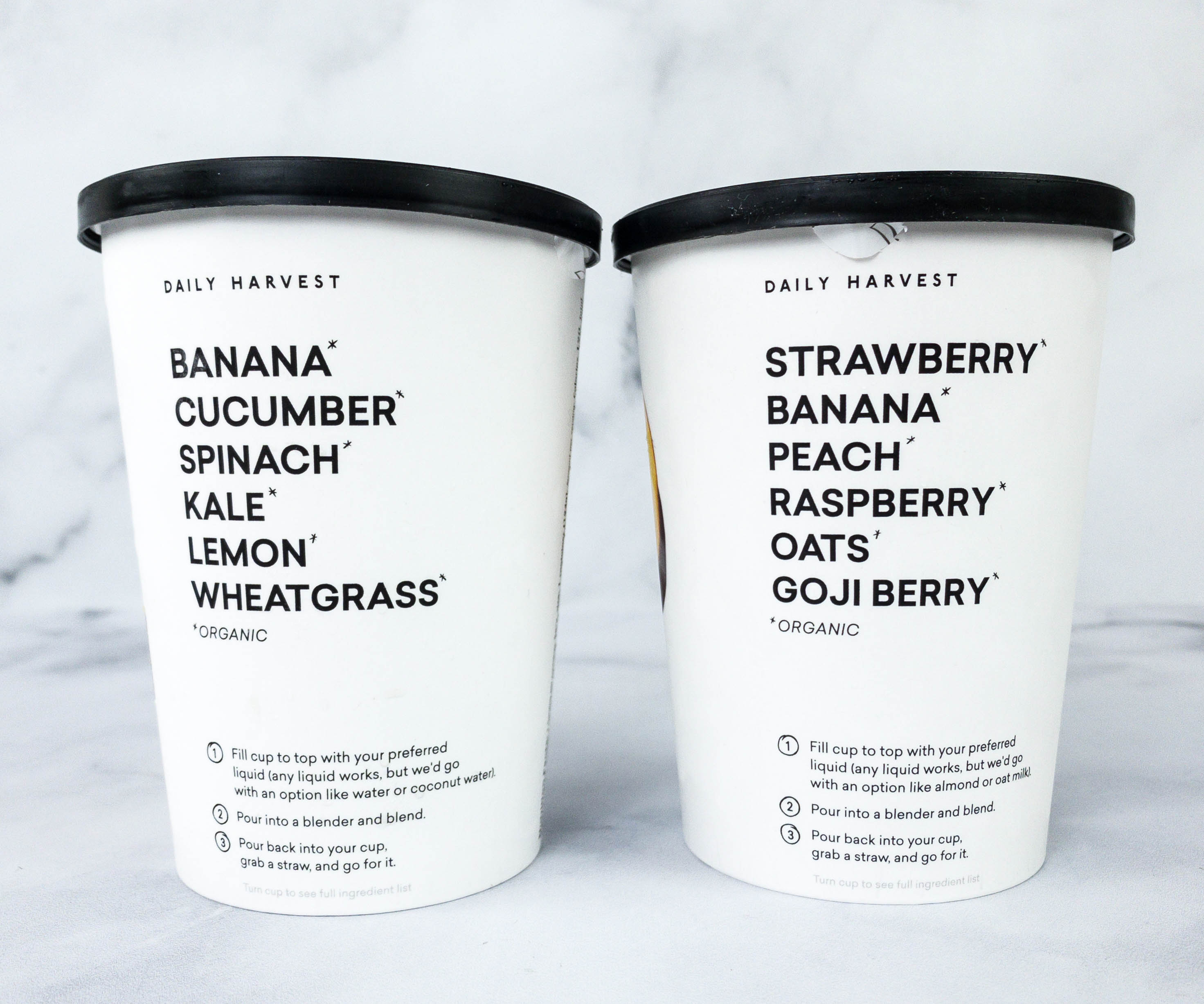 Preparing this is easy! You just have to fill the cup with your preferred liquid, pour into a blender, then blend!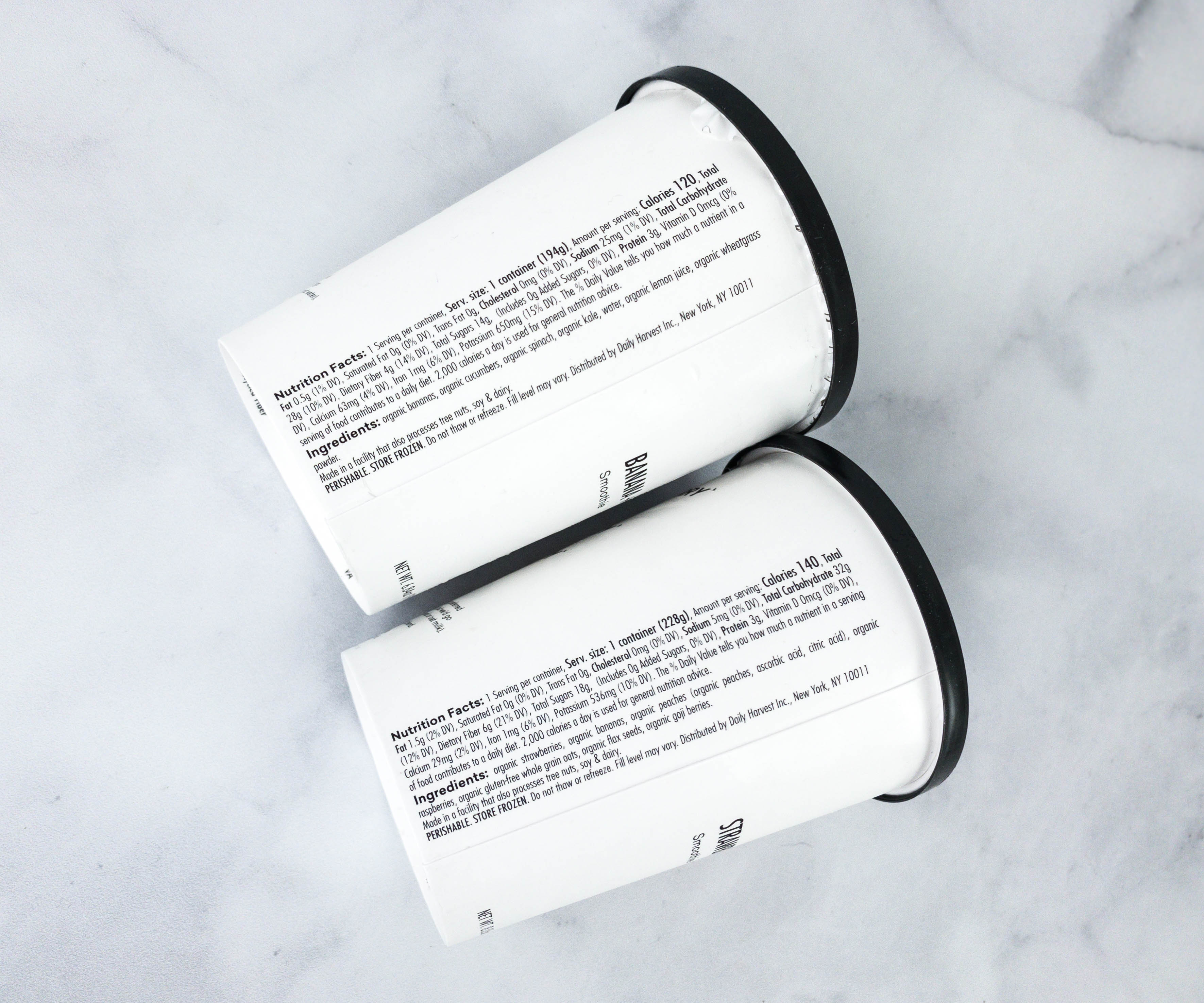 You can also use Daily Harvest's MYLK wedges when making these smoothies!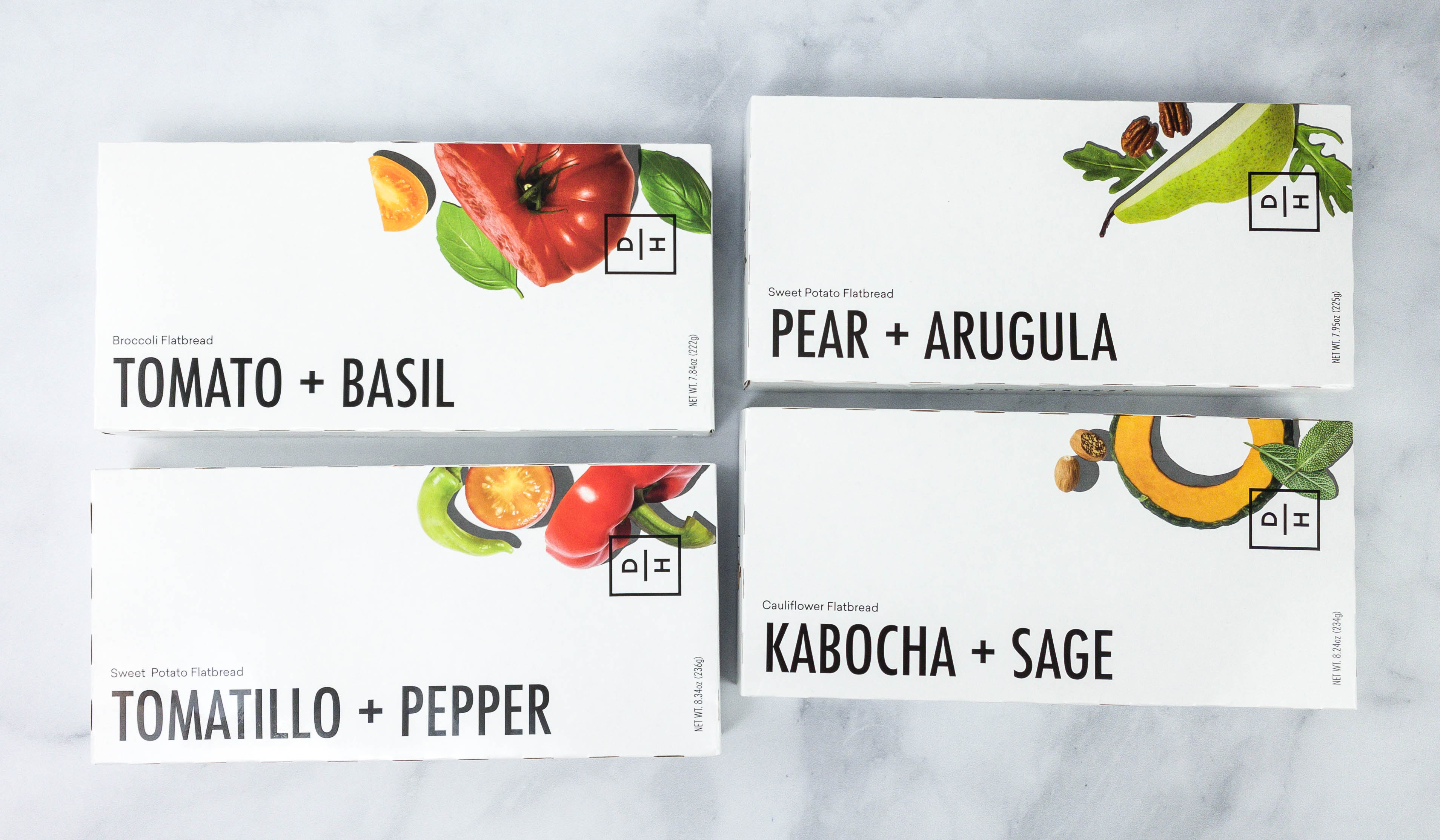 Now, we're onto Daily Harvest's delicious flatbreads!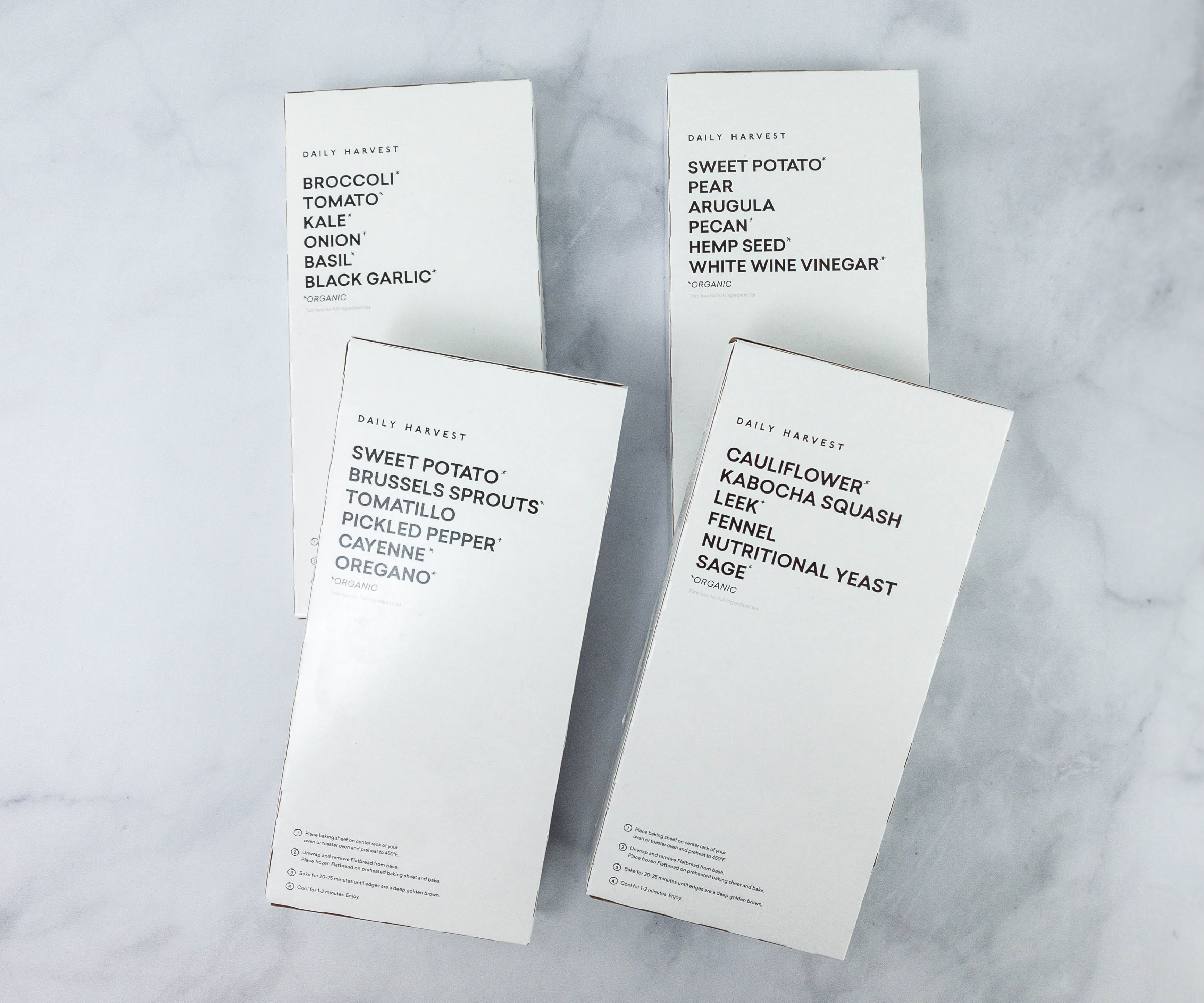 I received four different flavors.
I love that the boxes are recyclable! Hurray for eco-friendly and sustainable packaging!
Broccoli Flatbread Tomato + Basil. This flatbread is perfect for fans of fresh herbs and red sauce!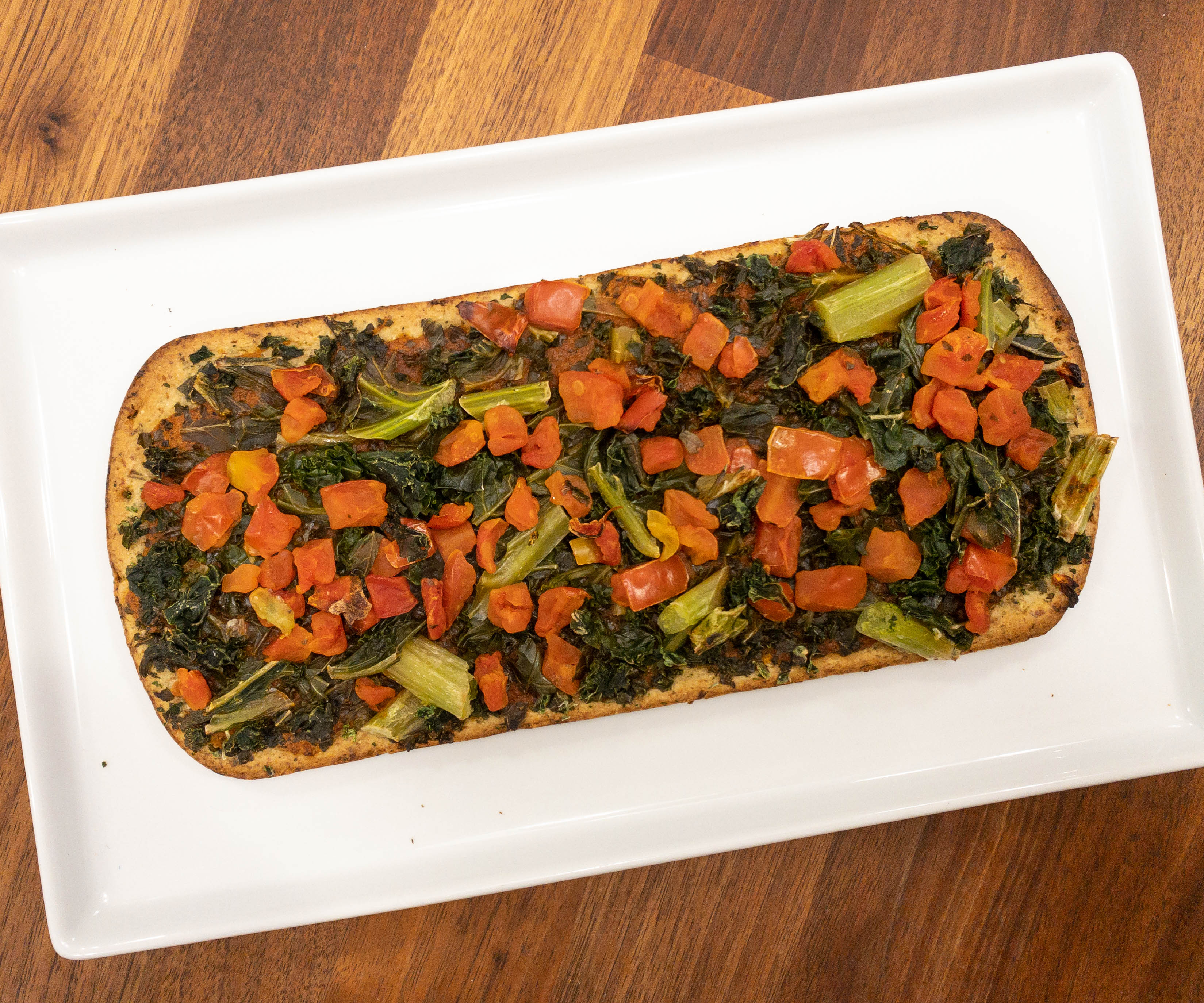 It is packed with immune-strengthening tomatoes, anti-inflammatory broccoli, nutrient-dense kale, and antioxidant-rich basil!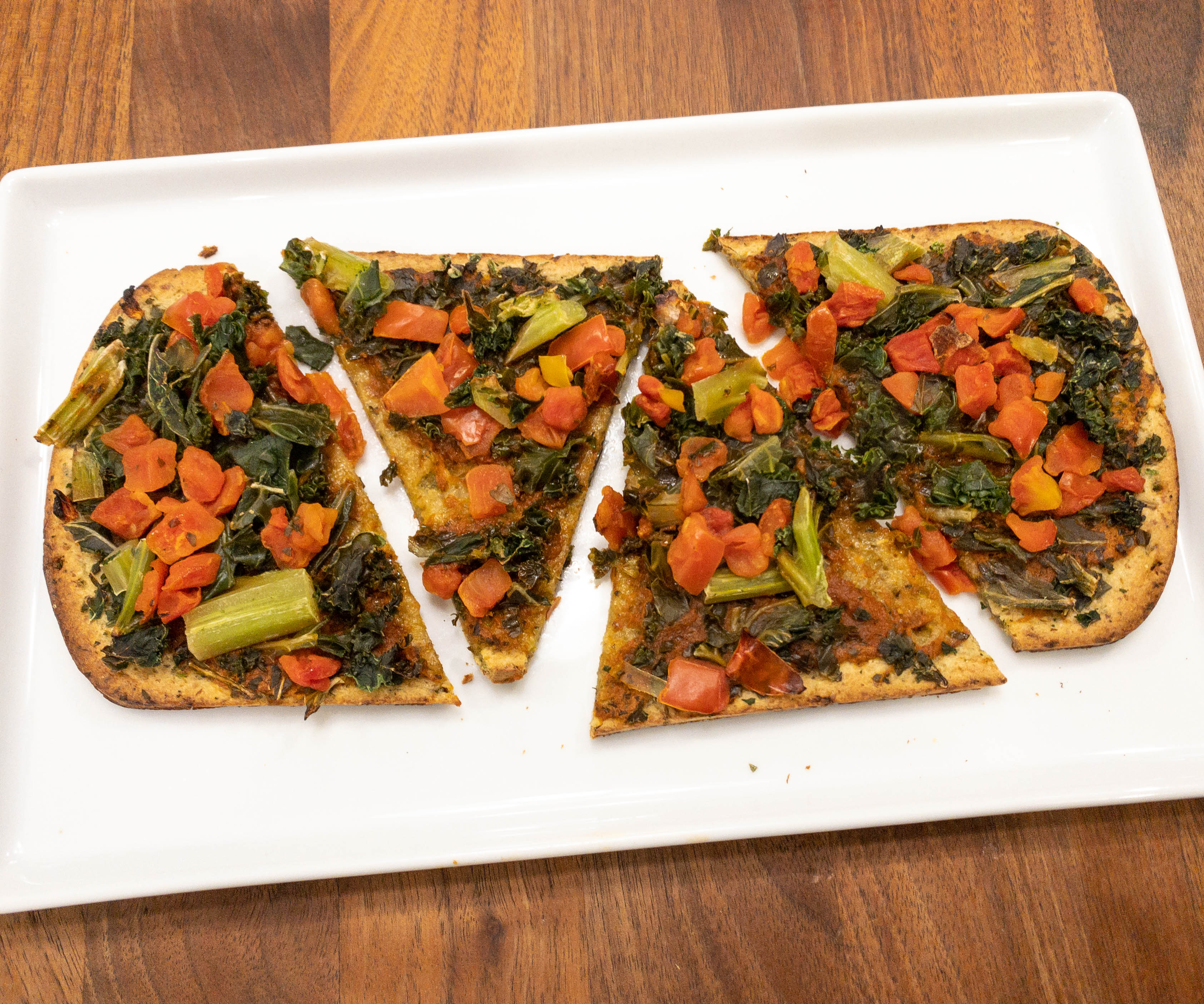 It turned out crisp and it smelled great even when it was still heating up in the oven! The taste did not disappoint either, it's nicely seasoned and every bite is bursting with flavors that it's almost like pizza.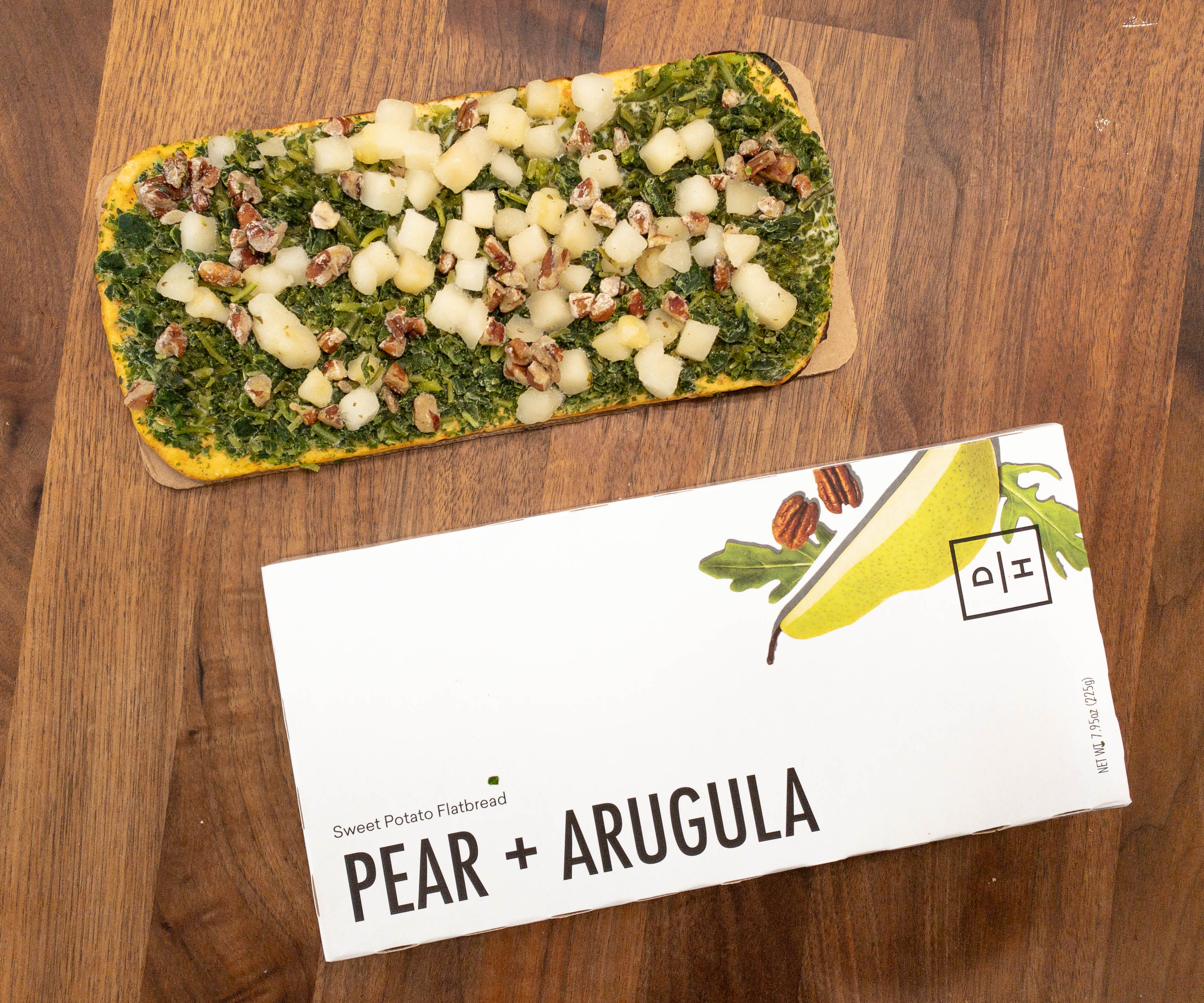 Sweet Potato Flatbread Pear + Arugula. This combination is quite new to me so I'm intrigued. It contains vitamin C-rich pear and low-calorie arugula!
Its flavor profile is similar to caramelized pear and ricotta. Aside from pears and arugula, there are also pecans that make each bite so delightful!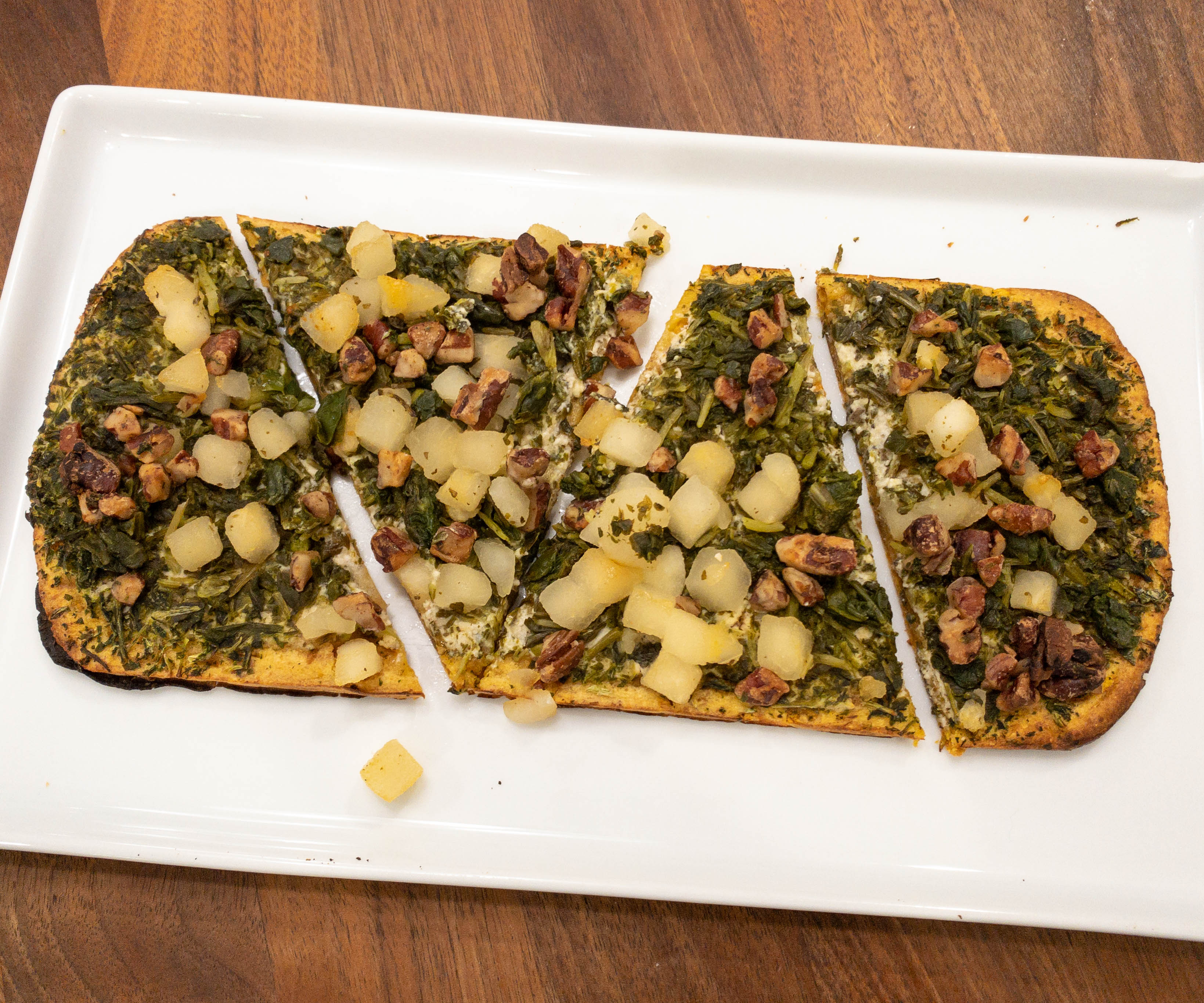 Surprisingly sweet but not overly so, this flatbread has the perfect balance of flavors! It also has a peppery flavor from the arugula and nuttiness from the pecans. I like how unique yet refreshing this is and I think this will be perfect for an afternoon snack!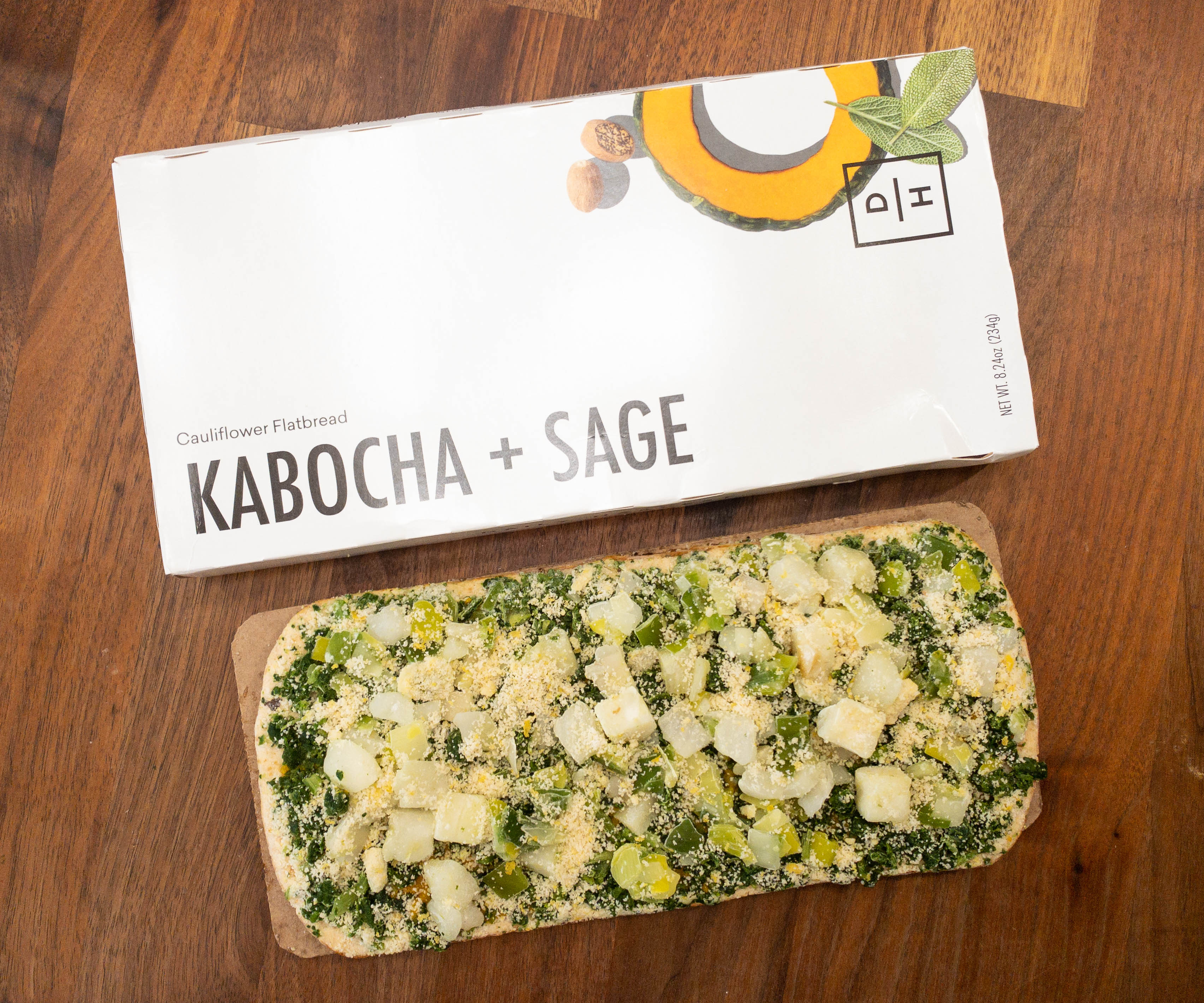 Cauliflower Flatbread Kabocha + Sage. Next is another unique combination: kabocha squash and sage, which reminds me of an au gratin.
Just like the other flat breads, this turned perfectly crispy after heating!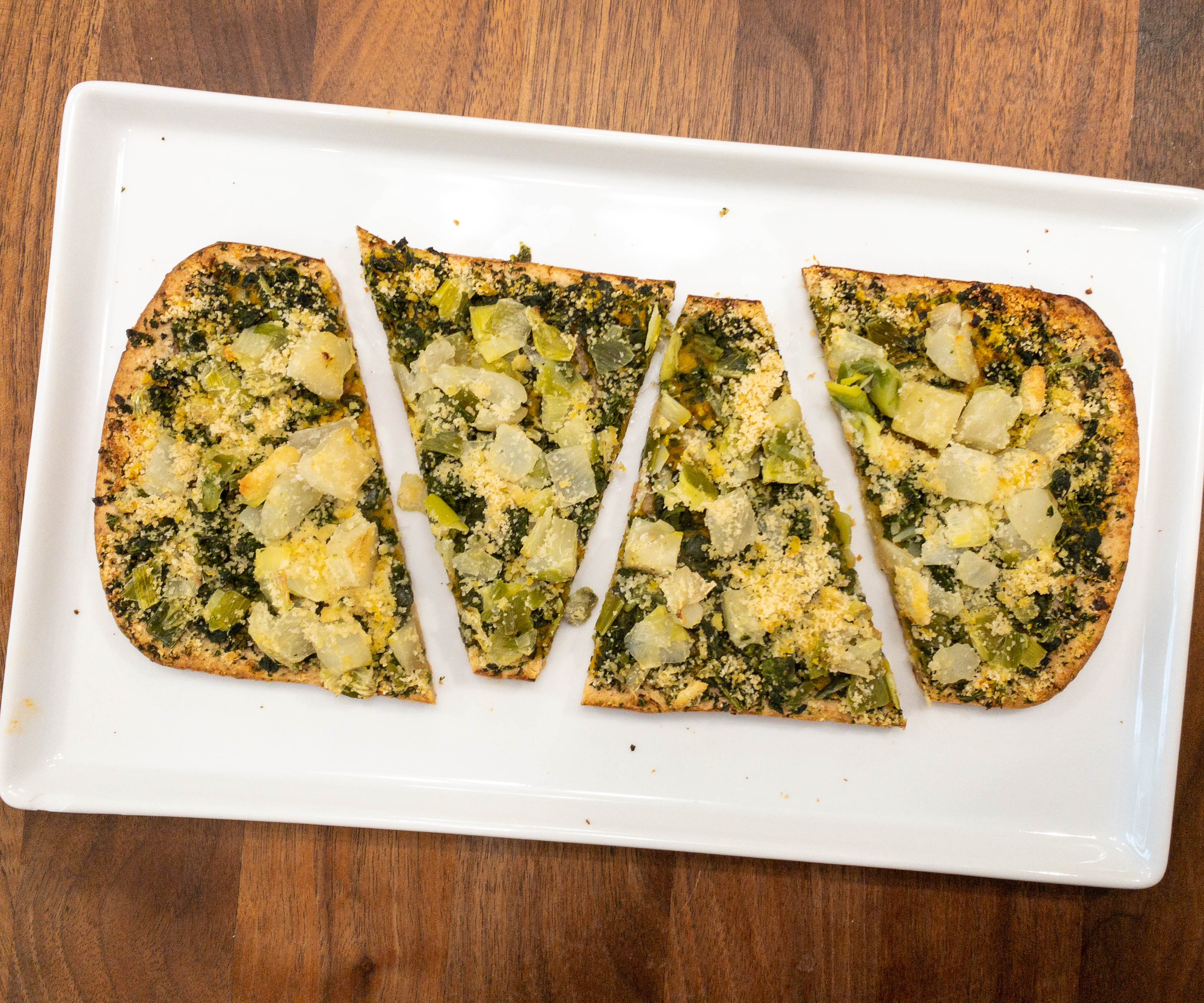 I love the flavor of this flatbread and the toppings make for an awesome blend of textures! This one is enriched with vitamins C and K because of the cauliflower and organic leeks. These vitamins are known to boost the immune system and support strong bones!
Sweet Potato Flatbread Tomatillo + Pepper. For spicy food enthusiasts, this flatbread is for you. Its flavor profile is comparable to a spicy red sauce sprinkled with pickled vegetables on top!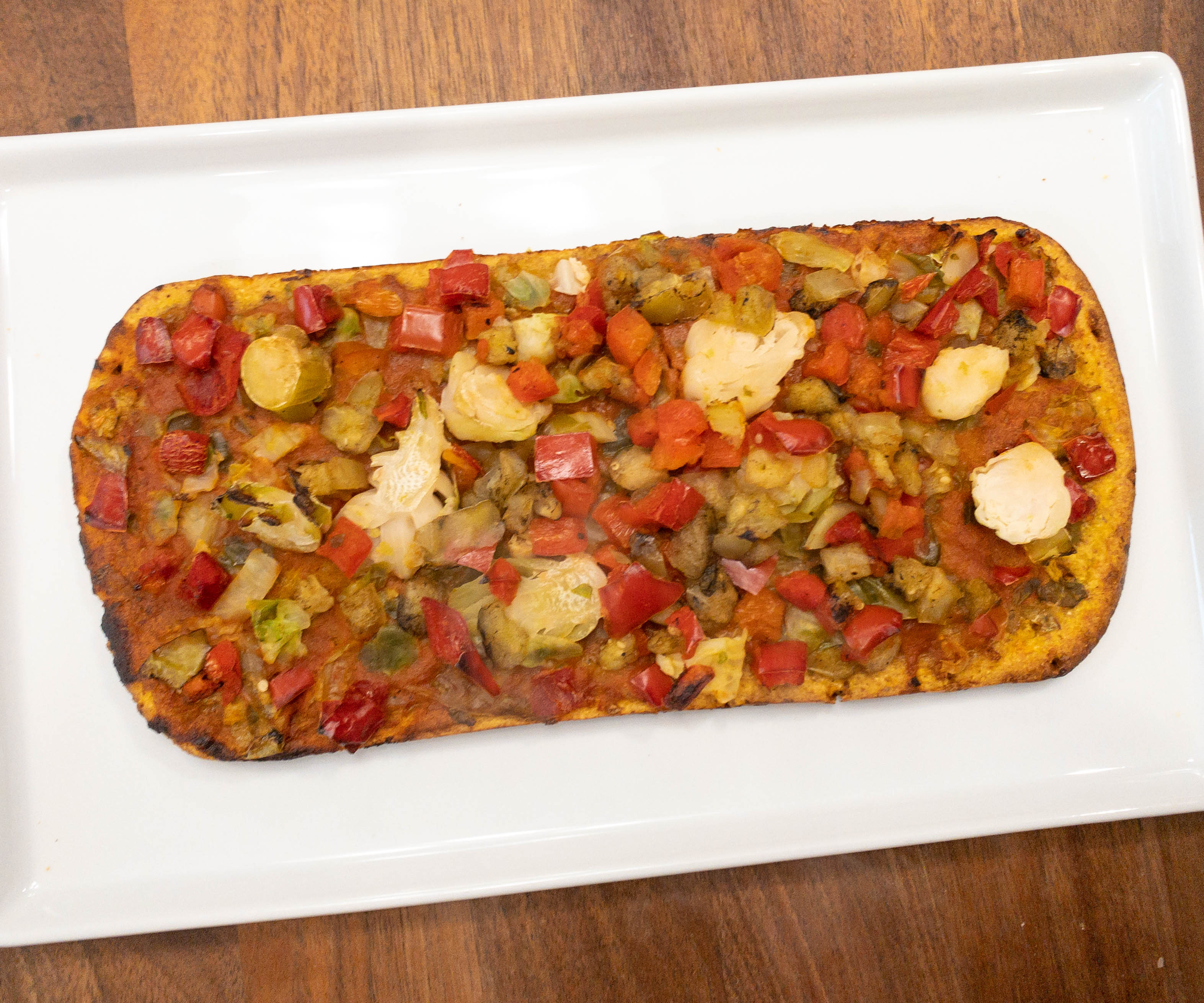 This flatbread is packed with gut-balancing brussel sprouts, fiber-rich tomatillo, and beta carotene-rich sweet potatoes.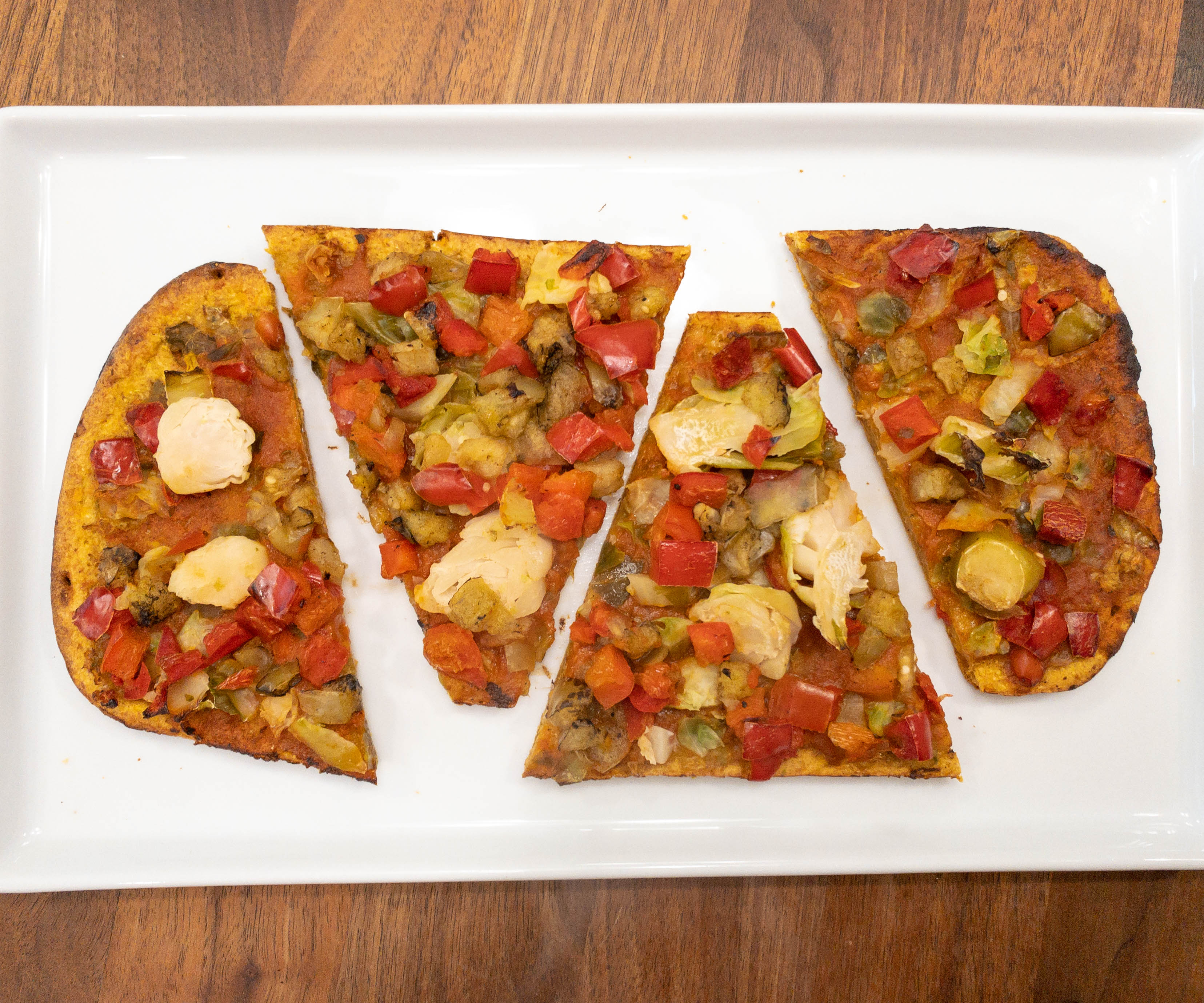 It has a peppery flavor with just the right amount of heat, thanks to the cayenne. This is a delightful twist to the regular flatbread because it adds different layers of flavors and texture that you can really taste and feel on each bite!
Daily Harvest proves that healthier food does not mean sacrificing flavors! This box is jampacked because I have a little bit of everything, but first, let me talk about MYLK which I tried for the first time, plus the new flatbread flavors! MYLK is such a great alternative to store-bought almond milk because it's not in liquid form (less mess) and it doesn't go bad easily. Preparing this plant-based milk in solid form is also easy because you just have to mix it in water. As for the flatbreads, I liked all the new flavors I've received but my favorite is the Tomato + Basil combo because it tastes so close to an actual pizza but it's not as greasy. The flatbreads are perfect for lunch, or even for dinner with a glass of wine. You can easily slice them up and they are pretty filling. Of course, I also loved the Daily Harvest oat bowls, smoothies, and vegan ice cream. The oat bowls are my go-to for breakfast, while the smoothies give me a nutrient boost any time of the day. When I crave for dessert, I reach for the vegan ice cream and I'm all good. Another thing that I love about Daily Harvest's food items is that they are to prepare. With minimal effort, I can enjoy healthy and delicious food whenever I need it!
What do you think of the Daily Harvest box?