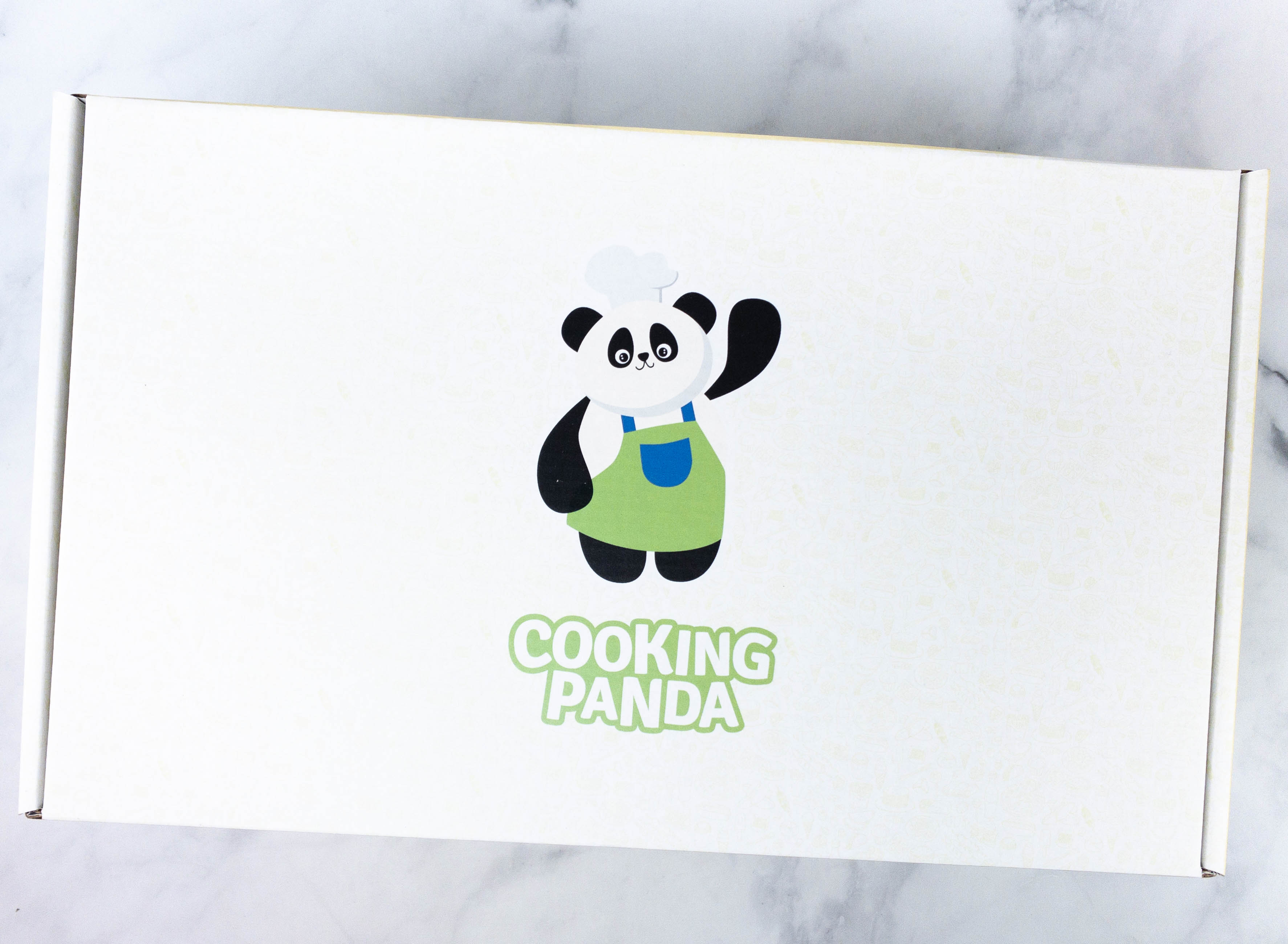 Cooking Panda Box is a quarterly subscription for foodies! The box will include 25+ food and beverage products from popular and trending brands. It may include everything from snacks and desserts to sauces and other cooking ingredients. A Seasonal subscription (pay-per-box) is $44.99, while an Annual subscription (prepay for 4 boxes) is $159.99. Each box has a promised retail value of $150! It comes in a SERIOUSLY big box with an outer cardboard box.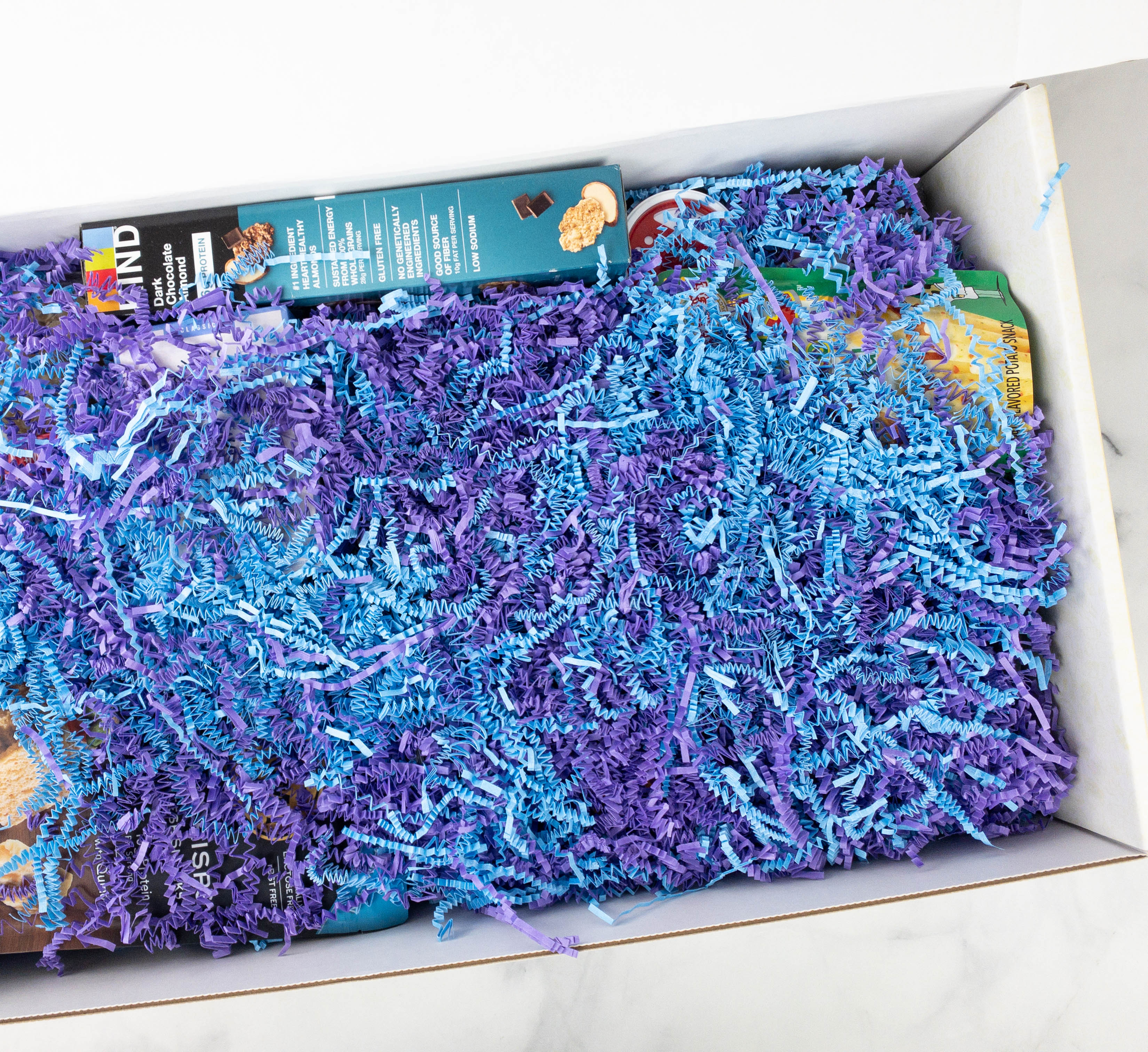 The food items were covered with blue squiggles.
There's a lot of snacks, beverages, and cooking ingredients inside. I'm excited to try them all!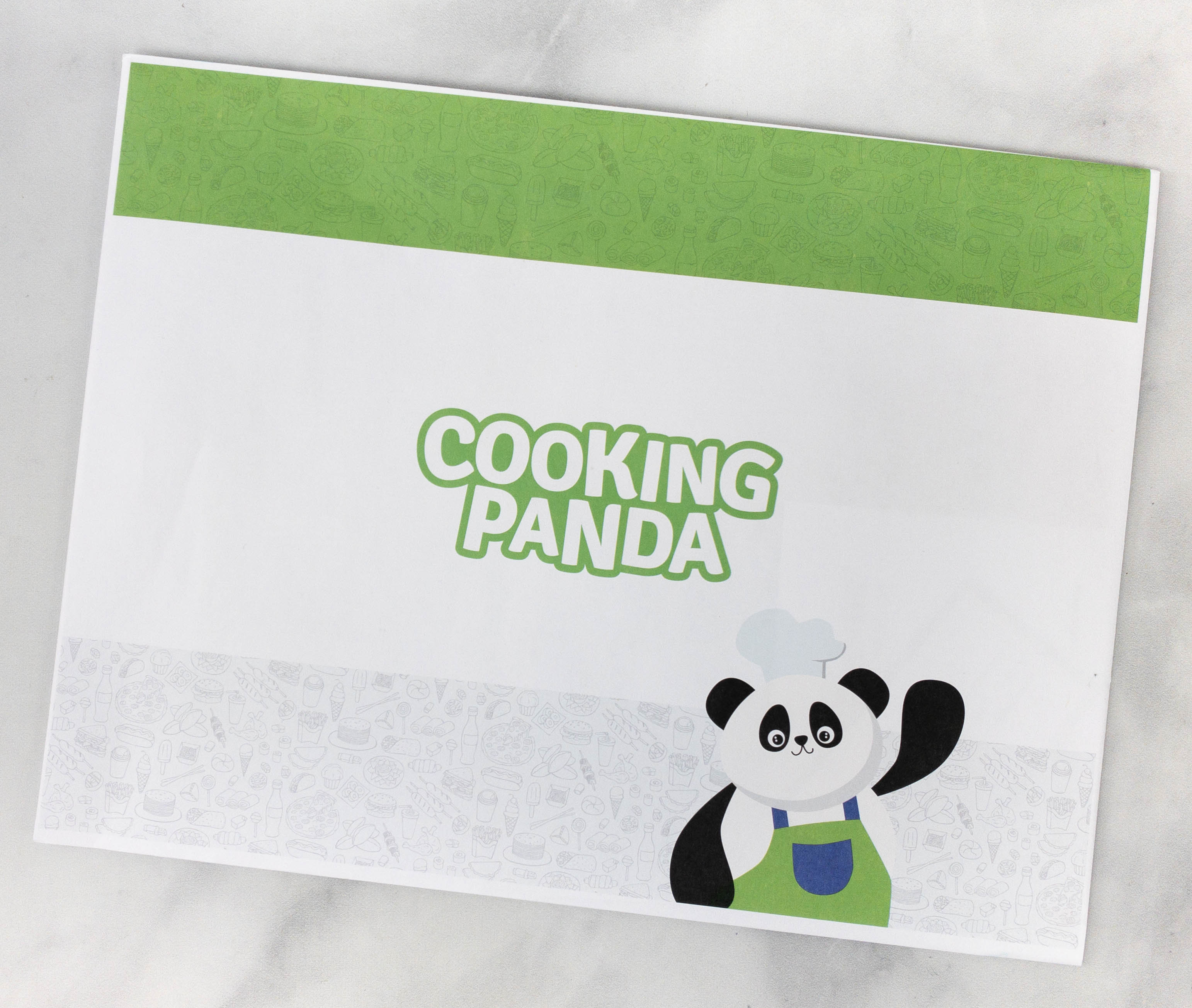 The box includes a card from Cooking Panda.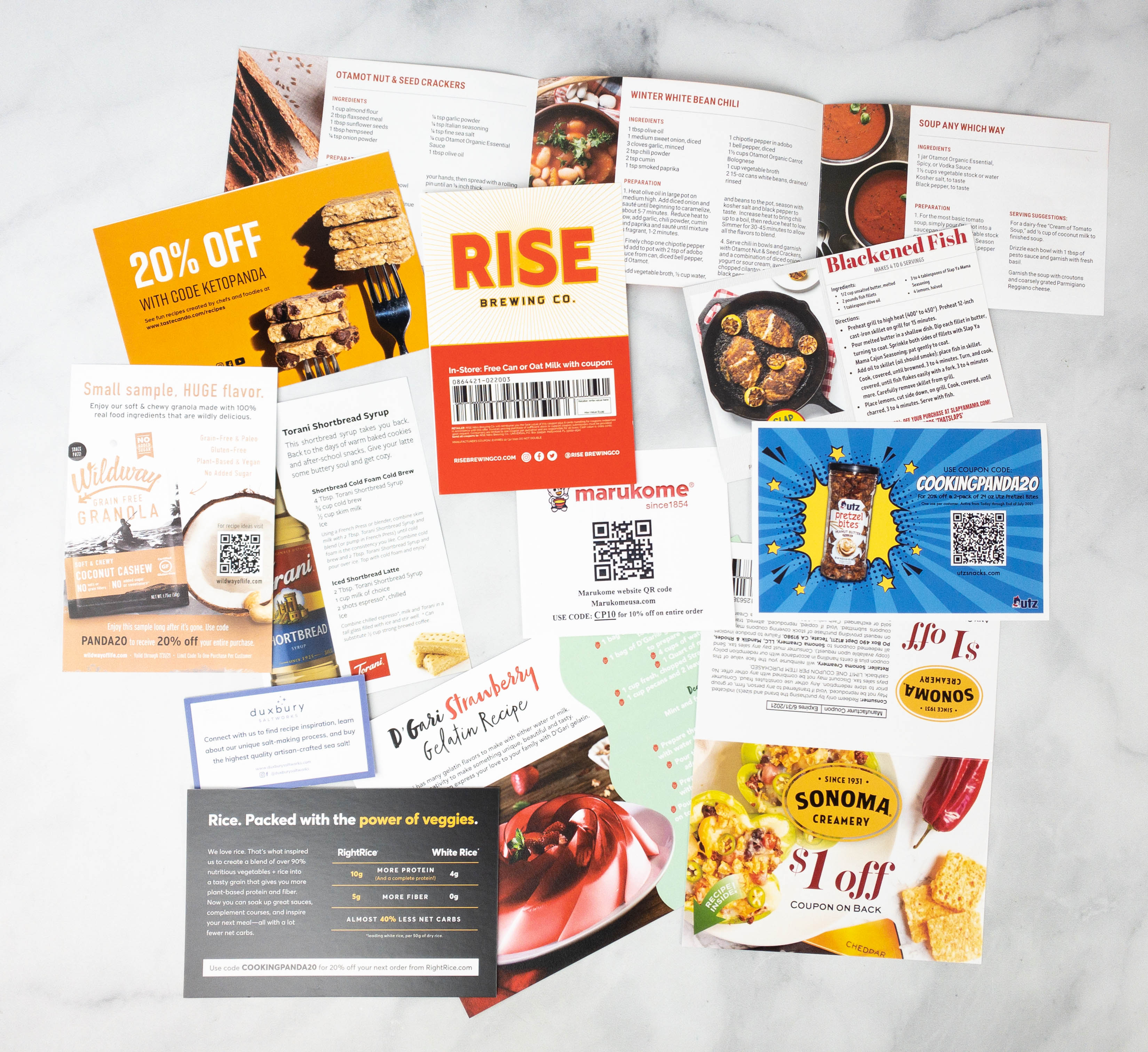 There are also recipes, coupon codes, and other promotional cards!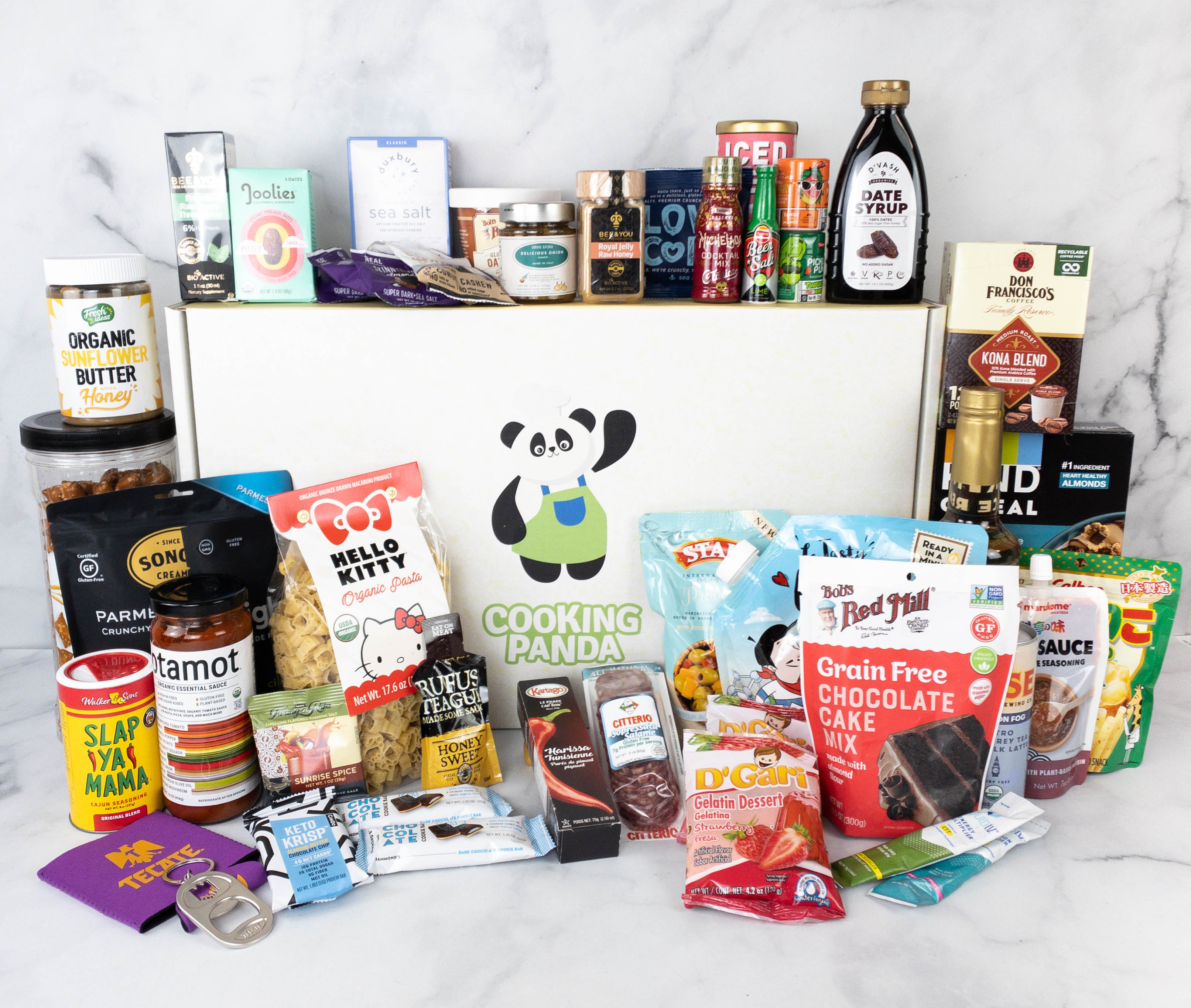 Everything in my box!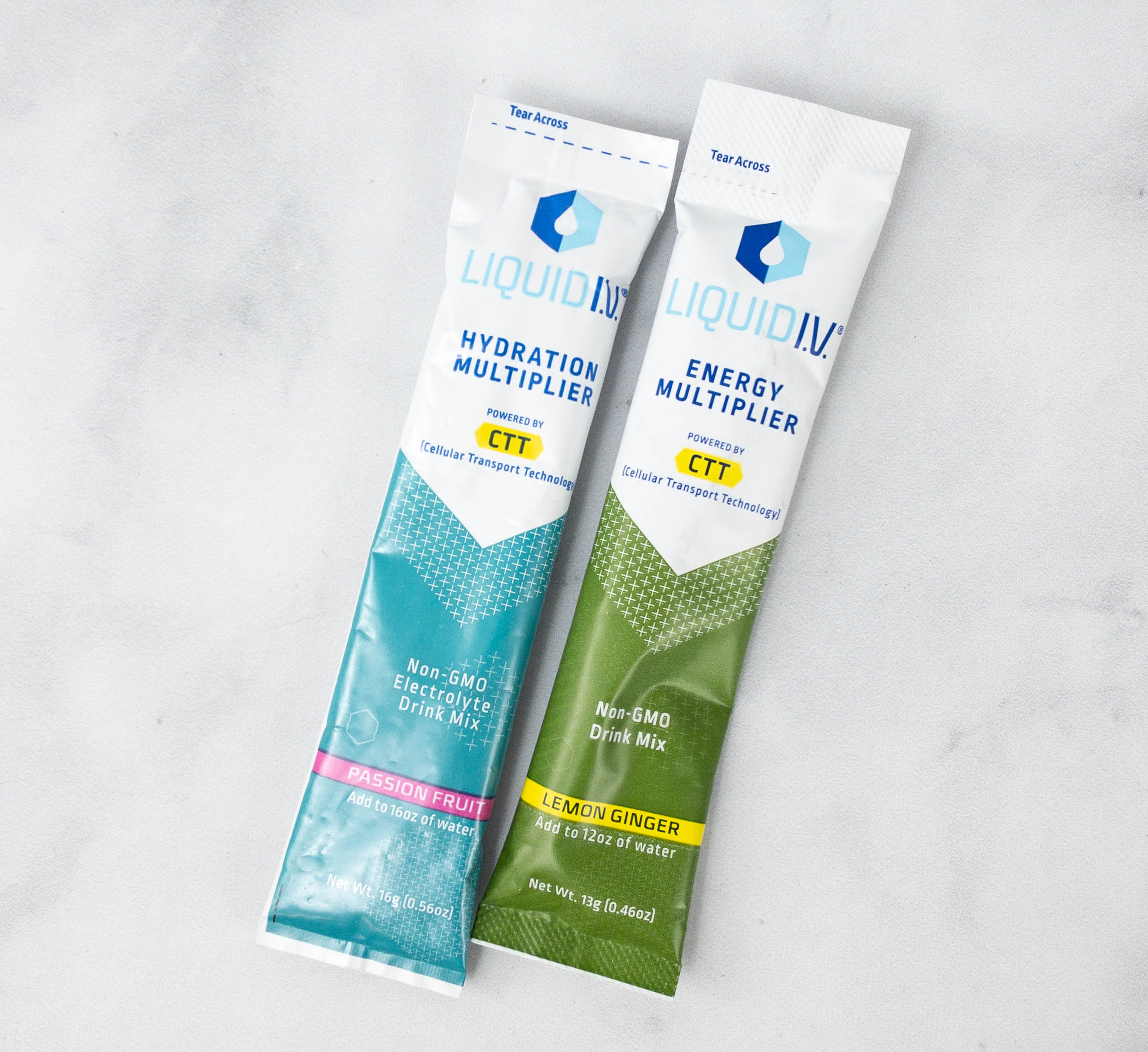 These Liquid I.V. supplement drinks come in easy-to-open pouches. They are gluten-free, non-GMO, and vegan-friendly.
Liquid I.V. Hydration Multiplier ($1.60) This passion fruit-flavored drink mix contains electrolyte powder that quickly hydrates the body. The formula also includes essential vitamins, minerals, and nutrients for faster hydration compared to water alone.
Liquid I.V. Energy Multiplier ($1.80) The next supplement powder mix is lemon ginger-flavored. It has 100mg of natural caffeine, equivalent to 1-2 cups of coffee. The formula also includes high amounts of antioxidants and amino acid L-Theanine.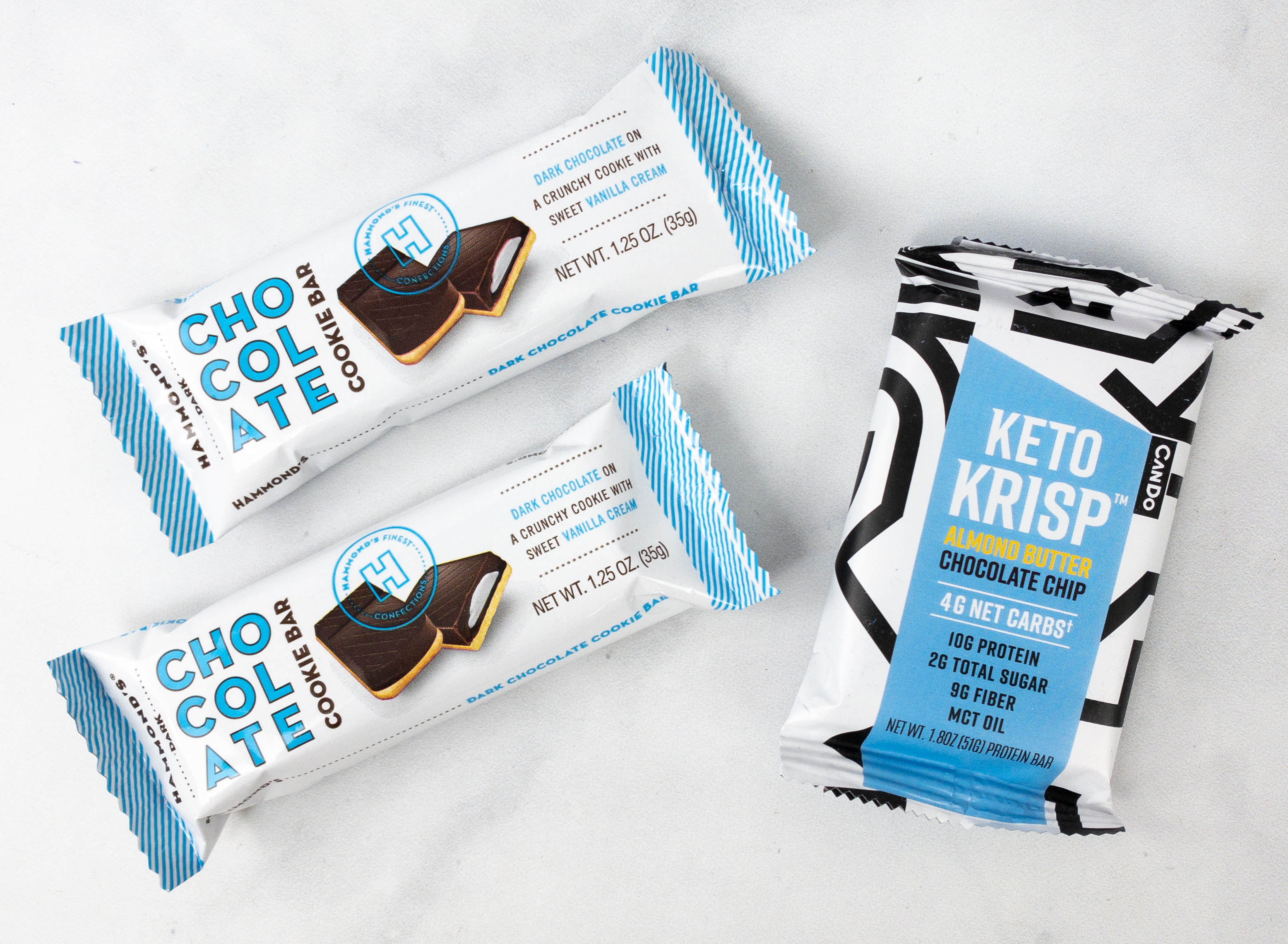 Hammond's Dark Chocolate Cookie Bar ($5) It's a combination of crunchy cookies and smooth dark chocolate with vanilla cream filling to satisfy the sweet tooth.
Keto Krisp Almond Butter Chocolate Chip ($3) They also included a keto-friendly treat in this quarter's box. This delicious almond butter chocolate chip is low in carb and sugar, plus it's gluten-free. It's a bit sweet and nutty!
Love, Corn Sea Salt ($11.37) These premium roasted corns taste really great! Each piece is infused with an addicting sea salt flavor. The crunchy texture also made it quite addicting.
Wildway Grain-Free Granola Coconut Cashew ($1.23) Coconut cashews are soft and chewy. They make an excellent topping for smoothies, yogurts, ice cream, and more!
Skinnydipped Almonds Super Dark Sea Salt ($4.12) This pack contains whole almonds with a thin layer of dark chocolate and sea salt. It's vegan-friendly and real ingredients were used to make this yummy snack!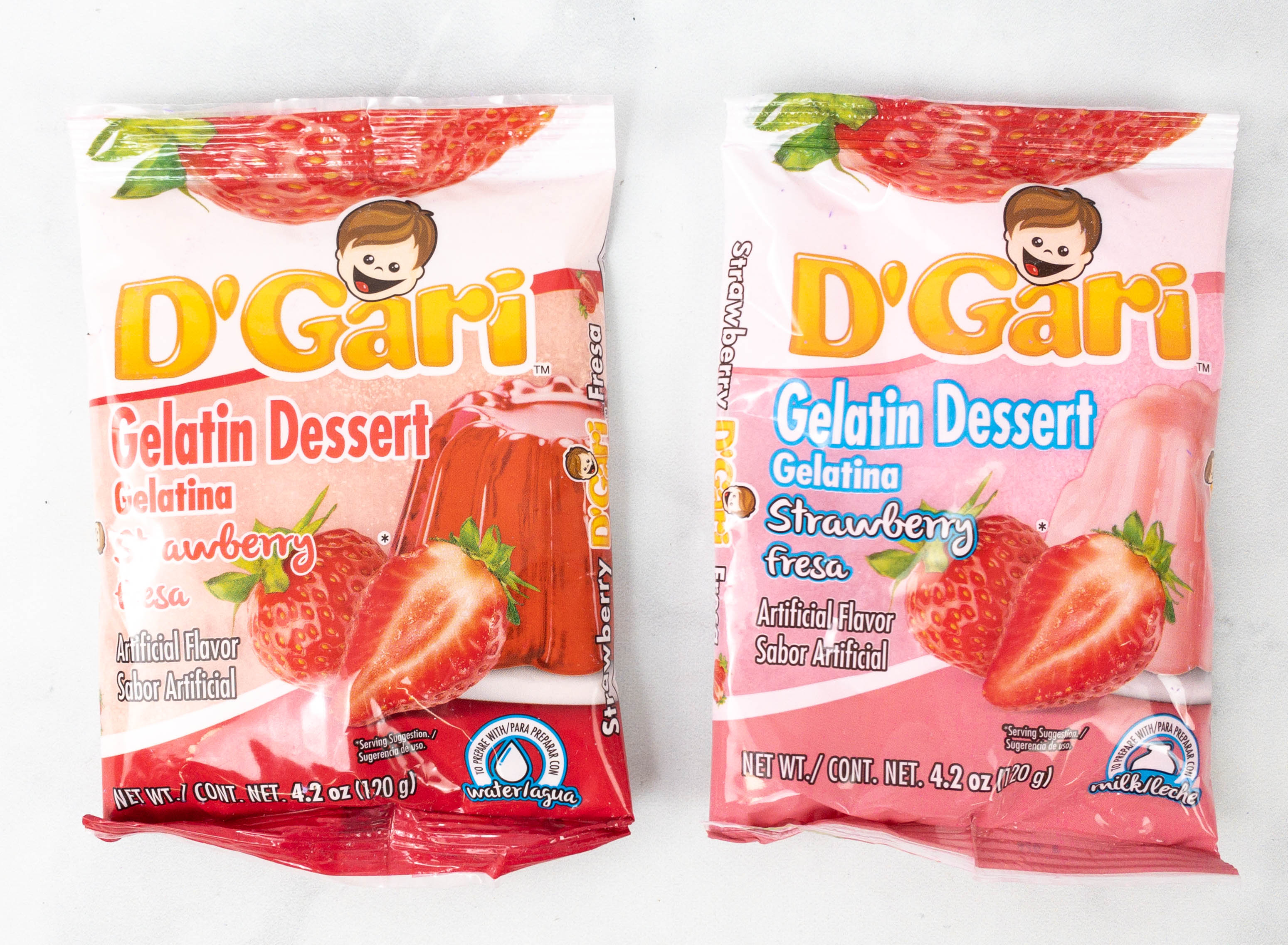 D'Gari Gelatin Dessert Strawberry Fresa Water Lagua ($1.96) This classic strawberry gelatin boasts of the irresistible taste of ripe, red strawberries.To prepare, you just have to mix it with boiling water and stir until completely dissolved. Then, pour into molds and refrigerate. It's perfect when served with whipped cream!
D'Gari Gelatin Dessert Strawberry Fresa Milk Leche ($2.19) This one is made to be mixed with milk instead of water, for a smooth and creamy strawberry-flavored gelatin!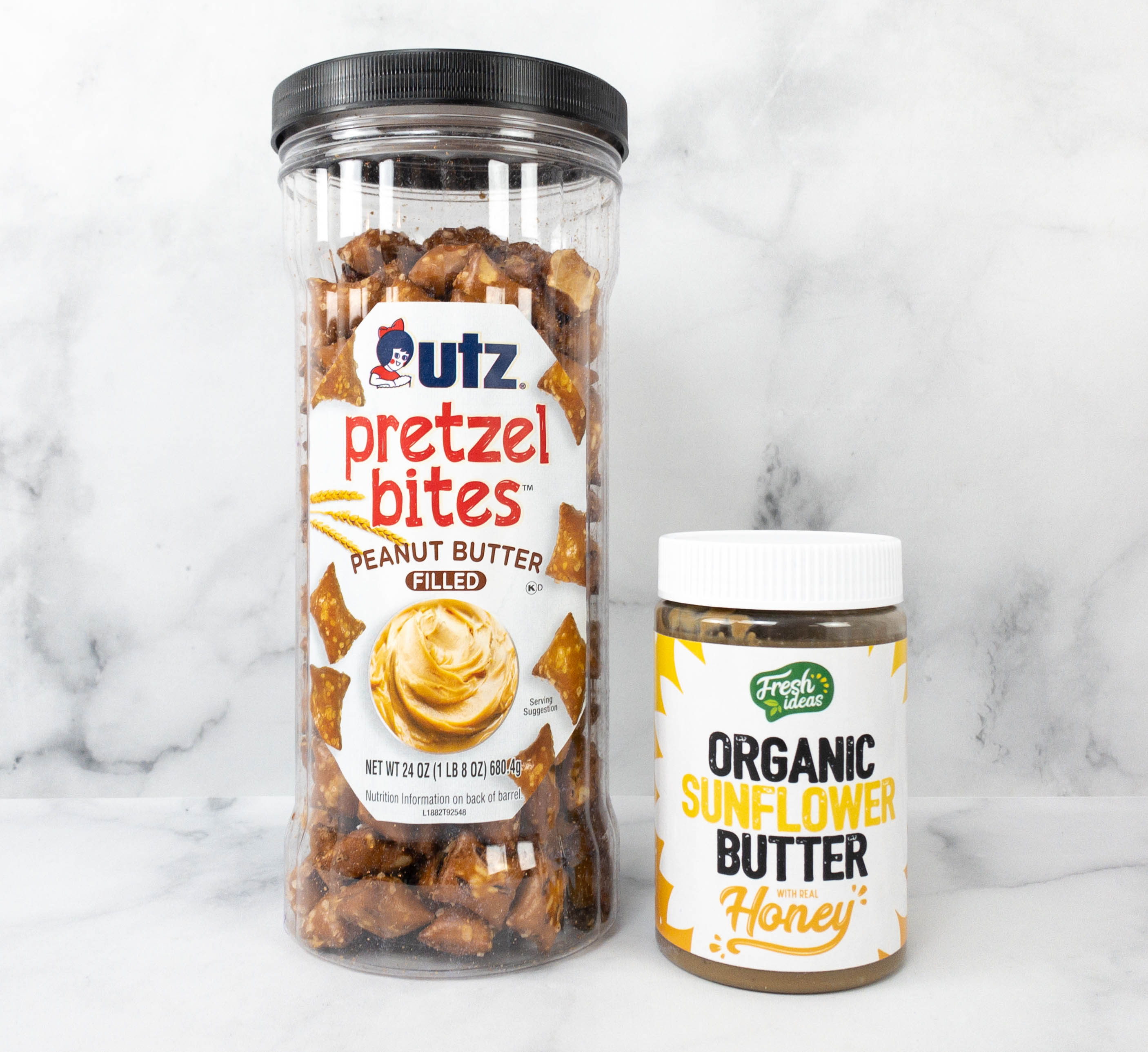 Utz Pretzel Bites Peanut Butter Filled ($9) I love these pretzel bites! They are easy to eat and they are bursting with delicious peanut butter on the inside. Each piece is also satisfyingly crunchy.
Fresh Ideas Organic Sunflower Butter. This sunflower butter makes any bread really tasty. It contains real honey for a touch of sweetness!
Kind Cereal Dark Chocolate Almond ($4.65) Everybody loves cereals and this box of dark chocolate almond cereals is a must-try! It blends well with milk and it's also great when eaten straight from the box. I can really taste the almond in every spoonful and there was a generous amount of dark chocolate in it as well.
Bob's Red Mill Gluten Free Oatmeal Brown Sugar and Maple ($2.59) Another excellent breakfast choice is this cup of oatmeal. It's made with a combination of gluten-free quick-cooking rolled oats, old fashioned rolled oats, and Scottish oatmeal. It also contains maple and brown sugar, which gives it such a sweet flavor!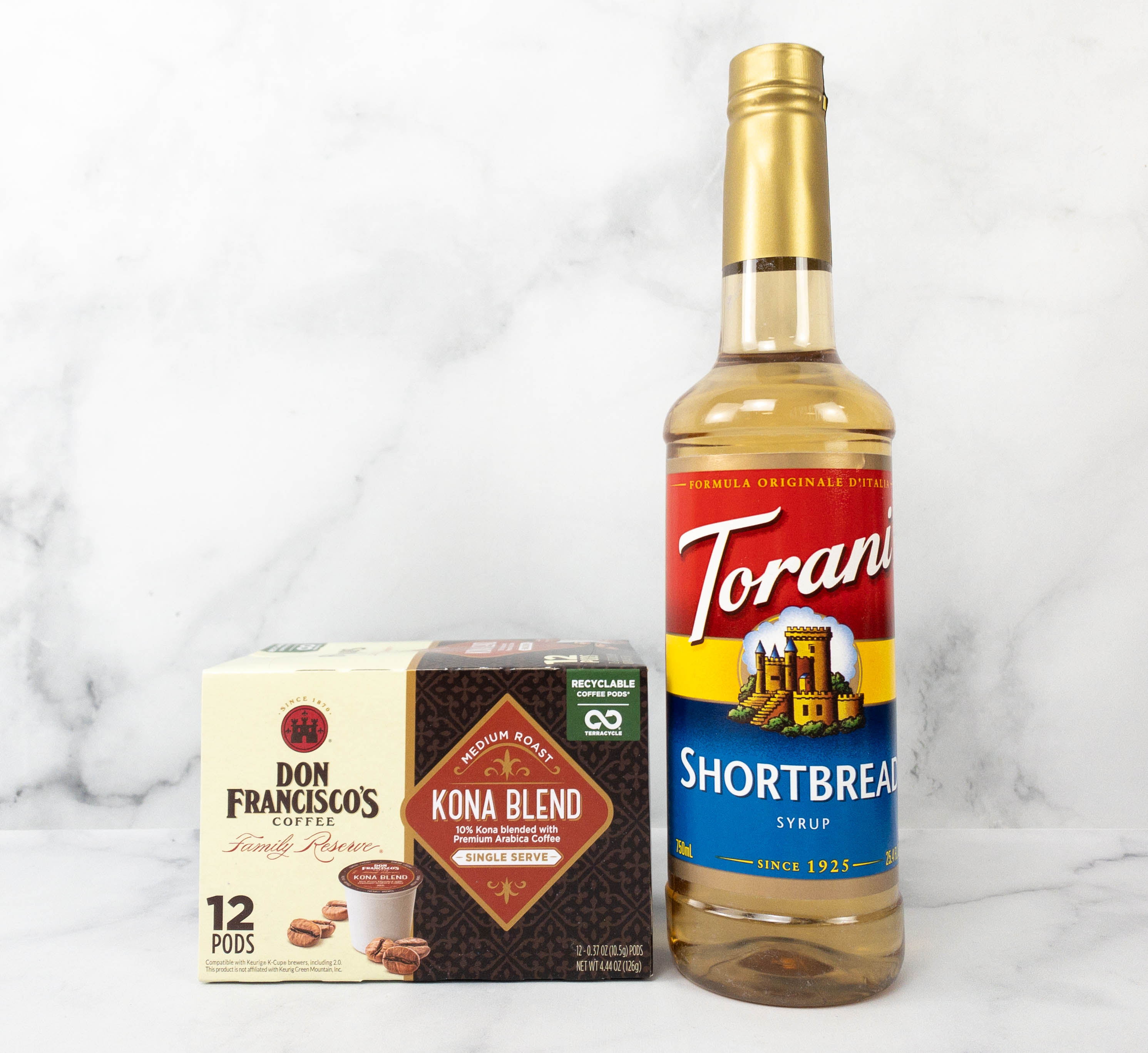 Don Francisco's Medium Roast Kona Blend Single Serve Pods ($13.57) These are medium roast coffee blend in single serve pods. They produce a subtle floral aroma, along with luscious fruity notes in every sip. These pods are compatible with Keurig K-Cup brewers, including the 2.0 version.
Torani Shortbread Syrup ($5.68) This sweet and buttery flavoring syrup has a lot of uses! It's great for either coffee or tea because it can hold up well under heat. It also works for cold drinks such as frappes and smoothies. Of course, it's also useful for baking!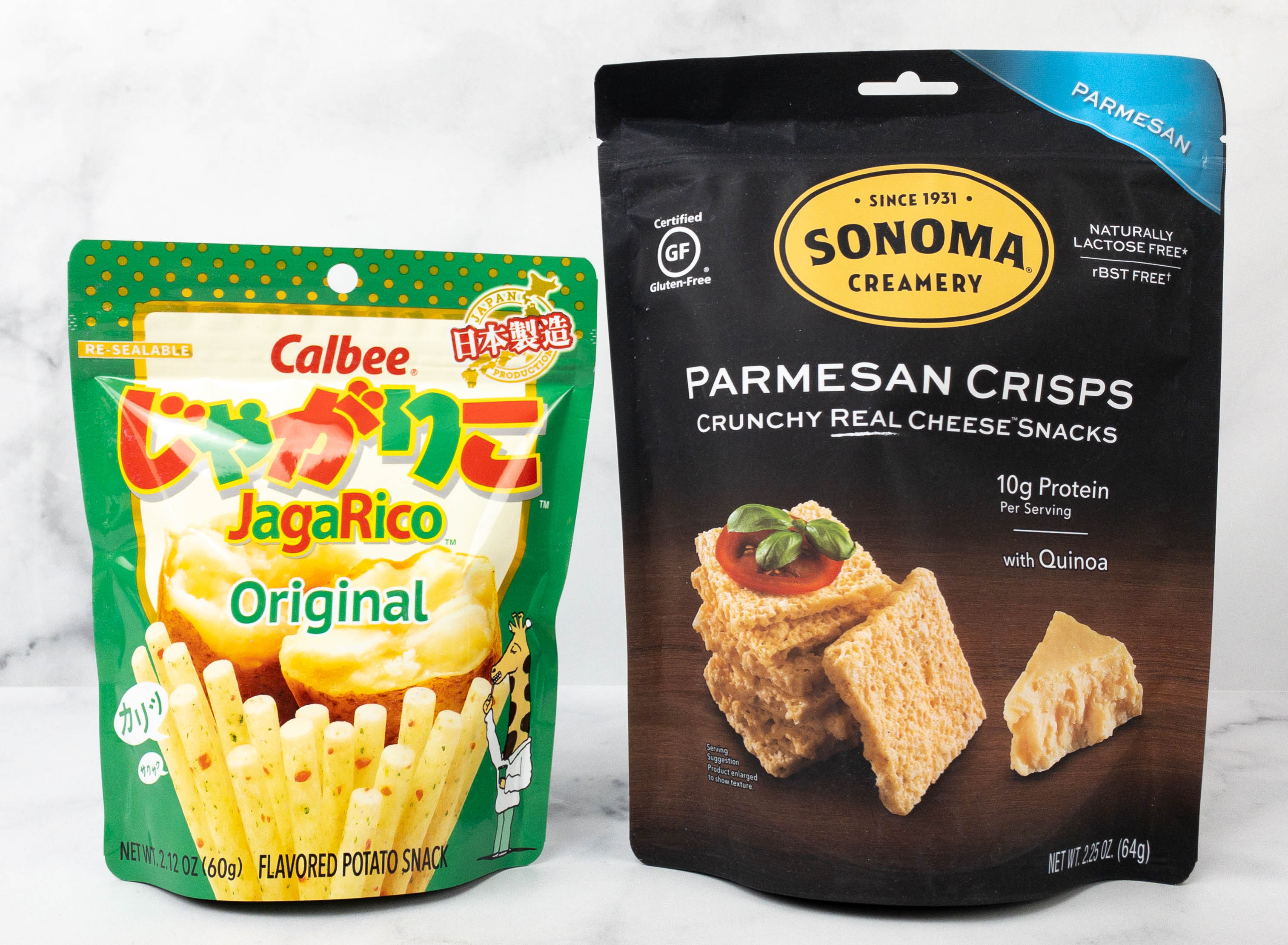 Calbee JagaRico Original Flavored Potato Snack ($2.94) These potato snack sticks are really delicious. Each piece contains bits of carrots and parsley, and the taste is not too salty but the flavor is there.
Sonoma Creamery Parmesan Crisps ($5.50) It's a bag of cheese crisps, made with quinoa. It's perfectly cheesy and it's even rich in protein. This would make a nice addition to a grazing board, along with the potato snack sticks!
Duxbury Sea Salt ($14.41) This bag of hand-harvested sea salt was made by slow simmering pure seawater. It provides a fresh, bright, and clean finish to perfectly enhance any kind of meal.
Walker $ Sons Slap Ya Mama Cajun Seasoning ($13.98) It's a versatile and easy-to-use seasoning that adds full flavor and a bit of spiciness to any dish. It can be used as a rub for grilling, or even for adding cajun flavors to shrimps, crawfish, and more. Ingredients include salt, red pepper, black pepper, and garlic.
Nitro Brewing Co. Rise London Fog Nitro Earl Grey Tea Oat Milk Latte ($2.92) The first beverage in my box combines Earl Grey tea and organic dairy-free oat milk. Every sip is smooth and flavorful! This can also be mixed with smoothies and shakes, but even on its own, the drink is enough to refresh and satisfy my tastebuds.
Iced Tea Hibiscus Sangria Large Herbal Tea Pouches ($7.50) These tea pouches are great for those who want to brew hibiscus sangria iced tea at home. The tangy and fruity combination is really good! I'm glad that the container has 8 pouches that can make 8 quartz each!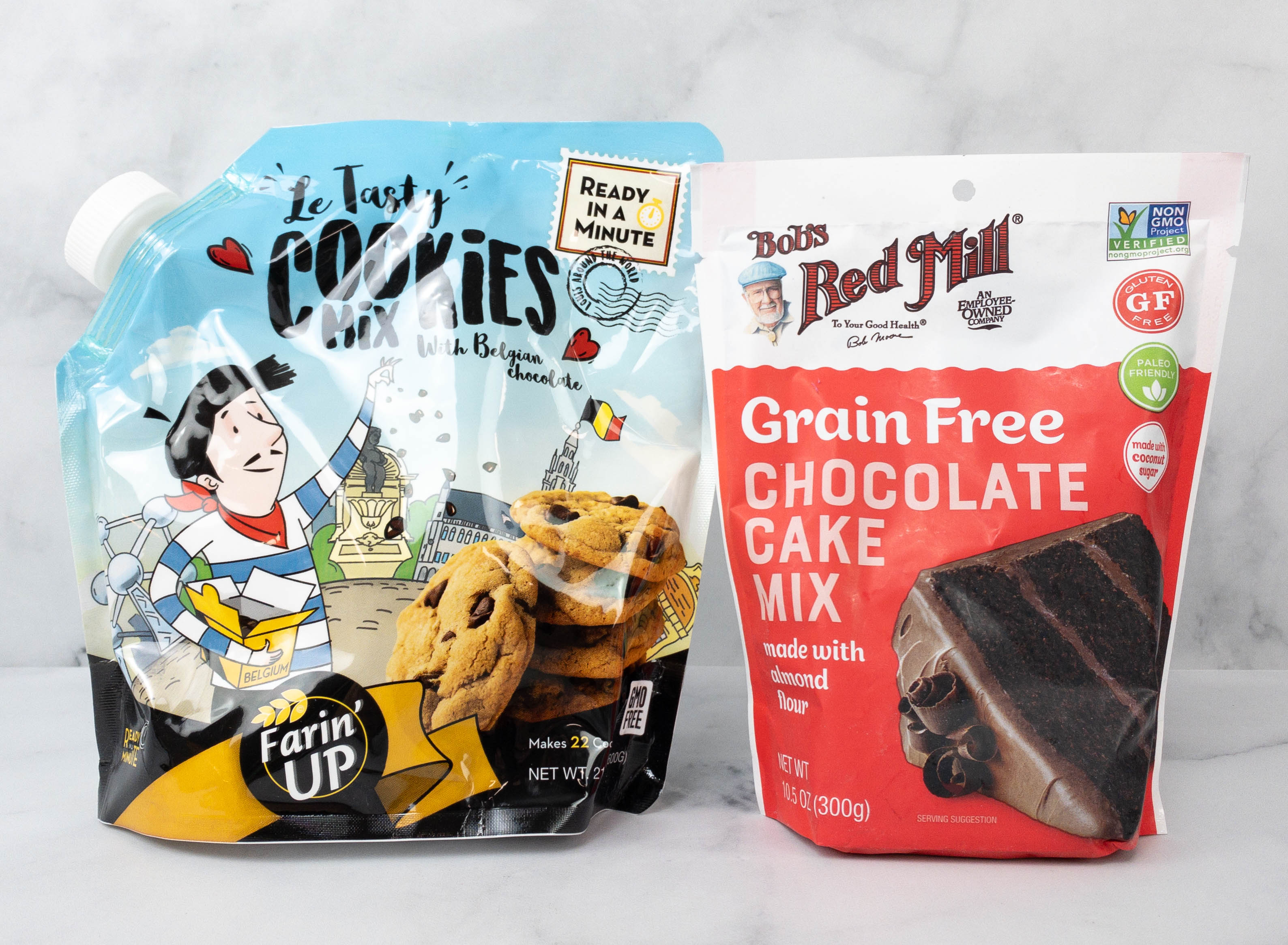 Le Tasty Cookies Mix with Belgian Chocolate ($5.99) It's an easy-to-prepare cookie mix with real Belgian chocolate. You just have to mix it with water and butter and then it'll be ready for baking. With this, it only takes minutes to have freshly baked cookies! It's great for sudden cookie cravings!
Bob's Red Mill Grain-Free Chocolate Cake Mix ($5.59) They also included a grain-free cake mix in the box. Just like the cookie mix, this one is pretty easy to prepare. All I need to add are 3 eggs, oil or butter, and water. Baking them only takes 25-30 minutes, and the result is a fluffy cake with just the right amount of sweetness and a rich chocolate taste!
Right Rice Cilantro lime ($4.33) This tasty grain is made with 90% vegetables! It's rich in protein and fiber, and it also has 40% less net carbs compared to white rice. They also used cilantro and fresh lime for the flavoring and it's really good!
Hello Kitty Organic Pasta ($5.99) I also have a pack of organic pasta, shaped like Hello Kitty and made from wheat flour. It's a fun alternative to the usual pasta, and it also goes great whether with red or white sauces.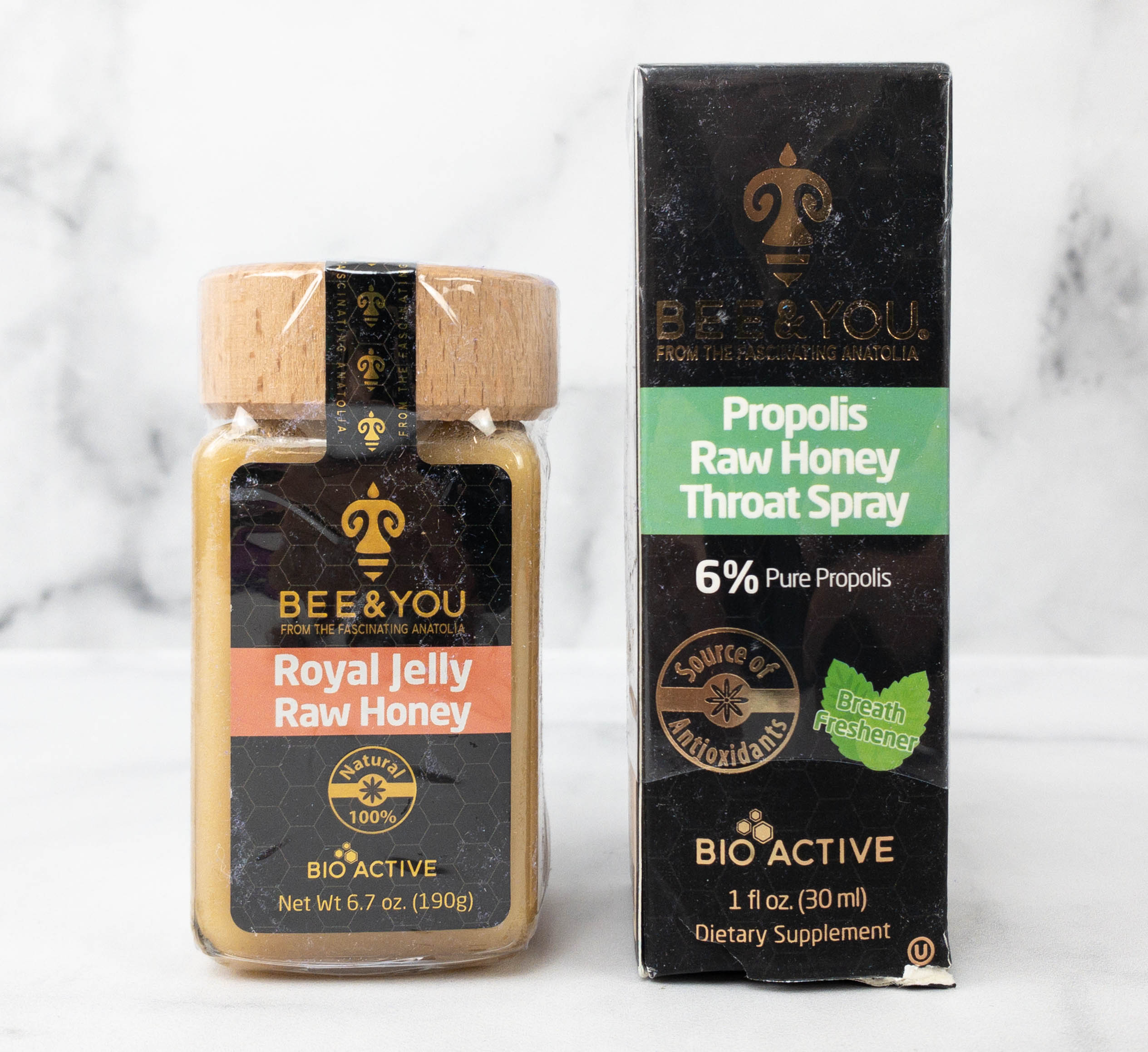 Bee & You Royal Jelly Raw Honey ($24.99) Here's a bottle of royal jelly and raw honey, made without artificial ingredients. It's not just delicious, it also helps boost the immune system!
Bee & You Propolis Raw Honey Throat Spray ($12.99) Another honey product included in my box is a throat spray. It comes in an easy-to-use spray bottle, making it easy to use anytime and anywhere. It's rich in antioxidants, and it's great to use for those who have sore throat.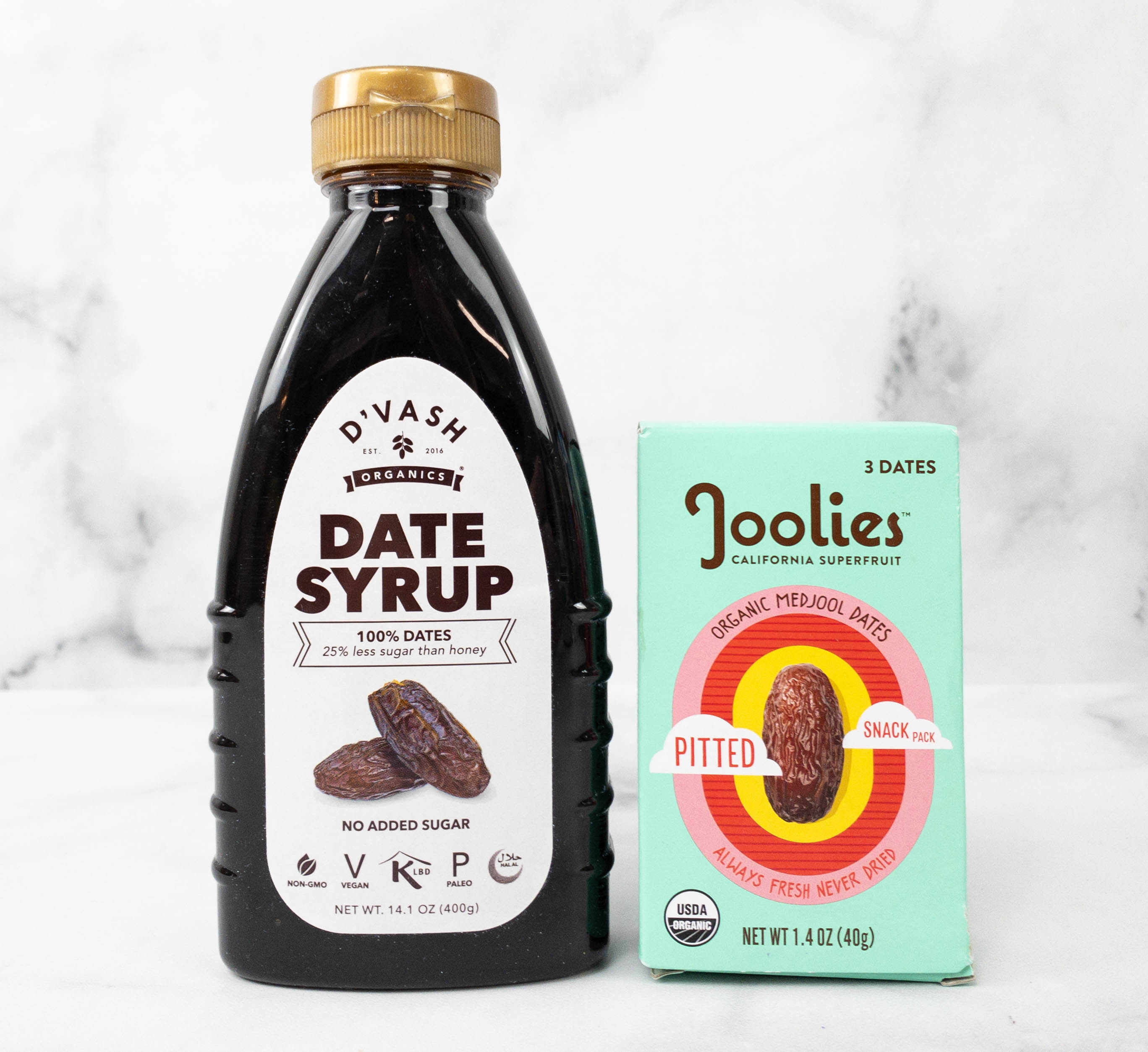 D'Vash Organics Date Syrup ($9.99) Date syrup made with organic dates is a vegan sweetener, which claims to contain less sugar than honey. It came in an easy-to-squeeze bottle, so you can easily drizzle it onto drinks like coffee and tea or even on desserts and baked goods. This syrup is also non-GMO and gluten-free.
Joolies California Superfruit Organic Medjool Dates ($1.01) Ideal for snacking, here's a small box that contains organic medjool dates from California. They are fresh and sweet, plus they're naturally packed with fiber, magnesium, and potassium!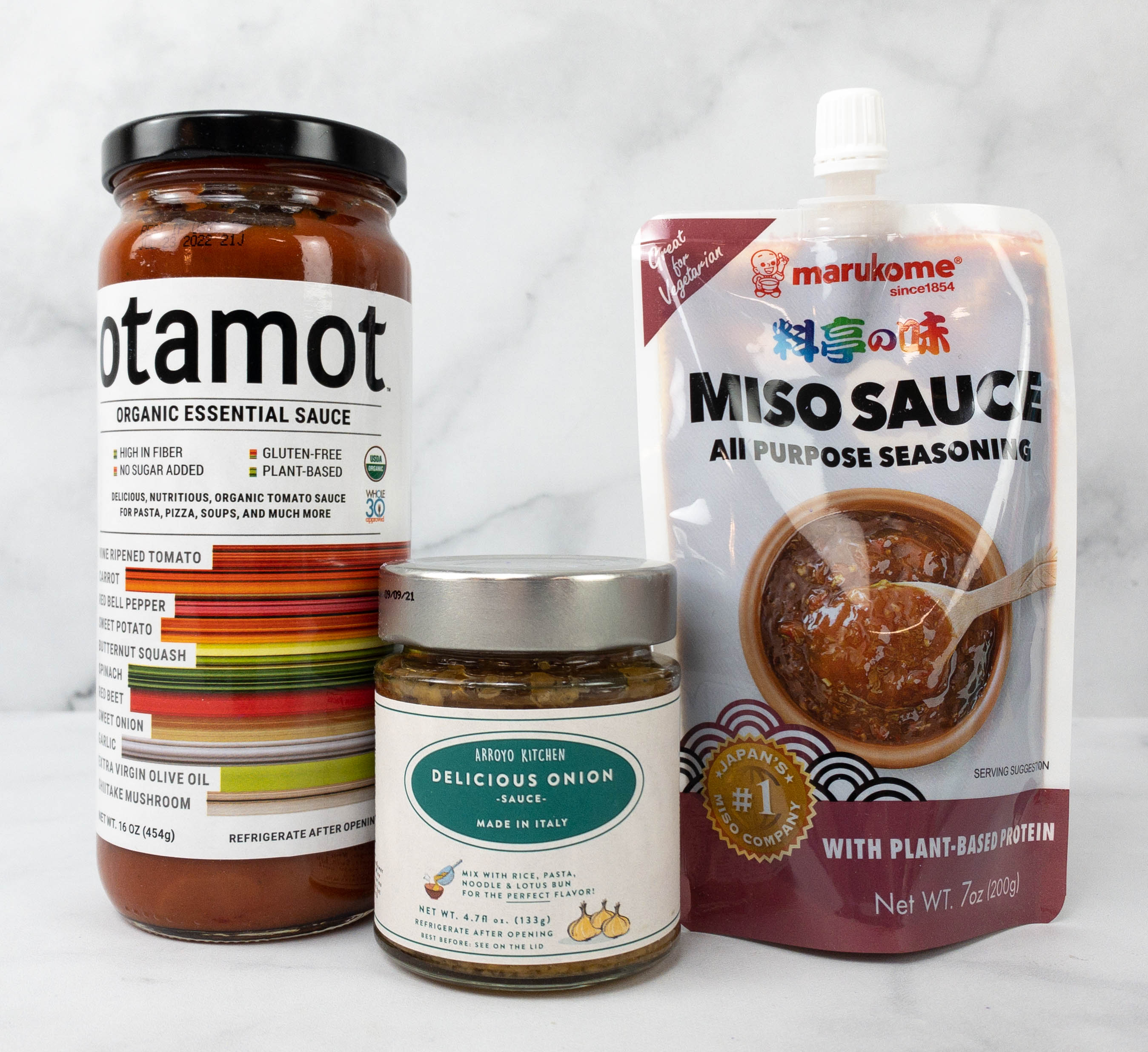 Otamot Organic Essential Sauce ($11.99) This organic sauce is packed with vitamins and nutrients from vegetables. It's rich in fiber and it's non-GMO and gluten-free as well. The texture is thicker compared to regular sauce, which means it's more concentrated. It's great whether as a sauce or dip, or you can even dilute it with water/stock for cooking.
Arroyo Kitchen Delicious Onion Sauce ($6.49) Here's another delectable sauce, and this time it's from Italy! It's made with onions, garlic, whey, pecorino cheese, and sunflower oil, which adds a bold tang to pasta, bruschetta, pizza, and even burgers. What's great is that it has no added sugars, artificial flavors and preservatives.
Marukome Miso Sauce All Purpose Seasoning ($4) Another seasoning that can turn any normal dish into an extraordinary one is this all-purpose miso sauce seasoning. It's made with plant-based protein and it can be added to a lot of food including meat, fish, rice, noodles, salads, and bread.
Star International Olives Provence ($4.99) It's a pack of green olives with added red and yellow peppers. This variation is also marinated with herbs of Provence and paprika!
Citterio Sopressata Salame ($2.99) This Italian-style salami is great whether as an antipasto or spuntino. It can be added to salads or served with sauces as well. It's ready to eat, and it doesn't have casing so there's no need to peel.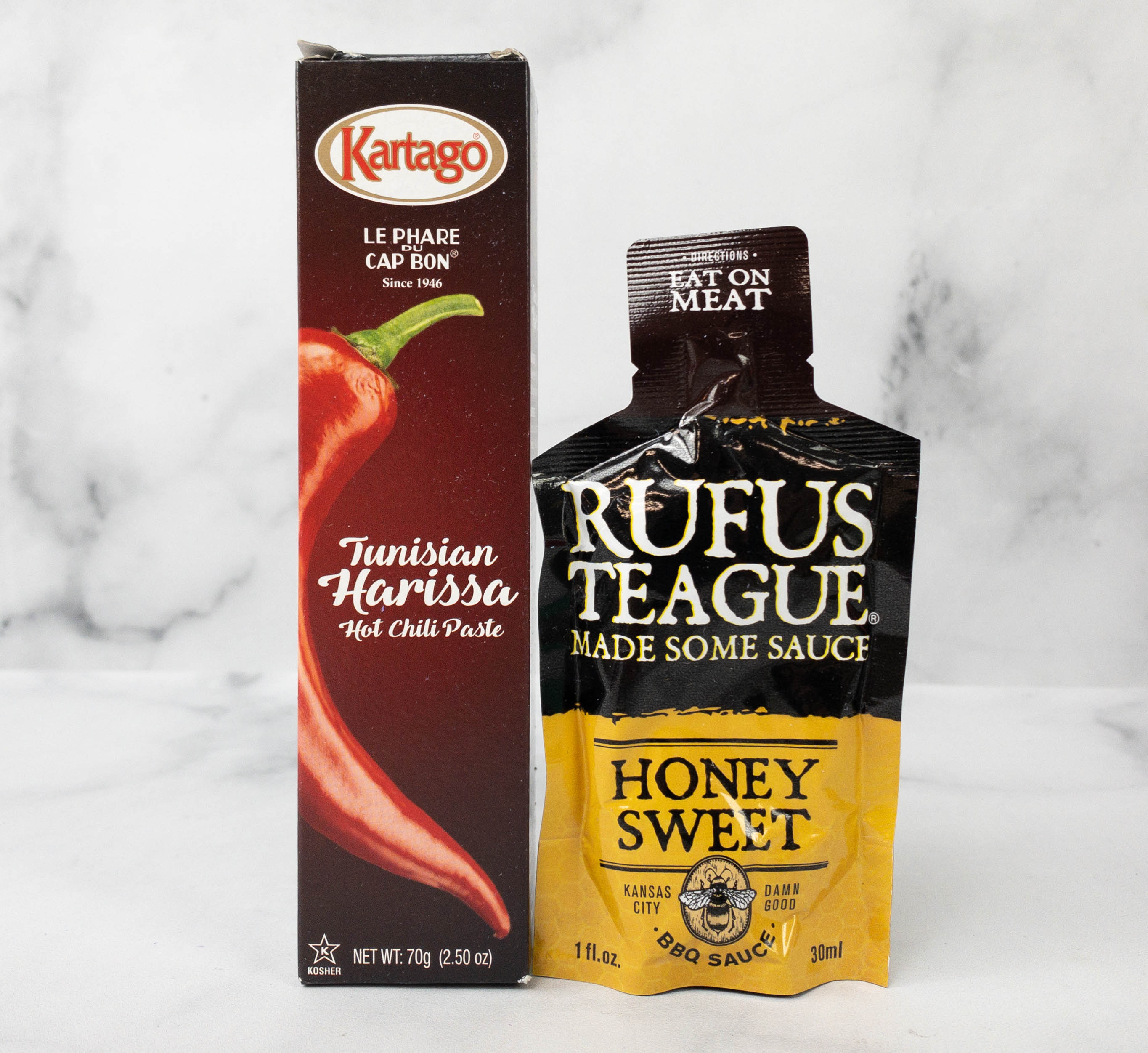 Kartago Tunisian Harissa Hot Chili Paste ($1.66) It's an authentic Tunisian Harissa hot chili paste, which adds spiciness without sacrificing the flavors of a dish. Ingredients include sun-dried and smoked red pepper, plus garlic, spices, and salt.
Rufus Teague Made Some Sauce Honey Sweet BBQ Sauce ($0.43) This thick and rich BBQ sauce is infused with the natural sweetness from honey. It great for grilling and also as a dipping sauce for meats. It's non-GMO, gluten-free, and kosher as well!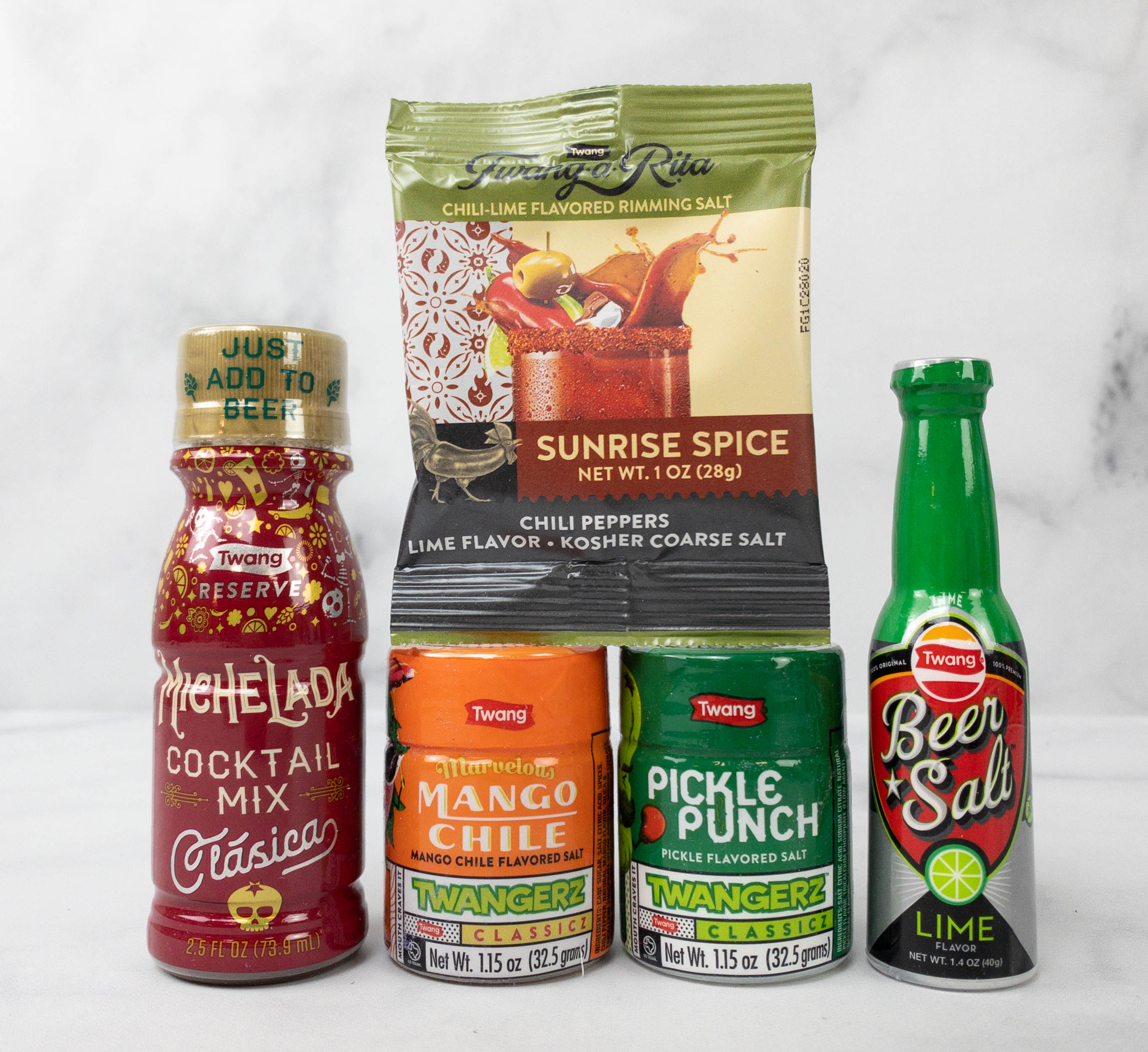 Twang Reserve Michelada Cocktail Mix Classica ($0.63) Now, we're onto the items for a home bar! This one is a cocktail mix is made from real ancho chilies and real lime juice that can be used to create the most refreshing and delicious cocktails.
Twang Chili-Lime Flavored Rimming Salt Sunrice Spice ($0.82) Aside from the traditional garnished rim look, these salt crystals create a perfect sparkle and flavor profile for any margarita, tequila shot, or tropical summer cocktail.
Twang Marvelous Mango Chile Flavored Salt ($2) How about an exciting mango-chili flavored salt to spice up your favorite drinks and even snacks and desserts? The blend of sweet mangoes and sour chili makes a unique and interesting flavor.
Twang Pickle Punch Flavored Salt ($2) The next pack of salt features a combination of dill, cucumber, and lemon-lime. The pickle-flavored salt naturally compliments burgers, hotdogs, chips, popcorn, and more!
Twang Beer Salt Lime ($2) This will save you from the hassle of slicing limes to achieve a traditional flavor of beer and a squeeze of lime.
Tecate Bottle Opener and Sleeve. To cap off the box, here's a bottle opener and a sleeve! The bottle opener is small and handy, making it easy to bring anywhere. Meanwhile, the sleeve fits standard sized bottles and containers. It's a good way to ensure that your hands won't get too cold while you're enjoying your drink.
My first Mystery Box by Cooking Panda is LOADED! I received a huge variety of snacks, breakfast items, desserts, and drinks, and even cooking items such as sauces and seasonings. Some of them are new to me, while others are healthier and guilt-free versions of classic food items. My favorite item in the box would have to be the raw honey! It's packed with antioxidants and antibacterial properties, making it a healthier alternative to sugar. It's also a versatile ingredient! I lie, it's the cookies mix. No – it's the Slap Ya Mama that I've been adding to homemade pimento cheese dip. It's so hard to pick a favorite. I also liked the sauces they included in the box. From savory to spicy, they are an effortless way to add unique flavors to daily dishes. Whether you are a foodie or you simply want to stock up on items for your pantry, this would be a good subscription to try. Even excluding the price of the sunflower butter and the bottle opener and sleeve, this box's total retail value is already $226 which is even higher than the promised retail value for the box! The amount of goodies in this box is really unbelievable for the price, and I can't imagine most people not getting way more value than what they paid for this box!
What do you think of the Mystery Box by Cooking Panda?