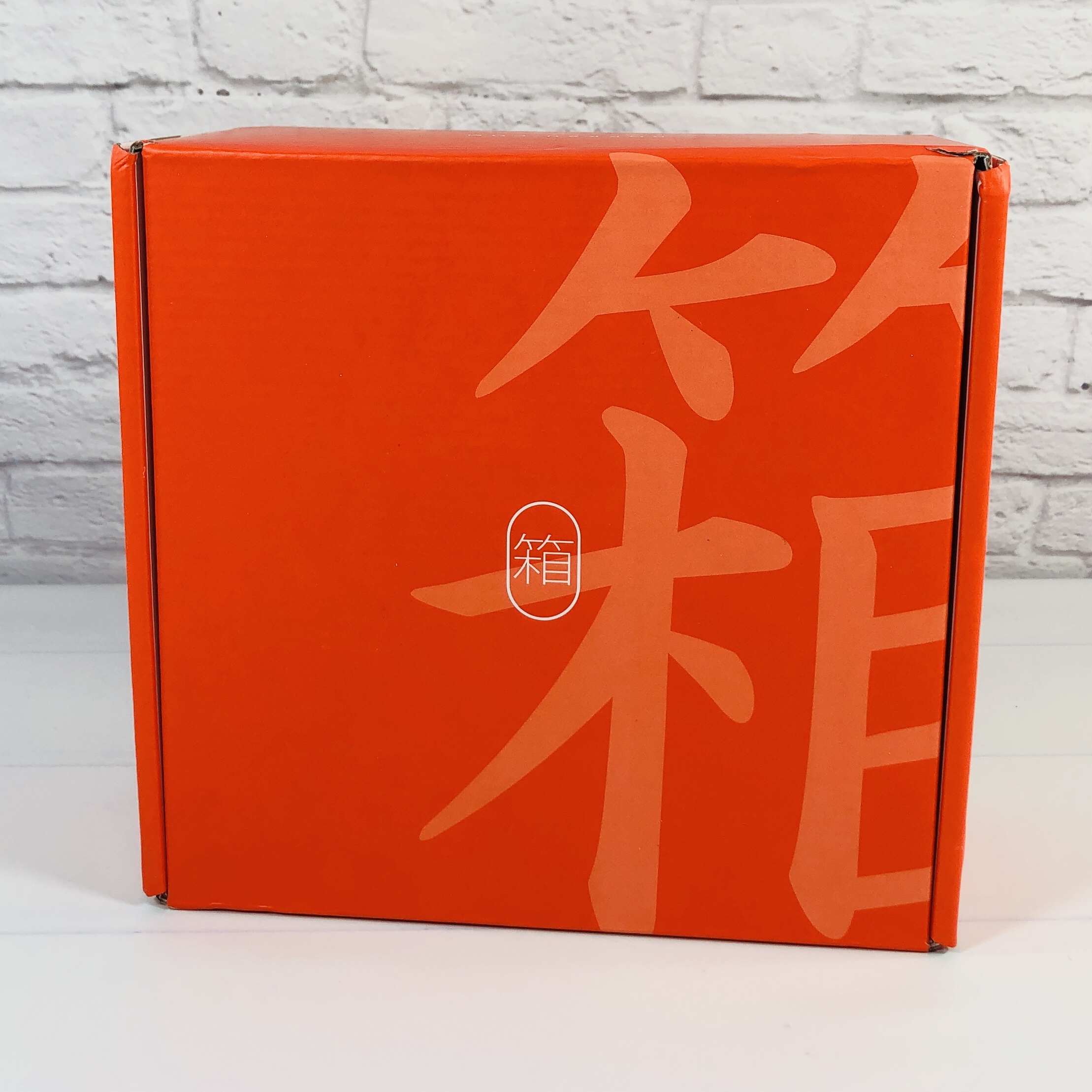 Bokksu is a premium snack box that features authentic Japanese snacks, as well as a tea pairing to go with it. There are two levels to choose from: Classic Bokksu ($44.99 USD) includes an assortment of 20-25 premium Japanese snacks and a tea pairing; Tasting Bokksu ($29.99 USD) includes 10-14 premium Japanese snacks and a tea pairing. Both boxes offer a discount for longer terms. The snacks sent are not easily found outside of Japan and this subscription ships internationally from Japan. Shipping is already included in the price. I am reviewing the Classic Bokksu.
Other Japanese snack subscription services use mass-produced mainstream snacks that can be readily found in most Asian markets outside of Japan. Bokksu directly sources its artisanal snacks from local snack makers in Japan (some of whom have been around for over 200 years!). We only curate high quality and gourmet snacks, never filler items. We are also the ONLY service that handselects a tea pairing for each box to complement that month's flavors.
DEAL: Save $5 on your first box with coupon code HELLO.
NOTE: Your first box will be the Seasons Of Japan, shown here.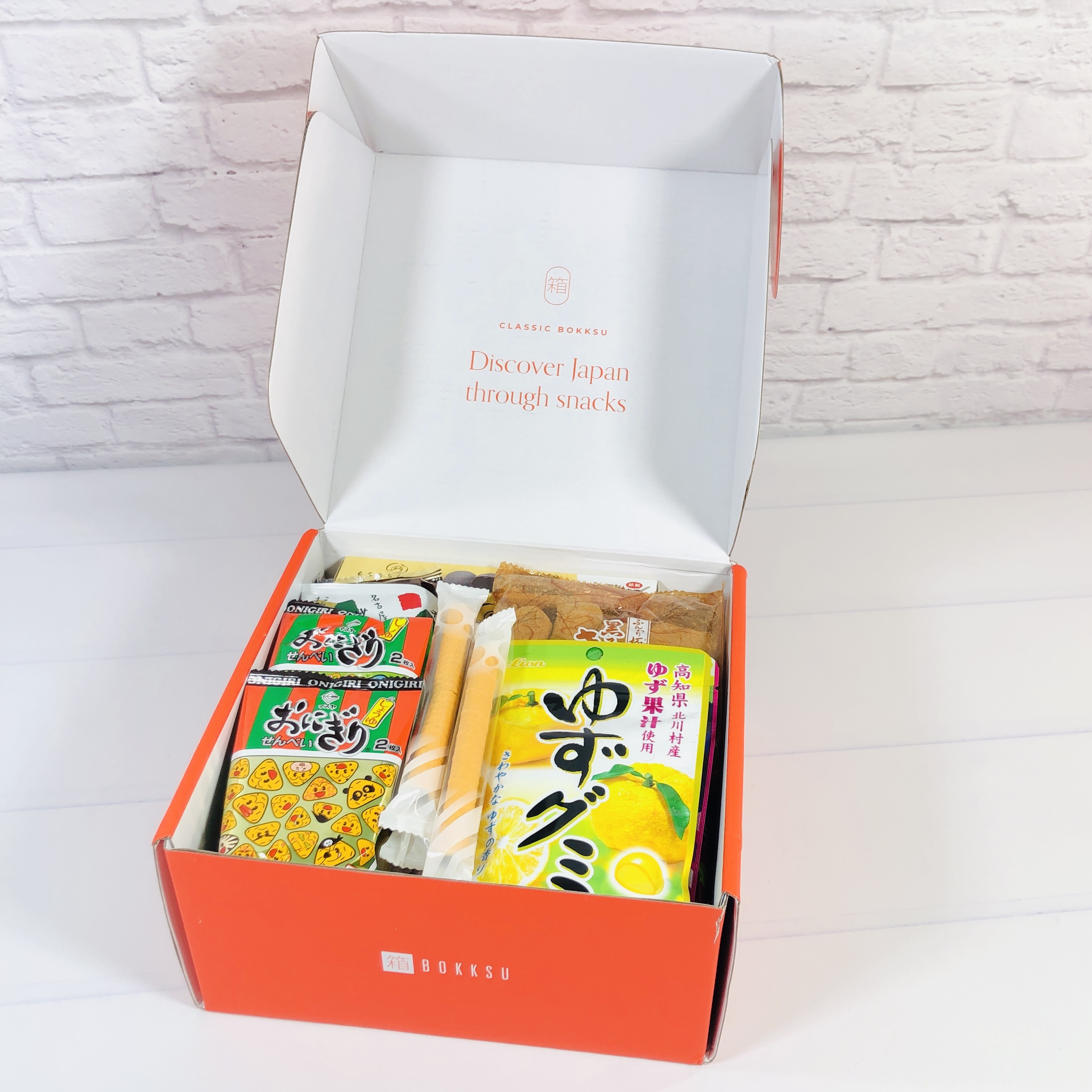 As always the snacks are packed in there so nicely.
They are so brightly colored!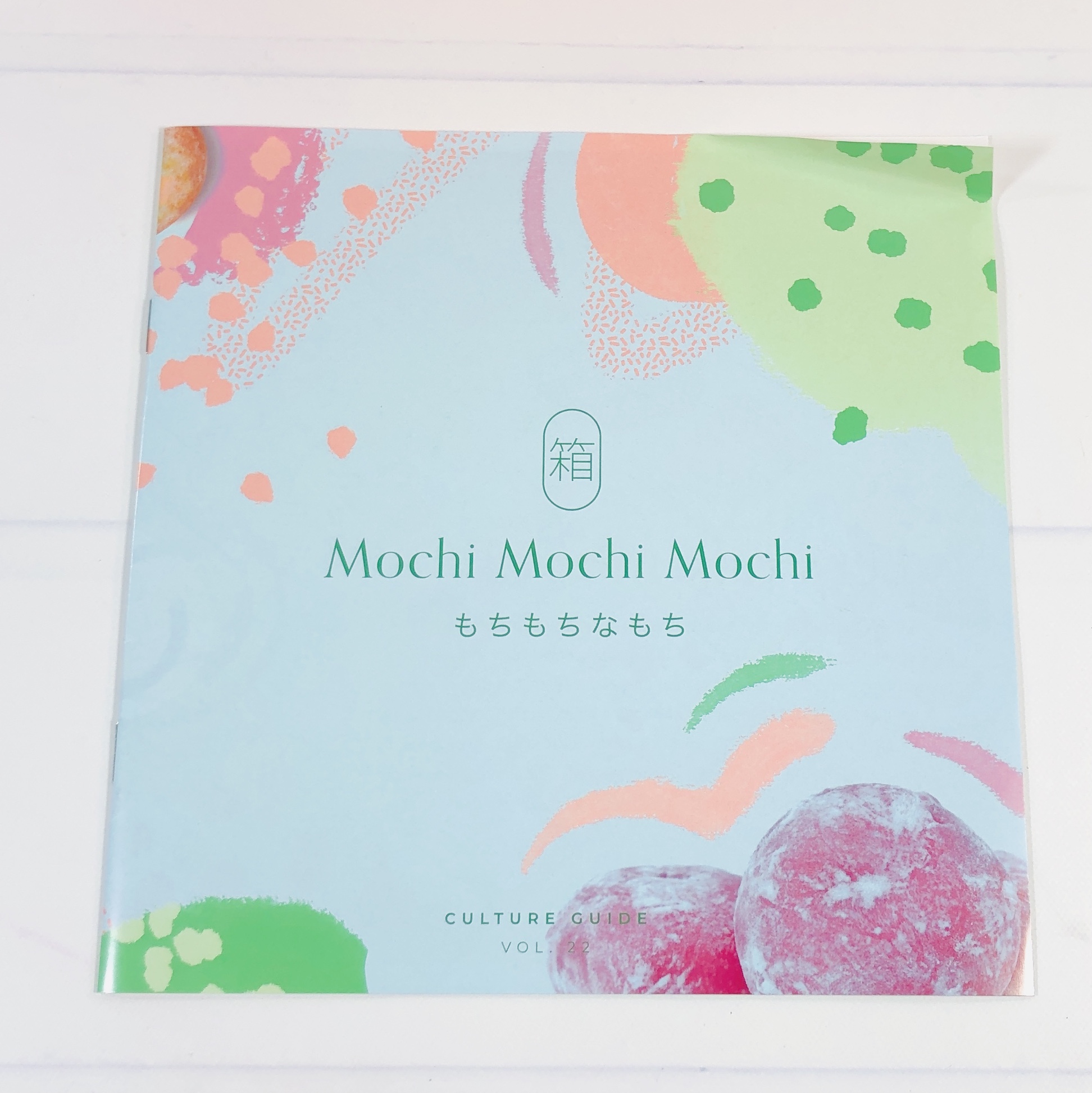 Bokksu provides a beautiful full-color info guide in every box.
March's theme is Mochi Mochi Mochi. The box features snacks that are made of mochi, which comes from rice.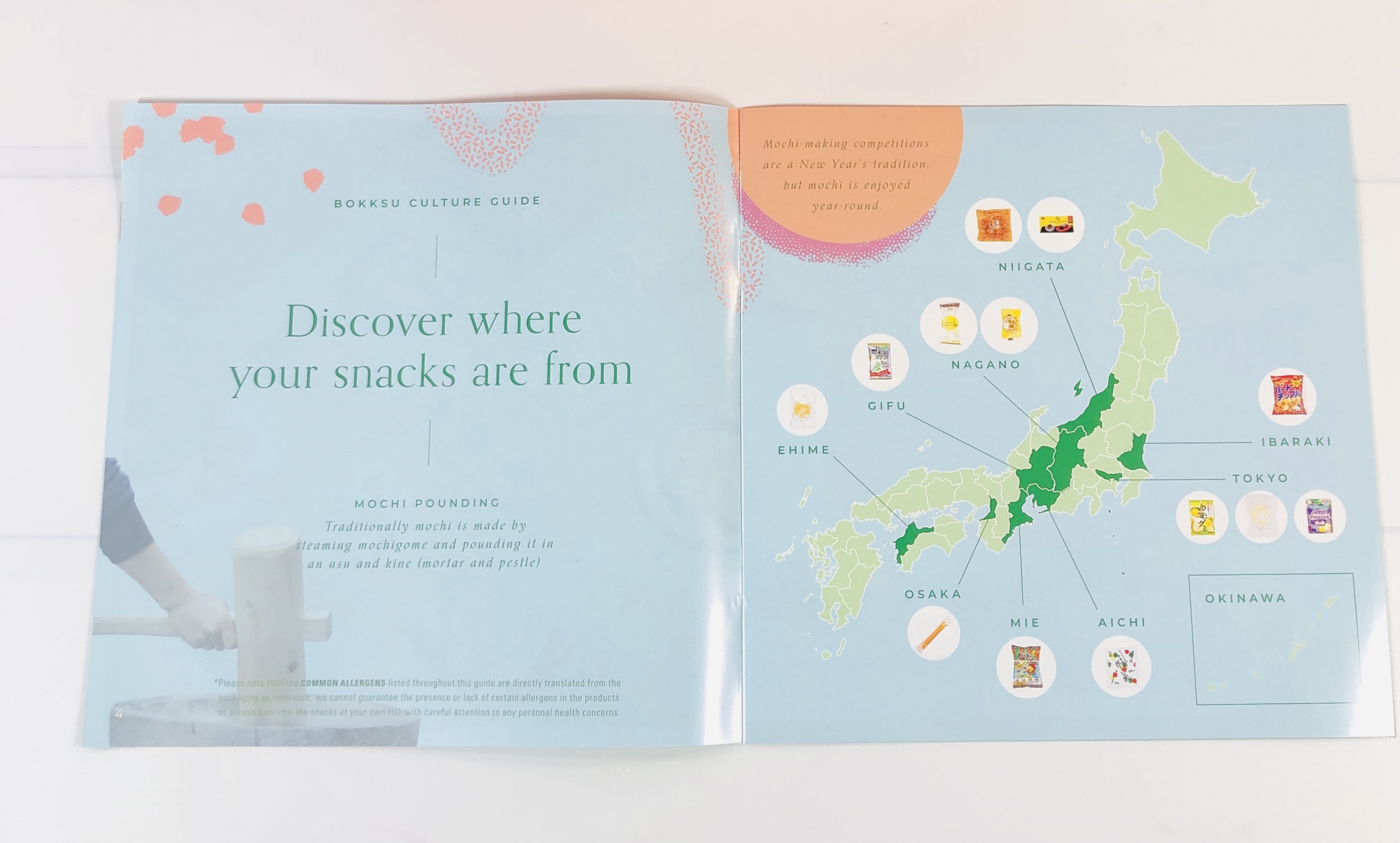 The next page has a map showing where in Japan each snack originated.
A note from the founder was on this page, and he reminds us that you can order more of your favorites at the online Bokksu Market.
Each product was shown and lists brand name, common allergens, and a description.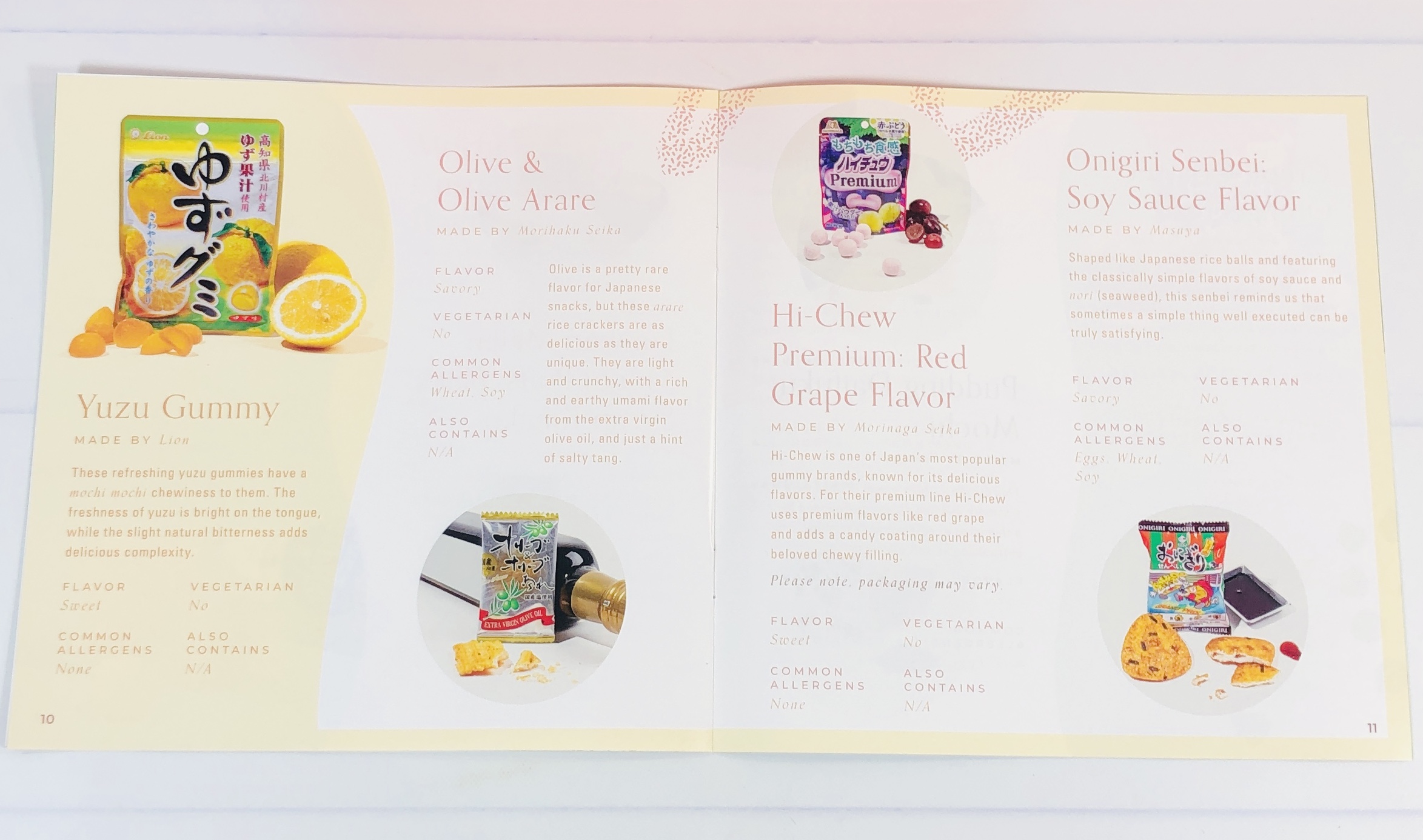 I love the variety of snacks each month!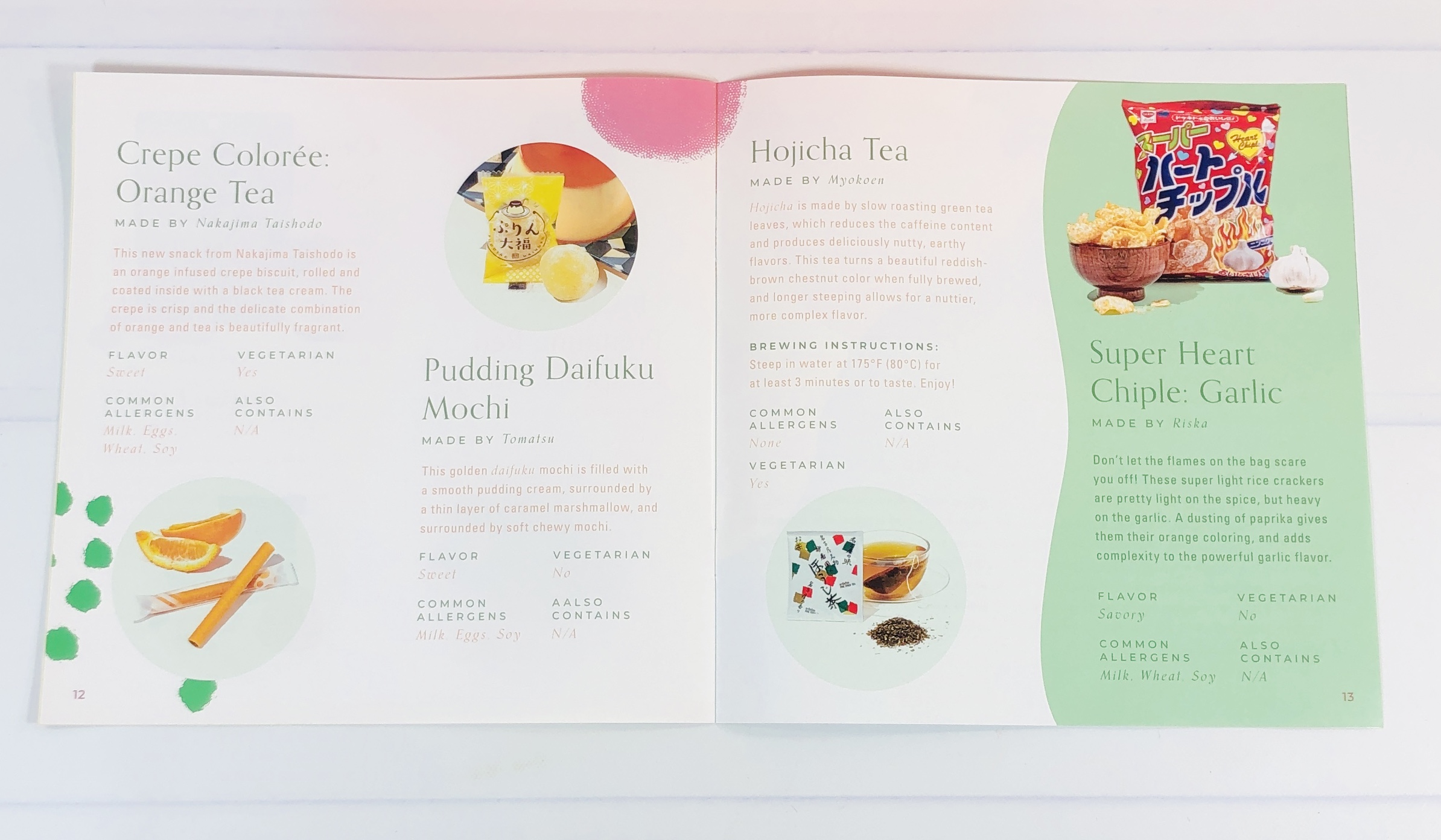 Plus, we always get a tea!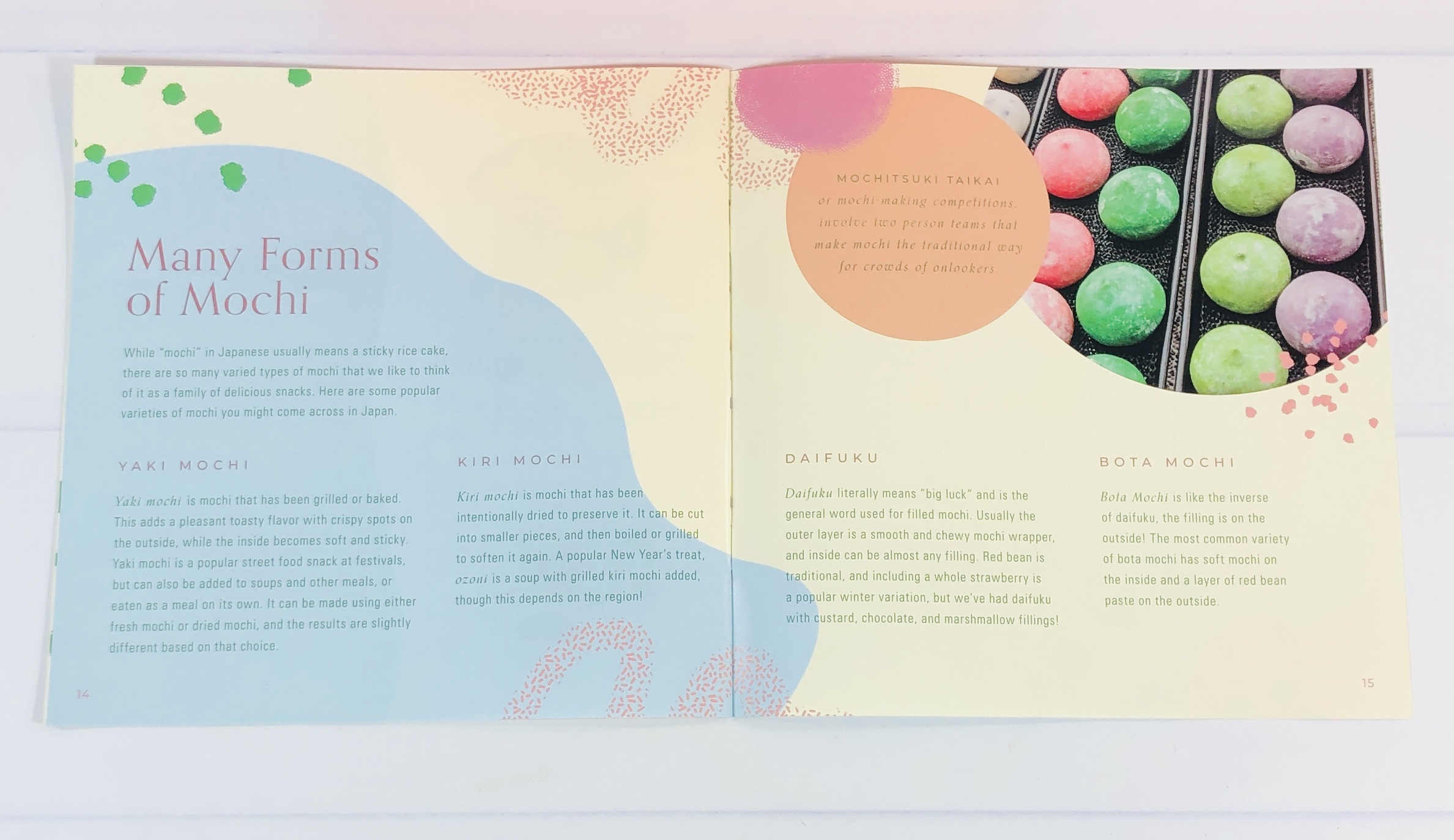 This spread describes different mochi preparations.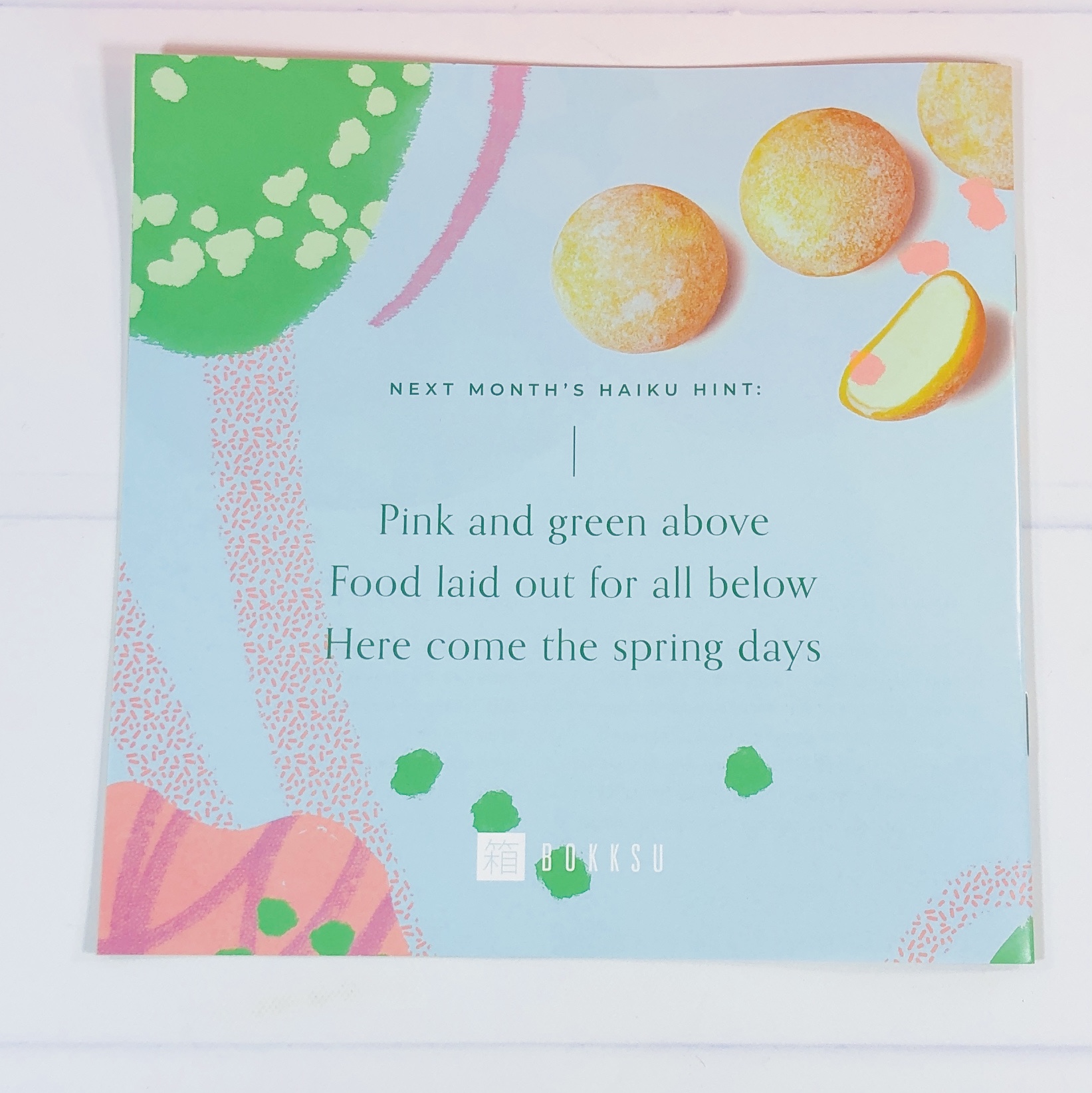 The back of the mag had a glimpse at the next box theme! Hmm, maybe something to do with sakura?
Everything in the March 2021 Classic Bokksu!
Super Heart Chiple: Garlic These are puffy rice chips with a flavor that I am loving, it has a hint of something that I've tried in a restaurant but can't quite recall. They aren't spicy, I think the flames around the garlic means it's roasted. There is a hint of spice and some sweetness to balance it out.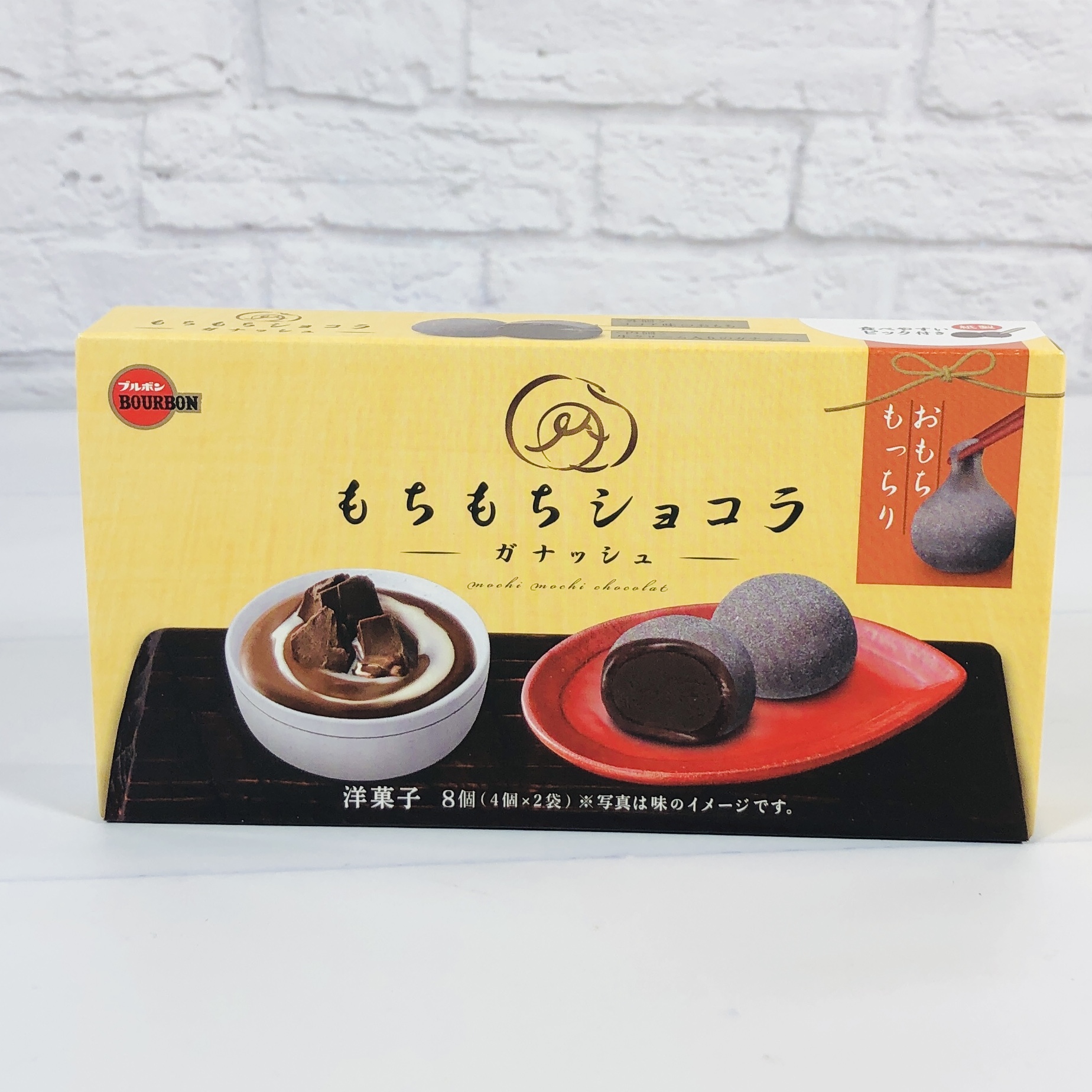 Mochi Mochi Chocolate: Ganache There were two individually wrapped packs of 4 candies each in this box. The outside of the candy is chewy mochi but the inside (and most of it is filling) is a rich chocolate ganache that melts in the mouth. Decadent!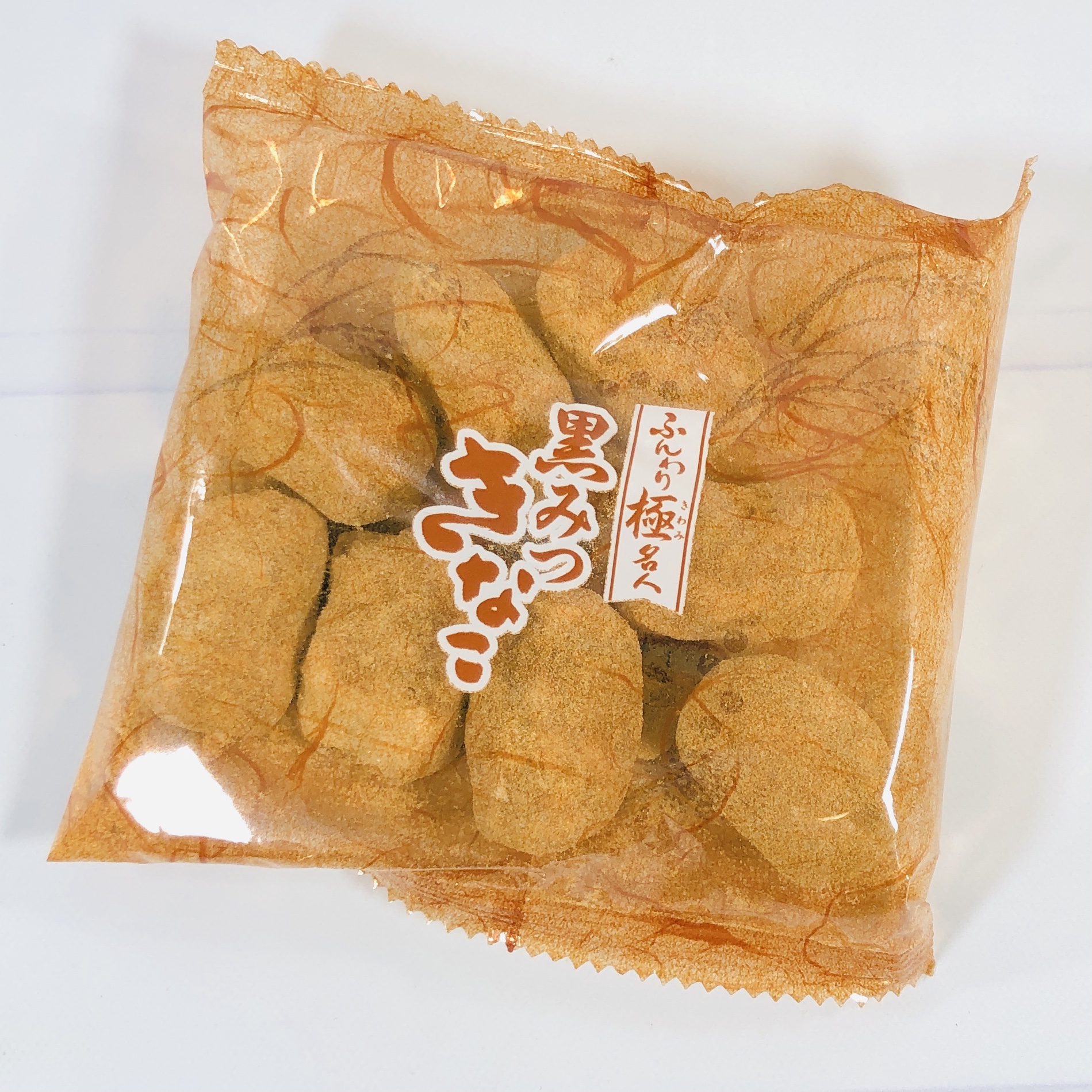 Funwari Meijin Mochi Puffs: Black Syrup Kinako are light-as-air puffy snacks that melt almost as soon as they enter your mouth. They are covered in a powder coating that is made with sweetener, roasted soybeans, and cocoa and reminds me of peanut butter.
Hi-Chew Premium: Red Grape Flavor At first I thought these were mini mochi but then I placed one in my mouth and I thought it was purple grape bubblegum. Then it melted away to nothing and I realized it was a gummy candy.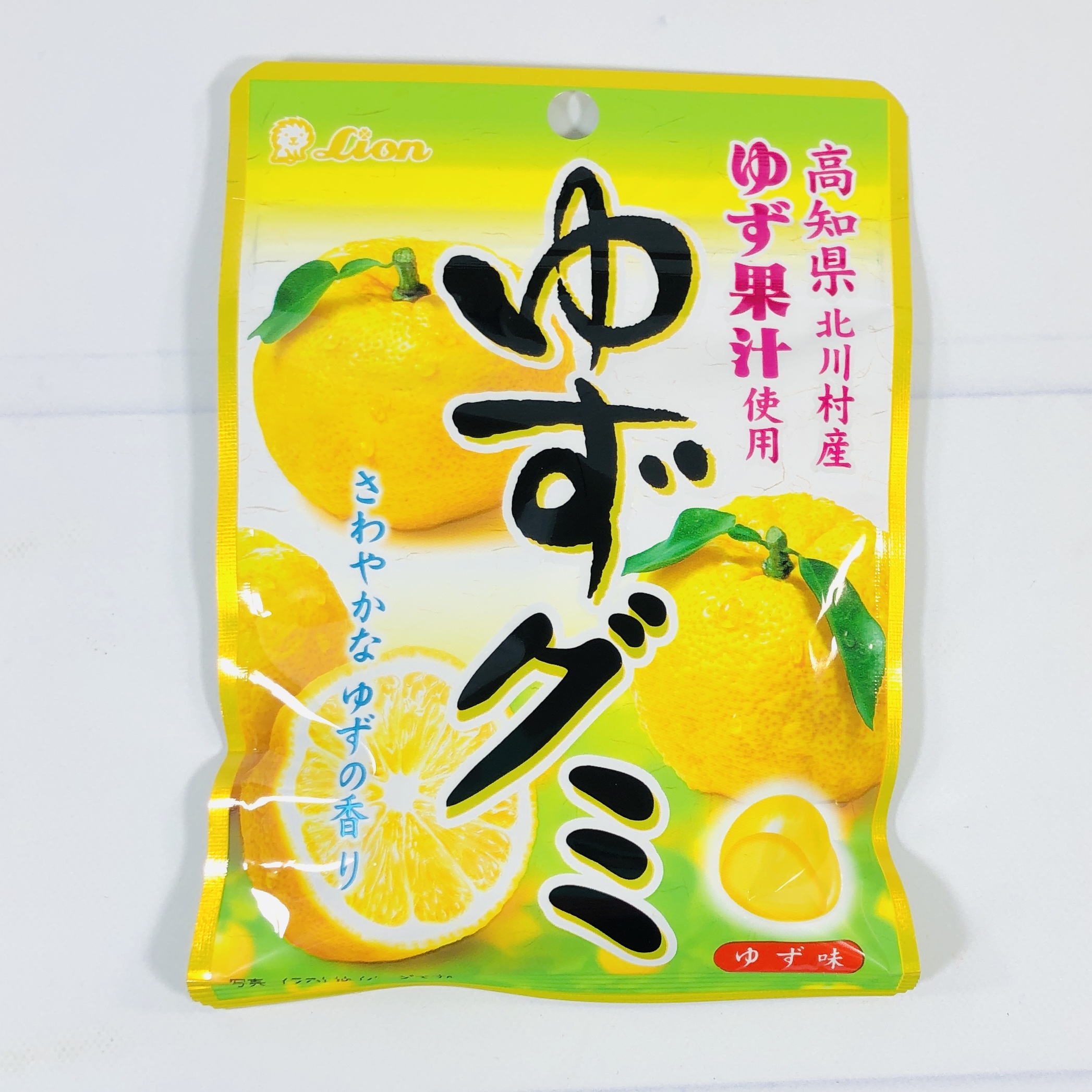 Yuzu Gummy The little golden gummies in this bag have an authentic flavor that reminds me of fresh tangerines. It's sweet and sour, but not super acidic like Sour Patch candies. It's actually really refreshing and light, I love them!
Mochi Mochi Custard: Daifuku Mochi Here were have chewy mochi with a custard filling. This is similar to an almost identical version shown later in this review. The flavor to me is simply "sweet".
Hojicha Tea is a smoky, deeply flavored green tea that resembles black tea, it has so much flavor! The roasting brings out nuances that make it almost nutty.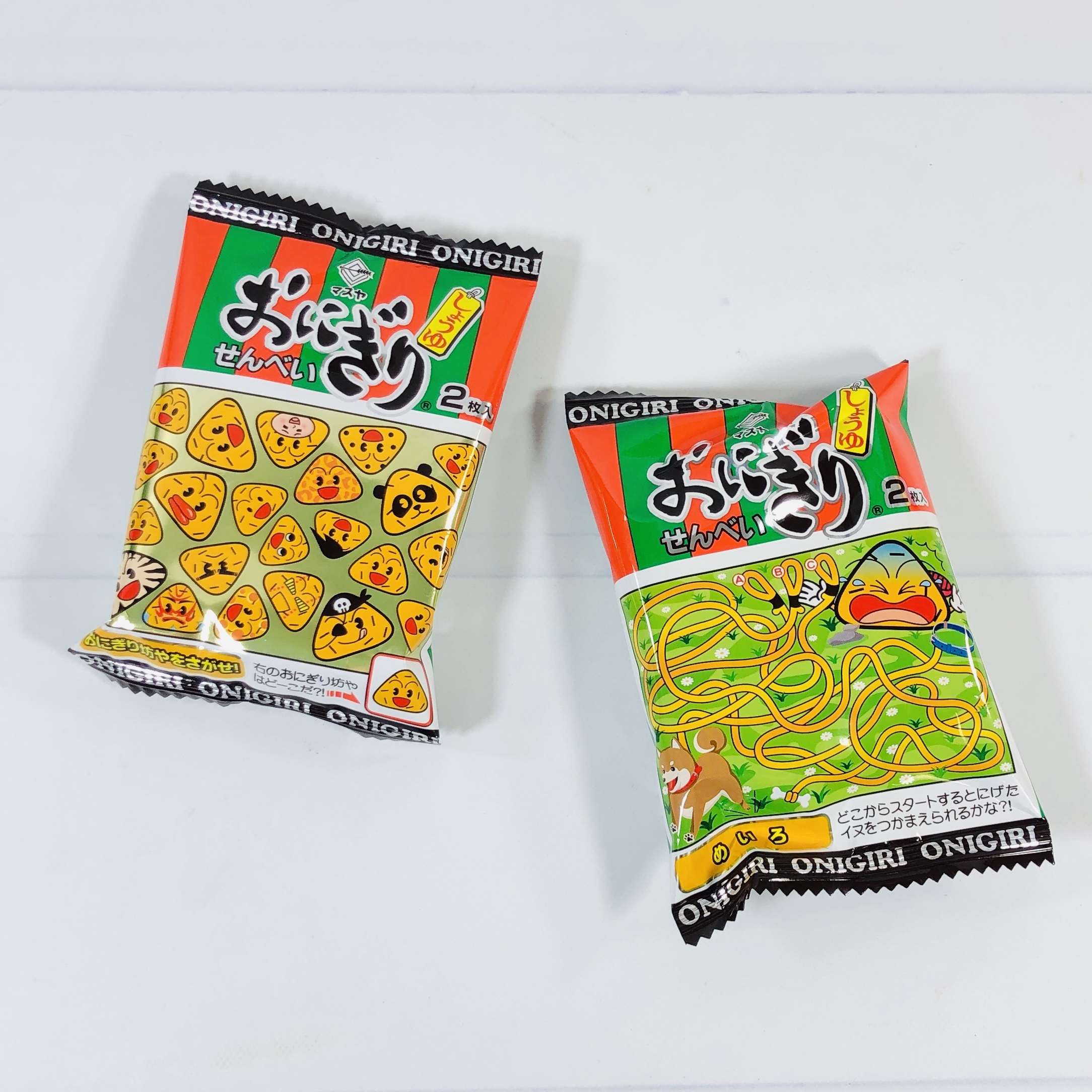 Onigiri Senbei: Soy Sauce Flavor I like senbei, which are crispy rice crackers. This one has a sweet and salty soy sauce coating and every once in a while I catch the seaweed bits and their unique flavor. Each packet had two crackers inside.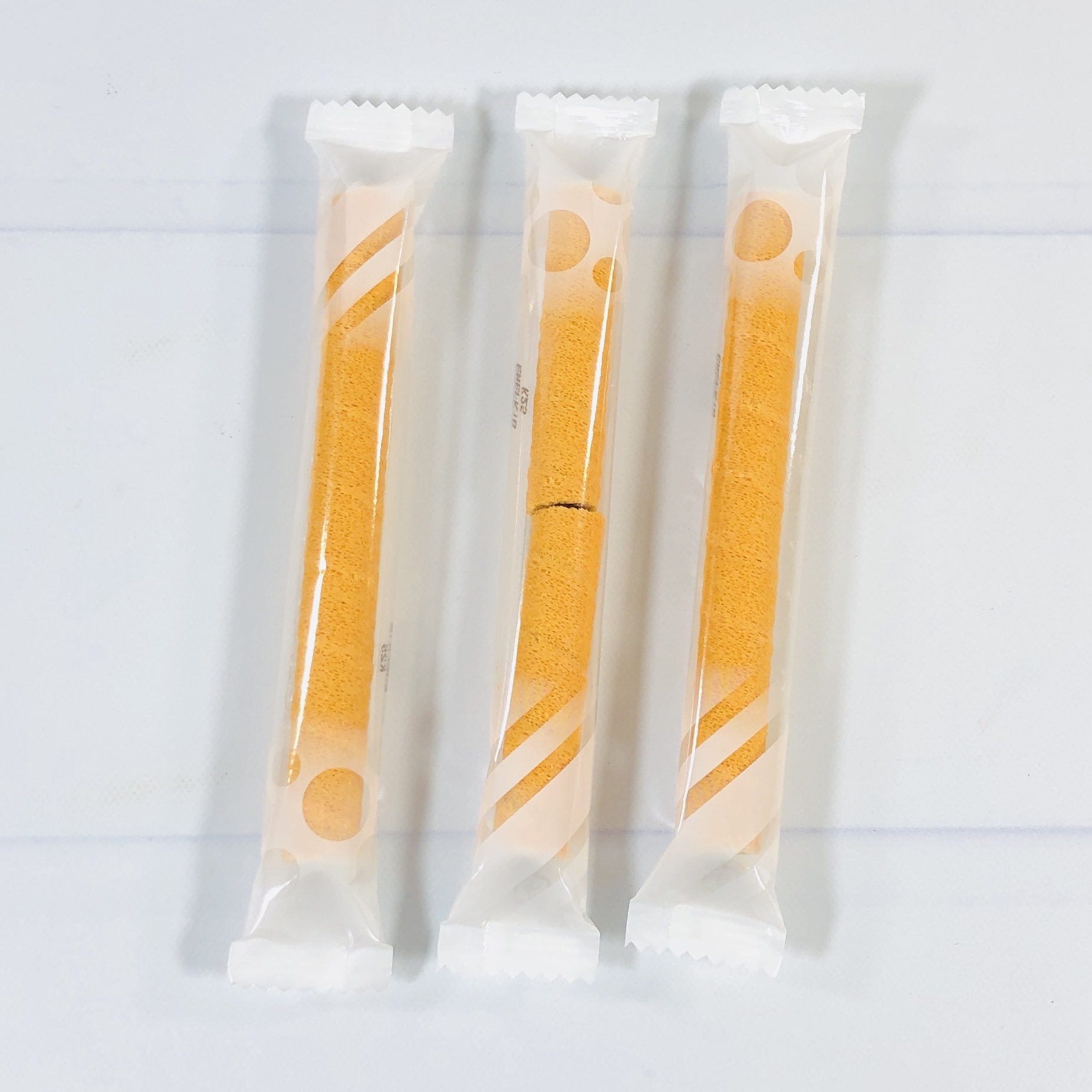 Crepe Colorée: Orange Tea These are wafer cookies, similar to Piroline. The orange flavor is most prominent here and I wouldn't have realized the middle was supposed to taste like tea; the coating was similar to white candy coating.
Setouchi Lemon Mochi is a chewy mochi snack with bits of dried lemon peel throughout. Chewy and fresh, I liked the sweet lemon flavor!
Pudding Daifku Mochi is another soft, chewy mochi but this one has a "pudding" flavored middle, which I believe is supposed to remind one of flan based on the illustration. I just thought it tasted sweet.
Calpico Mochi Calpico is a yogurt drink and this mochi candy is supposed to have a similar flavor. The outside is chewy mochi, then there is a thin layer of marshmallow, then a Calpico-flavored jelly center. I would say it tastes sweet, I'm not sure what Calpico tastes like for certain. I realzie calling these treats "sweet" isn't all that helpful but they don't taste like vanilla, or milk, or much of anything to my taste buds.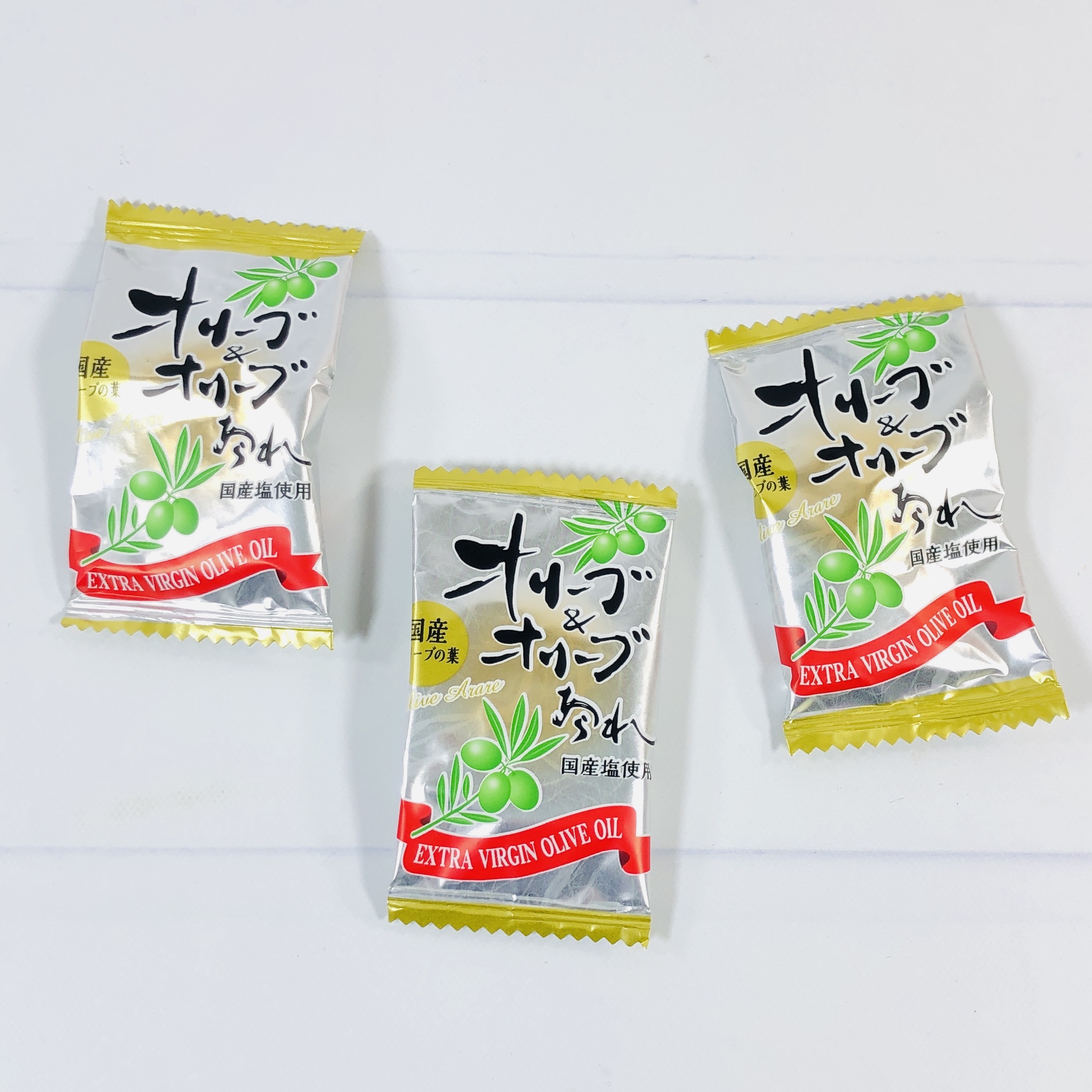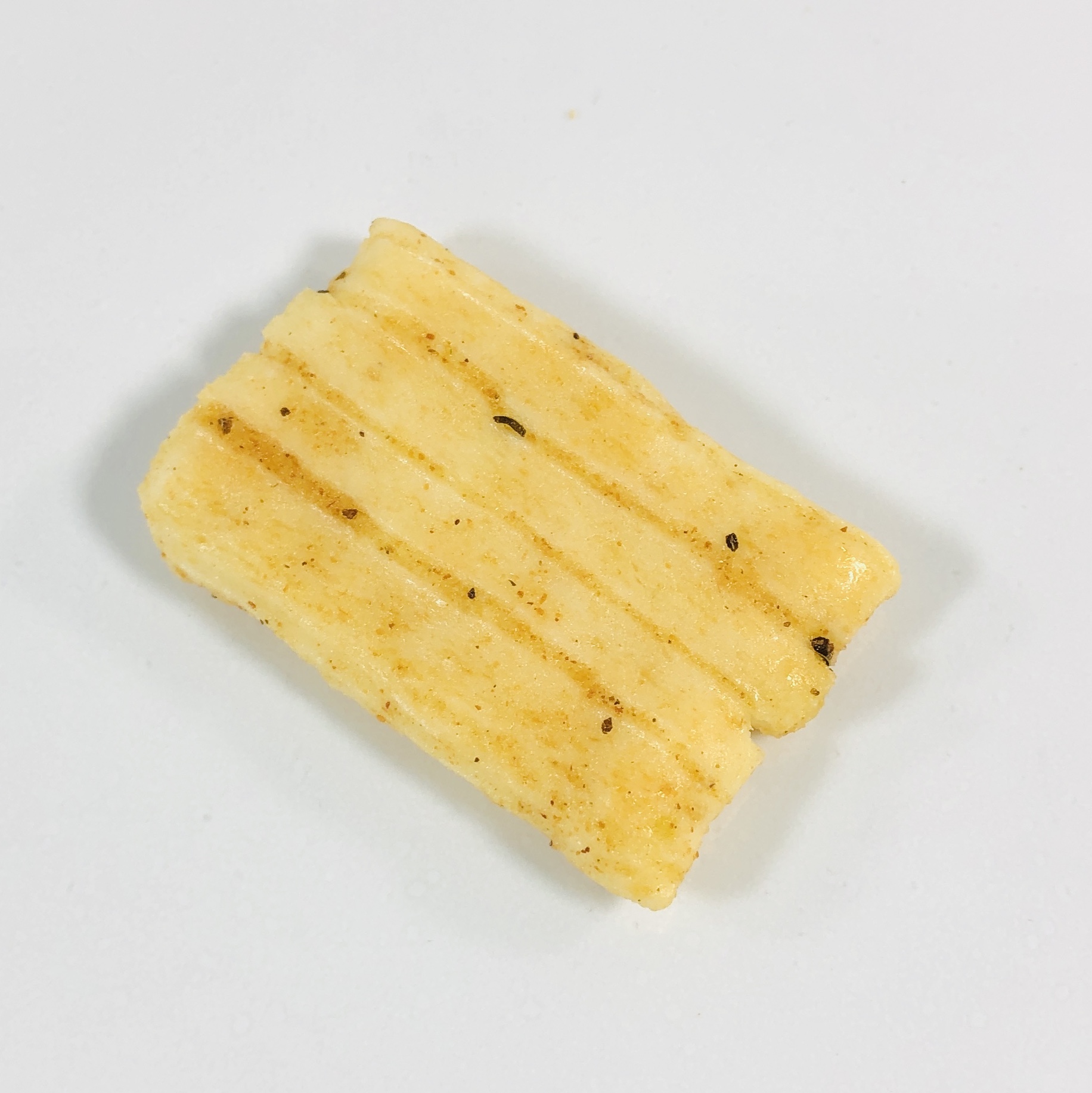 Olive & Olive Arare Apparently these arare rice crackers are supposed to be flavored with olive. I just thought they were kind of salty and umami and like most arare, I really liked it!
If you are into chewy mochi then the March Bokksu probably has you in heaven right about now! Mochi is such a chewy treat, although I much prefer the crispy snacks myself, and luckily there were a few of those in here too to make things interesting. I always enjoy any citrus flavor snacks and they were represented, and of course arare and senbei are also delicious! The tea even tasted yummy, maybe because it was closer in flavor to my favorite, black tea.
What's your favorite snack from this month's box?