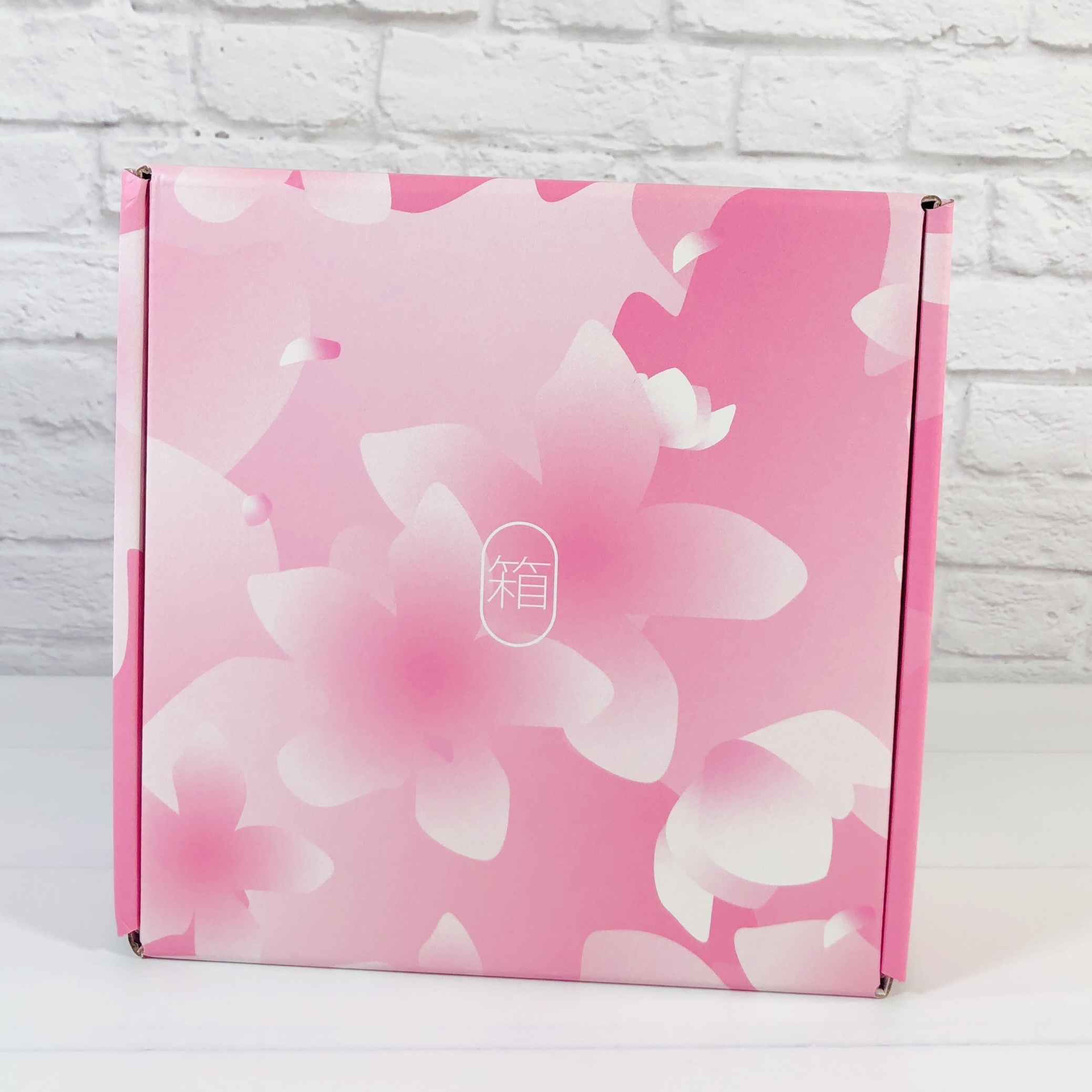 Bokksu is a premium snack box that features authentic Japanese snacks, as well as a tea pairing to go with it. There are two levels to choose from: Classic Bokksu ($44.99 USD) includes an assortment of 20-25 premium Japanese snacks and a tea pairing; Tasting Bokksu ($29.99 USD) includes 10-14 premium Japanese snacks and a tea pairing. Both boxes offer a discount for longer terms. The snacks sent are not easily found outside of Japan and this subscription ships internationally from Japan. Shipping is already included in the price.
Other Japanese snack subscription services use mass-produced mainstream snacks that can be readily found in most Asian markets outside of Japan. Bokksu directly sources its artisanal snacks from local snack makers in Japan (some of whom have been around for over 200 years!). We only curate high quality and gourmet snacks, never filler items. We are also the ONLY service that handselects a tea pairing for each box to complement that month's flavors.
DEAL: Save $5 on your first box with coupon code HELLO.
Bokksu's authentic Japanese snack subscription box was voted as a top subscription in the 2021 list of our readers' favorite snack subscription boxes!
Your first box will be the Seasons Of Japan box. I am reviewing the Classic Bokksu.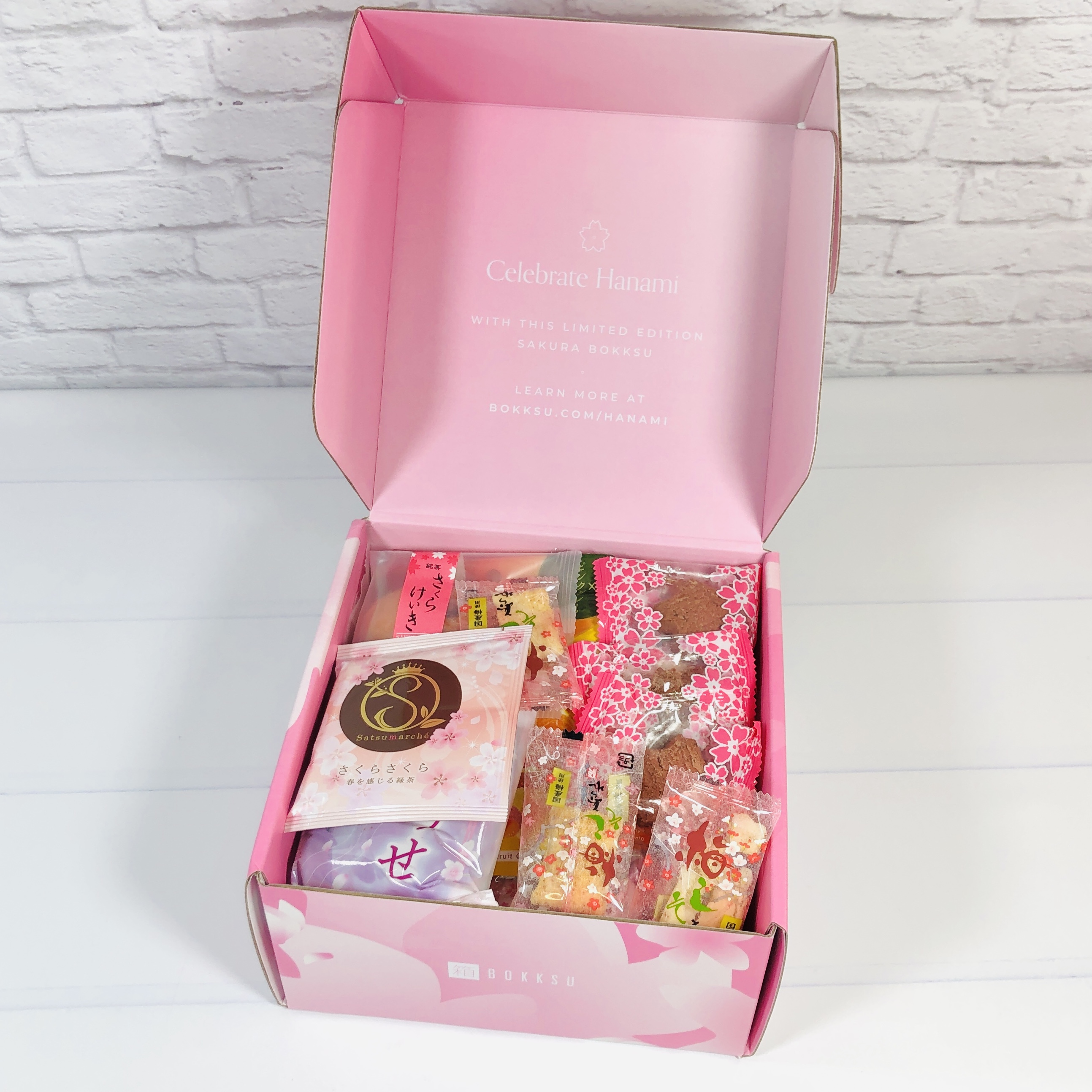 As always the snacks are packed in there so nicely.
They are so pretty, so much pink!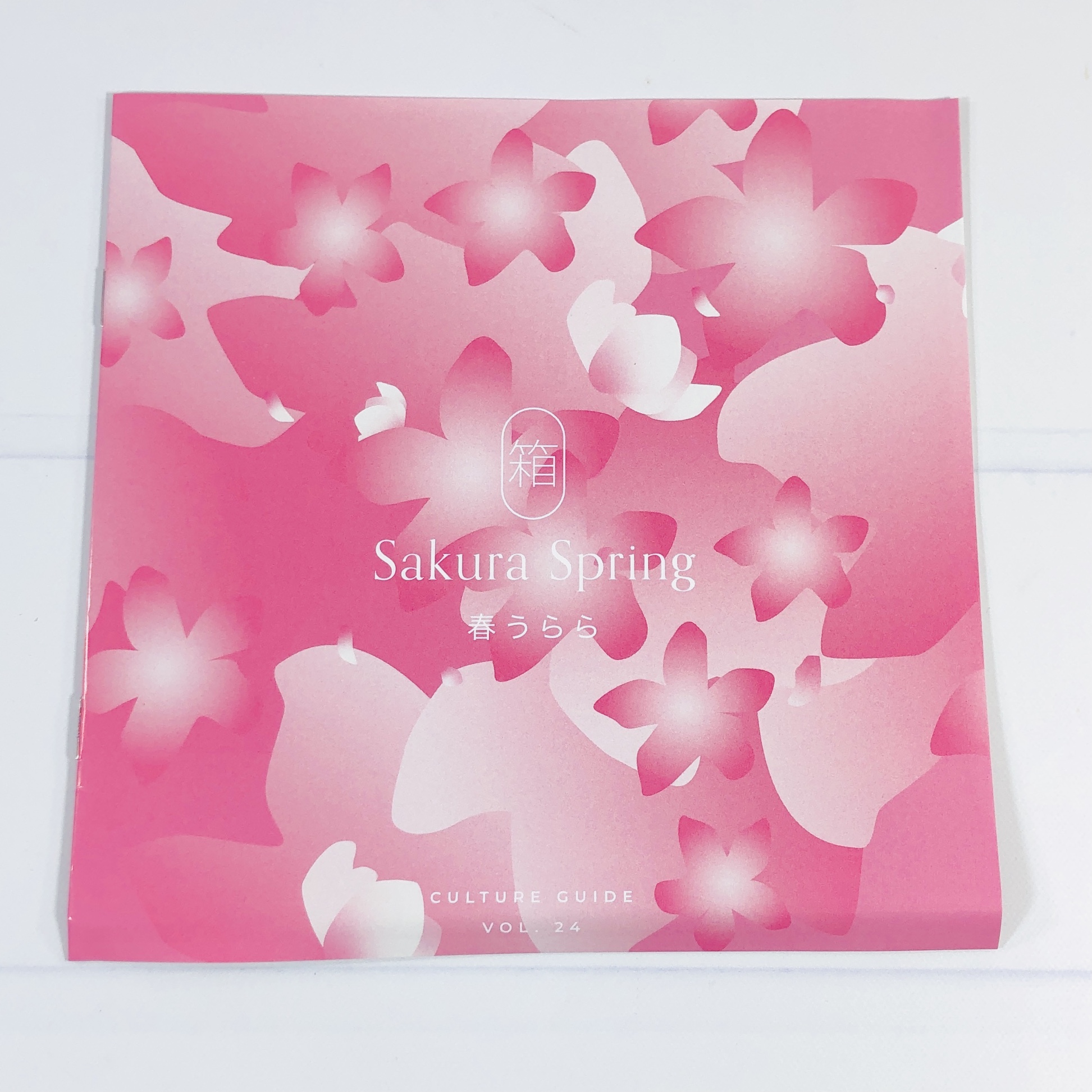 Bokksu provides a beautiful full-color info guide in every box.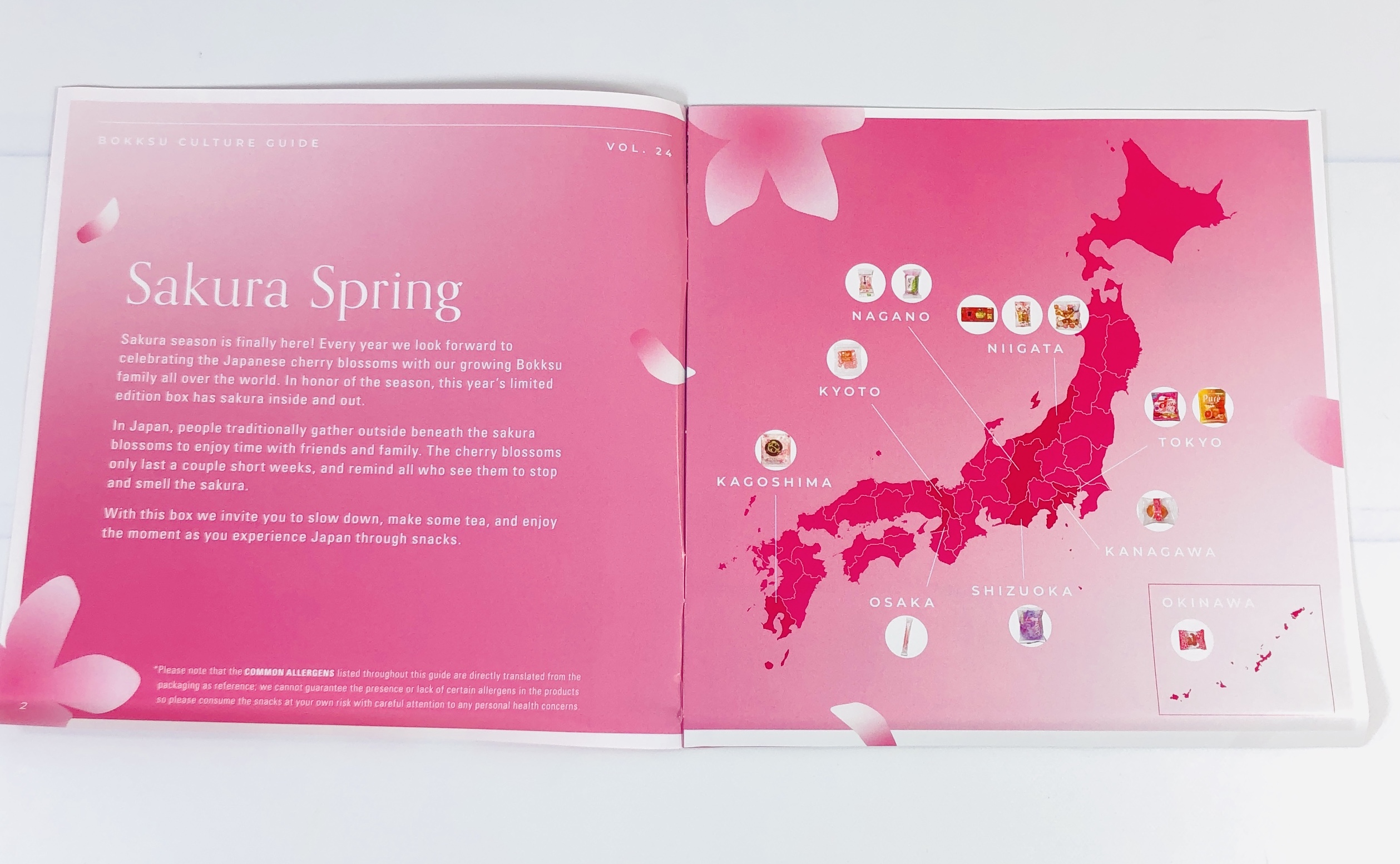 April's theme is Sakura Spring. The box features snacks that are made of sakura, or cherry blossoms! There's a map showing where in Japan each snack originated.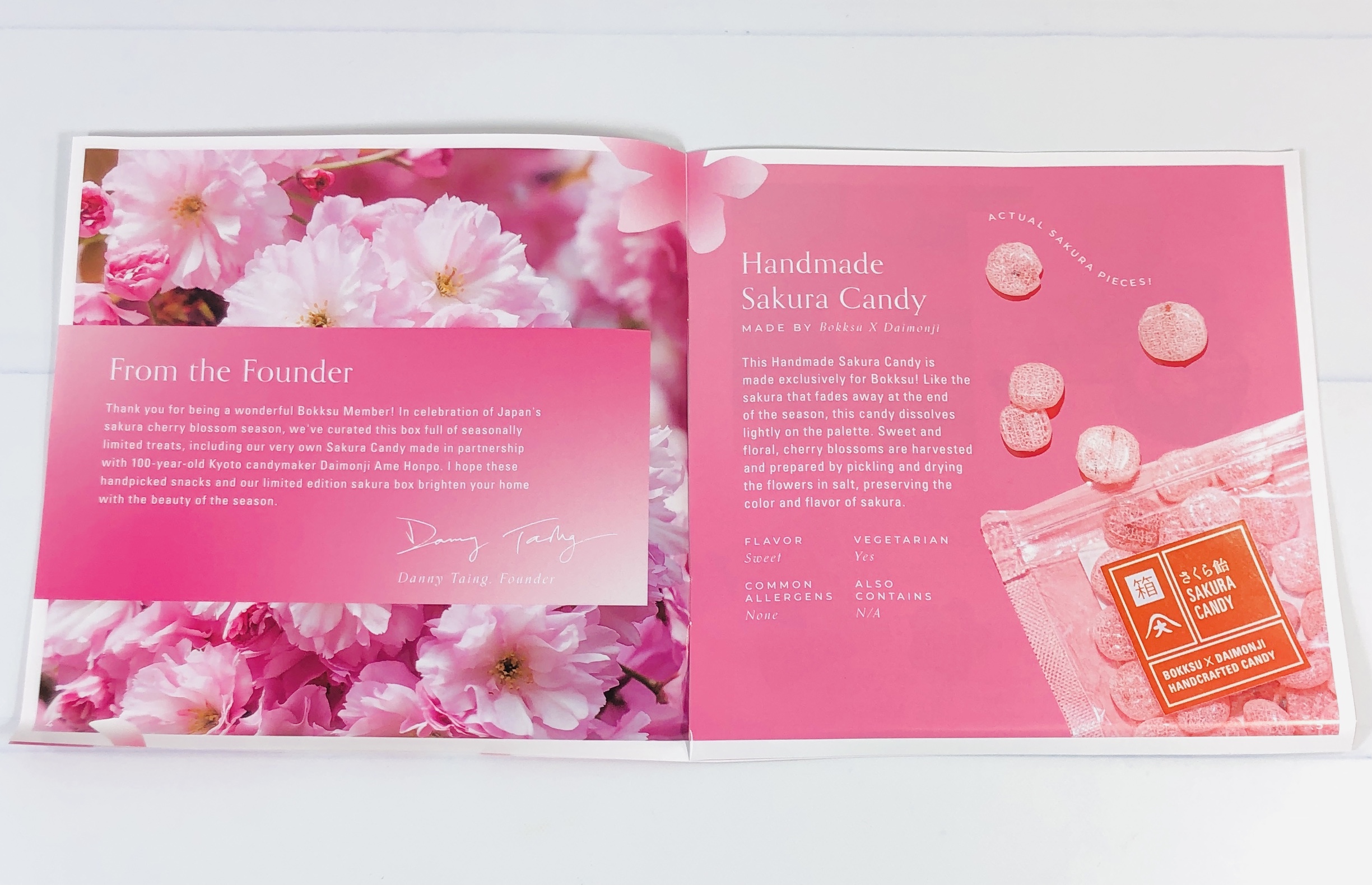 Info behind the theme was presented by the Bokksu founder. Then we have a picture and description of all of the snacks.
Each product was shown and lists brand name, common allergens, and a description.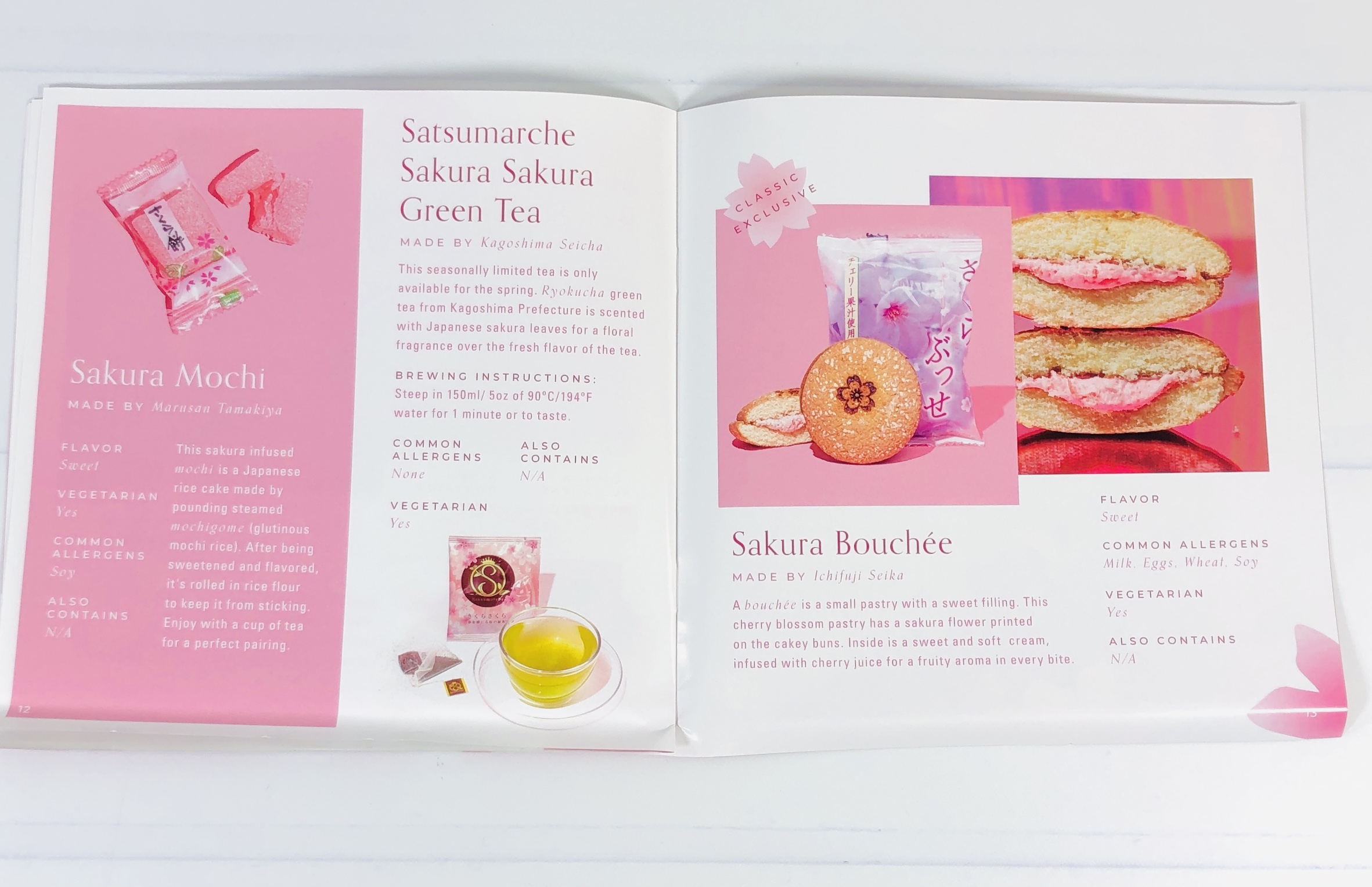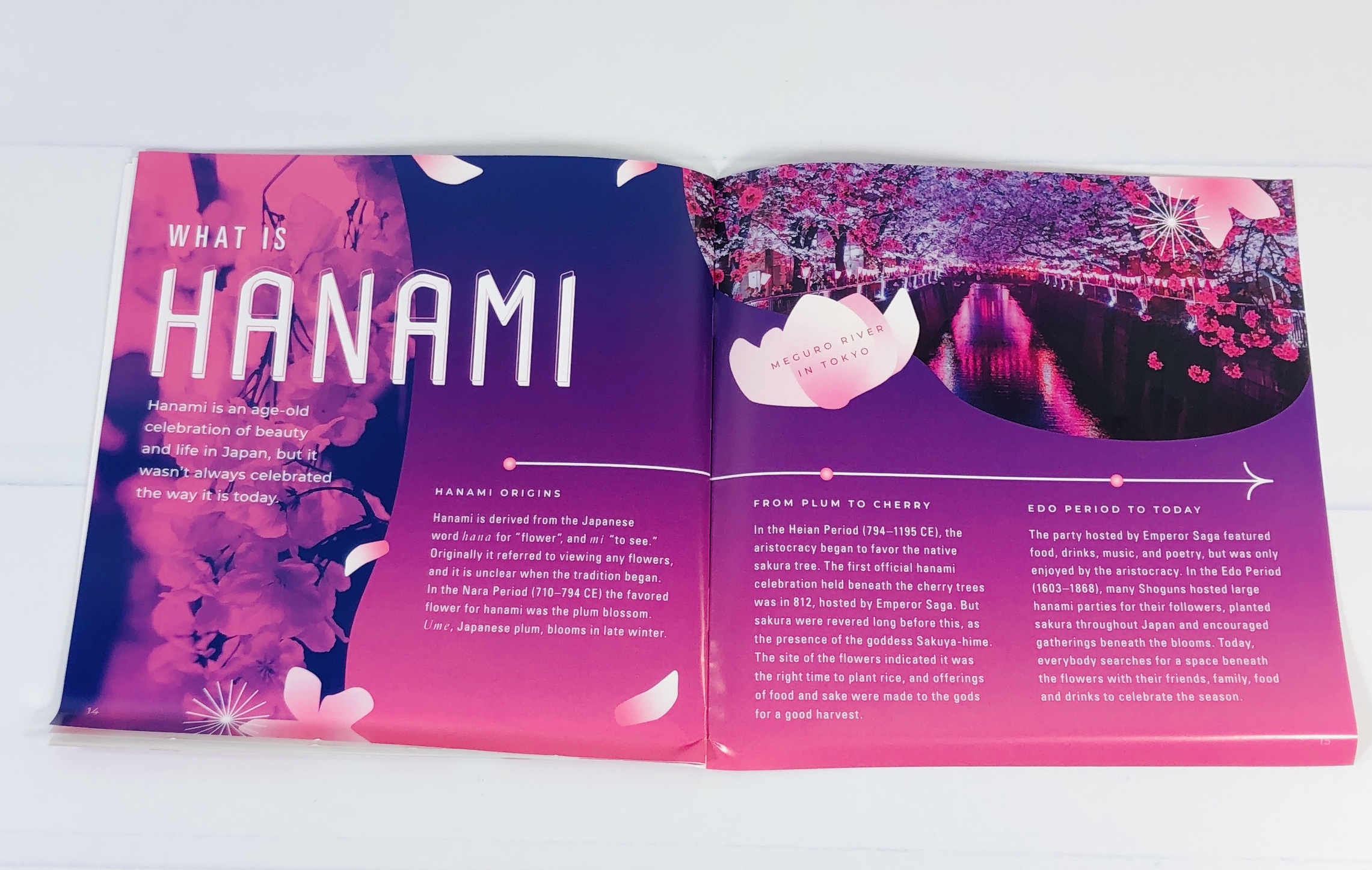 Here we learn about the origins of Hanami, which is a flower viewing celebration with friends and family.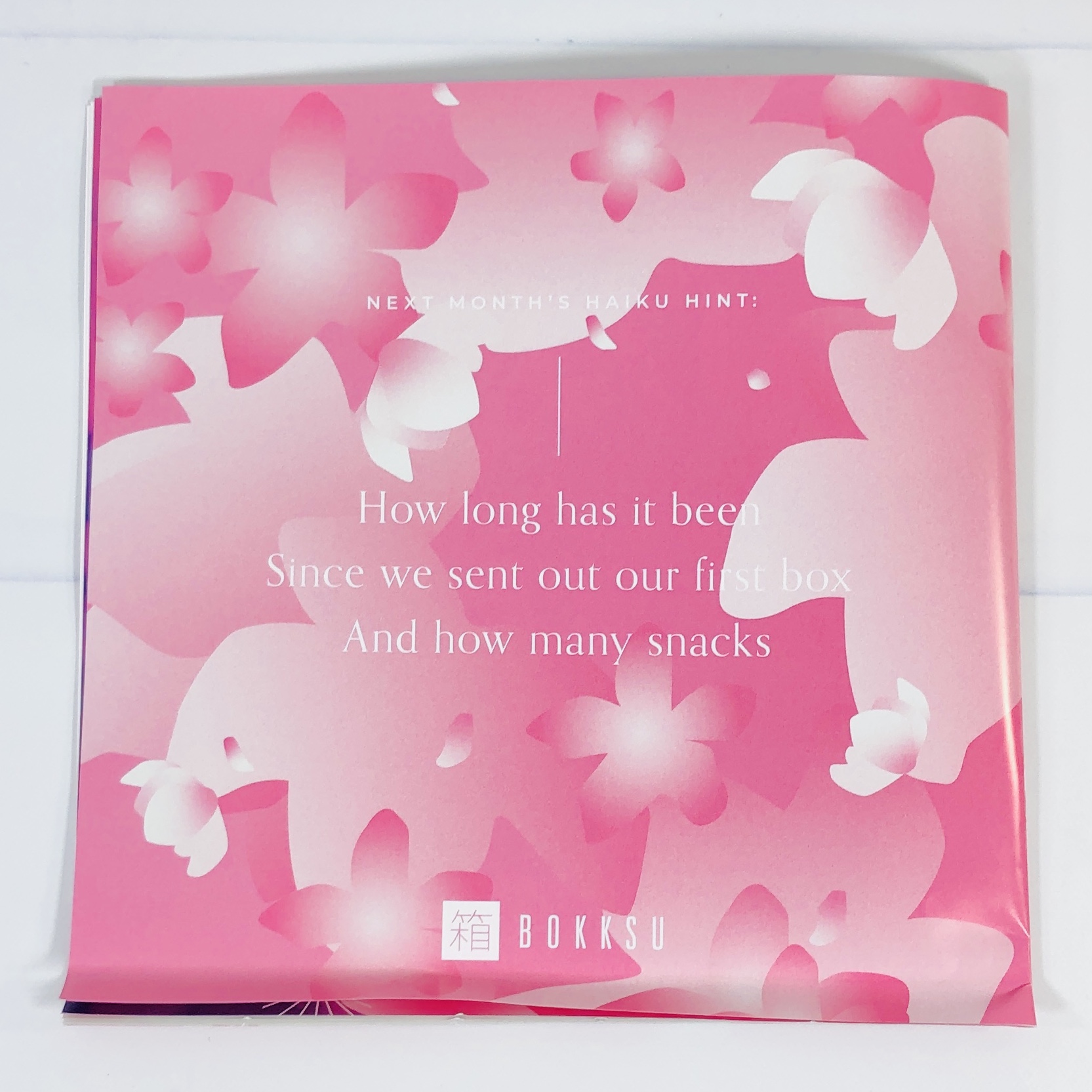 The back of the mag had a glimpse at the next box theme! Hmm, maybe a "Best Of" box is in the works?
Everything in the April 2021 Classic Bokksu!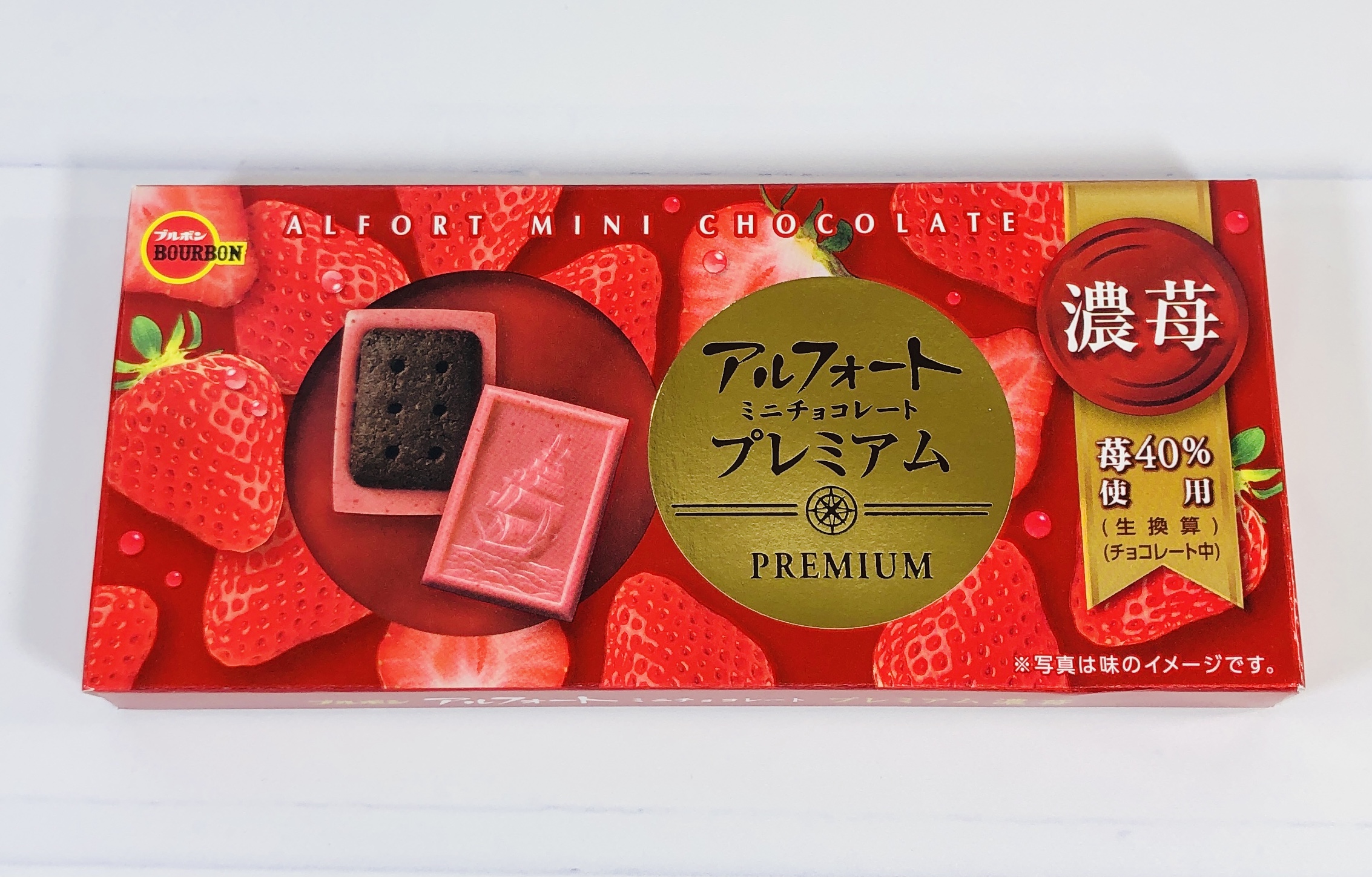 Alfort Premium: Rich Strawberry There are 12 mini cookies inside this box. The bottom is a chocolate cookie, similar to an Oreo but without the cream filling. The top is a piece of white candy coating flavored with strawberries. I like the embossing on the top of a ship, but the candy part has an oddly strong acidic bite to it, most likely from citric acid. Didn't stop me from eating three of them in quick succession!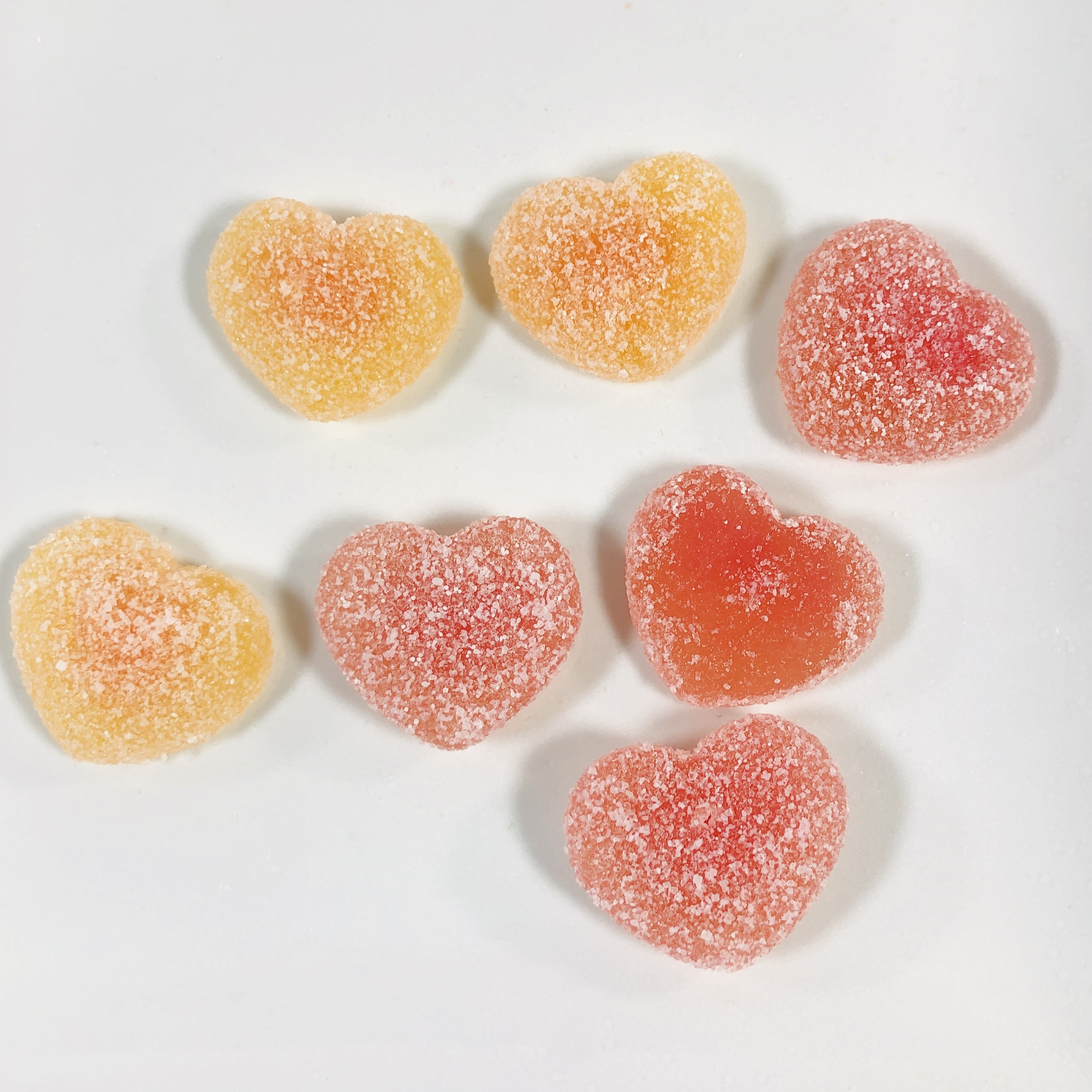 Puré Gummy Premium: Mikan + Pink Grapefruit are sweet and sour gummy fruits that taste like grapefruit (red) and mikan (orange). The sugar coating is surprisingly sour and then the gummy candy is sweeter. The grapefruit flavor reminds me of fruit punch for some reason, but I especially liked the mikan gummy, it was less sour.
Sakura Chinsuko looks like a star to me but is supposed to be "shaped, flavored, and colored like a Japanese cherry blossom". To me it tastes like a buttery shortbread cookie flavored with a hint of cinnamon and I thoroughly enjoyed it. Perfect with tea or coffee.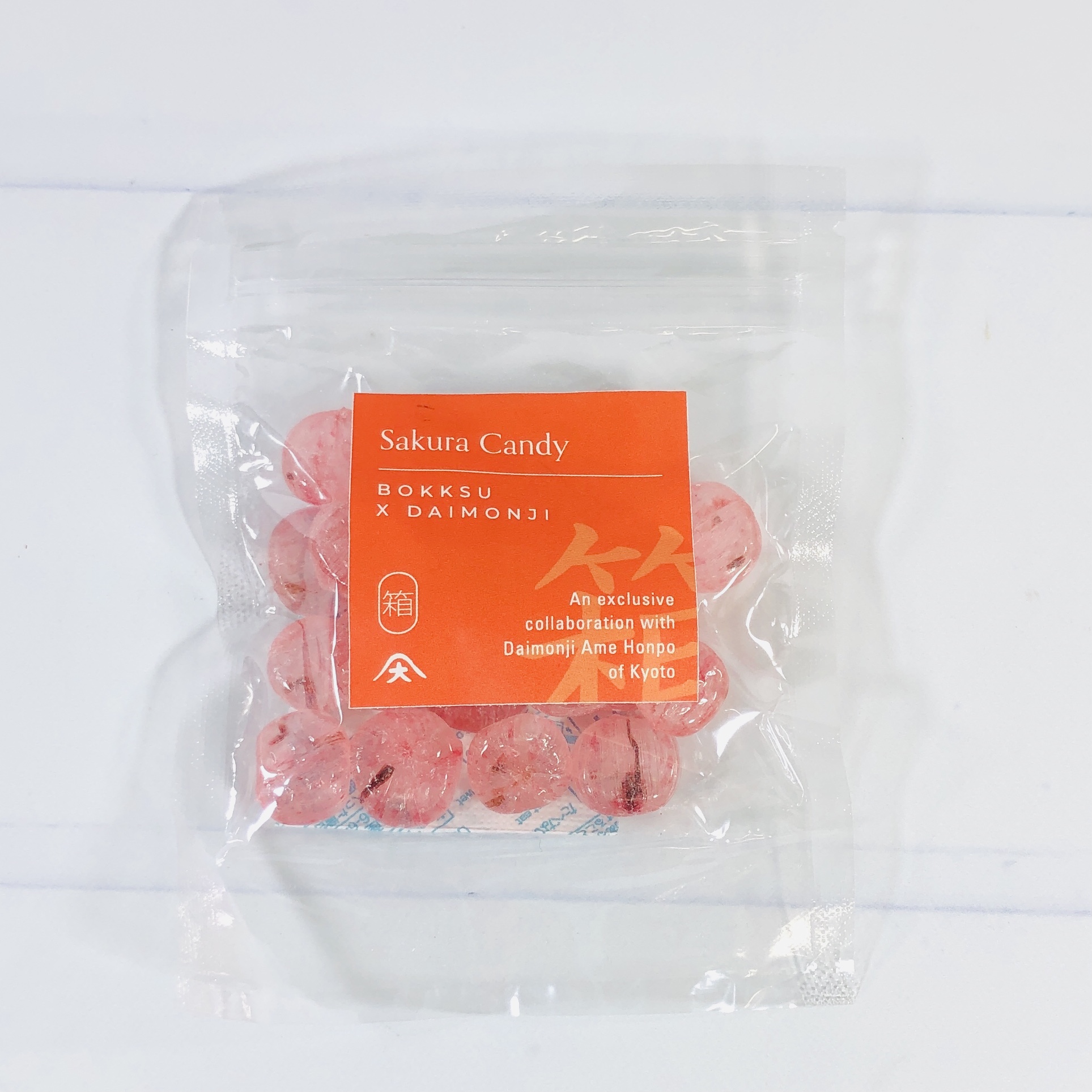 Handmade Sakura Candy are hard candies that have the flavor of sakura, and you may find bits of dried, salted cherry blossoms inside the candy! They don't taste like the kind of cherry candies I usually eat, the flavor is very subtle, but I was surprised by the salty bit of flower after the sweet part melted away!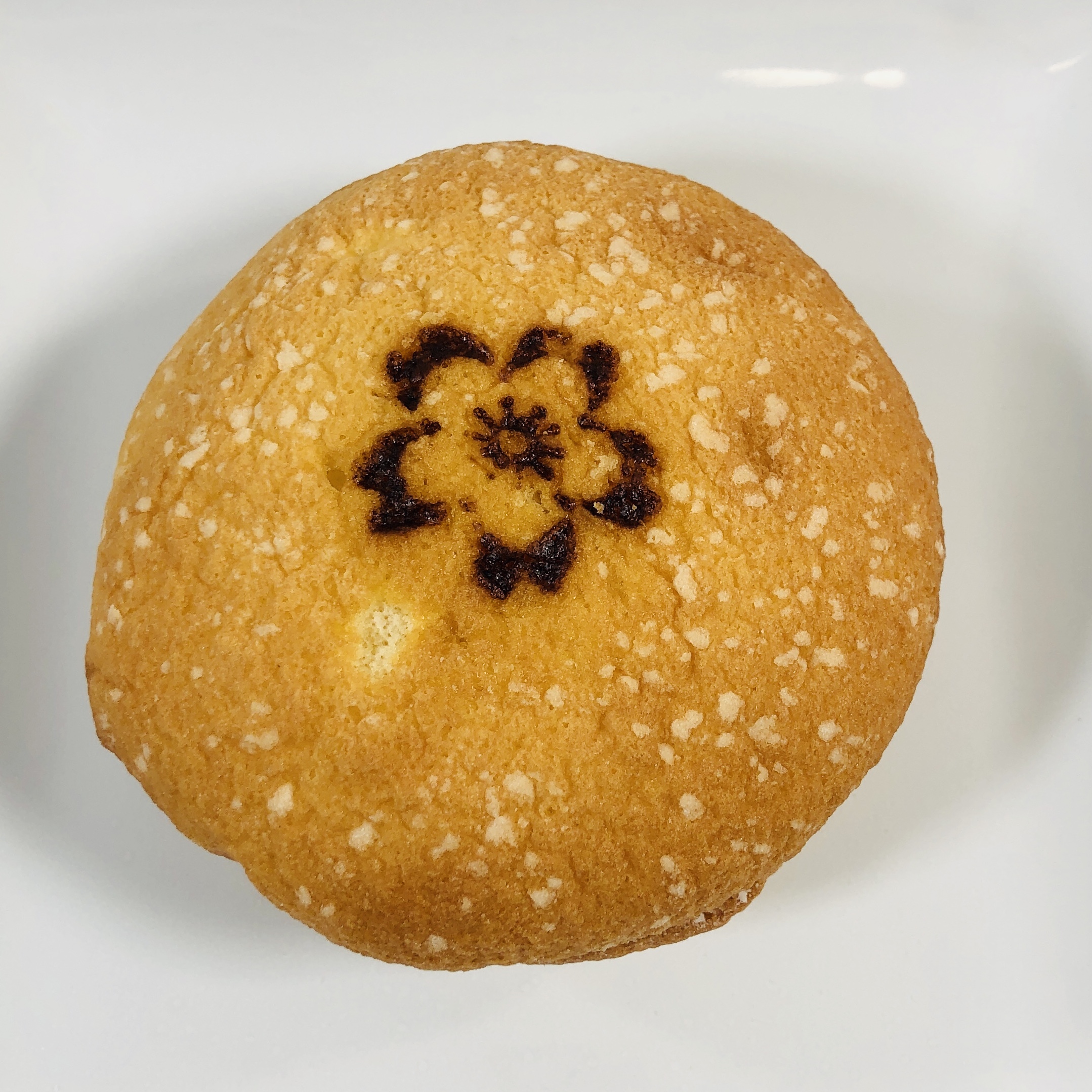 Sakura Bouchée Check out that sakura stamp on top! This cake was sponge in texture and there was a cream pink filling that Bokksu calls "cherry juice" but it's light and sweet and just right, not super heavy.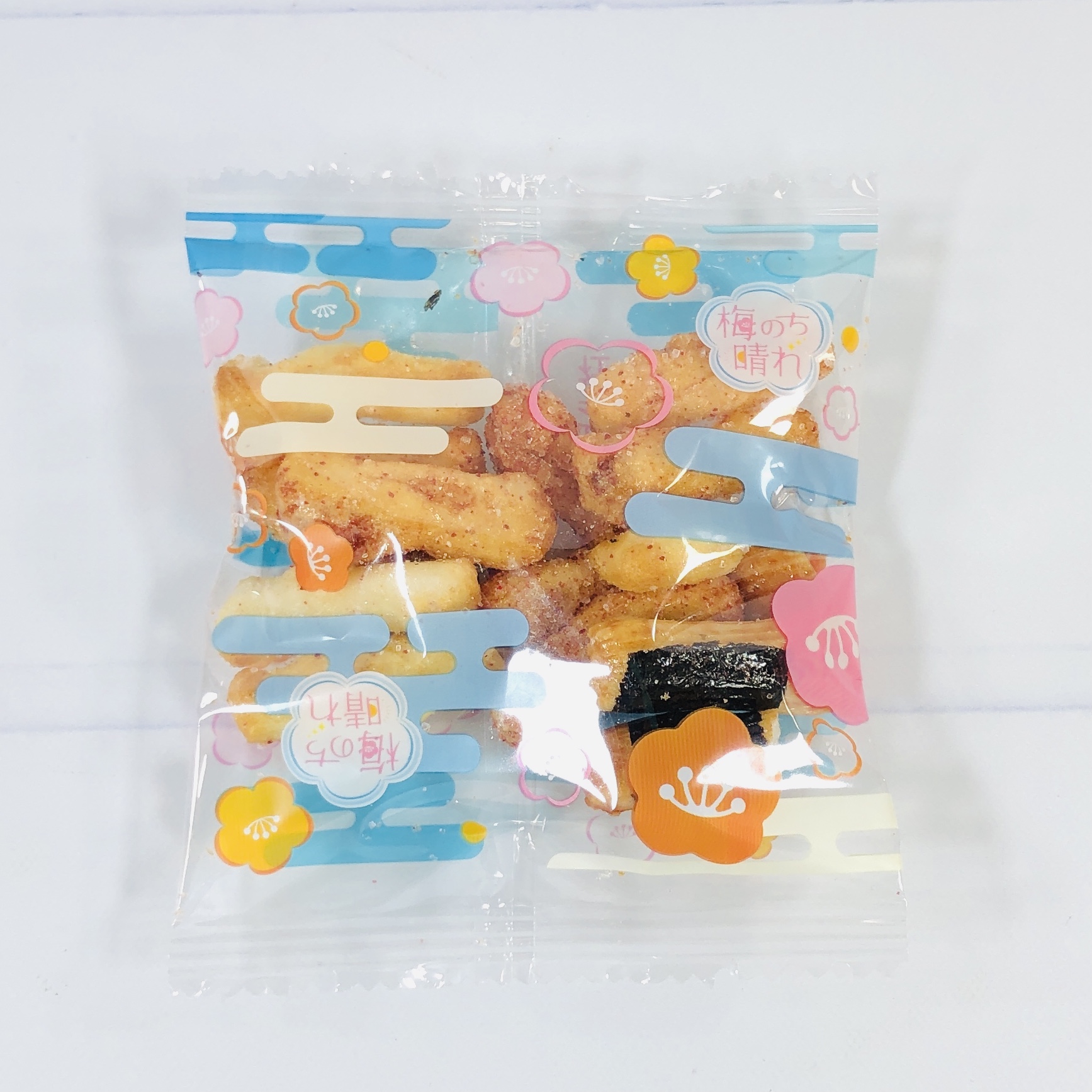 Ume Nochi Hare Rice Cracker Mix has three different flavored rice crackers: sweet plum, salty plum, and plum with seaweed. It's an odd combo but not too bad, with sweet, sour, and salty all mixed together since the coating is kind of mixed up on the outsides.
Sakura Cake I recently tried a pickled cherry blossom tea and had flashbacks when I ate this cake, because that spot on the top is a pickled cherry blossom. It's salty and sour, kind of tangy, and I'm not really a fan, although the cake itself was good, very moist and sweet.
Satsumarche Sakura Sakura Green Tea I think this tea has a similar flavor to sencha, it's kind of a grassy/seaweed/spinach sort of flavor, although this version has a hint of sweetness. I used water that wasn't boiling but it still came out a little bitter, maybe steep for one minute to check, since two minutes seemed too strong.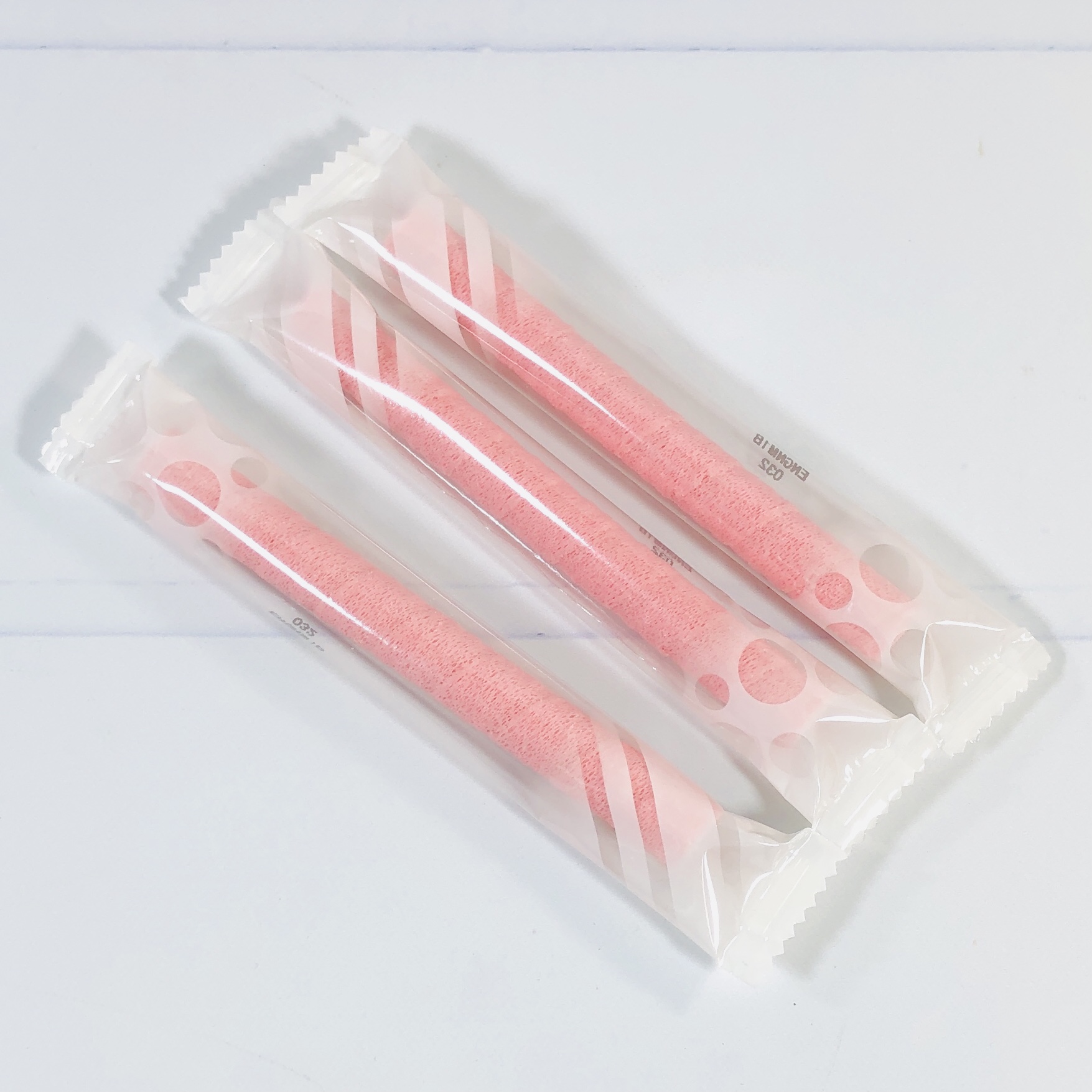 Crepe Colorée: Strawberry is a delicate cookie, similar to a piroline, with a very thin coating of strawberry-flavored white chocolate on the inside. Pretty much anything that is supposed to taste like strawberry reminds me of Carnation Instant Breakfast drinks, is it just me?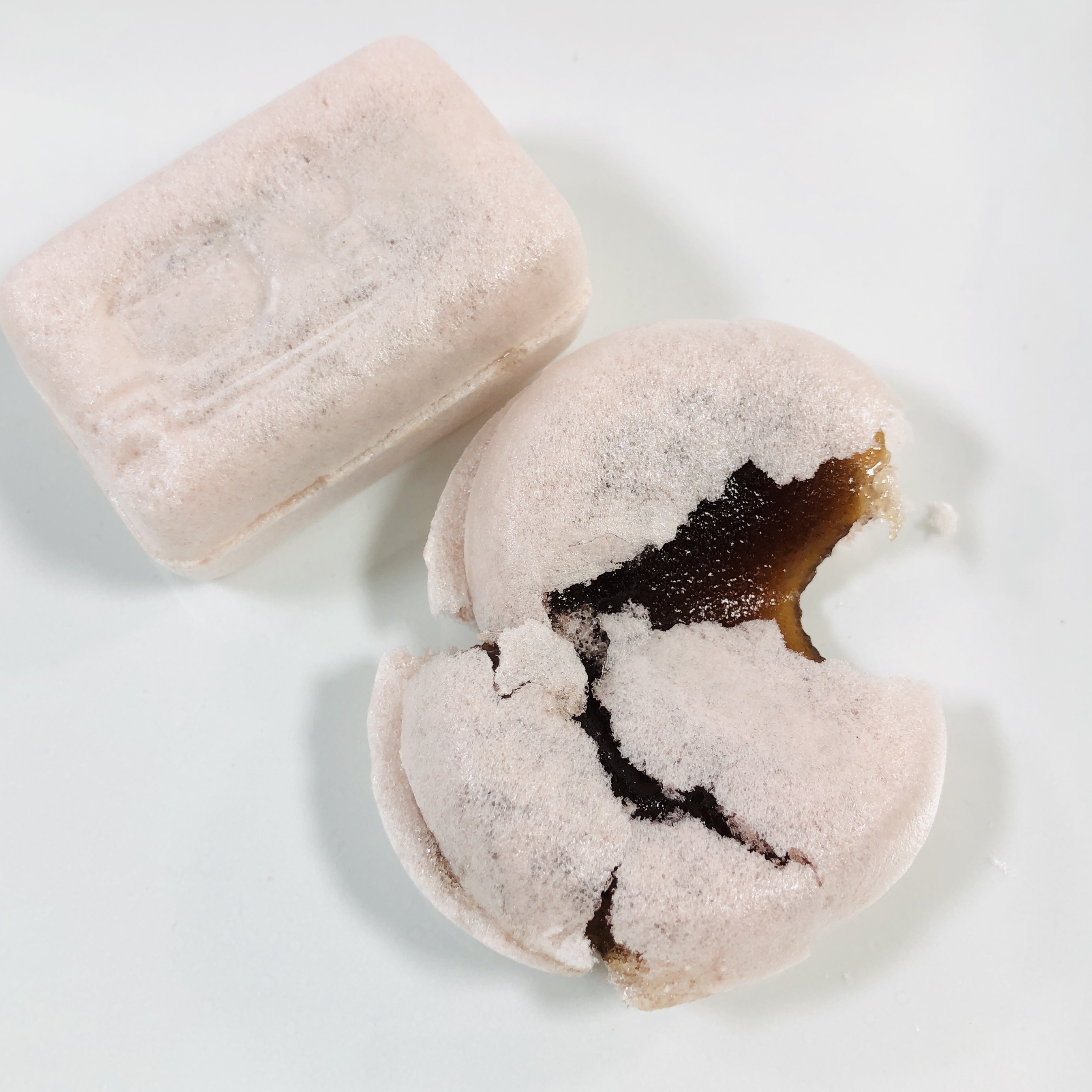 Sakura Monaka I liked these monaka. The outside is similar to a wafer ice cream cone and the inside is sweet bean paste, although it's closer in texture to jam or fudge even, but not like the red bean fillings I've tried in other snacks. It was super sweet and seemed kind of fruity to me.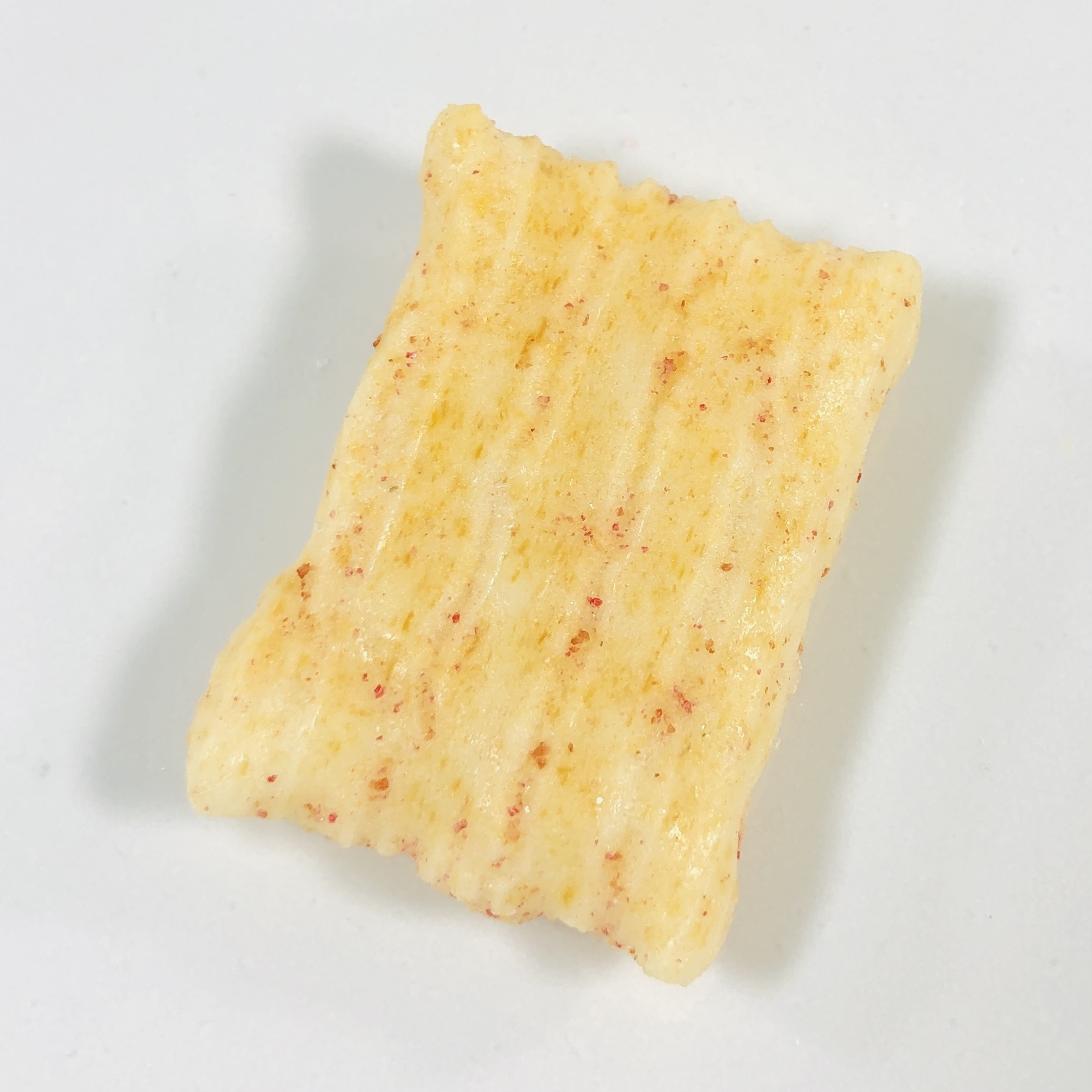 Sukkiri Ume Sour Plum Arare Rice Cracker According to Bokksu, "sukkiri" means refreshing in Japanese and while this cracker had a bright flavor, it reminded me of lemon, which may be due to having citric acid in the coating. I liked it!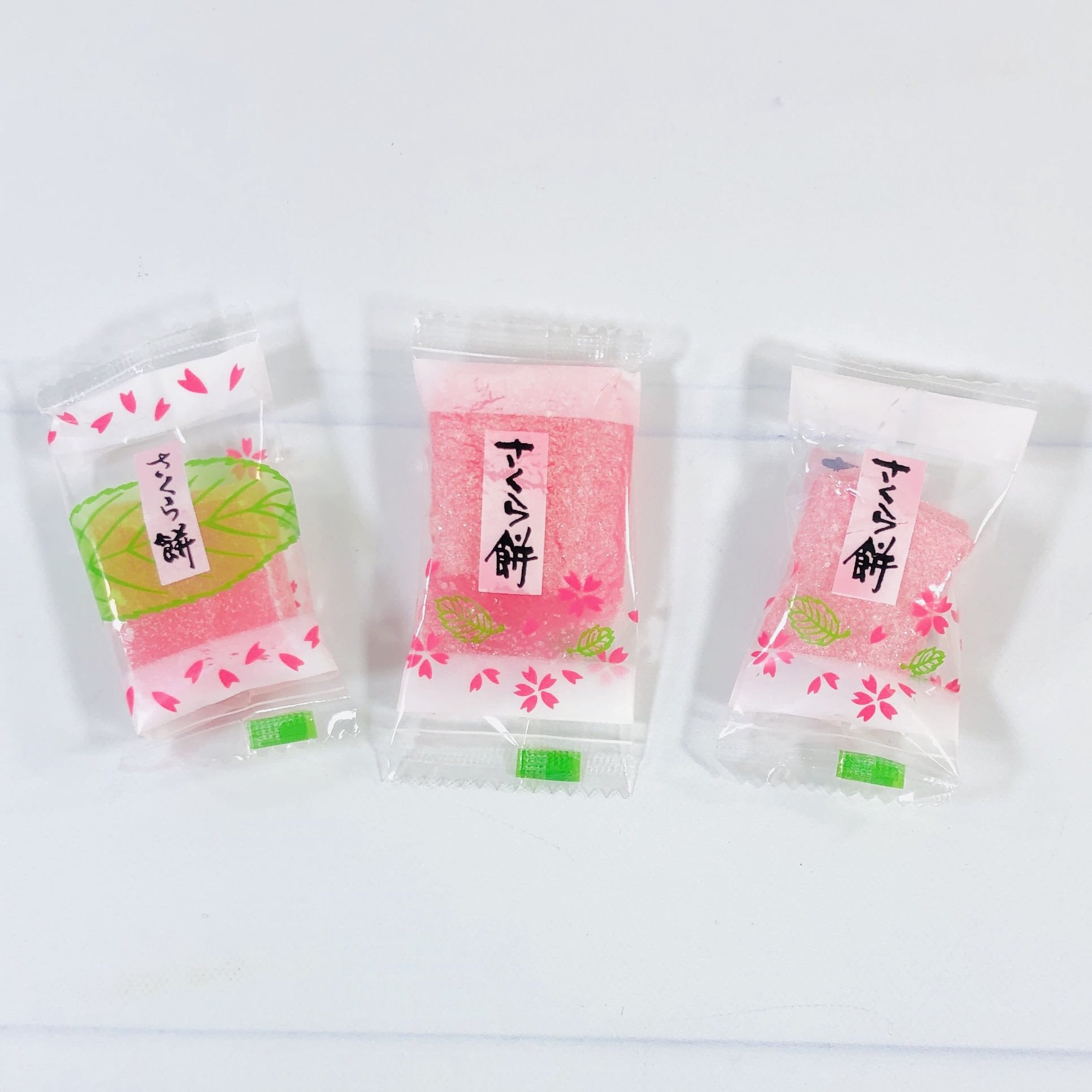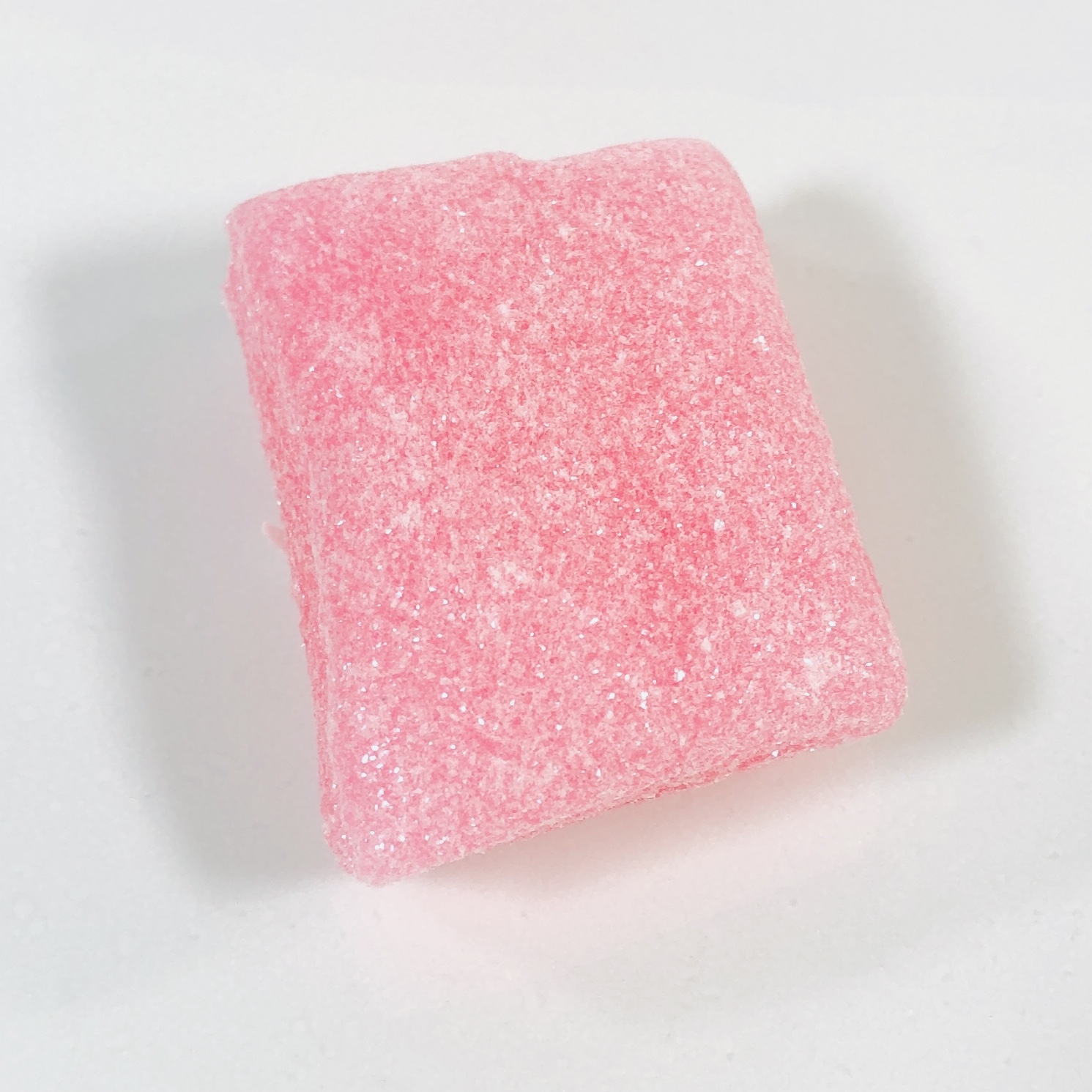 Sakura Mochi are squishy gelatinous candies that are made of rice. These are supposed to be cherry blossom flavor but they just taste sweet to me.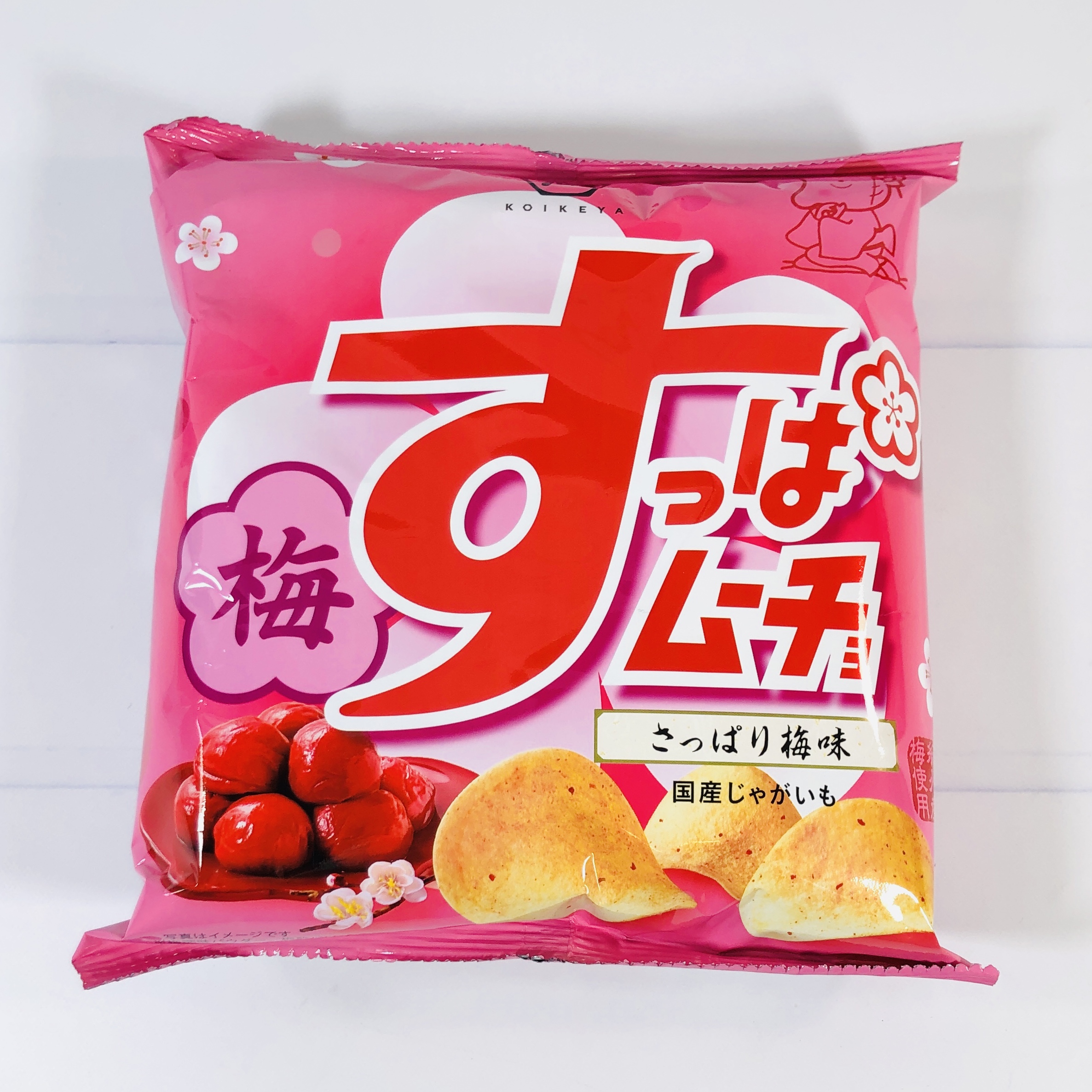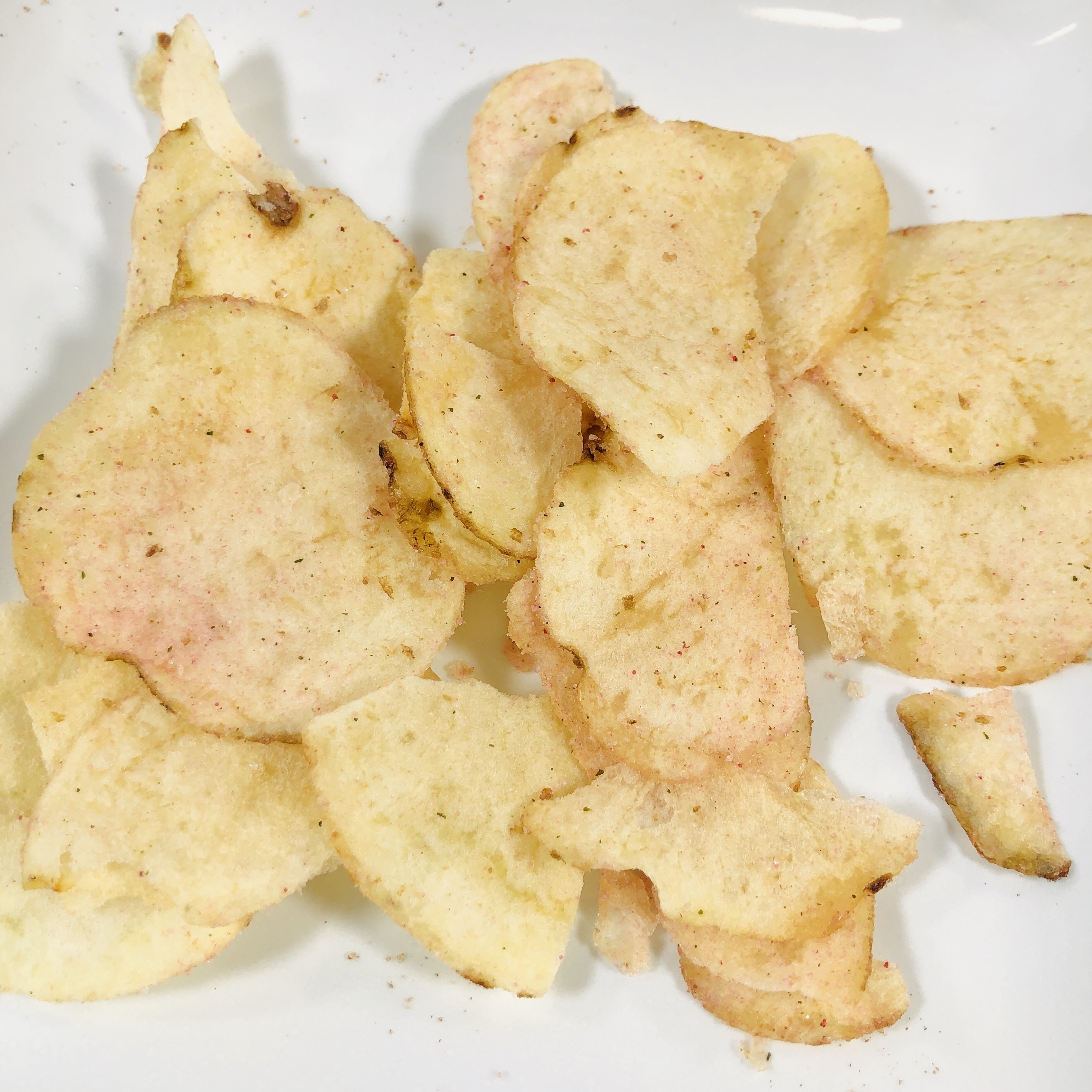 Suppa Mucho Chips: Sour Plum Flavor are sour and tangy, like vinegar and salt potato chips, but there's also a hint of sweetness from the sour plum. It's an odd combo but is tasty nonetheless.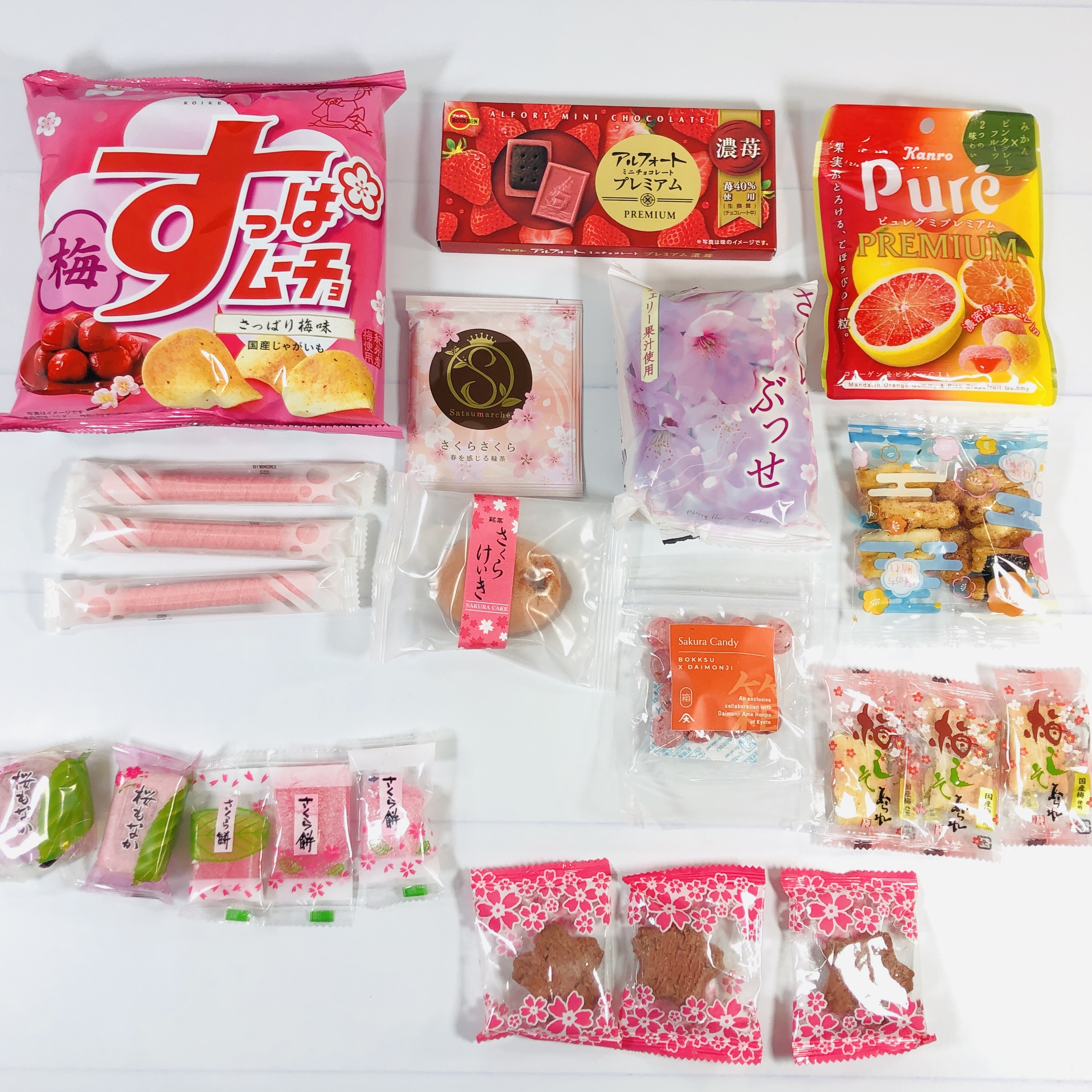 The April Bokksu assortment was so pretty to look at and tasty to eat! Sakura and hanami seem to be exceedingly important in Japan at this time of year and I appreciate that Bokksu brought the experience to us, at least in an edible sort of way. There's always a new-to-me snack in this box as well as products we may have tried in previous shipments, but it's always an adventure!
What's your favorite snack from this month's box?