Bath Bevy curates boxes for bath lovers! Each themed box has 6-10 bath items, which may include bath bombs, bubble bars, bath salts, body scrubs, handmade soaps, and more! Most of these items are from indie bath and body brands. A monthly subscription is $34.95 per box and a quarterly subscription is $36.95 per box. A new option is the Tubless subscription which sends bath and body products but no items for the bathtub like bath bombs and bath soaks. It's $37.50 per month. Some of the items you can expect from this option are body washes, whipped soaps, sugar scrubs, lotions, and shower steamers.
DEAL: Save $4 on your first box!. Use coupon code HELLO10.
Bath Bevy's bath subscription box topped the list in our 2021 readers' choice picks of best bath subscription boxes!
The items were packed in a light blue box.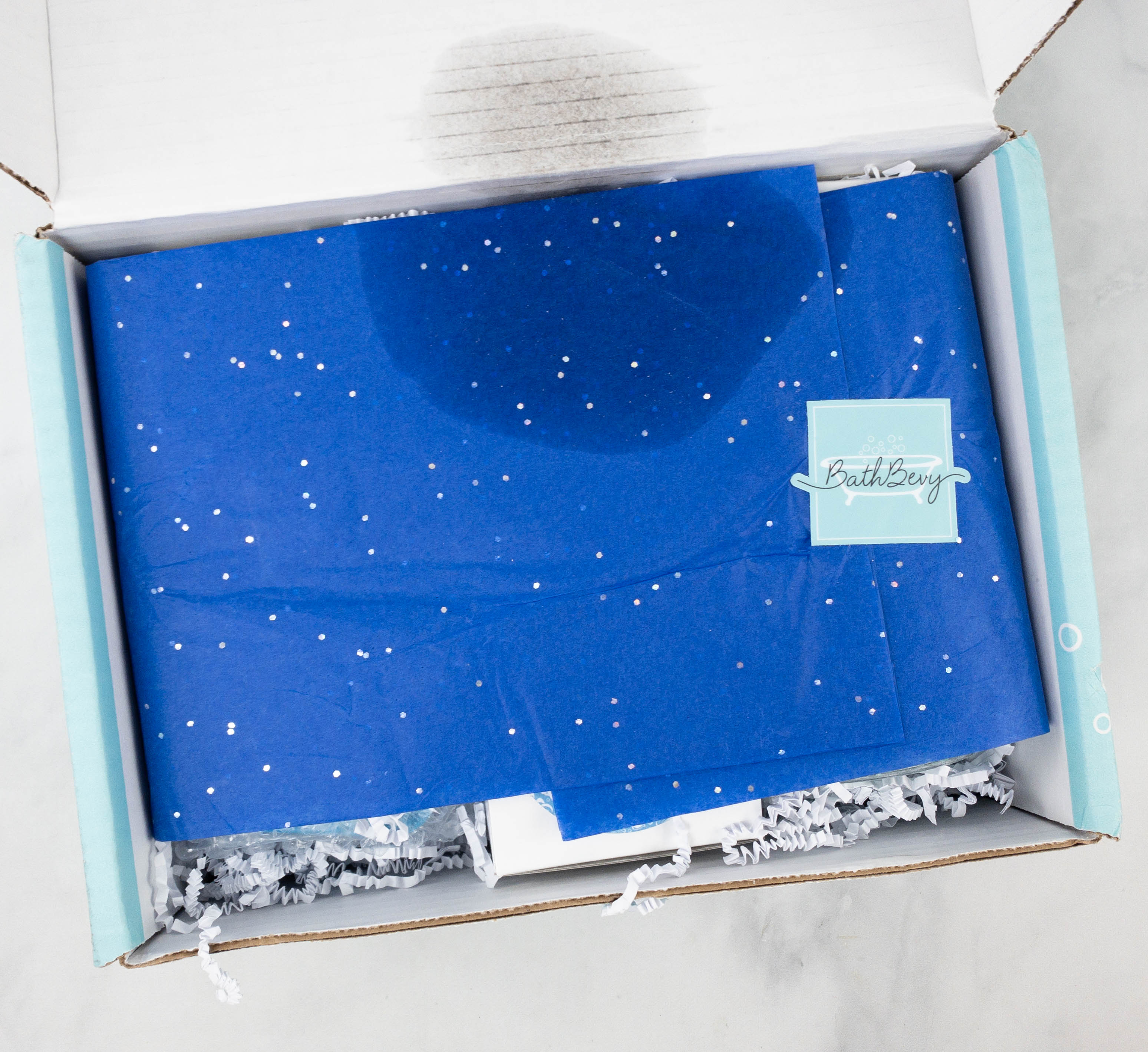 They were also wrapped in tissue paper, sealed by a Bath & Bevy sticker. Sadly, one of the items in this month's box leaked.
There were paper squiggles to cushion the items.
This month's theme is All You Need is Vitamin Sea!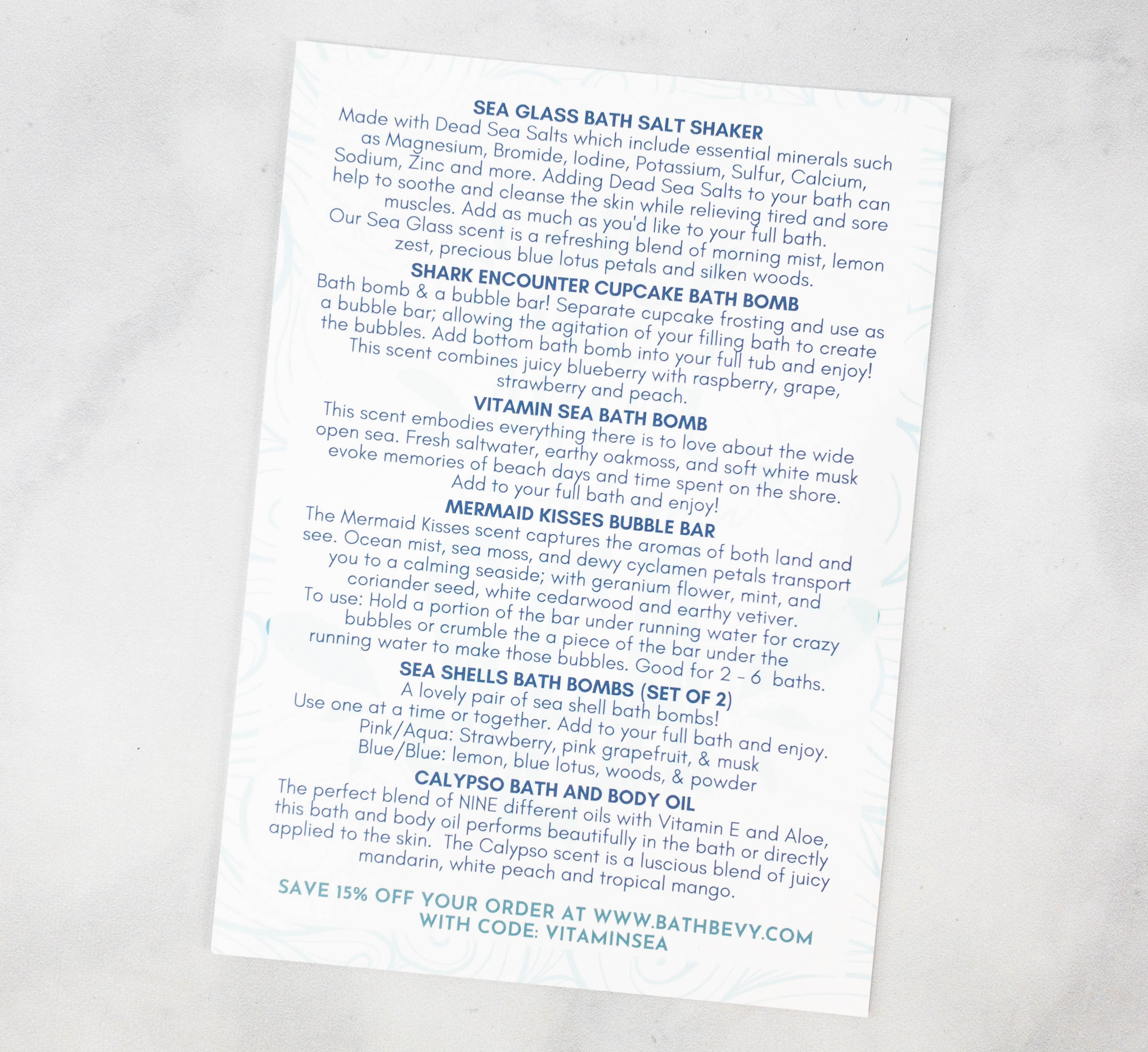 The card lists all the products along with a short description for each one.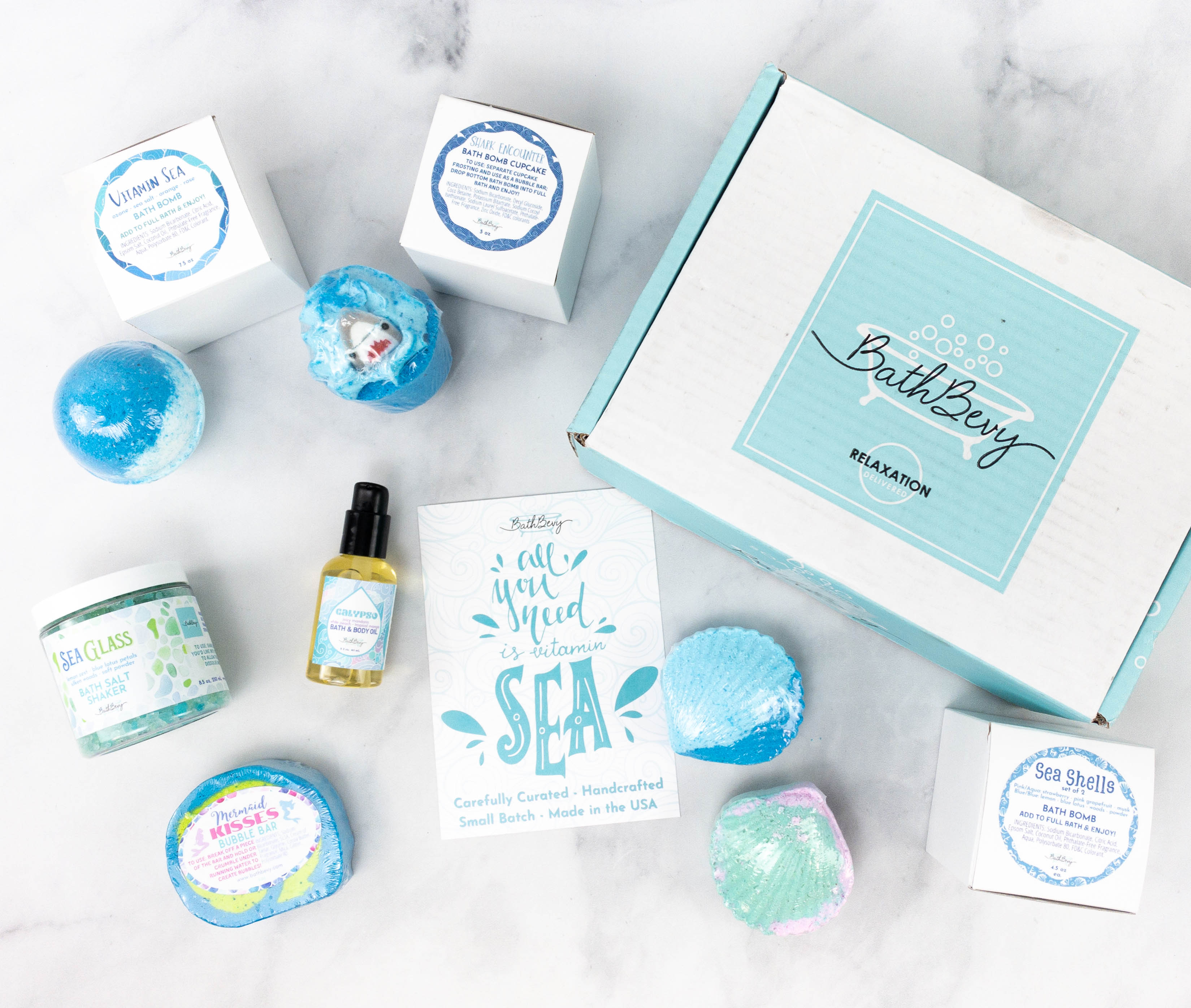 Everything in my box!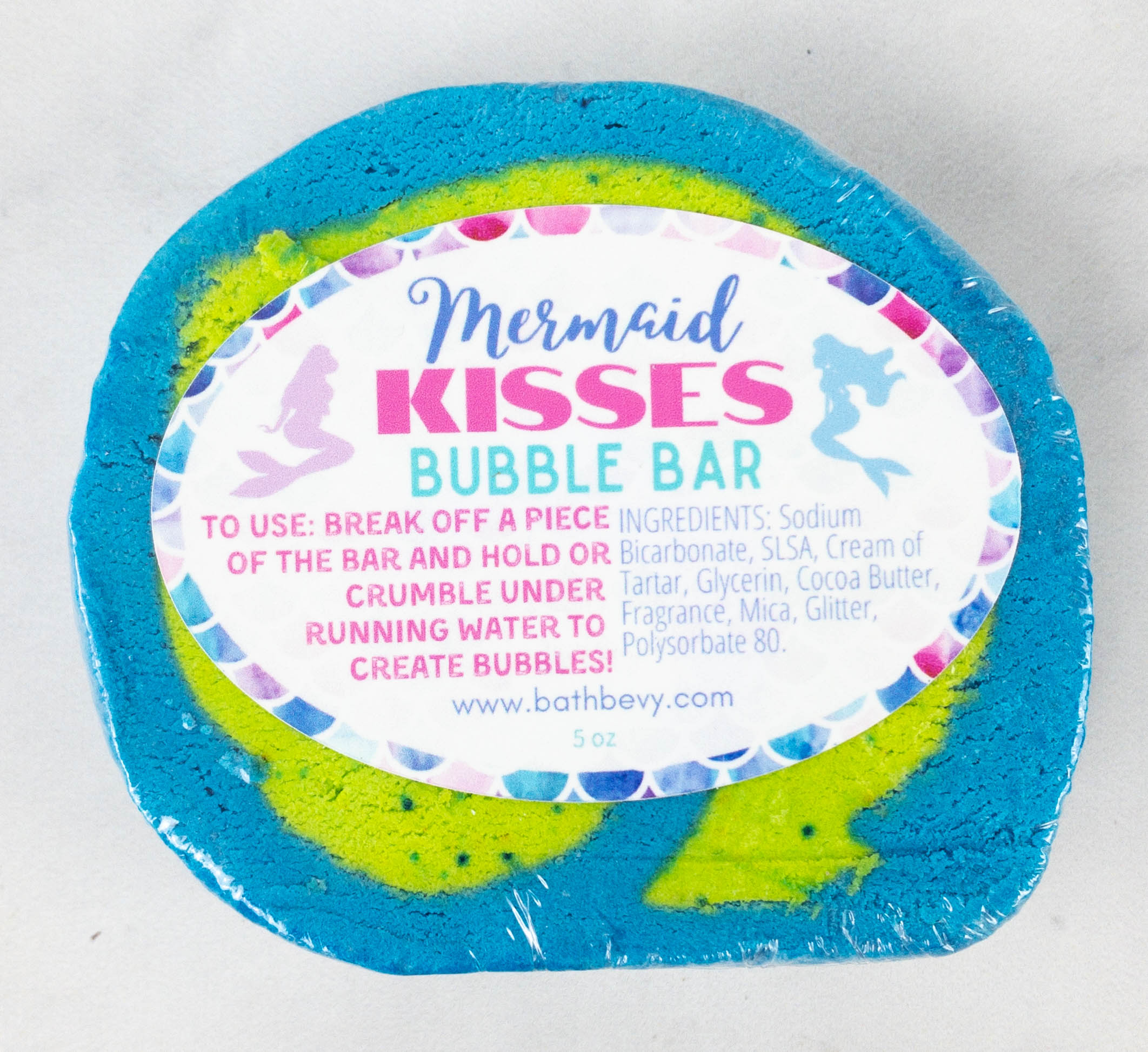 Mermaid Kisses Bubble Bar. The scent of this bubble bar reminds me of the shore where the sand meets the sea. Scent notes include ocean mist, sea moss, and dewy cyclamen petals, surrounded by geranium flower, mint, and coriander seed. It's so relaxing and calming!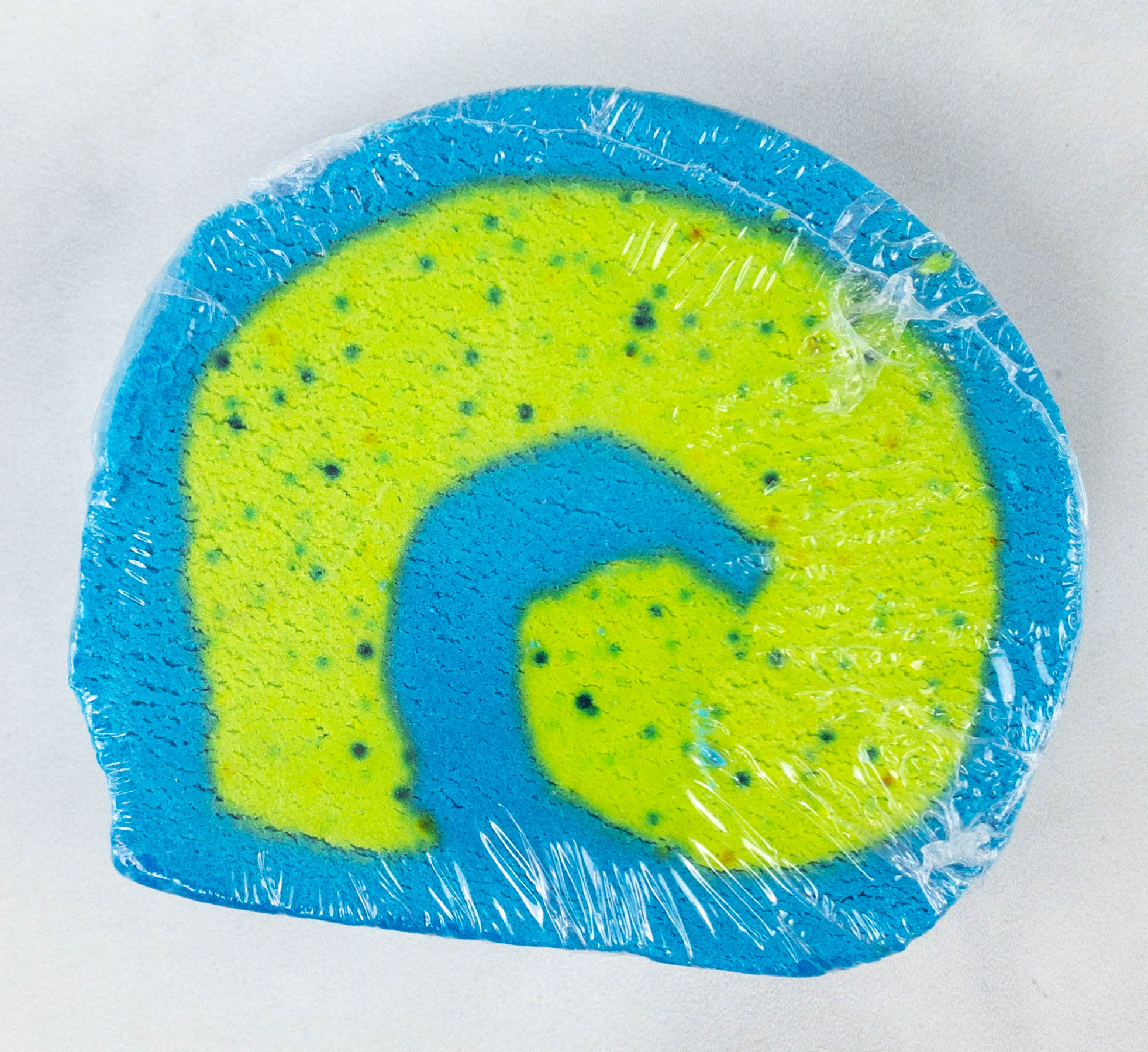 To use, just break a piece and run it through warm water. It produces a generous amount of bubbles, making bath time more fun. This whole bar can last from 2 to 6 baths.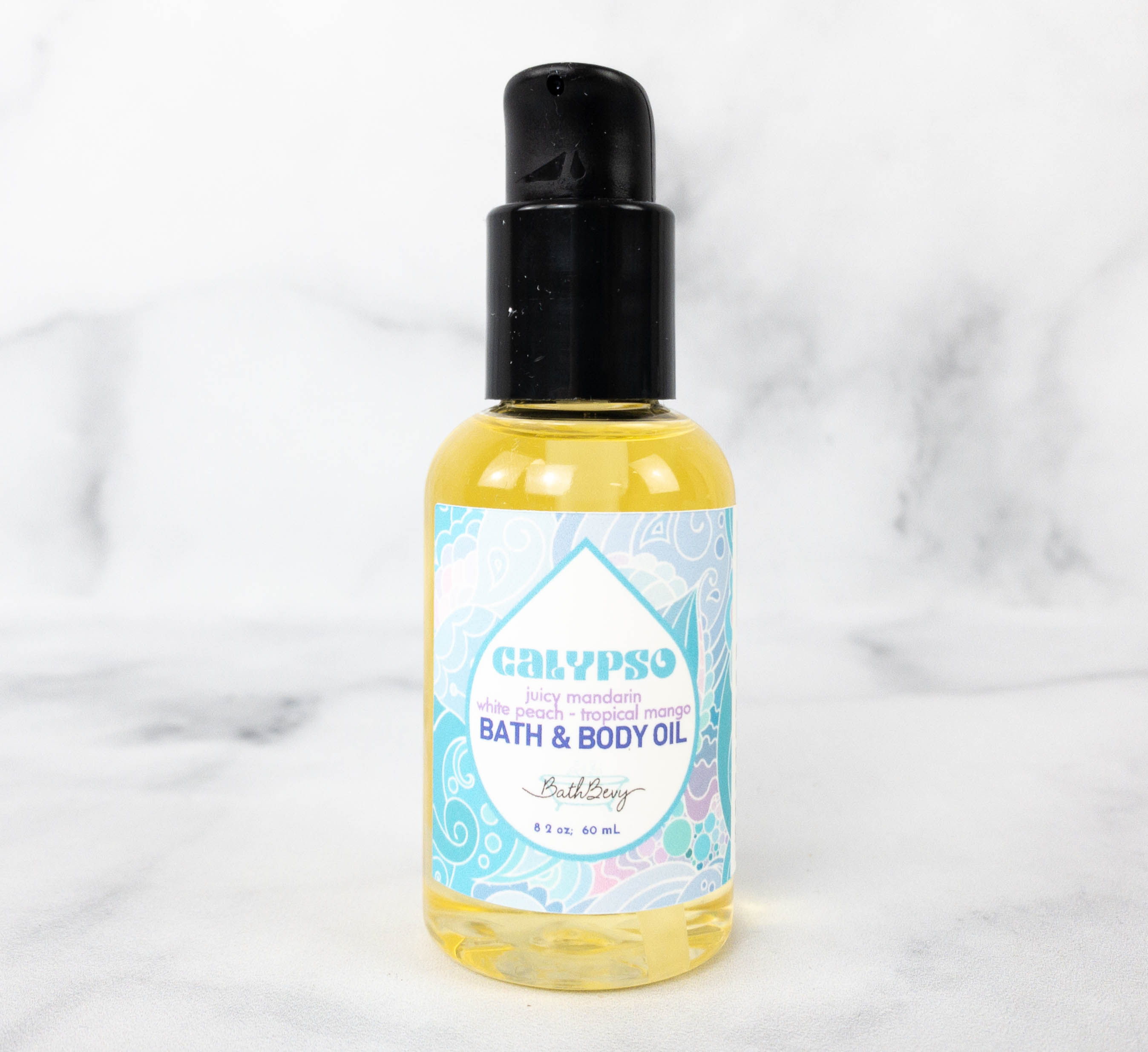 Calypso Bah & Body Oil. It's a bath and body oil, made with 9 different oils and infused with a blend of vitamin E and aloe. It helps keep the skin well moisturized and also protects it from free radicals. It also leaves my skin with a nice scent, which includes scent notes of juicy mandarin, white peach, and tropical mango. This item had a teensy weensy leak in the box but it didn't affect anything including the amount of product.
Sea Glass Bath Salt Shaker. To help relax tired muscles, here are bath salts infused with essential minerals such as sulfur, magnesium, and potassium. It has a lovely scent that makes me just want to soak in my tub longer! Scent notes include morning mist, lemon zest, precious blue lotus petals, and silken woods.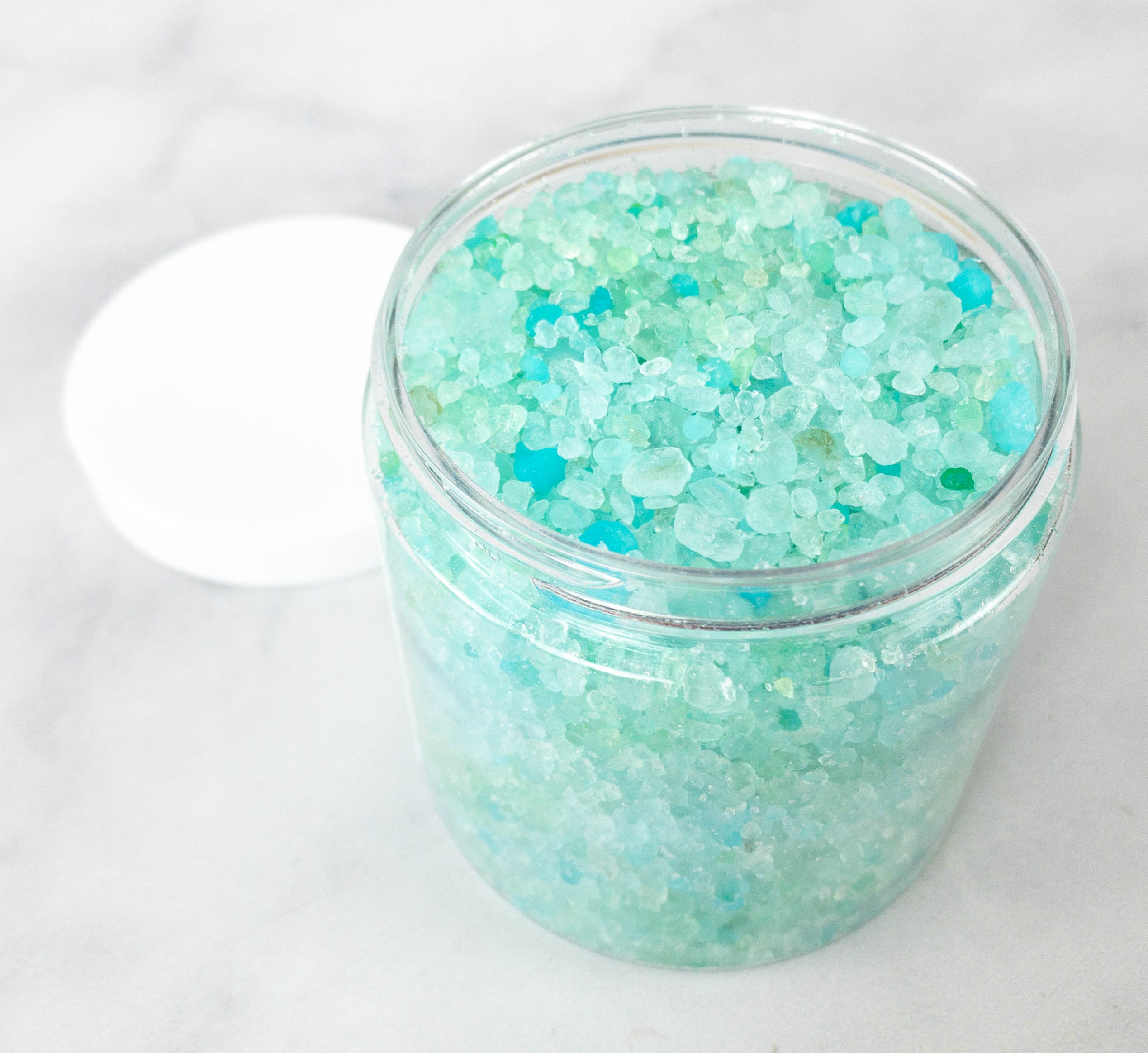 It's made with Dead Sea Salt which is known to have anti-fungal, anti-microbial, and anti-bacterial properties. It also has anti-inflammatory benefits that helps soothe the skin!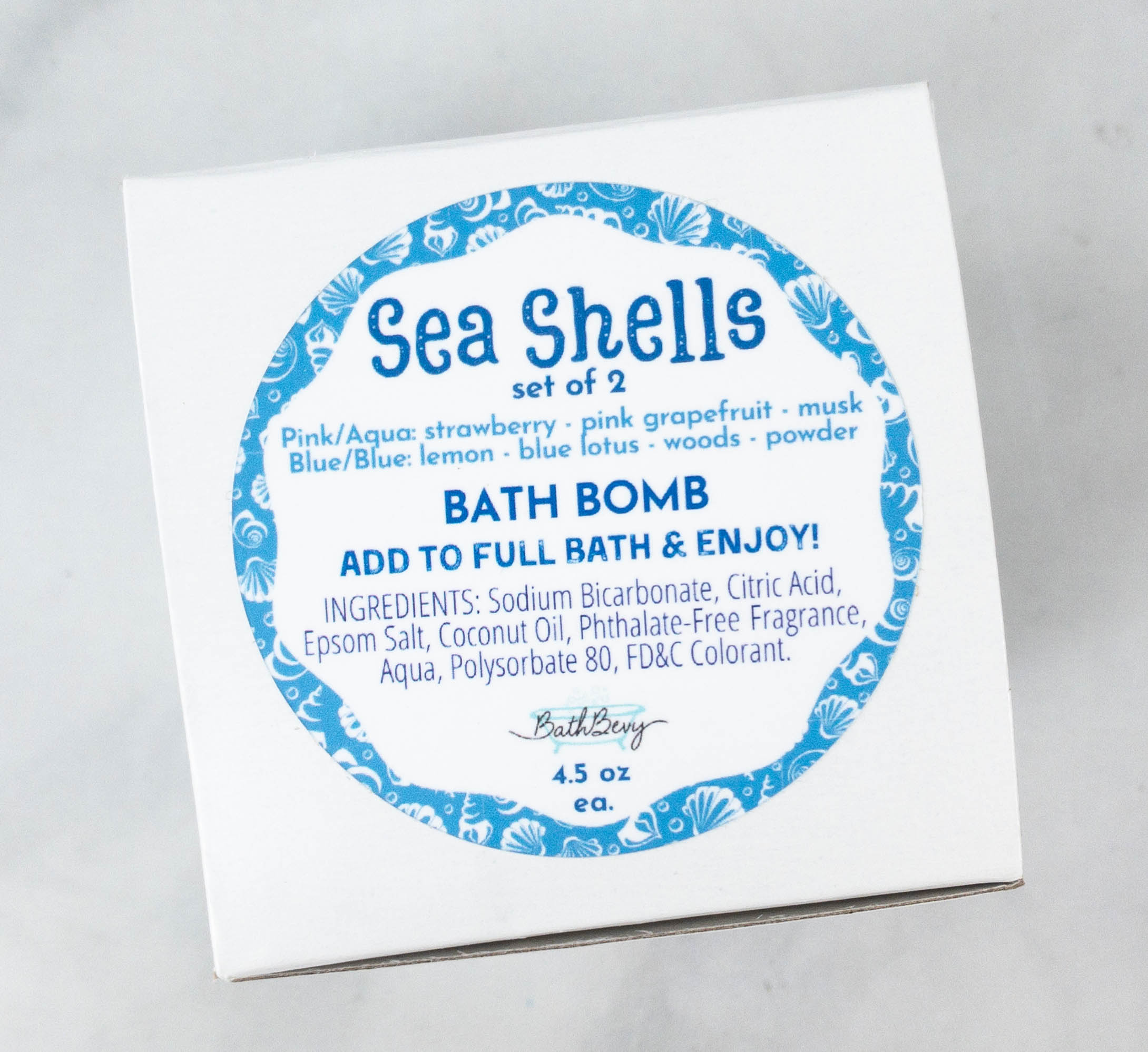 Sea Shells Bath Bomb. The pair of bath bombs were packed in their own box to keep them from breaking during shipping.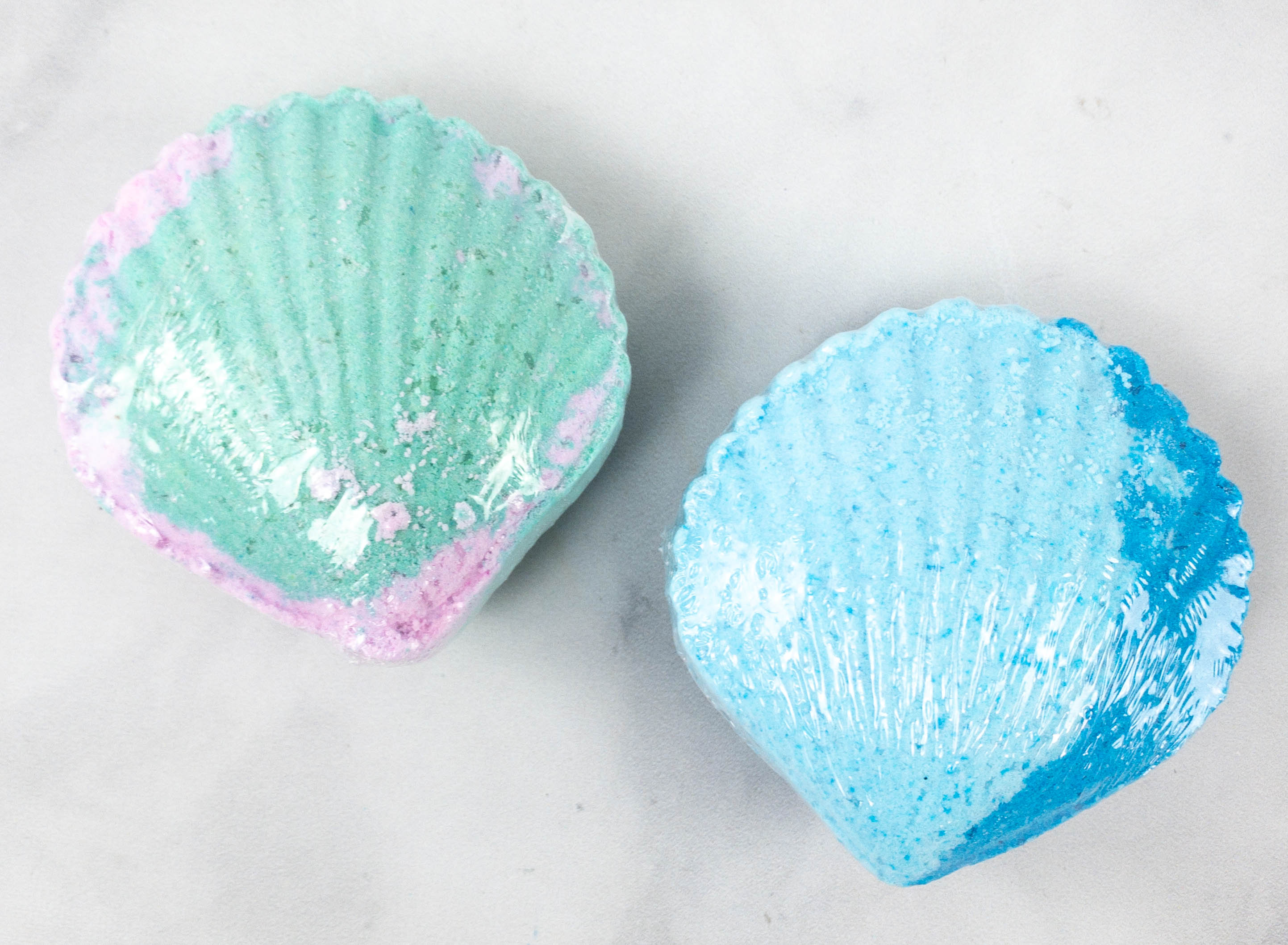 They're shell-shaped and they look so cute. One is in green and the other is in blue.
The blue bath bomb has notes of lemon, blue lotus, woods, and powder. It smells so refreshing! The pink one is on the fruity side, as it has notes of strawberry and pink grapefruit with a hint of musk.
Shark Encounter Bath Bomb Cupcake. Here's another bath bomb and it also came in its own box packaging for extra protection. This is a 2-in-1 product as it contains both a bath bomb and a bubble bar.
It's a super cute shark! Shaped like a cupcake, it has the bubble bar as the frosting and the cupcake as the bath bomb. Of course, it also smells really good. Scent notes include juicy blueberry, raspberry, grape, strawberry, and peach!
Vitamin Sea Bath Bomb. Here's another bath bomb and I'm not complaining!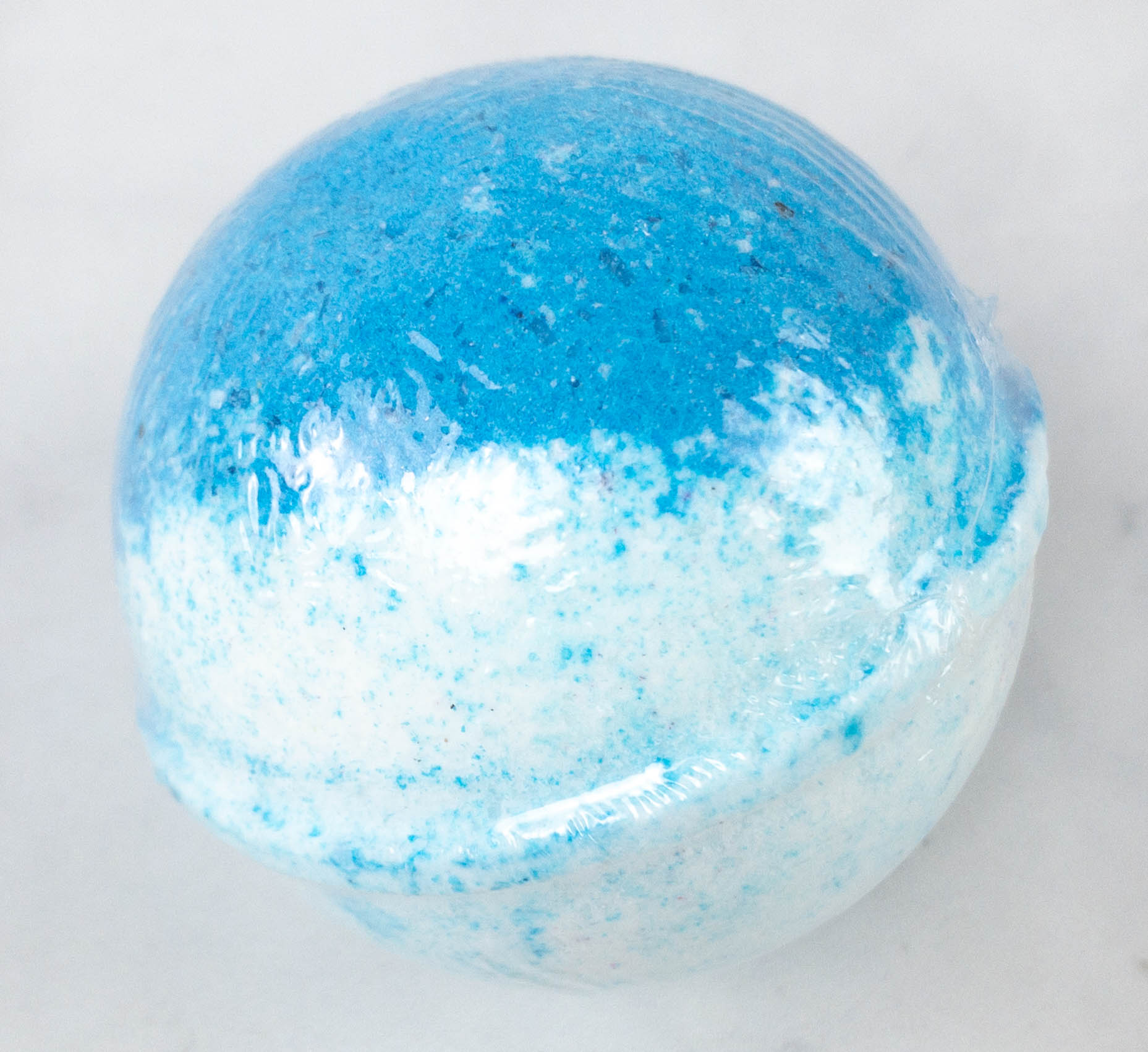 This classic bath bomb features notes of ozone, sea salt, orange, and rose, which reminds me so much of a stroll by the sea. The blue and white color of the bath bomb is also pretty!
This is another fun box from Bath Bevy! There's not just one but 4 bath bombs in the box, plus a bath oil, a bubble bar, and a tub of bath salts. Everything is sea-themed, and the scents are on point! If I have to choose a favorite among all the bath items, it would be the Dead Sea Salt shaker. It's easy to use and it's a great way to soothe the senses. Overall, this was another well-thought-out box, from the theme to the content itself! If you're looking to make bath time fun and exciting, this is the subscription for you! Don't have a tub? Don't worry because they have a Tubless option as well!
What do you think of this month's Bath Bevy box?