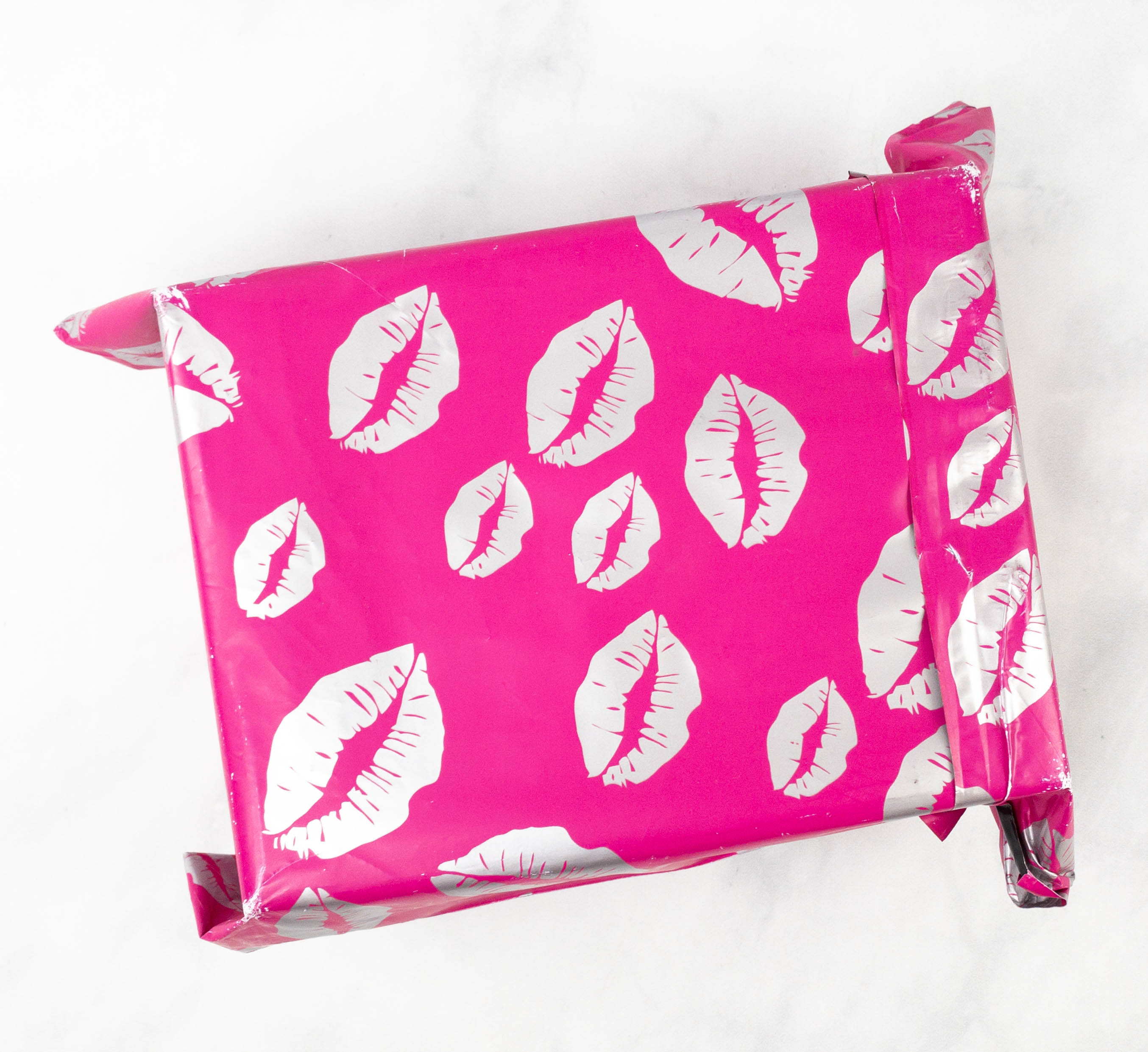 Babacorn-Bricks Box is a UK-based monthly LEGO subscription. Each box contains 5 LEGO mini-figures in surprise bags and at least 5 other items which may include LEGO construction sets, polybags, more mini-figures and brick themed stationery, gifts, accessories, stickers, sweet treats, toys, handmade goodies, and more! The subscription is £17.95 a month + £15.95 shipping to the US.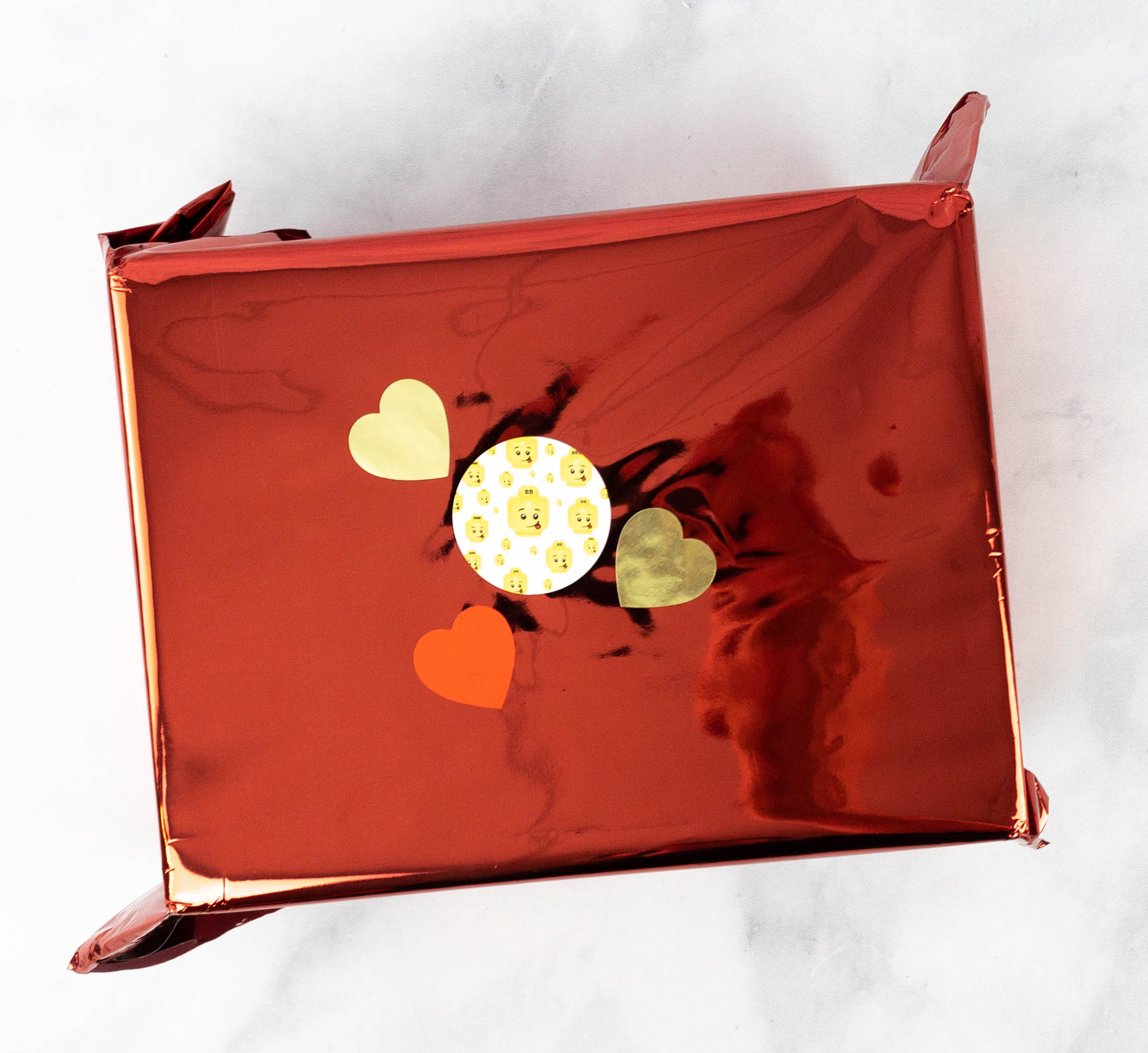 The box was wrapped with metallic red foil.
It also has a Babacorn-Bricks sticker on it, surrounded by heart stickers.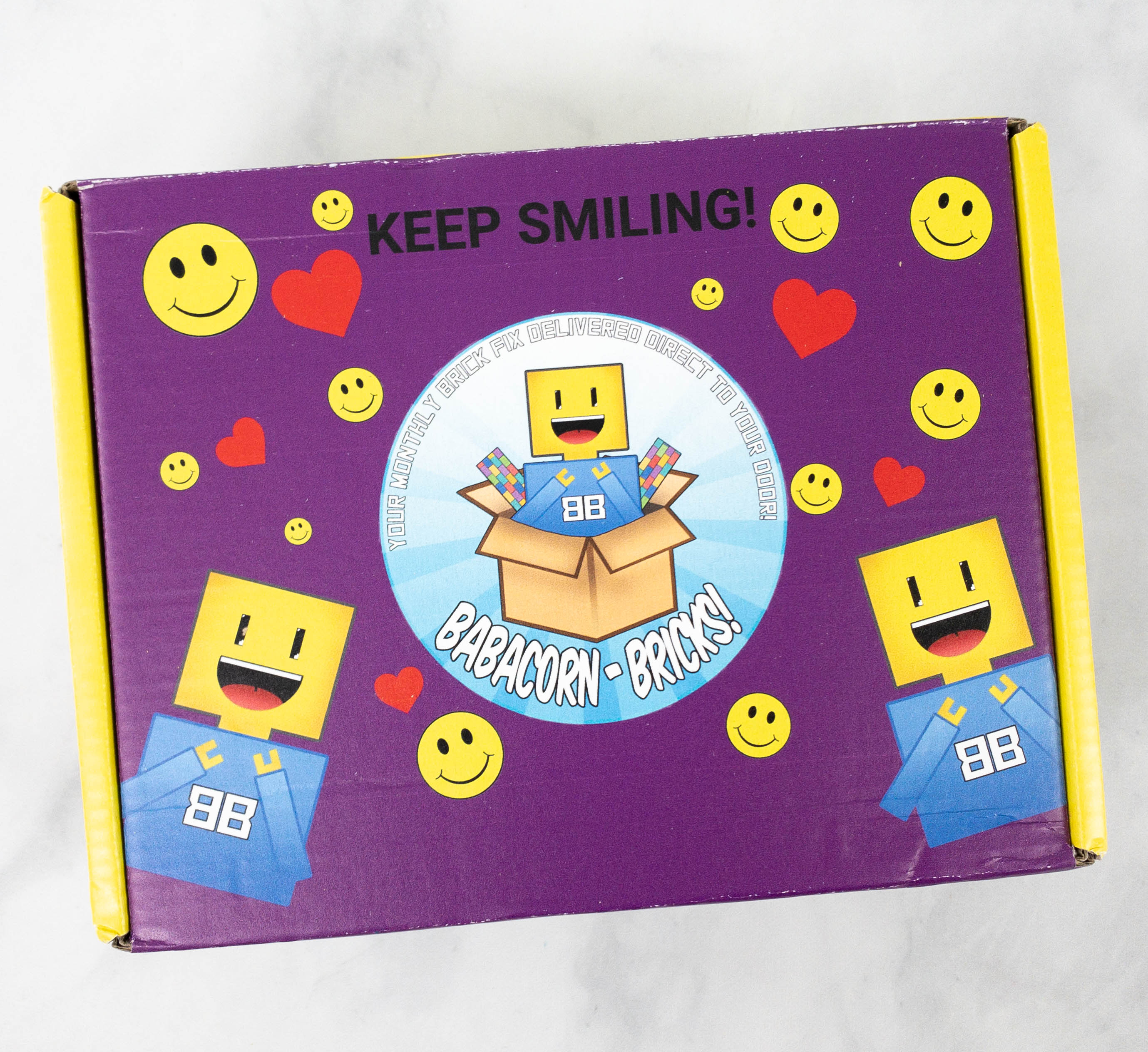 The box itself is so cute and colorful!
A booklet sits on top of all the items in the box.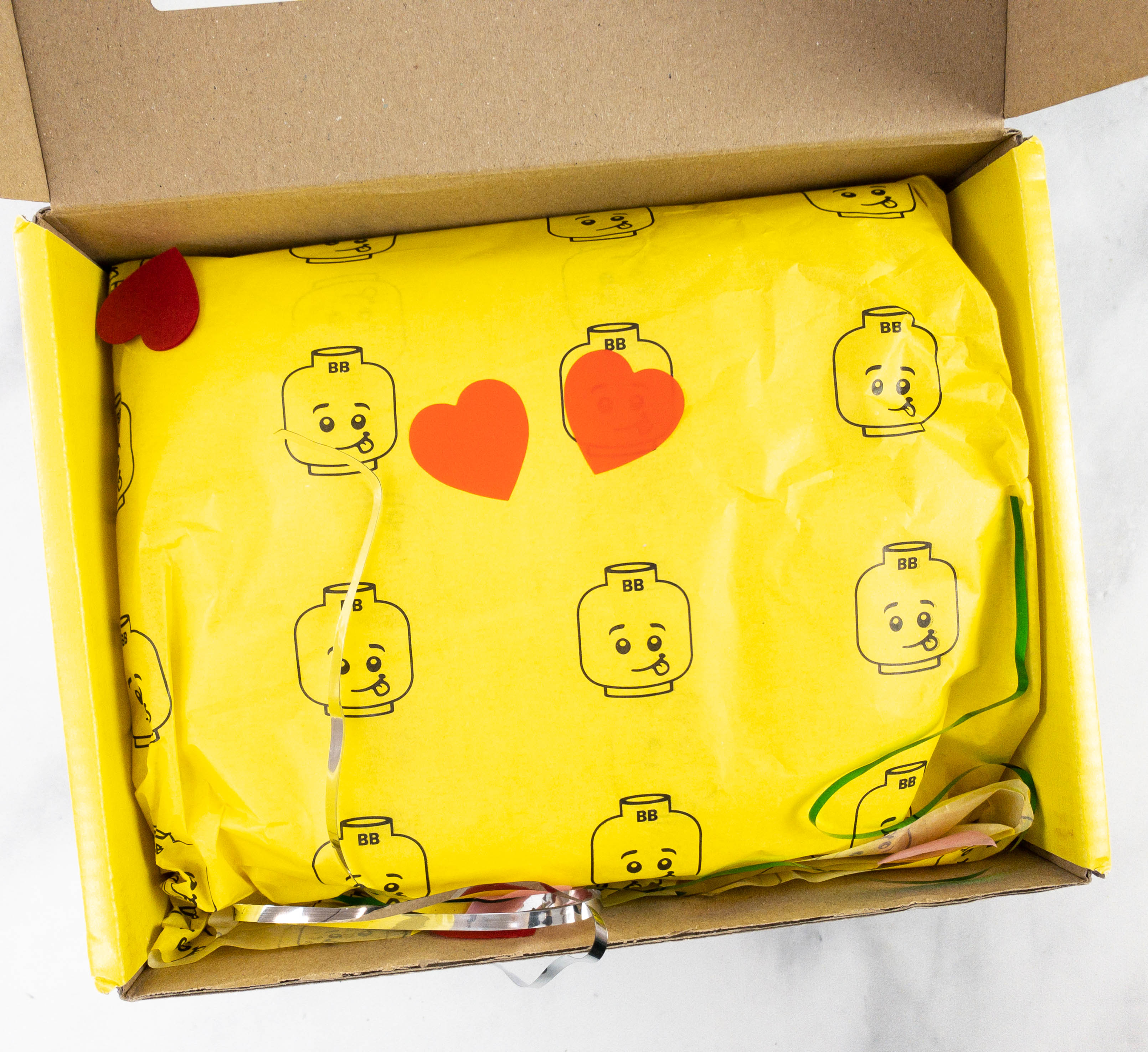 All the items were wrapped in yellow paper with a Babacorn-Bricks print.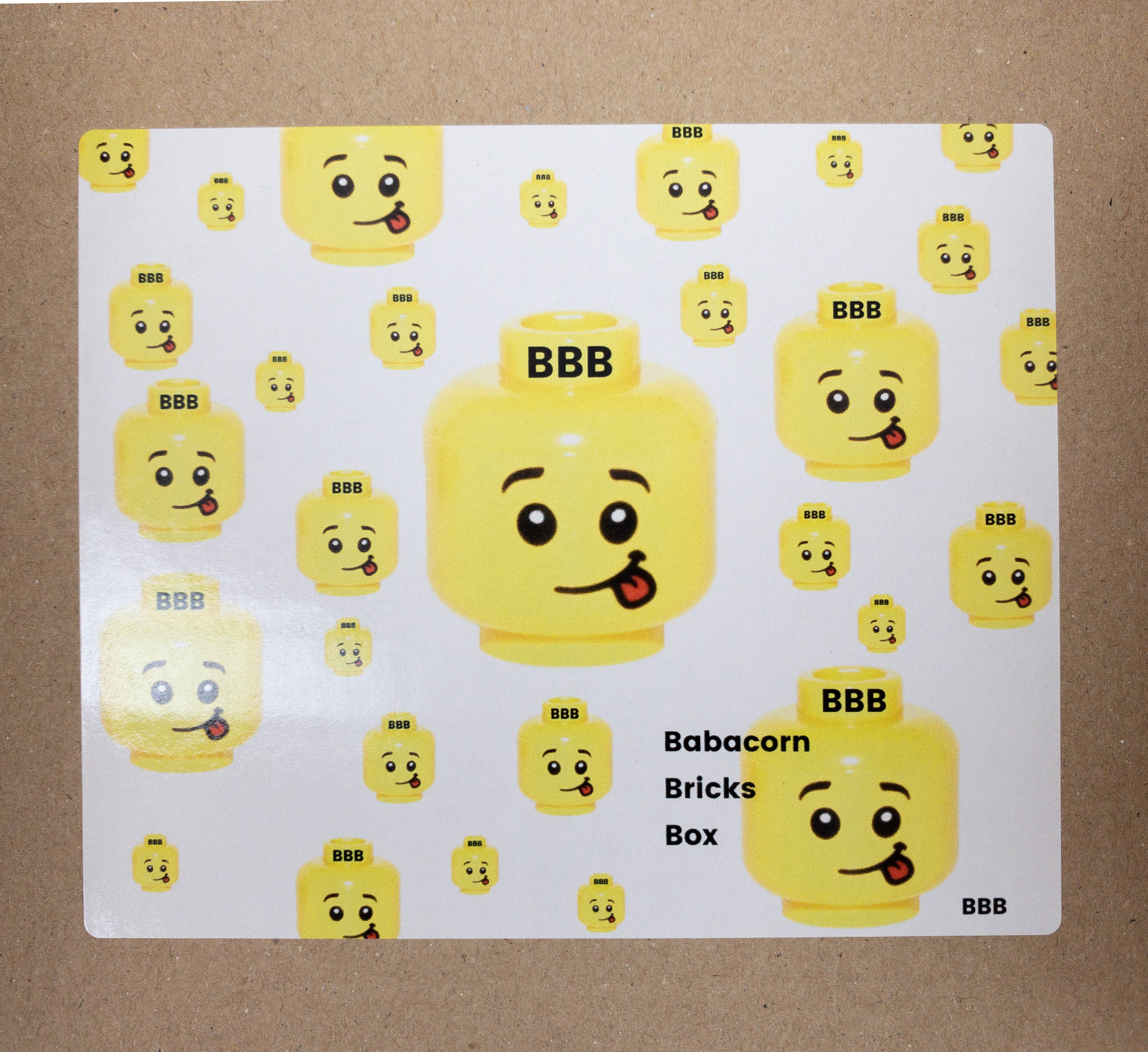 There's also a Babacorn-Bricks sticker at the inner part of the box's cover.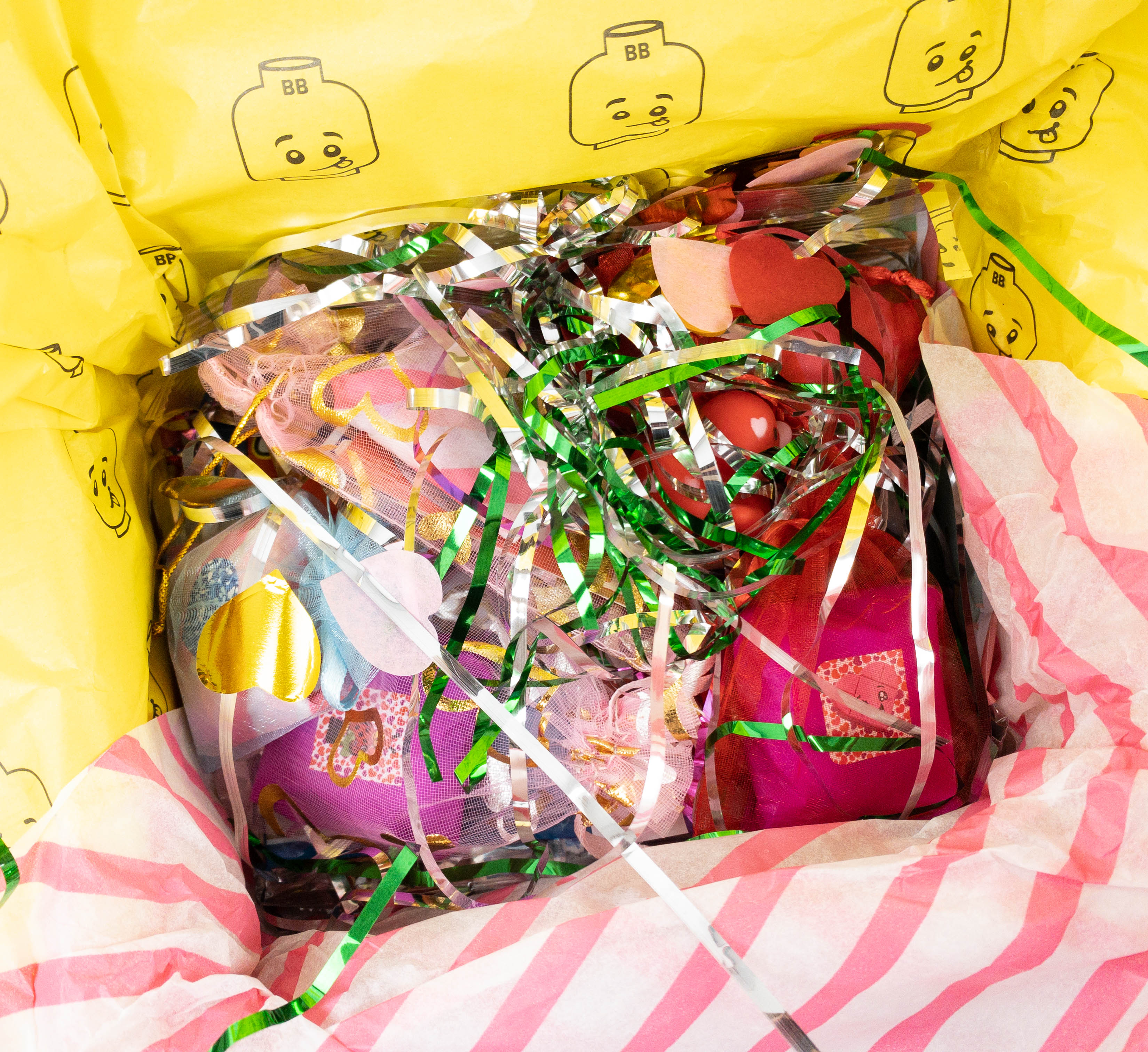 Some of the items came in surprise packs. They were also cushioned with colorful foil strips!
The February 2021 theme is LOVE TO CREATE.
An information card lists all the items in the box this month.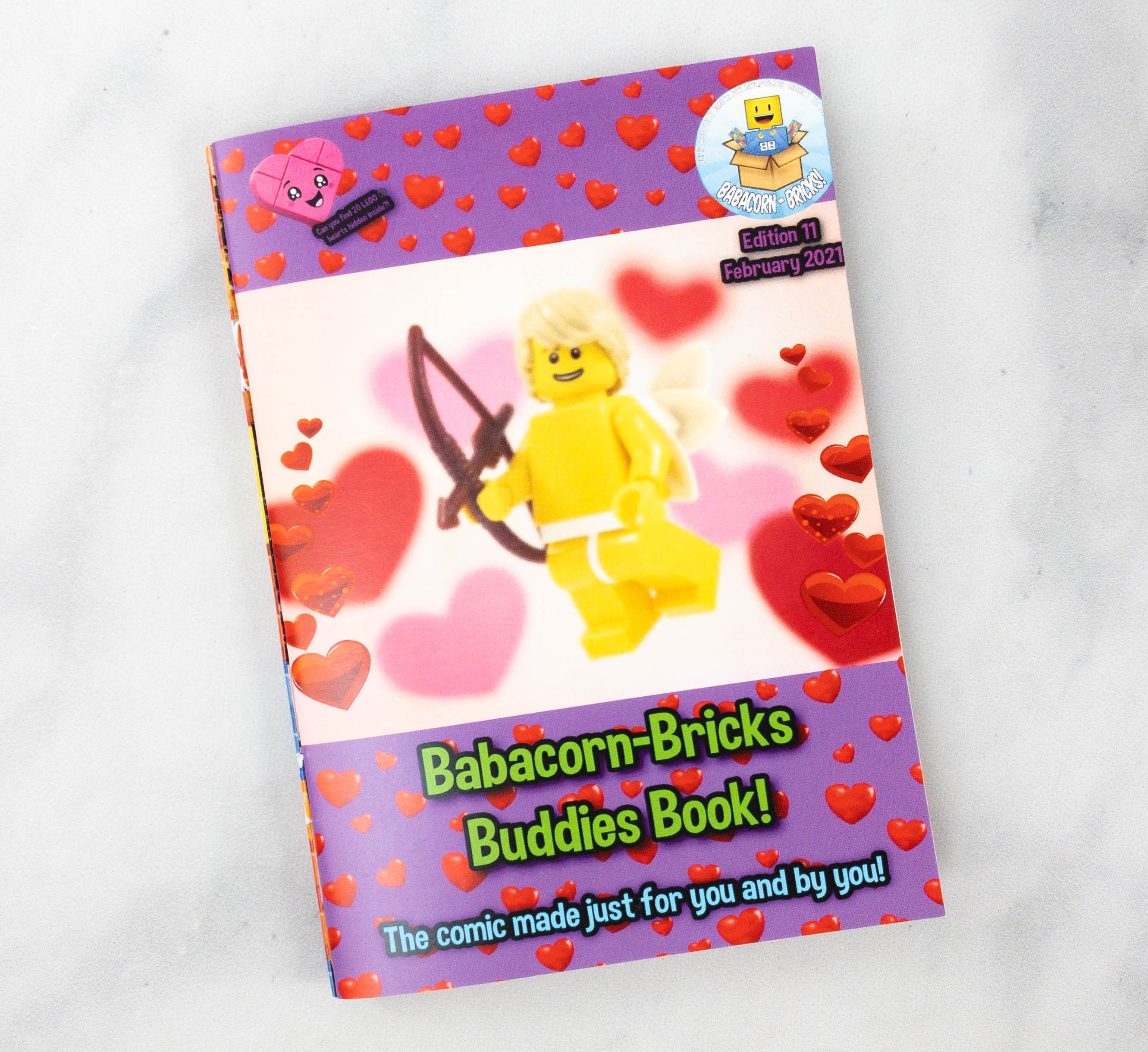 There's also a booklet which they call the Babacorn-Bricks Buddies Book!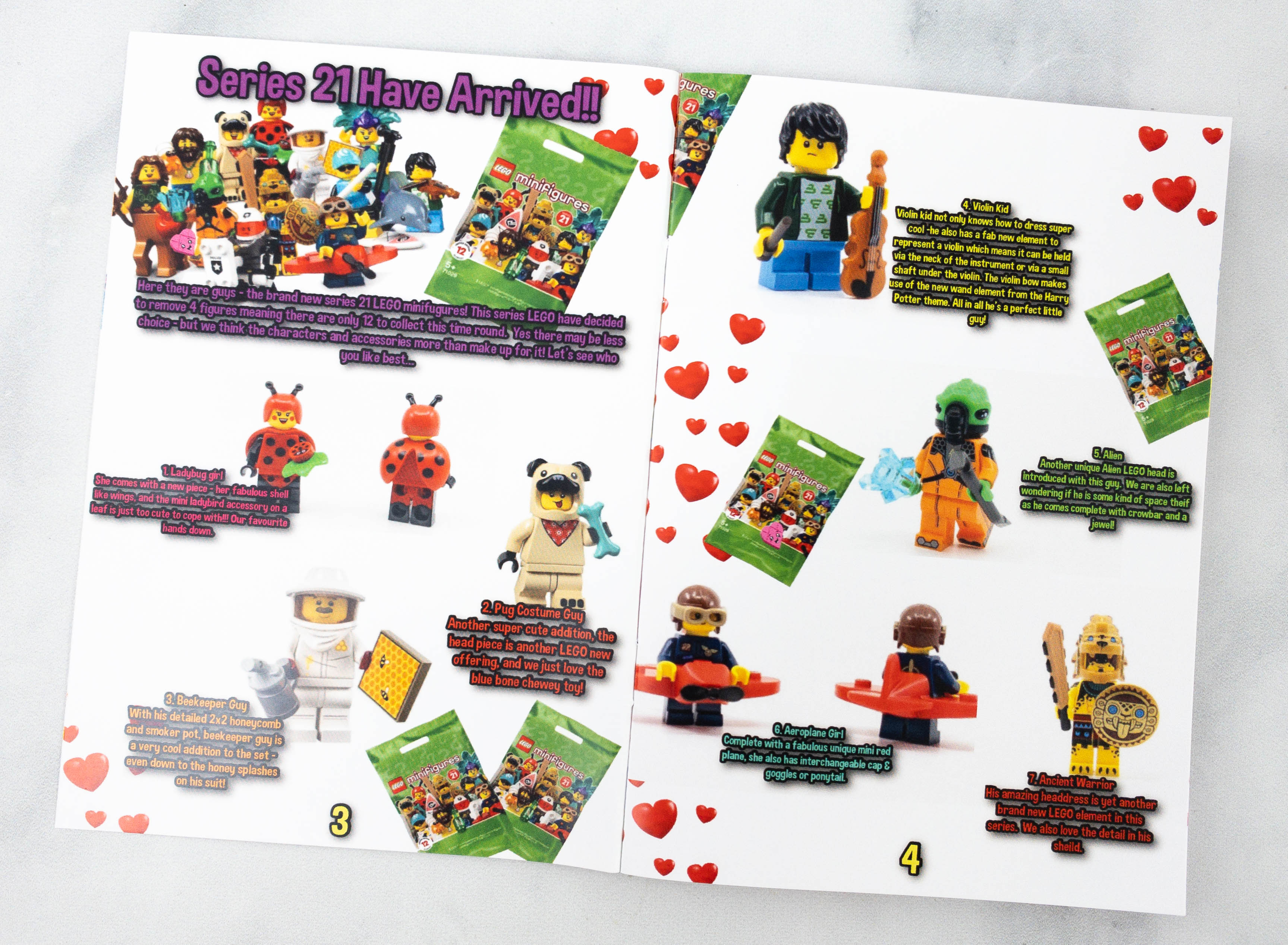 It features Babacorn-Bricks Series 21 collection.
On this page is a fun word search game, and beside it is an inspiring story from the makers of Babacorn-Bricks Box.
More items from Series 21 are shown on other pages of the booklet.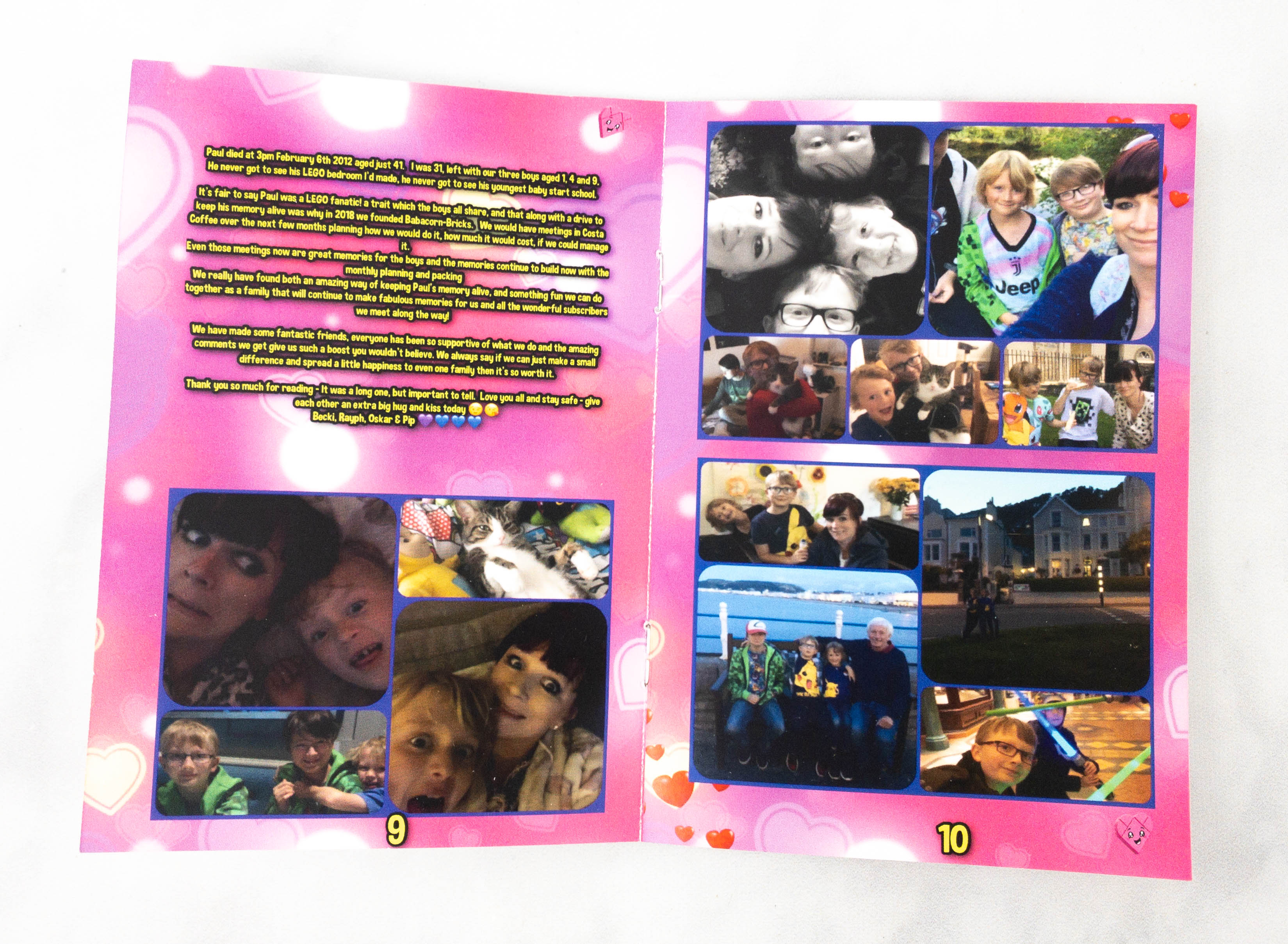 The next pages are filled with more fun pictures!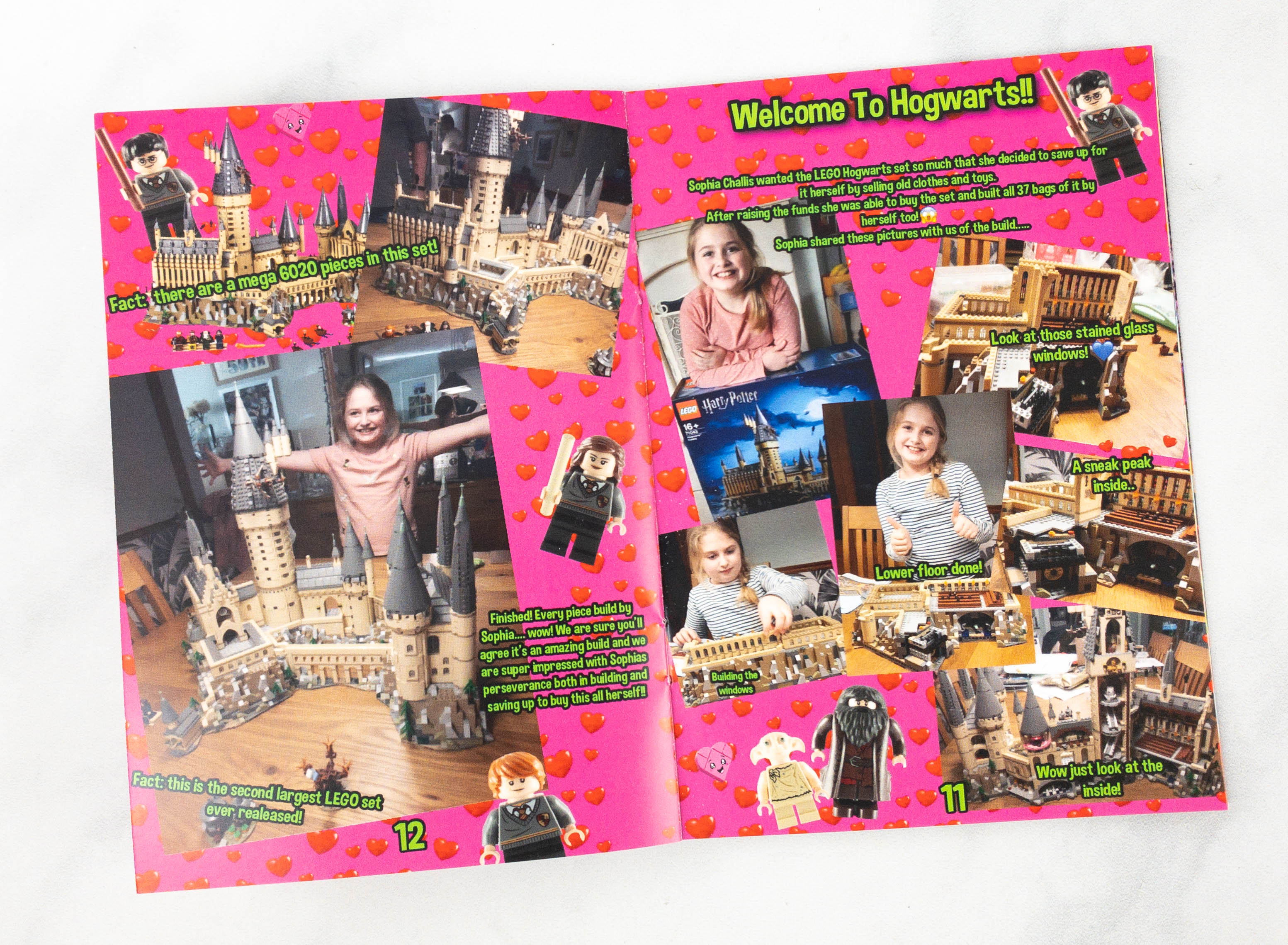 Featured on this part of the booklet is a Hogwarts model comprised of 6,020 pieces. This is the second largest LEGO set ever released!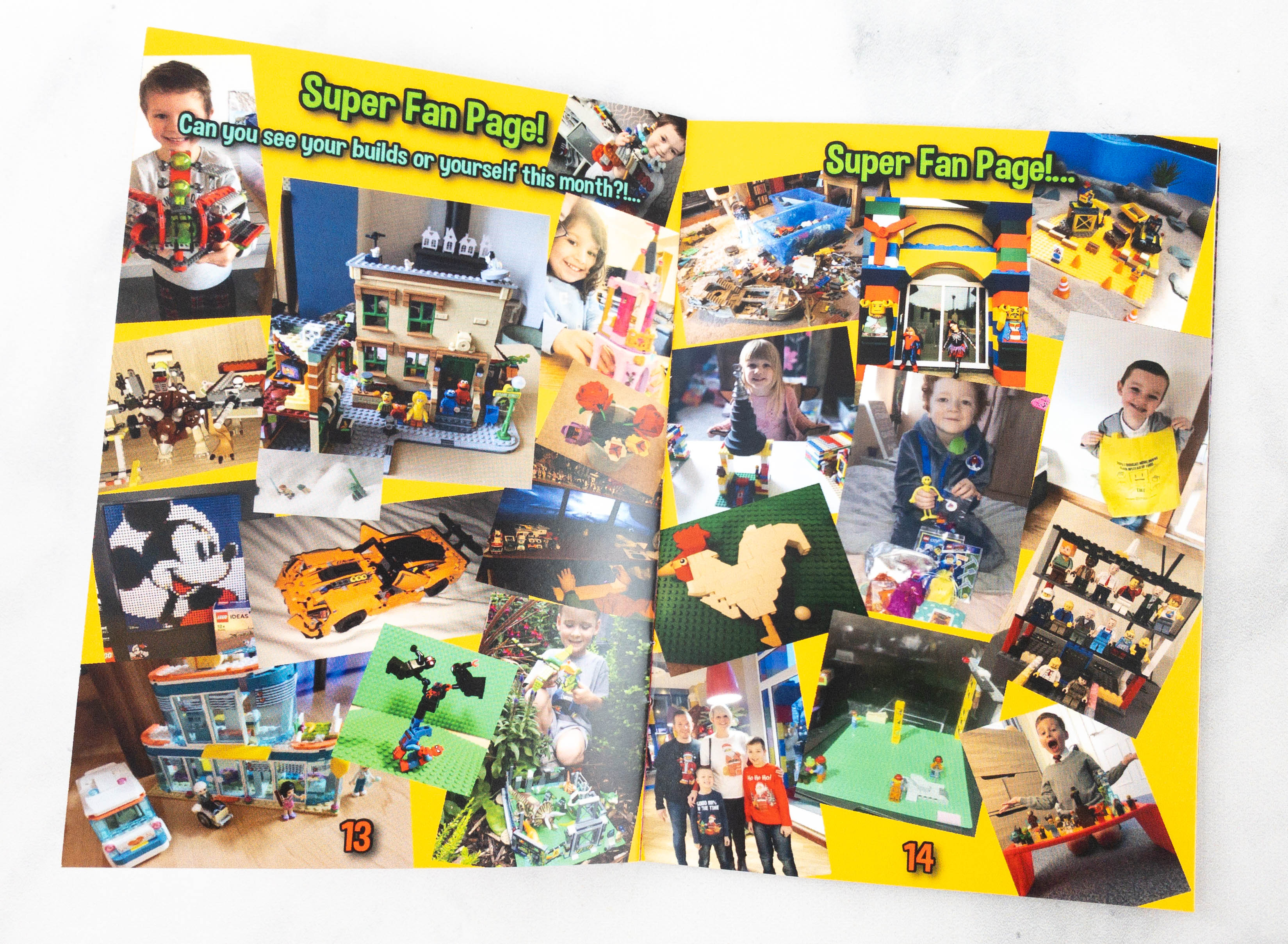 Here are more photos from LEGO super fans!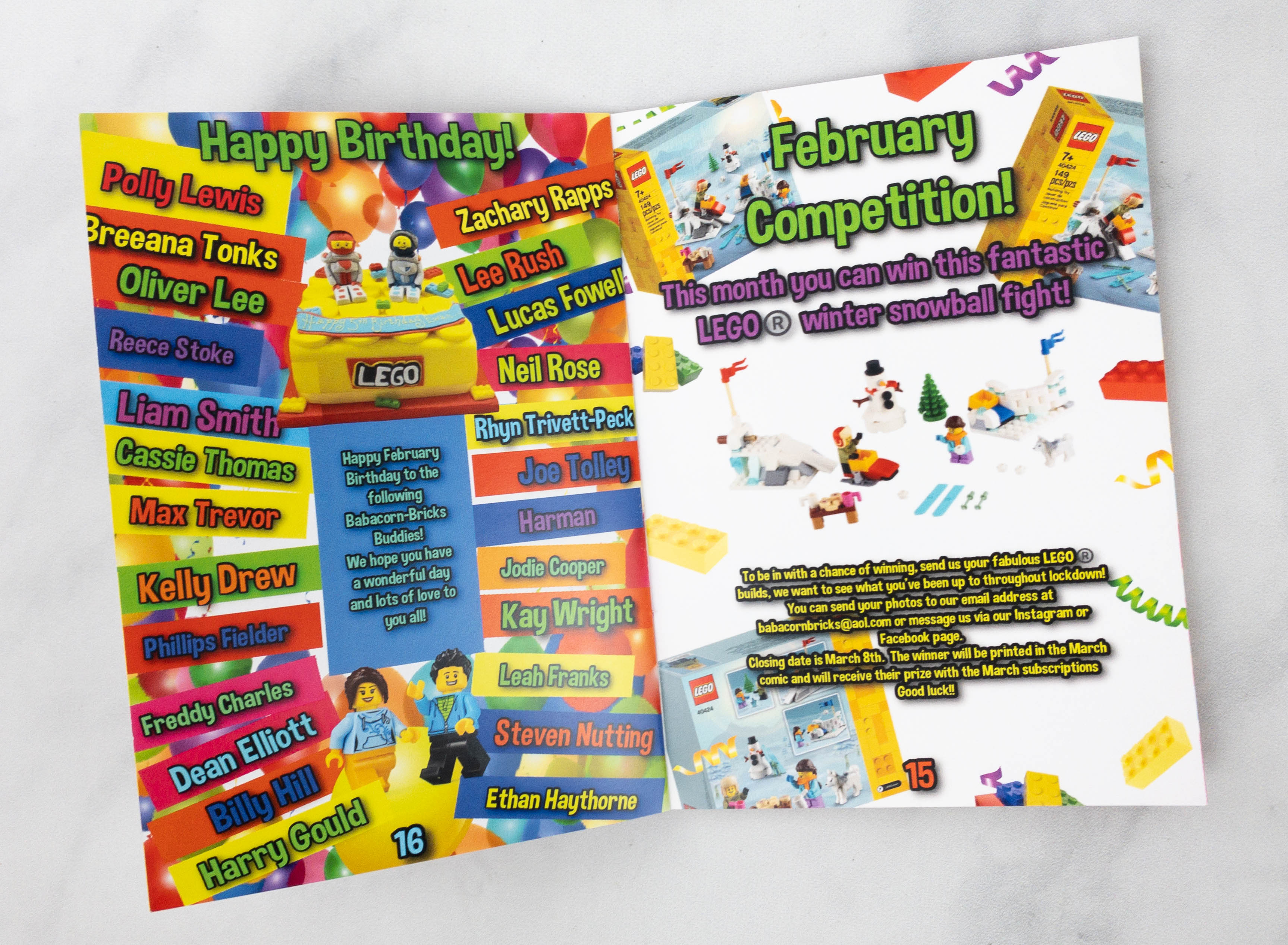 It also included a list of birthday celebrants for February.
The next article explains how Babacorn-Bricks helps save the planet.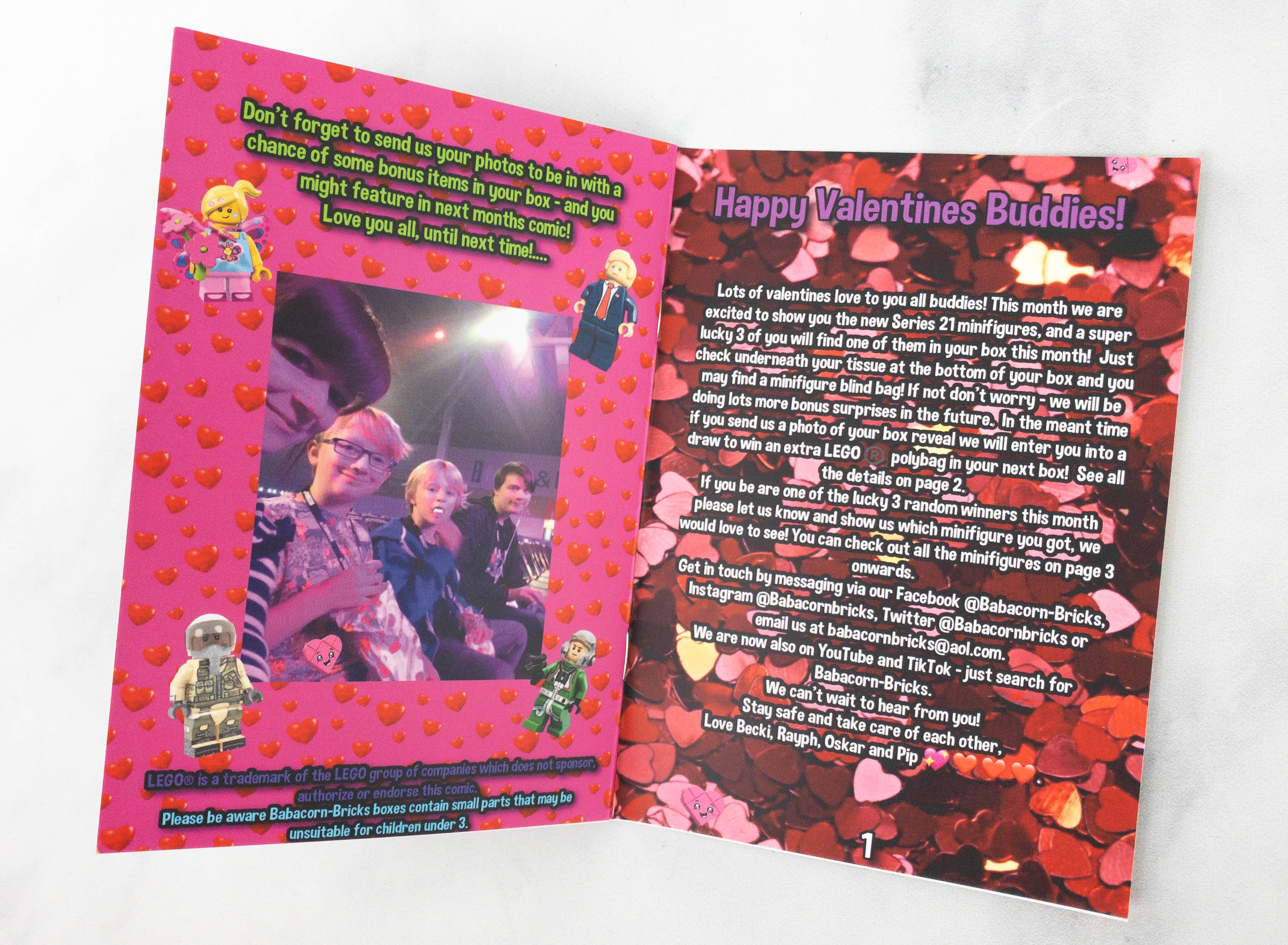 Subscribers can send photos and get a chance to be featured in next month's booklet.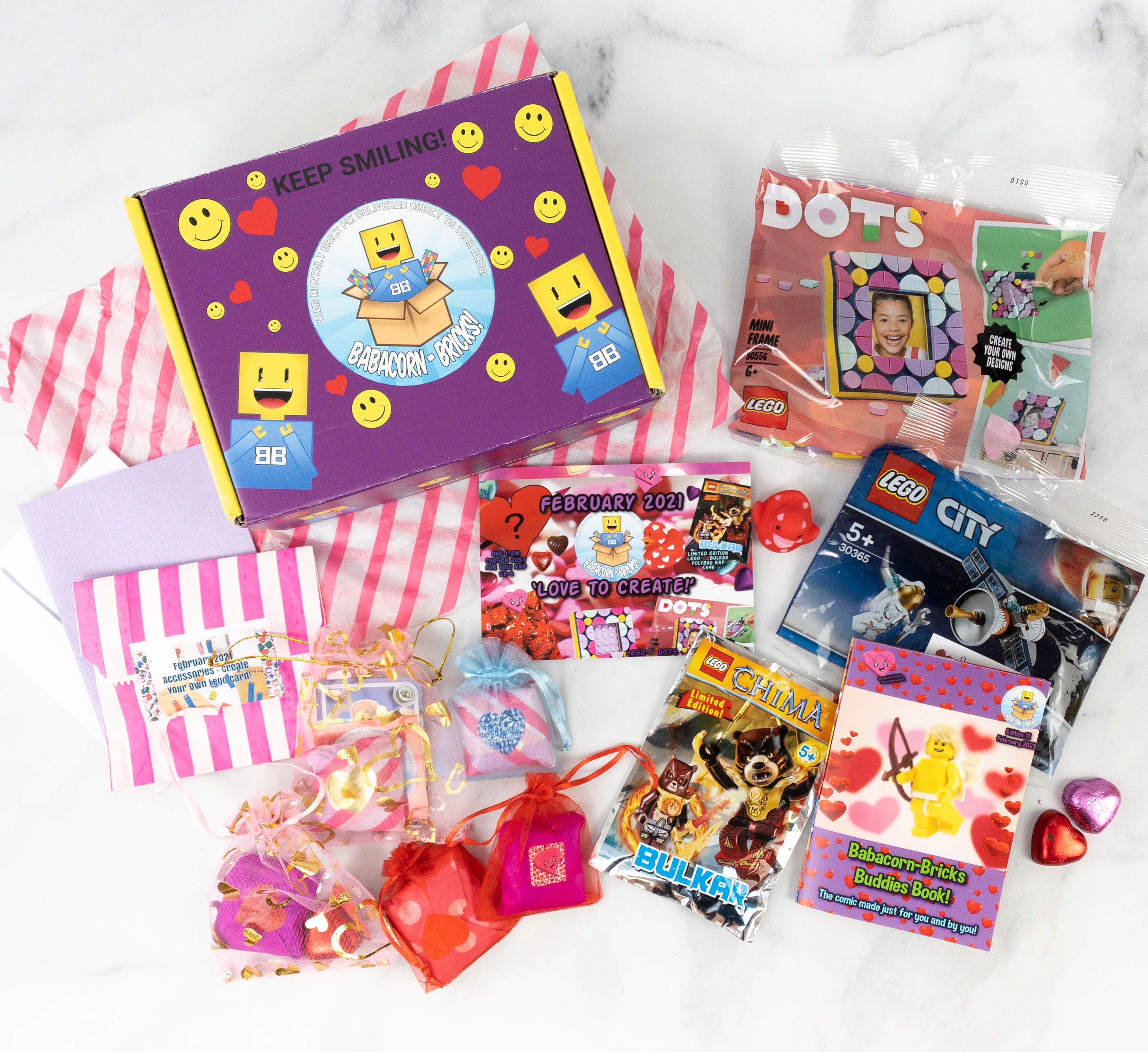 Everything in my box!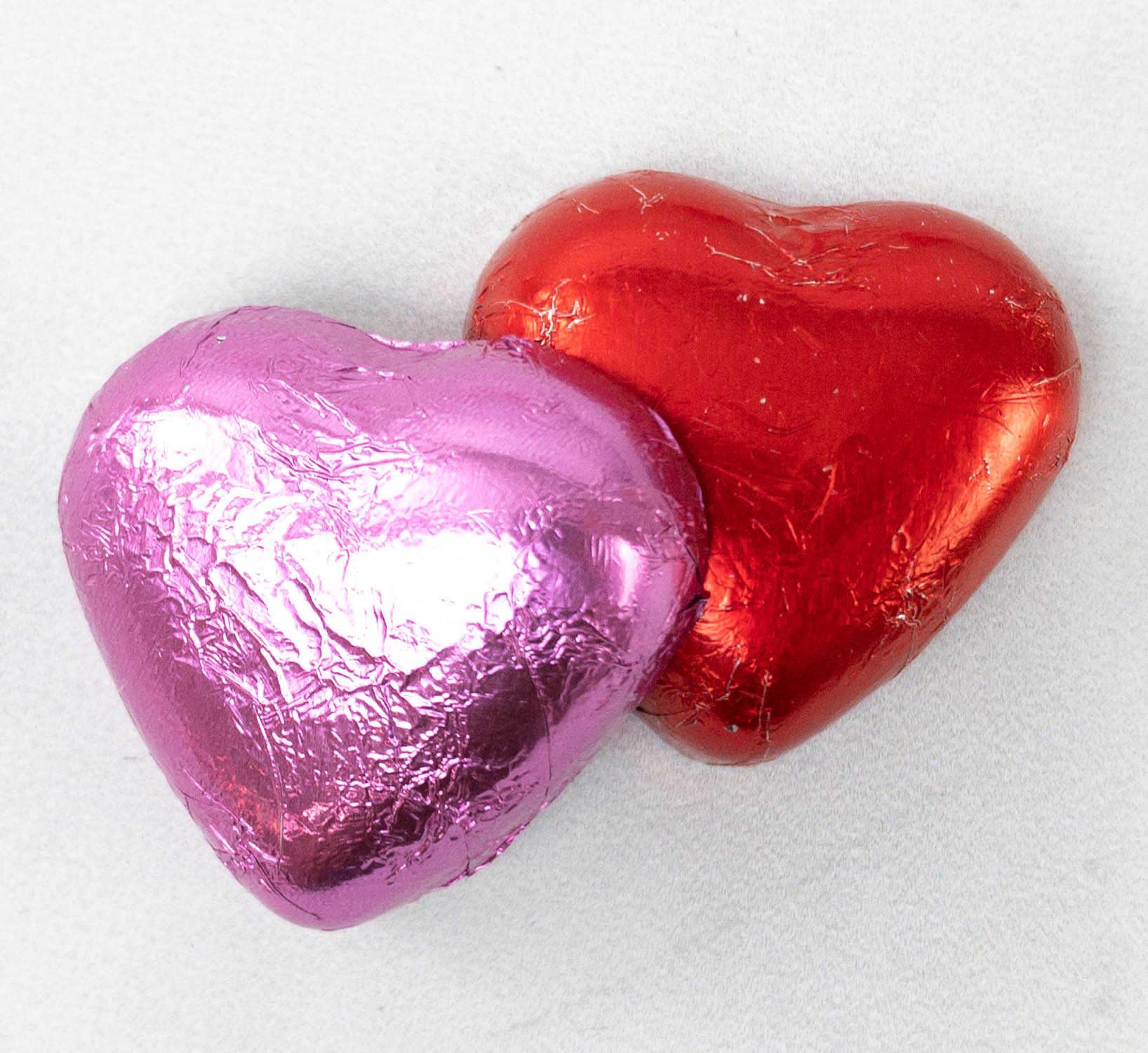 My day just got sweeter with these 2 heart-shaped chocolates!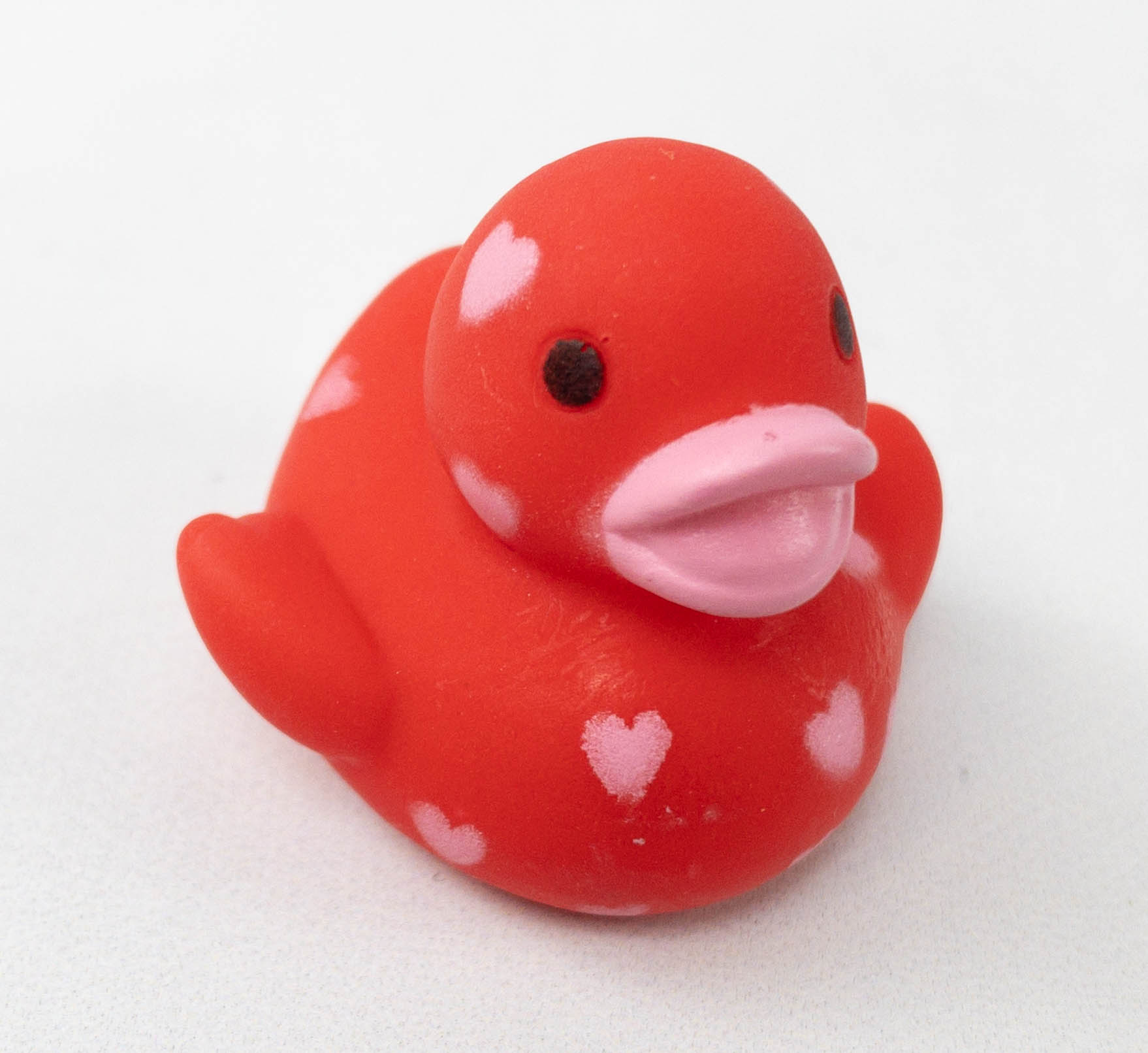 Another bonus item is this red Valentine duck!
Inside this envelope are the materials for making a Lego card.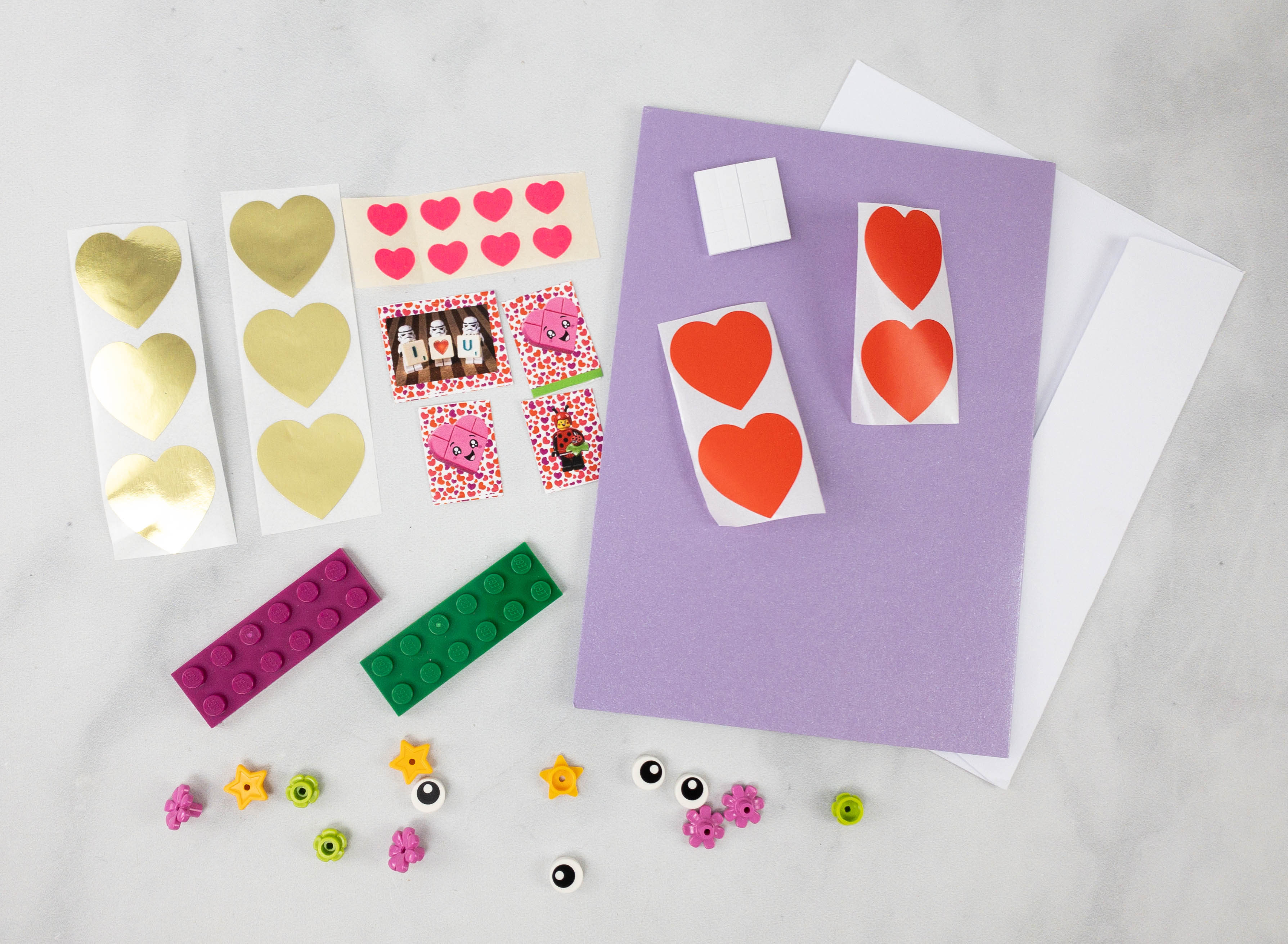 It included a lot of fun stickers and embellishments, as well as the card itself and the envelope.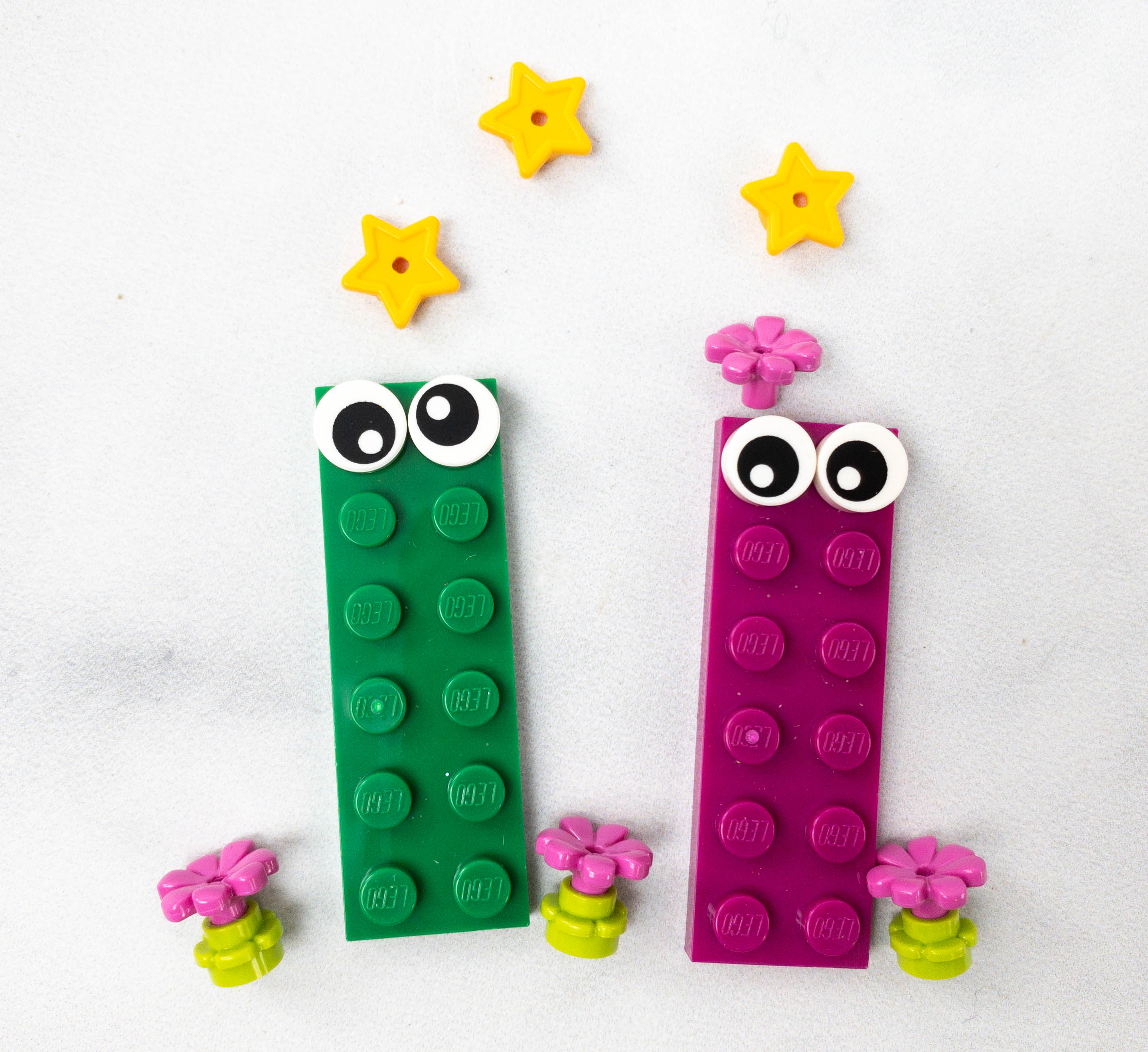 The eye pieces can be attached to the LEGO strips and they're really cute!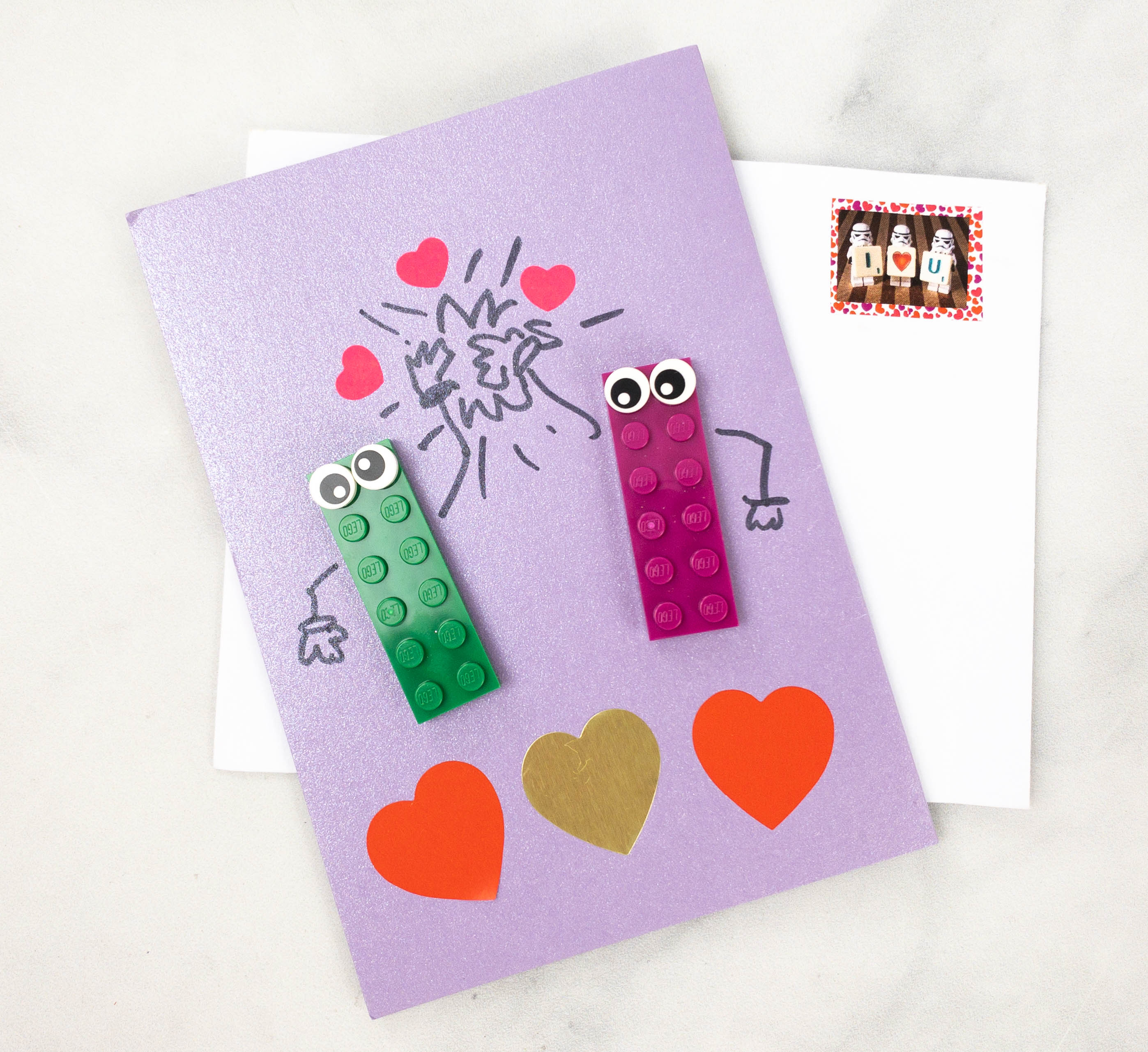 My kids helped in making this card and it turned out great! The Lego pieces are giving each other a high five, and there are also small and big hearts on the card.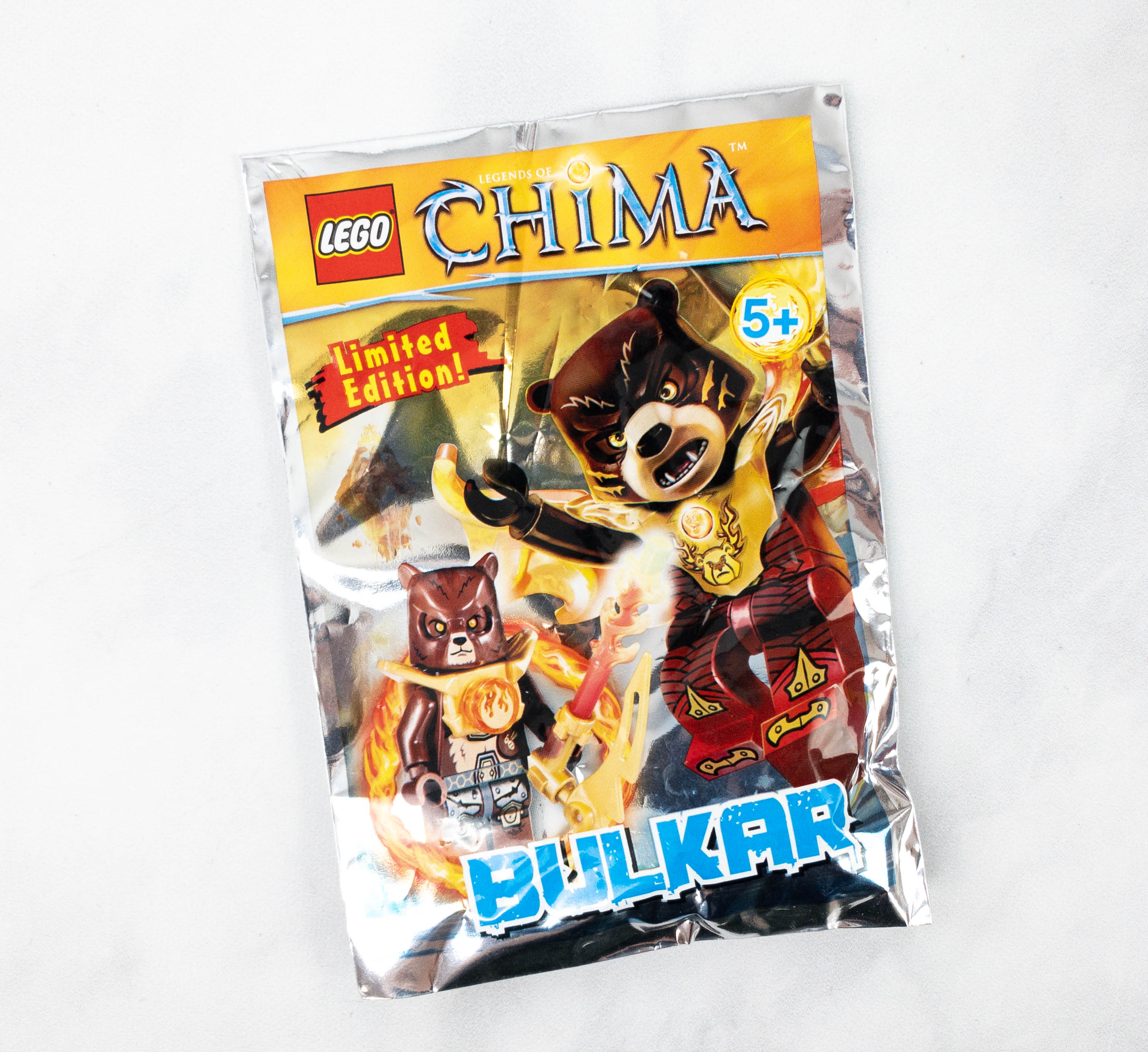 Limited Edition LEGO Bulkar Polybag. It's a limited edition Bulkar figure from Legends of Chima, a TV series where the lands are ruled by animals. They walk, speak, drive vehicles, use machines, and live in castles like humans. This character is a scout warrior from the Bear Tribe.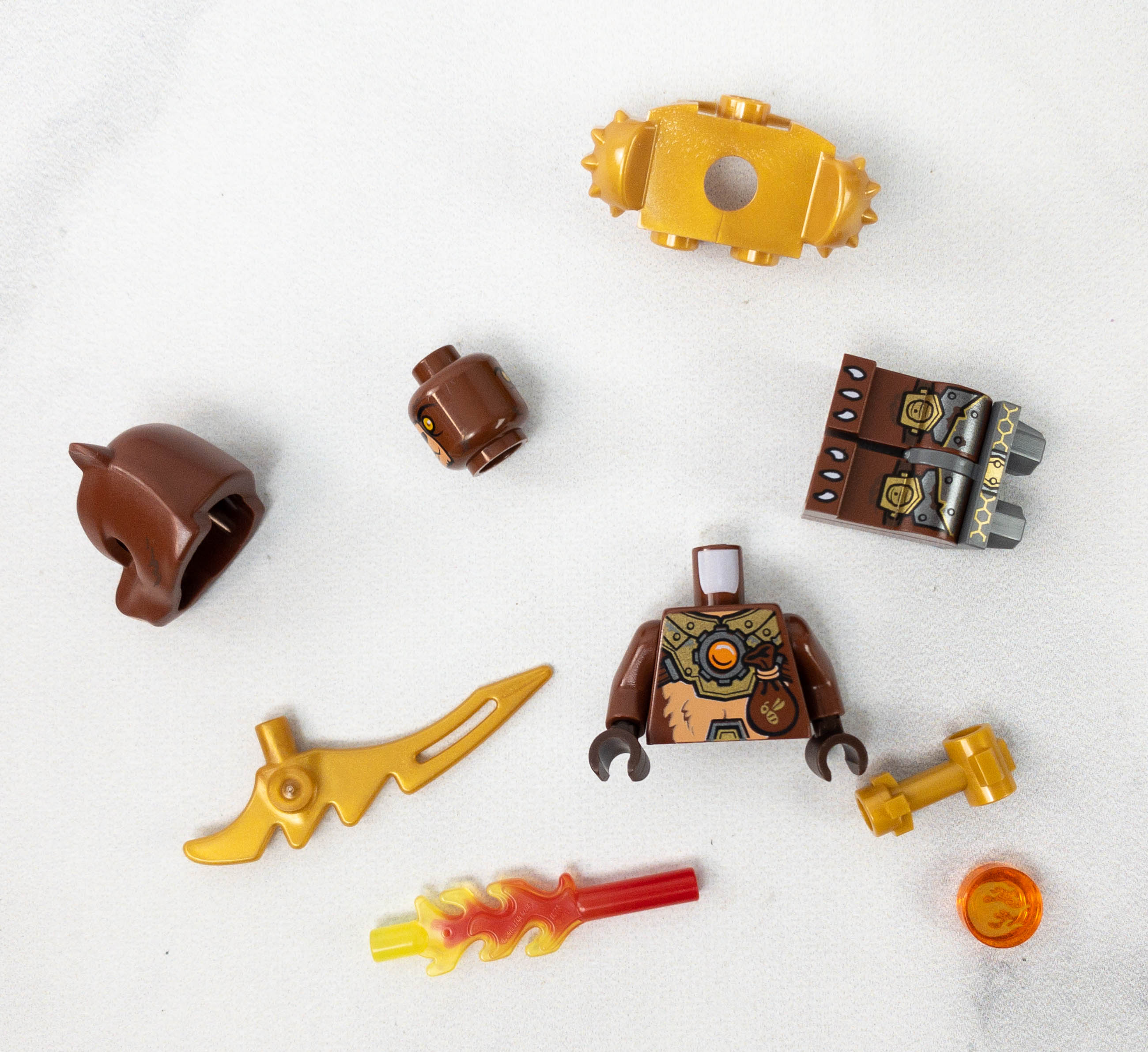 Here are all the pieces needed to make Bulkar. It also comes with parts to make his weapon.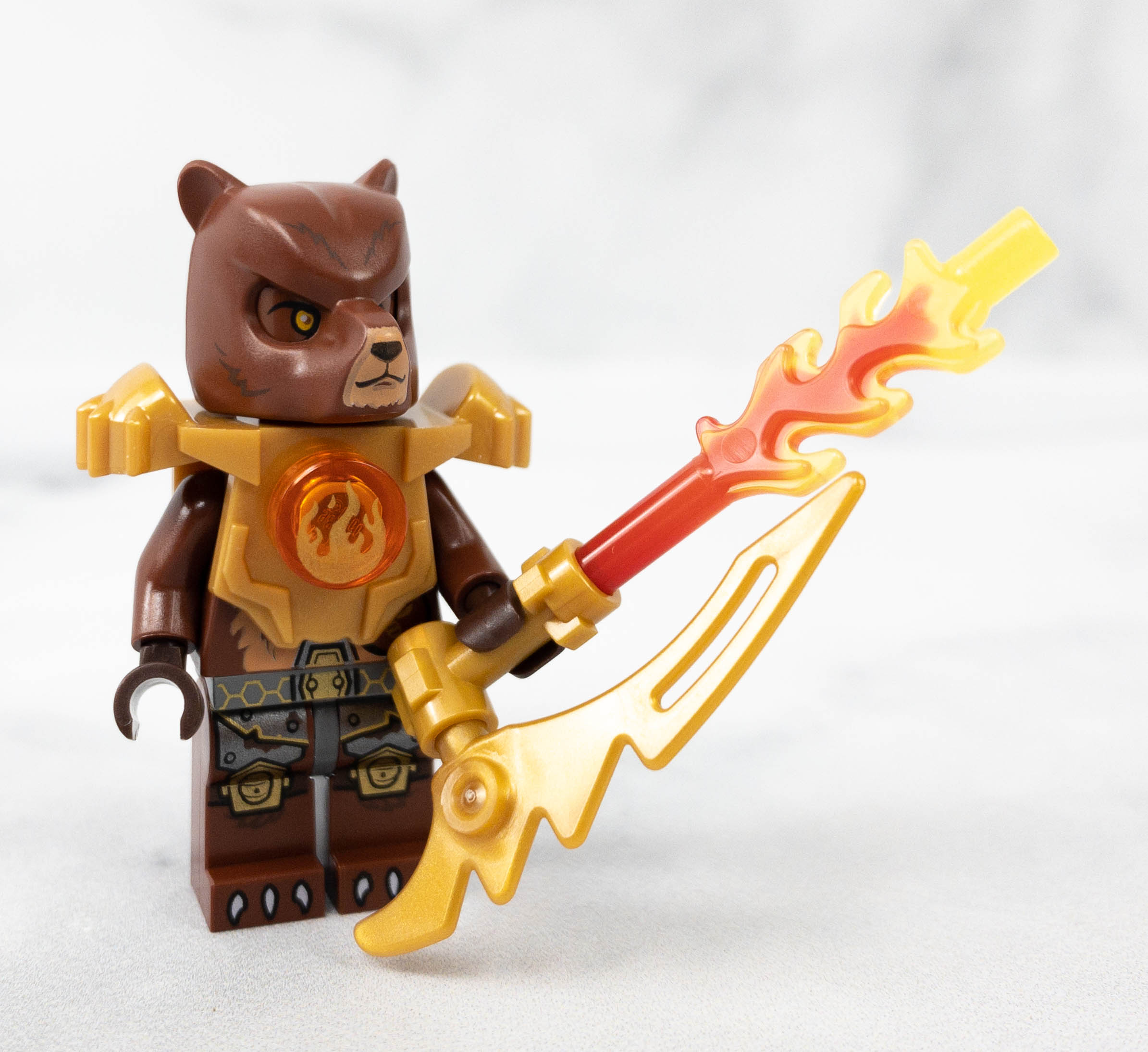 This figure looks very strong and powerful, as expected from a bear tribe leader!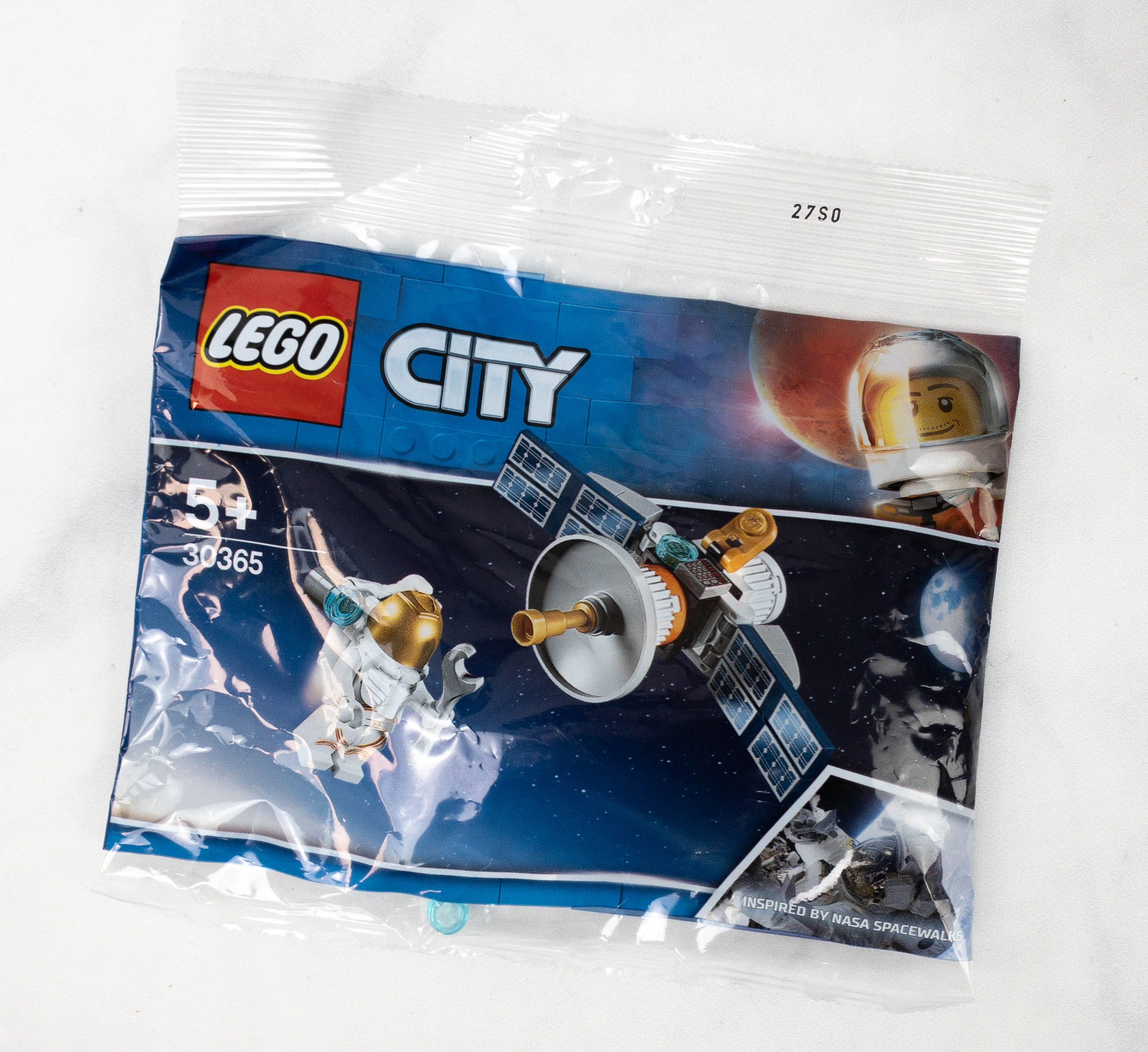 LEGO City Satellite Kit. Next up is a LEGO kit featuring a satellite. This is a unique inclusion for my LEGO city!
A piece of paper lists all of its parts, and also contains easy-to-follow instructions.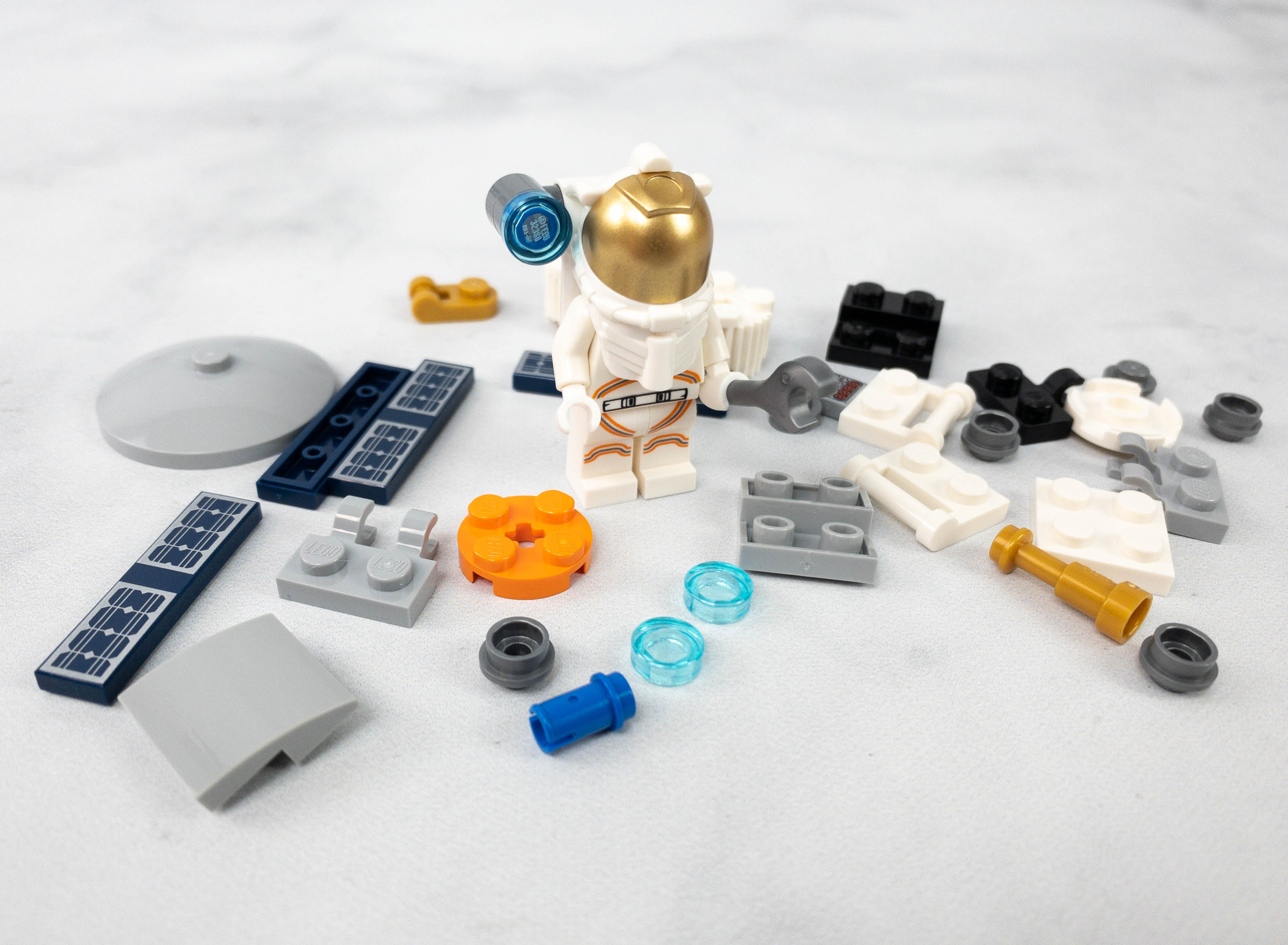 An astronaut figure is also included inside the pack.
This is pretty easy to build, and even kids can build it on their own.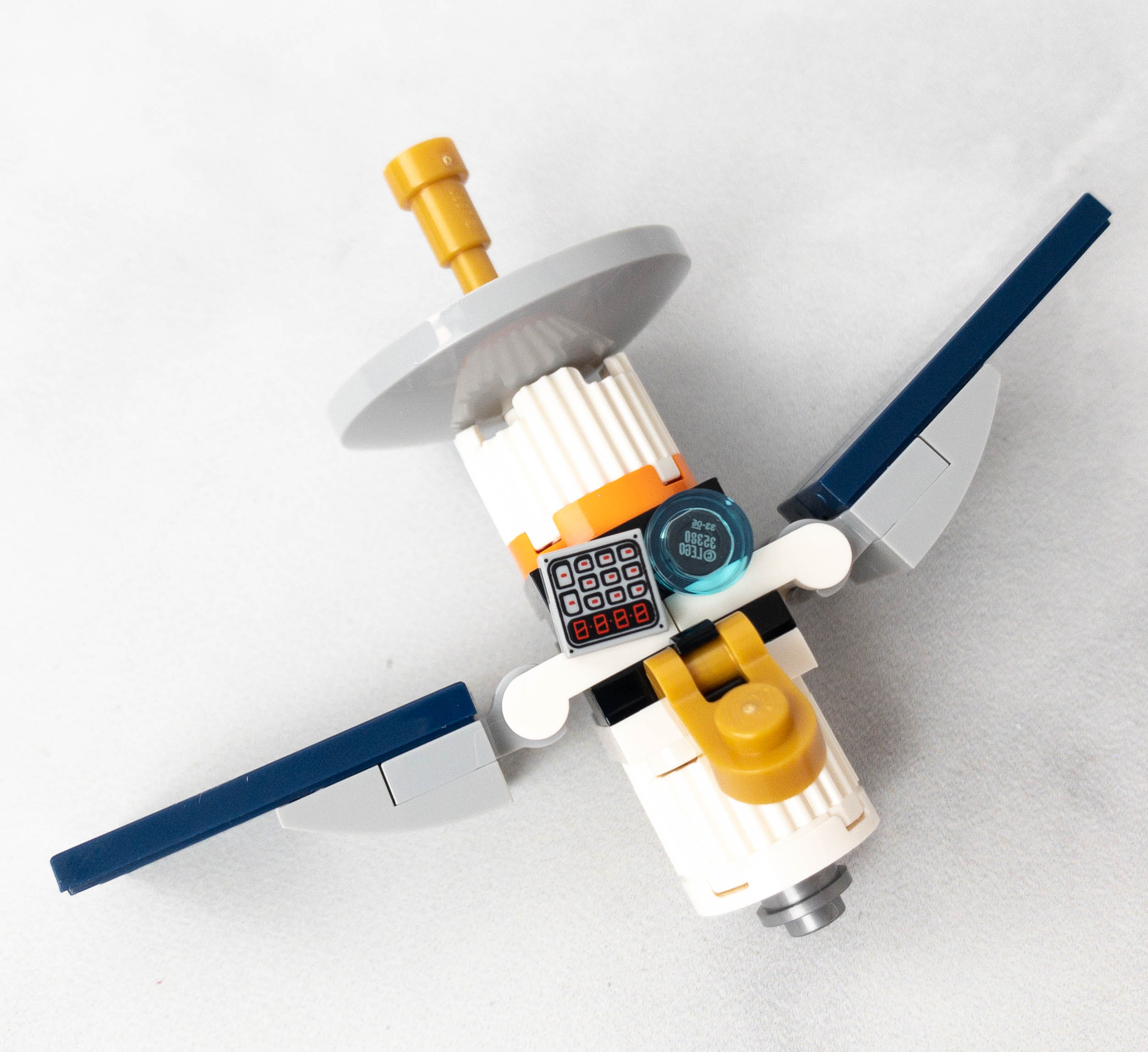 This is such a cool piece. I love the small details!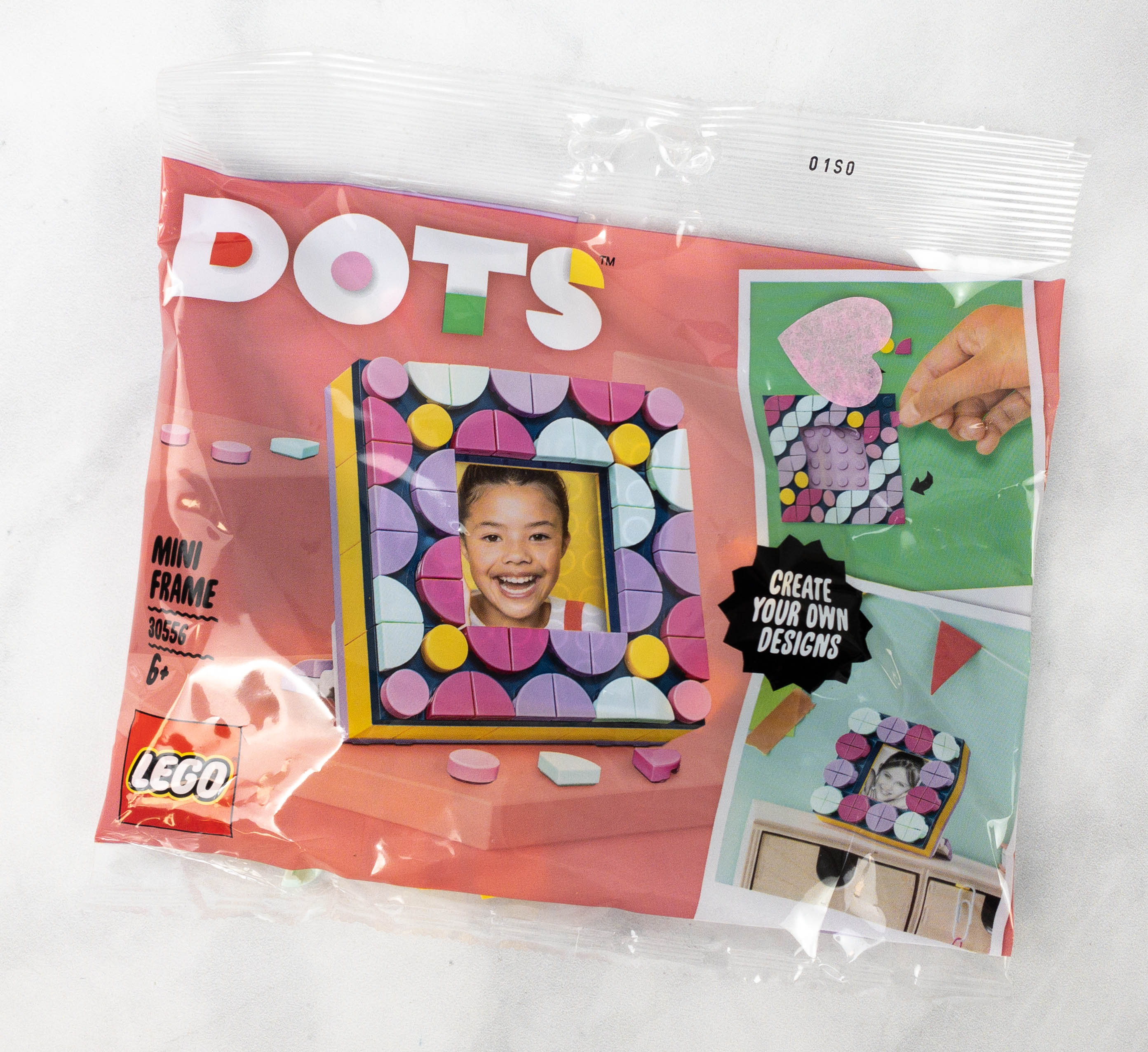 LEGO Dots. This kit is all about making a LEGO mini frame. It's a fun activity to help release your creative juices and it's also ideal for anyone ages 6 and up!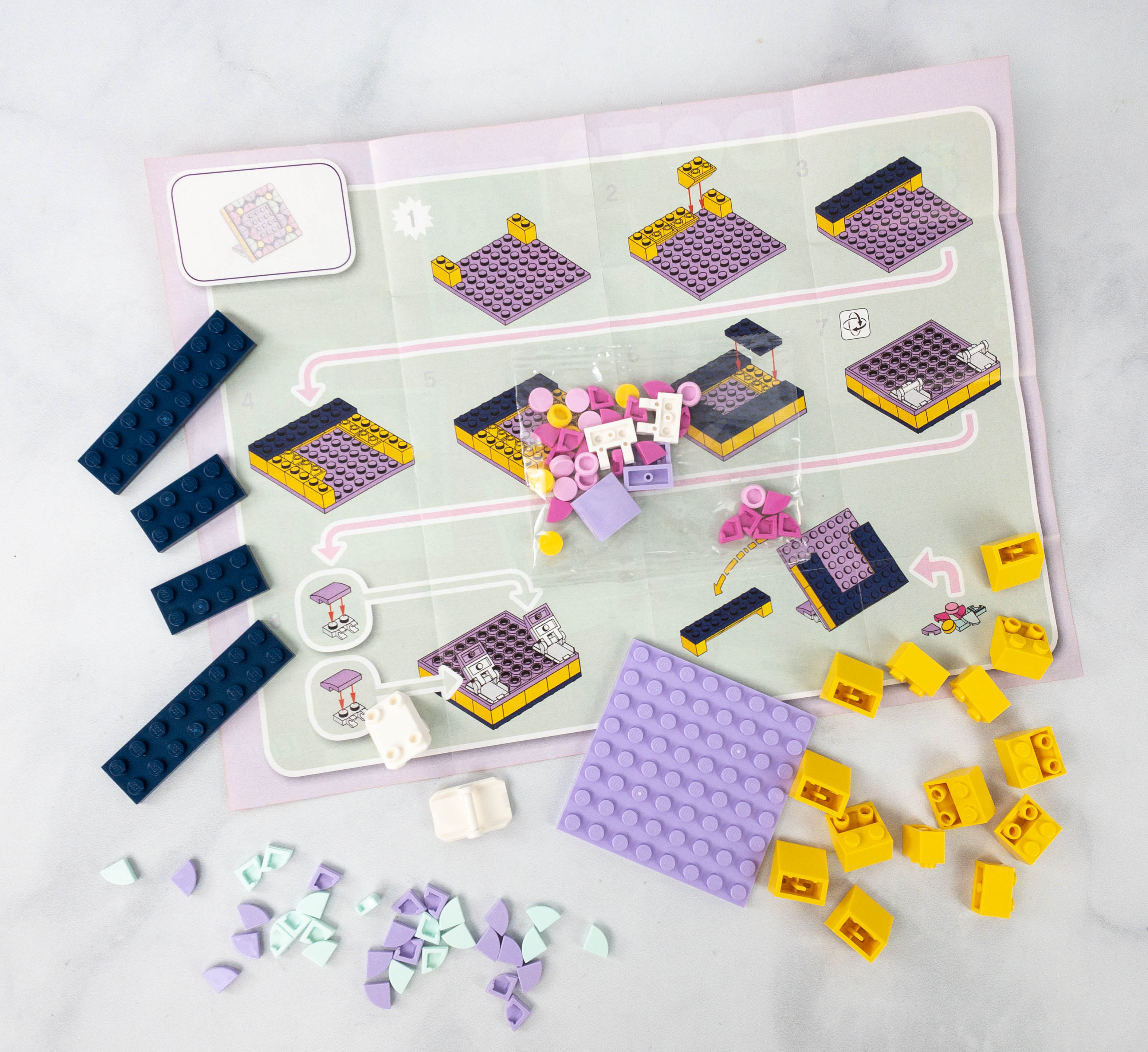 Like other kits, it also included an easy-to-follow instruction manual.
What's great about this activity is that you can decide on your own design. My son had fun designing his own LEGO frame!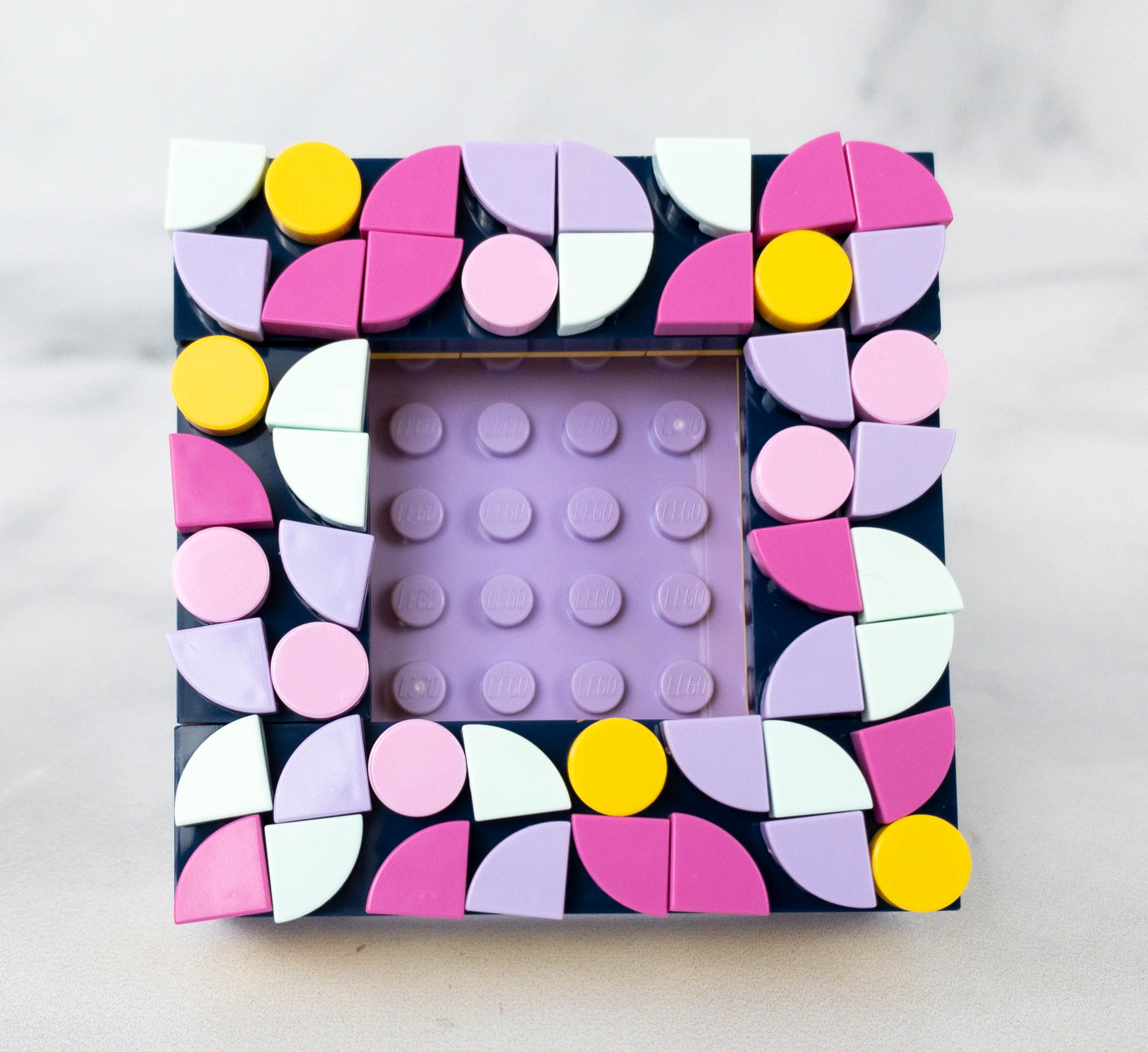 Here's a closer look at my son's finished LEGO frame! He used the yellow and pink dots, as well as the pie-shaped pieces in different colors.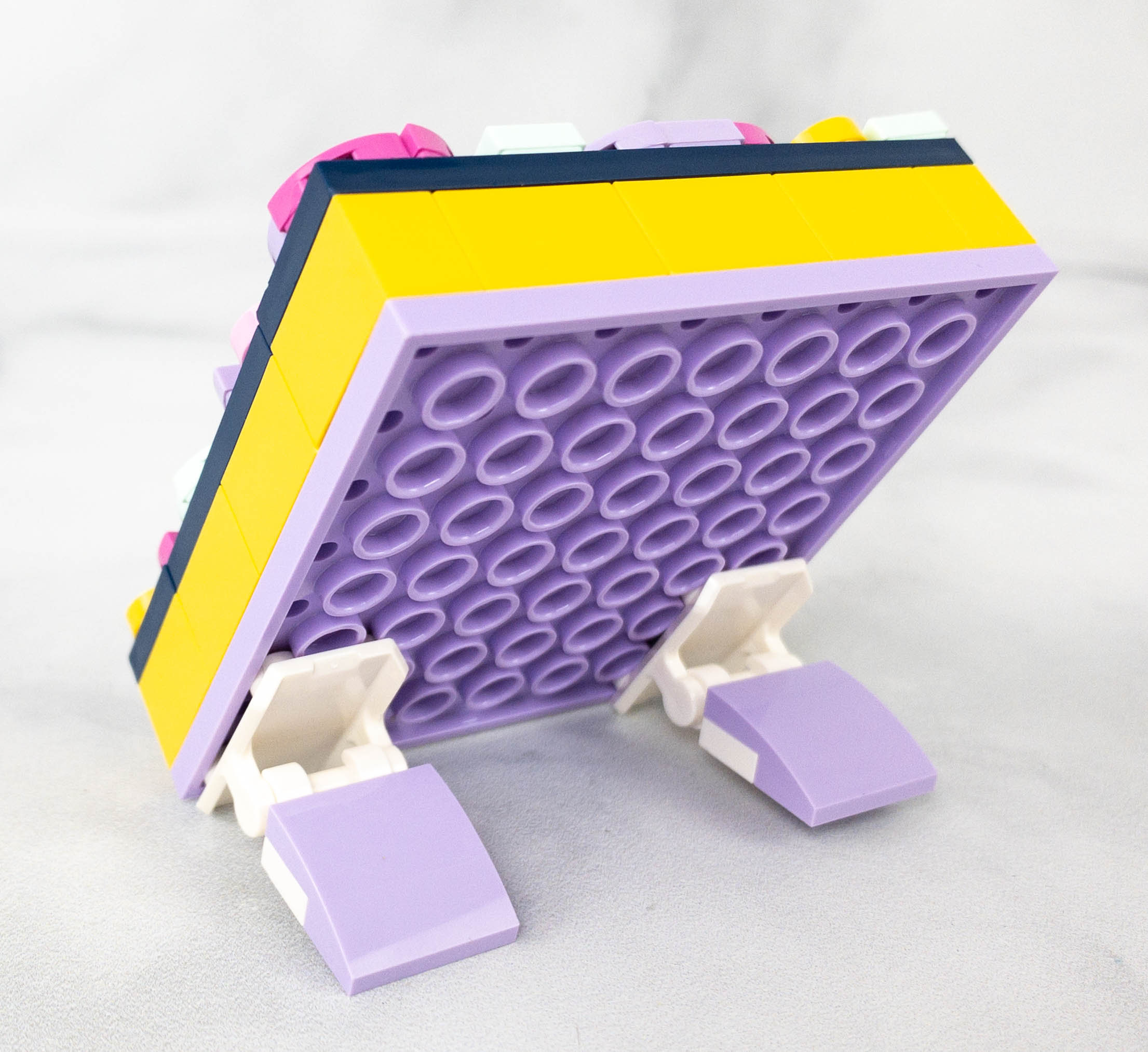 There are even 2 support posts at the back, to make sure that the frame can stand.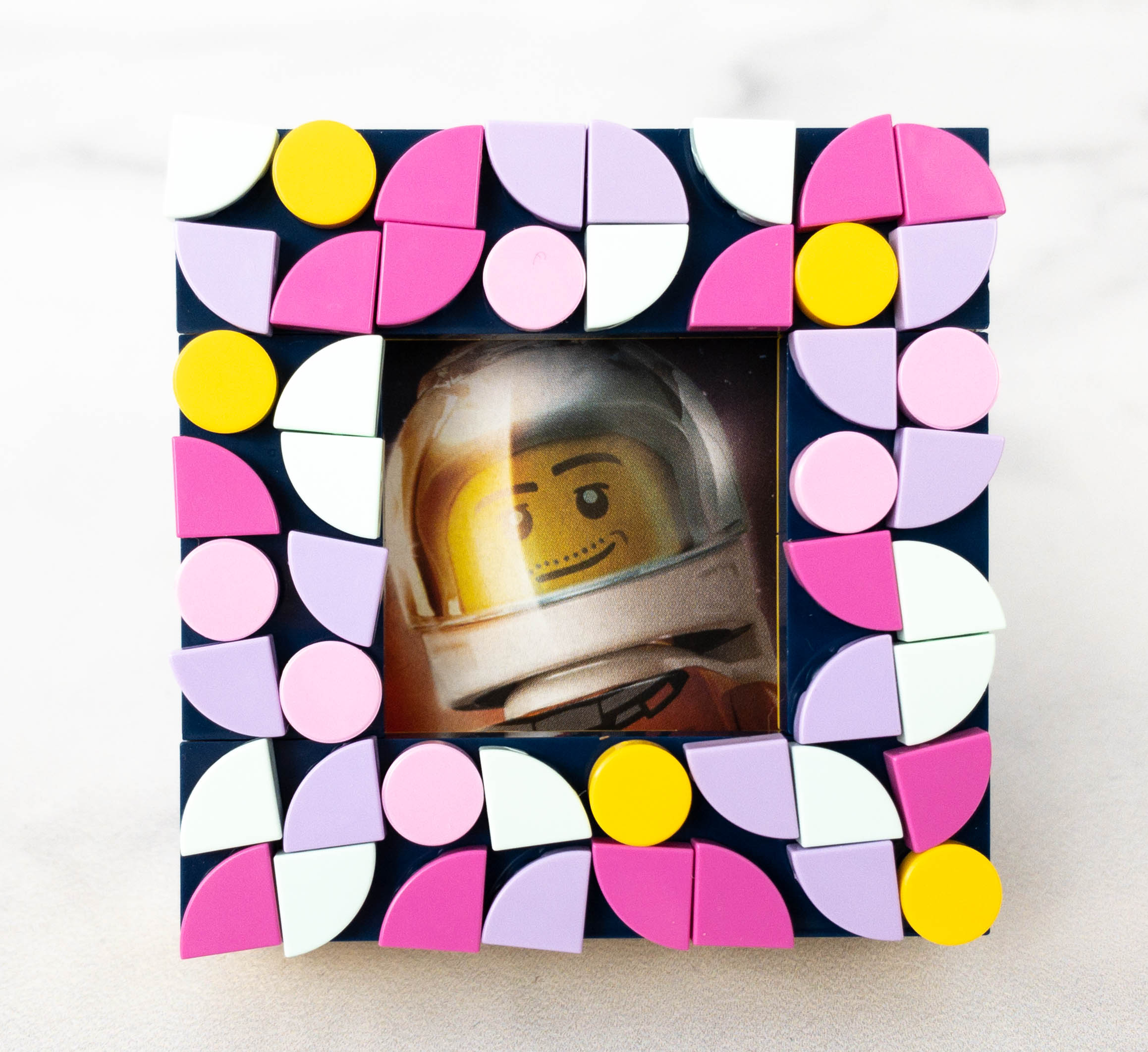 To complete it, my son even put a photo of astronaut figure inside the frame!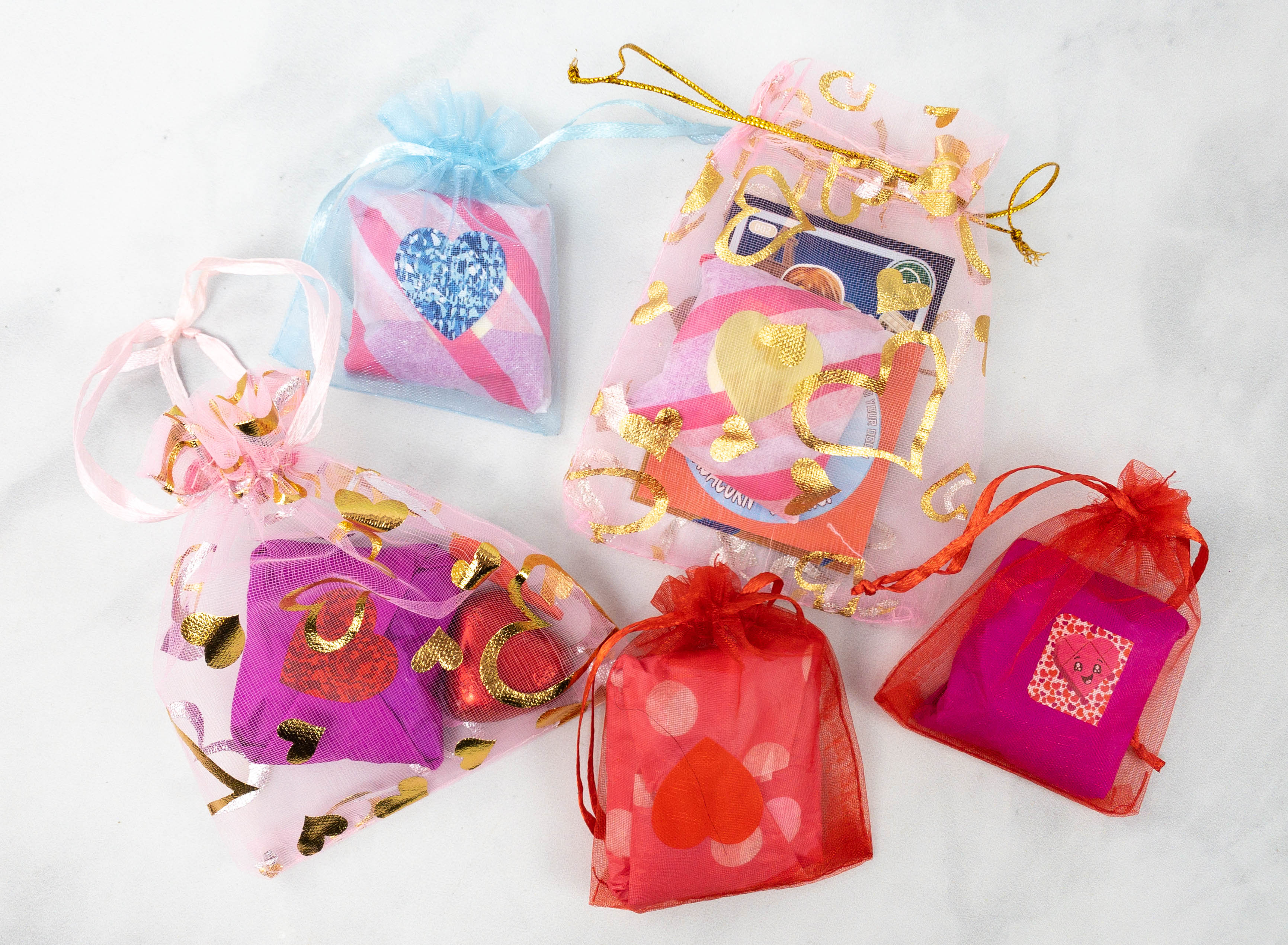 Here are this month's mystery surprise bags!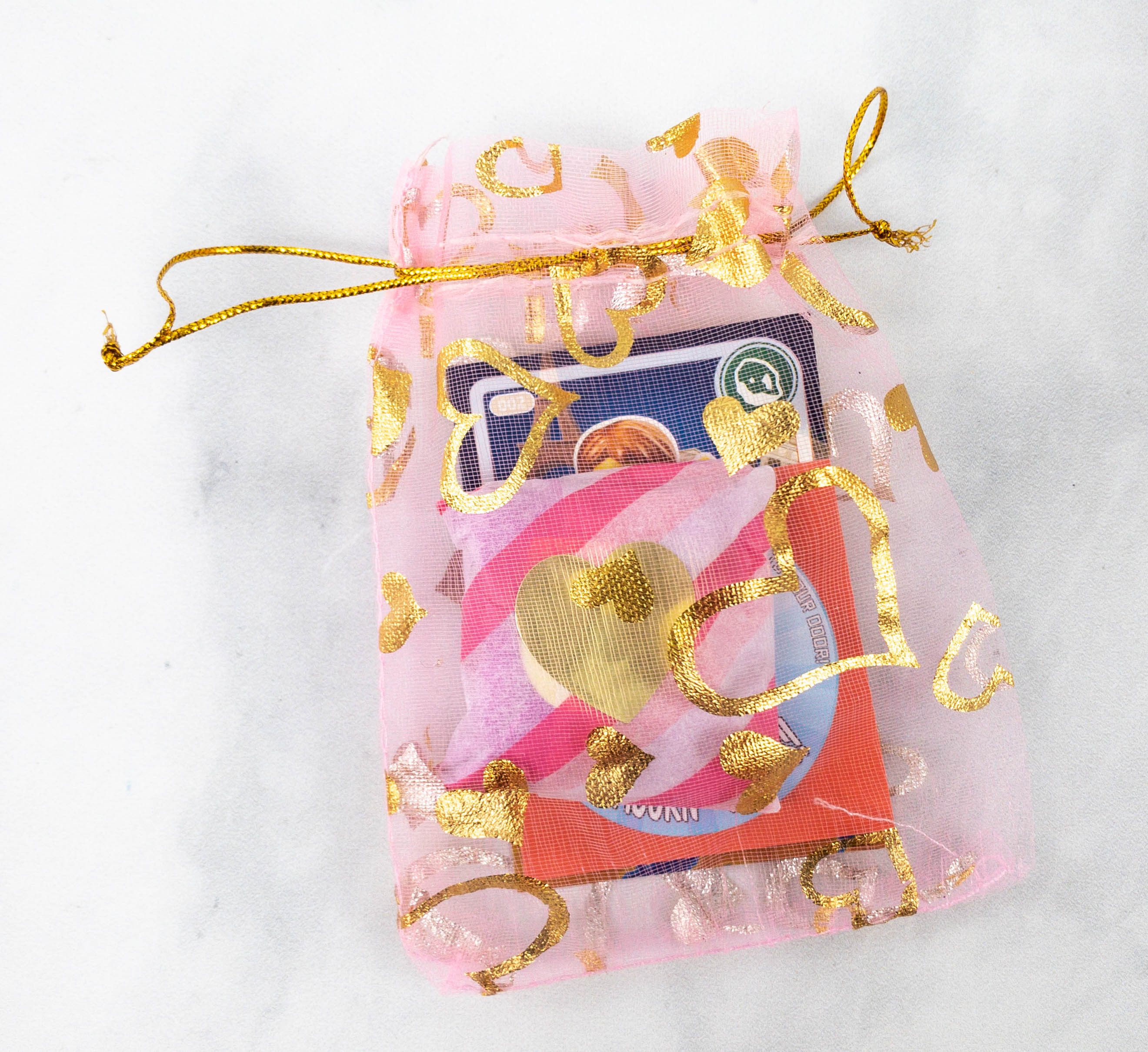 I'm so excited to open the first mystery bag!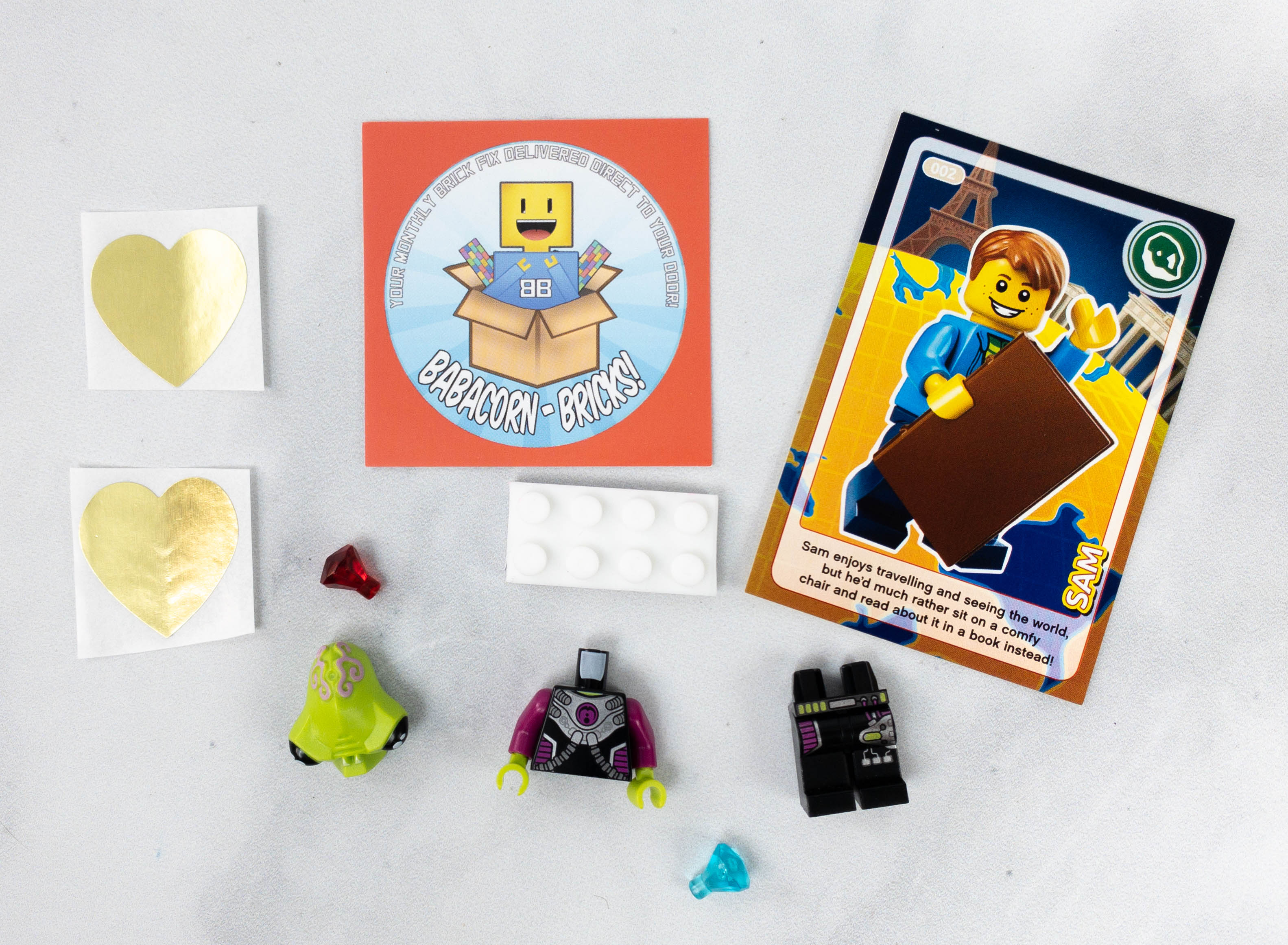 The first mini-figure is an alien! It also included a collectible card that features Sam.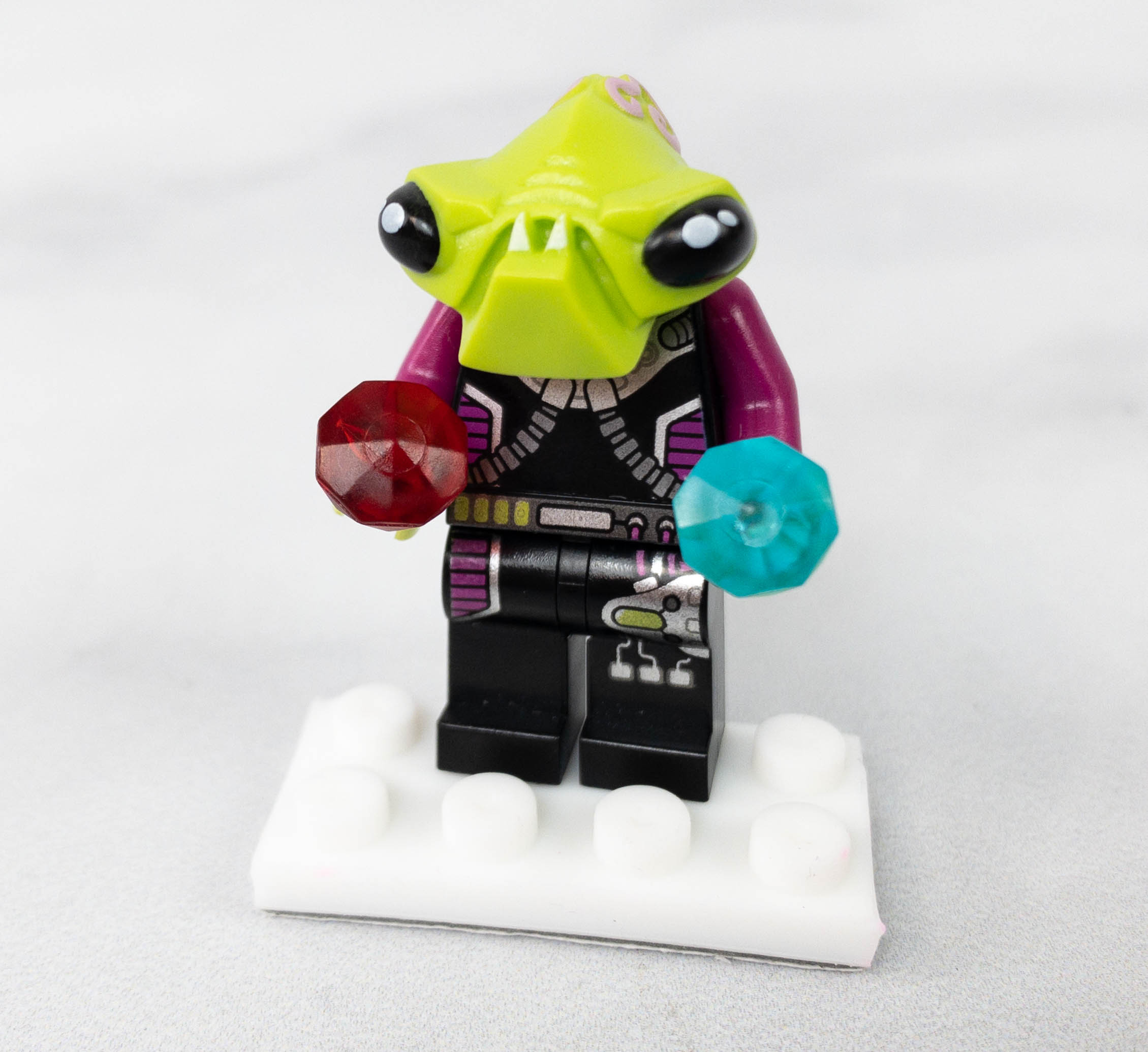 He doesn't look so friendly at all! To help the mini-figure stand on its own, it came with a LEGO strip which serves as its base.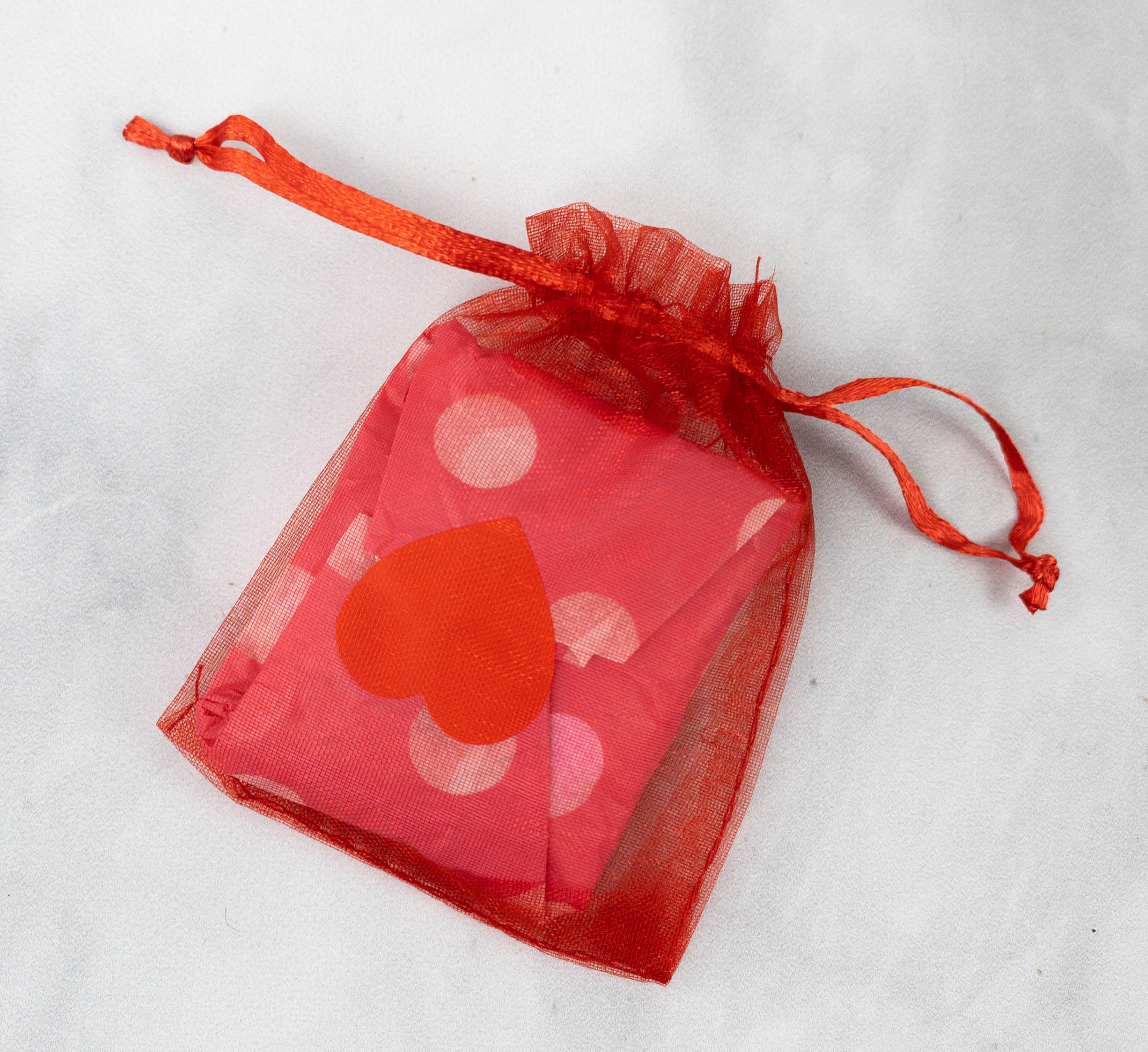 It's time to check what's inside the next bag!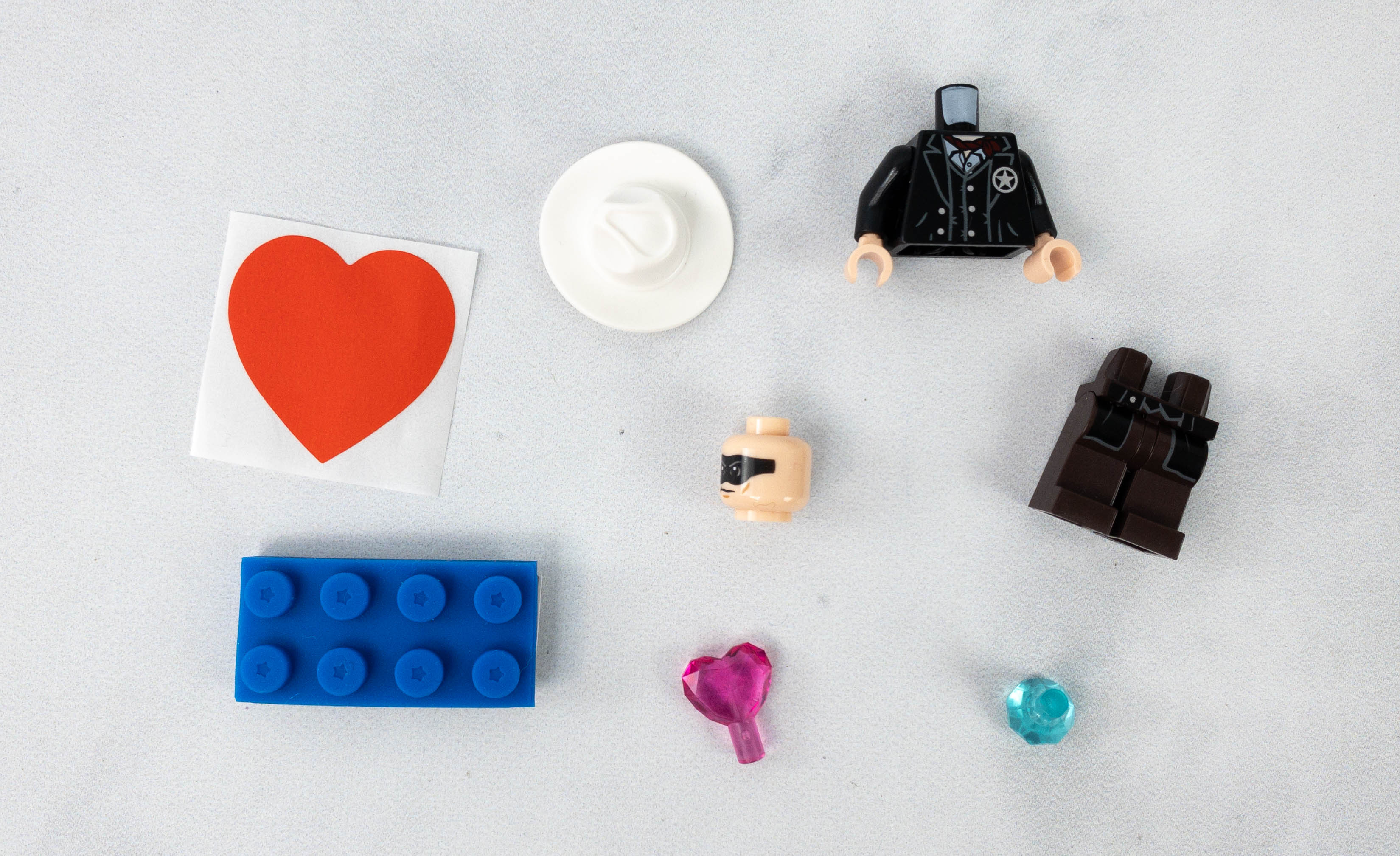 The next figure is a cowboy!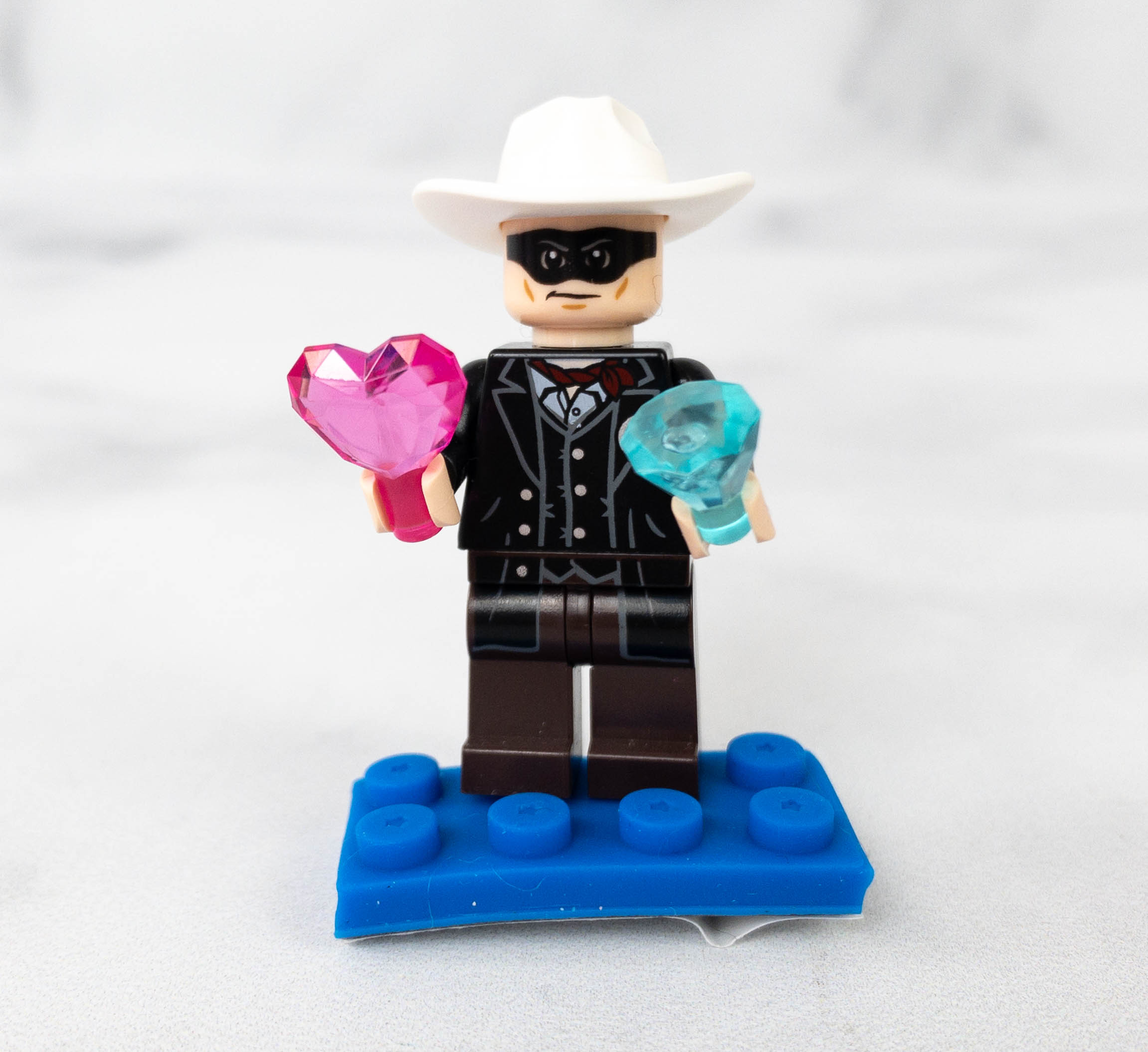 Instead of a gun, the cowboy is holding a heart shaped crystal. It's nice that they made this figure kid friendly.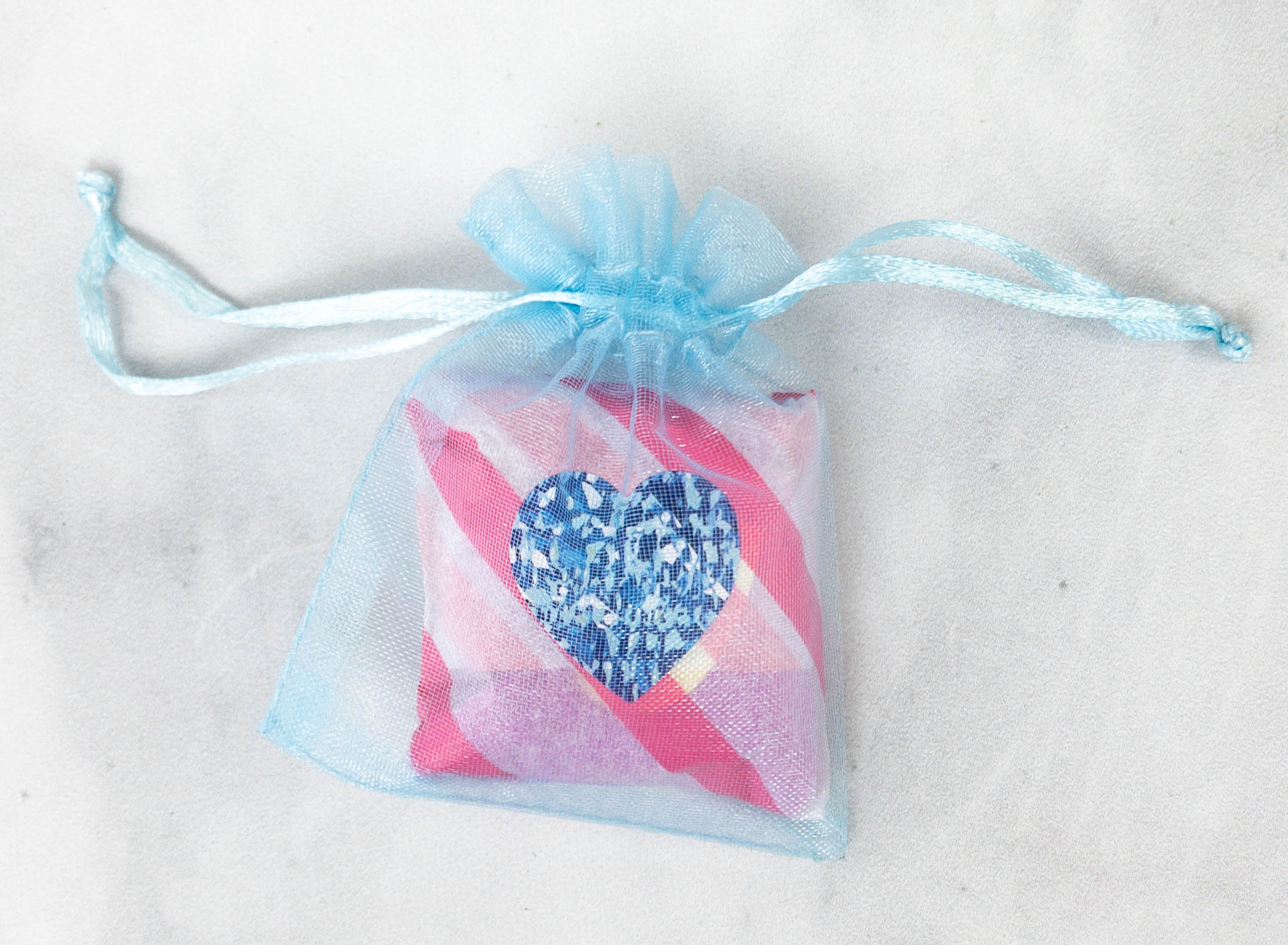 This blue bag contains the third mystery mini-figure.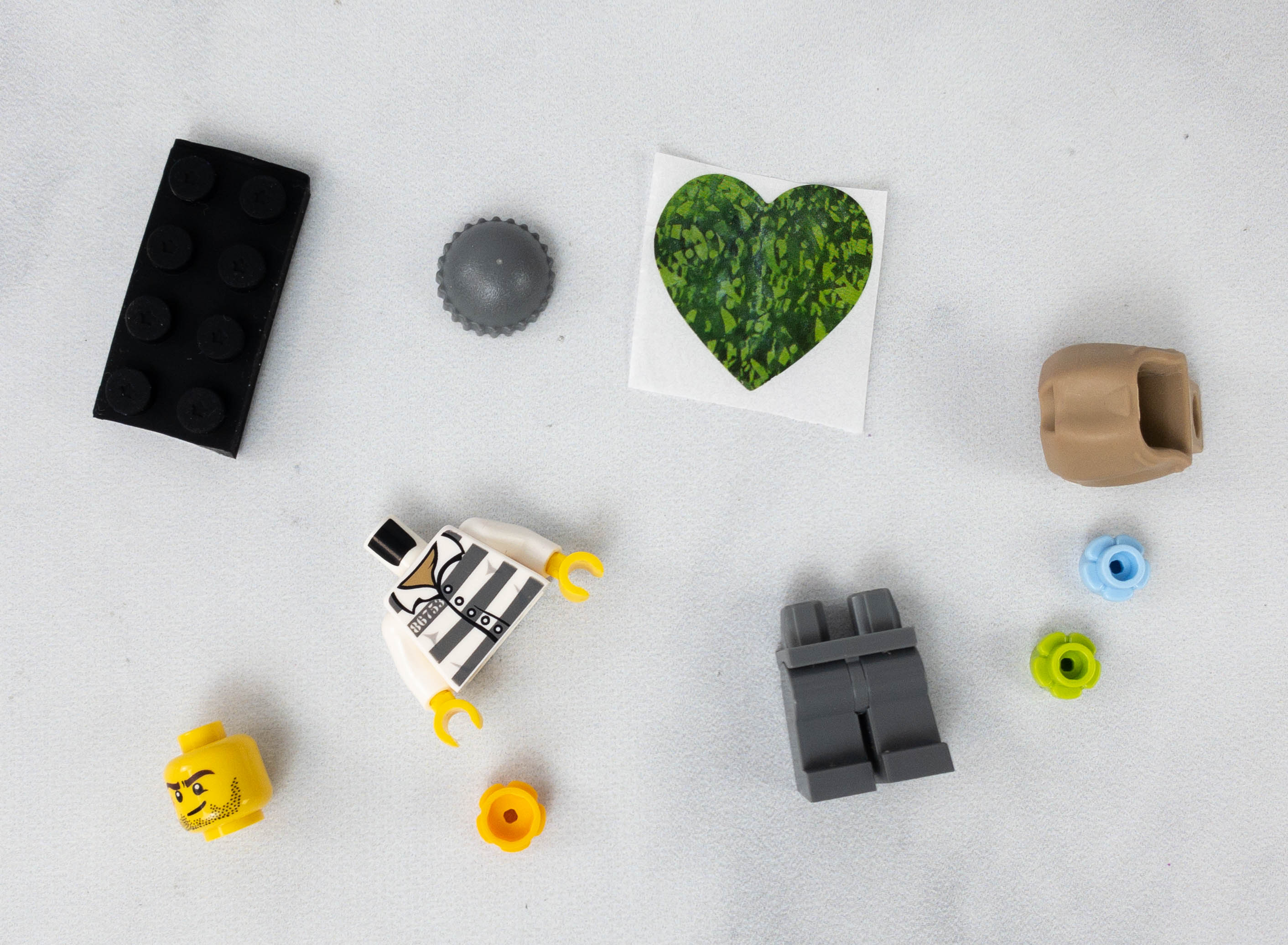 It's a mini figure of a hard working miner.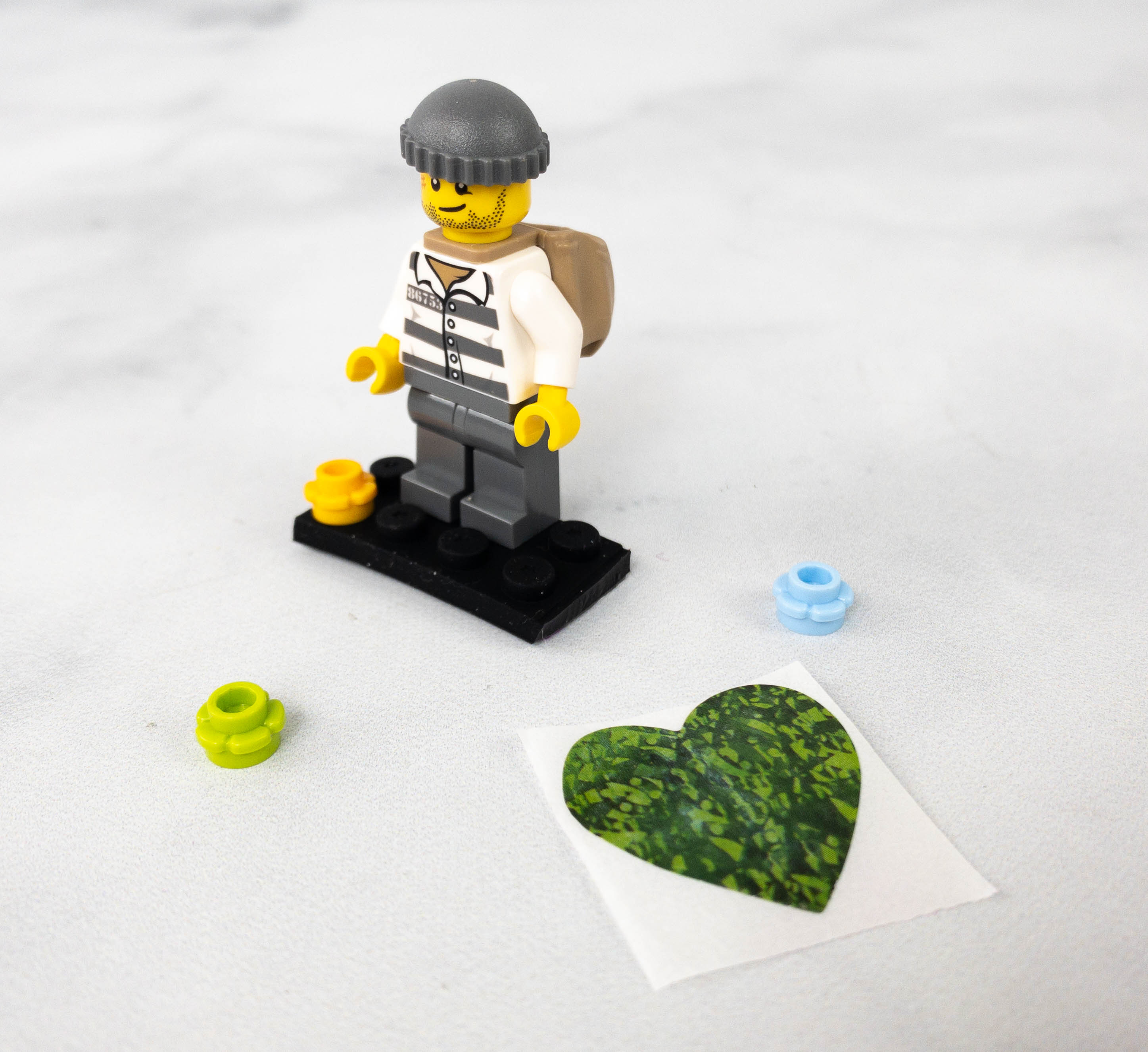 It even included a beanie to complete the attire!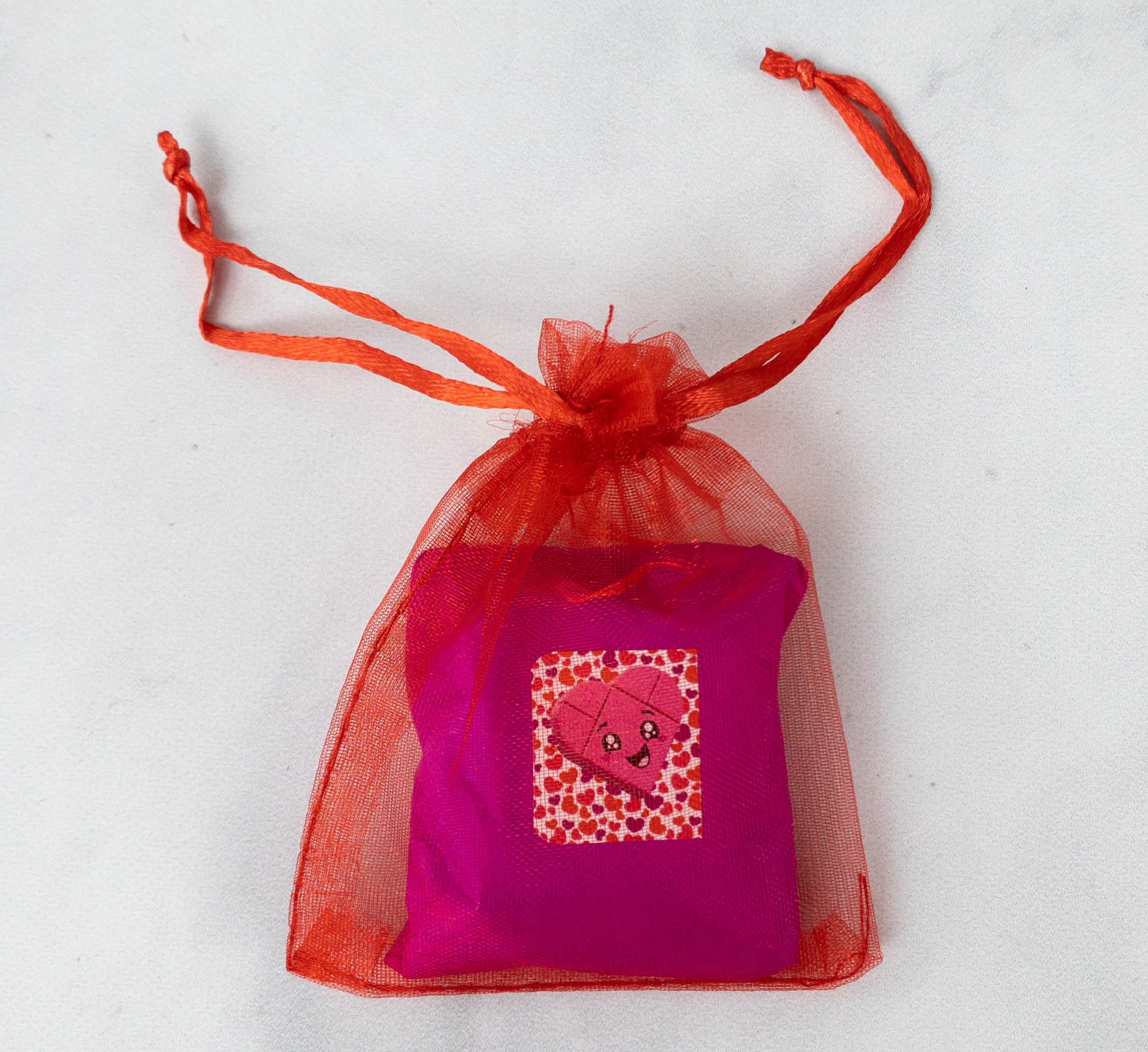 The fourth bag is in red!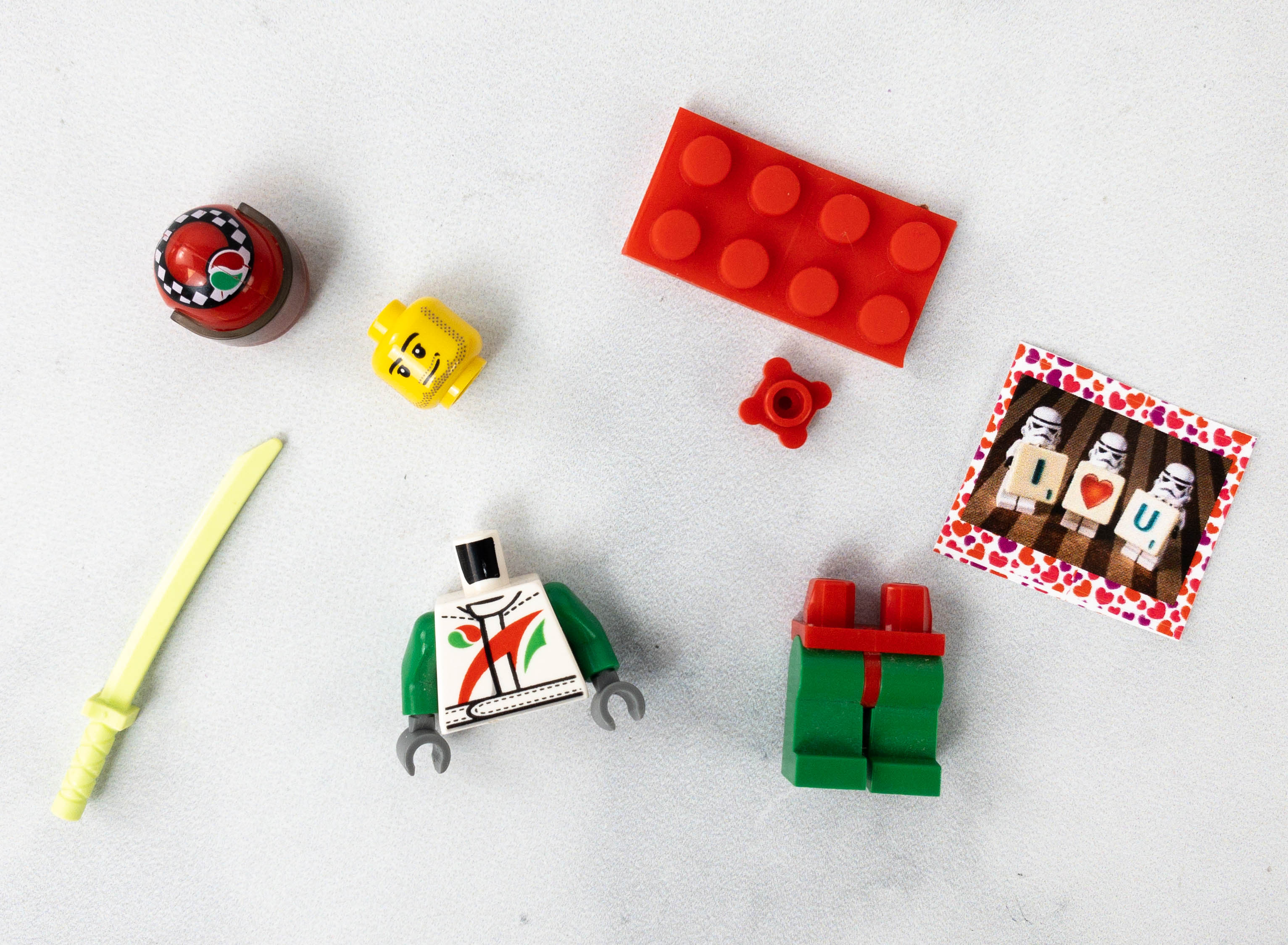 Things jut got more exciting because the fourth figure is a swordsman! It also has a cute red helmet for protection.
Those storm troopers in the sticker are just too cute!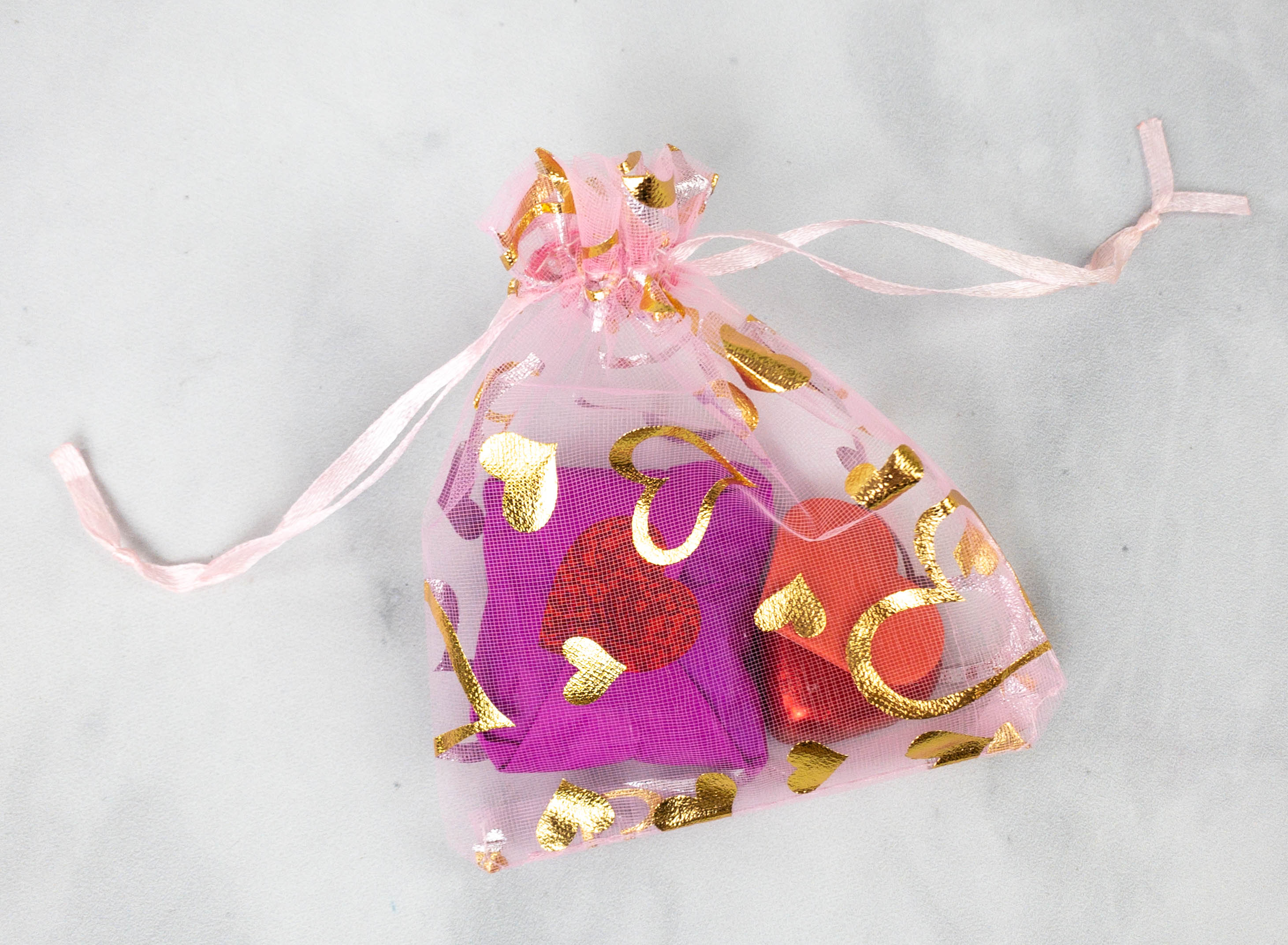 A cute pink bag contains the fifth mystery mini-figure!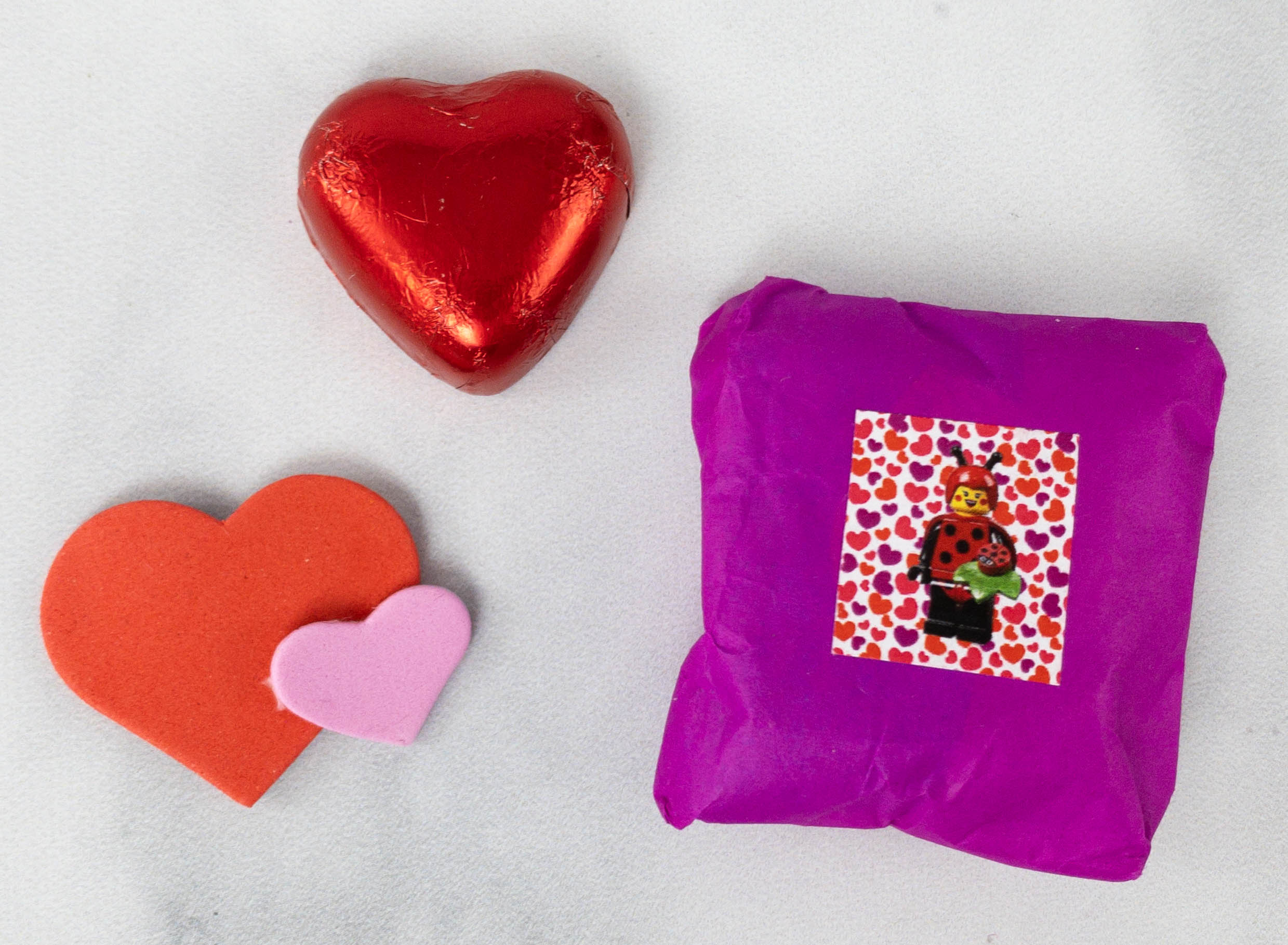 There are lots of hearts inside the bag! The figure was also wrapped in purple colored paper.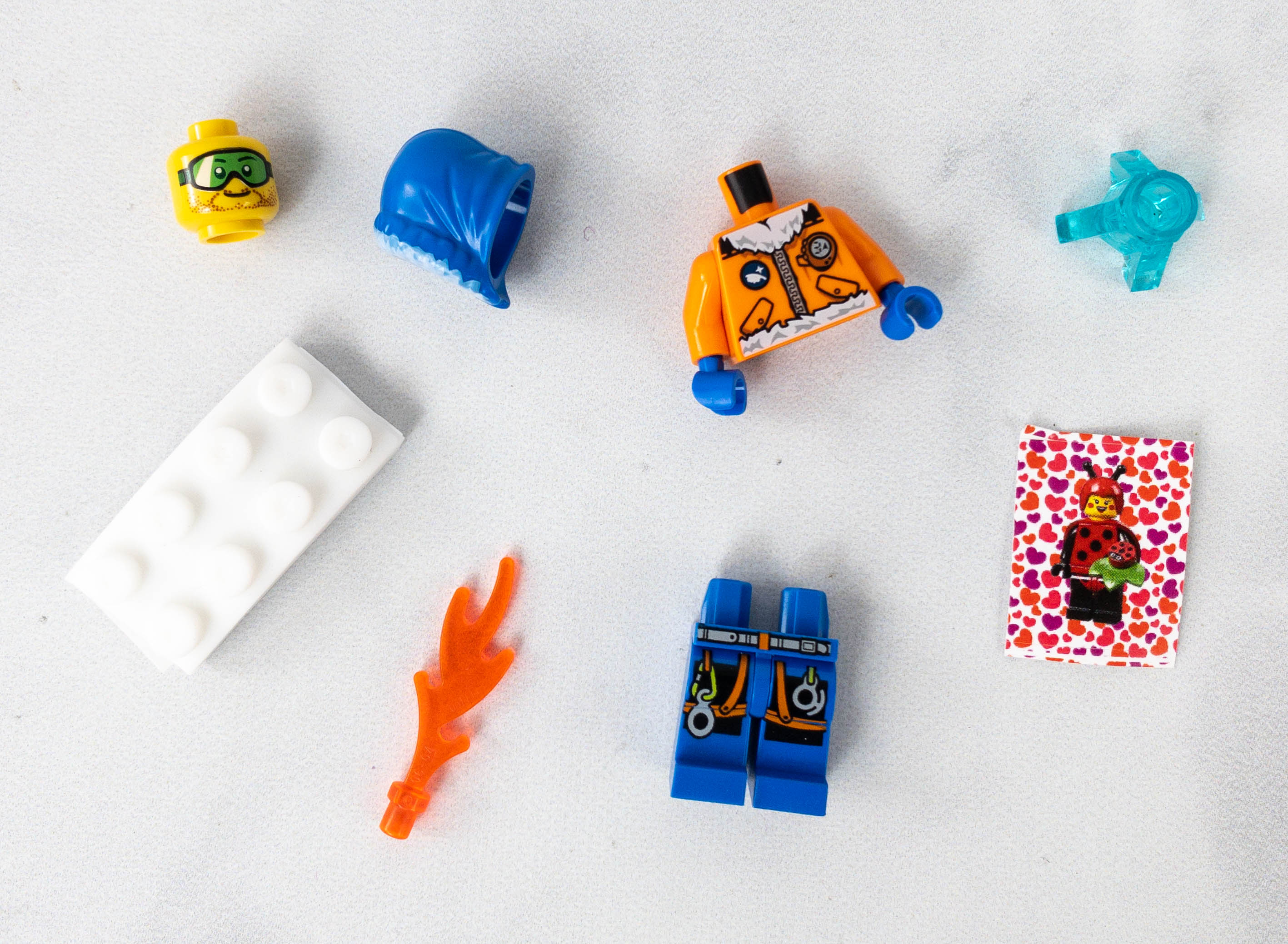 The last figure is a mountain climber and it has everything needed to survive the cold peak!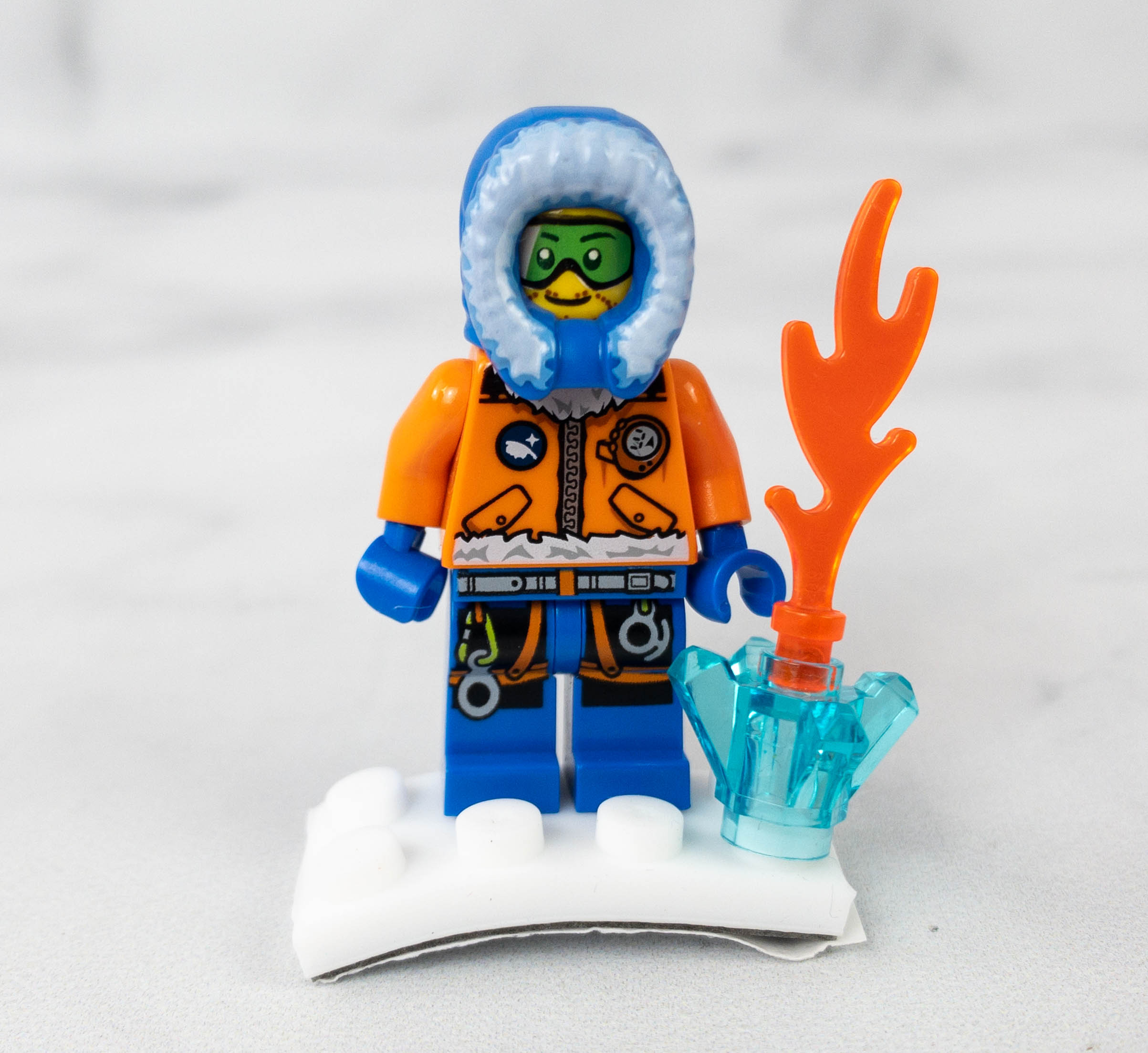 It's so cute and the hoodie looks really great!
Here's a final look at all the contents of my February box!
My first box from Babacorn-Bricks Box is awesome! It included a lot of fun LEGO items and kits plus unique mini-figures. Everything is also authentic, making this subscription ideal for collectors. My favorites this month are the satellite for our LEGO city and the LEGO dots activity. The satellite is really unique and the picture frame is just too cute! If you love LEGO and you want a mix of mini-figures and other LEGO-themed items in your box, this would be worth a try. The subscription is based in the UK, but they ship worldwide!
What do you think of the Babacorn-Bricks Box?