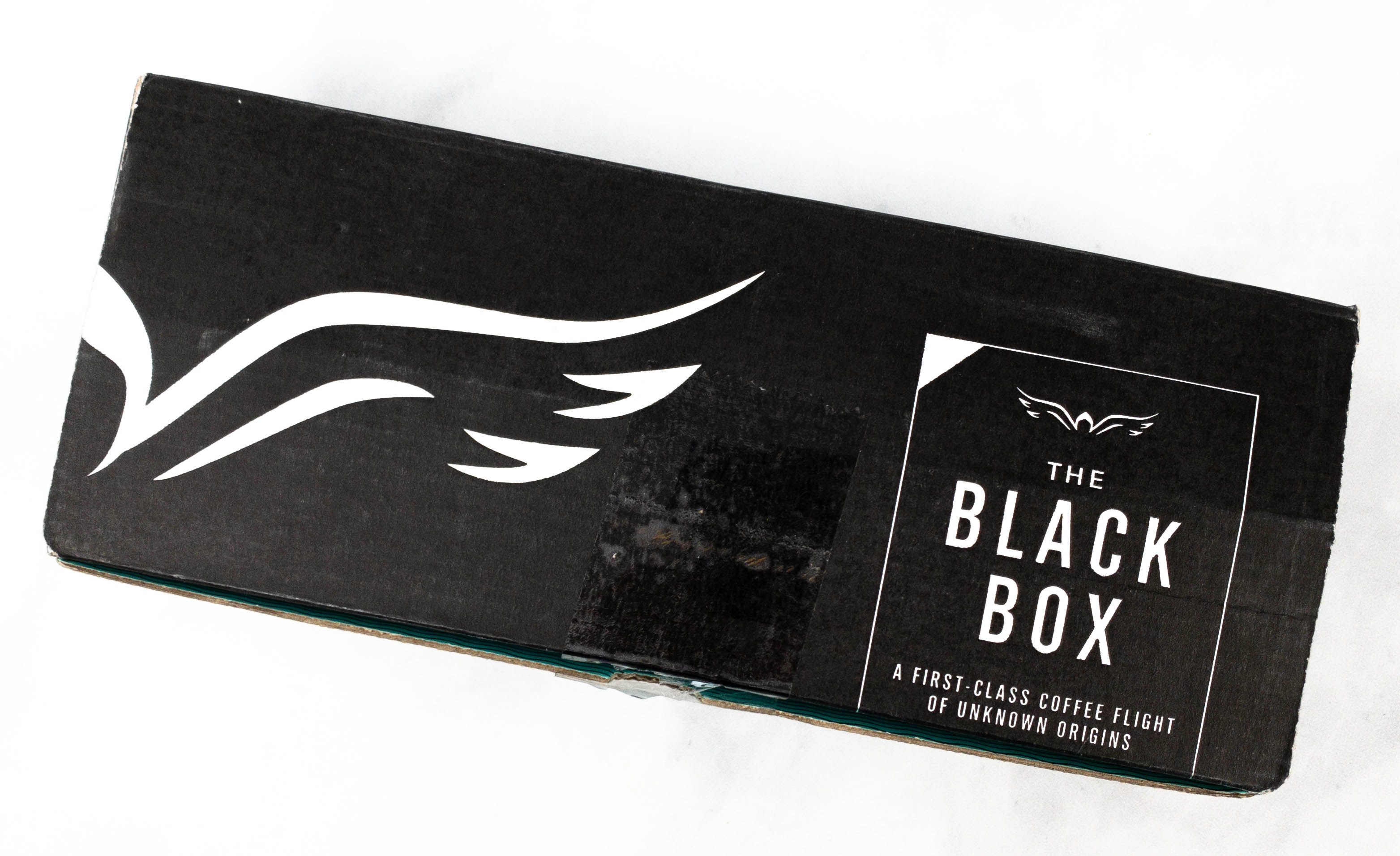 Angels' Cup Coffee offers a unique tasting experience with their coffee subscription boxes. Every box features different roasters and different origins, making every cup special! Subscribers can choose if they want to receive whole bean, coarse grind (French press), or fine grind (drip). They can also choose the frequency of their shipment: weekly, every 2 weeks, every 3 weeks, and monthly. Angels' Cup coffee subscriptions made the list in our 2021 readers' choice picks of best coffee subscription boxes!
Angels' Cup has 3 different subscriptions:
The Black Box – Your choice of light, medium, or dark roast (4 larger samples). $19.99/shipment on a pay-per-shipment plan, $18.99/shipment on a 6-shipment plan, or $17.99/shipment on a 12-shipment plan. $5 Shipping.
Cupping Flight – Your choice of light, medium, or dark roast (4 smaller samples). $9.99/shipment on a  pay-per-shipment plan, $9.49/shipment on a 6-shipment plan, or $8.99/shipment on a 12-shipment plan. $3 Shipping.
All Stars – Includes top-rated coffees from both light, medium, dark roast subscriptions (1 bag). $17.49/shipment on a pay-per-shipment plan, $16.62/shipment on a 6-shipment plan, or $15.74/shipment on a 12-shipment plan. $5 Shipping. Frequency every 1-4 weeks – your choice.
DEAL: Get 20% off your first month in a pay per shipment plan! Use coupon code HELLO20.
This is a review of The Black Box with four 2.75oz samples – they make about 5.5 cups per sample.
The box itself provides a guide to the water:coffee ratio!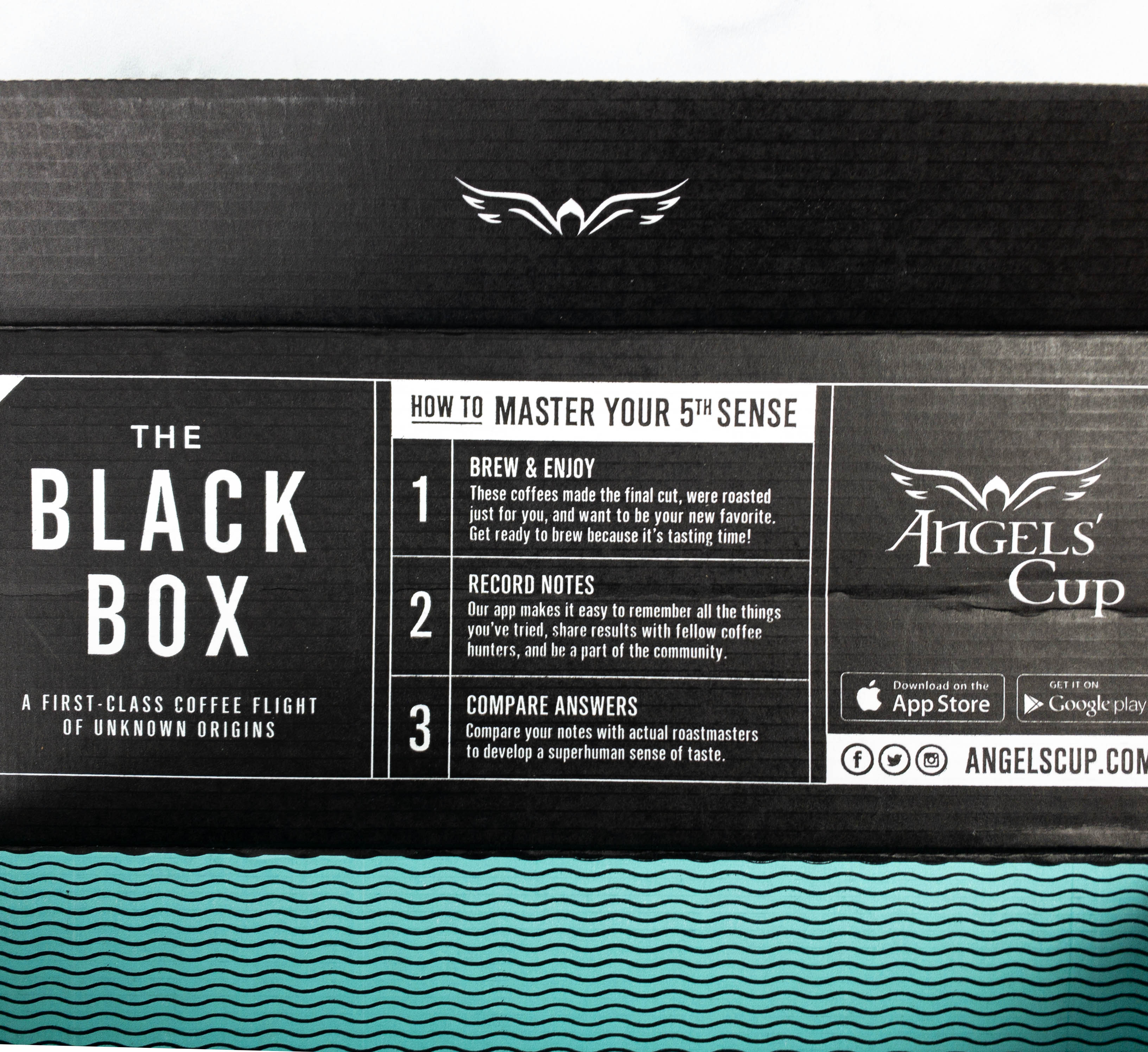 The box itself indicates how to enjoy the blind tasting experience offered by The Black Box. First, you need to brew each coffee blend and take a sip, and then record notes using the Angels' Cup app (available for Android and iOS). Lastly, compare answers with actual roastmasters to improve your coffee tasting skills!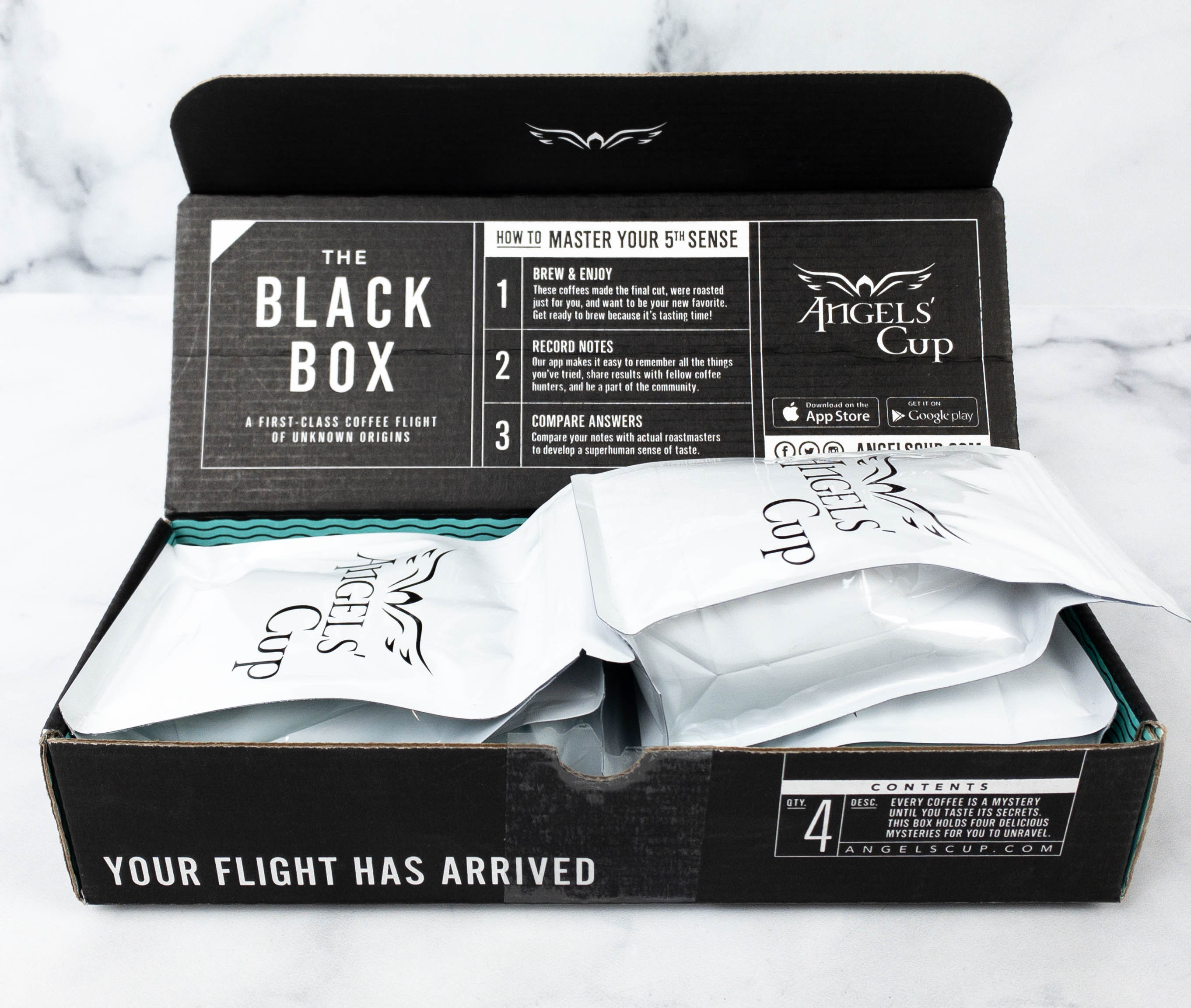 The Black Box contains 4 bags of coffee!
Every coffee is a mystery until you taste its secrets. This box holds four delicious mysteries for you to unravel.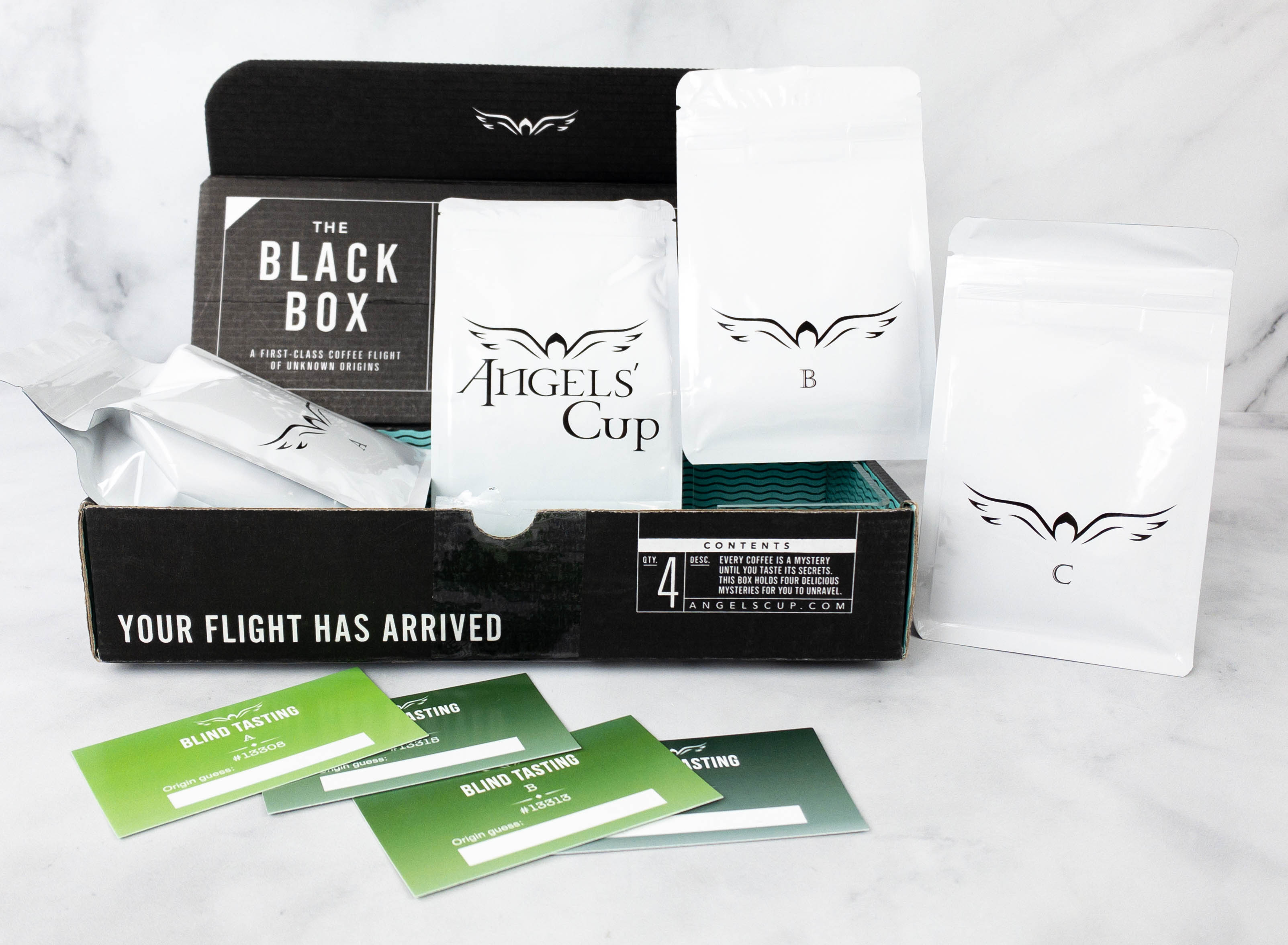 Everything in my April 2021 Black Box!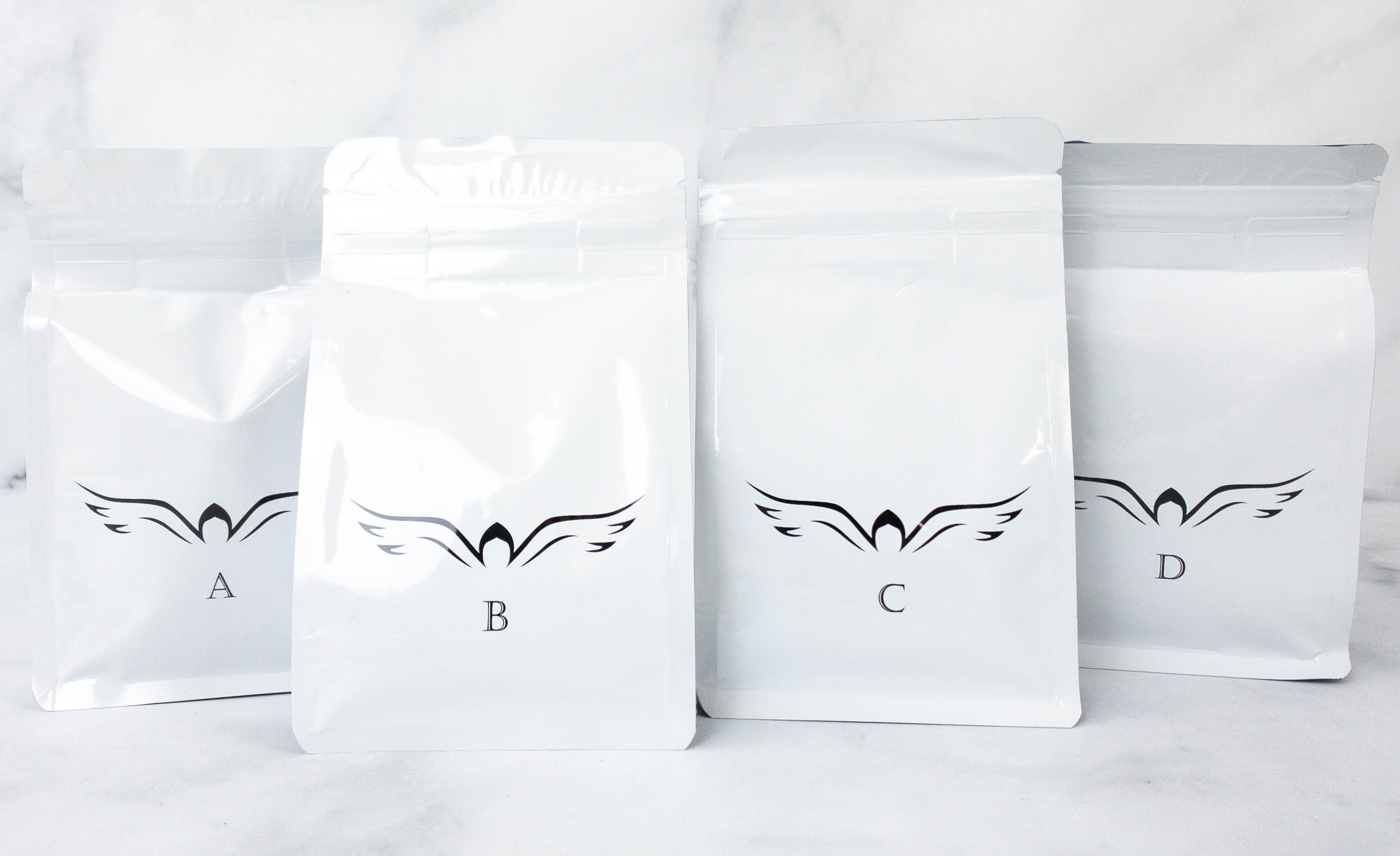 Each pack is stamped with a numeric identifier and the roast date but is otherwise unidentifiable. Each sample contains 2.75 oz of coffee (equivalent to 4 cups).
These Blind Tasting Cards lets you guess the origin of the coffee first before you peek at the tasting notes.
Ntaba Coffee Haus Zambia. This coffee originated from Zambia, and its flavors include chocolate, brown sugar, and pistachio.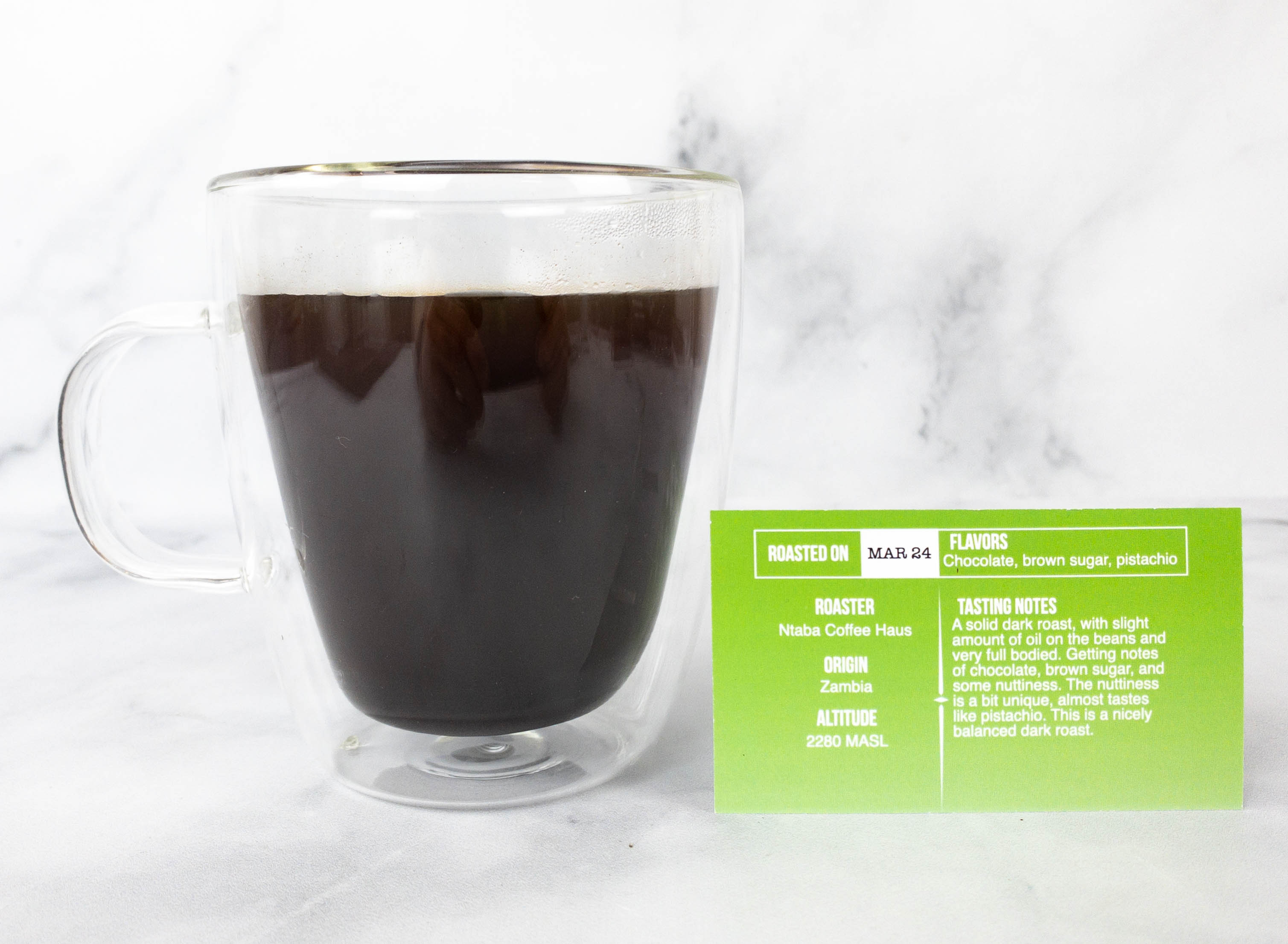 A solid dark roast with slight amount of oil on the beans and very full bodied. Getting notes of chocolate, brown sugar, and some nuttiness. The nuttiness is a bit unique, almost tastes like pistachio. This is a nicely balanced dark roast.
I enjoyed this cup! The nutty notes from pistachio made it standout among the selection.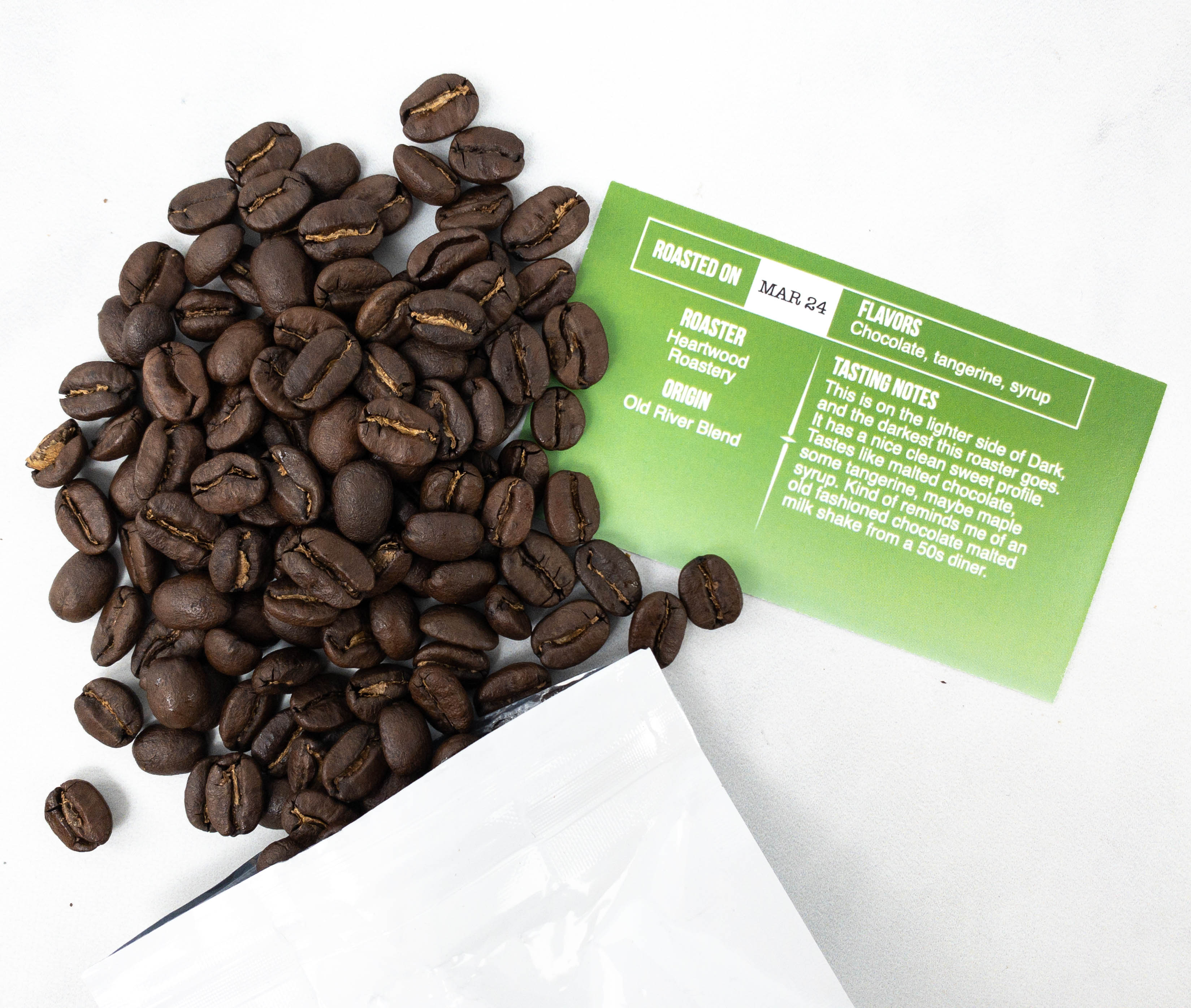 Heartwood Roastery Old River Blend. The next bag of coffee beans is a delectable combination of chocolate, tangerine, and syrupy notes.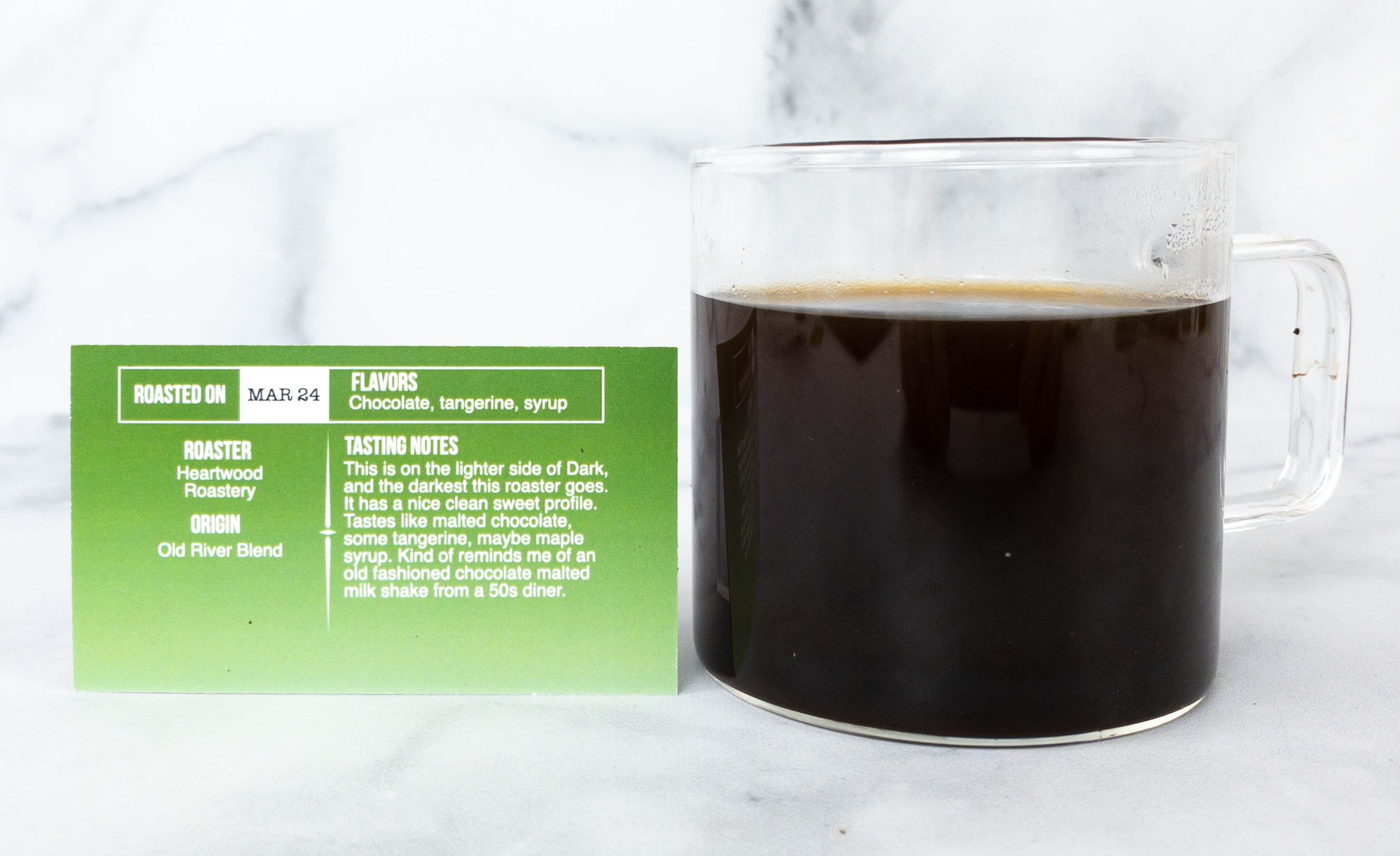 This is on the lighter side of Dark, and the darkest this roaster goes. It has a nice clean sweet profile. Tastes like malted chocolate, some tangerine, maybe maple syrup. Kind of reminds me of an old fashioned chocolate malted milk shake from a 50s diner.
Chocolate flavored coffee is always a good idea. The added maple syrup gave it a sweet twist, while the tangerine notes balanced out everything!
Flying Goat Coffee The Optimist Blend. The third blend is from Flying Goat Coffee, and it boasts of caramel, chocolate, and citrus notes.
Another one on the lighter end of the dark spectrum, just shy of developing oils on the beans. Getting mostly sweet notes like caramel, chocolate, and maybe the slightest hint of citrus from tangerine. Overall, a very solid smooth easy drinker.
I love how smooth this coffee is and the flavors are also well balanced. It's a bit short on caffeine but still a delightful experience.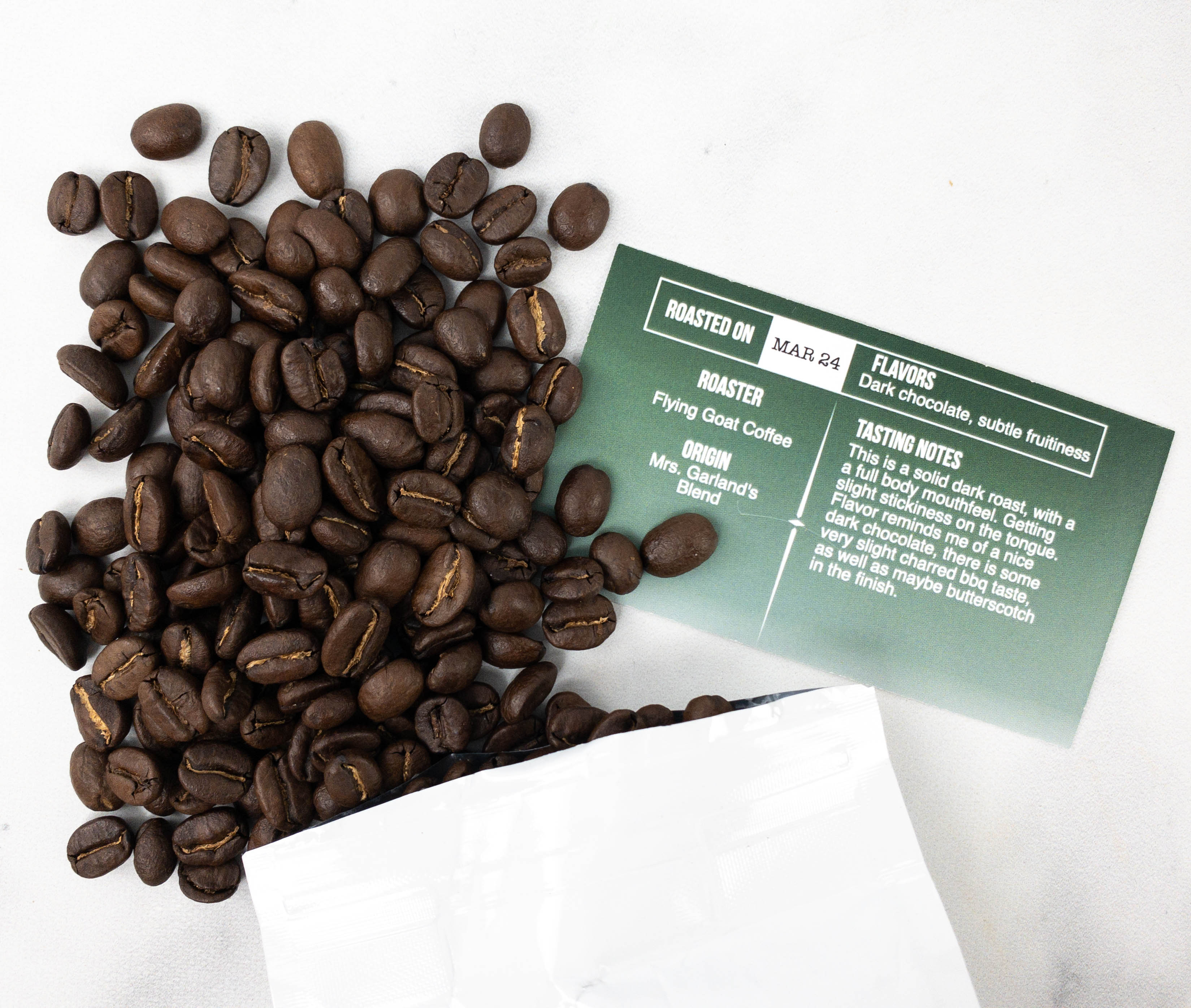 Flying Goat Coffee Mrs. Garland Blend. The last bag of coffee beans is also from Flying Goat Coffee. This one is a dark roast infused with fruity notes and dark chocolate notes.
This is a solid dark roast, with a full body mouthfeel. Getting slight stickiness on the tongue. Flavor reminds me of a nice dark chocolate, there is some very slight charred bbq taste, as well as maybe butterscotch in the finish.
If you love dark roast coffee, this one is for you. Add the dark chocolate flavor, and you now have a perfect cup of coffee to perk you up in the mornings!
This month's blends are all high-quality!
Each blend has a unique flavor profile, which makes sampling really fun and enjoyable!
It's been a while since my last The Black Box from Angel's Cup and I'm happy to try this coffee tasting experience in a box again! There are 4 different coffee blends in the box, and I enjoyed tasting all of them, as well as guessing their flavors before taking a peek at the cards. My favorite among them is the Mrs. Garlands blend from Flying Goat Coffee. It's a strong and rich coffee with the right amount of dark chocolate, which I love having in the mornings to jumpstart my day. The other flavors were also nice with their sweet, citrusy, and fruity tastes! This tasting box is great for individuals who want to improve their coffee tasting skills, and even for families who want to share one box but have different coffee flavor preferences.
What do you think about Angels' Cup?