Allure Beauty Box is a monthly beauty subscription service that sends 6 or more beauty products (at least 3 of those will be full sized) with a value of at least $100+ and is curated by the editors of Allure Magazine, who choose and test the products themselves. Allure Beauty Box is $23 a month or sign up for a year and the price is closer to $21 a month. There are sometimes sponsored products in the box, plus you'll be eligible for special discounts on Allure editors' favorite luxury products and limited-edition boxes.
DEAL: Sign up for the Allure Beauty Box and receive a free bonus gift!
Allure's beauty subscription box took home first place the in our 2021 readers' choice list of best skincare subscription boxes!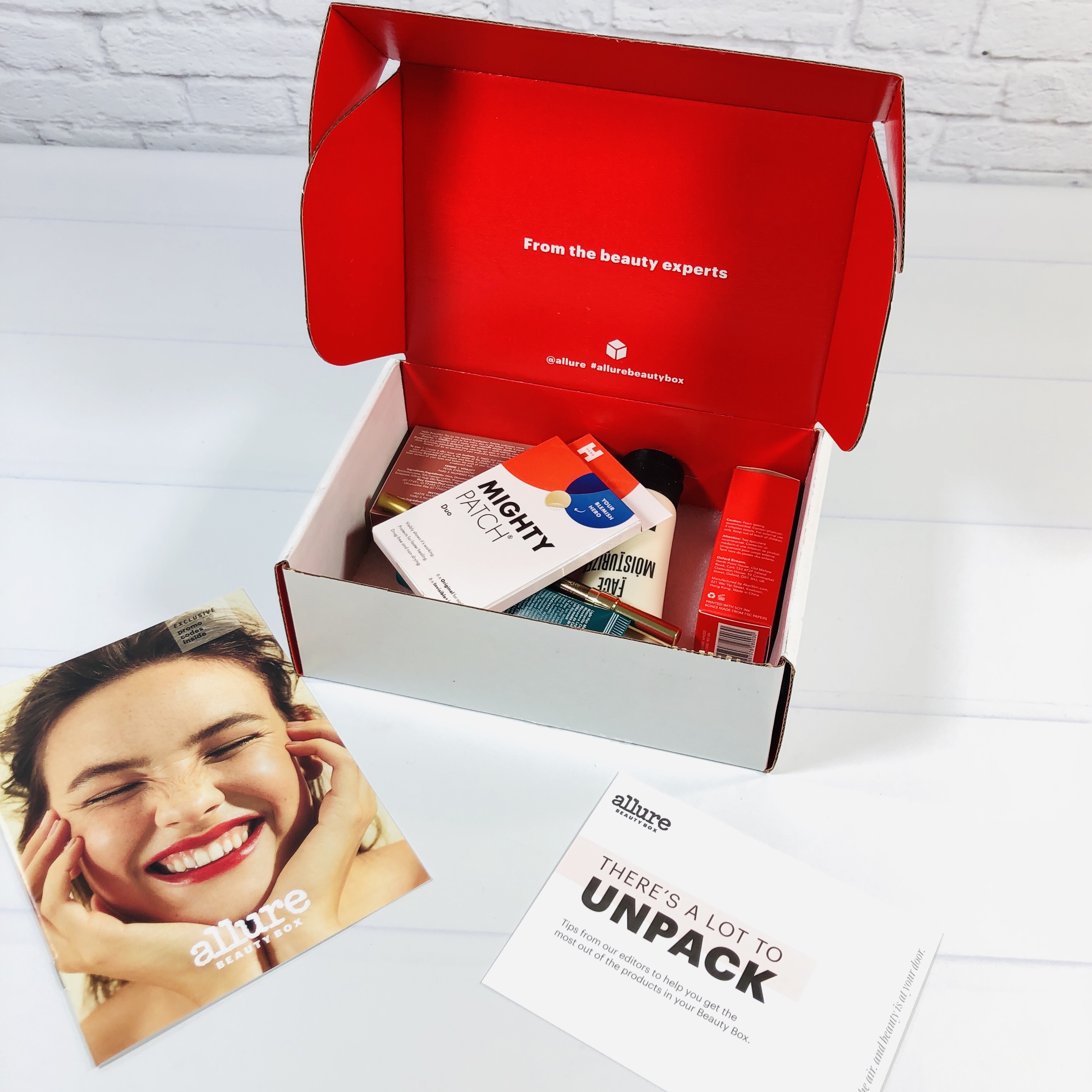 First look!
There was a card telling me that the editors wanted to let me know how to get the most use out of the items in the box.
The back of the card listed some ways to help pep up the under eye area.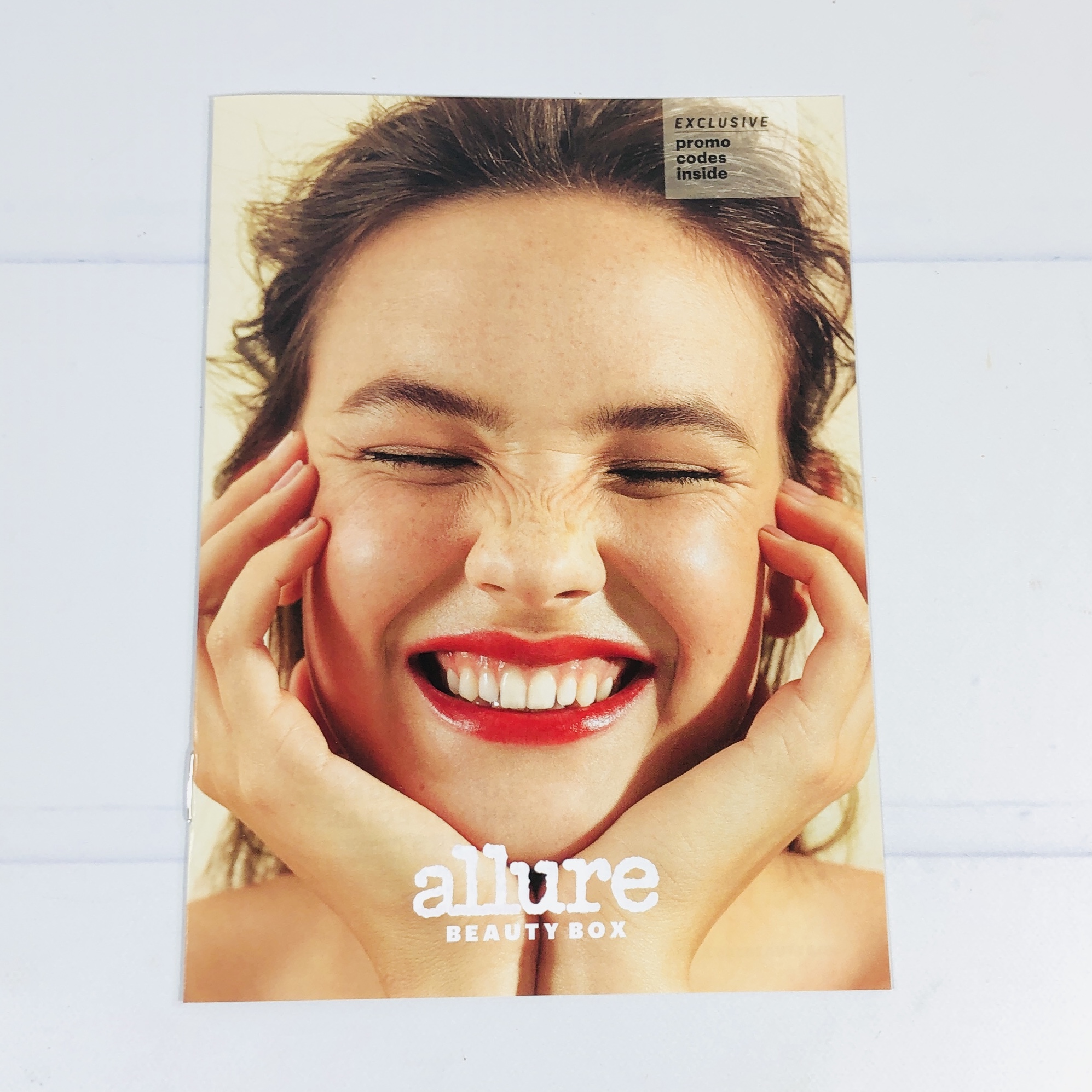 Allure is a magazine so they produce a mini-magazine with all the featured items in the box.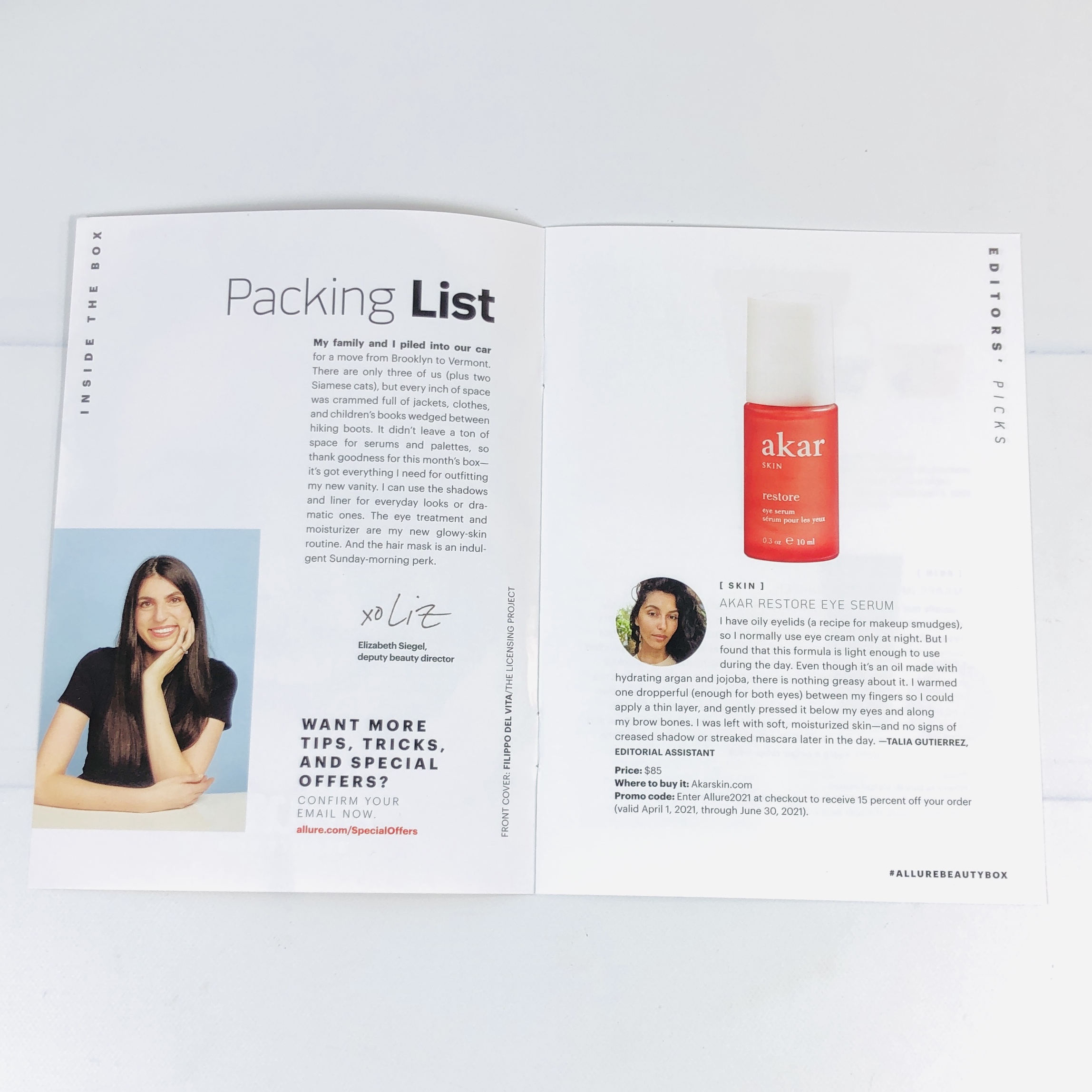 The magazine lists each product, the MSRP of the full-sized product, and where you can find more. Plus, you can find some discount codes for a future purchase.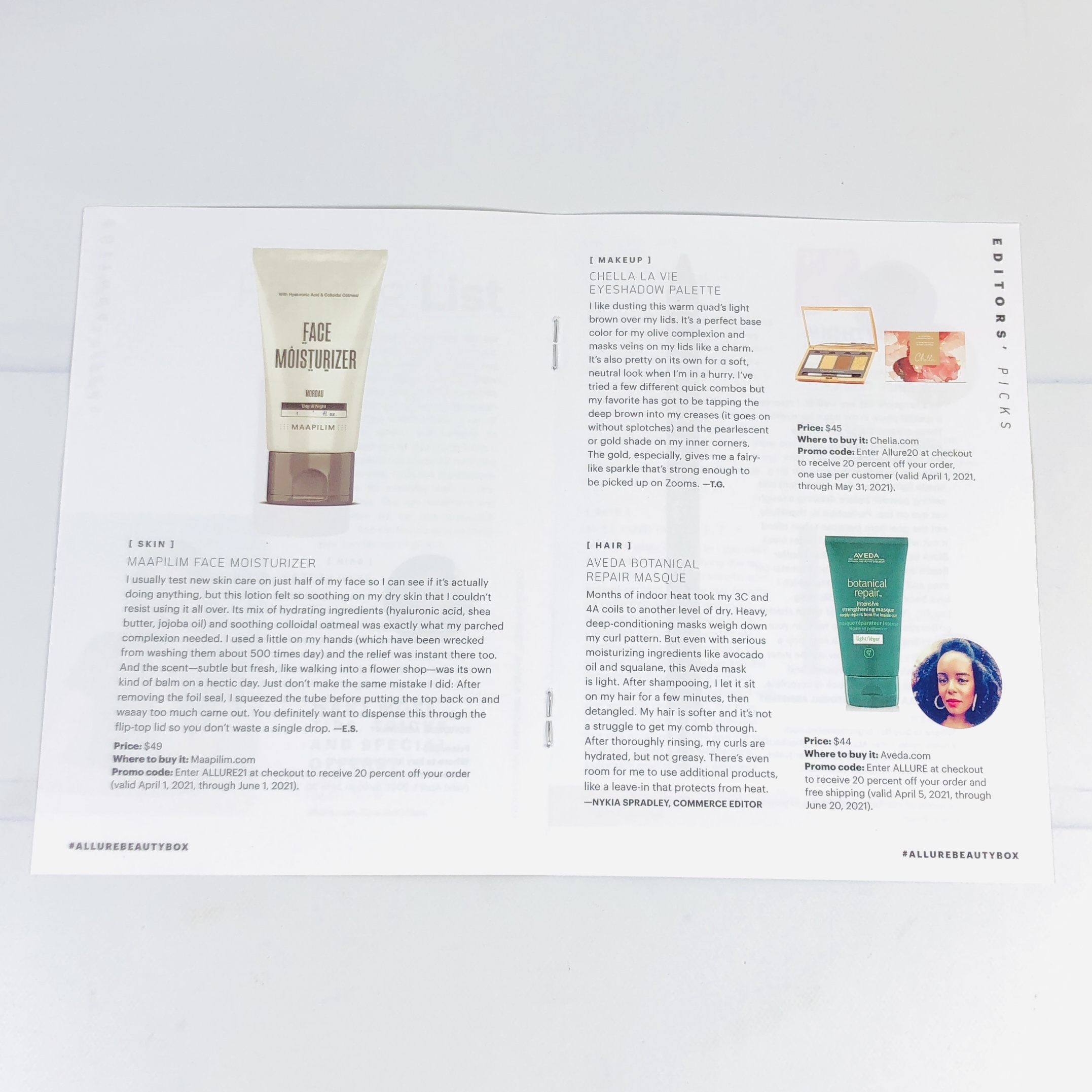 If you are a new member then your products may be slightly different, but continuous subscribers should not receive the same product twice.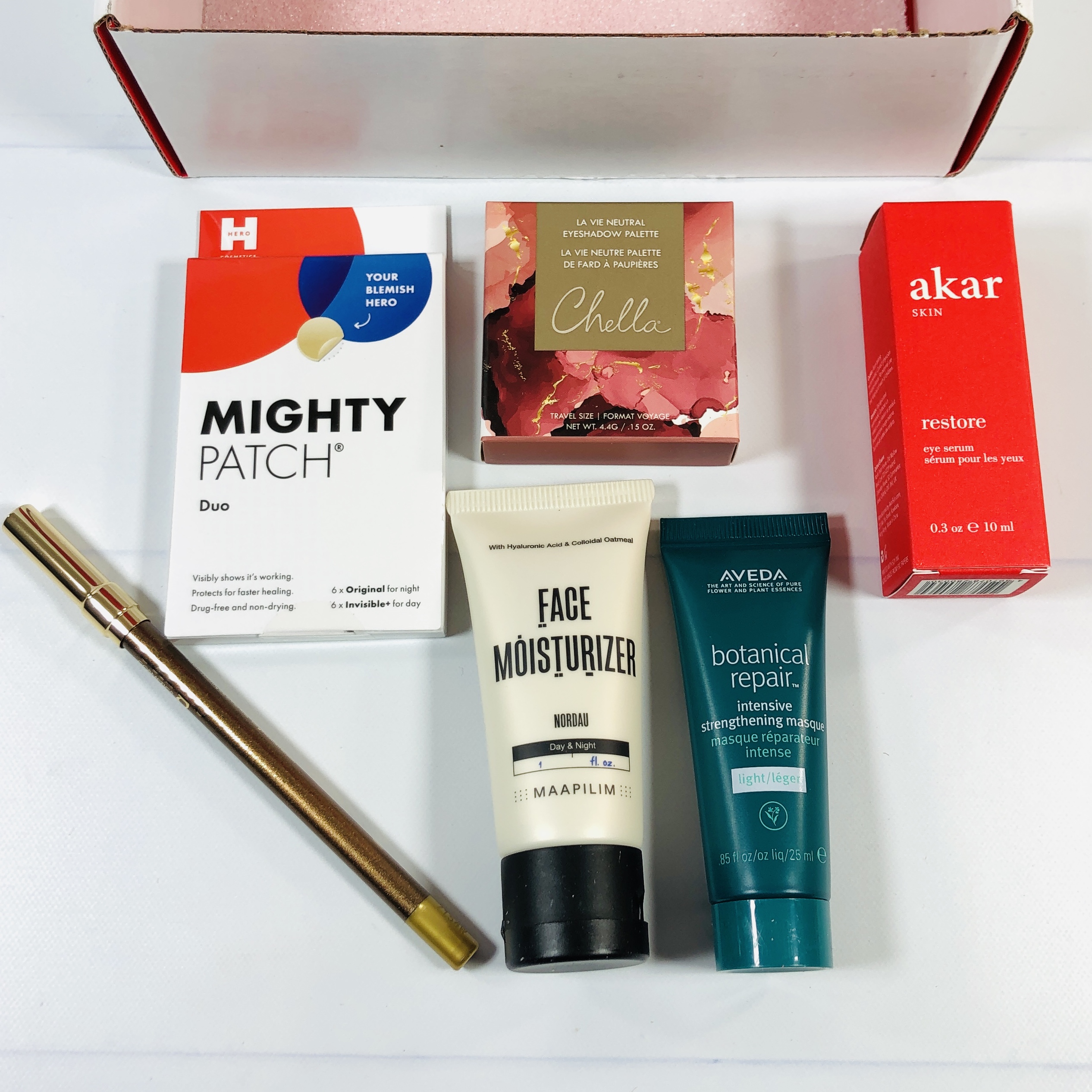 Some of the products came in boxes or had additional packaging.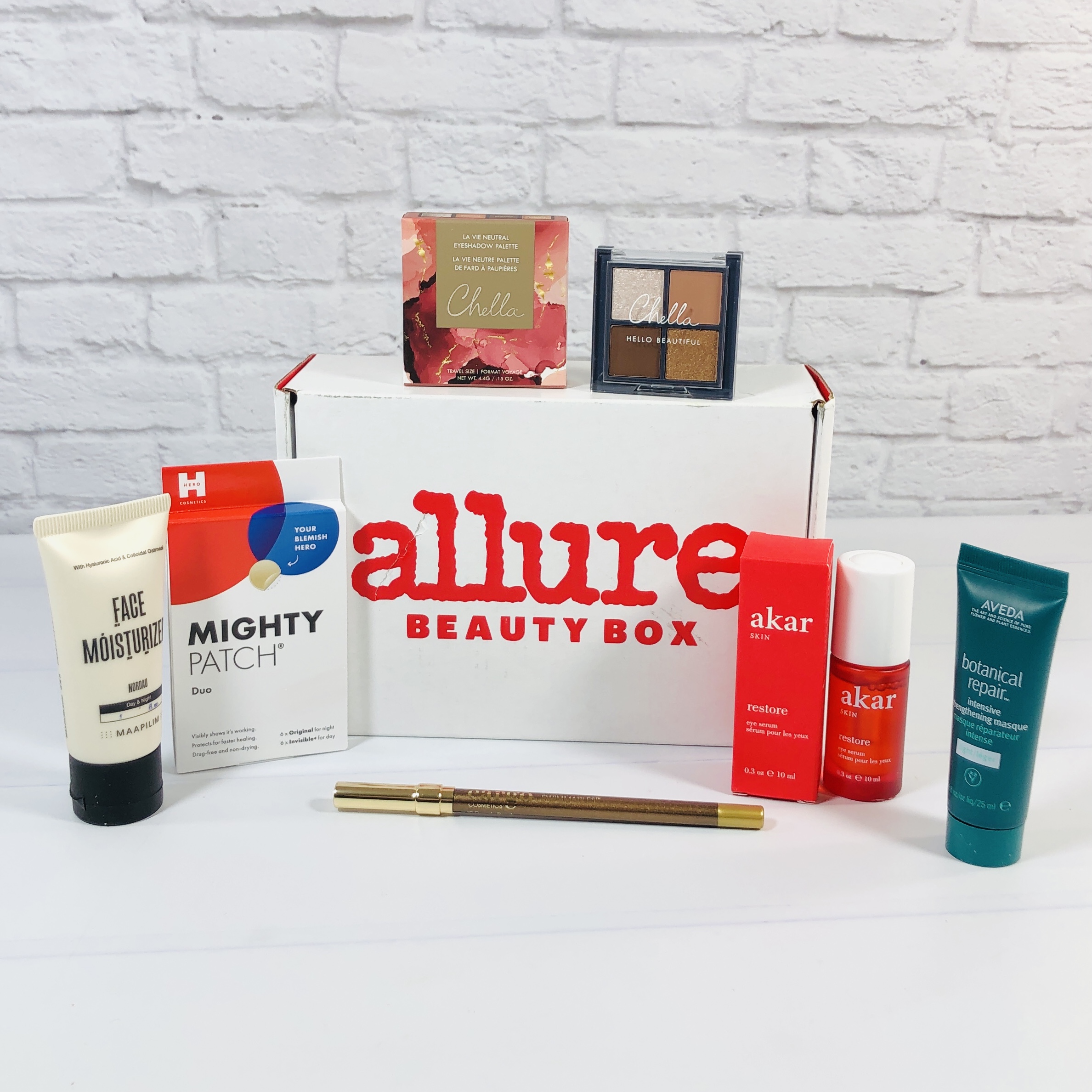 Everything in my box!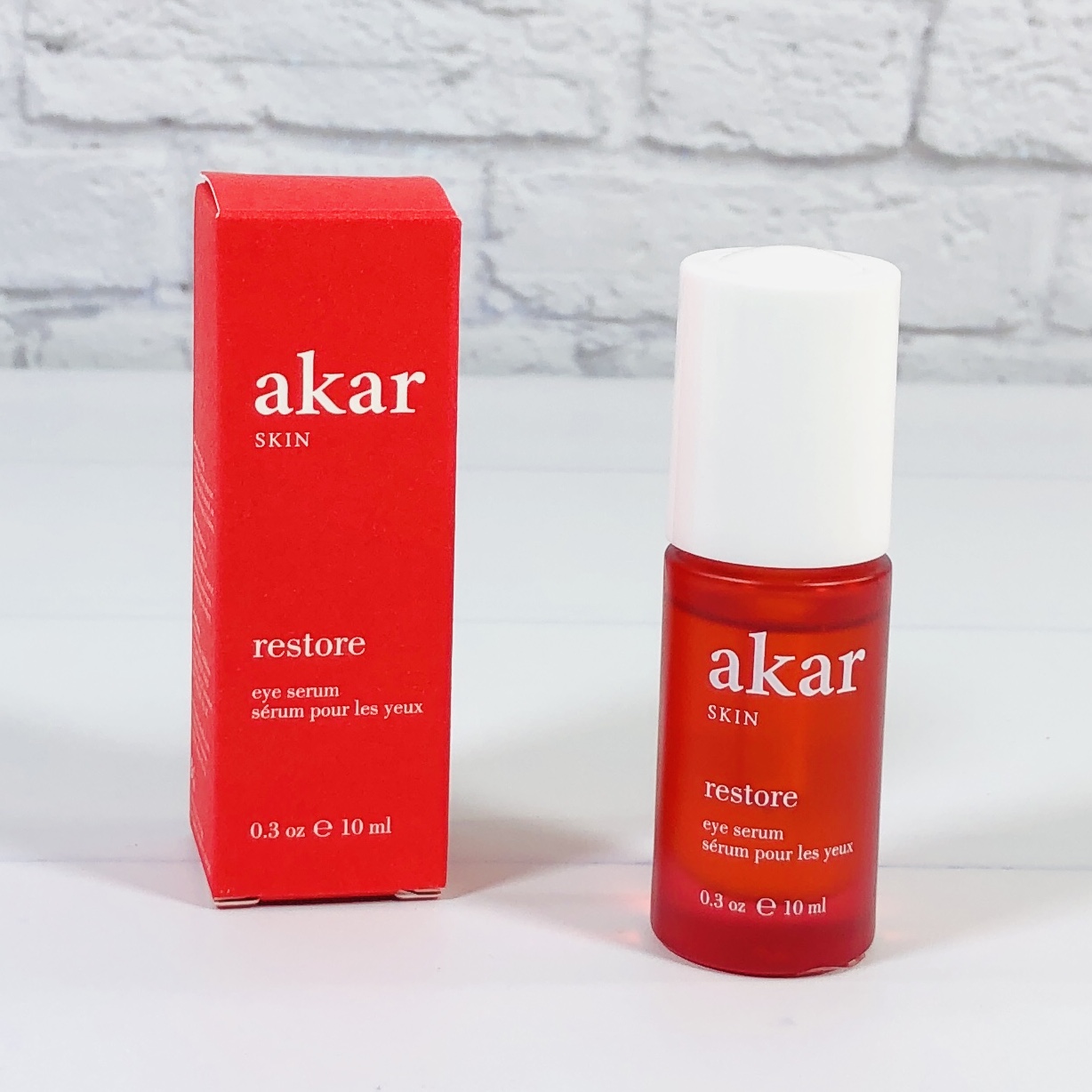 Akar Restore Eye Serum ($85) There was a hero item this month – an eye serum that retails for a hefty amount!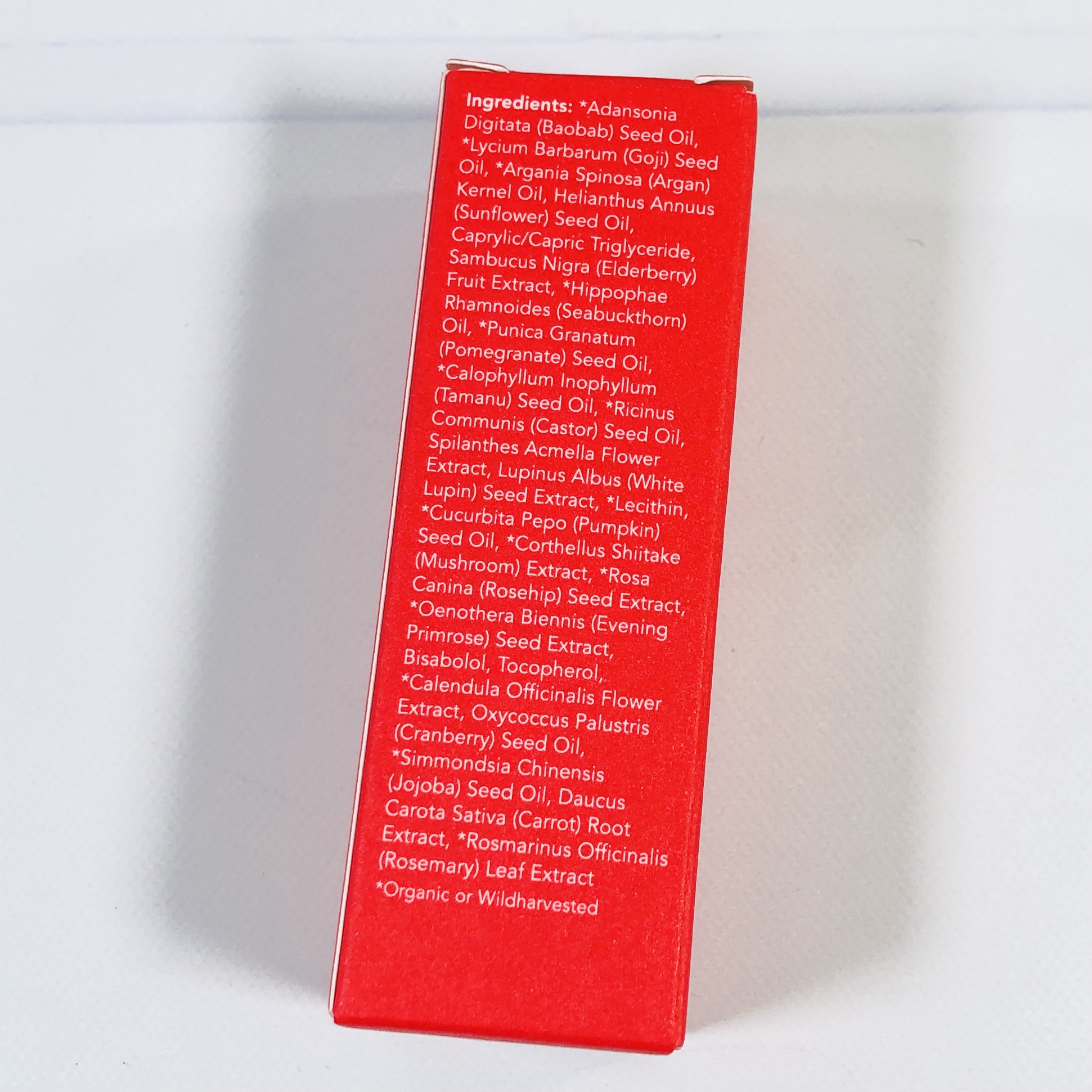 It has a lot of ingredients listed but the top three are baobab oil, goji seed oil, and argan oil. The rest of the ingredients are mainly plant oils including mushroom, pomegranate, and cranberry. It is supposed to hydrate and depuff to provide a rested appearance.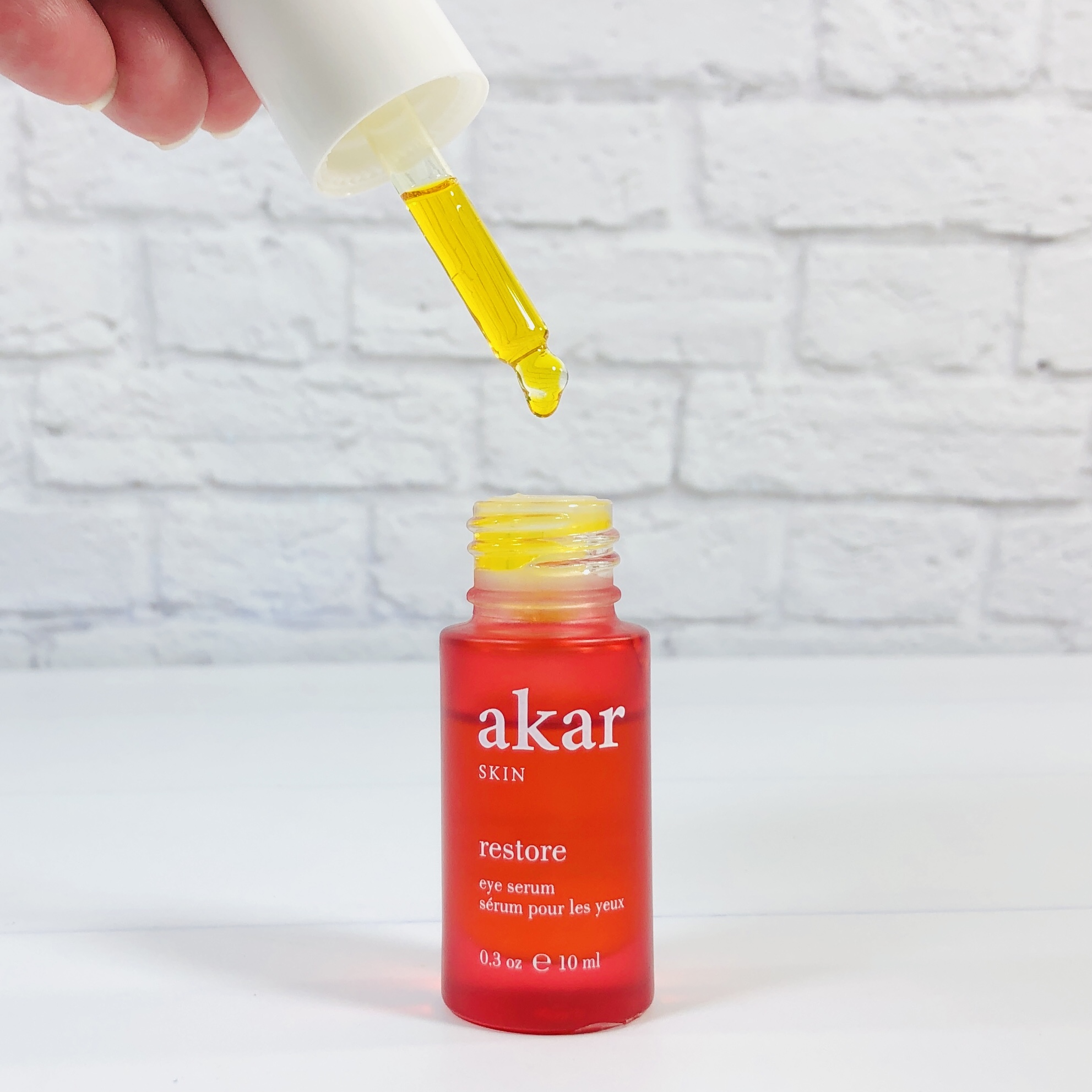 The Allure booklet suggested patting in a dropperful around eyes but that is way too much, one DROP was plenty! I used it both morning and night but it was super emollient and didn't soak all the way in, so my eyeliner and mascara smudged before too long. I will continue to apply at night though.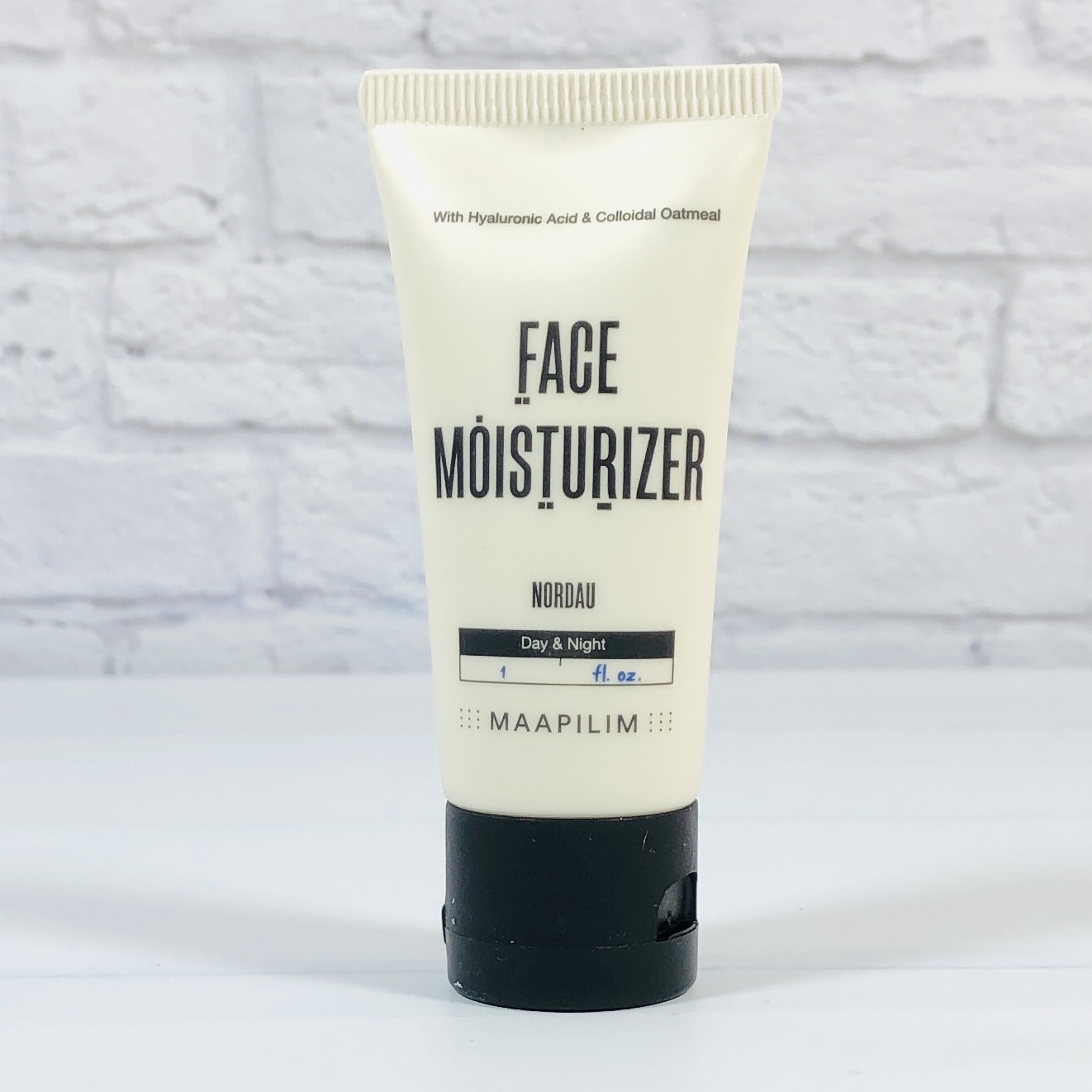 Maapilim Face Moisturizer ($49) I wasn't familiar with this brand but they claim to be "makers of self-care essentials from the Great Sea", which is also known as the Mediterranean Sea.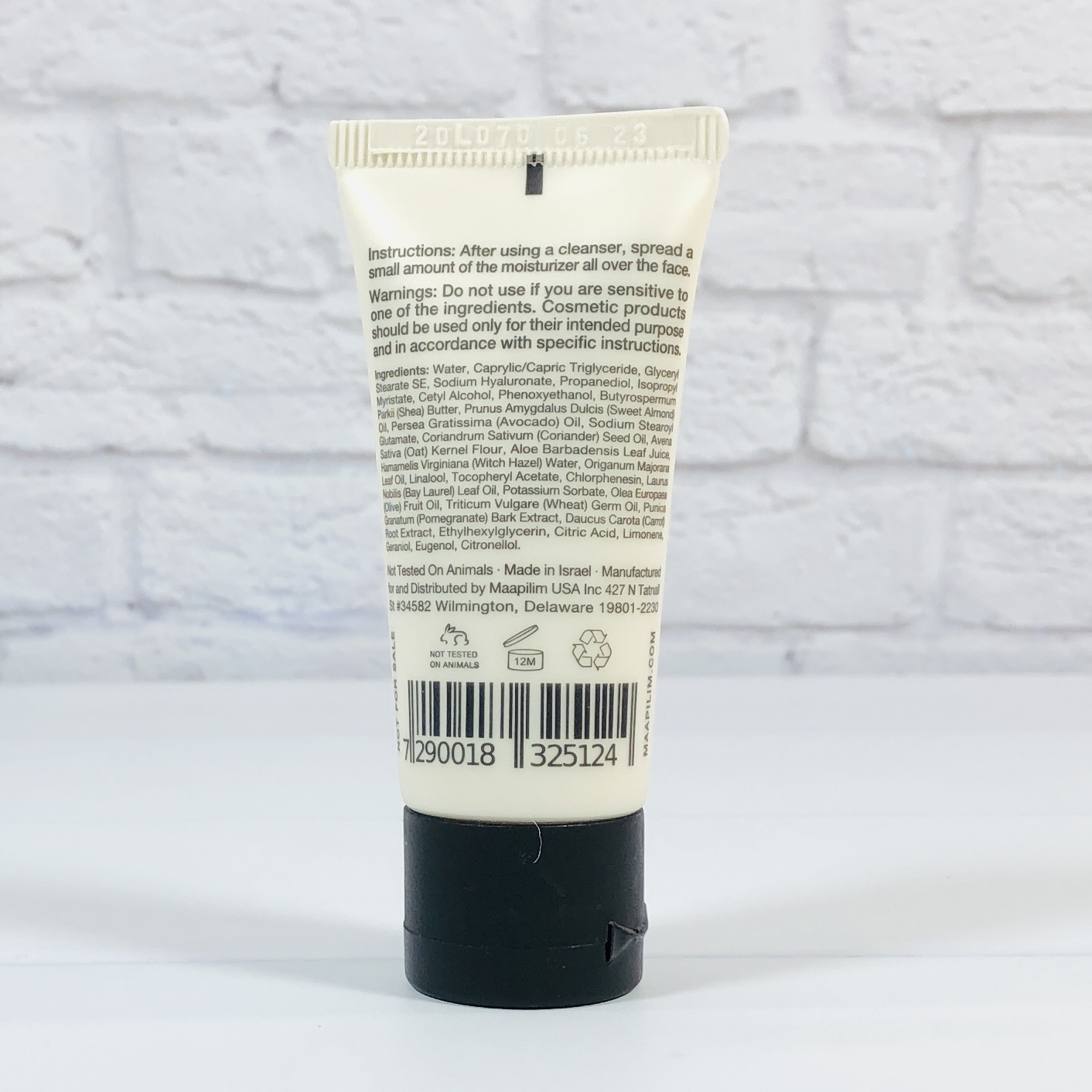 The lotion has hyaluronic acid, shea butter, sweet almond oil, and aloe plus some plant extracts and essential oils. It doesn't say which skin type it is good for but it doesn't seem rich enough for my dry skin, and the oils may be too much for sensitive skin. The scent is strong and unisex, which I don't usually mind, but it is long lasting. The lotion is supposed to fight the causes of "tired, aggravated" skin.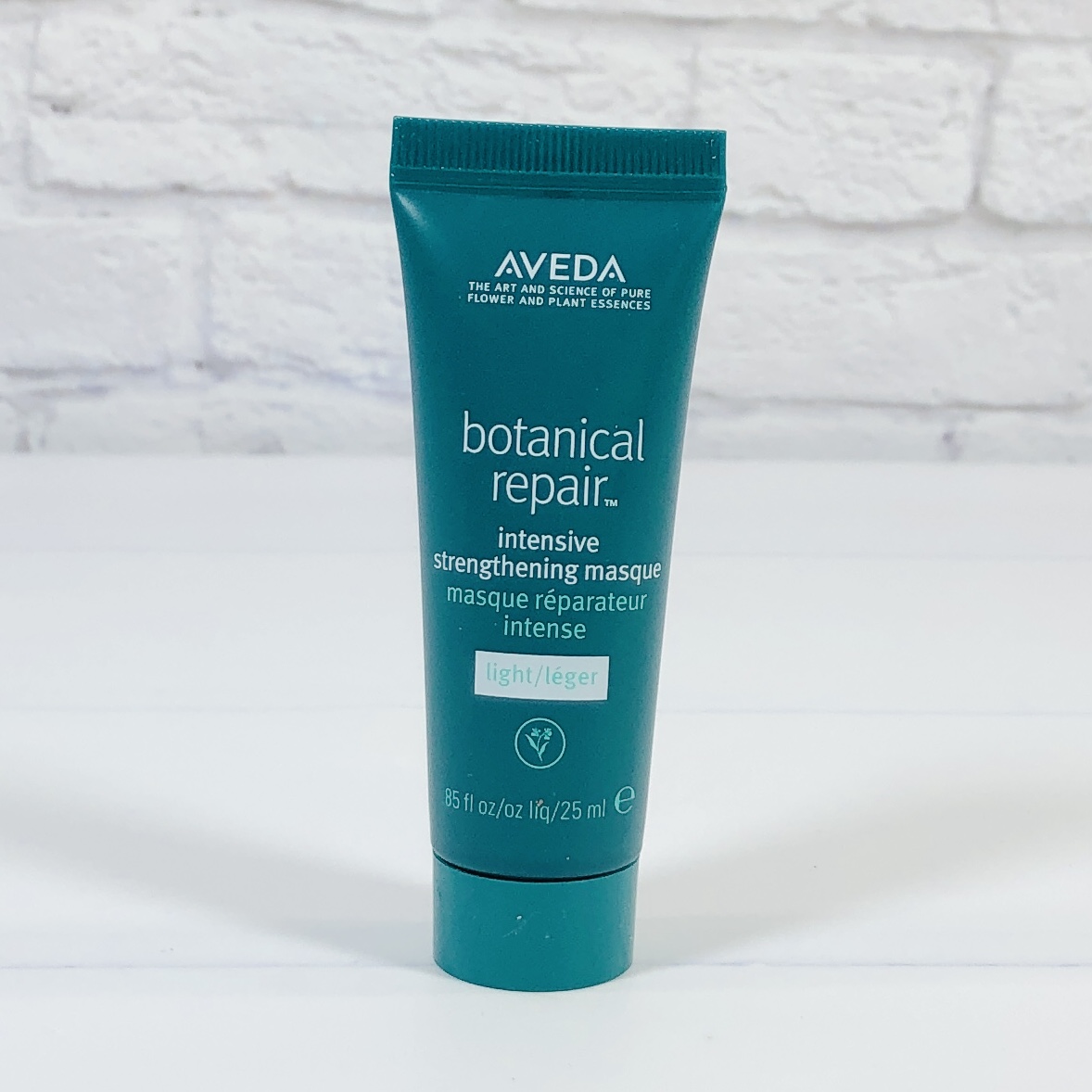 Aveda Botanical Repair Intensive Strengthening Masque: Light ($12) I was excited to see that this deep conditioner is "light" since I have fine hair that is easily weighed down.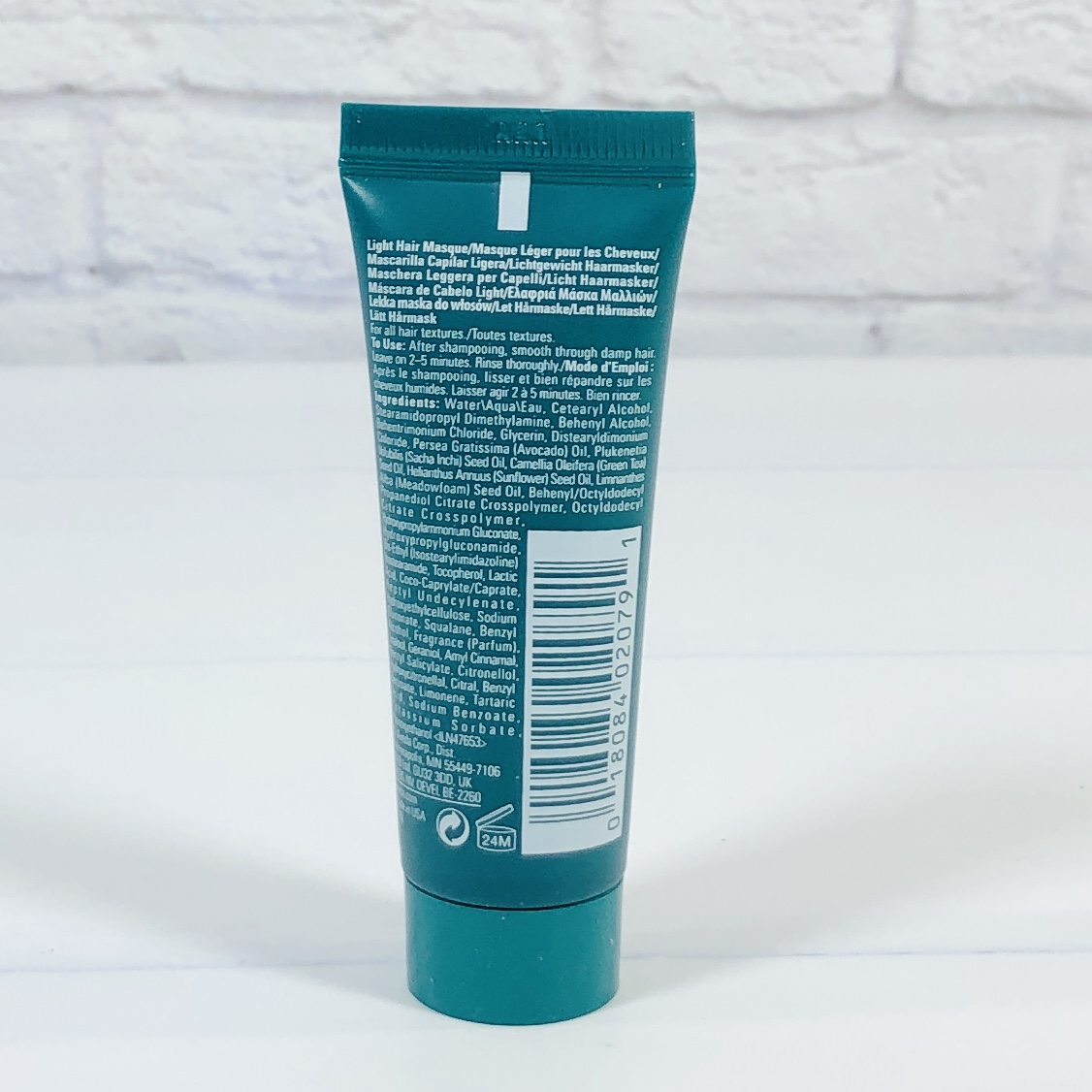 The container says it's for all textures but the website says this is best for fine to medium hair. If you are used to something heavy then this might not be the one for you. I noticed that it was not super thick at all and it rinsed away easily. I liked the scent, which I will call "botanical" and found quite pleasant. When it came time to comb my hair I felt it snag, so those with thick or curly locks may have problems here. I was excited that my hair wasn't left with a greasy feeling, and for me this product was a winner!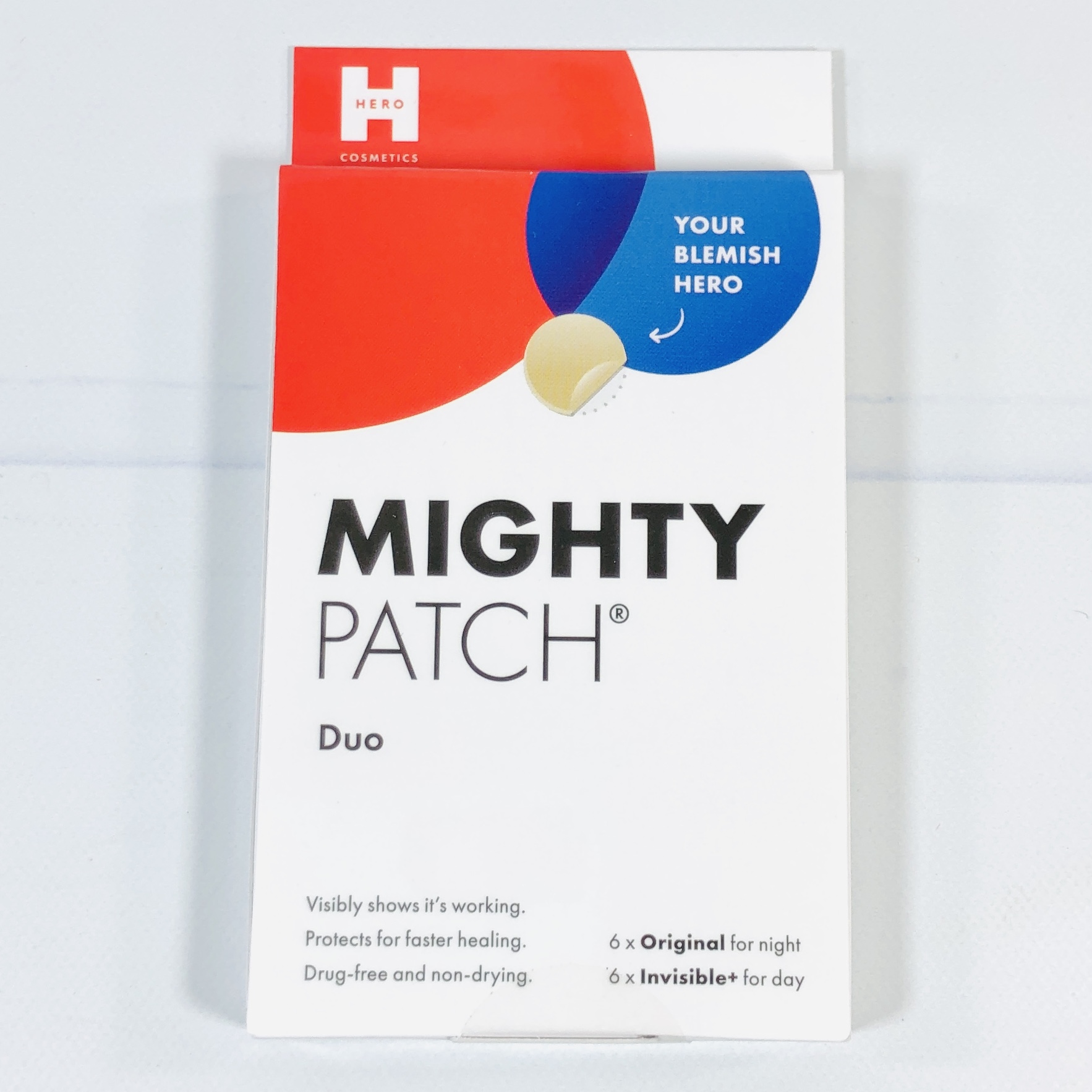 Hero Cosmetics Mighty Patch Duo ($7) Mighty Patches are mini circles of hydrocolloid and are sort of like a bandage but you put it on a whitehead instead of a wound.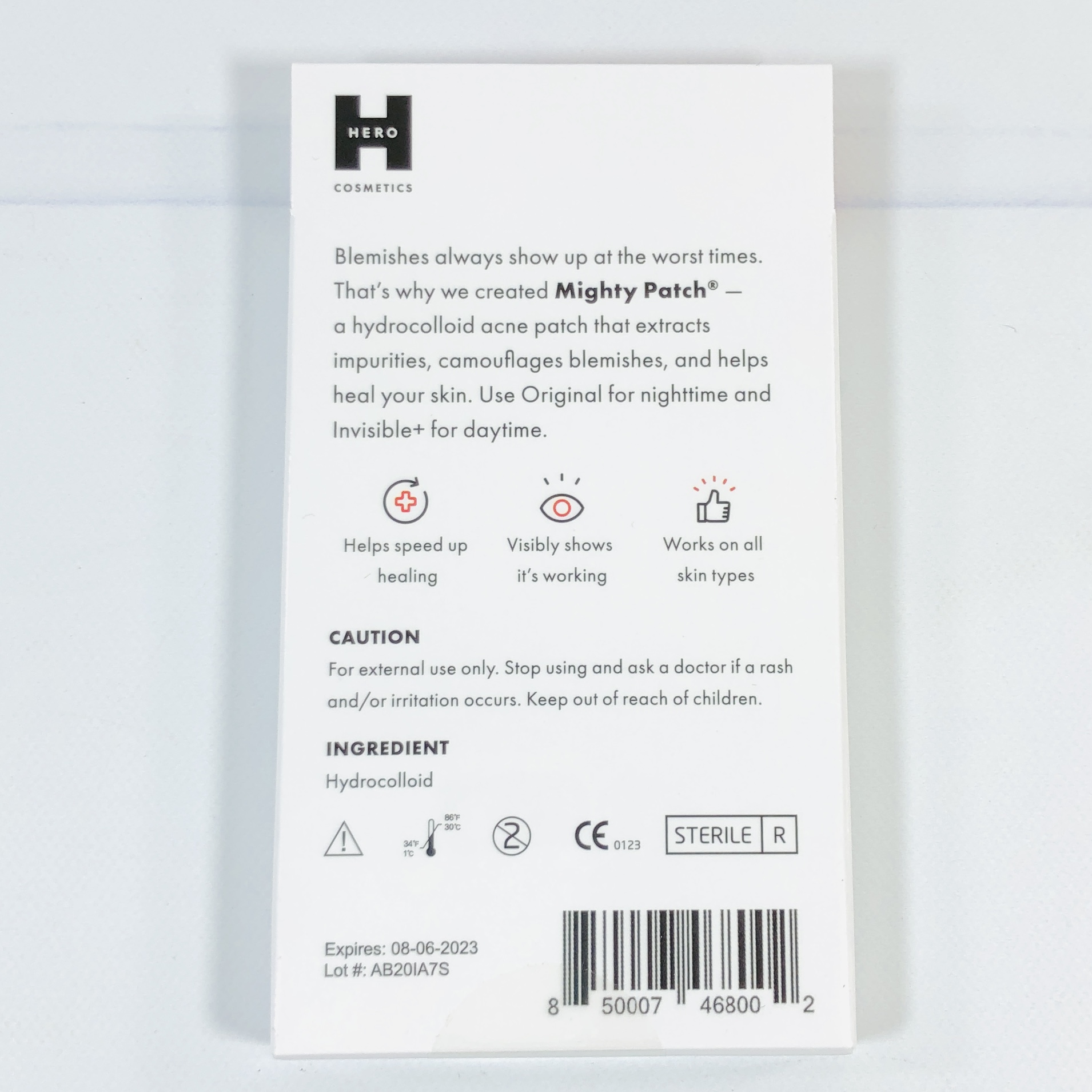 Hydrocolloid can be made with gelatin but the brand this comes from says their acne patches are gelatin-free and vegan friendly.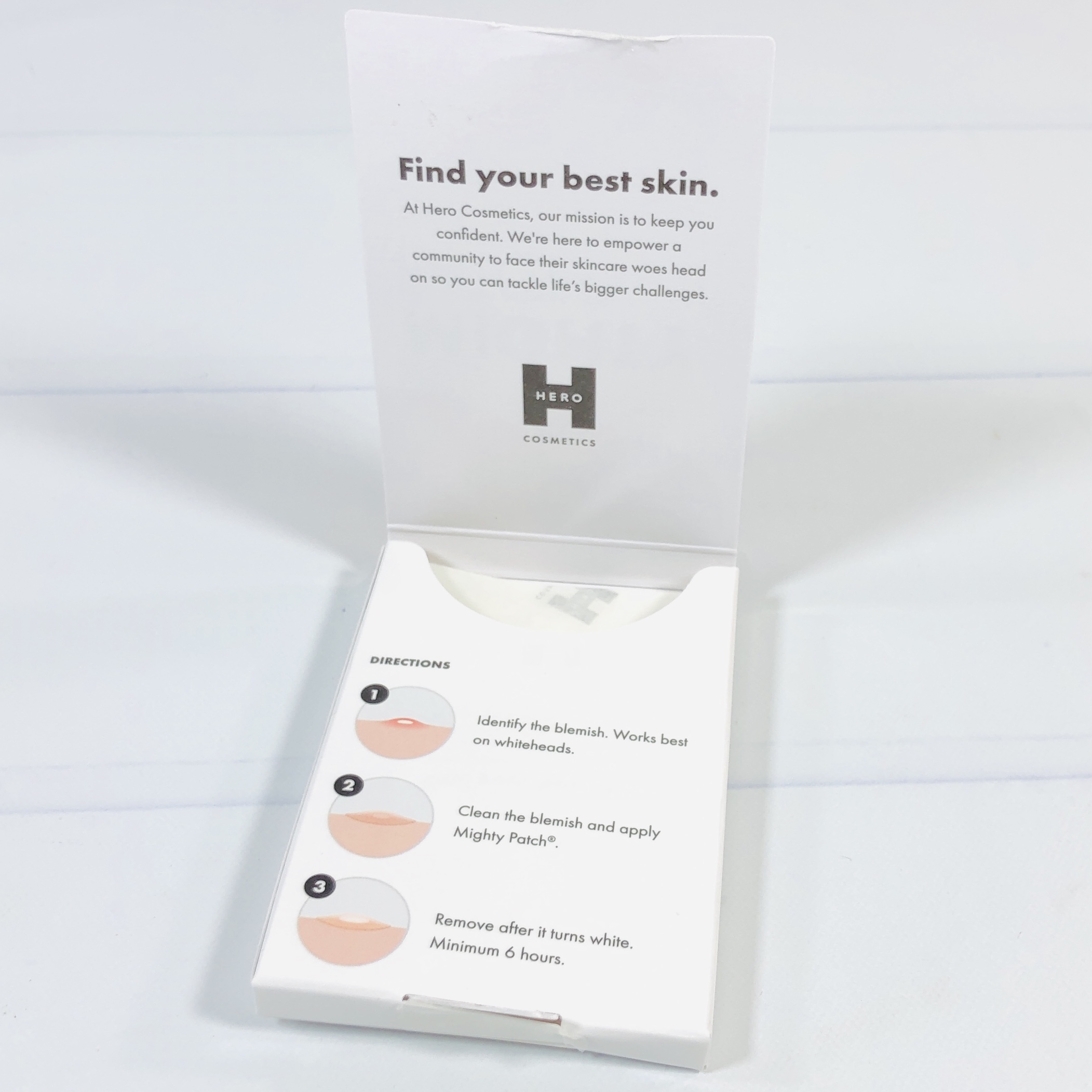 The directions are super simple: wash face, apply patch, leave on for 6 hours. Remove if there is any irritation.
There were 6 patches for day and 6 for night. The hydrocolloid absorbs the pus from the pimple and that's all there is to it. I tried one once and was surprised that it worked. Nowadays I give them to my daughter and she is always thrilled to get them, because they work for her too!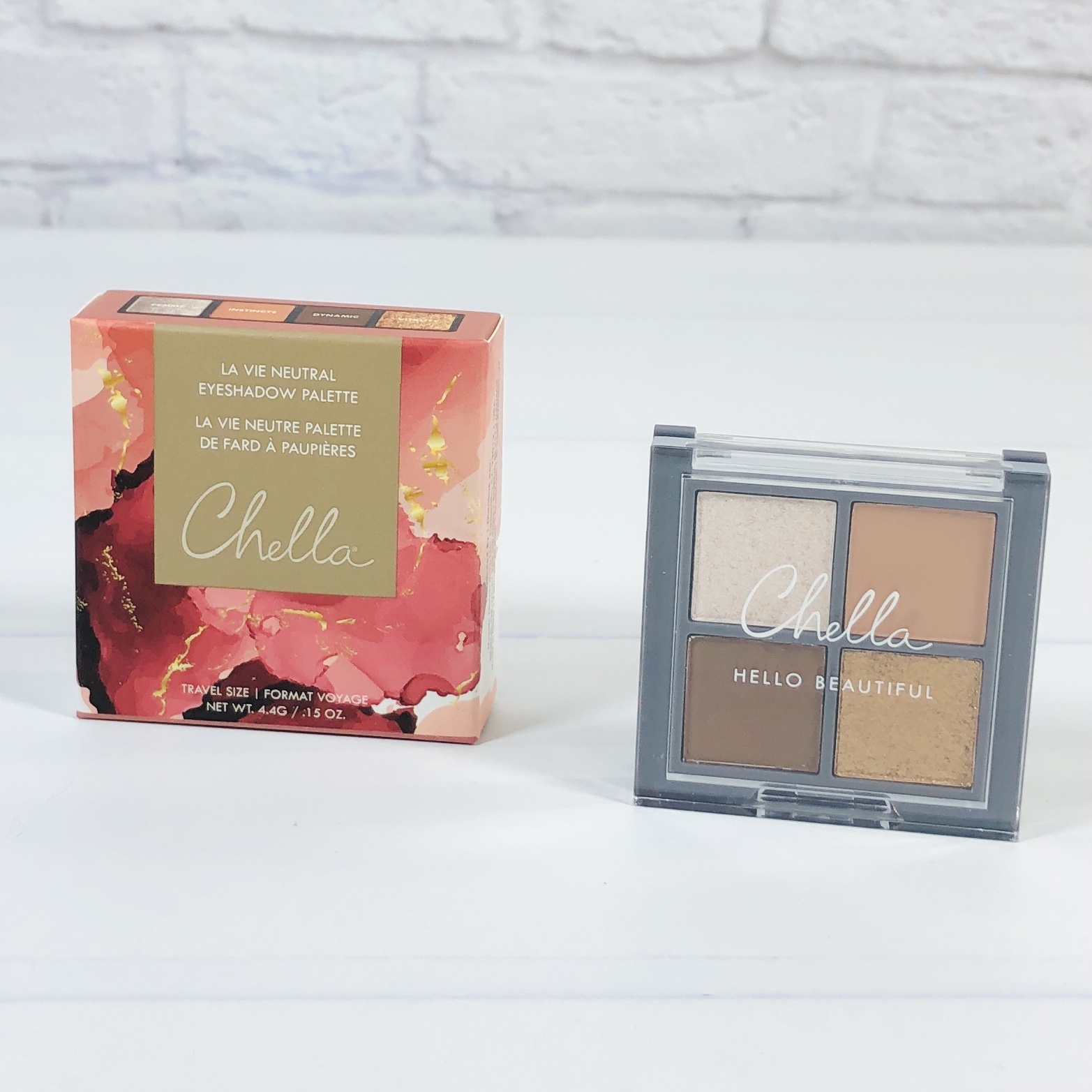 Chella Travel Size La Vie Quad Palette ($20) A warm neutral palette seems better suited to fall but then I guess people wear warm neutrals all year round and pastels are hard to carry off at my age anyways.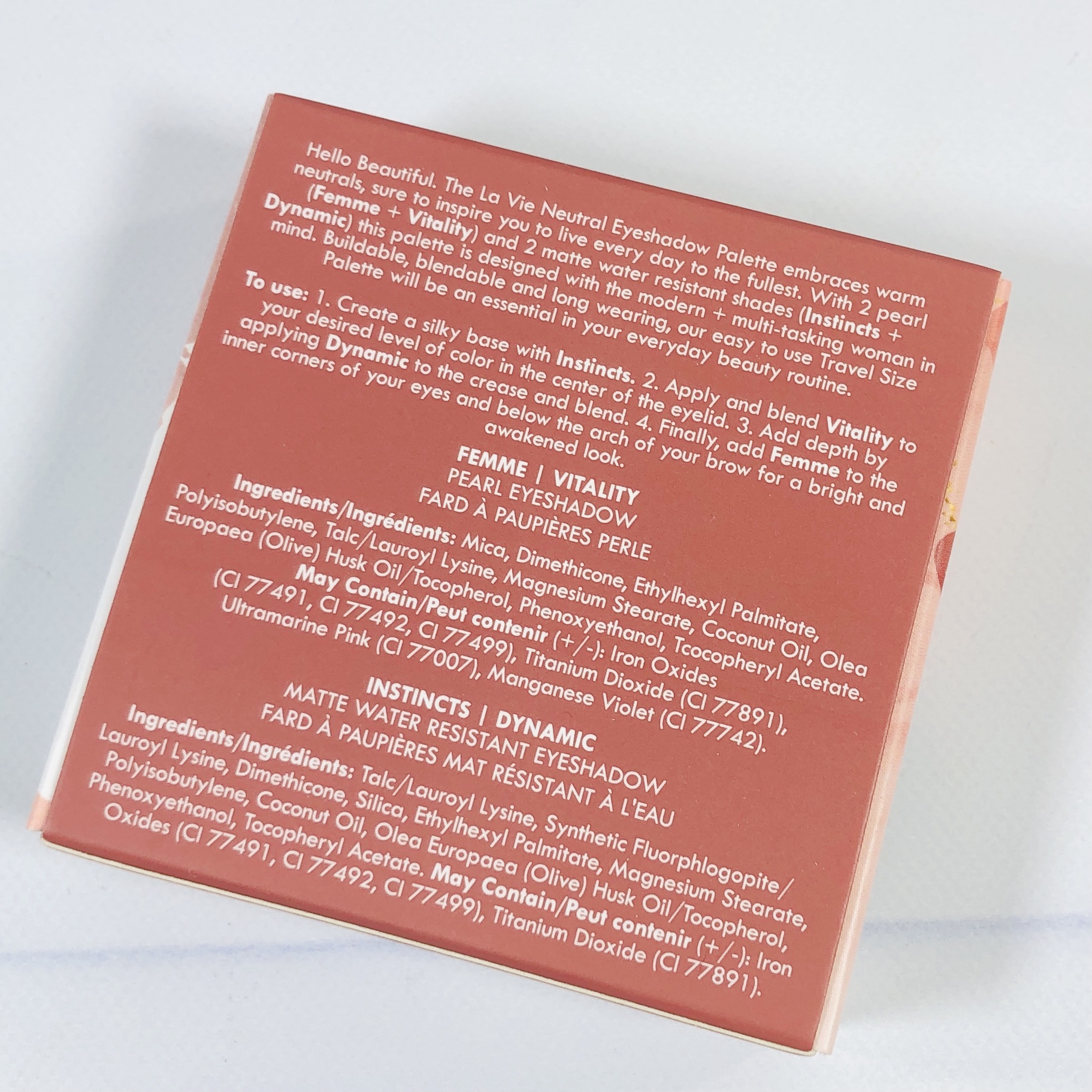 Ingredients were listed on the back of the box.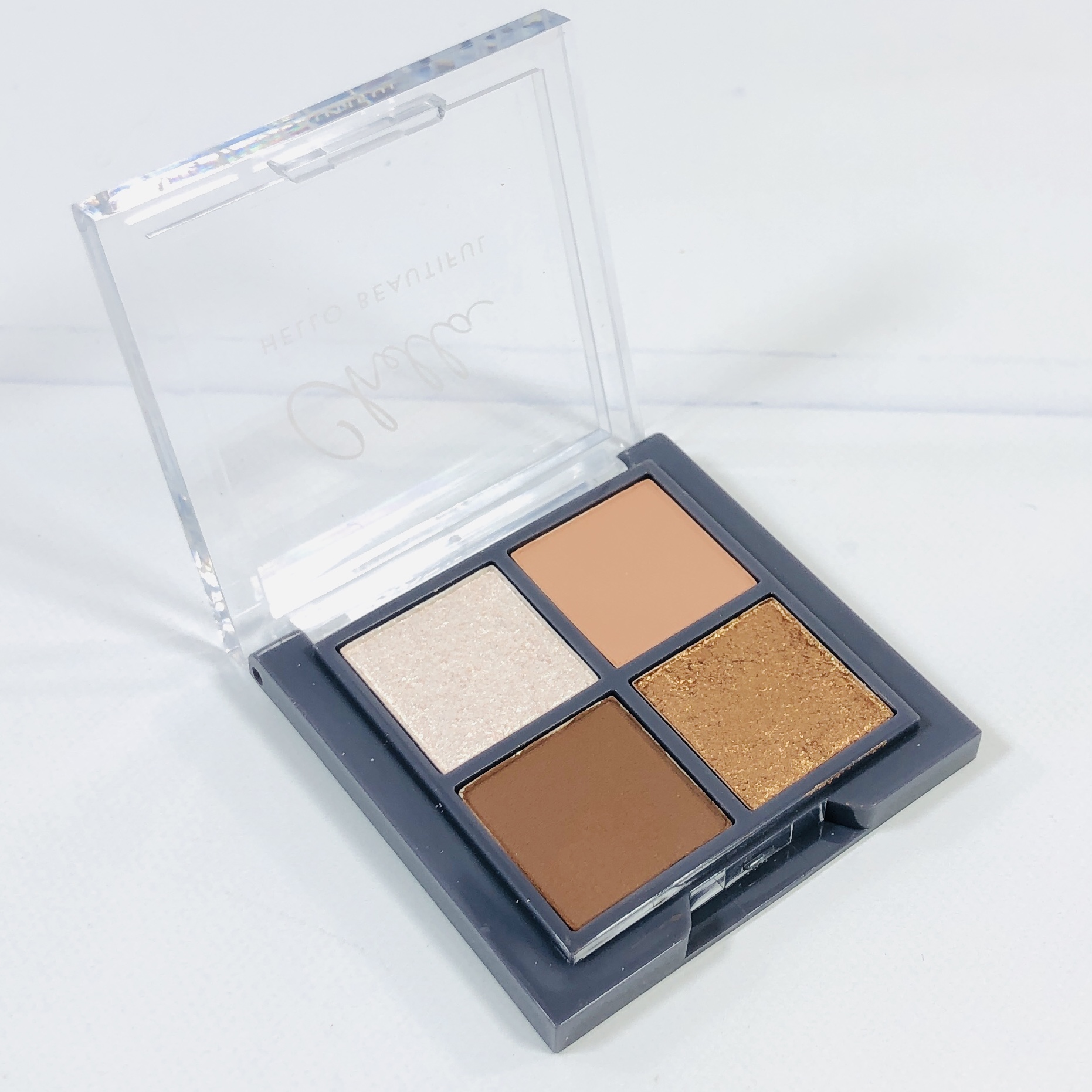 There were two pearlized shades and two water resistant mattes.
I applied a light base shadow from another palette first, then put the shimmery silver shade on my lid. I used the dark brown shade on the crease, then decided to go ahead and add the gold shimmer to the middle of my lids. I applied the shimmers with my finger, they tend to stick better that way, with less fallout. I used a primer and my look lasted all day long!
Cargo Cosmetics Swimmables Eye Liner Pencil in Dorado ($18) Subscribers received one of three different colors of eyeliner and I think this is one of those times when I would have preferred basic black, I think this is too light for my coloring.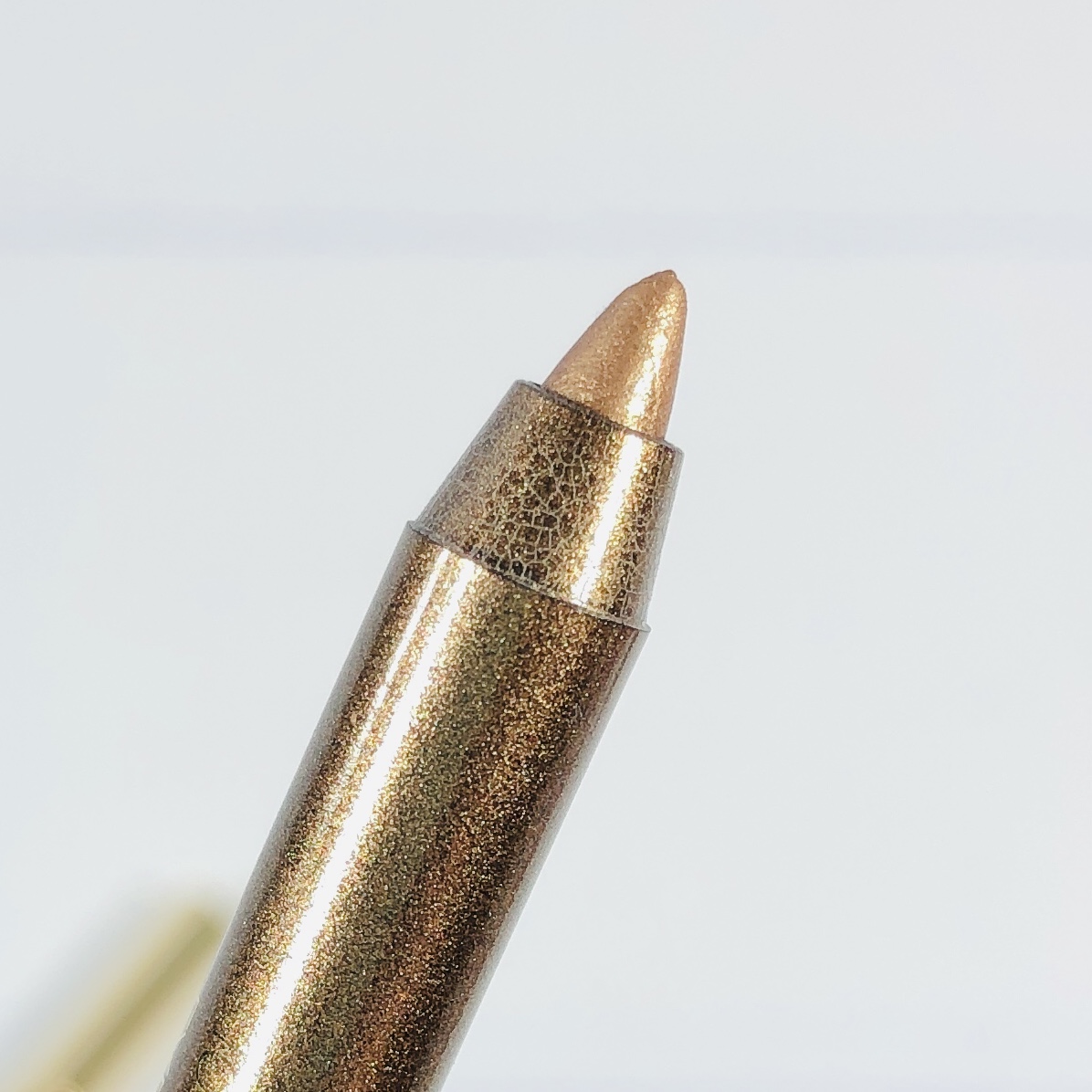 It's supposed to last while swimming so it should stay on through humid weather or a crying session, right? It is just too light, and I'm already light to begin with, so it doesn't show up all that well.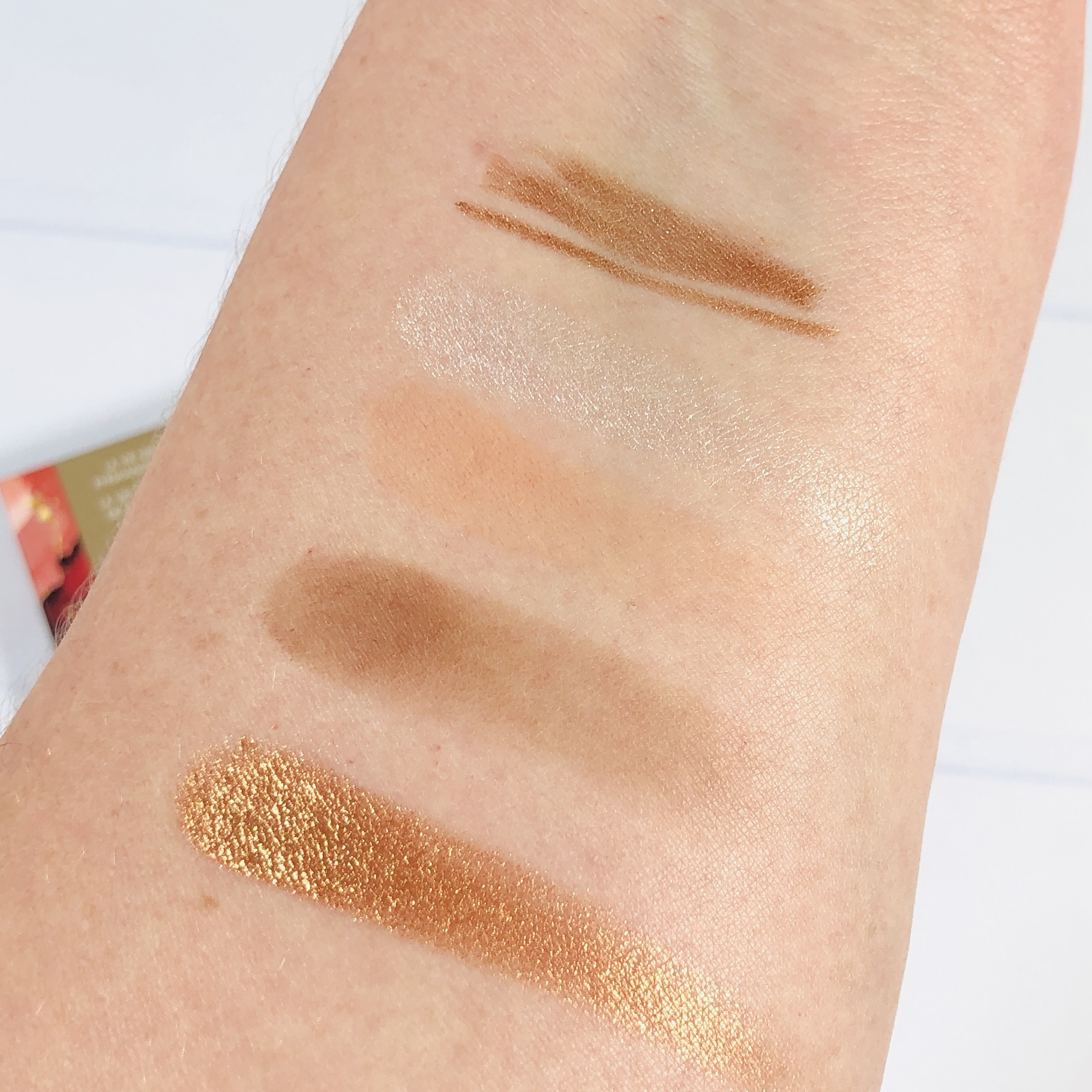 Swatched from the top is the liner followed by the eye shadows.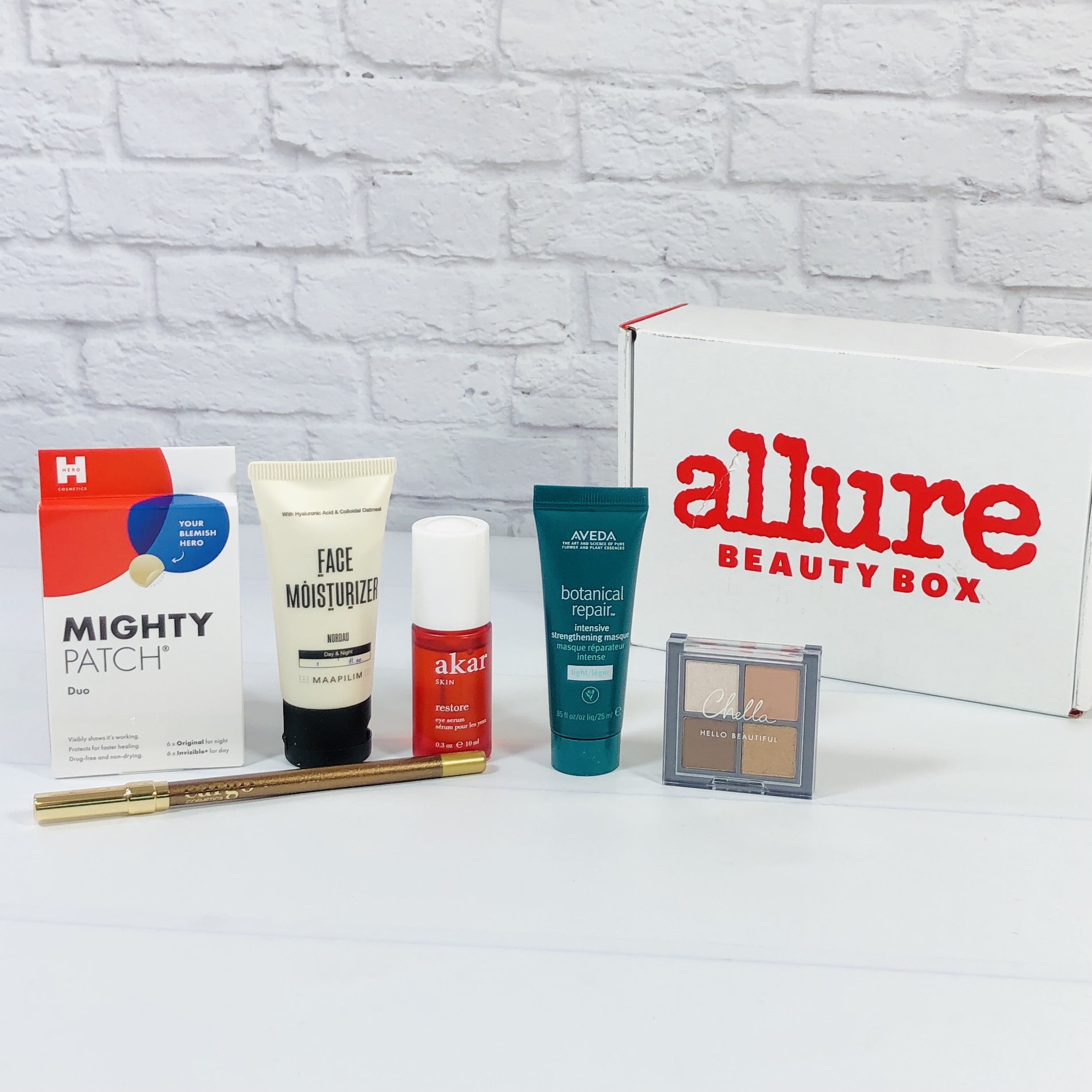 I was thrilled with my April Allure Beauty Box! I like the eye serum, I've been using it at bedtime. The hair conditioner was also a winner for my fine hair, it didn't weigh it down at all. The eye shadow palette had good color payoff and longevity. My daughter was excited for the acne patches, and these were from her favorite brand. The face moisturizer was too light for my skin type and the liner wasn't quite my shade, but they can't all be winners for every person, every time. I like the assortment too, it wasn't heavy in any one area. The value for this box was around $191!
Have you tried Allure Beauty Box yet? What did you think of this month's box? Let me know in the comments!