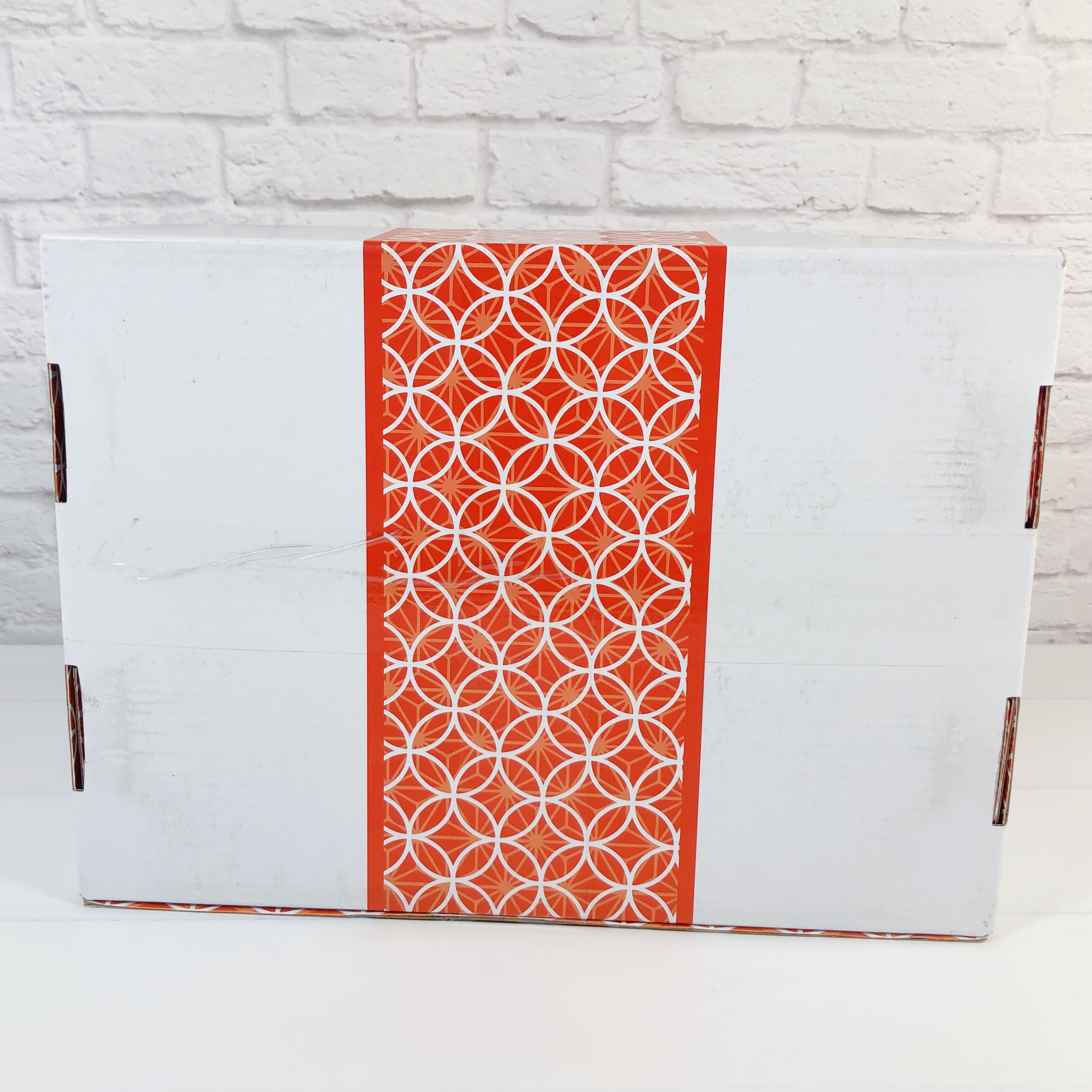 WOWBOX is a subscription from Japan that sends delicious snacks and sweets. They recently switched things up due to feedback and now offer two choices: The Prefecture and Healthy and Beauty Boxes have merged to become the Tabi Box. The Original Box is now called the Omiyage Box. Today I am reviewing the box previously known as the Prefecture Box. If you sign up from now until the end of March, you will receive one of the April Sakura boxes.
We have selected long-standing local specialty confectioneries for this spring. The cherry blossom April box from March will have cherry blossom flavored snacks, which will give you a unique taste of spring cherry blossoms in Japan.
DEAL: Get 10% off on all subscription plans! Use this link and use the coupon code HELLOSUB10 at checkout. Ends 3/31.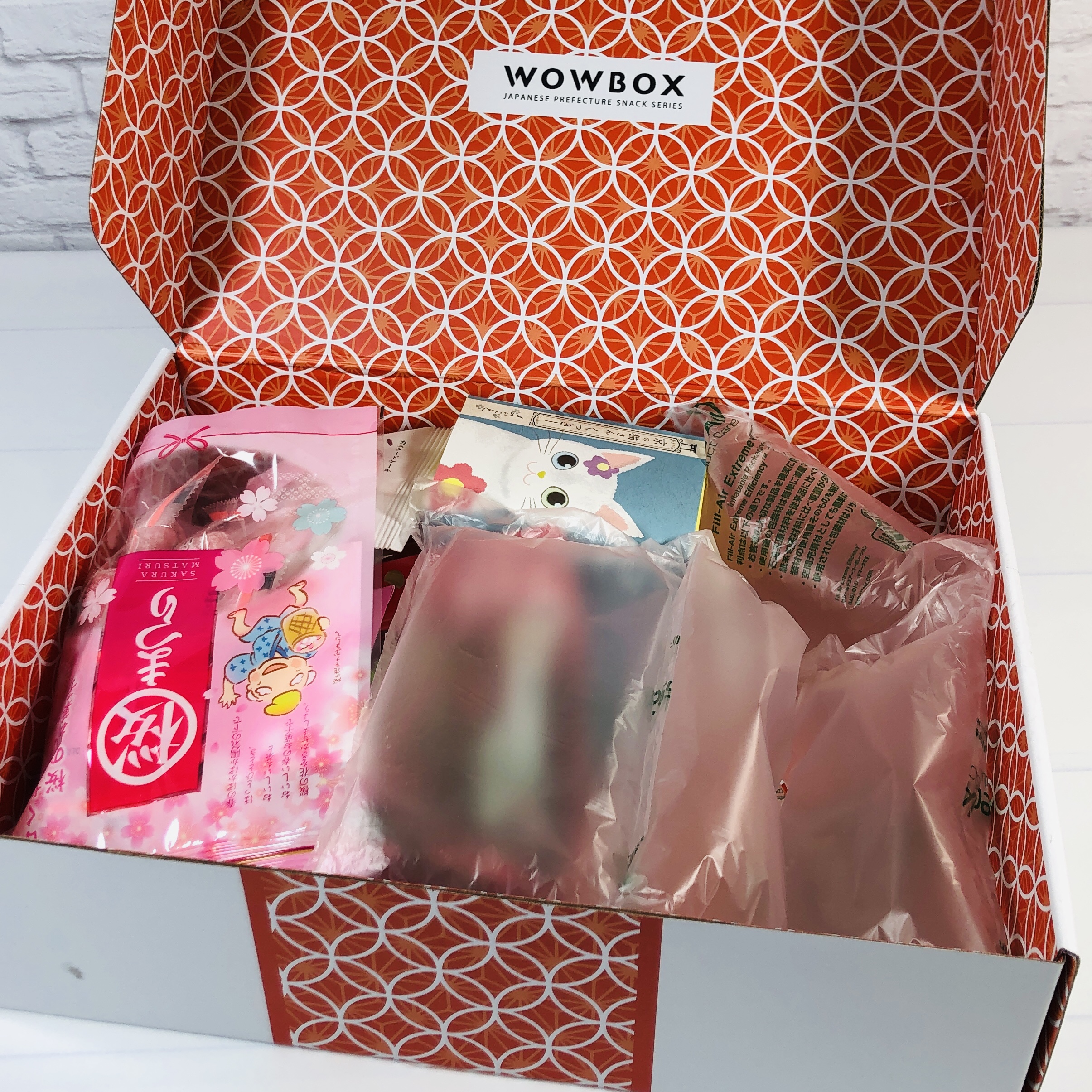 My items were cushioned with puffy air packs. This box ships from Japan!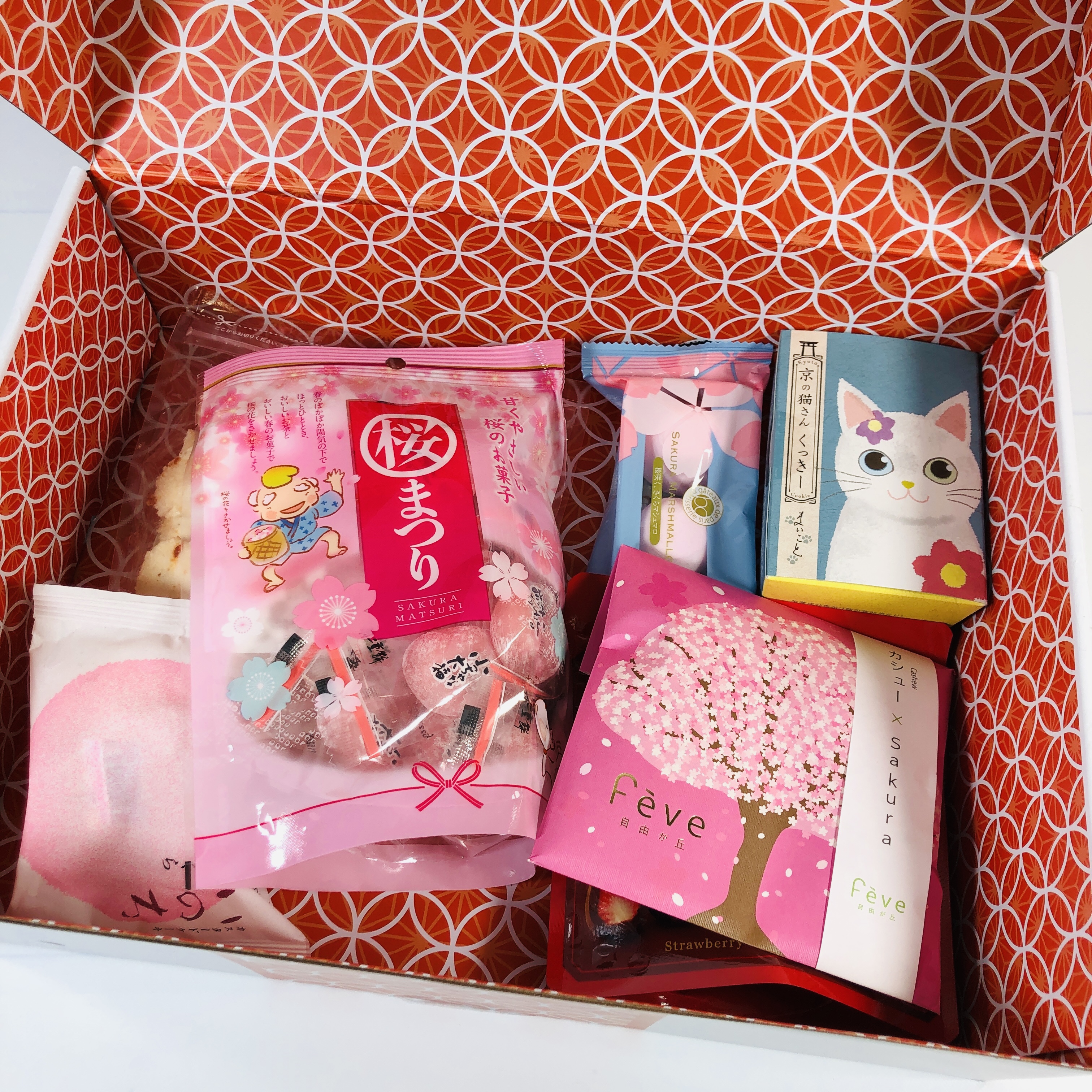 So colorful!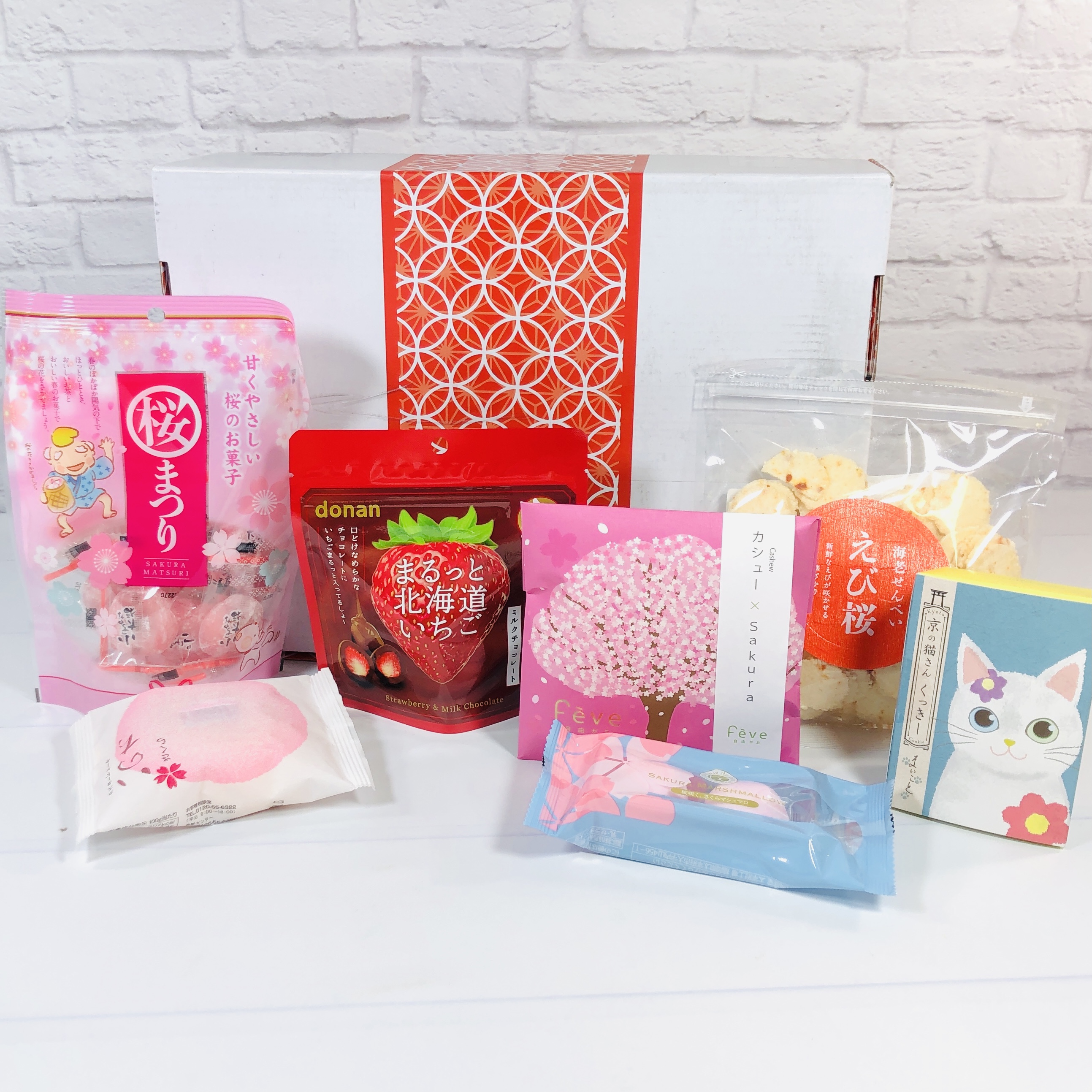 Everything in my box!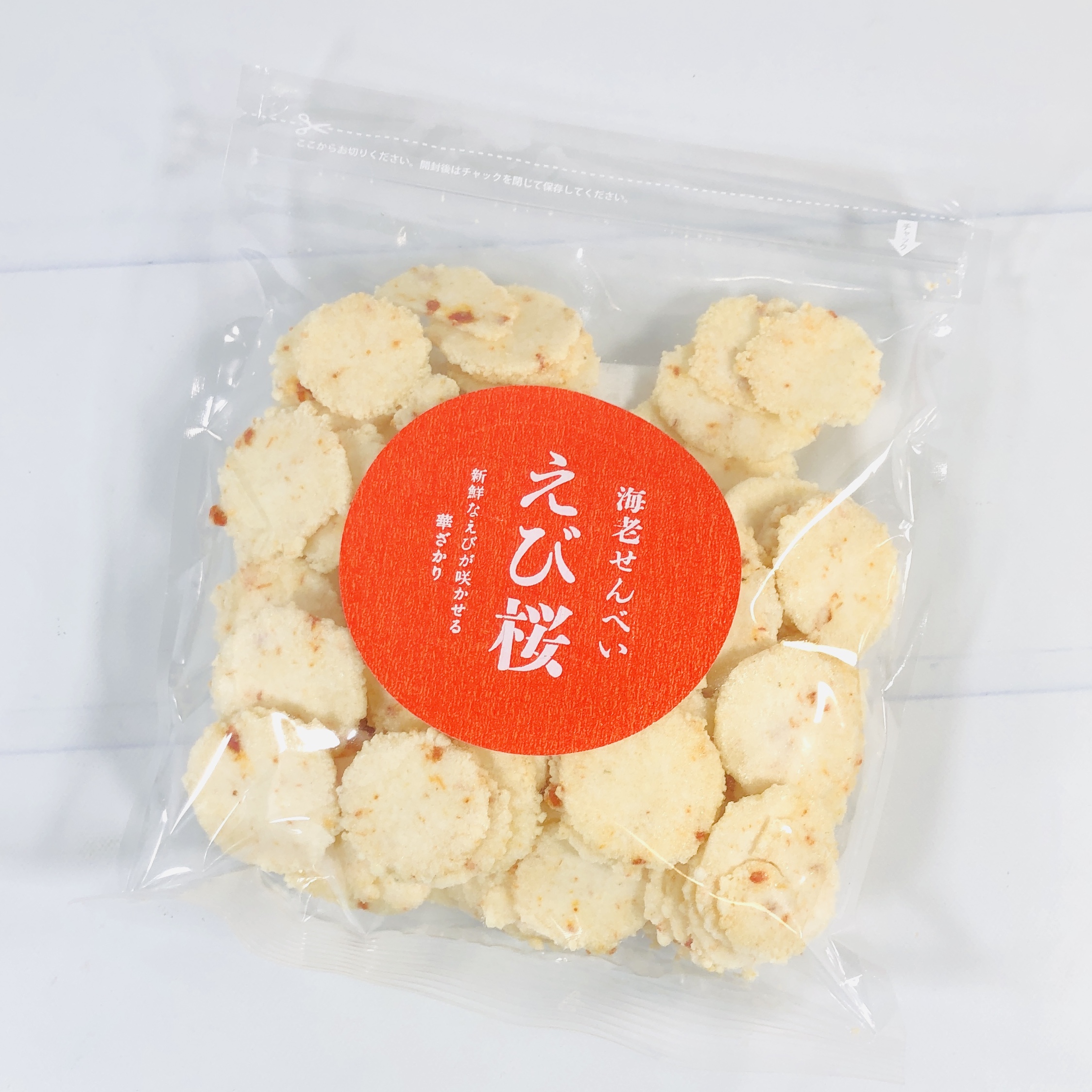 Shrimp Sakura Senbei, from the Aichi Prefecture:
A very light textured shrimp cracker made by frying raw shrimp and boiled shrimp with starch. The savory flavor of shrimp and the exquisite saltiness combine to make it delicious.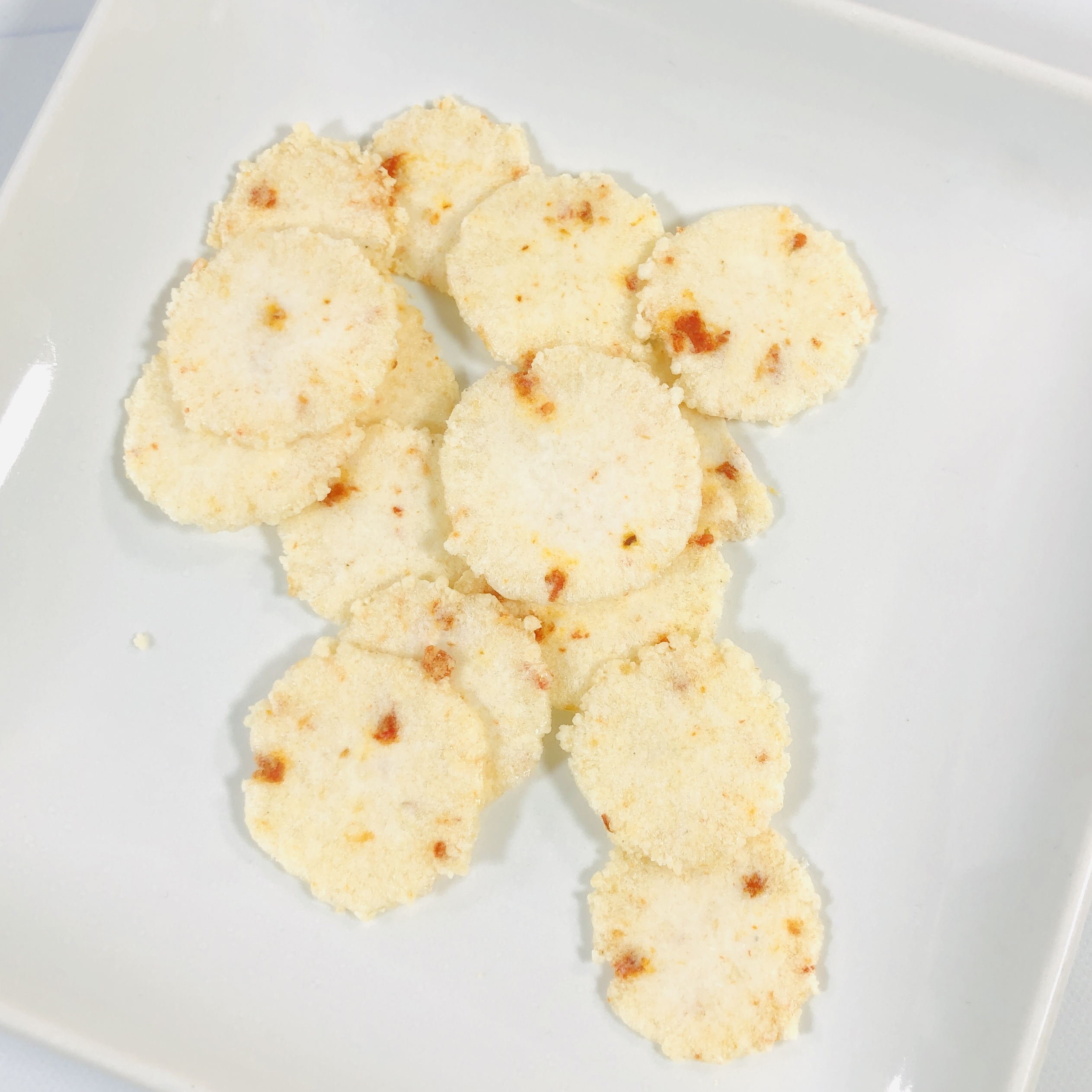 These are wafer-like in texture and have a light shrimp flavor that also has a hint of sakura. They are not too salty and are rather light in texture and flavor, so a refreshing afternoon snack instead of a heavy one.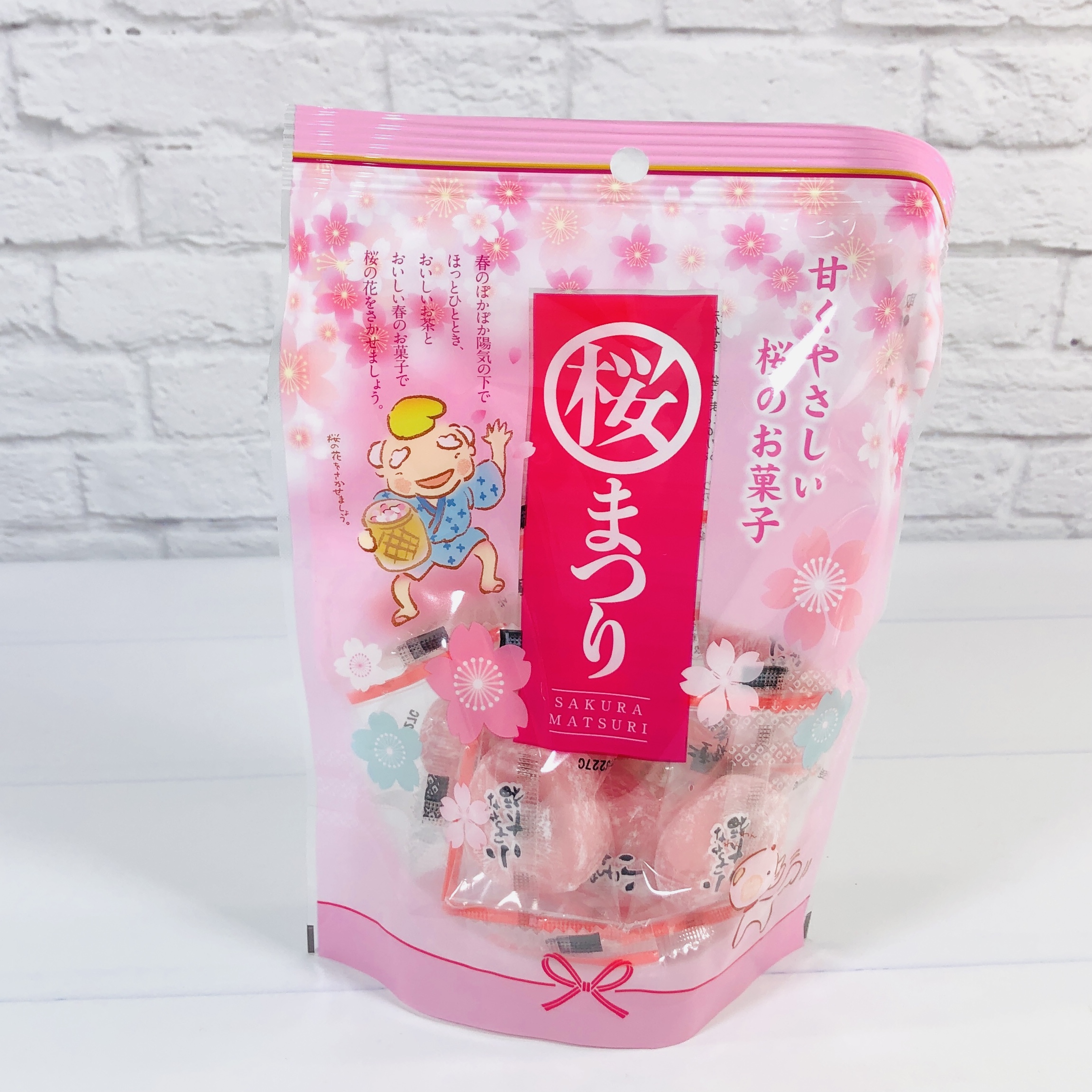 Todaya Small Sakura Daifuku from the Nagano Prefecture:
A Japanese confection consisting of a small round mochi in cherry blossom flavor stuffed with sweet bean paste and finally wrapped in sakura leaf powder. The flavor of cherry blossoms is fully packed in this mini mochi sweet.
There were 9 individually wrapped mochi in the big bag. The mochi is soft and chewy and isn't strongly flavored, mostly sweet with a hint of floral perhaps. The inside is classic red bean paste.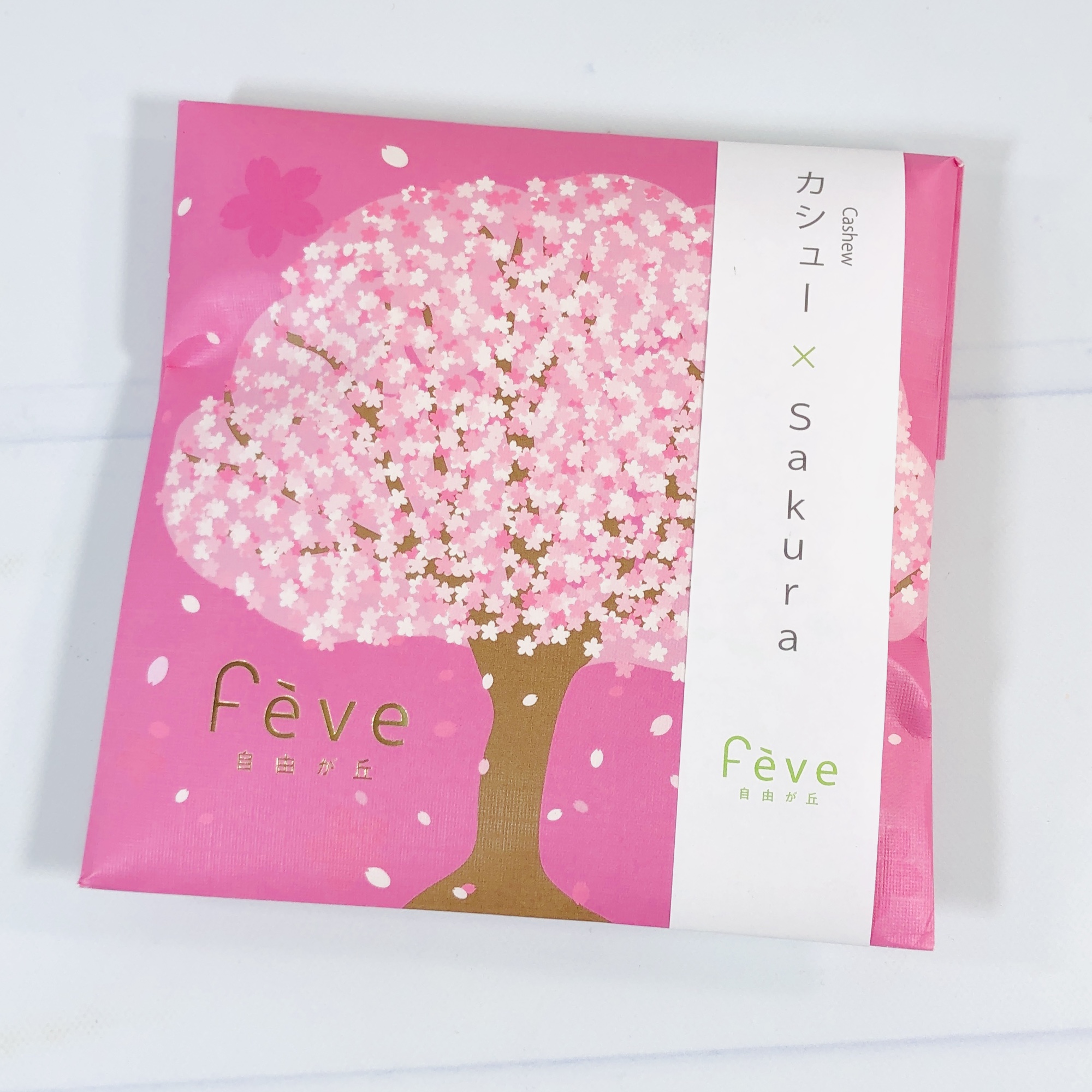 Feve Cashew x Sakura from Tokyo Prefecture:
Cashew nuts are sprinkled with sakura leaf powder to create a gentle taste. It is a popular limited-time product every year, with a crispy texture and a slight spread of the cherry blossom flavor. Served with sweet and sour dried cranberries. The package design features a cherry blossom motif, perfect for spring in Japan.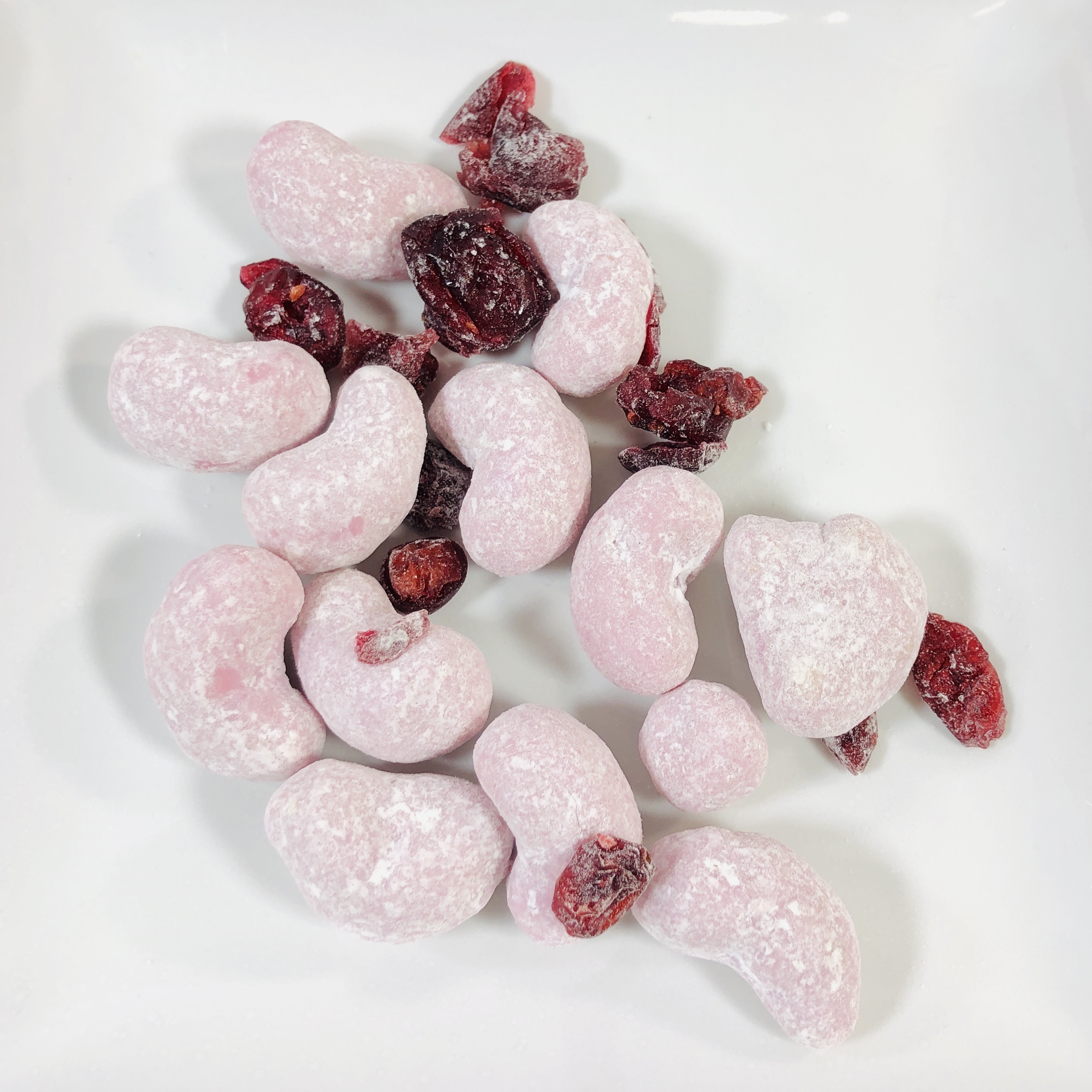 This is delightful, what a tasty treat! It is a cashew covered in a crispy cracker or dough that is baked, then it's covered with white chocolate coating that is supposed to be sakura flavored but it reminds me of almonds. The dusting of powder adds the slightest hint of salt. This is dreamy. Also, there's chewy craisins.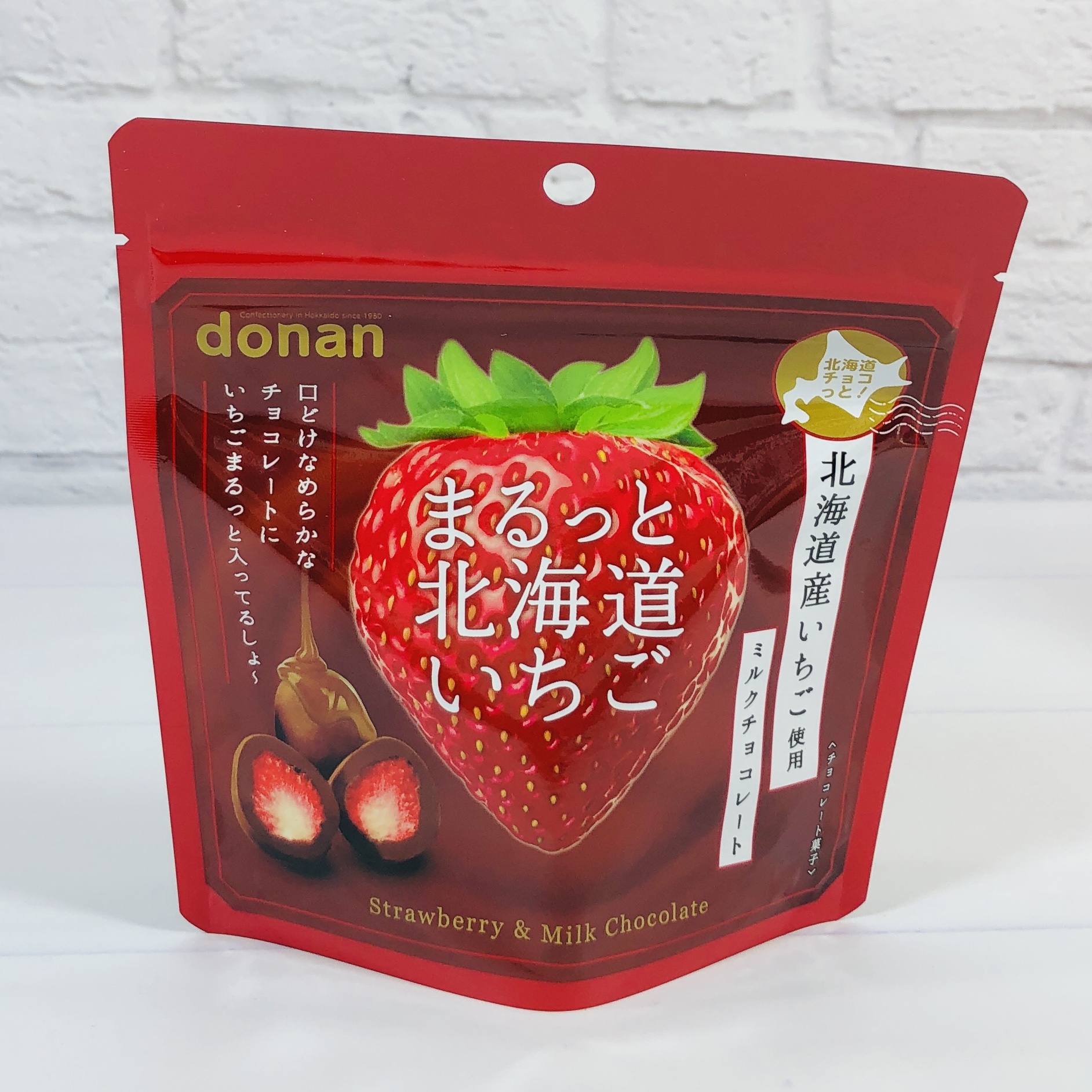 Marutto Hokkaido Strawberry Chocolate from the Hokkaido Prefecture:
This delicious sweet uses whole Hokkaido strawberry with moderate acidity and rich aroma is freeze-dried and coated with milky and smooth chocolate.
Inside this thick milk chocolate coating is a freeze-dried strawberry that has a hint of sourness, maybe they added a bit of citric acid before drying. This is a long-lasting, travel-friendly take on a chocolate covered strawberry! The chocolate is top notch too.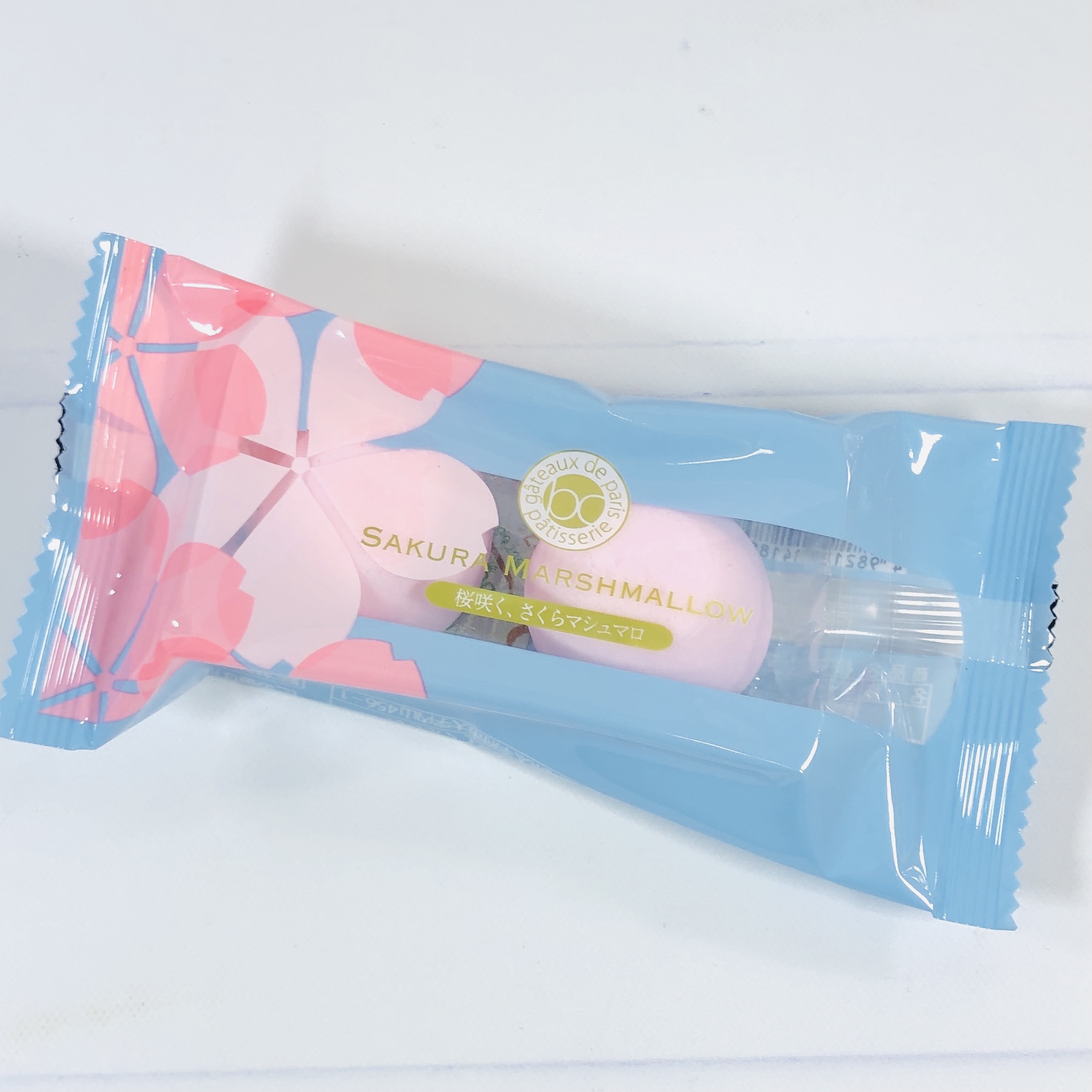 Sakura Marshmallows from Fukuoka Prefecture:
This sweet is made by Fukuoka sweet shop Ishimura that has been creating treats using local high-quality ingredients. This limited delicious fluffy and chewy marshmallow uses cherry blossom flavor and scent. Inside you will find a milky and rich taste of white chocolate that is creamy and sweet!
This is a fluffy marshmallow and inside is a creamy filling that tastes like sweetened condensed milk! The marshmallow is supposed to be flavored with sakura but it just tasted sweet to me.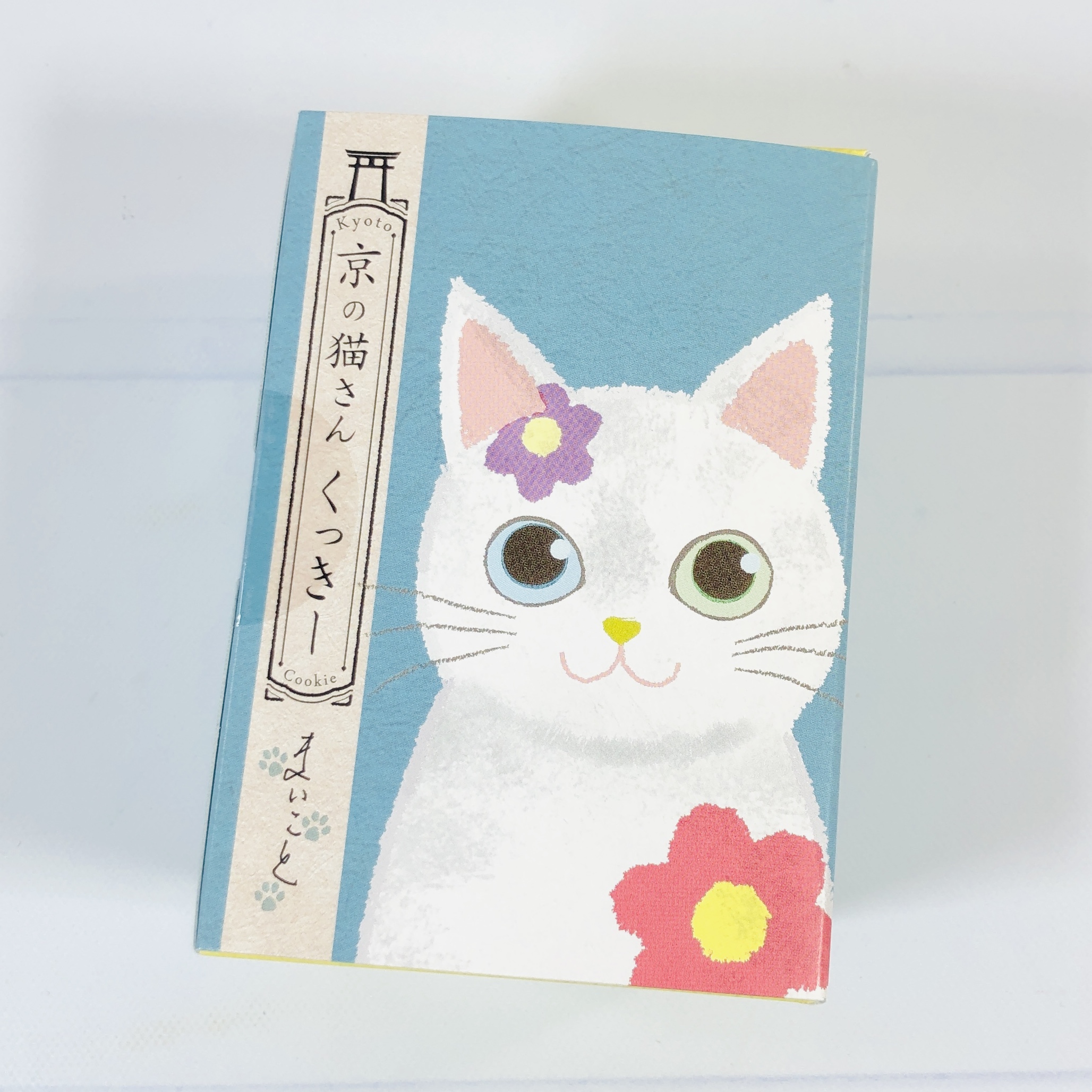 Kyo Neko-San Cookie from Kyoto Prefecture:
A refreshing and simple cookie that is delightful to the taste. The striped pattern cat cookie has a black sesame flavor, and the floral and seasonal patterns have a plain flavor.
The texture of these cookies reminds me of buttery shortbread. The black sesame cookie had a deeper, roasted flavor that I wasn't expecting in a sweet. The floral patterned cookie could have come from Scotland, it was a good example of what a shortbread should be.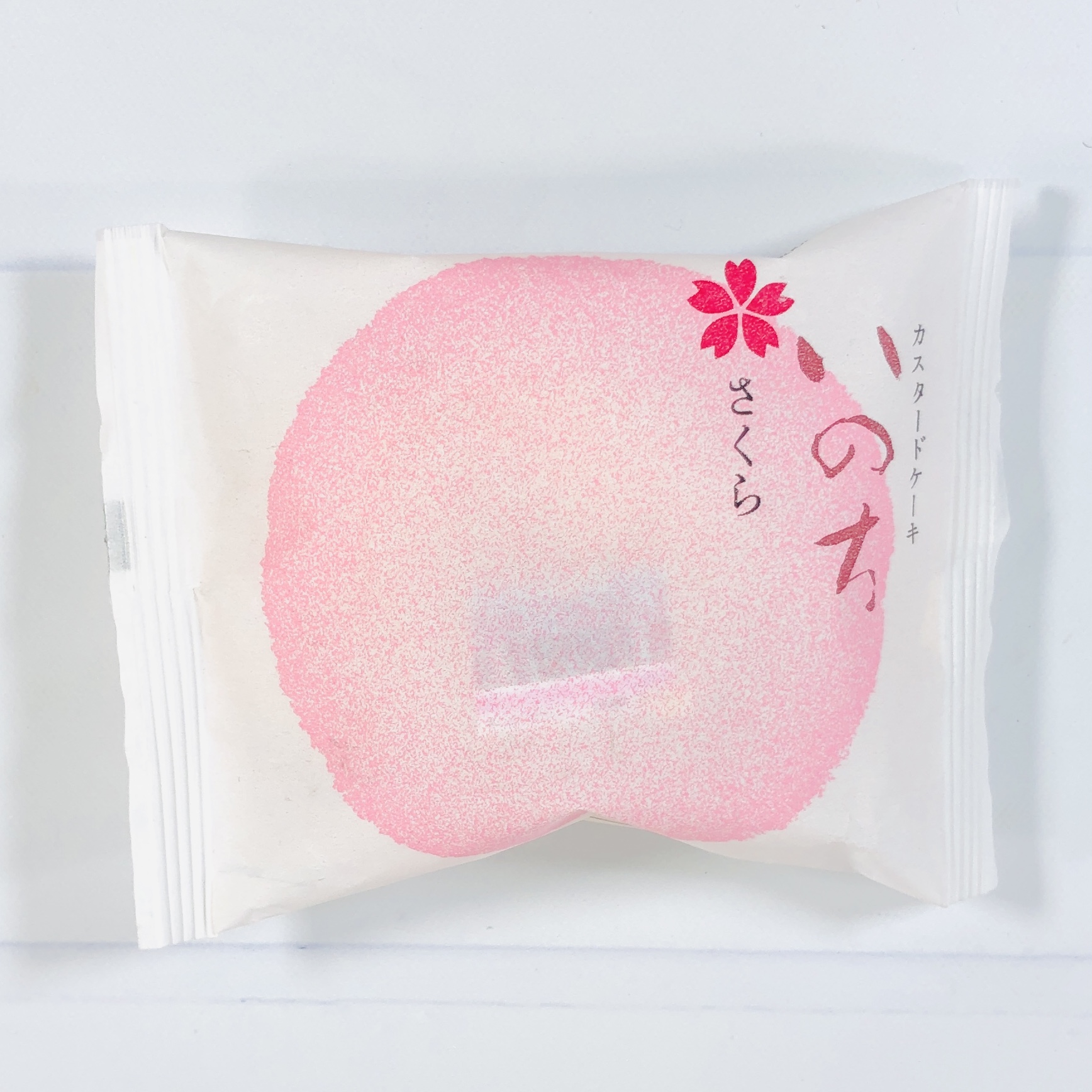 Ragueneau Inochi Apple Custard Cake in Sakura Flavor from Aomori Prefecture:
The 136-year-old Aomori brand Ragueneau has won many gold awards at the Japan National Fruit Fair. This time they bring you their famous apple cake in cherry blossom flavor! A limited fluffy sakura-colored cake with a jelly center that contains sakura leaves in a smooth custard cream.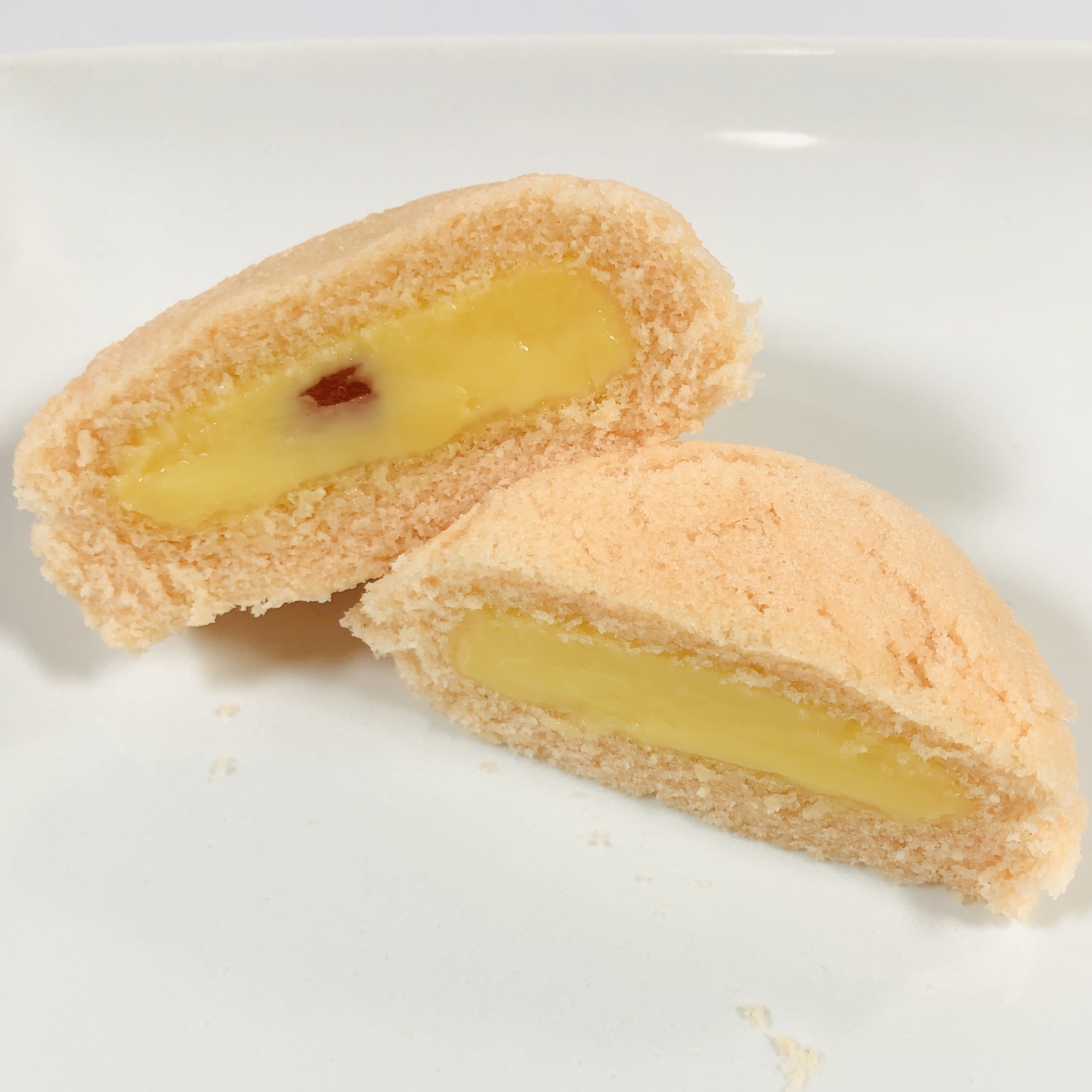 The size of this cake was generous, I shared it with my daughter because it was so rich. The darker spot in the top half is sakura-flavored jelly and there is a smooth, creamy custard. The flavor was unusual to me, maybe it seemed floral or perfumed, but then it's just not something I'm familiar with. The cake was classic sponge.
Isn't this Tabi box from WOWBOX so pretty, with all of its sakura-hued and flavored treats? Six out of the seven items were sweet, only the shrimp crackers were salty. My favorite was the craisin/cashew combo, those were so good and kind of reminded me of the coating on white pretzels, so sweet. I love the presentation of the snacks, all of the colorful packages and pretty illustrations. It engages several of my senses at once, including site, smell, and taste!
What do you think of this box?