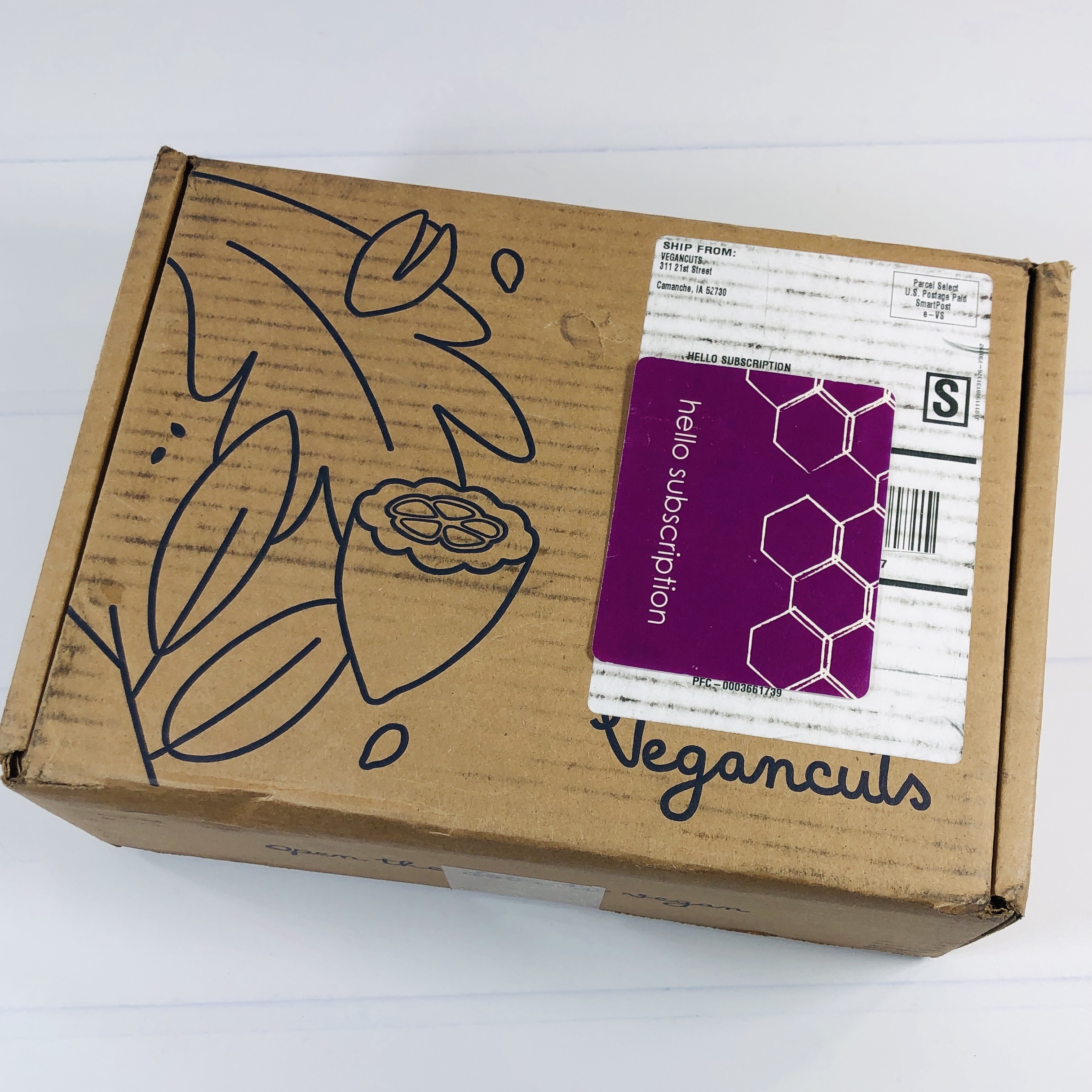 Vegancuts Beauty Box is a monthly beauty subscription service that sends 4 or more items ranging from unique cosmetics to luxurious skincare. Best of all, they are 100% cruelty-free and vegan, plus most items are natural and non-toxic! Monthly recurring shipments are $24.95 with free shipping in the USA (there is an additional charge for other countries). This sub is also available in 6 or 12-month terms that do not renew but that do earn you a discount.
Each month you'll receive a delivery of 4 or more new deluxe or full-size products, from unique cosmetics to luxurious skin care, that treat your outside as good as you treat your inside.
DEAL: Use the coupon code hellosub to get $5 off your first box on any Vegancuts subscription! It can only be used once per customer, but it can be used on multiple subscriptions at once so long as they are in the same transaction.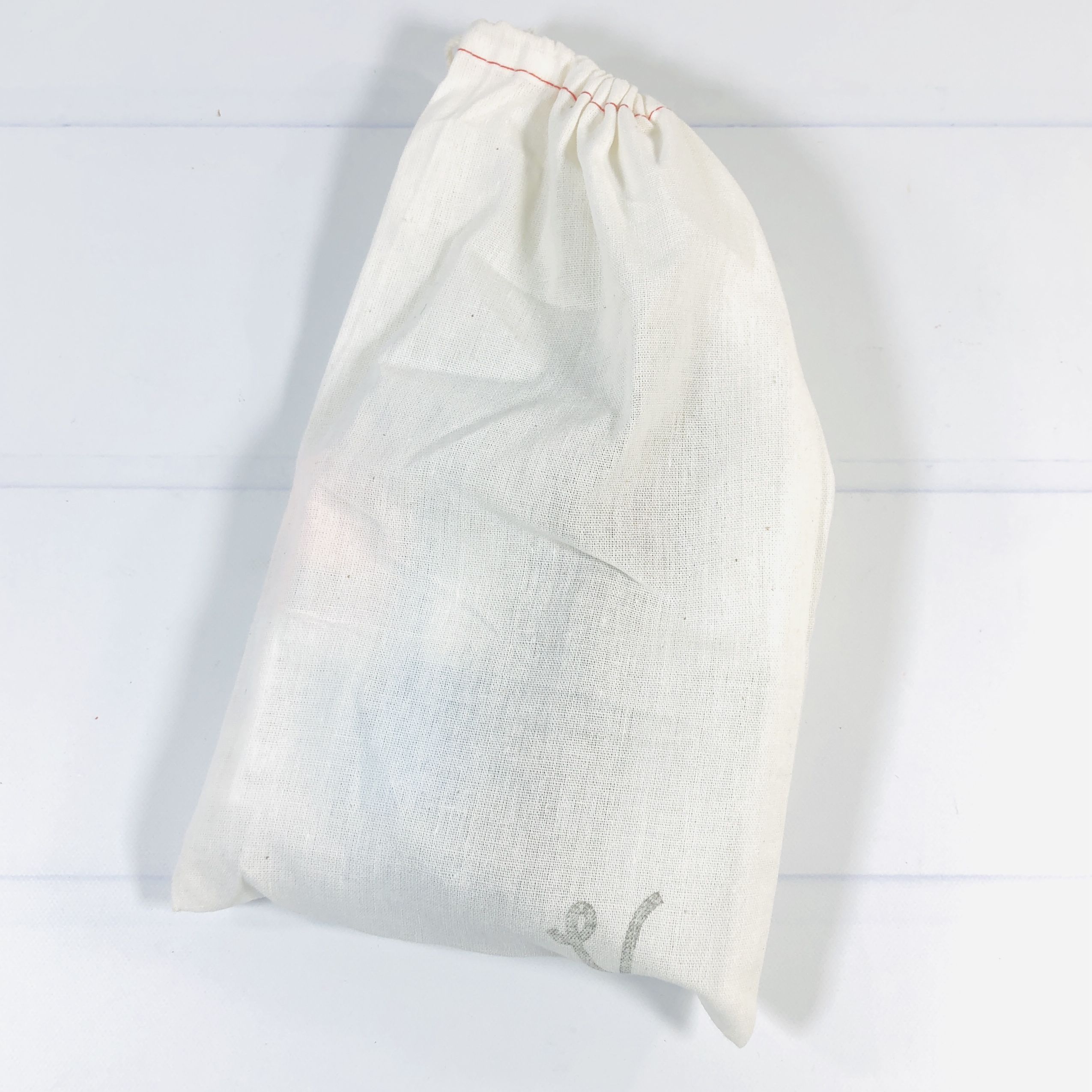 My beauty items come in the same box as my snack subscription, but they are always placed in a separate bag.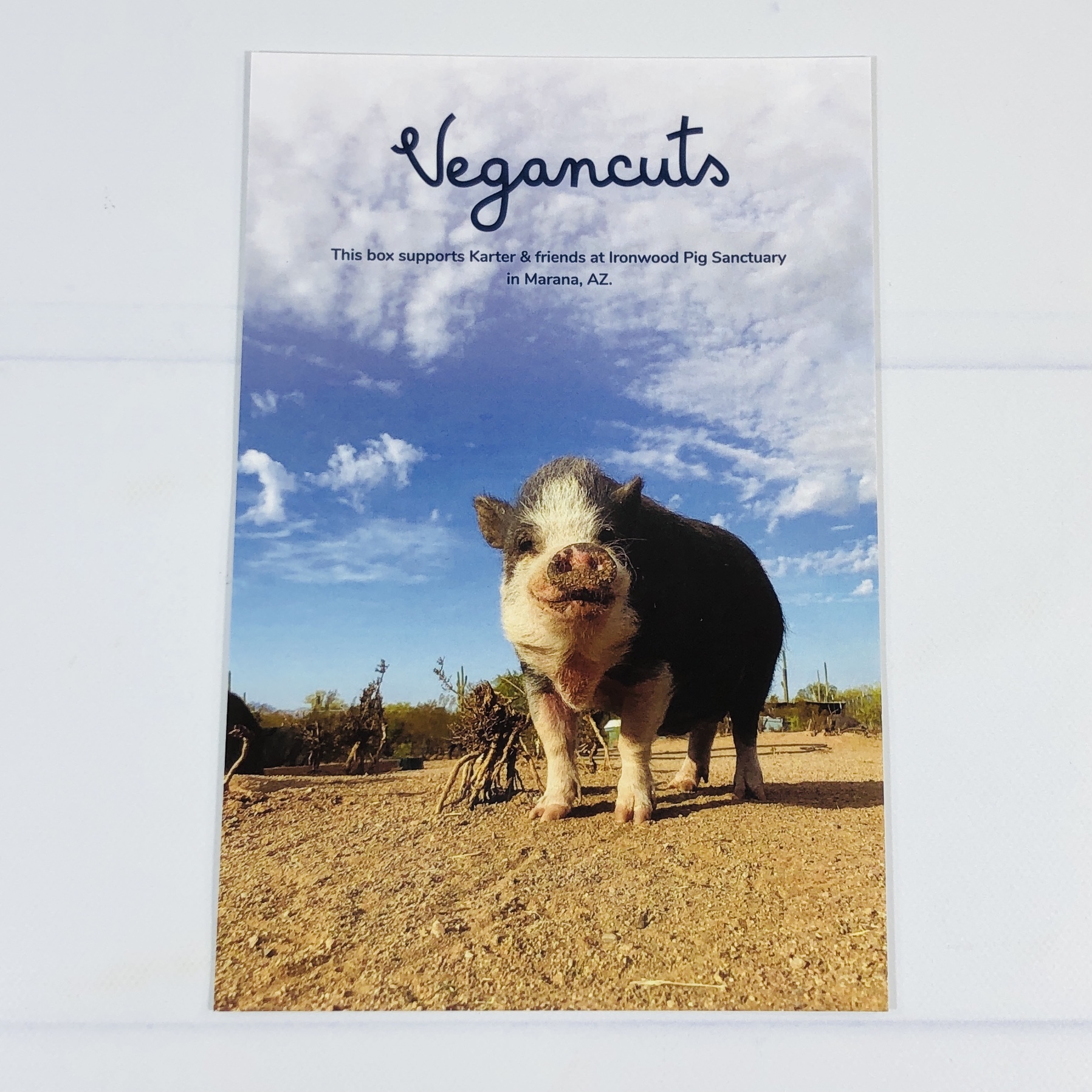 The product info card tells me we are supporting Ironwood Pig Sanctuary this month!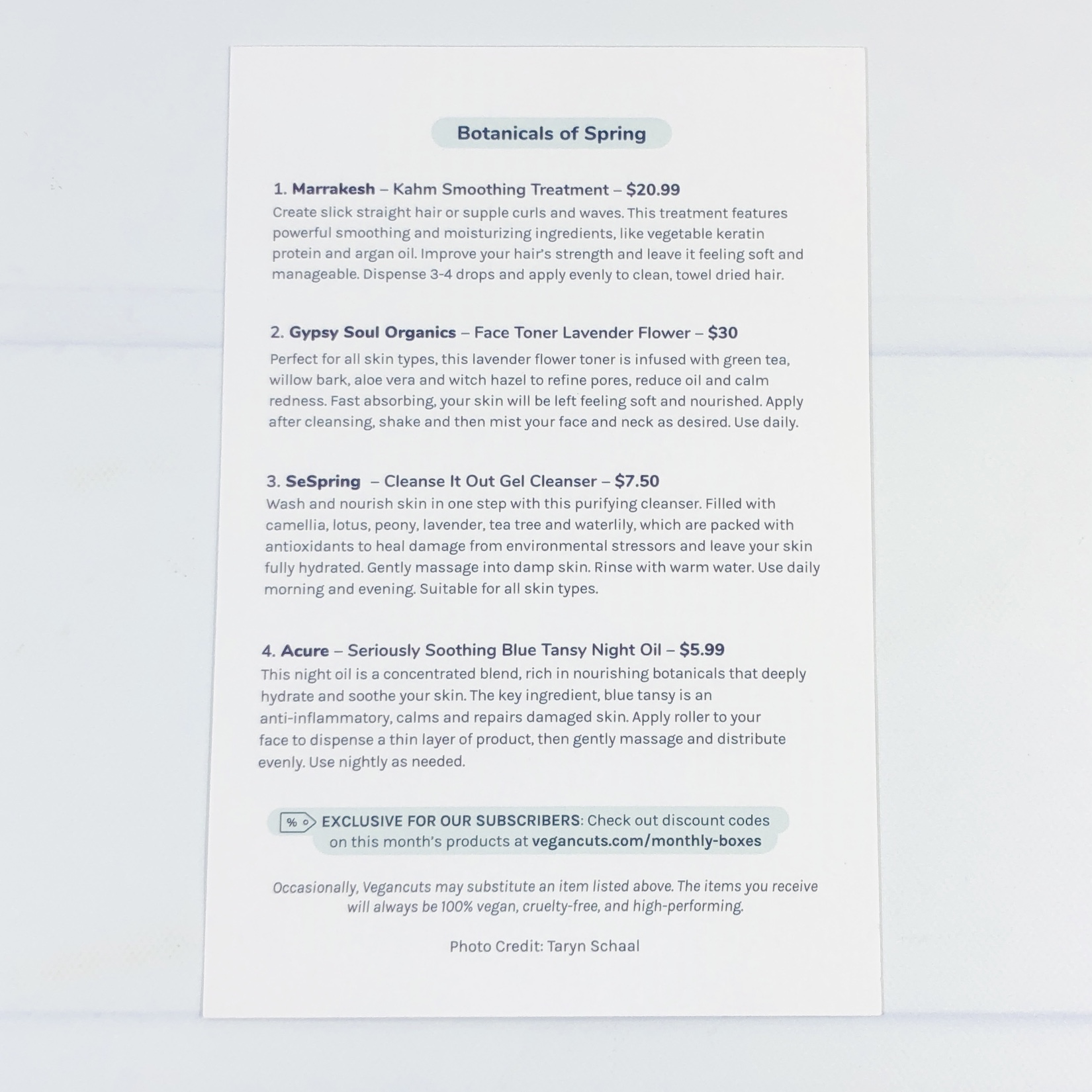 The back of the card listed the items and an MSRP. More discount codes can be found at the Vegancuts website. The theme for March is Botanicals of Spring!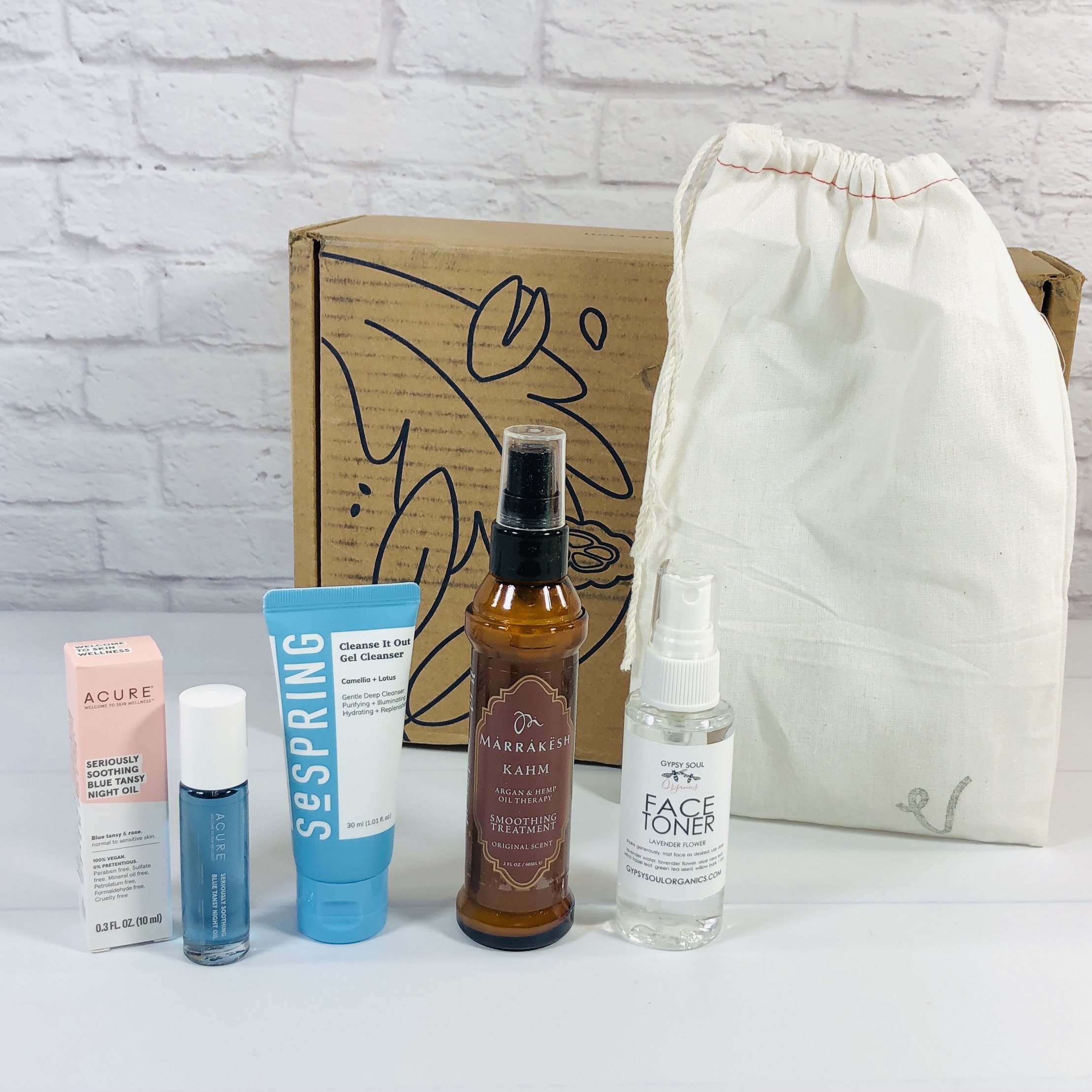 Everything in my box!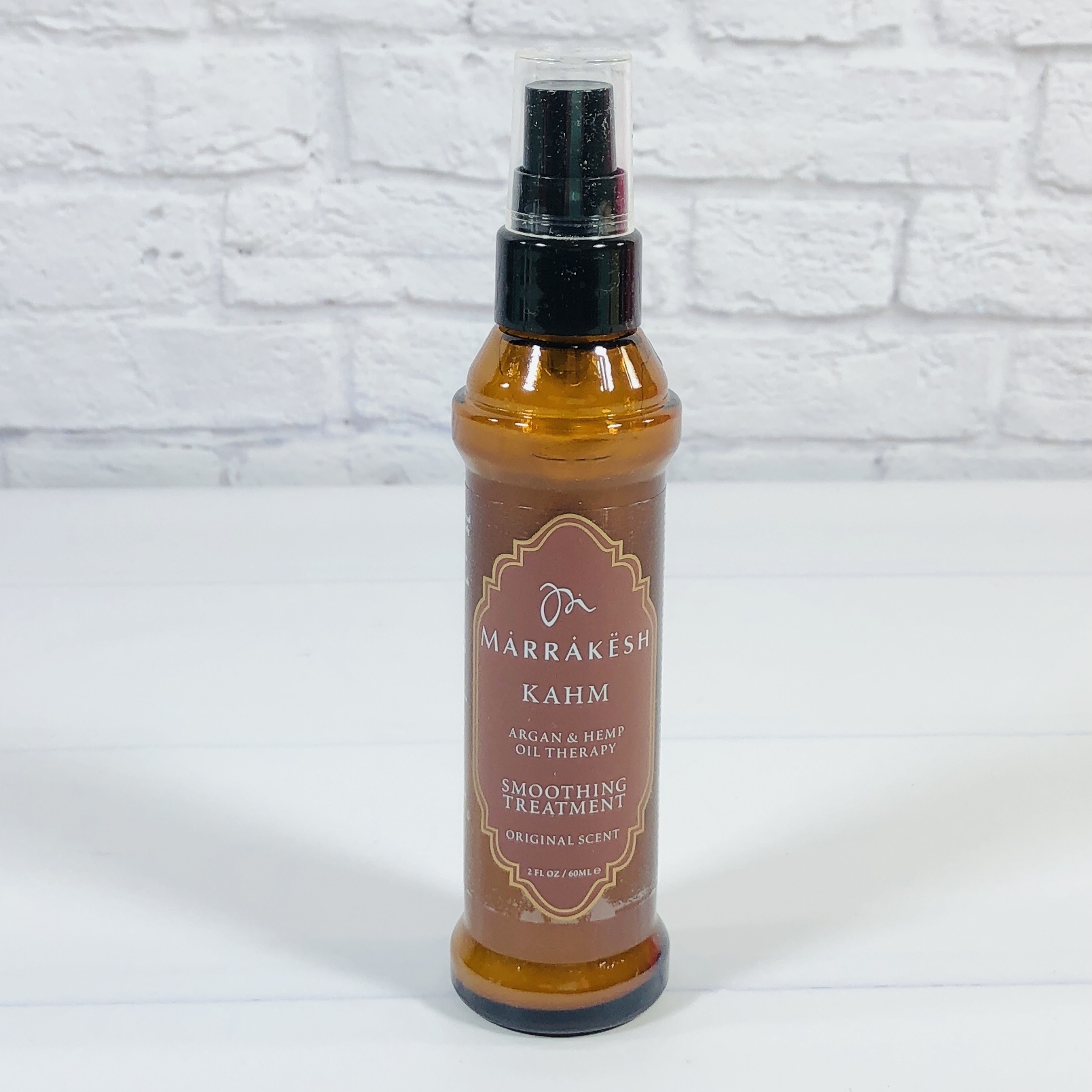 Mårråkësh Kahm Argan & Hemp Oil Therapy Smoothing Treatment ($22.99) Leave-in conditioners save a lot of time, they help tangles come out so quickly it's almost like a miracle.
This treatment is supposed to reduce drying time, control frizz, and improve both the condition of hair and make it shiny. I have the finest of hair so this type of product will be passed along to someone else but I can tell you that it doesn't feel super oily but it does smell like a unisex cologne. The brand's website describes it as earthy + spicy-sensual and I wouldn't be opposed to wearing this scent!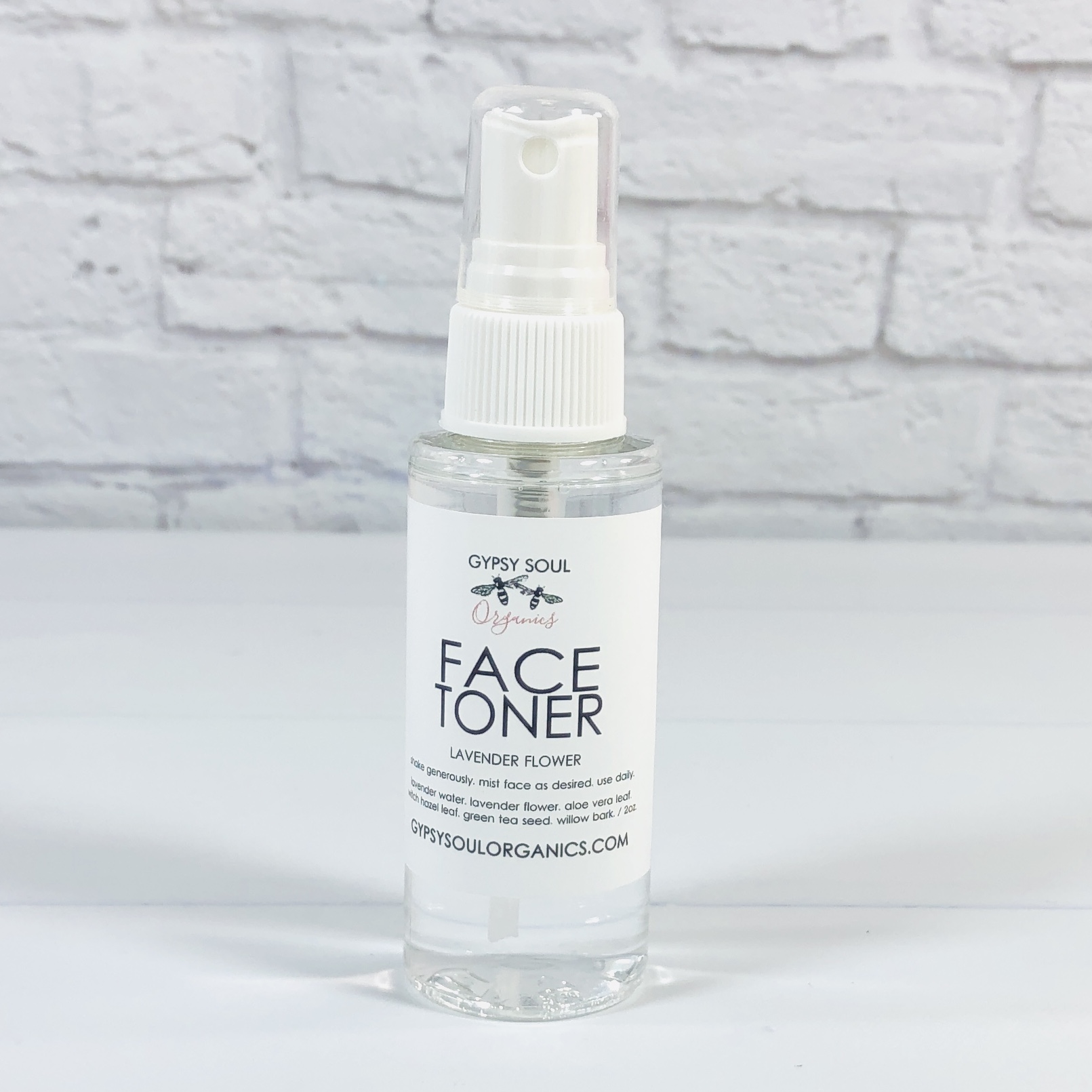 Gypsy Soul Organic Face Toner in Lavender ($30) is meant for those with oily, sensitive, or combination skin. Lavender may help calm down irritated skin while willow bark may clarify skin. It is made with alcohol-free witch hazel and aloe too. I sprayed it onto a cotton pad and used it after cleansing and even though I had a dry, irritated spot above my lip, this product didn't bother it at all. The scent is rather strong though natural, a combo of lavender and witch hazel. This version is in a plastic container, but if you order it online it should come in glass.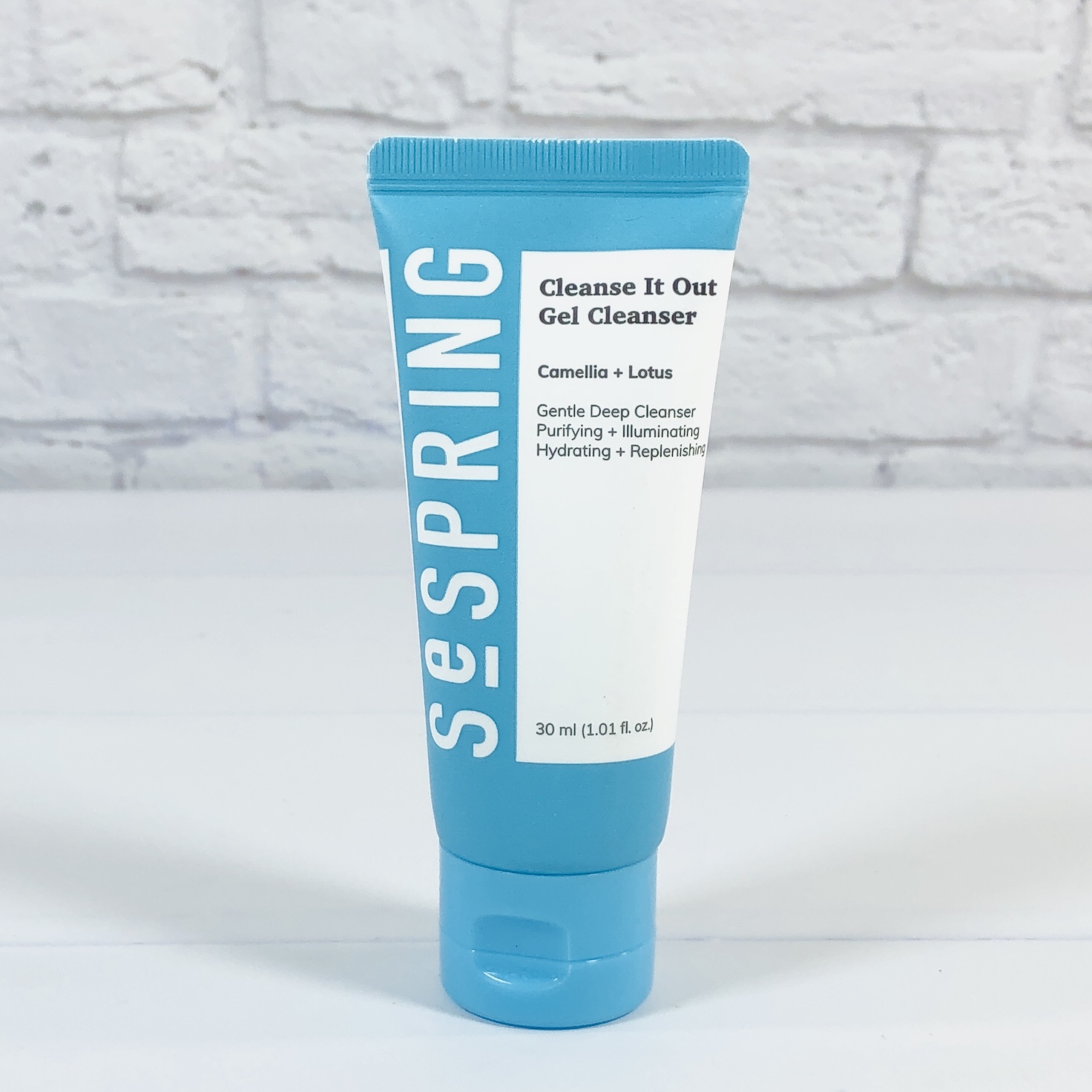 SeSpring Cleanse It Out Gel Cleanser ($2.99) is a gel cleanser that was gentle and yet effective for my skin. I used it as a one-step cleanser and followed with the toner above and there was no makeup residue afterwards, so I'm pretty pleased!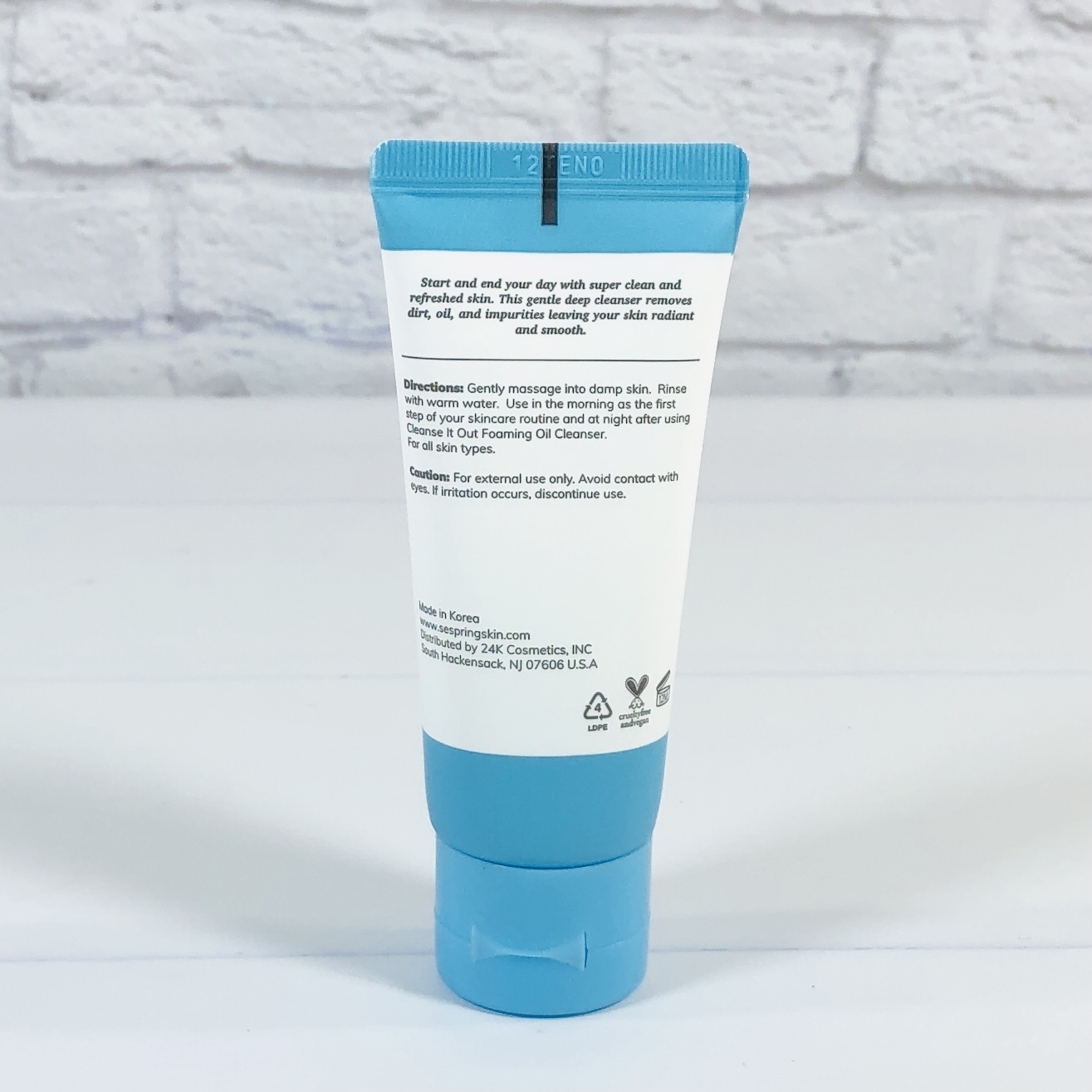 The cleanser can be used twice a day and while they suggest using it as a second cleanser in the evening, I found effective results with this product alone.
Acure Seriously Soothing Blue Tansy Night Oil ($4.33) is meant for normal and sensitive skin types and should be applied after cleansing, before bed.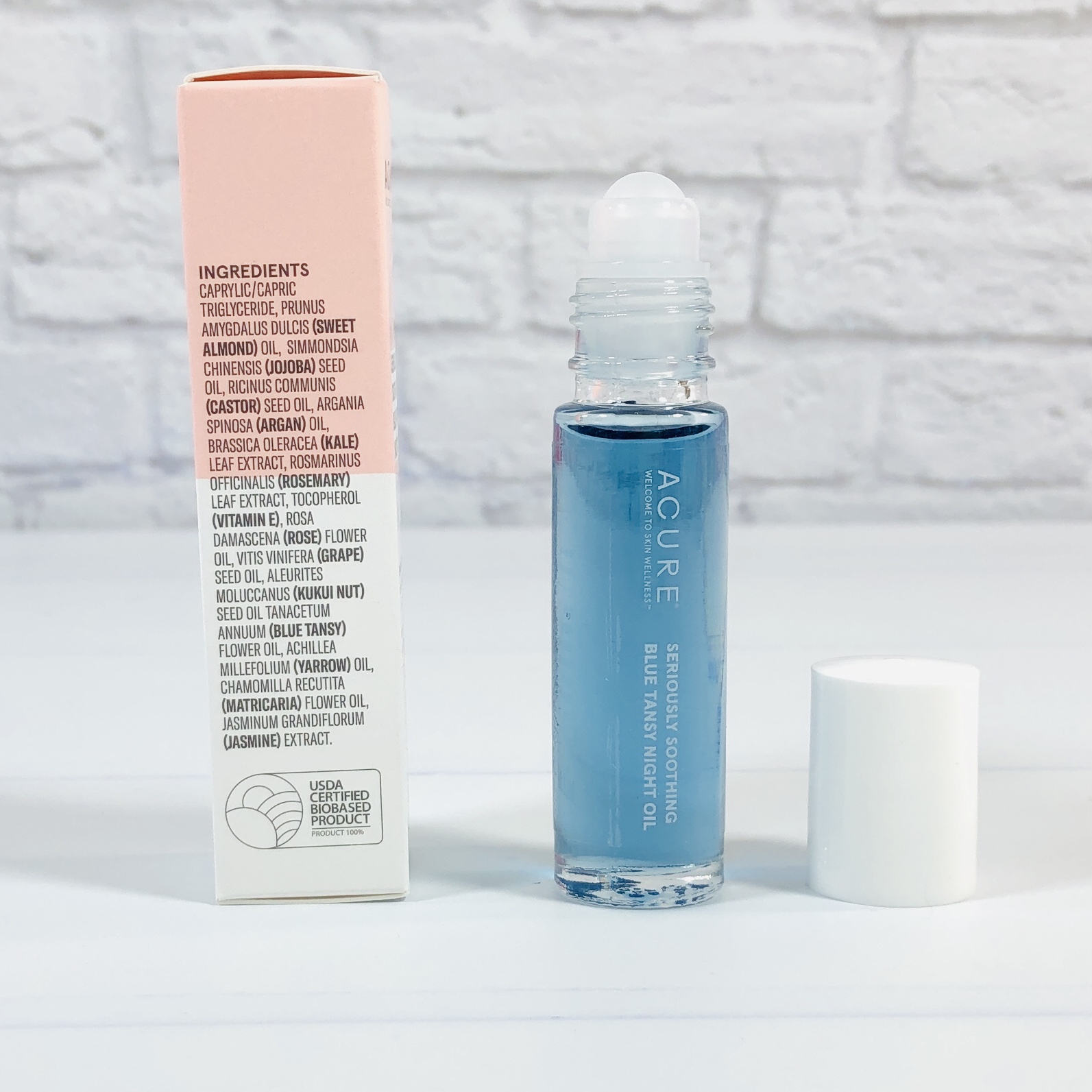 Ingredients include sweet almond, jojoba, and castor oils plus plant extracts like kale and blue tansy. It is supposed to soothe and refresh the skin overnight. It isn't as strongly scented as some blue tansy oils I have tried. Normally this would come in a pump and the directions say to warm it up in the palms before spreading it over the face. I would suggest removing the rollerball so you can do just that.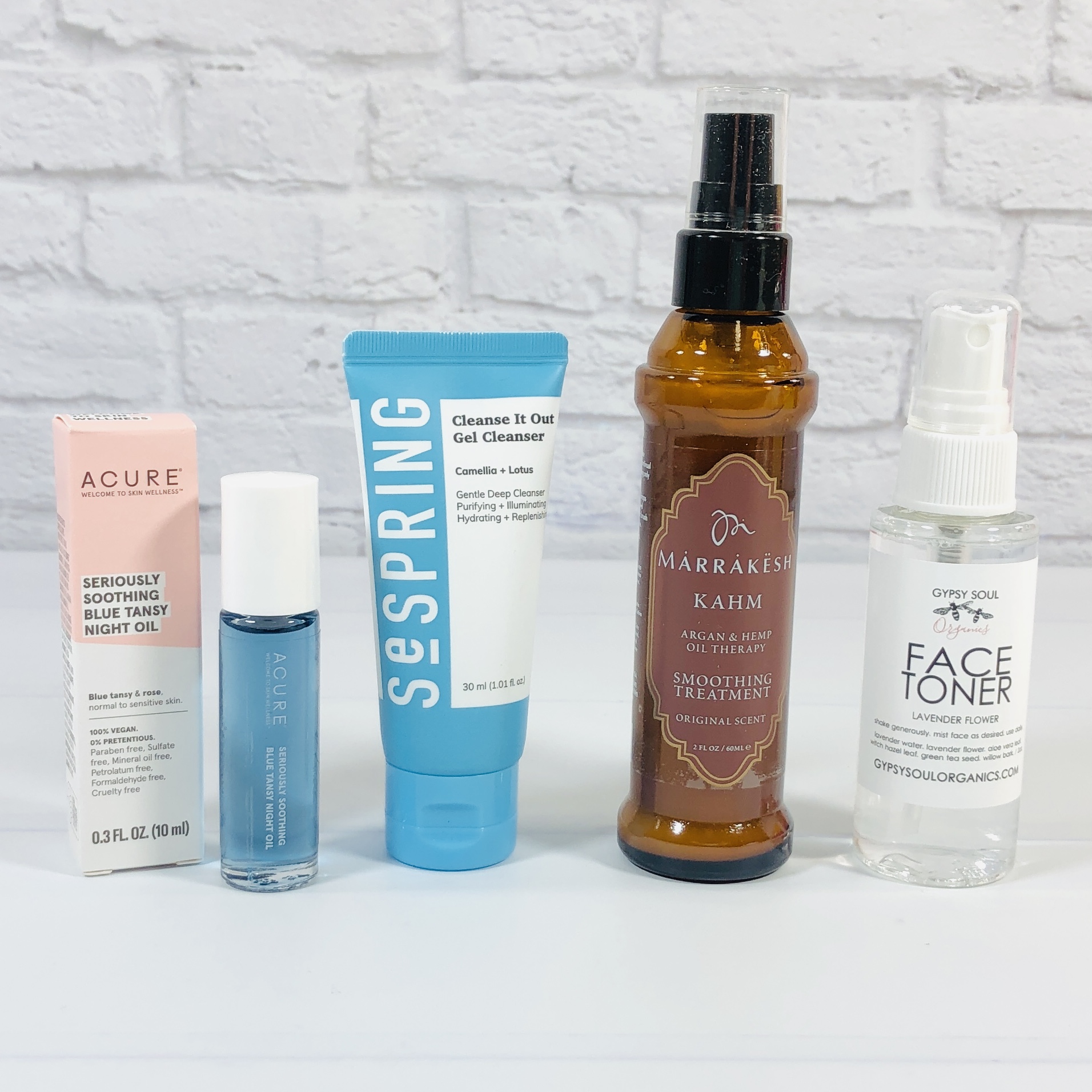 The March Vegancuts Beauty collection had a pared down facial routine and a leave-in hair conditioner to make getting ready in the mornings a little easier. I was pretty happy with all three face products, I found them to be effective and not too strongly scented. The hair conditioner was strongly scented, and I could smell it on my hands for hours after spraying it on. The value for this box was around $60.31.
What do you think of this month's Vegancuts Beauty Box? Let me know which product you're loving in the comments!