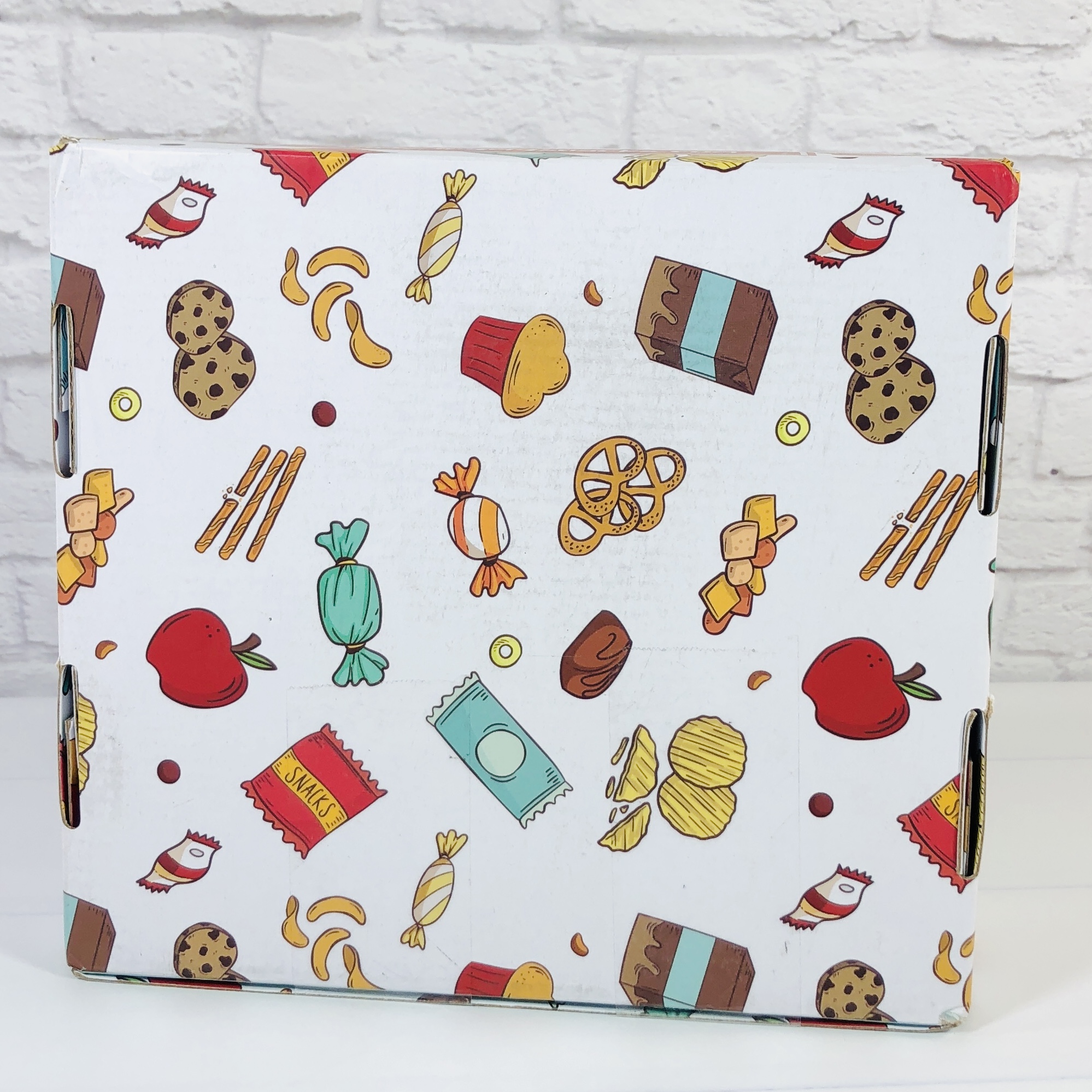 Try My Snacks is a unique subscription box that delivers snacks from a different country every month. Each box contains anywhere from 5 – 20+ snacks per box (depending on the plan), a 12+ Page booklet that includes fun facts about the country, snack information, puzzles, and more. They also include a coin/bill from the country in every box & offer FREE shipping to the USA. A portion of every order is donated to the ASPCA to help end animal abuse.
Tailored Just For You

Each box is tailored to your palettes needs. You tell us what you like and don't like and we'll take care of the rest. Besides, what's the point of trying something new if in the end it'll just go in the trash? Our interactive & fun quiz will make sure that doesn't happen.
Start by choosing which subscription level fits your needs. Then answer a few questions like whether or not you like coconut and if you want a drink ($4.95 upcharge). There are additional charges in the questionnaire, like if you want rush delivery ($5) or a chilled ice pack so your chocolate doesn't melt ($4.95). You can also tell them if you are allergic to peanuts and there is a place to write in other allergies.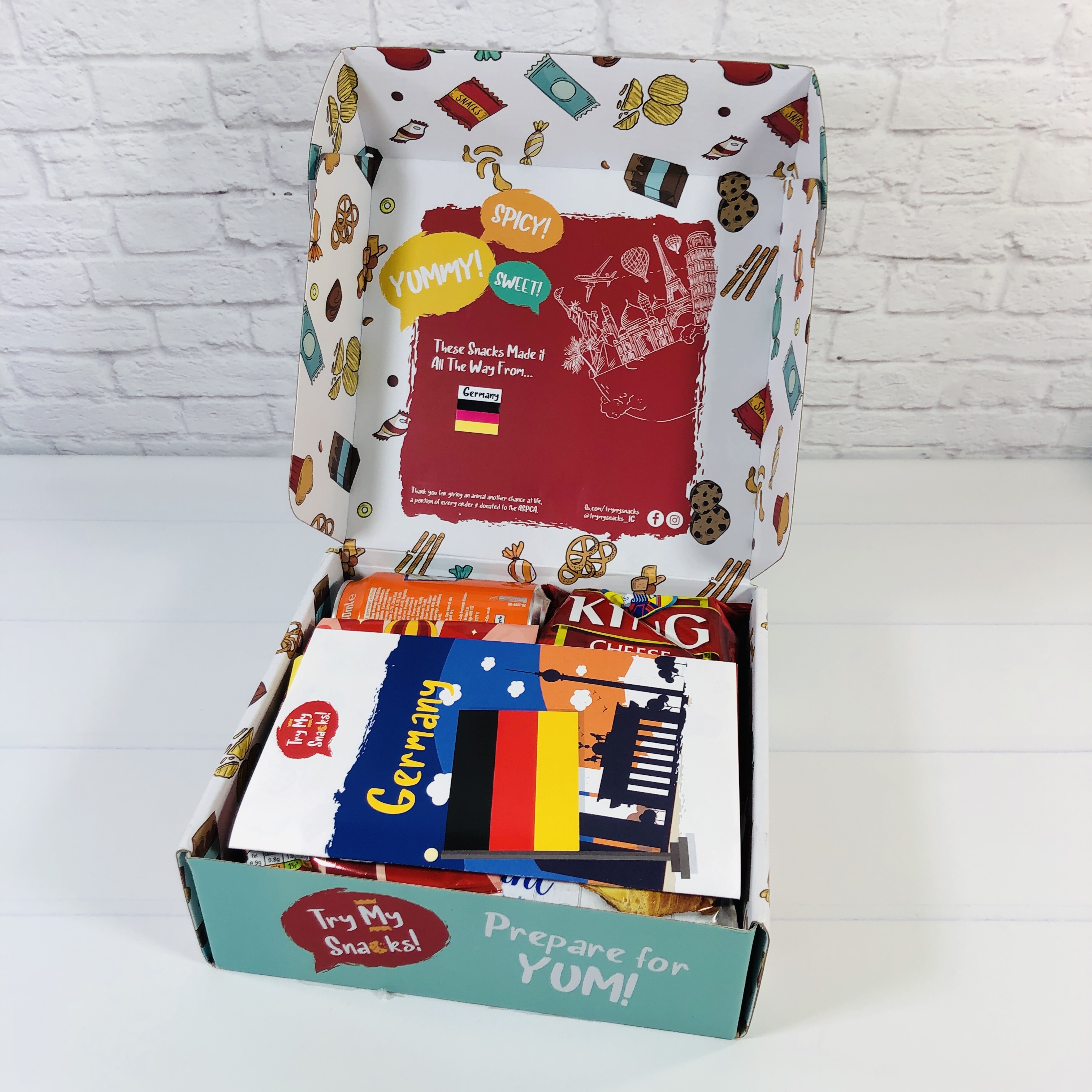 This box was completely packed to the top!
Guess where these snacks are from? Germany!
I found a vinyl sticker in the box.
As I unpacked this box with my daughter we were super excited, we couldn't wait to see what was inside!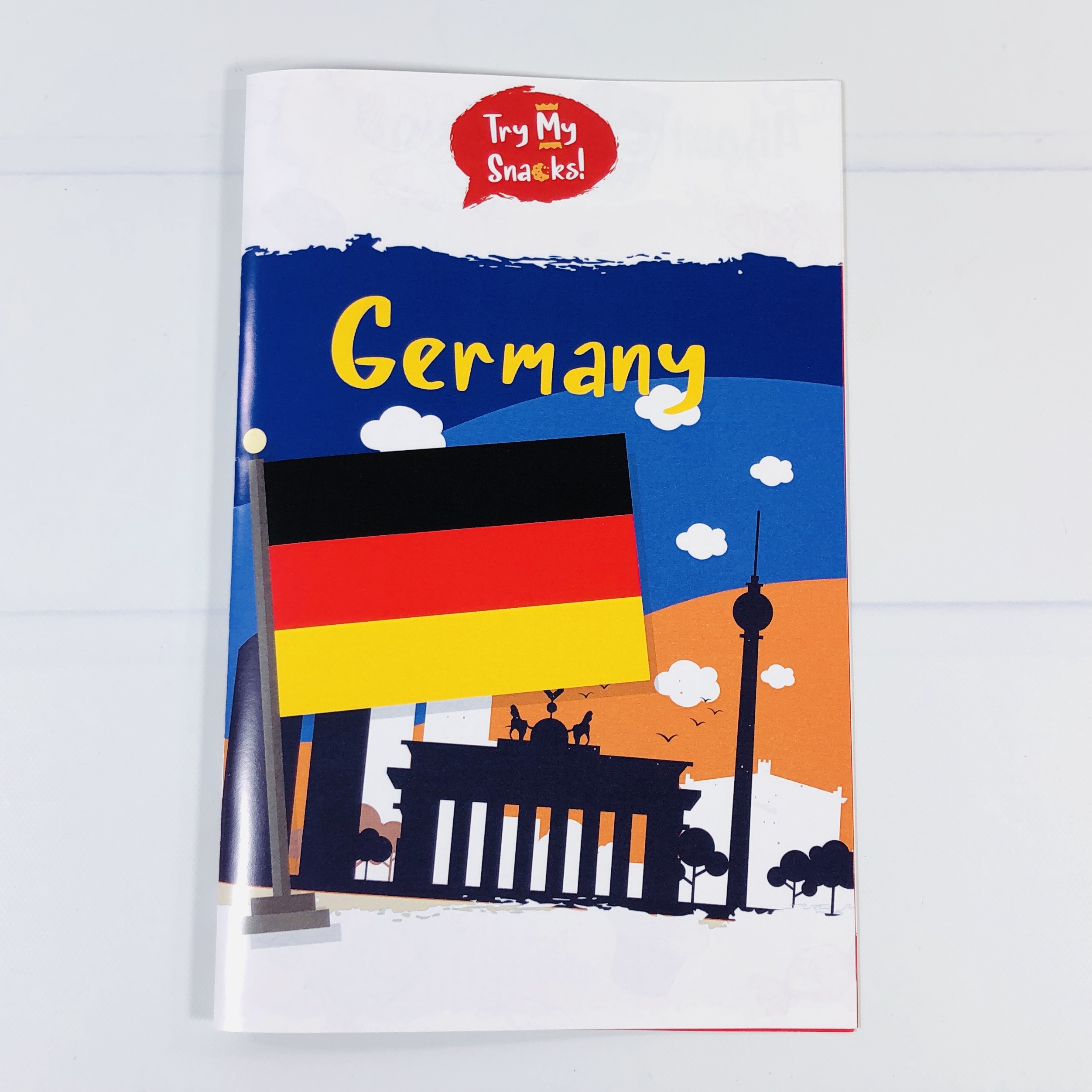 Each box comes with a mini booklet.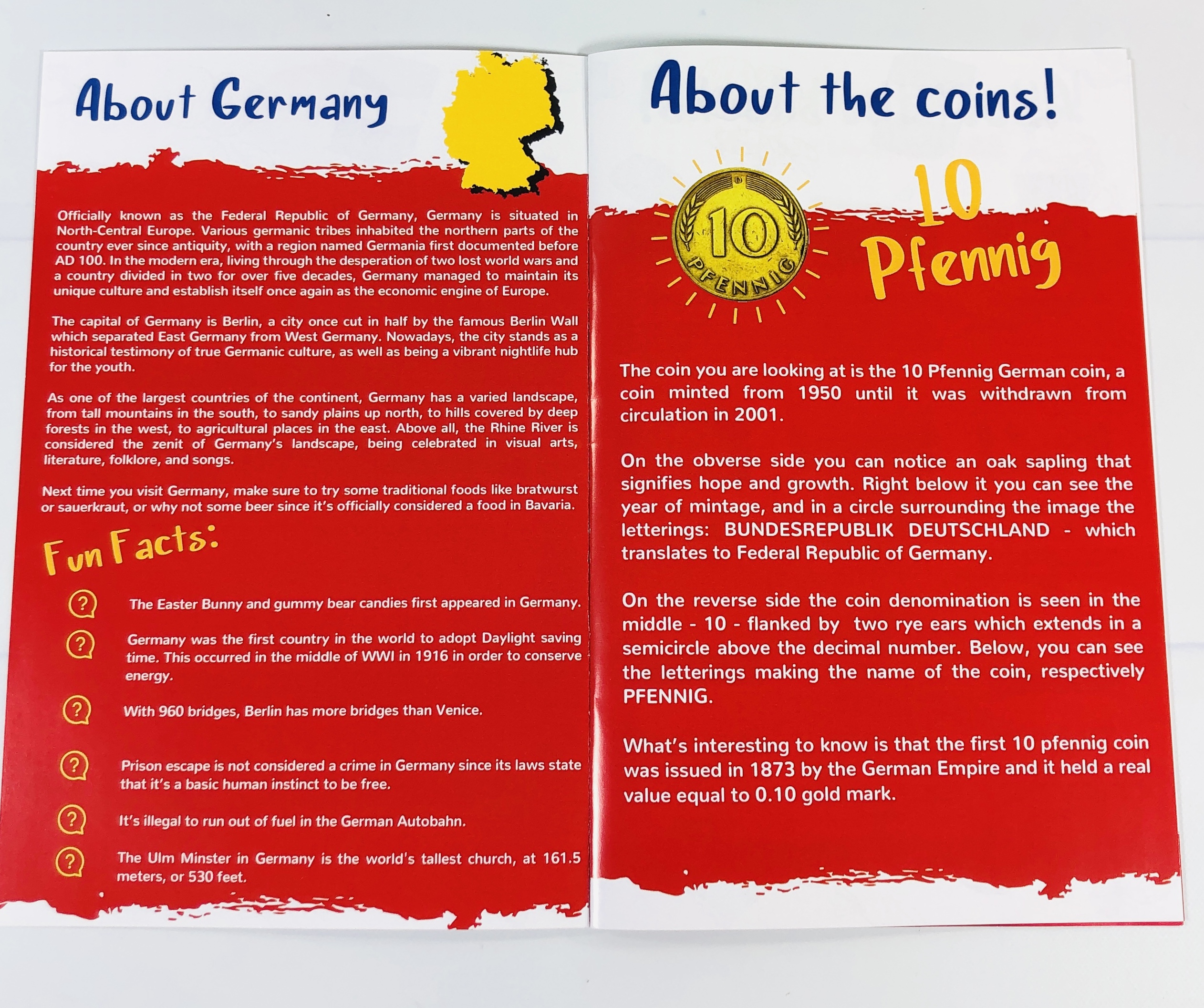 It mentioned a few facts about Germany and described the included coin. Fun fact about me: I visited West Germany before the unification!
Next we learned about all of the possible snacks that may have been sent. You will receive an assortment based on the answers you gave to the quiz upon sign up. There was a printing error in my book and the snacks jump from #9 to #19.
The page on the left is the same as the previous page.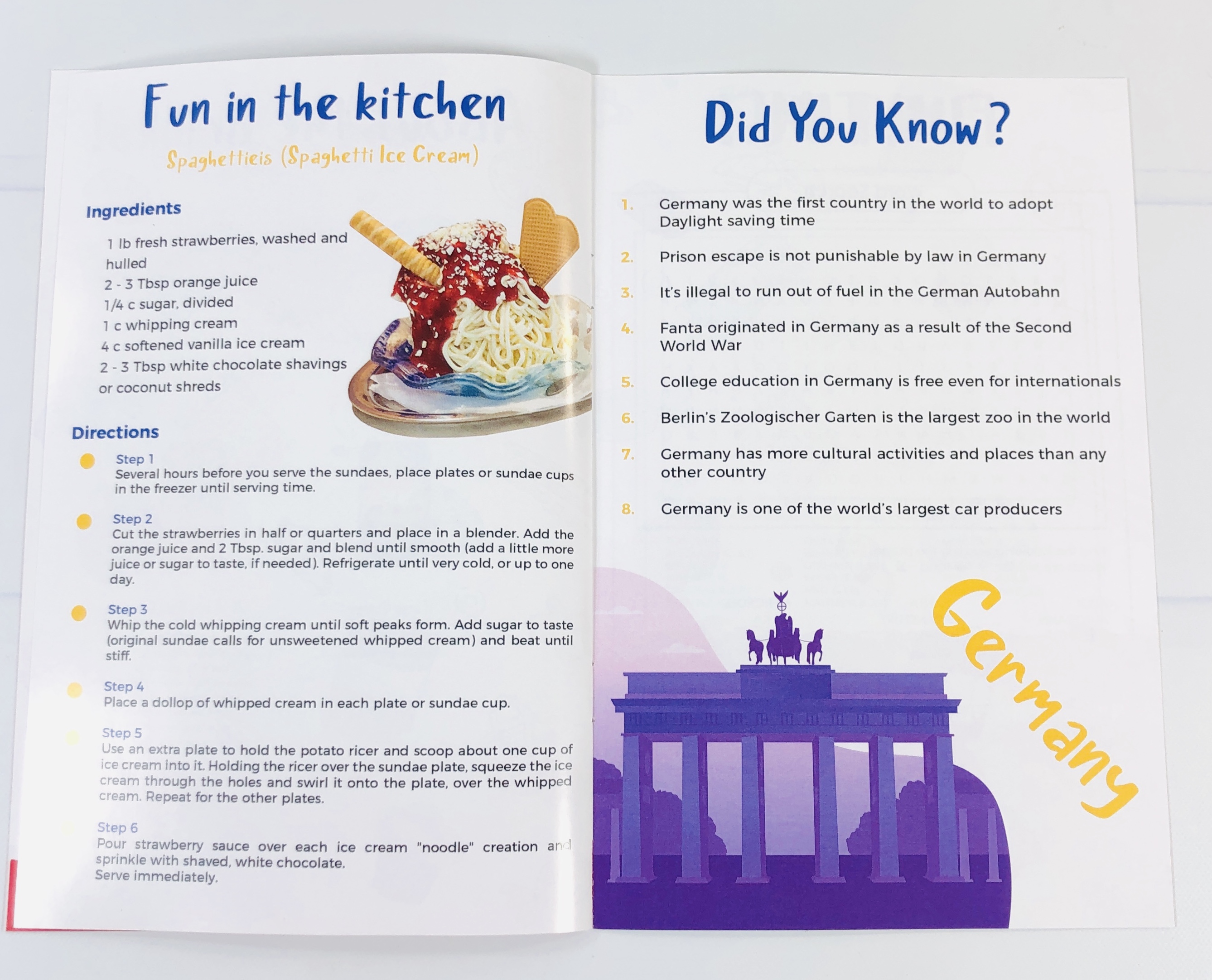 A recipe and more facts were listed.
There was a puzzle.
Each month we receive a coin from the featured country. This is a pfennig.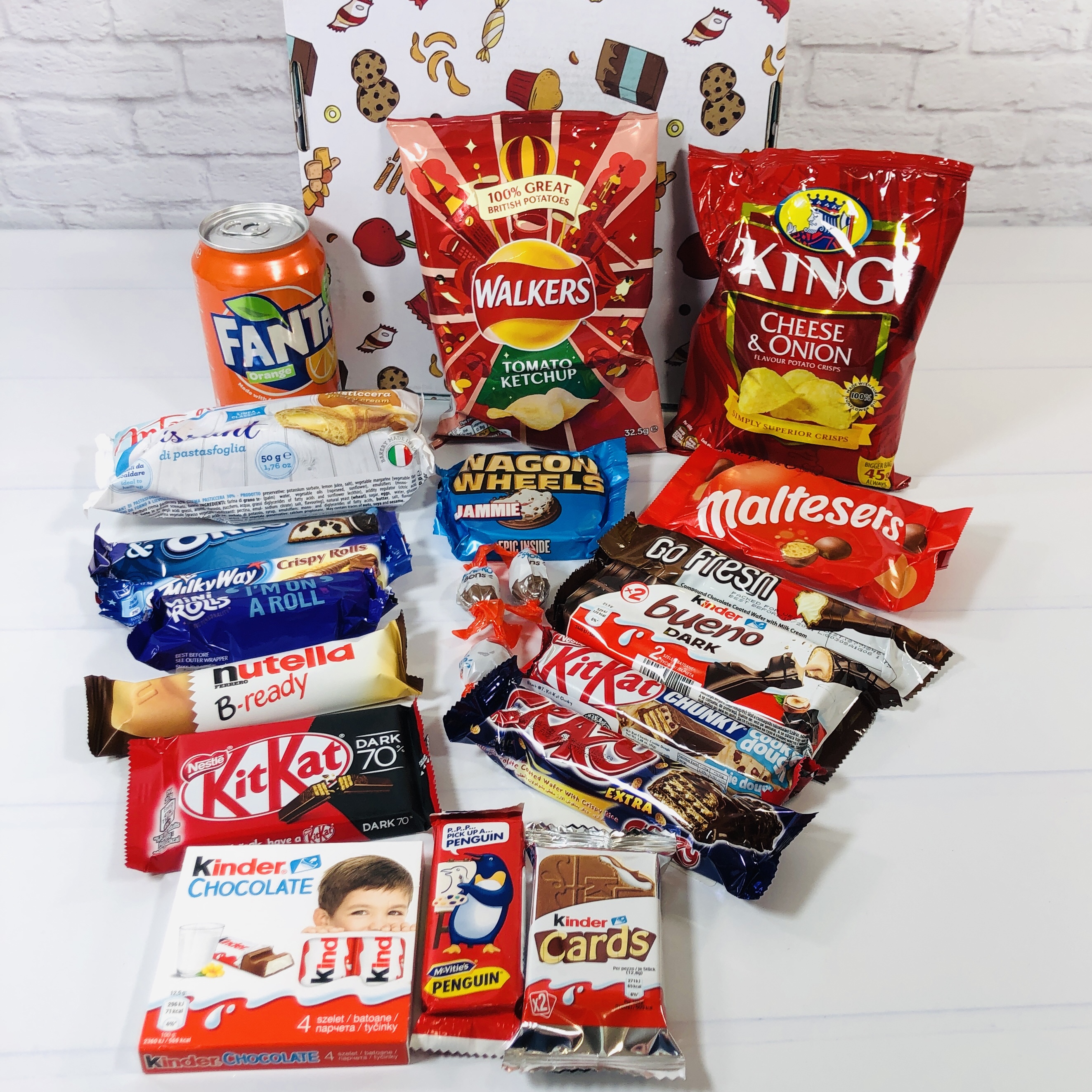 Everything in my box! It's going to take my family of four a while to try all of these but we are up to the challenge!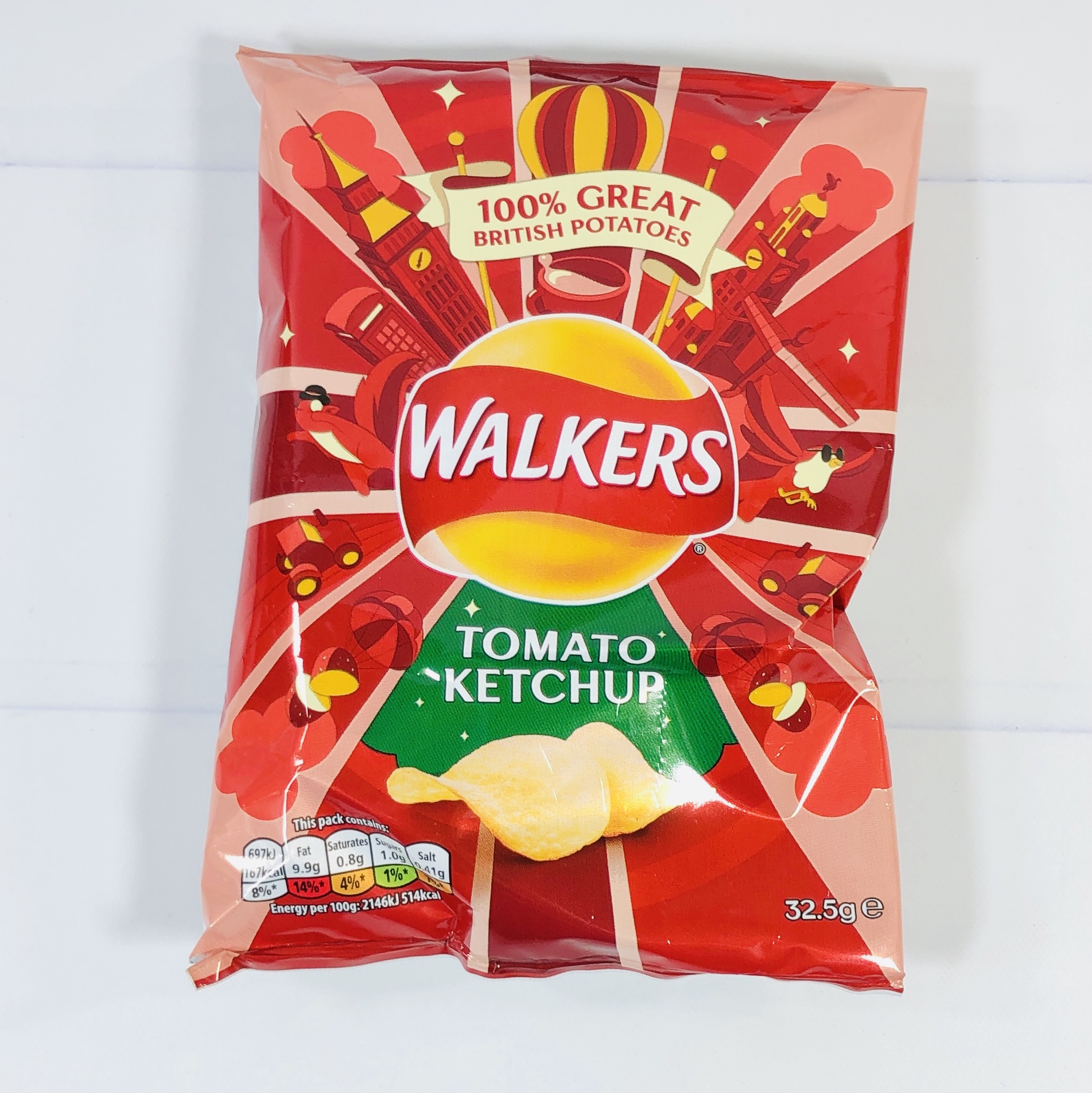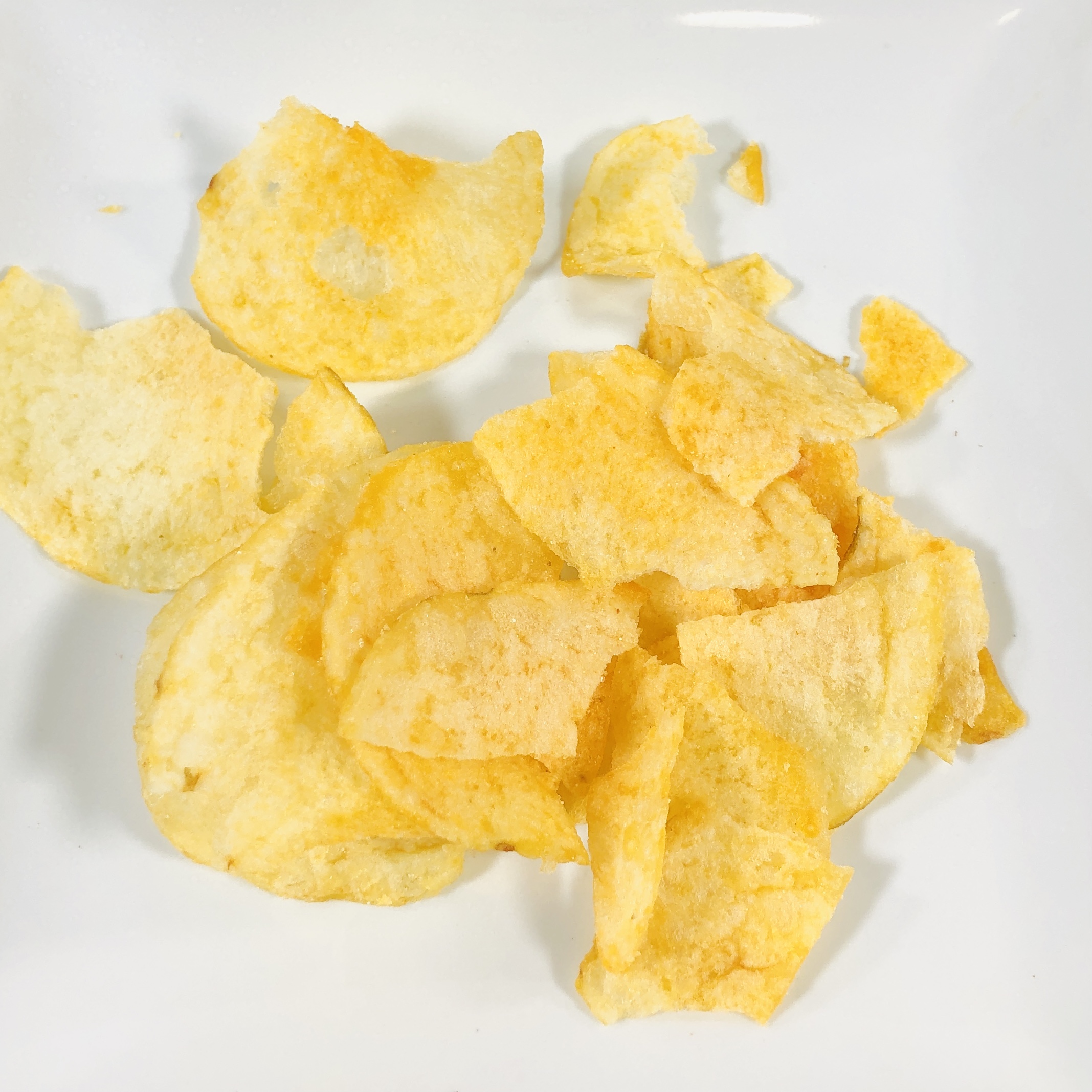 Walkers Tomato Ketchup Crisps I remember when I first arrived in England and tried funky "crisps" flavors like salt and vinegar or prawn cocktail. This is another funky flavor, and it's a tangy one that has the bite of vinegar, along with spices and a sweetness that is pretty strong. Weird combo but I'm sure there are those who love it! Product of England.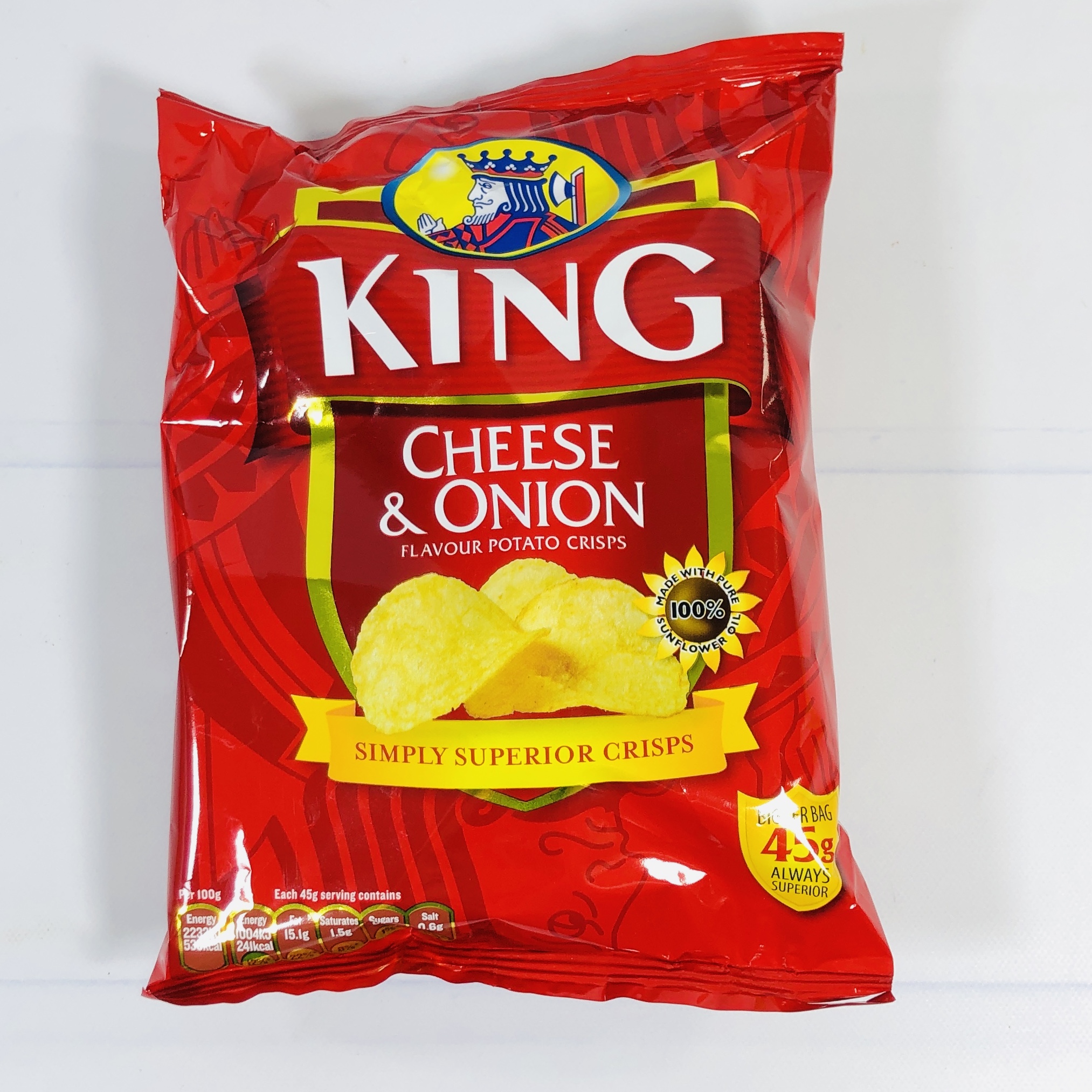 King Cheese & Onion Crisps These potato chips were a hit with my family, they had such good flavor, different from the kind at our stores. The texture was the same as regular Lays or similar chips, but the flavor was more like roasted onion dip, but I didn't realize these were supposed to have cheese too. Product of Ireland.
Orange Fanta Soda I don't normally drink orange soda, I think it tastes like candy and this was no different. I felt like it wasn't as orange in color as other sodas which is a plus for me.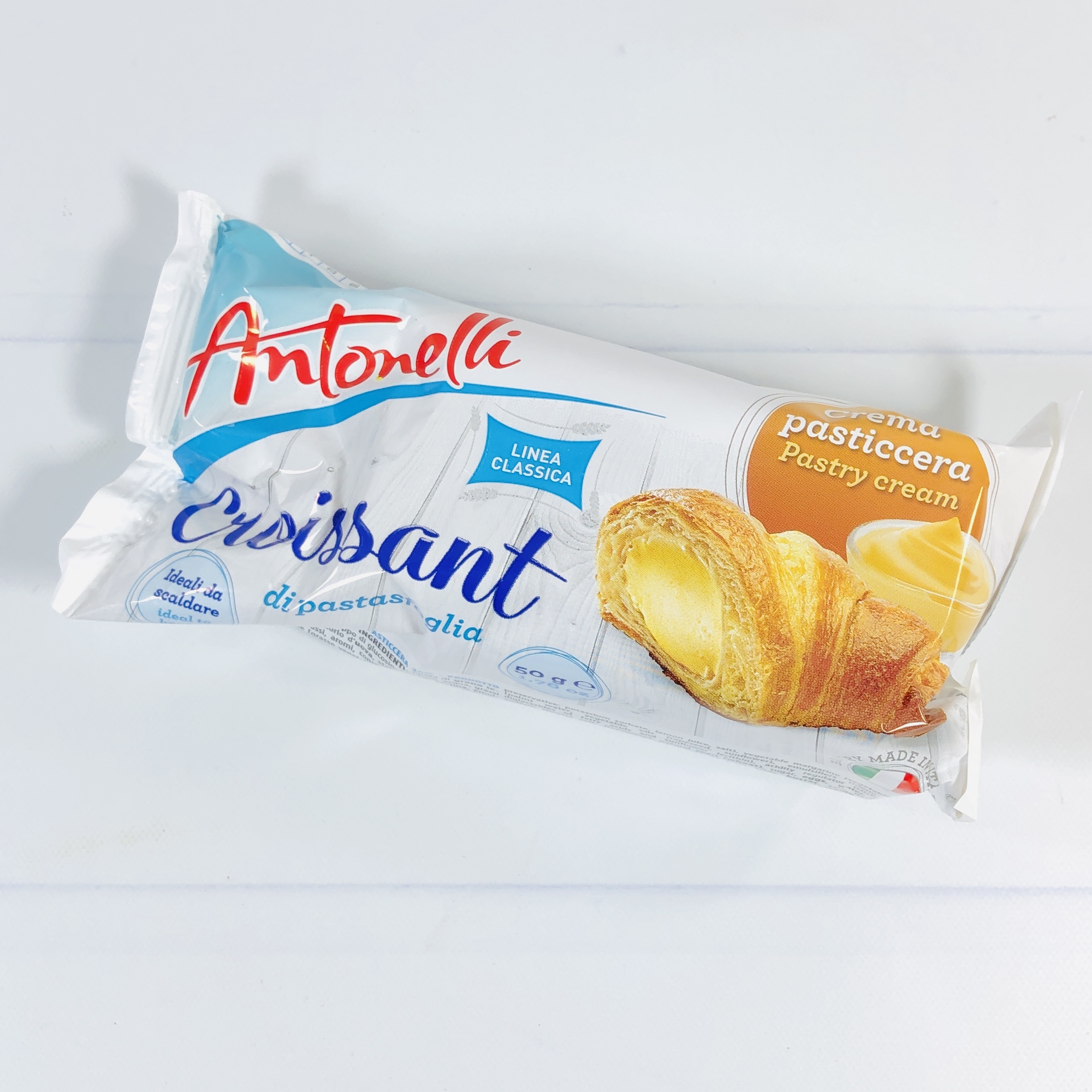 Antonelli Croissant I don't think this tasted like a classic croissant, more like a Hawaiian or sweet roll with an artificial vanilla flavored custard in the middle that also tasted a little like lemon. Product of Italy.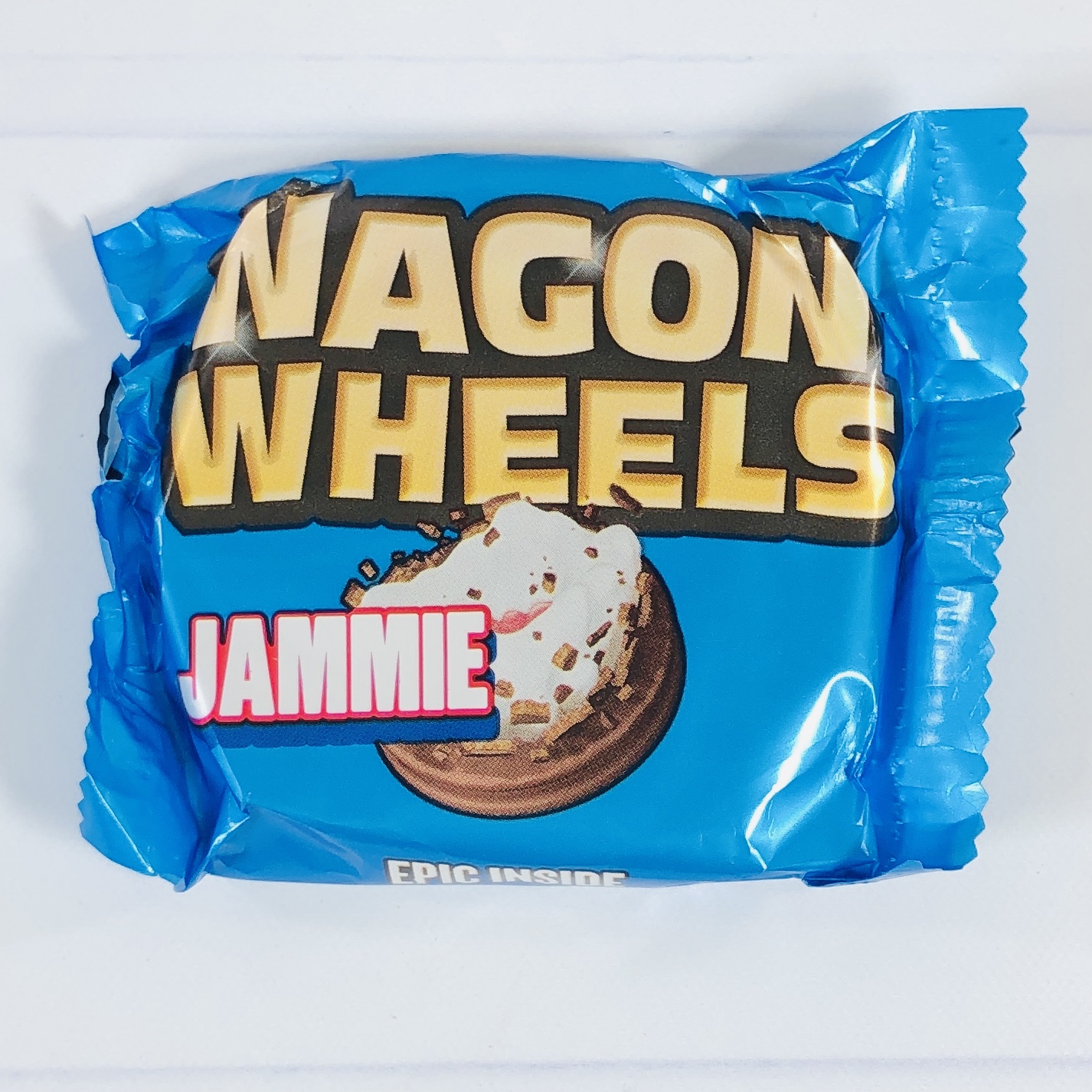 Burtons Jammie Wagon Wheels has two graham cracker-like cookies sandwiched with a layer of marshmallow topped with jam, and then the whole thing is covered with chocolate. It was very sweet and I'm not a fan of marshmallow but the rest of my family seemed to like it.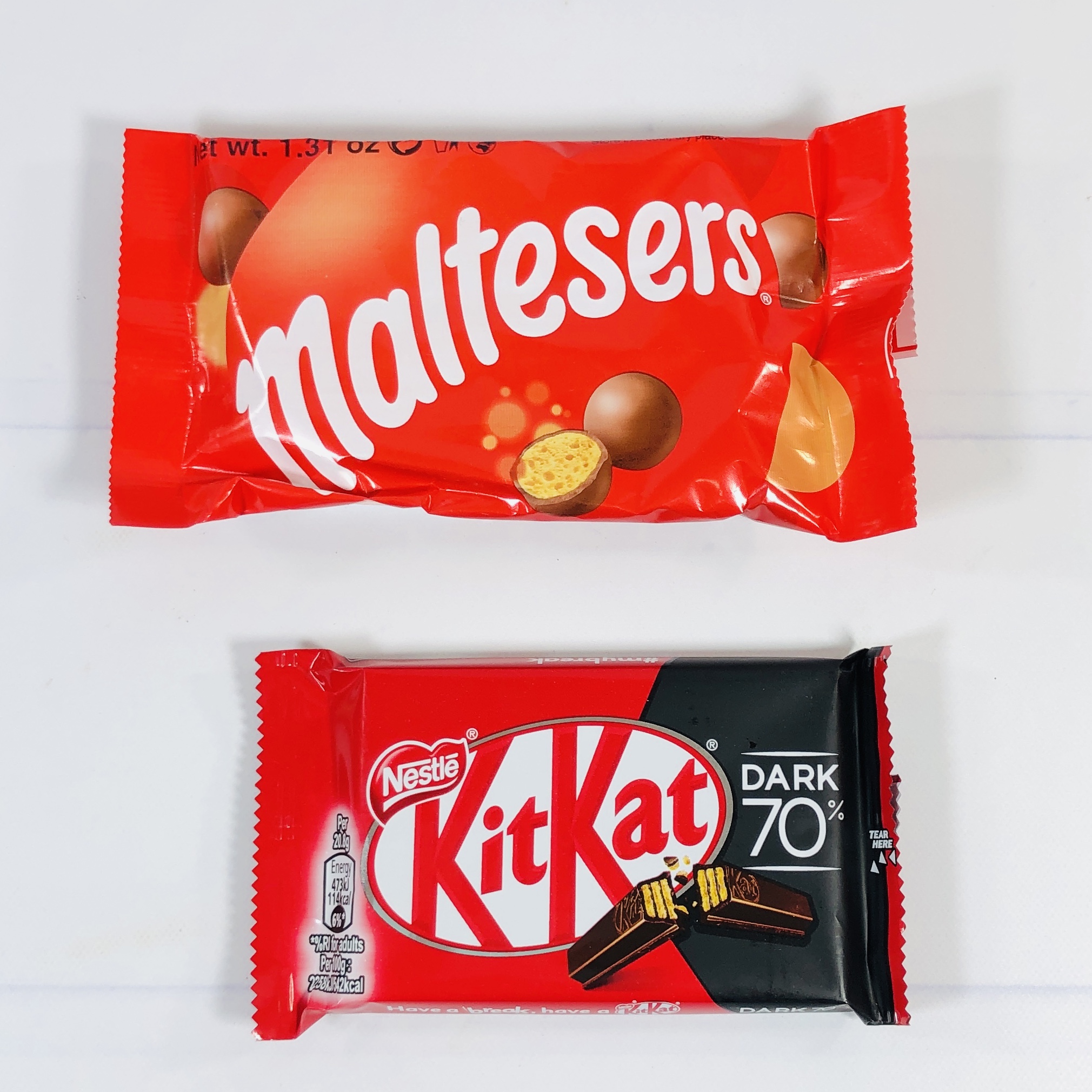 Maltesers are similar to Whoppers in that they have a malted milk center that melts away to nothing but the chocolate on the outside tastes very different, just like Cadbury's tastes different than Hershey's. Product of England.
Kit Kat 70% Dark If you aren't into super sweet snacks then you would probably love this dark chocolate Kit Kat! I can eat a regular Kit Kat in no time flat but this dark chocolate one is best in small increments.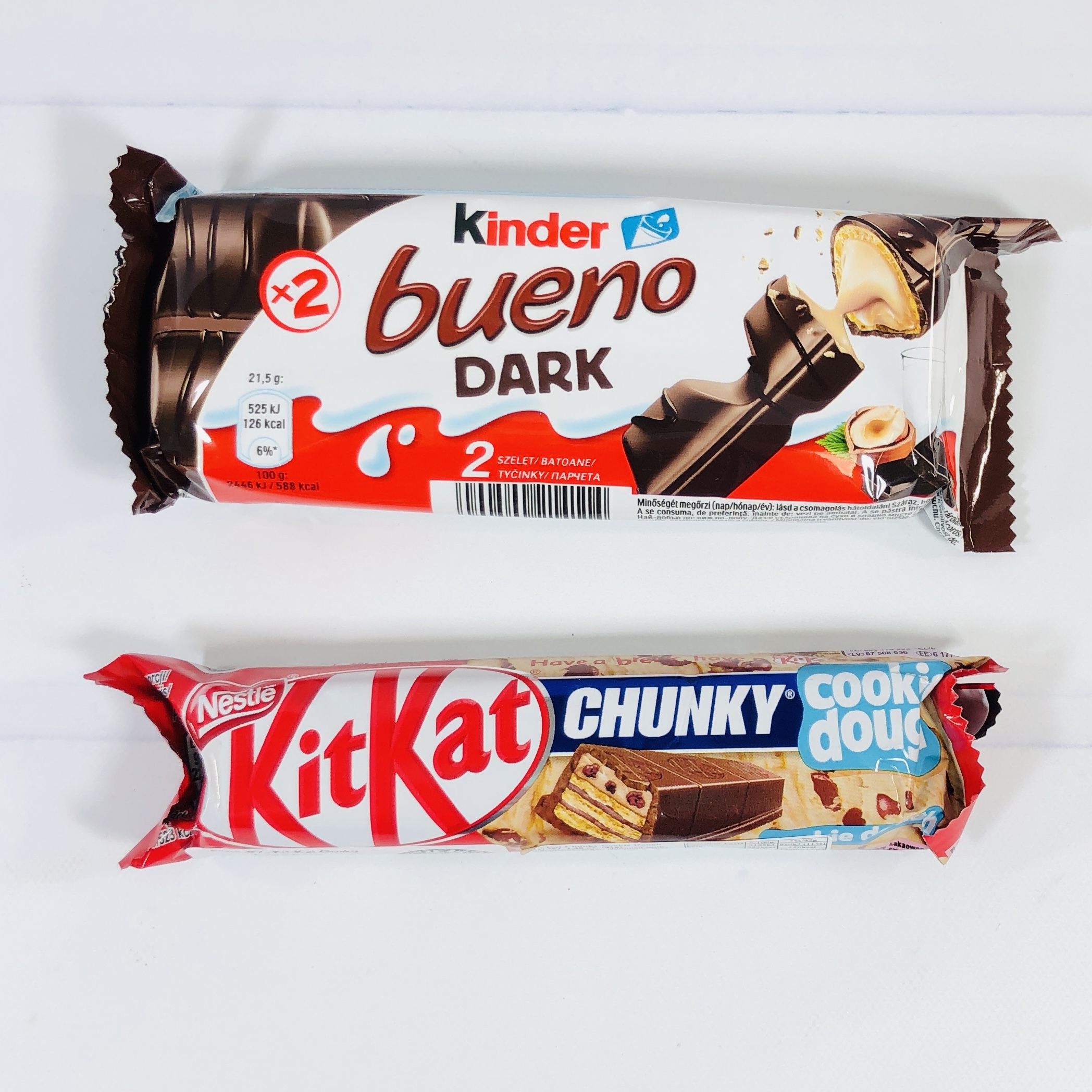 Kinder Bueno Dark is a wafer cookie that has a creamy hazelnut filling, which is more runny than thick, like caramel. The outside is covered with dark chocolate and it is crispy too. Product of Germany.
KitKat Chunky Cookie Dough I don't say this very often and my blood type is granulated sugar but this bar was way too sweet for me! It is thicker than a regular KitKat and there is a filling that sort of tastes like cookie dough, but that comes off as just super sweet to my taste buds. Product of England.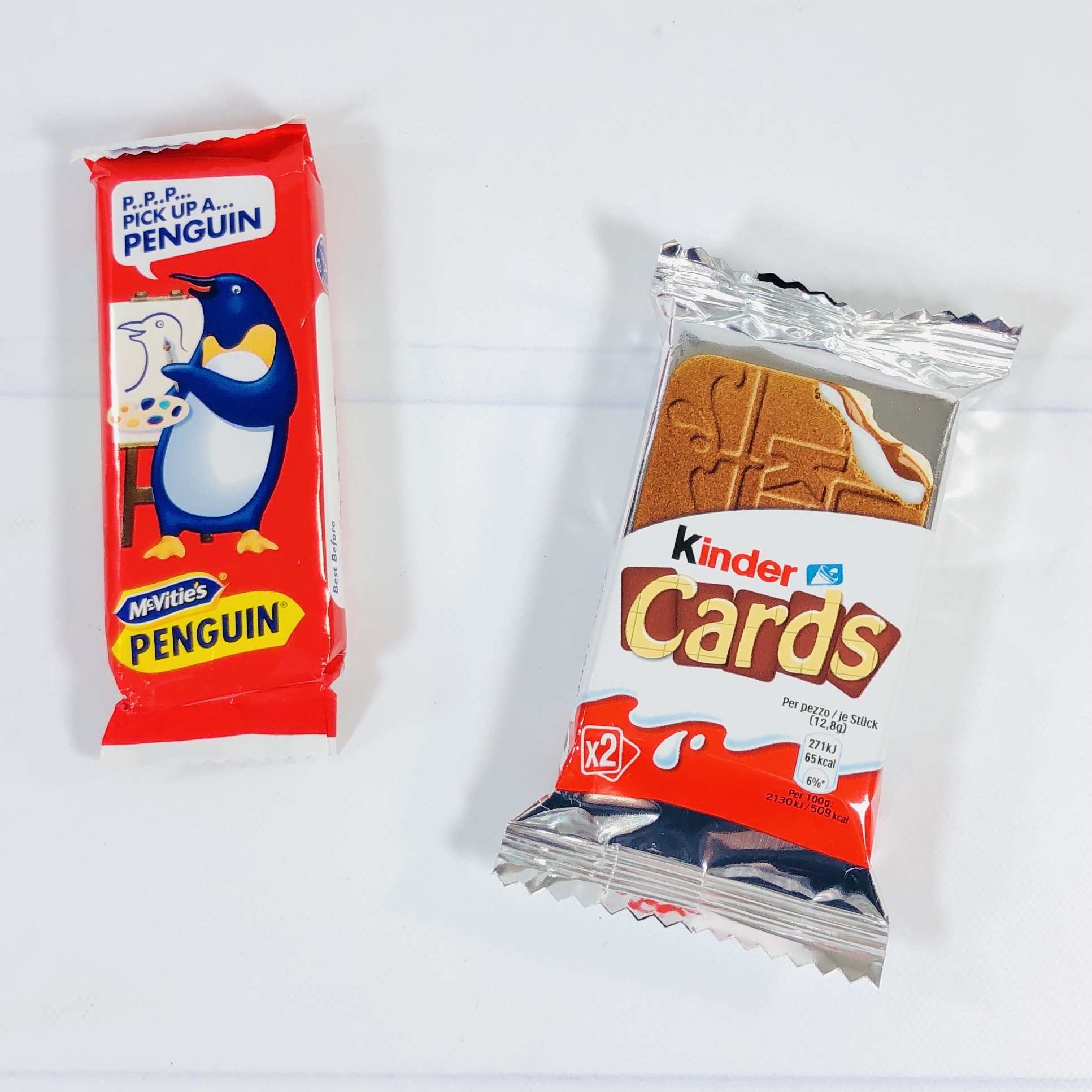 McVittie's Penguin has two crispy graham cracker type of cookies with a thick chocolate filling (like chocolate Oreo's), then it's all covered in more chocolate. The flavor was ok, but I liked the texture very much. Product of England.
Kinder Cards have two wafer cookies, traditional and chocolate, on the outside, plus vanilla and chocolate creams/candy on the inside. My daughter said it reminded her of a s'more. Product of Italy.
Kinder Schoko Bons I think these little egg-shaped candies are yummy. They have a solid milky filling with bits of hazelnuts, and the whole thing is covered in milk chocolate. Product of Germany.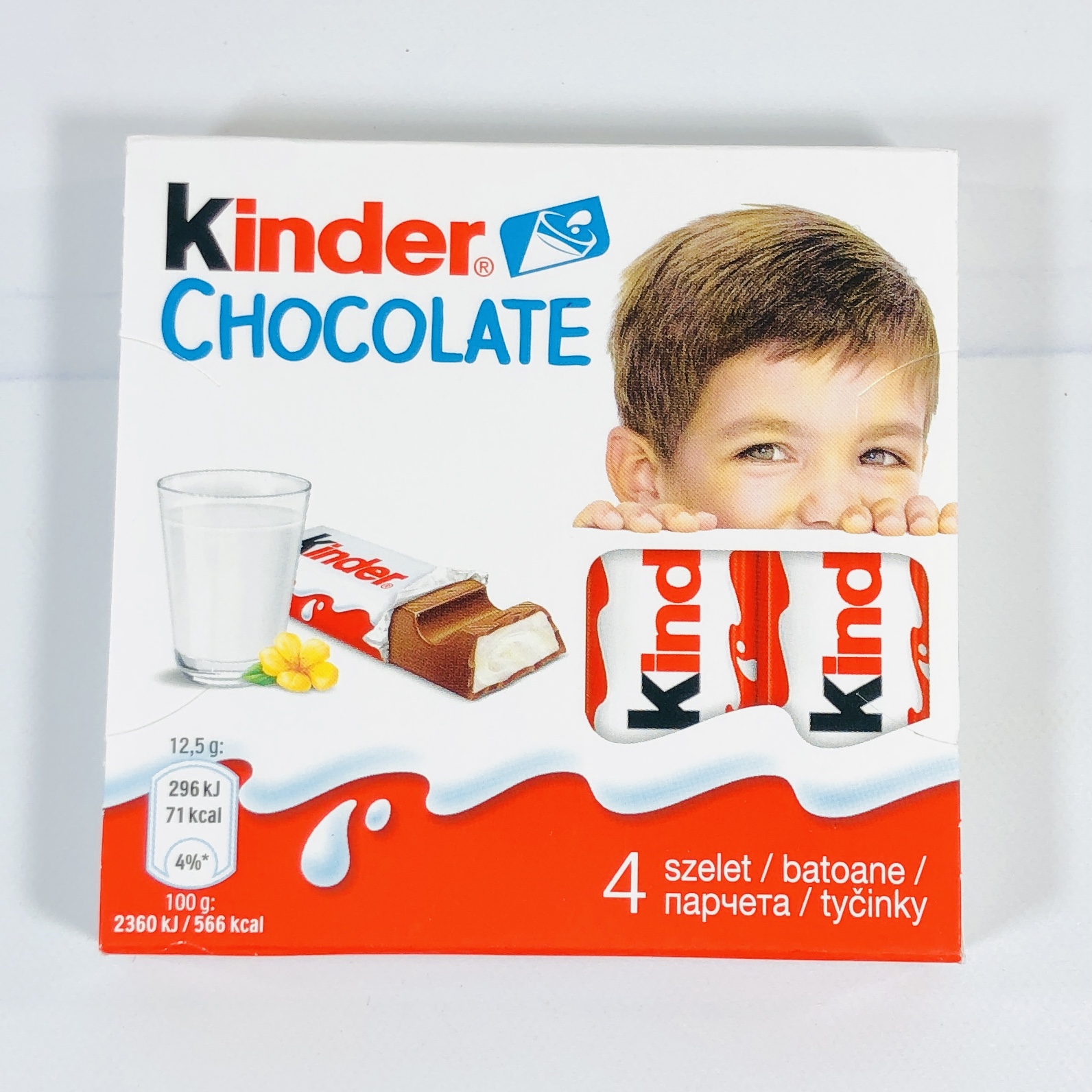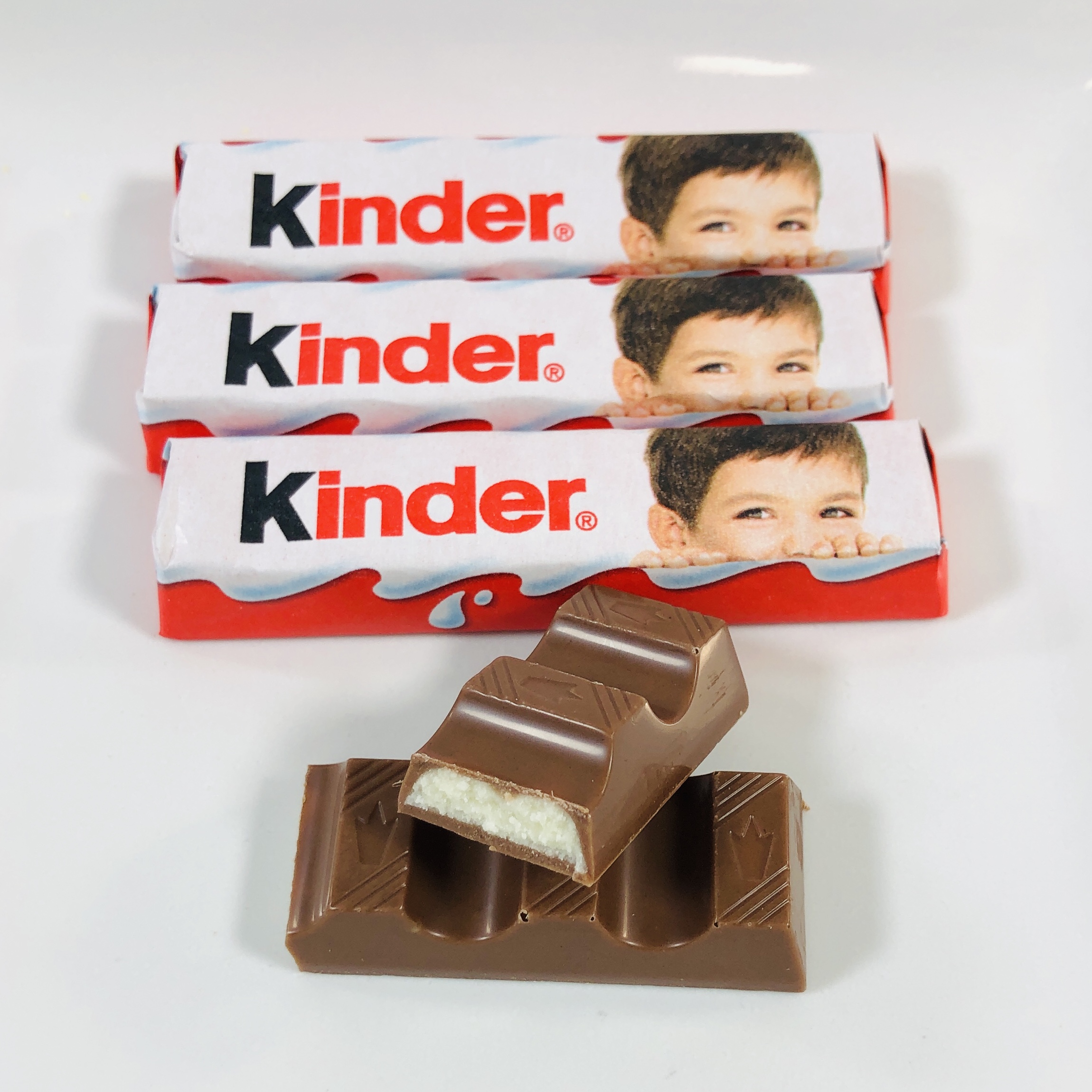 Kinder Double Chocolate Oh Kinder, you make such creamy, dreamy candy! This box had 4 individually packaged treats and they are milk chocolate on the outside, creamy white candy/chocolate on the inside. Melts in the mouth! Product of Germany.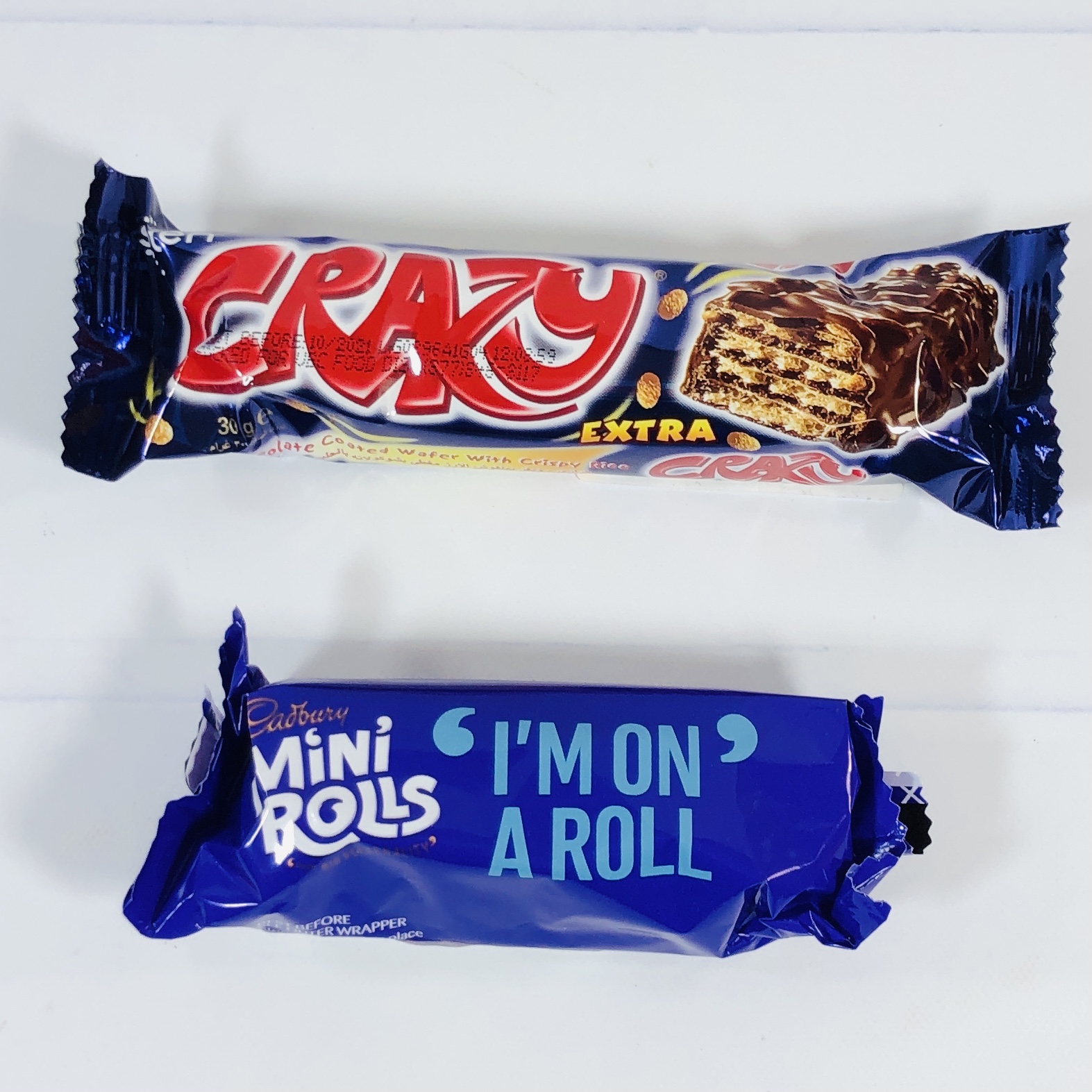 Solen Crazy Chocolate Bar seems like a cross between a Rice Krispy bar and a Kit Kat. It has wafer cookies layered with creme filling and the whole bar is covered with chocolate, but there are also crispy rice pieces on top. Product of Turkey.
Cadbury Mini Rolls are just like the Little Debbie swiss rolls except the chocolate coating on the outside is better tasting, it's real Cadbury chocolate. Product of England.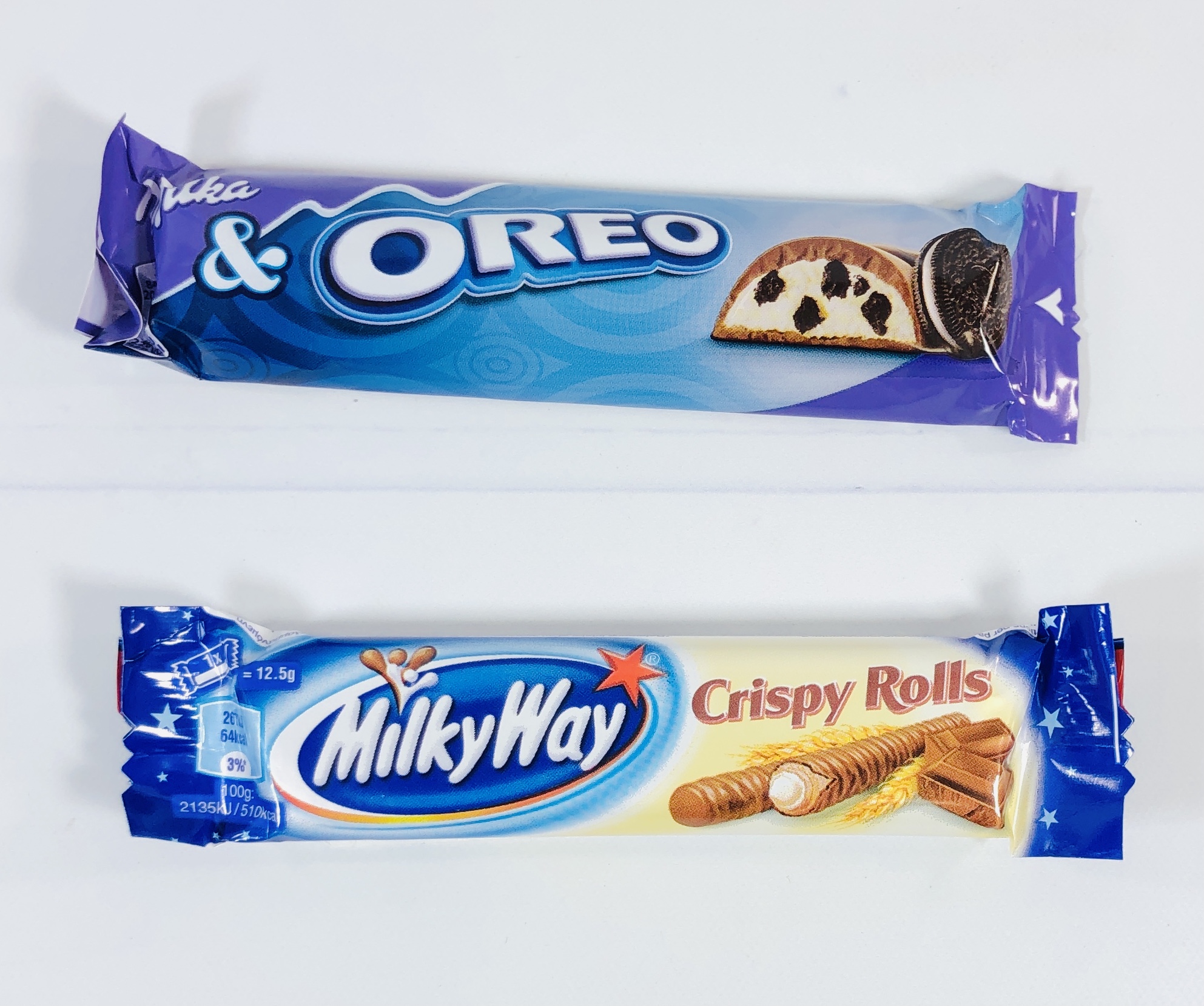 Milka Oreo Chocolate Bar is one of my very favorite candy bars, I frequently buy it from the Asian supermarket of all places. It has milk chocolate on the outside and a creamy white filling inside, but think of the filling of a Lindor truffle as opposed to an Oreo cookie. The filling contains crispy chocolate Oreo pieces.
Milky Way Crispy Rolls First of all, forget that this says Milky Way, it's just confusing to us Americans. It's a crispy cookie that reminds me of one of those sugar ice cream cones, not the unflavored wafer kind, or maybe it's a pirouline. Inside is a creamy vanilla filling (like a lot of the snacks in this box) and then the whole thing is covered in milk chocolate. Yum!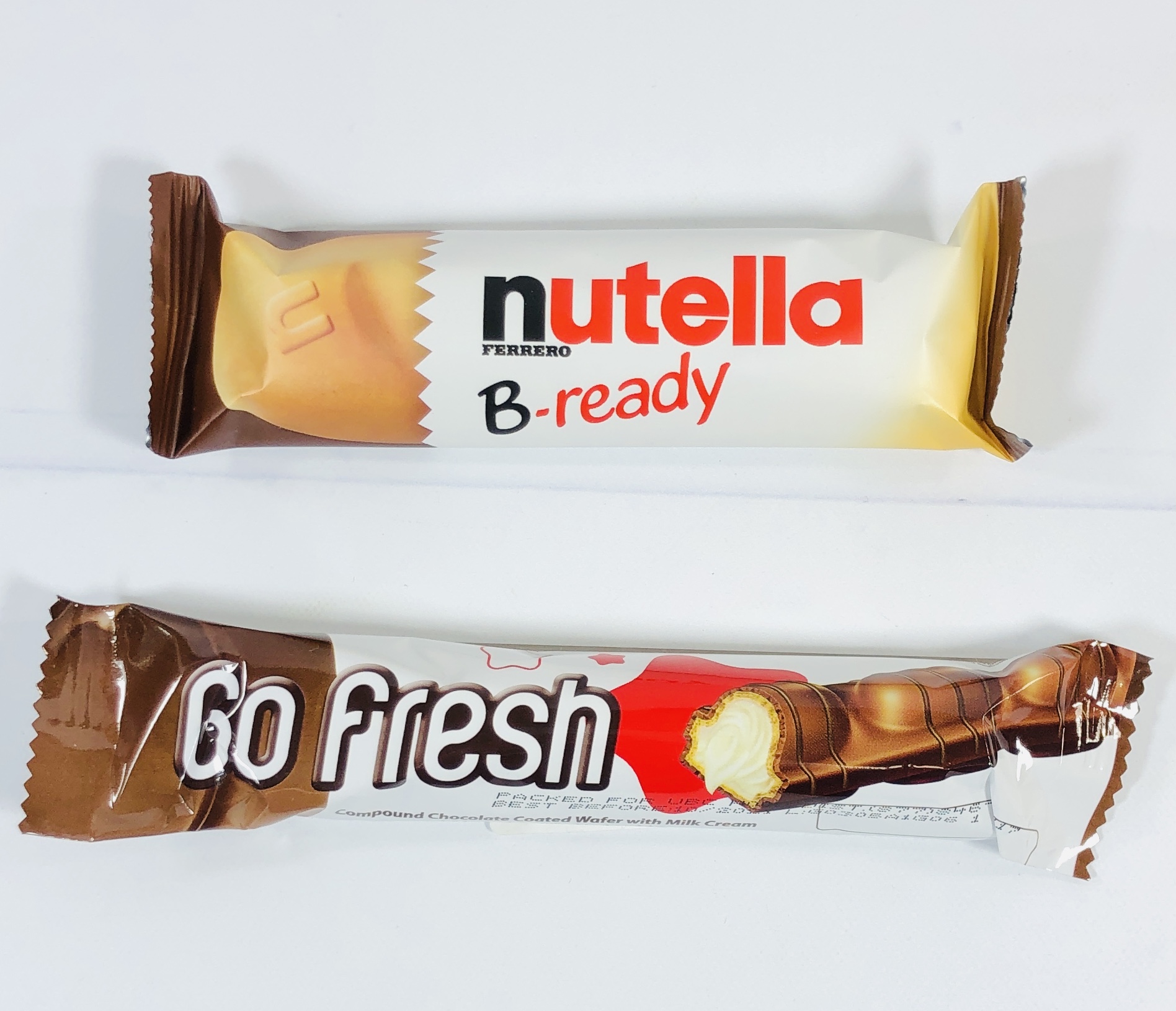 Nutella B-Ready is a crispy wafer cookie filled with thick Nutella spread!
Go Fresh is yet another wafer cookie filled with a creamy vanilla candy and covered with a layer of chocolate, similar to the Kinder Bueno, but thicker, and no hazelnut. Product of Turkey.
As always I was surprised to find new candies as well as twists on some all-time favorites in my February Try My Snacks box! Not all of the candies were from Germany but they may be wildly popular in that country. There were a lot of wafers in this month's selection and a lot of chocolate! I enjoyed sharing my candies with my family, it's way too much sugar for one person so we shared the load. I heard oohs and ahhs every time I opened something new!
Any thoughts about this box?
Visit Try My Snacks to subscribe or find out more!