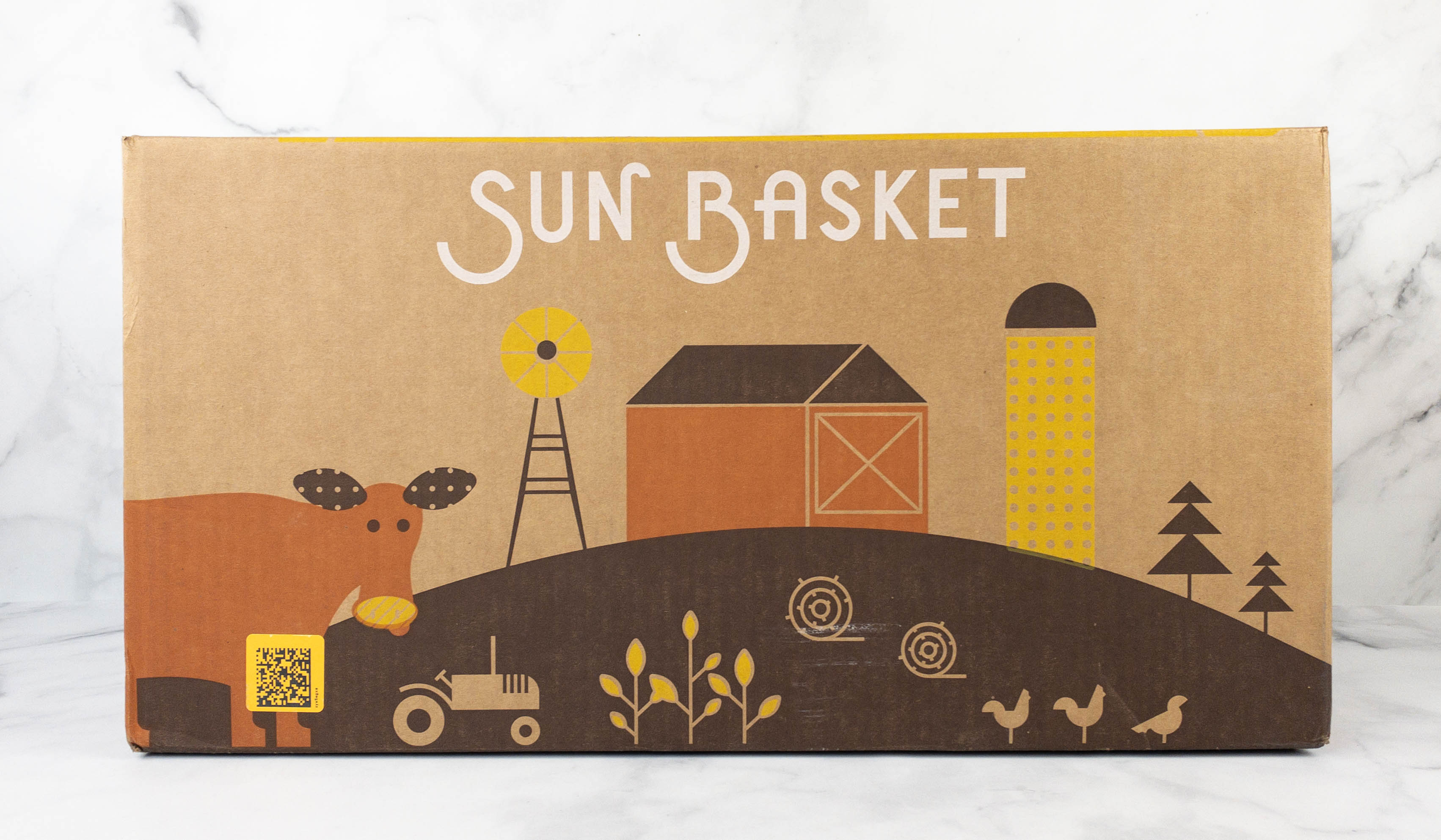 SunBasket is a healthy meal subscription service that offers both easy-to-cook recipes and ready-made meals! Subscribers can choose whether they want Classic Meal Kits, Fresh & Ready Meals, Pre-Prepped Meal Kits, and Chef's Table Meal Kits. The meal kits can also be customized depending on the subscriber's preference or diet, including Chef's Choice, Paleo, Gluten-Free, Lean & Clean, Vegetarian, Pescatarian, Mediterranean, Diabetes-Friendly, and Carb-Conscious. You can choose at least 2 recipes per week, for 2 or 4 people. Meals start at $8.99 per serving, and delivery is free on your first order. Aside from the regular meals, you can also grab add-ons such as Breakfast, Lunch, Pasta & Sauce, Proteins, and Snacks from their Market!
DEAL: Get $35 off FIRST box! Deal applies automatically, just VISIT AND SUBSCRIBE.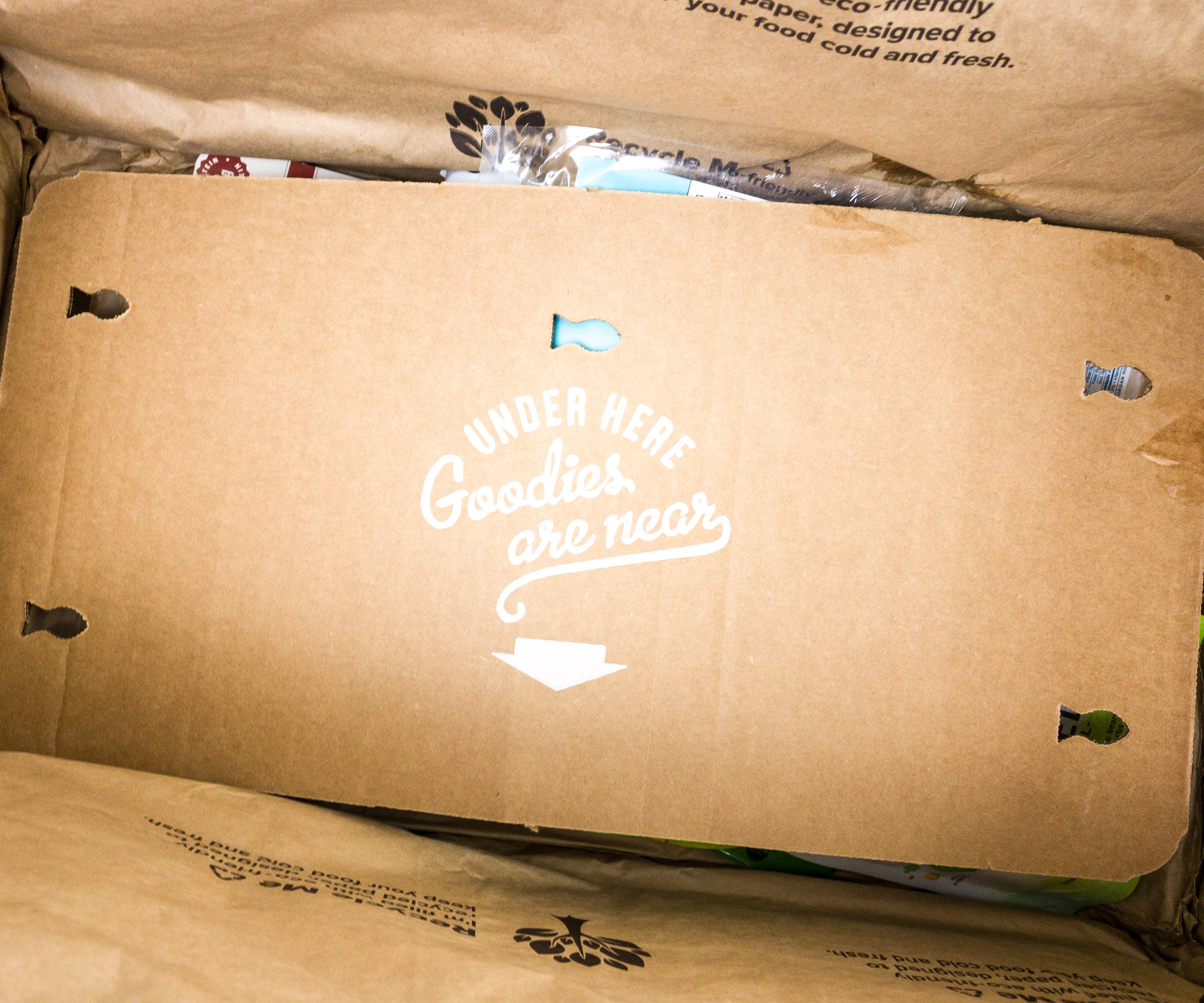 Protein (meats) and other ingredients that require being chilled are placed under this cardboard separator. Also, the box ensures that meals are packaged to stay fresh in the box for up to 8 hours after delivery.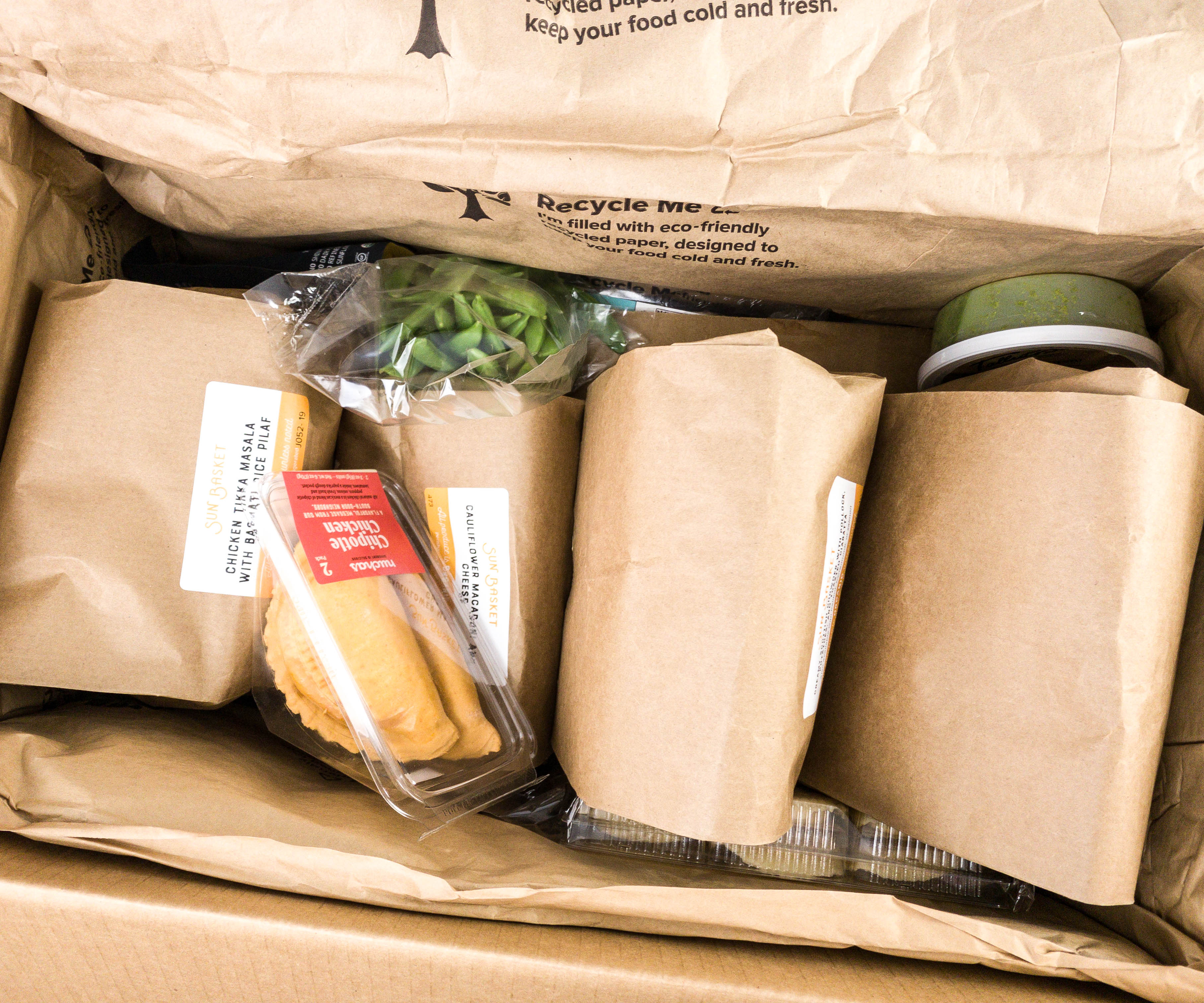 Sunbasket promises that whether it's a meal kits or a ready-made meal, they only use fresh organic produce, responsibly raised meats without any antibiotics or hormones, and seafood that's wild-caught or sustainably-raised.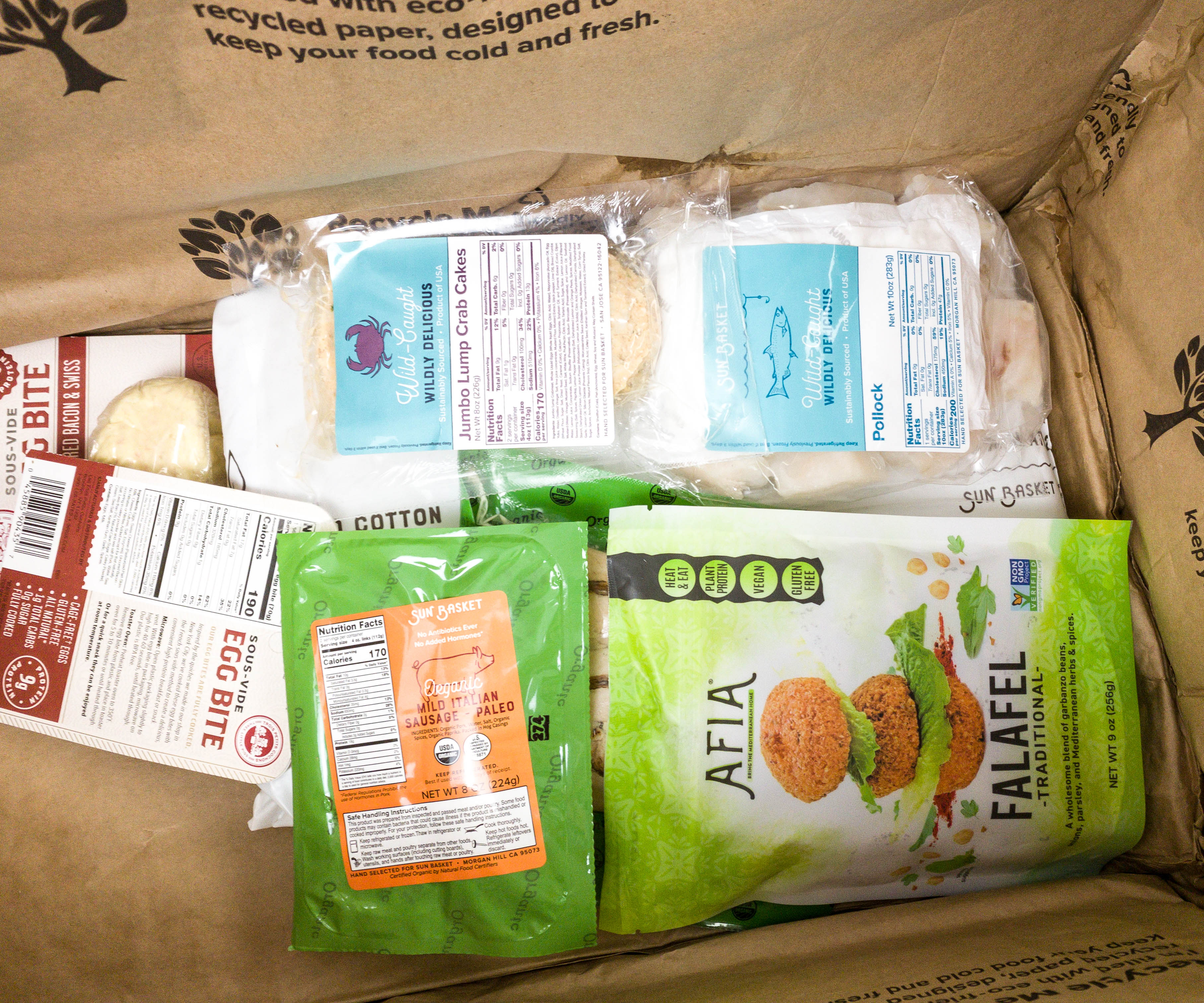 Another thing to love about the packaging they use is that it's eco-friendly. The boxes are made from recycled and virgin kraft paper, while the paper insulation is 100% shredded recycled paper filling between two sheets of recyclable kraft paper.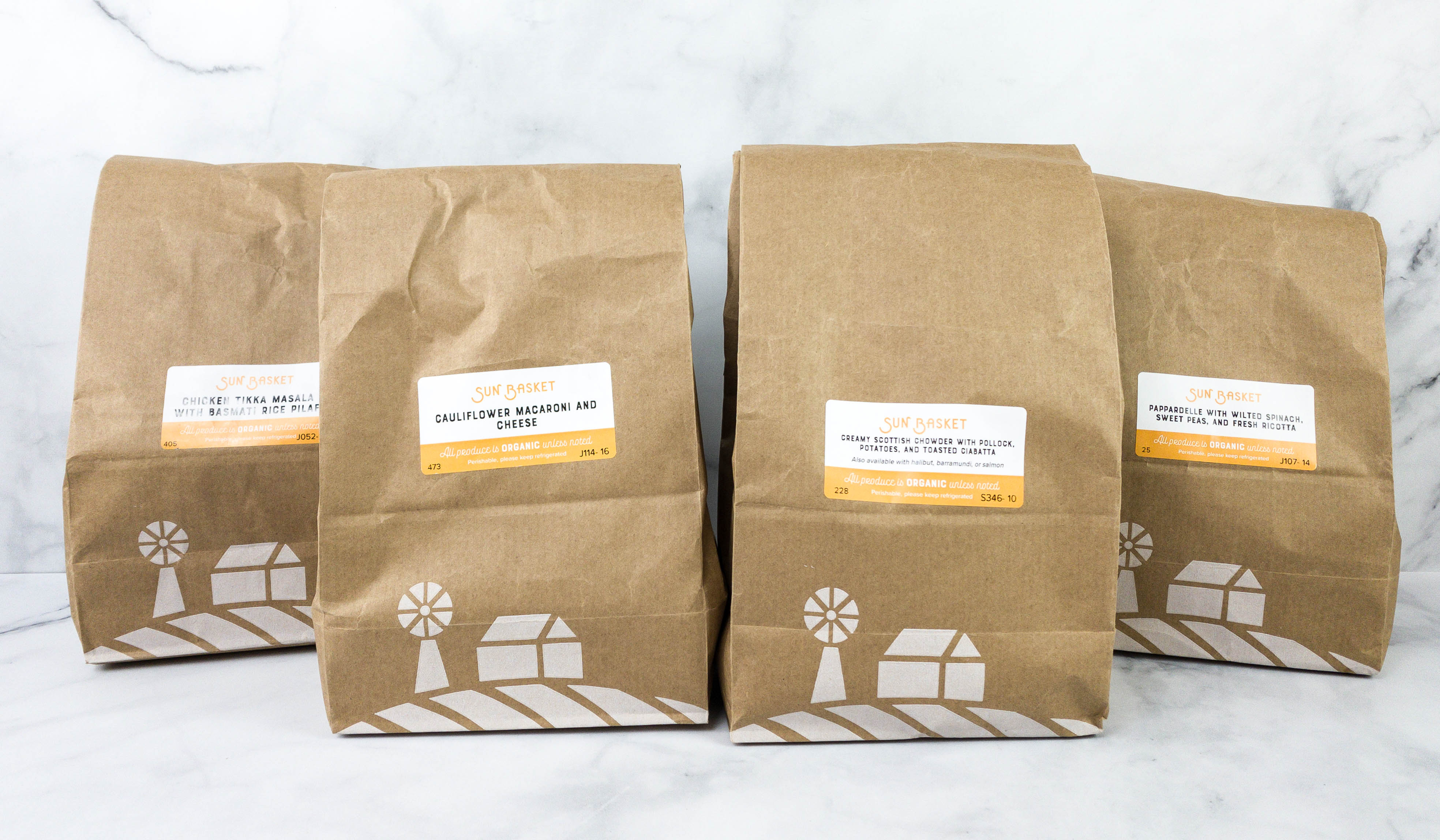 Every recipe is separated by labeled brown bags.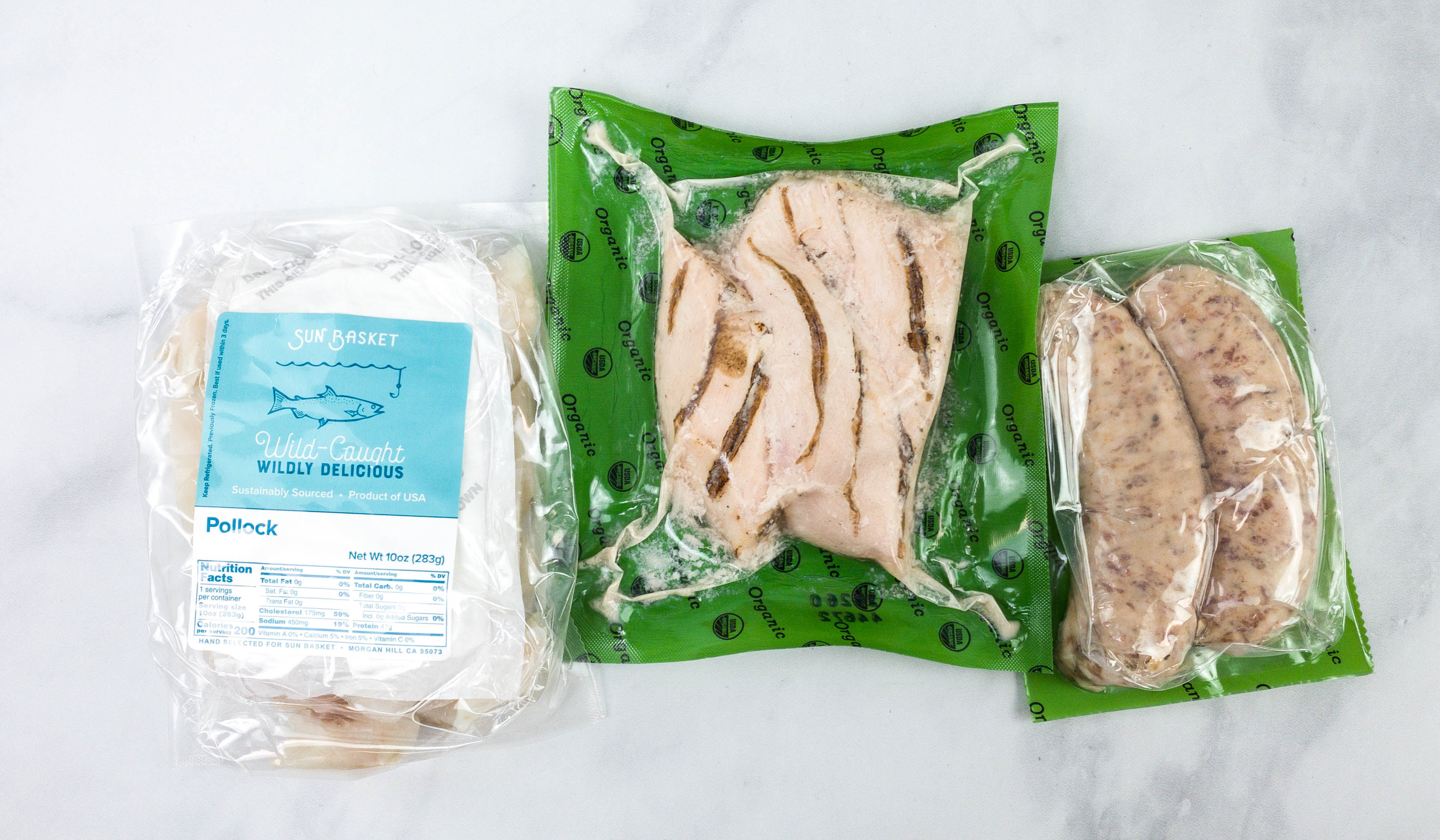 Everything looks good! I'm excited to start!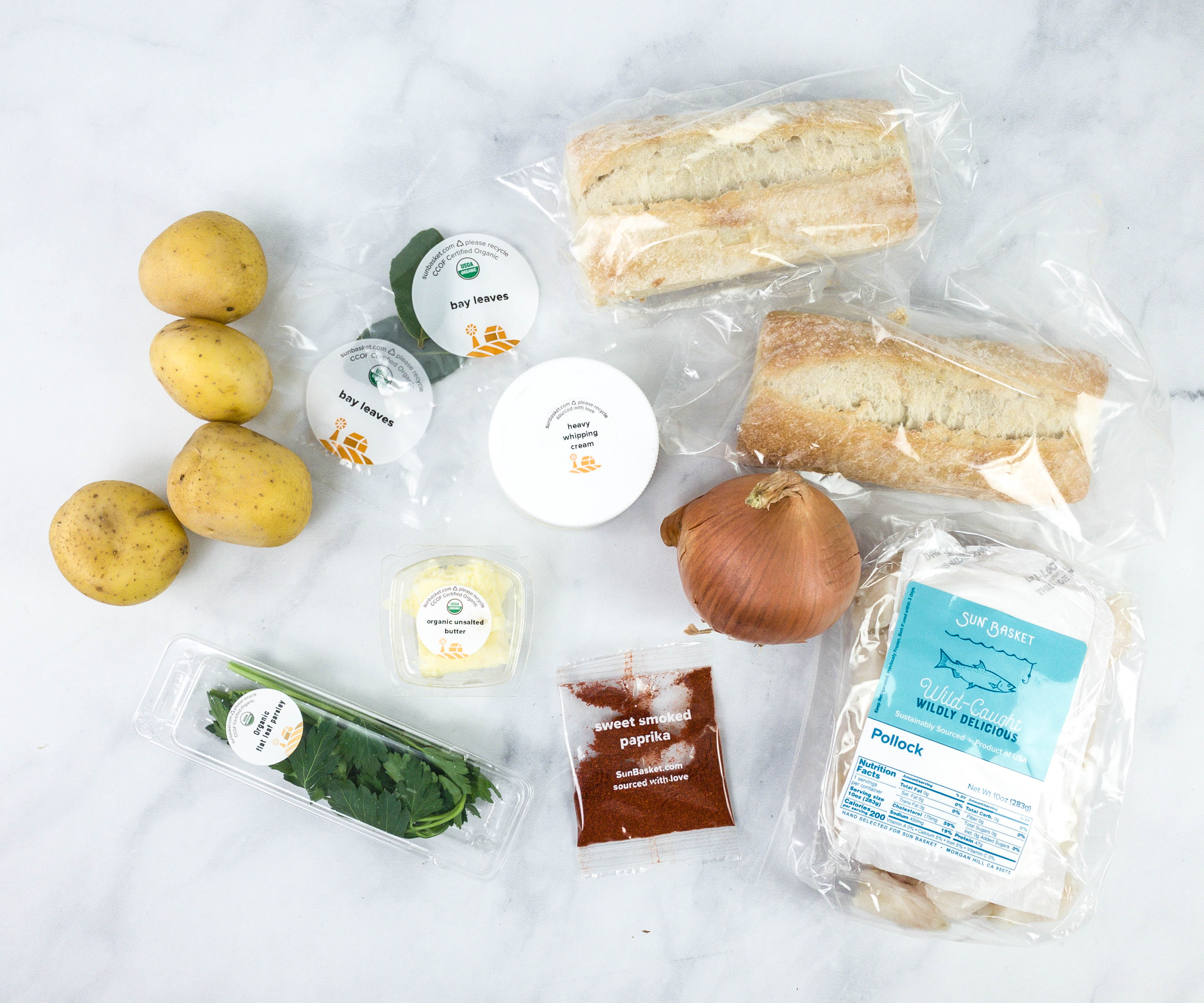 Creamy Scottish Chowder. These are the ingredients for the first recipe, the creamy Scottish chowder!
This card contains the recipe and other important details!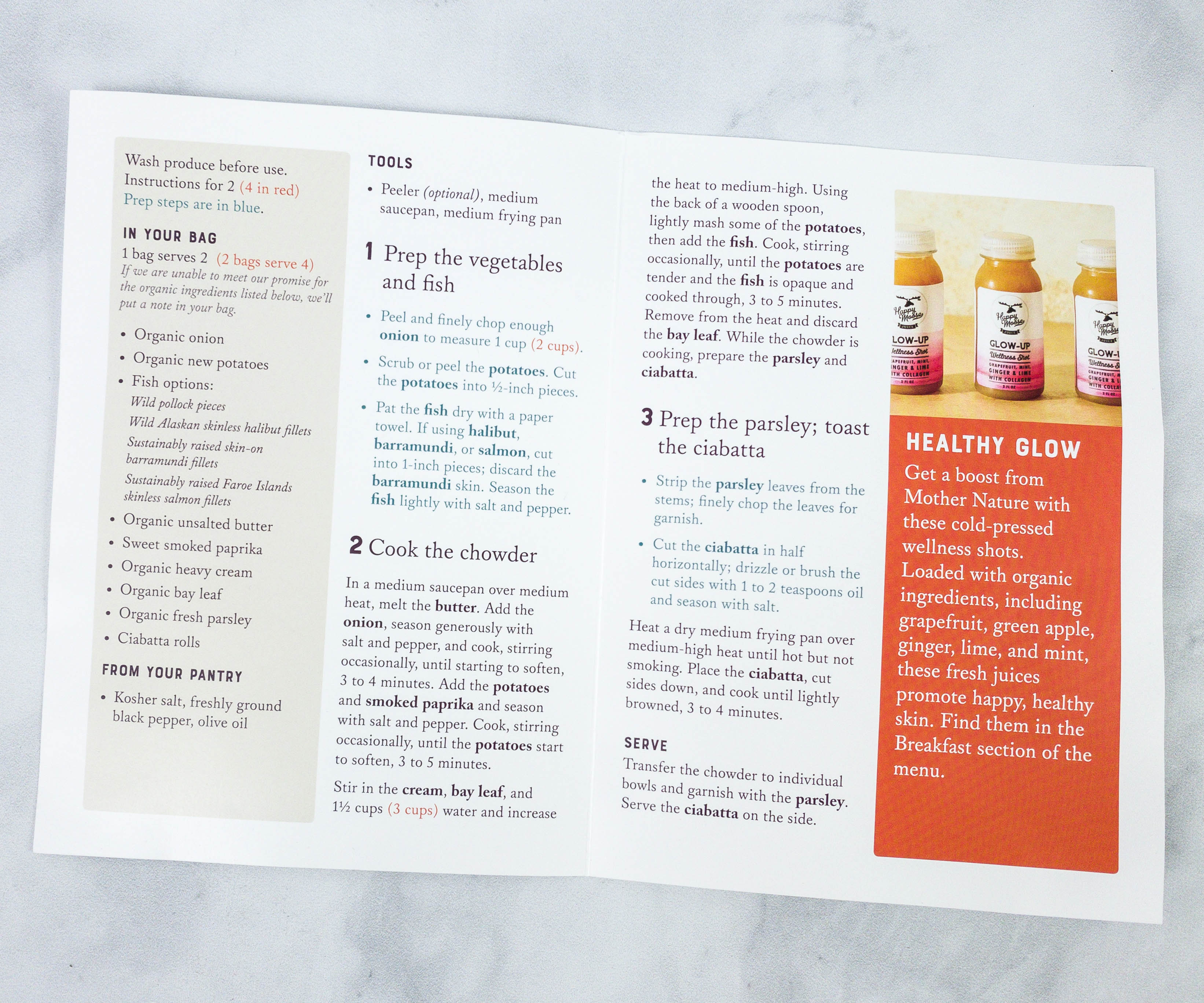 They listed all the items needed for this dish, including what's in the bag and what you would need from your pantry. Of course, there are also easy-to-follow, step-by-step instructions.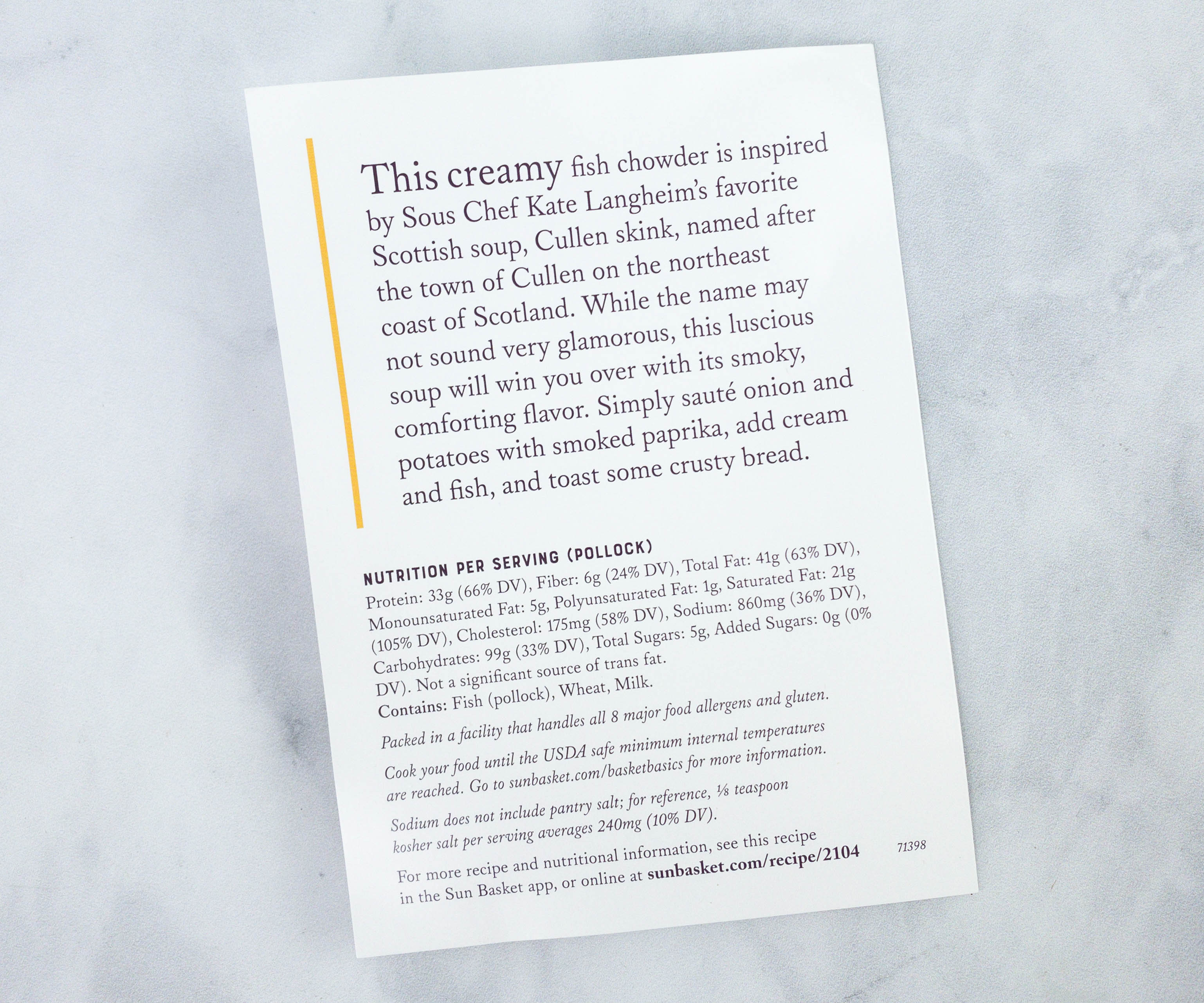 There is also a short description of the dish at the back!
This creamy fish chowder is inspired by Sous Chef Kate Langheim's favorite Scottish soup, Cullen skink, named after the town of Cullen on the northeast coast of Scotland. While the name may not sound very glamorous, this luscious soup will win you over with its smoky, comforting flavor. Simple saute onion and potatoes with smoked paprika, add cream and fish, and toast some crusty bread.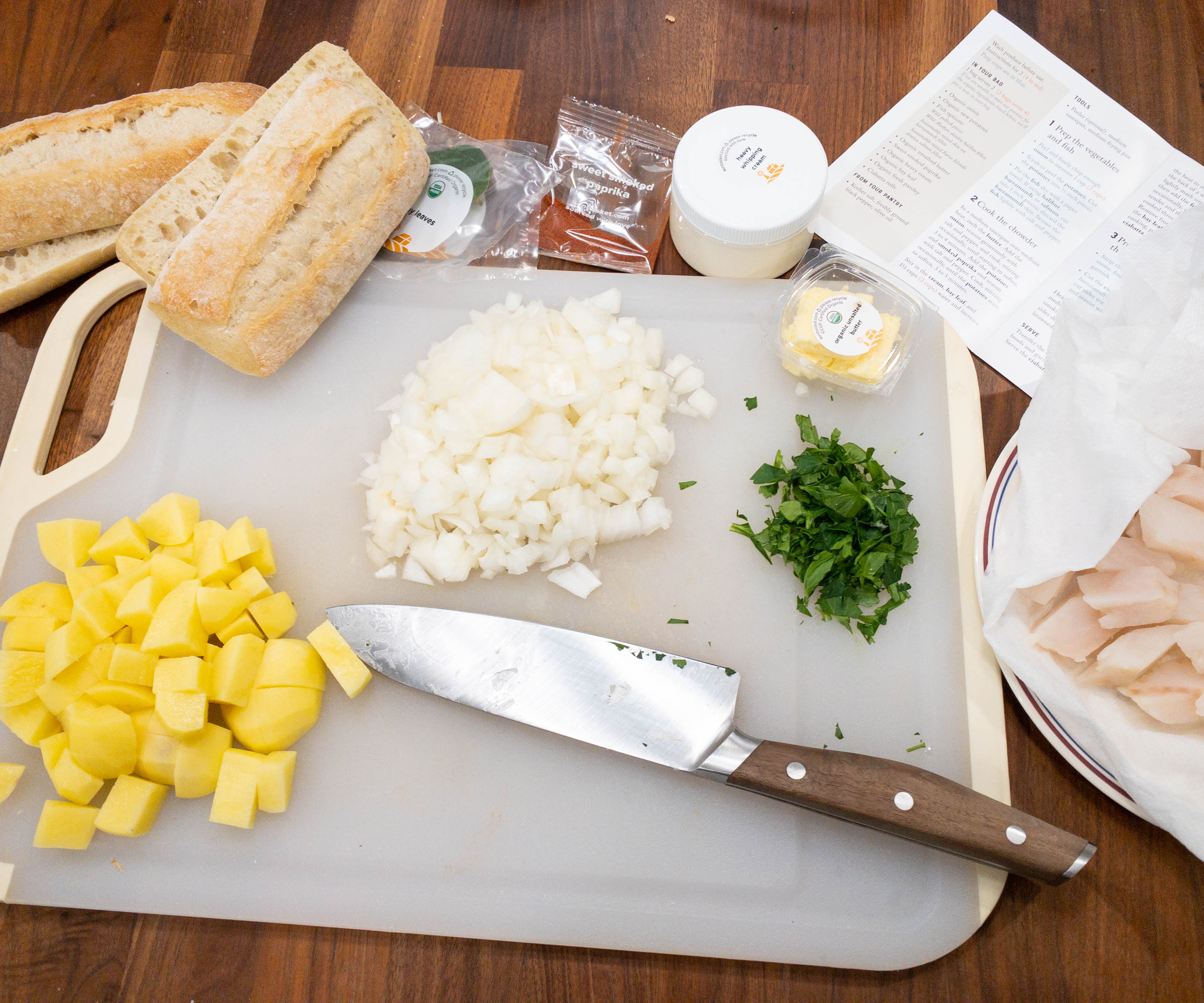 First, I prepared all the ingredients so I can have everything ready when I start cooking.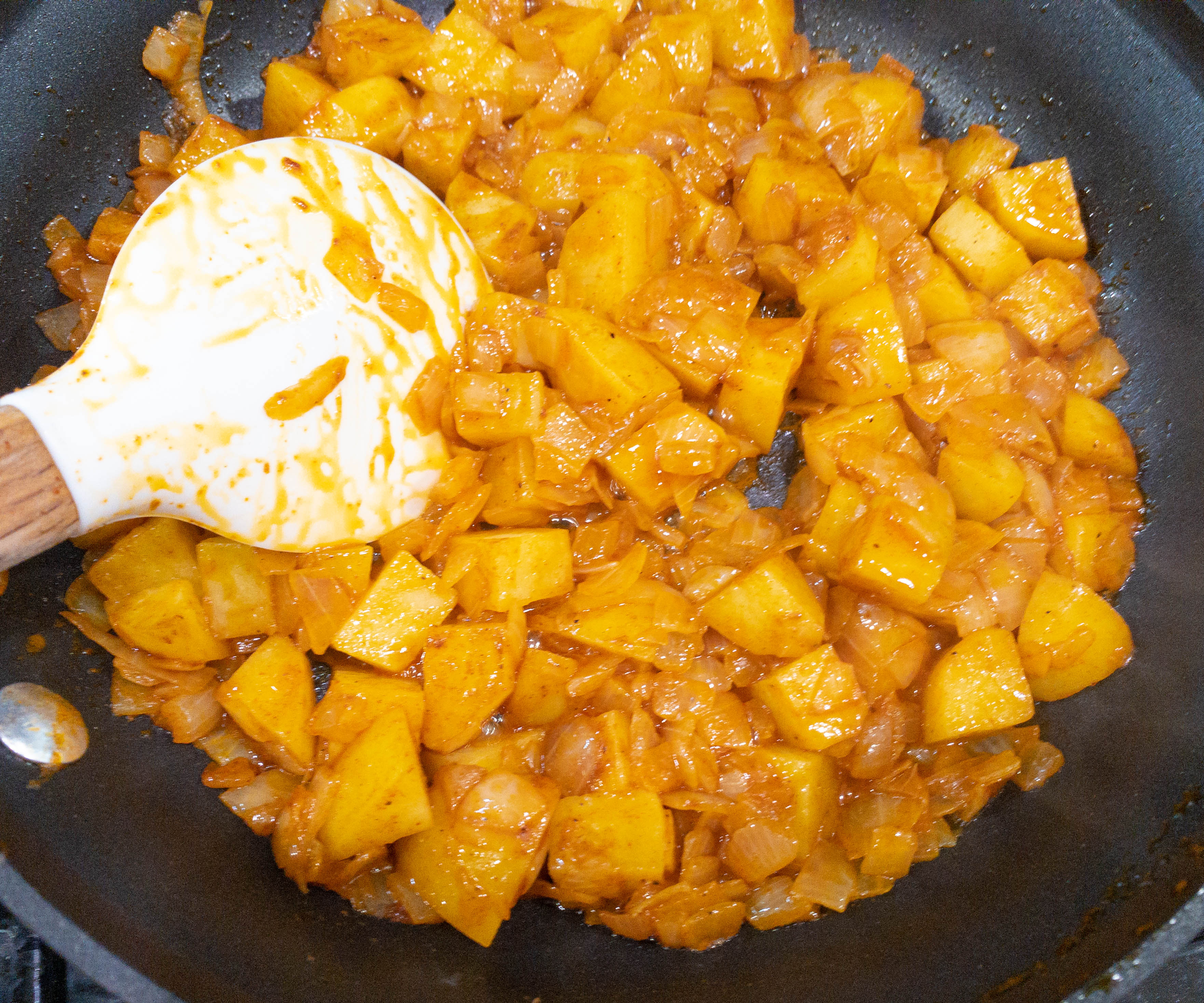 This is surprisingly an easy dish to prepare! I started by melting the butter and adding the onions to saute for a little bit. Once that's done, I added the potatoes along with the smoked paprika which gave this dish some color. I also seasoned it with some salt and pepper.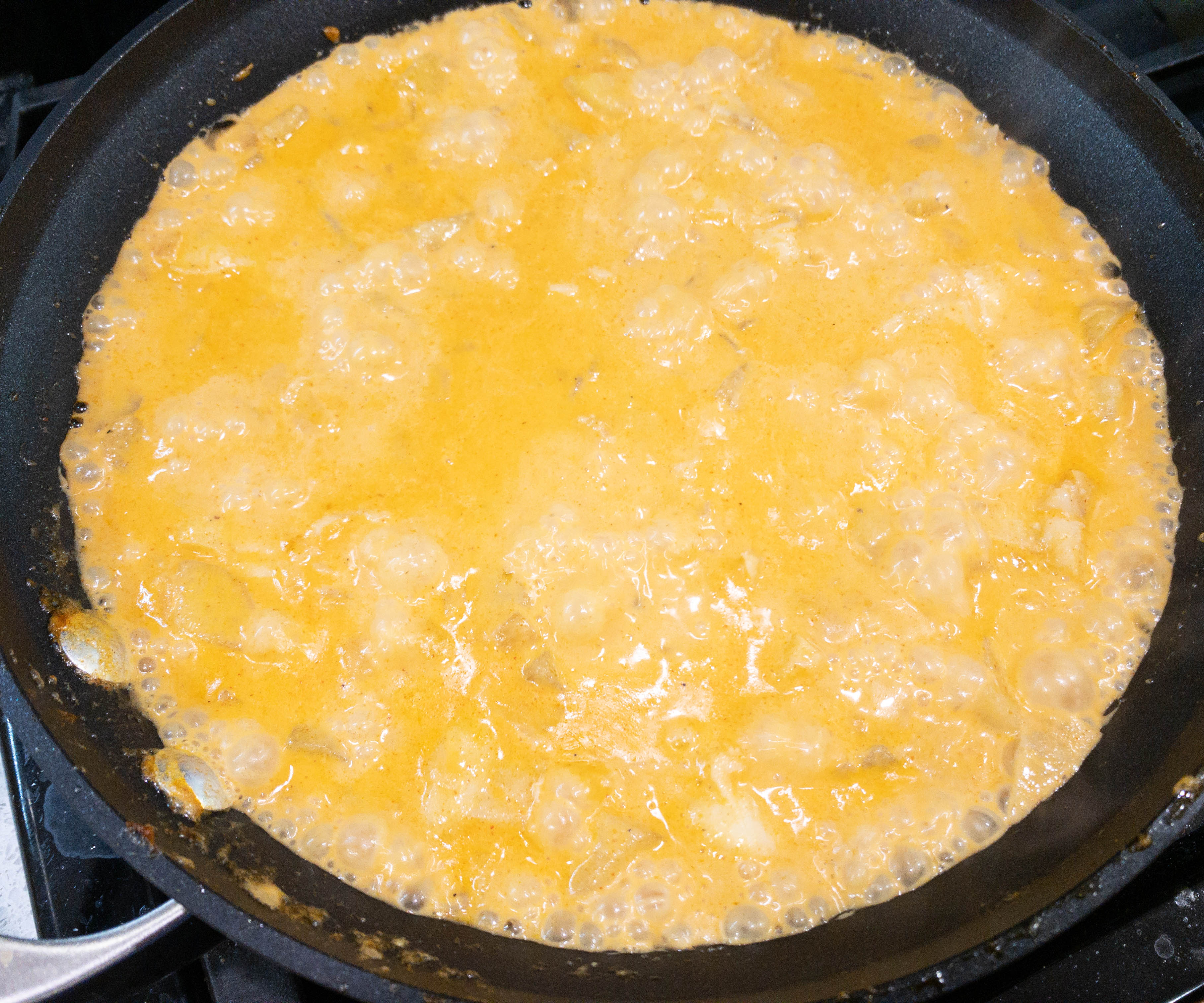 Next, I added the cream, bayleaf, and about 3 cups of water, then waited for it simmer. Using my spatula, I mashed a few potatoes before adding in the fish. I let it simmer for a few more minutes until the fish is opaque. That means it has been cooked through.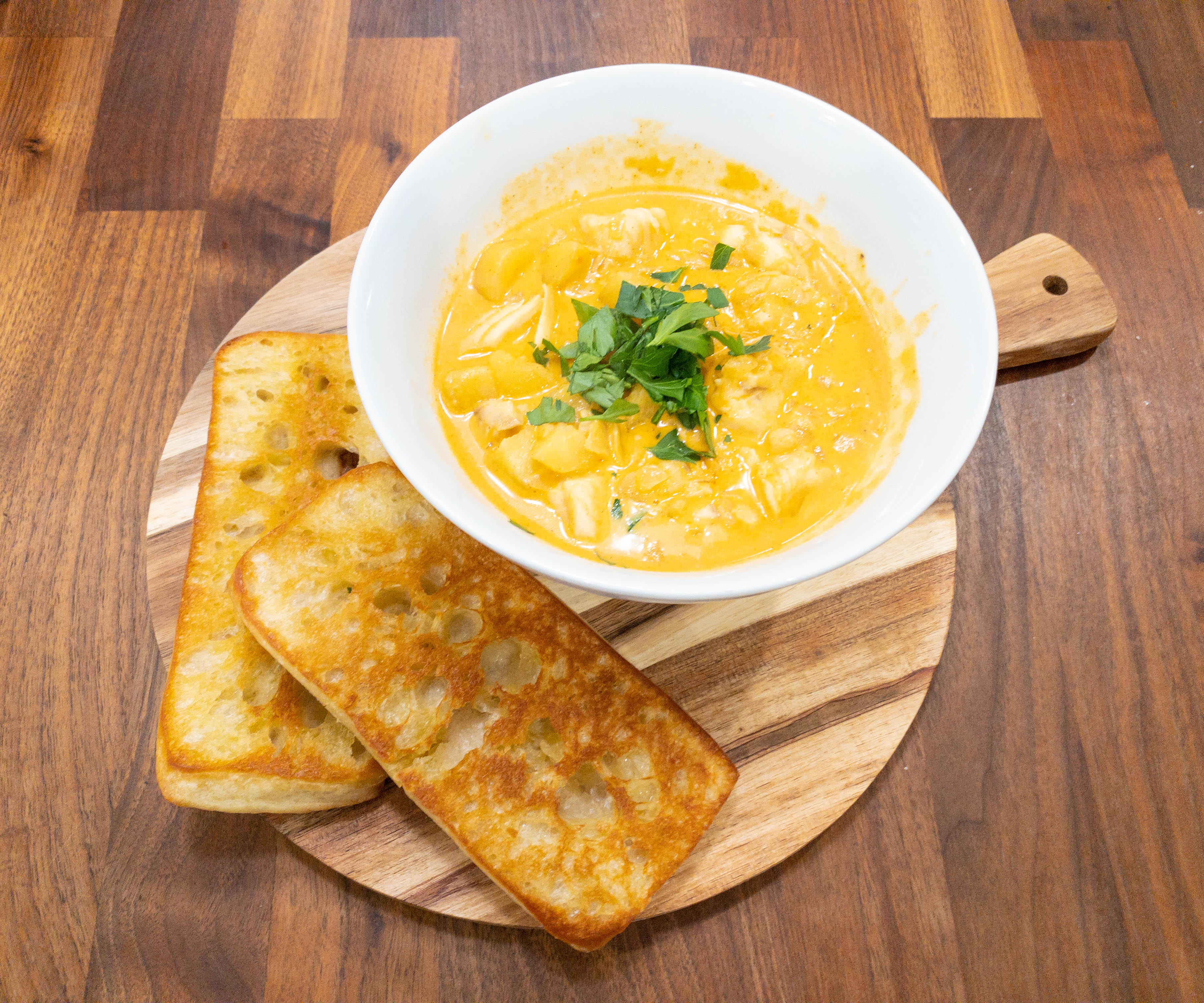 The next step is to garnish the chowder with chopped parsley and toast the ciabatta bread to go along with the chowder. This tastes good and my kids really liked it too! It's such a hearty and flavorful dish!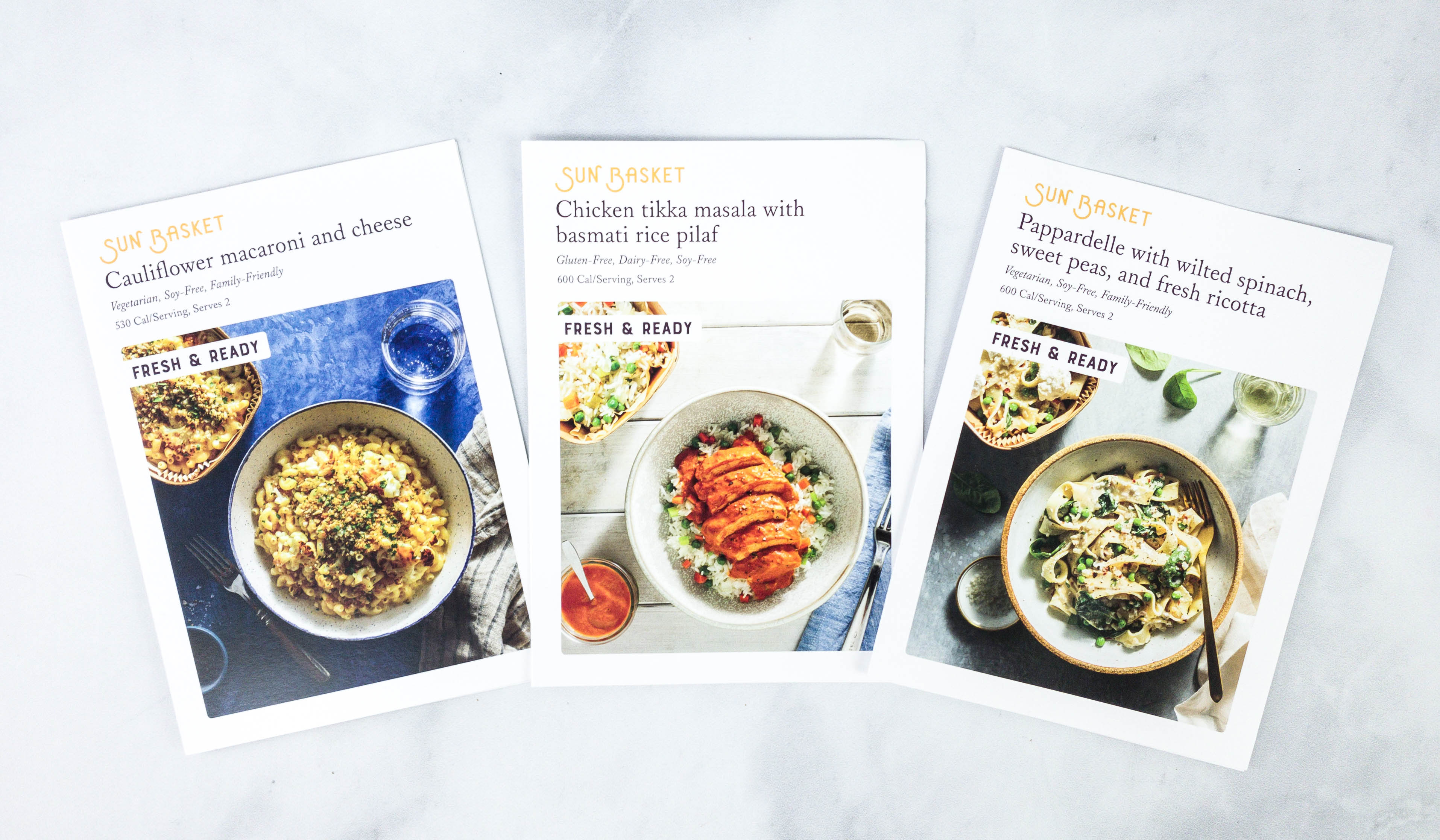 I also received fresh and ready meals in this box and I'm excited to try them out! These are perfect when you don't really have much time to spare in the kitchen but you still want to enjoy a delicious and healthy meal.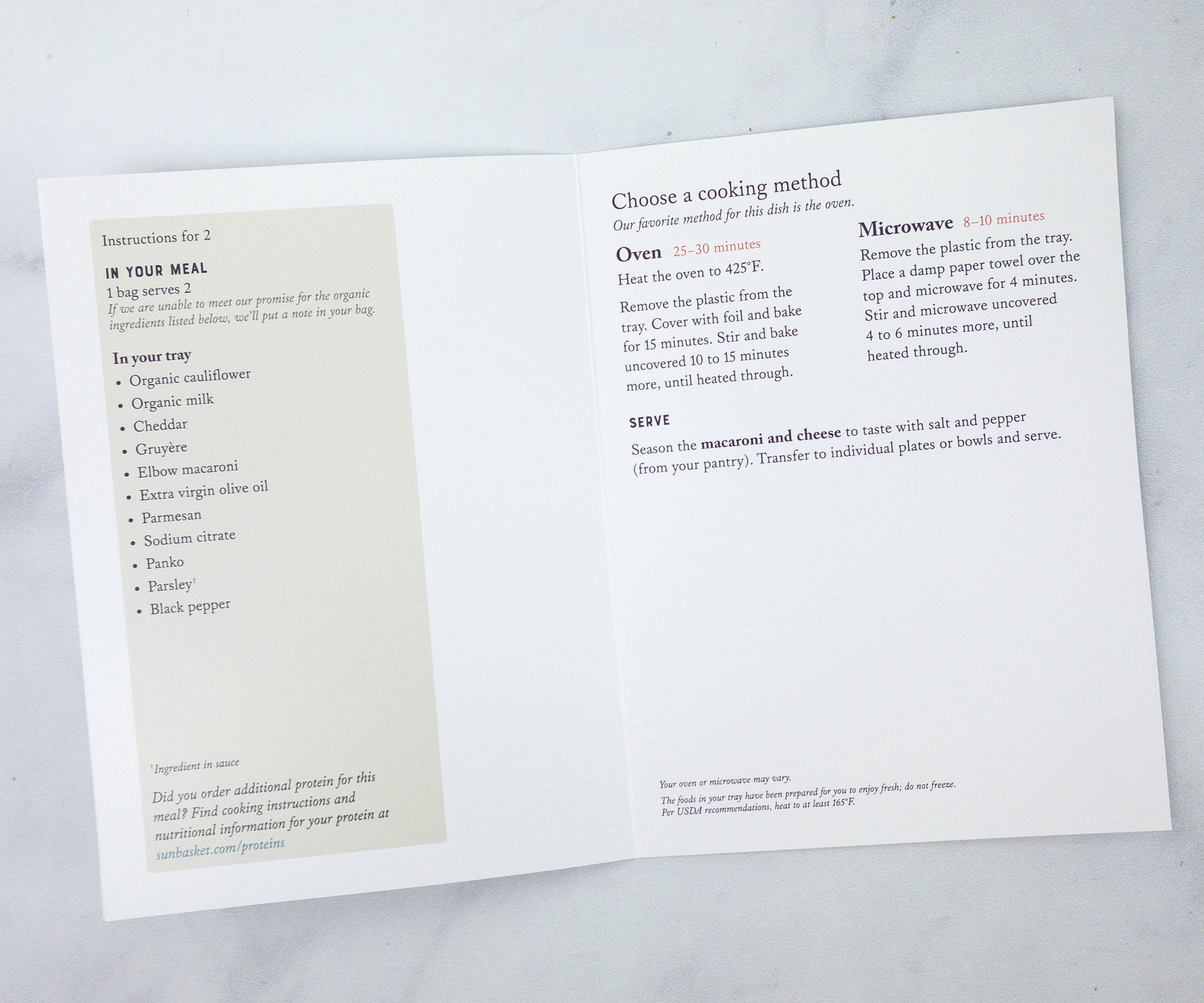 There are two options on how you can prepare the ready made meals, either via the oven or a microwave.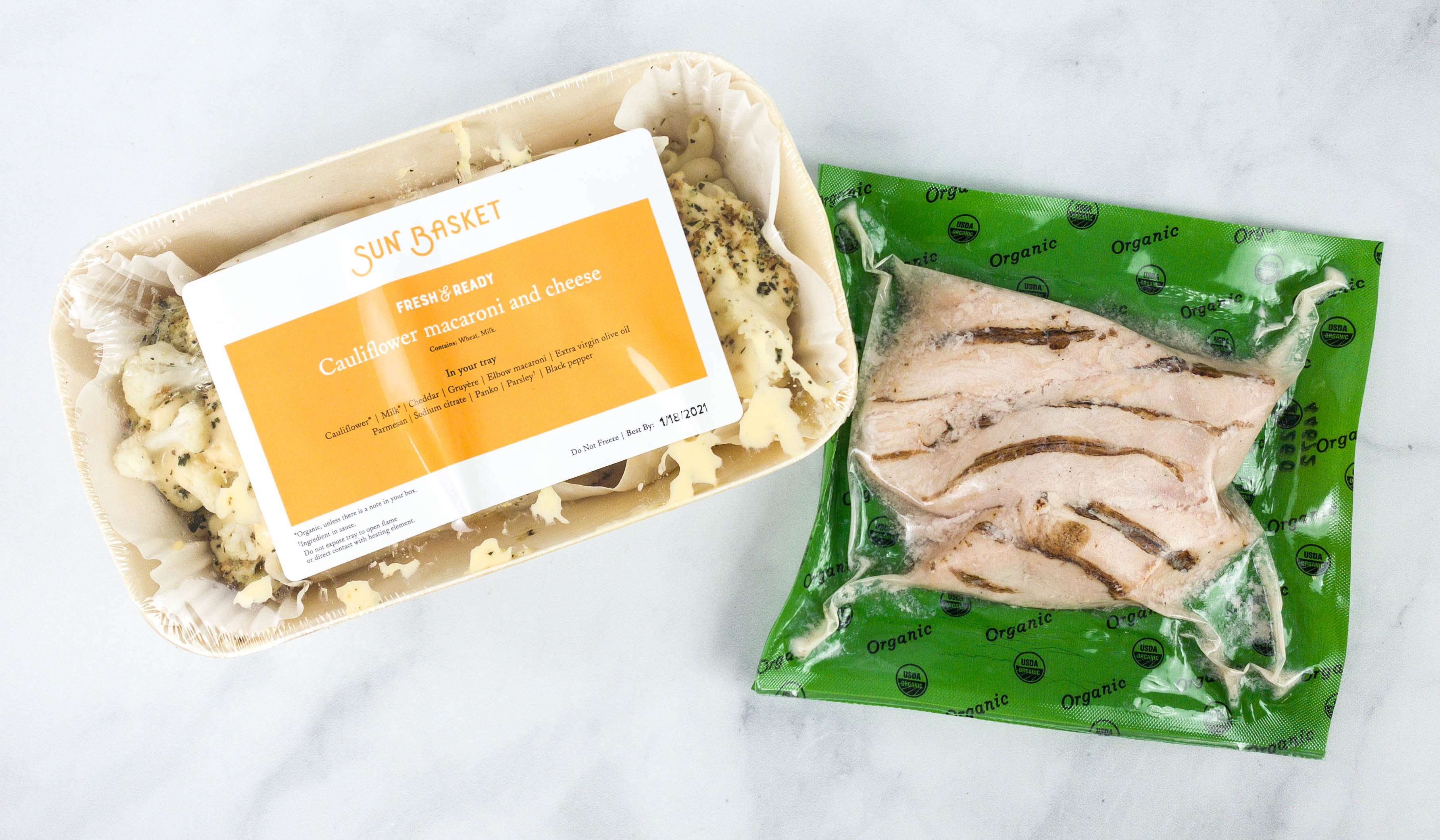 Cauliflower Mac & Cheese with Roasted Chicken. The next meal is from SunBasket's Fresh & Ready line! It's a healthier version of macaroni and cheese since they used cauliflowers. There's also roasted chicken for some protein boost!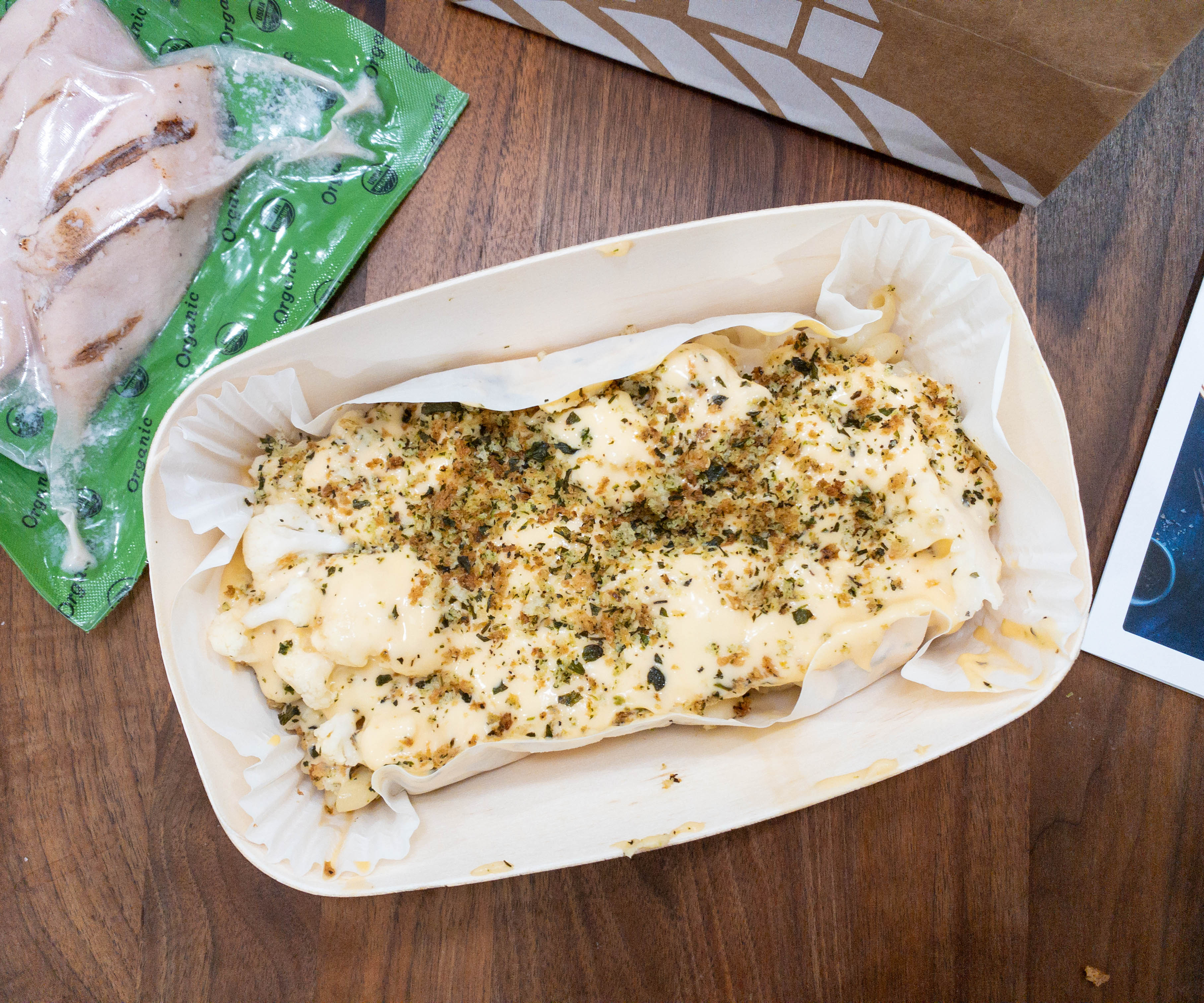 This looks and smells amazing!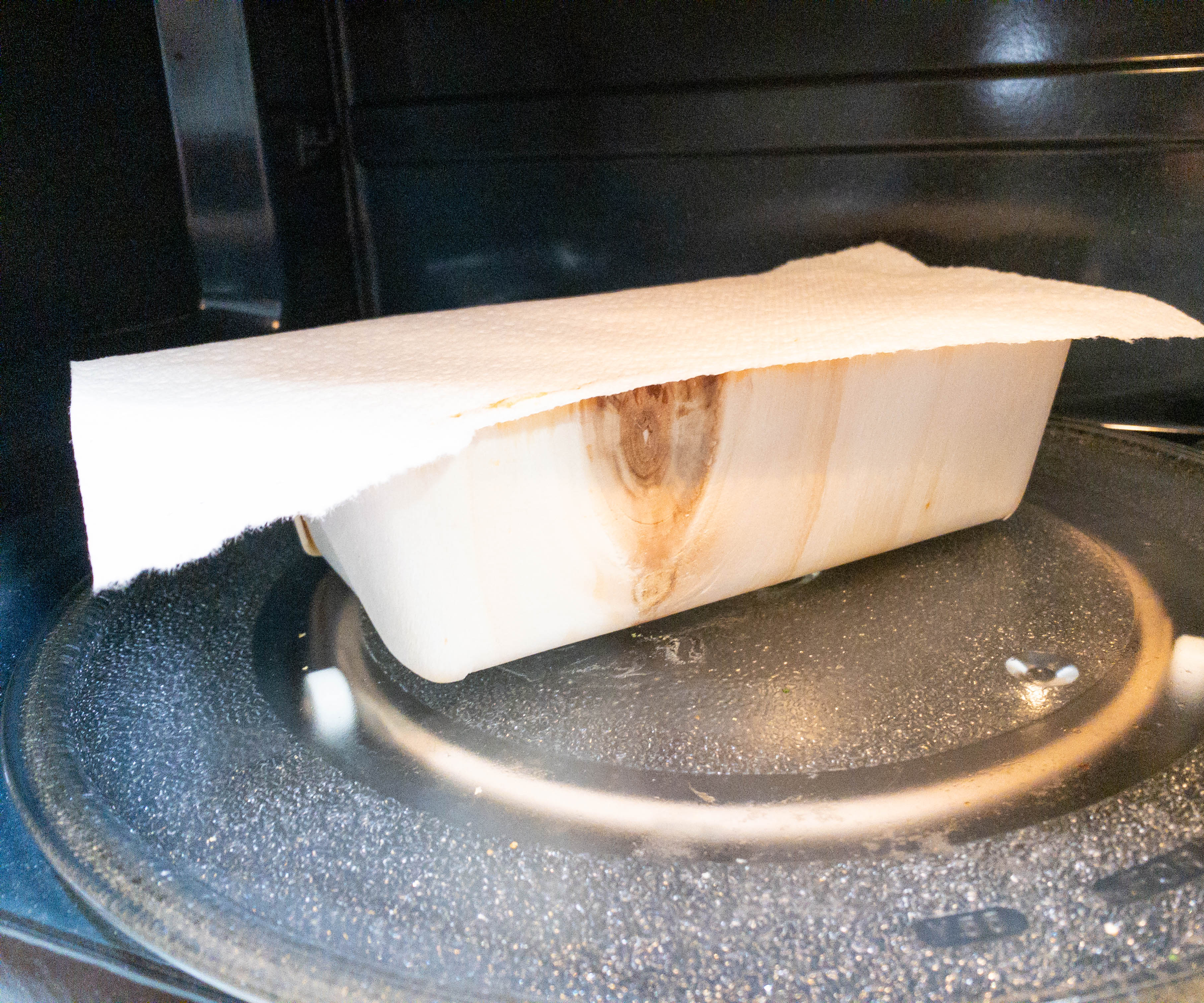 I decided to heat it up in the microwave. Before putting it inside the microwave, I just removed the plastic packaging.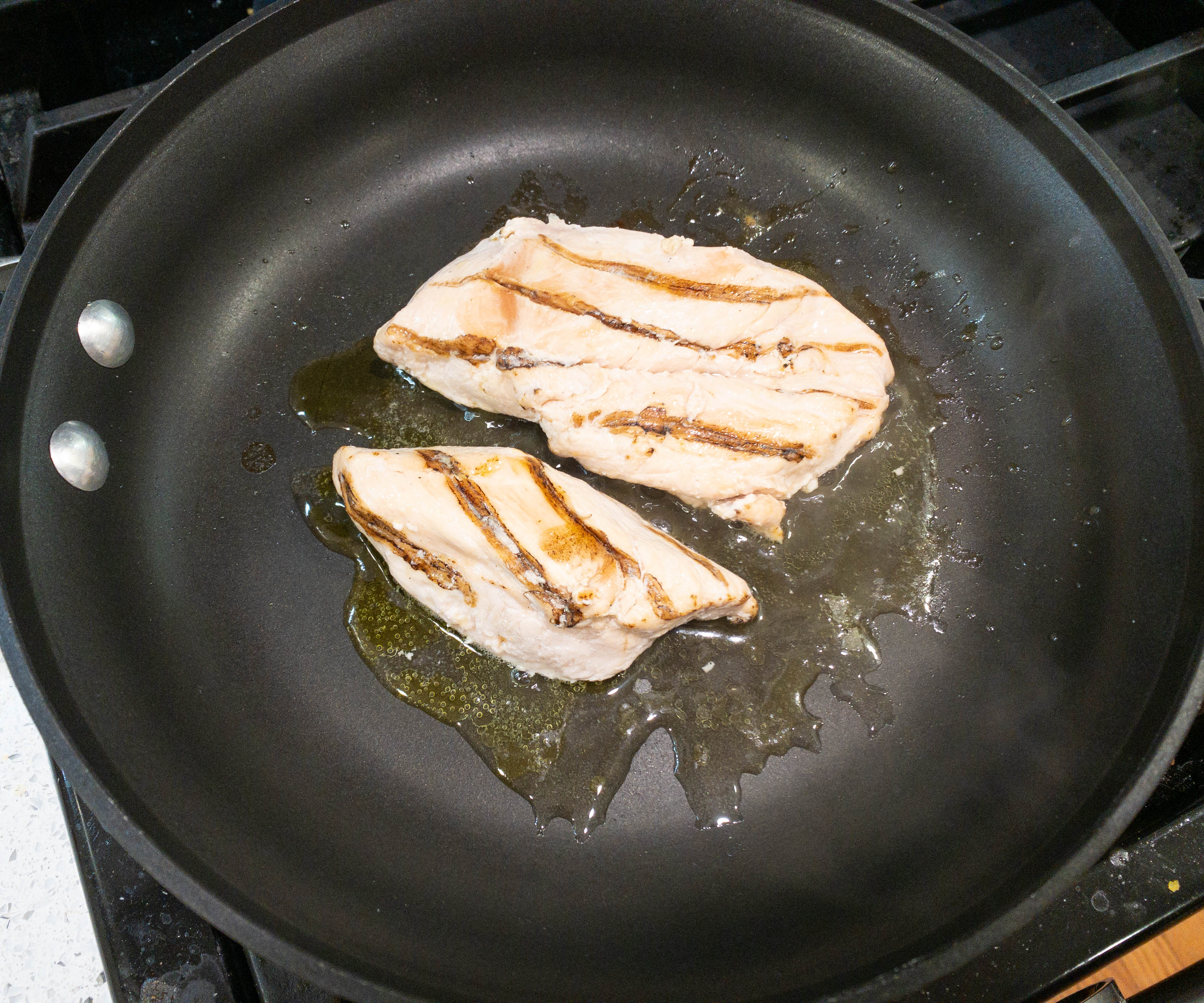 For the chicken, I threw in a bit of oil in the pan and seared the chicken breast.
I love the chunky cauliflower bits!
The chicken is well seasoned and I really think it goes well with the Mac & Cheese.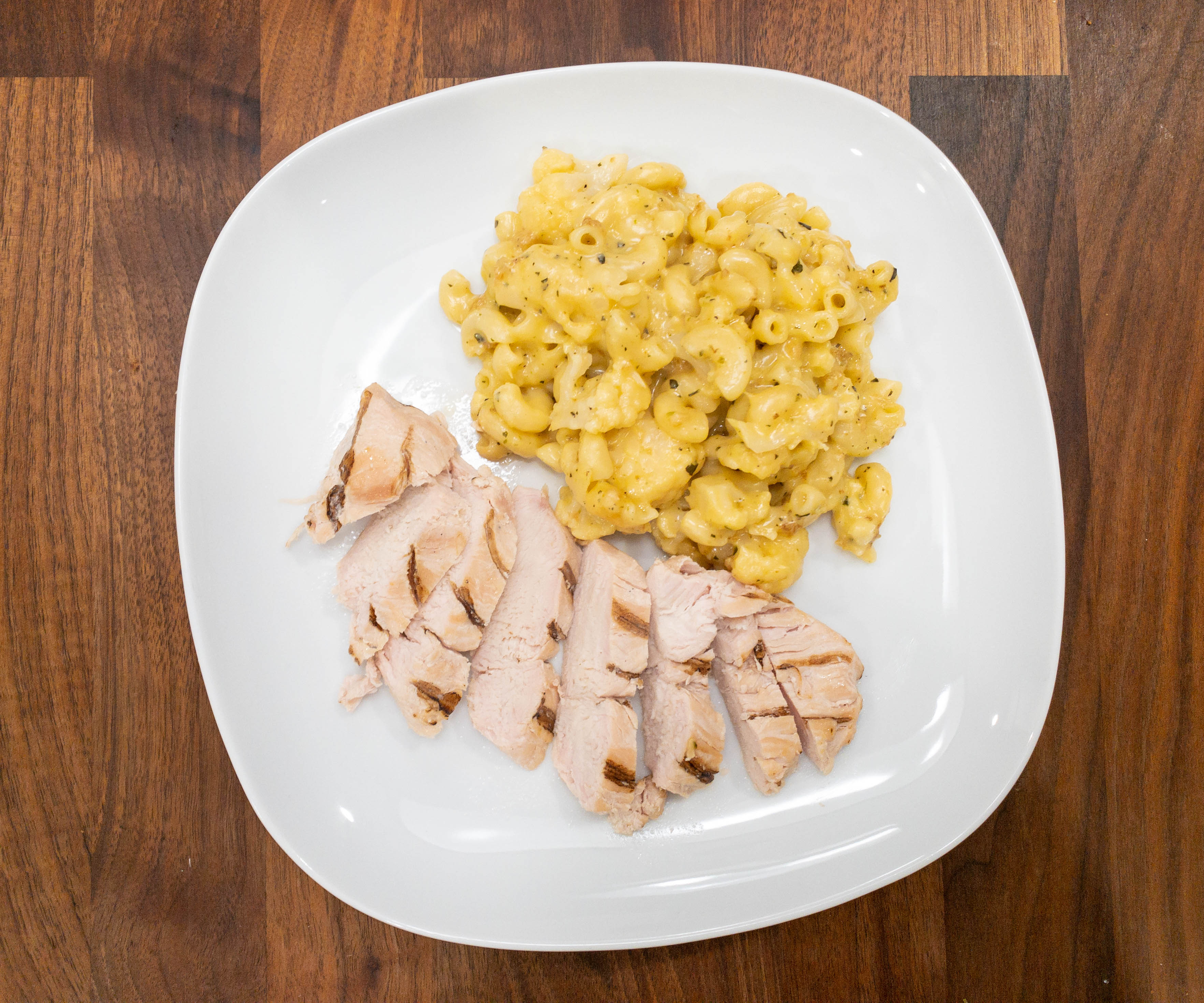 I love how creamy the Mac & Cheese is. It's not too salty and the pasta isn't overcooked as well despite reheating it. I like the bit of crunch that the cauliflower adds to this dish.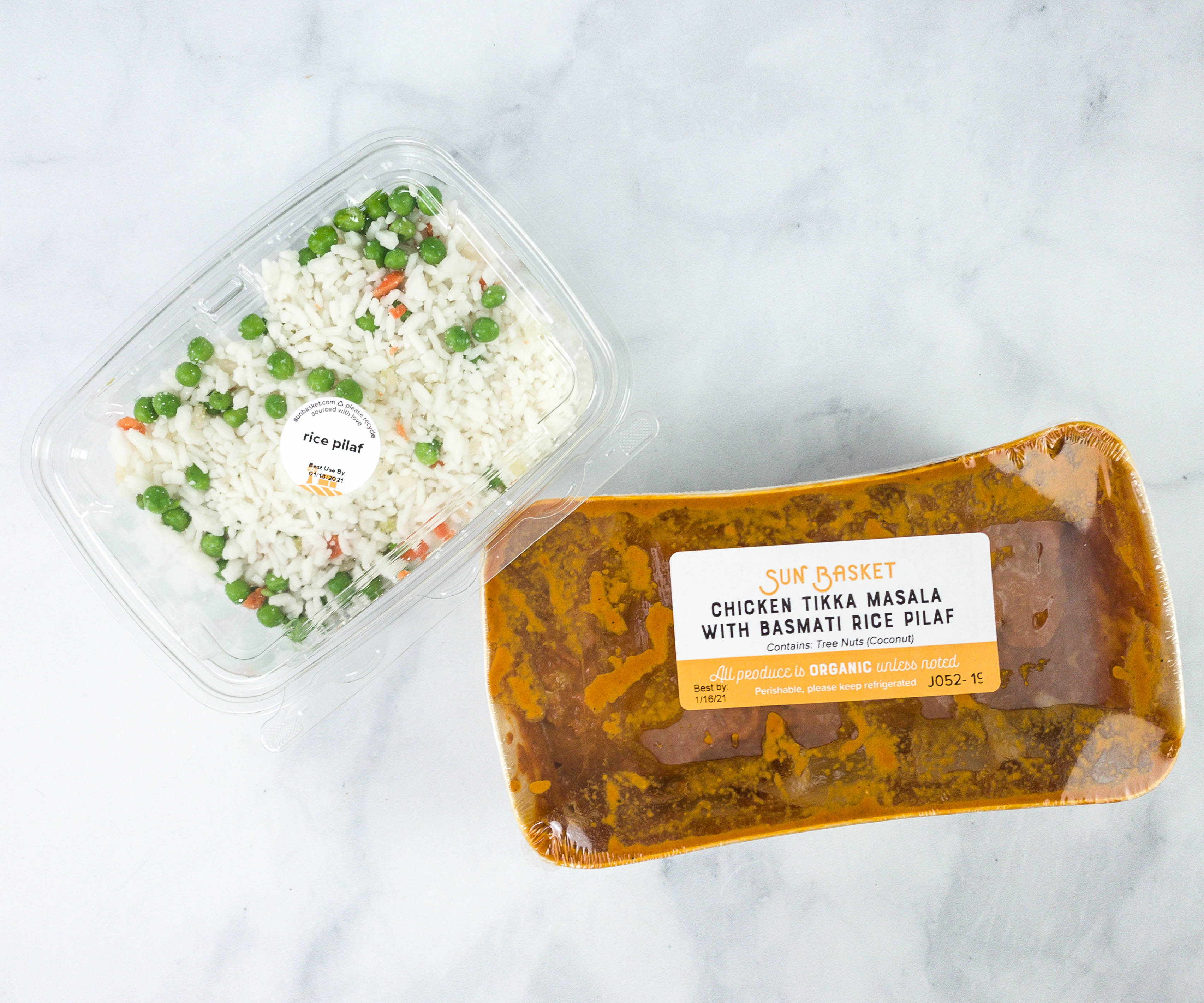 Chicken Tikka Masala with Rice Pilaf. This is another Fresh & Ready meal, and this time, it's an Indian dish! The chicken tikka masala came with basmati rice pilaf which makes for a filling dinner.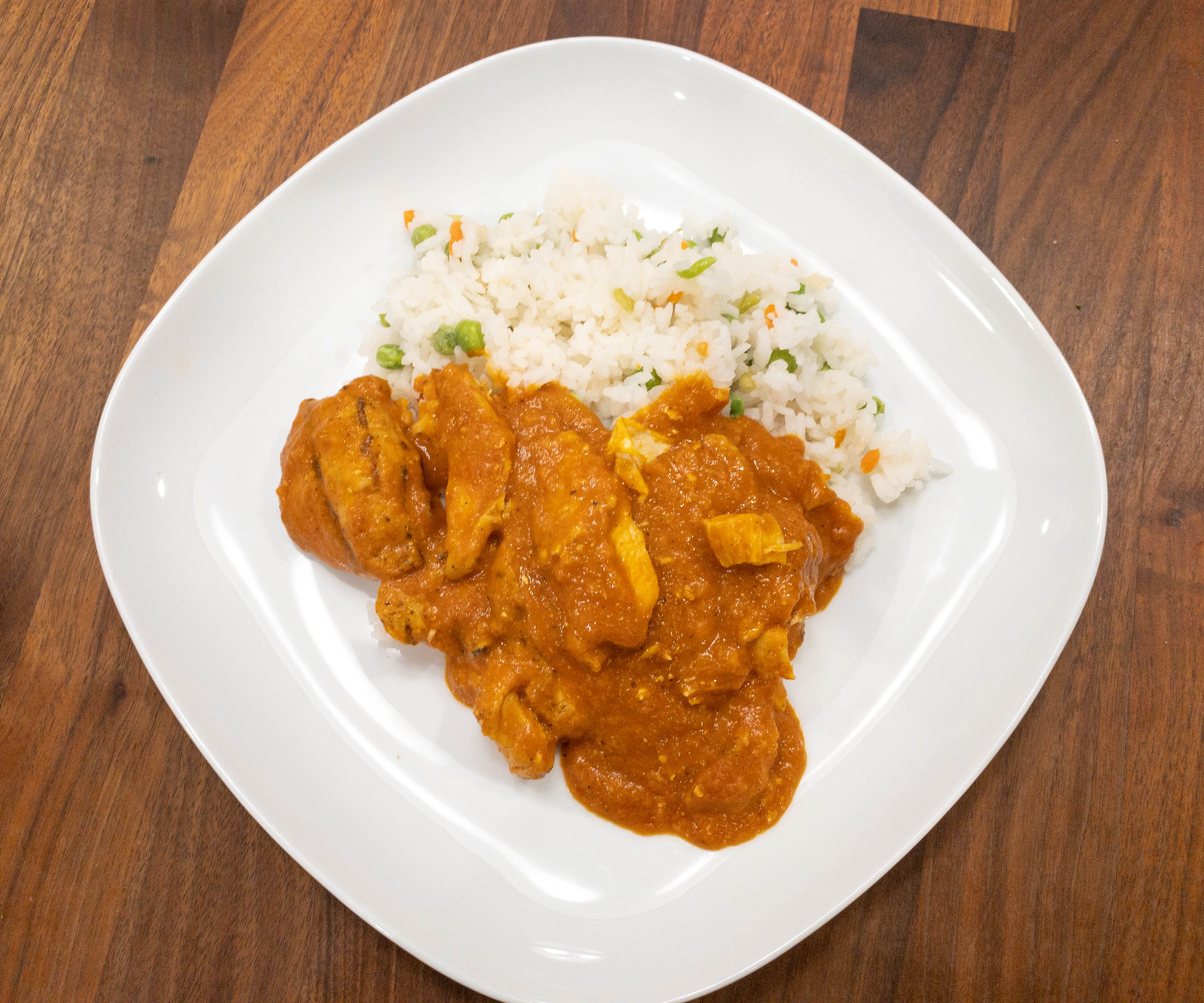 I honestly would never have thought that this was a ready-made dish had I not reheated it myself! It's so good and I love the hint of spices in every bite.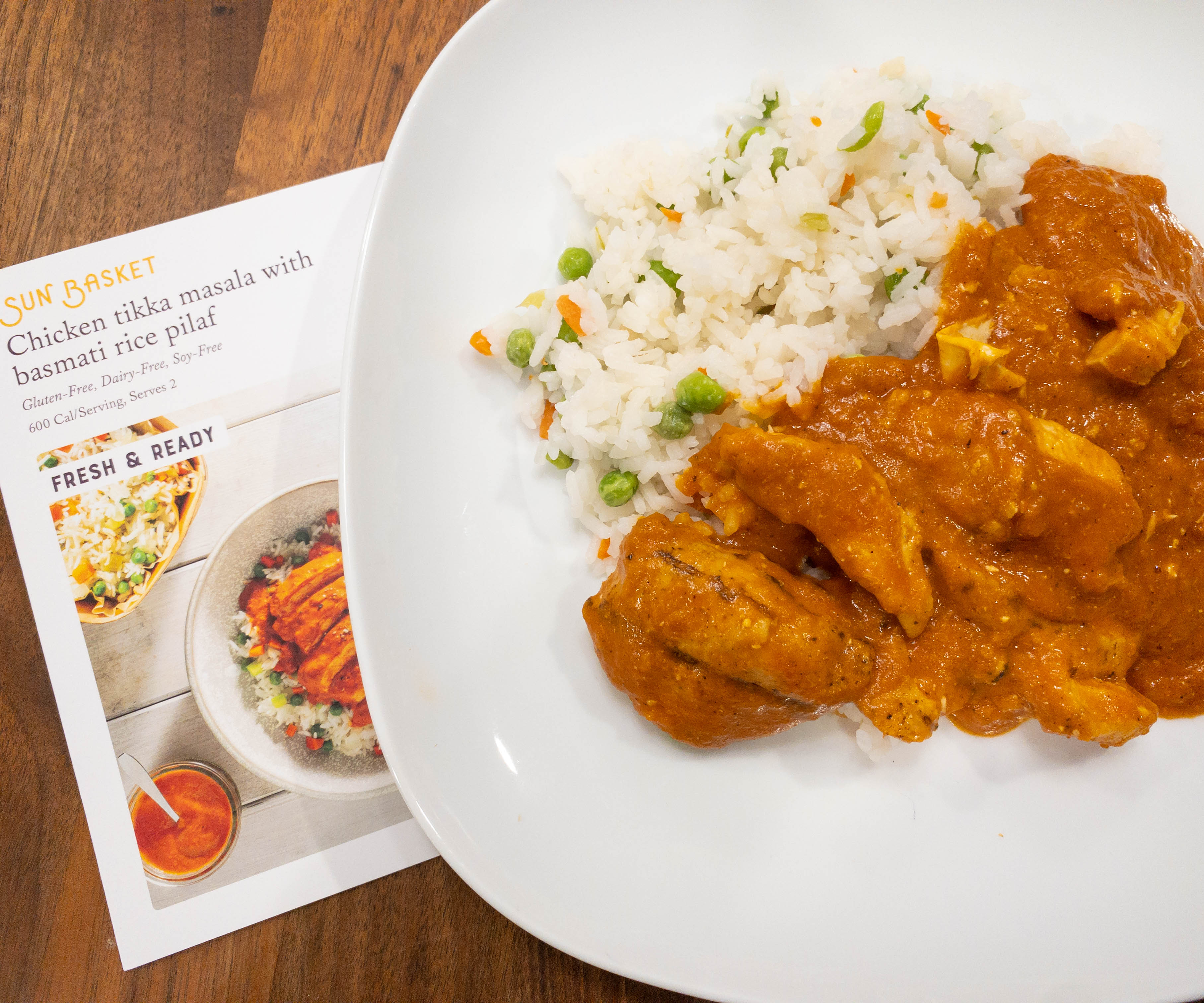 Everything about this dish from the color to the flavor is just absolutely inviting!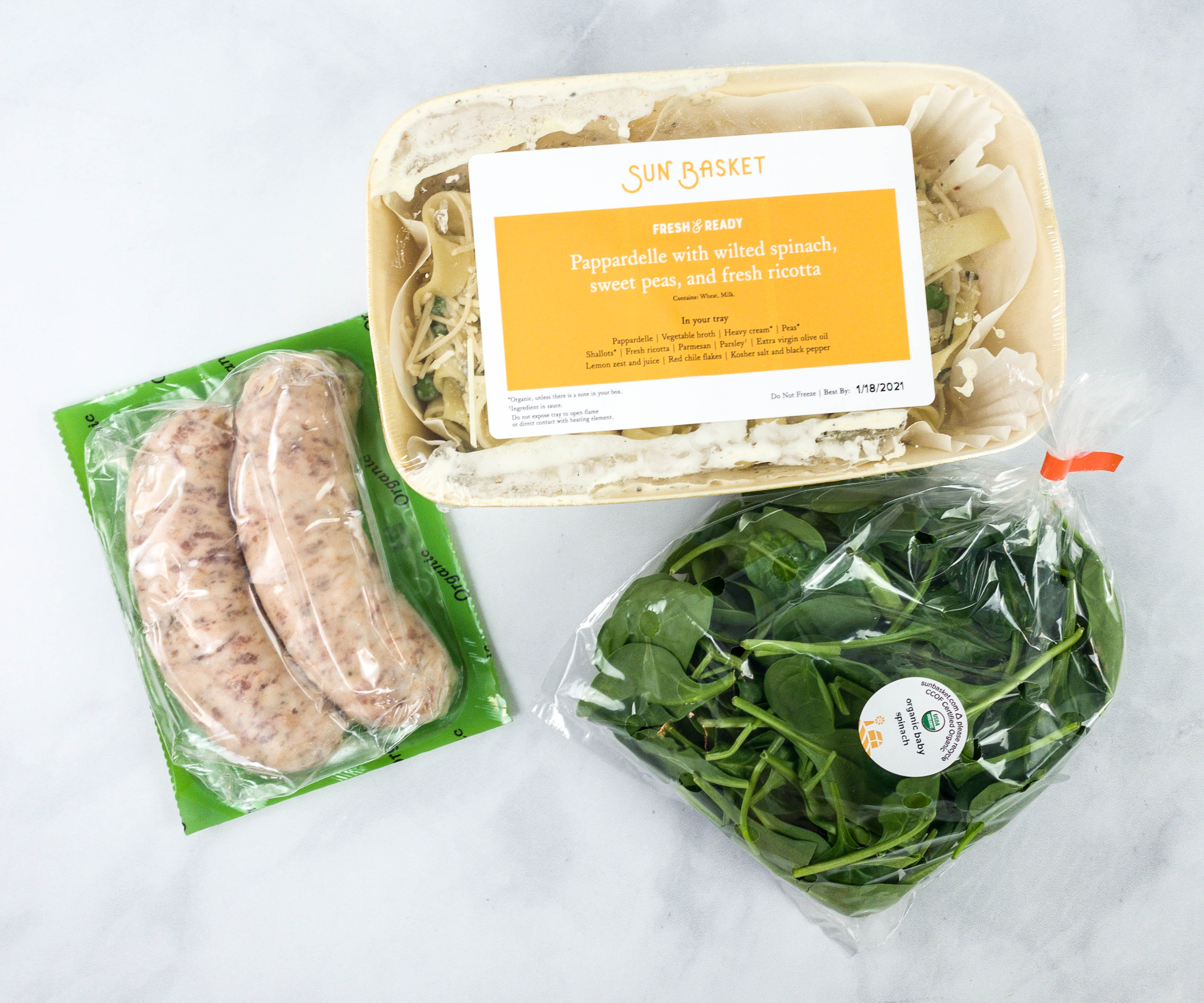 Pappardelle with Wilted Spinach, Sweet Peas, and Fresh Ricotta. Another great Fresh & Ready Meal from SunBasket is this pasta dish that contains greens and, of course, cheese. I also decided to throw in some sausages for a complete meal!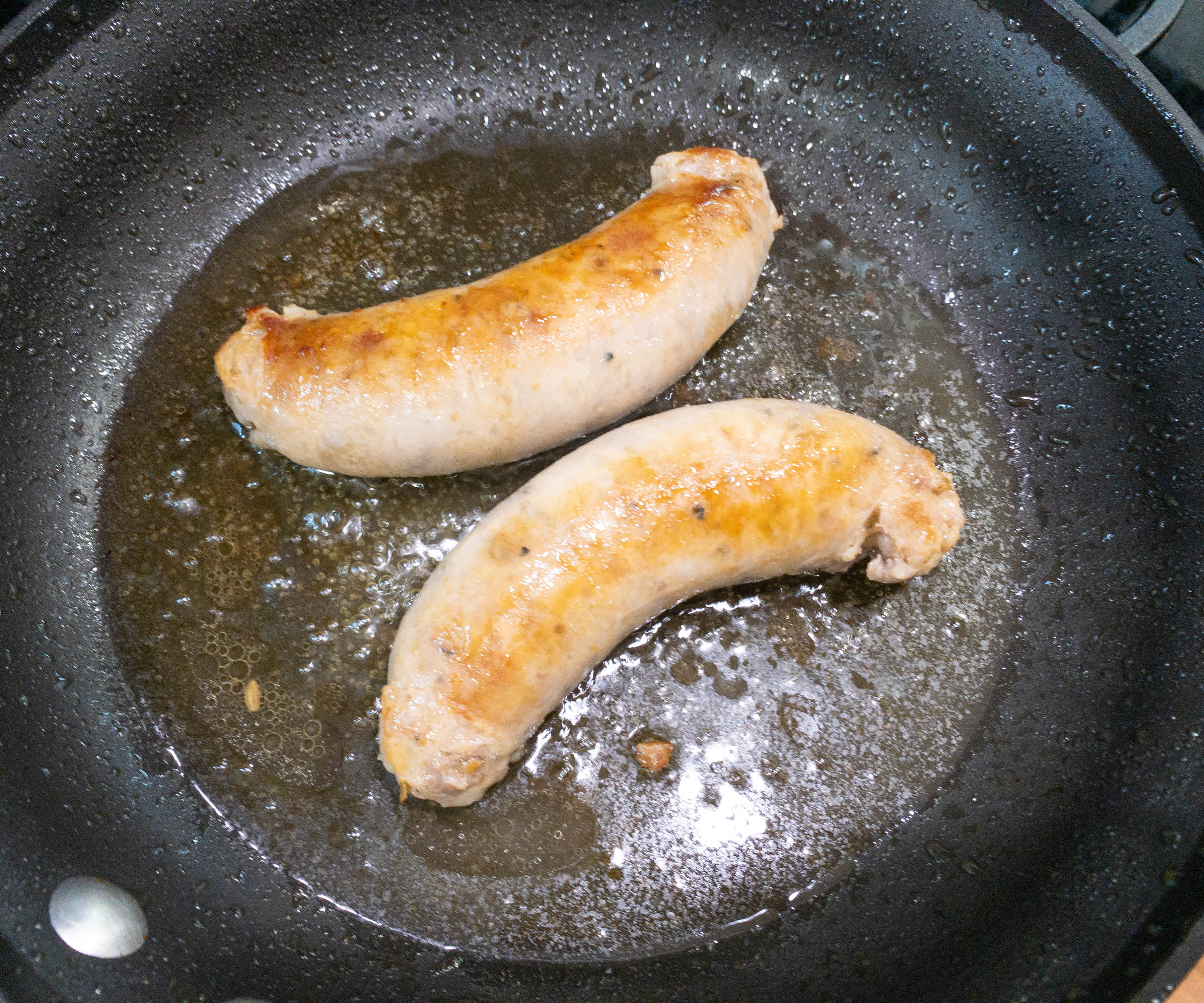 To start, I just fried the sausages in low heat until all the sides are browned.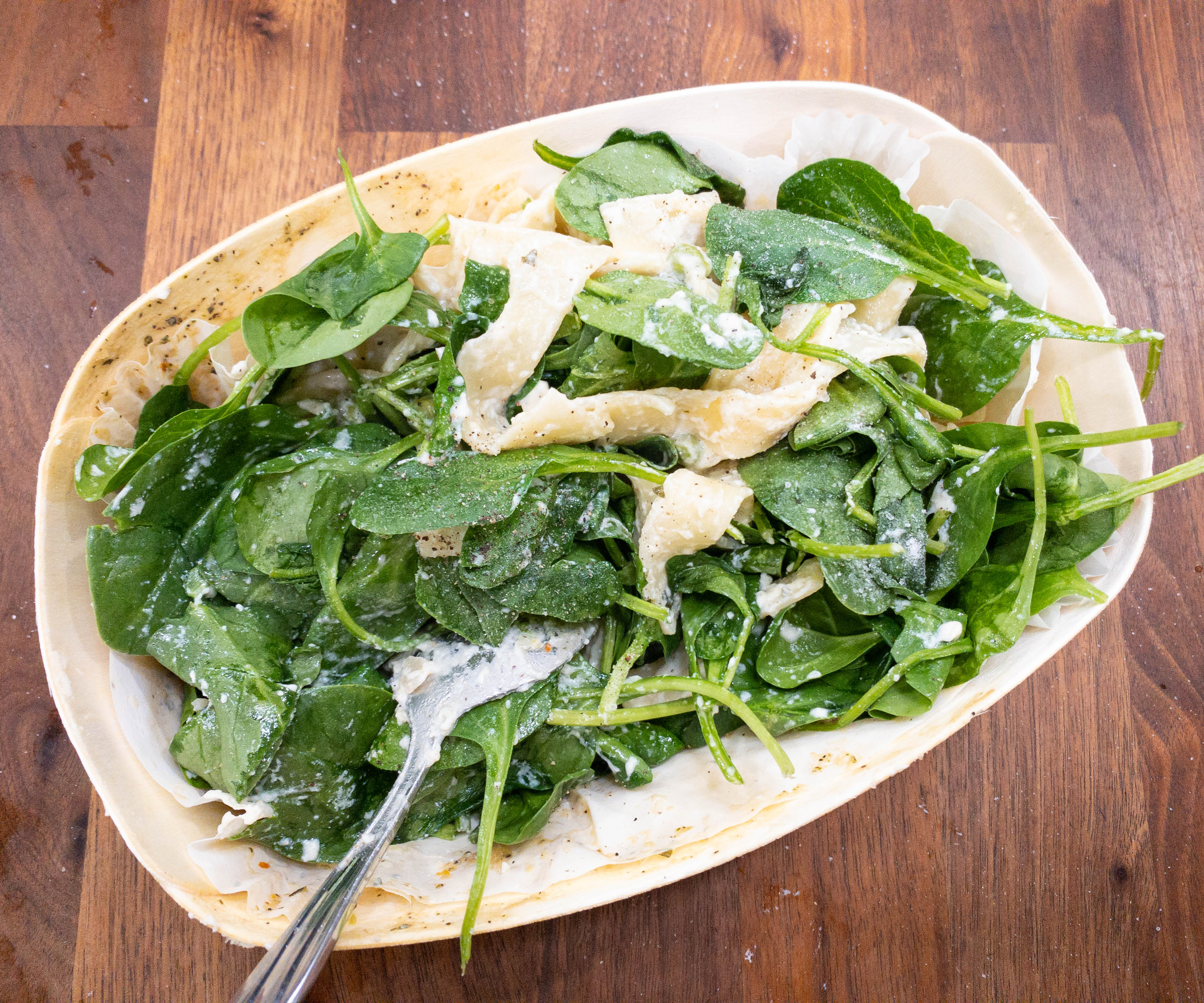 I mixed the spinach in the tray and made sure everything is well incorporated before heating it up in the microwave.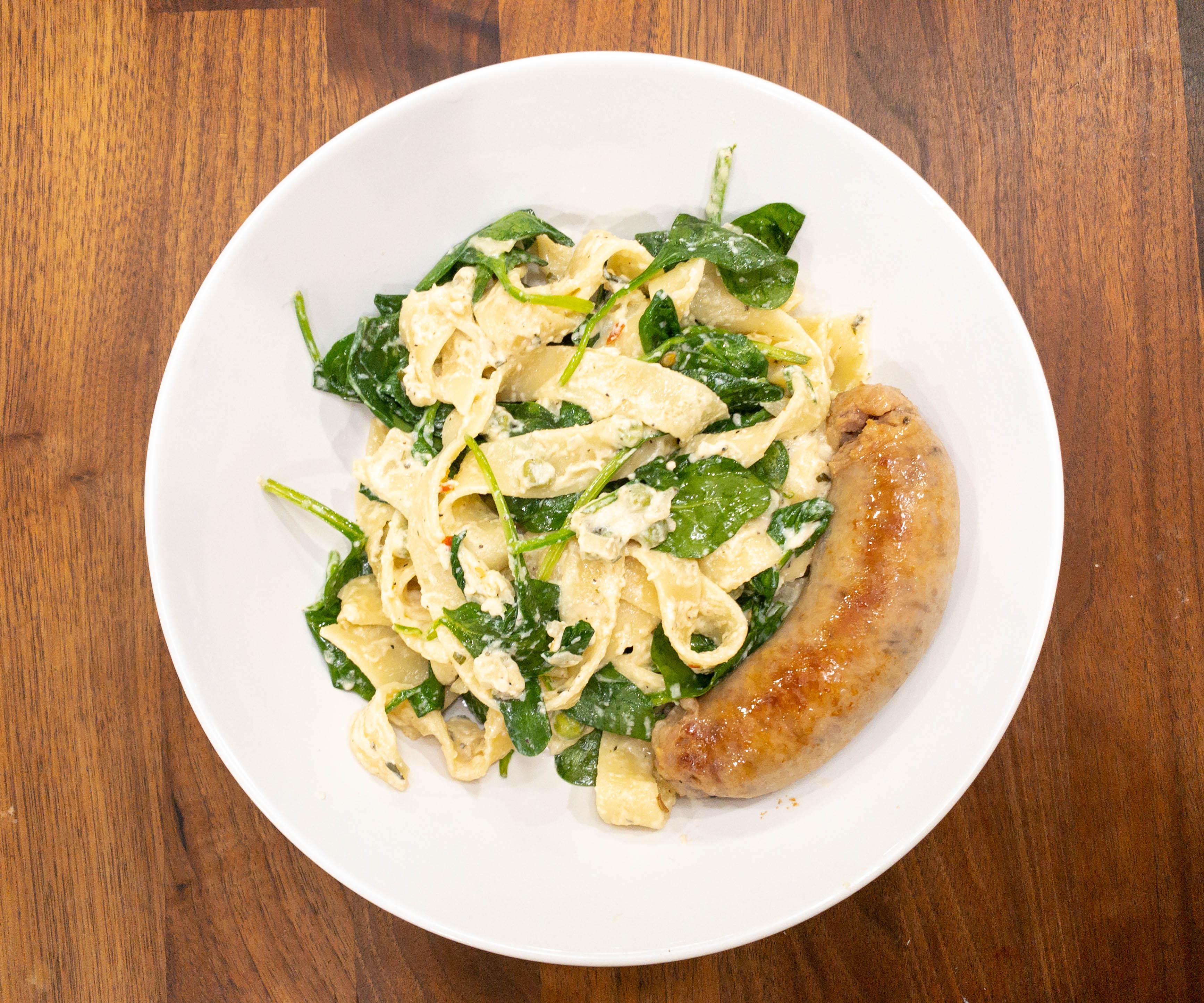 Here's what the finished product looks like! I love the pasta! Each bite comes with a handful of spinach plus the sauce is really good.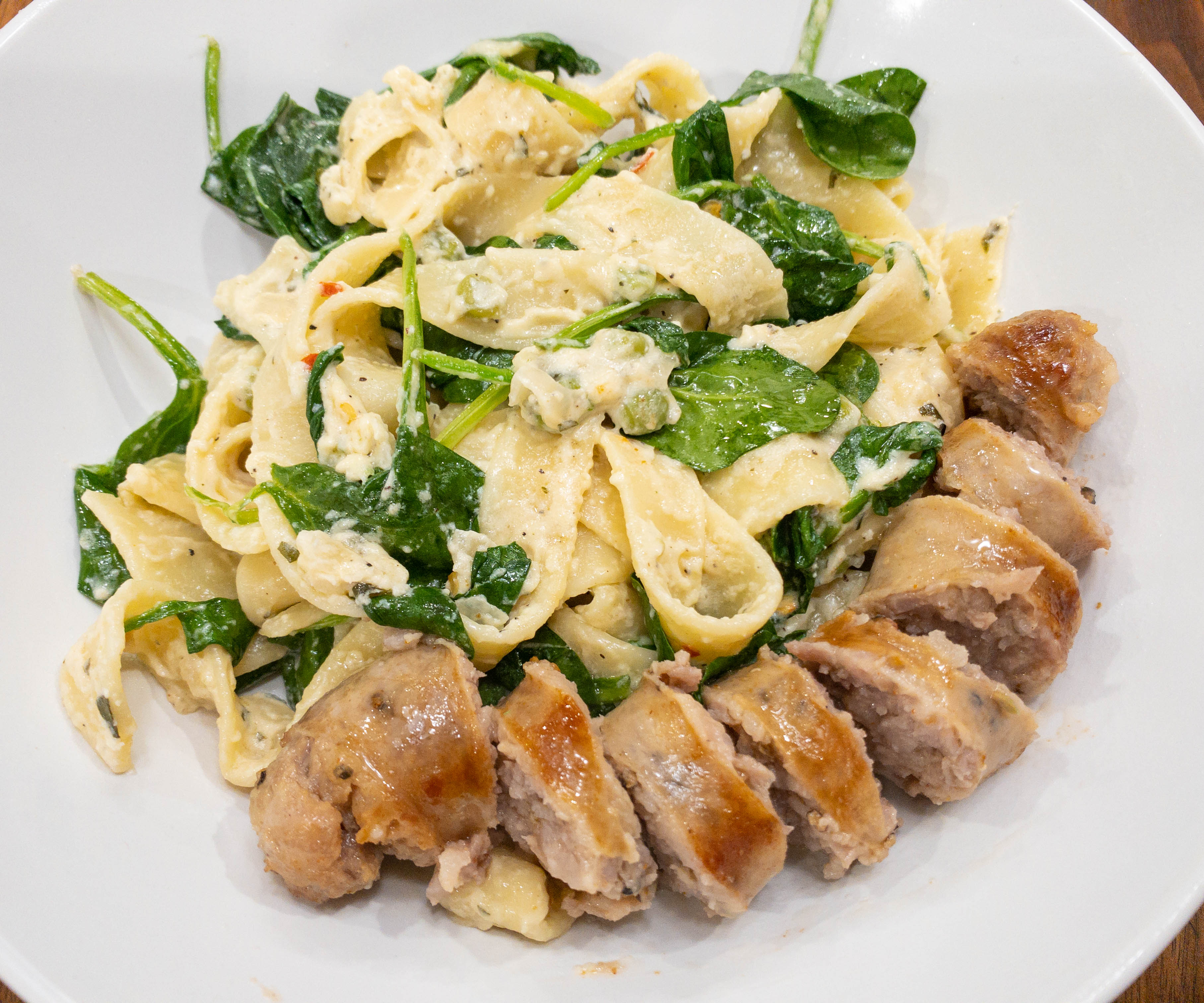 The sausage is what makes this dish complete because it balances out the flavors by cutting through the creaminess of the pasta and providing the palette with savory goodness!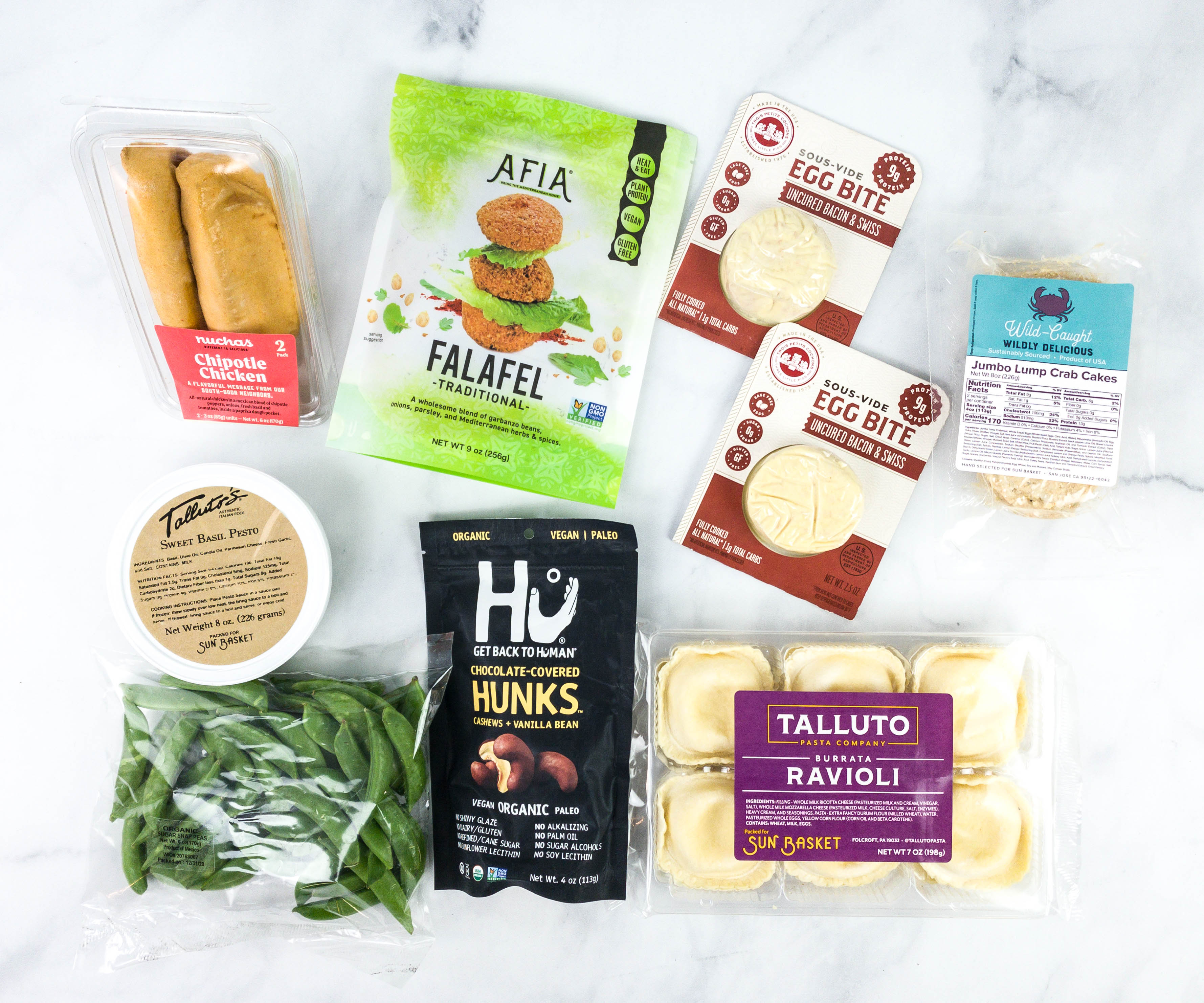 Now, we're moving on to the add-on items from the SunBasket Market!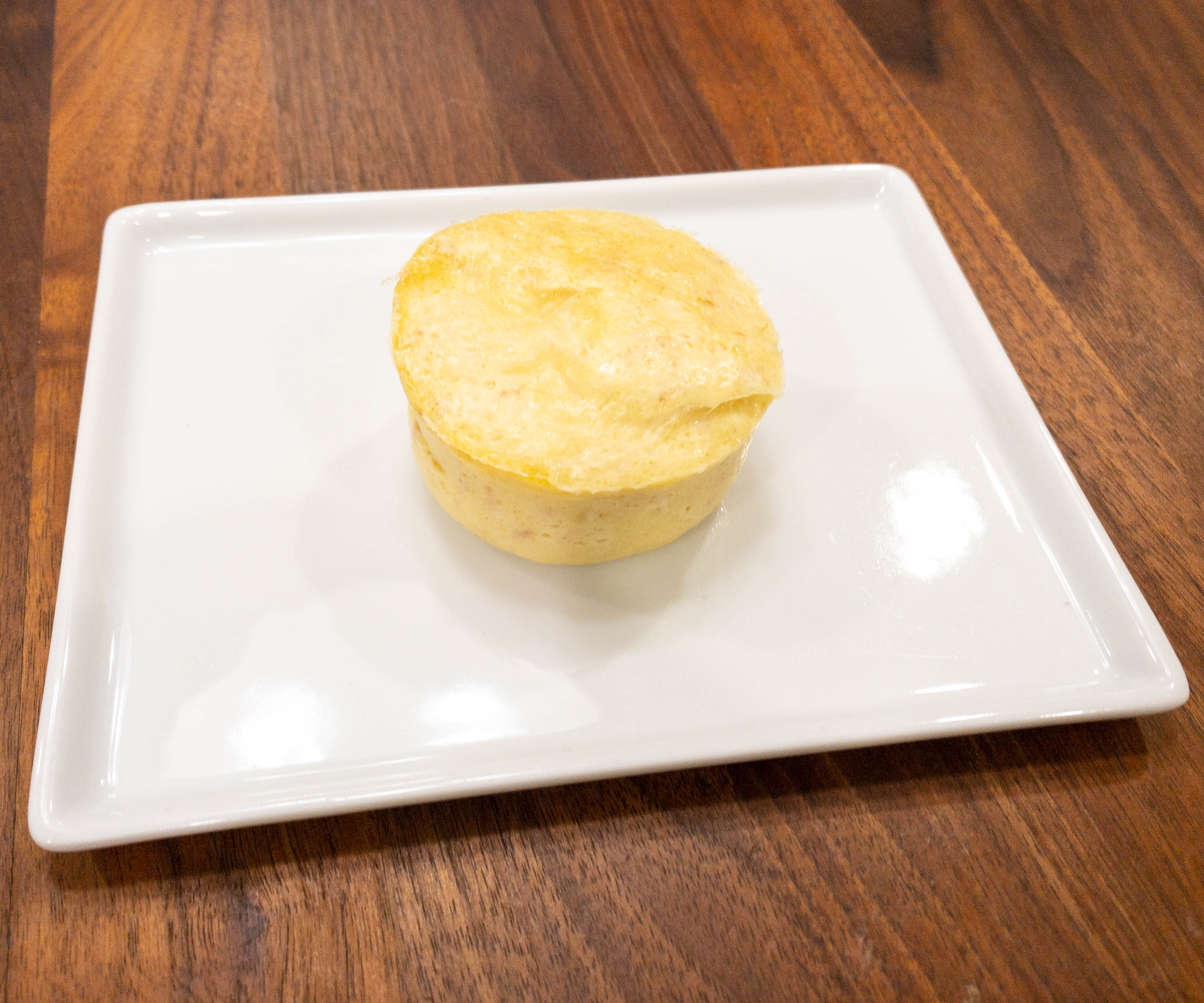 Sous-vide Egg Bites. From SunBasket's Breakfast line, I have 2 pieces of sous-vide egg bites in Uncured Bacon & Swiss flavor. Each piece only has 1g of total carbs and 9g of protein!
This was really good! The inside is very dense and packed with flavor. It's would make a nice snack to have for when you're on-the-go!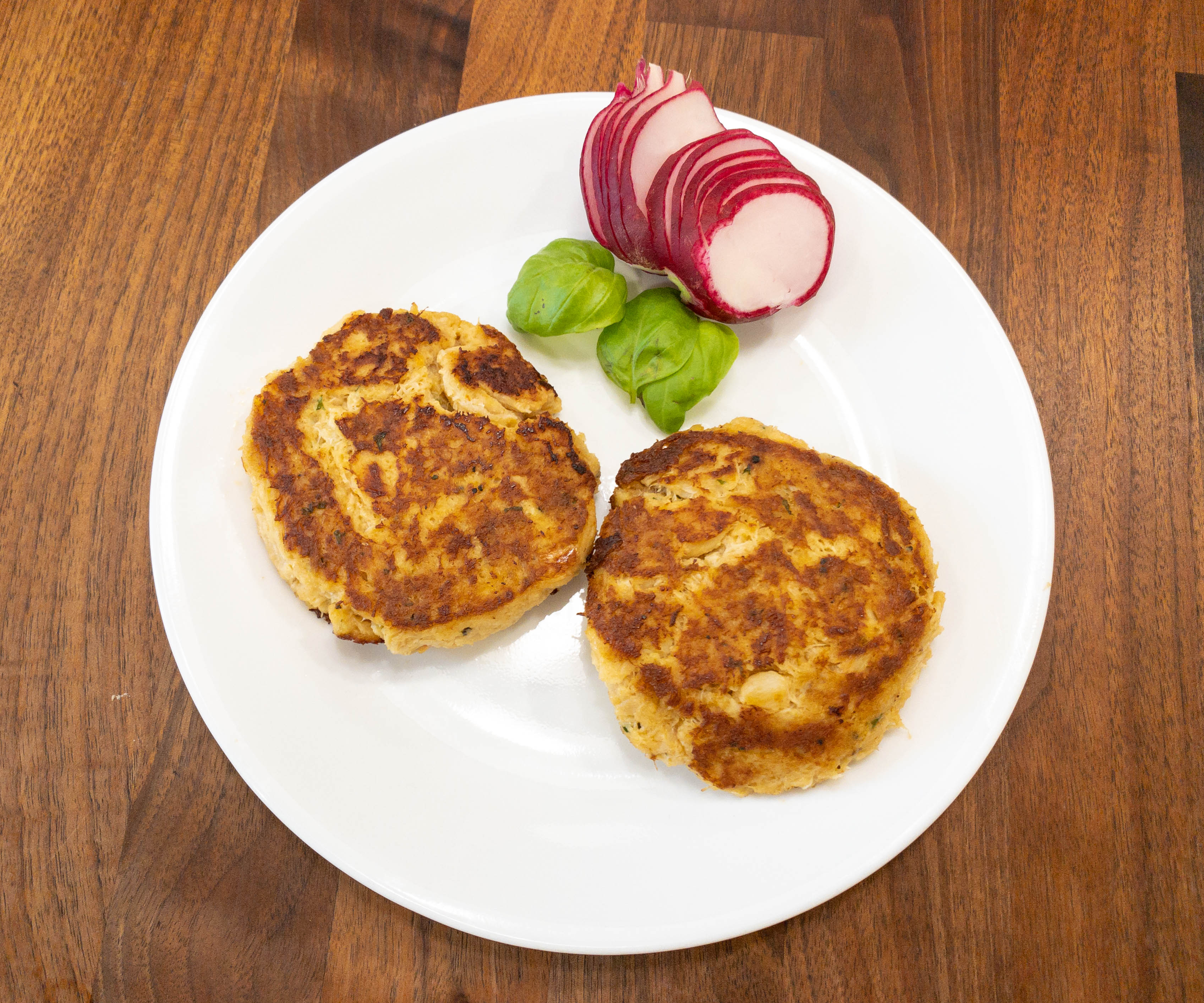 Traditional Falafel. I also have a bag of falafel, which is made with garbanzo beans, cayenne pepper, cilantro, and cumin. It's a great breakfast choice because it's easy to prepare. Just heat in the oven or in the microwave.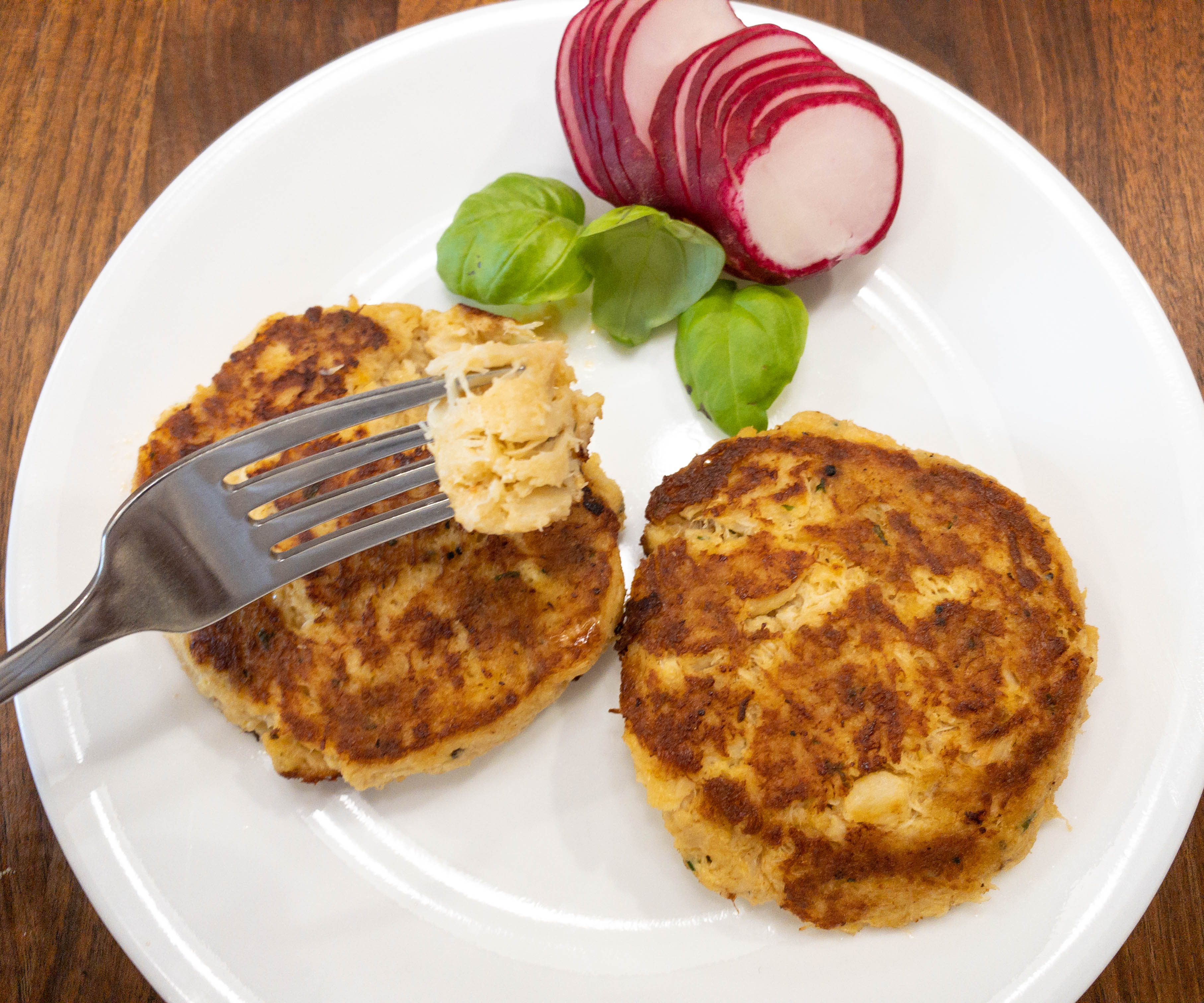 Lo and behold, they did not disappoint! I love the texture with just a tiny bit of chunks here and there. The flavor was also spot on!
I love the variety of healthy meals Sunbasket has to offer. This month, I received ready-made meals like the chicken tikka masala and the mac & cheese! All I needed was to heat them up and then dinner was ready! I also love that they didn't skimp on the ingredients as well as the quality of each dish. My box also includes easy-to-cook recipes for Scottish chowder and Pappardelle, both of which were a hit with my family! I didn't have a hard time following the instructions and most ingredients are already provided, so everything went smoothly. The egg bites and falafel were also pretty tasty and made for delicious snacks! Overall, this meal kit service is ideal for health conscious individuals and also for those who are following a specific diet since they offer paleo, gluten-free, and vegetarian options, among others.
What do you think of this month's box?