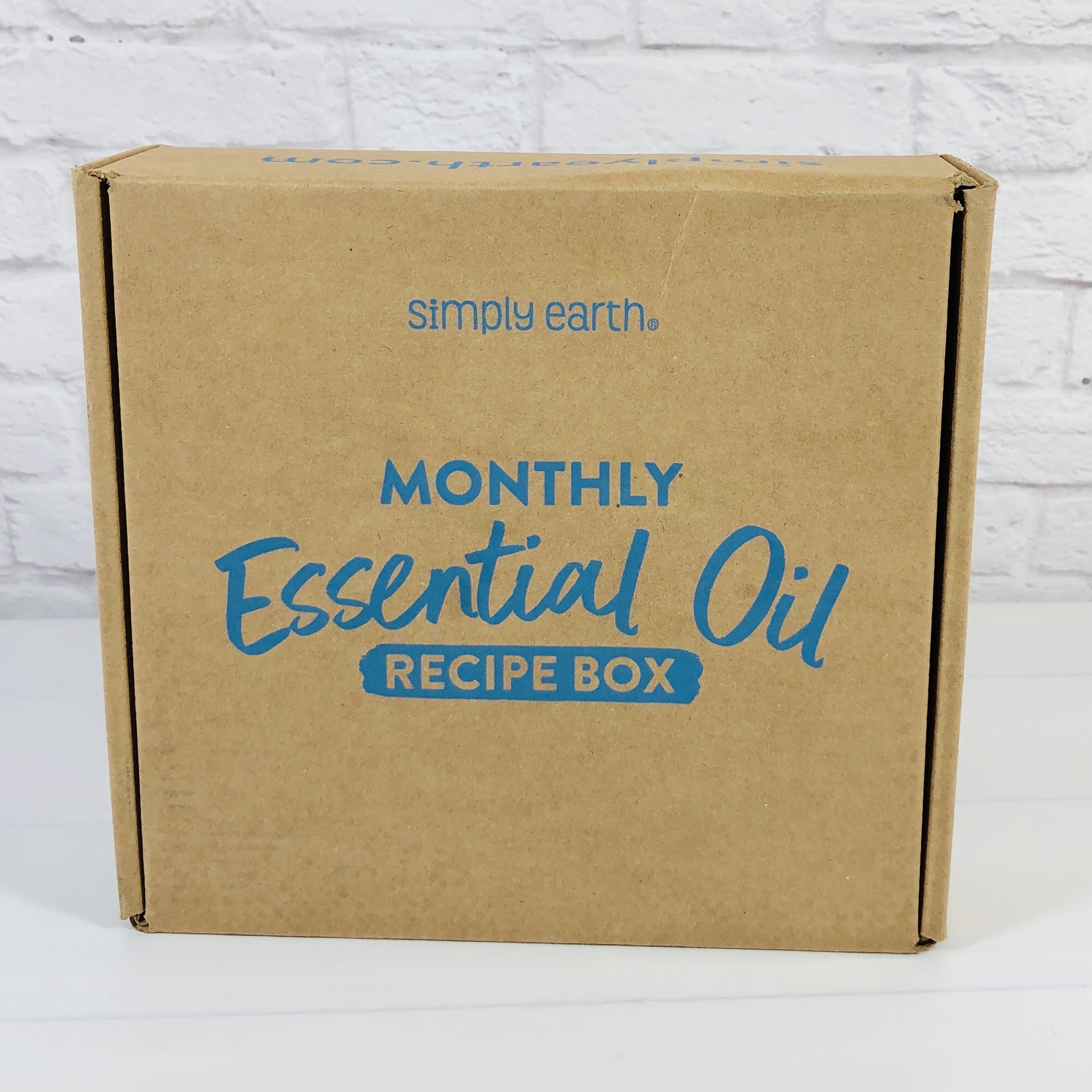 Simply Earth is a monthly subscription that sends high-quality essential oils along with recipes and ingredients to make natural beauty and home products! Each box comes with 4 essential oils, containers, extra ingredients to make the recipes, and 5 – 7 recipes on recipe cards. When you sign up (and every 6 months thereafter) you will receive a free Bonus Box full of extra containers and ingredients needed for the recipes, such as carrier oils and beeswax. Simply Earth is $39 a month. They feel strongly about giving back and donate 13% of all profits to help end human trafficking.
Every month is designed around a new theme with ingredients, containers, and extras you need to make 6 natural recipes (this includes 4 full-sized bottles of essential oils!) … delivered right to your doorstep.

We loved making our own natural products and knowing what was in them, so we created. With the essential oil recipe box, you get everything you need to make your home natural; easy and fun recipes to follow, honest prices, and products that work. It puts you in charge and you can enjoy time together making natural recipes with friends and family.
DEALS: Receive a FREE Big Bonus Box with your first box. Deal applies automatically, just VISIT AND SUBSCRIBE. Plus, get a $40 gift card you can use for your next box or future purchases!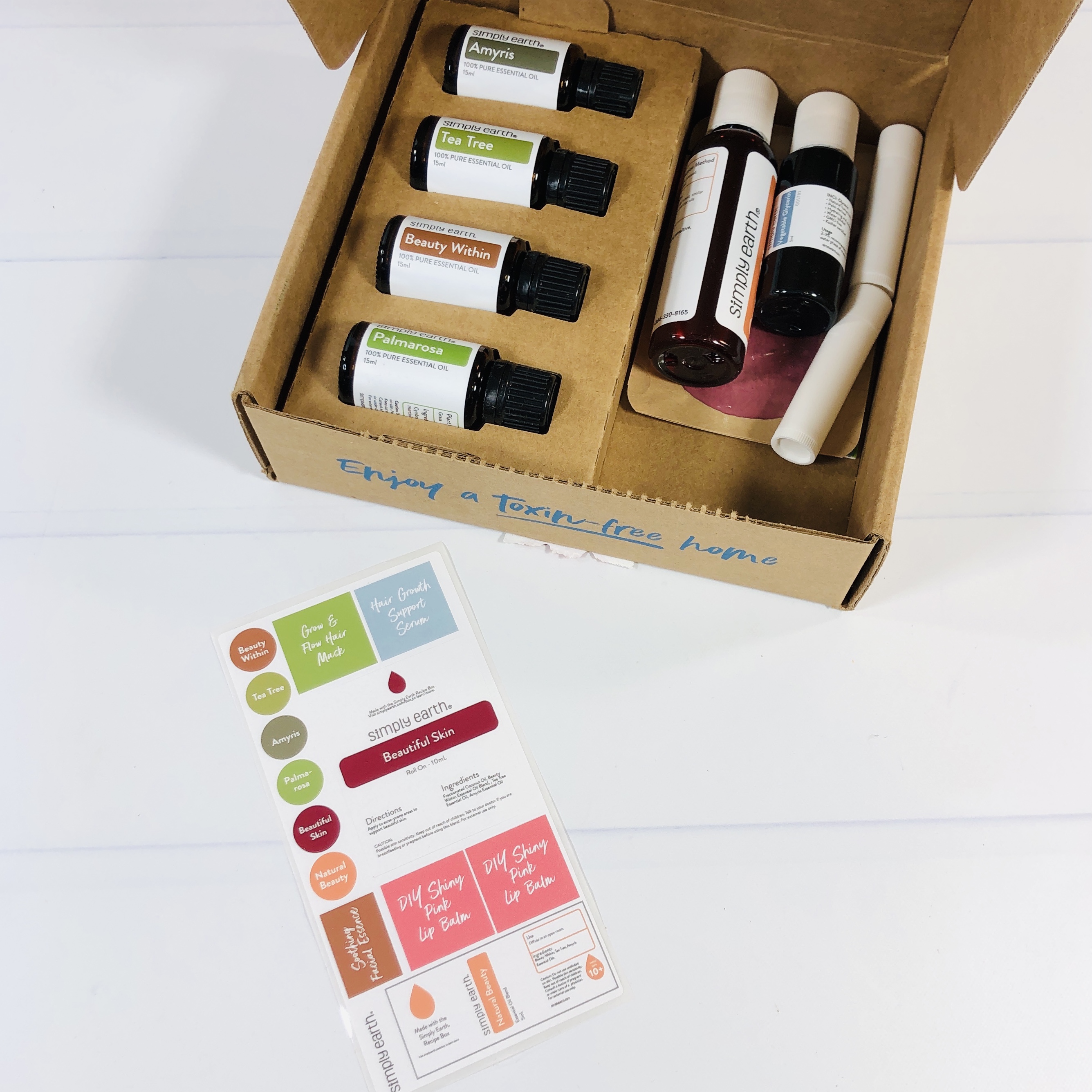 First look!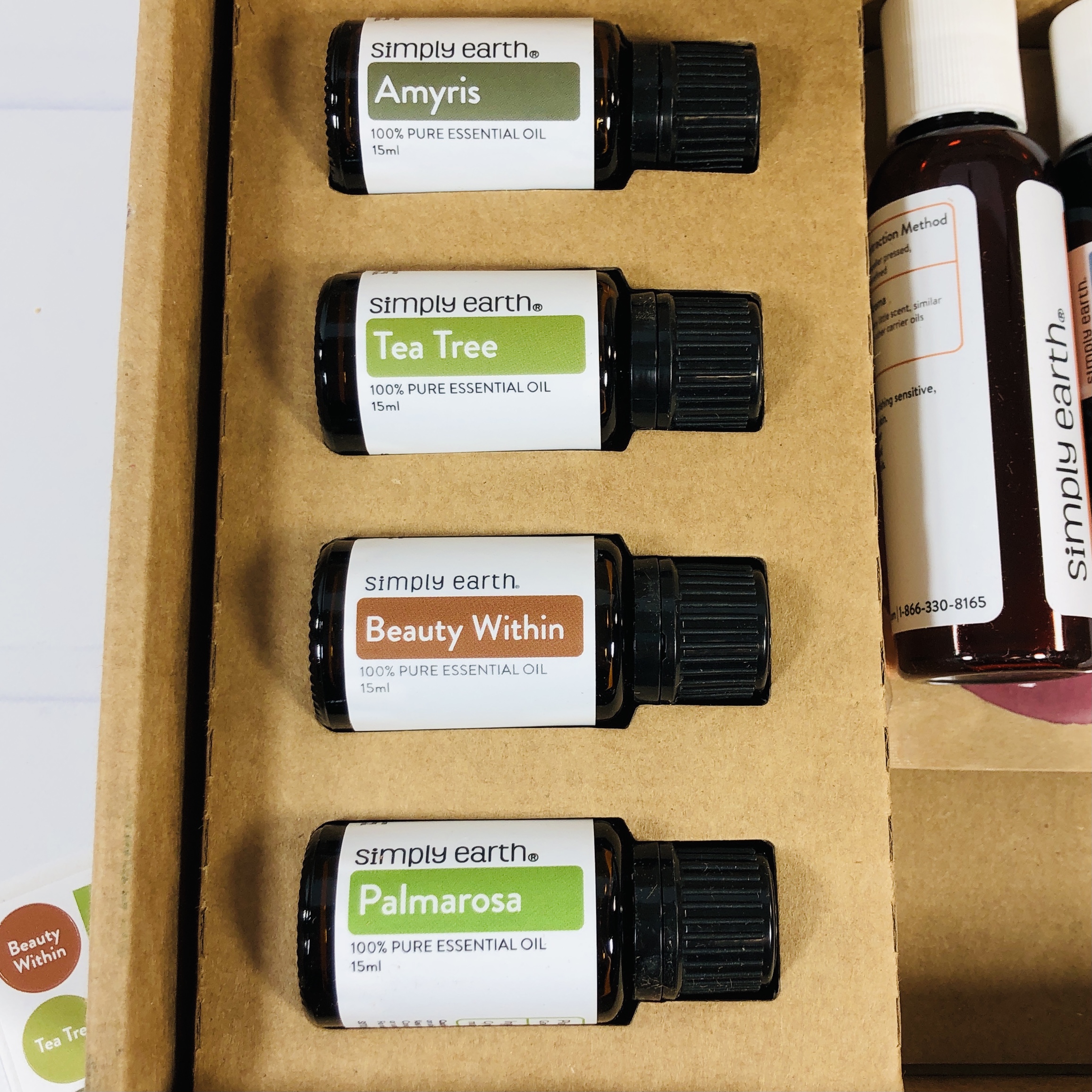 The bottles were on one side, the extra supplies on the other, and the cards were placed on top.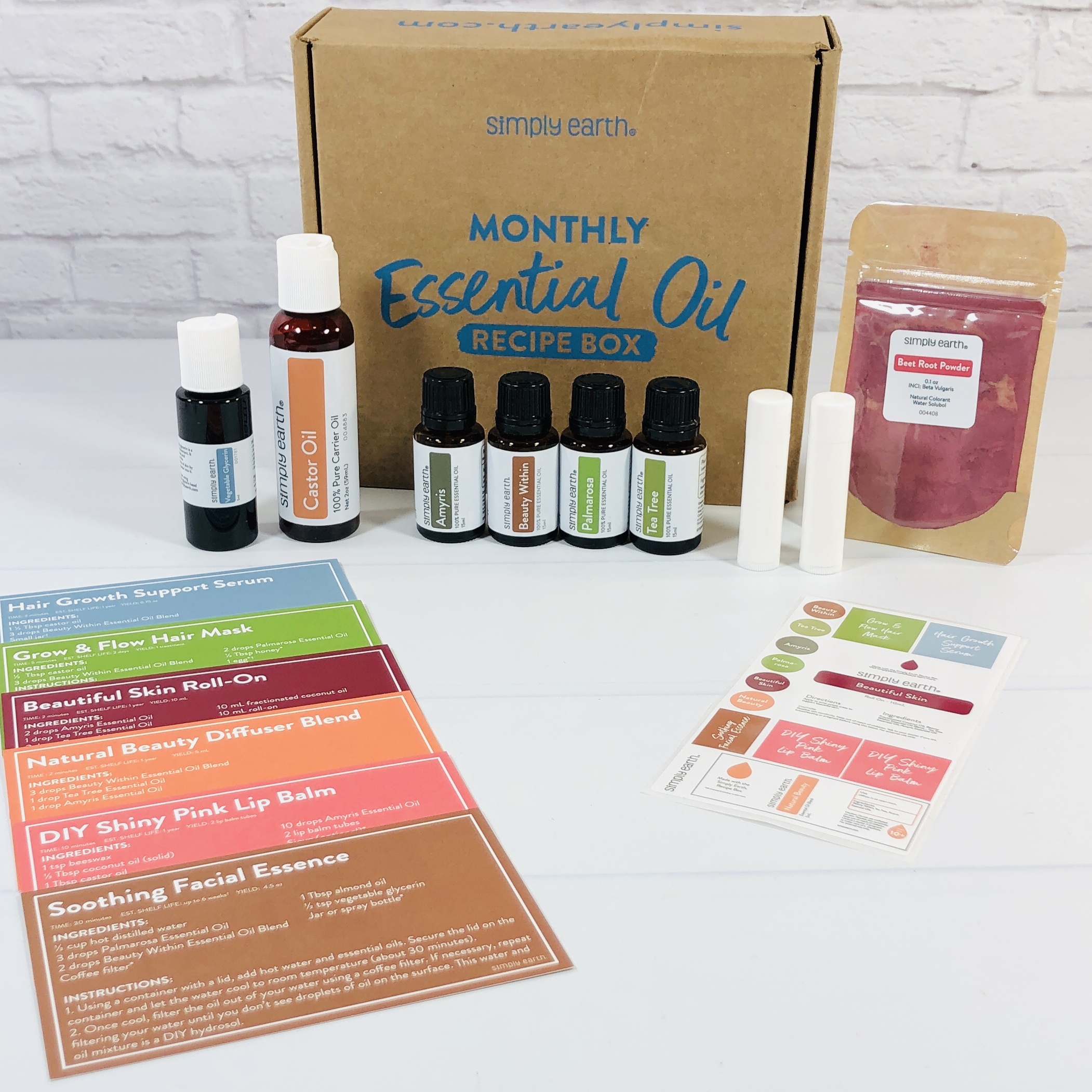 Everything in my box! Subscribers also receive free access to the online Essential Oil Hero Course to learn even more about how to use the products.
Simply Earth Castor Oil Castor oil is a carrier oil, something that you mix the essential into so that they won't be too strong on the body (they can cause irritation if used straight from the bottle). It is used in some of the recipes this month.
Simply Earth Vegetable Glycerin ($4.99 for 15ml) There isn't much glycerin in this bottle, 5ml is about the same as one teaspoon. Glycerin helps draw moisture to the skin. It is used in one of the recipes this month.
Lip Balm Container (49¢ each) I think we are making lip balms this month, and these are the basic shells that house our product.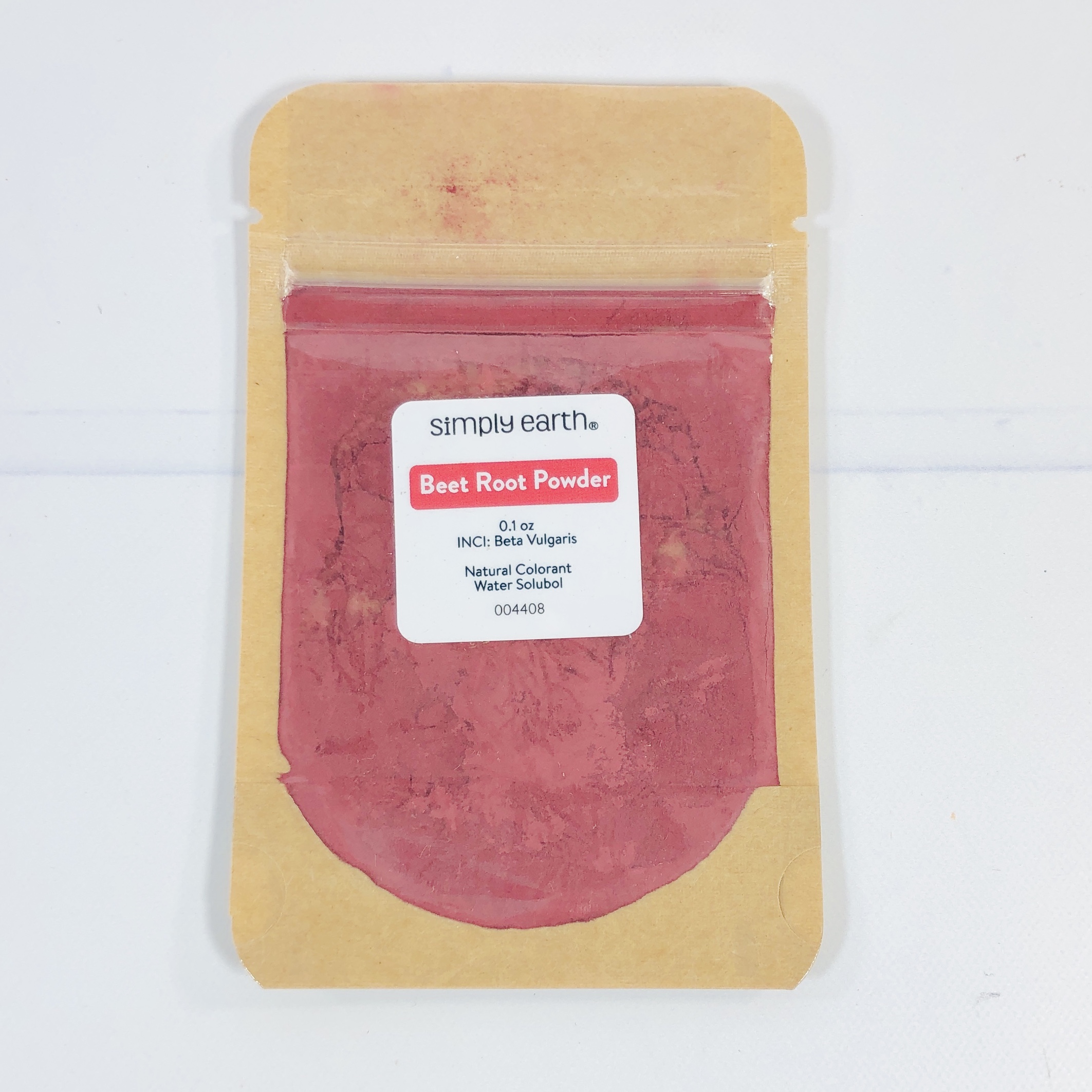 Simply Earth Beet Root Powder Beet root powder comes from the plant of course and is a natural color additive.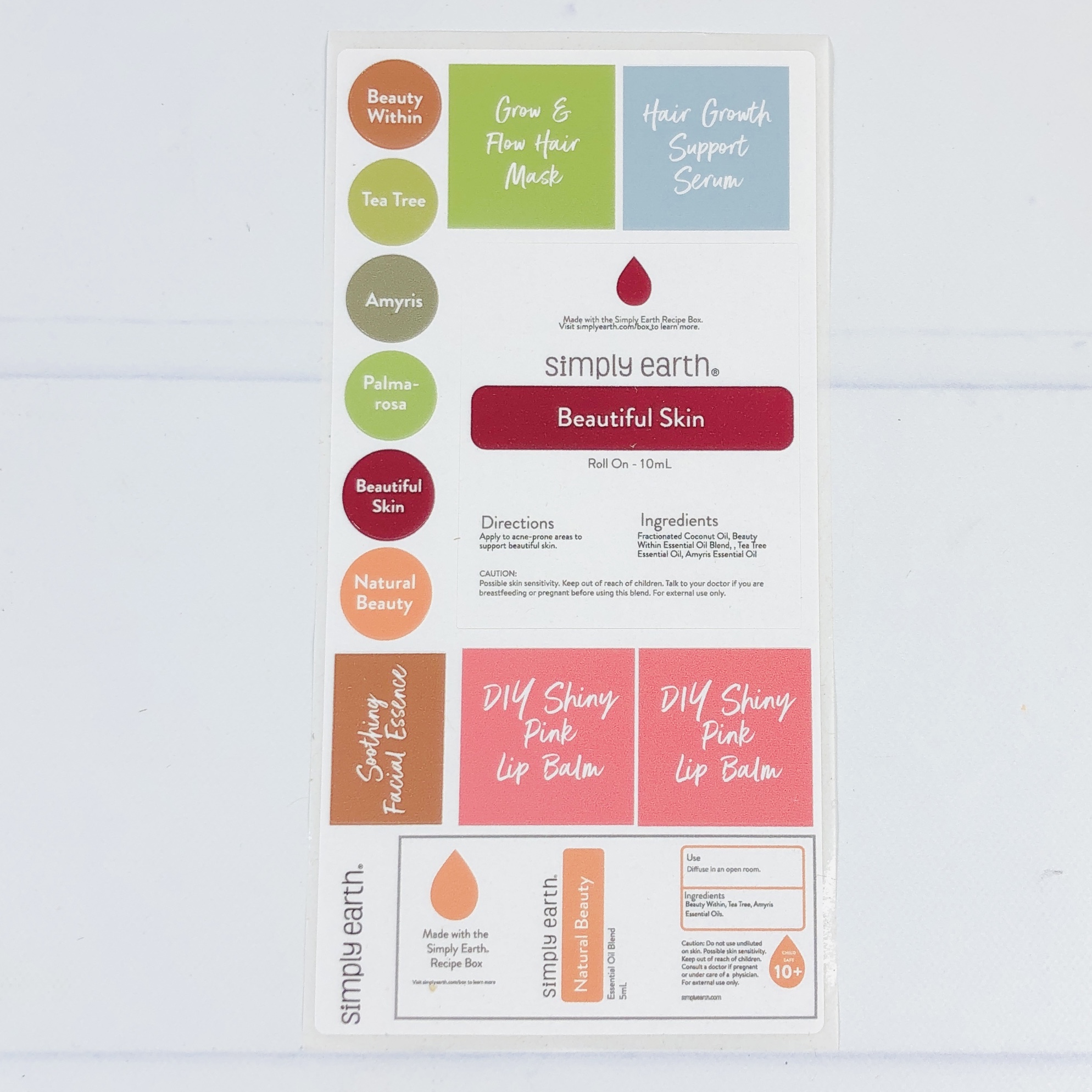 I received a set of peel and stick stickers for my projects!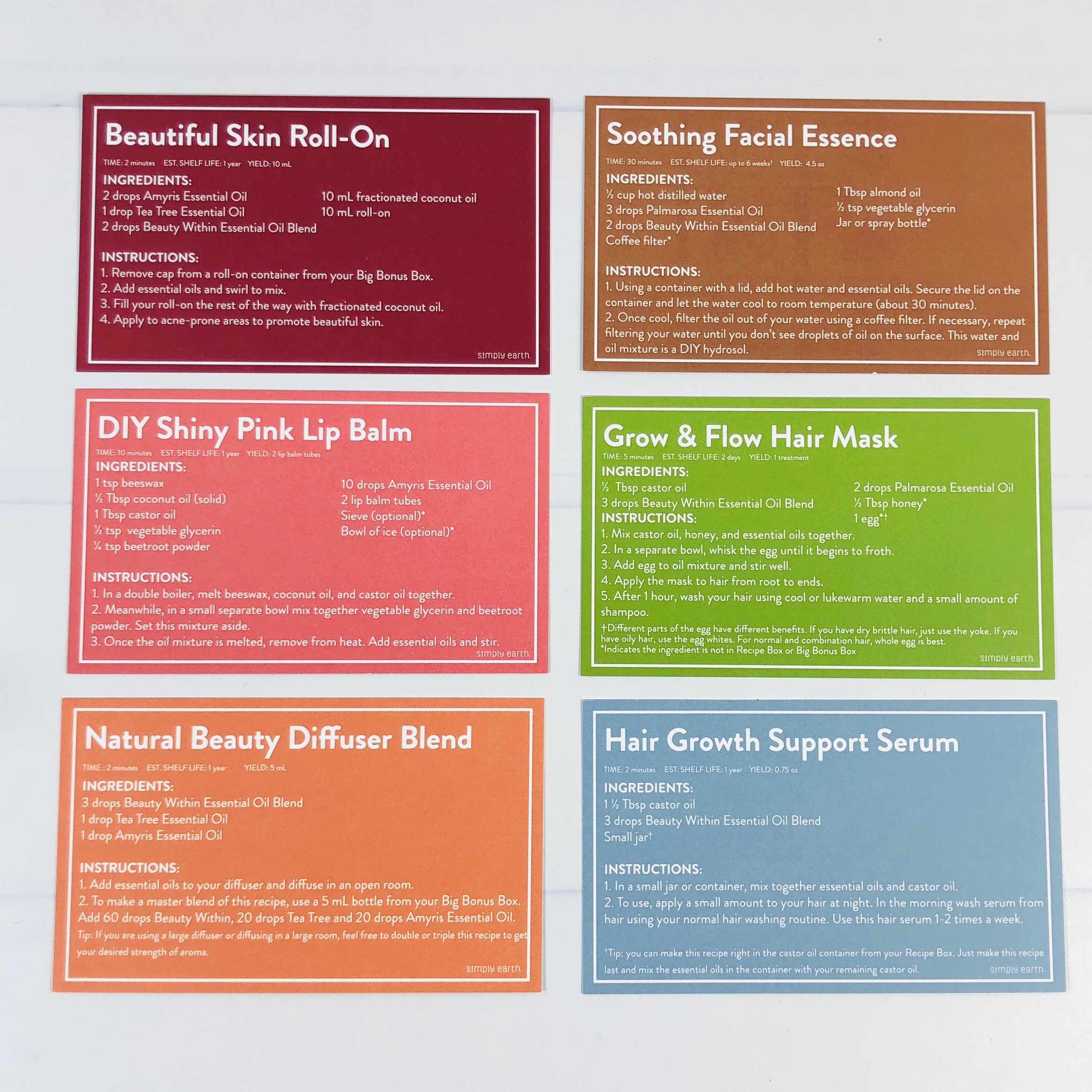 There were 6 recipe cards this month (and in fact I believe it's always been 6 recipes per box). Some of the cards have the recipes continued on the back, others have notices, and I will show those below.
The back of one card tells me what's in the box and gives a brief description.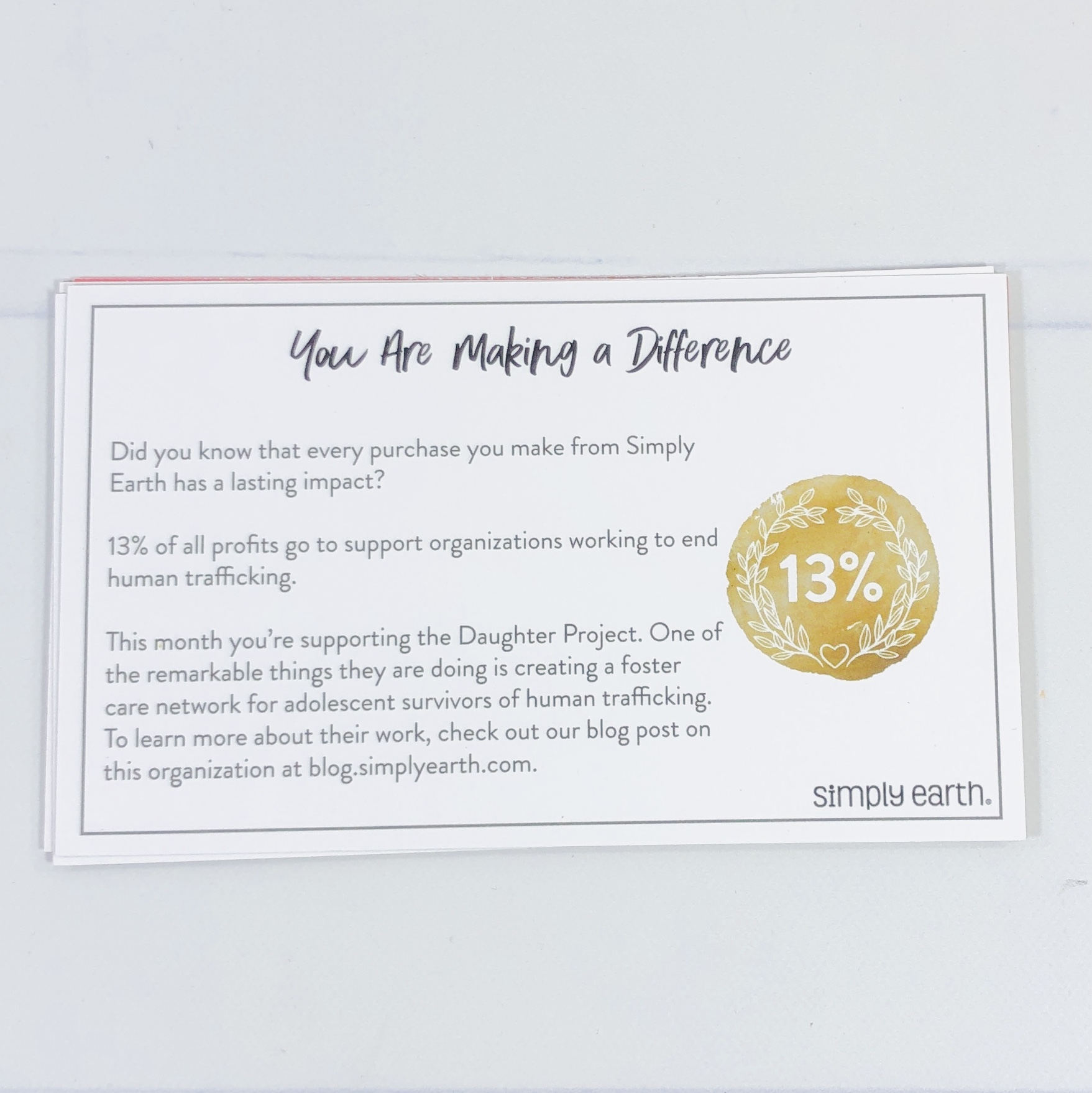 Simply Earth gives back to the community. They give 13% of profits to organizations that fight human trafficking.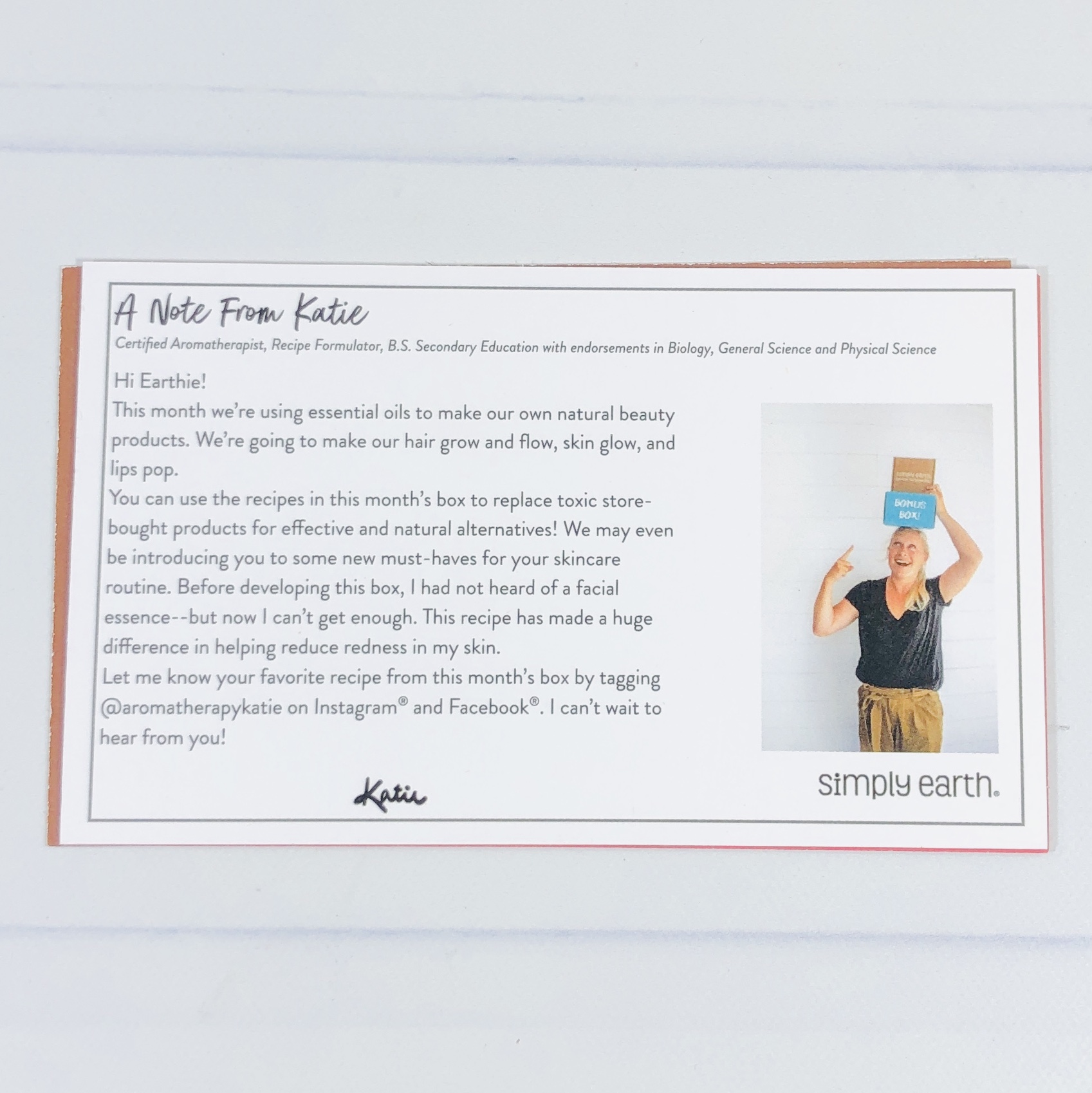 We received a note from Katie, and she does the helpful and often hilarious demonstration videos. I highly suggest giving them a watch before starting the projects. This month we will be making our own natural beauty products!
The last card gave us a sneak peek at what's coming in the next box and a list of items we might want to have on hand to complete the projects.
Here are the oils for the month. I received one blend and three single oils. If you already have an oil that's slated for the next box, you can switch it out on your account to receive something else.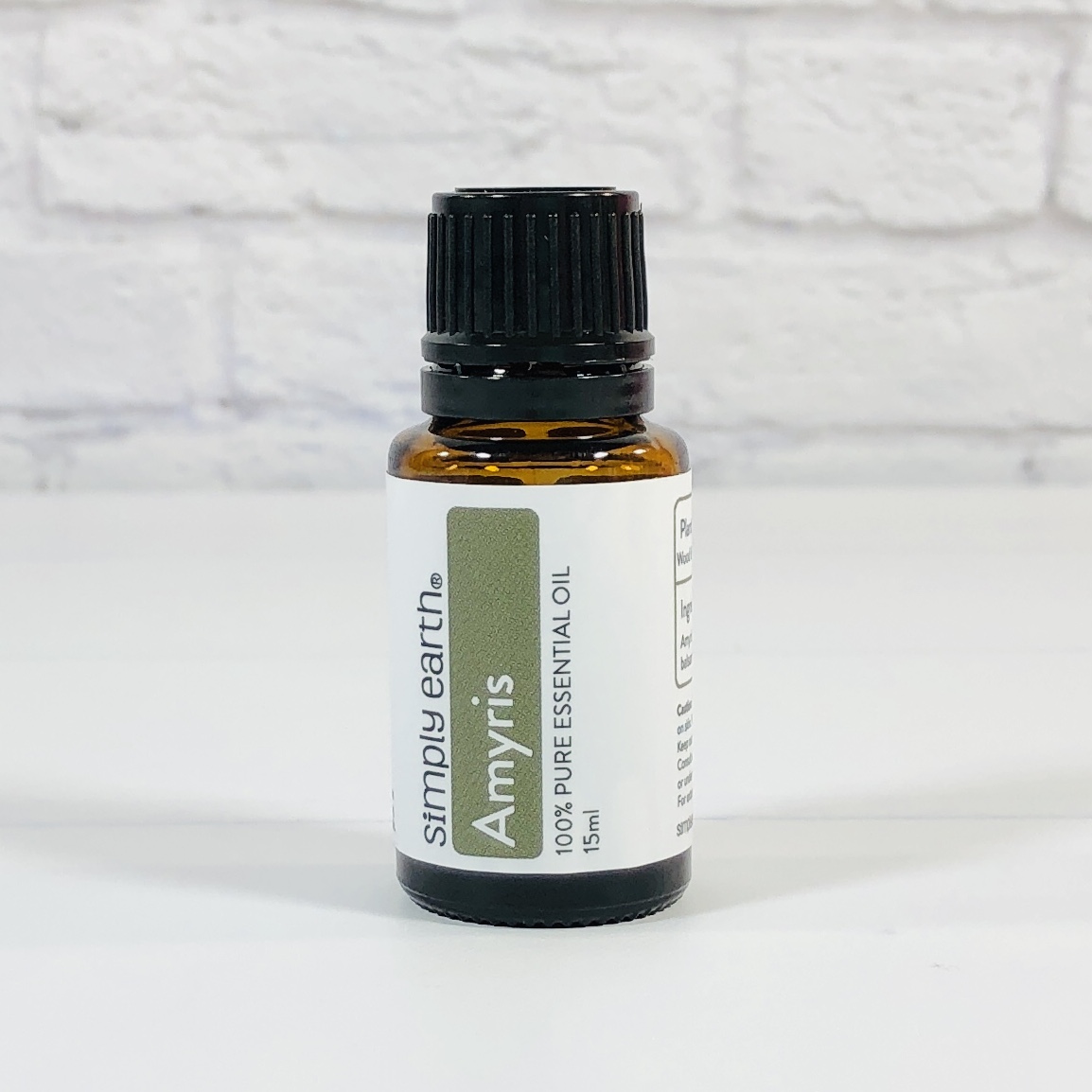 Simply Earth Amyris Essential Oil ($15.99) Amyris is from the citrus family and I am not too familiar with this plant or oil, so I learned something new this month!
The oil may boost immunity and help soothe the skin. It is generally used in aromatherapy and perfumery. The smell is sweet, warm, and woody.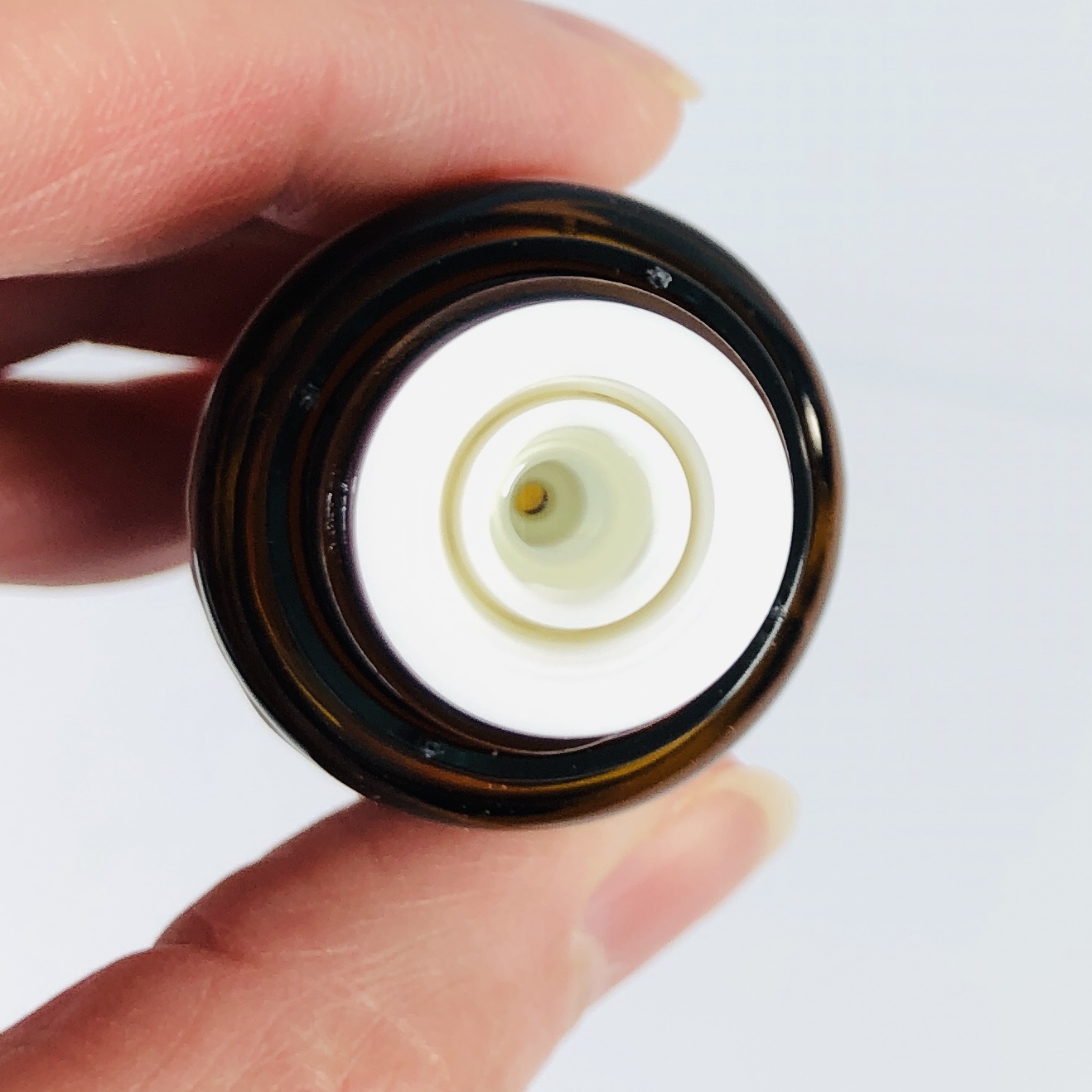 The dropper here is different and it was hard to get the thick oil to come out. I removed it when using, it was easier for me that way.
Simply Earth Beauty Within Essential Oil ($16.99) is the only blend this month. It is supposed to help fight fine lines on the face when combined with a carrier oil. By the way, you can find additional recipes on the Simply Earth website using each of the oils in this review. I like the suggestion of combining this with jojoba and placing it in a rollerball for an eye oil!
This oil is a blend of myrrh, frankincense, rosemary, and lavender. It smells mostly of lavender.
Simply Earth Palmarosa Essential Oil ($13.99) can be used as a substitute for rose essential oil because it is less expensive and smells similar. It is also a skin helper and may fight off fungus.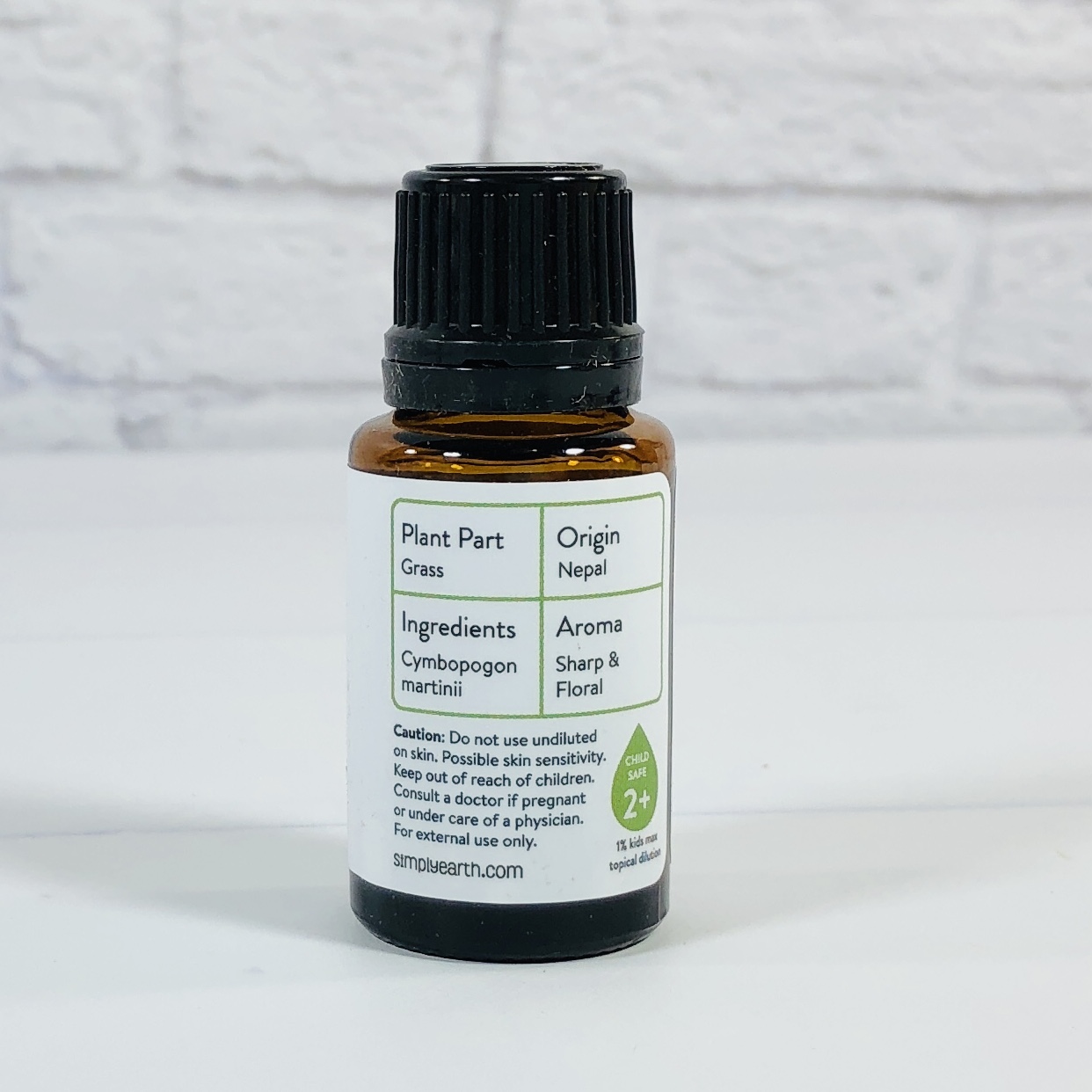 This oil smells like a warmer rose scent, like rose and vetiver together.
Simply Earth Tea Tree Oil ($12.99)  Tea tree is well known as an oil that may fight off acne and other skin concerns.
It has a very distinct scent that is medicinal and reminds me of a combo of lime candy and menthol.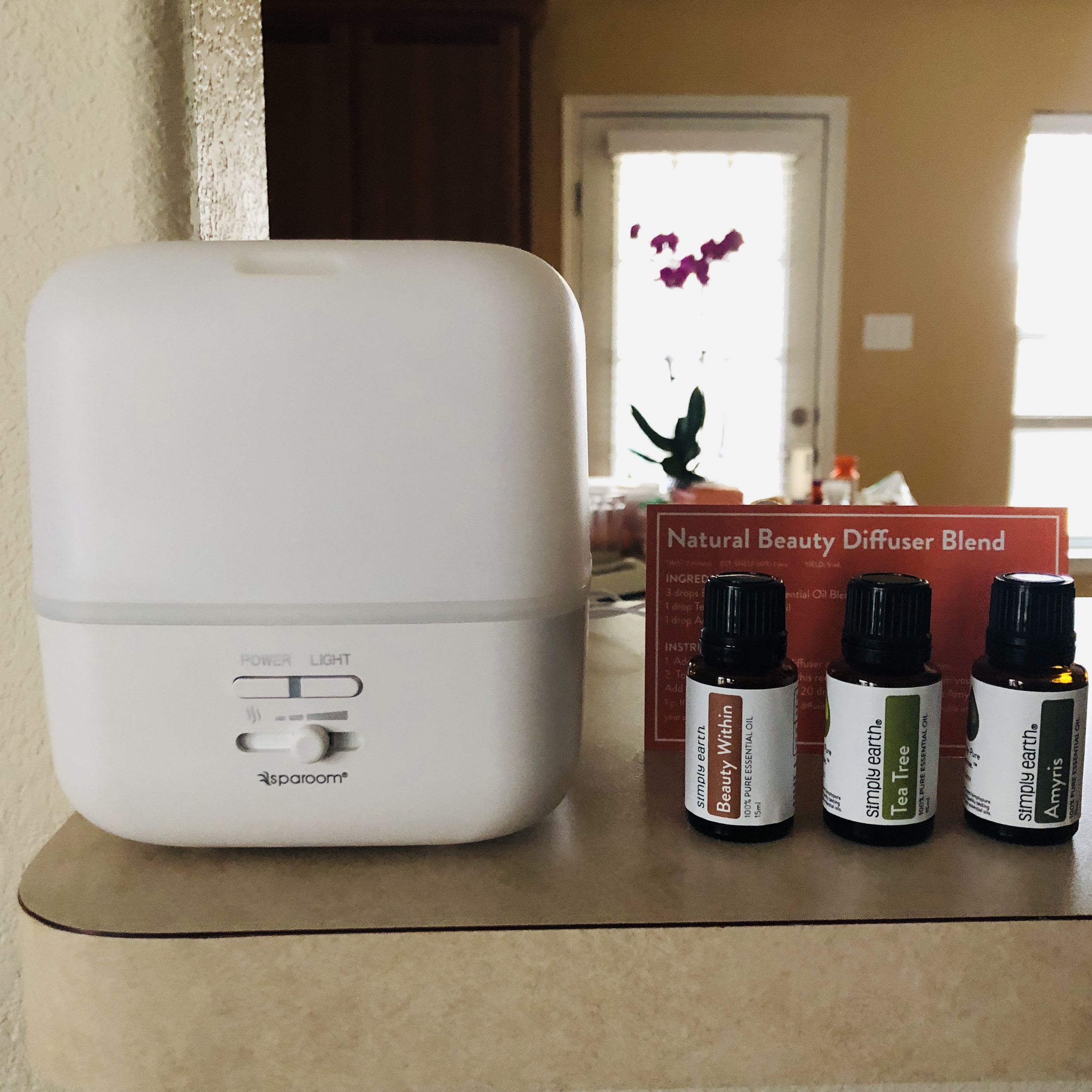 The easiest recipe to use is the diffuser blend. I just added the required amount of drops to my diffuser, topped it with water, and hit the on button. It wasn't a super strong scent, but it is always preferable to the cooking smells that are most often found in my home.
Next I made the lip balms. I have never made a lip balm before!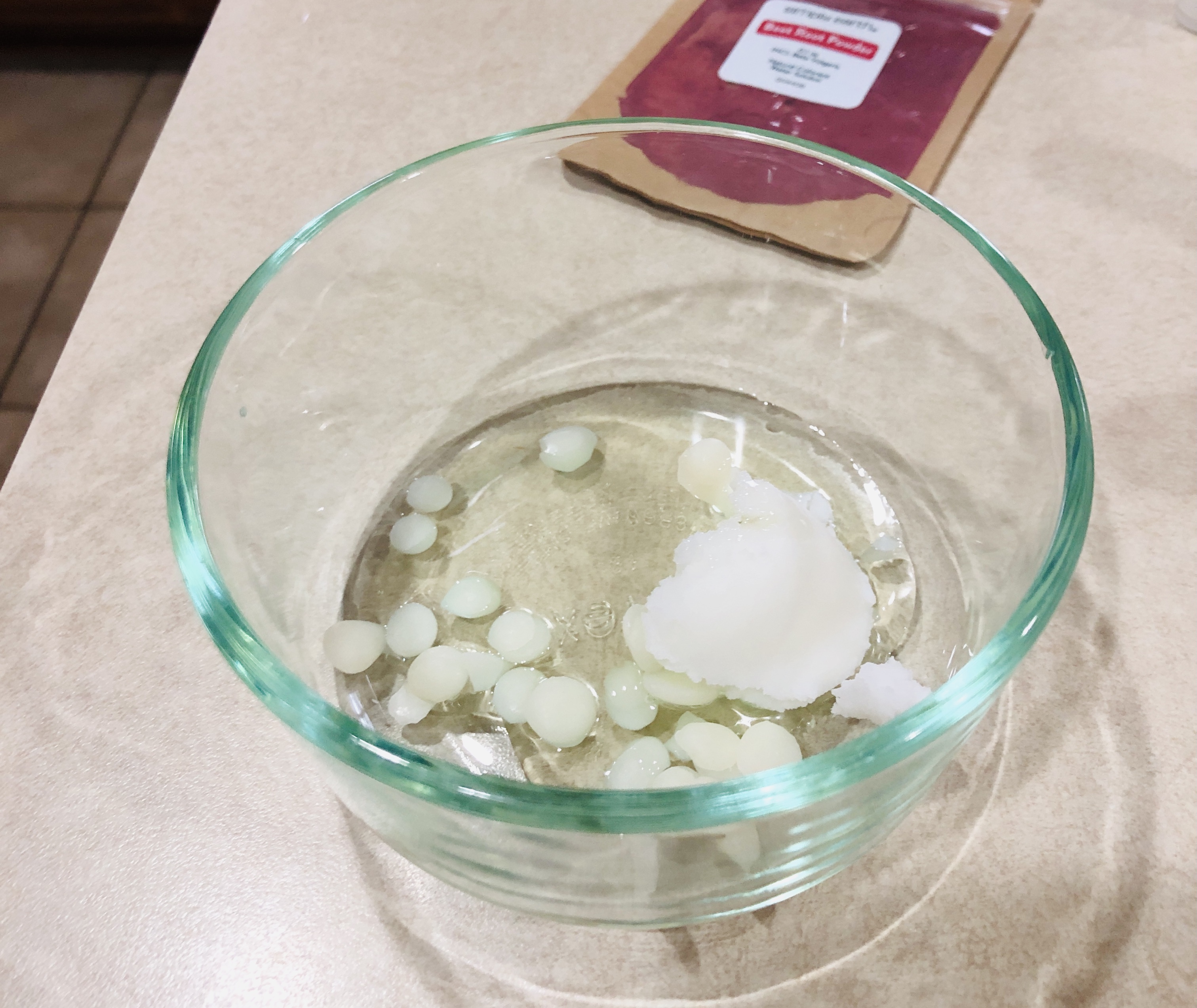 I placed the beeswax, castor oil, and coconut oil in a glass bowl. I was supposed to melt the mix over a double boiler, but I microwaved it instead, stirring every 15 seconds until the wax was completely melted. I stirred in the amyris drops, which took a long time to drop.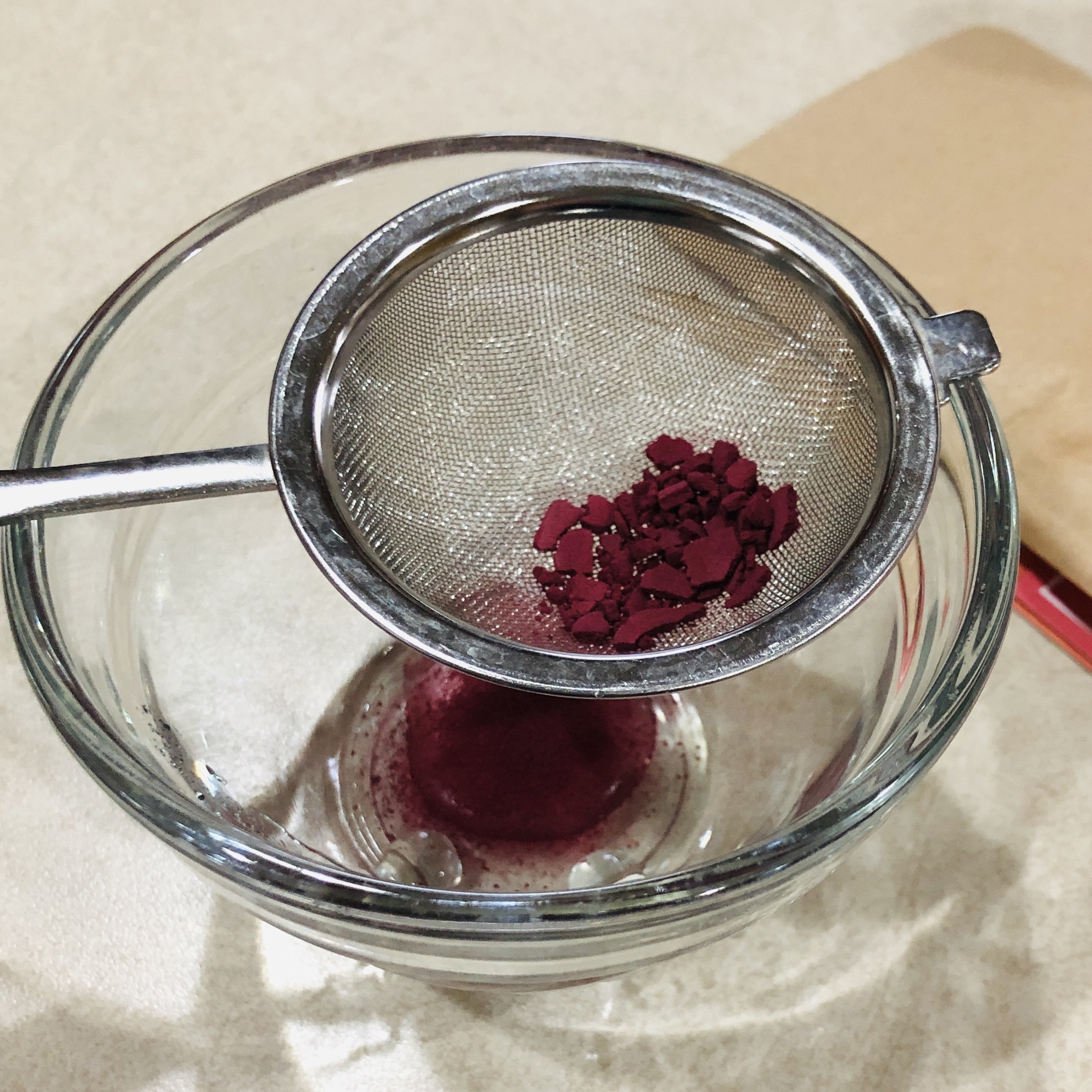 I measured the glycerin into a bowl and then added the beetroot powder, which I pressed through a tea strainer first to get out the lumps. I mixed it all up before proceeding.
It's already pretty!
Time to pour into the containers!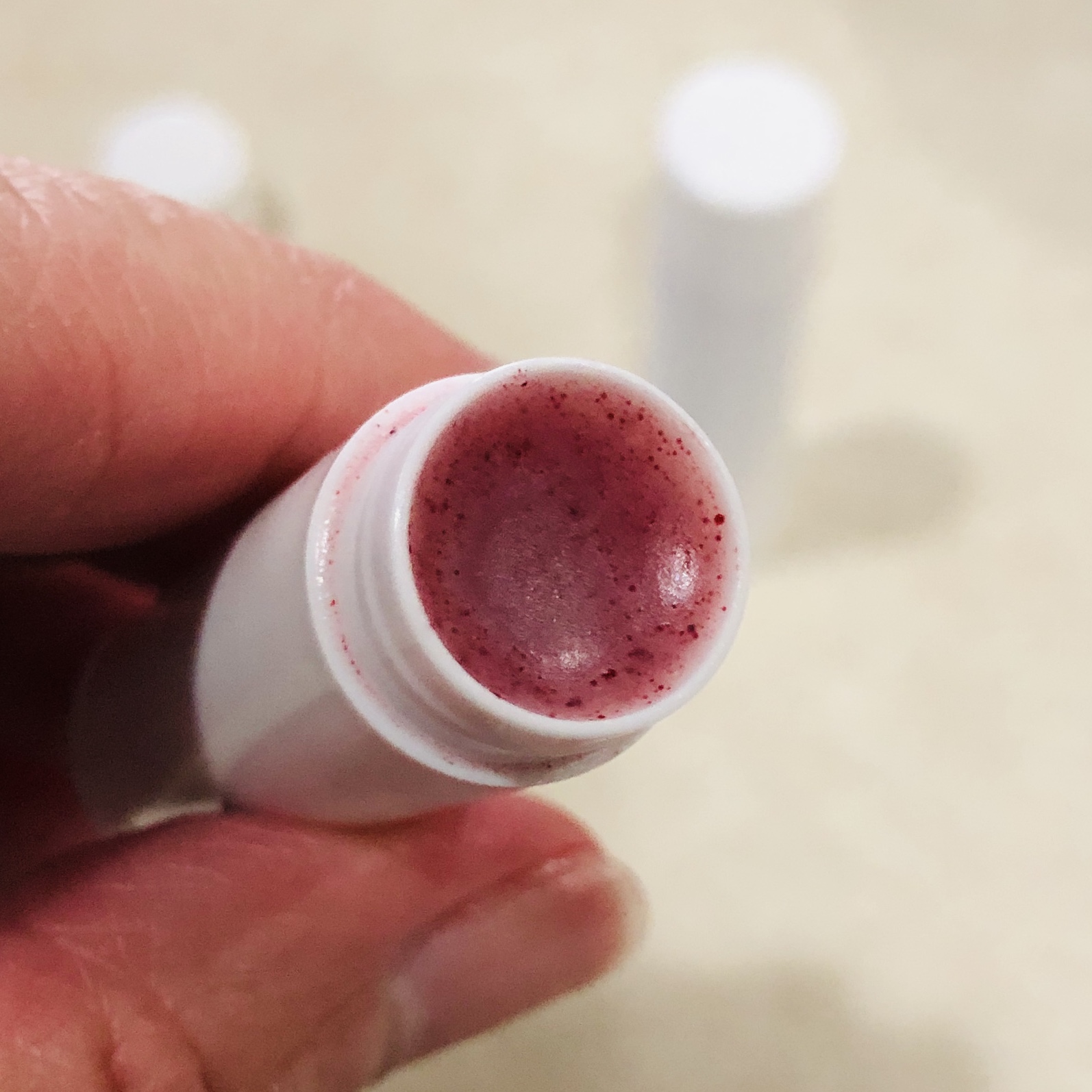 I had a heck of a time pouring it into the containers, maybe I should have heated it up a bit more to make it flow more readily. There was so much left over that I wonder if the tubes were actually filled all the way. I had a stainless tin nearby and scooped the rest of my balm into the container. I can use a lip brush or my finger to apply it to my lips, which is exactly what I did. This stuff felt amazing on my lips, leaving them soft, silky, and shiny. The color doesn't show up that I can tell, and I really didn't notice any flavor or scent at all.
I enjoyed making lip balms this month with my Simply Earth Recipe Box! I always enjoy learning about the featured oils and coming up with new ways to use them. Simply Earth makes it exceedingly easy to make beauty products, or cleaning items, or whatever the focus is for any given month, helping me replace traditional products with greener versions. There are still a few recipes for me to make this month but for now I have a treatment for my chapped lips. I look forward to adding these oils to my collection and coming up with new diffuser blends. I find all kinds of uses for the oils on Pinterest but make sure to check out the Simply Earth website since they have extra recipes posted too!
What do you think of the Simply Earth box?