Scentbird is a monthly perfume and fragrance decanting subscription that has branched out into skincare, makeup, and even candles. With Scentbird, you get a thirty-day supply of perfume every month – Scentbird takes authentic perfumes and decants them into travel sprayers. There are over 450 fragrances to choose from and Scentbird adds new ones every month! You can save when you purchase a multi-month subscription, or even arrange to receive perfume every other month. Keep in mind that some fragrances and other items may have an upcharge of up to $15 in addition to the subscription cost. 
Scentbird is about the fun and magic of fragrance. We designed Scentbird for the pickiest girl- or boy- to let you date luxury perfumes before marrying them.
When you sign up, you can fill out a quiz so Scentbird can provide you with some suggestions. There are only 5 questions and you can take the quiz as often as you like. You can place both men's and women's scents in your queue too and of course there are lots of unisex scents available. You can also fill the queue with whichever fragrances you prefer and keep in mind that if your queue is empty, you will receive the Fragrance of the Month. The Perfume of the Month for March is Sisley Izia la Nuit:
Izia la Nuit is an ode to the night, another tribute to a mysterious and unique rose found in Isabelle's garden that only blooms once a year for a short time. Inspired by the original Izia, a bright, airy floral scent, Izia La Nuit offers a renewed intensity combined with warmth and sensuality.
Izia la Nuit combines a sweet, spicy, colorful dimension in this sophisticated modern scent that brings elegance and warmth to a complex mysterious journey of love.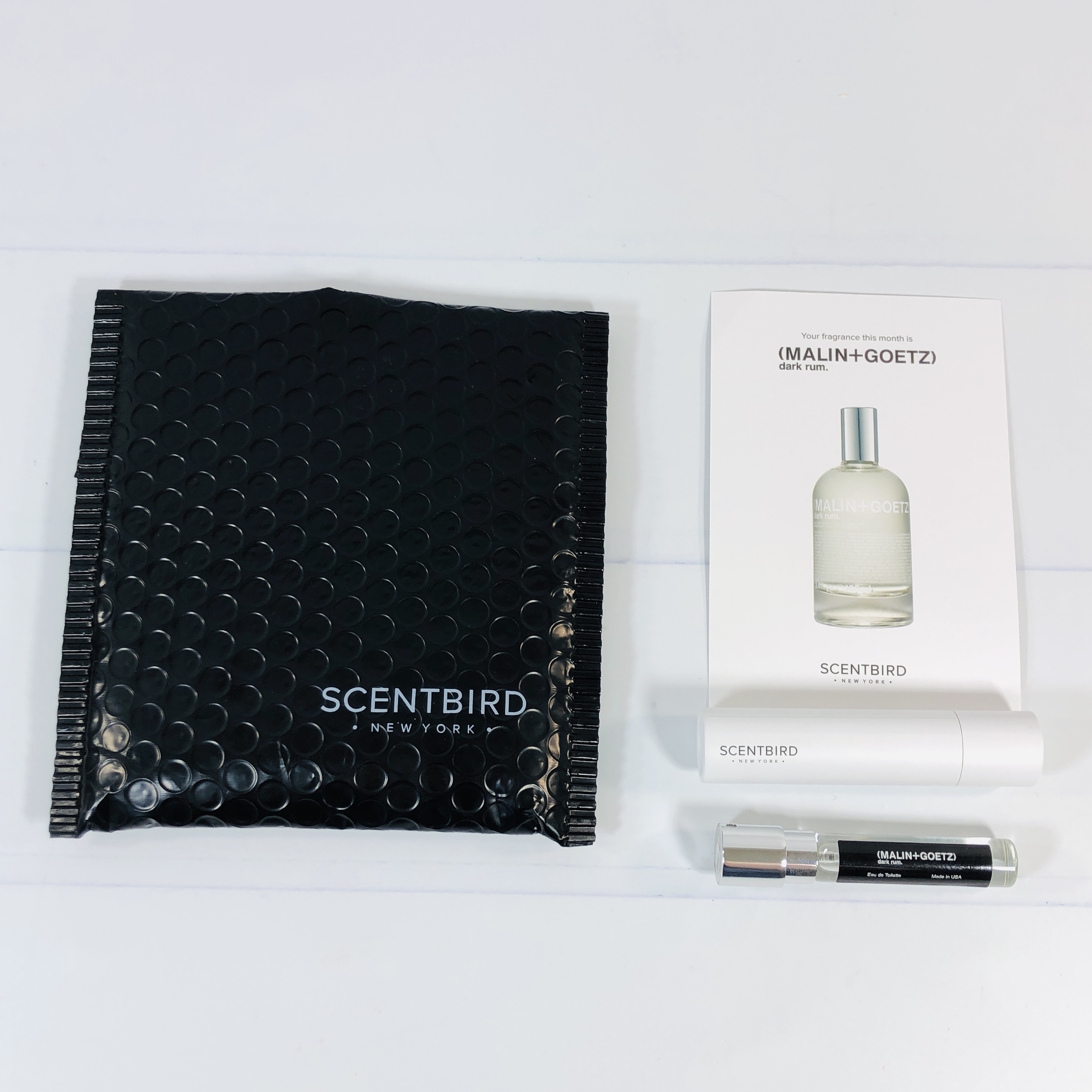 Everything in my box!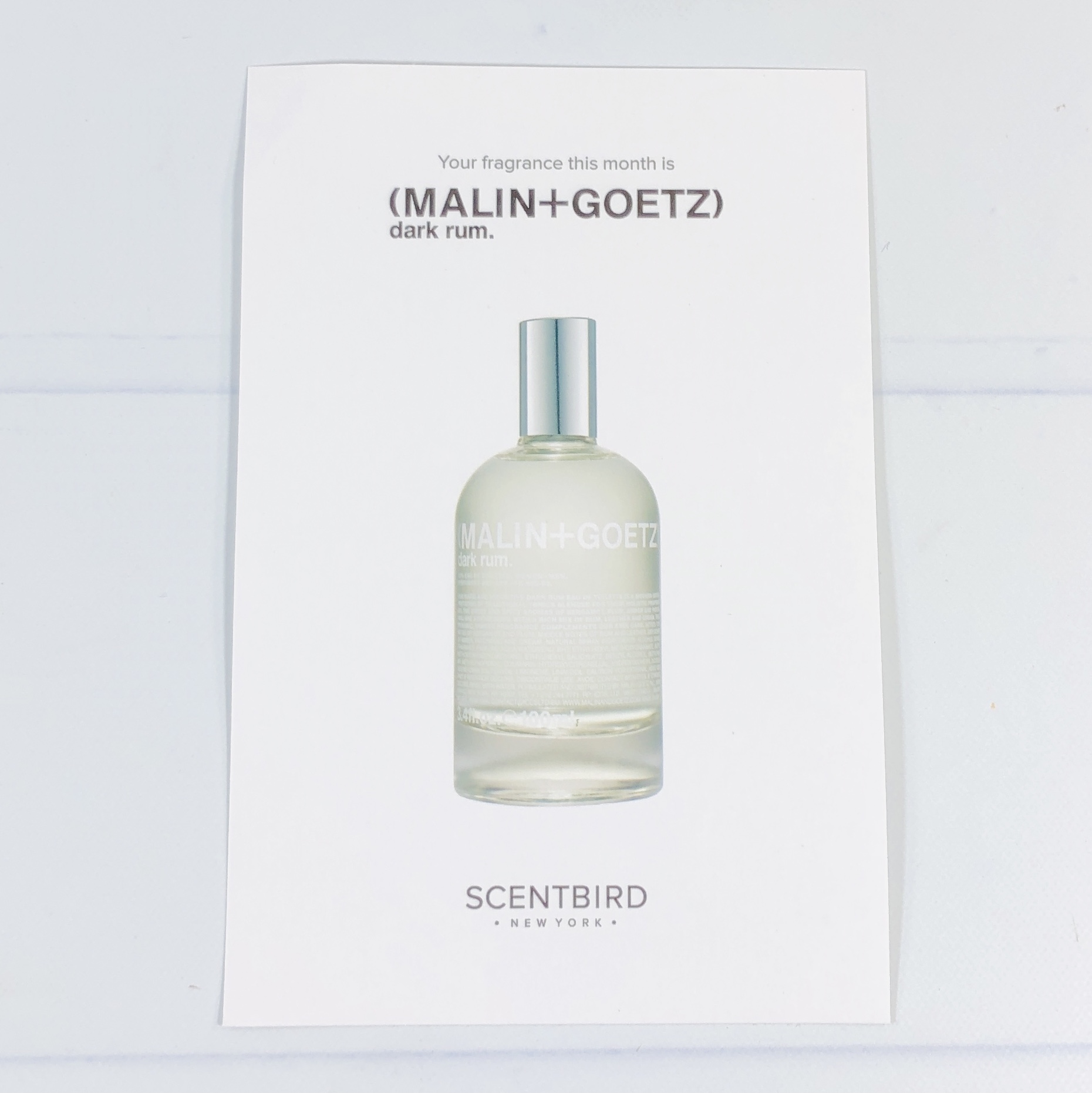 I received a card with my chosen fragrance. I've tried a couple of other fragrances from Malin + Goetz and loved them and the scent notes here sounded rich.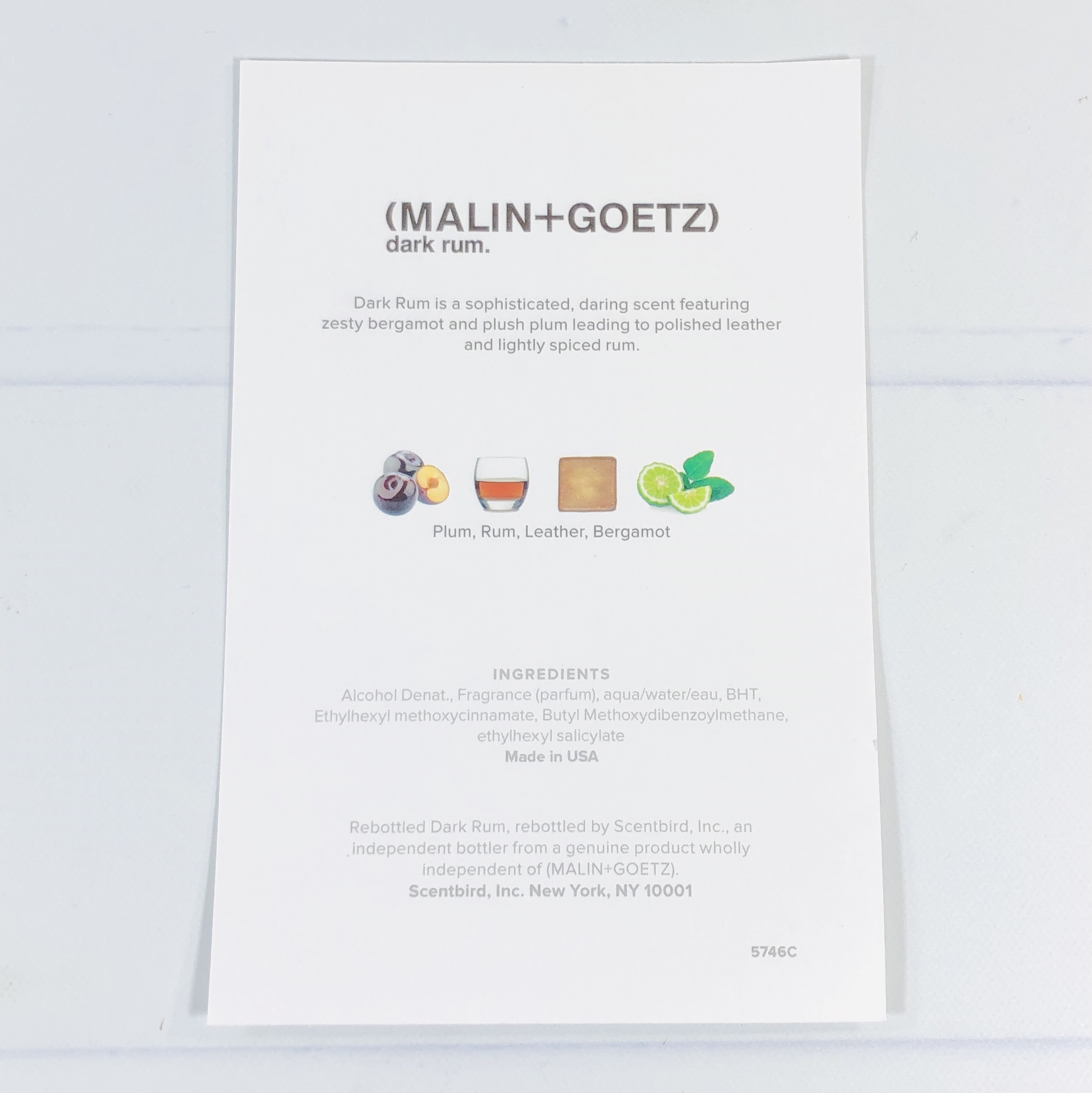 The back of the card listed those notes along with the ingredients.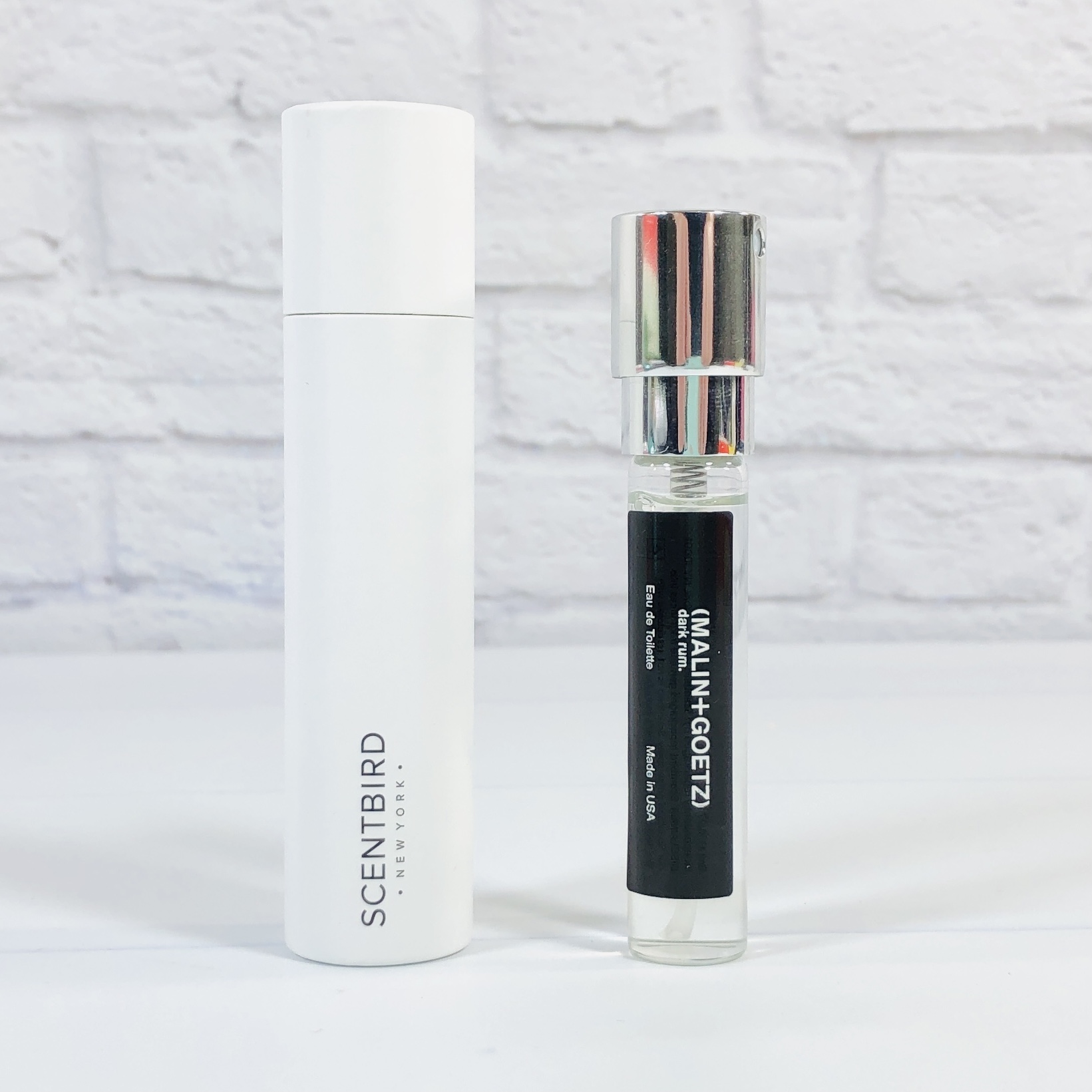 My scent vial was placed in a cardboard holder for shipping. It's surprisingly sturdy!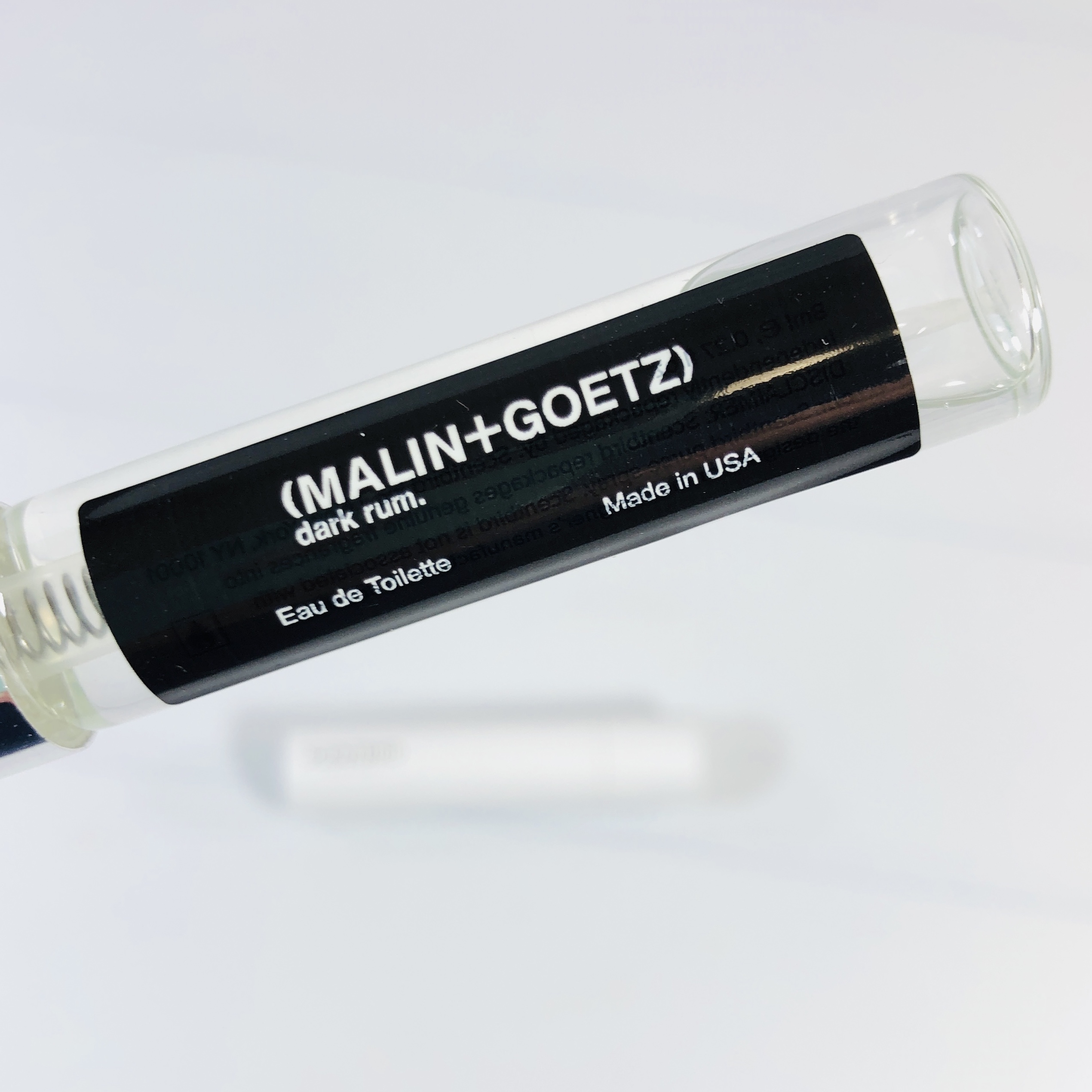 Malin + Goetz Dark Rum Eau de Toilette ($95 for 50ml) The scent notes listed for this fragrance were plums, rum, bergamot, and leather. I was hoping for a deep scent but this is classified as an oriental gourmand by Scentbird, and as an aromatic fruity by Fragrantica. I think Fragrantica was closer to the mark, as this scent wasn't all that deep to my nose. It was very sweet and while there are no floral notes listed, it reminds me of bathroom spray! If I ram my nose into my arm I can pick up notes that I like, like a hint of bergamot, but there is no patchouli to be found. Amber maybe, musk possibly. Unfortunately I can't go around with my nose in my elbow so those notes that actually reach me are off-putting.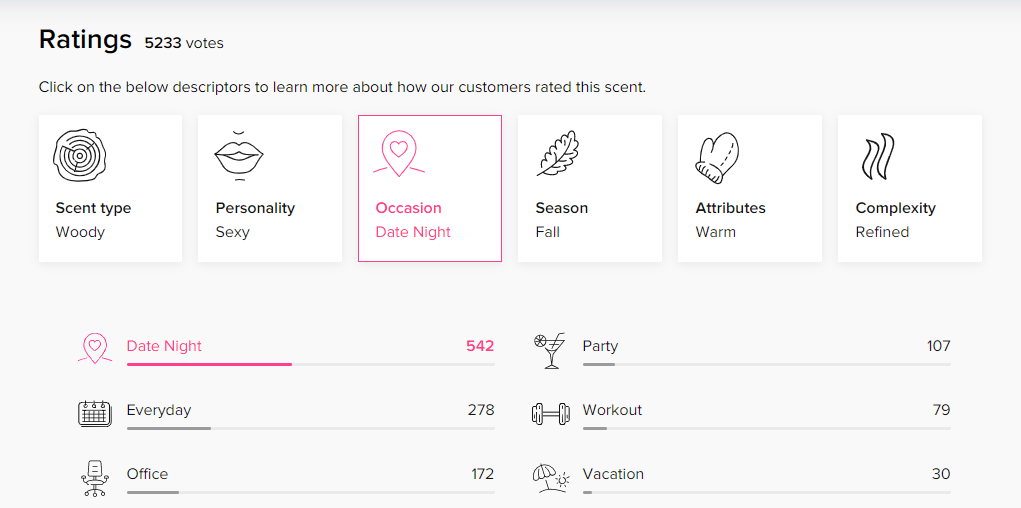 When you visit the Scentbird site you can see how others voted on the fragrances. Most thought this was a woody fragrance that is sexy and perfect for fall. When I clicked on "Occasion" I found that most thought it was best for date night but a large number of people also thought it would work as an every day sort of scent. Funnily enough, most people on Fragrantica voted this as a fruity fragrance, with woody coming in at the number 6 spot. In my opinion, there are no woods to be found, nor rum. Sweet-fruity-amber-musk.
Your first shipment will come with a holder. I have a couple of different holders (you can order more online, and you get to pick your color!).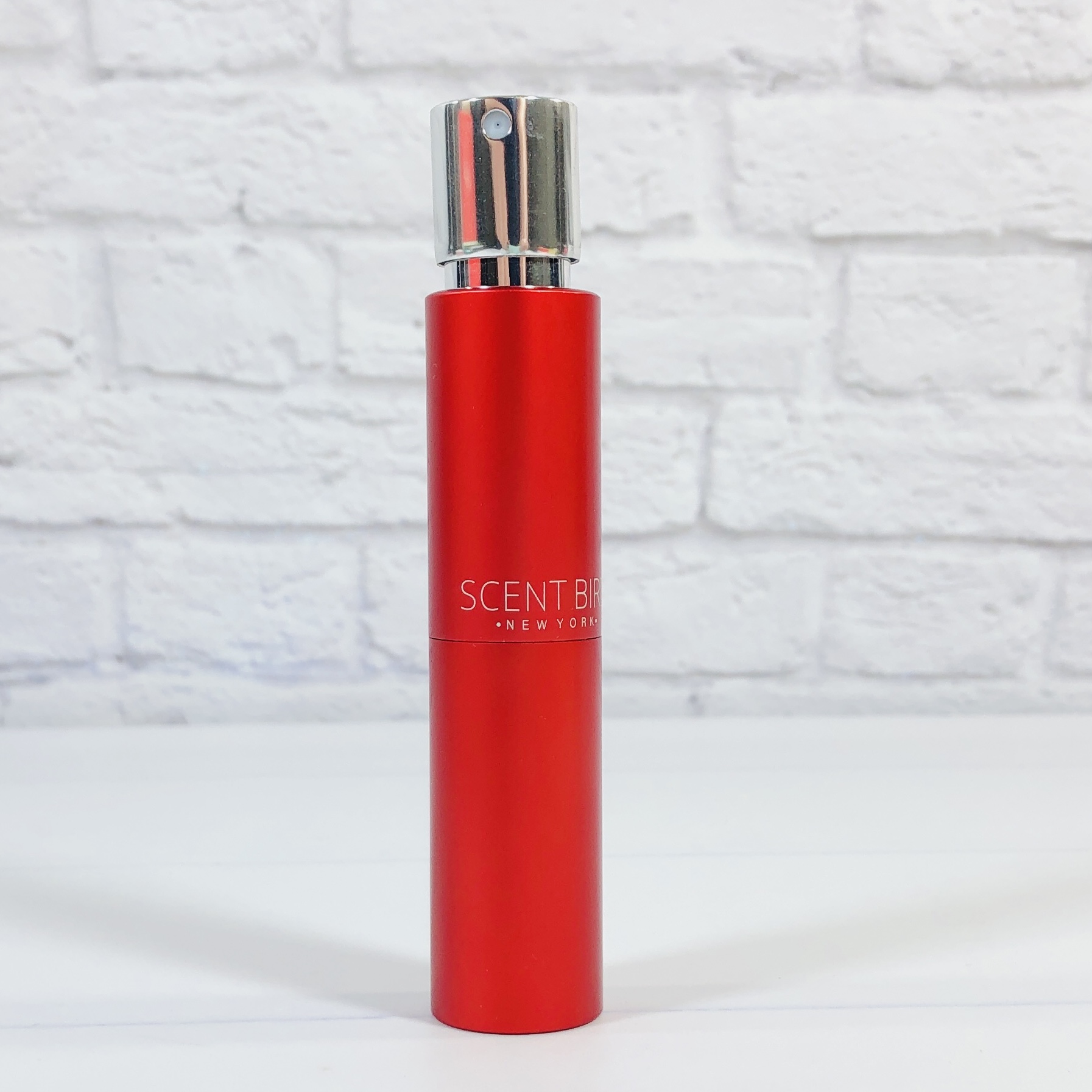 Just place your scent vial in the holder…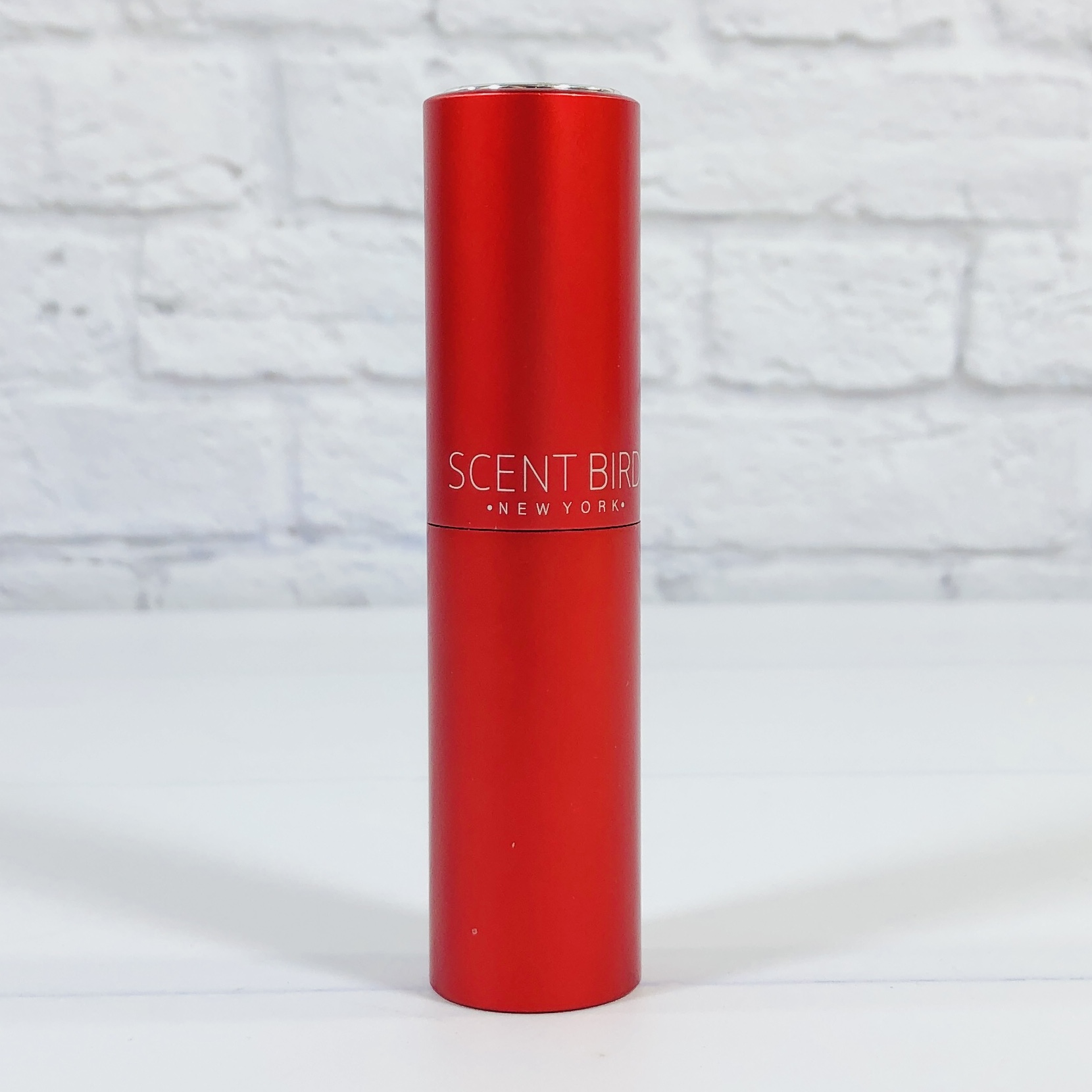 …then twist to hide the sprayer!
I went with a blind buy this month by a brand I've loved in the past and while it wasn't an instant hit, it is growing on me. I liked the scent notes but they don't seem to reach my nose but that's ok, I will probably put it away until next fall and try it again when the weather cools. I love that this is a low-cost way to try new scents, and then I can decide whether or not to splurge on a full-size after trying. Scentbird sends 8ml, enough for about 4 sprays a day over the course of a month, and the value for my February pick is about $15.20 but of course the value will vary with the brand chosen and some of those pricier brands have an upcharge.
What's in your Scentbird queue? Let me know what scent you're wearing now in the comments!