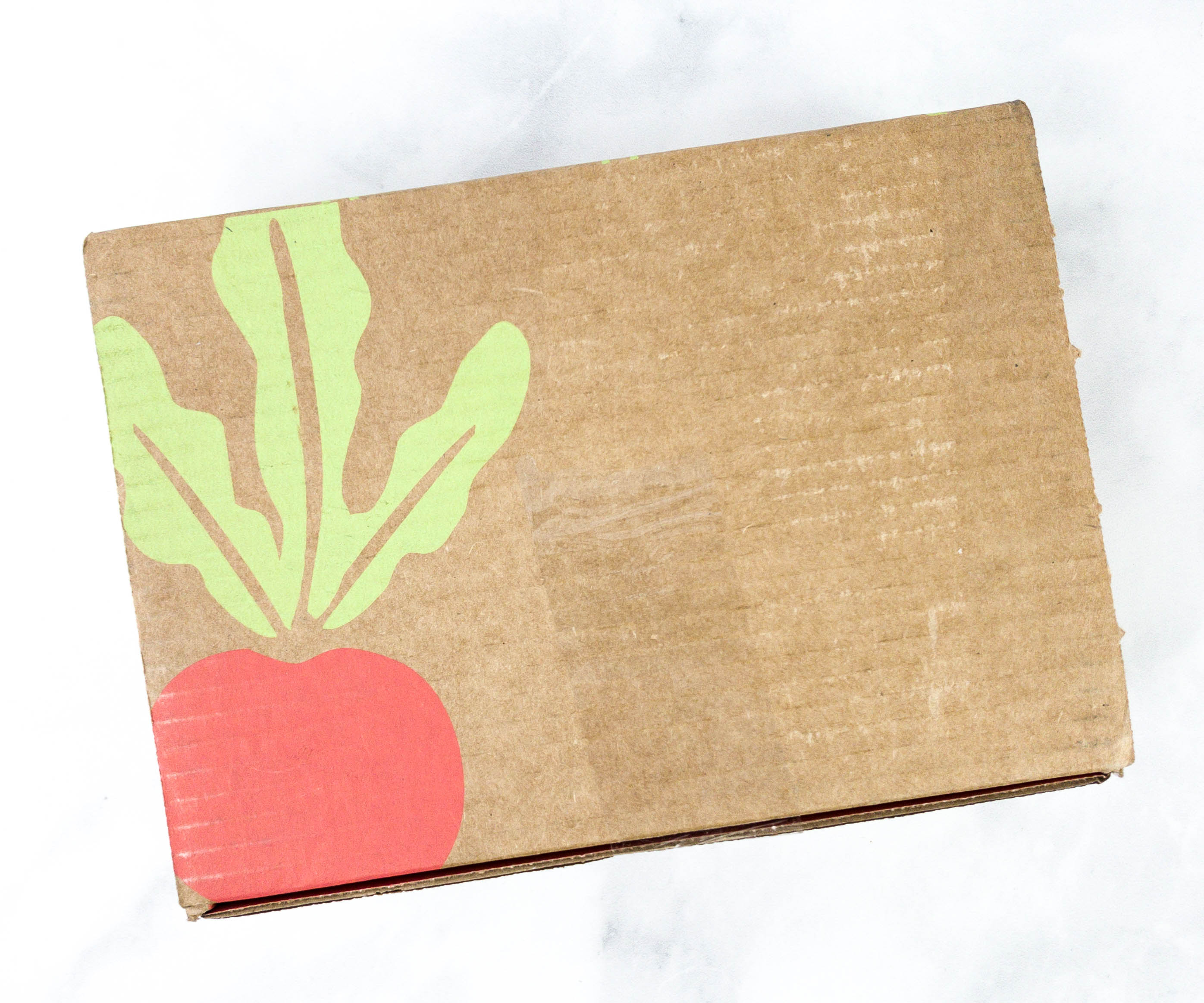 Raddish is a monthly kids' activity box centering around food and cooking! Designed for kids 4 to 14+, each themed box will include 3 illustrated recipe guides, 3 culinary skill cards, a creative kitchen project, kid-friendly tools and collectibles such as Table Talk cards, a culinary tool, and an iron-on Raddish patch. Themes range from Seasonal Spotlights to Global Cuisine and Creative Cookery to Holiday Celebrations. Although the ingredients are not included, they email you a shopping list for each month's recipes before your kit is shipped.
DEALS:
Get $15 off when you sign up for a 6 month subscription! Just use this link and use the coupon code ATHOME at checkout.
Get $20 off when you sign up for a 12 month subscription! Just use this link and use the coupon code CHEF20 at checkout.
PLUS Get a FREE apron with your first box when you sign up for a 6+ month subscription!
They offer a monthly membership for $24/month, a 6-month membership for an upfront payment of $132 ($22/month), and a 12-month membership for an upfront payment of $240 ($20/month). For those who are getting the 6 and 12-month memberships, expect a free apron in your box.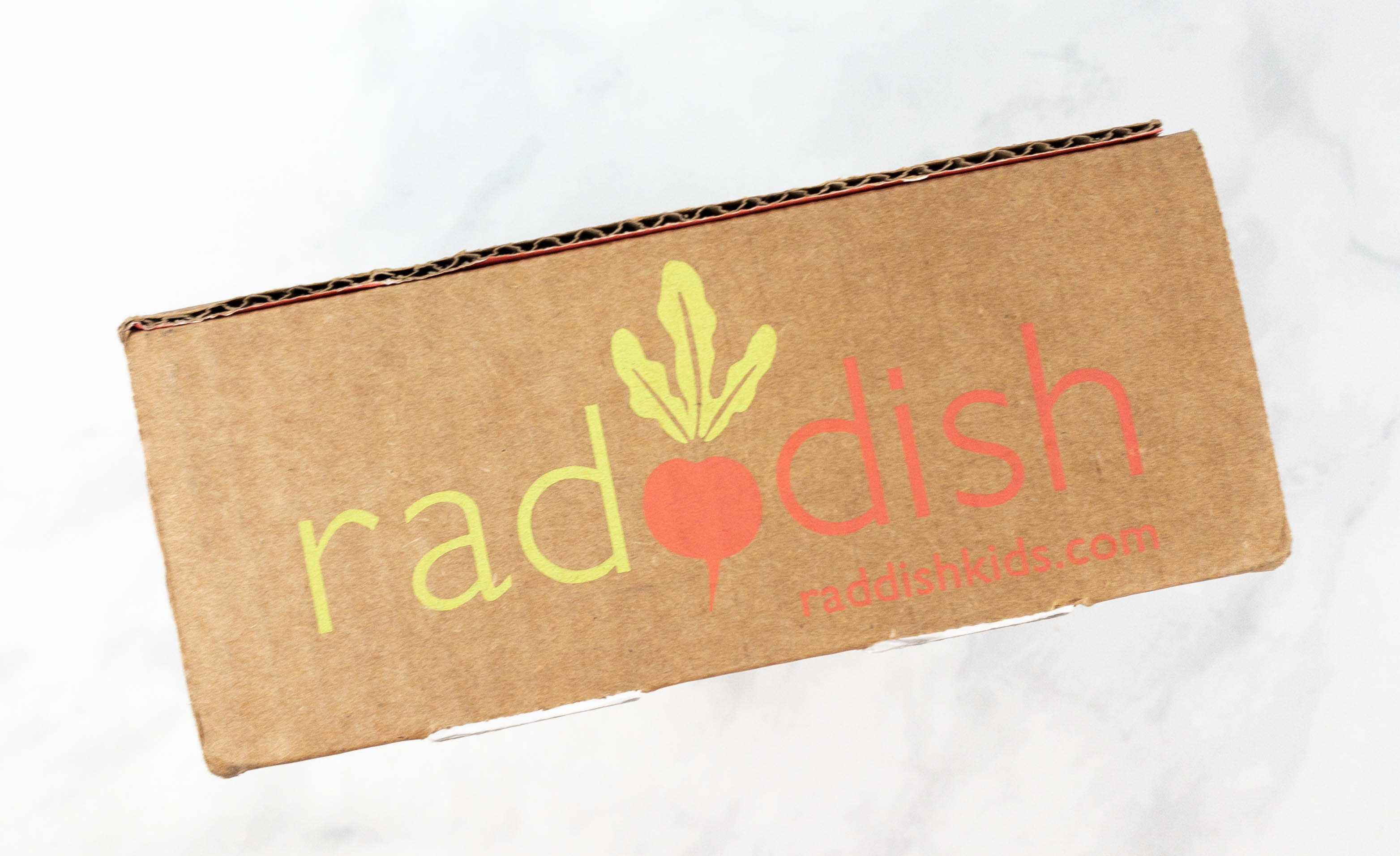 The box came in perfect condition!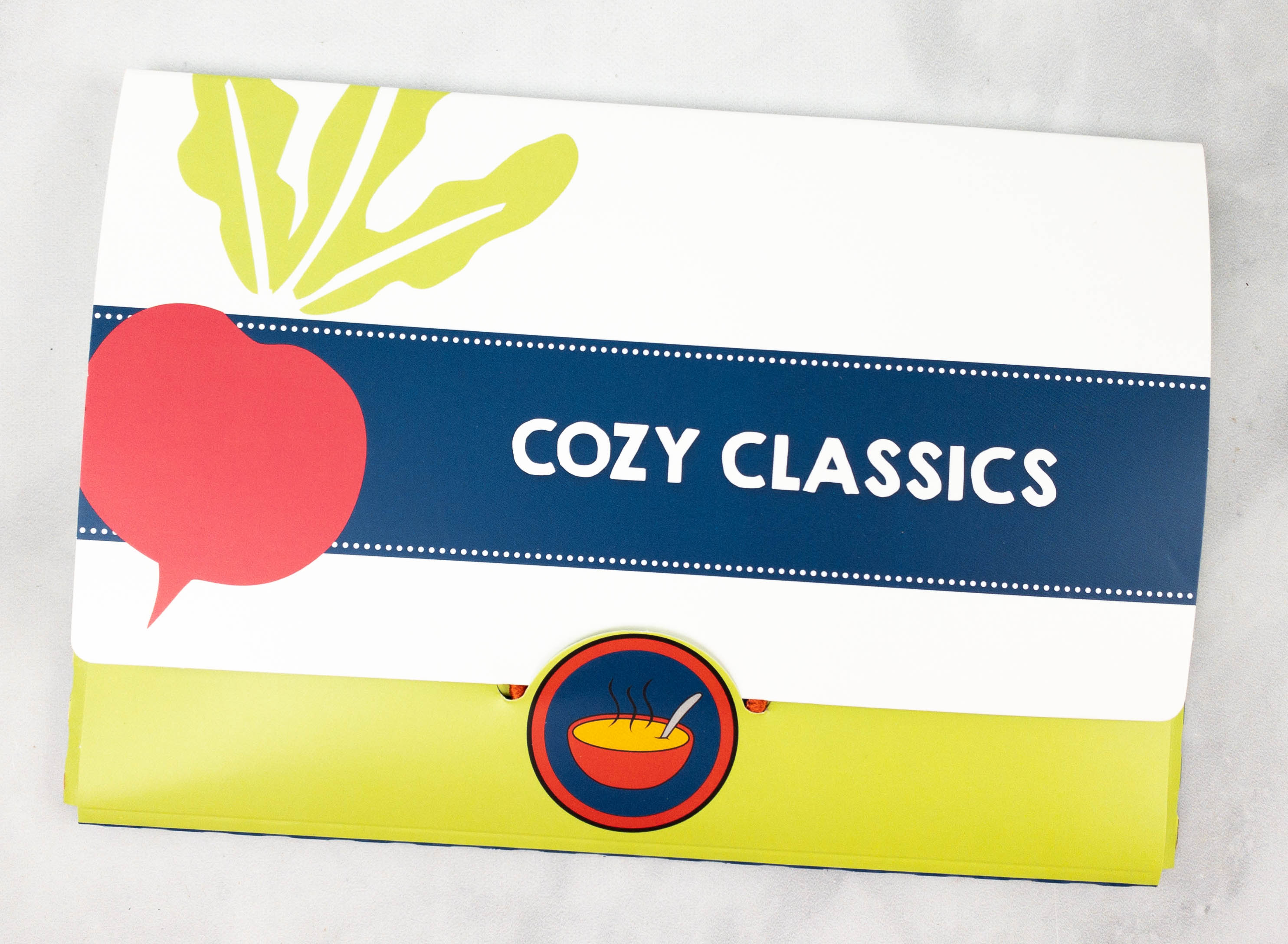 This month's theme is COZY CLASSICS! Inside the envelope are small cards containing some culinary skill lessons, guides with fun and exciting activities.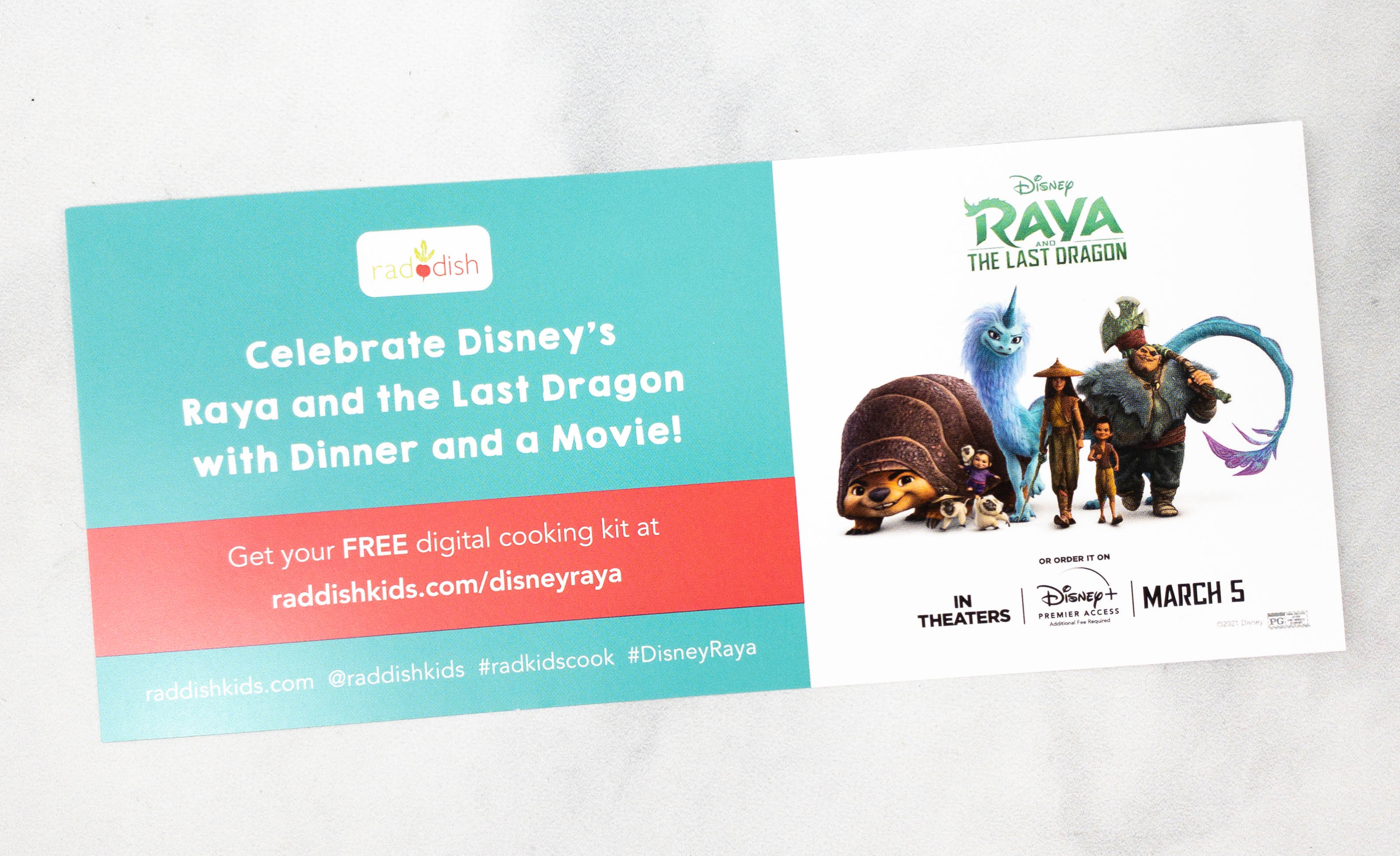 This month, subscribers get a free Digital Cooking Kit featuring Disney's new film, Raya and the Last Dragon!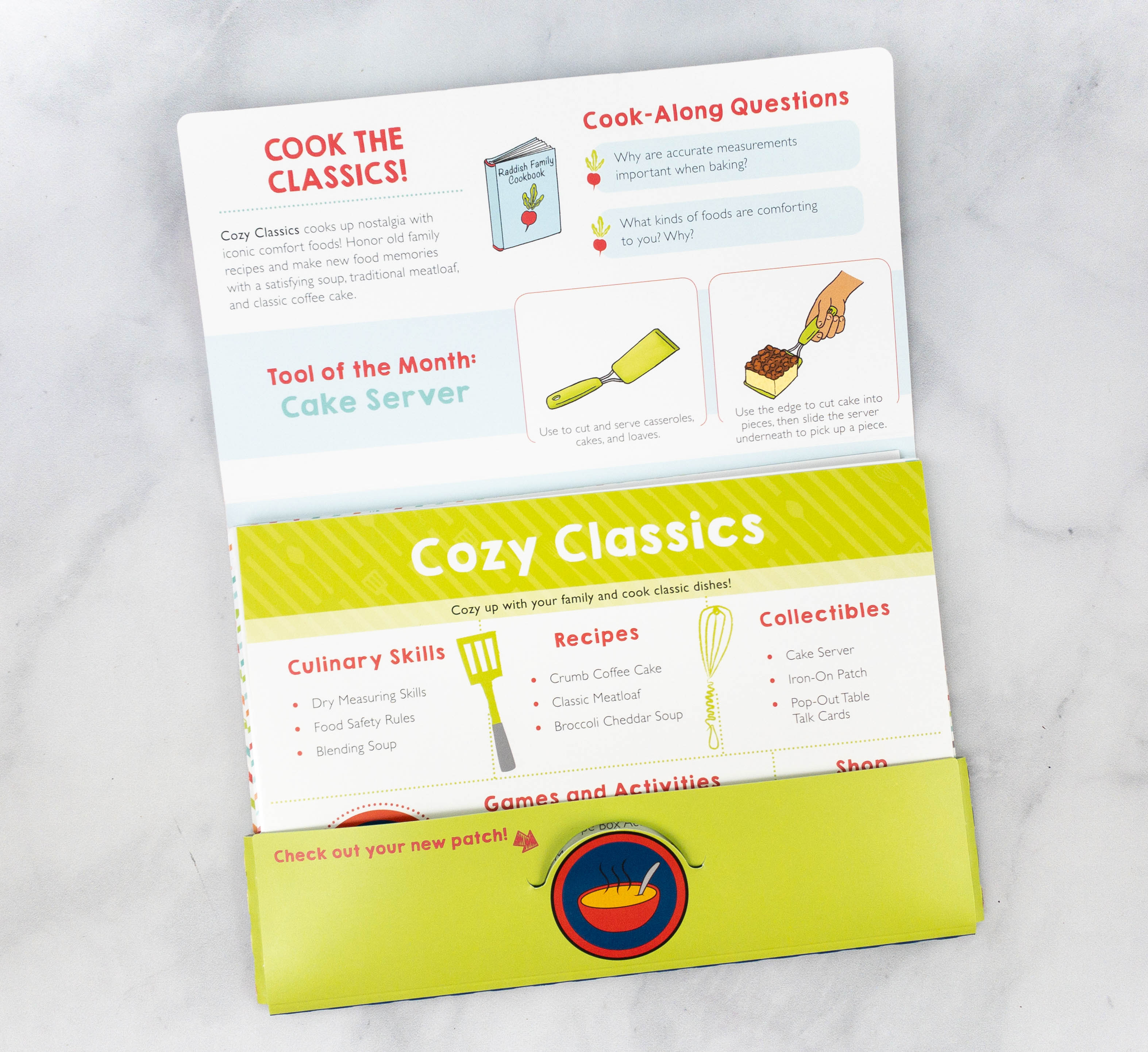 They also have bonus content on their website, called Bonus Bites, which includes a Spotify playlist that the kids can listen to while cooking, dietary modifications for the recipes in the box, and even lesson plans to accompany the kit.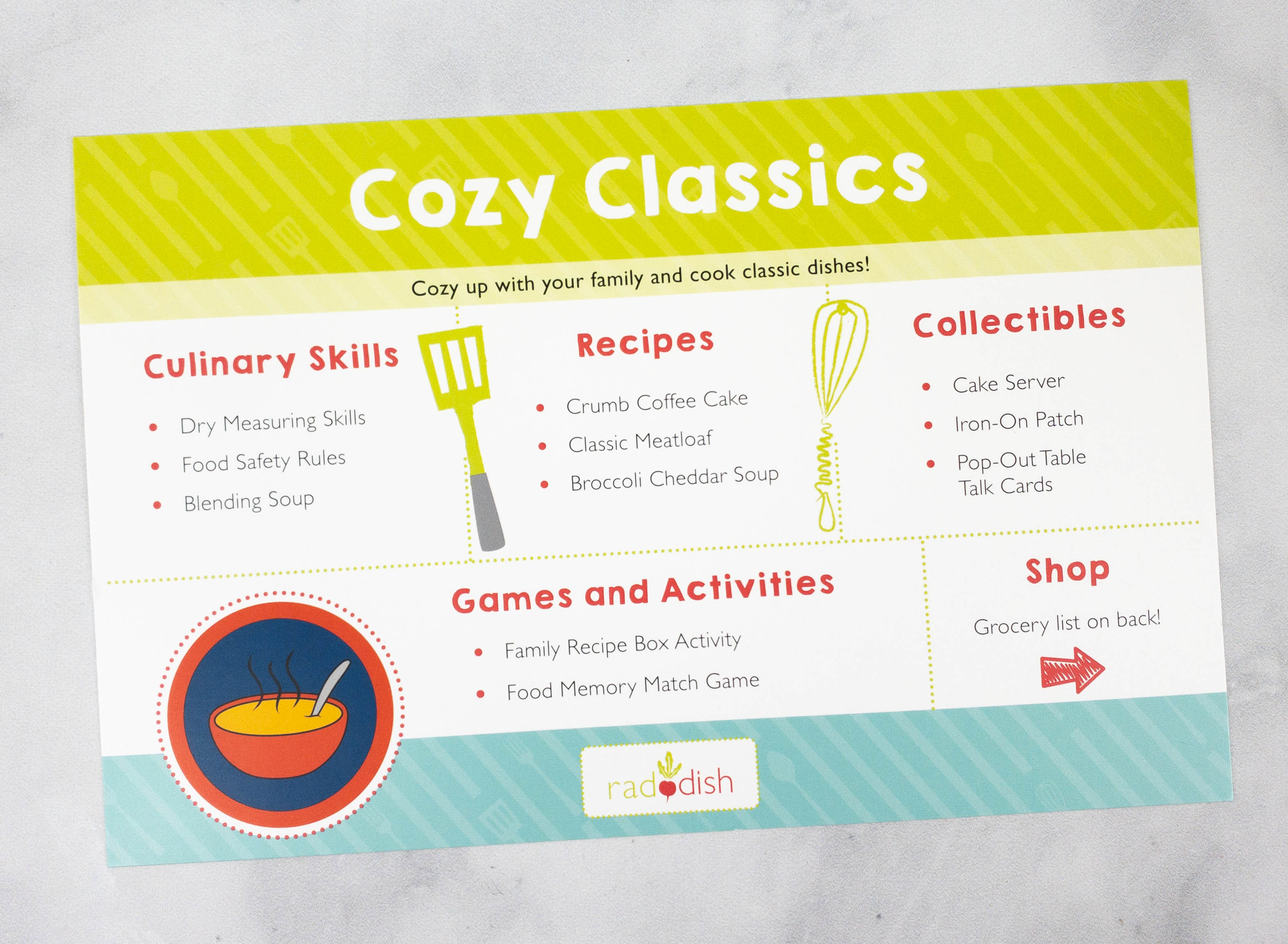 It lists all the culinary skills your kids will be acquiring, the recipe names, collectibles, and other games and activities.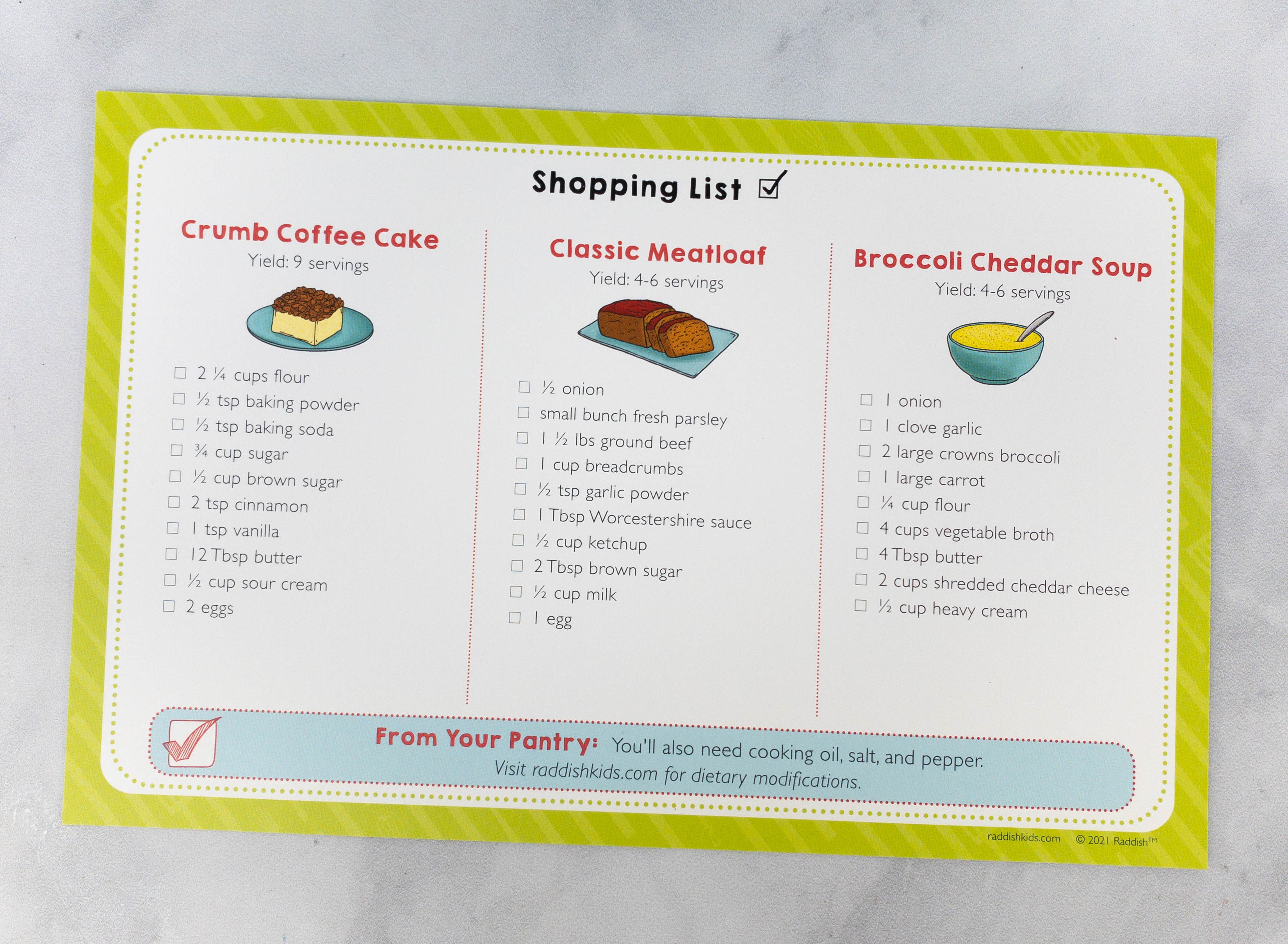 The back of the card provides a complete grocery list for all the featured recipes this month. The recipes are Crumb Coffee Cake, Classic Meatloaf, and Broccoli Cheddar Soup.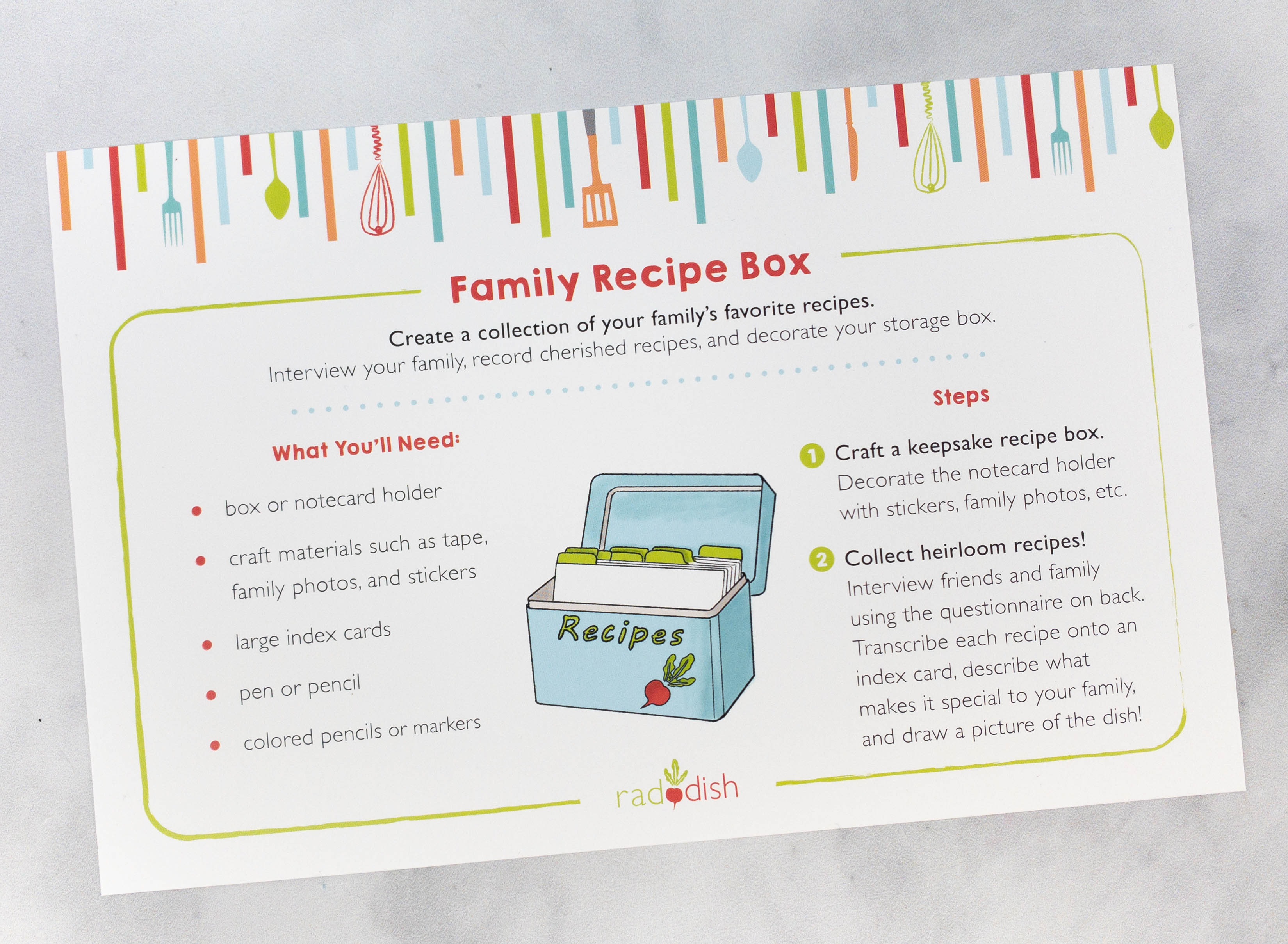 There's also a card that features instructions on how to make your own Family Recipe Box!
The flipside has a little questionnaire to give you an idea on what information you need to put on your recipe cards.
Here's another exciting board game that the kids can try, the Raddish Food Memory Match!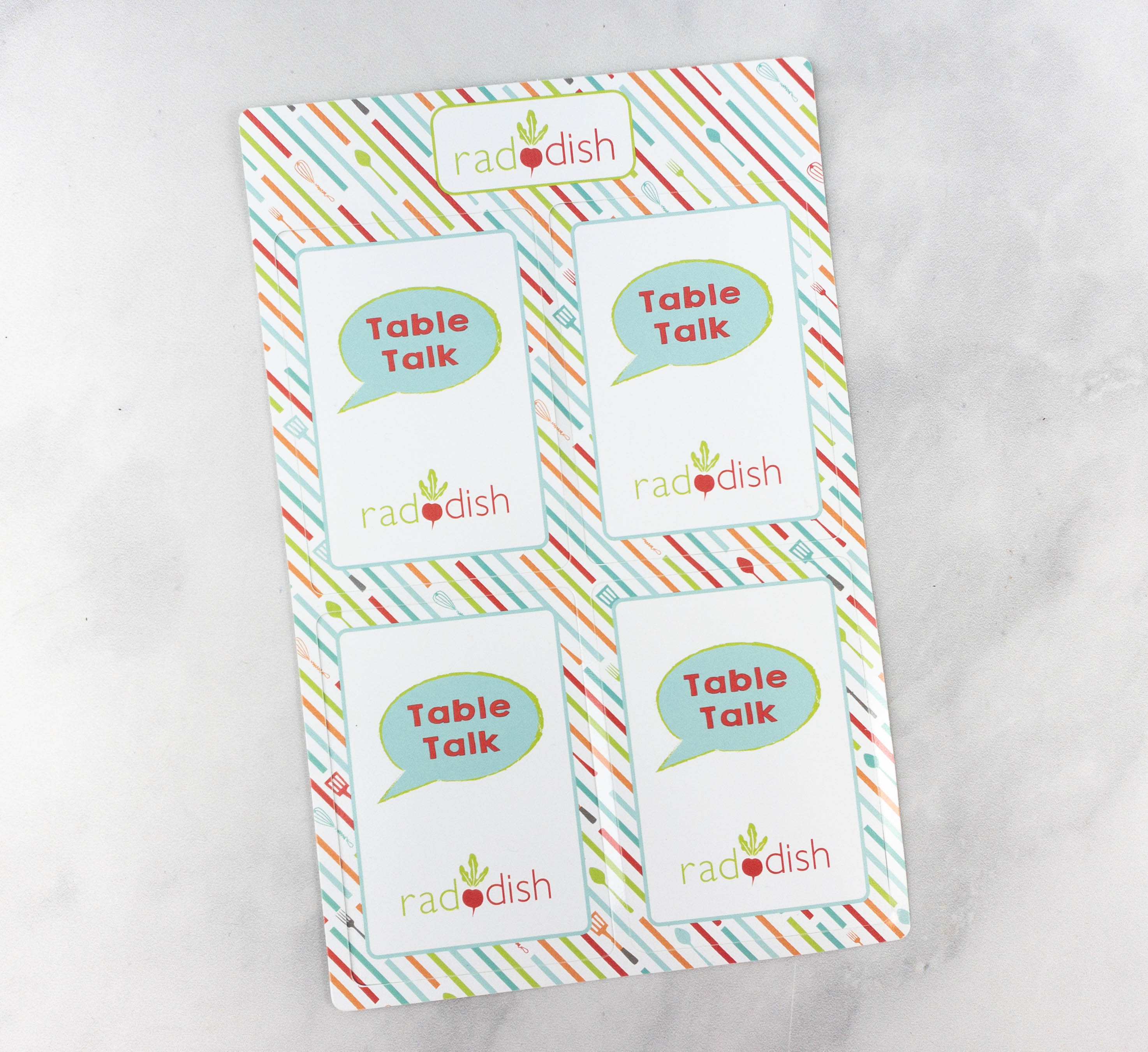 Each box also includes exclusive Table Talk conversation starter cards.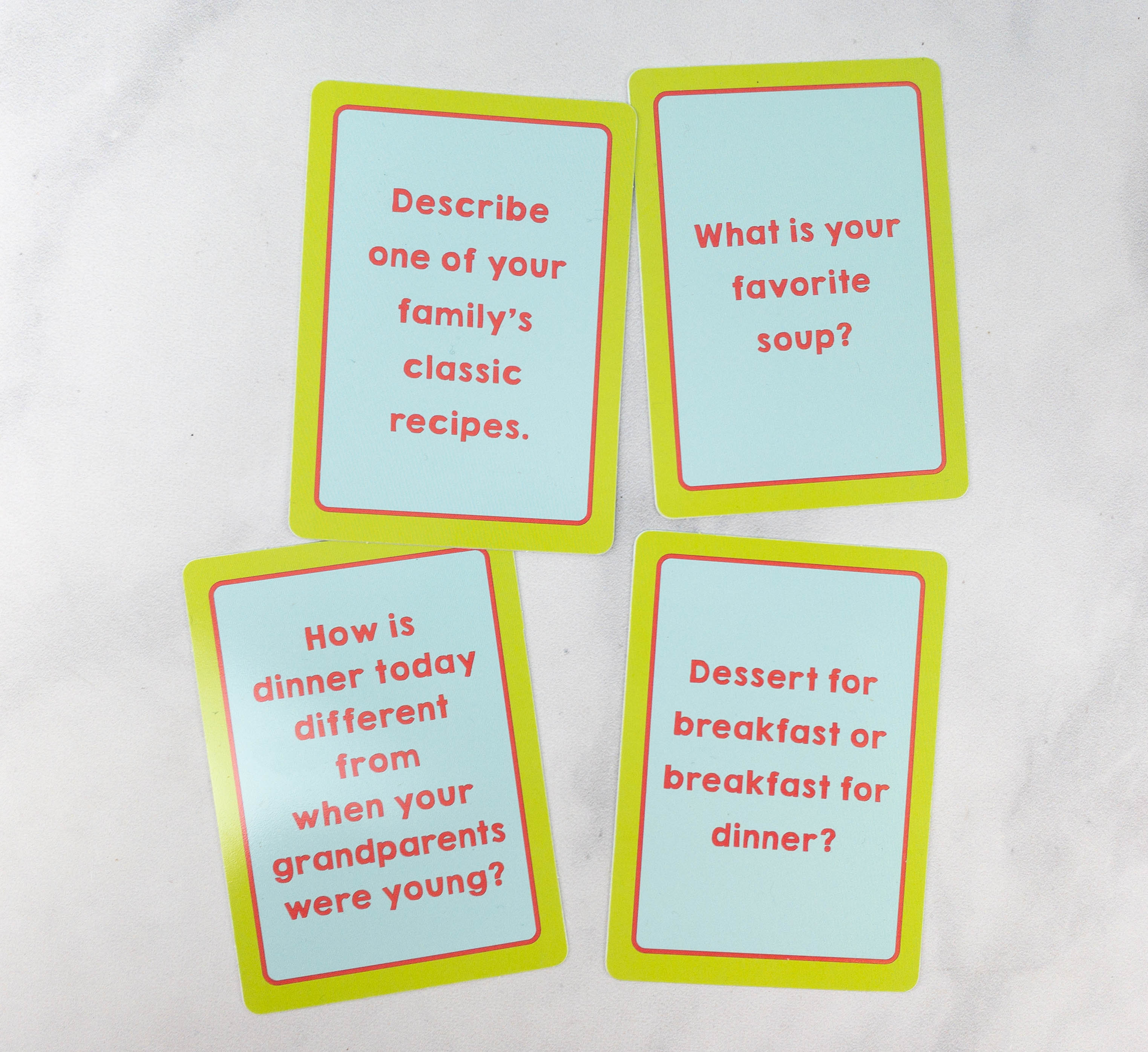 The cards contain questions for a great table talk conversation. They come in a sheet and you can easily tear them down.
Everything in my March 2021 box!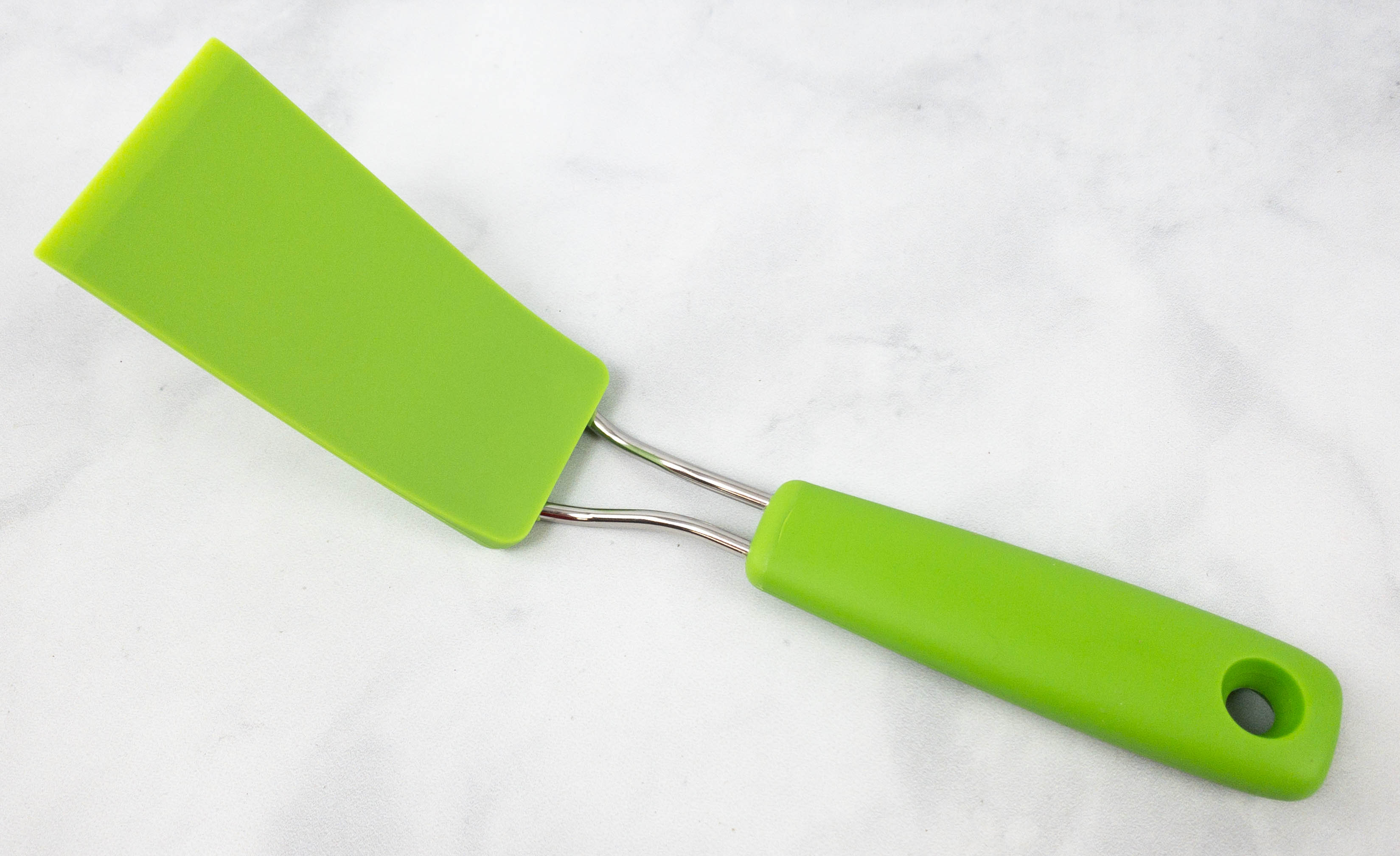 This cake server is this month's featured tool.
Another bonus item is a patch and it represents this month's theme.
Here are this month's recipe guides!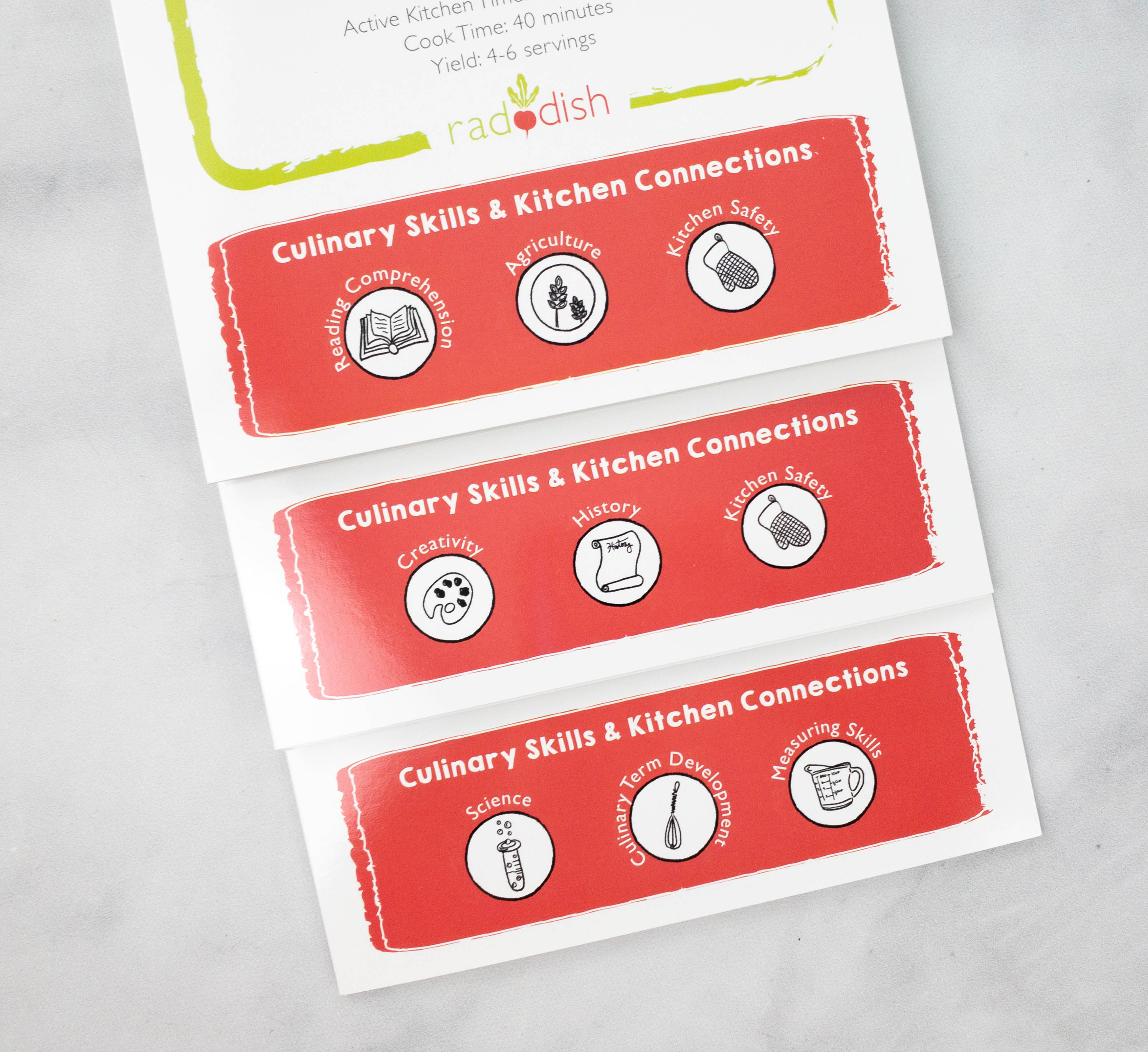 Each recipe has corresponding culinary skills and kitchen connections.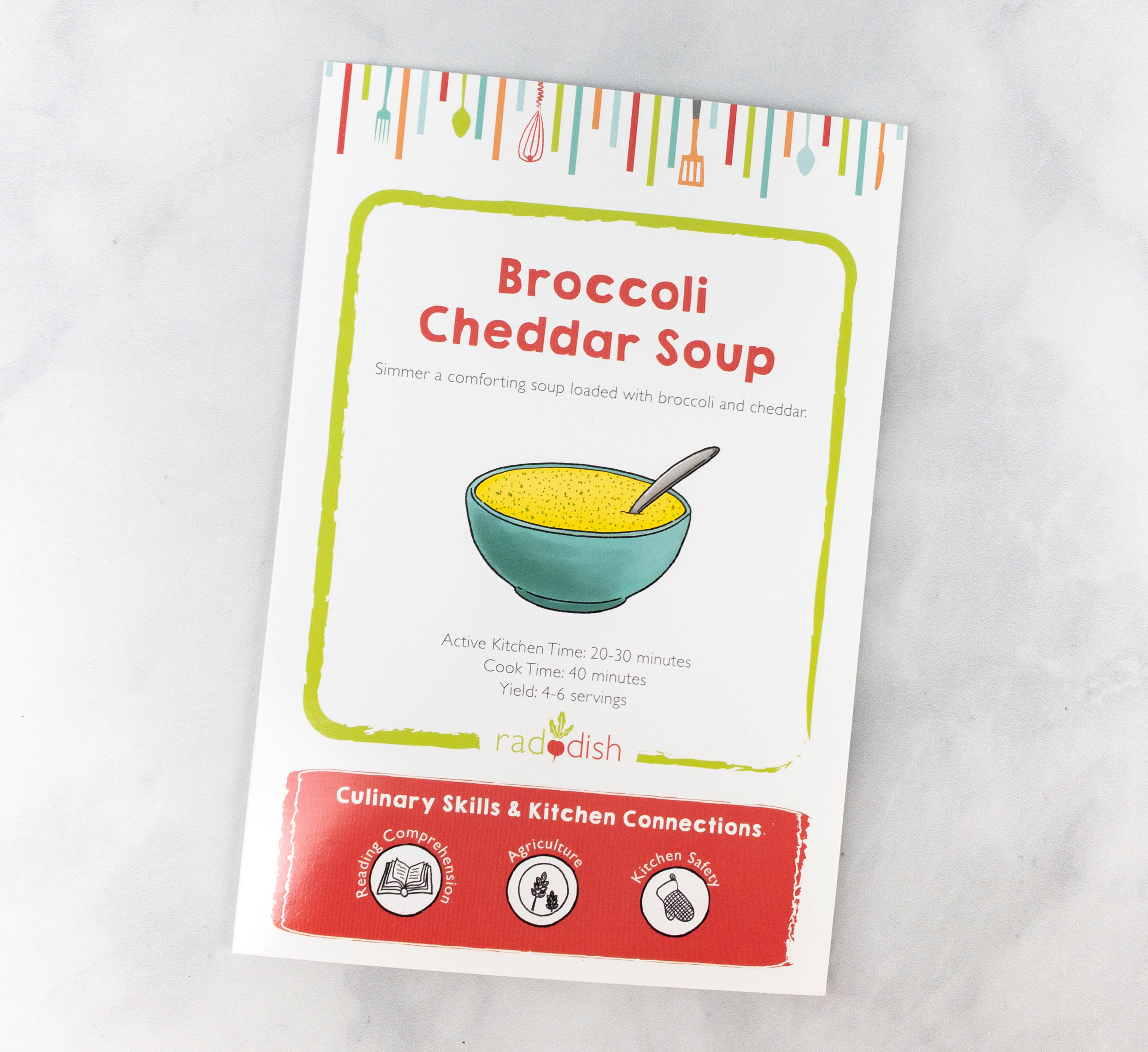 Broccoli Cheddar Soup. This soup recipe uses healthy broccoli and delicious cheddar cheese. It makes a great comfort food!
Active Kitchen Time: 20-30 minutes

Cooking Time: 40 minutes

Yield: 4-6 servings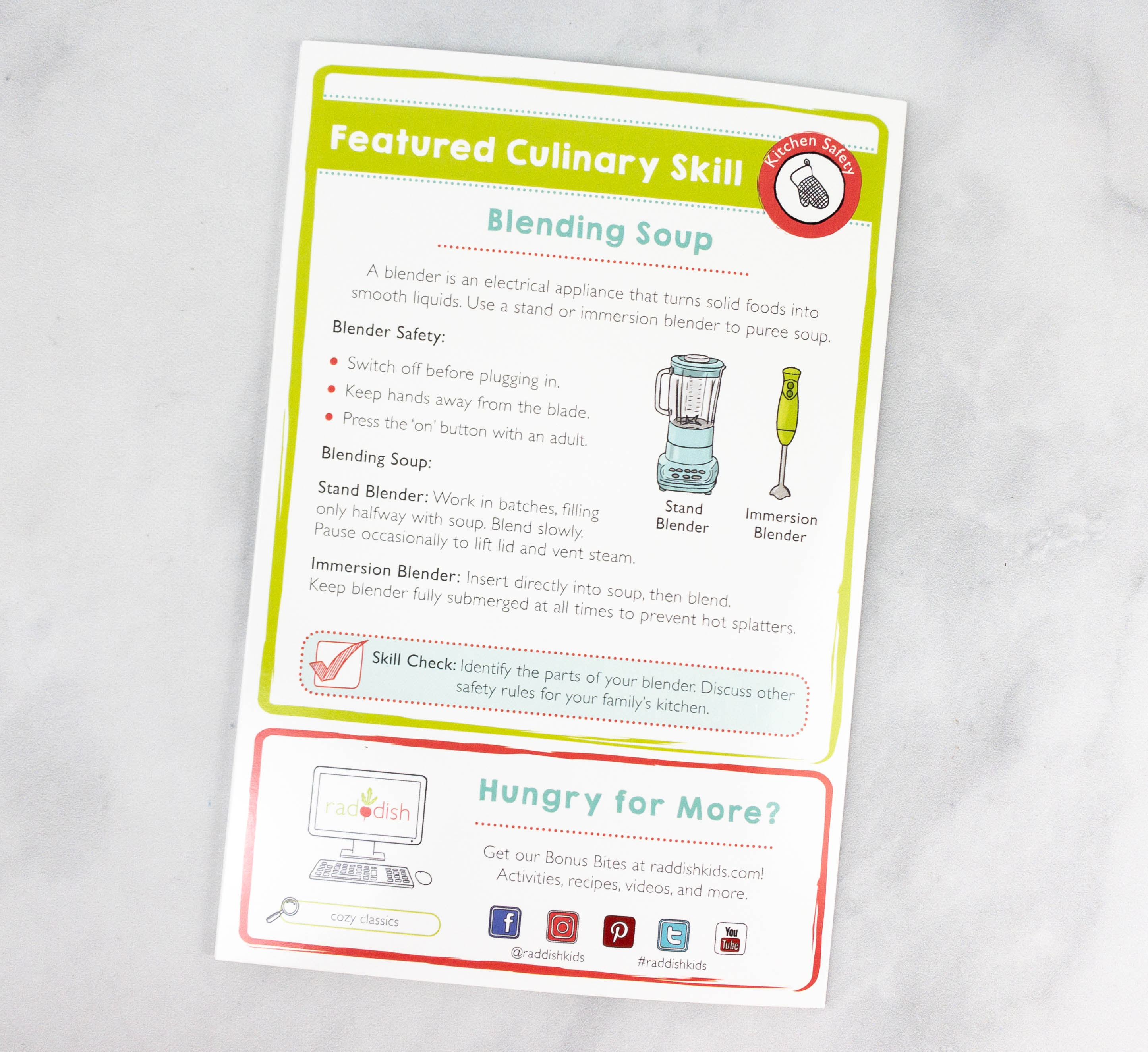 The recipe teaches kids about how to use a blender properly. The blender is needed to make the soup and you can use either a stand blender or an immersion blender.
Inside the booklet are the ingredients and the needed tools. There's also a portion that lists facts about broccoli, the recipe's main ingredient! Also included is a mini scramble game that kids can play while waiting for the soup to be cooked.
Ingredients for this recipe include onion, garlic, broccoli, carrot, butter, kosher salt, cup flour, black pepper, vegetable broth, shredded cheddar cheese, and heavy cream.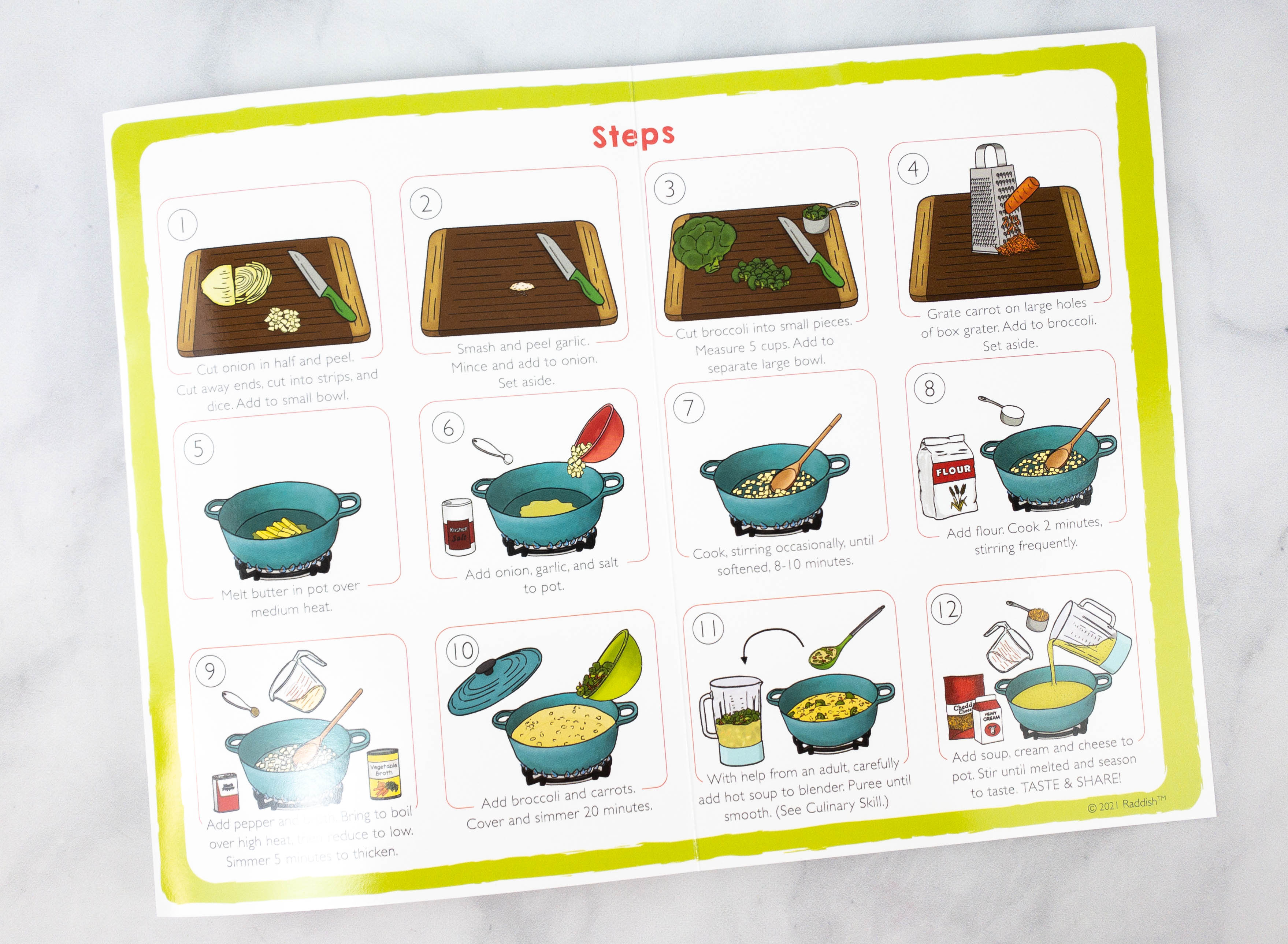 Each step in the recipe guide is accompanied by an illustration!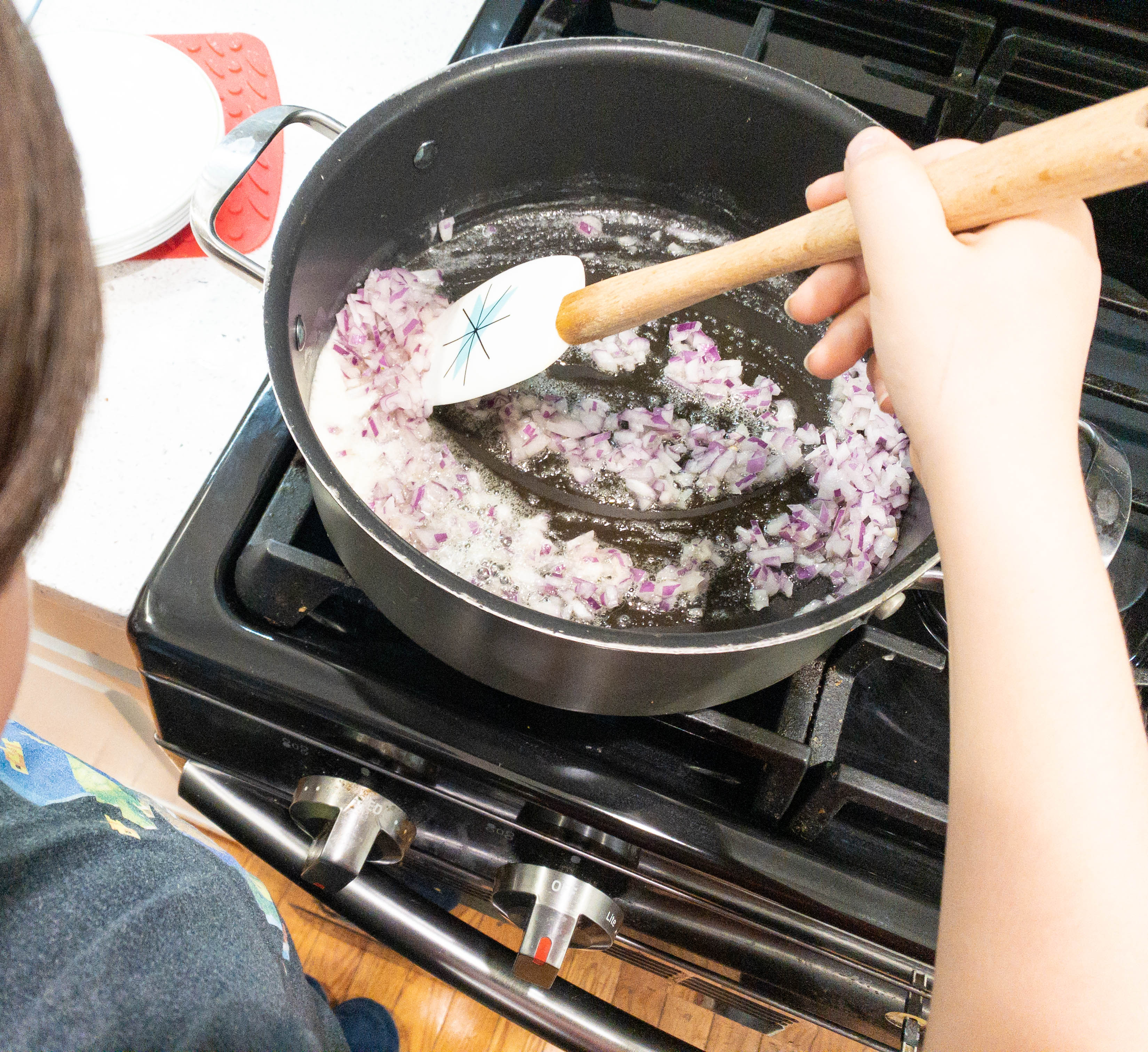 My son started by sautéing the onion, garlic, and salt over butter in a pan. He stirred occasionally until the onions became soft and transparent. After that, he added the flour and cooked it for a few more minutes.
Then, he added the vegetable broth and seasoned with more salt and pepper. The next step is to let it simmer for a few minutes while stirring until the soup thickened up a bit.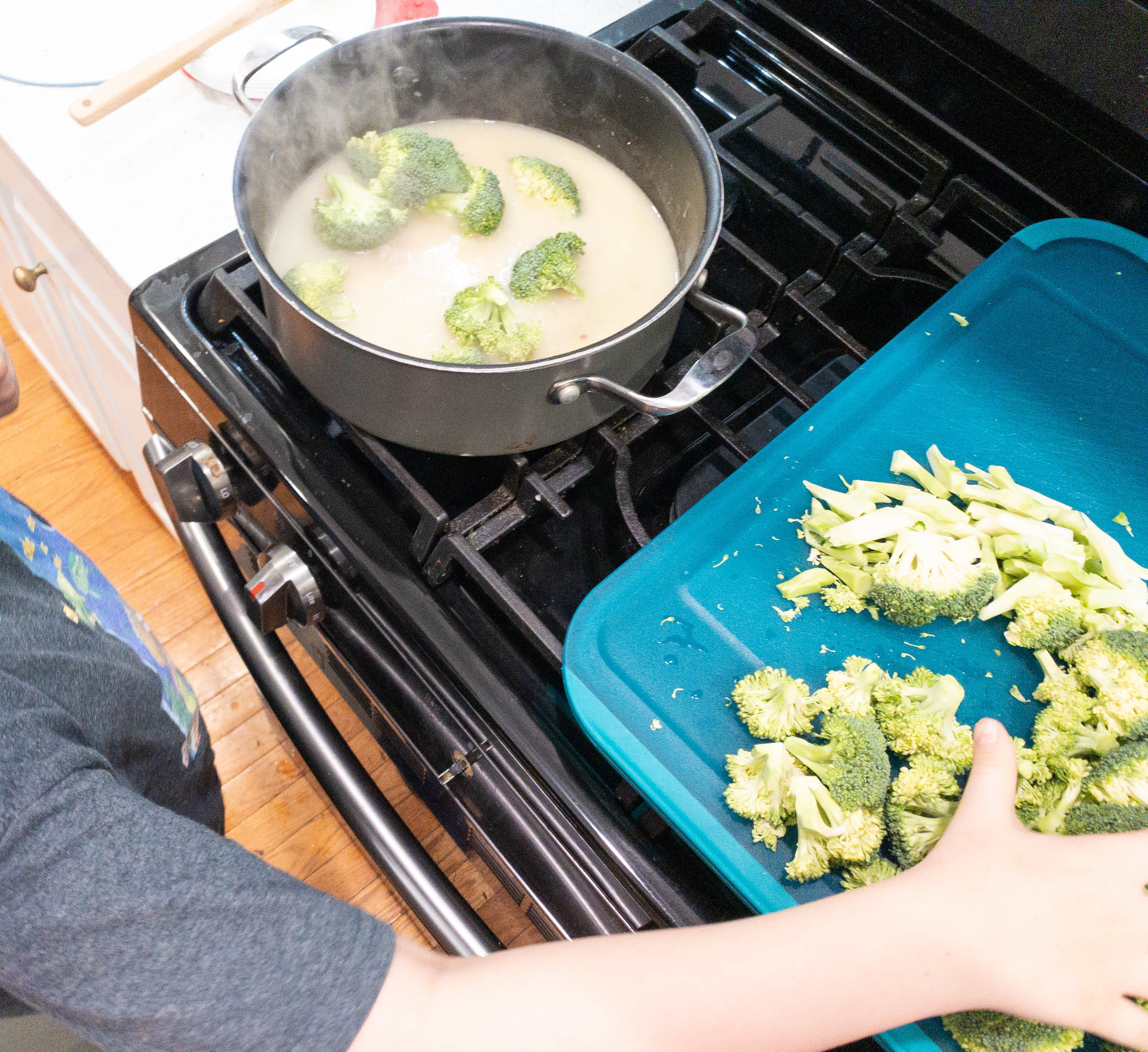 Afterward, my son added the chopped broccoli and carrots and waited for 20 minutes more to give the vegetables some time to cook.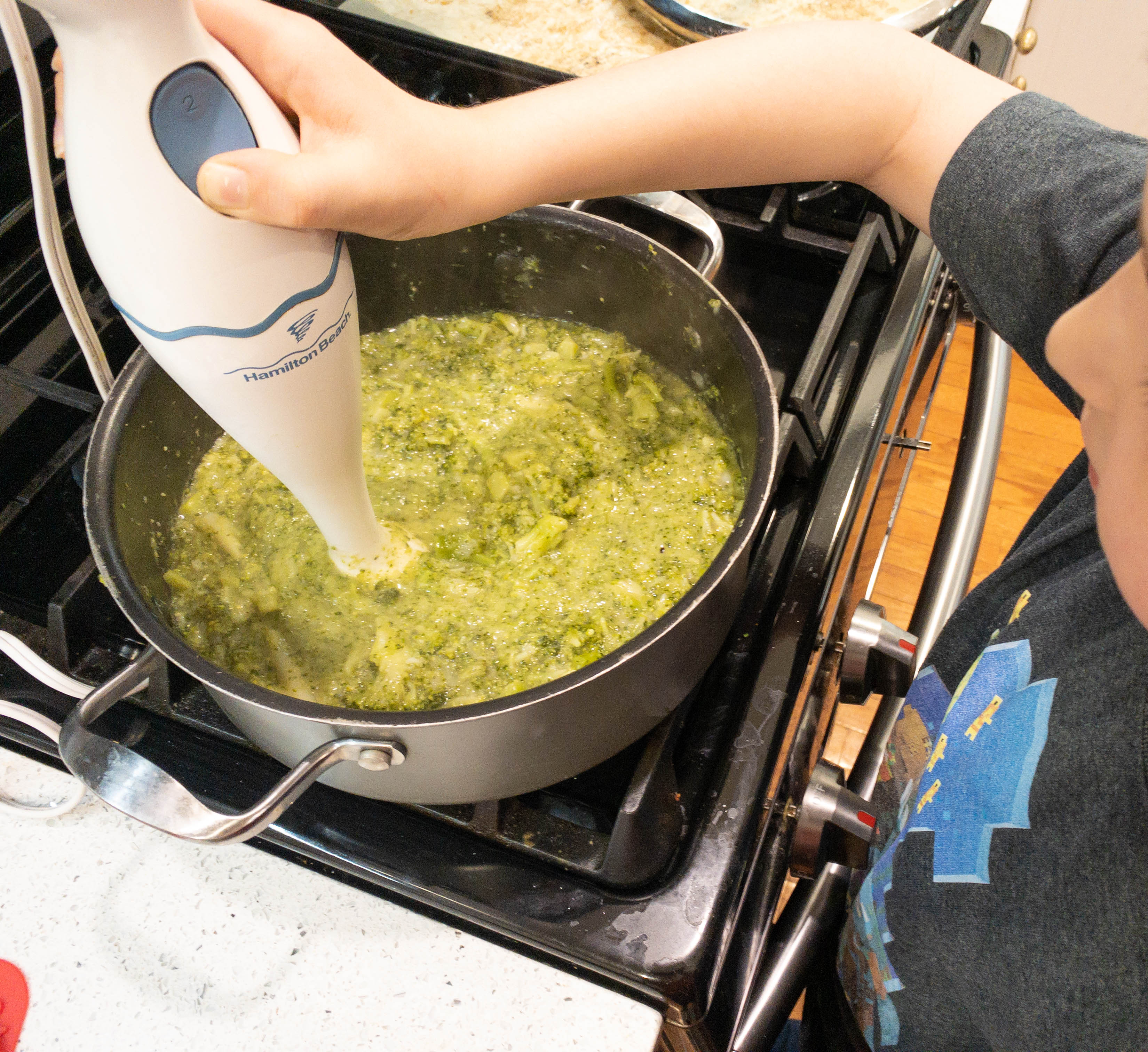 Now, using an Immersion Blender, I guided my son while he carefully pureed the soup. He made sure all the big broccoli chunks are nice and finely blended. Just like the instructions said, kids need to be careful in using this to avoid splatters. My son was really careful in doing this making sure that the power is off whenever he lifts the wand.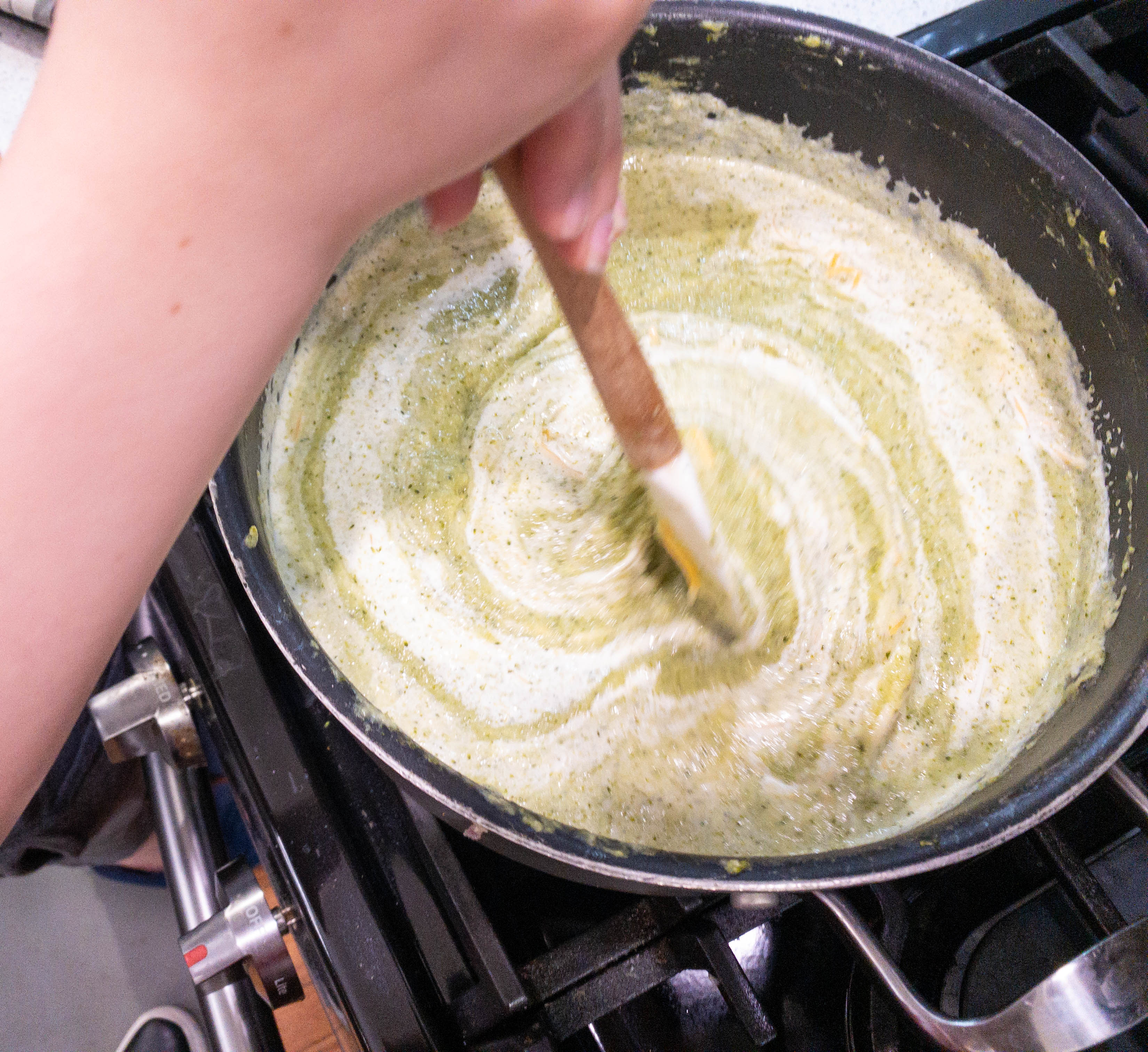 Once everything is well-blended, it's now time to add the sour cream and cheese and stir until the cheese has fully melted and the sour cream has been fully incorporated. You can also adjust the salt and pepper seasoning on this part and add more according to your preference.
This is what the finished product looks like!
It's simple but it's packed with flavor and nutrients! It's a very hearty soup that the kids loved! It's a great way to get the kids to eat their greens because kids love cheese and soup so why not make a healthy meal out of it? This is really good and my son had a great time learning about kitchen safety!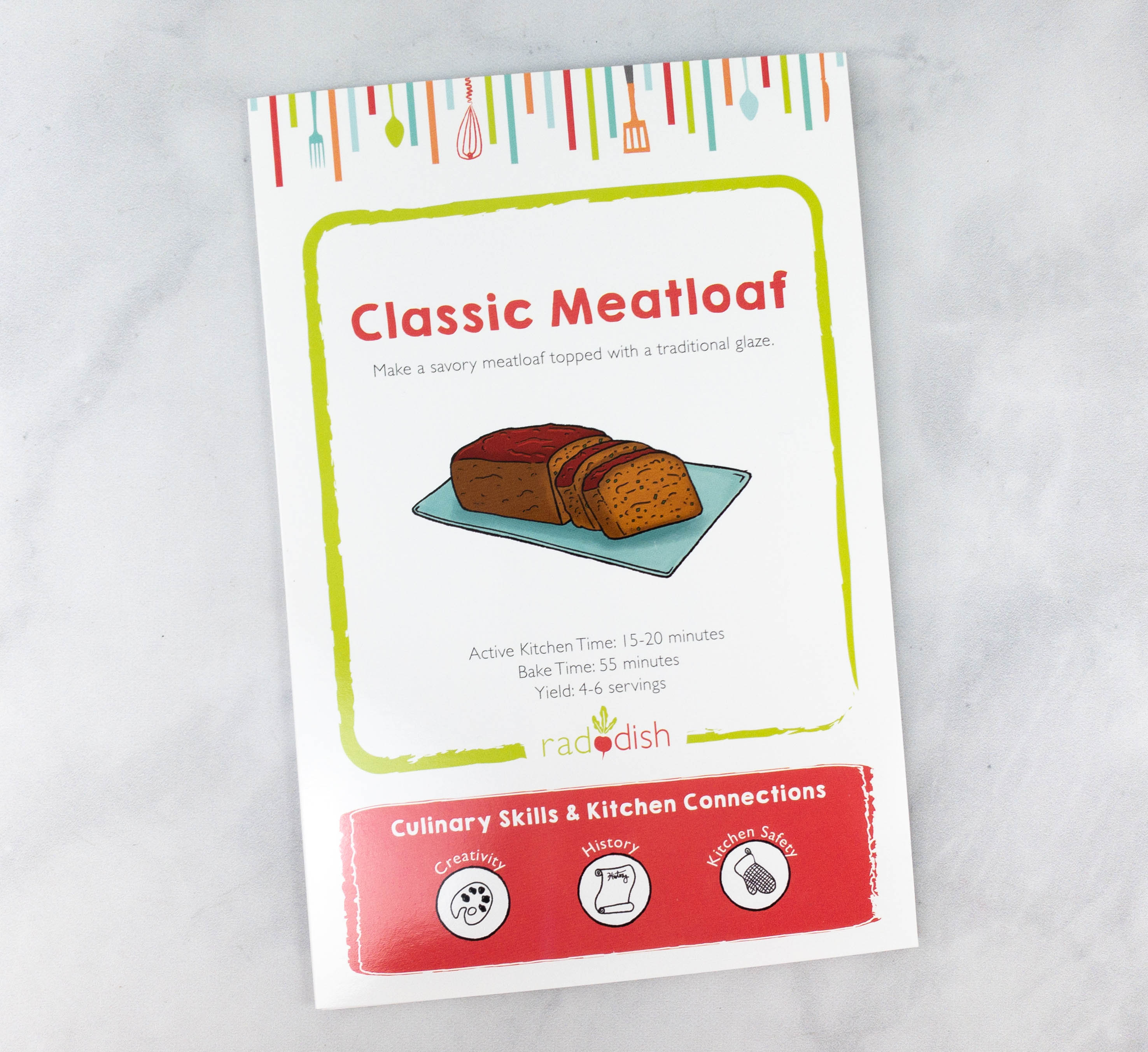 Classic Meatloaf. The next dish is great for family dinners! It's a savory meatloaf with a traditional glaze.
Average Kitchen Time: 15-20 minutes

Bake Time: 55 minutes

Yield: 4-6 servings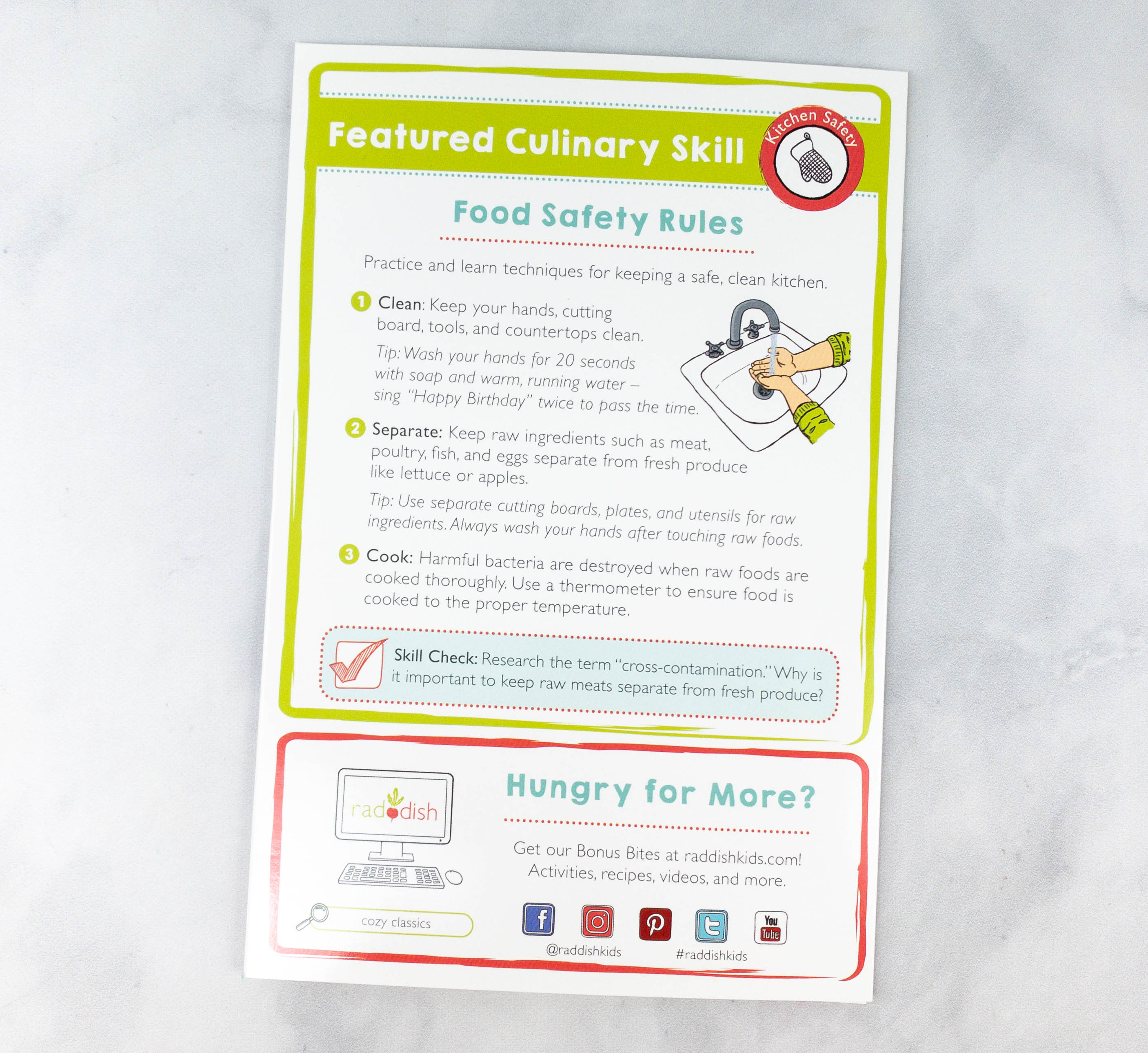 This time, the kids can learn all about food safety, including keeping the kitchen tools clean, separating raw ingredients from the fresh produce, and cooking food thoroughly.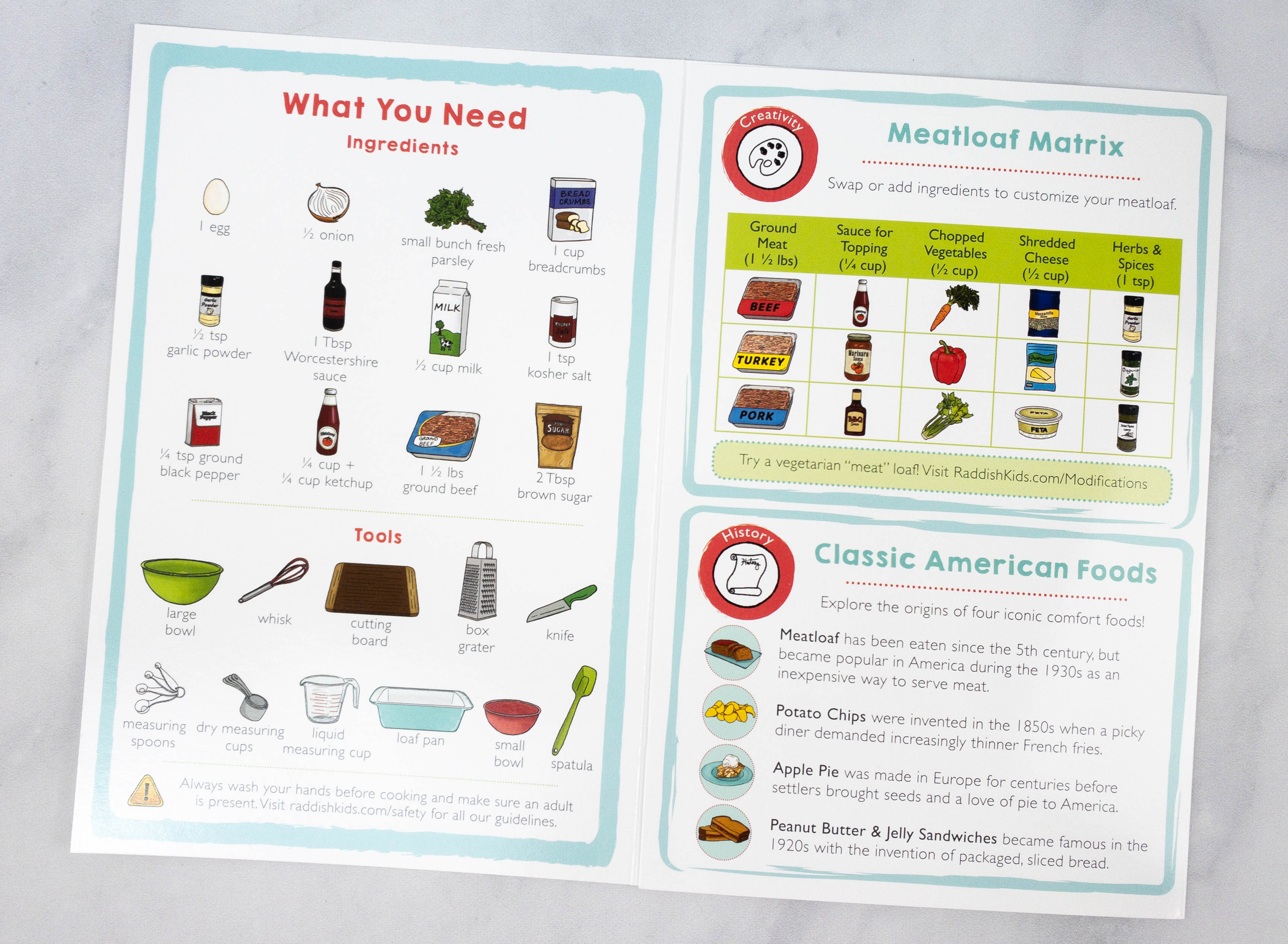 Aside from the ingredients and the needed tools, there's also  short feature on classic American foods, as well as a Meatloaf Matrix where you can swap or add ingredients to customize the meatloaf.
Ingredients include egg, onion, fresh parsley, breadcrumbs, garlic powder, Worcestershire sauce, milk, kosher salt, ground black pepper, ketchup, ground beef, and brown sugar.
The first thing to do is to mix egg with onion and minced parsley, followed by breadcrumbs, garlic powder, Worcestershire sauce, milk, salt, pepper, and ketchup.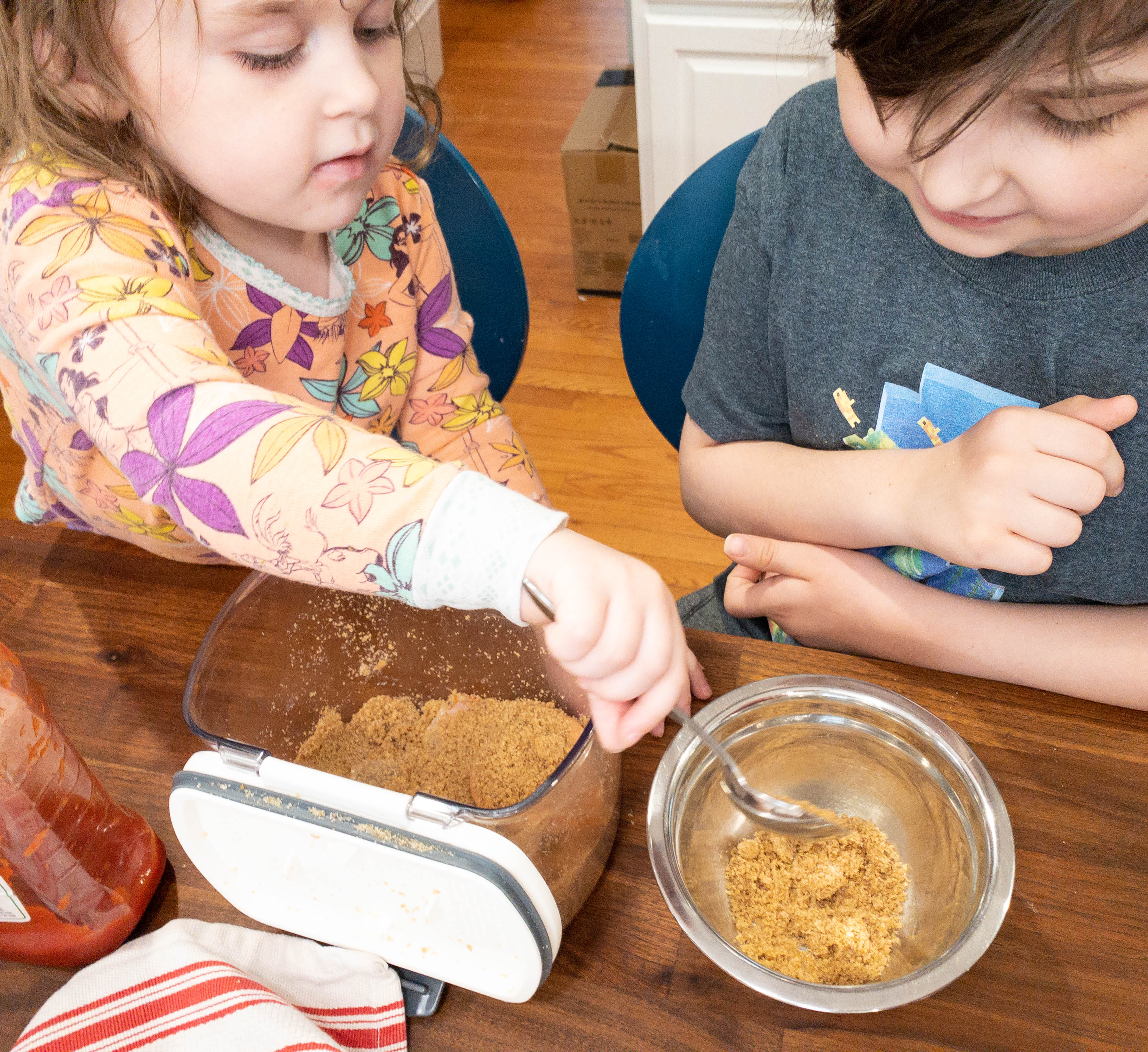 Once the egg mixture is done, my kids combined it with the ground beef and placed it in a loaf pan. They also prepared the sauce which is a mixture of brown sugar and ketchup.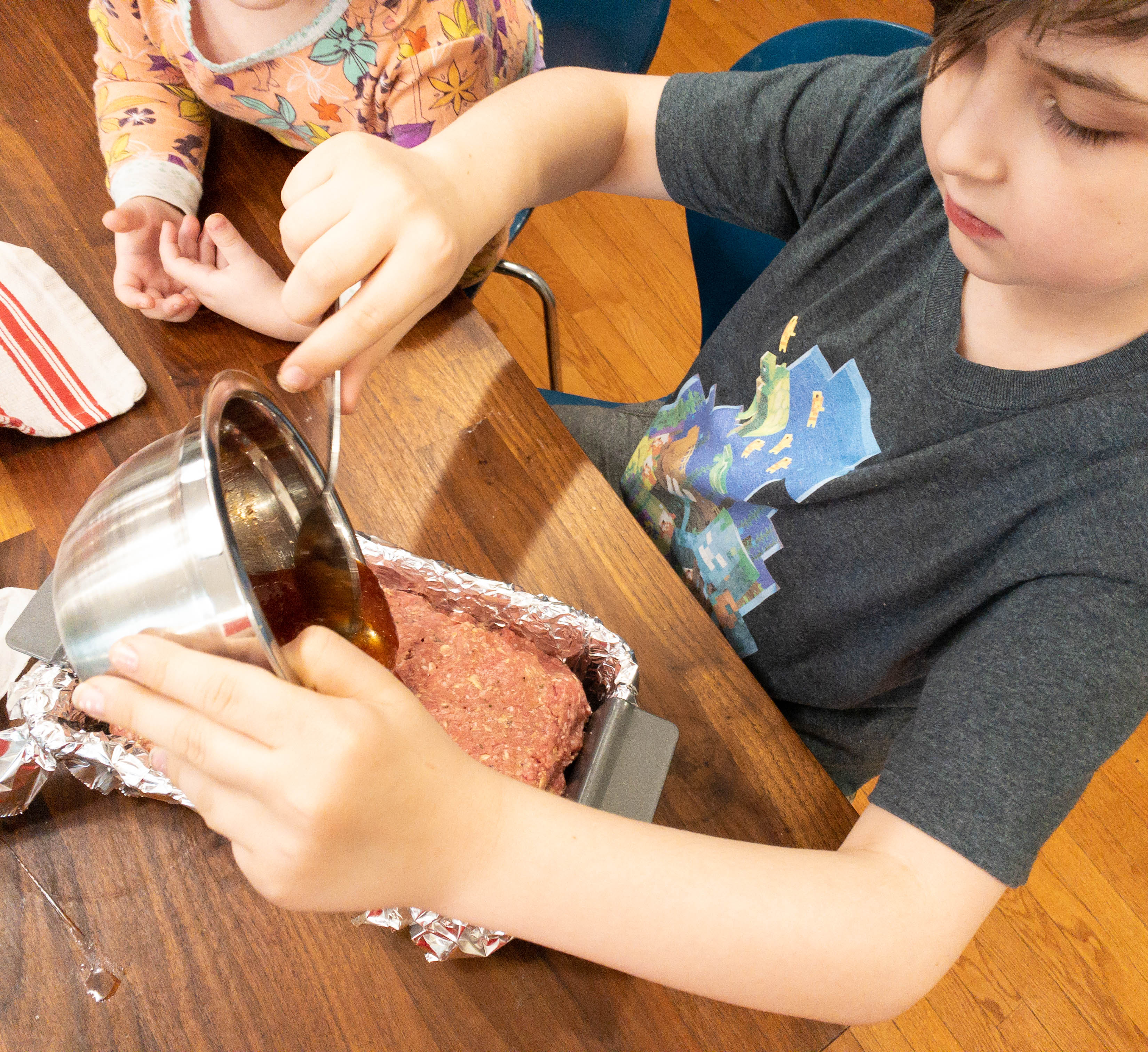 My son put the ketchup mixture evenly across the meatloaf, making sure everything is covered before asking my help to pop it inside the oven.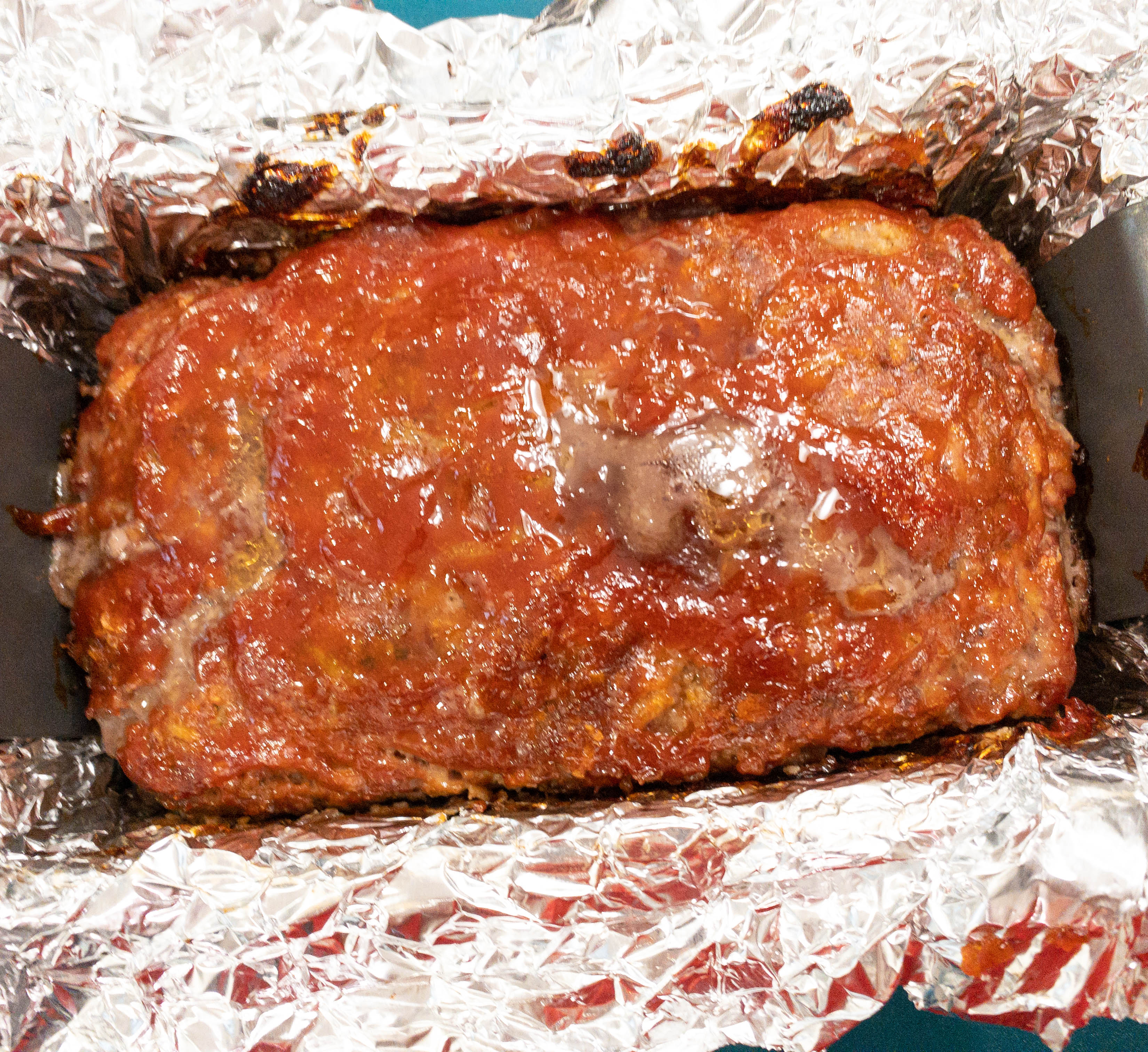 After about 55 minutes of baking, here's what the finished product looks like!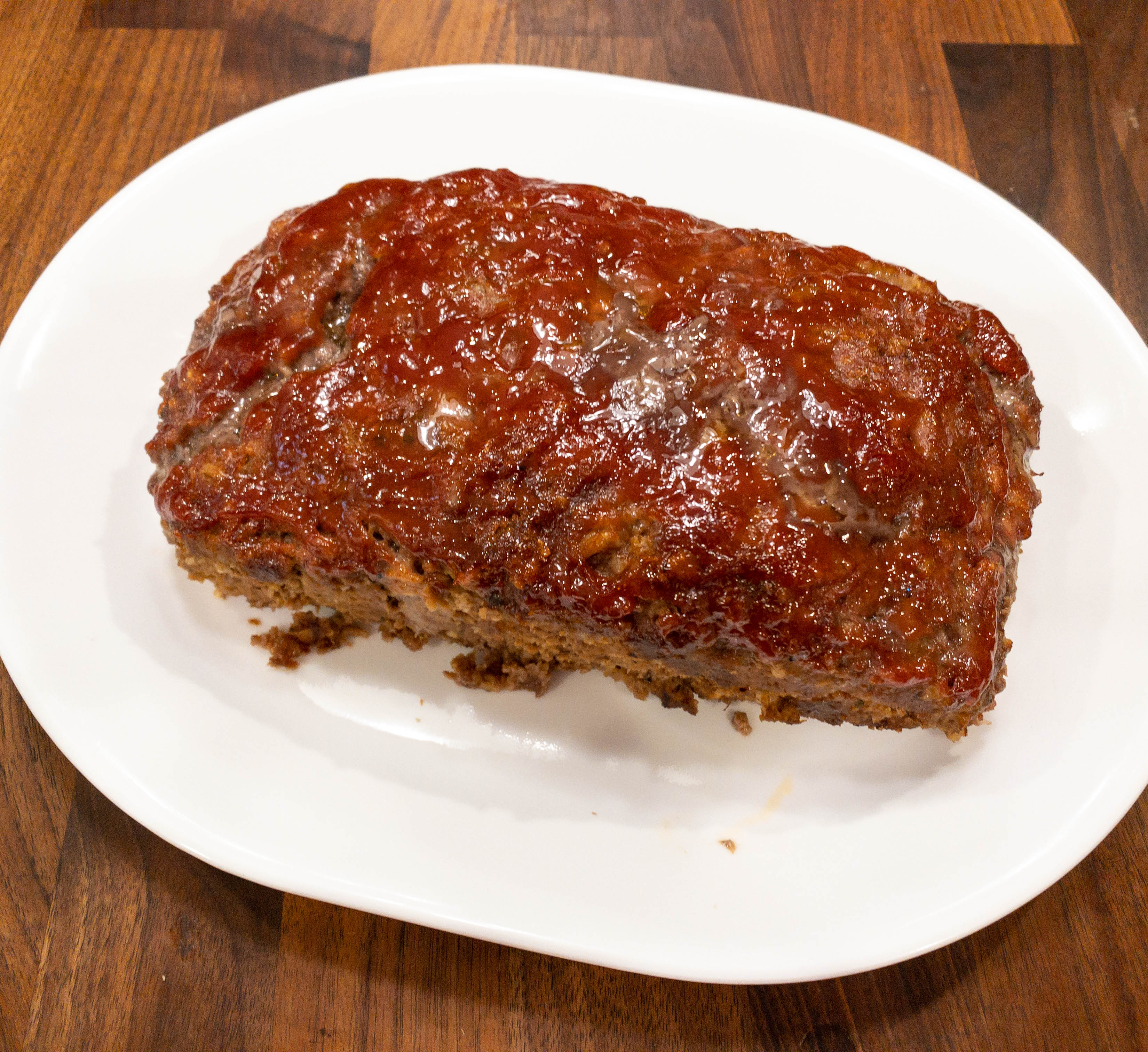 Make sure to let it rest and cool for about 15 minutes or so before slicing it.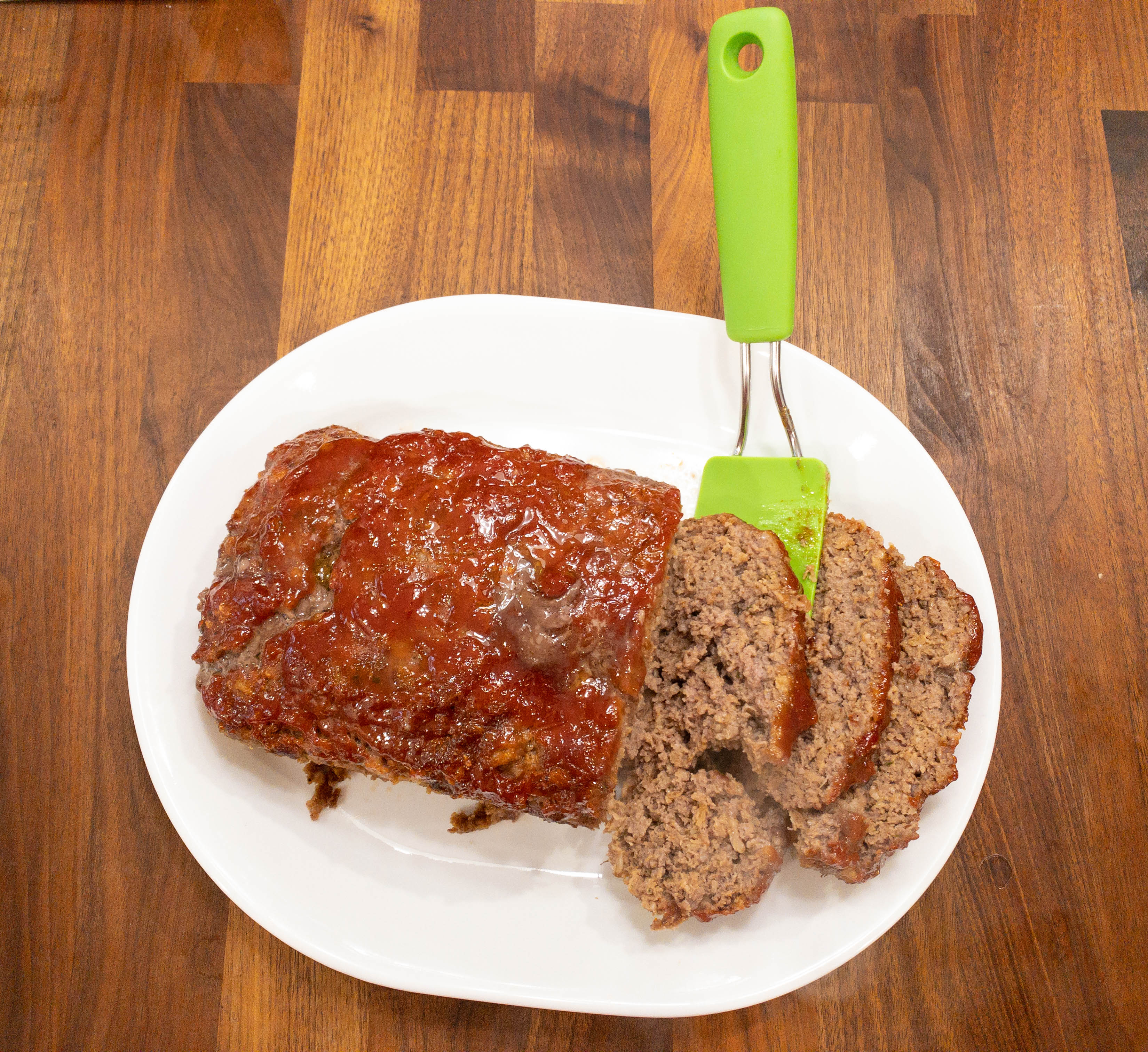 The classic meatloaf came out really well! This is a yummy recipe with just the right amount of sweetness and my kids really liked it too.
Crumb Coffee Cake. For dessert, here's an easy to bake cake packed with cinnamon crumbles!
Active Kitchen Time: 20-30 minutes

Bake Time: 35 minutes

Yield: 9 servings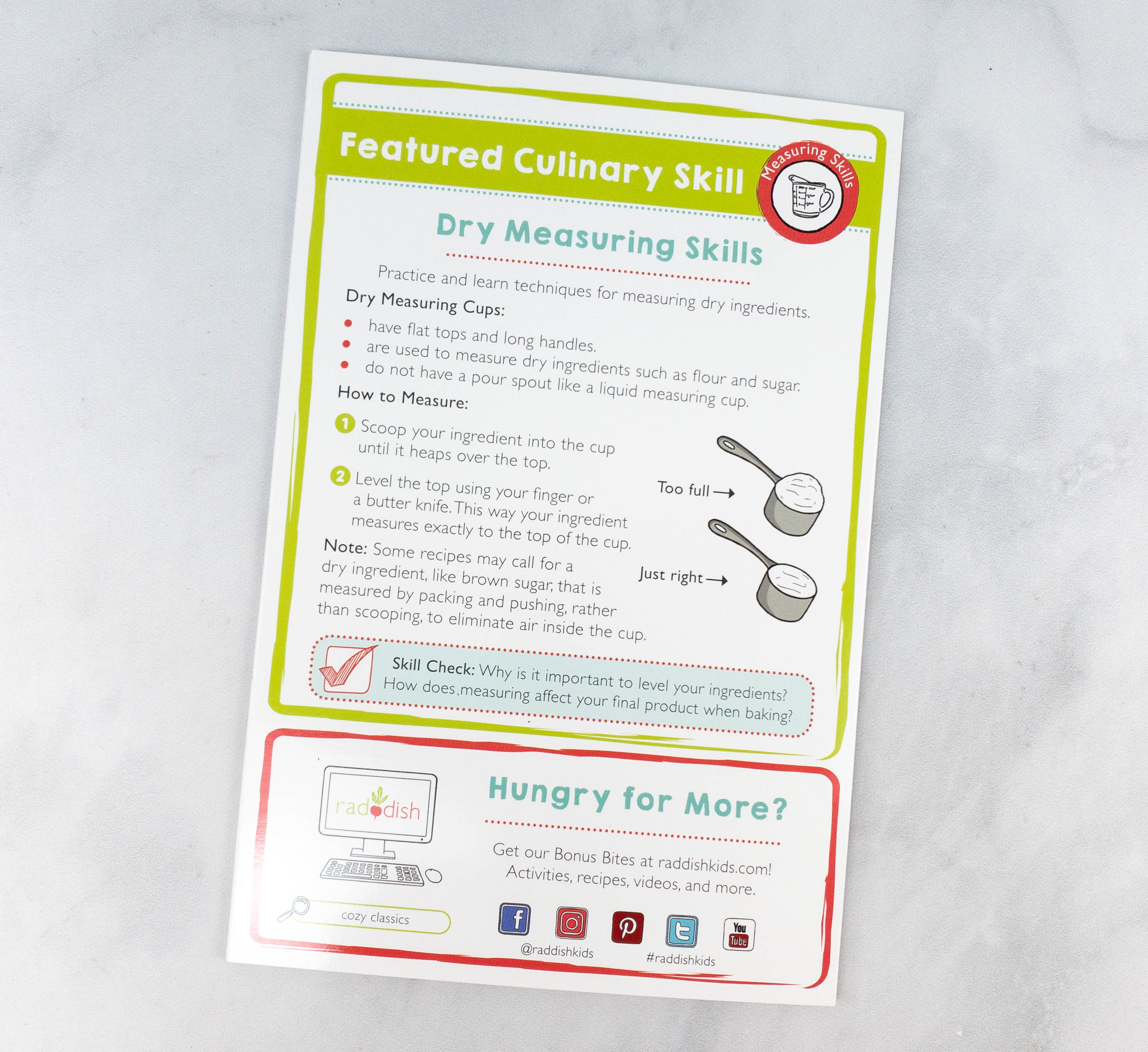 This recipe teaches kids about proper measuring of dry ingredients!
As usual, they provided a list of ingredients and tools. There's also information about baking with butter as well as different kinds of breakfast breads!
For this cake, the ingredients are flour, baking powder, baking soda, kosher salt, butter, sugar, eggs, sour cream, and vanilla. Meanwhile, for the toppings, you'd need butter, brown sugar, cinnamon, flour, and kosher salt.
My kids used an electric mixer for this recipe. They have learned the skill from the previous box.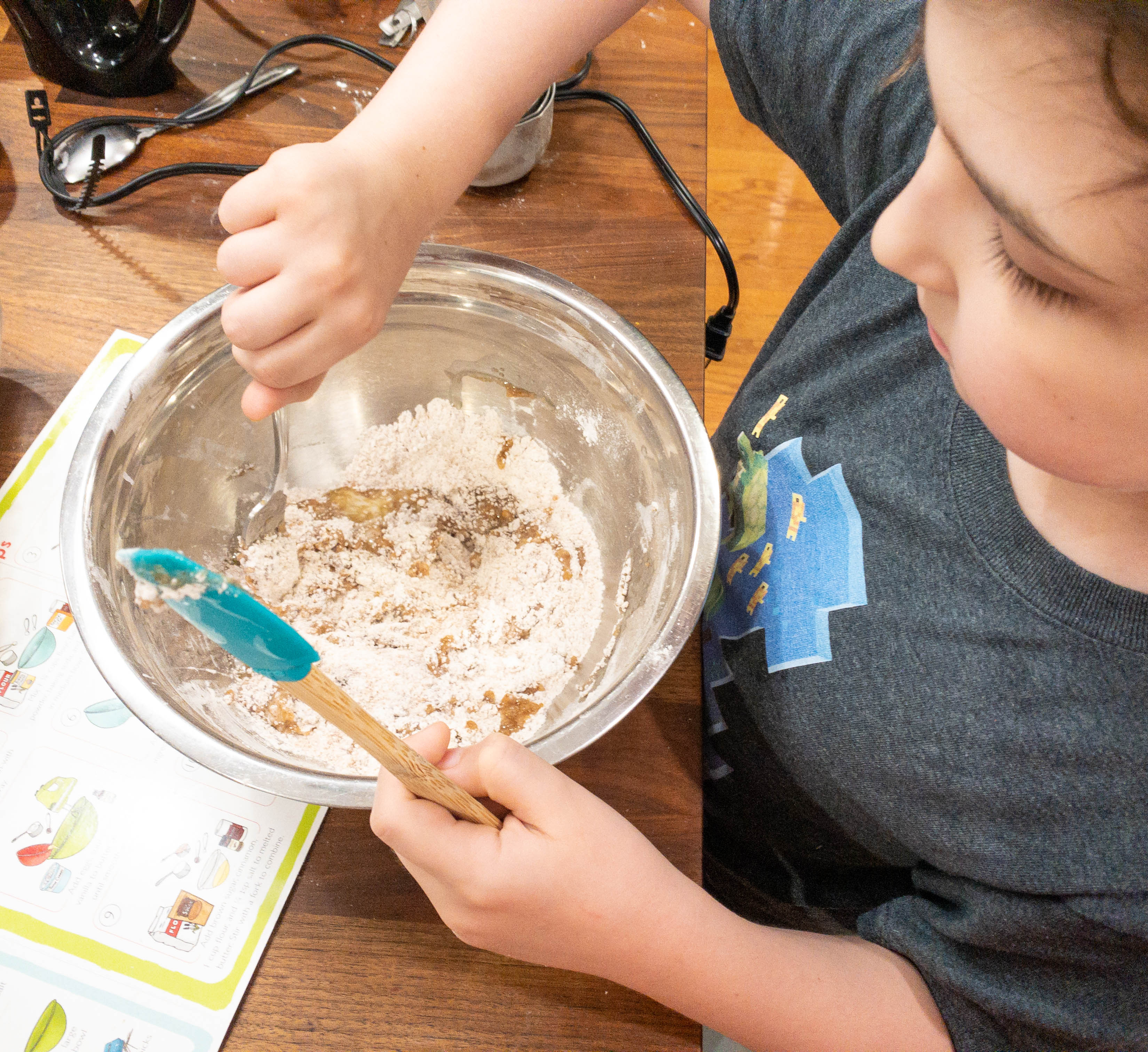 My son mixed the dry ingredients first, namely flour, baking powder, baking soda, and salt in a medium bowl.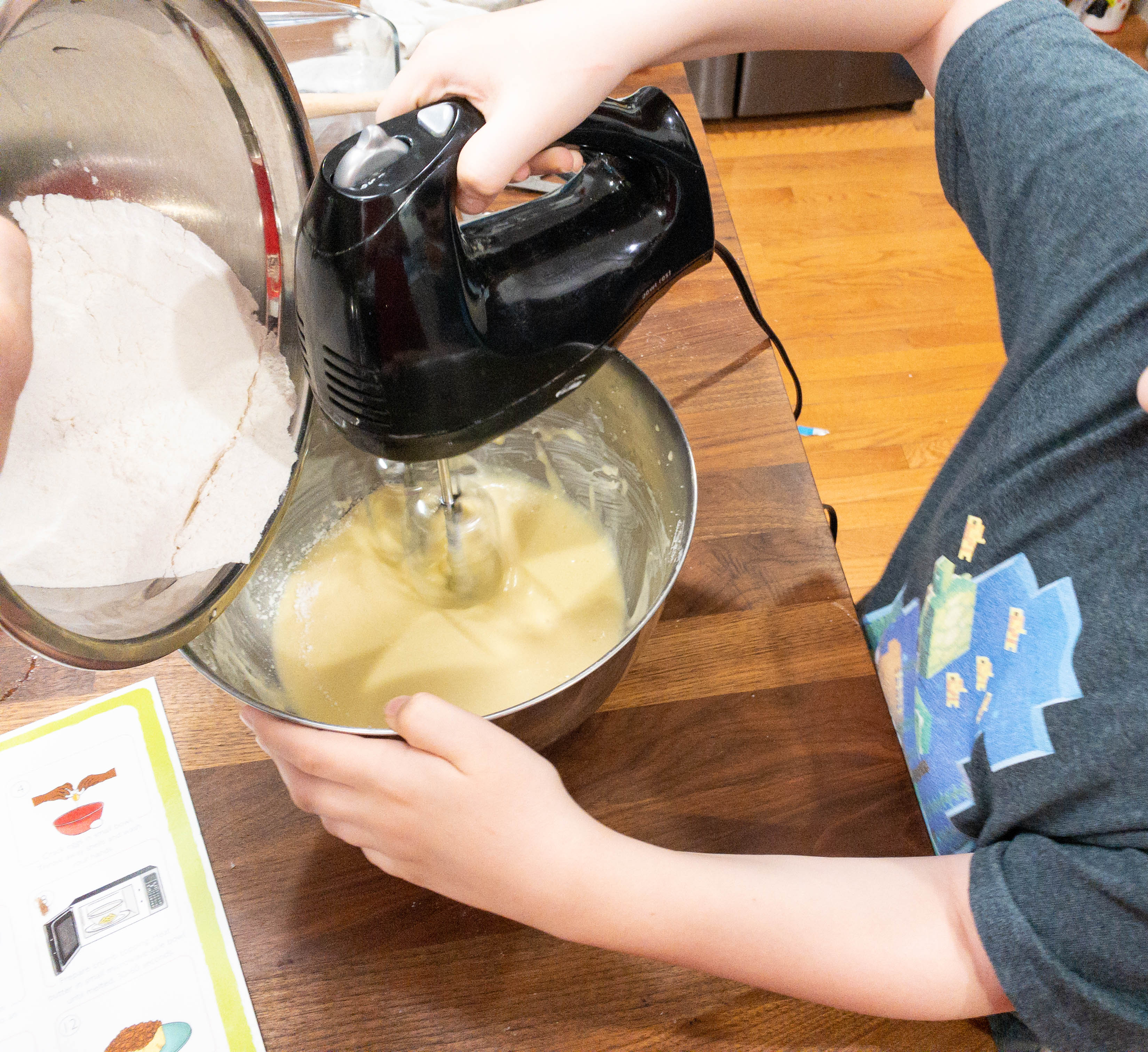 After that, it was time to mix the wet ingredients. He started by beating softened butter and sugar in a bowl then he added eggs, sour cream, and vanilla. He beat it for a few minutes until the texture became smooth and creamy!
For the crumb toppings, just heat the butter in a small microwave safe container for a few minutes and add brown sugar, cinnamon, flour, and salt. Stir everything with a fork to combine. When it's done, add it on top the batter and then pop it in the oven for 35-40 minutes!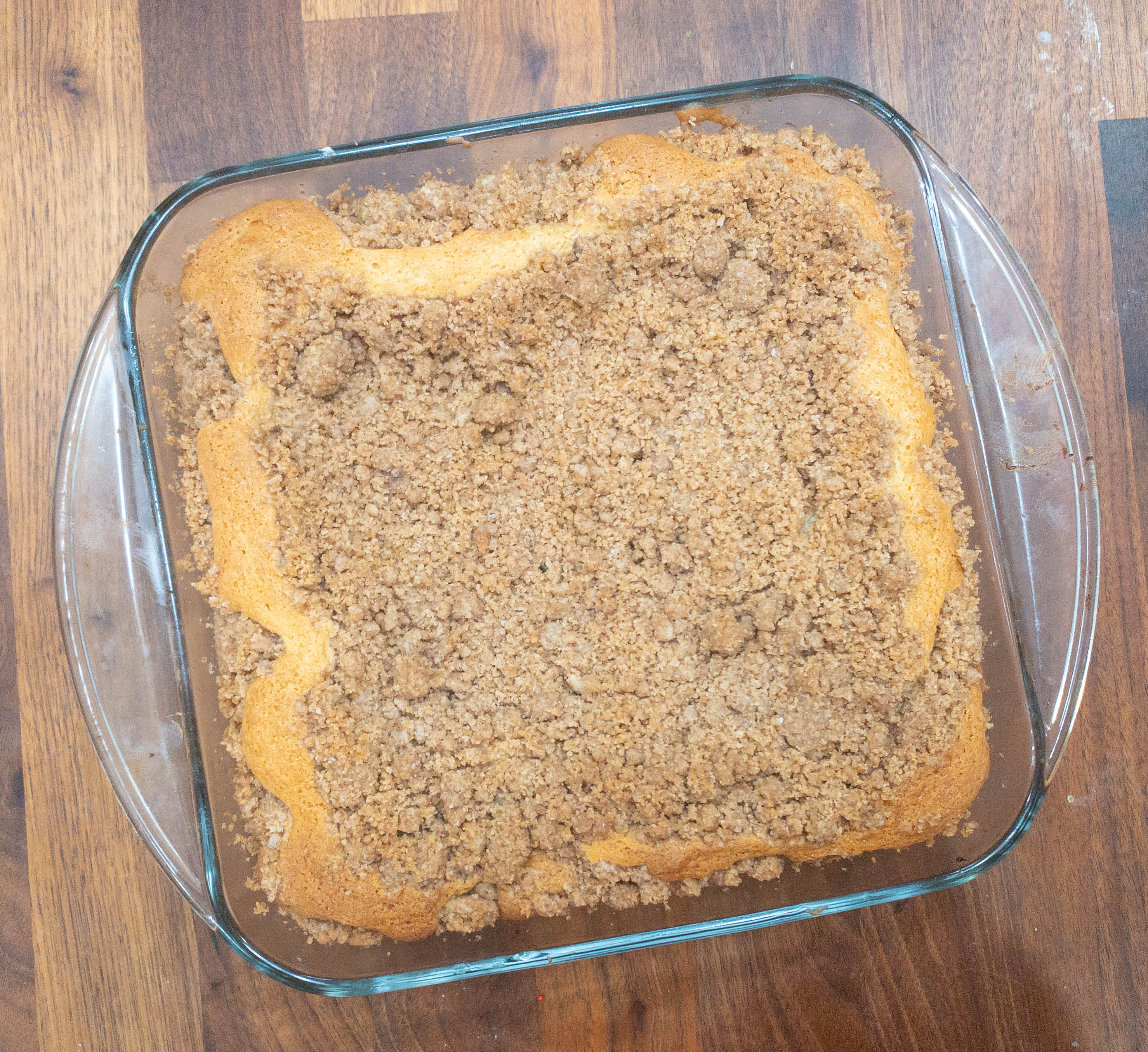 Use a toothpick and poke it in the center, and if it comes out clean, that means it's ready! Just make sure to let it rest for about 15 minutes before slicing.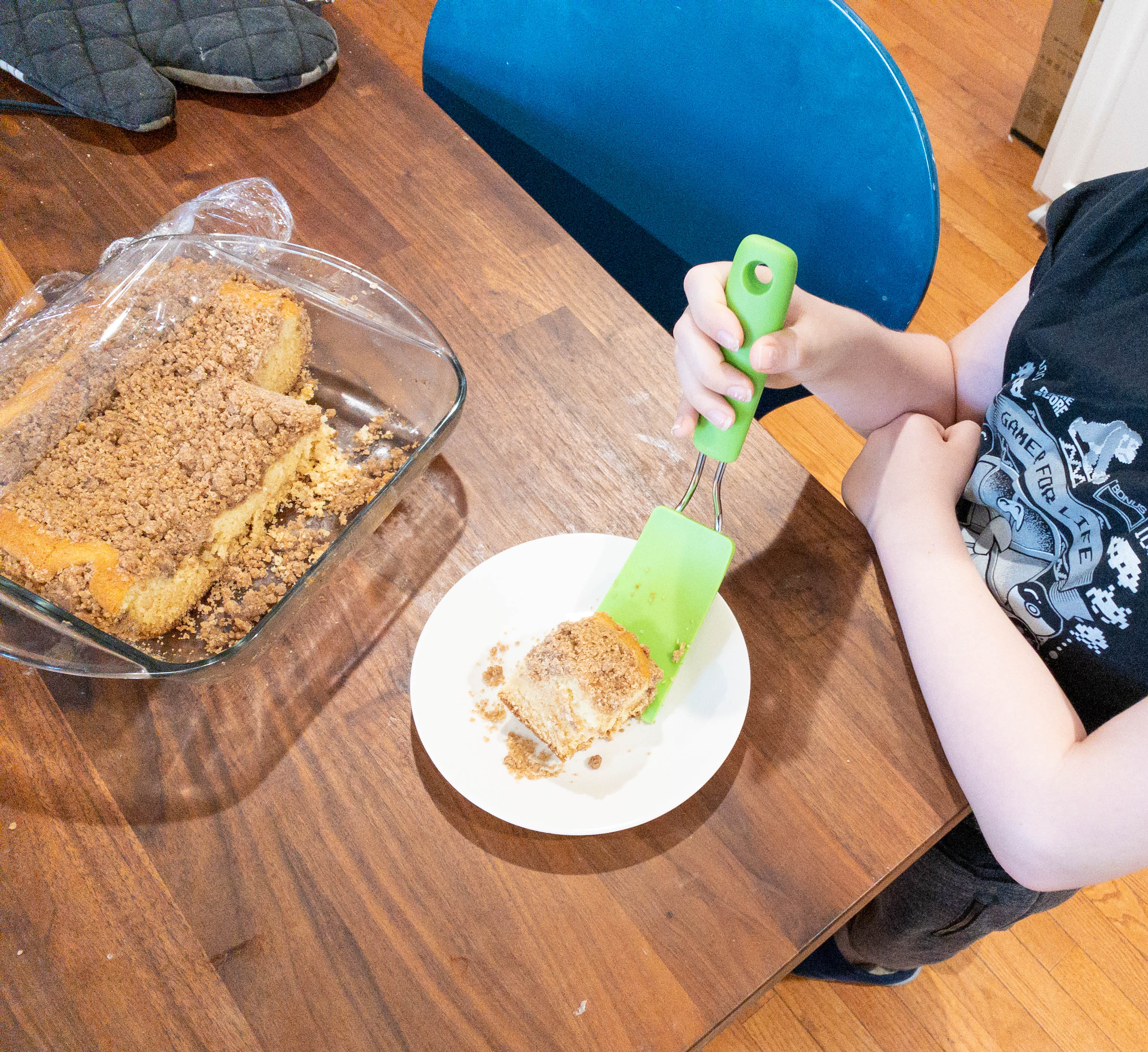 This is how the cake looked like once done!
The cake came out moist and soft, so it was really a success!
This is yet another awesome box from Raddish Kids! This month, the box focused on classic American recipes, including a soup, a meatloaf, and a cake. My kids liked all of them, and it's hard to pick a favorite because all 3 recipes made up a complete dinner meal. The instructions were easy to follow, and the included illustrations were also a great help! Although the ingredients are not included in the box, they provide an ingredient list to make shopping easier for parents. Overall, we love the kid-friendly recipes they provide, which is a great opportunity for kids to learn new kitchen skills while bonding at home!
What do you think of this month's Raddish Kids box?