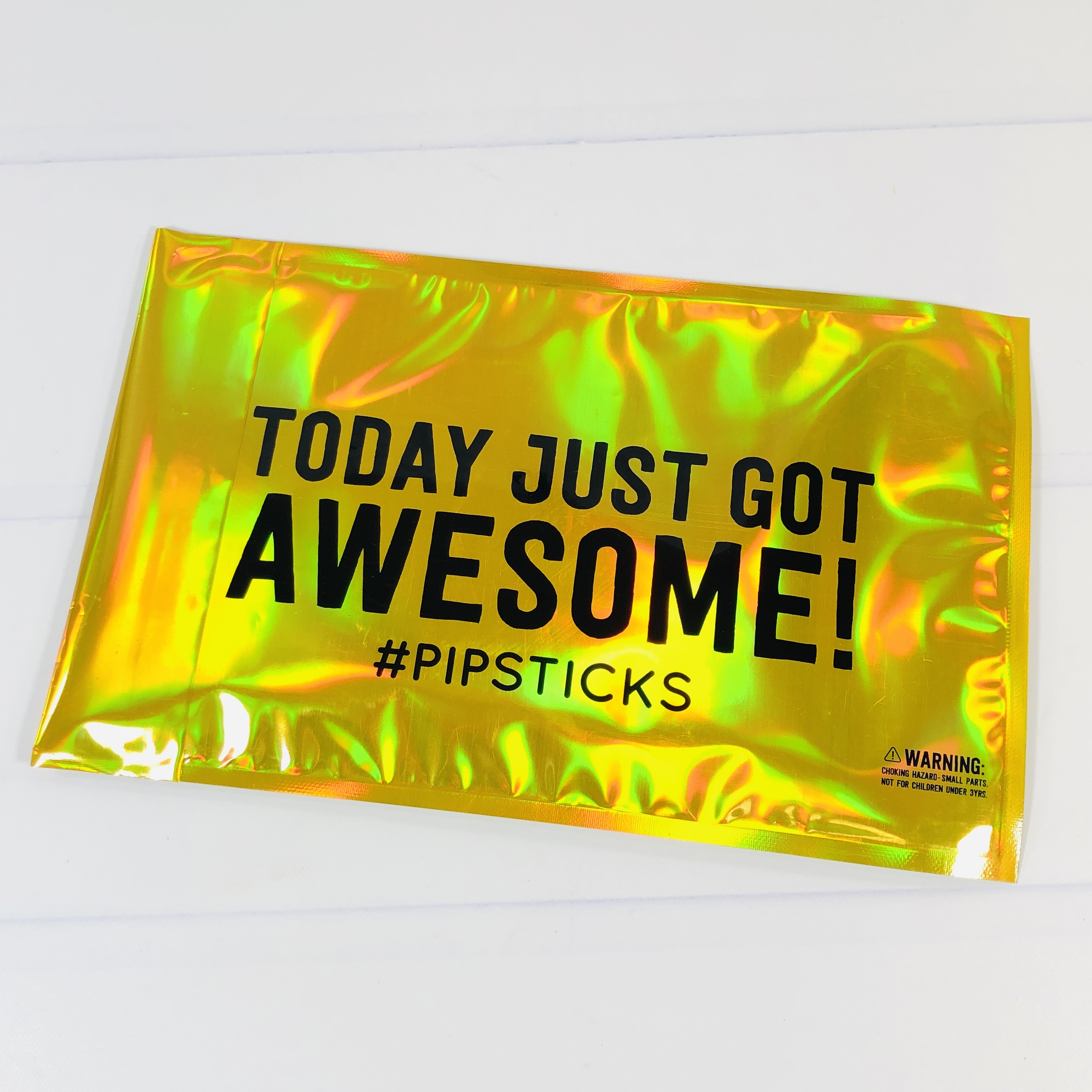 Pipsticks is a monthly sticker subscription that sends new designs from their collection in a super shiny holographic pack every month! The stickers come in a reusable sparkly pouch and include sticker sheets, paper products, and Little Pippy, an exclusive sticker magazine. You also get 5% savings in the online store and more. You can choose to get stickers for adults (Pro Club) or kids (Kids Club). Both clubs come in Classic (15 sheets for $17.95 a month) or Petite (7 sheets for $11.95 a month). Shipping is free to the U.S., and Pipsticks can even be shipped worldwide for a fee.
C'mon. Who doesn't love stickers? Any stationery lover, crafter or pen pal knows the true magic of these little guys. Stickers motivate, inspire, entertain and delight with unmatched simplicity.

The Kids sticker pack is totally child-friendly, they can do everything by themselves which means it's a break for the parents – yay!
DEAL: Save $5 on your subscription! Use this link to subscribe and coupon code FRIENDSROCK.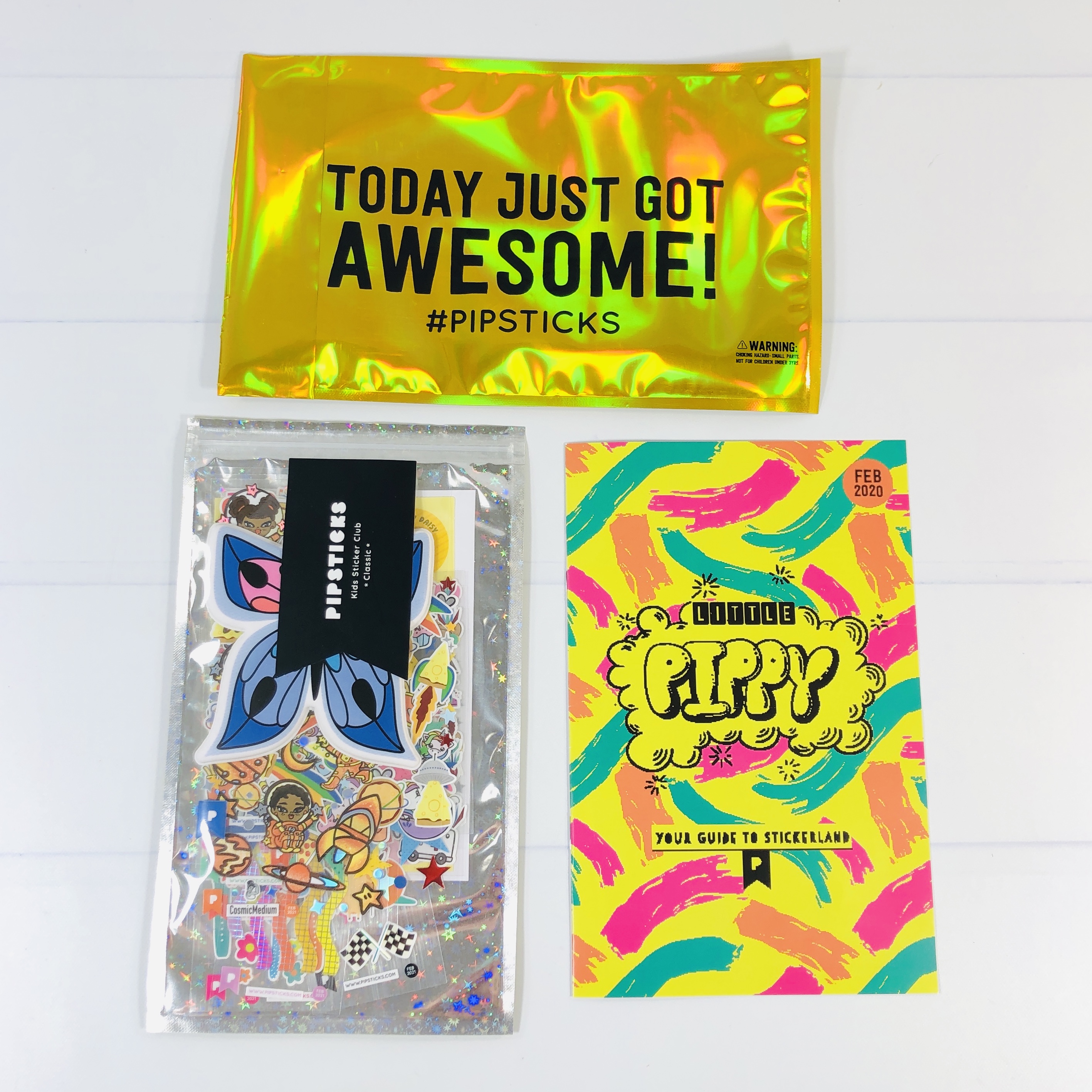 I am reviewing the Pipsticks Kids Club Classic! Each month subscribers can expect to receive 15 sheets of stickers, a coloring postcard, an activity booklet, a chance to win the monthly prize, 5% savings in the online store, and more!
Pipsticks includes an exclusive magazine called Little Pippy. Never mind the wrong year in the corner, mistakes happen.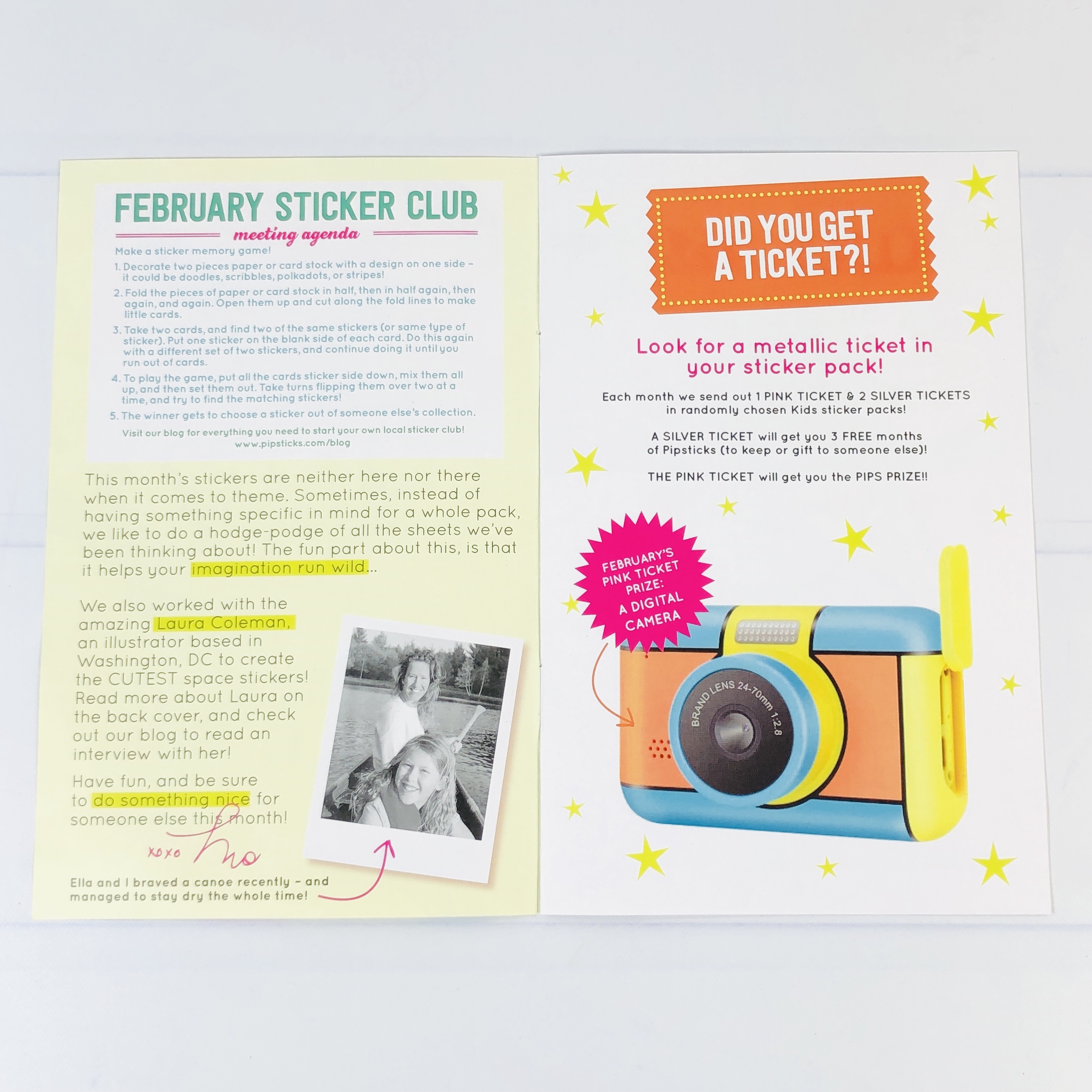 The booklet suggested a sticker club meeting agenda. Did you receive a special metallic ticket? If so, you can redeem it for a prize!
A puzzle and a coloring page were next.
You can decorate this page with your new stickers!
The back page featured the collaborative artist of the month, Laura Coleman!
My stickers and goodies were tucked into this fabulous holographic zipper envelope. The back of this envelope is shimmery gold stars!
Everything in my box!
NOTE: You should be able to find the items in this month's pack in the Pipsticks online shop around mid month. They usually have previous packs available too.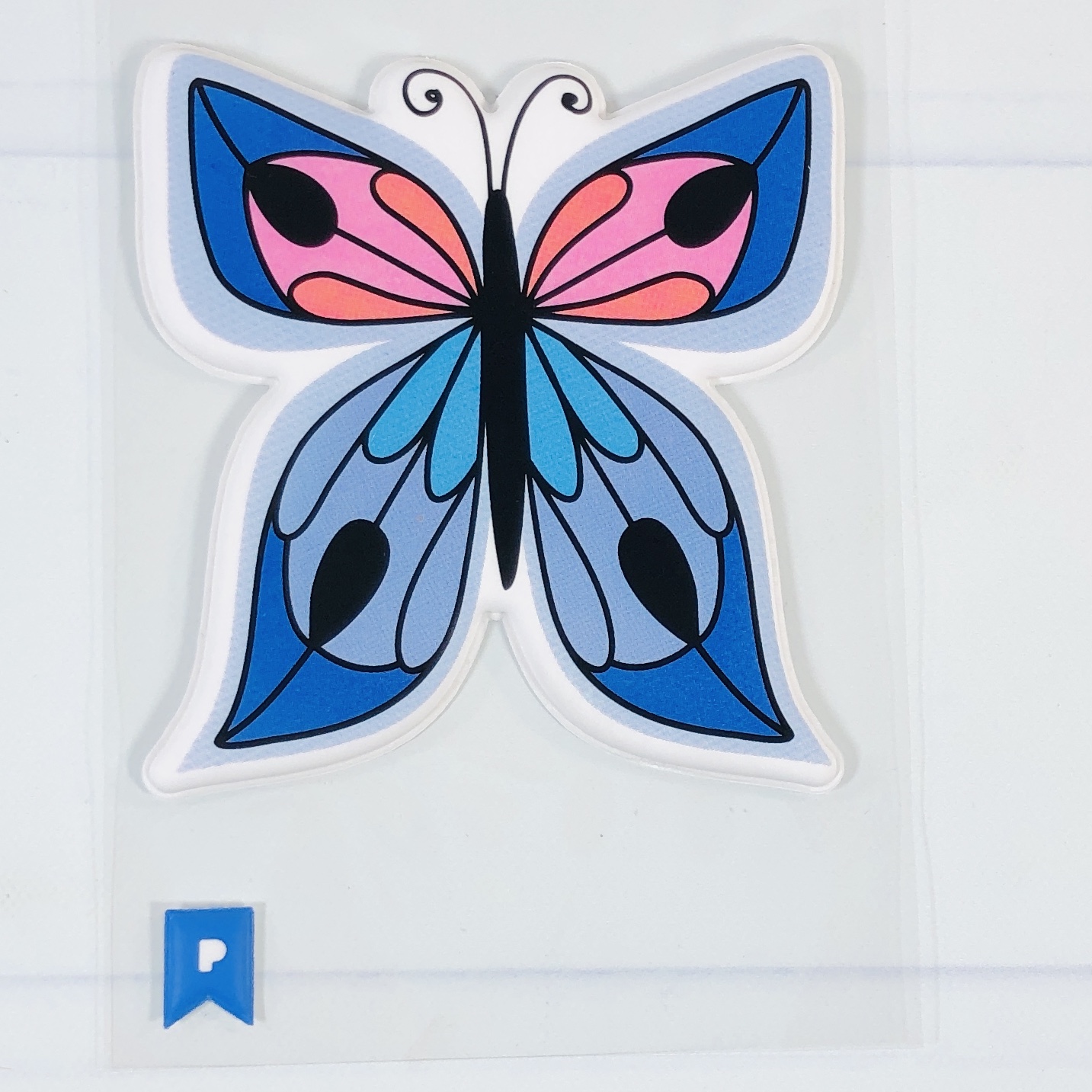 Big Puffy Butterfly ($5.95) The puffy sticker for the month has a beautiful butterfly, my favorite insect of them all!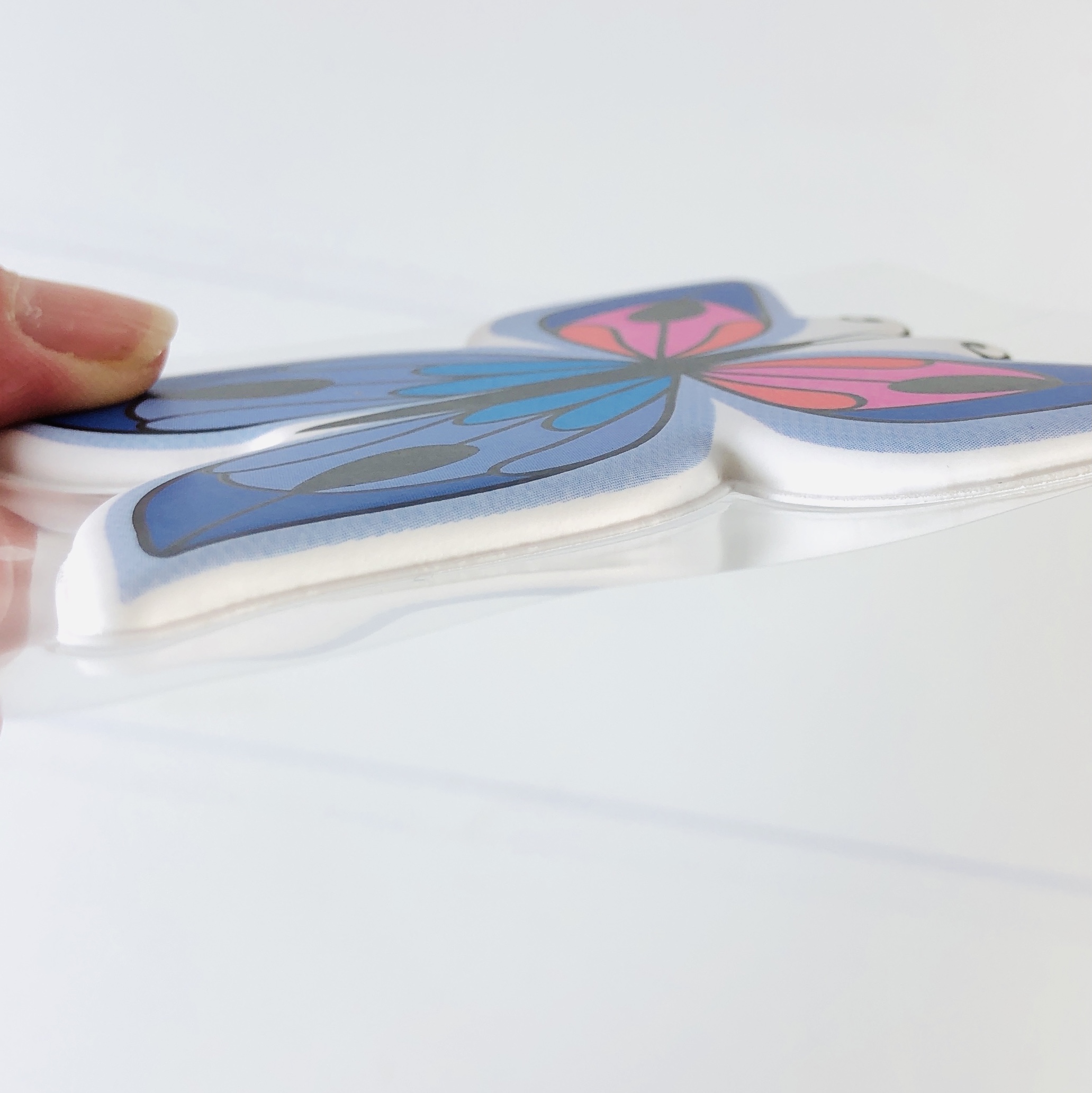 The sticker is about 4″ tall and 5mm thick!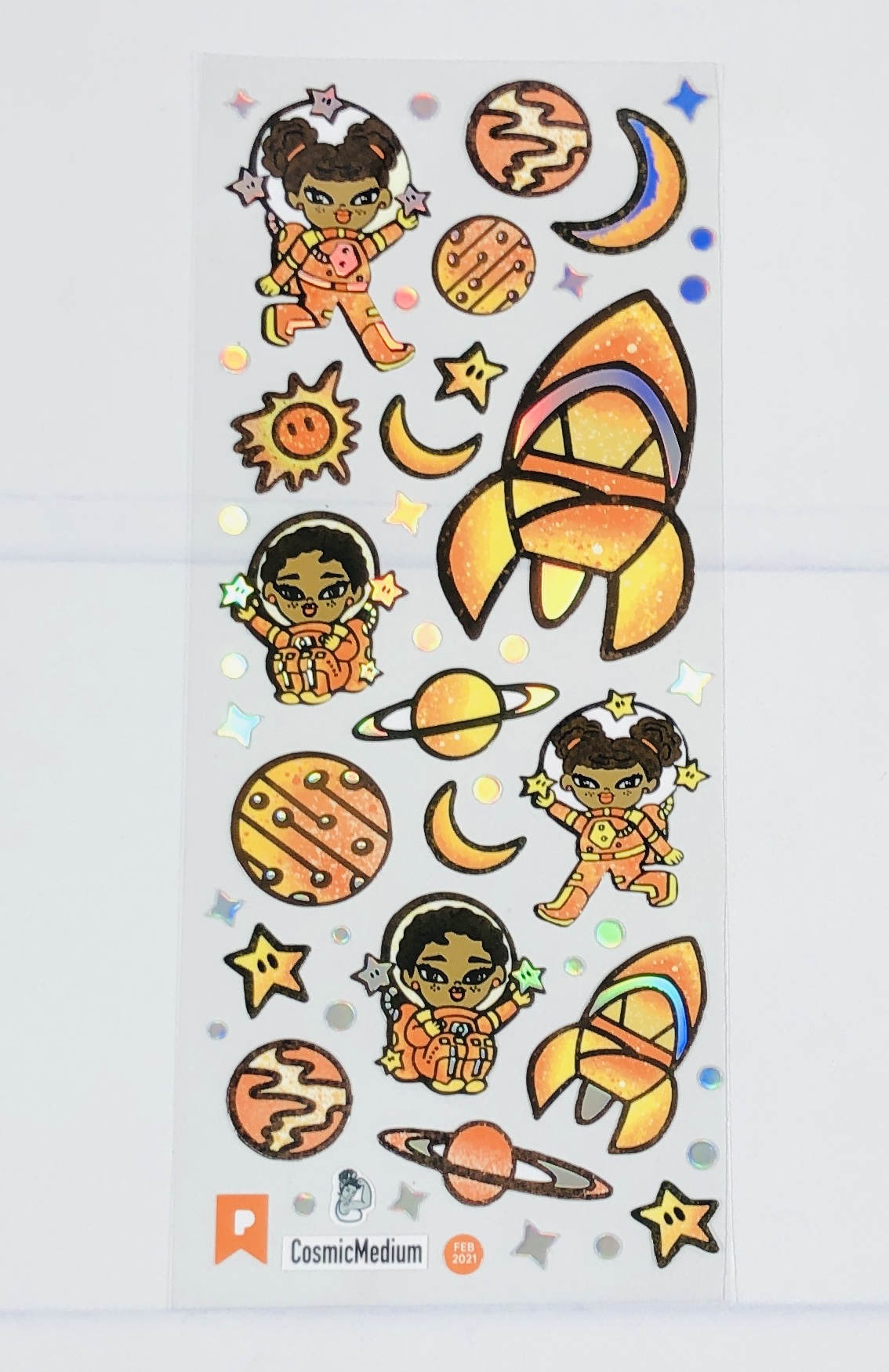 Interstellar Adventure by Cosmic Medium ($3.95) is the sheet by the collaborative artist and it is adorable. It has astronauts, spaceships, and planets and reminds me of a sunset with those colors. PVC with silver foil accents.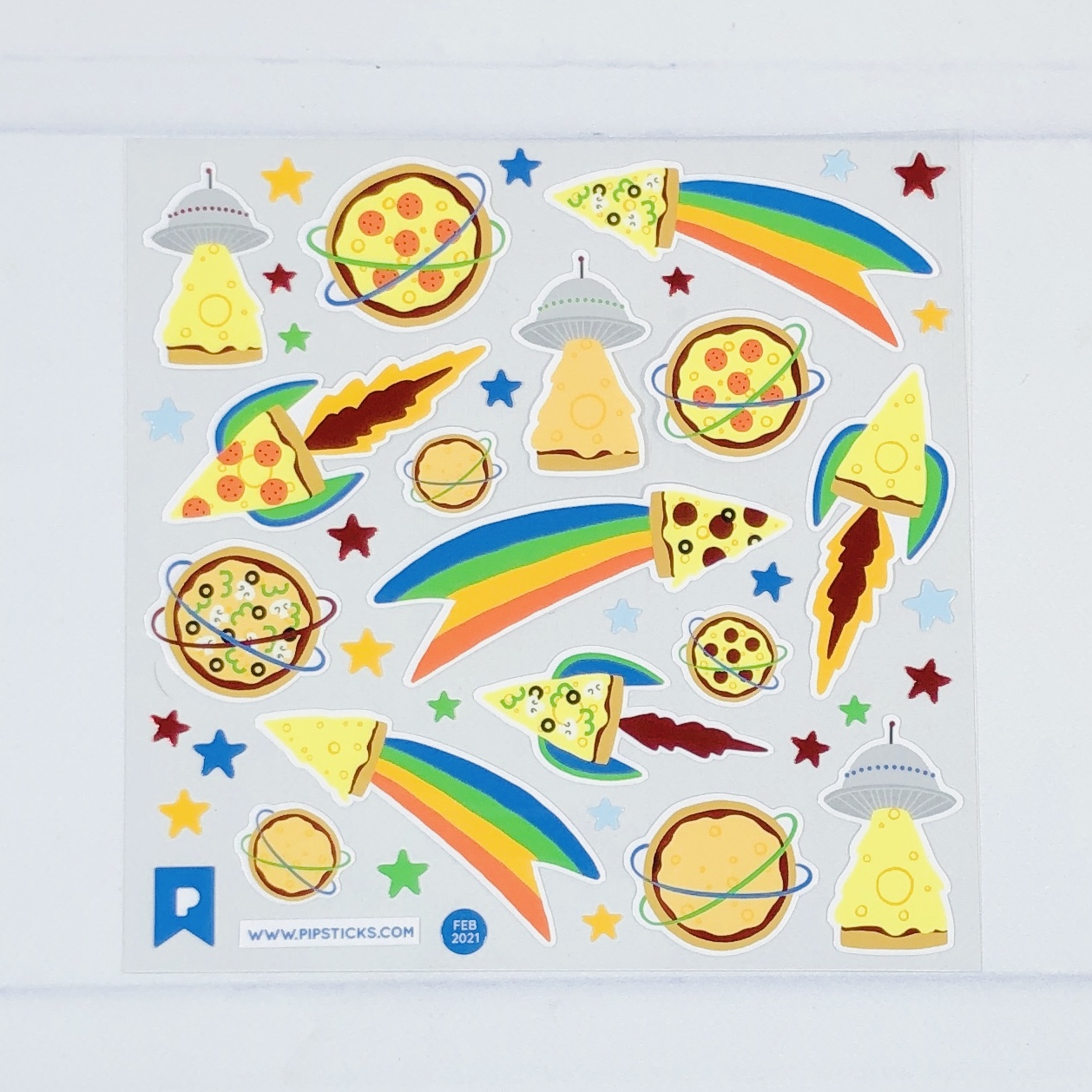 A Pizza The Journey ($2.95) is also spaced themed, but this time the spaceships are pizza slices!  PVC with red foil accents.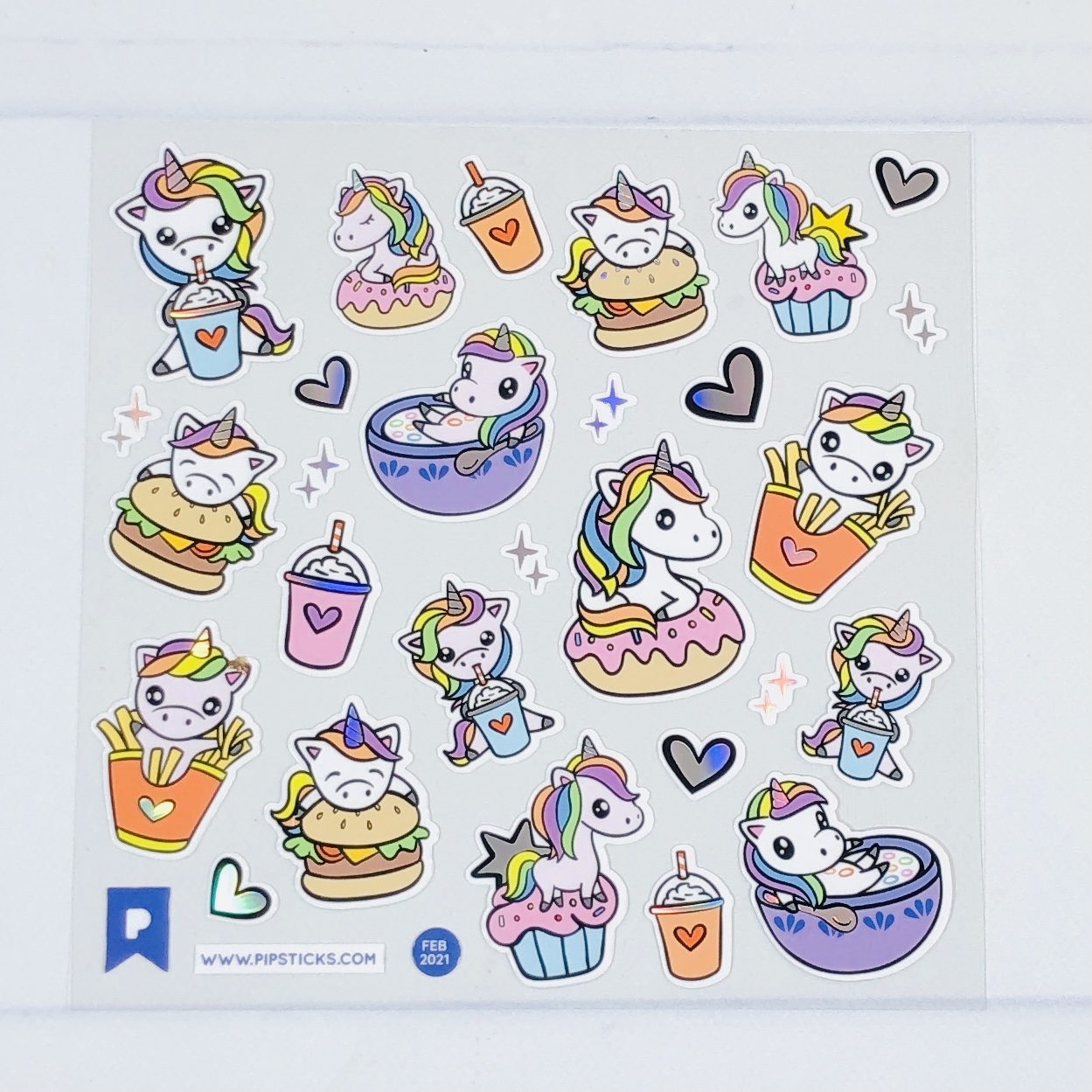 Fast Food Fantasy ($2.95) has the most adorable unicorns swimming in cereal, using hamburgers for pillows, and sipping drinks. PVC with silver foil accents.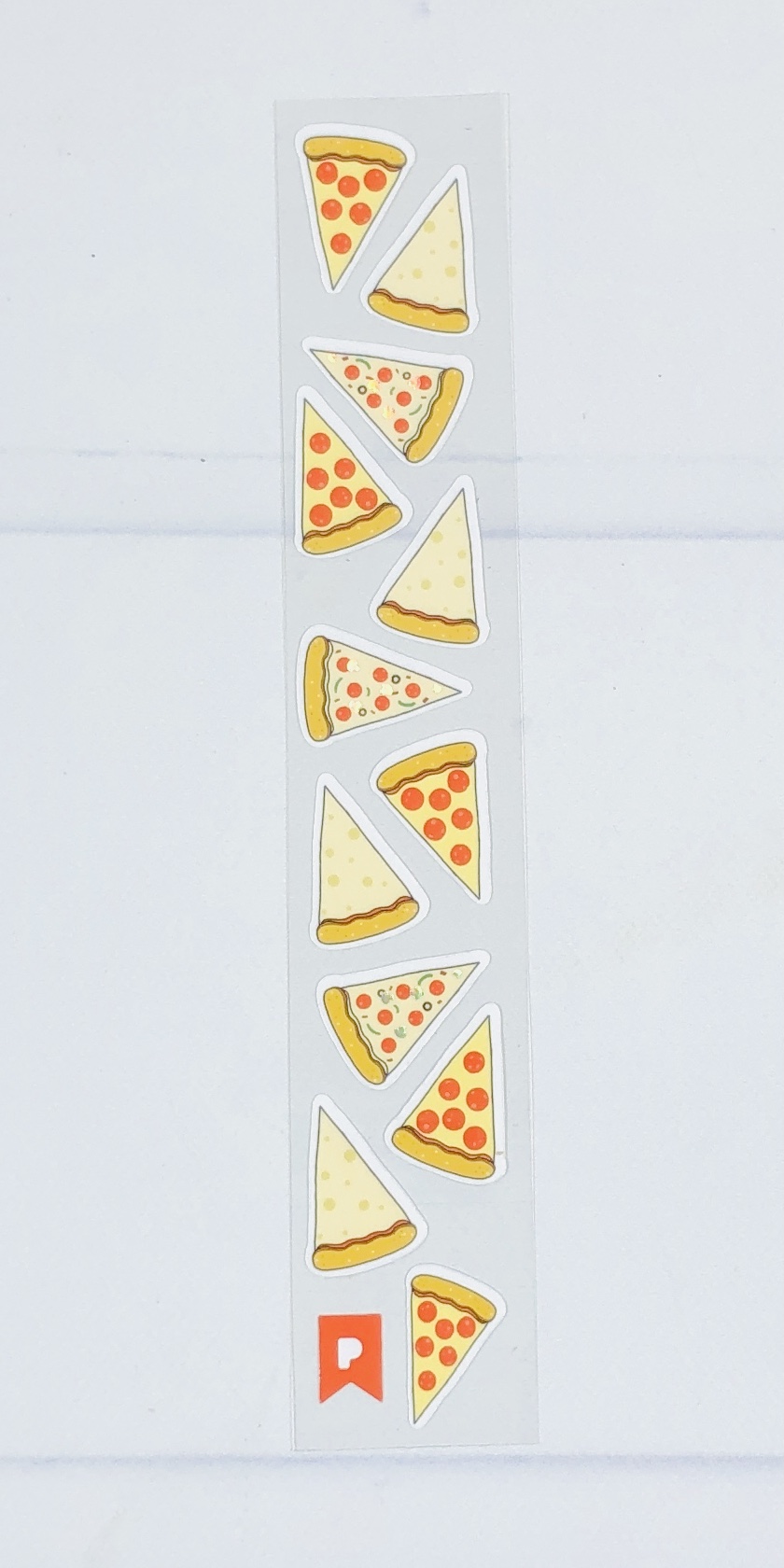 Pizza Party Minis ($1.95) There are 12 pizza stickers and 12 months in the year so I am sure to order pizza at least once a month, and wherever these are stuck in my planner, that will be the day. PVC with silver foil accents.
Getting Star-ted ($2.95) has stars of different sizes and a lot of them have patterns such as stars and dots. PVC with red foil accents.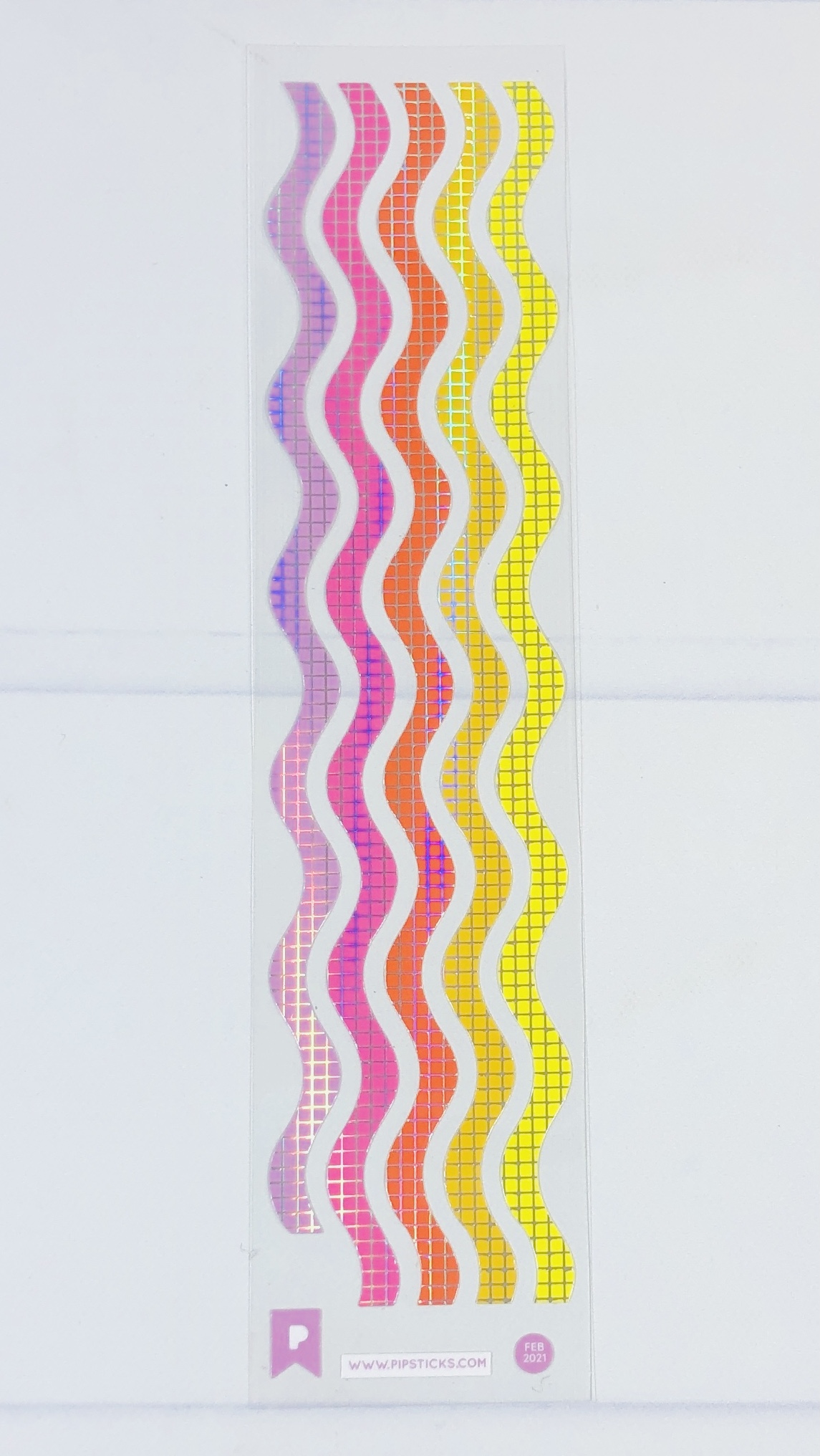 Waves of Light ($2.95) Here we are again with those sunset shades, or maybe they are sunrise shades, but they are so pretty. PVC with silver foil accents.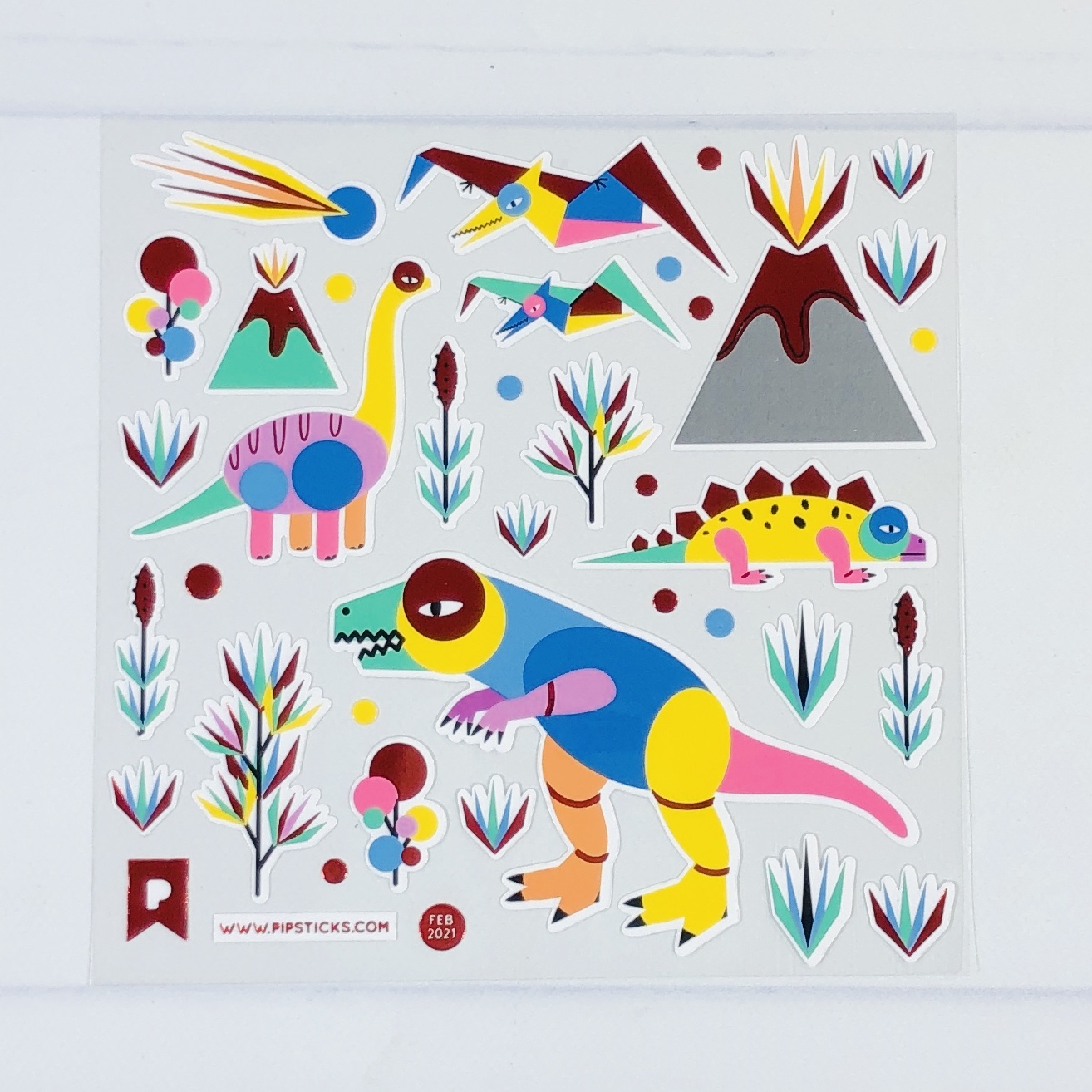 Prehistoric Playground ($2.95) Uh oh dinosaurs, look out for that meteor in the sky! PVC with red foil accents.
Looking Sharp ($3.95) I love hedgehogs, I want to hold one someday! These ones are holding on to balloons! PVC with silver foil accents.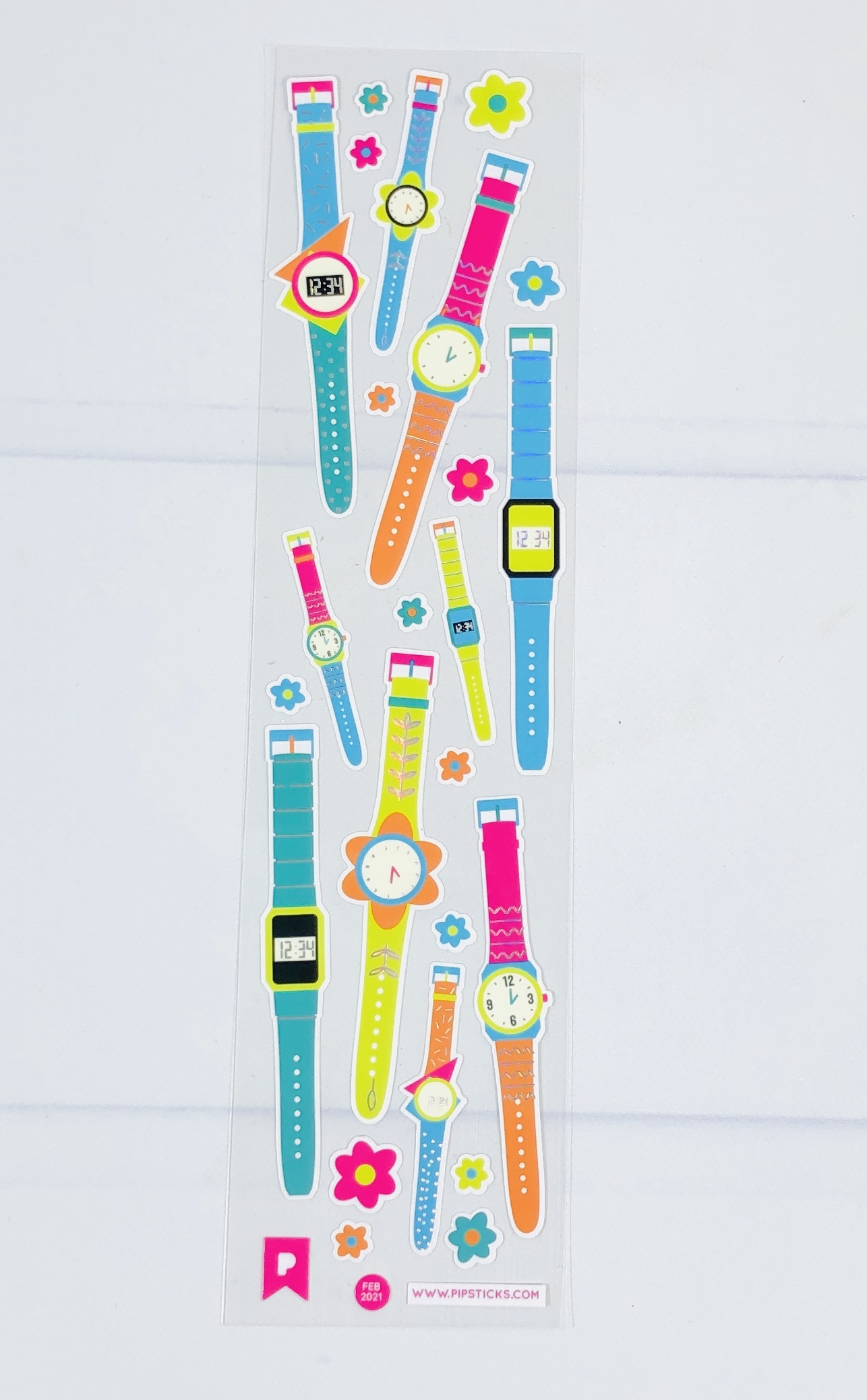 Time For A Change ($2.95) These remind me of Swatch Watches, do those still exist?  PVC with silver foil accents.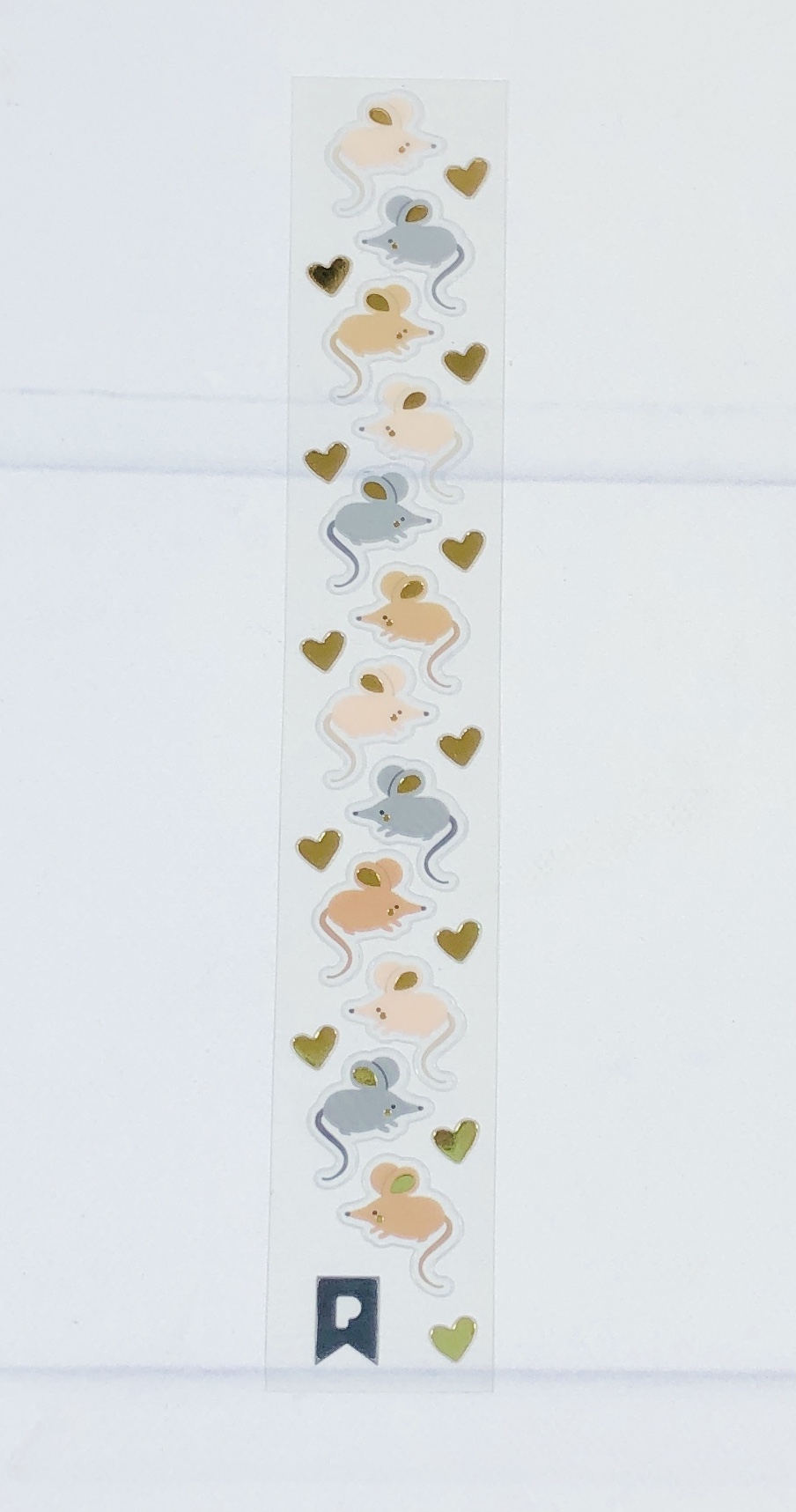 Mousy Minis ($1.95) These mini stickers come in an assortment of neutral colors. PVC with rose gold foil accents.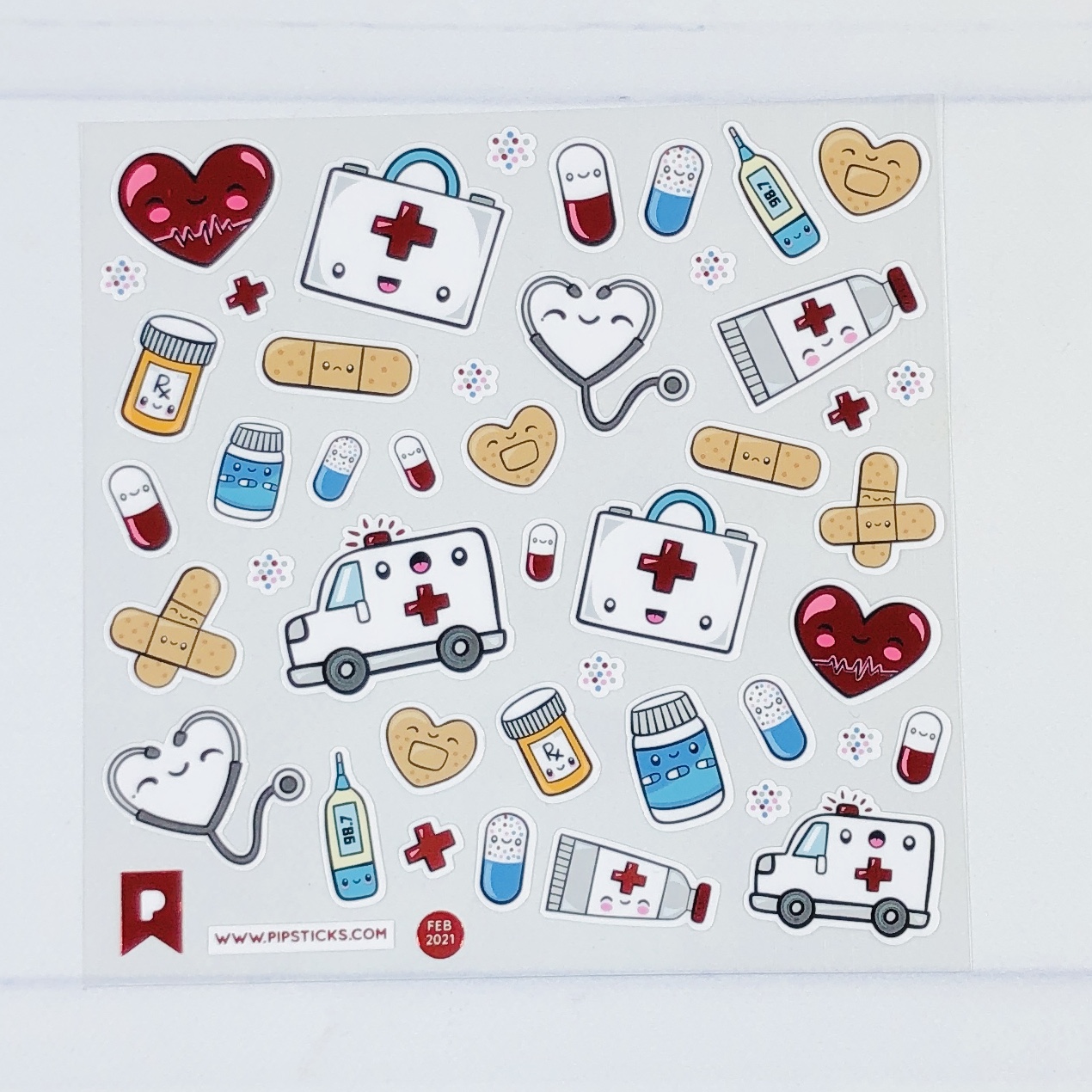 Love Cures All ($2.95) According to the Pipsticks website, profits from the sale of this sheet will go to Starlight Children's Foundation to help ill children and their families. PVC with red foil accents.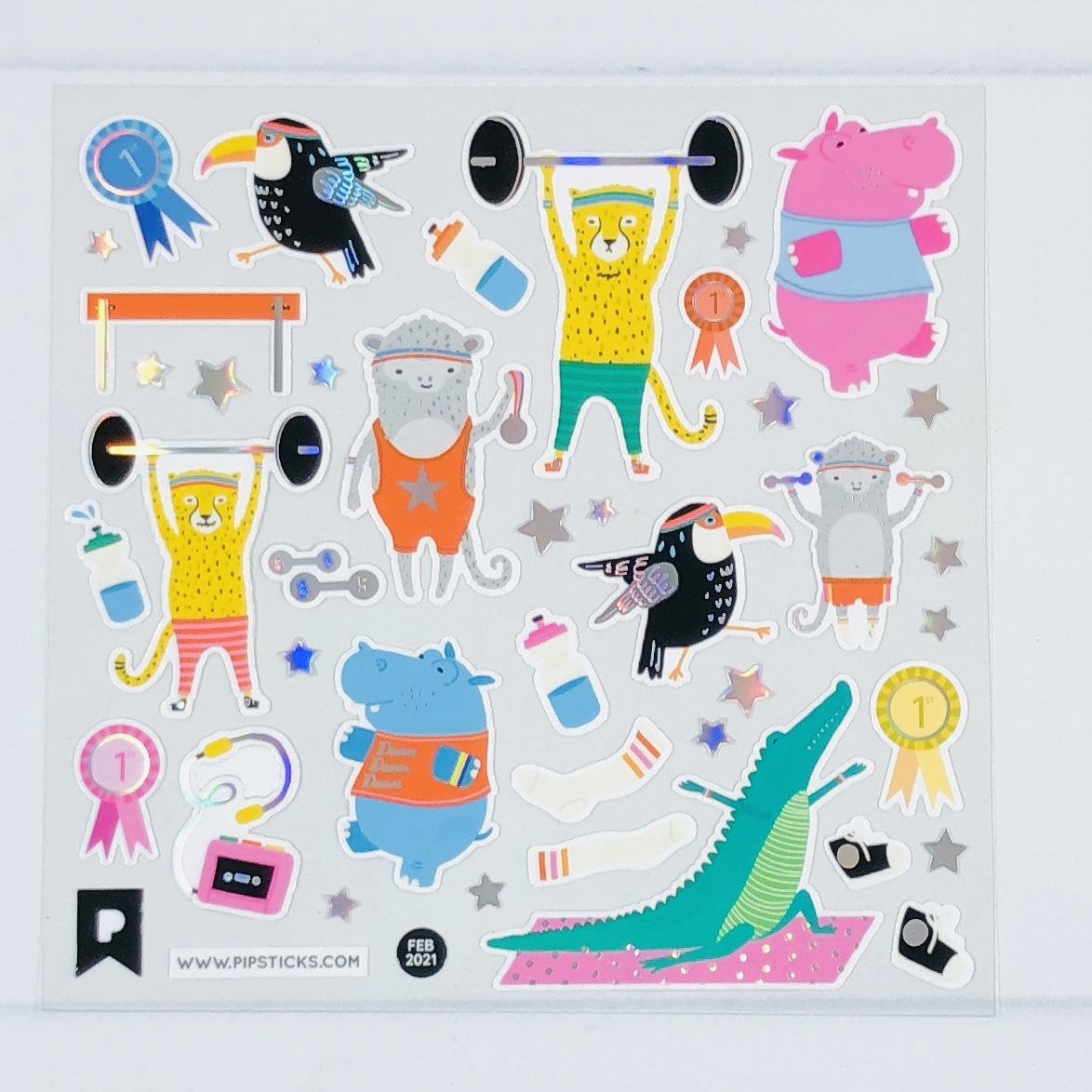 Gym Animals ($2.95) These critters are getting their workouts in and my favorite is the alligator doing yoga! PVC with silver foil accents.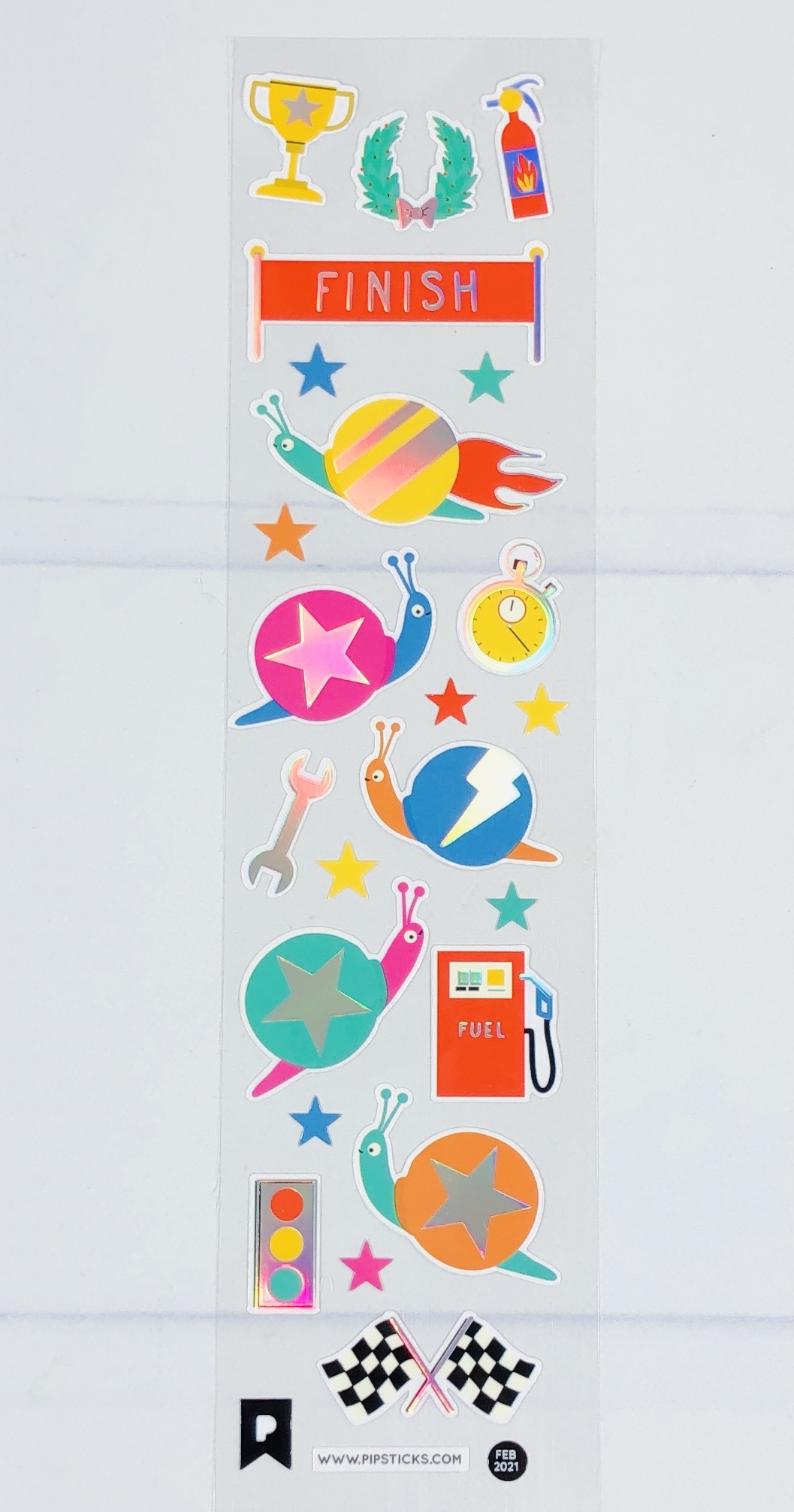 Escargot For It ($2.95) Does anyone remember the Racing Snail from The Neverending Story? That's what this sheet reminded me of! PVC with silver foil accents.
Awesome Blossoms Scratch 'n Sniff ($3.95) have a fresh lemon scent and I think their smiling faces are adorable.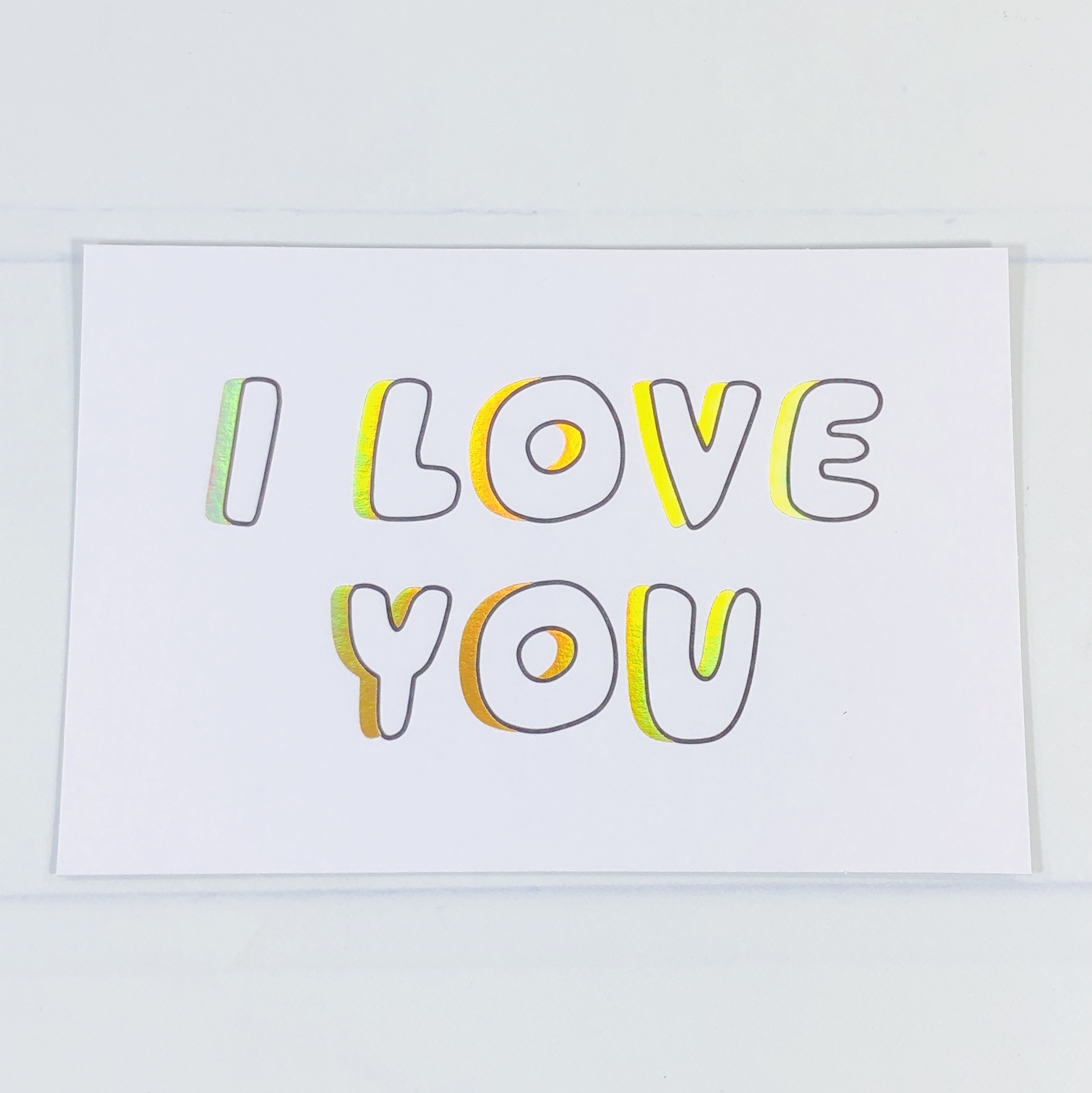 Color-In I Love You Postcard (Buy a set of 12 for $9.95) You can color or decorate this postcard before sending or just use it the way it is, since the words have metallic gold foil!
There wasn't really a theme for the February Pipsticks Kid's Club stickers but that's ok, sometimes there's just a bunch of cool ideas that have to get out there anyways! There were a couple of space sheets, a couple of pizza sheets, and a ton of adorable sheets altogether. I love to place the stickers in my planner, give some to my daughter, and share with my preschool teacher friends. What do you do with your stickers? I'd love to know!
Are you getting any of Pipstick's subscriptions?
Visit Pipsticks to subscribe or find out more!