OwlCrate Jr. is a monthly book subscription box for young readers ages 8-12 with a middle-grade book plus fun gender-neutral bookish items designed to enhance your little reader's experience. It's from OwlCrate, a super popular YA (young adult) fiction subscription.
DEAL: Save 15% on your first 1, 3, or 6-month subscription or gift with the promo code HELLO15 at checkout.
The inner flap has a guide to unboxing your crate!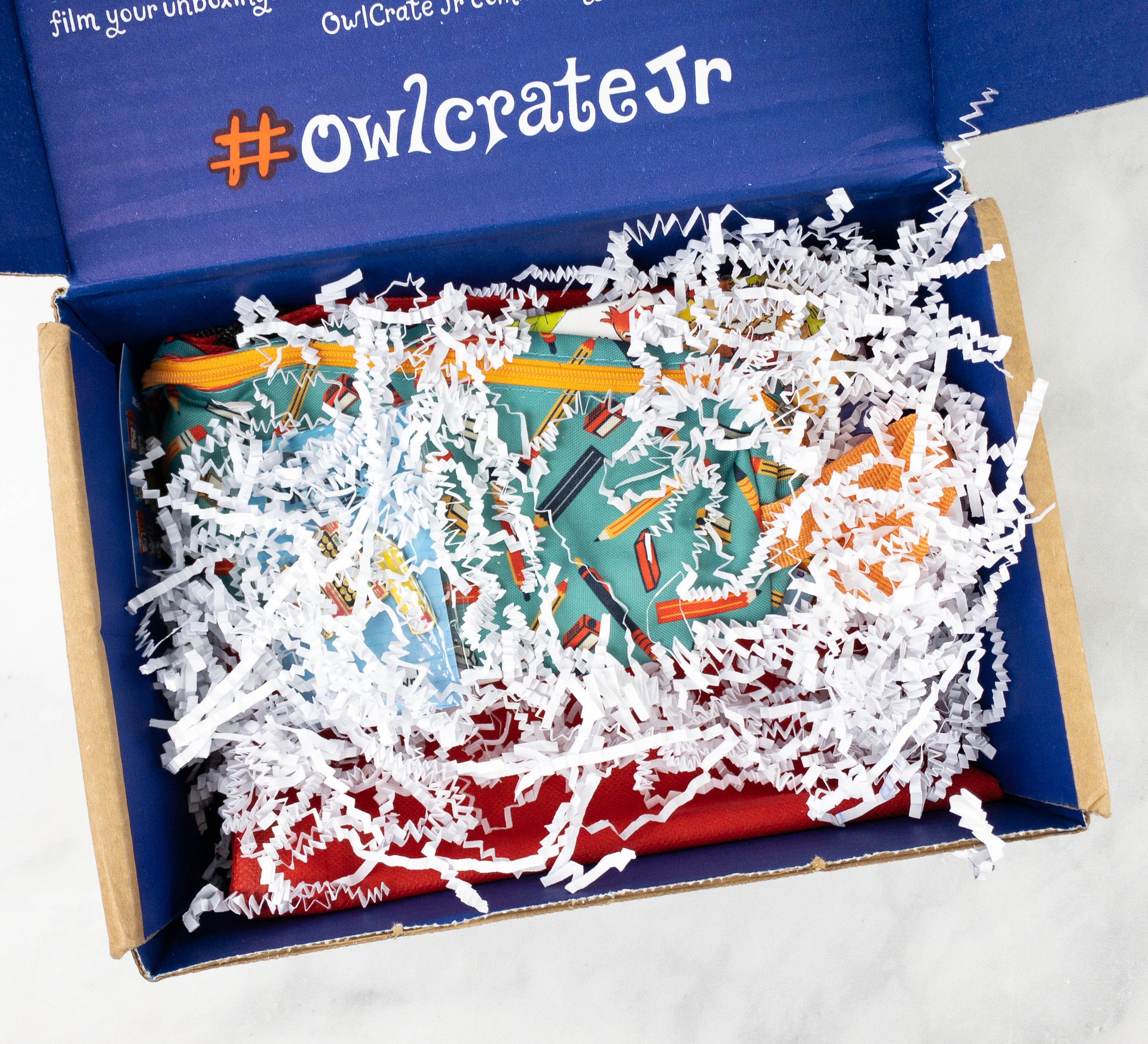 The items were packed with white squiggles.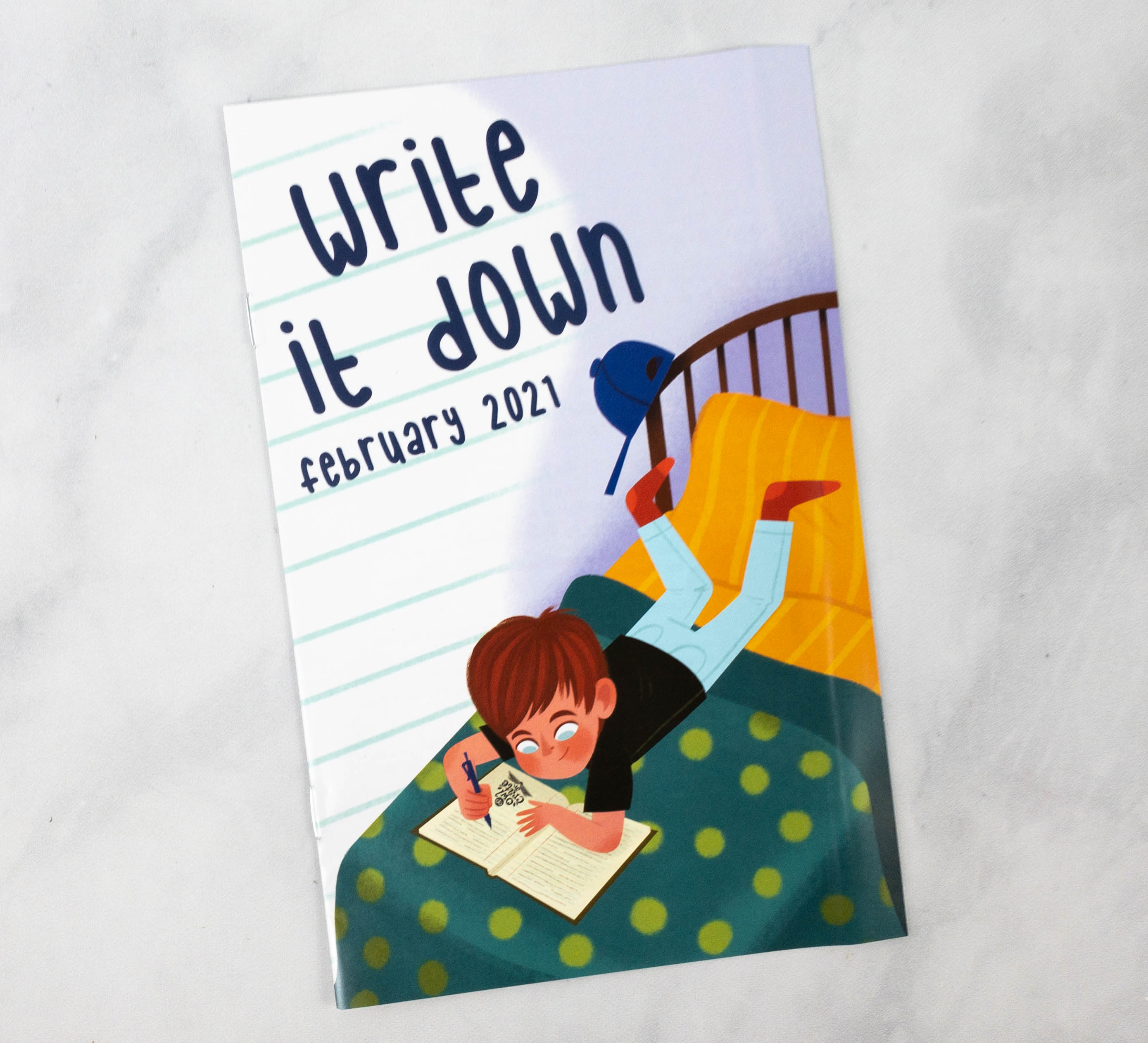 The theme for the February 2021 OwlCrate Jr. box is WRITE IT DOWN!
The back has some writing prompts!
Inside, there's a list of all the items in the box, as well as an interview with this month's featured author Rebecca K.S. Ansari.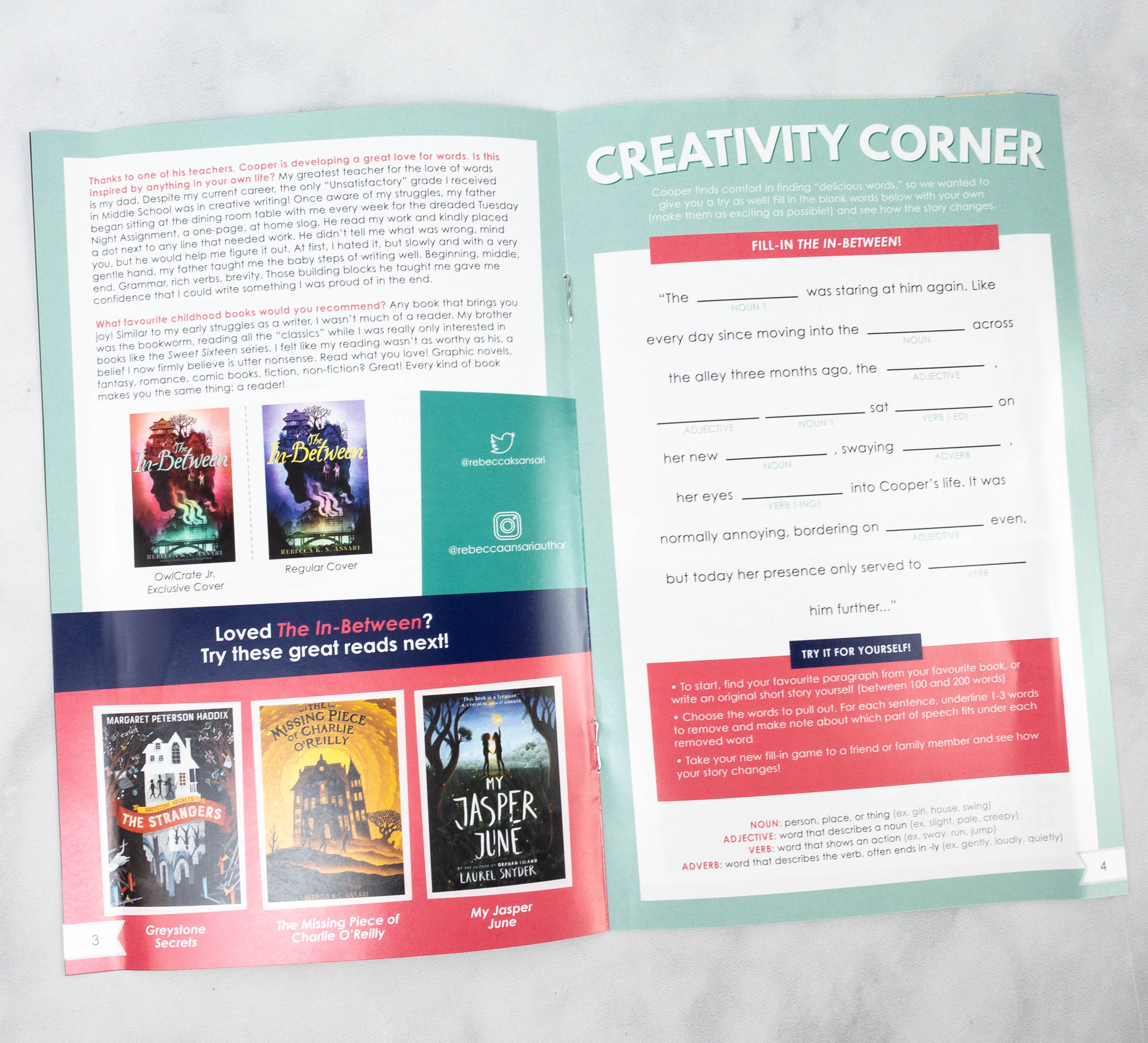 Knowing what inspired the author to pen a story can help children understand the book better.
They also suggested some titles for further reading, especially if you love this month's book: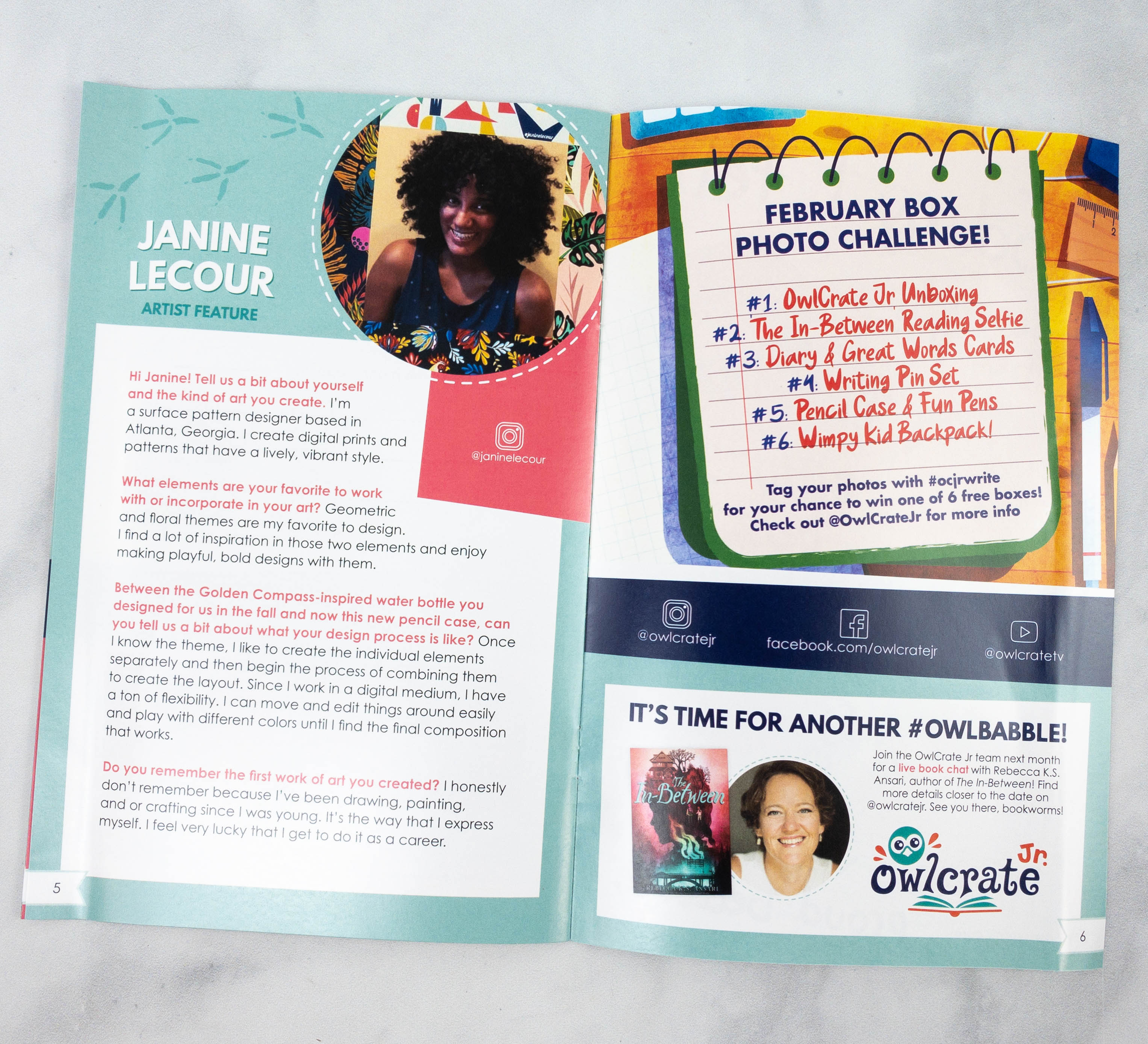 The next page is a community feature. They also gave us info for the February Box Photo Challenge!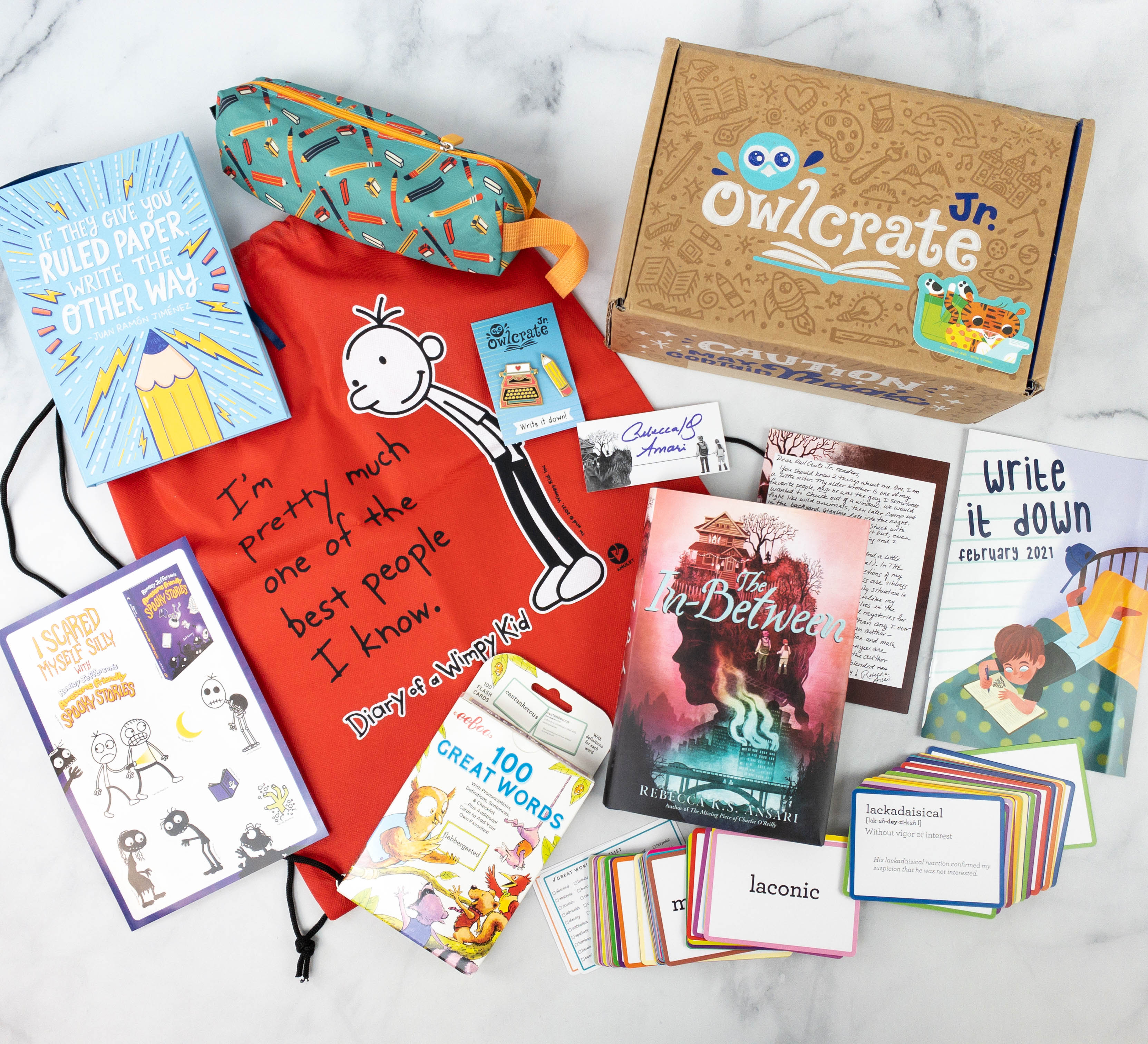 Everything in the February 2021 OwlCrate Jr. box!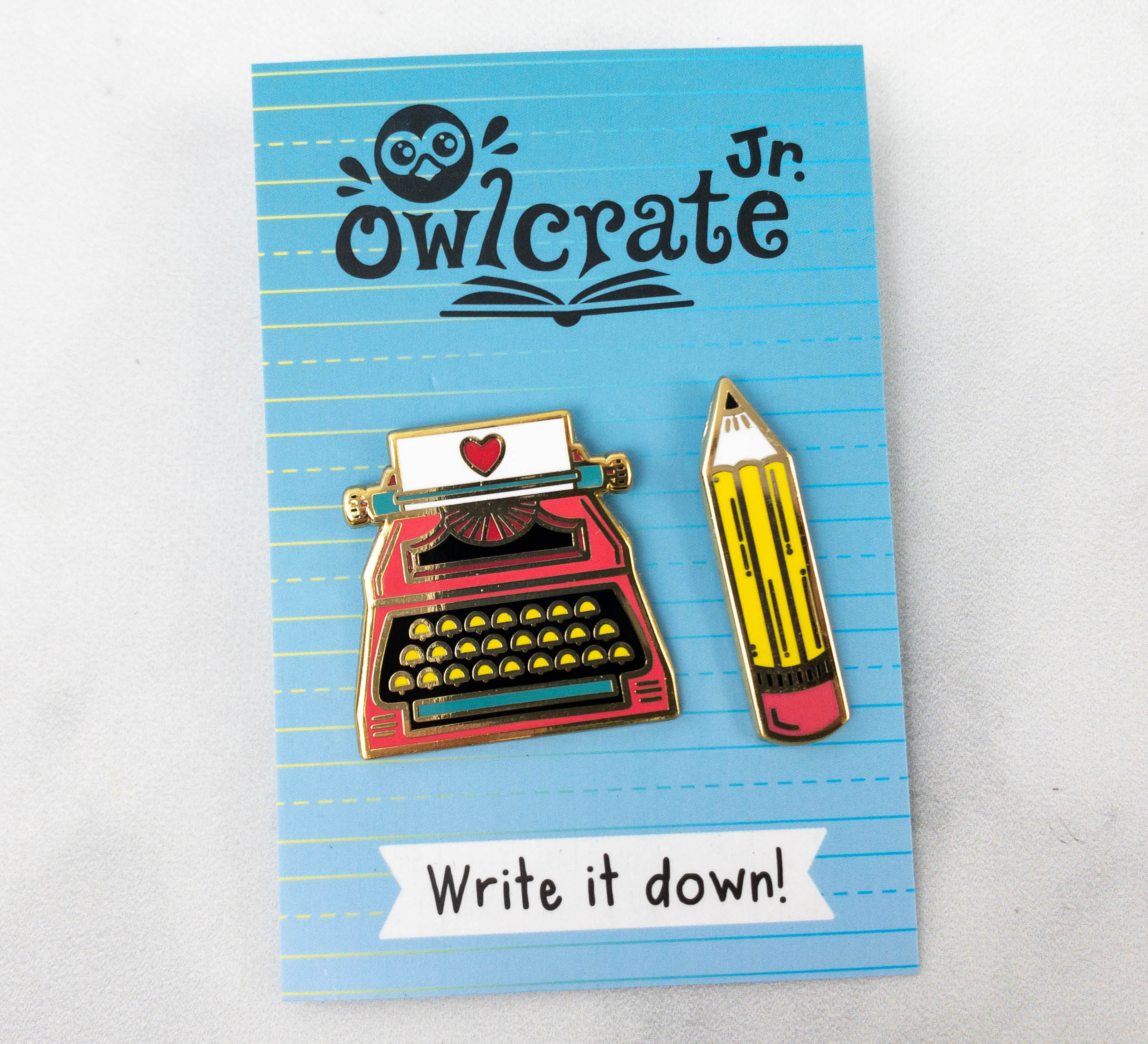 Mini Typewriter and Pencil Enamel Pin Set. In line with the theme, they sent a pair of cute pins featuring a mini typewriter and pencil!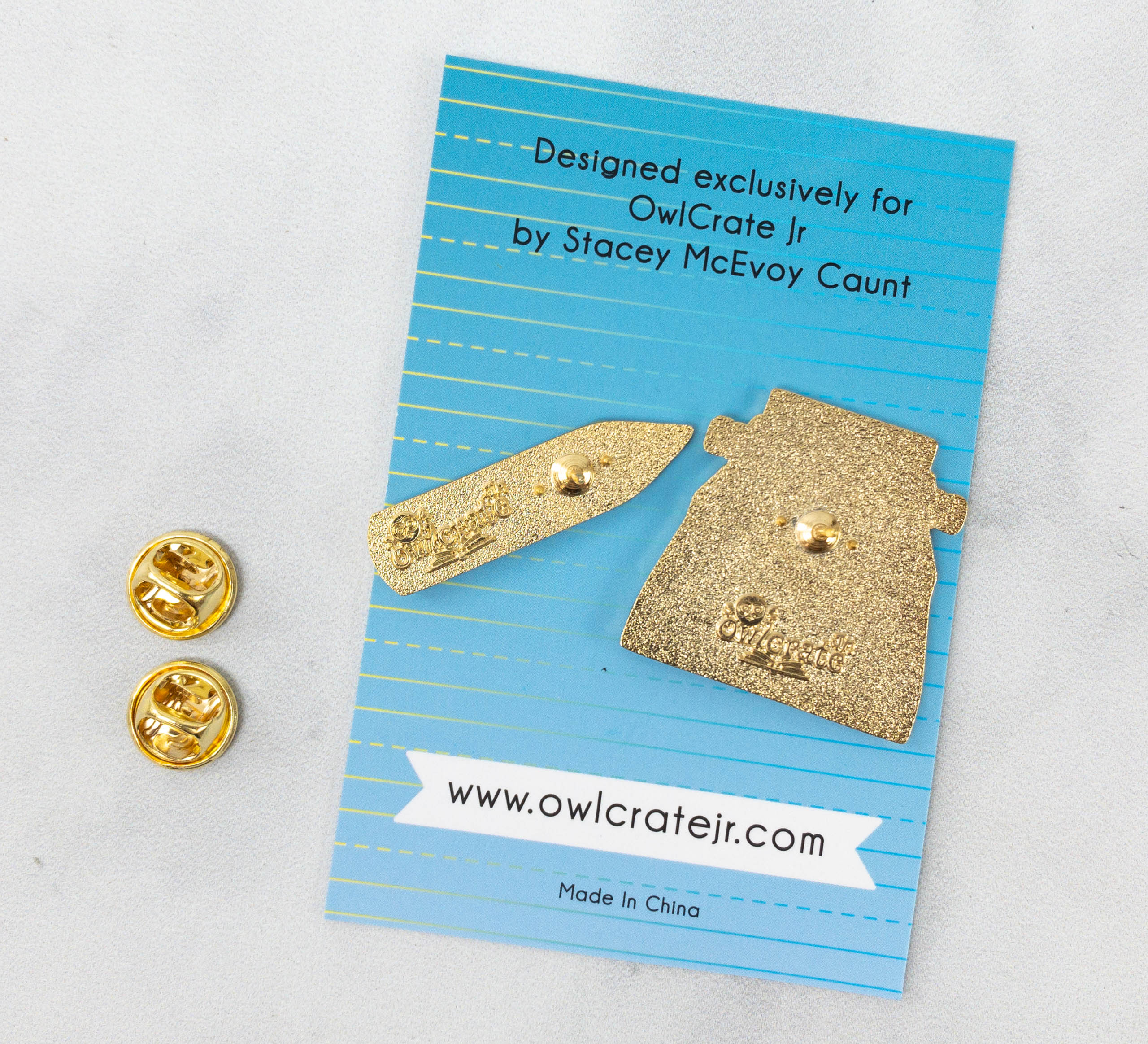 These pins were designed by Stacey McEvoy Caunt, and it's exclusive for Owl Crate Jr. subscribers!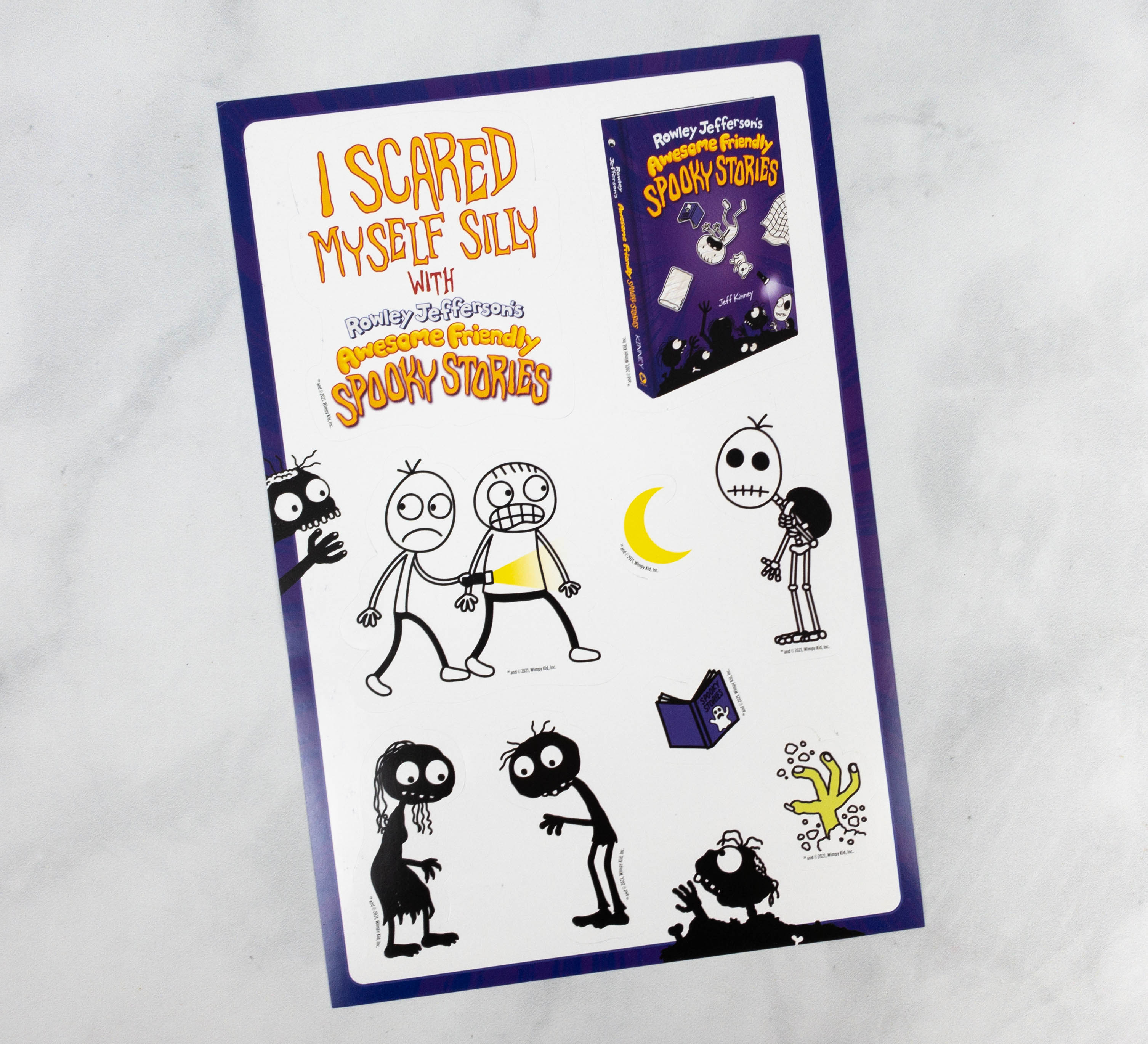 There's also a promotional card for Rowley Jefferson's Awesome Friendly Spooky Stories.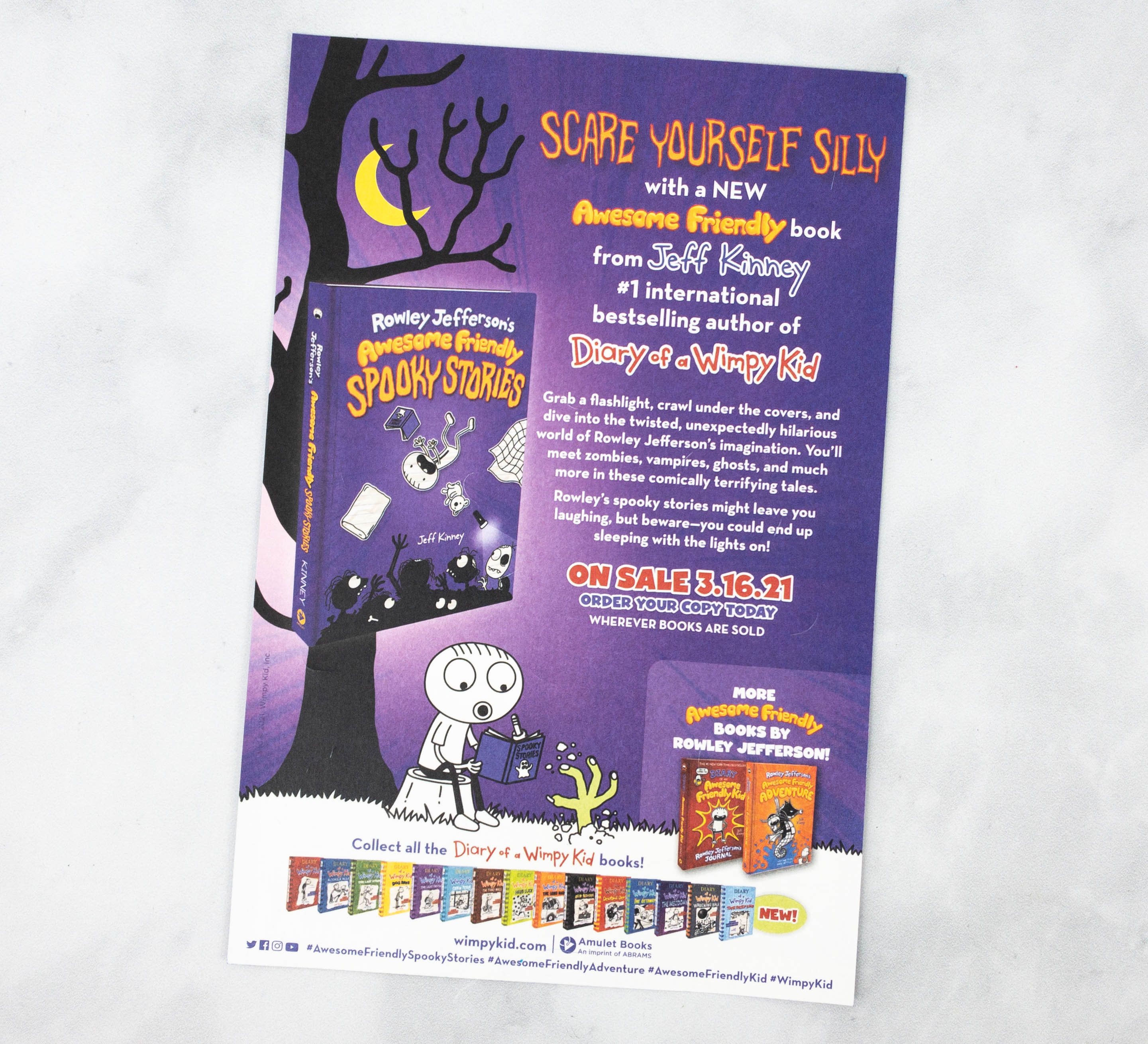 This book is written by Jeff Kinney, the author of the Diary of a Wimpy Kid series.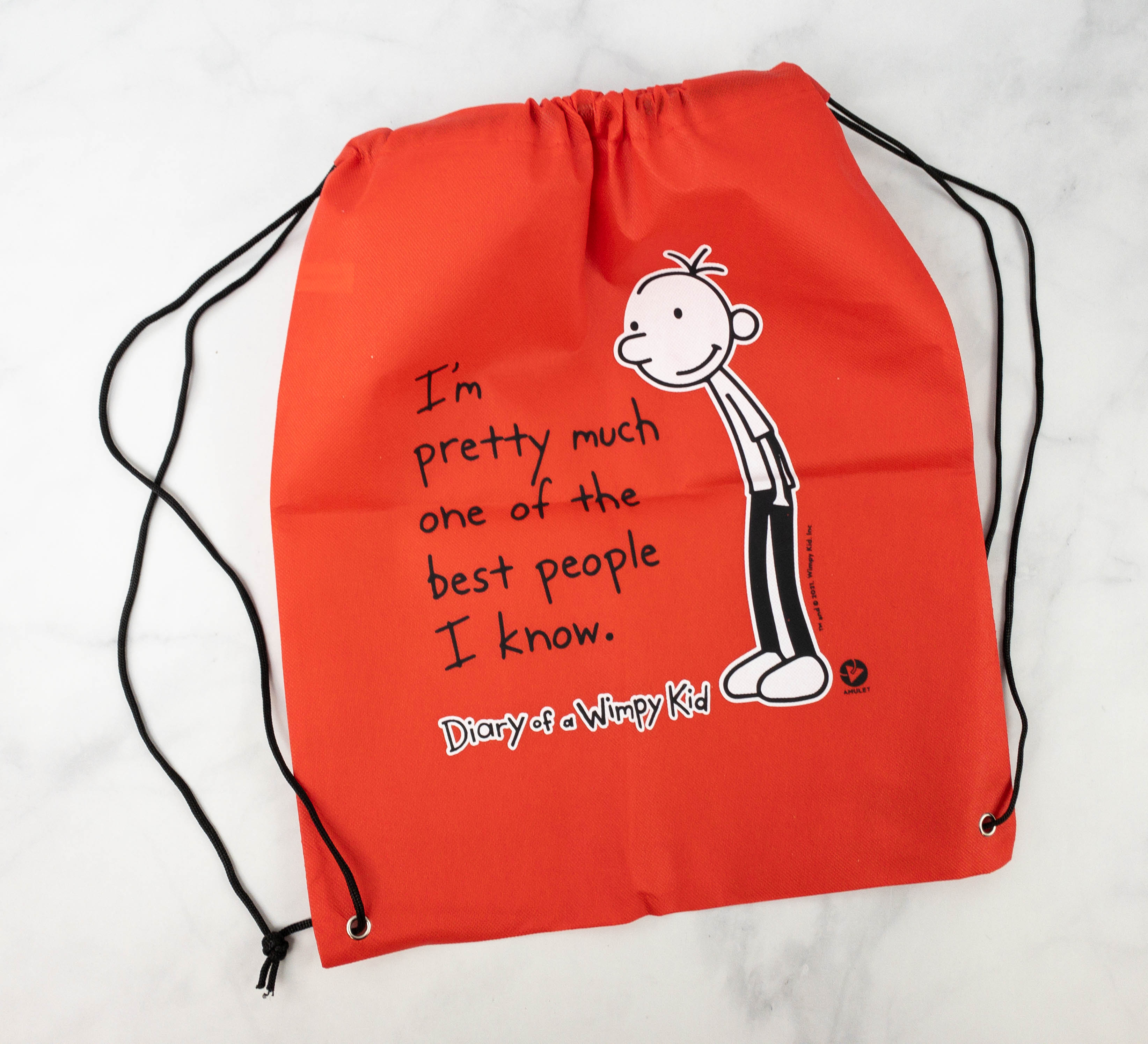 Drawstring Backpack. Speaking of Diary of a Wimpy Kid, here's a red drawstring backpack featuring the series!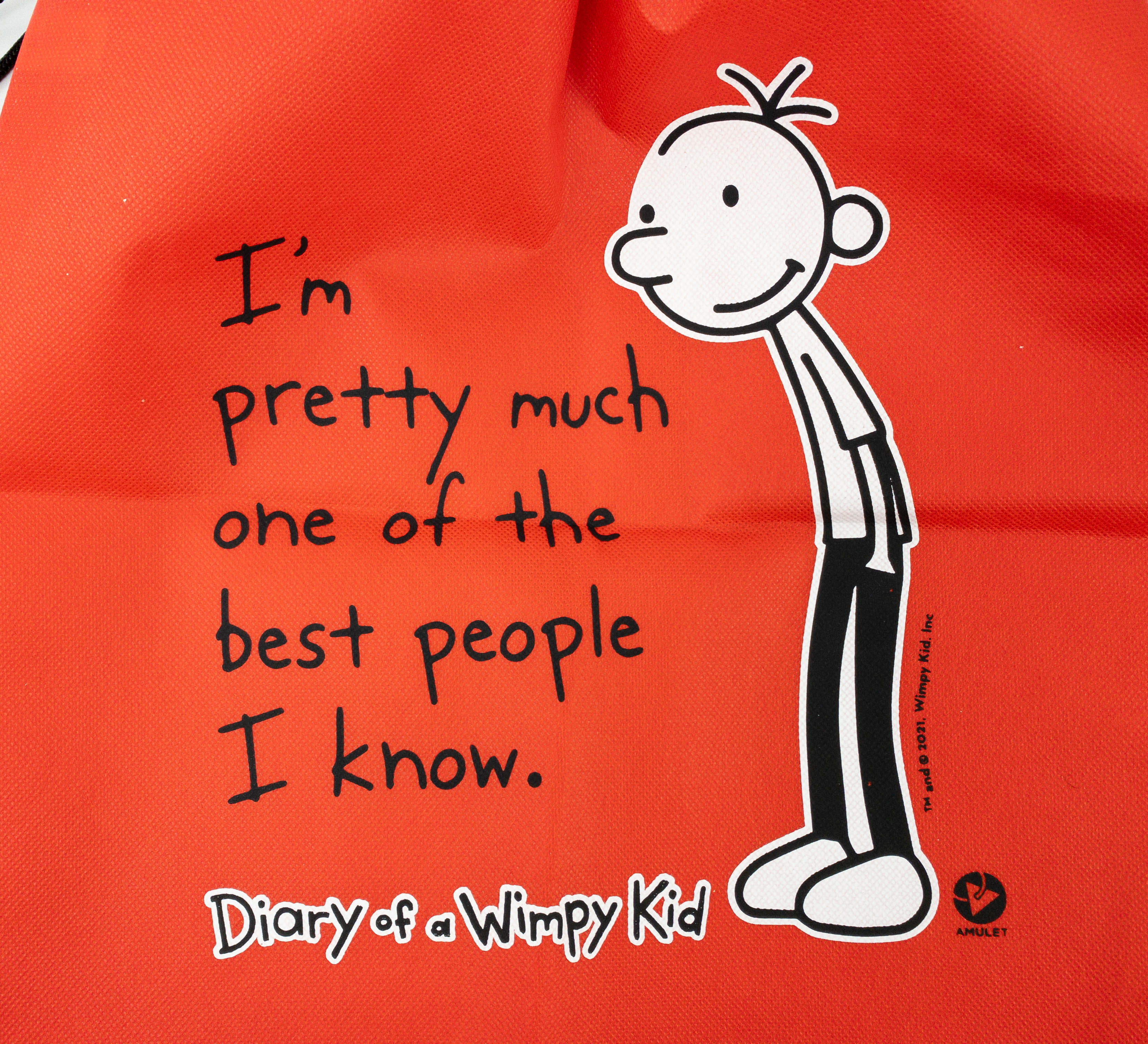 The print features a line from the popular book series, plus the main protagonist Greg Heffley.
I'm pretty much one of the best people I know.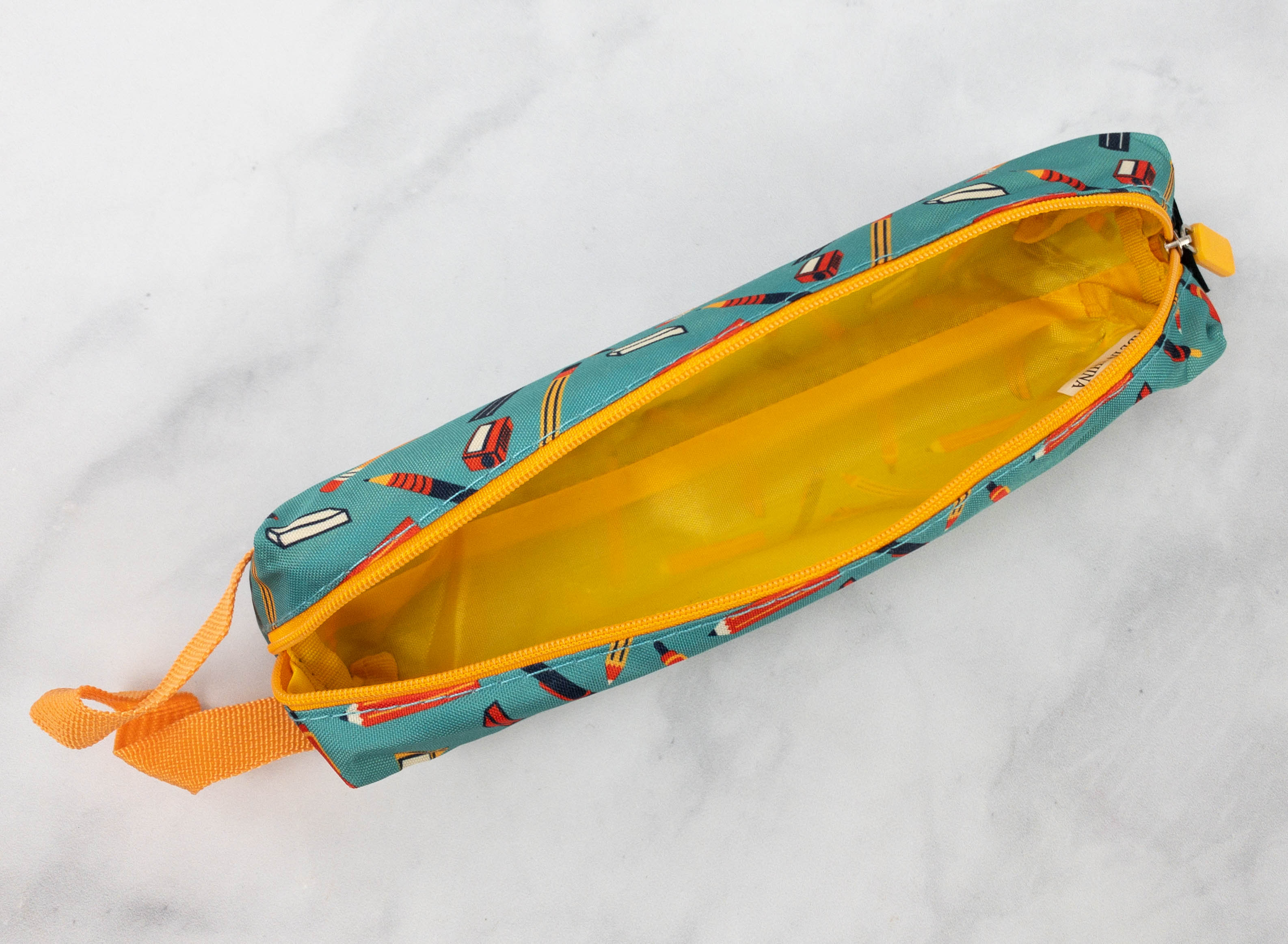 Zippered Pencil Pouch. This cute pouch can be used to store writing tools, like pens, pencils, and more. It also has a zipper to secure everything inside.
The outer color is blue green, while the interior, the zipper, and the handle are in yellow. The pouch also features a cute print featuring pencils, pens, erasers, and mini typewriters!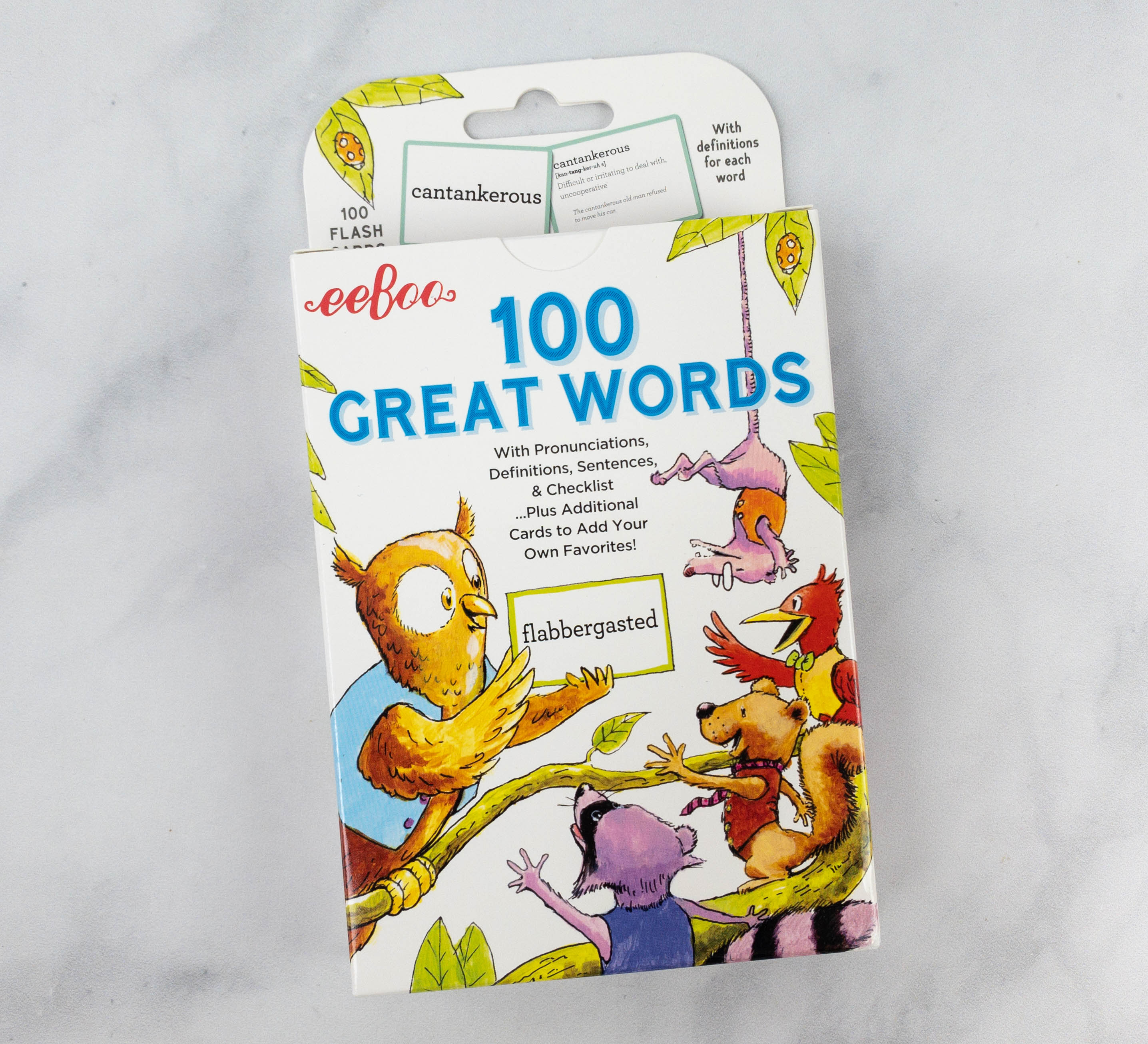 Eeboo's Deck of 100 Great Words ($8.99) Here's a deck full of great words that kids can use to expand their vocabulary and improve their writing!
The packaging has a list of all the words included in the deck.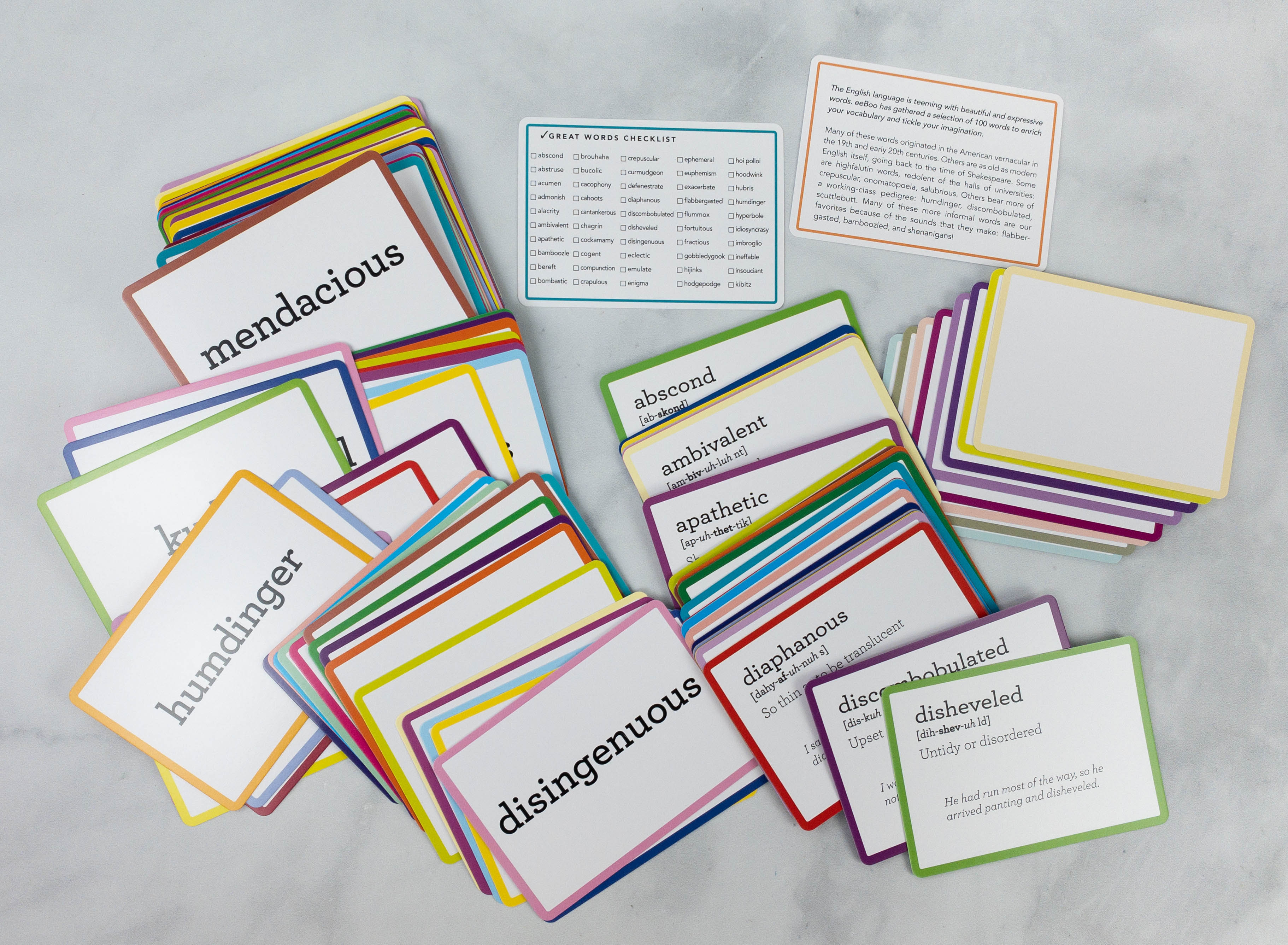 Aside from the words, these cards also contain the proper pronunciation, meaning, and a sample sentence for each word!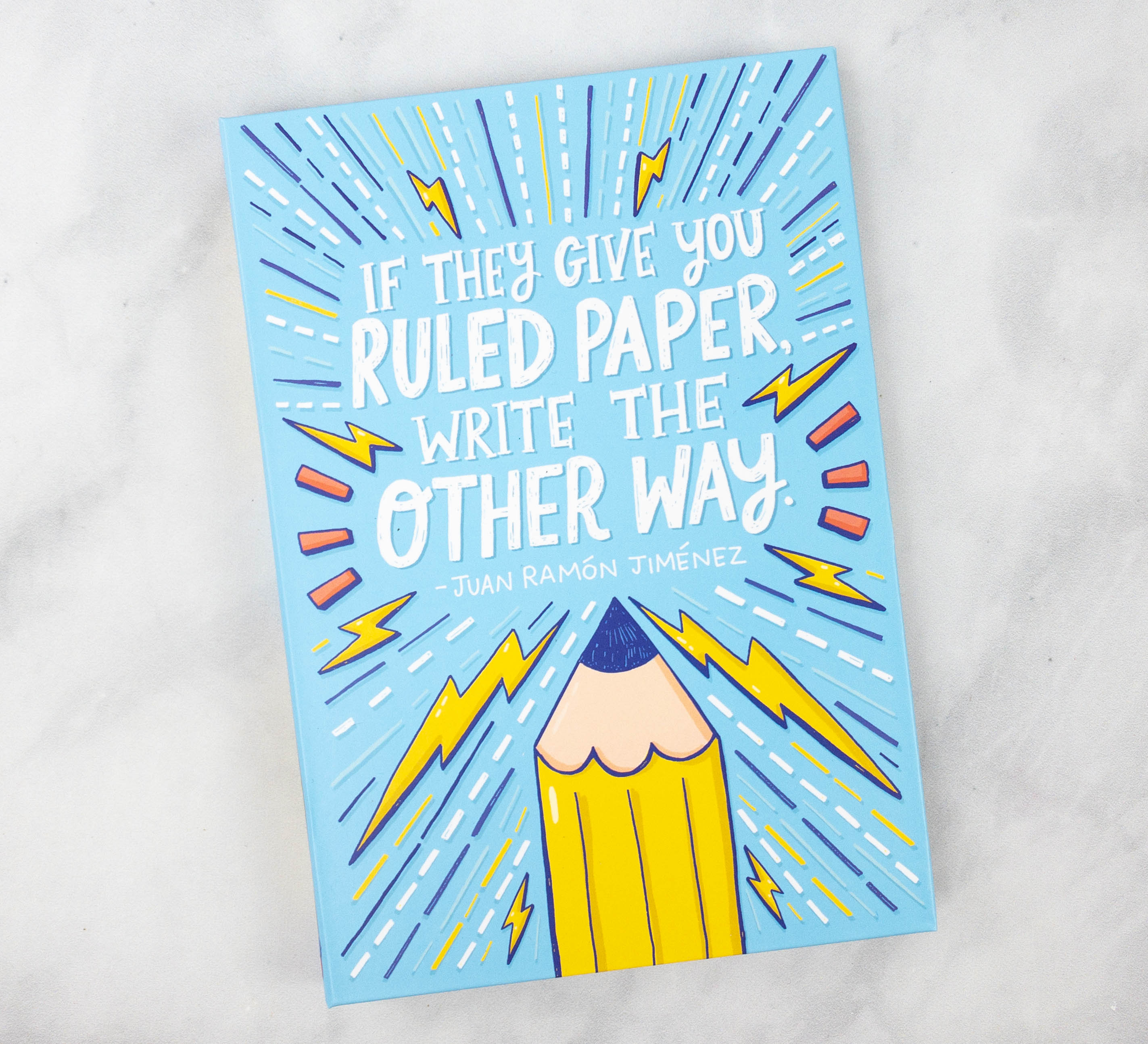 Notebook. This month's writing themed box won't be complete without a notebook where kids can write their thoughts or anything else they want to! This one features a cute cover design, with a quote from Juan Ramon Jimenez: "If they give you ruled paper, write the other way."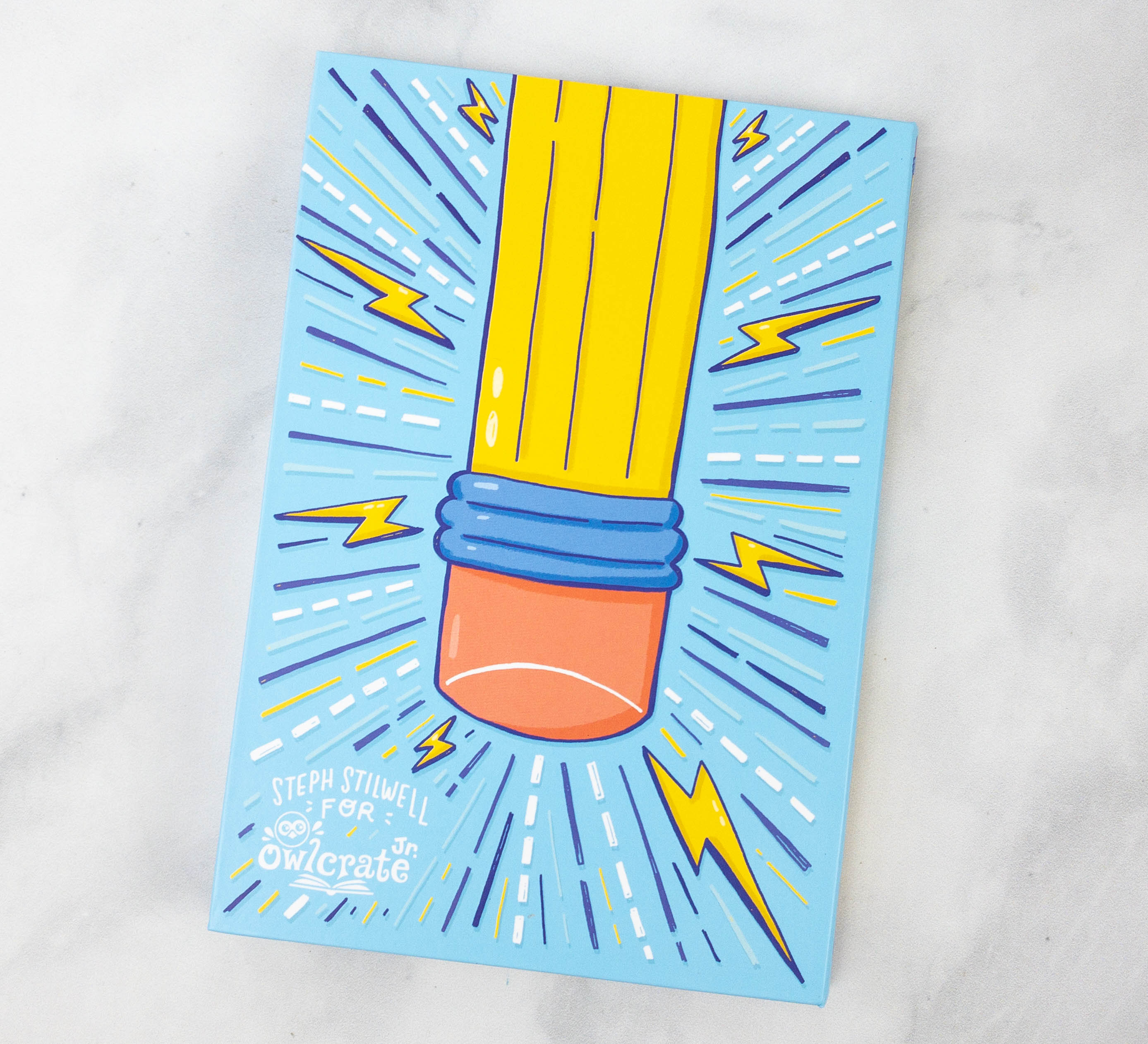 This was designed by Steph Stilwell exclusively for Owl Crate Jr.!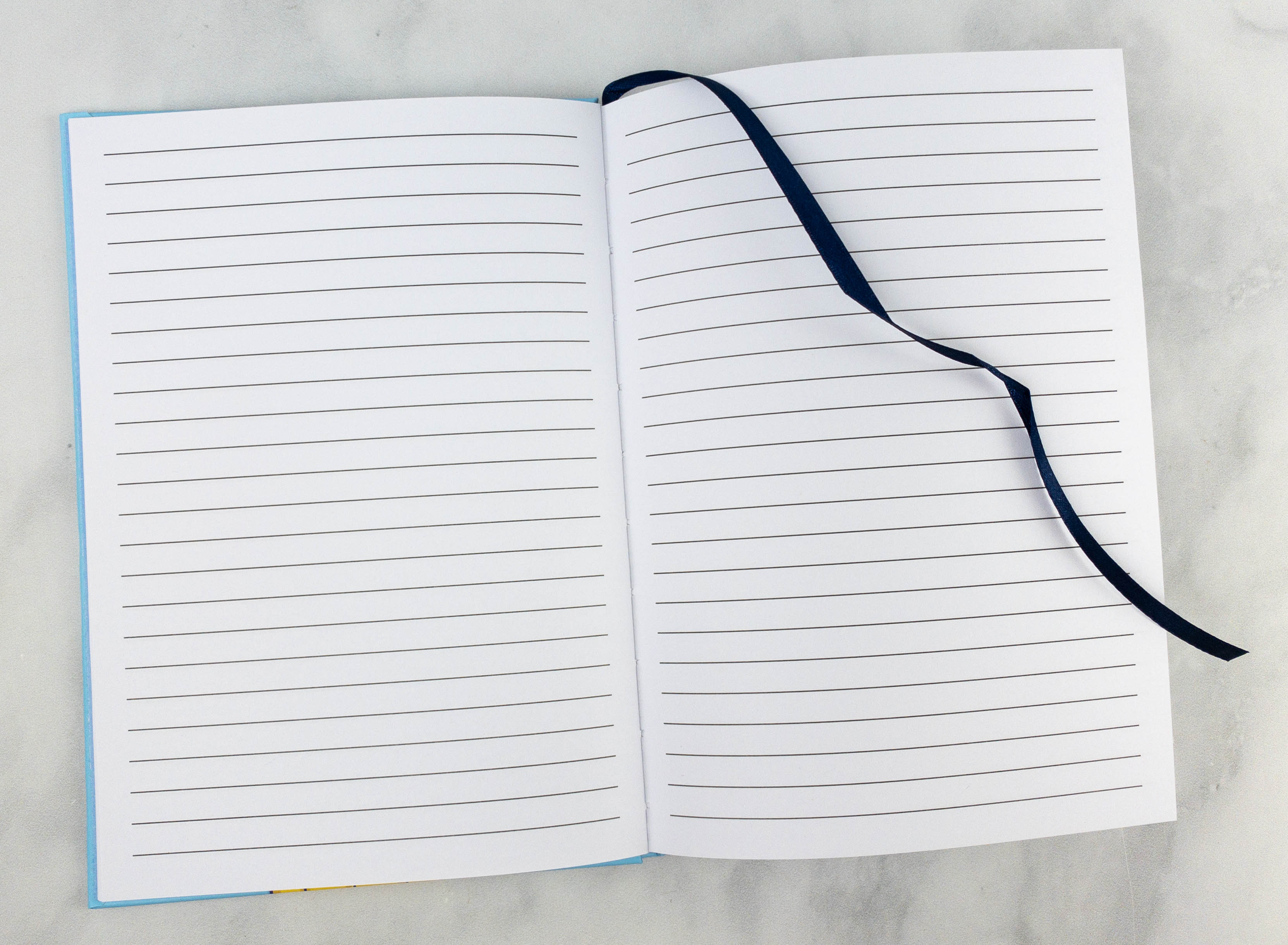 The paper used is high-quality and each page is also lined. It also has a ribbon to help kids keep track of where they left off.
Write It Down Sticker. Every box includes a cute sticker! This month, it looks like a tiger writing down something on a sheet of paper!
Another card has the same design as the featured book's cover!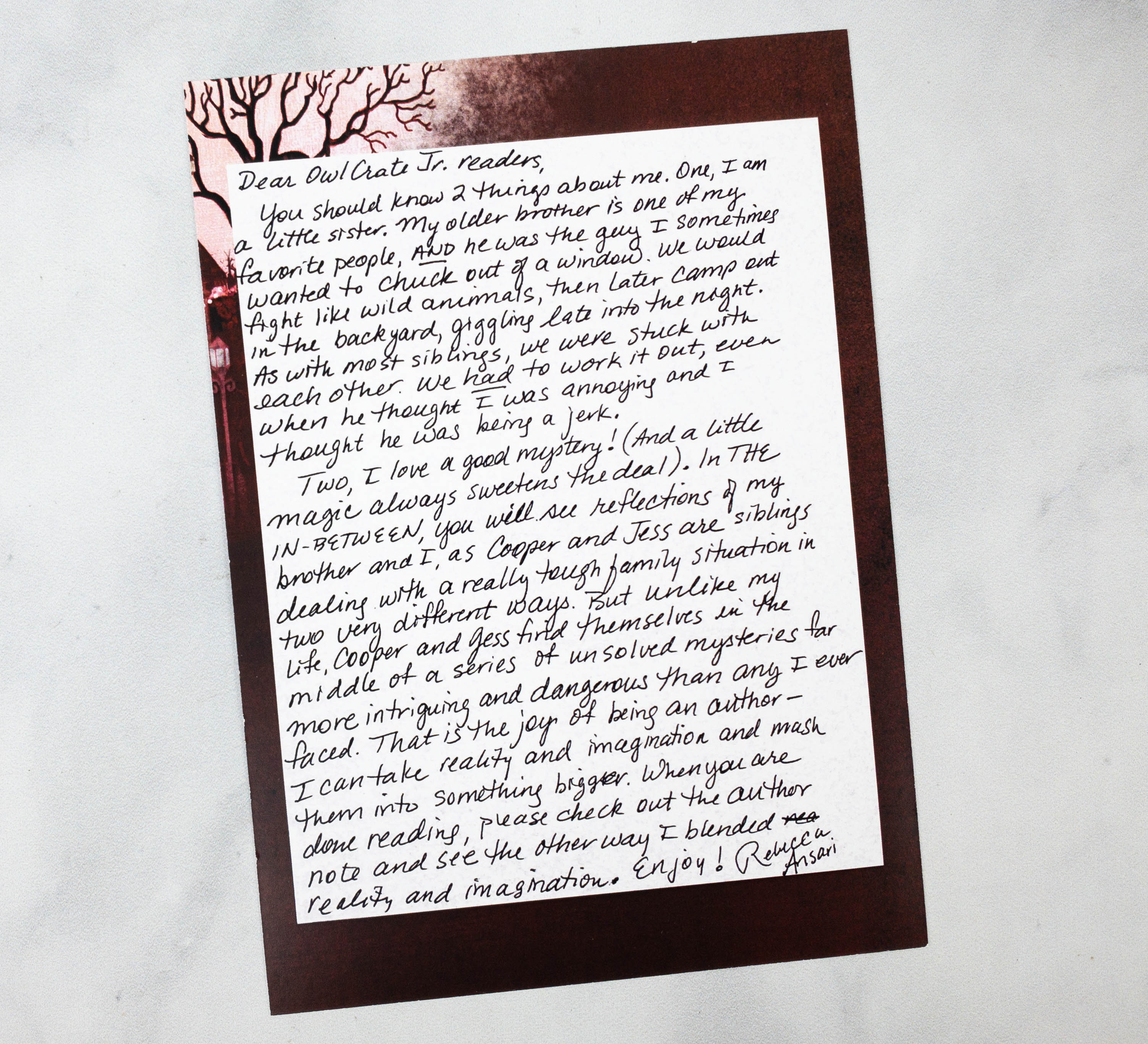 At the back is a handwritten message from the author, Rebecca Ansari.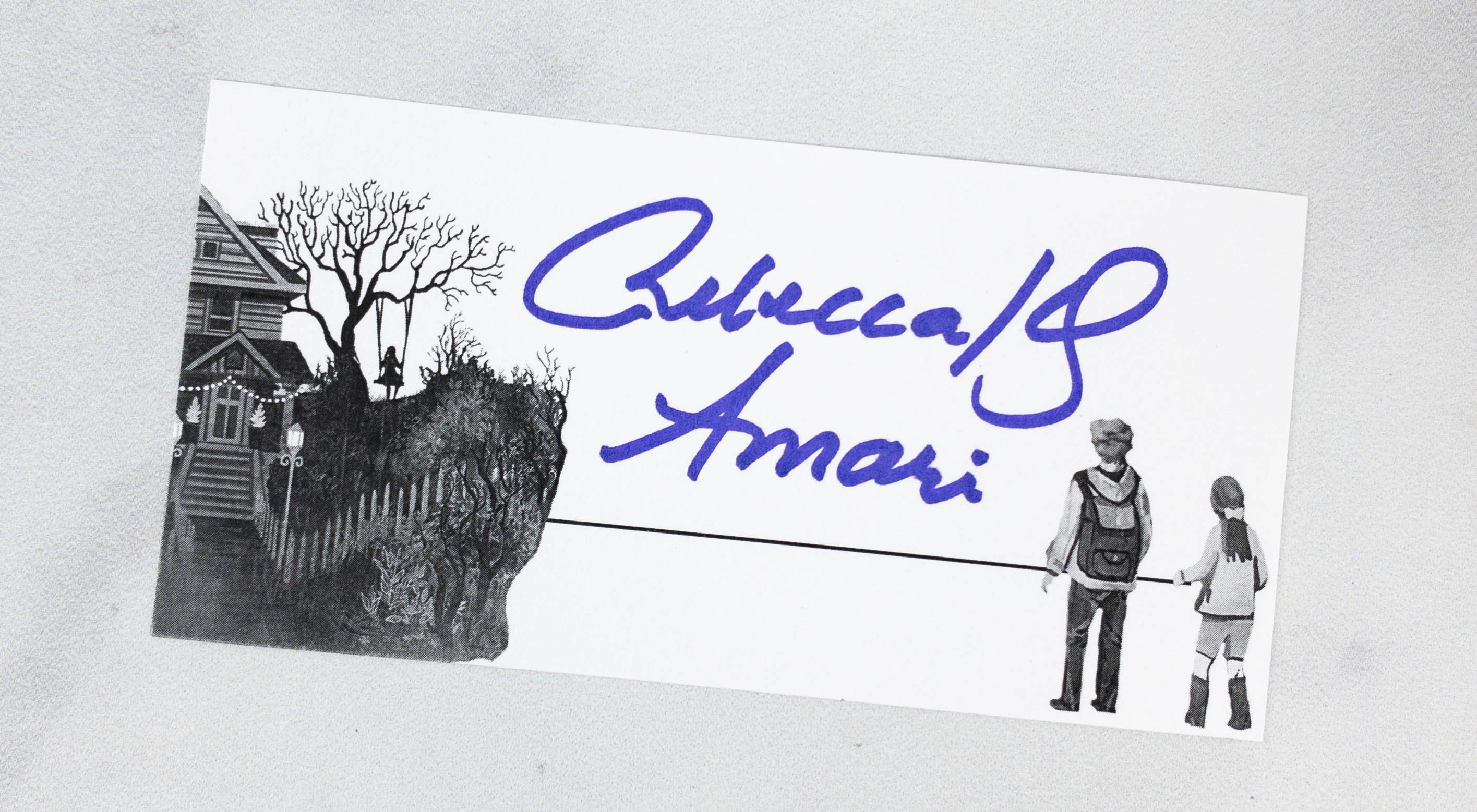 As always, the featured book comes with a signed bookplate!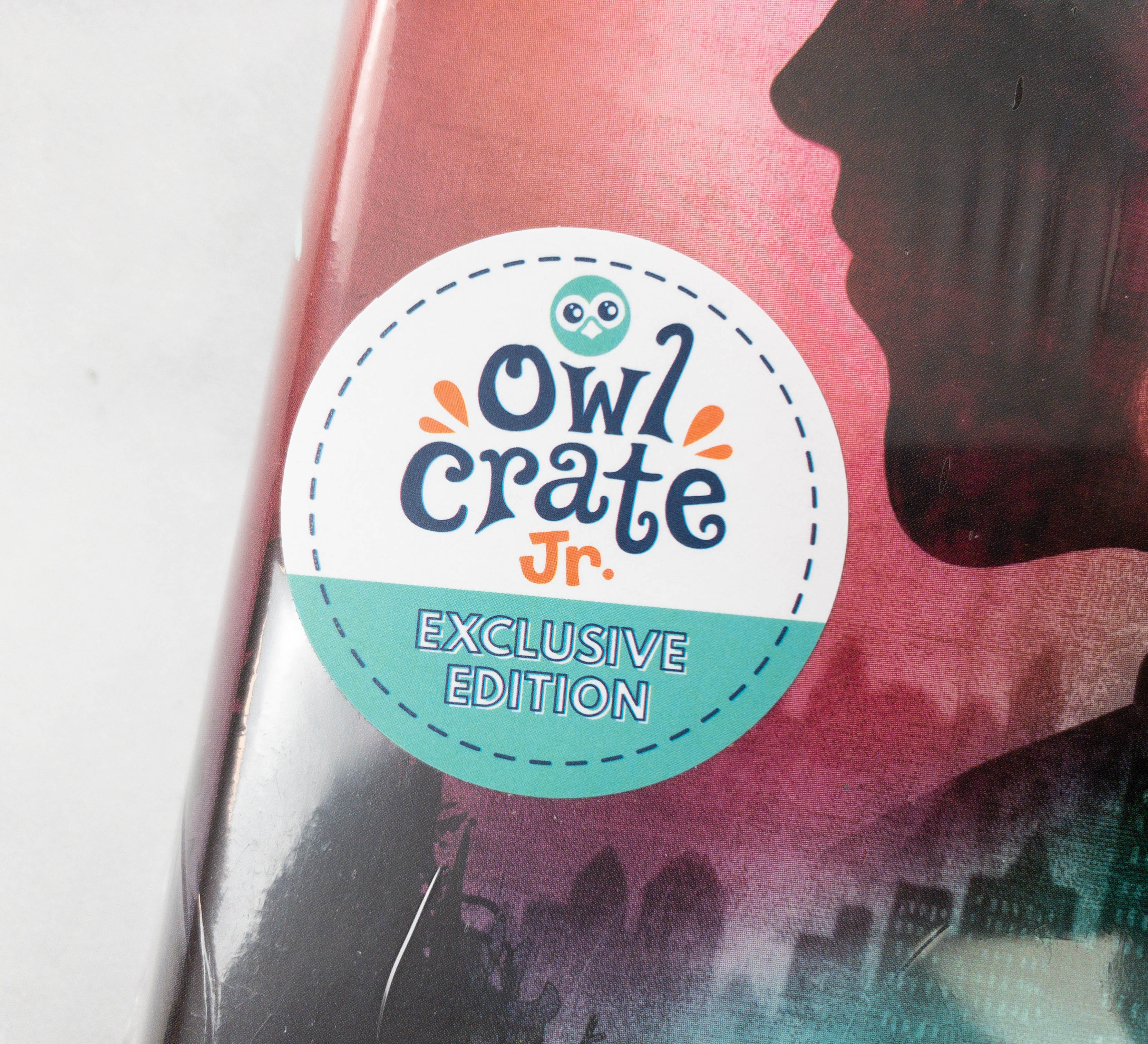 There's a sticker on the book indicating that it's an Owl Crate Jr. exclusive edition!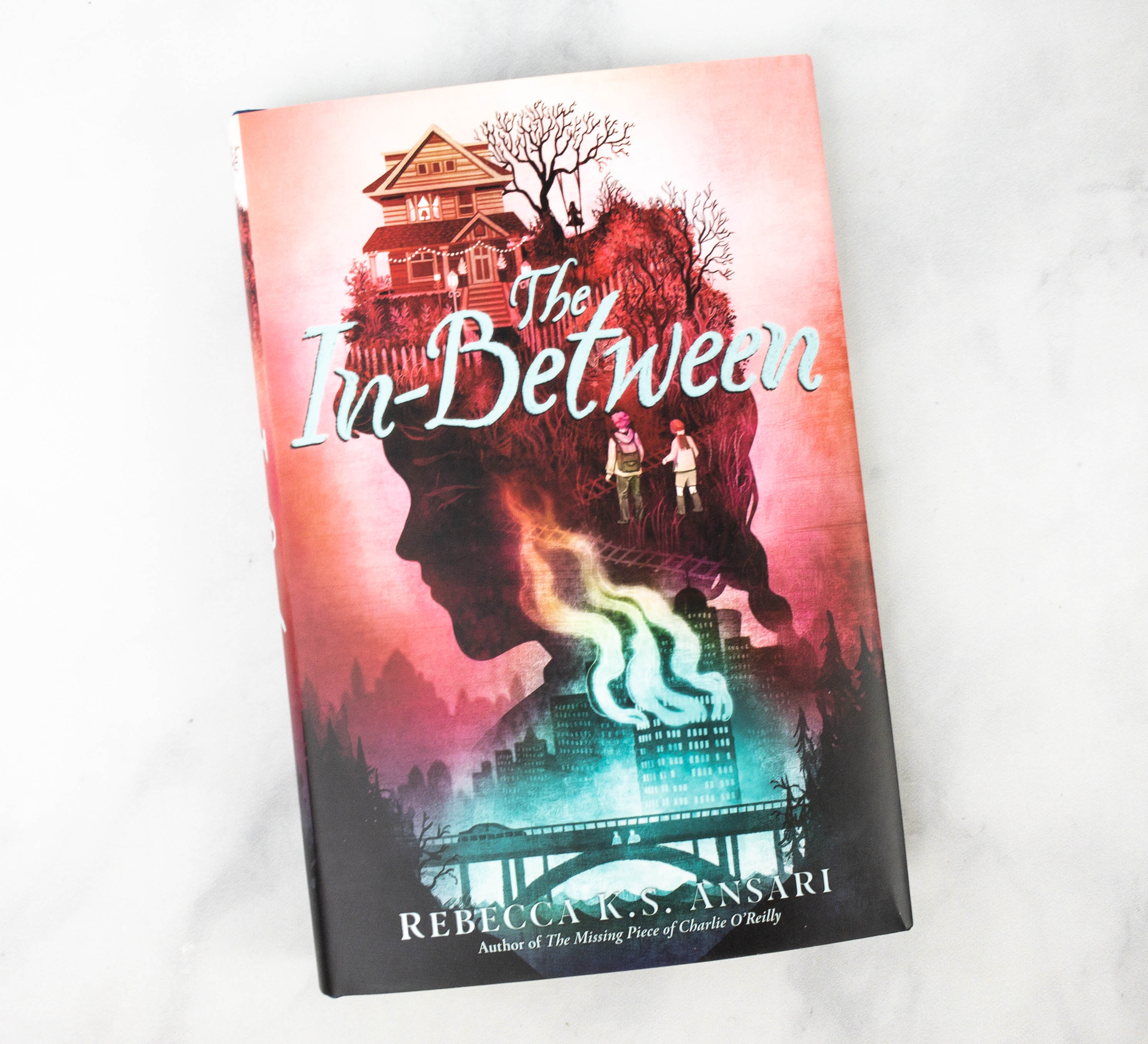 The In-Between by Rebecca K.S. Ansari ($16.99)
A dark, twisty adventure about the forgotten among us and what it means to be seen, from the acclaimed author of The Missing Piece of Charlie O'Reilly.

Cooper is lost. Ever since his father left their family three years ago, he has become distant from his friends, constantly annoyed by his little sister, Jess, and completely fed up with the pale, creepy rich girl who moved in next door and won't stop staring at him. So when Cooper learns of an unsolved mystery his sister has discovered online, he welcomes the distraction.

It's the tale of a deadly train crash that occurred a hundred years ago, in which one young boy among the dead was never identified. The only distinguishing mark on him was a strange insignia on his suit coat, a symbol no one had seen before or since. Jess is fascinated by the mystery of the unknown child— because she's seen the insignia. It's the symbol of the jacket of the girl next door.

As they uncover more information— and mounting evidence of the girl's seemingly impossible connection to the tragedy—Cooper and Jess begin to wonder if a similar disaster could be heading to their hometown.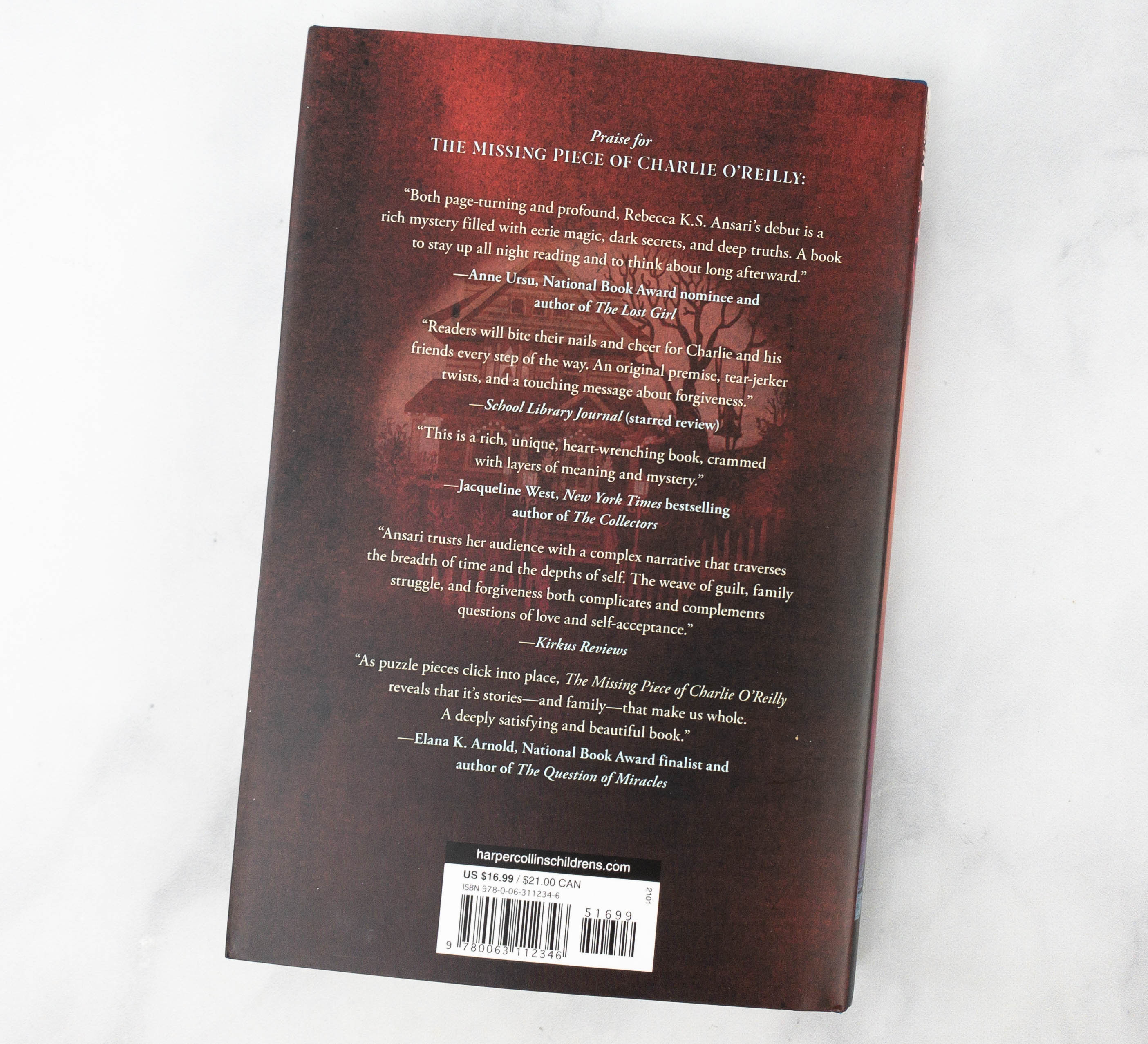 The middle grade book is a mix of mystery and fantasy!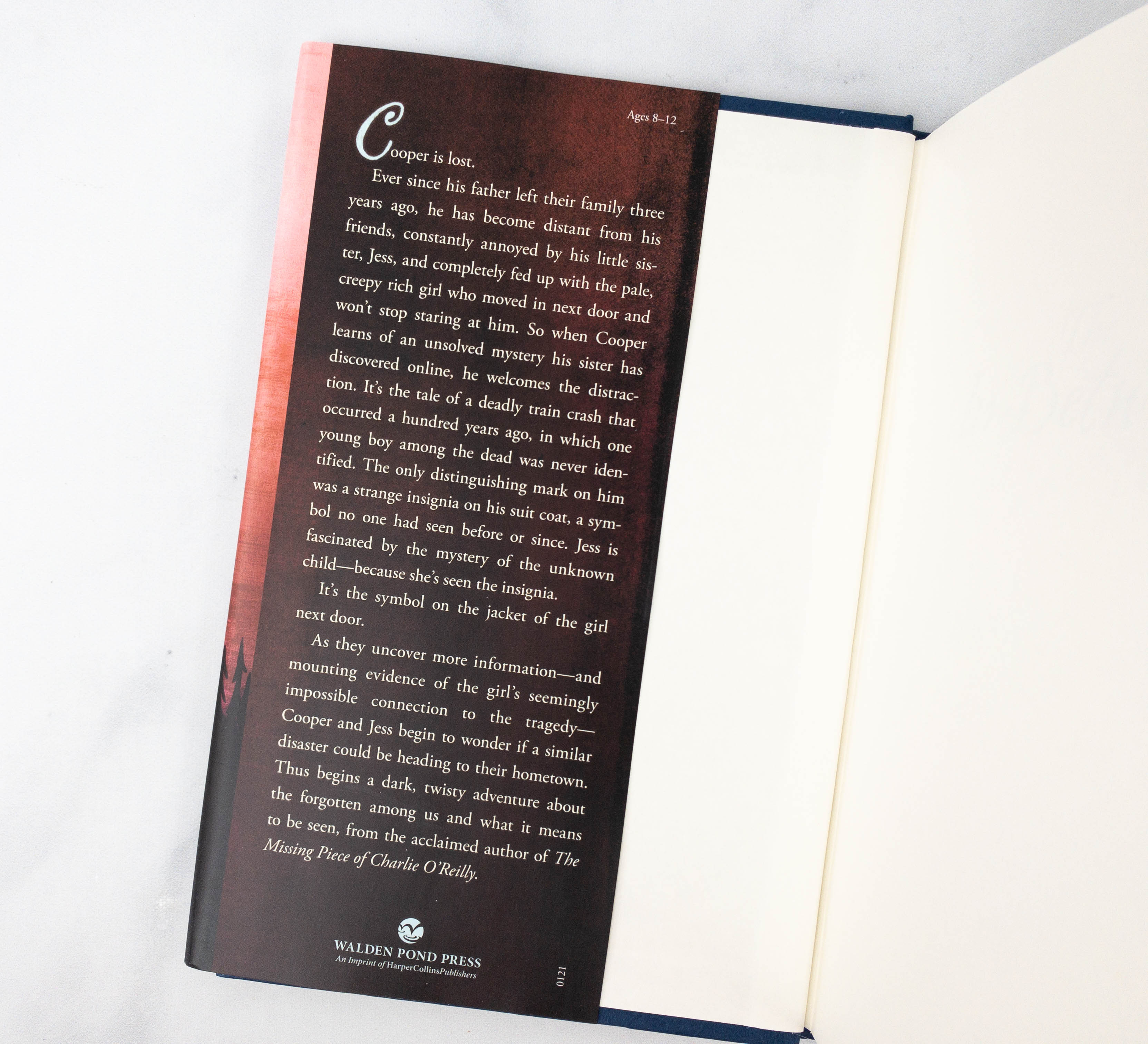 The story synopsis is printed on the inner flap of the book.
It's a story about siblings Cooper and Jess, and their thrilling adventure as they try to solve a mystery behind a train crash. As more evidence surfaced, they began to wonder if a similar tragedy could also happen in their hometown.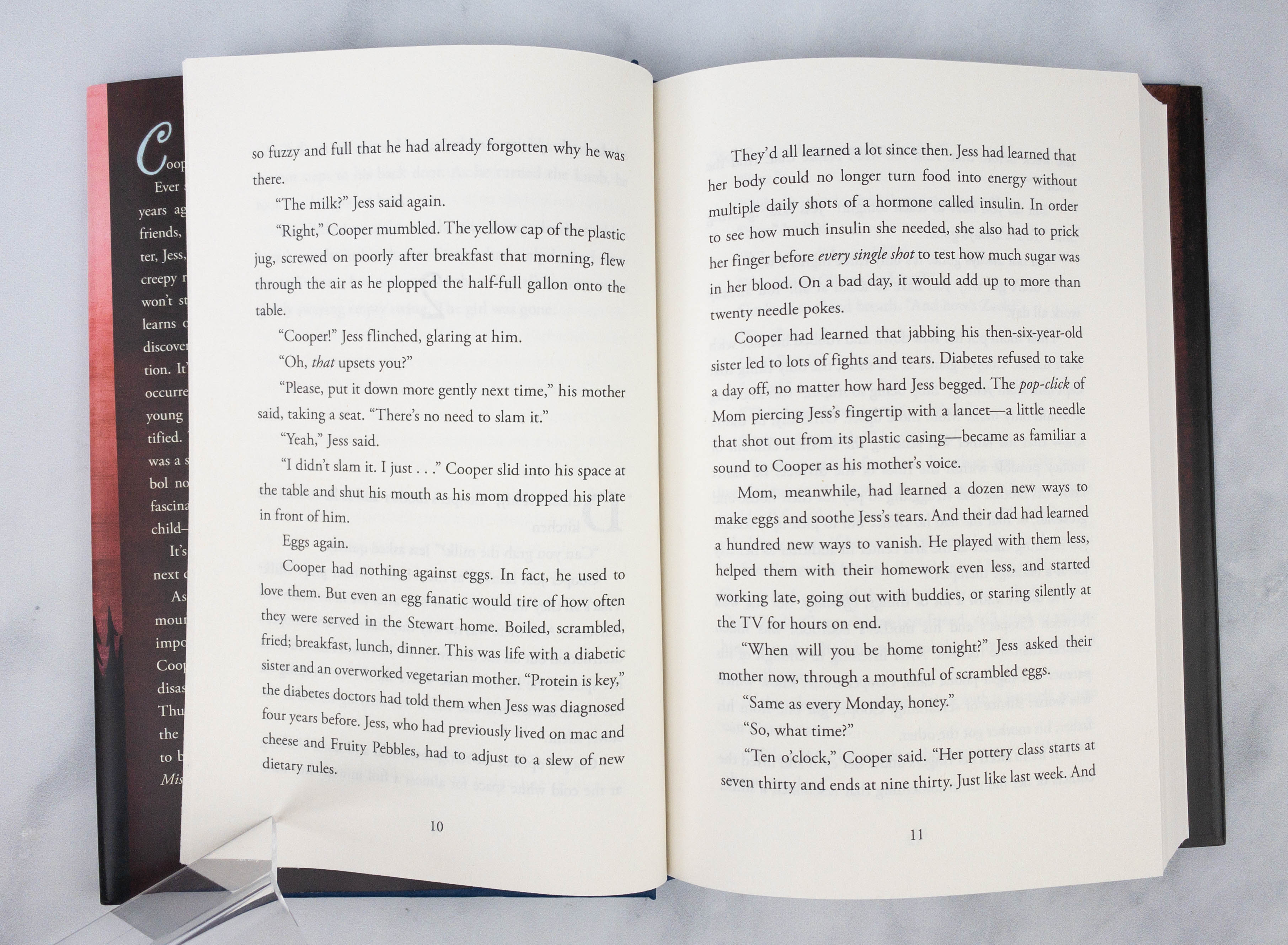 The book offered a lot of exciting moments. I saw a lot of reactions on my daughter's face while she was reading it. Each page is indeed full of heart pumping moments!
This card also features next month's theme!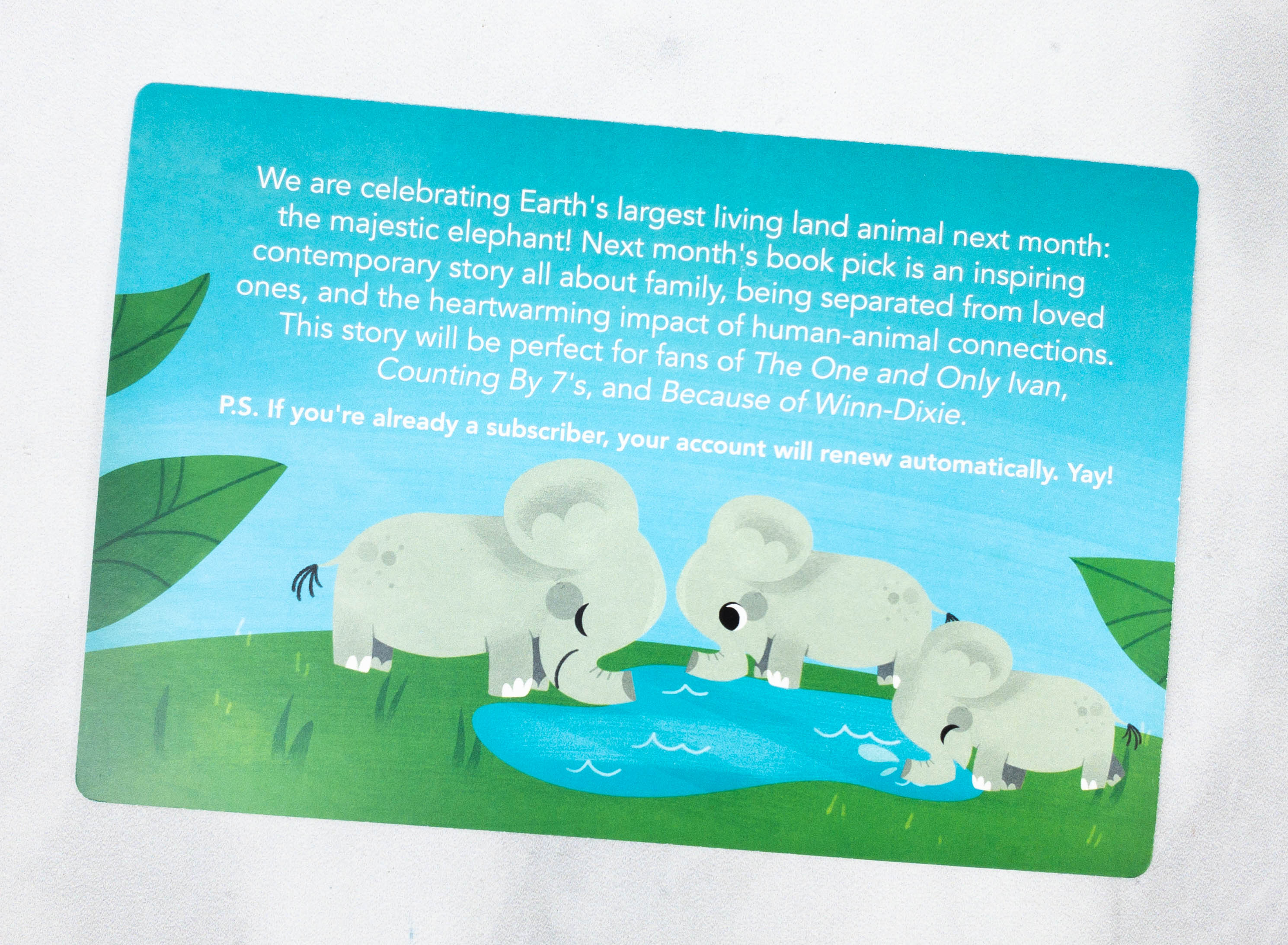 Next month's theme celebrates Earth's largest living land animal, the elephant. It will include another set of fun and educational items!
What a fun box from Owl Crate Jr.! This month's items perfectly fit the writing theme and my daughter enjoyed them all. Some of them are even useful in helping my daughter express herself better in writing, like the included deck of cards featuring great vocabulary words. Of course, she also had fun reading this month's featured book, which is packed with mystery and adventures. Overall, it was another well curated box! Their book picks are always appropriate for middle-graders and they always include exclusive items that are worth collecting!
What did you think of the OwlCrate Jr. box this month?
Visit OwlCrate Jr. to subscribe or find out more!