Once Upon a Book Club is a subscription that offers a unique reading experience. Each month, you'll receive a book to read, a 5″ x 7″ quote print, along with 2-4 corresponding gifts to match a quote/item mentioned in the book. Readers are advised to open the gifts as they finish the corresponding page to make them feel as if the book is coming to life!
You can choose between Once Upon a Book Club's Young Adult edition and Adult edition. This is the review of the Adult box.
DEAL: Enjoy 10% off your first box. Use coupon code HELLO10.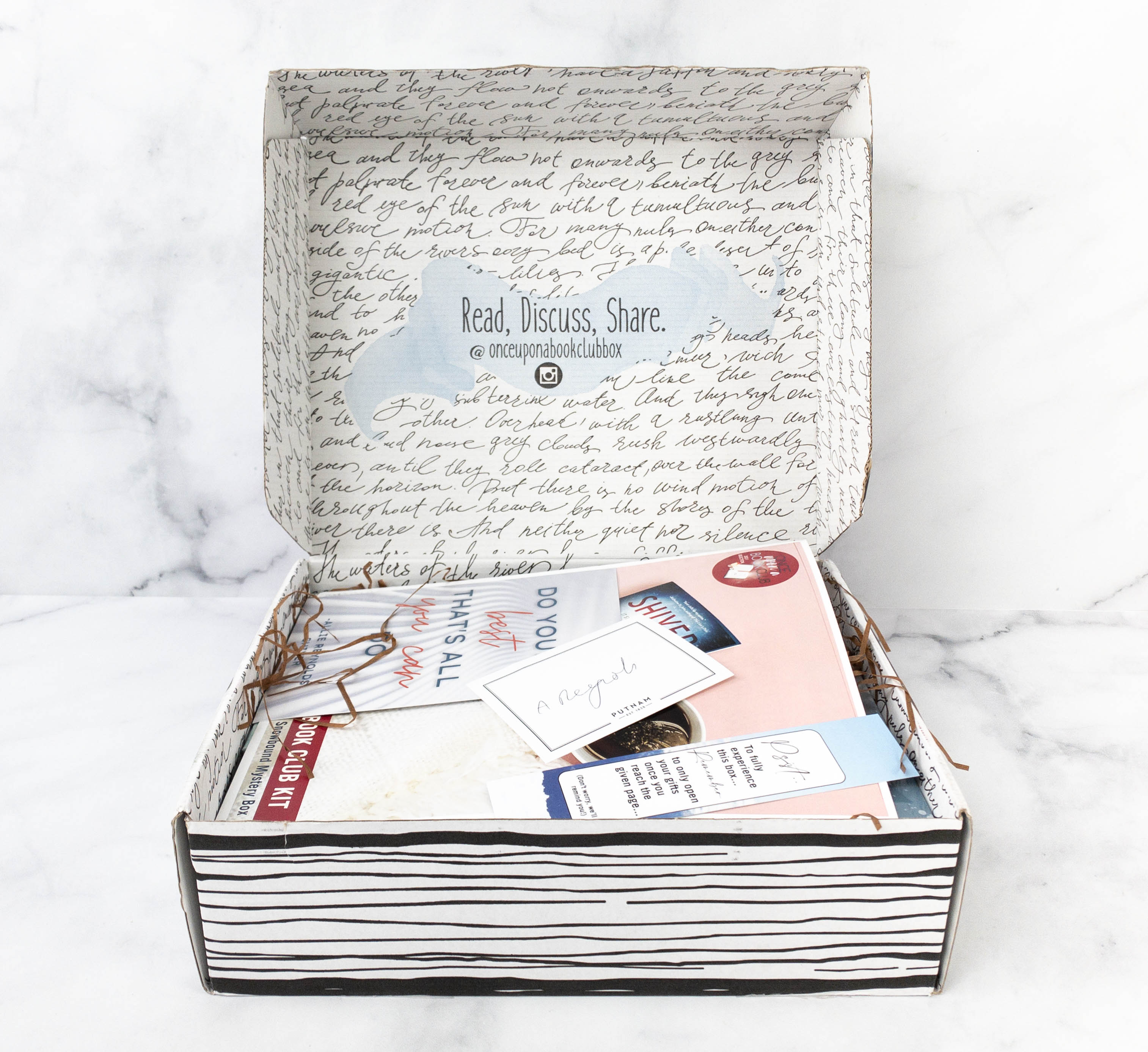 The box interior looks lovely with those words in script.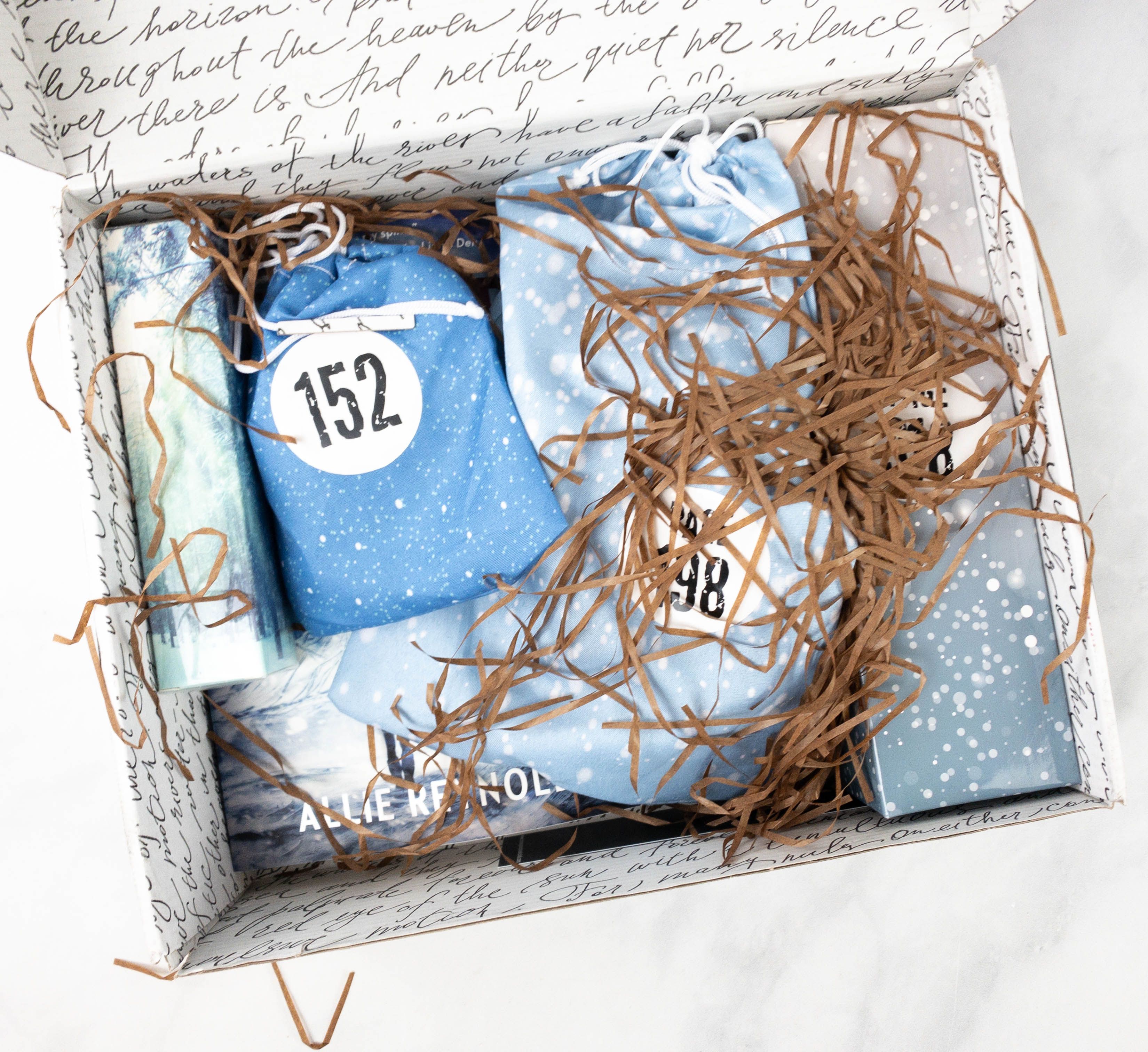 The gifts were individually wrapped and packed with shredded brown paper.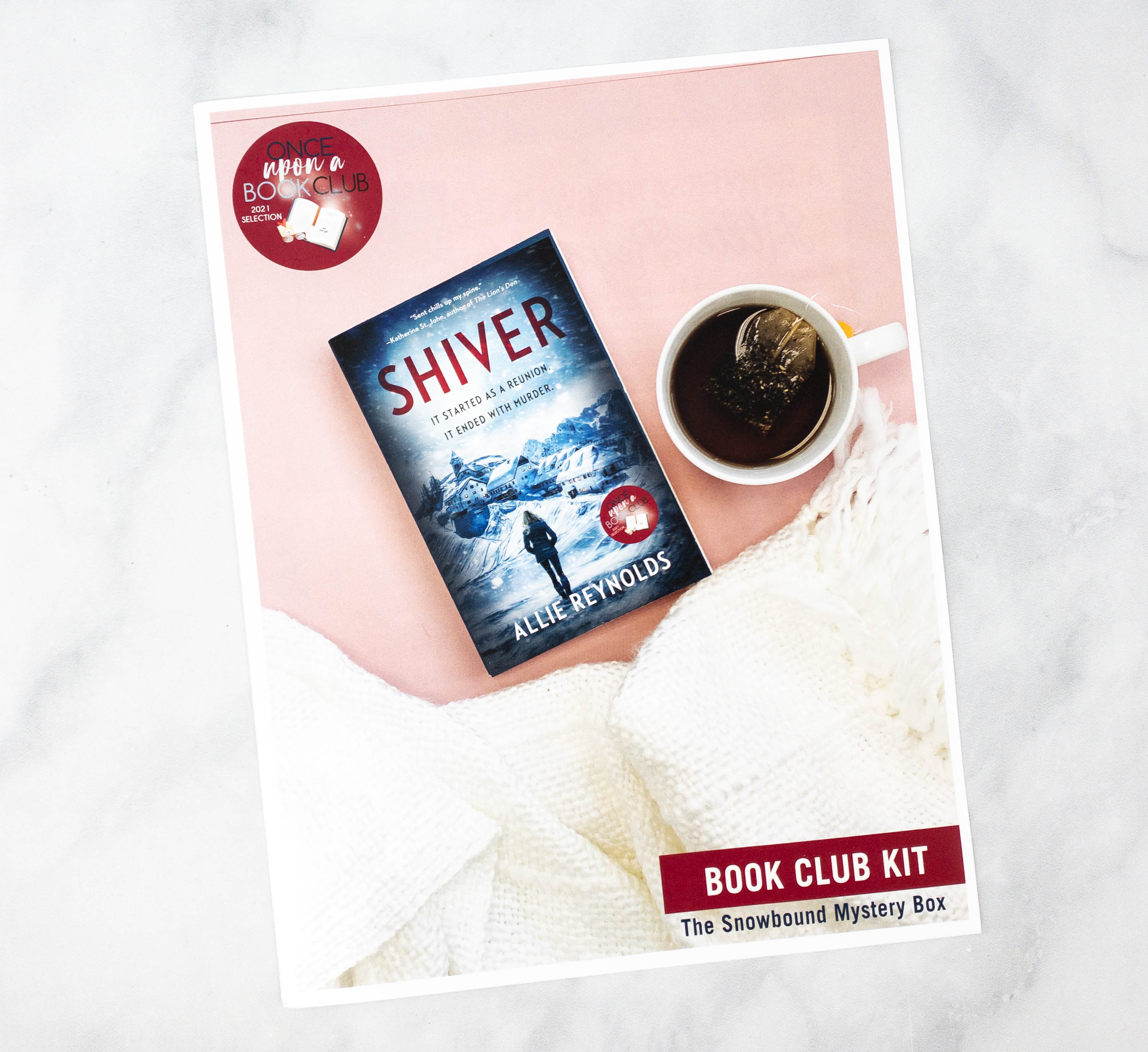 The box also includes a Book Club Kit guide!
At the back, there is a note about how to play the Shiver Game.
Directions

Write a secret: something about yourself that on one of the others in your group will know. Post it in a box. Draw the envelopes out, one by one, and guess who wrote what.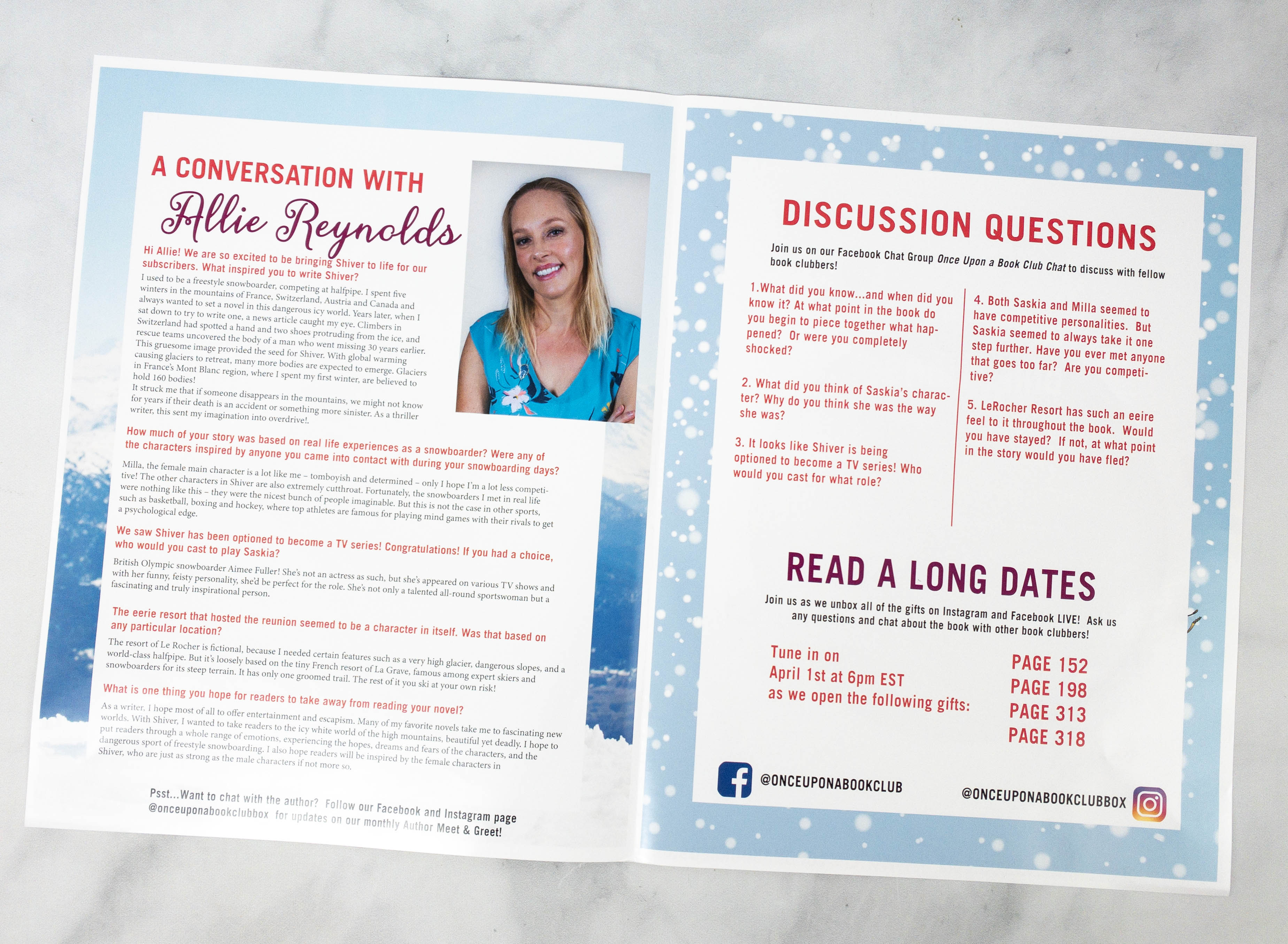 Inside, there's an Author's Note featuring Allie Reynolds. There are also read along dates and some discussion questions.
As always, the bookmark reminds to only open the gifts once you're on the given page.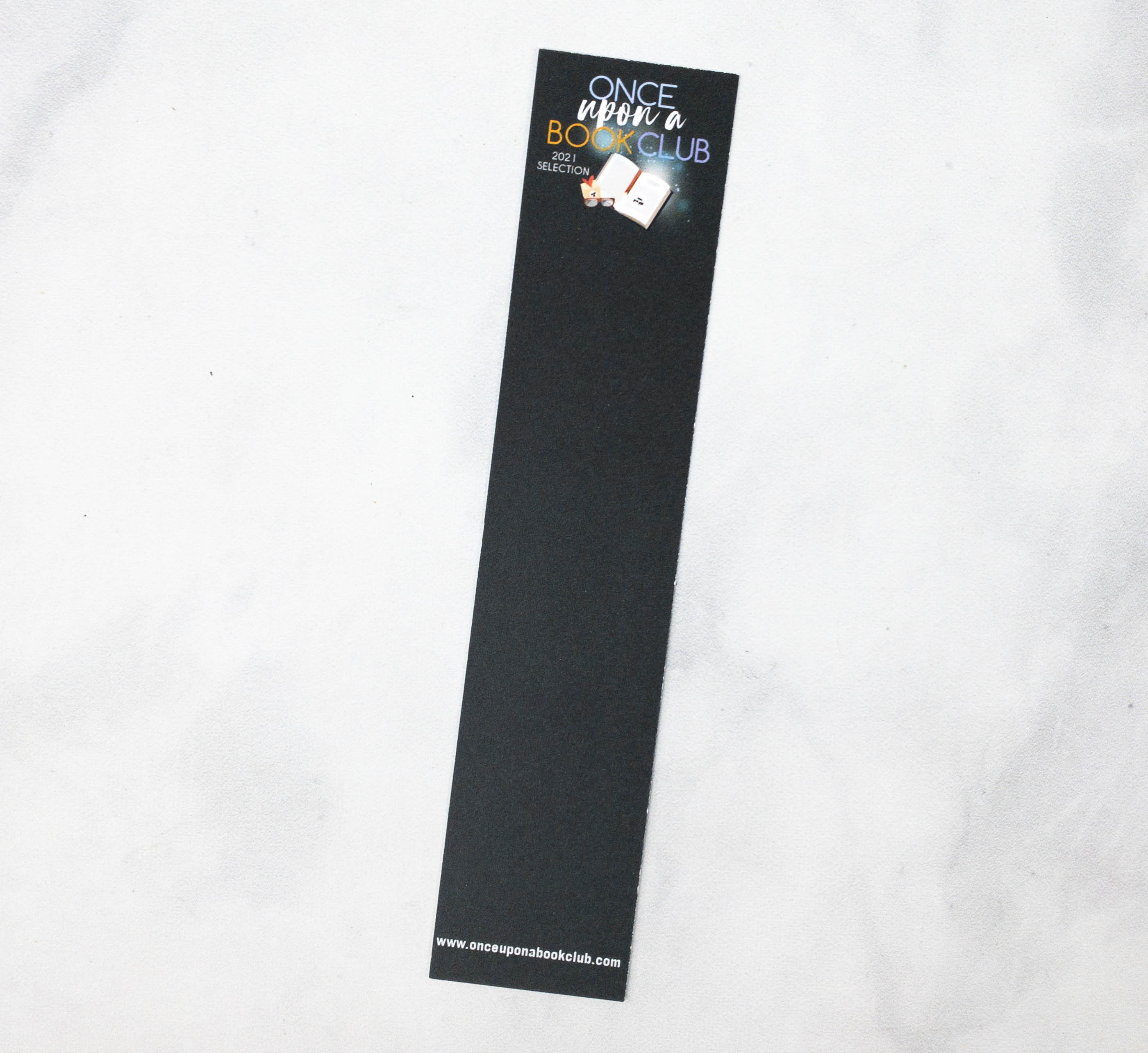 The back has a Once Upon A Book Club logo at the top as well as the website URL at the bottom.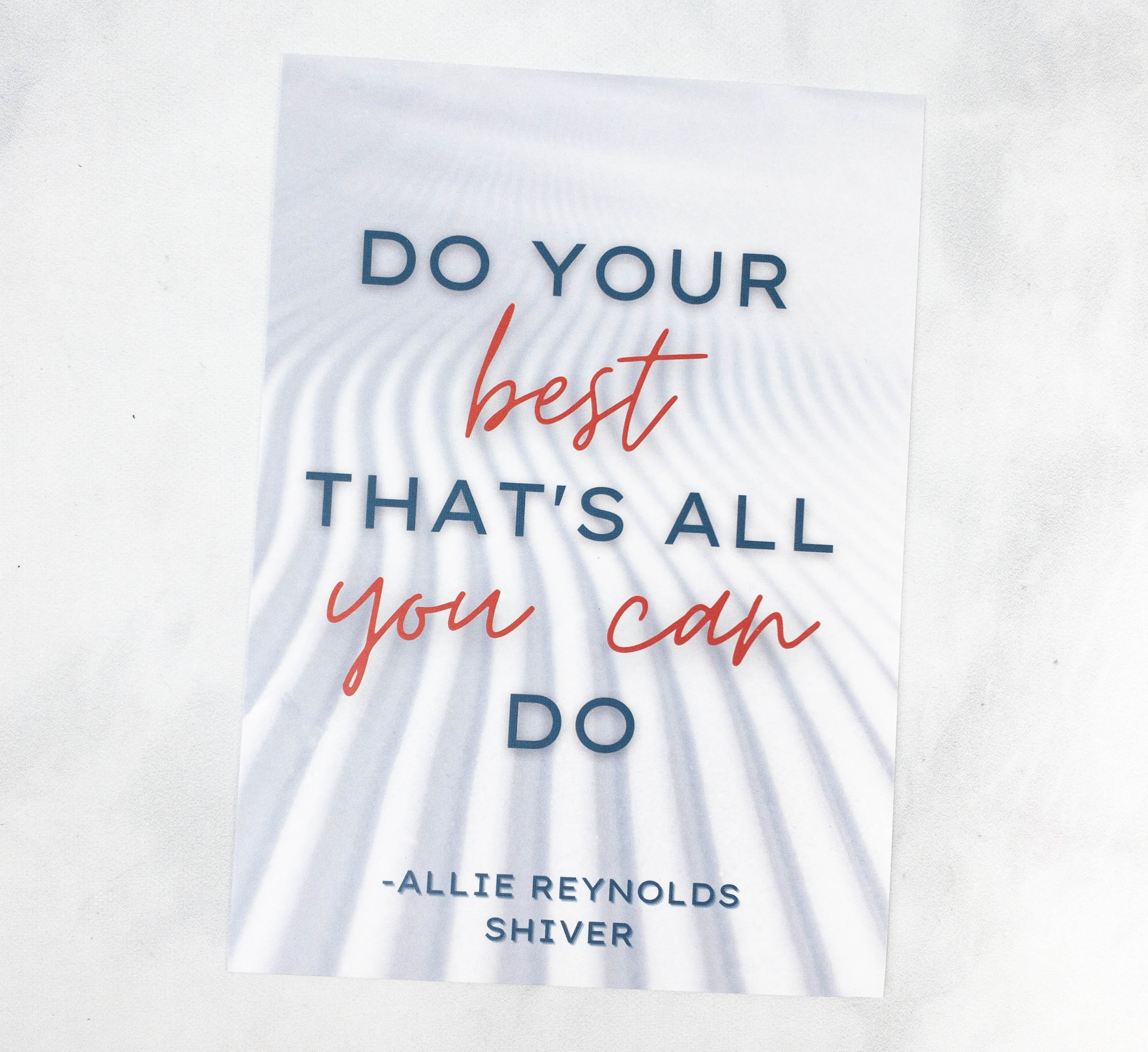 Do your best. That's all you can do.

– Allie Reynolds, Shiver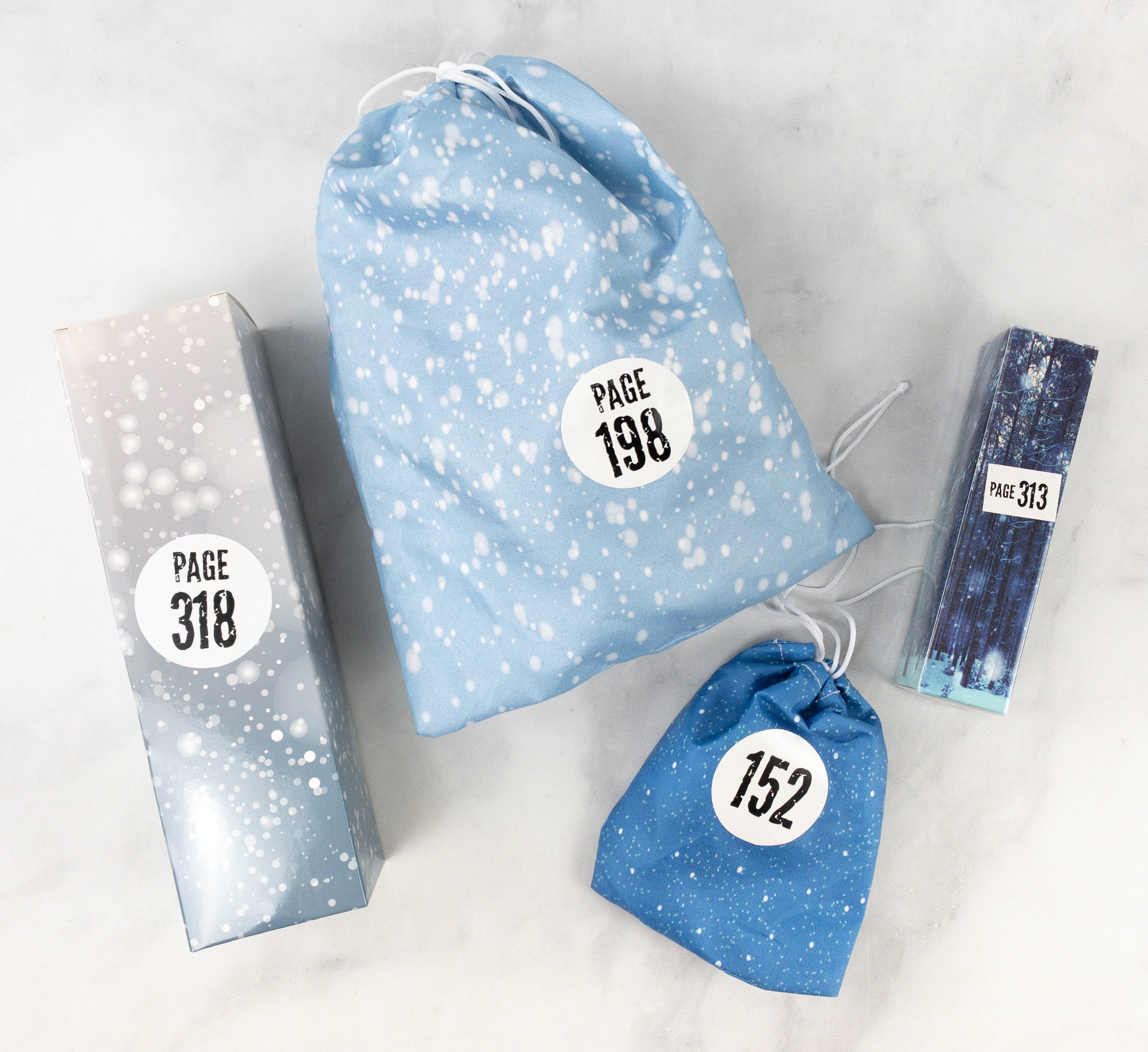 I'm excited to open the gifts!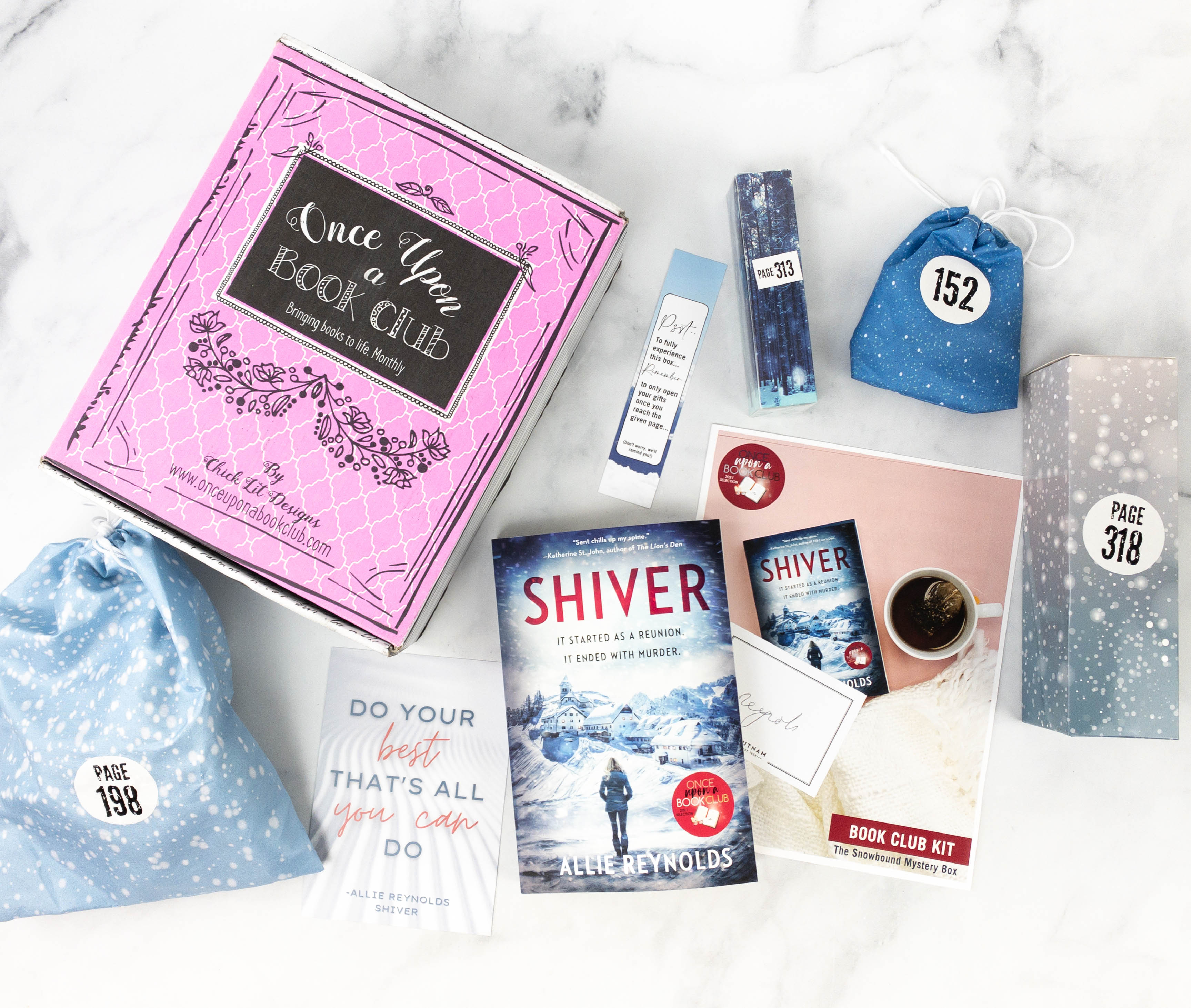 Everything in my box!
The book comes with a signed bookplate.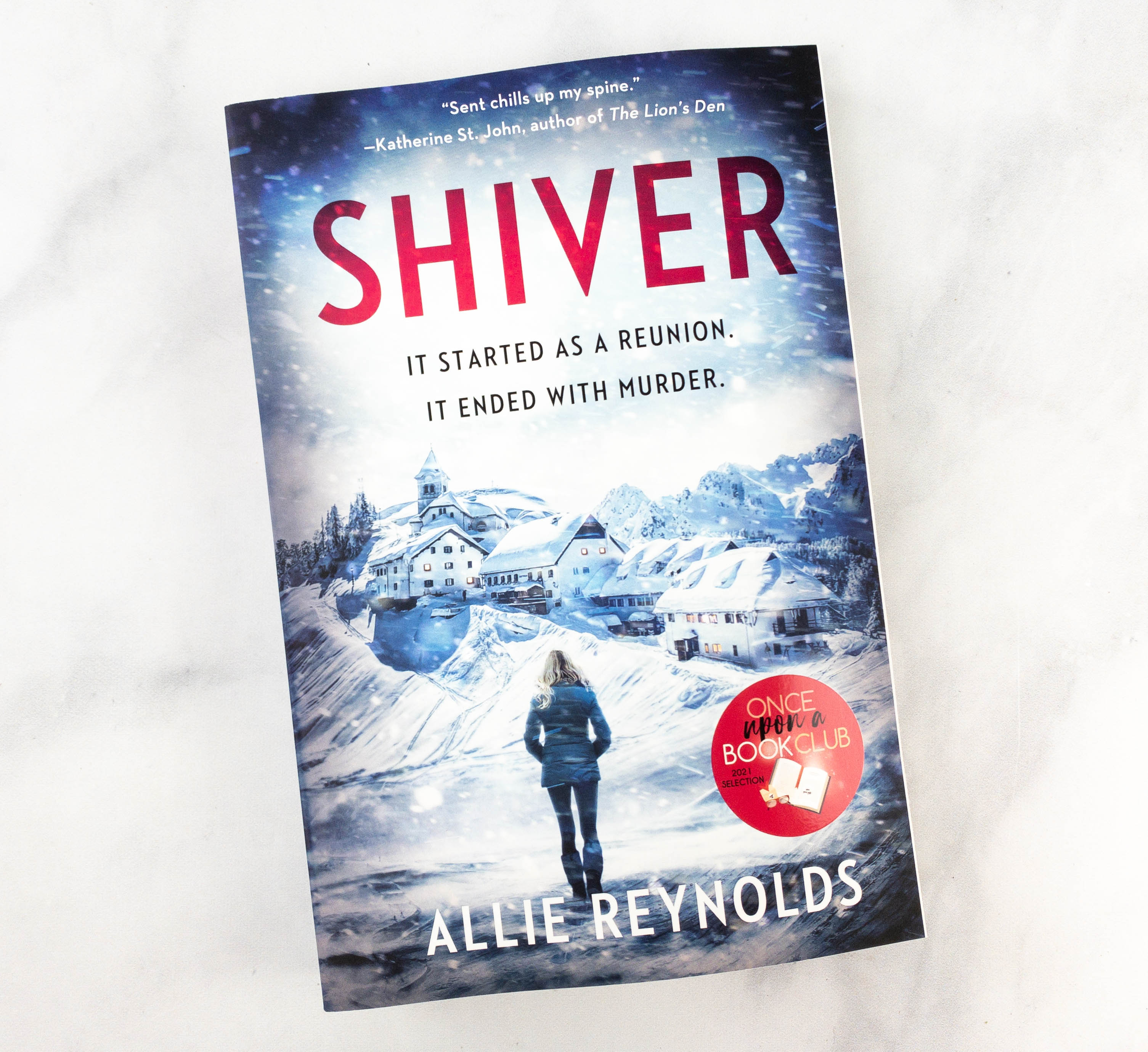 Shiver by Allie Reynolds ($20.49)
In this propulsive locked-room thriller debut, a reunion weekend in the French Alps turns deadly when five friends discover that someone has deliberately stranded them at their remote mountaintop resort during a snowstorm.

When Milla accepts an off-season invitation to Le Rocher, a cozy ski resort in the French Alps, she's expecting an intimate weekend of catching up with four old friends. It might have been a decade since she saw them last, but she's never forgotten the bond they forged on this very mountain during a winter spent fiercely training for an elite snowboarding competition.

Yet no sooner do Milla and the others arrive for the reunion than they realize something is horribly wrong. The resort is deserted. The cable cars that delivered them to the mountaintop have stopped working. Their cell phones–missing. And inside the hotel, detailed instructions await them: an icebreaker game, designed to draw out their secrets. A game meant to remind them of Saskia, the enigmatic sixth member of their group, who vanished the morning of the competition years before and has long been presumed dead.

Stranded in the resort, Milla's not sure what's worse: the increasingly sinister things happening around her or the looming snowstorm that's making escape even more impossible. All she knows is that there's no one on the mountain she can trust. Because someone has gathered them there to find out the truth about Saskia…someone who will stop at nothing to get answers. And if Milla's not careful, she could be the next to disappear…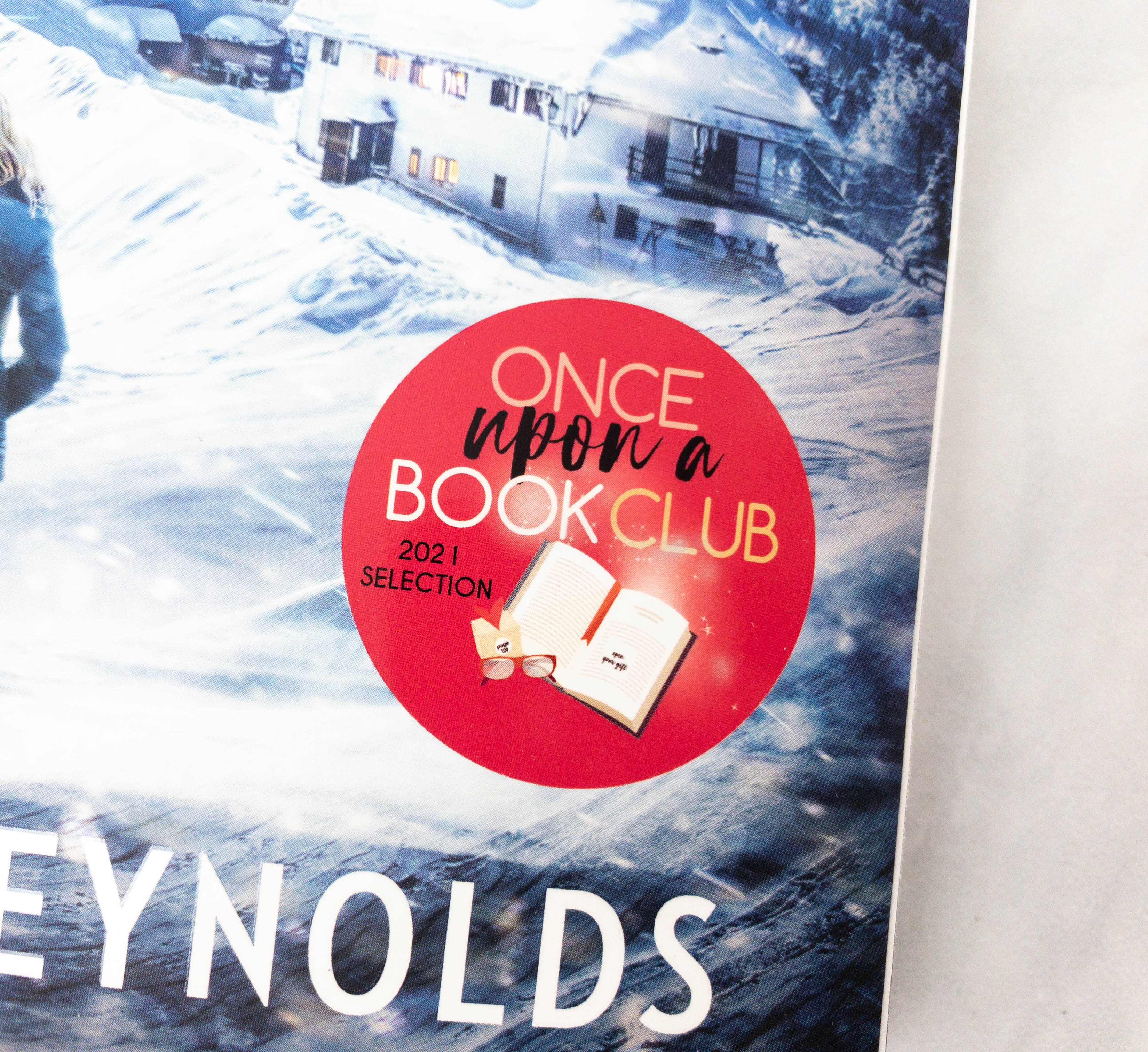 The book has a Once Upon A Book Club 2021 Selection sticker!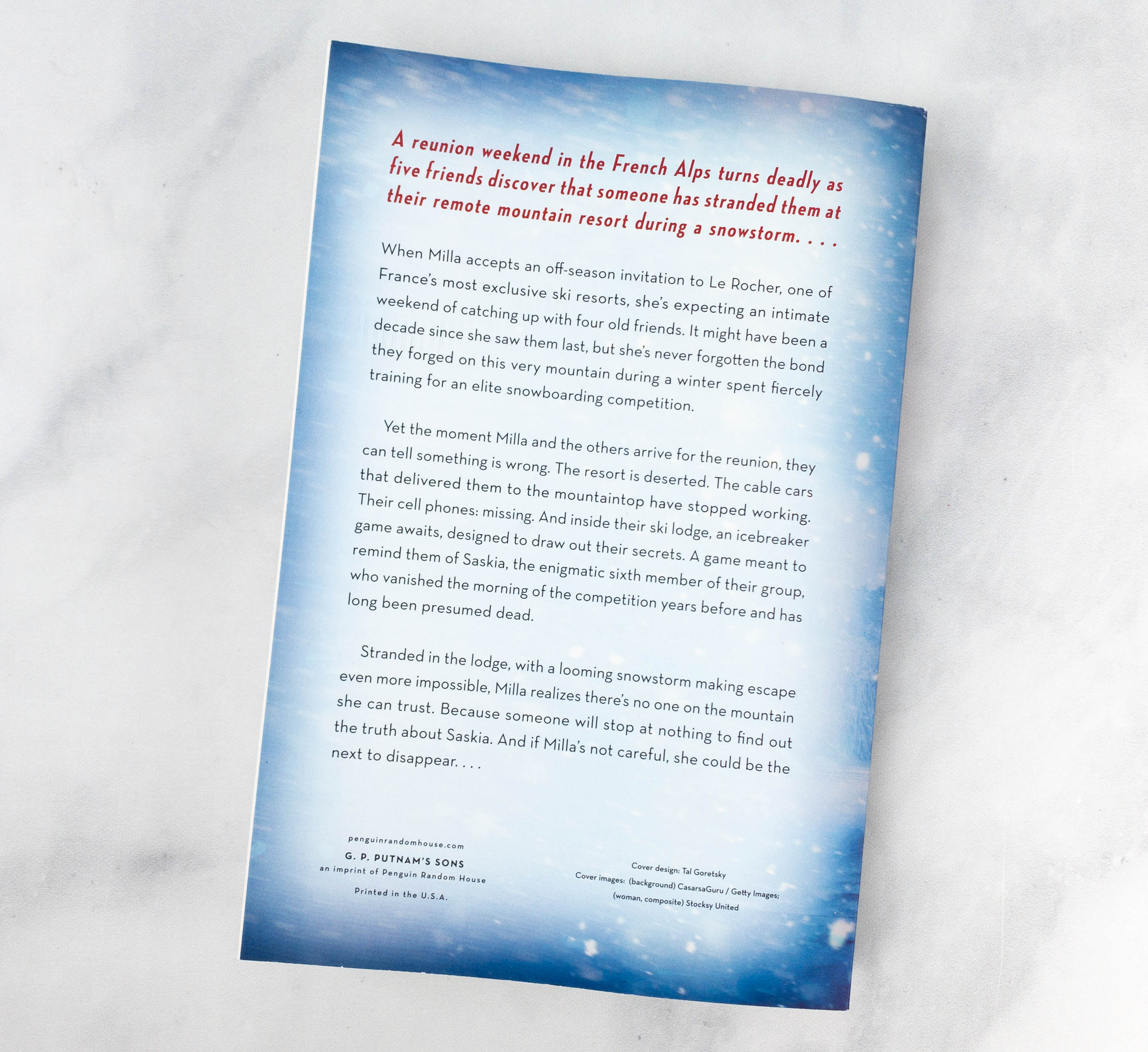 The cover features a winter scene, with a woman walking towards a village during a snowfall.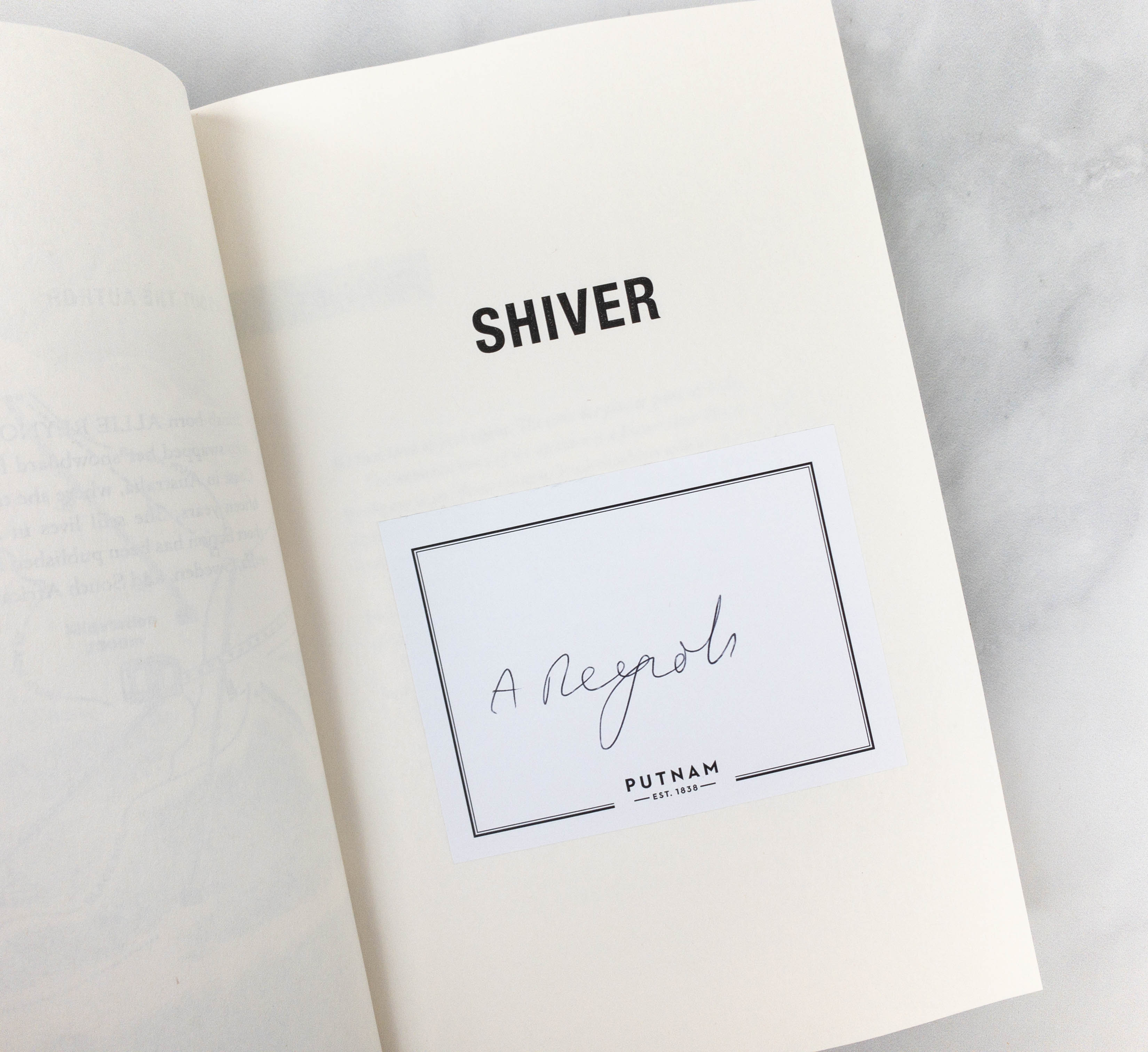 This is a signed copy!
The story follows Mila as she accepts an invitation for a small reunion with her friends in a cabin on the French Alps. It was 10 years after they last saw each other and during that last time, one of their friends turned out missing and was never found. As the night goes on, during an ice breaker game, they realize that they didn't really know who invited all of them and fear strikes as they are now in the middle of practically nowhere, basically stranded. Now all the doubts come out and the tension rises.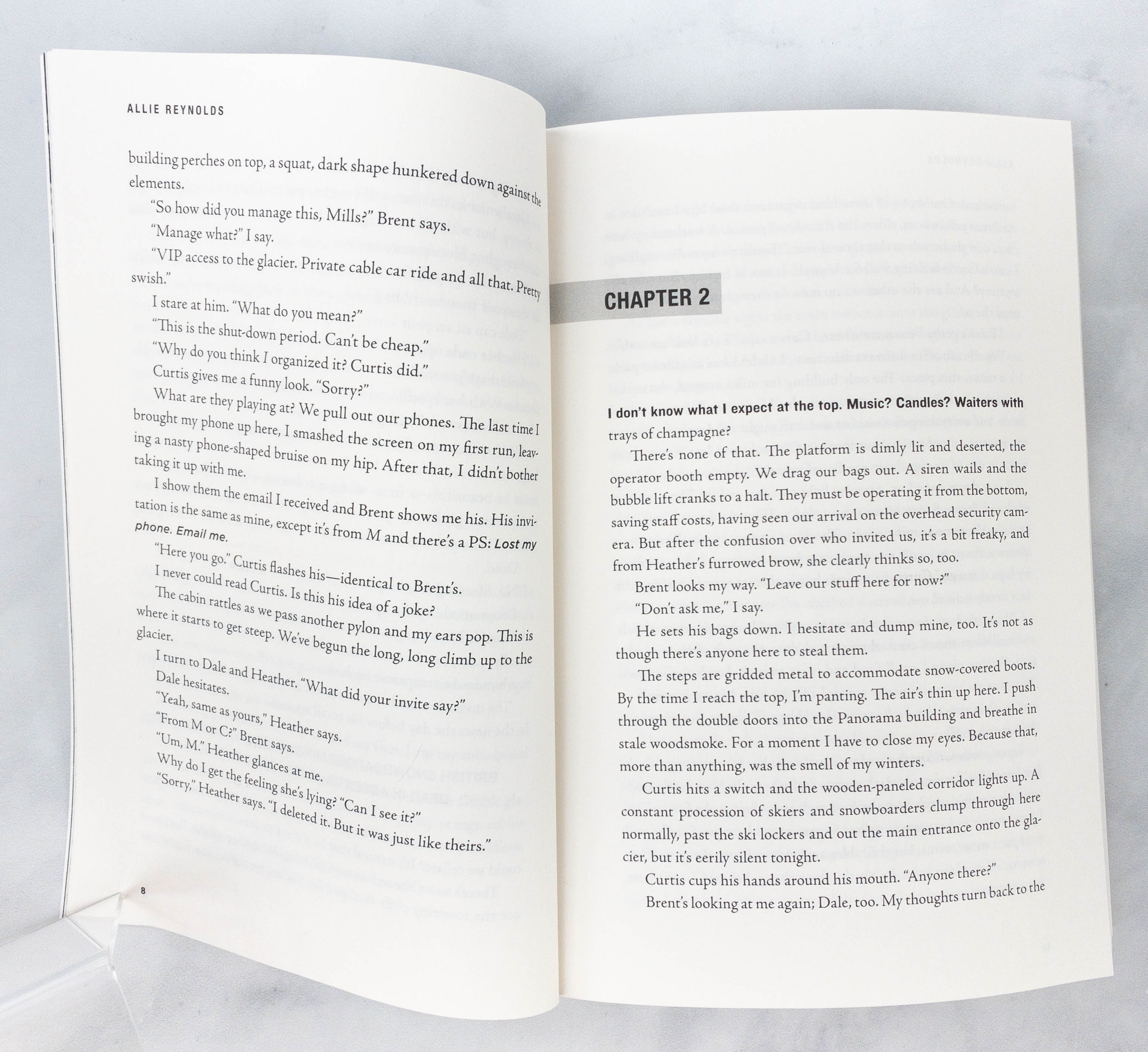 This story is very thrilling that I had a hard time putting it down. If you like suspense, this is a must-read for you! There's a lot of snowboarding terminologies mentioned as well.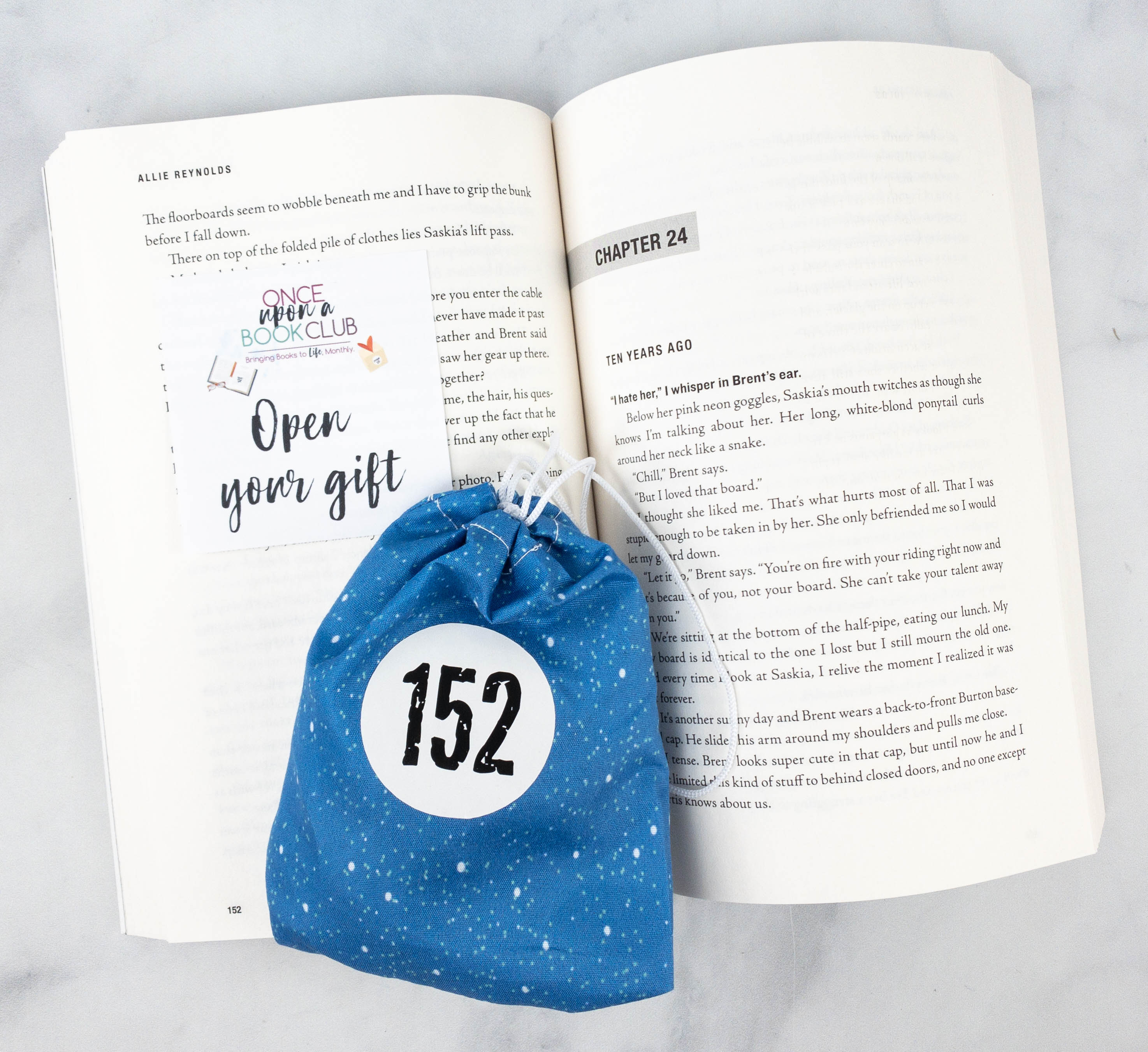 I opened the first gift upon reaching page 152.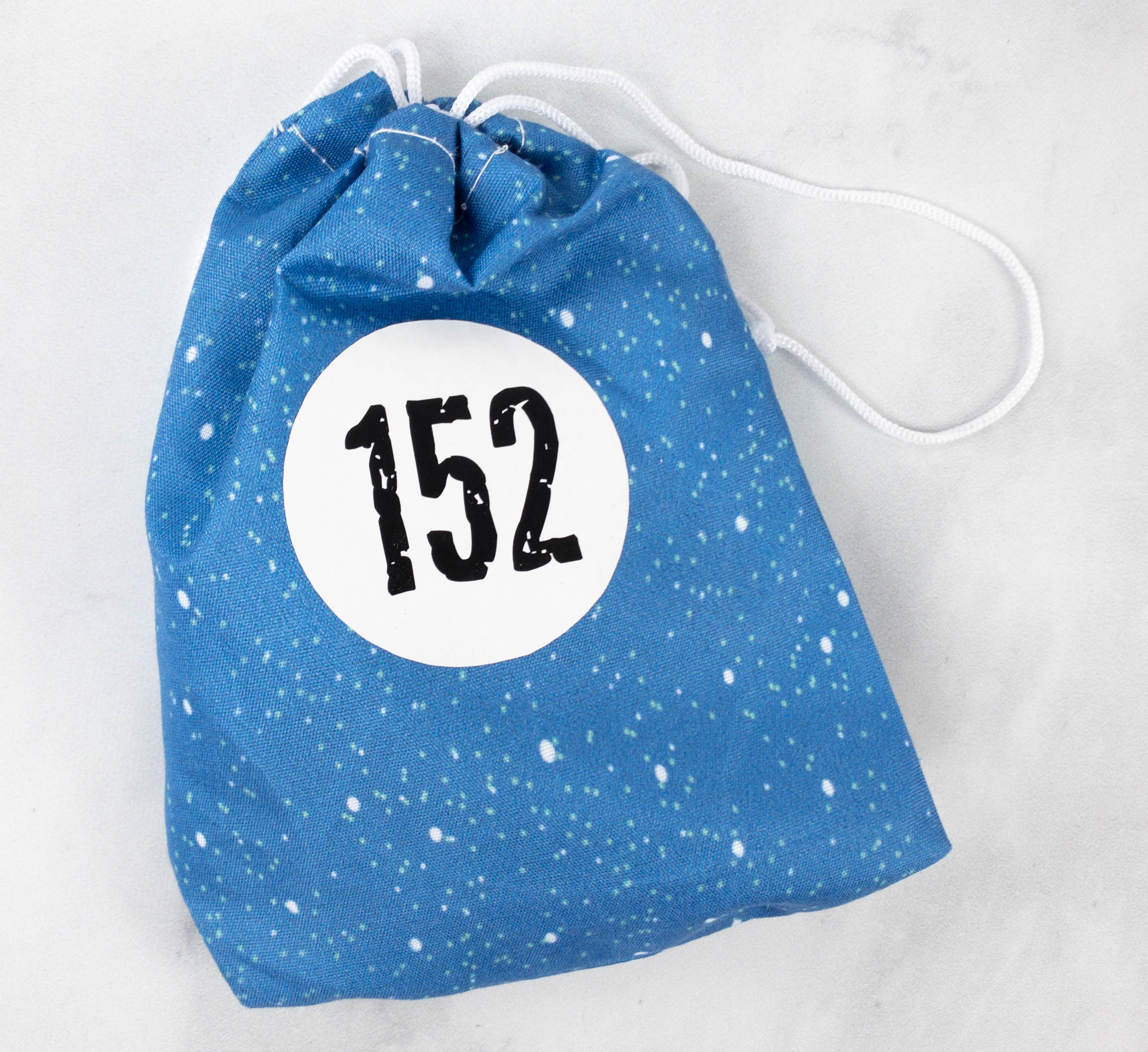 The item was packed in a blue drawstring pouch with white specks.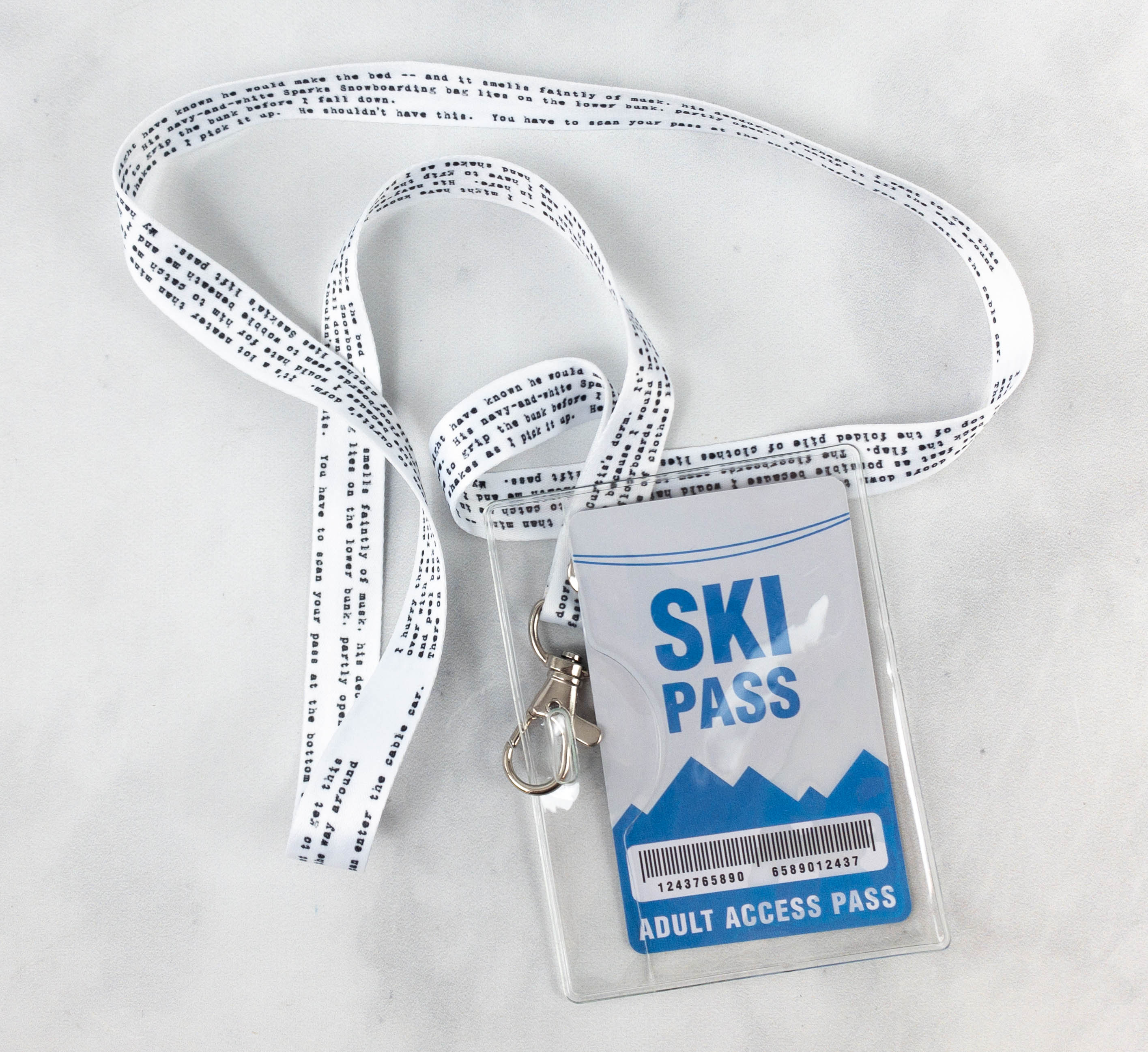 Saskia's Lift Pass. It's a Ski Lift Pass, complete with the lanyard and the ID.
At the back is a photo of the owner of the pass and this one belongs to Saskia, their friend who went missing about 10 years ago.
Upon reaching page 198, I opened another surprise!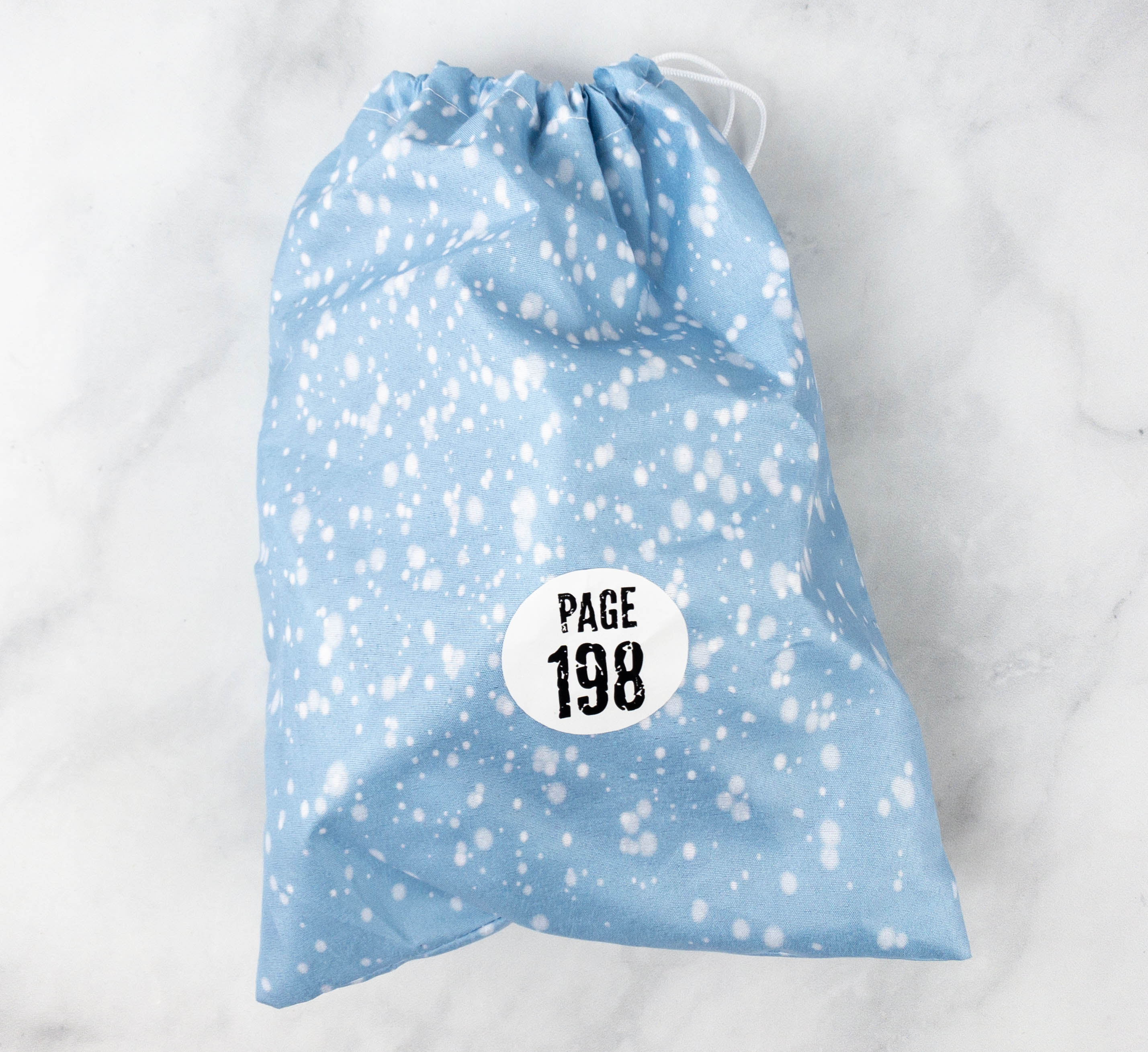 It also came in a blue drawstring pouch but this one had a lighter color and is bigger that the previous one.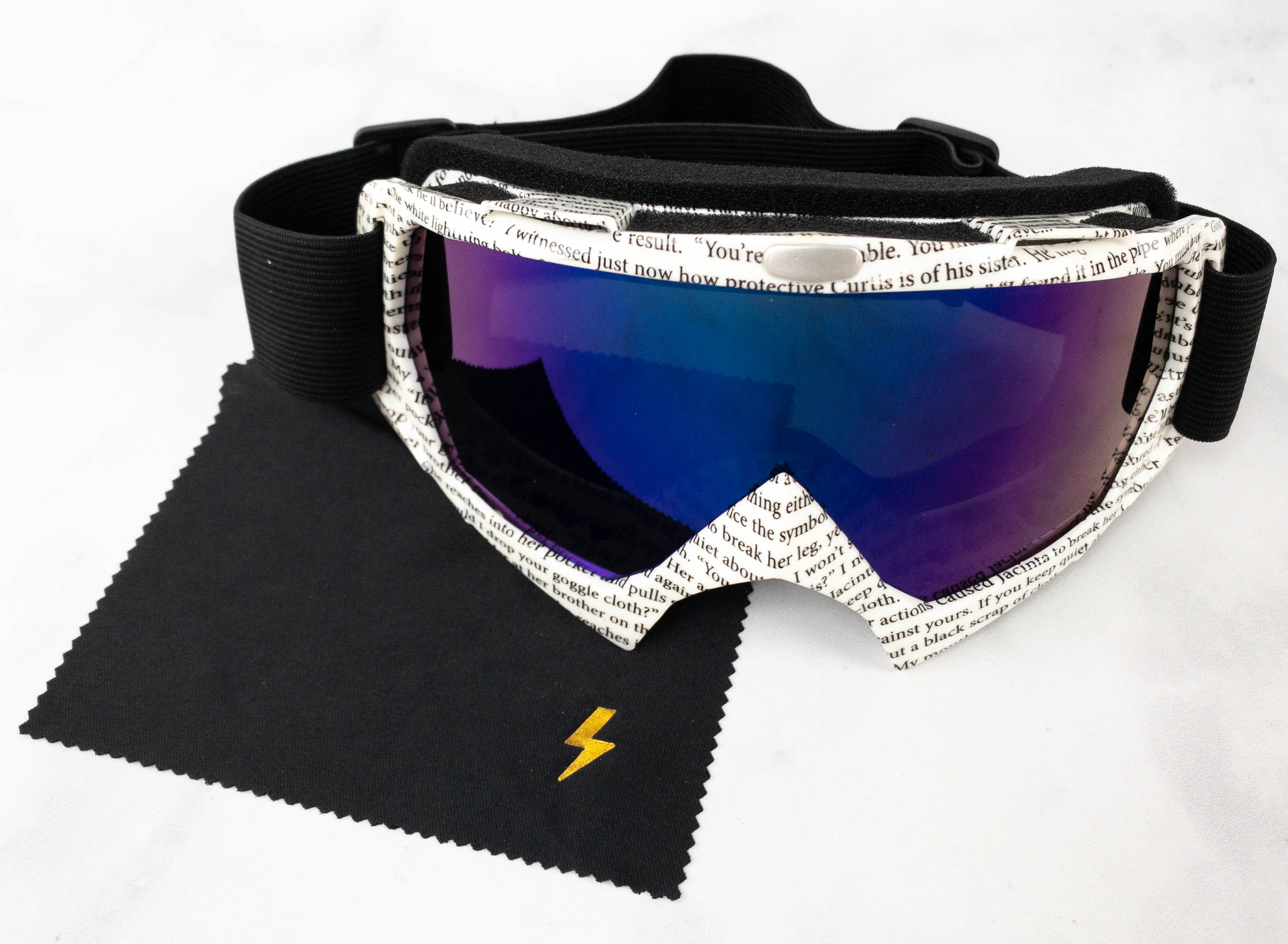 Ski Goggles. This is an actual pair of ski googles with a goggle cloth!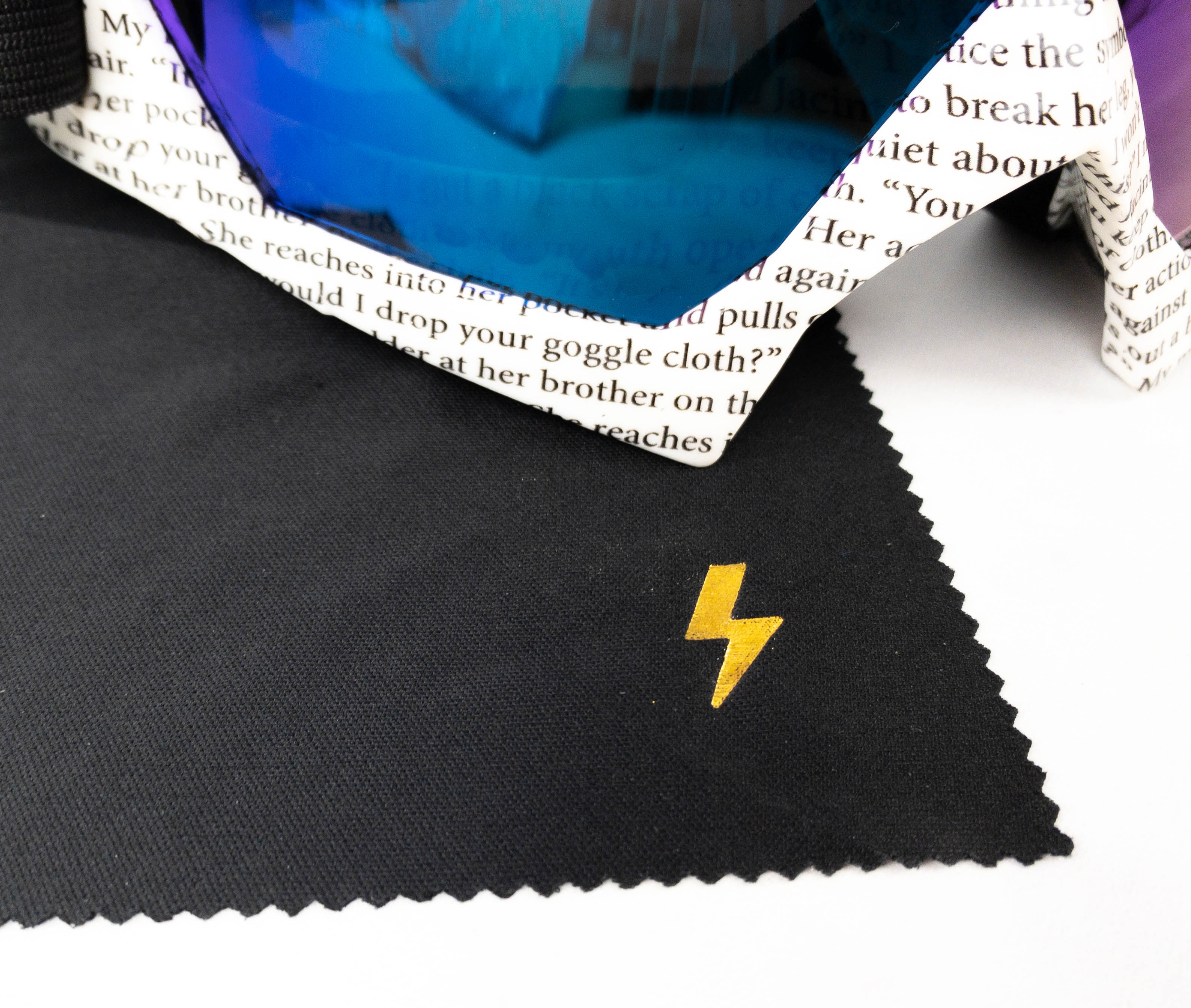 It's cool that they placed the actual writings on the book as a design on the goggles. It looks really good!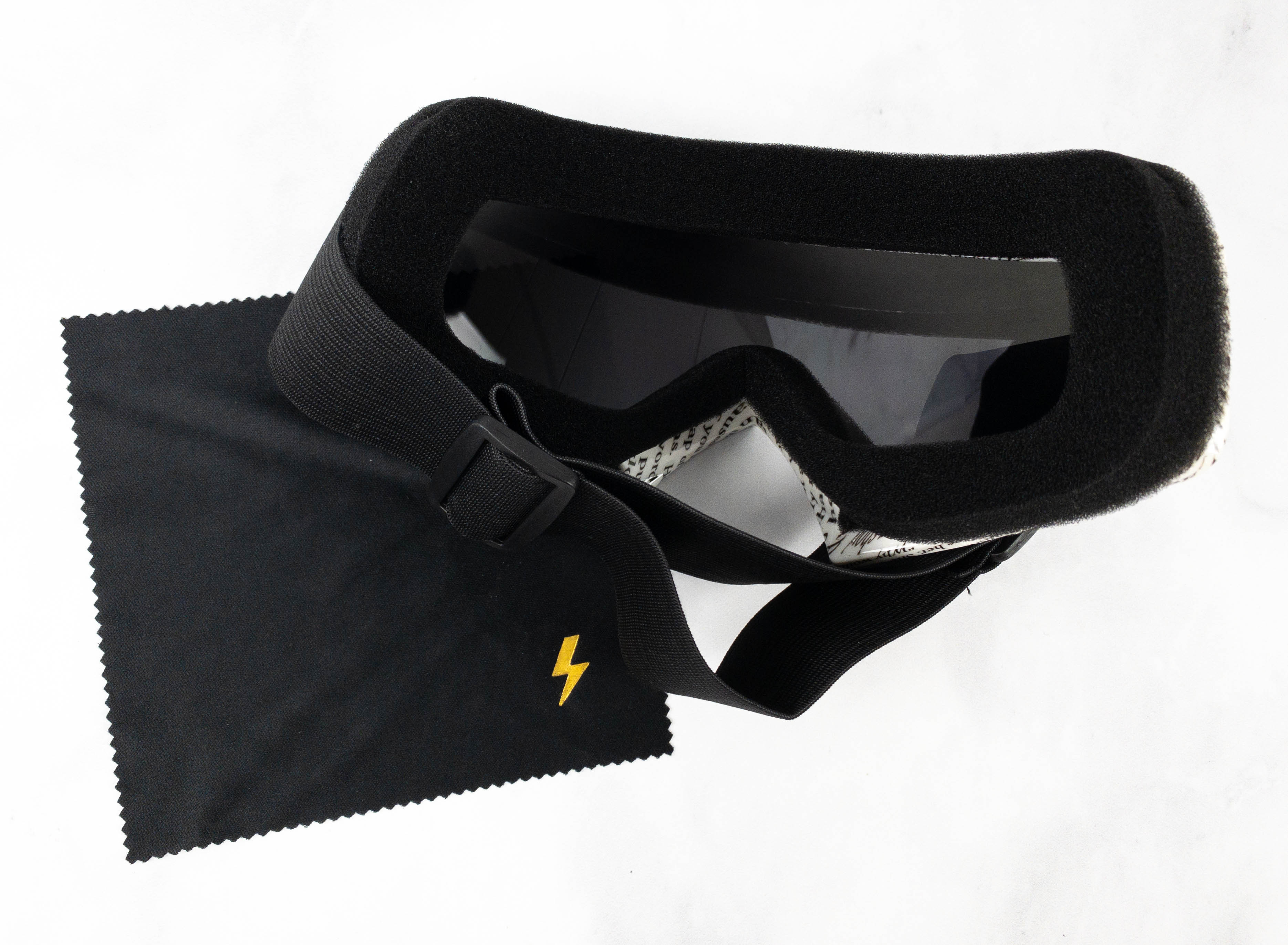 They included this gift because in the book, Milla was asking about what Saskia dropped off at Jacinta's the day before they went on their trip 10 years ago and it was the goggle cloth.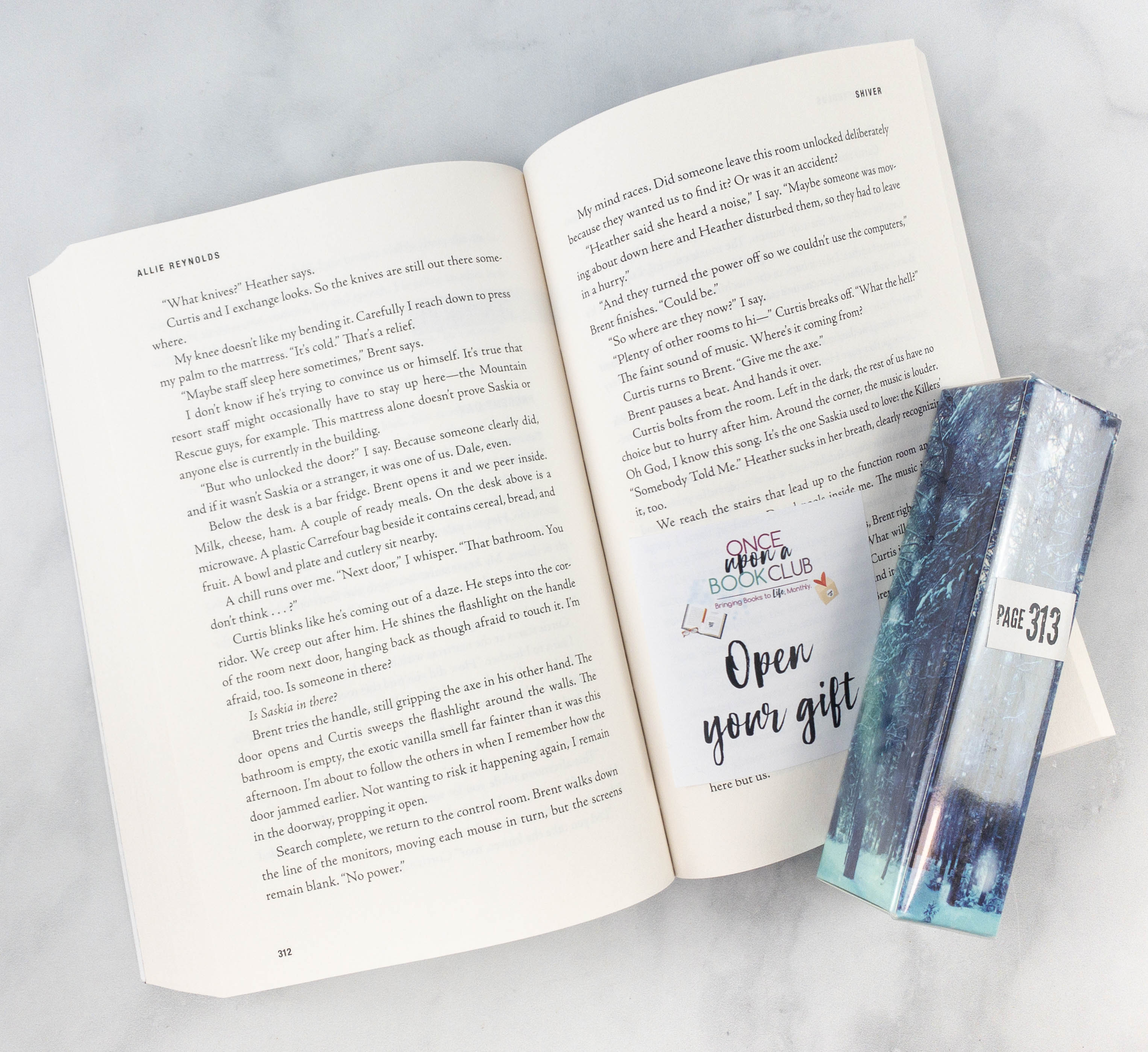 I opened another gift upon reaching page 313.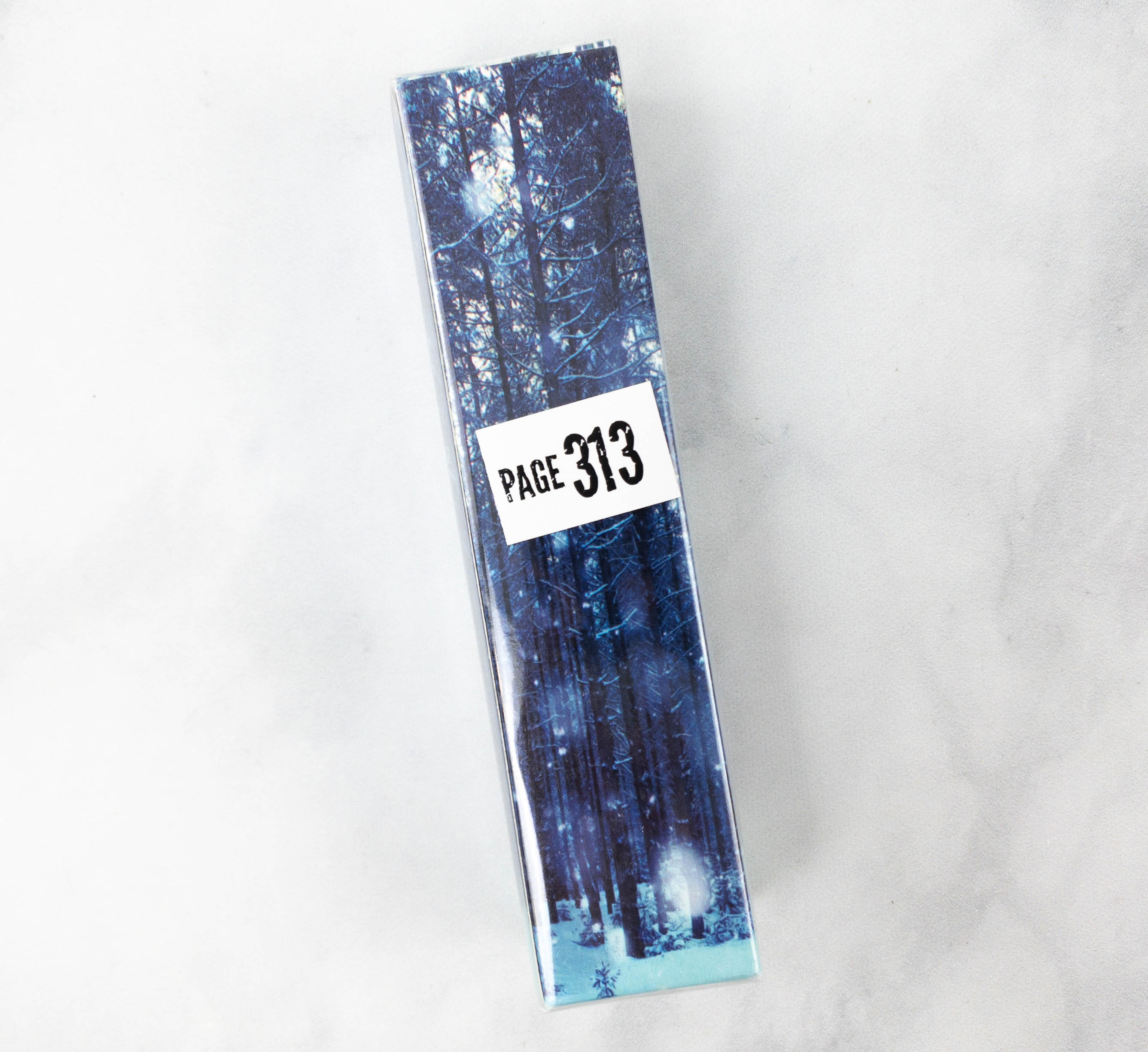 The item came in this beautiful box featuring a scenery in the woods during winter.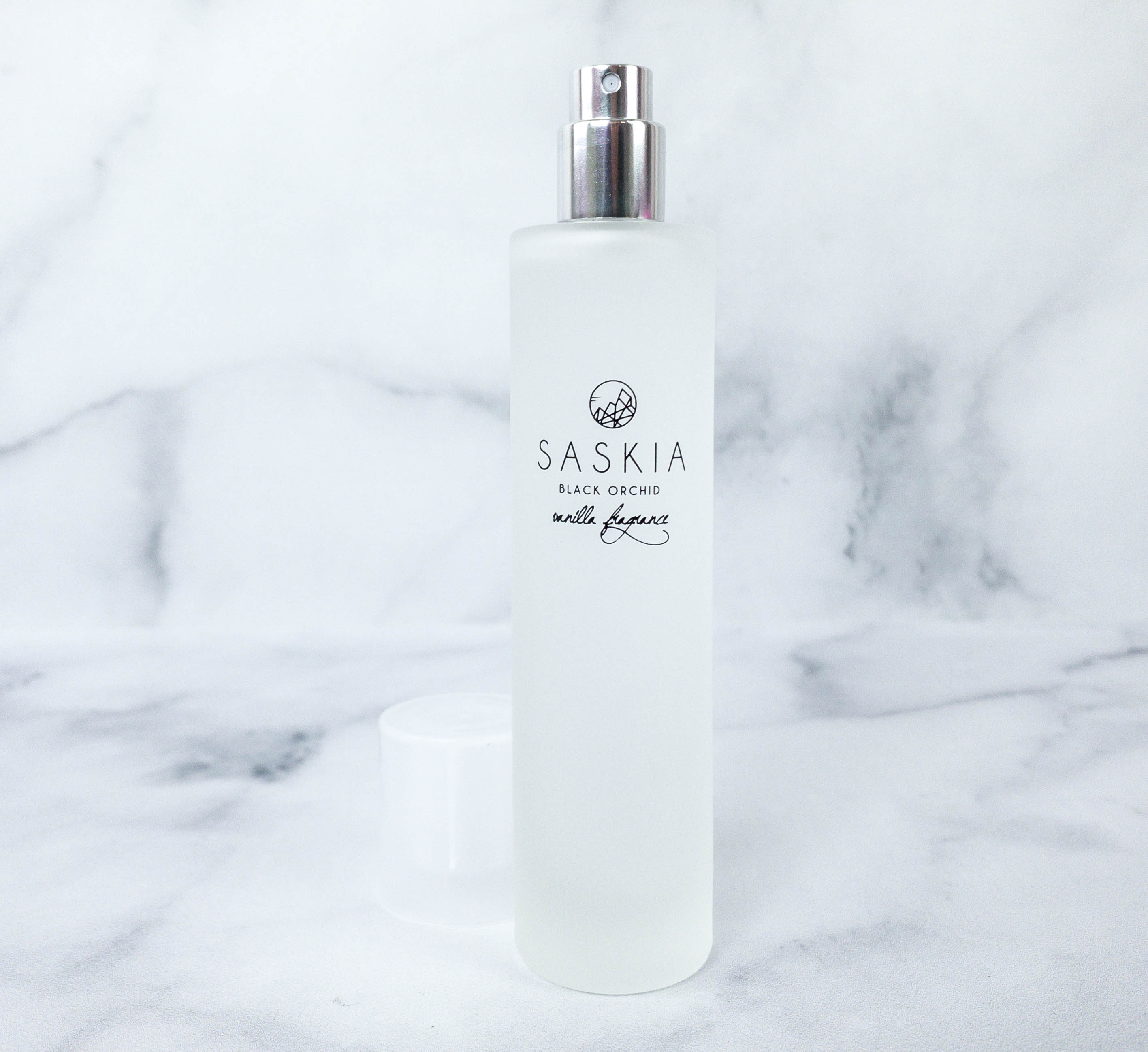 Vanilla Fragrance. It's a perfume named Saskia and it features a lovely vanilla scent. During this part in the book, the characters were already scared because they realized by now that the person who was behind their invitation to the resort seems like someone who wants to know what really happened to Saskia from all those years ago and that person thinks one of them can shed some light.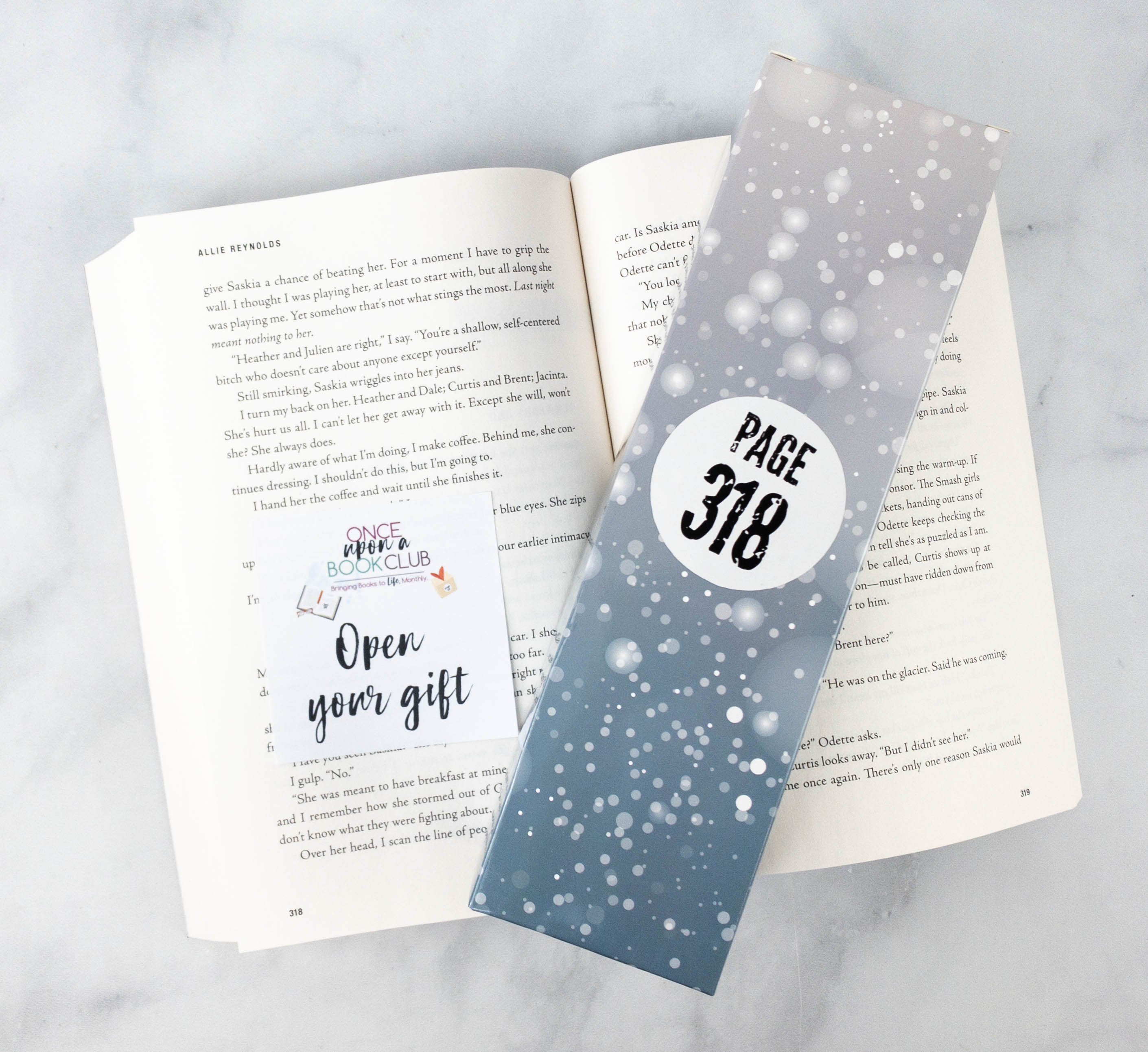 The last gift is supposed to be opened upon reaching page 318.
This next one also came in a lovely box with what looks like snow falling down.
Thermos Bottle. On the bottle lid, there is an inscription that says,
I hand her the coffee and wait until she finishes it…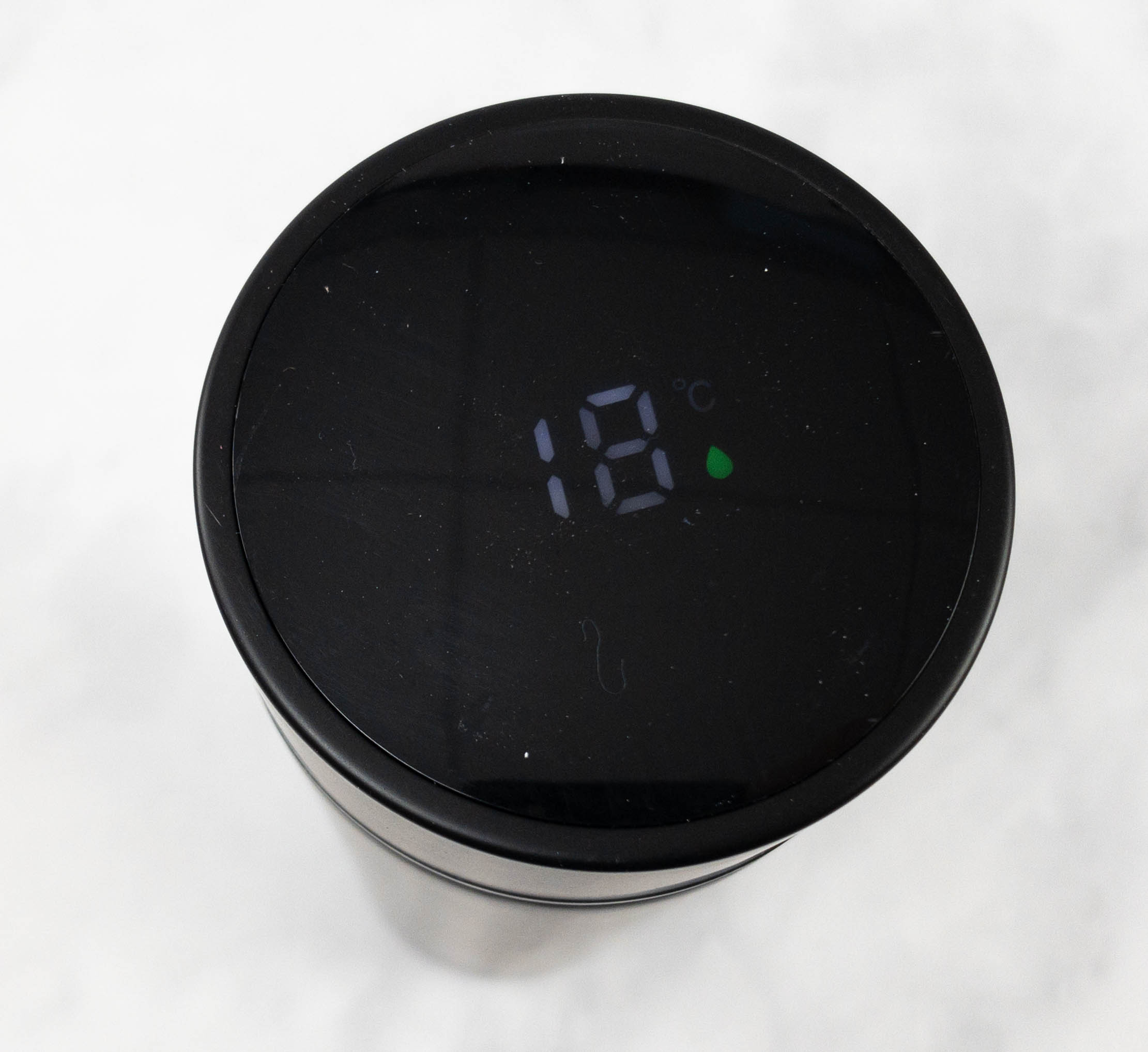 This thermos tumbler is great because it came with a digital lid that can show the temperature of the contents!
Now, I can easily monitor the temperature of my drink without having to open the bottle.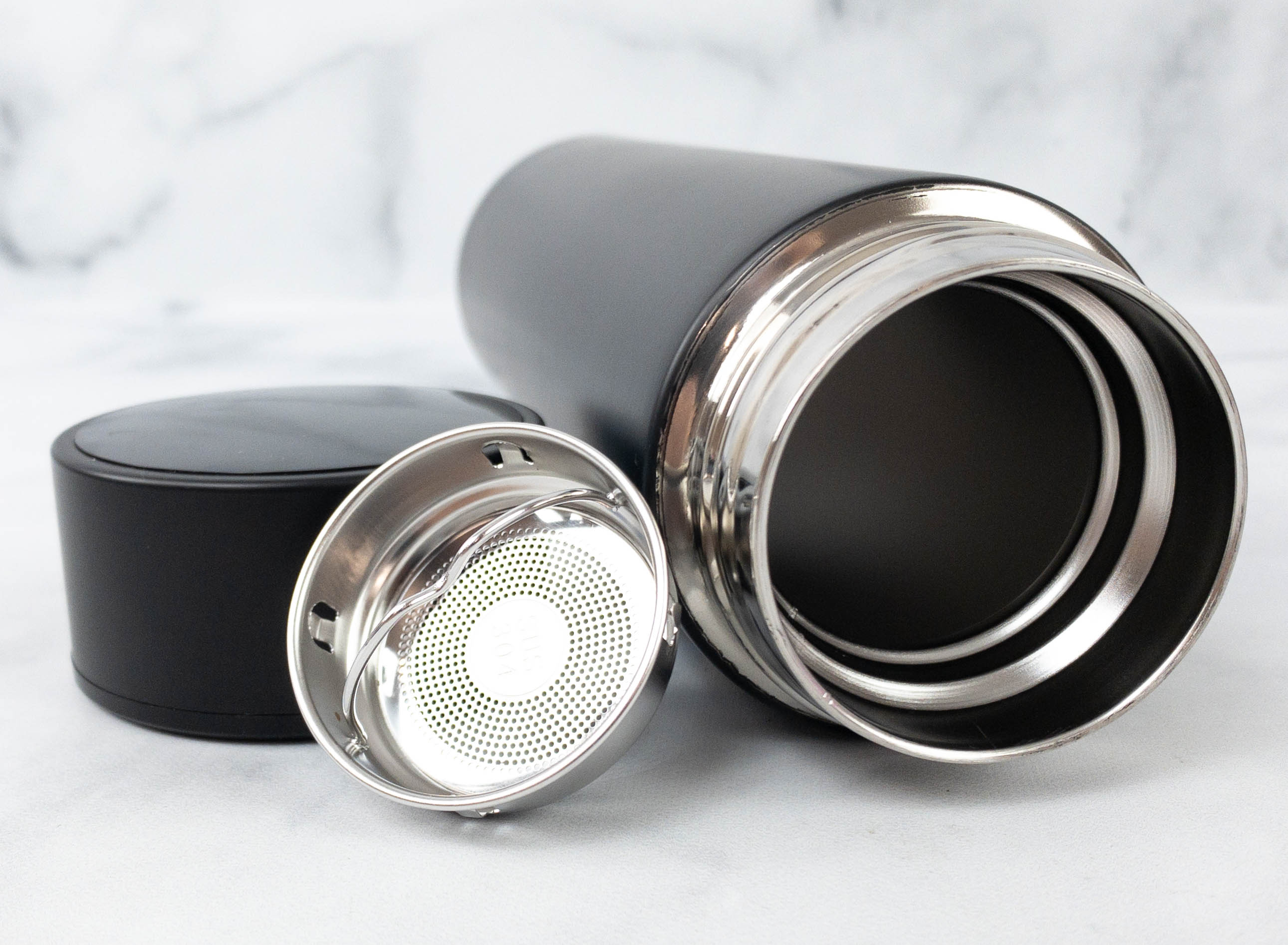 The thermos is insulated to make sure that the temperature stays the same for a long time. It also came with a straining lid for those who want to put tea in it. The strainer can keep the tea leaves intact when you're drinking it on-the-go!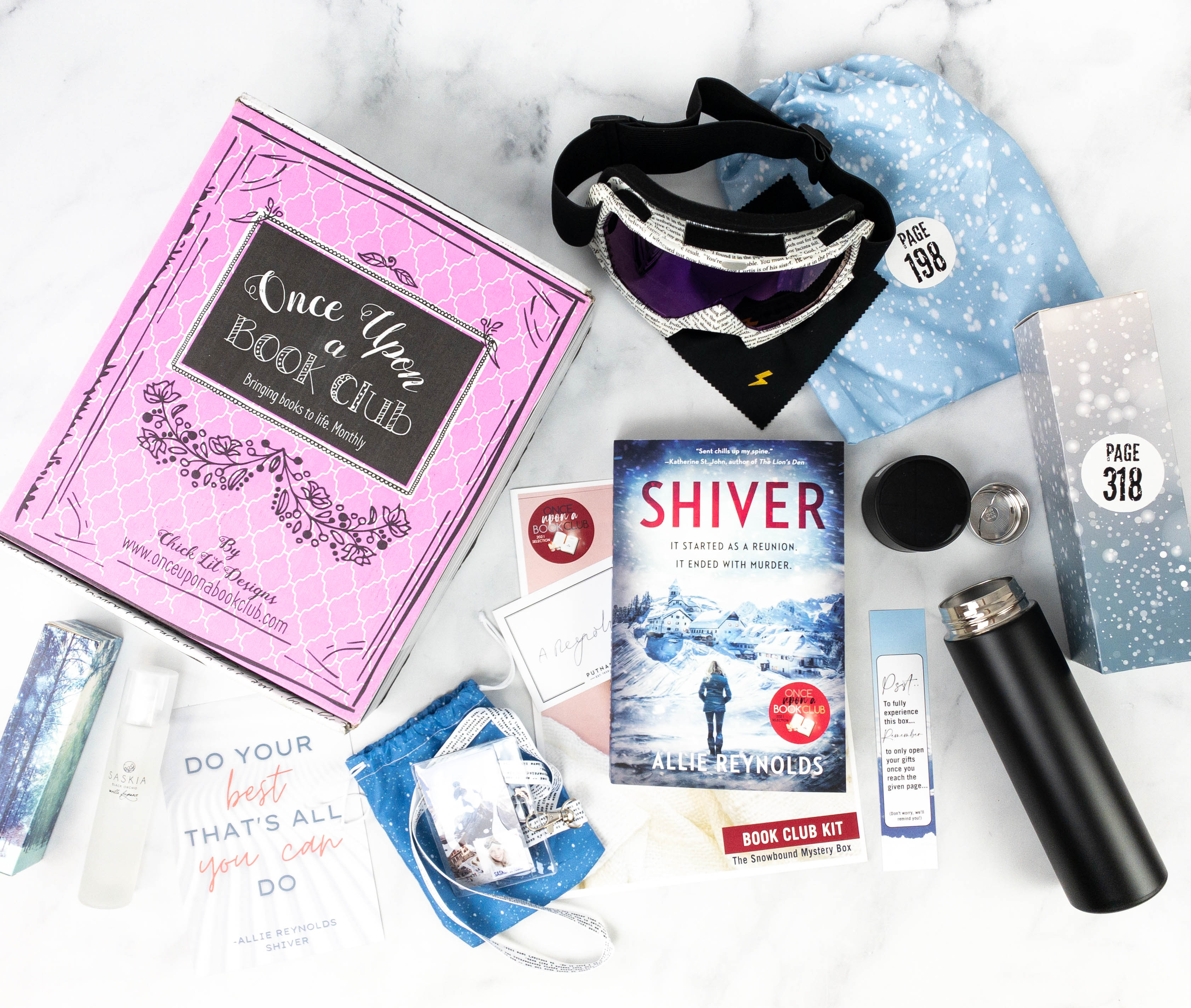 This is such a great read and opening the gifts as I go also kept me excited. This is not a fast-paced story though, so you really have to be patient.
I've always enjoyed the books from Once Upon A Book Club! This one kept me on the edge of my seat, and then left me pretty satisfied at the end. The gifts are really great because they put everything in perspective and it makes me feel like I'm part of what I'm reading. I really loved the tumbler/thermos bottle in this box. It's something I'll be able to use on a daily basis and the temperature display feature is really cool! If you're looking for a fun book subscription that takes reading to the next level, this one fits the bill! They also offer different genres so you can take your pick!
What do you think of this month's Once Upon a Book Club?