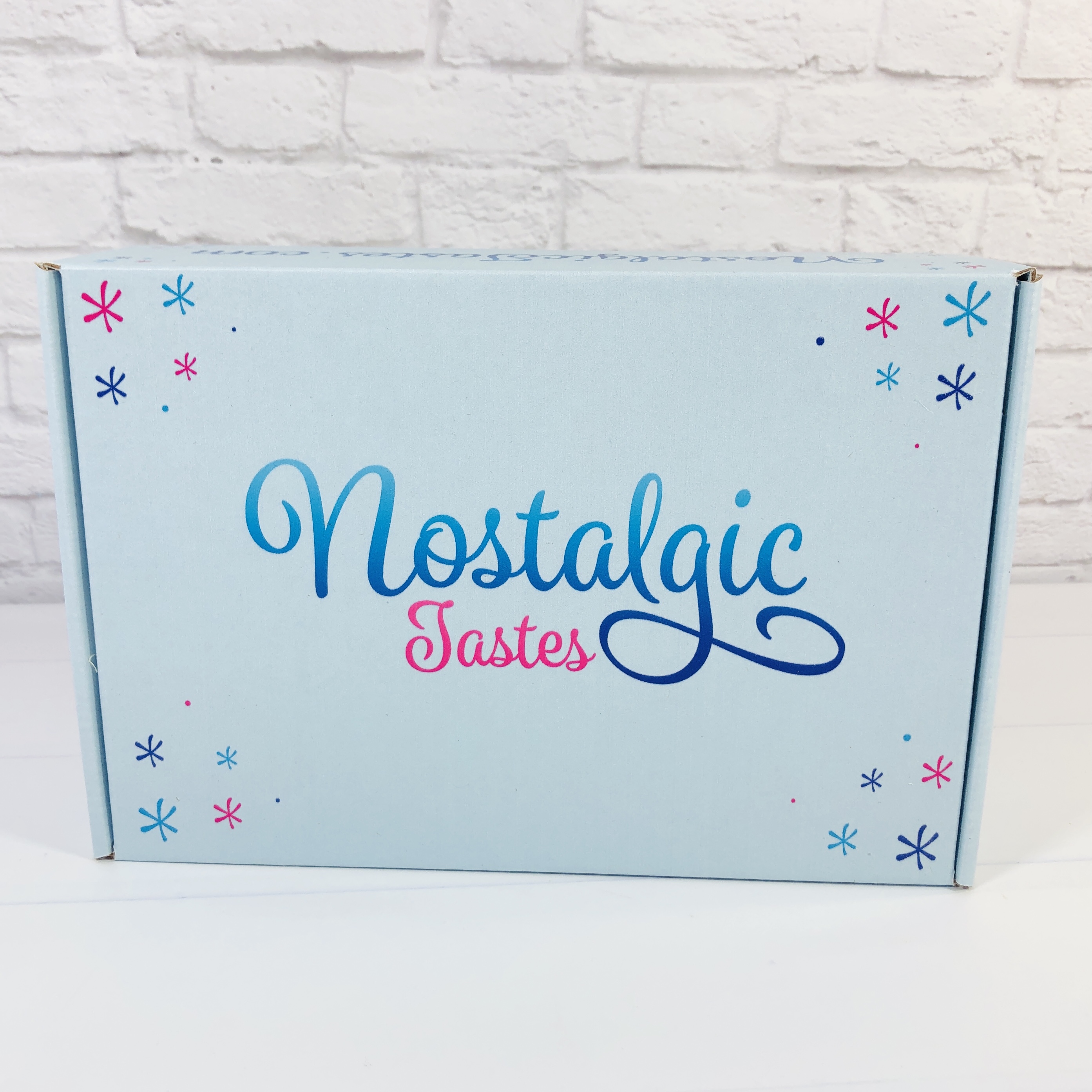 Nostalgic Tastes is a monthly subscription box that sends treats that have been around for several generations! They fill boxes with delicious chocolates, candies, and confections made by companies that have been making those treats for decades. Nostalgic Tastes also does themed boxes (such as for Easter) and those are for subscribers only. Nostalgic Tastes is $19.99 a month or buy a one-time box for $24.99.
DEAL: Get 20% off your first box! Use coupon code HELLO20.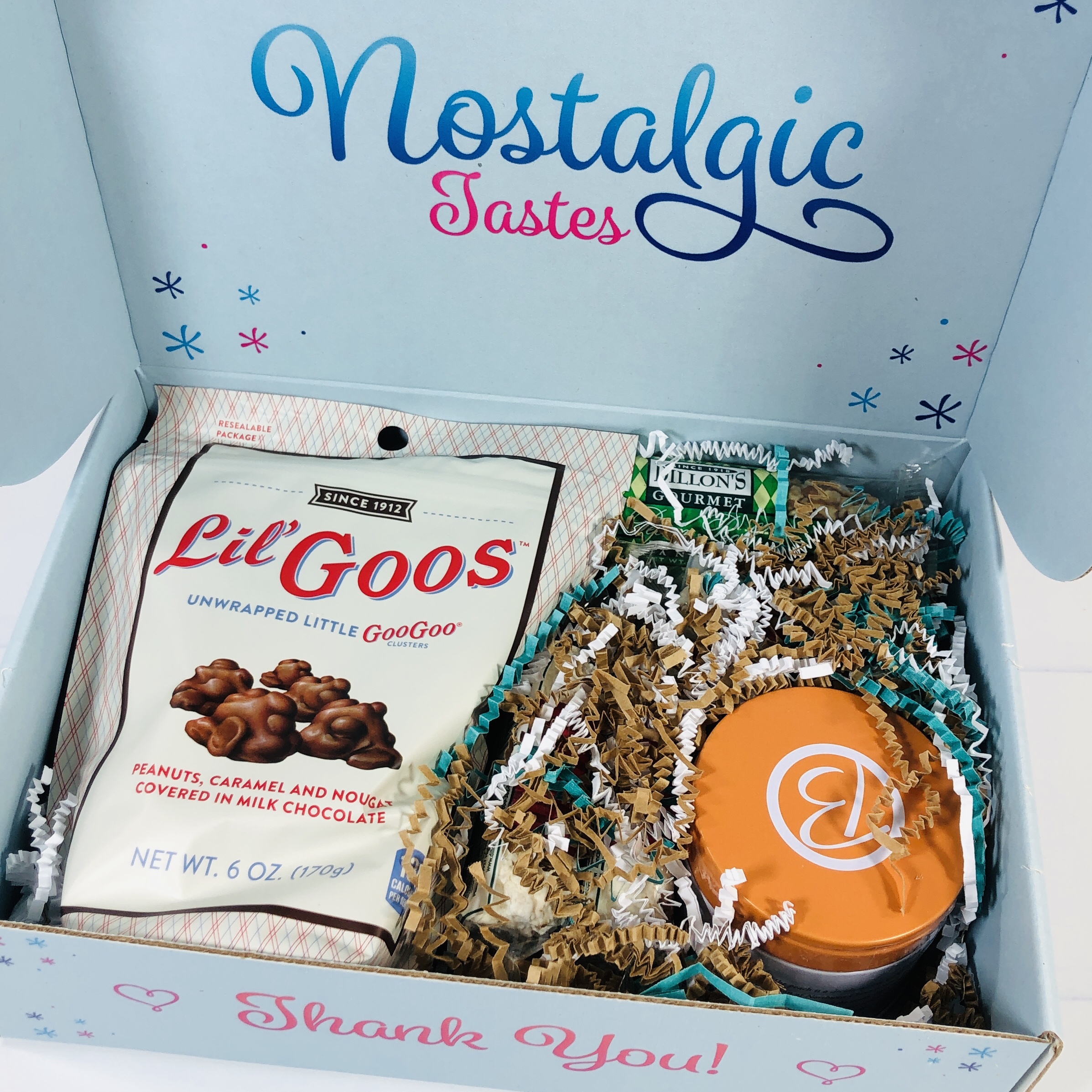 This is my very first box from Nostalgic Tastes!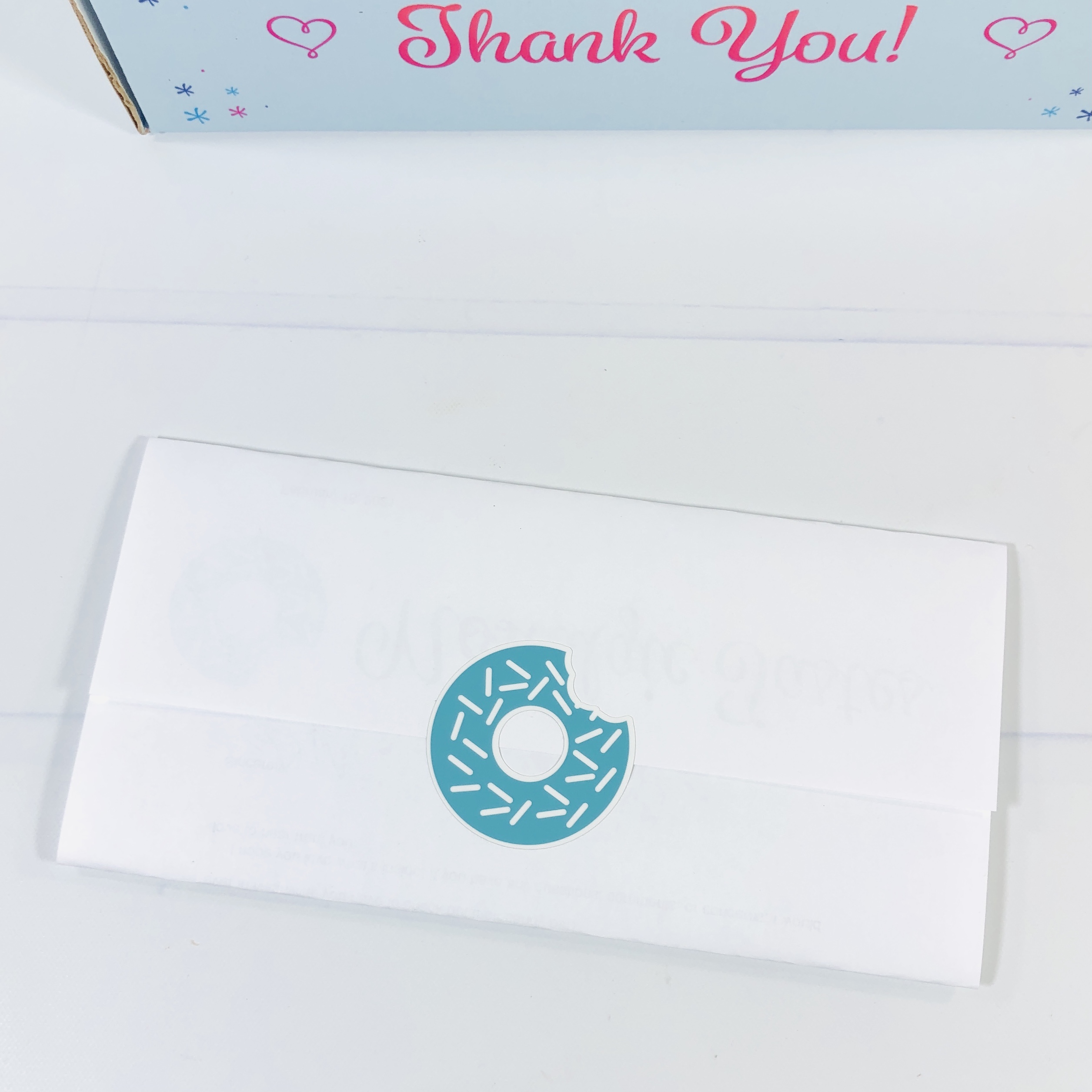 I found an insert sealed with a donut sticker!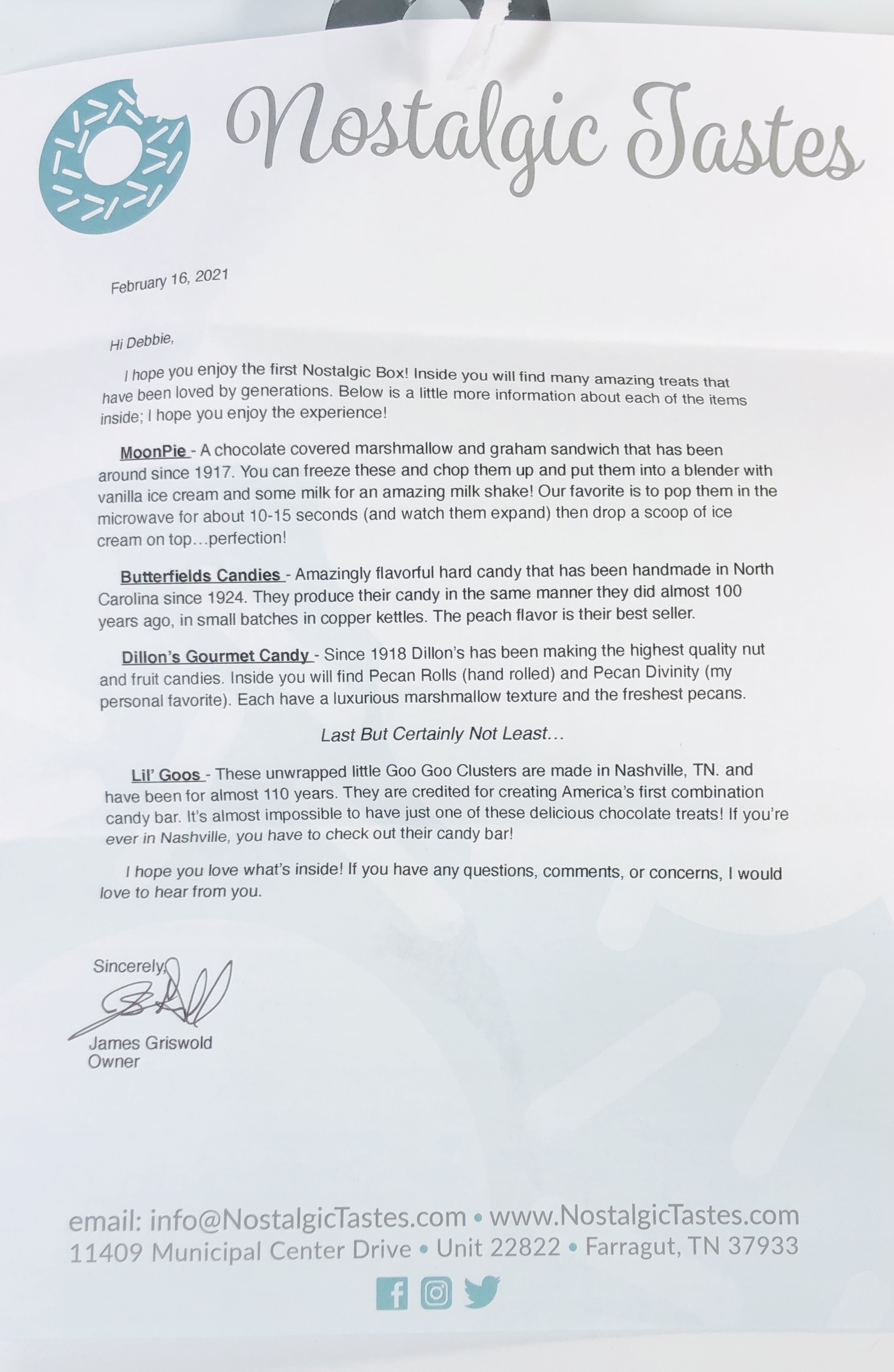 Inside I found info on each of my treats. The only treat that I was really familiar with was MoonPie, so it was fun to see some new-to-me brands.
Everything in my box!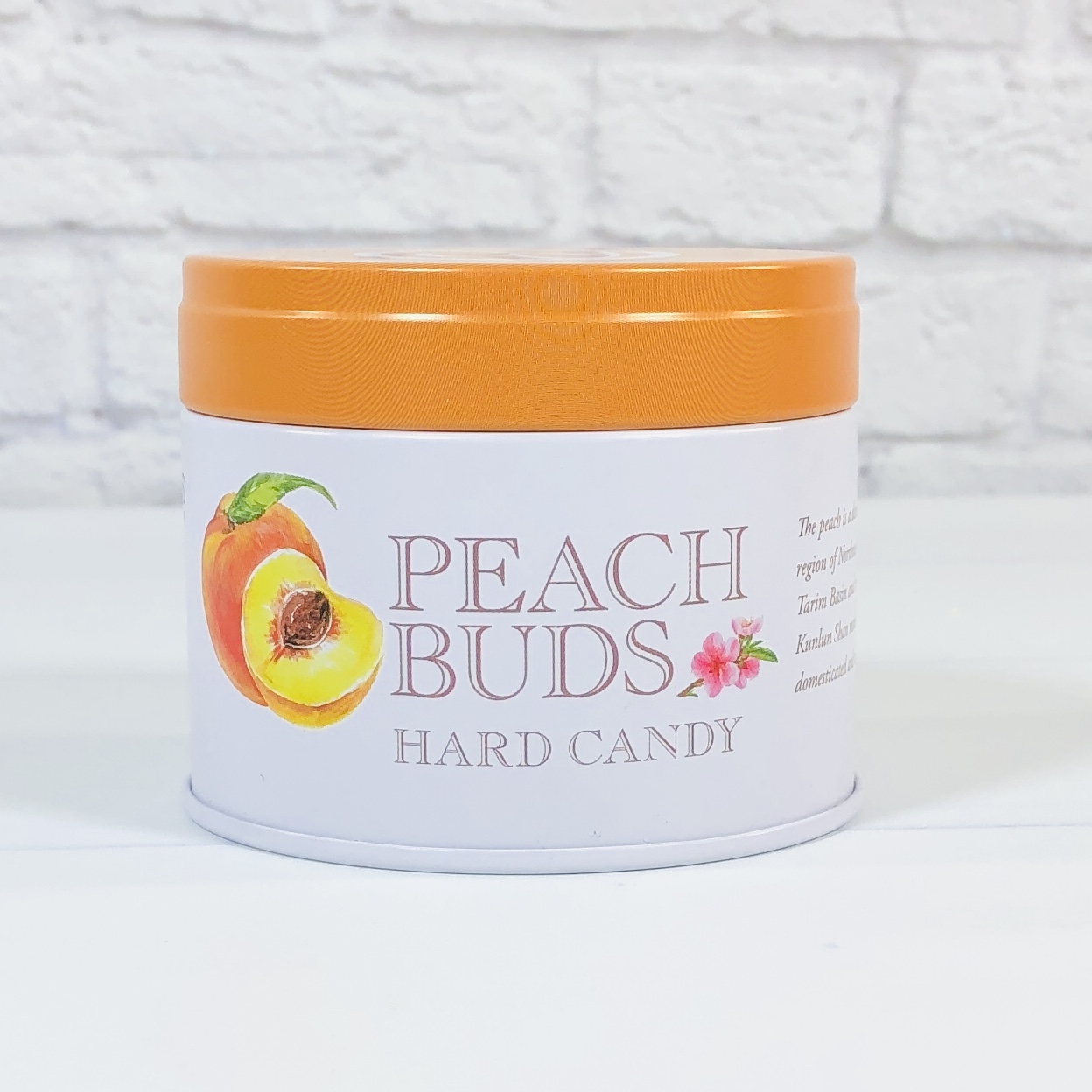 Butterfields Candies in Peach Buds ($6.99) I love peach flavored foods and these hard candies are super tasty!
Let your mouth experience unbridled joy with one of our Peach buds. Treat yourself with the perfect flavor combination of fresh Georgia peaches and sweet, nutty coconut. Truly, a match made in heaven.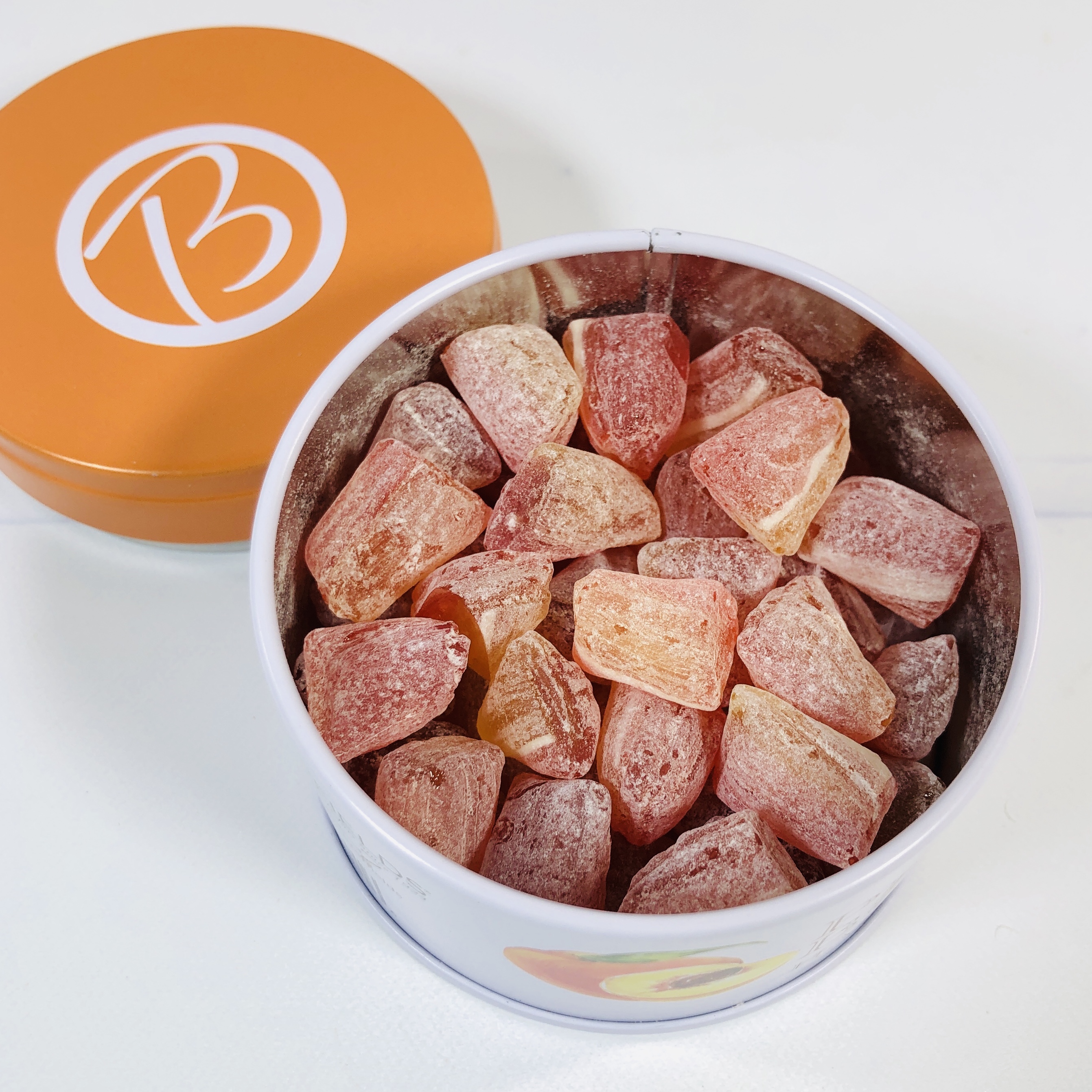 The candies have a little bit of a powdered sugar coating but it's not the messy kind. The flavor is fresh and a bit tart, like a real peach! I didn't realize that these had coconut in them and couldn't really taste that flavor.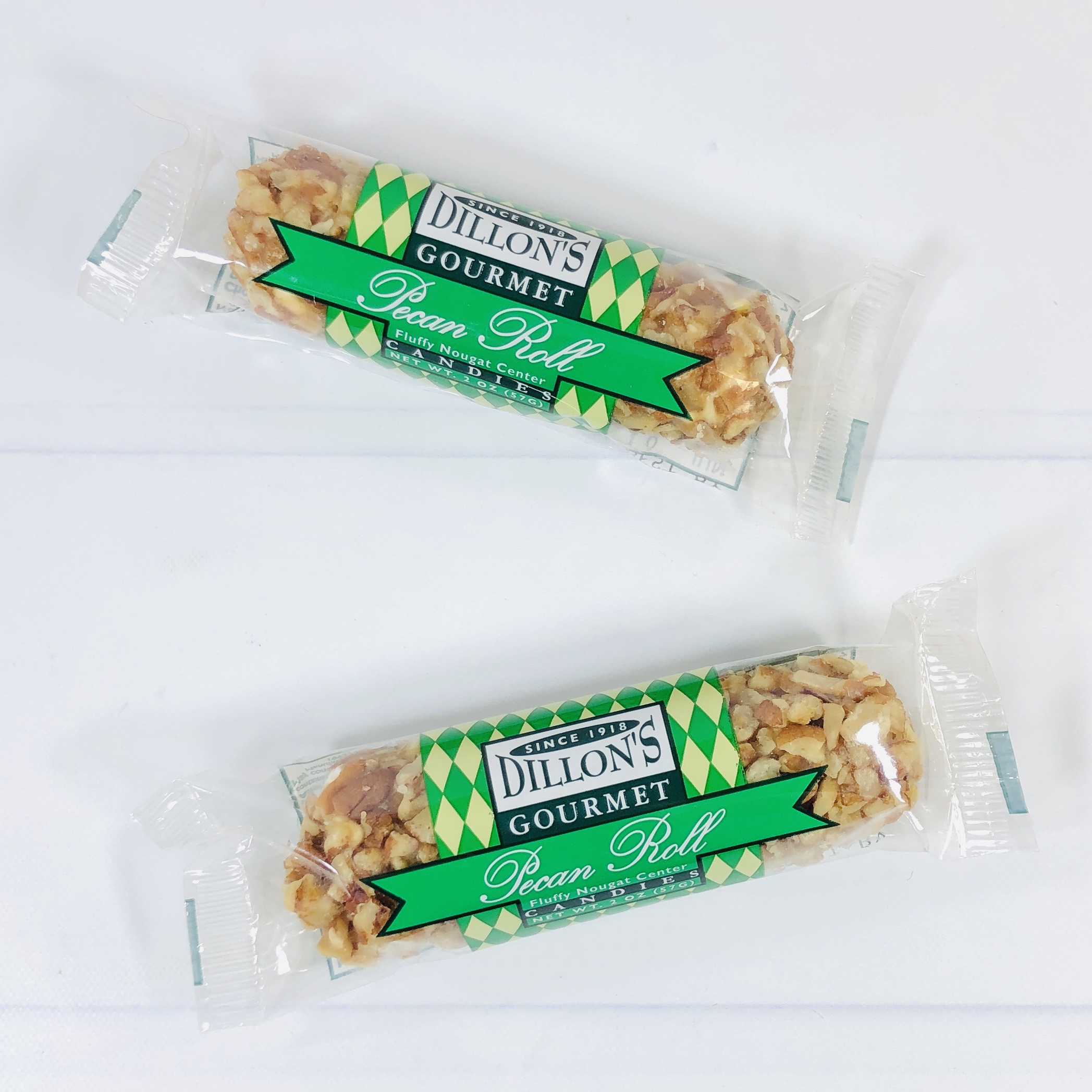 Dillons Gourmet Candy Pecan Rolls (Buy a box of 10 for $46) Can you believe I have never had a nut roll? Here's a description of this delectable treat:
Hand-made gourmet pecan rolls that consist of a light, fluffy, nougat center. Rolls are dipped in rich caramel and then rolled in the freshest fancy, pecan halves. This traditional candy is made with a Dillon Family Recipe and has been a favorite for over 100 years.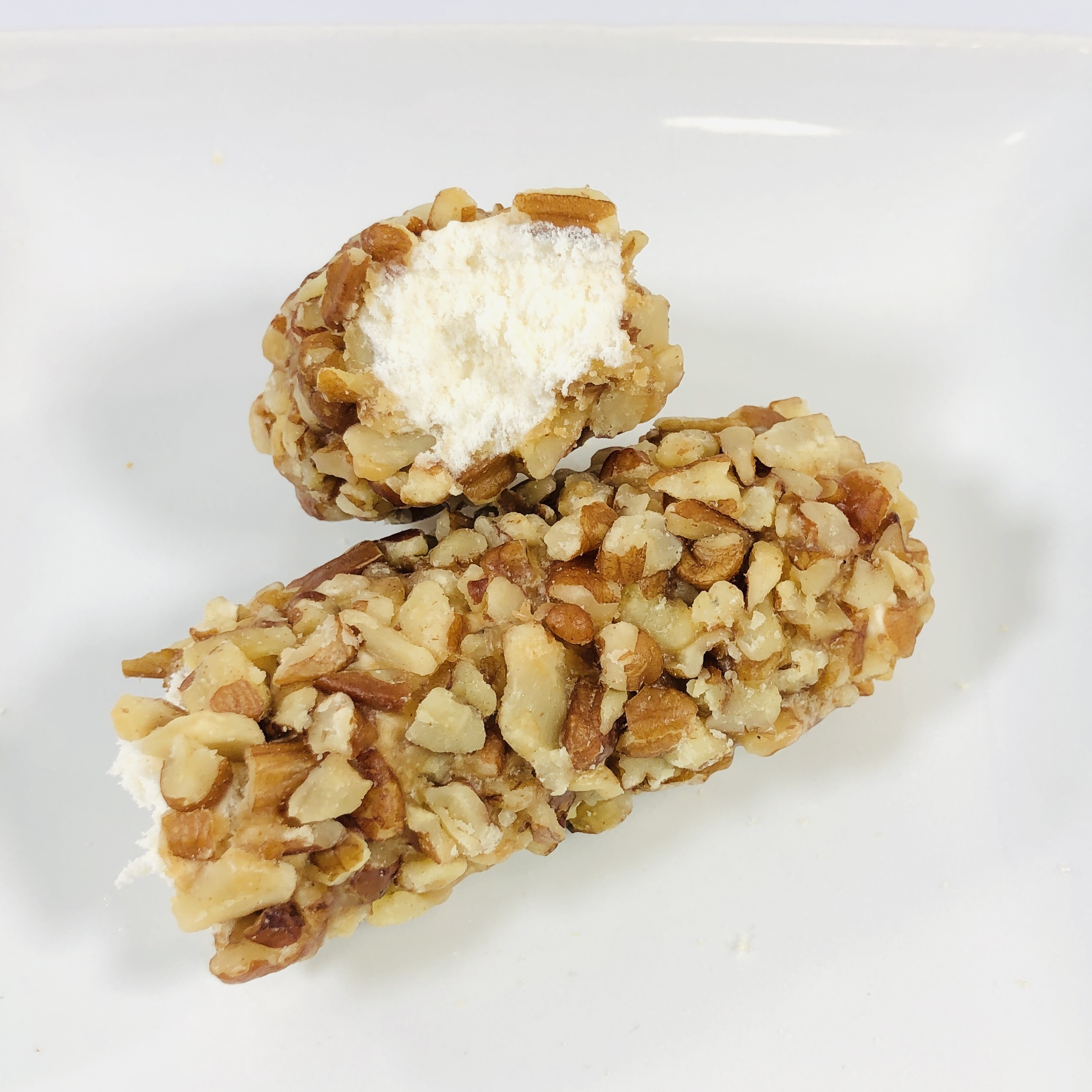 Here we have a not too chewy nougat filling that is covered in caramel and hand-rolled in pecans. The nuts especially are very good, they taste pretty fresh to me! Most candies at the grocery store have peanuts or almonds so I love getting some with pecans!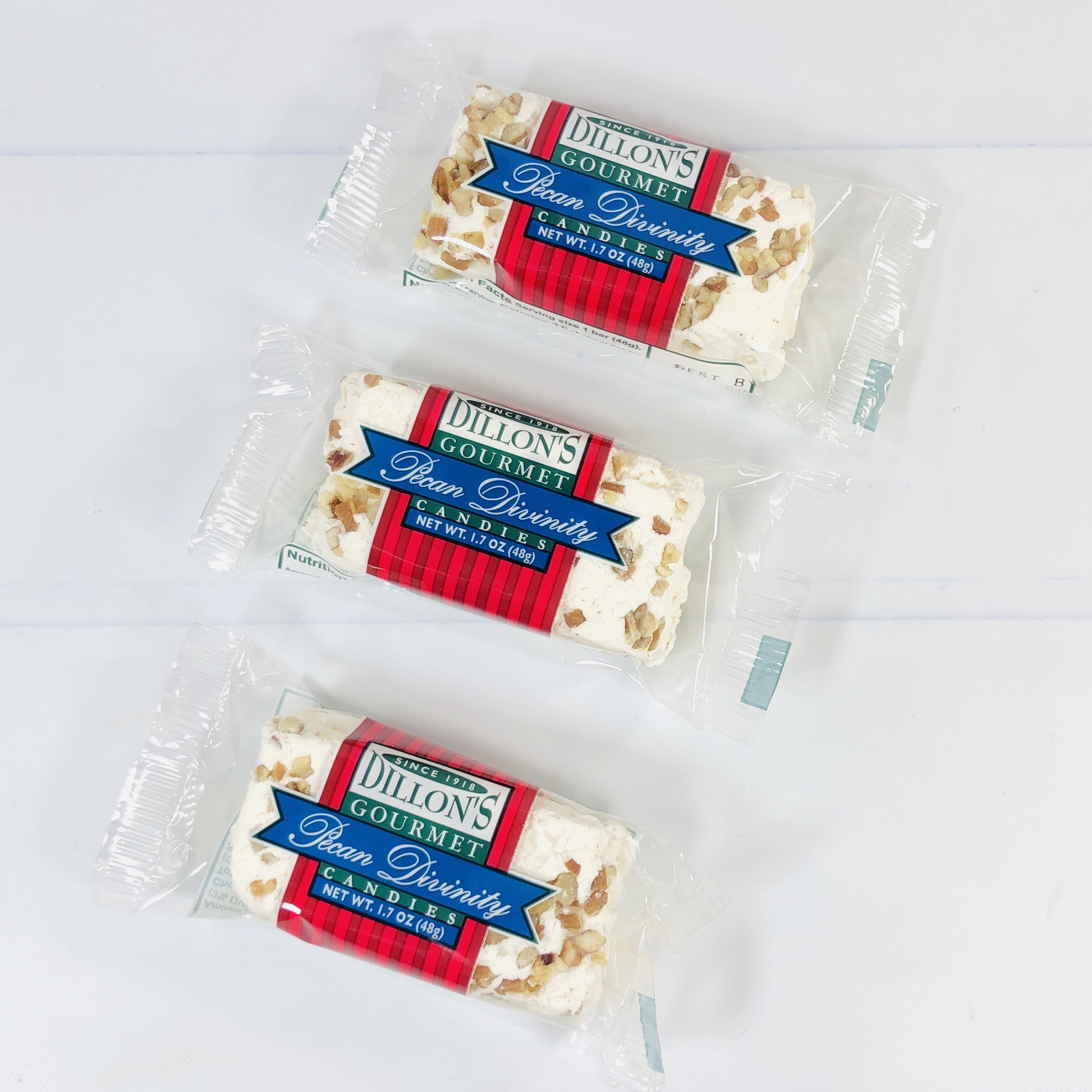 Dillon's Gourmet Candies Pecan Divinity (Buy a box of 9 four-ounce bars for $36) I was over the moon when I saw THREE packs of divinity! My sister used to make this when I was a kid and so it takes me back in time. She got tired of making it as an adult because it takes a long time to beat the candy mixture by hand but this tastes about the same as hers!
A Southern treat like no other and this one is the closest thing to Grandma's. This confection has become our number one selling item.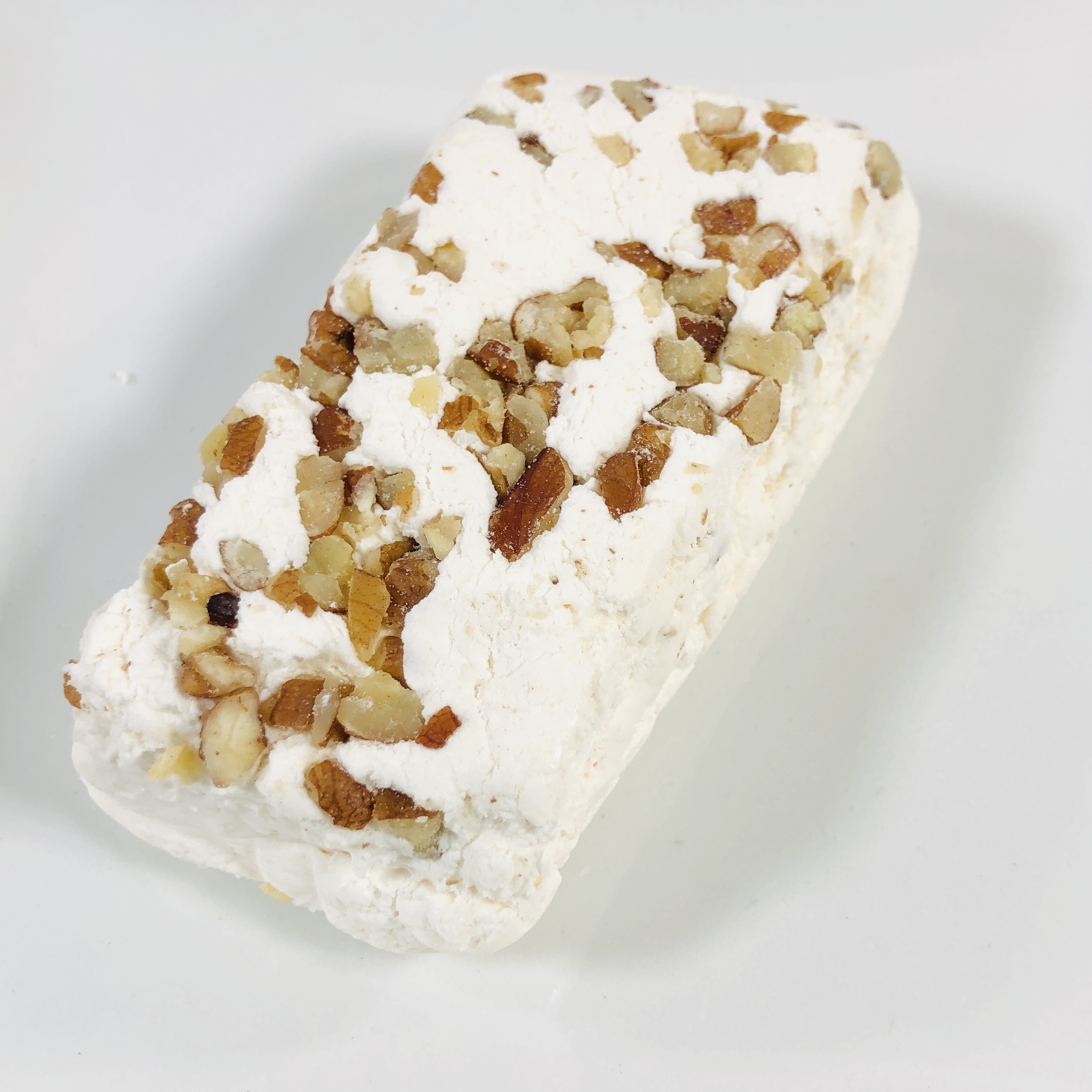 It's sort of like nougat and is sweet and chewy and melts on the tongue and has delicious pecans. Super tasty and my whole family loved it!
MoonPie MoonPies are such a classic treat! It is a combo of graham crackers, marshmallow, and chocolate and I was so happy to get two of them so that I could give one each to my daughters. They love to put them in the microwave, because the marshmallow puffs up so much and then it's sort of like a s'more! Here's how the treat came about, and I was touched by it because my grandfather was a Kentucky coal miner too.
It all began in 1917 when a KY coal miner asked our traveling salesman for a snack "as big as the moon." Earl Mitchell reported back and the bakery obliged with a tasty treat aptly named MoonPie. It was filling, fit in the lunch pail and the coal miners loved it. The rest, as they say, is history.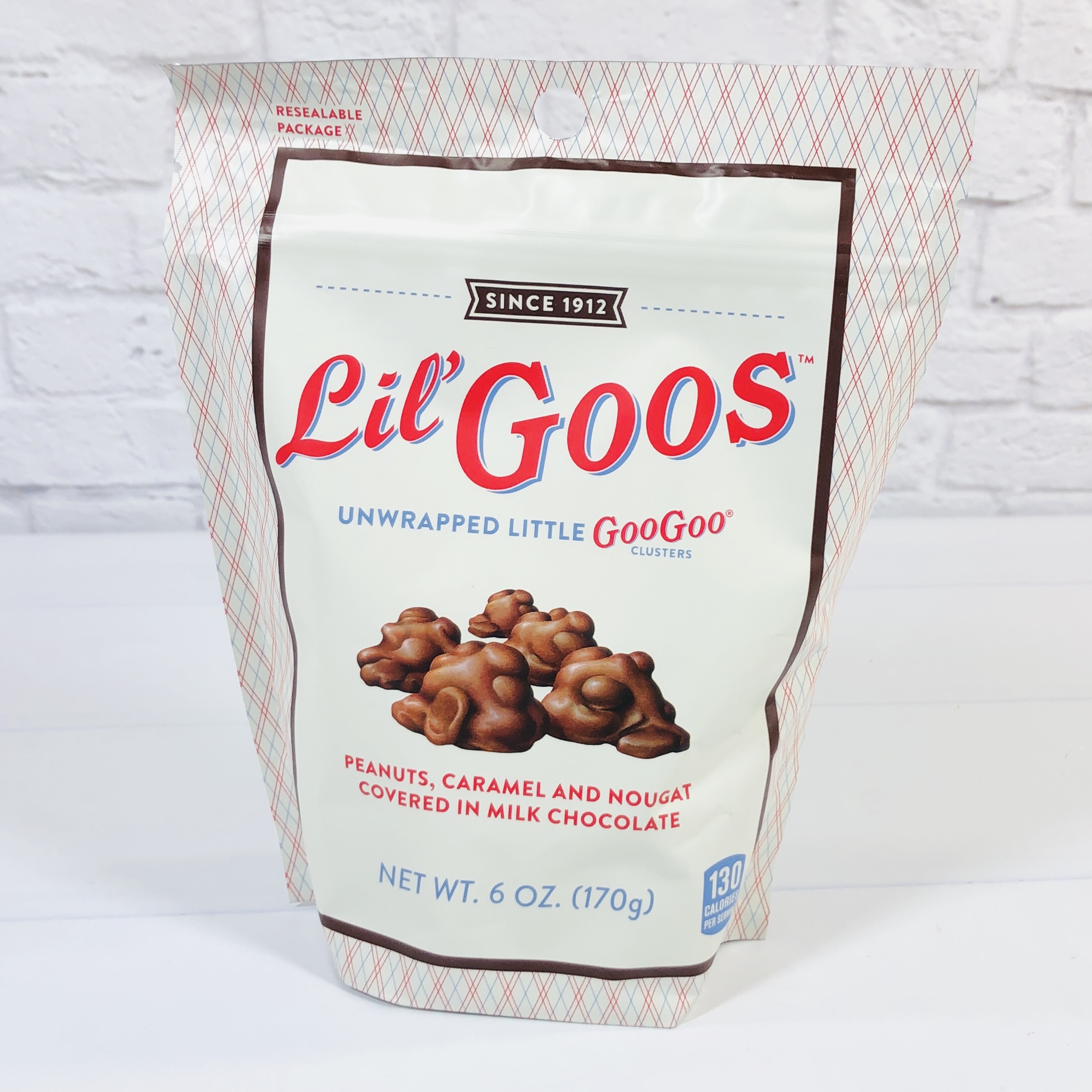 Goo Goo Clusters Lil' Goos ($9.95) Oh my gosh, where have these been all my life? I have never tried a Goo Goo Cluster, but this bag is filled with mini chunks that are already unwrapped and ready to be chomped on.
These bite-sized Lil' Goos are perfect for snacking. Our resealable 6 oz. bag contains unwrapped mini-Goo Goo Clusters based on the Original recipe: peanuts, caramel, nougat, and milk chocolate.
The bag is resealable so you can put it away and eat one day after day until they run out, I think there are 10 or so in the bag. Even though a serving size is two pieces, one is plenty to satisfy my craving for this milk chocolate covered ball of peanuts, caramel, and nougat.
I had a sweet time trying the snacks in my Nostalgic Tastes box! While most of the treats were sort of familiar to me (like divinity), with the exception of the Moon Pies I can't say I've ever tried these brands before! Everything was super tasty and I received the snacks in quantities that made it easy to share with my family. My sweet tooth is sated and I still have some of these snacks set aside for later, and the peach candy tin will be around for even longer. I think it's cool that Nostalgic Tastes also has seasonal boxes planned too.
What do you think of the Nostalgic Tastes box?