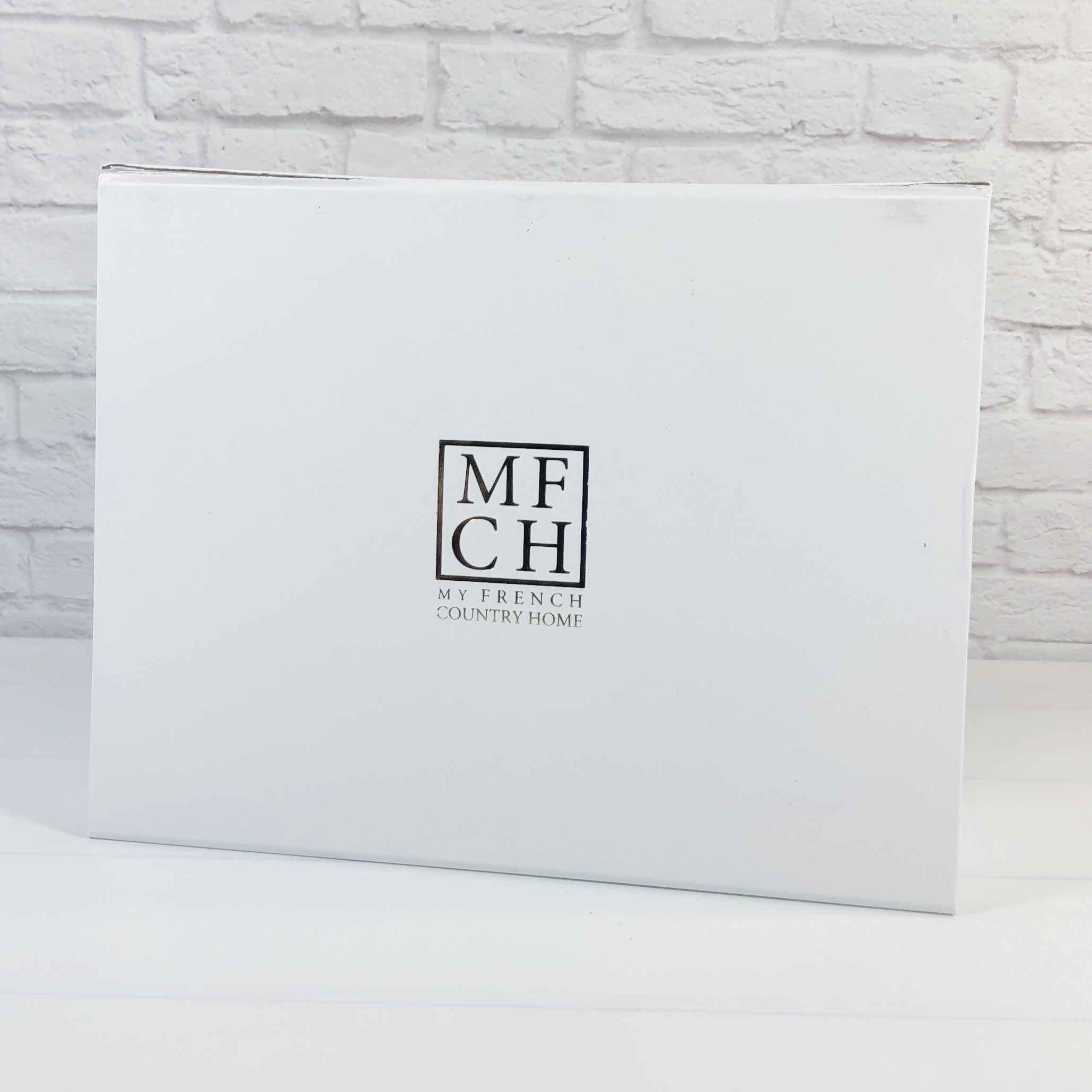 My French Country Home Box (formerly My Stylish French Box) is a quarterly lifestyle box that sends authentic and stylish items all the way from France! The box is curated by Sharon Santoni, an author and the blogger behind My French Country Home. This box is based in France and they work directly with highly coveted and timeless French brands to create a box that will help chic up your home and self. They send 6-8 items in each quarterly box.
A luxury subscription box filled with authentic French gifts, curated for you and your home.

While we do tease the theme of each box, the fun is in the surprise. We ensure that every beautifully-wrapped, sweet-smelling box – delivered straight from France to your door – is for you to open, discover and enjoy.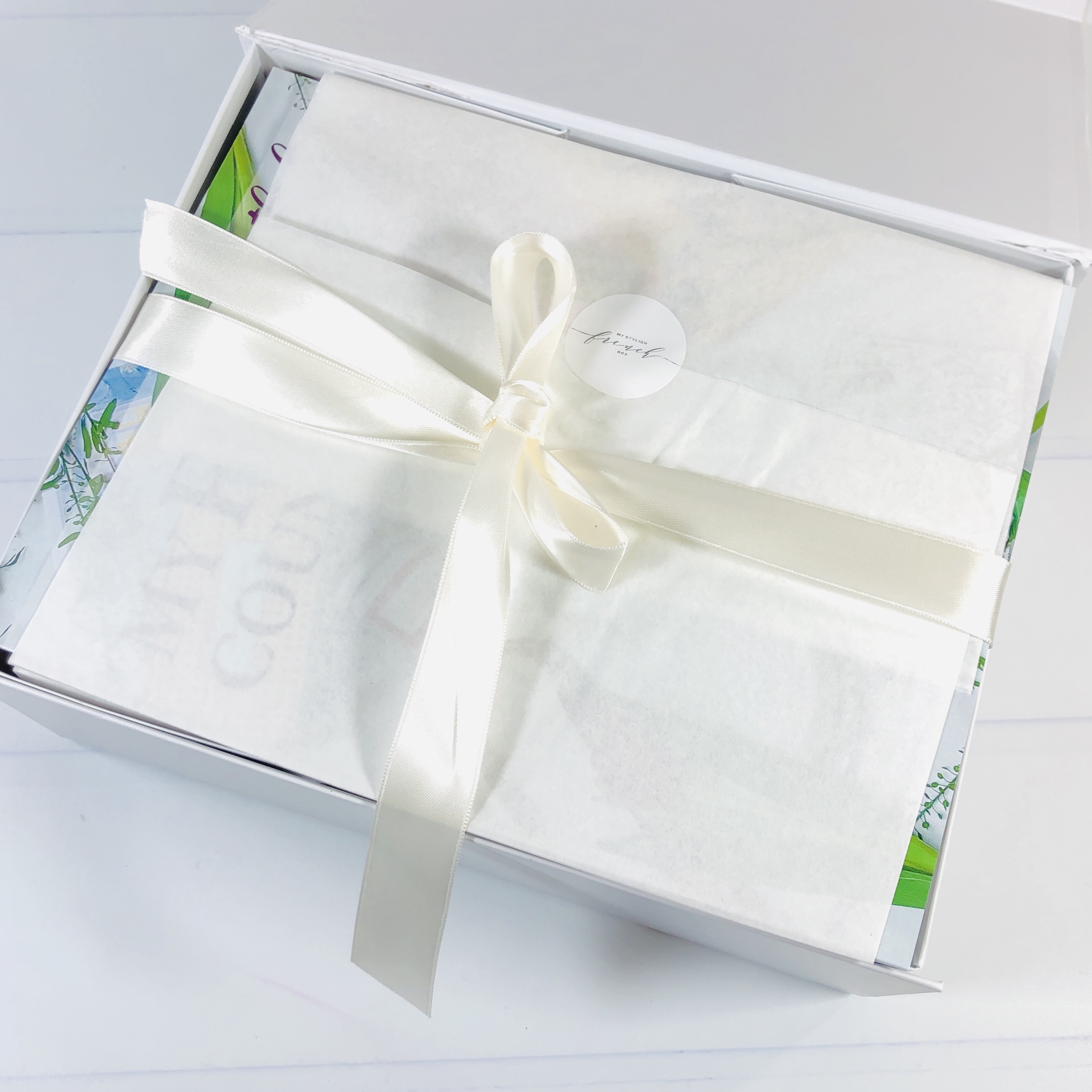 My items were shipped directly from France and came in a reusable white box. The box has a hidden magnetic closure and it makes a good storage box. It's simple and I like that I can reuse it. I opened it up to find my products wrapped in tissue paper with a satin ribbon around the parcel.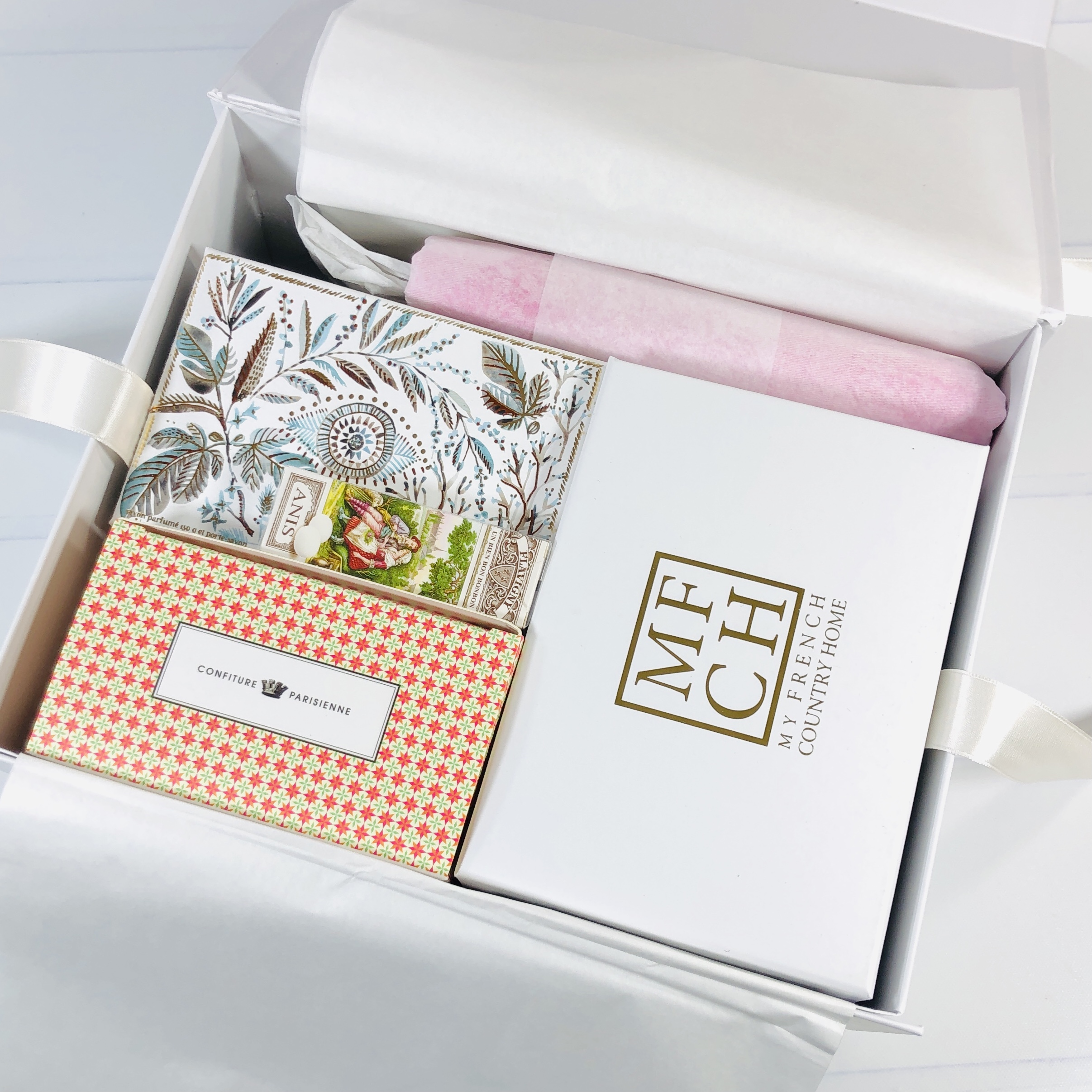 My Stylish French Box is $255 a quarter. A one-time, non-recurring gift box shipment is $265, while a year's prepaid subscription brings the price down to $245 a box. Shipping is free to the USA and other countries, with Australia and New Zealand paying an additional $15. Some countries may need to pay customs fees and taxes, please check the FAQs.
Each box comes with a beautiful full-color brochure showing each item.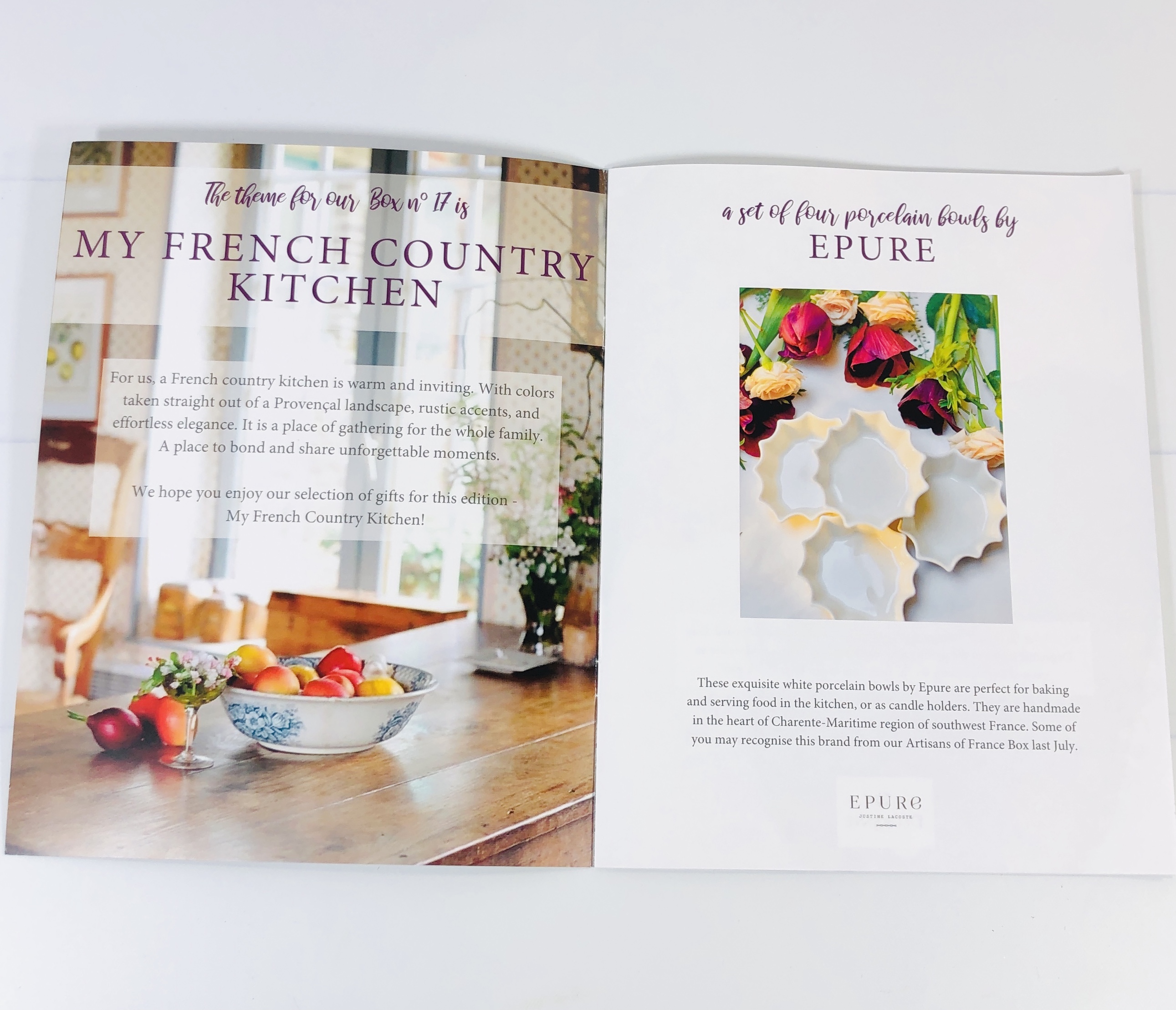 The theme for the February 2021 box is My French Country Kitchen!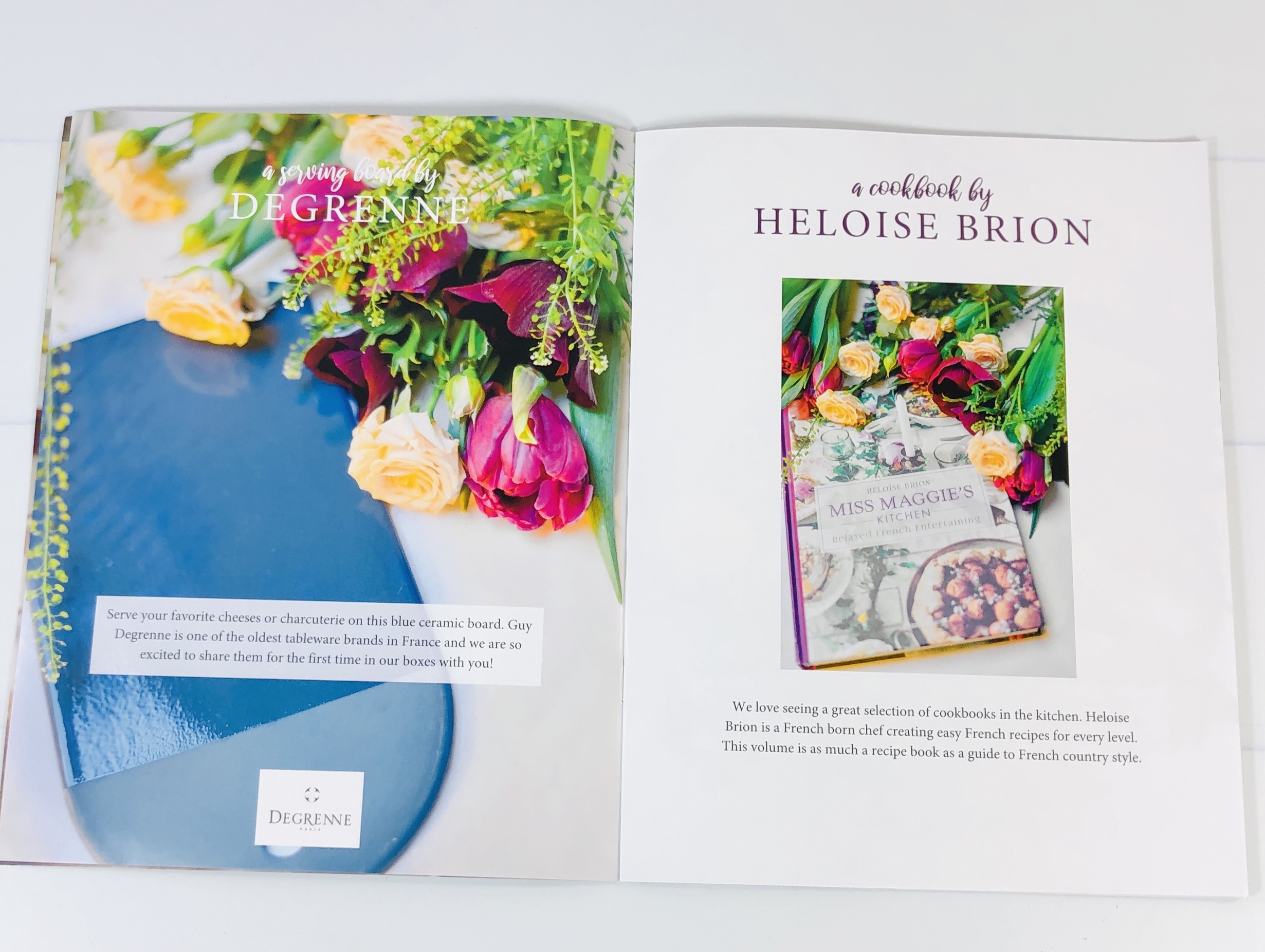 Each item is shown and mentions the maker.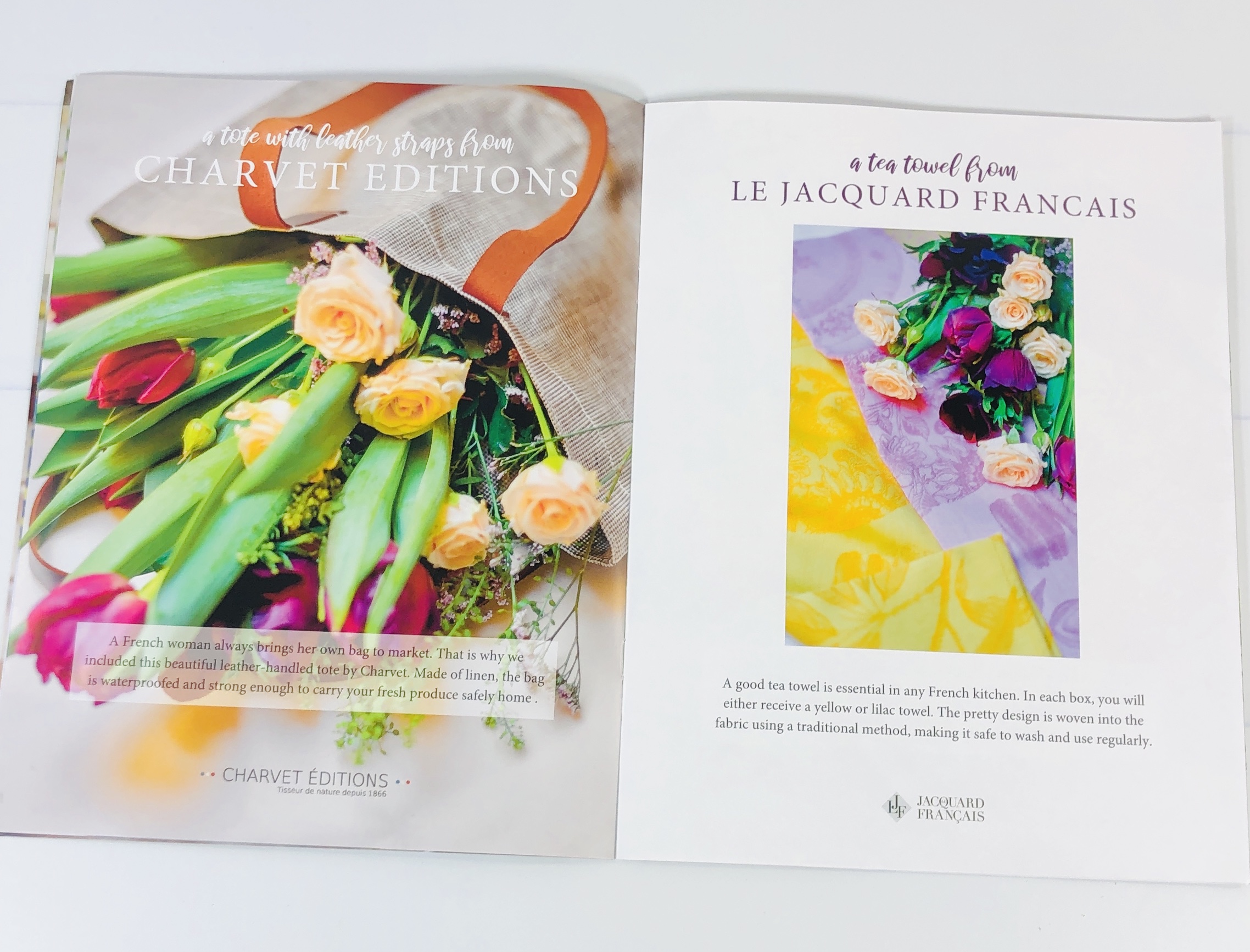 I love seeing how each item is styled, it gives me ideas on how I might put the pieces to use.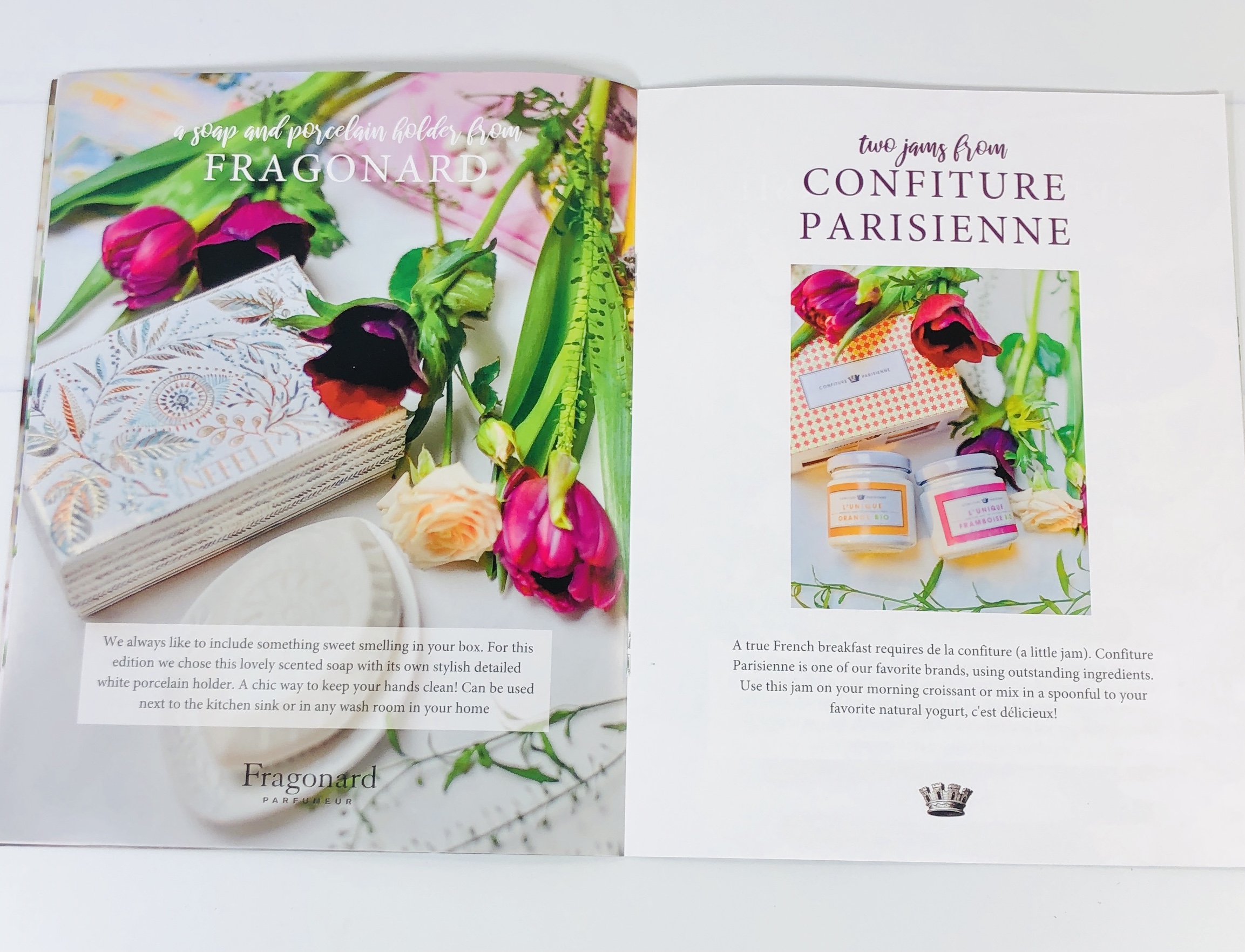 The colors are so pretty!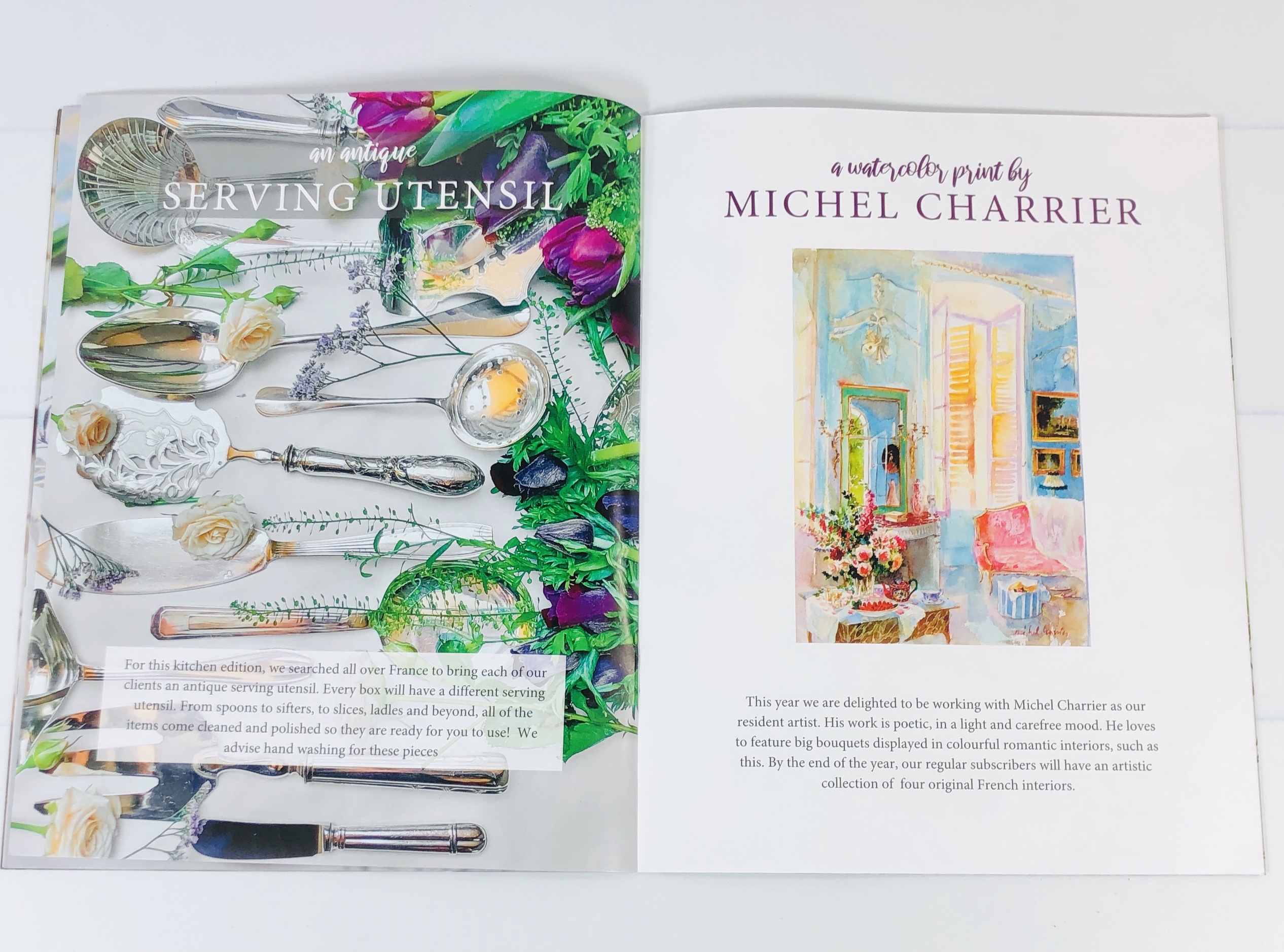 A brief description is so helpful.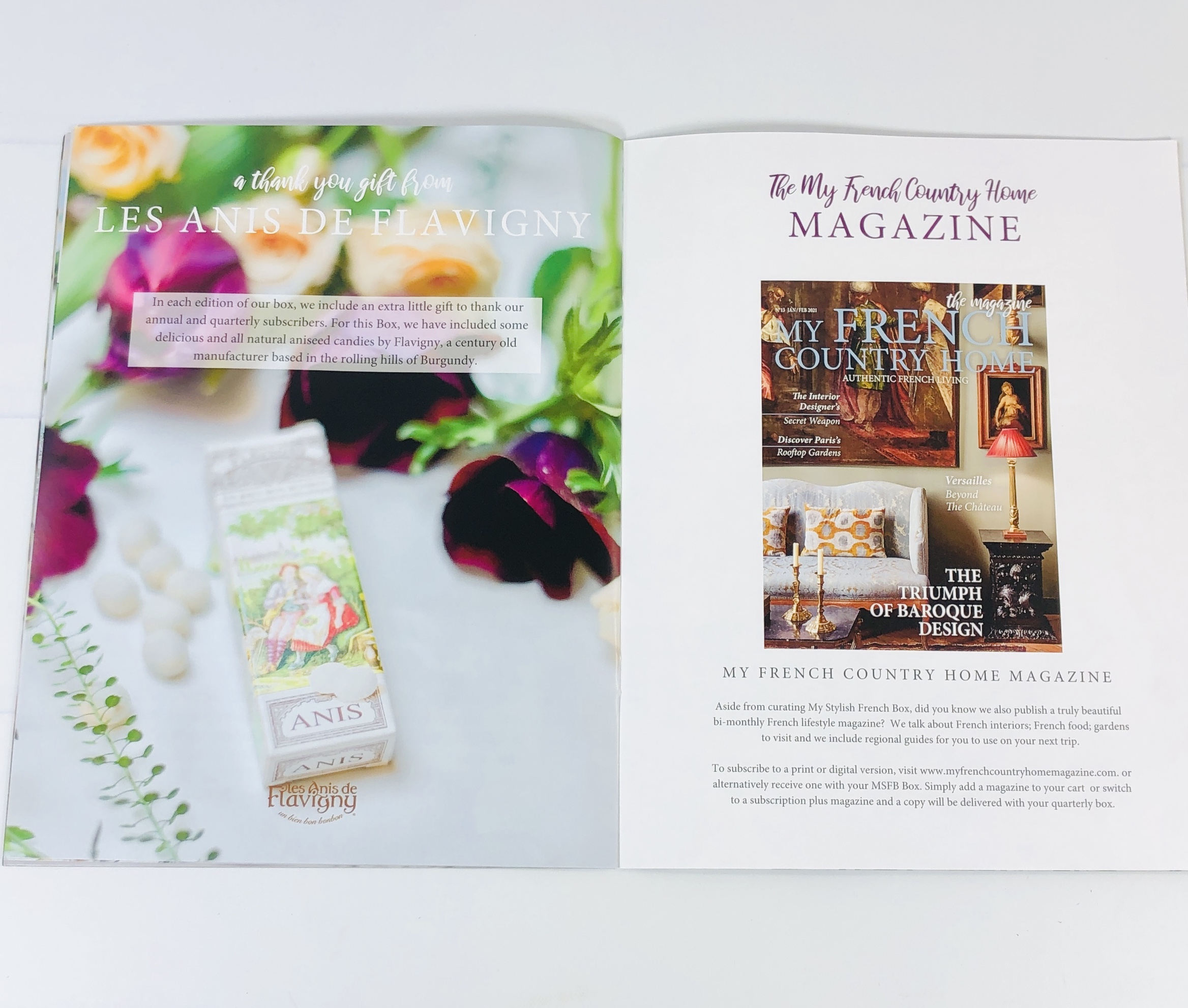 Annual and quarterly subscribers always receive a bonus gift, which is a box of aniseed candies! My French Country Home Magazine was mentioned, and luckily a copy of the latest edition was included.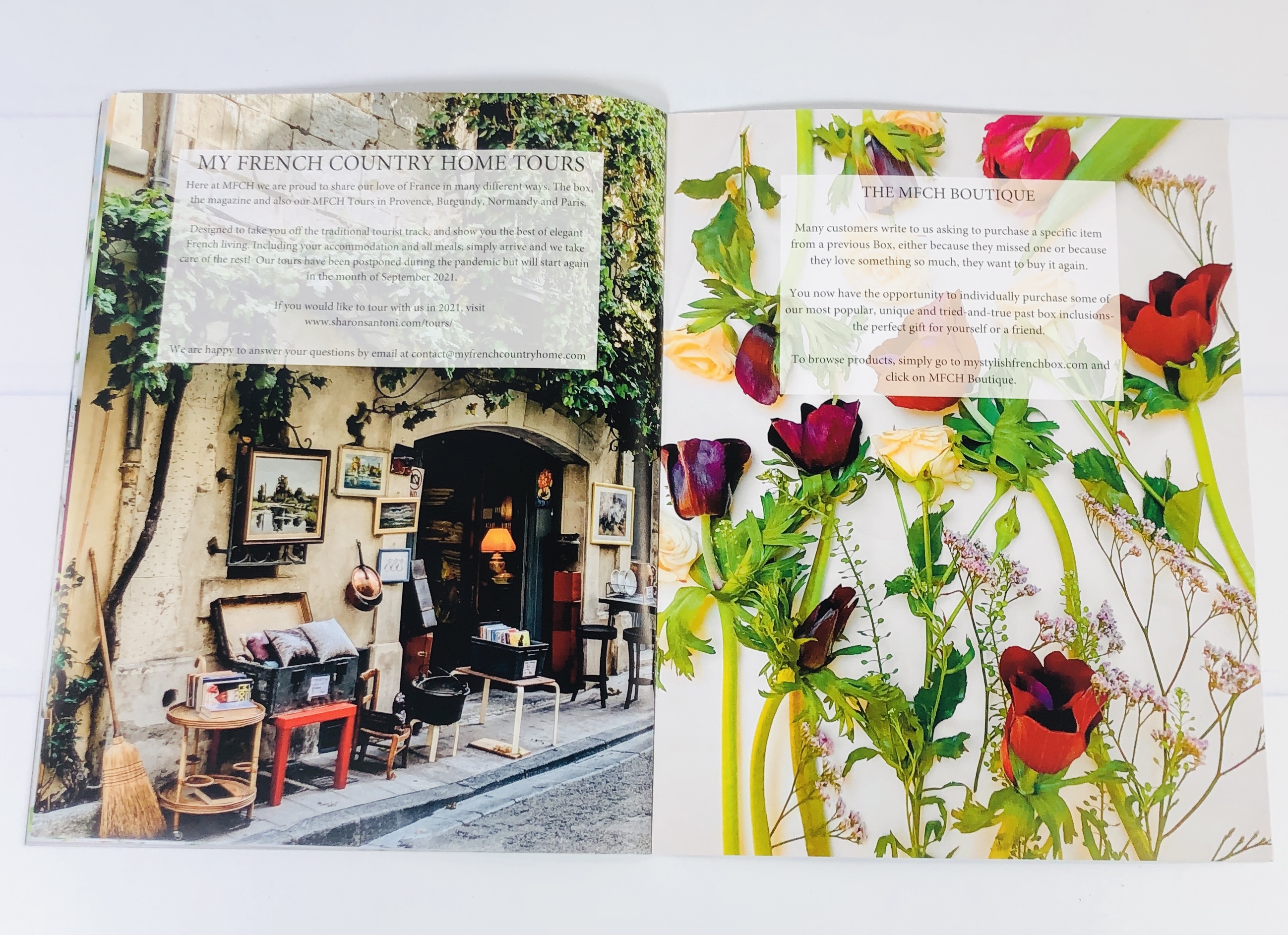 Tours of French country homes are scheduled to take place in 2021. You can find merchandise from this box and previous boxes, as well as a selection of other high quality French made products, at the online shop.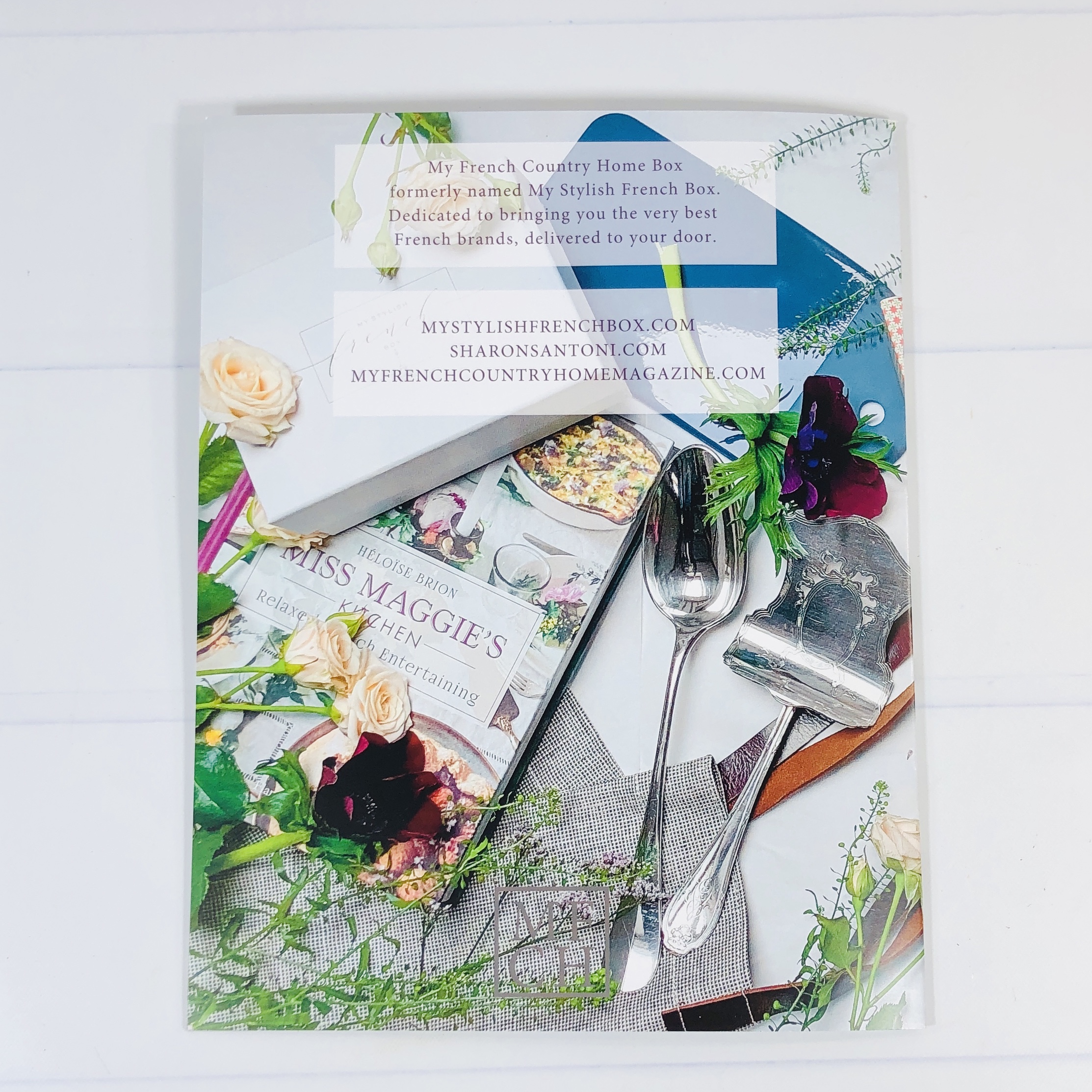 Some websites with more info were listed on the back.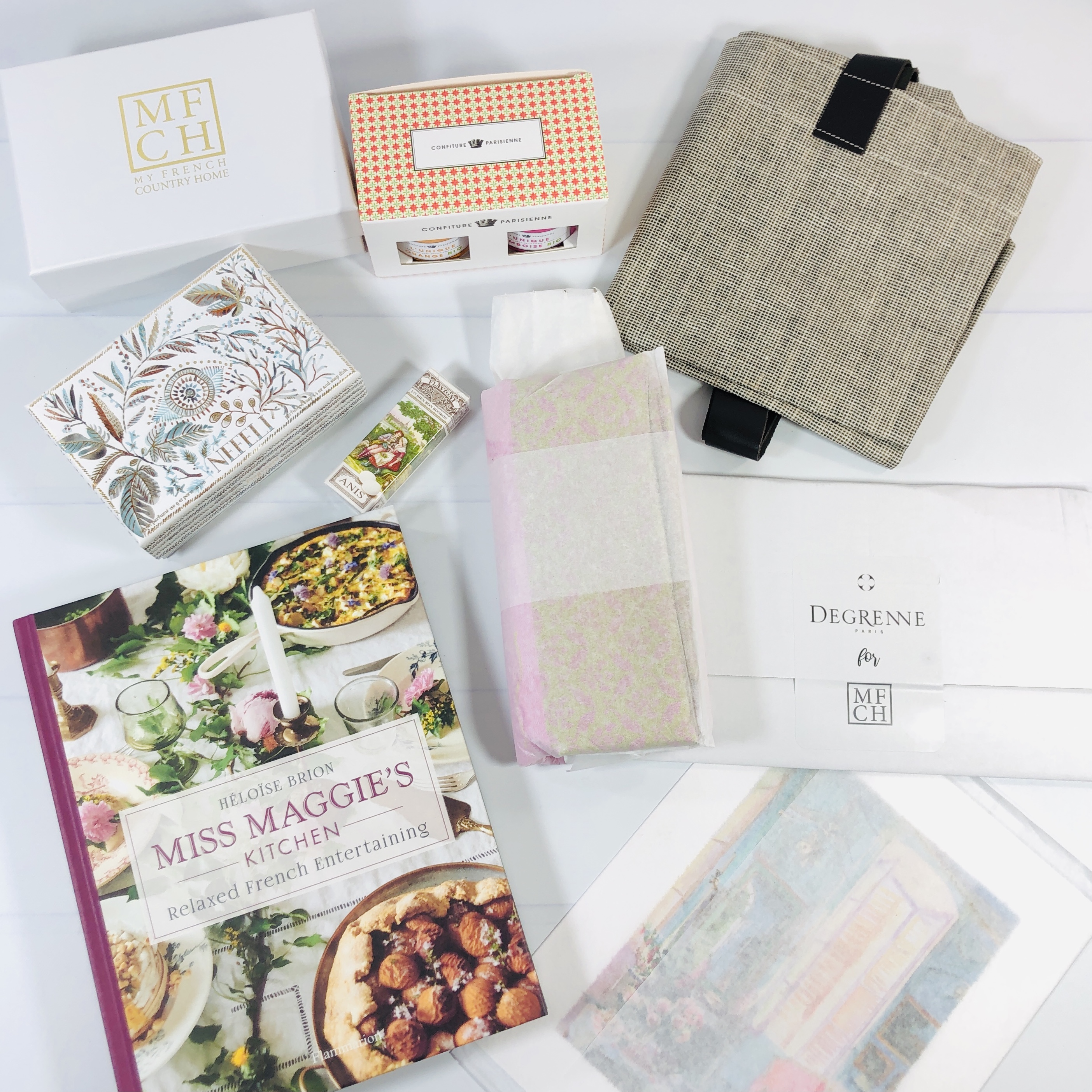 Some of the items came in their original boxes, others were wrapped in tissue paper.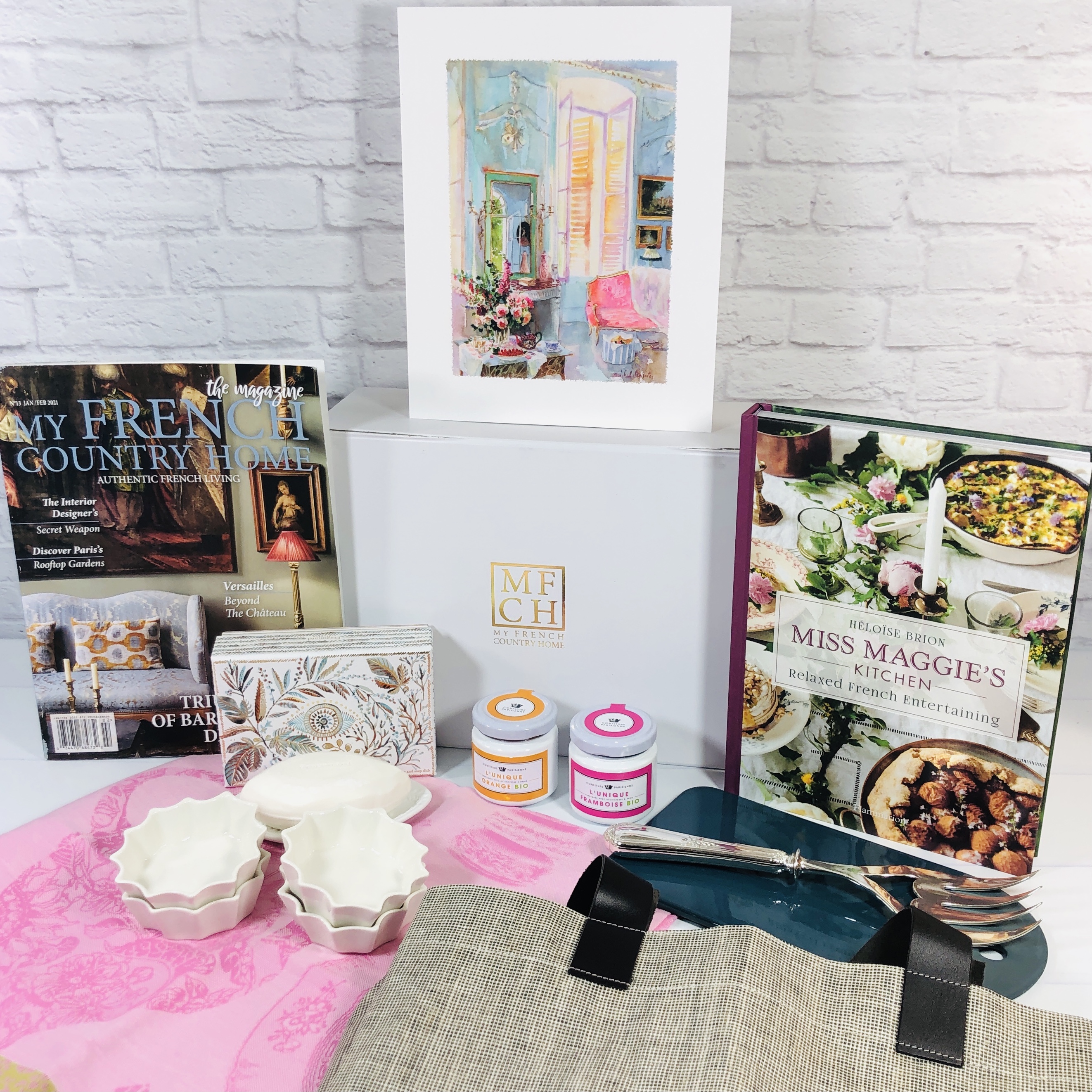 Everything in my box! I must say the experience of opening this box and learning about each item is magnificent! It is an elegant box and would make a super special box for yourself, or an exceptional gift for a friend or loved one.
My French Country Home Magazine January/February 2021 Edition ($12.99) To start us off we have the magazine from the same person who puts out this box!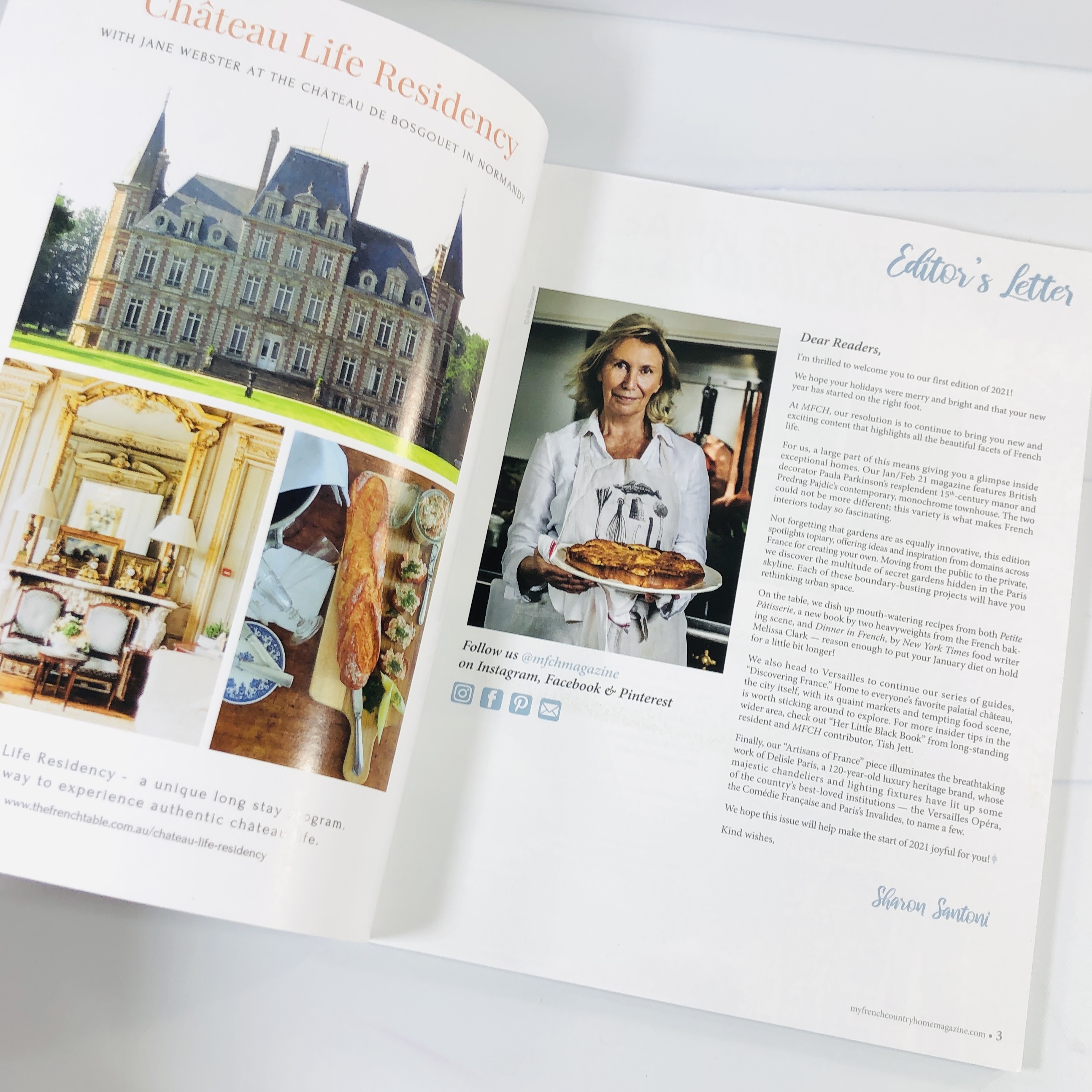 The magazine is 130 pages long and it is pure escapism for me! I love to sit and look through its pages while curled up on the couch with a cup of tea.
I especially look forward to reading this article on Versailles. I once toured the palace and it was awe-inspiring to say the least. There are stories to read, recipes to make my mouth water, and shopping ideas.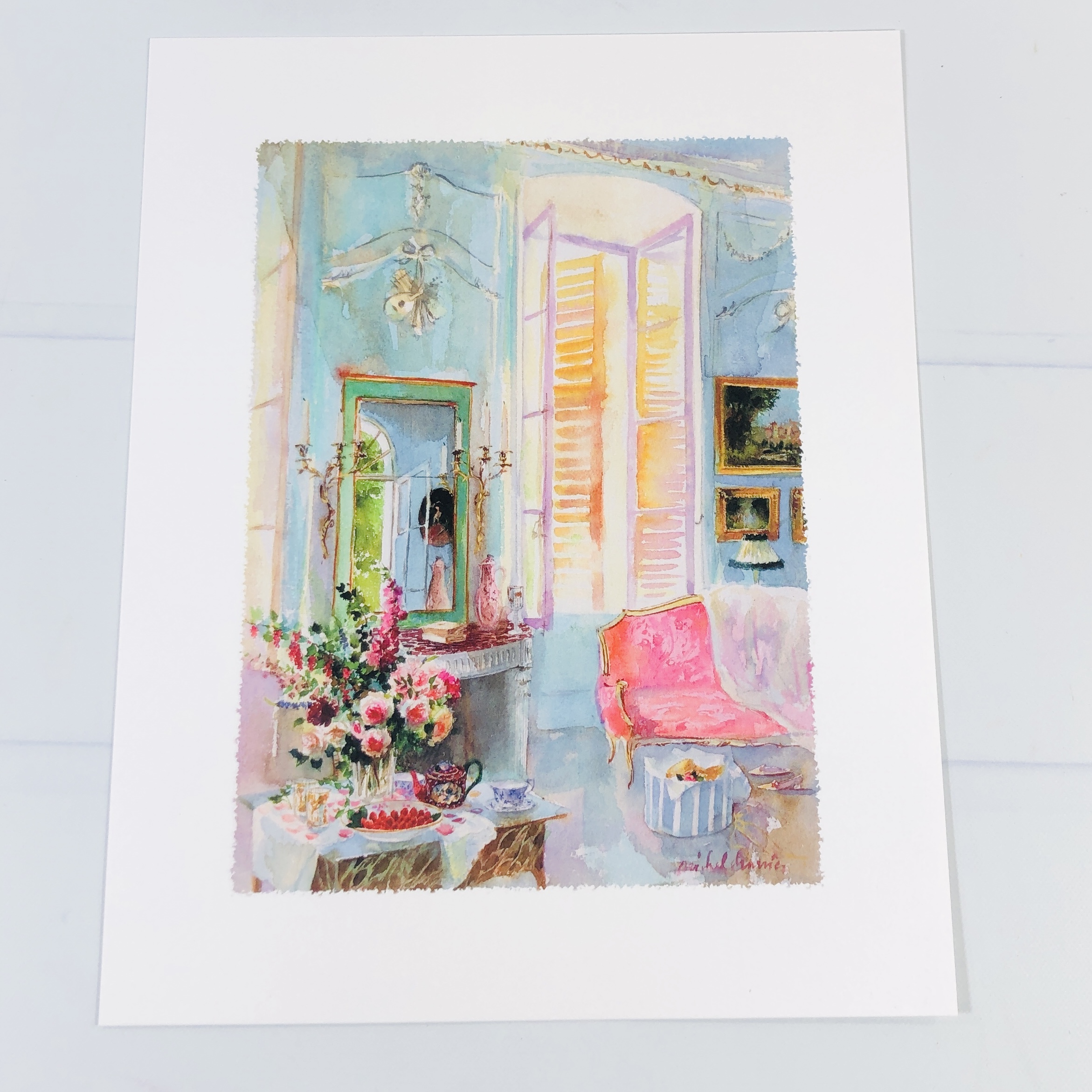 Michel Charrier Watercolor Painting Each year a different artist provides a lovely print for the quarterly boxes and I must say, I can't wait to have a collection of four from Michel Charrier, look at how beautiful this is! The colors speak to me and I would love to frame this set for my walls.
Here is a closer look at this watercolor print. The whole piece is 8″ x 10″ and is on high-quality paper.
The next item was in a cardboard holder to keep it safe during transit.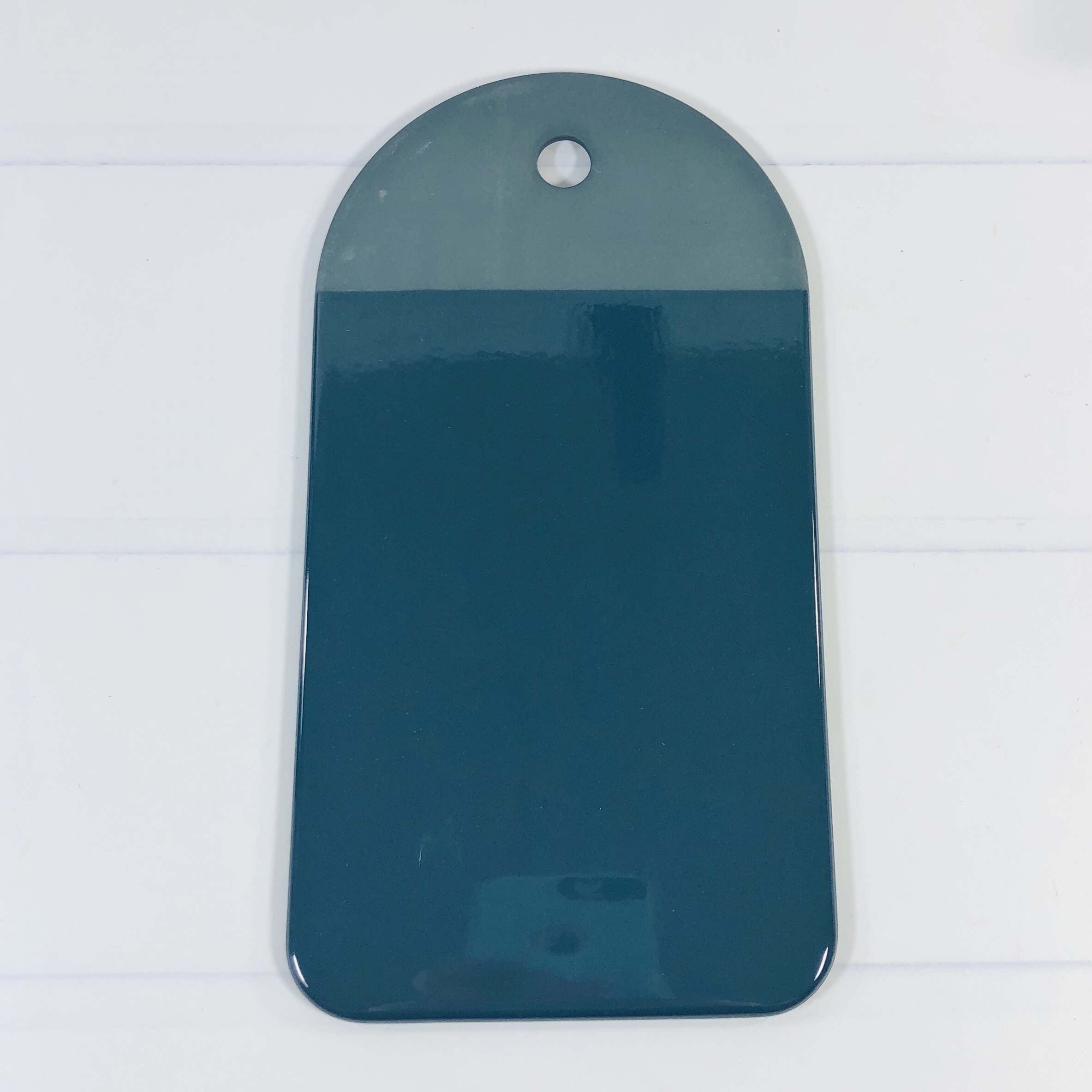 Degrenne Board in Bahia Bleu de Roche (Was €21, now €14.70, or around $17.62 USD) is a stoneware board that can be used as a cheese or charcuterie board! This side has a glaze over most of the board to make it easy to clean. It measures 9.5″ x 5.25″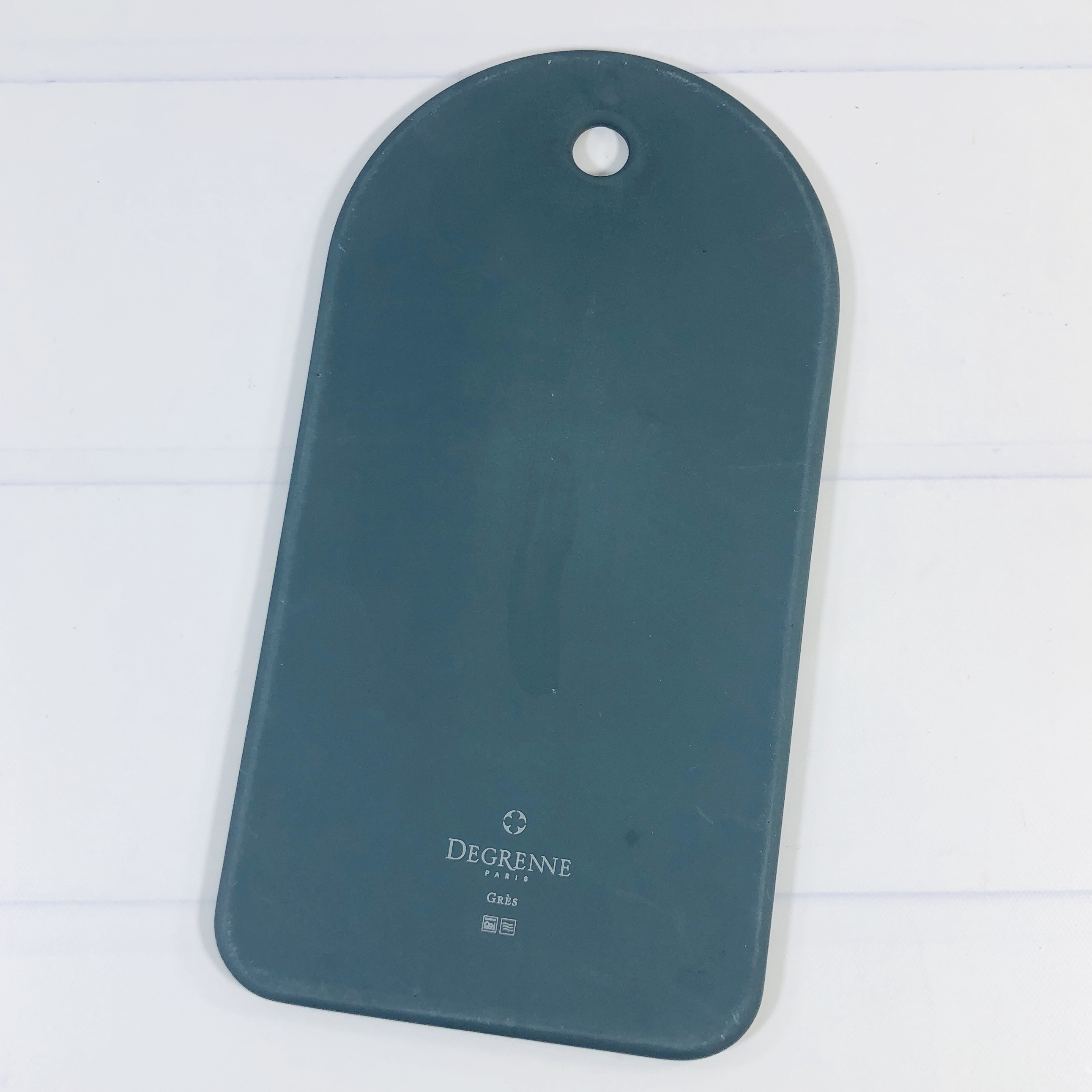 The back has the maker's stamp.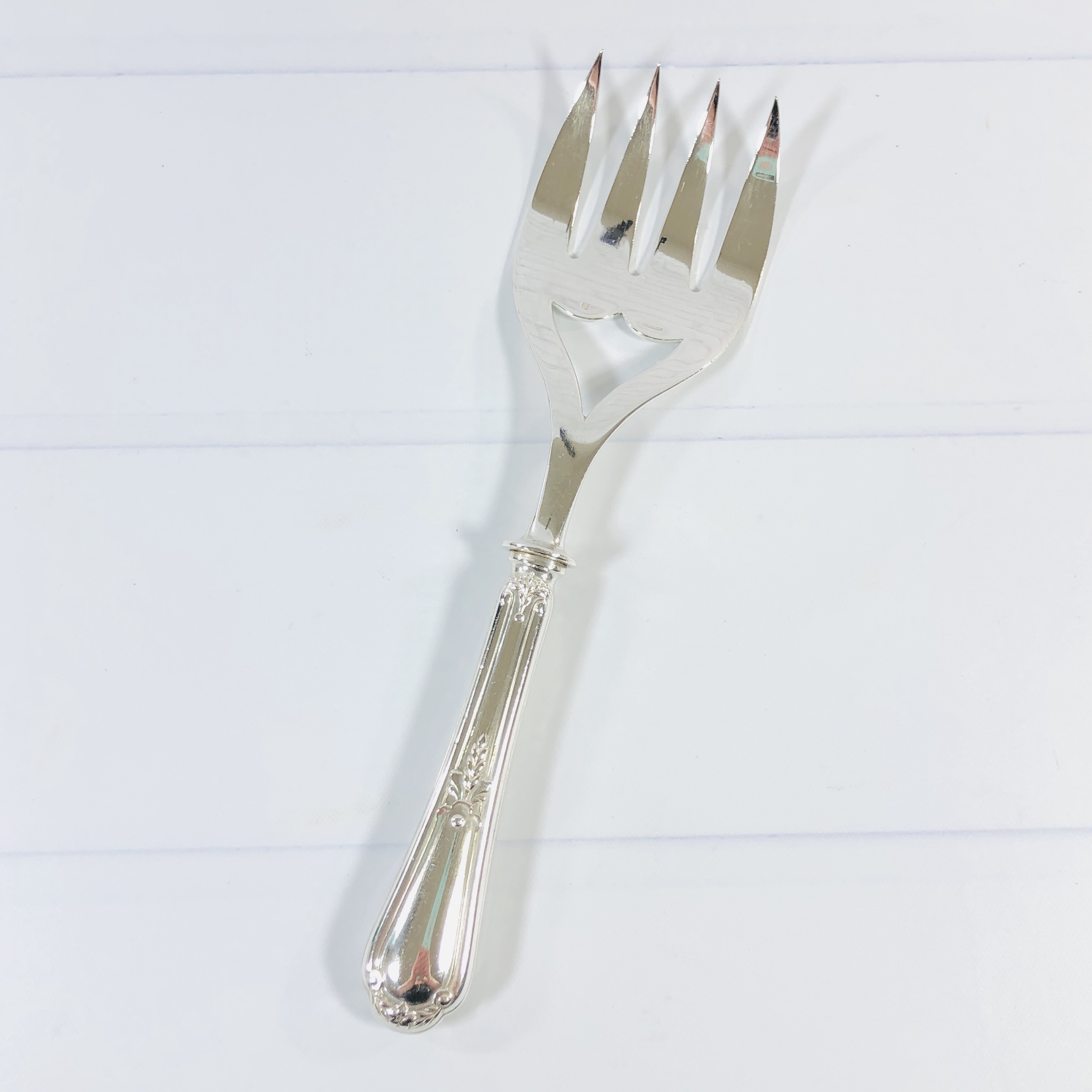 Antique Serving Utensil I think this is a serving fork of some kind, possibly for fish, I don't own anything as fancy as this! There was a teeny little name on the inside and I magnified it and I believe this piece is by Christofle!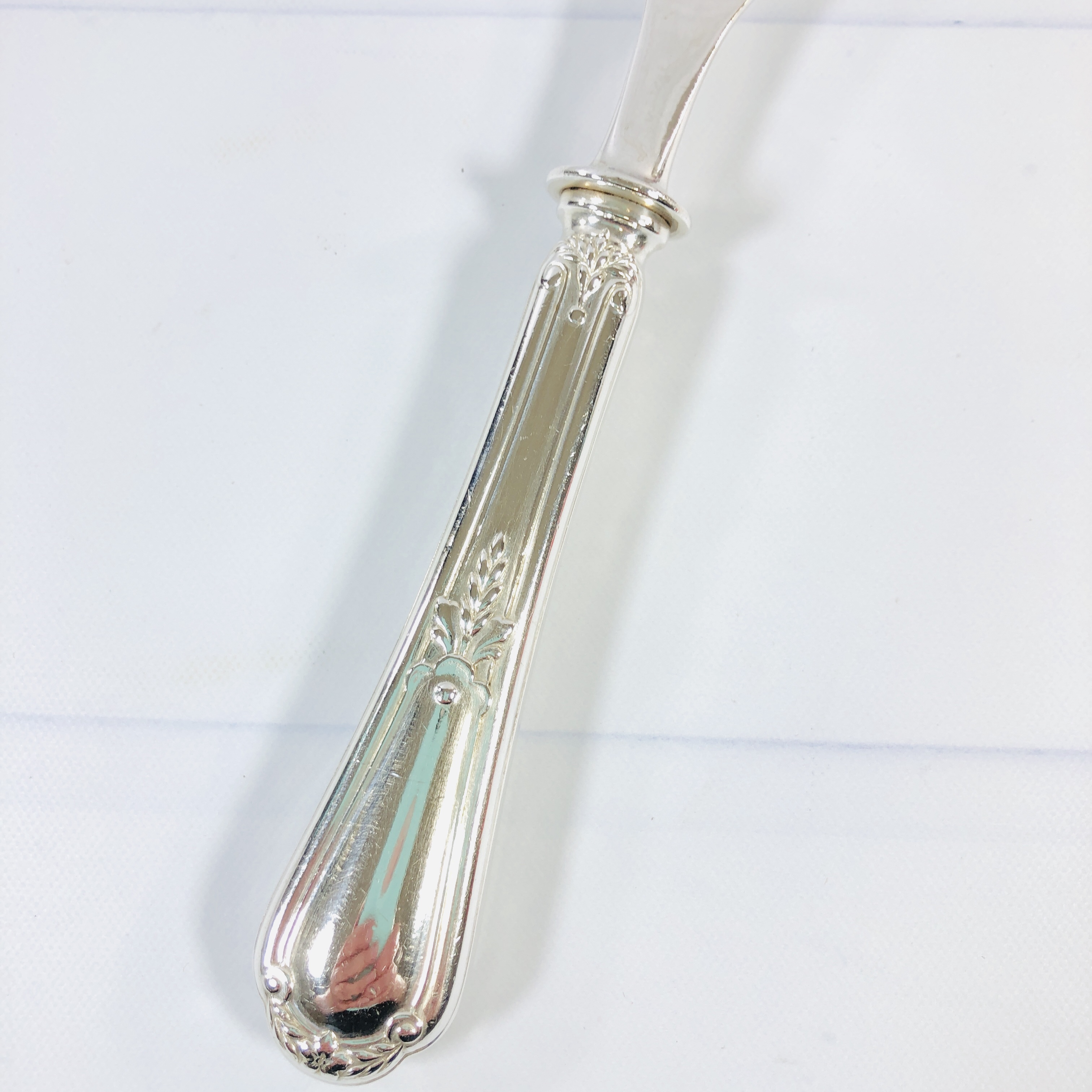 The handle is super sturdy and my gosh, is this sterling silver?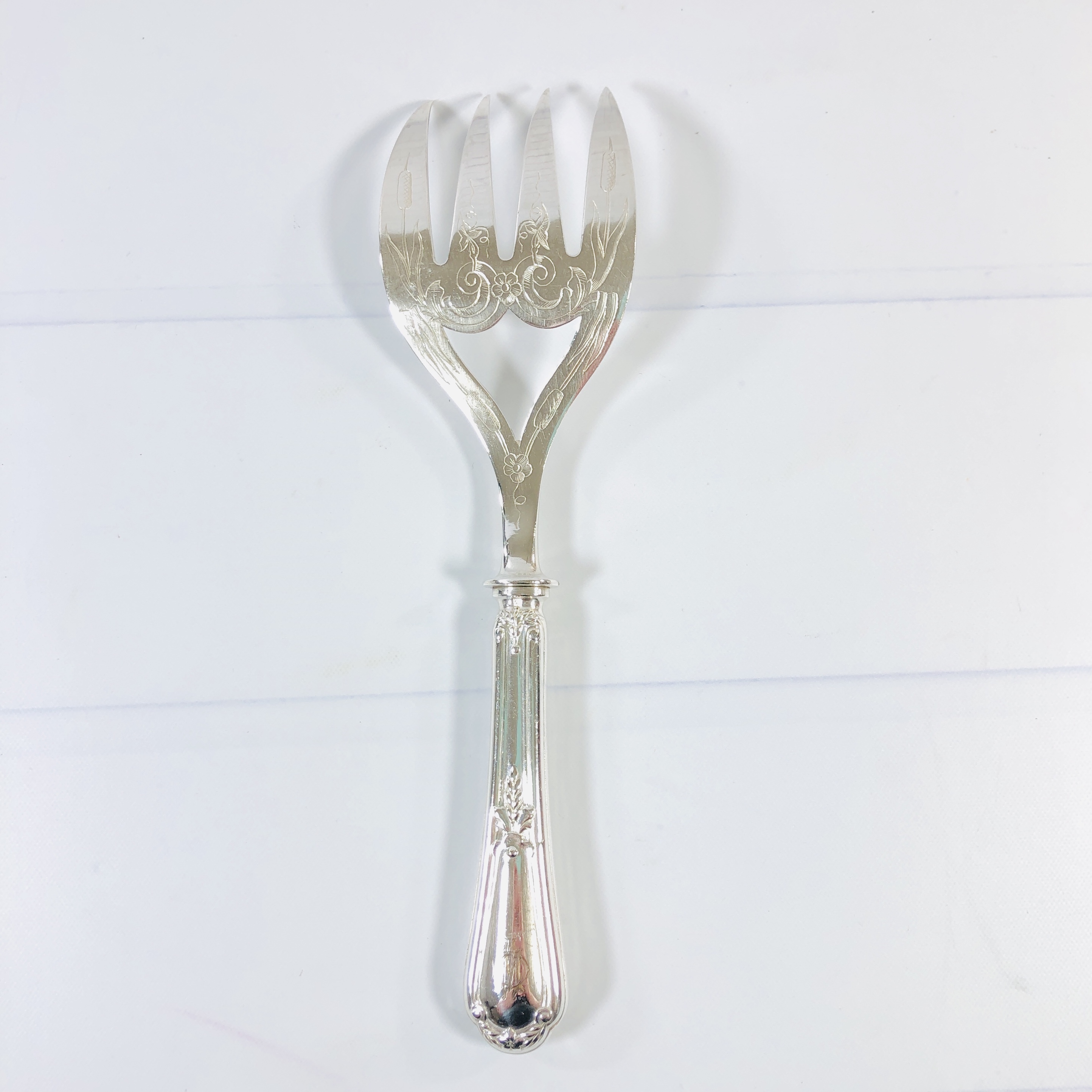 The piece is about 10″ long!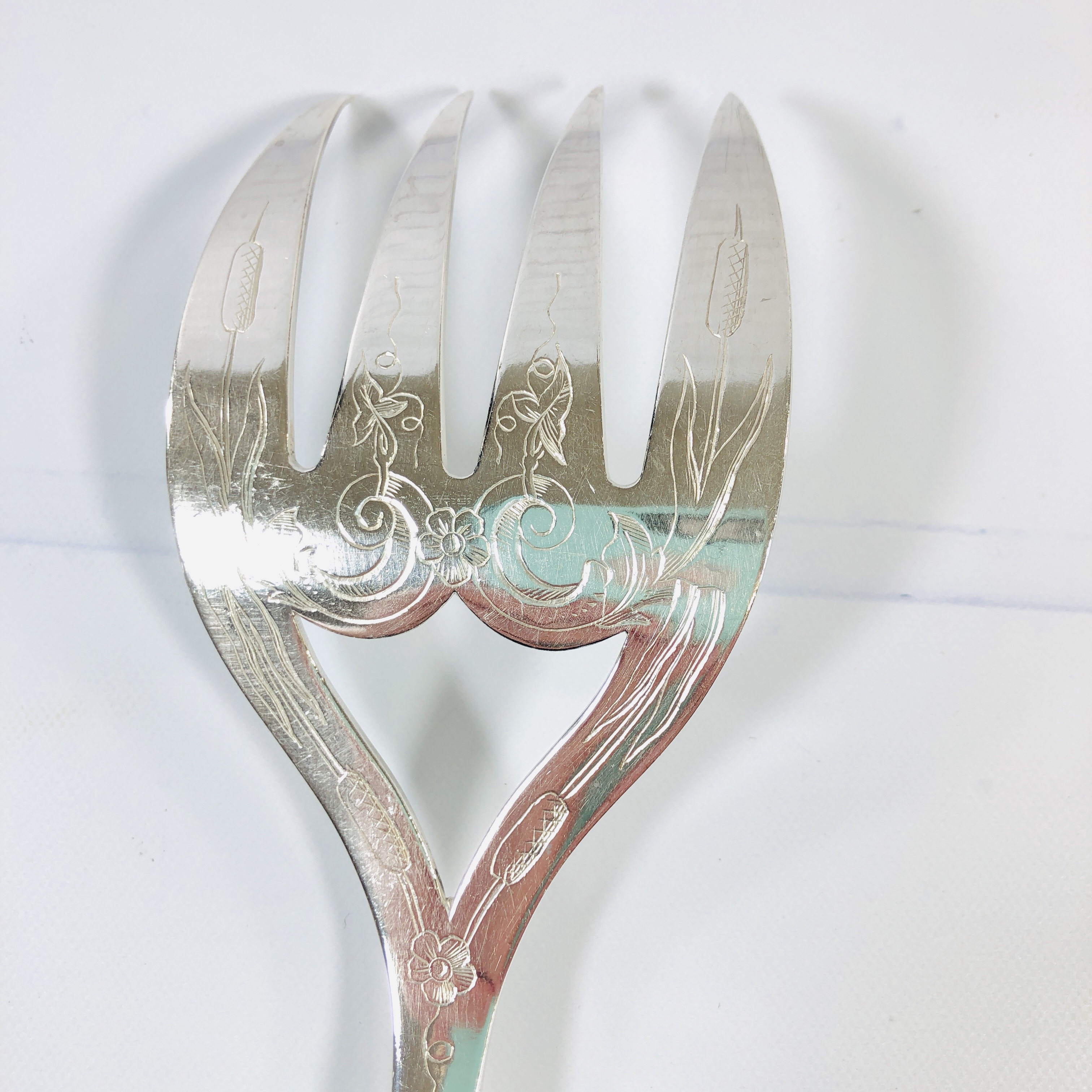 Get a look at this detail, it has pussy willows on the tines! And the flower, and the flourishes. It's beautiful!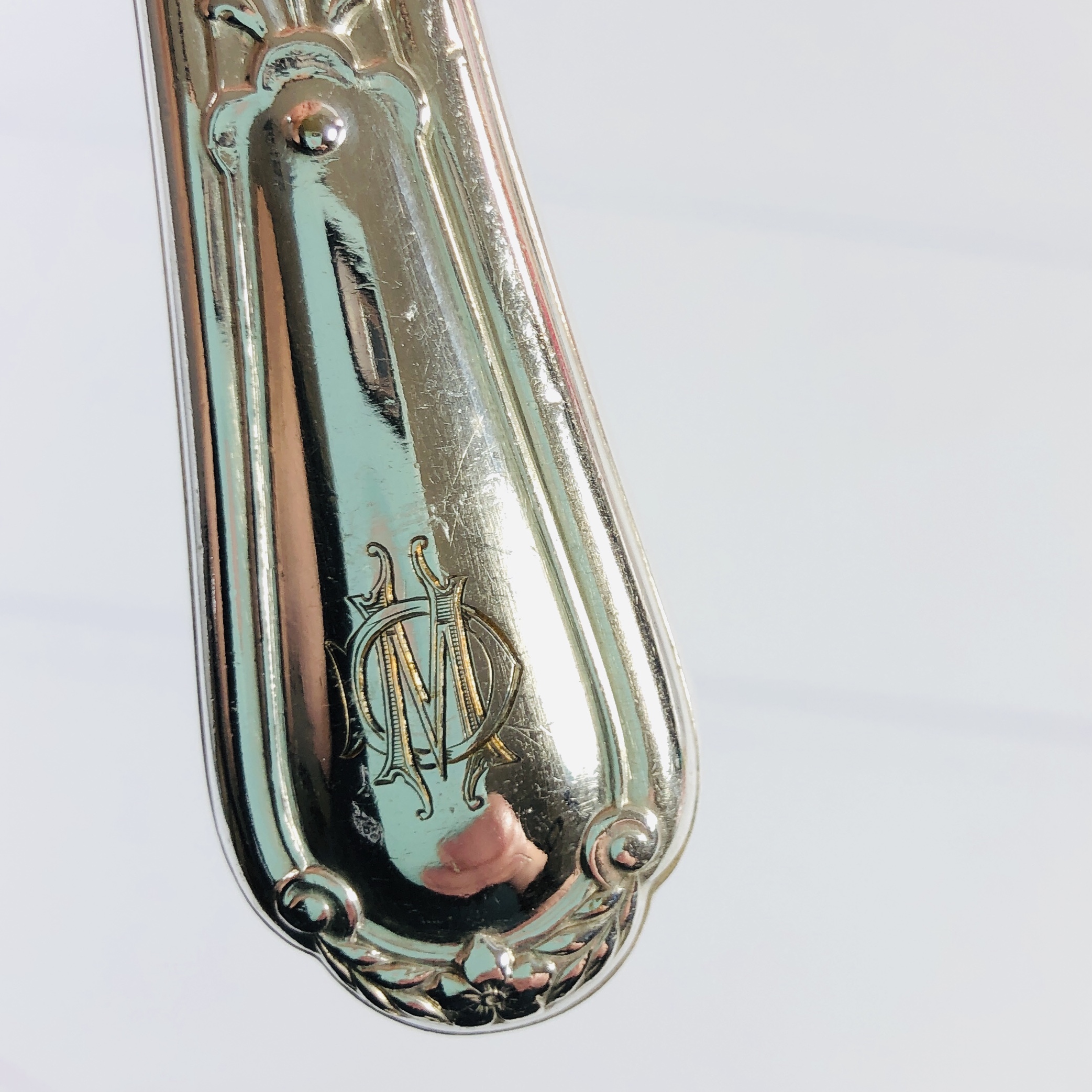 What is this elaborate letter "M"? I need to know more!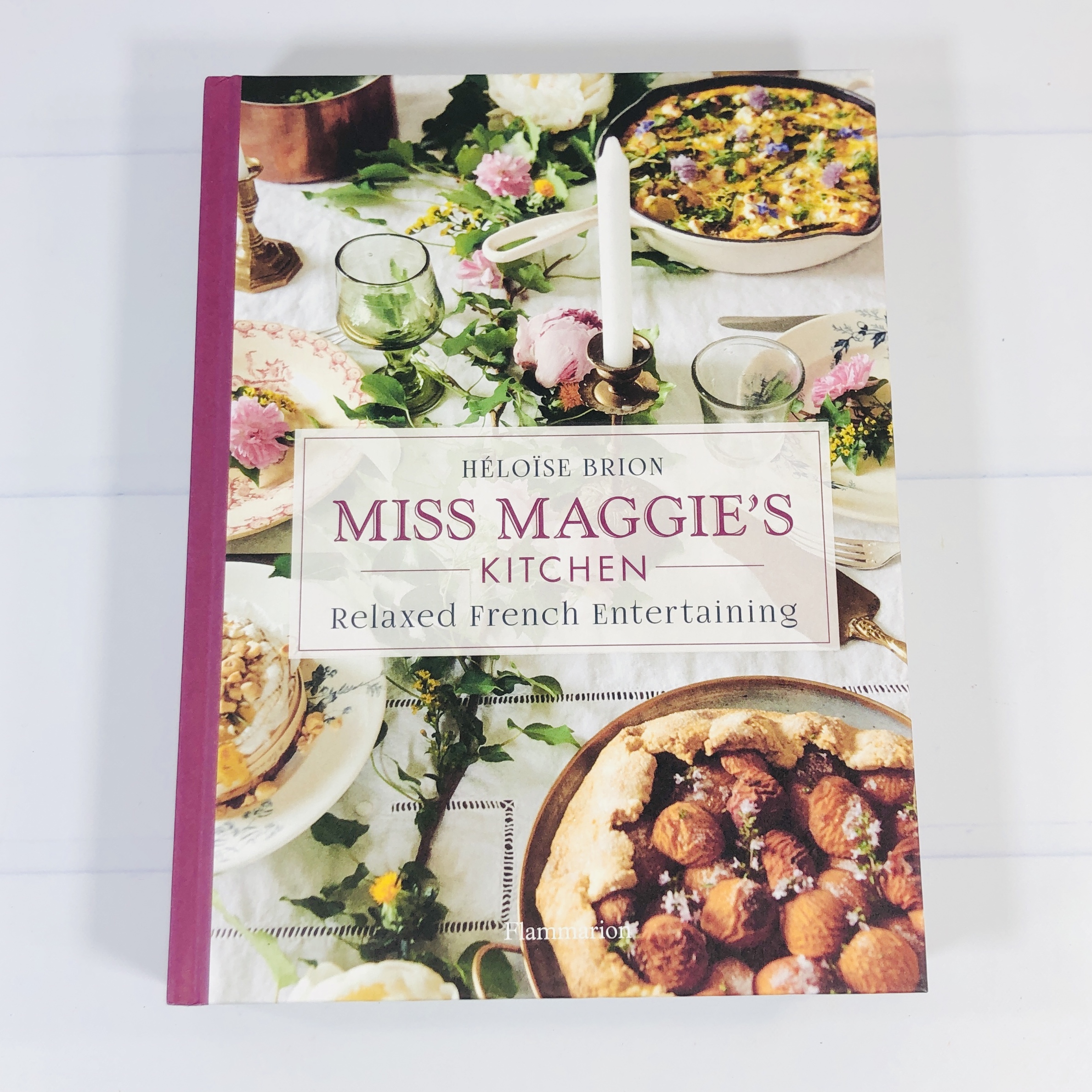 Miss Maggie's Kitchen: Relaxed French Entertaining ($35 MSRP, currently $22.94) I love cookbooks and this one sounds like a practical book and is at my comfort level.
Héloïse Brion's early life was rhythmed by mealtimes–from her childhood in Florida, where her mother proudly upheld the tradition of the French family dinner, to summers spent in the Pyrenees, where her grandmother cooked over a wood-fire oven. Her passion for food–always respectful of the seasons and the origins of her products–followed her back to France, where she pursued a career in fashion.

What initially began as a whimsical pastime turned into Miss Maggie's Kitchen, her brand that blends cooking, travel, and lifestyle in a perfect alchemy. Her innate talent for style and entertaining stems from her informal American approach to life mixed with her inherent French flair. Here, Brion shares more than eighty laid-back recipes for every occasion, including her beautiful table settings that are festive and welcoming. Her simple, authentic, and tasty cuisine includes winter squash soup with porcini crostini, cherry tomato pizza, veal stew, clementine and pistachio cake, and a rosemary-rhubarb cooler. Brion's husband, photographer Christophe Roué, captures the charm of Miss Maggie's Kitchen, where retro and modern culminate in the ultimate comfortable elegance.
Here is the back cover with a bit about the author and what to expect in the book. The book is 255 pages long.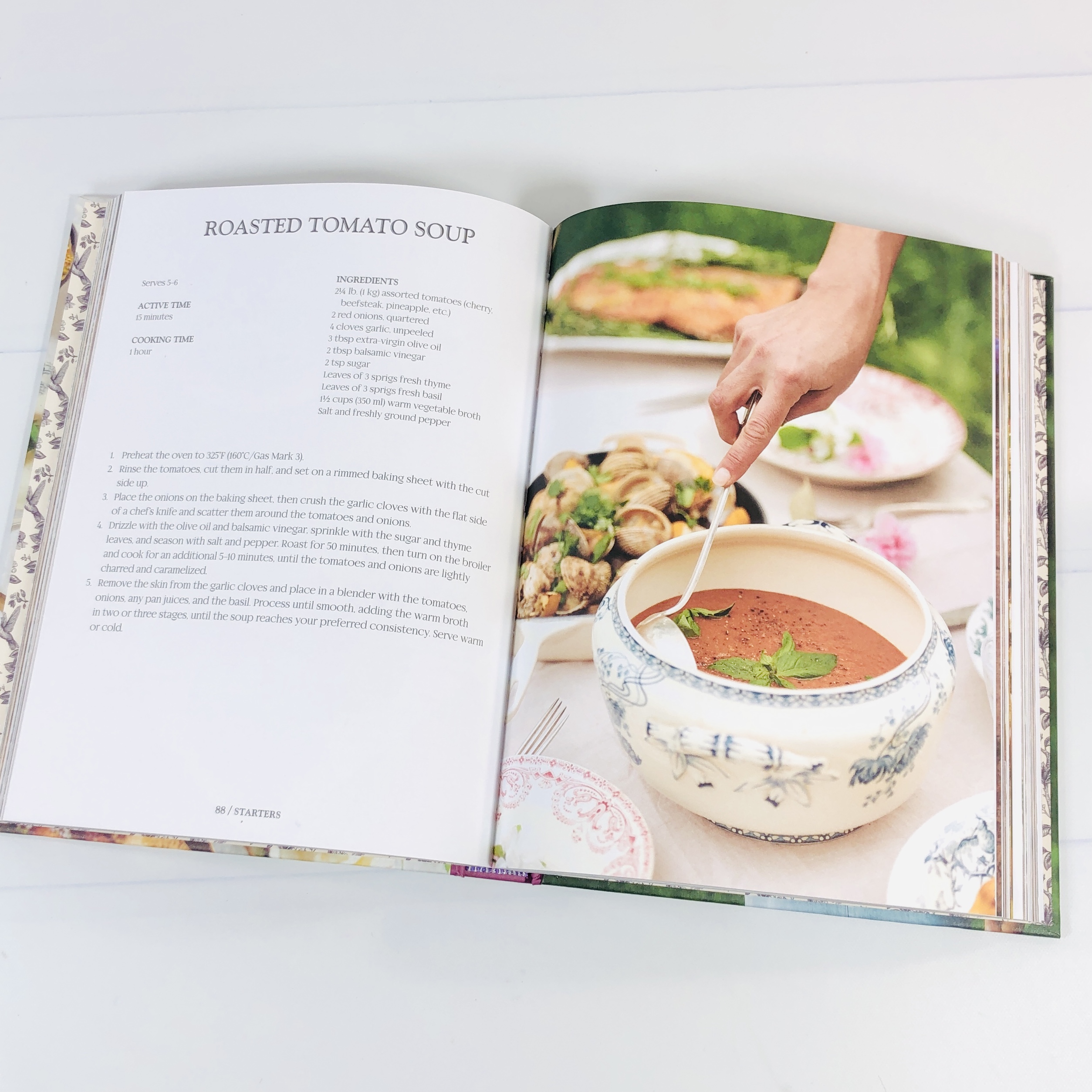 The recipes list serving amounts, active and cooking times, and ingredients plus directions.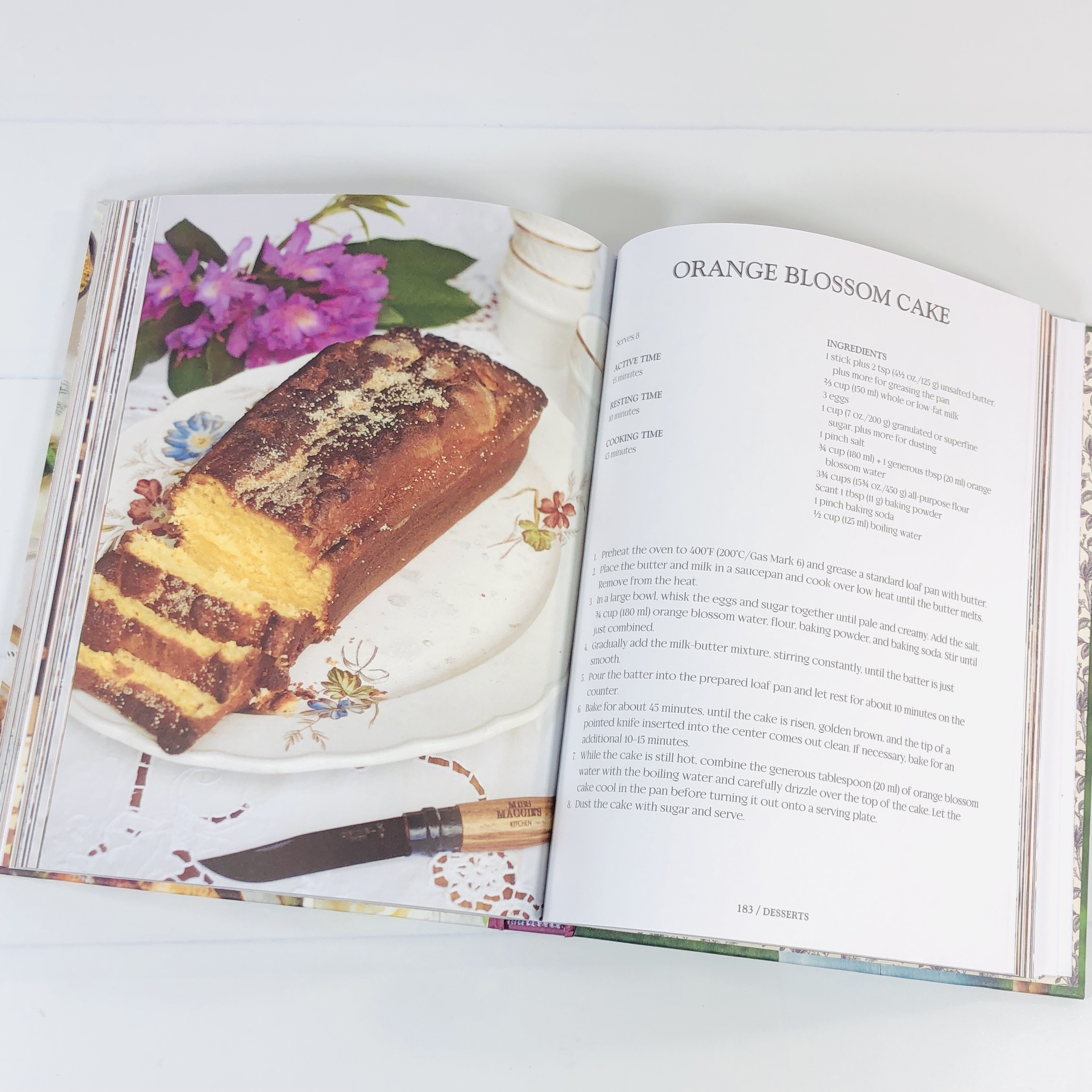 You can find sections such as Essentials & Base Recipes, Cocktail Hour, Starters, Main Dishes, and Desserts. I look forward to trying something new with my new book, which came out fairly recently!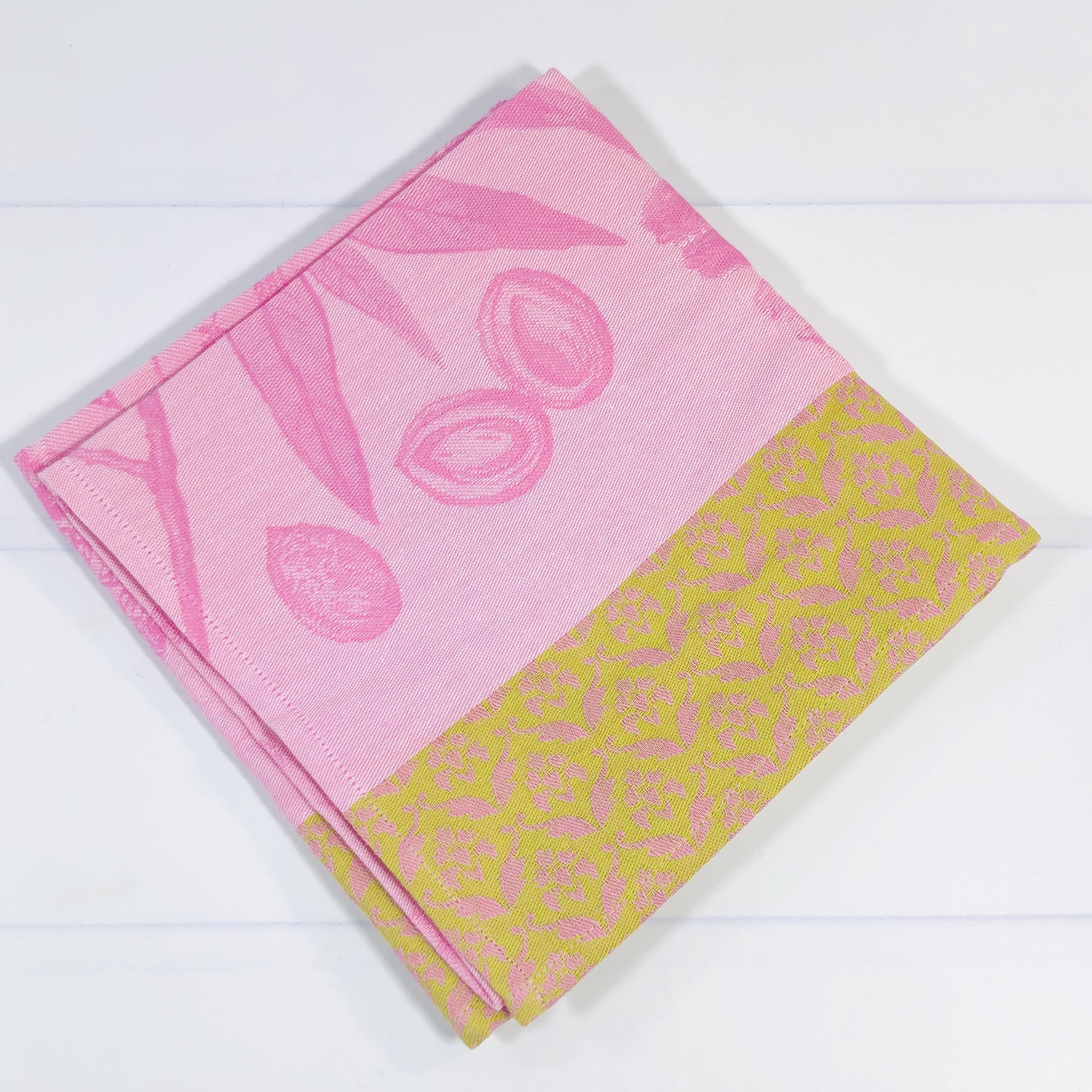 Le Jacquard Francais Tea Towel in Macarons Rose ($25) This tea towel actually has items for afternoon tea in the print!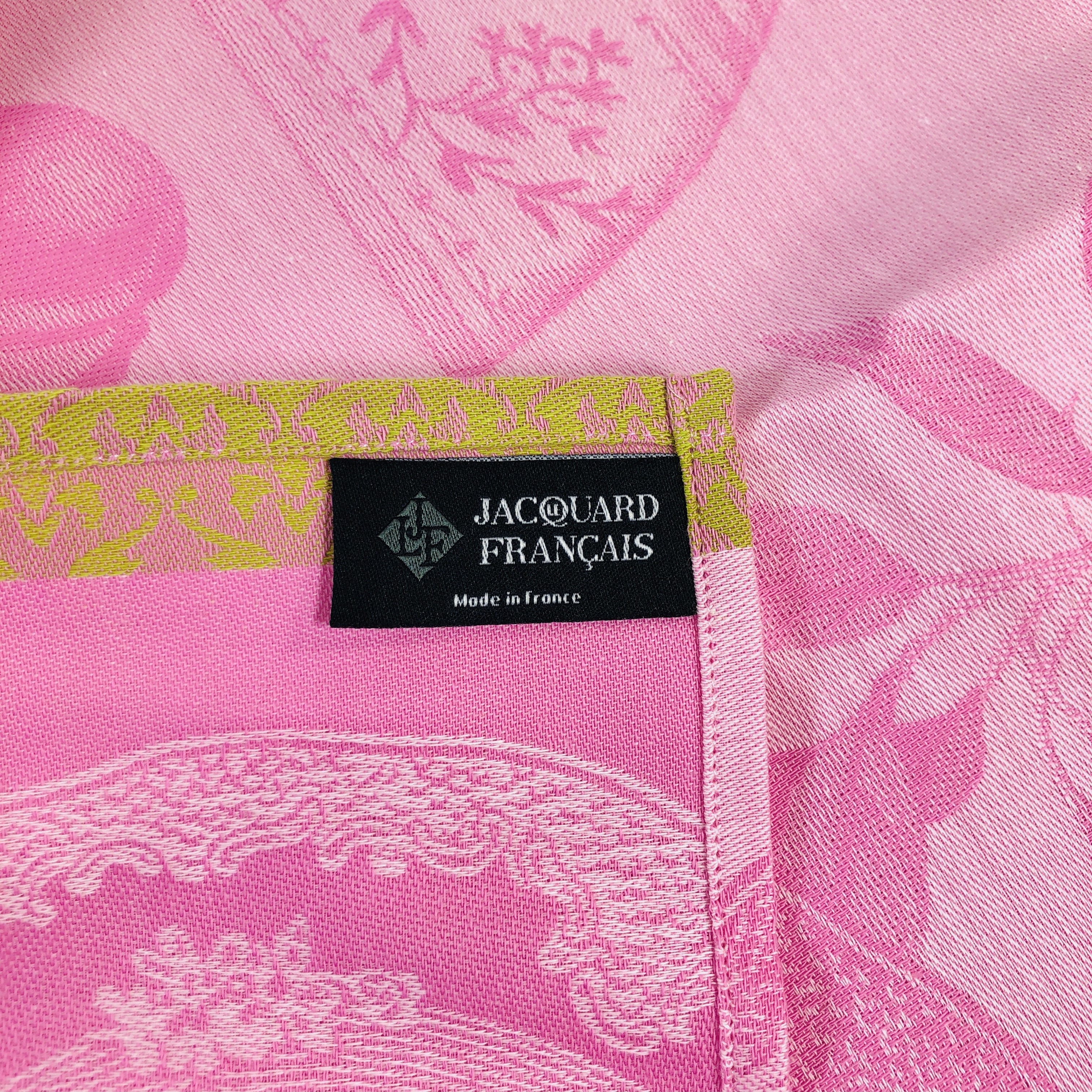 My towel is in shades or pink and green and will add a pop of color to my kitchen.
It is 60 x 80cm (about 23.5″ x 31.5″) and has macarons, a tea pot, a tea cup, plates, and what I think is an almond tree branch and nuts. Macarons are made with almond flour.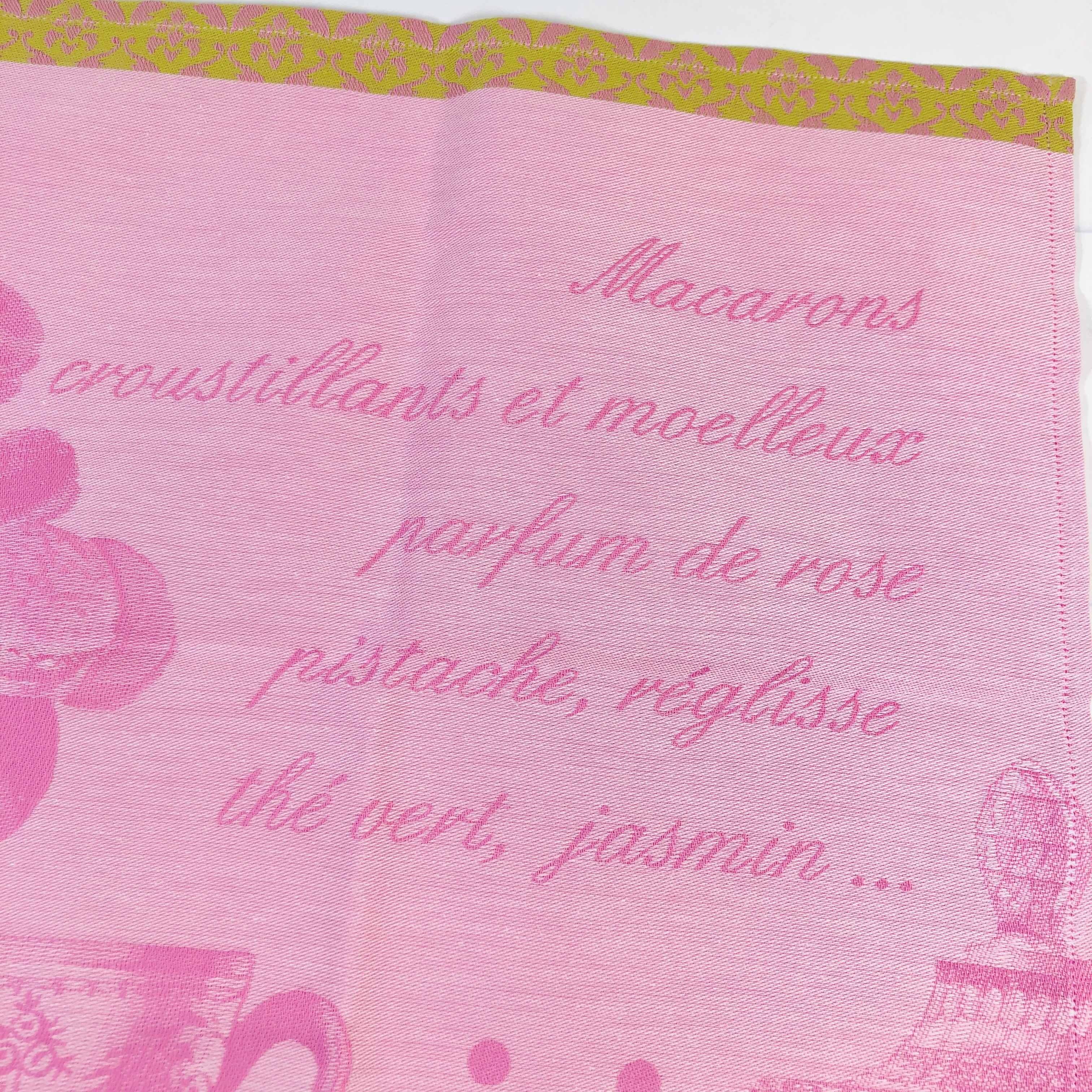 I believe these are all macaron flavors!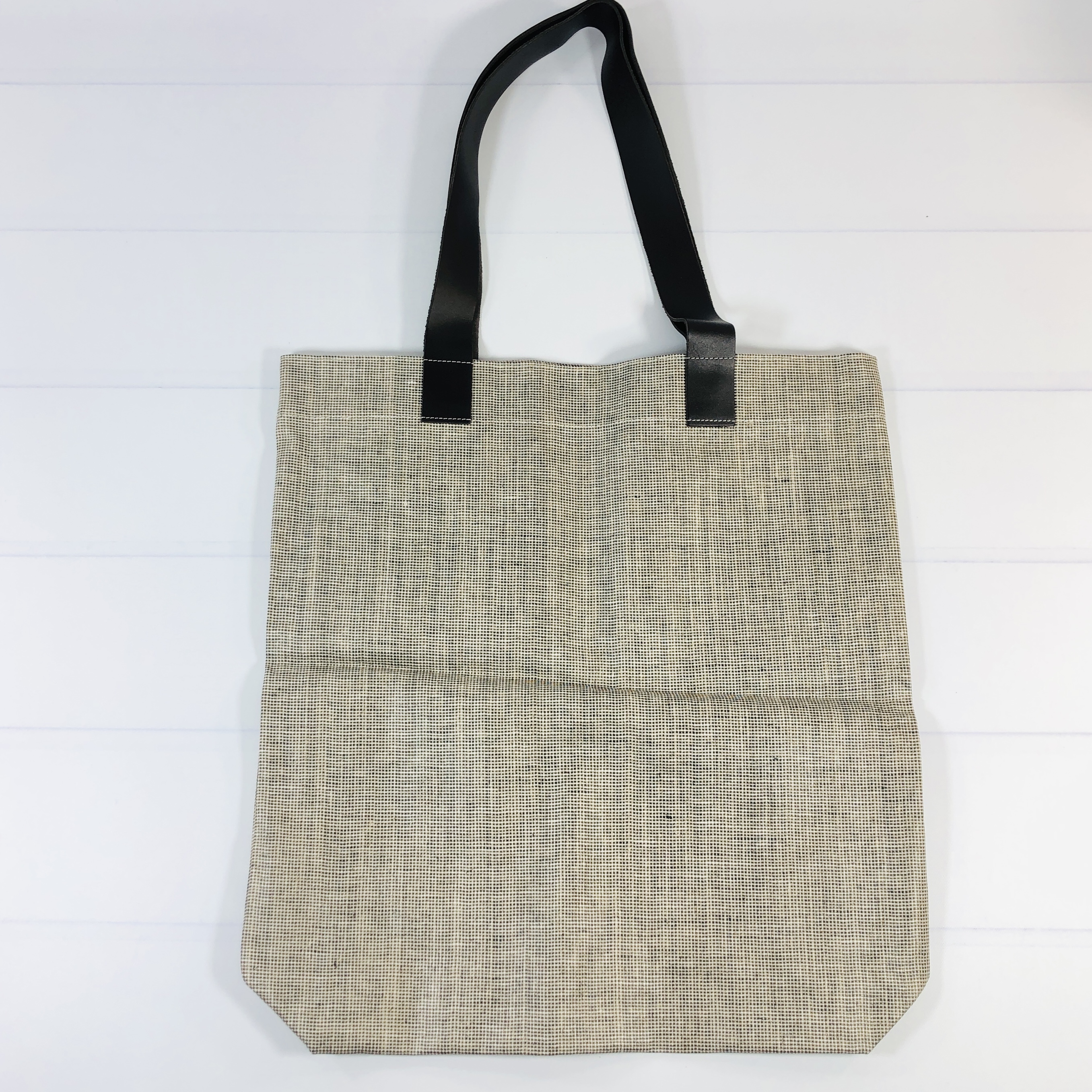 Charvet Editions Tote Bag With Leather Straps I generally take my bags with me to the grocery store but this bag is special, to be used when I'm browsing at a nice shop or the farmers' market!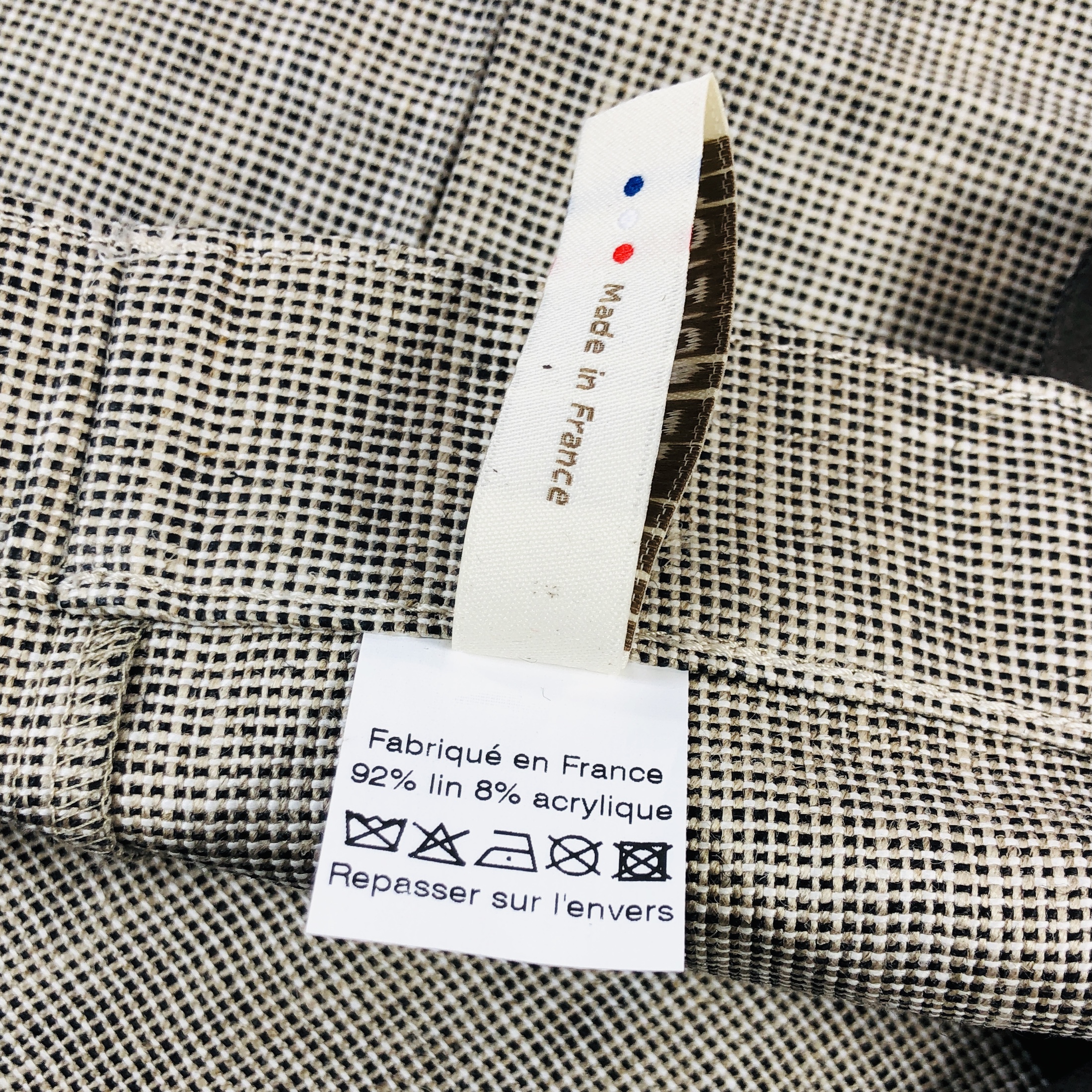 I linked to a similar style but the materials are slightly different: this bag is made of 92% linen and 8% acrylic.
It is coated linen so it is water proof and it has a leather handle. It's about 15″ x 15″ and seems pretty sturdy, so it should last a while to come.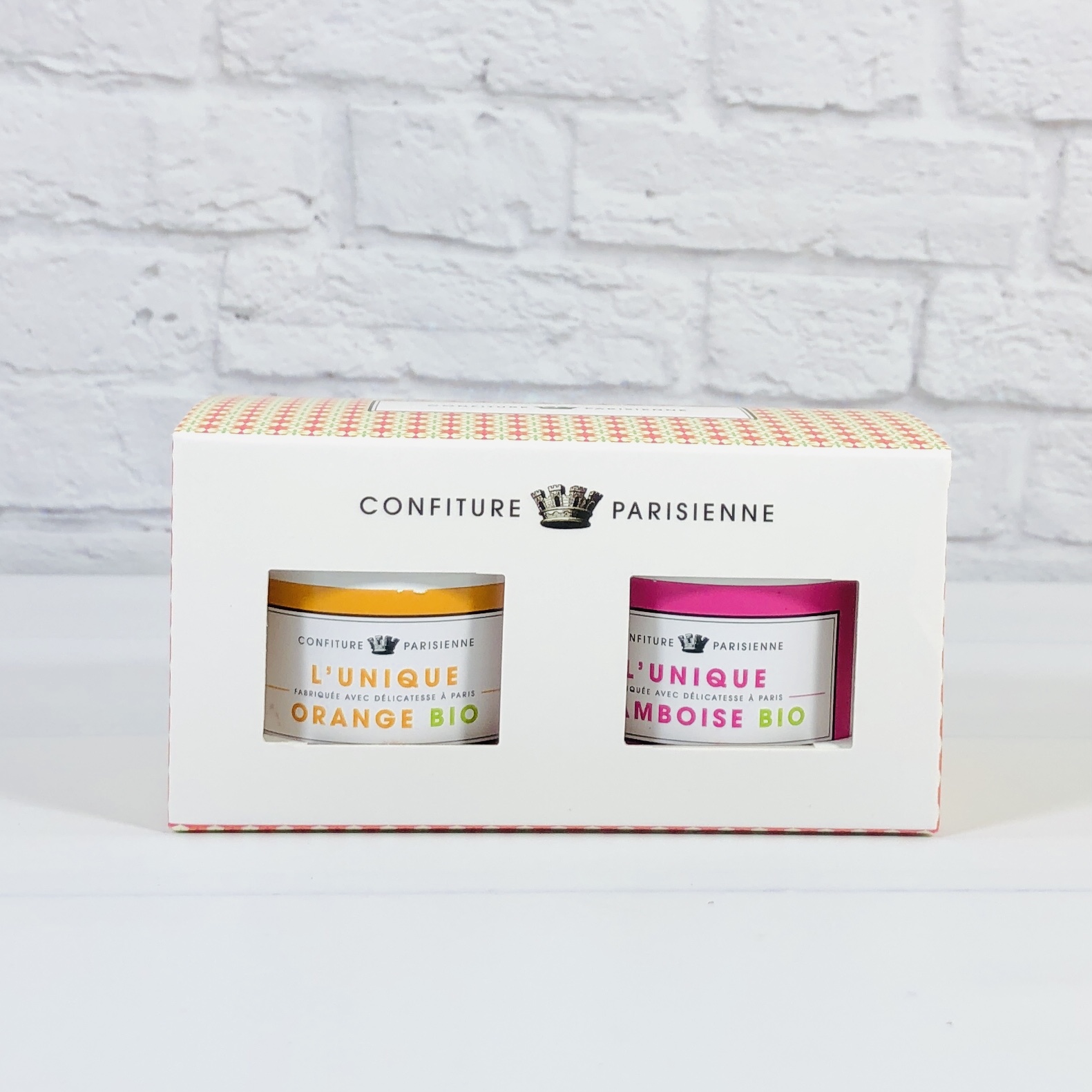 Confiture Parisienne Jars ($11.81 approx) A duo of jams can elevate a cheese board or simple breakfast!
They are made simply of organic fruit, sugar, lemon, and pectin.
Here is the orange, which seemed creamier, less jelly-like than my usual marmalade. It had that same classic tanginess though!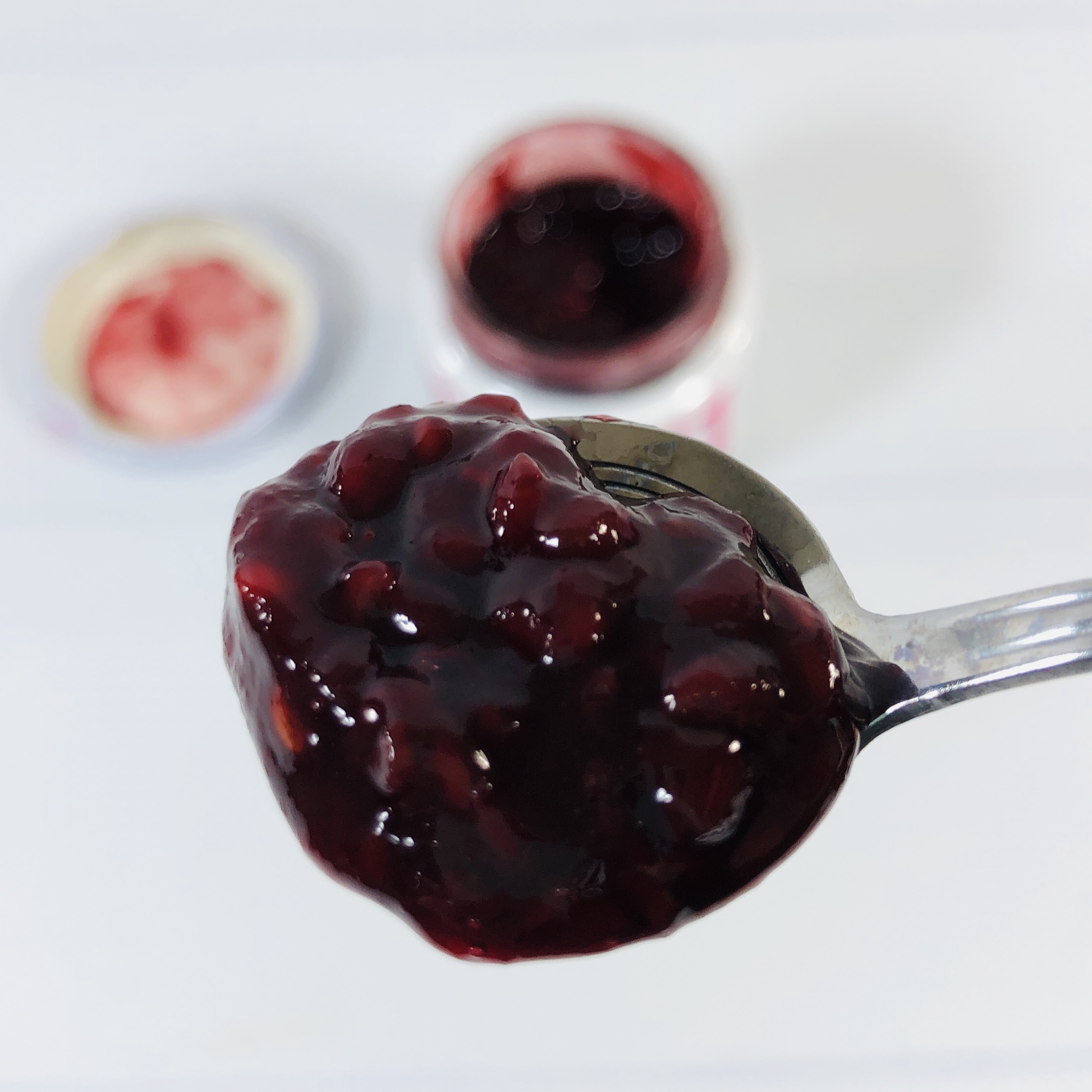 Here is the raspberry, with its classic flavor and freshness, I could taste the flavor of the berries! I enjoyed both jams on buttered toast and felt quite elegant while noshing.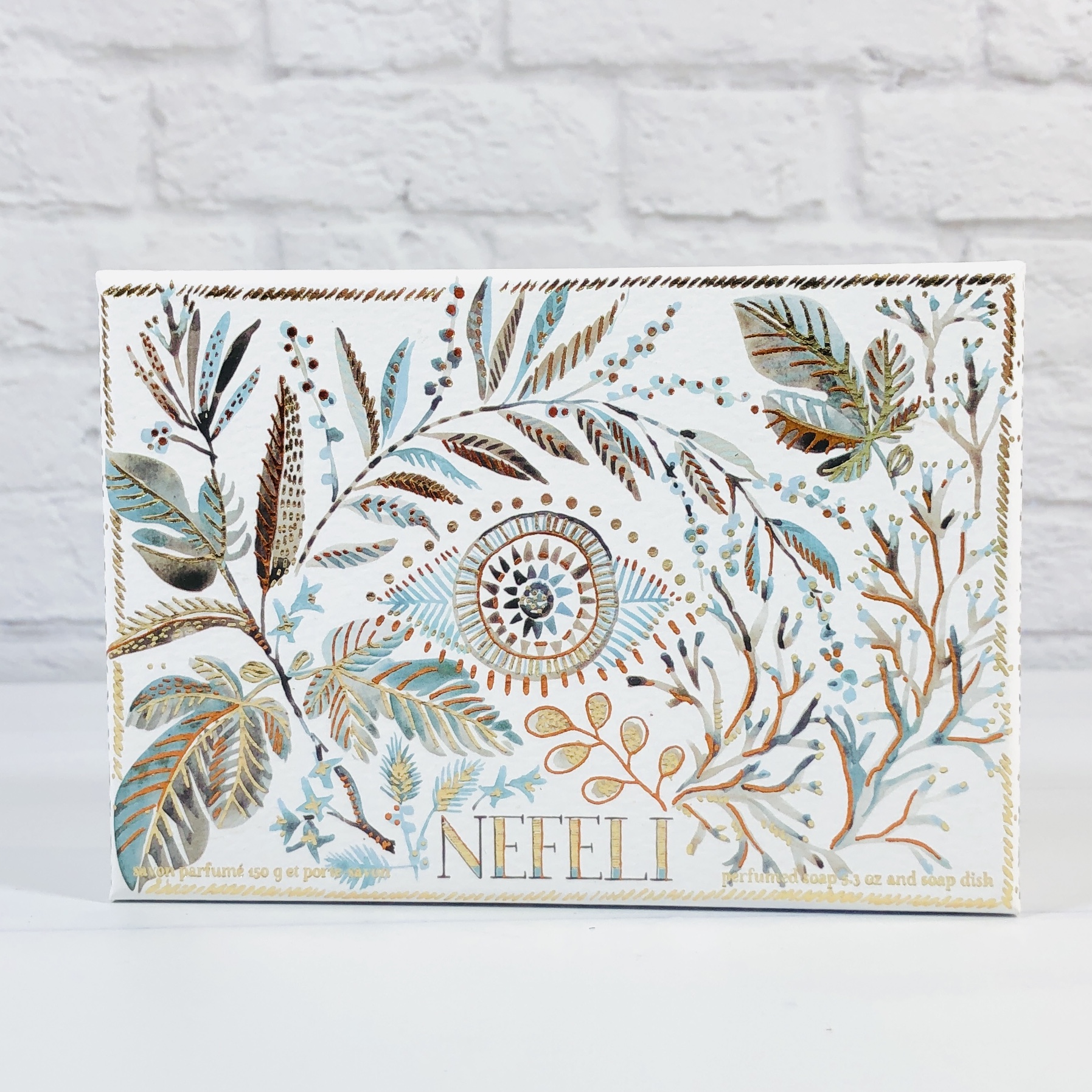 Fragonard Soap & Porcelain Holder ($23.85 approx) The packaging is simply beautiful, it is its own work of art!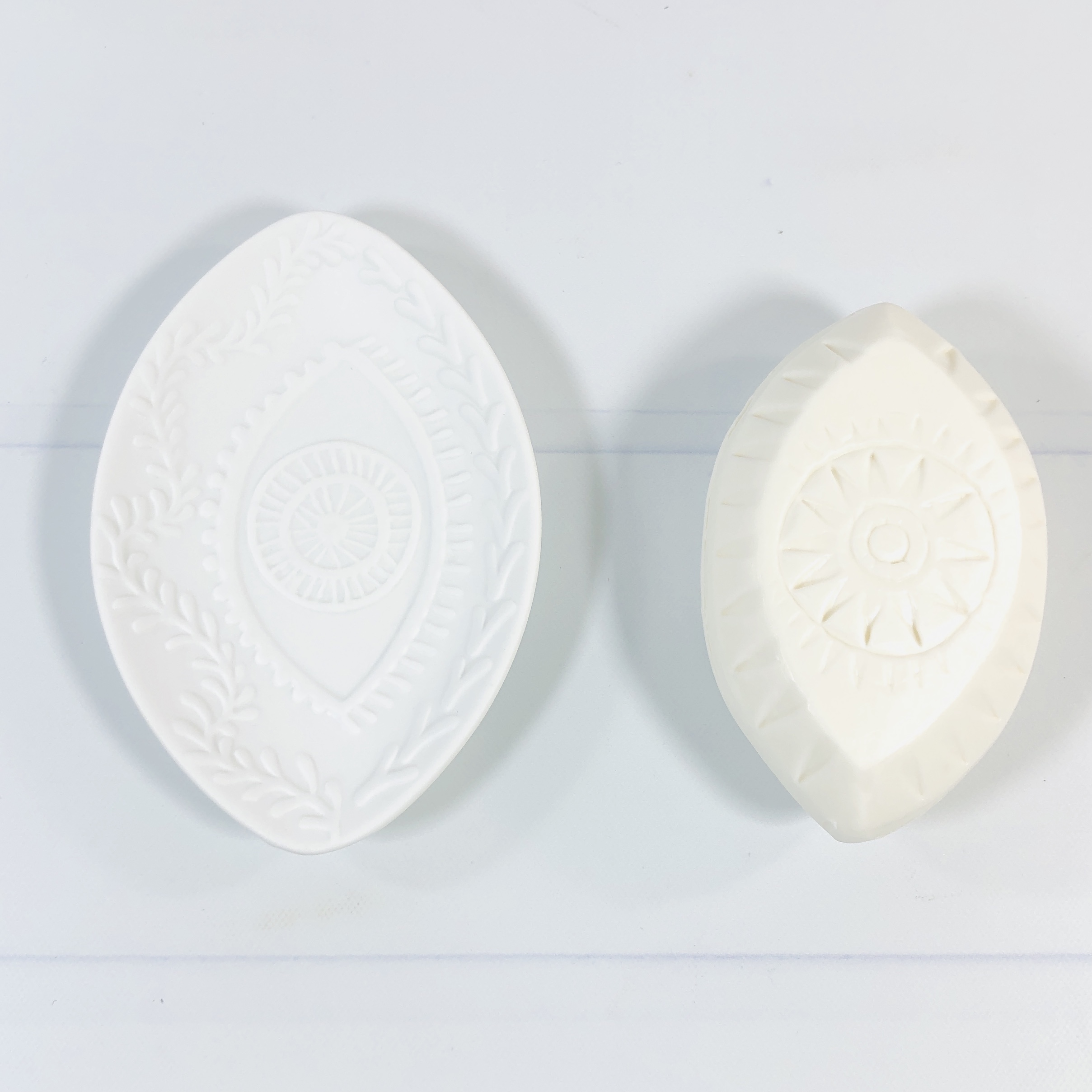 Inside I found a soap dish and a bar of soap! The soap and porcelain dish both have an eye symbol as a good luck charm.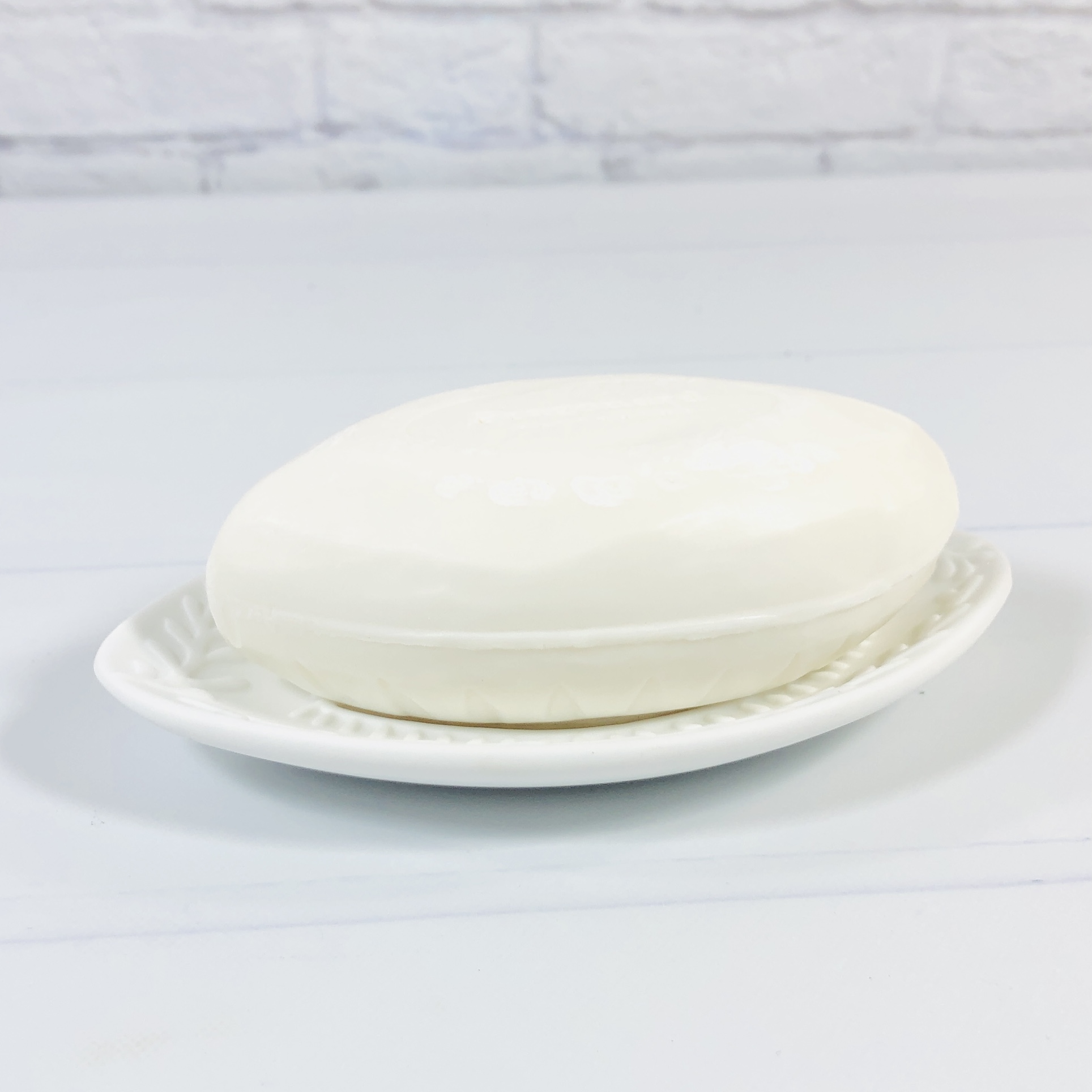 The scent combines citrus and green fragrances along with floral and the notes include neroli, fig leaves, rose, and ylang ylang.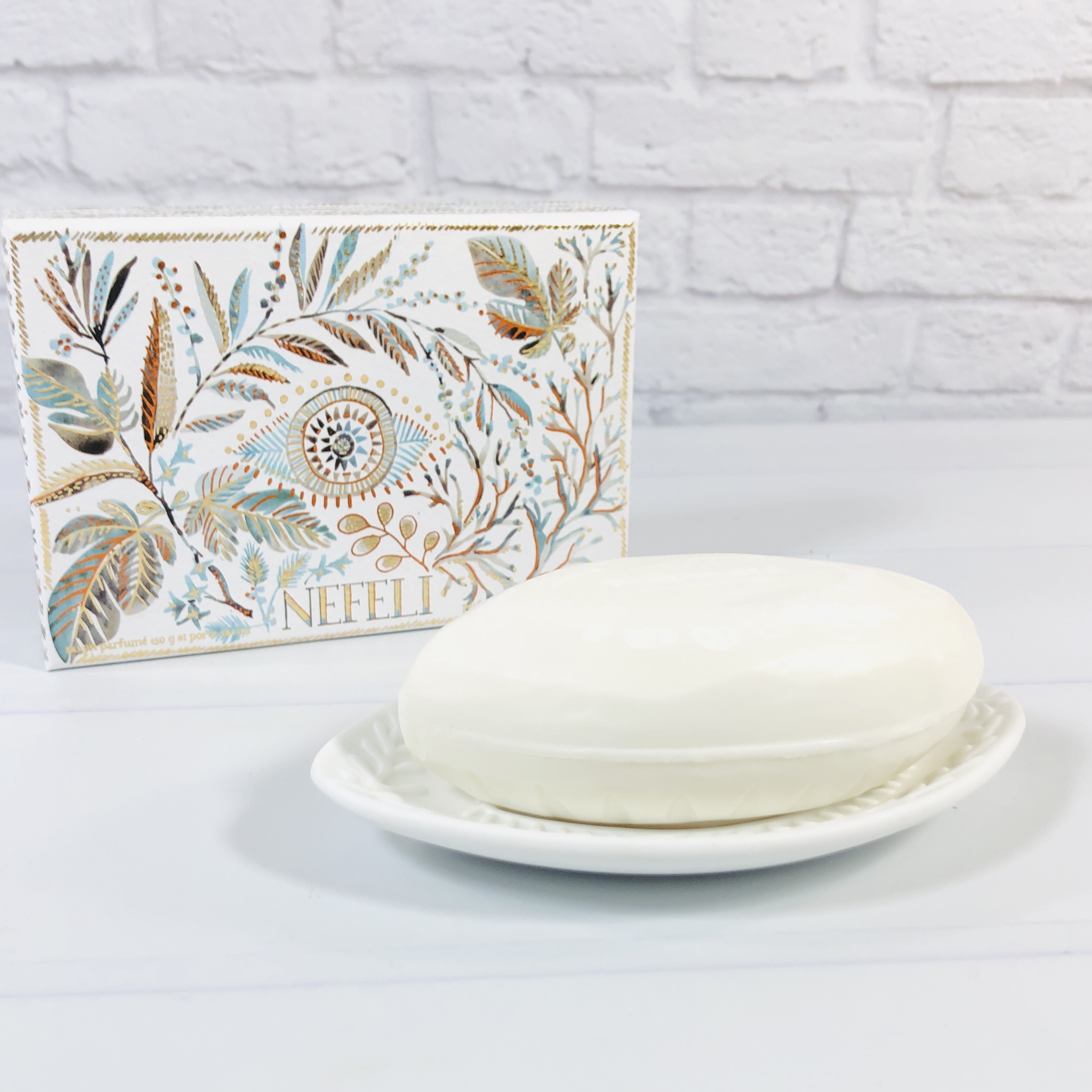 It smells like an elegant soap and for the time being I have it sitting open in my office on a bookcase and every time I walk in I am greeted by its wonderful, warm scent!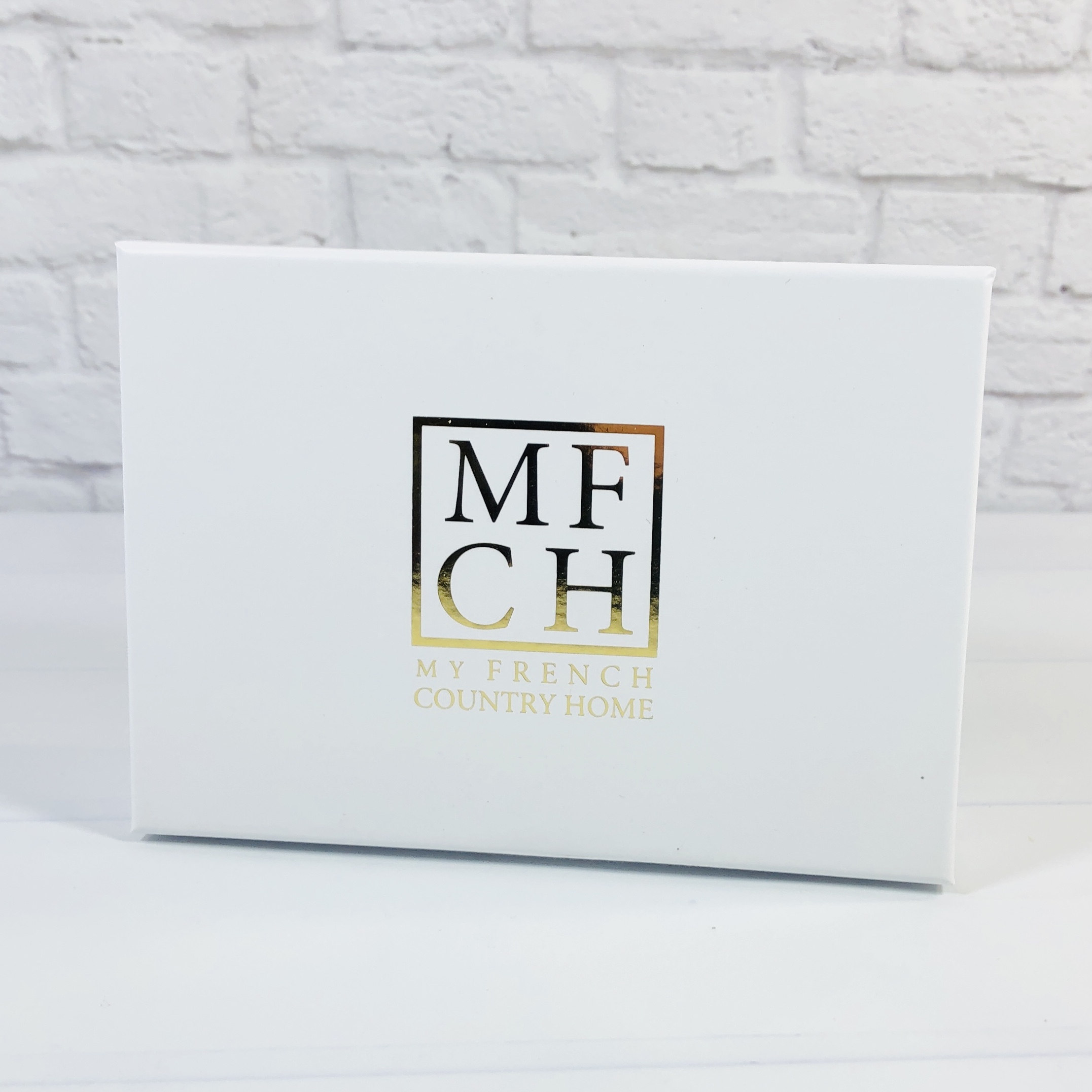 Epure Porcelain Bowls – Set Of 4 (Find a similar item here) This box seems like something I can use to store trinkets in a drawer!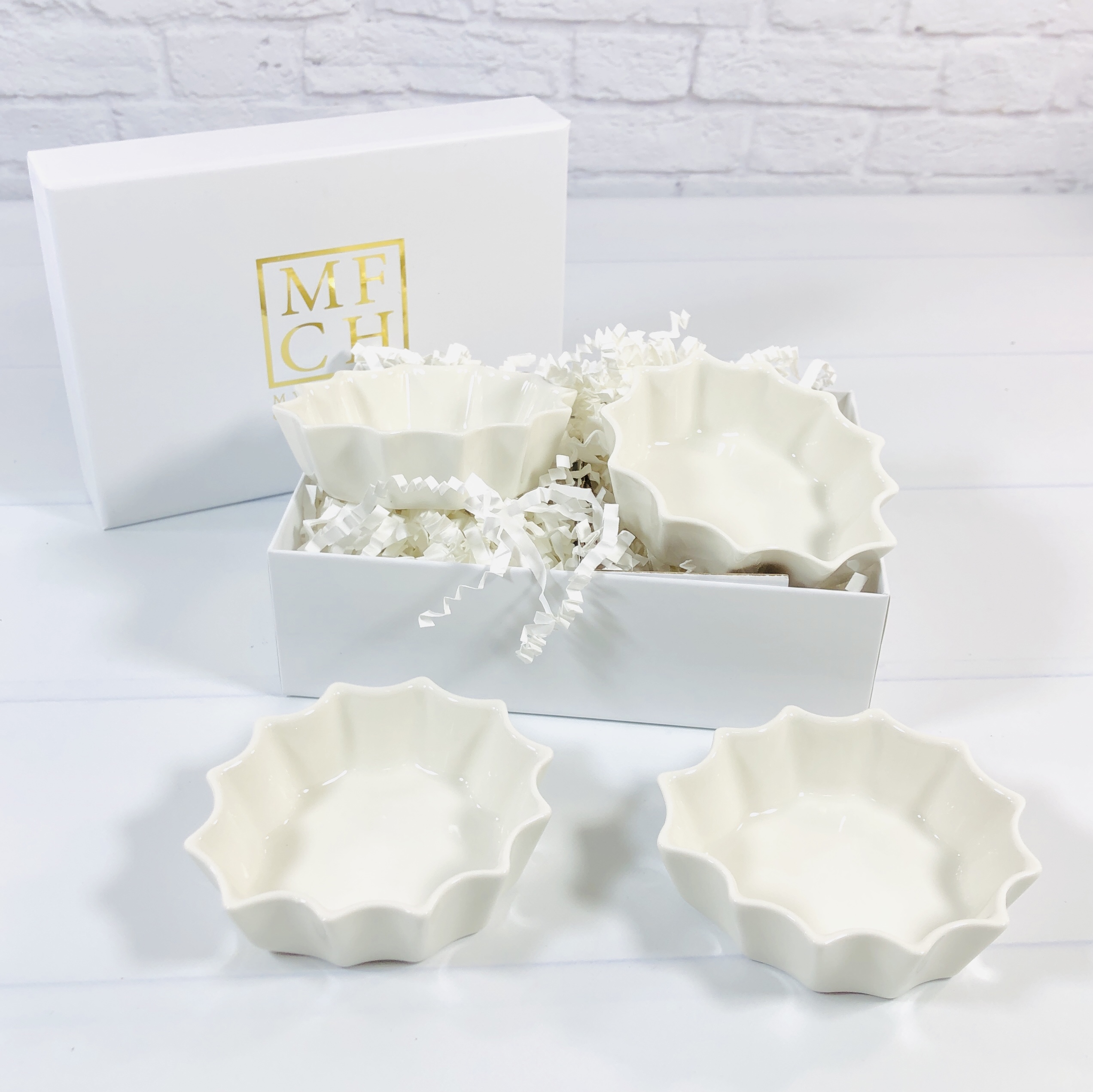 Inside I found 4 porcelain bowls.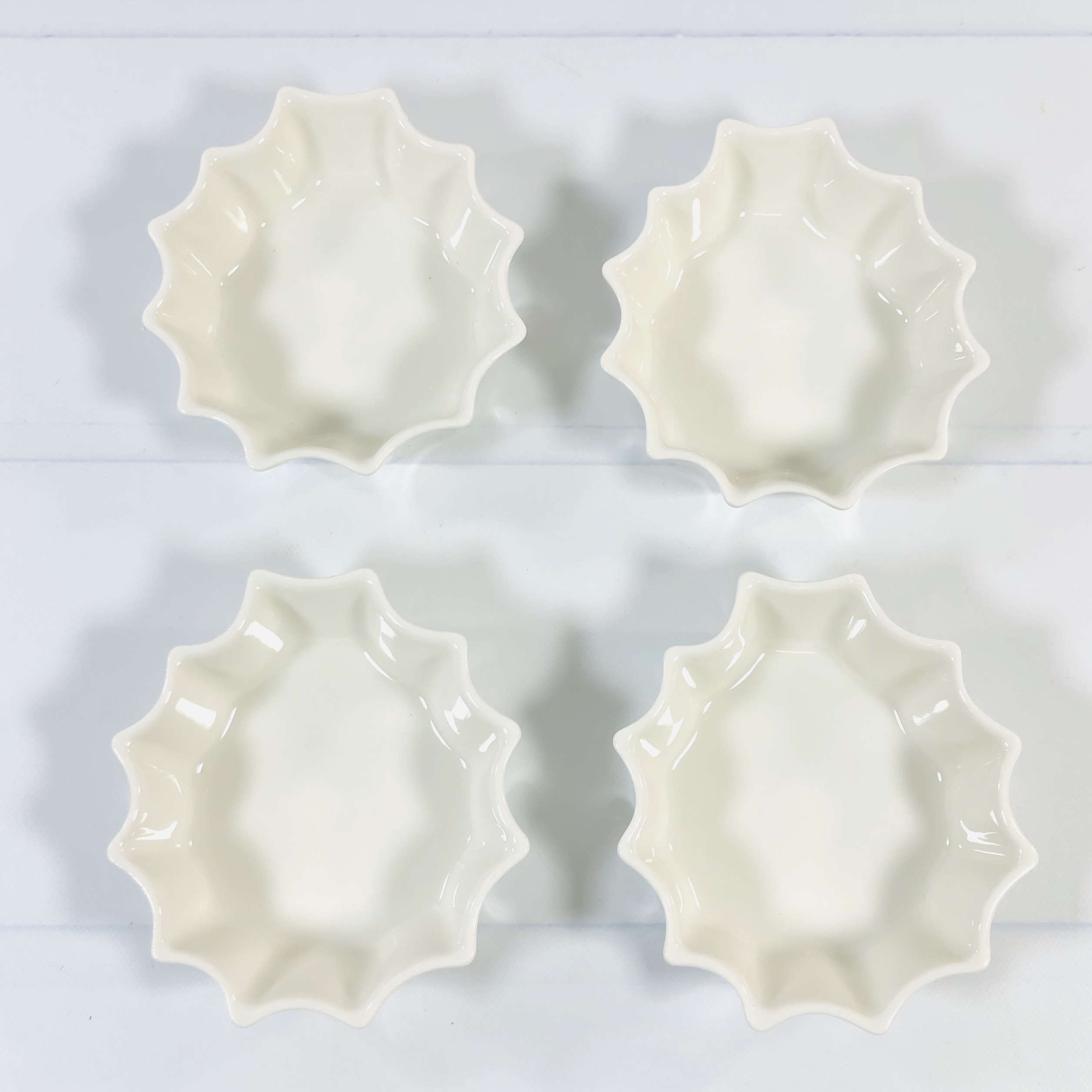 The bowls are about 3.5″wide at their longest point and are about 1″ deep. They are suitable not only for serving small bites or a rich dessert, they would also work as small kitchen prep bowls, as a paperclip holder, as a ring dish, or as a change holder. So versatile!
The maker is noted on the bottom.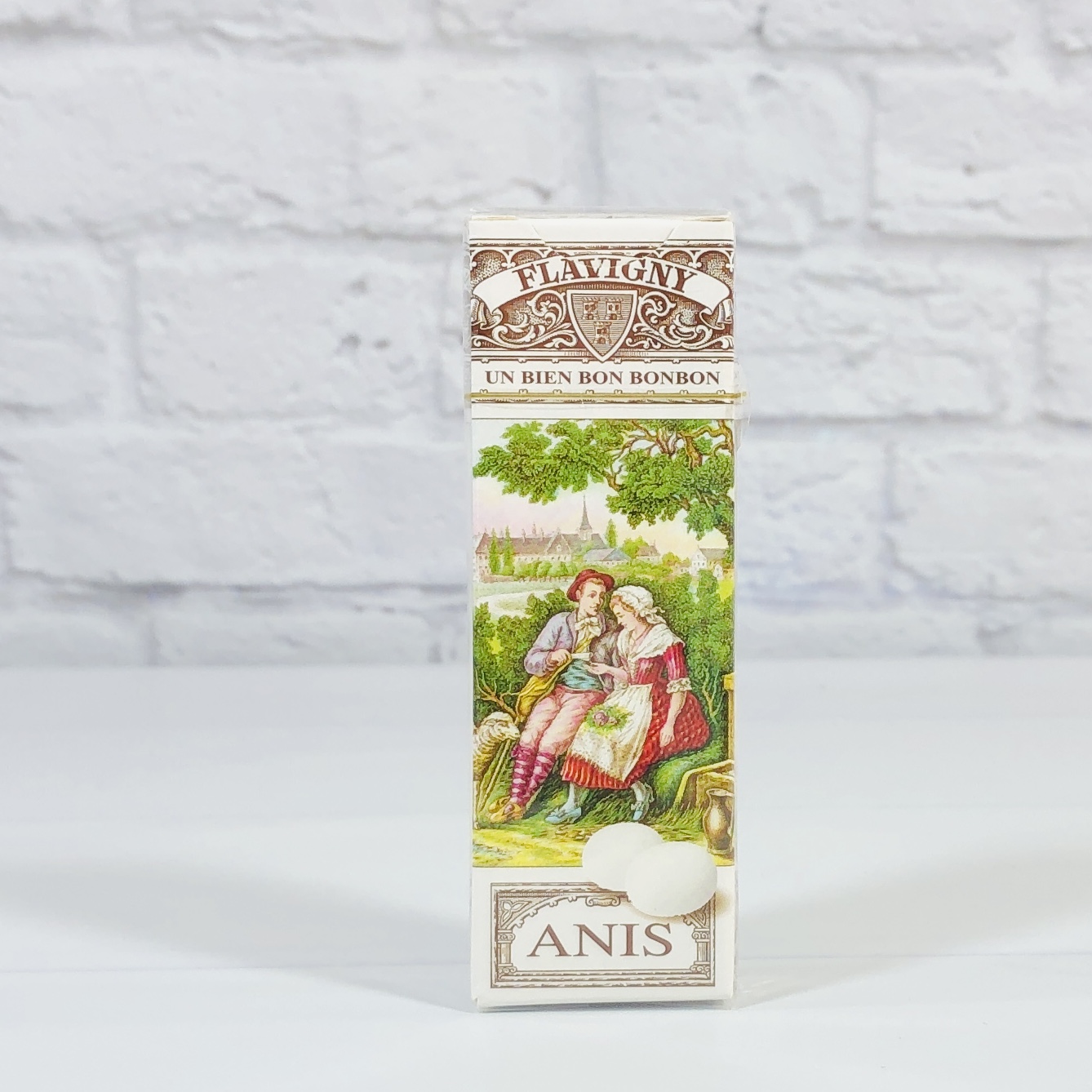 Le Anis De Flagivny Thank You Gift (Find similar item here) Annual subscribers get a small extra in their boxes and this month it was a box of candy!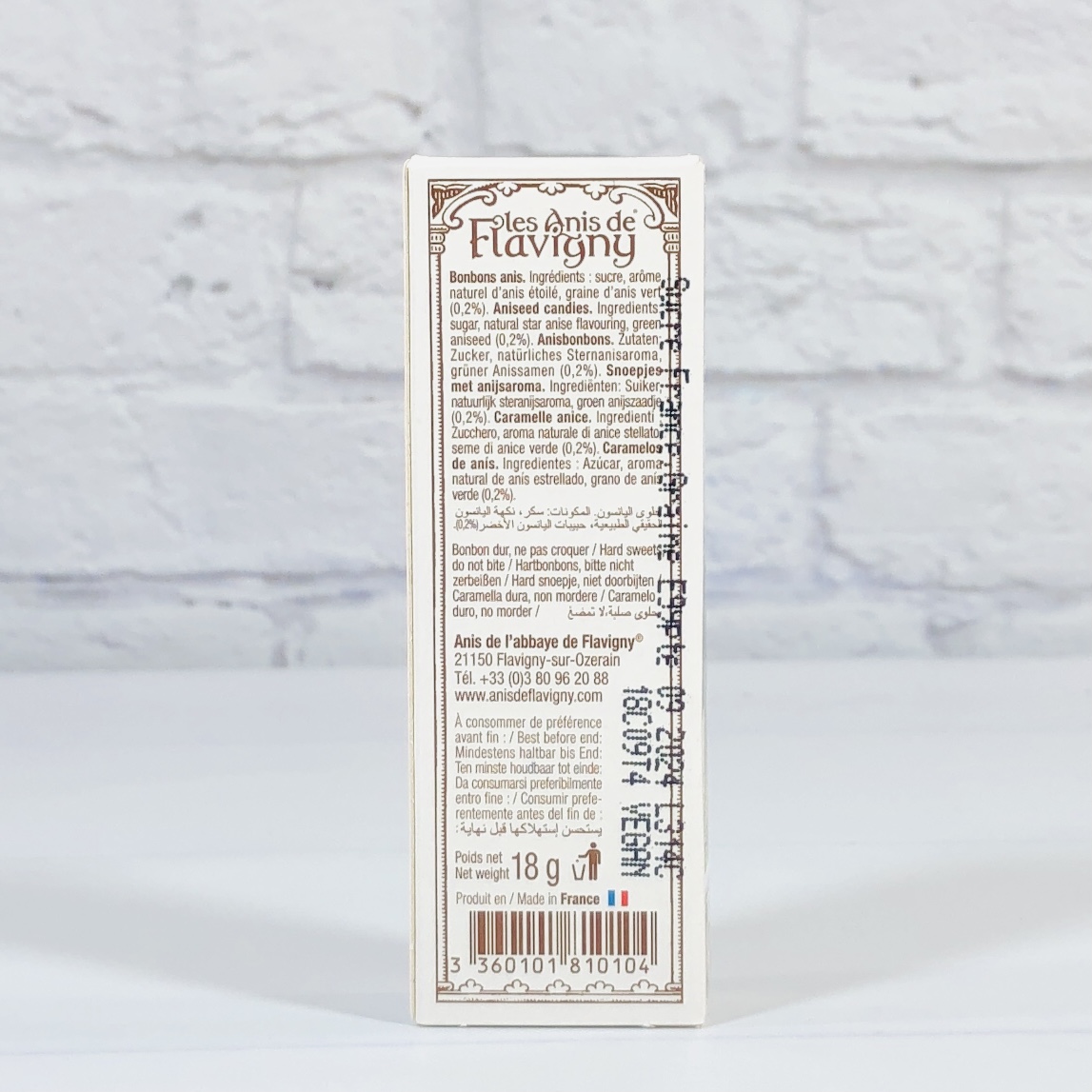 These candies have been made for centuries using the same recipe, which is basically sugar and aniseed.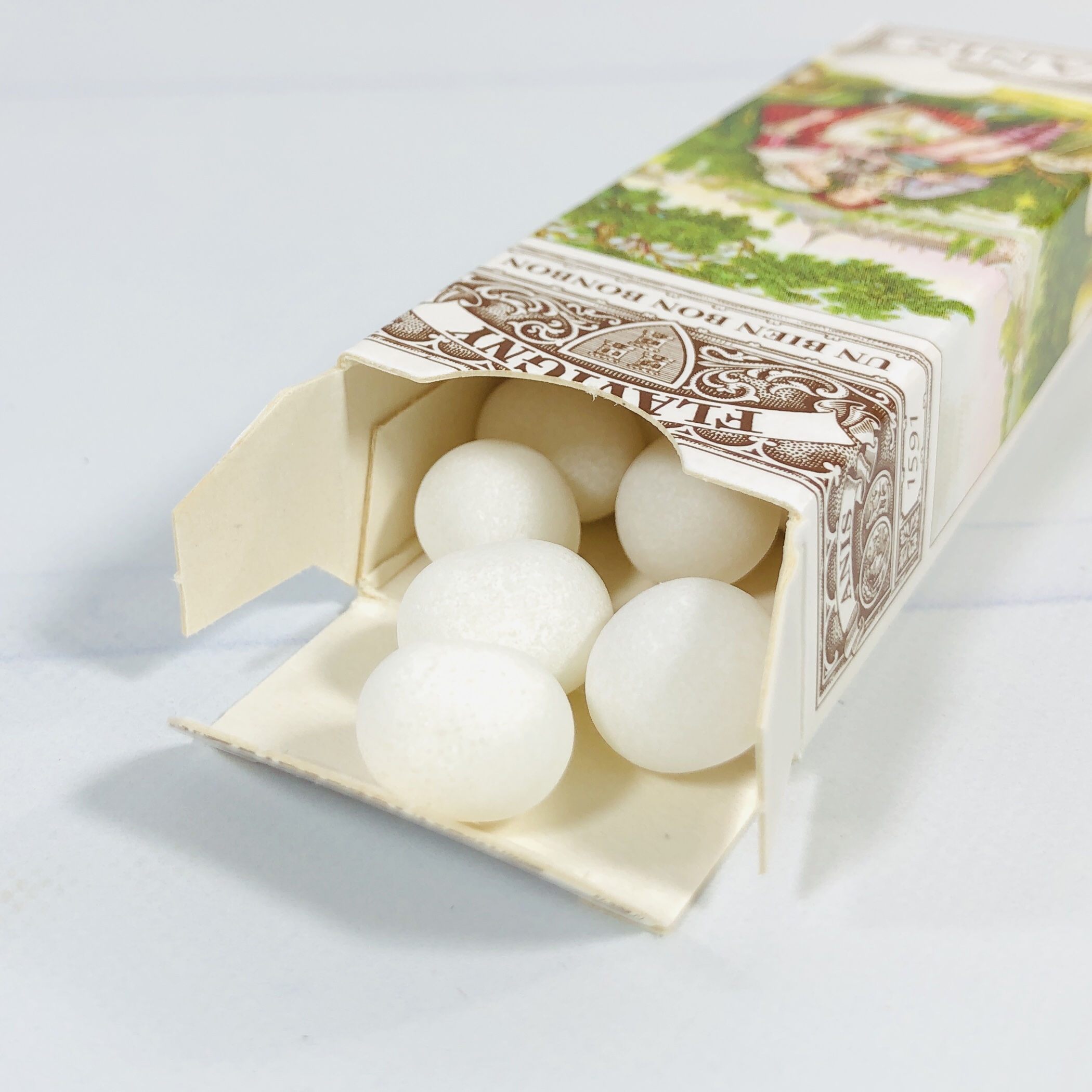 I popped one of these in my mouth and didn't realize that aniseed is the same flavor as black licorice! I have avoided that strongly flavored candy all my life and yet I didn't spit this out immediately. After the strong flavor wore off (or perhaps my tongue became slightly numb) it was mainly sweet and a little spicy and I didn't mind it so much. I have continued to eat one a day and it is still shocking at first but it has grown on me.
My French Country Home pulls out all the stops for their quarterly boxes and this was no exception! As someone who spends a lot of time in the kitchen I thoroughly enjoyed the theme and the fact that some of these items can be used outside of my kitchen. There was a tote bag for shopping trips, dishes that double as holders, a soap and dish that could be used in the bathroom, and a magazine for enjoying outside on a lovely spring day. The towel will add a bright note to my kitchen and the jams were delicious. The antique serving utensil is unique and beautiful and I am looking forward to using the board as a cheese tray.
Any thoughts about My French Country Home Box? Let me know what you think of the My French Country Kitchen box! 
Visit My French Country Home Box to subscribe or find out more!